tech & entertainment
Best Bluetooth Headset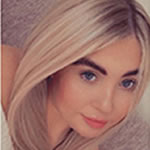 As technology is developing, there are more advanced products that we can use, including Bluetooth headsets. This type of technology allows you to listen to safely talk on the phone or play music whenever and wherever you are.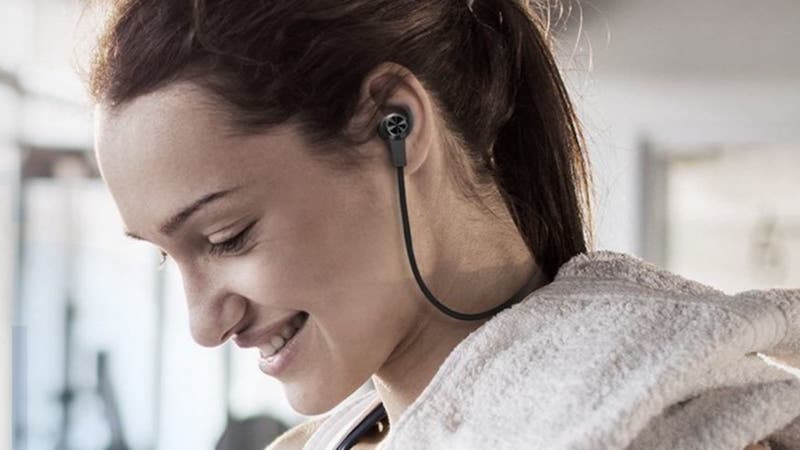 This article covers the different types of Bluetooth headsets that are available and the best Bluetooth headset brands. So, if you are looking to buy a Bluetooth headset but don't know where to start, this article will help you find the perfect set.
This guide will also help you understand how Bluetooth headsets work, so you will learn more about them before purchasing one for yourself.
What Is a Bluetooth Headset?
A Bluetooth headset allows two-way communication with the user's phone. The piece that should be placed slightly into the ear canal usually comes with removable small, medium, and large tips and fits in one ear alone.
Bluetooth headsets enable you to speak and hear through an earpiece while leaving your hands free, thanks to technology created particularly for the goal of eliminating the need for unsightly and inconvenient cables that were traditionally required to link a headset to a telephone.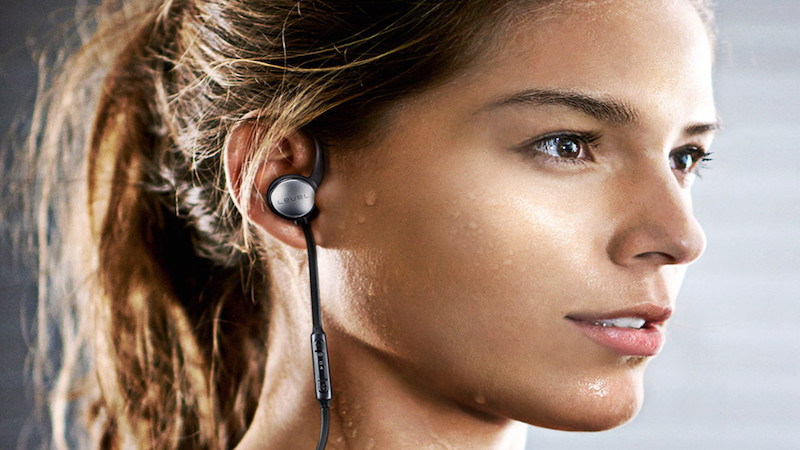 The technology helps to ensure that its use is both safe and high-quality. You don't need to plug anything in your phone, and it plays music, answers calls and works the same way that normal headphones work.
You can also buy customised earpieces which can be moulded comfortably to the individual's ear for the best fit.
How Does a Bluetooth Headset Work?
For wireless communication, these portable devices use low-powered radio transmissions. No more tangled wires! You can freely move away from the audio source and avoid having to deal with tangled connections. For Bluetooth headsets to work, they normally require two things. The headset is one, while the transmitter is the other.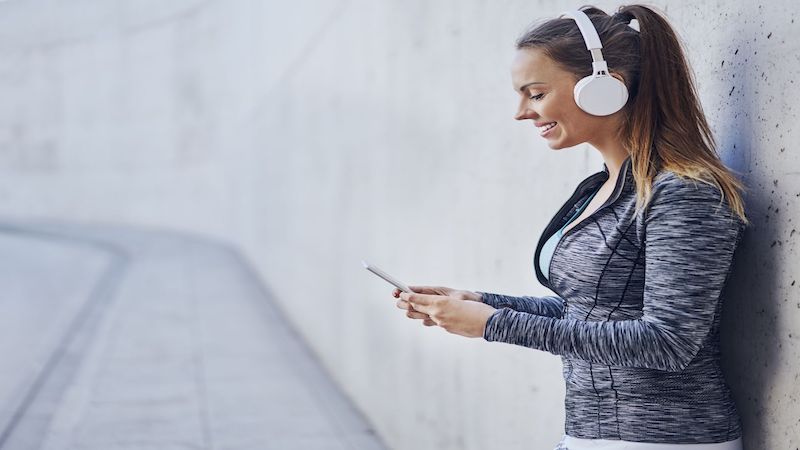 In devices such as smartphones, televisions, and speakers, the transmitter is normally in the form of a small chip that contains the Bluetooth radio and software for pairing with other Bluetooth-enabled devices. The headphone acts as a radio signal transducer, converting the audio signal output into a radio frequency. The radiofrequency is then broadcast over the air.
They have an integrated radio receiver that accepts audio impulses and converts them into sound information. When we wear headphones to listen to our favourite music, we hear this sound information. You can also use this technology to answer calls without having to pick up the phone.
Types of Bluetooth Headsets
This section of the article will be about the different types of Bluetooth headsets and the features each one holds. So, you will be able to see which headset is best for you.
The type of headset you choose is important, as the wrong Bluetooth headset may result in headaches and missed calls. However, selecting the correct one will offer the perfect wireless range, the right amount of padding, and crystal-clear audio quality for consistently successful calls.
Here are some of the most common Bluetooth headsets:
In-Ear Bluetooth Headset
This is arguably the most common way to wear a Bluetooth headset. This category includes standard music earbuds that sit directly in your ear. Most Bluetooth headsets function as well. Some feature ear hooks that attach to the outside of your ear, but the majority are held in place by ear gels implanted within your ear.
It's a wearable style that's both comfy and practical: Simply insert the headset into your ear, and you're ready to go! It may take some experimenting to find the perfect fit for your headset so that it stays firmly in your ear. People are sometimes noted for having oddly shaped ears. That's why most in-ear headsets come with a variety of ear gels in various shapes and sizes.
Behind the Ear Headset
Bluetooth headsets with a body that loops completely around your ear and a small boom arm that extends toward your mouth are known as behind-the-ear Bluetooth headphones. They are incredibly comfy, however, in comparison to smaller in-ear headsets, they are quite big. That's not surprising, given that they need a large enough body to travel around the ear.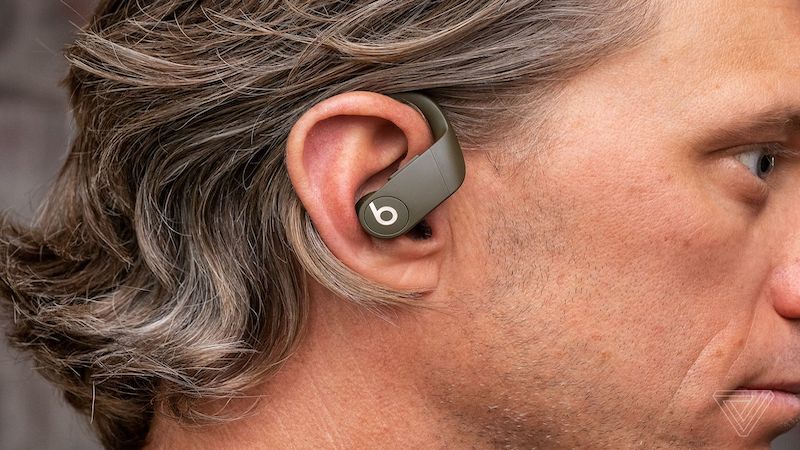 Because the extended boom arm captures your sound better, this is a popular wearing style for headsets that feature wind noise reduction. Behind-the-ear headsets are comfortable to use all day and, despite their bigger size, will stay put without the use of ear hooks or ear gels. You could claim that the headset is nothing more than a giant ear hook.
Over the Head Headset
An over-the-head headset is commonly used in workplaces or by gamers. The headband fits over your head and can be adjusted to fit any size head.
Over-the-head headsets are more comfortable and stay in place longer than other types of headsets. On the other hand, the headband adds a significant amount of weight to the headset, making it more difficult to transport.
In-Car Bluetooth Headset
These Bluetooth headsets contain ear cushions that are put on your ear rather than within your ear. As a result, an ear hook or a headband is required to keep them in place. This wearing style is available on many business headsets, which are usually equipped with a headband.
Because they don't exert any pressure on the inside of your ears, some individuals find in-car headsets to be more comfortable than in-ear headsets. Furthermore, you will not have to pick through many ear gels to locate one that fits. Even if most in-car headsets refuse to stay in your ear, wearing an on-the-ear headset should be no trouble.
Best Bluetooth Headsets
Thanks to today's market's music-ready audio quality, the leading wireless headsets have straightforward controls that enable the pairing of numerous devices, allowing you to smoothly move between laptop and mobile, colleague and client, or even business and pleasure.
In this part of the article, you have been given the best types of Bluetooth headsets and why they are the best, including their qualities and features. So, if you are buying a Bluetooth headset, these are the best for you.
Best In-Ear Bluetooth Headset
Jabra Talk 45 – Silver
The Jabra 45 is an excellent choice for a full day of work in and out of the workplace. Users can be heard regardless of background noise thanks to powerful noise cancellation technology. The Talk 45's smooth, ergonomic design provides great comfort, making it far from a burden to use for lengthy periods.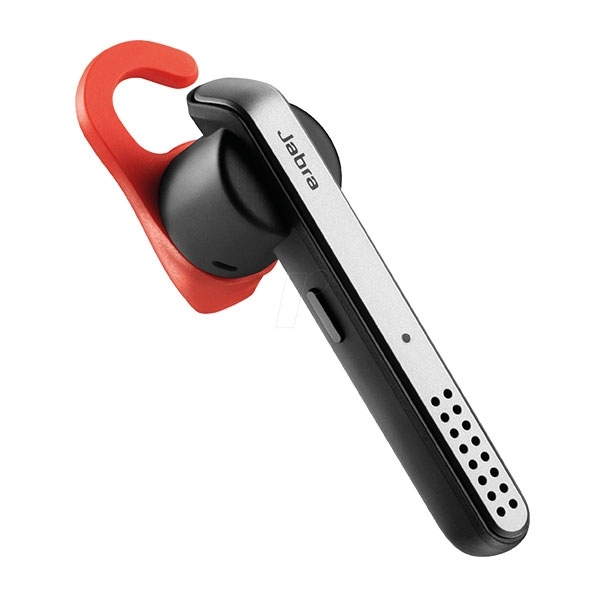 With Siri and Google now available at the touch of a button and easy synchronisation with NFC for the Jabra headset, Jabra has not held back on providing this gadget with the latest technology. If that wasn't enough, users can control the headgear from up to 30 metres away from their associated device.
The Good
Good battery life
High-quality noise cancellation technology
Ergonomic design
The Bad
Not the most comfortable headset
Sensitive answer button
Plantronics Voyager 5200 UC
This is the ideal headset for the always-engaged executive, as it offers market-leading sound quality. It features state-of-the-art noise reduction technology in its four microphones and a sturdy ergonomic design that combats the elements as well as discomfort.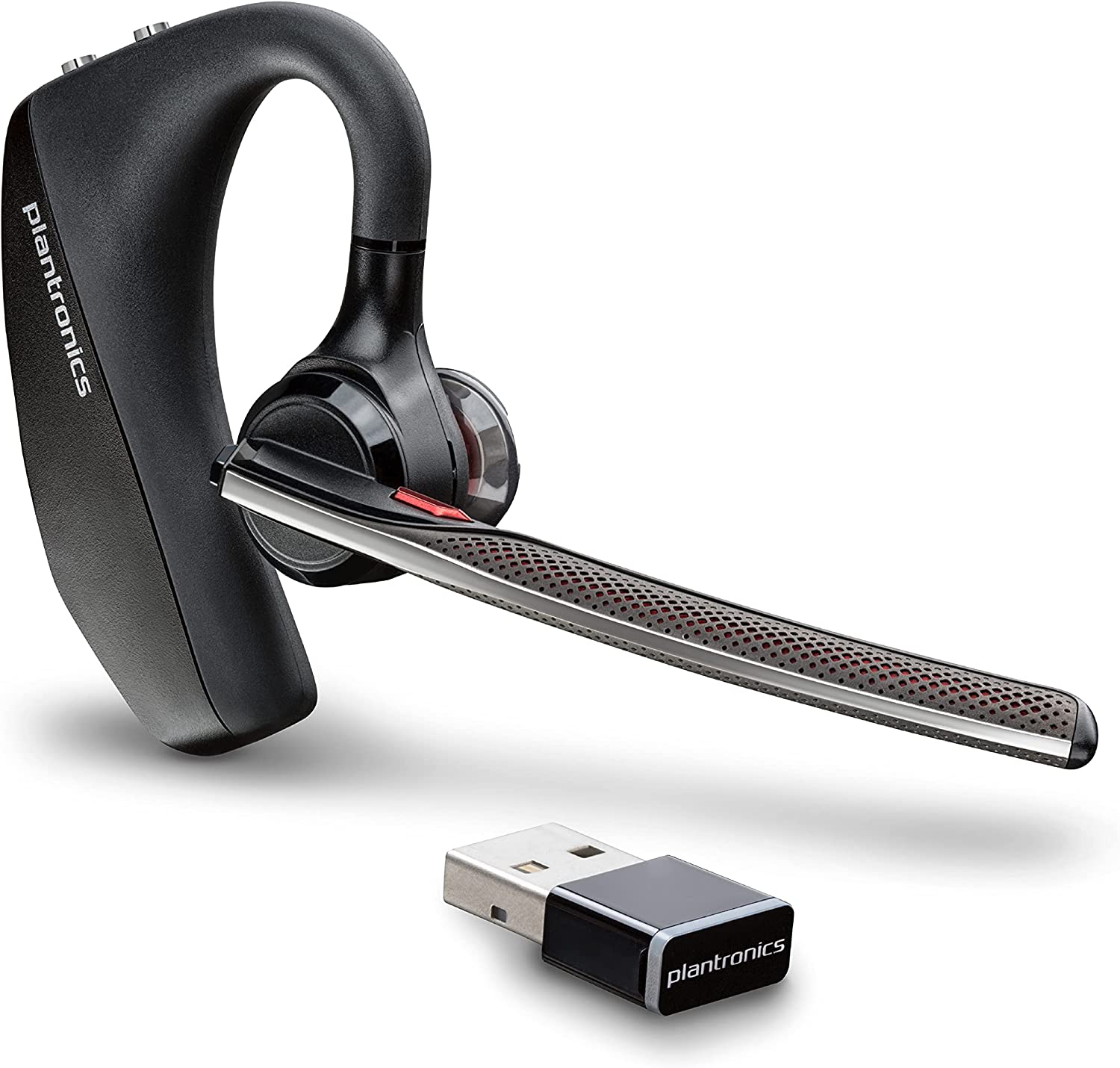 With Smart Sensor technology, which recognises when the Voyager 5200 is turned on and enables a voice control system that syncs with your interactive smartphone apps like Siri or Cortana, this gadget takes the concept of hands-free to the next level.
You may use this to answer or ignore calls, as well as change the volume and mute the microphone by simply uttering the relevant command. All of this incredible capability is contained within a 20-gram headset. When you add a portable charging base to the mix, you've got yourself a killer headset!
The Good
Voice control technology
No background noise
Excellent connection
The Bad
Not ideal for long usage
No charger provided
Jabra Steel
This heavy-duty headset was designed for tradespeople. This bundle may be ideal if you travel frequently or make on-site sales in difficult conditions. It is dust, grime, and water-resistant and eliminates background noise. It can also withstand large drops and comes with a five-year warranty.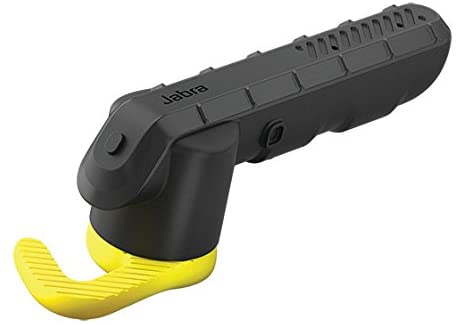 It also has strong noise suppression for clear sound clarity, even when there is a lot of background noise.
The Good
Ideal for industrial use
Water resistant
Great sound quality
The Bad
No noise cancellation
Dissapointing controls
Best Behind the Ear Headset
Plantronics Voyager Legend
This stylish piece is possibly the most refined on our selection, with its sleek design capturing the eye right away. The Plantronics Voyager Legend, on the other hand, is much more than a gorgeous face. It even has the intelligence to match with Smart Sensor technology that reacts when the gadget is turned on, allowing you to accept calls without pressing a button.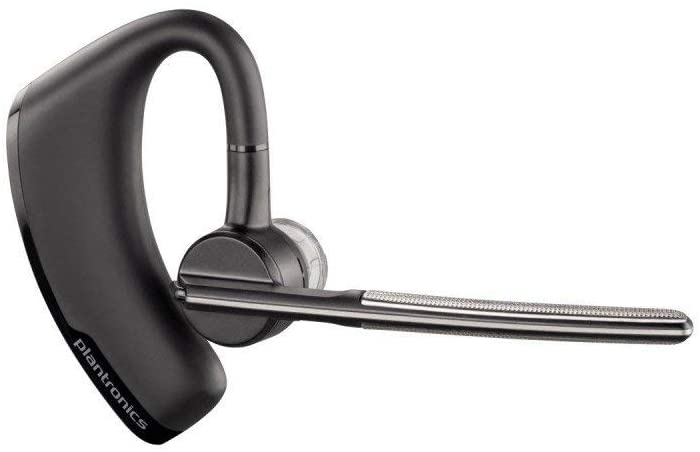 If it's already wrapped around your ear when a call comes in, it'll inform you who's on the other end and give you the option to respond or ignore by uttering the appropriate command. If that wasn't enough, the gadget can also listen to and respond to emails and text messages when used in conjunction with the Plantronics VocalystTM service.
This headset features an easy design that identifies when the user is using it, button-less call answering, three noise-cancelling microphones with Windsmart technology, and a headset battery indicator on your iPhone or Android smartphone.
The Good
Noise-cancelling microphones
Pairs with two devices
Caller ID announcements
The Bad
Non-standard charging cable
Takes awhile to charge fully
VXi BlueParrot B350-XT
With 96 per cent Xtreme noise suppression, 128-bit encryption for additional security on your calls, and 24-hour talk time, this Bluetooth headset is one of the best. The flexible gooseneck microphone boom is also extremely, as you can position it wherever you want.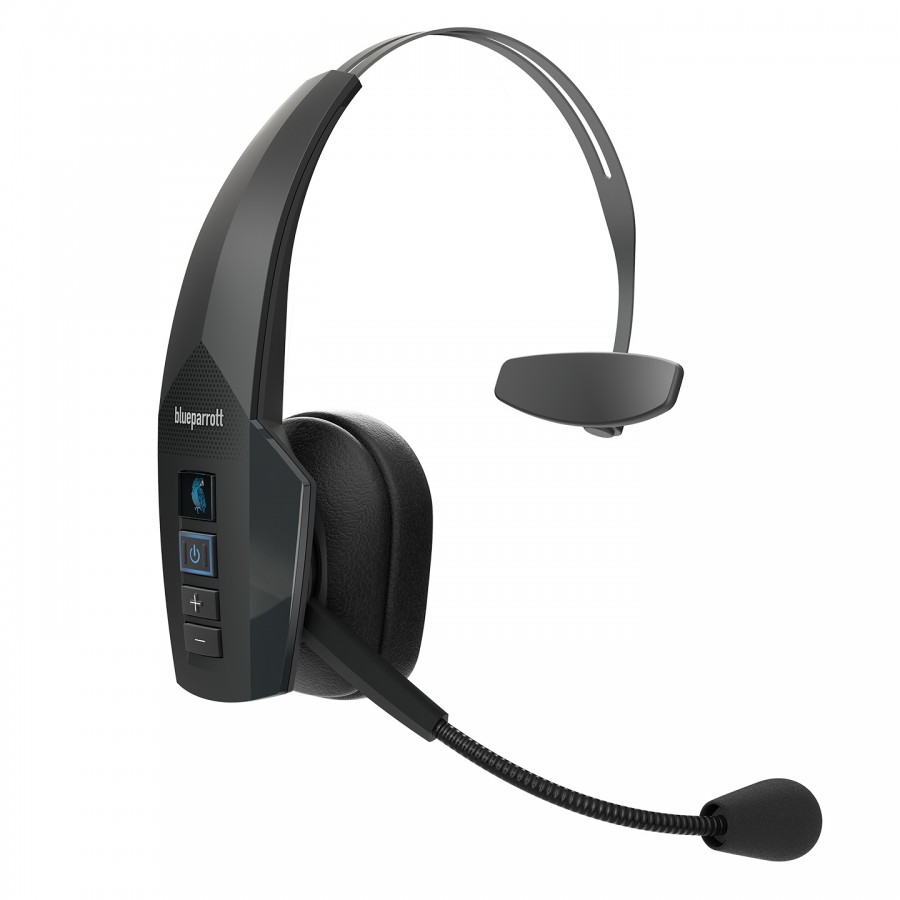 The B350-XT boasts outstanding sound quality and is filled with fine features, including the new VXi Parrot Button. This can be used to obtain a high level of customisation in your device's settings when connected to the BlueParrott App.
The Good
Crystal clear quality
Multipoint pairing
Noise-free
The Bad
Earpiece foam cover comes off easily
Produces a loud buzz when turning off bluetooth
Sennheiser Presence Basic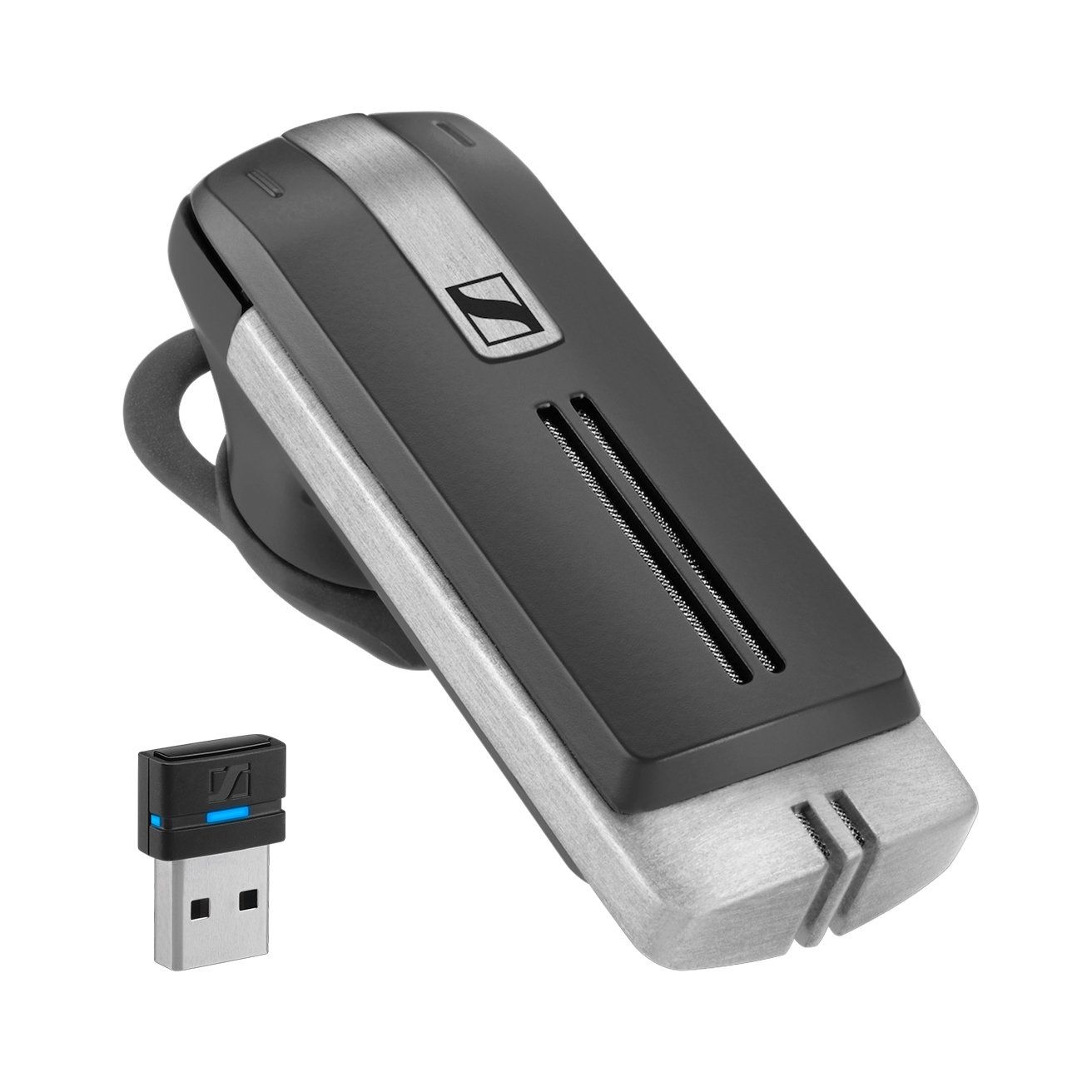 Do you have the ability to multitask? Or are you in a job where you have to do as many things as once? This multi-connection Bluetooth headset can allow you to move between your phone and PC. You'll also appreciate the excellent sound and recording quality, as well as the long talk duration (the battery can last up to 10 hours).
The Good
Quick charging capabilities
Filters out background noise
Quick set up
The Bad
Expensive
Not as comfortable as other models
Best Over the Head Headset
Jabra Evolve 65 UC
Its cutting-edge noise-cancelling technology and E-STD standard microphone sensitivity ensures outstanding conversational clarity regardless of background noise. Thanks to the Evolve 65's Bluetooth v3.0 capability, which allows complete functionality up to 30 metres away from its paired companion, you can continue to communicate with them across the office.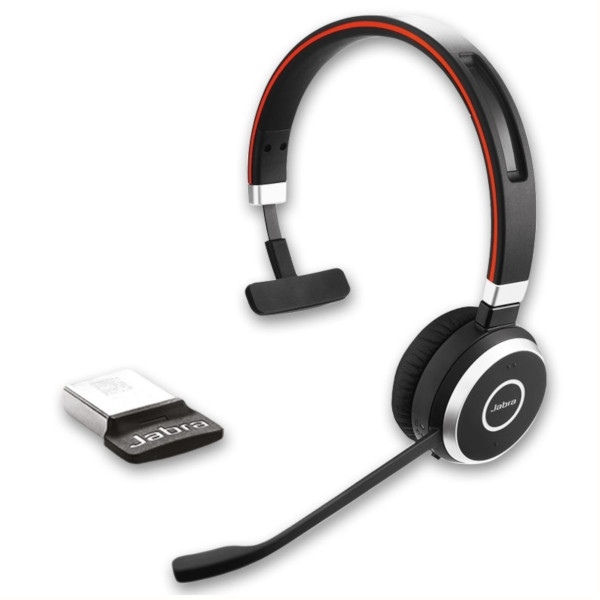 It is difficult to find any flaws in this superb headset. It features wide leather ear cushions and a completely adjustable headband that eliminates any compromise on comfort. Advanced noise-cancelling technology, E-STD microphone sensitivity, Bluetooth v3.0 with a 30m range, and multipoint technology for connecting two devices are all included in this headset.
The Good
Exceptional sound quality
Comfortable headset
30-metre bluetooth range
The Bad
Microphone disconnection problems
Reports of missing Bluetooth adapter
Sennheiser MB PRO 1 Bluetooth Plus
This one-ear device is the ultimate hands-free solution for the busy professional gearing up for a full day of phone calls. With up to 15 hours of conversation time and an over-the-head design so comfortable you'll forget you're wearing it.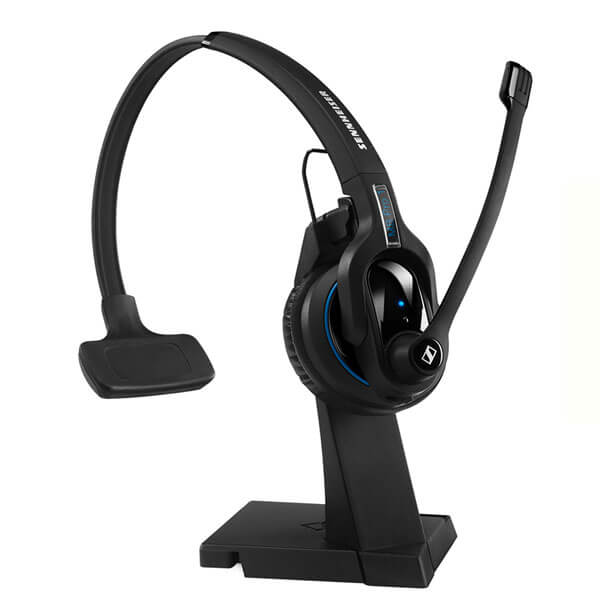 The device's room experience technology and noise dependent volume control amplify this impact, automatically adjusting the sound's direction and level to match your surroundings. Still, any background noise is already minimised thanks to the MB Pro 1's single-channel noise reduction system.
The headset not only provides excellent comfort and sound, but it also allows for the connecting of two Bluetooth devices at the same time. It also boasts a 15-hour talk duration, a single-channel noise reduction system that reduces low background frequencies, Active Gard technology that protects against abrupt loud sounds, and the ability to connect to two Bluetooth devices simultaneously.
The Good
Simultaneous multi-device pairing
15 hours of talk time
Excellent volume control
The Bad
Not the most comfortable option
Hard to navigate buttons
Plantronics Voyager Focus UC
This headset is a well-equipped device with simple controls. This has three precision-tuned microphones for high-quality noise cancellation, as well as music muting when a call is received, and an external LED light to let your colleagues know when you have your hands full.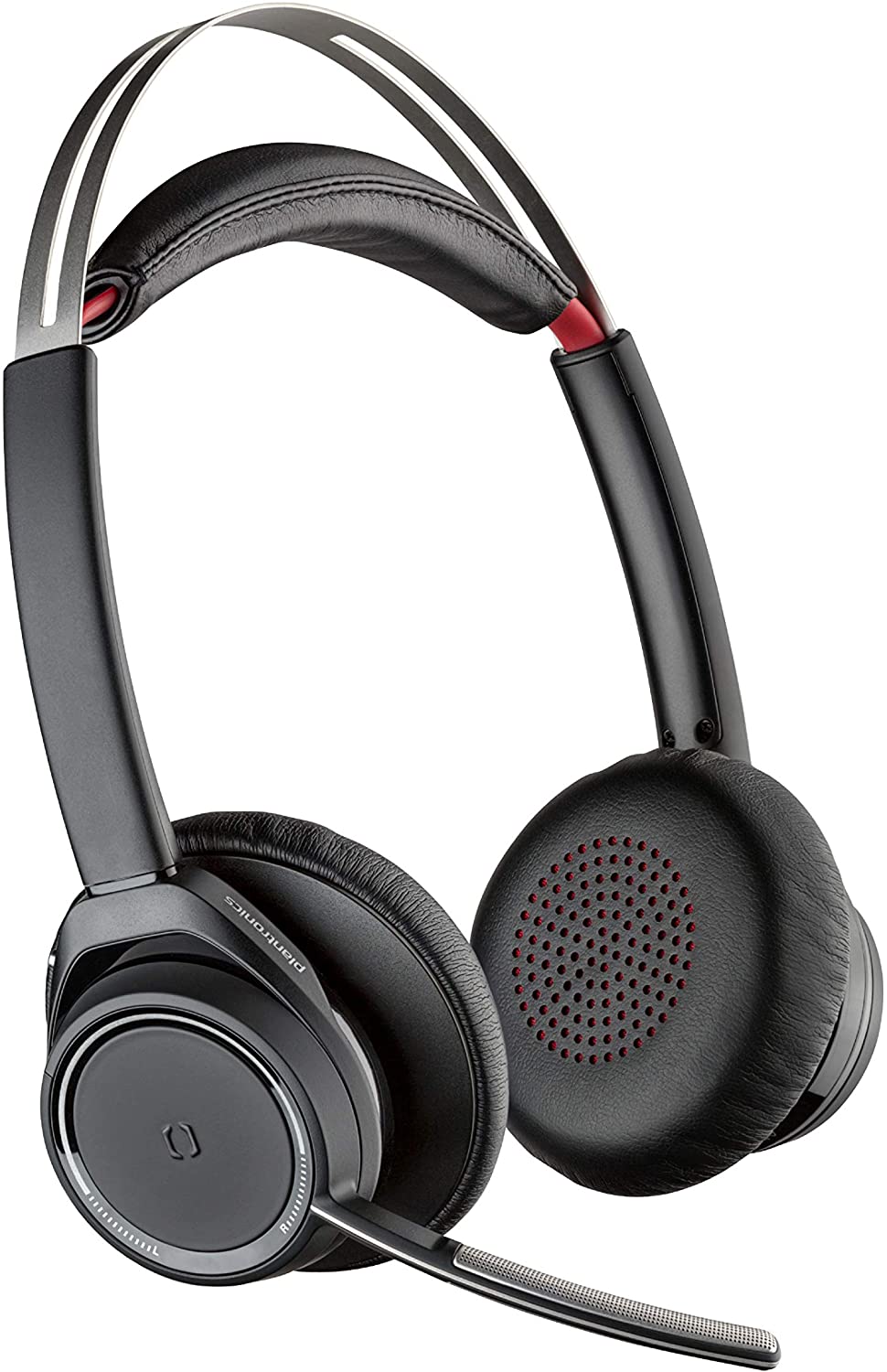 If there isn't actually a call and they're just getting on your nerves, you can turn on the do-not-disturb light on the headset yourself. This level of control is common when using the Voyager Focus, which also has an OpenMic button that allows you to turn off active noise suppression when you need to be more aware of your surroundings.
The Good
Very comfortable
High-quality noise cancellation
Music muting option
The Bad
Reports of defective dongle
Not the best bluetooth range
Best In-Car Bluetooth Headset
Jabra PRO 935 Lync
The Jabra PRO 935 is a lightweight, hands-free headset that is excellent for high-density offices. It features a microphone designed to reduce background noise and echo, as well as an HD speaker with wideband audio for even better calls.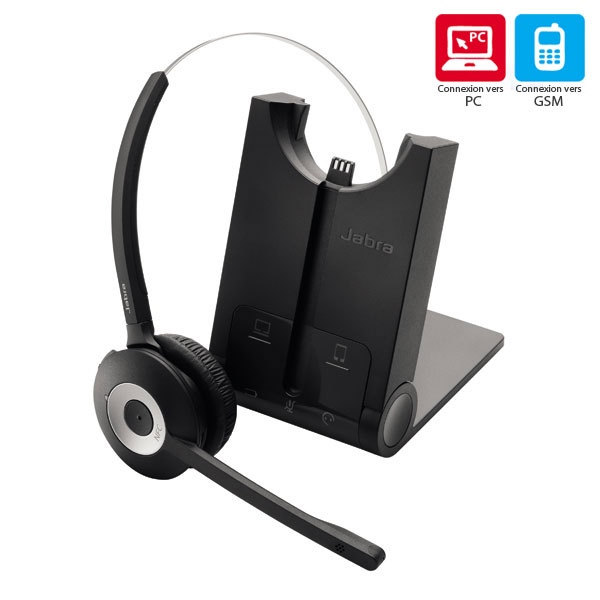 The Jabra headset offers hot-desking capabilities, which allows connectivity to any other Jabra PRO 935 base in the office. It also features perimeter pairing technology enabling rapid connection to any mobile device with Near Field Communication capabilities. You can also control calls remotely while away from your desk.
The Good
100m bluetooth range
Great for 4-way conferencing
HD audio quality
The Bad
Only works for IP telephony
Expensive
Best Budget Bluetooth Headset
Motorola Boom2+ Headset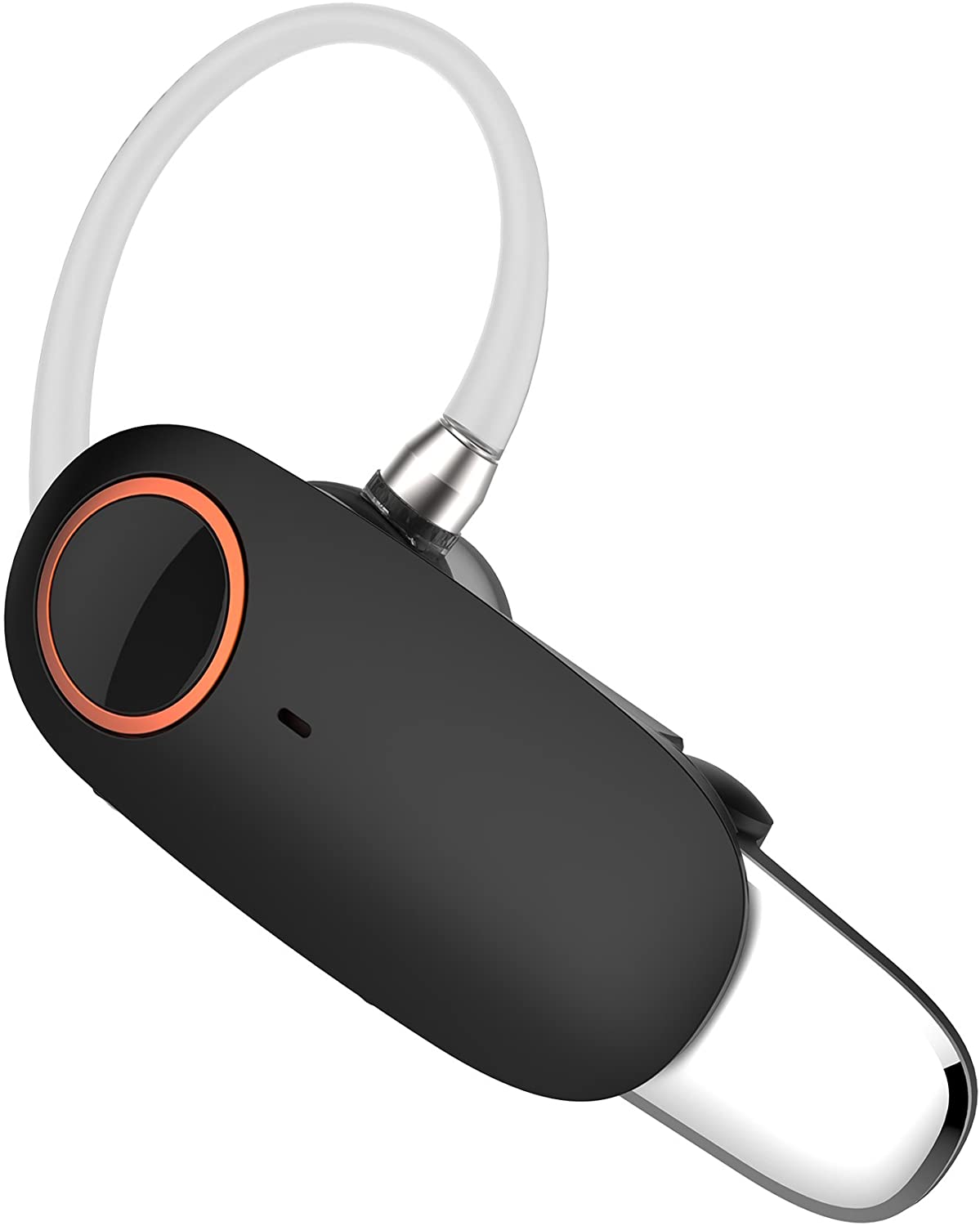 With dual-mic, noise cancellation technology, this hands-free headset provides comfort and functionality. The perfect grab-and-go headset with seven hours of conversation time per charge and quick tap-and-pair setup — excellent for when you need to work from home.
For the price, you get a lot of features, and long wear from them as the battery life can be up to seven hours! This means you can use it all day to work or answer calls from your phone.
The Good
Affordable headset
Water resistant
Various wear styles
The Bad
Quiet max volume
Not the best battery life
Logitech H600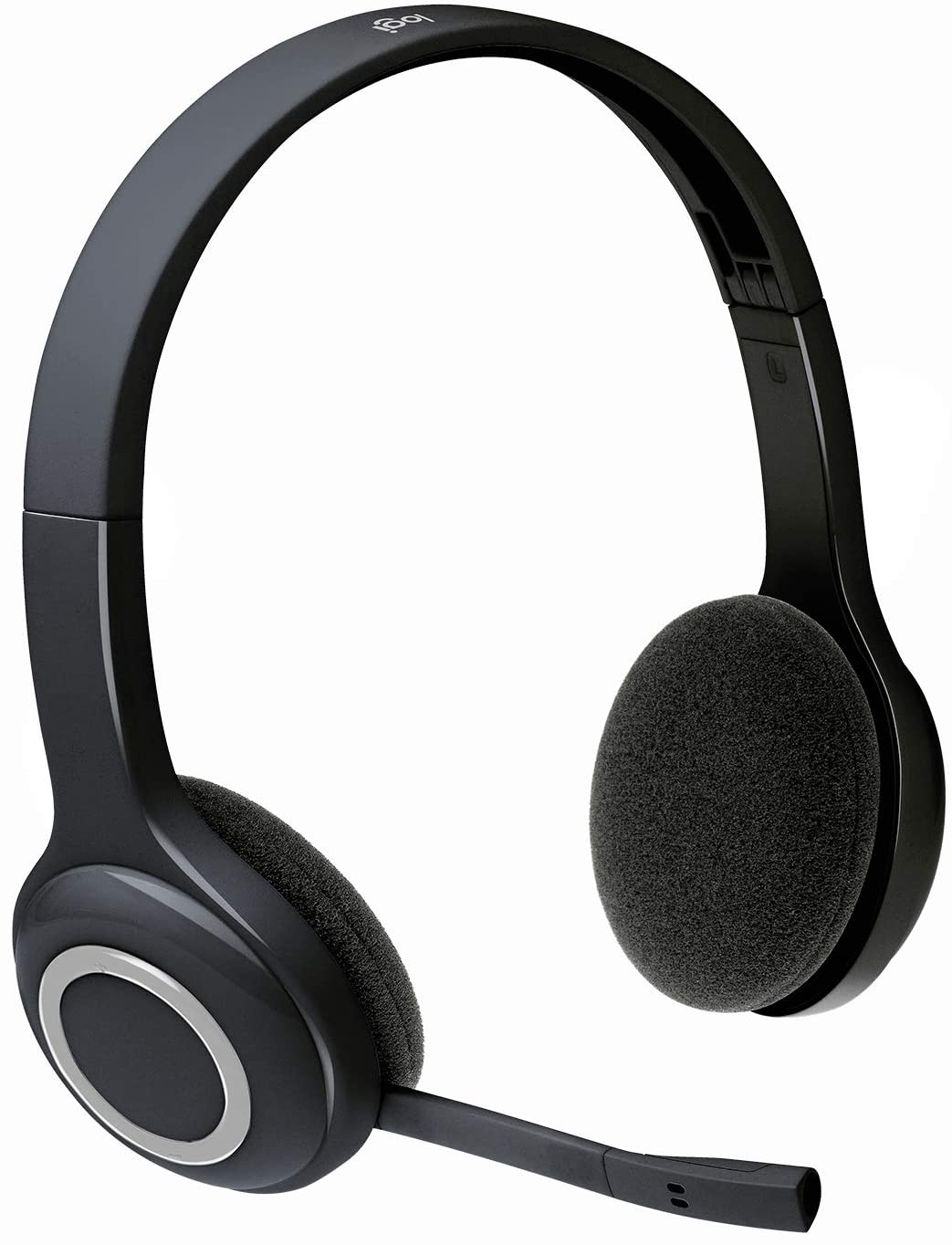 The Logitech H600 is a noise-cancelling headset that uses a USB-A port to connect to your computer. It has a powerful stereo sound, a right-sided boom mic that can be adjusted to your preferences, and enough wireless range to travel around your home office comfortably.
This is another good cheap headset; however, the battery is slightly shorter than the Motorola as it lasts up to six hours instead of seven.
The Good
Wireless freedom
Adjustable design
Budger-friendly
The Bad
Tight fit
Short battery life
Best Compact Bluetooth Headset
Samsung Level U Pro
This set is a comfy alternative that fits comfortably around your neck thanks to flexible joints and a lightweight, ergonomic design. The headset vibrates when you receive a call, allowing you to answer by placing it in your ears.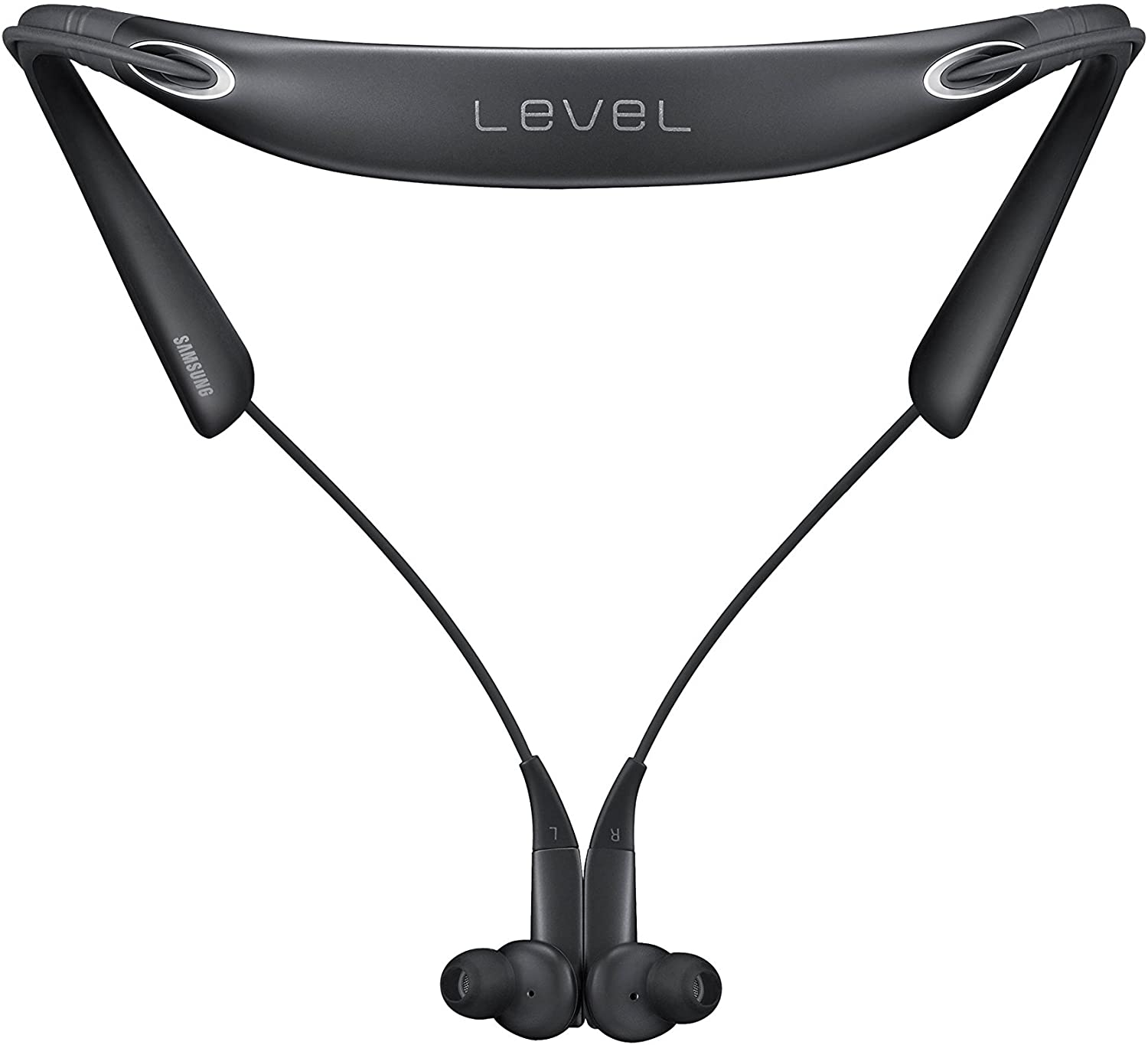 It connects to Bluetooth-enabled phones and tablets, and it has buttons on the side for answering and ending calls as well as lowering the volume. As they are flexible, they are easy to put away in your pocket or bag when they are not in use.
The Good
Lightweight design
Easy to use
Ideal for sportswear
The Bad
Weak noise isolation
Fragile build
Jabra Stealth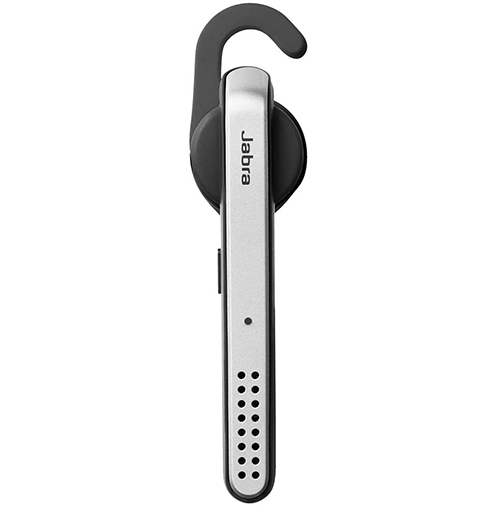 This headset is attractive and comfortable to wear. The sound quality is excellent, and the mic picks up very little background noise. It's a compact, well-made set that's a good choice for weekend or on-the-go calls. It's easy to throw it in your pocket or purse once you've finished using it because it's so compact.
The Good
Excellent sound quality
Compact design
Quick set up
The Bad
Battery is not very long-lasting
Fiddly device
Plantronics Explorer 500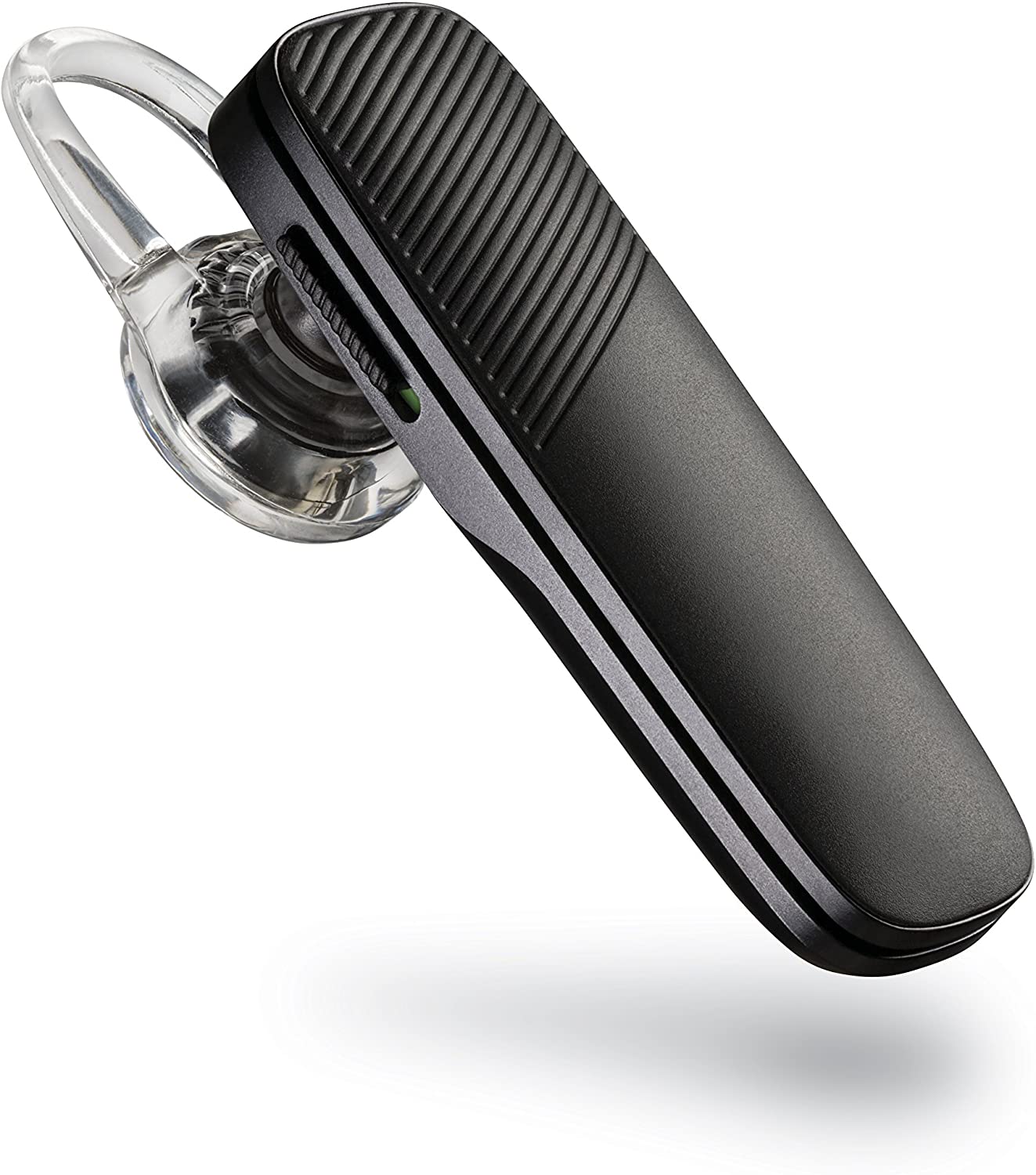 This isn't the first Plantronics headset to make the list of the best Bluetooth headsets, and it won't be the last. The Plantronics Explorer 500 is designed to be small and unobtrusive, but it has a lot of technology, including three microphones and a boom arm for excellent sound quality.
Because of its compact size, its battery life isn't quite as good as other competitors, but it's still adequate with seven hours of talk time.
The Good
High-quality sound
Compact design
Easy to use
The Bad
Not the best battery life
Annoying voice activated process
Best Multi-Connectivity Headset
Jabra Wave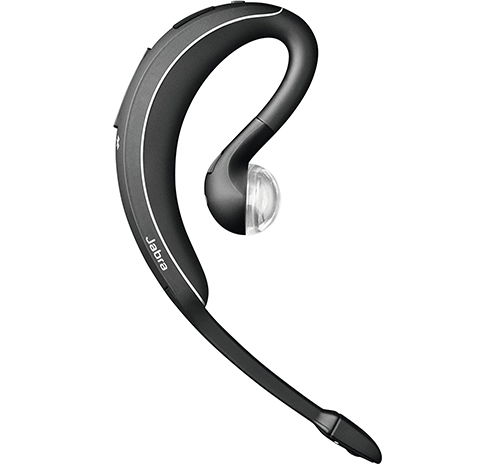 This headset is ideal for salespeople who like to walk while speaking. It has excellent audio quality and noise reduction. It also pairs quickly and can connect to two devices at once, so you don't have to stick to one device all day; instead, you may switch to make your job easier.
The Good
Excellent noise reduction
Can pair with two devices simultaneously
Advanced wind noise reduction
The Bad
Not the most comfortable choice
In-ear piece may be too big for some people
Plantronics M70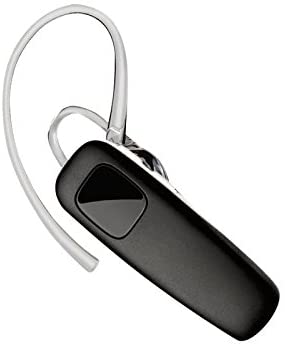 This Bluetooth headset has a lengthy battery life of 11 hours and is reasonably priced. It features a light and airy design that makes it quite comfortable to wear.
It can be connected to a maximum of two phones, and calls can be answered from either of them. In addition, if you leave your Plantronics M70 at work or in your car, it will go into "deep sleep" mode to save battery life.
The Good
Three language options
Long battery life
Compatible with Siri, Google Now and Cortana
The Bad
Not the best volume compared to other models
In-ear piece may be too biug for some users
Best Bluetooth Headset for Outdoor Use
Sennheiser MB Pro 2 UC
This is a premium headset with ultra-noise-cancelling microphones and ActiveGard technology to protect your ears from any sound surges on the other end of the line. The accessory's superb stereo sound quality, which is helped by Sennheiser's unique sound enhancement components, makes it great for both calls and music when you're outside.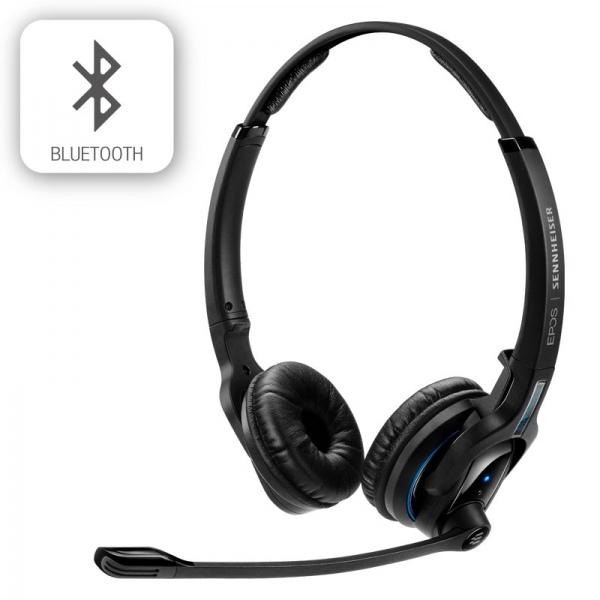 To top it off, the adjustable headband and wide leatherette ear pads ensure that this well-made design lays comfortably on the ears for hours, ensuring that you are always comfortable when you are outdoors.
The Good
Comfortable design
Clear microphone quality
Seamless USB integration
The Bad
Charging stand lacks controls
Limited on-ear controls
Beats Solo3 Wireless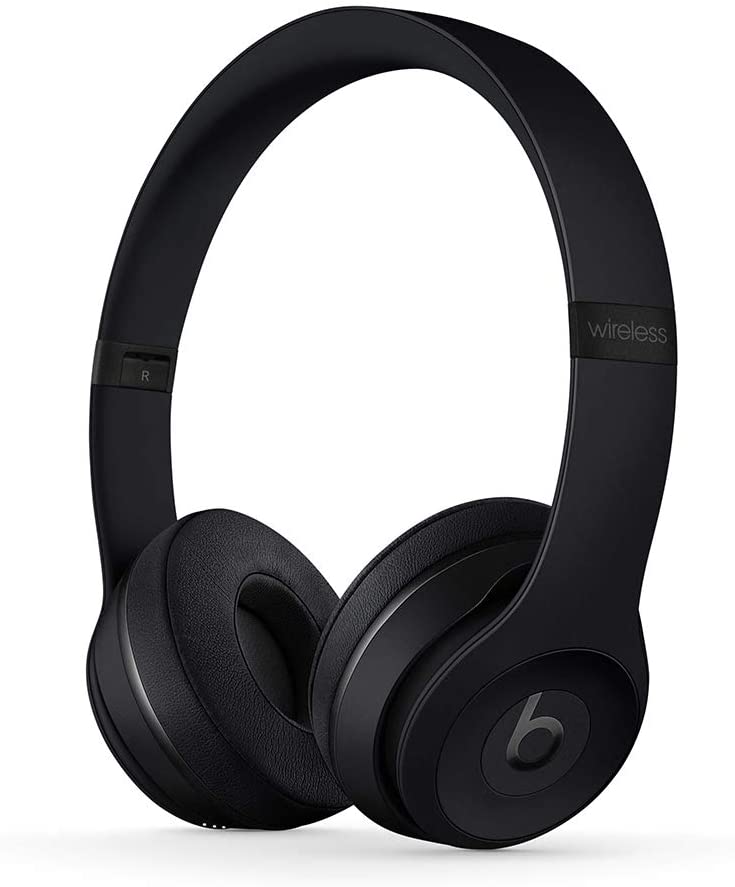 The Beats Solo3 wireless headset is a fashionable option for making phone calls, listening to music, and using Siri on your iPhone. This headset has outstanding sound quality and acoustics, as well as a 40-hour battery life, making it a good choice for everyday use. The cushioned ear cups are designed for a natural ear fit that is free of pressure or irritation.
Although they are expensive, they are one of the best for blocking out any sound. So, if you enjoy going on quiet walks with headphones in, this Bluetooth headset will block out any sounds.
The Good
Good wireless stability
Excellent battery life
Great sound quality
The Bad
Expensive
Not the most comfortable
Jabra Elite 45h
They look identical to the Jabra Evolve2 65, except they don't have the flip-down microphone and instead have a dual-mic incorporated into the right earcup. However, call quality is unaffected. The Elite 45h can be charged with the provided USB-A to USB-C connector and has a battery life of 50 hours of audio playback. It is perfect to go on walks or runs and not worry about them dying as well as the sound being loud.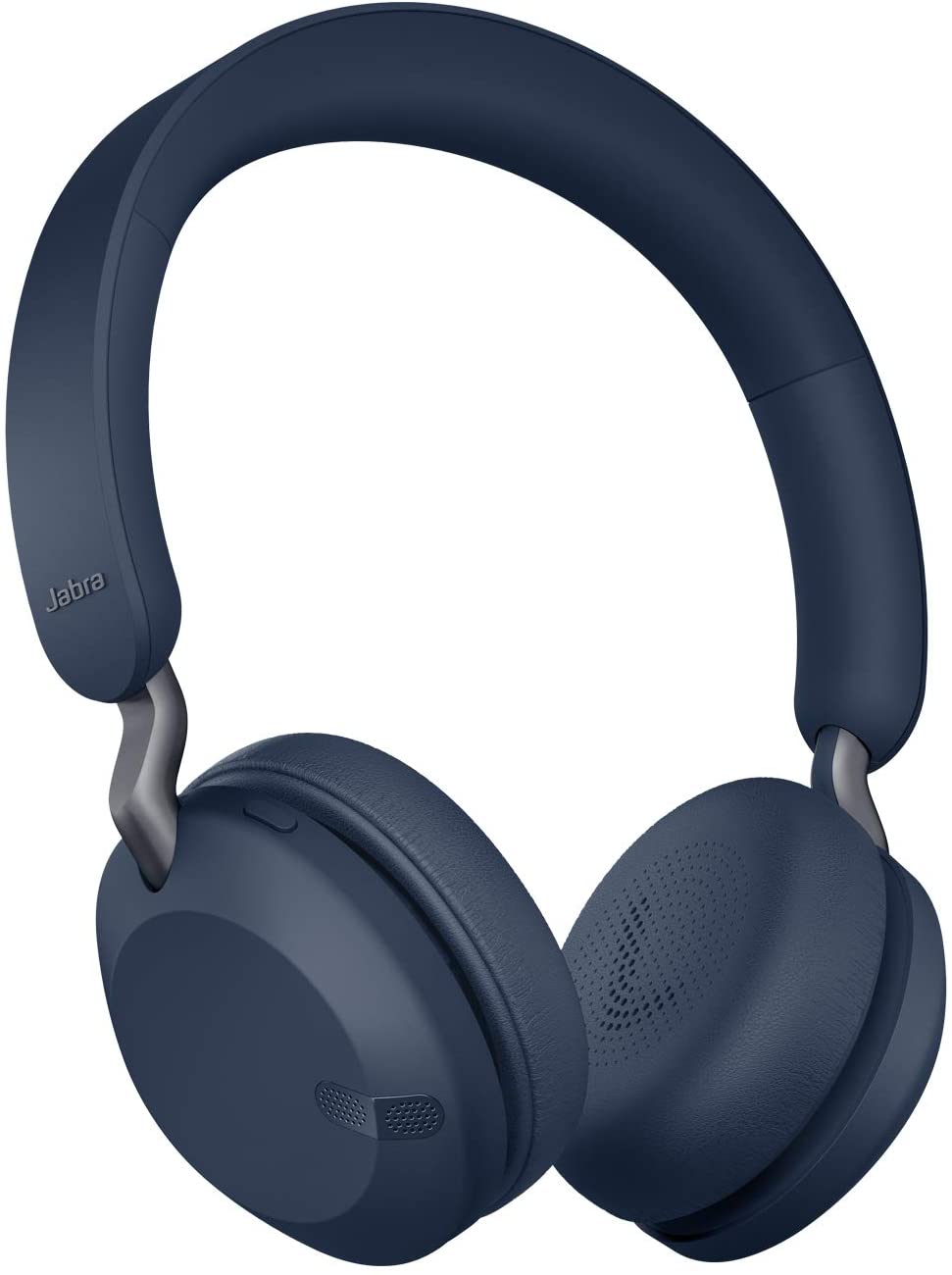 The audio is detailed and deep, and the Sound+ app allows you to customise your listening experience. Jabra's MySound technology analyses your hearing during setup to generate a custom EQ. Although there was no difference between our profile and the default one, individual experiences are likely to differ.
The Good
Well balanced sound
Impressive battery life
Useful app
The Bad
Call quality is not the best
Ears may feel hot after use
Best Gaming Bluetooth Headset
LG Neckband Bluetooth Headset
The two earbuds can be detachable from the neckband and worn independently or as part of it. They enable Advanced Audio Distribution, Audio/Video Remote, Handsfree, and Headset, as well as all four Bluetooth communication standards. After you've finished making and receiving calls, easily transition to listening to music.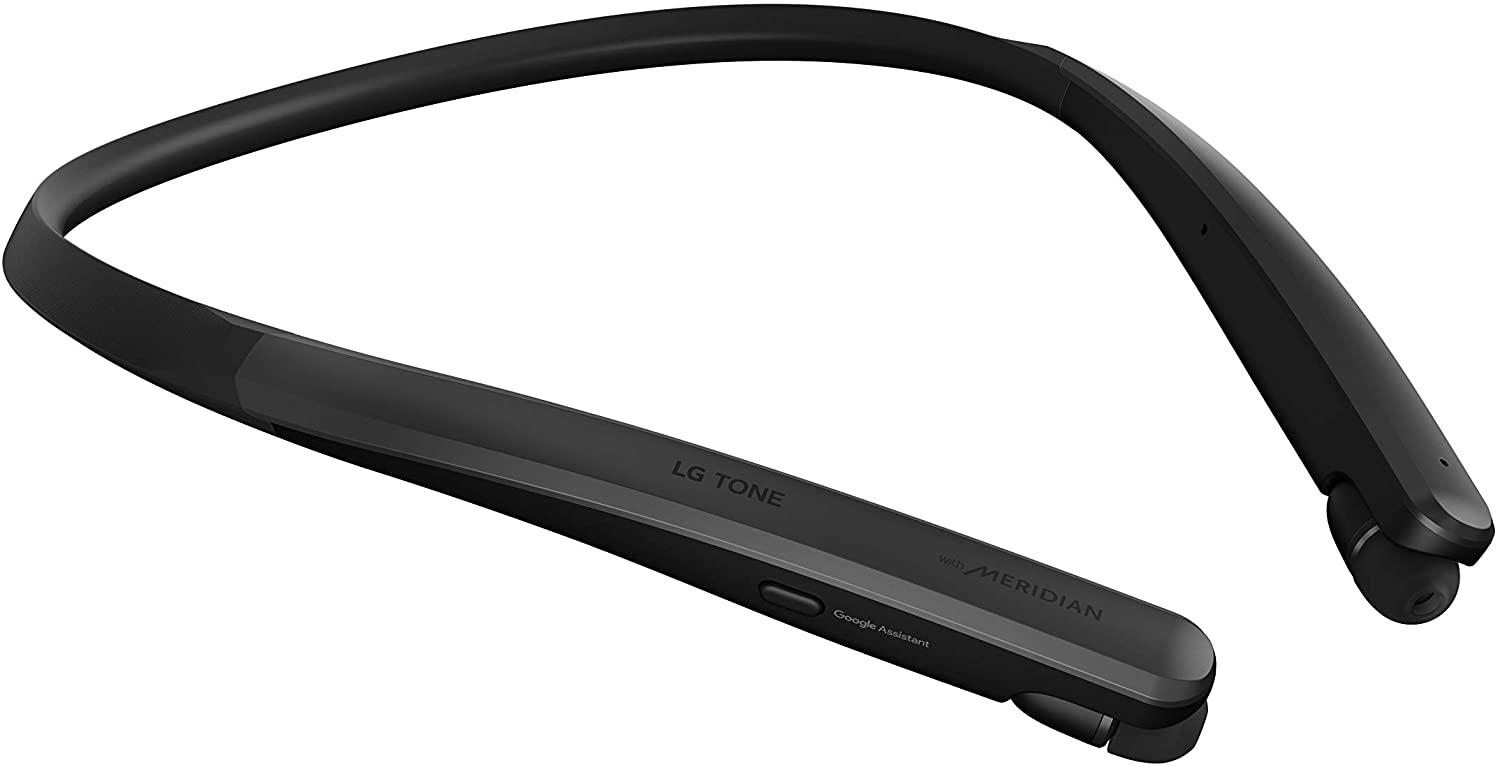 This headset is also great for playing video games as it is extremely lightweight and doesn't hurt your ears, so you don't get distracted while playing your game. It also lasts you a long time as the quality of the headset is amazing, and the battery lasts up to 13 hours!
The Good
Autoconnect function
Uses Bluetooth 5.0
Comfortable retractable earbuds
The Bad
No multiconnect
Thin cables
BlueParrot B550-XT
This headset has several features that can be operated with your voice, allowing you to be hands-free. You may also tweak your preferred features with a single button push. If you want, this set also works with Google Assistant and Siri.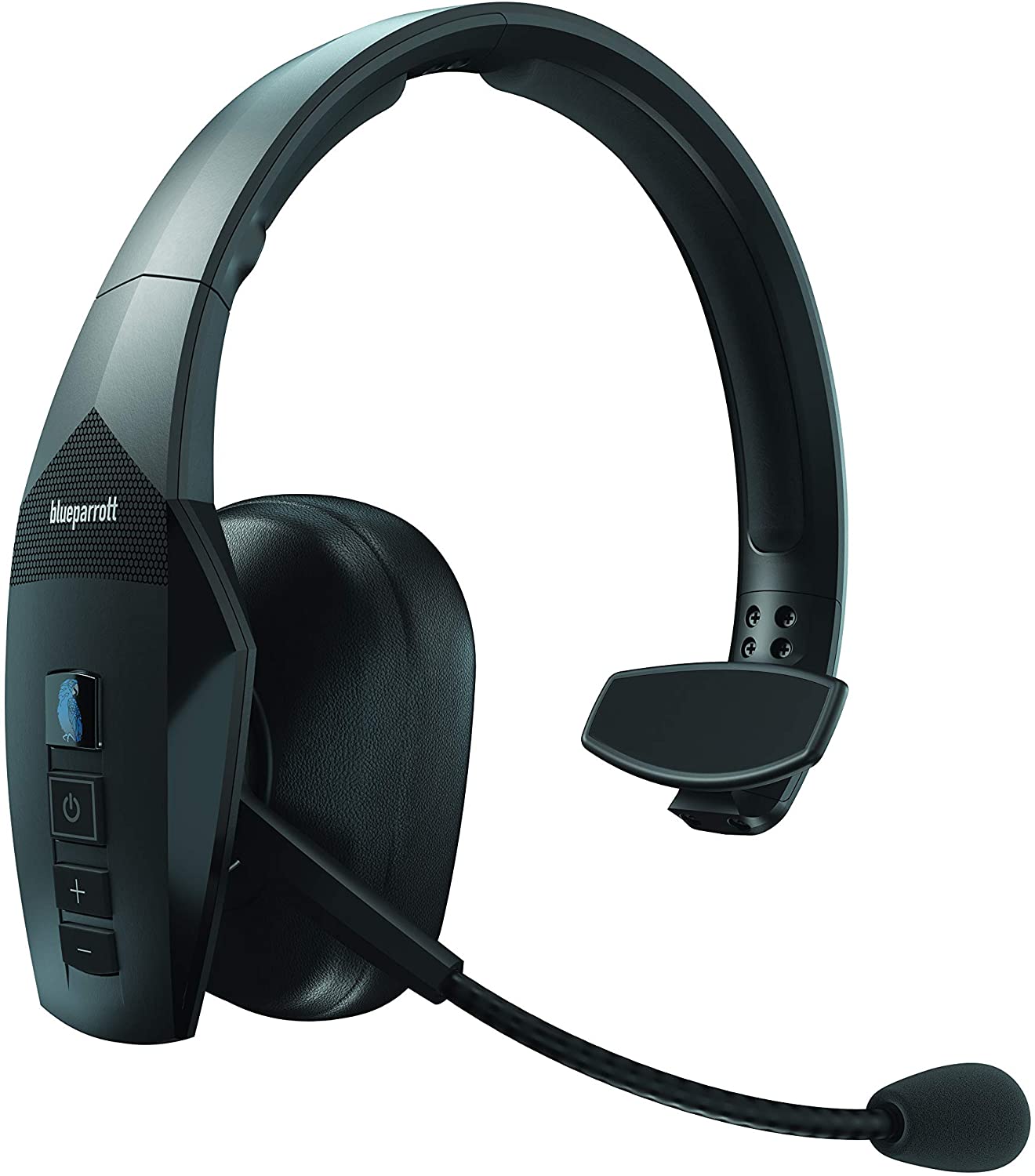 It is perfect for getting fully involved in your video game as the sound is completely blocked outside your headphones. They make it come to life! Although the price is fairly high, the quality and the long-lasting durability makes it all worth it.
The Good
High-quality noise cancellation
Multipoint connection
Voice-controlled calls
The Bad
Not compatible with all PCs
Not the most comfortable
HyperX Cloud II Wireless
The Cloud IIs has superb sound and build quality, with all the important functions executed well and no unnecessary extras increasing the price. The stereo soundscape of this closed-back design is punchier in the low end than we normally prefer. The added bass doesn't detract from overall clarity, and it sounds amazing in gaming and music environments. The neodymium magnets are designed to provide low, medium, and high magnetic fields.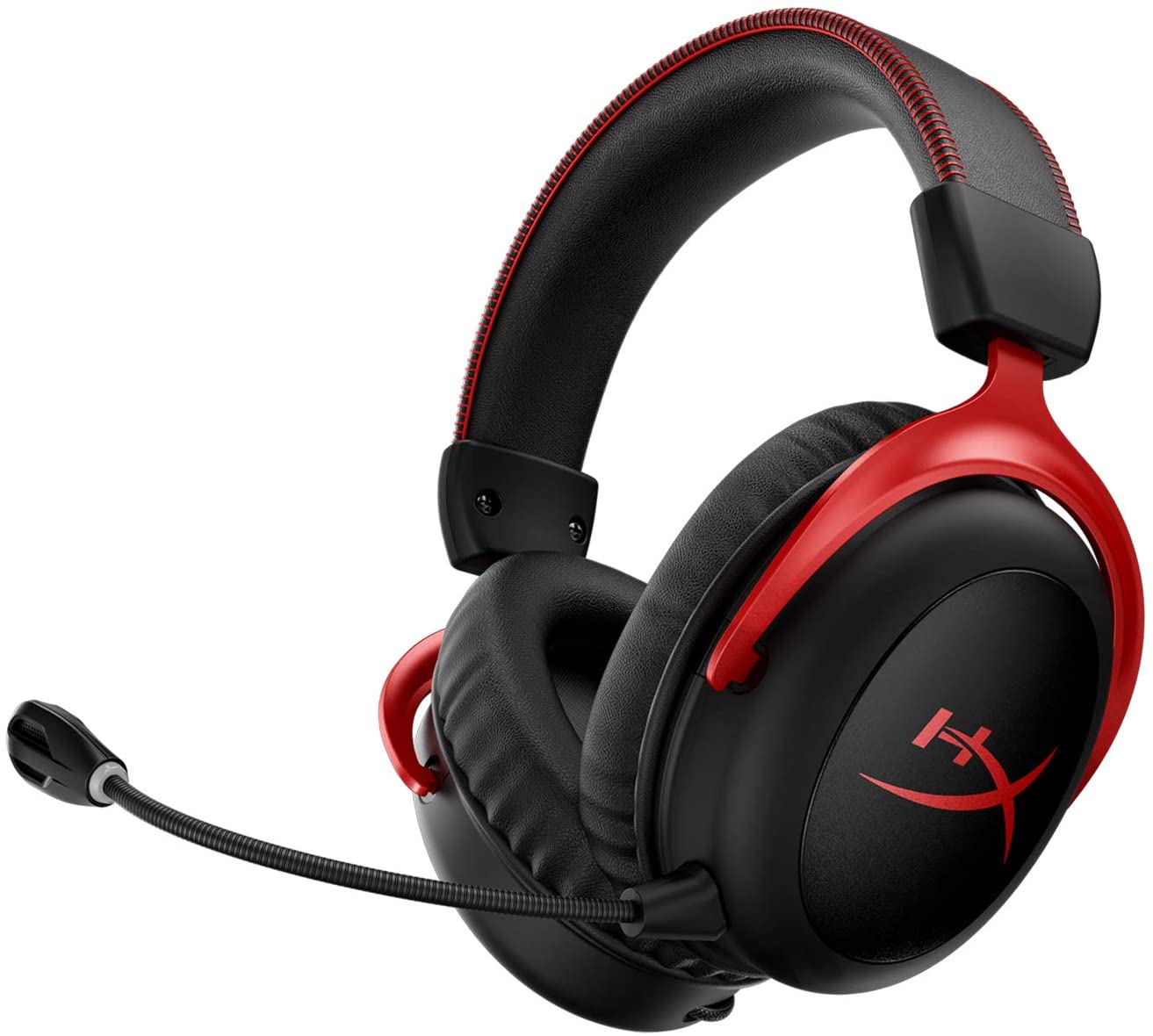 The Cloud II design has always offered exceptional build quality, extensive cushioning, a clean mic, and great levels of comfort throughout lengthy play sessions.
The Good
Great gaming headset
Noise-cancelling detachable mic
Very comfortable
The Bad
Picks up background noise
Surround sound not compatible with Xbox
What to Consider Before Buying a Bluetooth Headset
A good Bluetooth headset may make your life a lot easier if you spend a lot of time on the phone. It gives you a better way to talk freely for hours on end. If you want good call quality and to minimise ambient noise, using your phone in hands-free mode isn't an option, and no one wants to be stuck holding their phone to their ear for an extended period.
So, if you are willing to pay money for a good headset, you should consider some things before buying one.
What Style?
In-ear Bluetooth headsets tend to be the least expensive Bluetooth headsets meant for usage with mobile phones. Most models are compact and light, with a selection of ear tips in various sizes to ensure a secure and comfortable fit. Bluetooth headsets with a loop that hooks over the back of your ear for increased stability are also widespread.
For example, if you're looking for a Bluetooth headset to use when working from home, an on-ear headset is a good option. They're more comfortable to use for extended periods than in-ear headsets, and the stereo sound quality is far superior. These headsets are often more expensive than their mono counterparts, but if you can afford it, the extra cost is well worth it.
Other Features
Voice assistants are becoming increasingly popular, thanks to Siri, Alexa, and Google Assistant. You may activate them by uttering the trigger word (Alexa, OK Google) or pushing and holding the microphone button on most Bluetooth headphones. Some headset makers now offer a dedicated button that allows you to activate your preferred voice assistant even faster.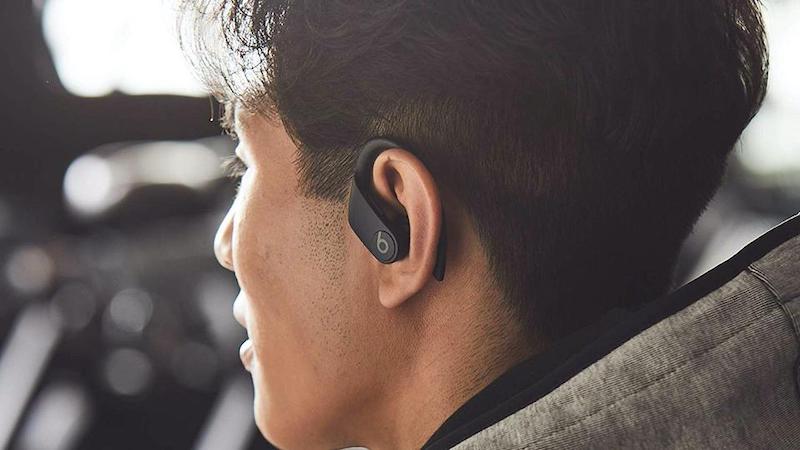 Battery Life
For Bluetooth headsets, battery life is divided into two categories: talk time and standby time. This may not hold in the real world, but if a headset advertises a nine-hour talk time, it should endure a few days of use before needing to be recharged. If you don't want to be caught off guard, seek a headset with a display or audio indication that tells you how much battery life is left.
Comfortable and Convenient
How comfortable and convenient headphones are important aspects to consider. For example, over-ear headphones are large and bulky, but they provide higher sound quality but may not be as pleasant or portable.
Quality and Price
The price of a pair of wireless headphones, like any other purchase, could be the deciding factor. In comparison to wired headphones, wireless headphones are more expensive. However, this does not imply that you must empty your bank account to buy a good pair of high-quality headphones. Premium headphones or certain brands will be more expensive.
There are a plethora of low-cost, high-quality headphones on the market with various functions to help you get the most out of your audio. If you're looking for a pair of headphones for a professional music project, a pair of wireless headphones with sophisticated functions and a higher price tag can be worth considering.
FAQs
How do you connect a Bluetooth headset?
Hold the power button on your headphones for a few seconds. You must activate pairing mode on your Bluetooth headphones to connect them to your device. This will turn on your headphones and immediately activate the Bluetooth function, depending on the headphones you have.
How do you use a Bluetooth headset?
Select the headphones from the drop-down menu. Pull down the shade from the top of the phone and long-press the Bluetooth symbol on an Android device. It will immediately take you to the Bluetooth menu, where you may switch it on and then search for devices. To pair your headphones, tap the name of the headphones you're trying to pair.
Are Bluetooth headsets worth it?
Yes, and they're unquestionably safer than just using a cell phone. Whether you're concerned about radiation-related health dangers or distracted driving, Bluetooth headsets can help.
What is the difference between Bluetooth headsets and wireless headphones?
Wireless headphones normally require an adaptor to connect to the device, whereas Bluetooth is frequently embedded into the device by default. Wireless headphones send audio signals via infrared or radio waves, whilst Bluetooth headphones send audio signals via radio waves.
What is the advantage of wearing Bluetooth headsets?
Signal interference is not a problem with Bluetooth headsets. If they do, it will be so quiet that you won't notice. It's because they use a low-power wireless transmission and a spread-spectrum frequency hopping technology. If you're looking for reliable wireless headphones, a Bluetooth headset is the way to go.
Sources