office & business
Best Standing Desk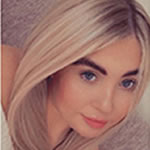 Did you know that sitting for long periods is harmful to your health? People who sit down for longer have a higher risk of diabetes, heart disease, and premature death. Sitting over long periods burns very few calories, and several studies have connected it to weight gain and obesity.
This is an issue for office workers, who spend most of their time sitting. Standing desks, fortunately, are becoming increasingly popular.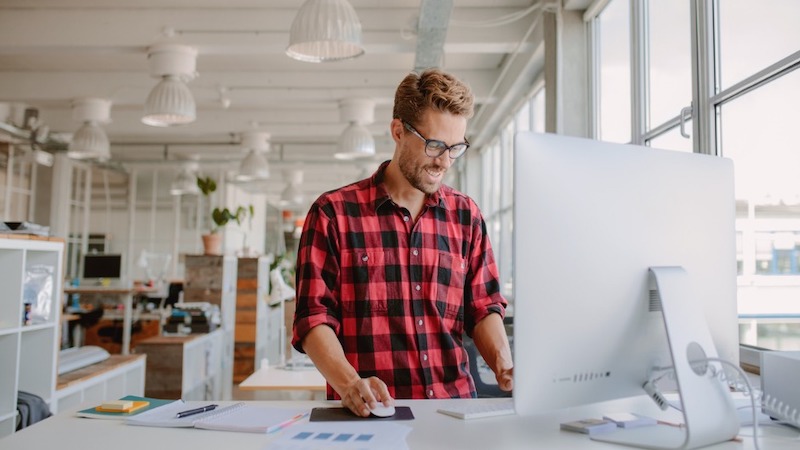 That is why we have created this article to educate you on what standing desks are and how they work as well as helping you understand all the different types of standing desks you can buy and the best options there are out there!
So, if you want to learn about the different options rather than sitting down in your office all day, this article is for you.
What is a Standing Desk?
A standing desk is a desk that allows you to stand comfortably while working. Modern versions are adjustable, allowing you to switch between sitting and standing. Height-adjustable workstations, or sit-stand desks, are what they're called. Although research is still in its early stages, standing at a desk has been shown to have significant health benefits. It has the potential to boost productivity.
At the absolute least, employing this style of desk can mitigate the negative effects of excessive sitting. It provides several health benefits, including lowering your risk of weight gain and obesity, lowering blood sugar levels, lowering your risk of heart disease, and reducing back discomfort. In the long term, a standing desk is a superior alternative for your health.
How Does a Standing Desk Work
It's critical to match your workspace to your body's needs to reap the benefits of a standing desk. From the outside, it may appear that using standing desks is simple: you simply stand and work.
Every human body, however, is unique. Your desk will be at a different height for you than for someone else, which is a wonderful thing! Here's how to customise your standing desk to fit your needs.
Adjust your standing desk to your elbow's height. These suggestions are meant to keep your arms and hands safe.
Watch your posture because Poor diet and bad posture are to blame for most backaches. Following these guidelines will help you avoid harming your body.
Keep your wrists straight and parallel to the desk surface as excessive extension and flexion (up and down) of the wrists can compress the internal anatomy of the wrists, increasing the risk of carpal tunnel syndrome.
Types of Standing Desk
There are many different types of hair straighteners. This section will outline the differences so you can choose which type is right for you:
Height Adjustable Standing Desk
If you're in the market for a new desk, a height-adjustable desk is a good option. These are one-of-a-kind desk units featuring a height-adjustable mechanism. There are a variety of tabletop surfaces, frame materials, and adjustment methods to choose from. You may have the best of both worlds with a height-adjustable desk and a well-made ergonomic office chair.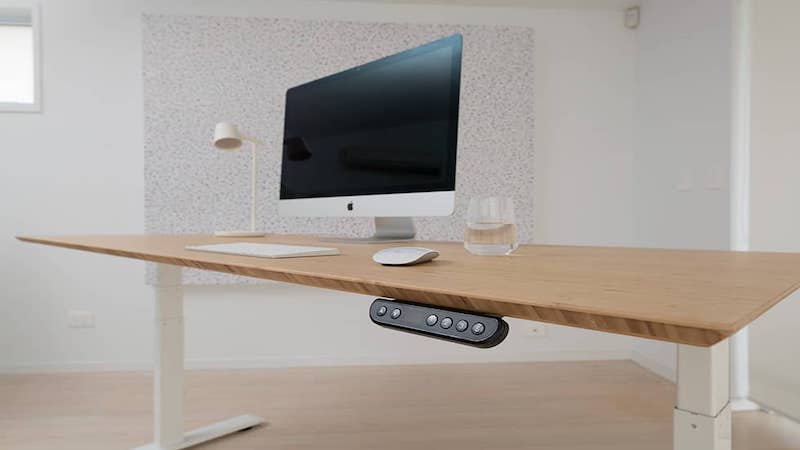 With a standing desk converter, you can obtain the same benefits. On the other hand, a height-adjustable desk comes with a spacious work area with enough room for your computer and other accessories. However, a converter will take up existing desk space, and the monitor and keyboard will be on separate tiers. Other accessories or dual-monitor setups may take up less space.
Fixed Height Standing Desk
The height of a fixed standing desk is predetermined. It does not adjust for varying heights when sitting or working. You can use a fixed standing desk in conjunction with a desk treadmill or stationary bike. These are ideal for collaborative work environments, medical offices, and other environments where moving around and engaging with customers or clients is required.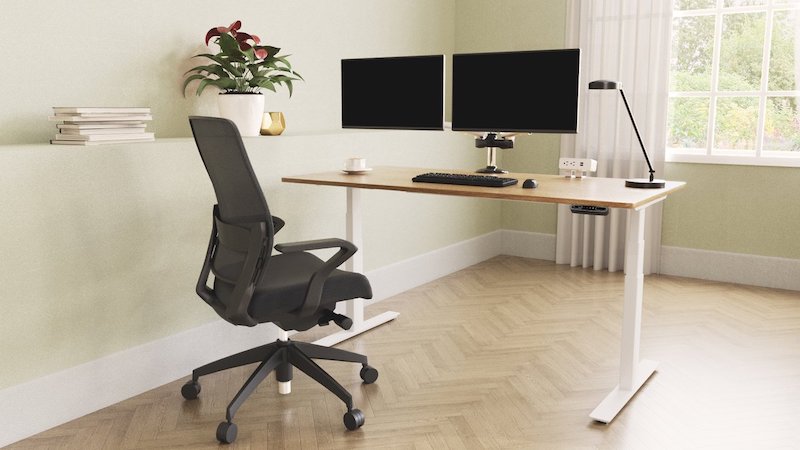 If you use one of these at home, make sure you have a comfortable chair nearby. While standing while working is a terrific technique to improve posture and burn calories, you must still take breaks. So, bring your laptop and a chair with you so you can sit and work for a while. Naturally, with a fixed unit, you must ensure that it is erected to the proper height.
Drafting Desks
Architects, engineers, and artists use the drafting desk as a versatile workspace. It's a solid foundation for drafting and reading plans. Most tables are height-adjustable, allowing you to work while standing or sitting. The capacity to alter the board inclination angle to a comfortable drawing position is a fundamental characteristic present in drafting tables.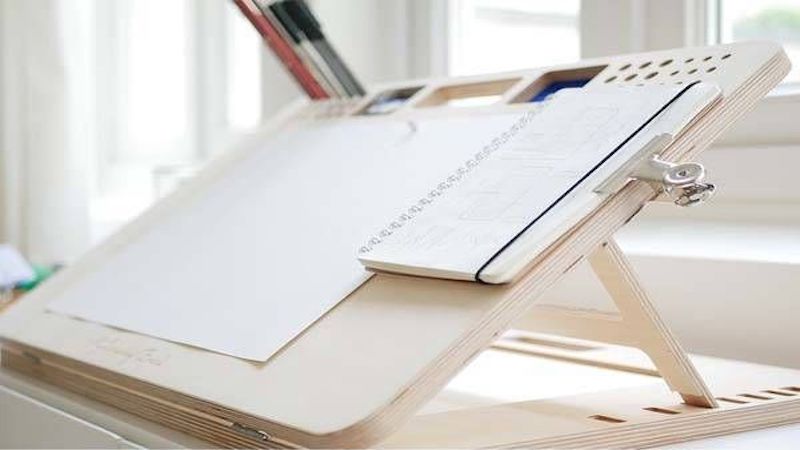 Desktop Risers
Most organisations with office desks and computer workstations might benefit from desk risers. Desk risers boost the height of an existing desk, allowing you to situate your workstation at a more comfortable height. Using a desk riser to raise your desk height without having to buy a new desk is a cost-effective and straightforward solution.
Standing Desk Converters
If you already have a good desk, adding a converter will allow you to stand while working during the day. Simply put the display on the top layer and the keyboard on the bottom. Depending on your preference, you can keep your mouse on the top or bottom layer.
Many converters have a gas lift system that allows you to easily raise and lower the desk by pressing a lever.
Electronic Standing Desk
Motorised rising columns, as well as programmable settings, integrated cable management, and up/down button controls, are included with an electronic standing desk. They're ideal for people who desire the most convenience when switching between sitting and standing positions. To raise or lower the desk, simply press a button. This will make things a lot easier if you have back or shoulder aches.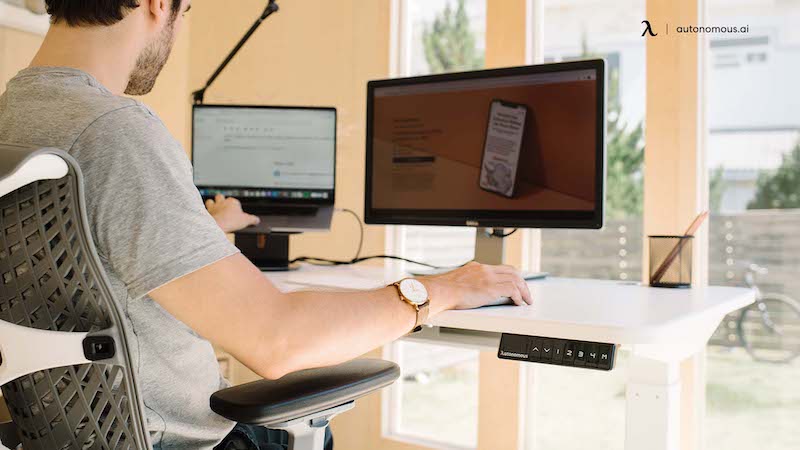 Of course, there are some disadvantages to using an electrical unit. The first is the financial aspect. Some high-end motorised models, for example, cost over £1000. This is especially true for L-shaped units or those with extra features like sustainable tabletops and automated adjustment. Most standard units, on the other hand, will cost between £300 and £600.
The Best Standing Desk
A standing desk or a standing desk converter may be beneficial if you feel less productive when working at home and believe your existing work setup is to blame. Standing desks can help with bad workstation posture and chronic bodily pain caused by sitting for long periods.
Here are the best standing desks that you can buy that will change your life.
Best Height Adjustable Standing Desk
Branch Standing Desk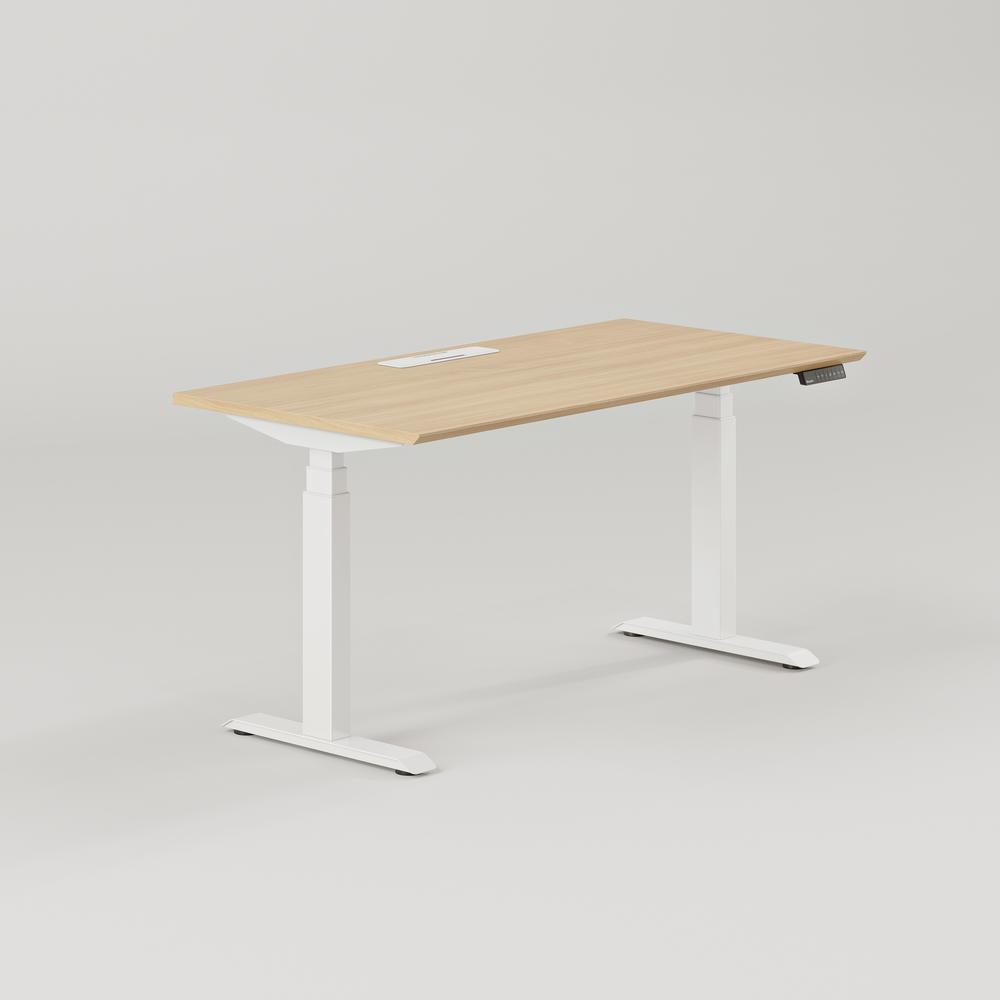 Branch's desk, which is one of the sleekest, can be customised by each customer to create the perfect WFH desk of their dreams; you may add a monitor arm to free up space on your desk or a built-in power strip to eliminate trip hazards in your workstation. It features a huge range of height adjustments, ranging from 2' while sitting to a whopping 4'4" for people who are nearly 7 feet tall.
The height panel allows for four distinct presets, and the "EasyGlide" motor promises to be astonishingly quiet. The motor barely makes a sound, and the leg's stability ensures that your belongings don't shift while in motion. However, the majority of reviews have emphasised how long it takes to set up.
Things we liked
Quiet operation
Wide range of height adjustments
Ideal for tall and small people
Things we didn't like
It takes awhile to set up
Quite expensive
Comhar All-in-One Standing Desk Glass Top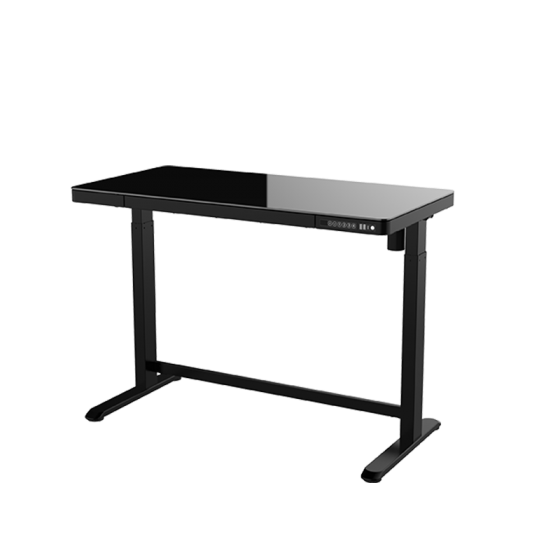 This model was one of the easiest to set up and use right away after it was unboxed. The tempered glass top has rounded edges to prevent uncomfortable bumps in confined places, yet the desk's tiny size makes it ideal for a nook or unused corner of a living room.
The desk's anti-collision feature prevents you from accidentally crushing a chair or box beneath it, and the extended keypad controls are both useful. However, there is no port for organising electrical cords.
Things we liked
Easy set up
Comfortable design
Ideal for small spaces
Things we didn't like
Nowhere to hide cables
Not a lot of desk space
V2 Bamboo Standing Desk
When adjusted using electronic keypads, Uplift's standing desk is exceptionally stable. Due to its adaptability in adjustment ranges, this may be the greatest fit for a pair or shared office space. While a bamboo-finished desk is standard here, Uplift's website lists 19 alternative finishes and four different frames, as well as a few optional add-ons.
Because there's a steel crossbar between the workstation's legs to decrease sway, the desk won't move even if you're a heavy typer or switch settings frequently during the day.
Things we liked
Comes in a wide range of finishes
Various sizes to choose from
Comes with a free wire management tray
Things we didn't like
Reports of missing parts
Stability issues
Best Fixed Height Standing Desk
Stand Up Desk Store Fixed Stand-Up Desk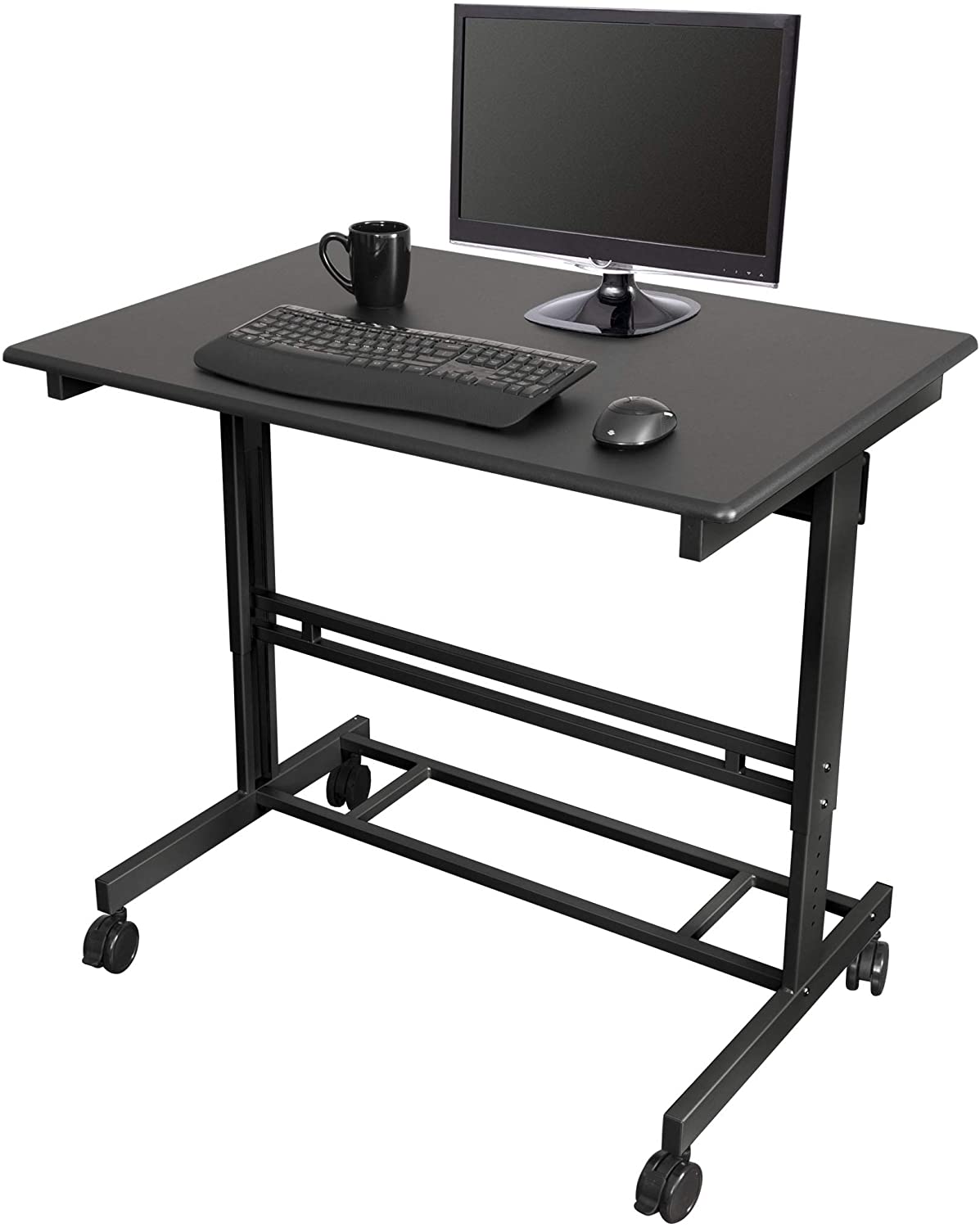 This is a fixed height standing desk, which means it cannot be moved, but it is also quite affordable. The desk is 46.1 inches tall and is divided into two tiers: desktop monitors or laptops and your keyboard and mouse.
Monitor mounts are also available for an extra fee. It also has to lock castor wheels.
Things we liked
Robust construction
Easy to move
Spacious design
Things we didn't like
Not easy to move up and down
It lacks a lever
Office Fitness Fixed Height Standing Desk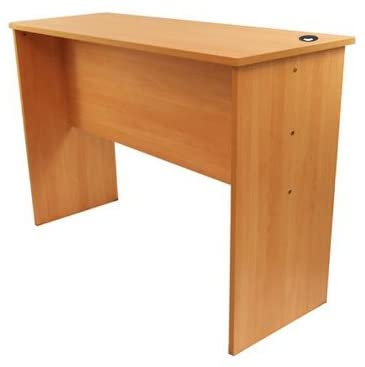 Why sit and gain weight when you can stand and keep your weight in check? Sitting for long periods has been linked to blood glucose problems and an increased risk of heart disease. As a result, this standing desk is ideal for you. The Office Fitness Fixed Height Standing Desk is a workplace revolution and remedy to the dangers of long-term sitting.
This fixed height standing desk comes in three sizes and has a 25mm top and slabs. It has a 550mm high modesty panel in the centre and comes in beech, white, walnut, and light oak.
Things we liked
Made to order
Available in various sizes
Ideal for tall people
Things we didn't like
Can take awhile to arrive
Cancellations are not accepted
Wide Standing Desk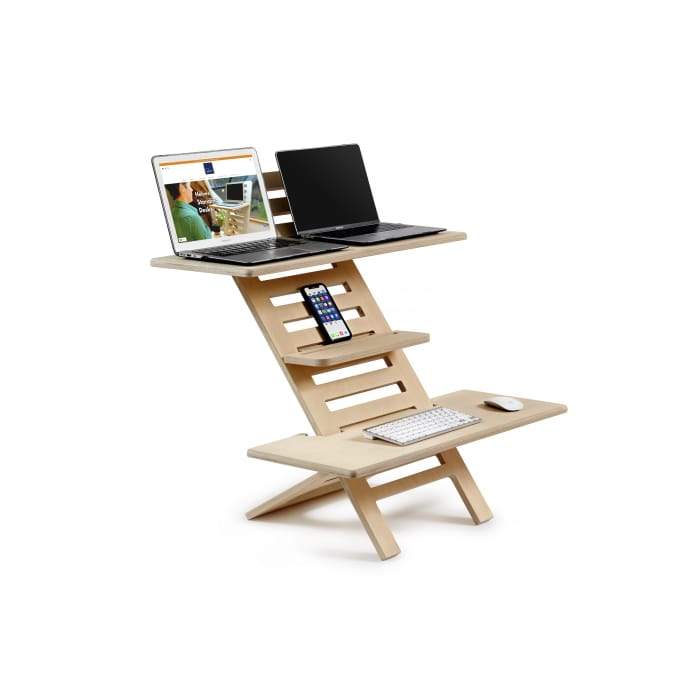 The WIDE desk is suitable for a dual-screen arrangement. We've added two wide shelves to our tall desk. For two laptops or a monitor/laptop combination, this is a straightforward option.
Configure the various shelves to reach the ideal working position while also improving your health.
Things we liked
Ideal for multiple screens
Increased workspace
Easy to assemble
Things we didn't like
Not ideal for tall people
Unused slots
Best Drafting Standing Desk
Zeny Drafting Desk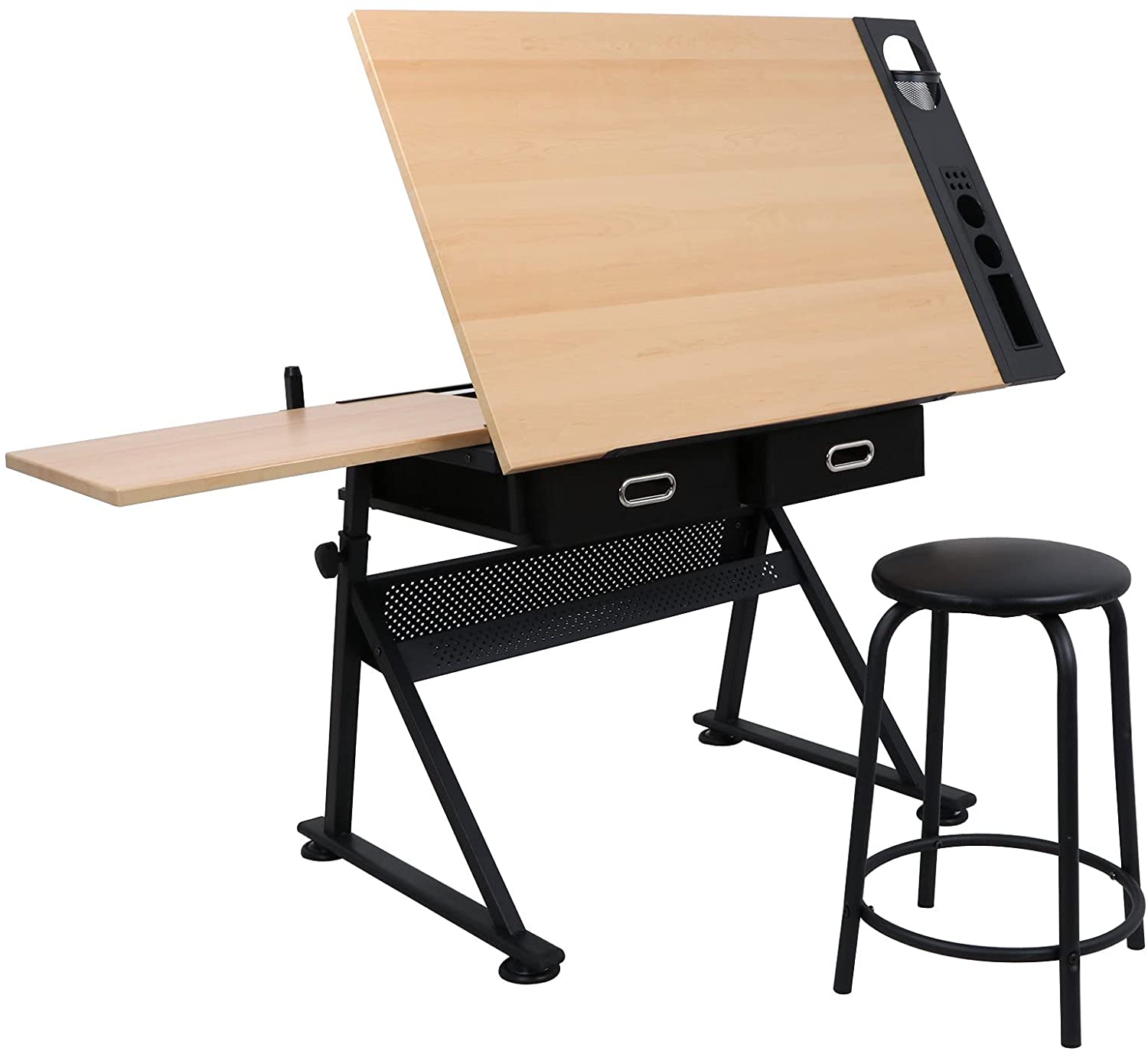 It features a straightforward design that complements the table. The stool has a height of 20.87" and a diameter of 12.2". This ZENY drawing desk is built of a high-quality MDF board with PVC coating and a powder-coated steel frame. Any filth can be easily removed with a moist cloth.
It comes with a coordinating luxury stool for added comfort. 6 height and angle adjustments allow for various seating positions. The angle of the top table can be adjusted from 0 to 45 degrees. The sheet stopper on the lip works well to keep sheets from slipping. Two large drawers are used to store pens and other drawing equipment.
Things we liked
Made of high-quality material
Six adjustable heights
Features useful storage
Things we didn't like
Fake wood look
Bolt misalignment
SD Stand Up Desk Drafting Table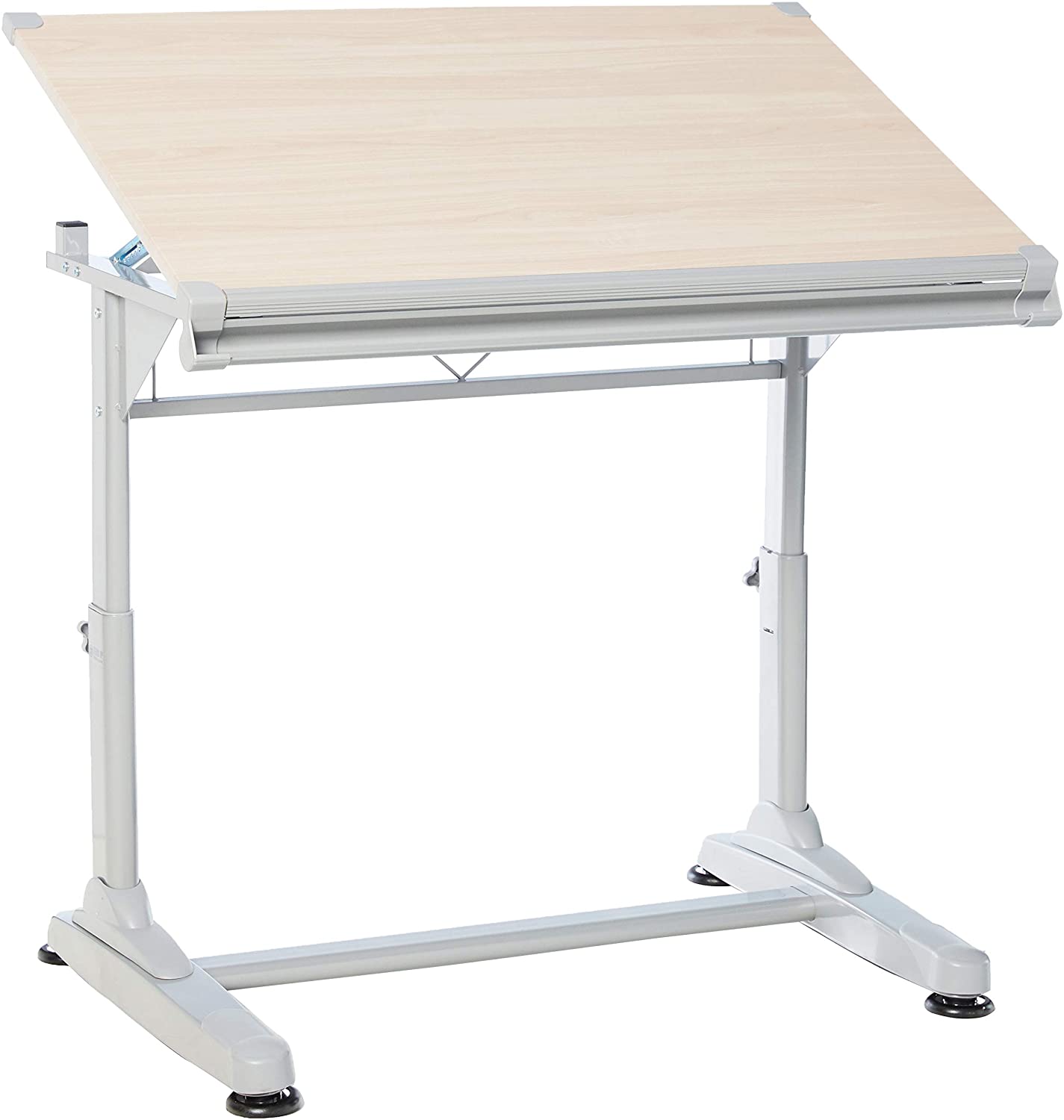 This SD Studio Designs alternative for a mechanical desk smoothly transitions between sat and standing positions. In a sitting posture, the angle of the desktop can be adjusted from flat to a 68-degree angle, or 22 degrees standing. This desk also addresses a common complaint about standing desks: the lack of storage. Keep pens, pencils, and other tools organised with the detachable, divided side trays.
It includes a set of huge rubber furniture feet for a solid platform and 11 incremental desktop angle settings from flat to 45 degrees; a full-length pencil tray enables convenient storage.
Things we liked
11 different angle settings
Features handy storage
Things we didn't like
Cheap material
Not easy to assemble
SD Sit to Stand Glass Drafting Table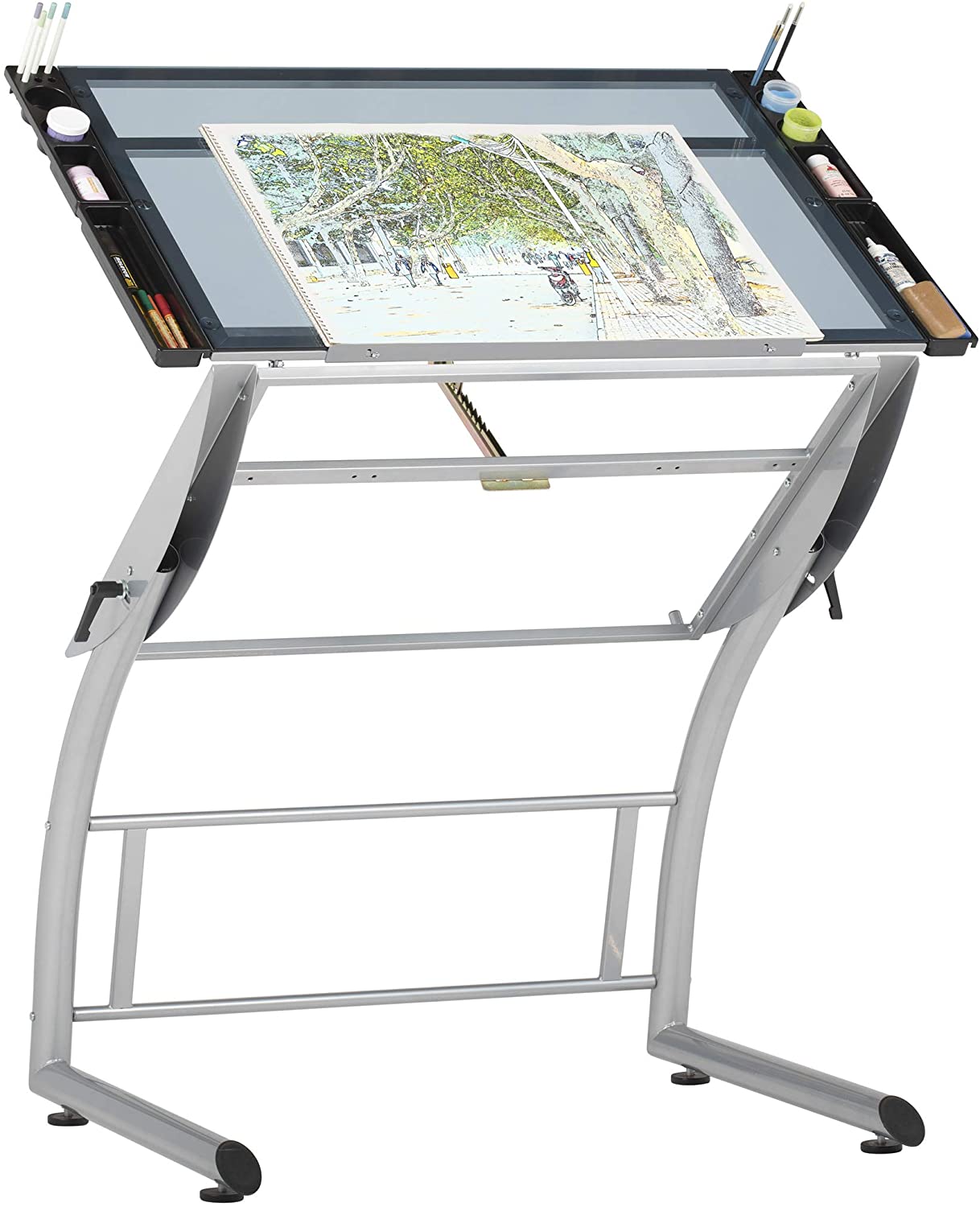 This sleek and unique sit-to-stand flexible drafting table is a great option if you prefer to work both sitting and standing. You may tilt it at 31 inches to use it as a regular desk or move it to 39.5 inches to utilise it as a standing desk. When standing, the tabletop may be changed to a 22-degree angle, and it can be adjusted to a 68-degree angle when seated.
The SD Sit to Stand is essentially a three-in-one desk, thanks to its revolutionary design. It may be used while standing or sitting for drafting, writing, and drawing. You may also purchase light pad metal support bars to turn it into a lightbox table. Furthermore, excess residue and dust may be readily wiped off the surface, a trait that any artist would appreciate.
Things we liked
Flexibility to sit and stand
Straightforward setup
Functional design
Things we didn't like
It can be wobbly
Screws missing on arrival
Best Standing Desktop Risers
Executive Office Laptop Stand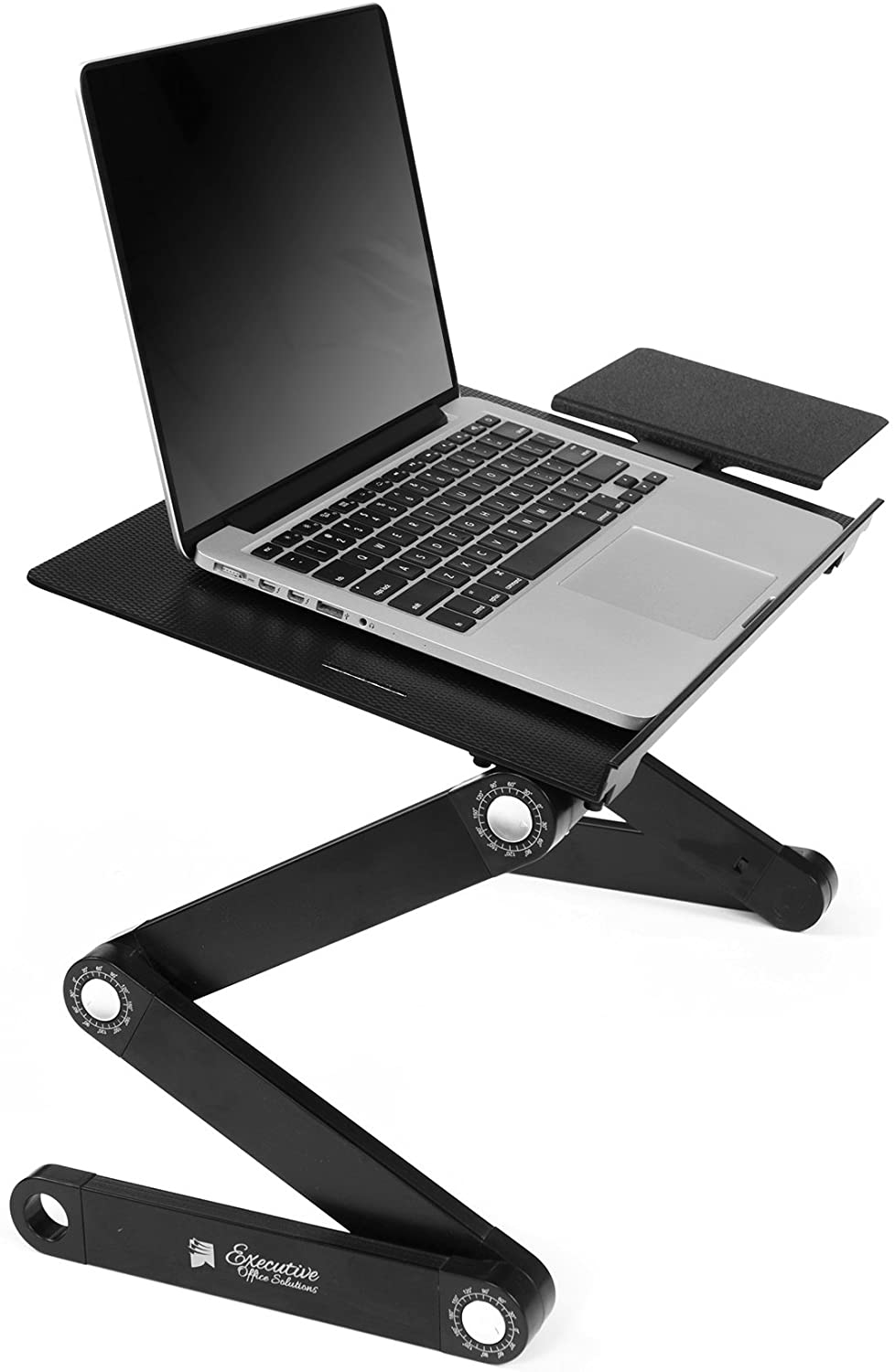 The Executive Office laptop stand is a very remarkable piece of equipment. This lightweight device, which functions as a laptop desk, standing desk, and laptop riser, provides outstanding ergonomics for people on the road.
The desk's flexibility is achieved via three rotating mechanisms in each leg, which allow it to twist into various postures. Furthermore, the lightweight aluminium and plastic design and the ability to entirely flatten it make it portable.
The stand also has two USB-powered built-in cooling fans to keep your laptop cool, as well as a lovely mouse pad. The high level of adjustability and excellent customer evaluations make this a definite competition for any ergonomic laptop stand, especially with the option to return it no questions asked.
On the other hand, the adjusting mechanisms take some getting accustomed to and aren't especially intuitive. It is also not the most stable product in this line-up due to its thin base and high extension.
Things we liked
The integrated fans
Various adjustment features
Attractive design
Things we didn't like
Does not support large weight
Not sturdy enough
Lorell Sit-to-Stand Monitor Riser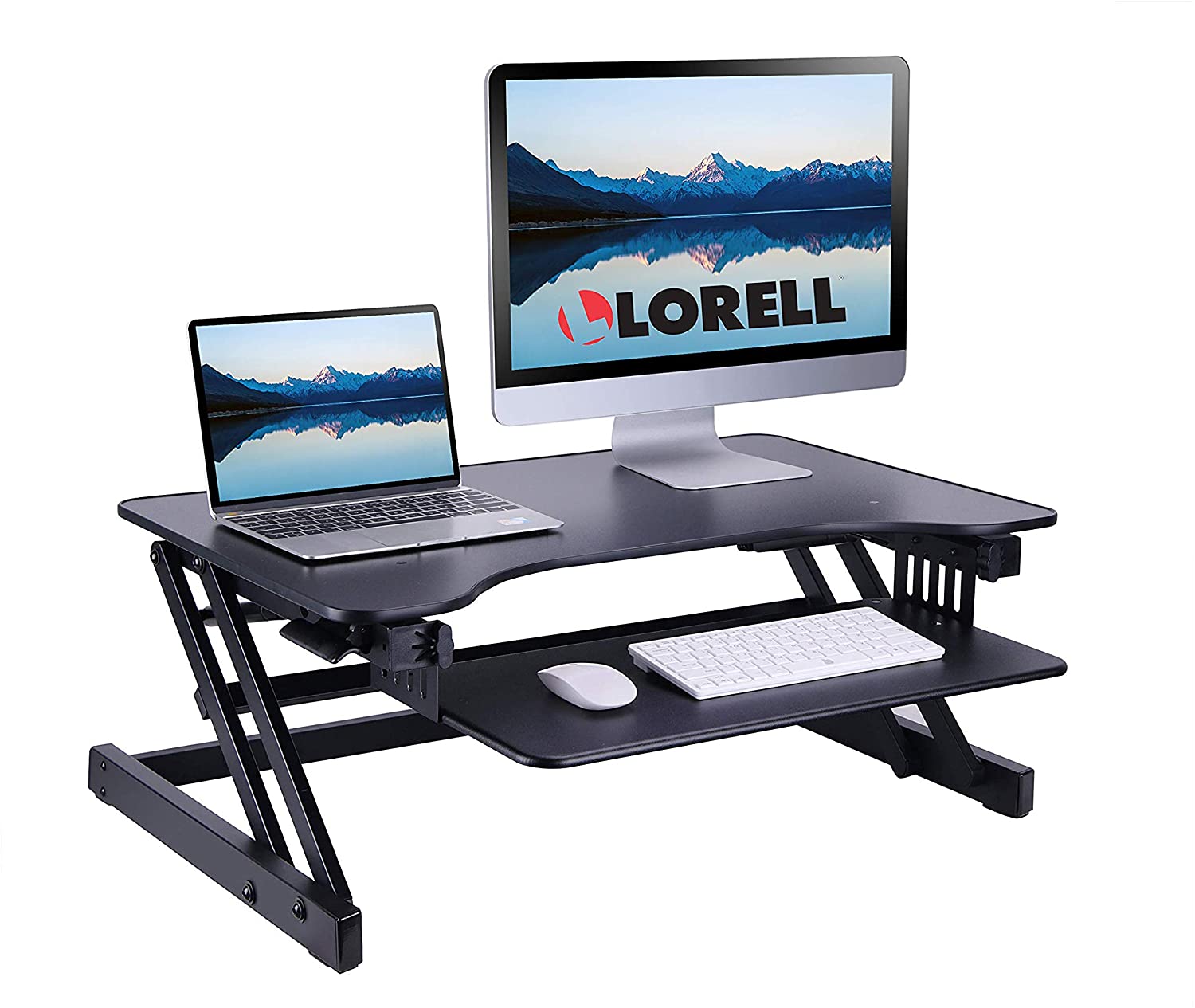 This versatile device is a must-have for the modern workstation, with enough room to handle up to two monitors as well as a keyboard tray. The vast amount of room that this desk provides is immediately obvious. The keyboard tray is incredibly ergonomic with its wide, deep shape, giving you plenty of room to keep your wrists oriented comfortably.
The materials and finish have been claimed to have some quality control flaws, and the lack of hydraulic aid in elevating the desk is noticeable, especially when it is filled. Given the high level of adjustment, the low price and one-year warranty make it a deal.
Things we liked
Offers great versatility
Ideal for multiple monitors
Ergonomic design
Things we didn't like
It is hard to lower
Quality is not the best
Vivo 36 Inch Sit to Stand Workstation V00B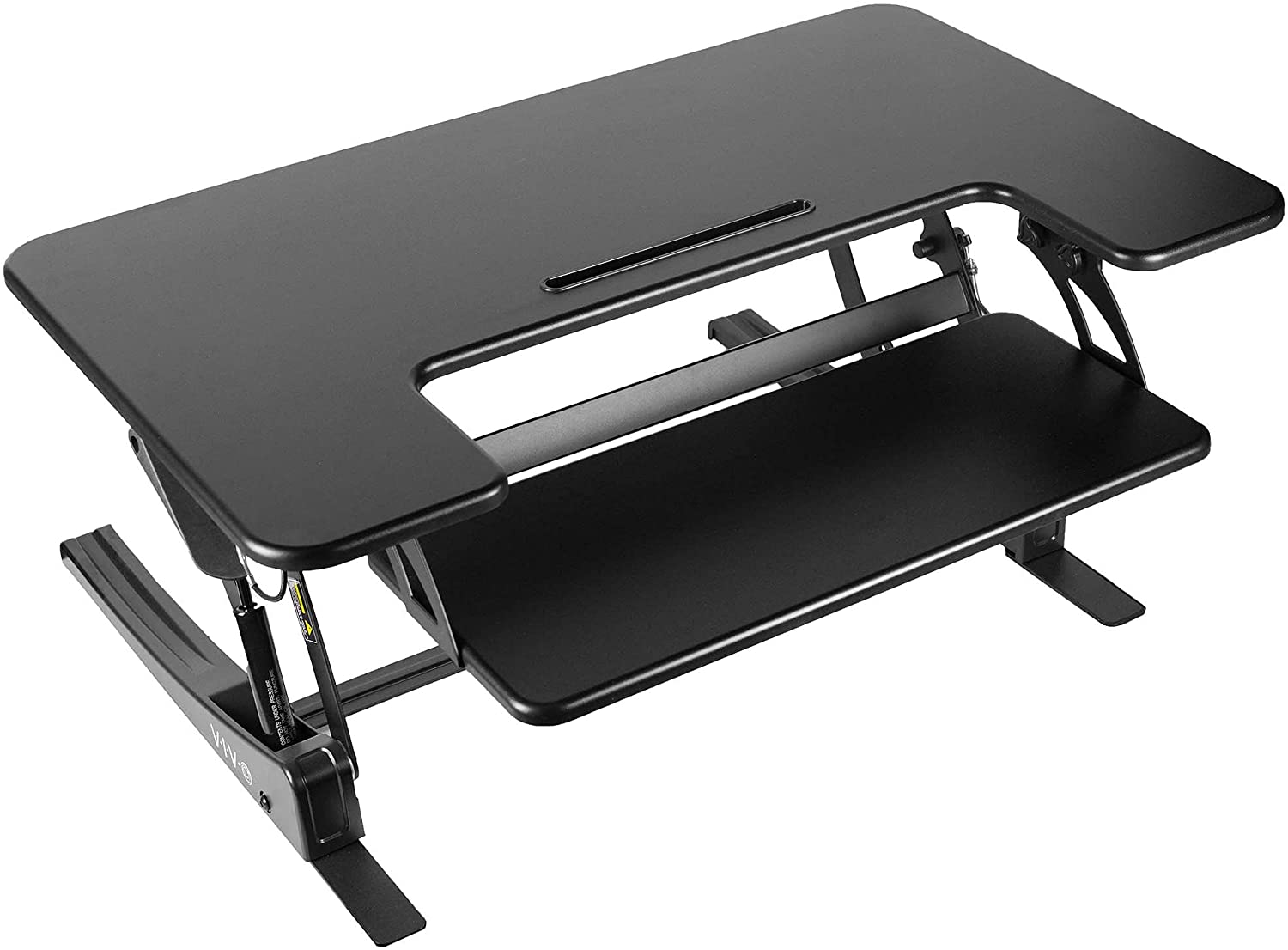 VIVO's addition to the sit-to-stand desk industry improves the design, providing you with more workspace while utilising gas springs for easy adjustment. This sit-to-stand desk easily adjusts from 6.5 inches to fully extended 16 inches, making it ideal for a congested office. With a built-in tray for a keyboard and mouse, it can easily fit two displays or a laptop and monitor.
With the help of the gas springs, the desk can be effortlessly adjusted and secured into eight different positions, ranging from sitting to standing. This product is one of the best value for money in our line-up because of the low price and steel frame. However, some users have reported concerns about the quality of the materials during assembly. However, the great level of adjustability and generally favourable customer comments make this a strong contender for the best sit-to-stand desk.
Things we liked
Easy to adjust
Affordable desk
Easy to assemble
Things we didn't like
Not ideal for tall people
Cheap material
Best Standing Desk Converters
Desk Pro Plus 36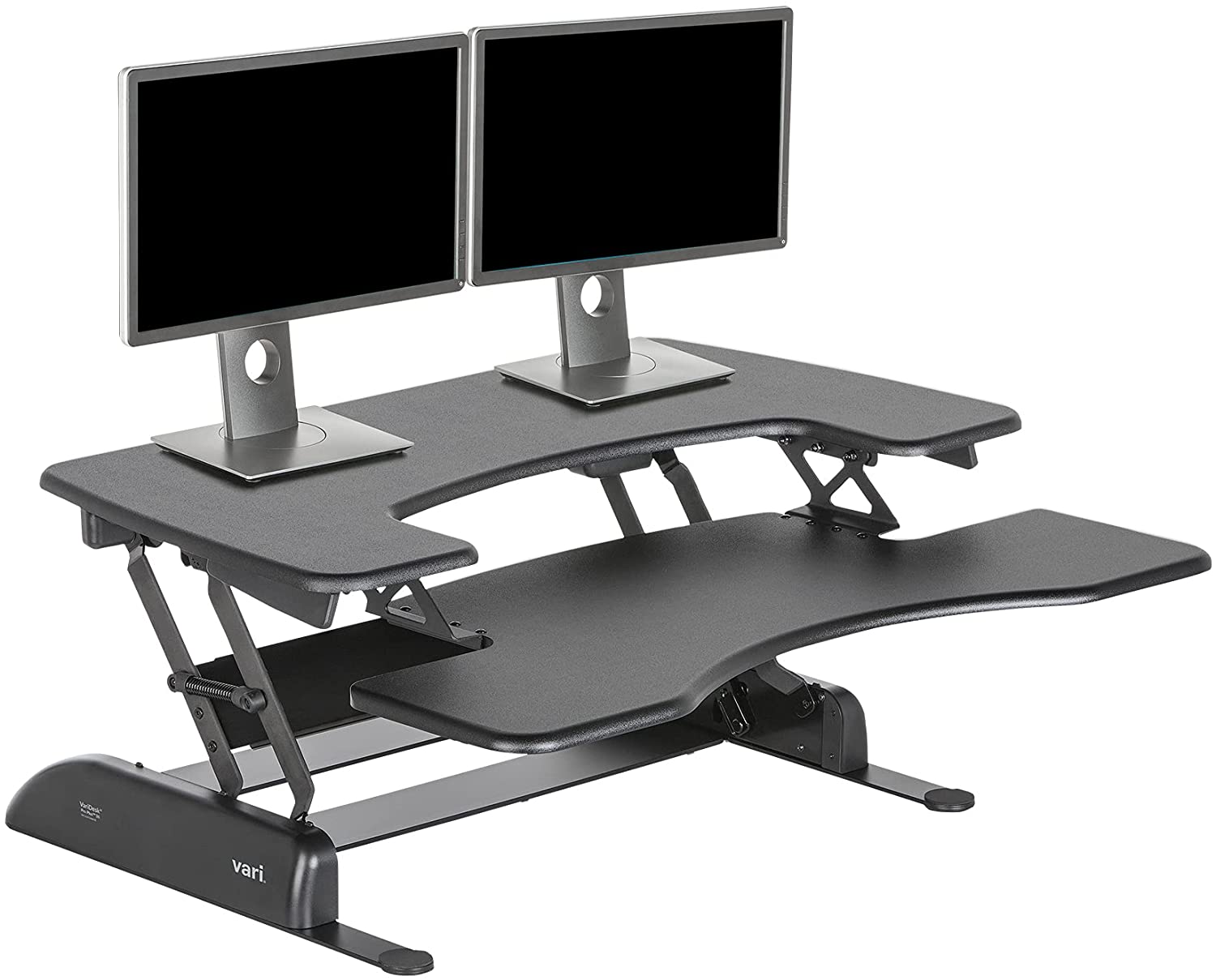 Vari's desktop standing desk converter is incredibly simple to set up and operate right out of the box. Vari's desktop adapter comes in a range of sizes to fit a variety of desks, tables, and monitors. This standing desk offers up to a 17.5" lift from a tabletop you already have in your home, with the latch function allowing you to adjust how high your new desktop becomes.
Vari's converter is a simple solution for you whether you already have a favourite desk or are working from an infrequently used dining or coffee table. This is, however, a manual lift.
Things we liked
Easy setup
Has a good amount of space
Easy to adjust
Things we didn't like
The keyboard is not adjustable
It can be wobbly
E7 Electric Standing Desk Converter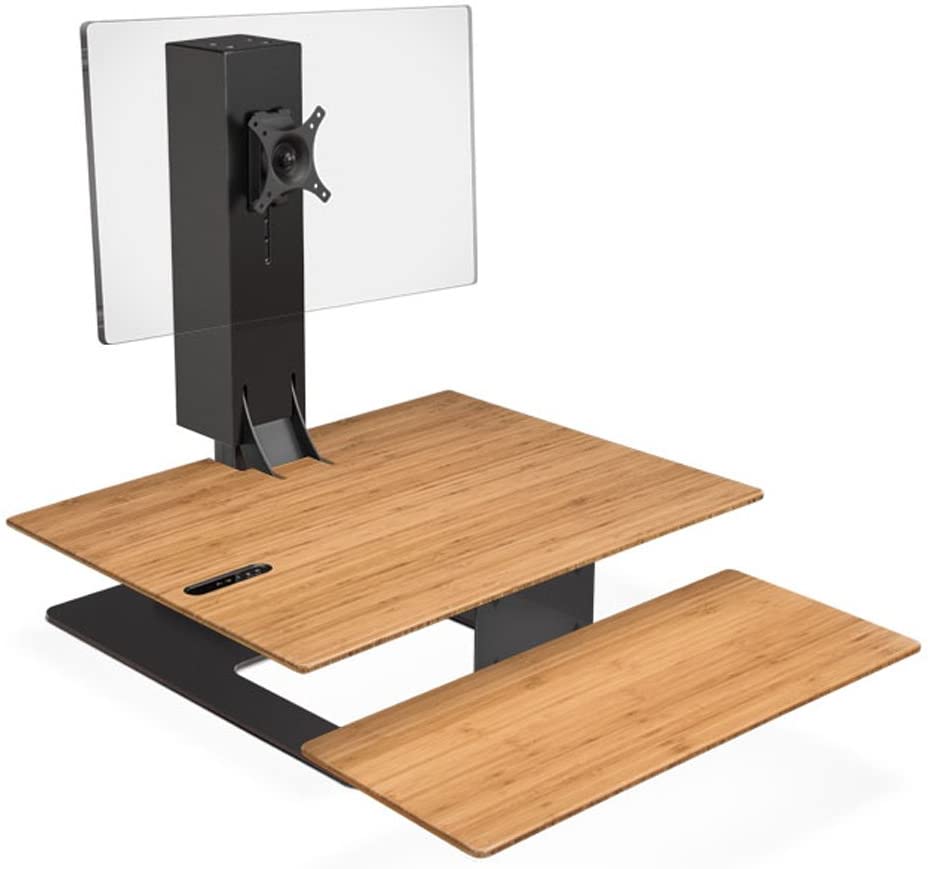 If you're looking for a more compact electronic desktop converter, UPLIFT's E7 model is available in various sizes for multiple monitors, but all are based on a 21.5" wide desktop that is more compact than other models. The E7 can hold up to 110 pounds of belongings and is equipped to mount a computer monitor if desired.
The attached keyboard tray can be tucked away to make the design more compact when not in use. It boasts a sleek industrial look, but it requires a lot of setup and upkeep.
Things we liked
Compact design
Availble in various sizes
Can accommodate multiple monitors
Things we didn't like
Hard to setup
Can be hard to move
FlexiSpot ClassicRiser Standing Desk Converter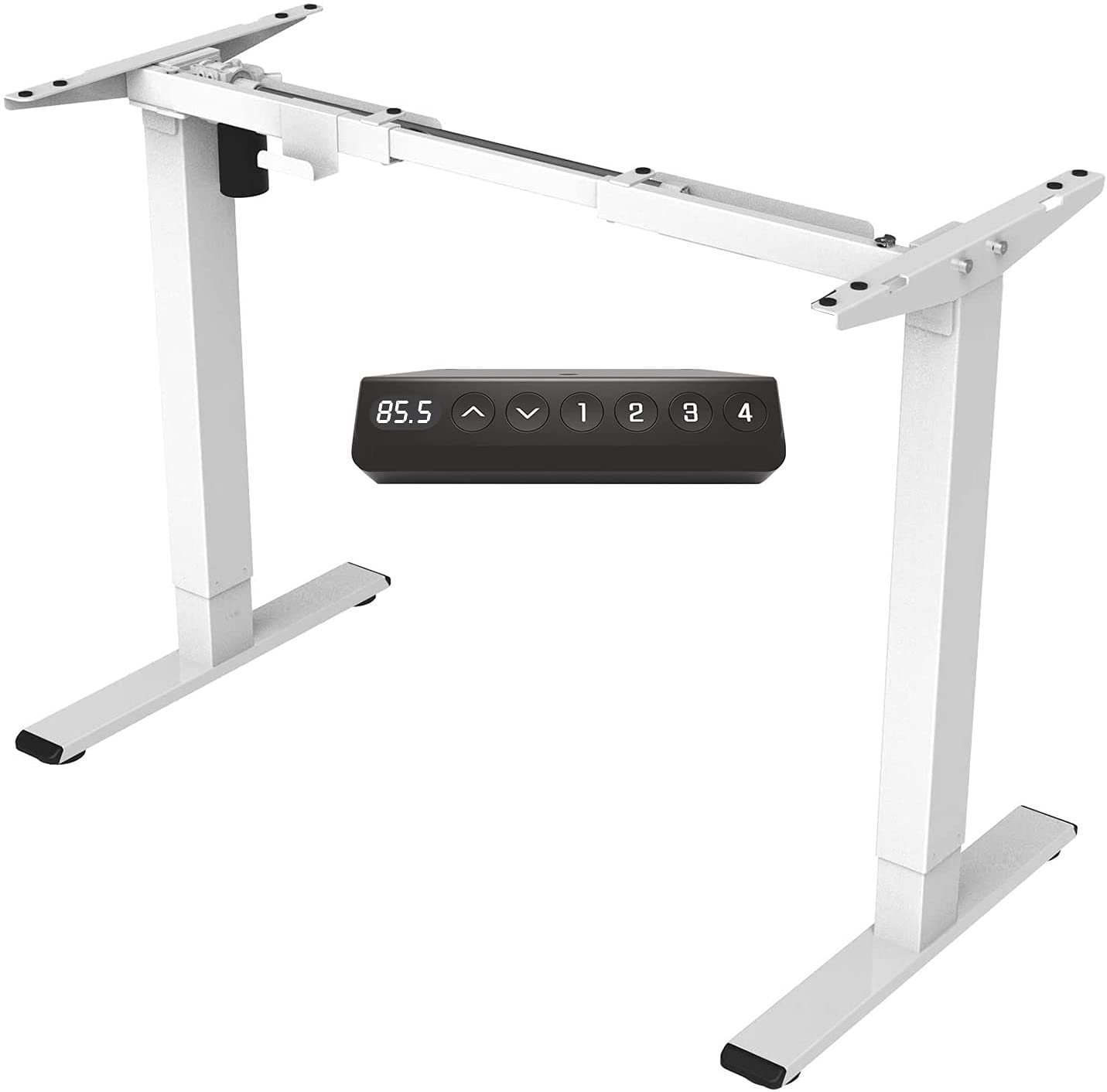 This is a manually adjustable standing desk that is fairly affordable. When raising or lowering the platform, which is accomplished with a light squeeze on a side lever, it is simple to operate, and it, like the Uplift, has a large keyboard tray below the main platform.
You can choose from various platform sizes, ranging from the smallest 27-inch (M1) to the largest 47-inch (M3), with a variety of accessories like monitor arms, anti-fatigue mats, and even an under-desk exercise bike. The M1 model is, obviously, the cheapest, although upgrading to an M3 doesn't cost much more.
Things we liked
Affordable price
Simple to operate
Features a keyboard tray
Things we didn't like
Not very durable
Not that stable
Best Electronic Standing Desk
Seville Airlift Tempered Glass Electric Standing Desk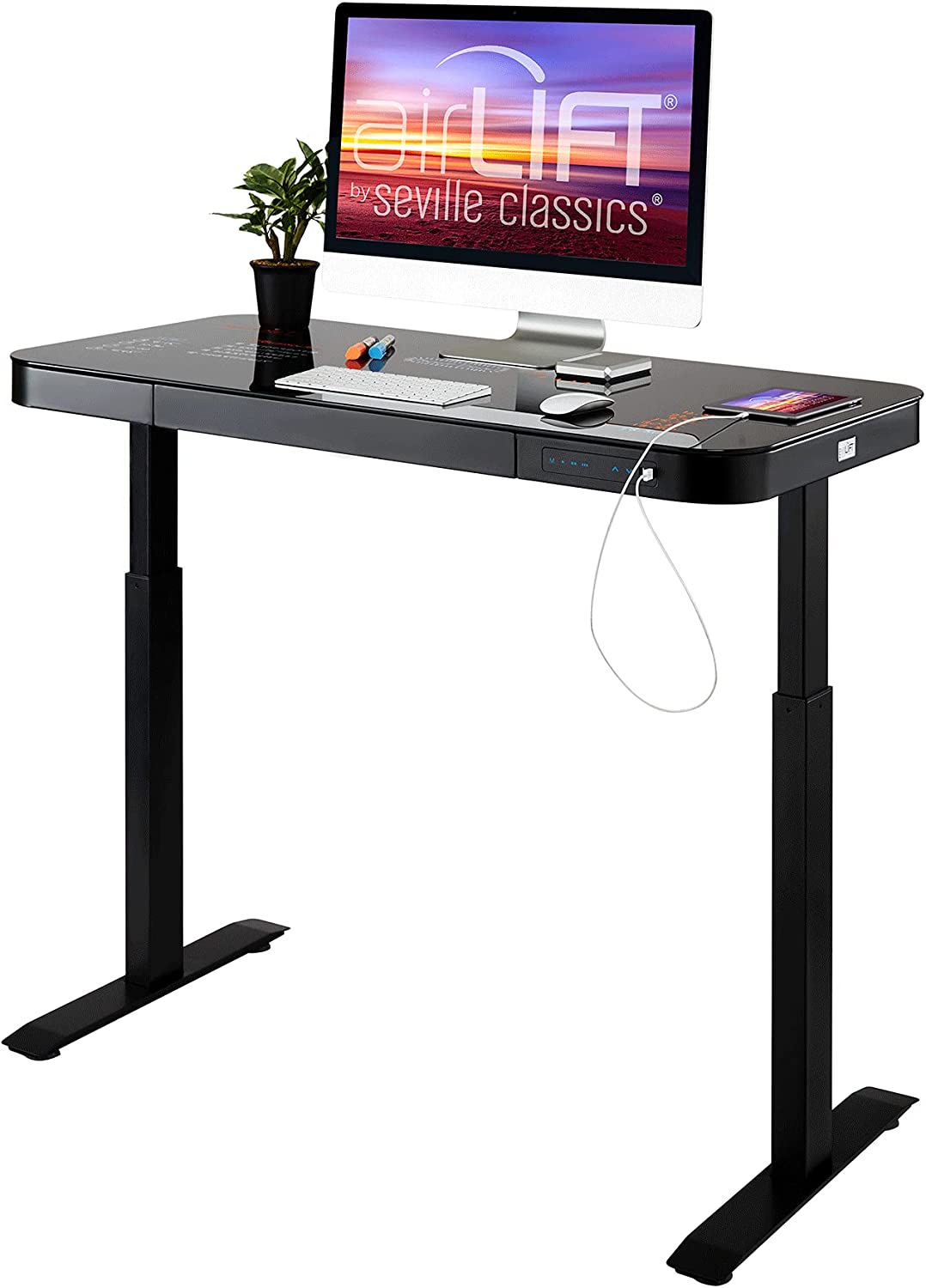 With a touchscreen controller with three different programmable settings, Seville Classic's adjustable model is as smooth as it looks, instantly shifting from a spacious sitting desk to a standing height.
Its sleek rounded shape also makes it one of the most compact alternatives on this list, making it ideal for individuals who don't have a lot of space but still need a stand-alone desk. However, the maximum height is not more than 50", which might be a problem for you.
Things we liked
Compact design
Three programmable settings
Smooth adjustability
Things we didn't like
Limited space
Not good for taller people
FlexiSpot Electric Height Adjustable Desk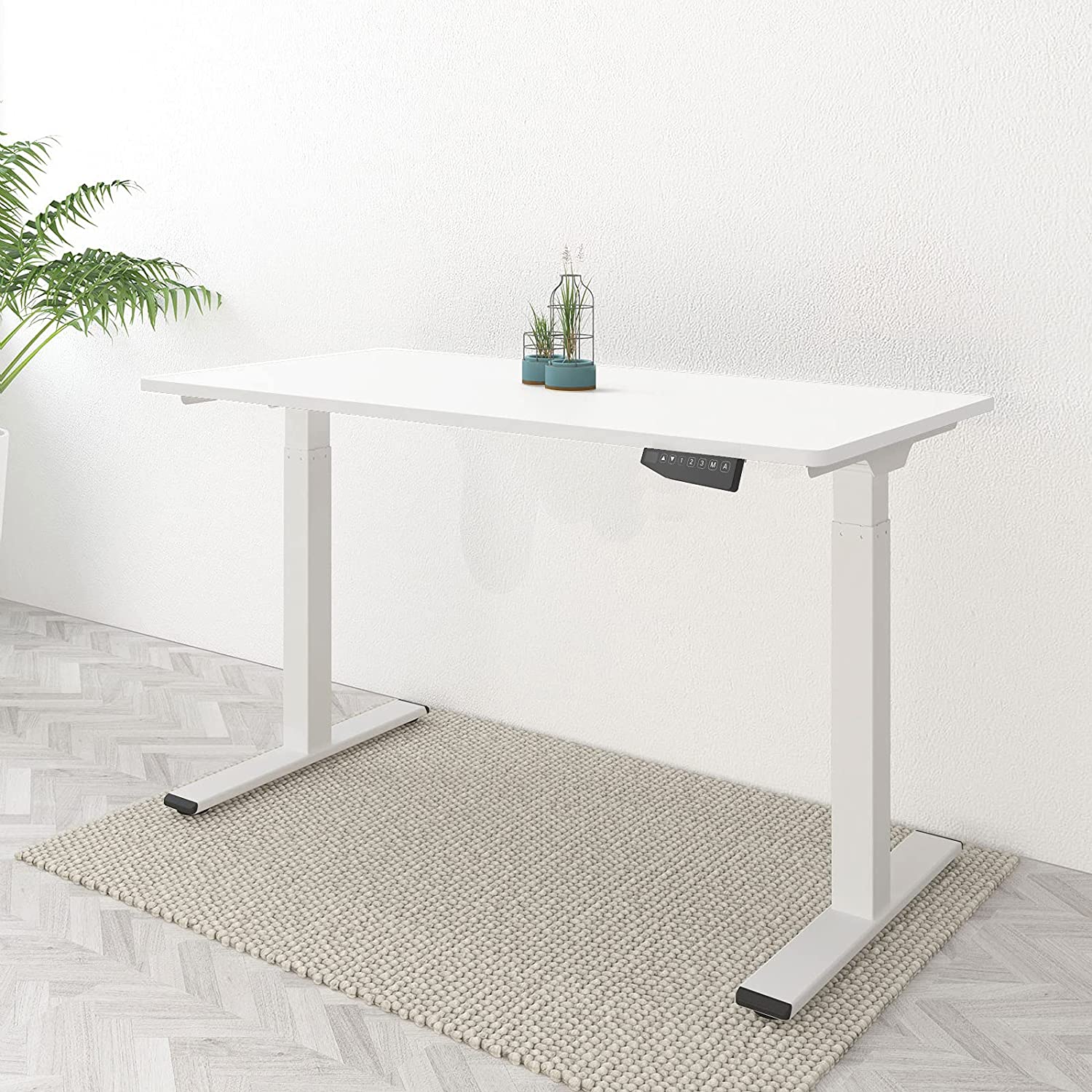 This standing desk's unboxing and assembly were simple, and the desktop's 48" width is substantial without taking up too much space in your home; its width may also allow you to work in some freestanding storage beneath it. This standing desk comes with three different height presets and is fully extendable to 48" in height.
However, for a flawless installation, this standing desk may require drilling. Moreover, when compared to other models, there are fewer height settings.
Things we liked
Easy to assemble
Features freestanding storage
Various height settings
Things we didn't like
Requires drilling
Fewer height settings
Steelcase Ology
The Ology is technologically advanced and connects to your phone via an app. Steelcase's Active Touch technology lies at the heart of this design. This gives you an OLED screen with a panel that regulates the desk height and gently pushes the desktop up and down when it's time to change posture.
Active Touch syncs with the app on your smartphone to track how much time you spend at your desk, allowing you to create a customised profile with activity goals and desk height defaults.
Very cool, and the app also includes helpful advice on how to sit (and stand) in an ergonomically sound manner. When adjusting its height level, the Ology automatically identifies impediments and stops if it hits something. The desk comes with a slew of optional extras, like cable management, modesty panels, integrated storage options, and more.
Things we liked
Desk time tracking
Helpful app
Desk height regulation
Things we didn't like
Can be wobbly
Not ideal for taller people
Best Mini Standing Desk
WorkFit-Z Mini Sit-Stand Desk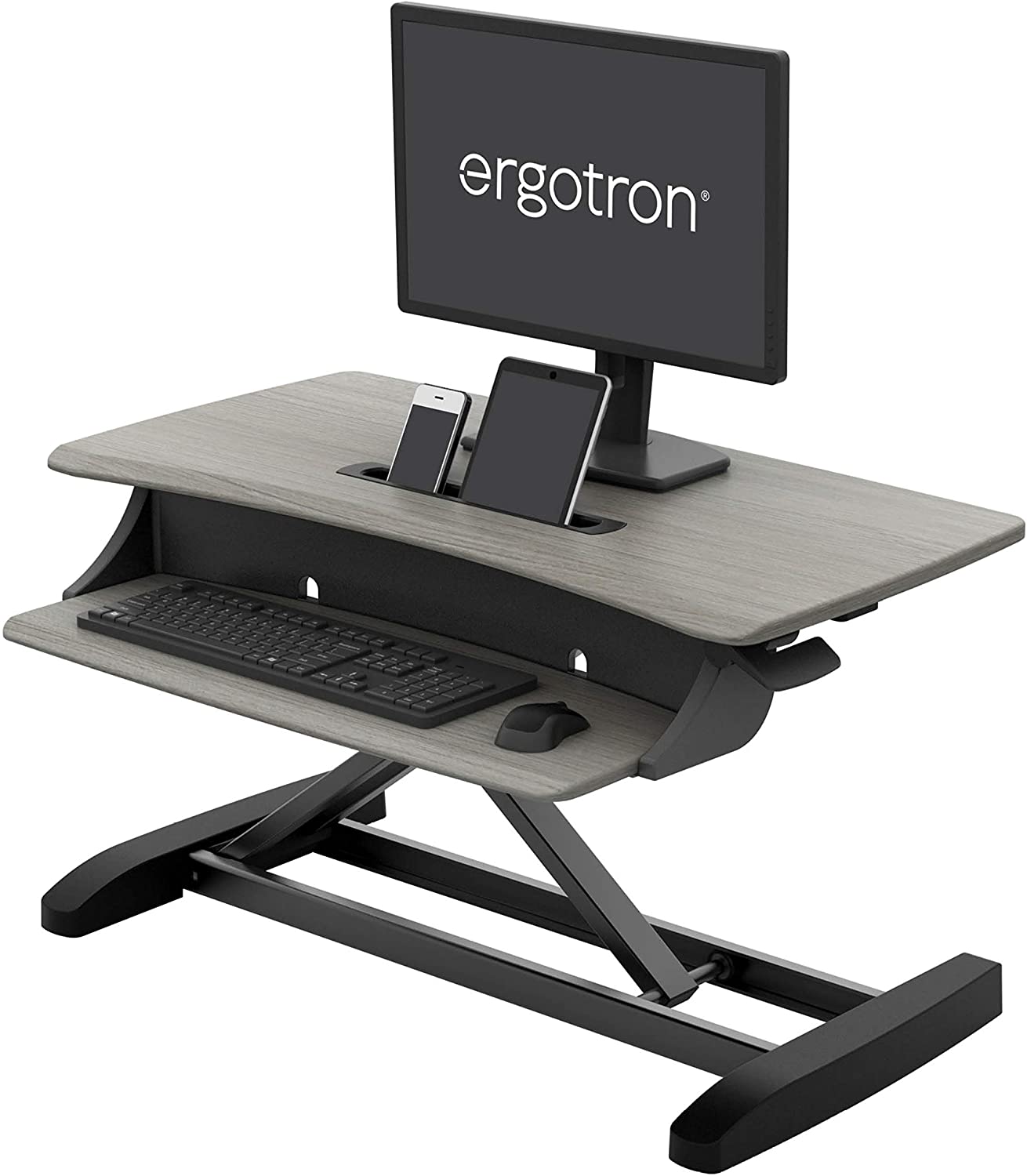 If you're short on space, the Ergotron split bi-level converter is for you. Many desktop converters might stretch broader than your real desk. Ergotron's model lifts you about 13" off your current desk, and its 30"+ broad surface can comfortably accommodate a laptop and a small monitor, or a desktop, at the same time.
Tests show that manually pushing the desk up with hydraulic-boosted grips is a breeze because it's designed to support laptops and lighter devices.
Things we liked
Secure design
Easy to lower
Ideal for small spaces
Things we didn't like
Not ideal for large monitors
Inflexible keyboard tray
ZipDesk Desk-in-a-Box Standing Desk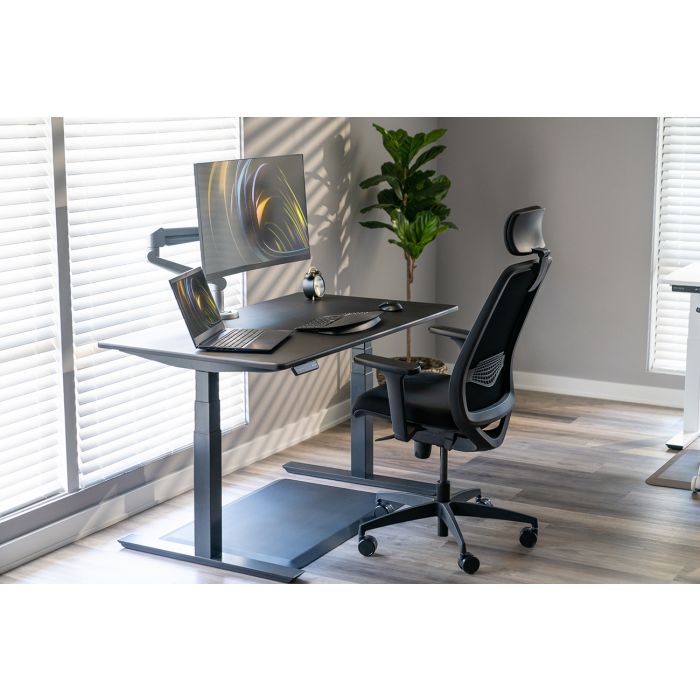 Base technology of the highest quality, with an industry-leading 10-year "top to bottom" warranty. It's the first "desk in a box" we've ever seen in the industry. That implies it may be shipped quickly or picked up in a store. It's also one of the quickest desks to construct, thanks to its nearly complete factory pre-assembly.
This is an excellent desk to be able to break down, transfer, and reassemble in your next office - perhaps after you've finished working from home and want to return to the corporate campus. The ZipDesk's ANSI/BIFMA and NEAT Certifications are solid indicators of the ZipDesk's robust and trustworthy componentry, as well as a consistent user experience, which corresponds to our lab-test results.
Things we liked
Easy to transport
Robust design
Quick shipping
Things we didn't like
Only two sizes available
The aesthetic is not the best
Lander Lite Standing Desk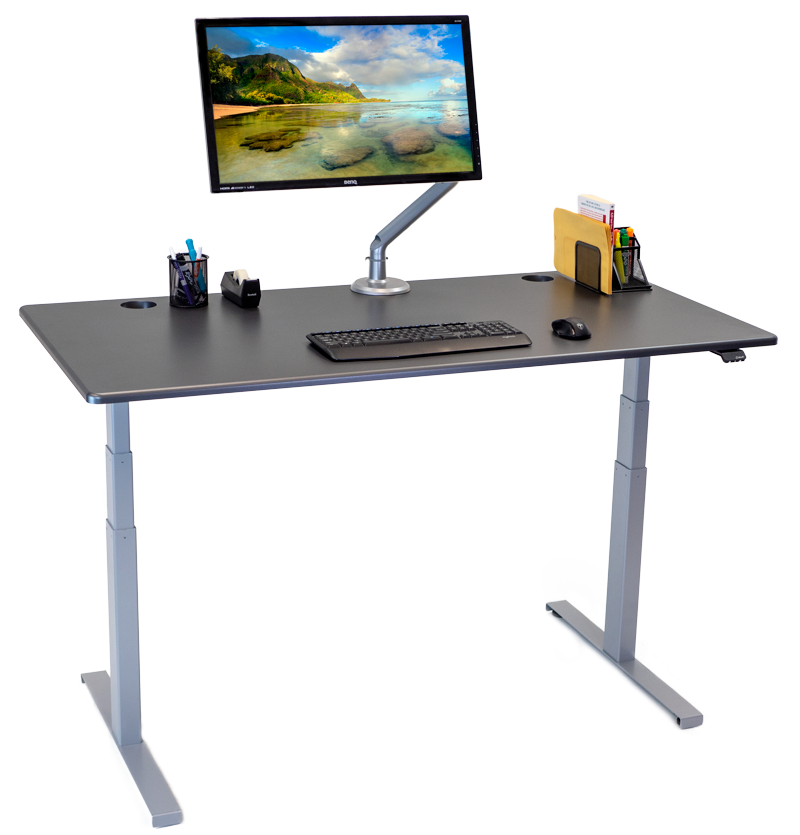 With this new Lander Lite offering, iMovR has managed to take the industry's #1-rated premium-technology standing desk, the original Lander, and preserve 90% of the technology capabilities while dramatically lowering the entry price. It's also now available in a compact series with a 24-inch-deep top. The Lander Lite is manufactured exclusively in the United States using the highest quality materials and robotic production techniques, resulting in a superior value for the consumer.
According to reviews, the Lander 2 will eventually outsell the original since features like factory pre-assembly, Bluetooth-enabled height control paddle and smartphone app, and built-in health coach are now available to a much larger number of consumers at this low price point.
Things we liked
Quick assembly
Smart technology features
Automated height control
Things we didn't like
No keyboard tray
May not accommodate large equipment
Best Budget Standing Desk
iMount Electric Standing Desk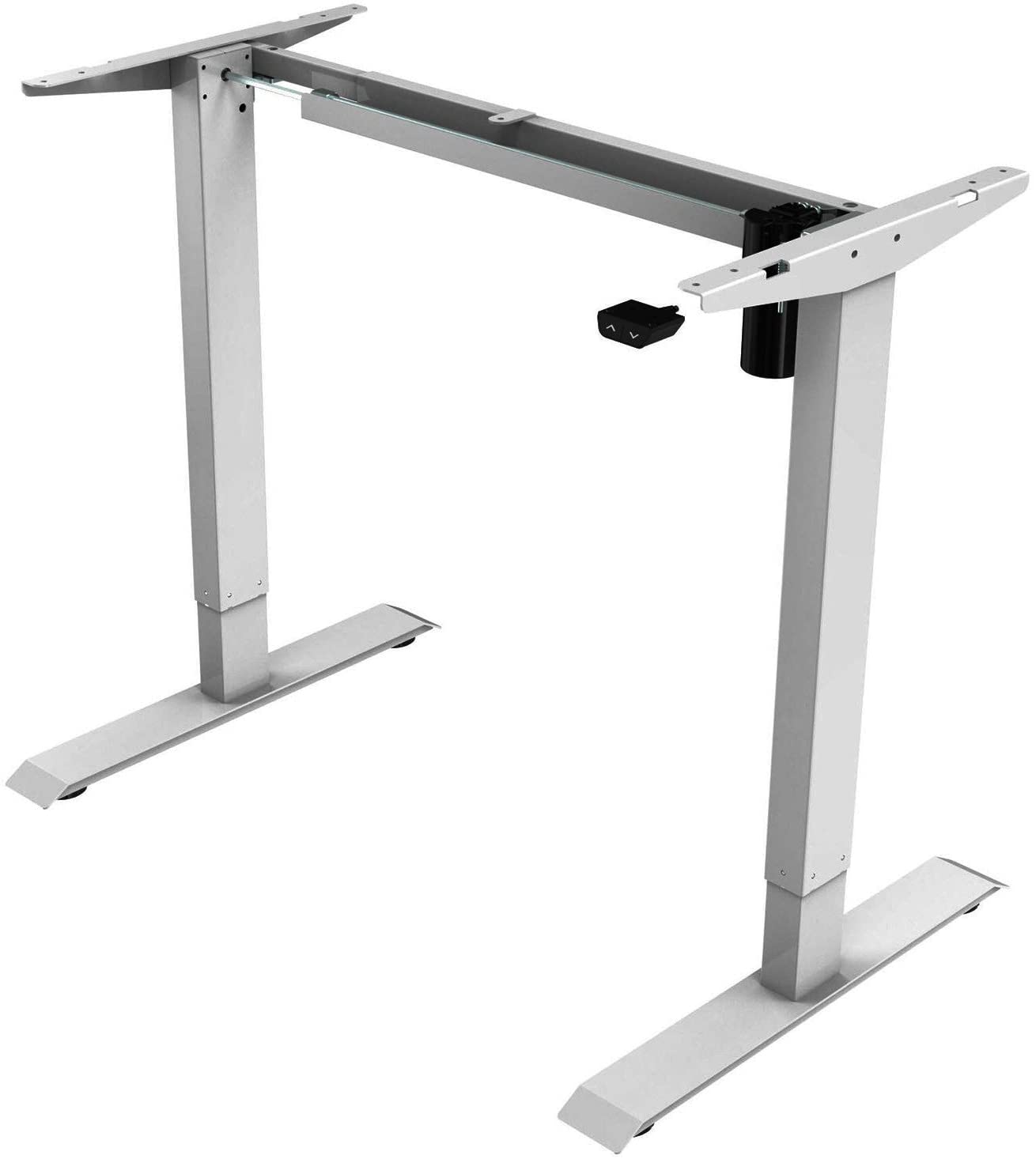 Its full-sized freestanding desk comes fully assembled and features easy wire management for your monitor's connections and any other chargers on your desk. It offers a moderate price point and is also available in five various finishes and two different sizes. However, this Vari's desk isn't as quick to change its height as other models on this list.
This standing desk features an innovative design that combines the motor and controller into a single module, resulting in a more reliable product at a lower cost. You can also make your sit-stand desk with any worktop you choose. It is also dependable due to its heavy-duty steel construction.
Things we liked
Robust construction
Clear assembly instructions
Excellent price
Things we didn't like
Not ideal for smaller people
Requires drilling
Seville Mobile Laptop Desk Cart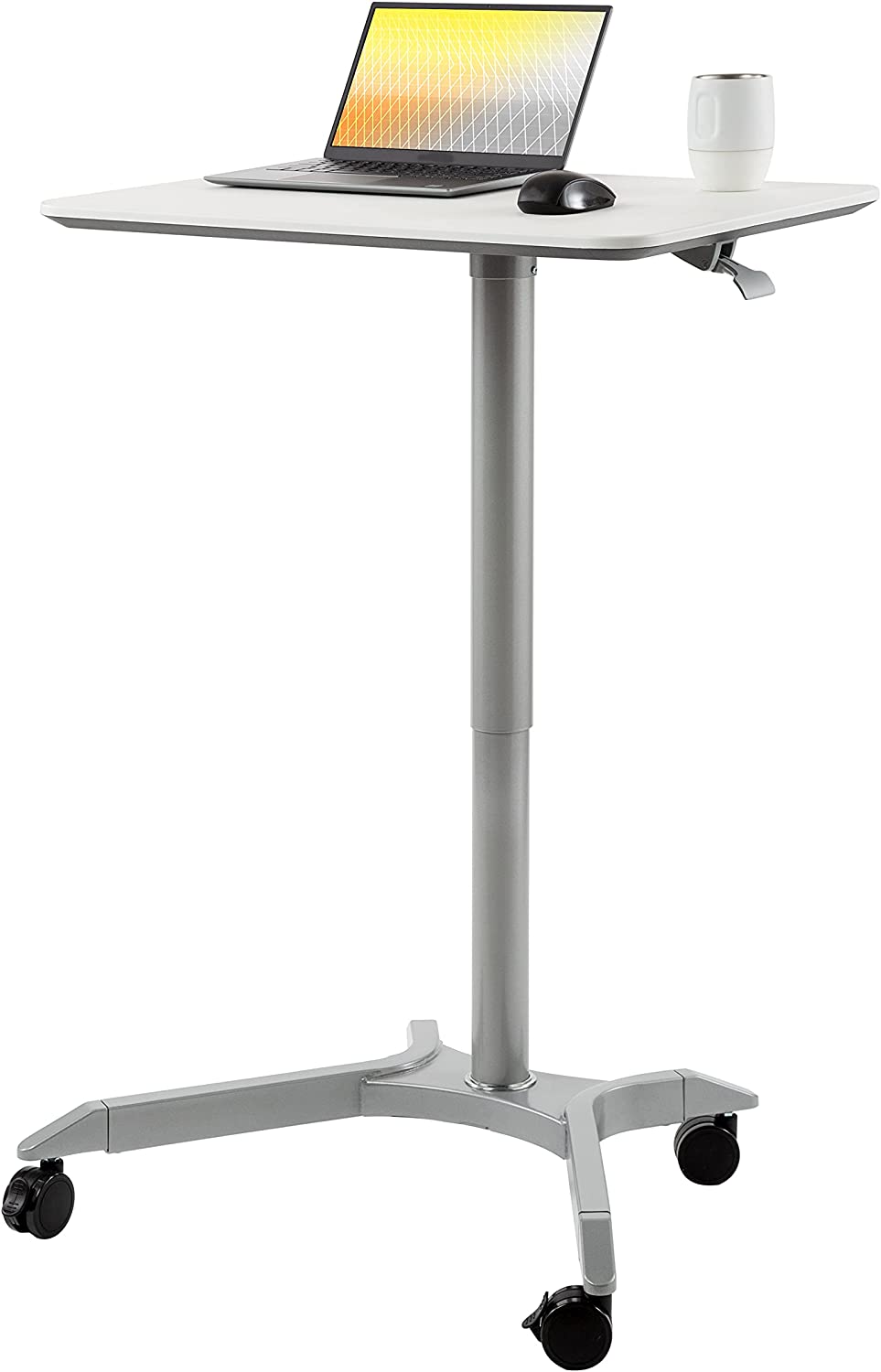 A mobile standing desktop may be the solution for you if you need to move freely throughout the business or your home. Seville Classic's rolling workstation has no storage. It requires manual adjustment, but it can be raised to 33" high without losing stability, and the wooden desktop can accommodate any laptop or tablet with a keyboard for convenient use. It's also a very affordable standing desk.
All the tools you'll need to put it together are included. It can be used as a full-size, height-adjustable podium for schools and teachers or as an alternative to ordinary office and computer workstations. With four 2.4-inch caster swivel wheels, you may move about with ease. Simply install the wheels to create a mobile workspace that stays put when you need it.
Things we liked
Very affordable
Sturdy design
Great for small spaces
Things we didn't like
Reported defects
Does not support large weight
CD4 Metal Laptop Stand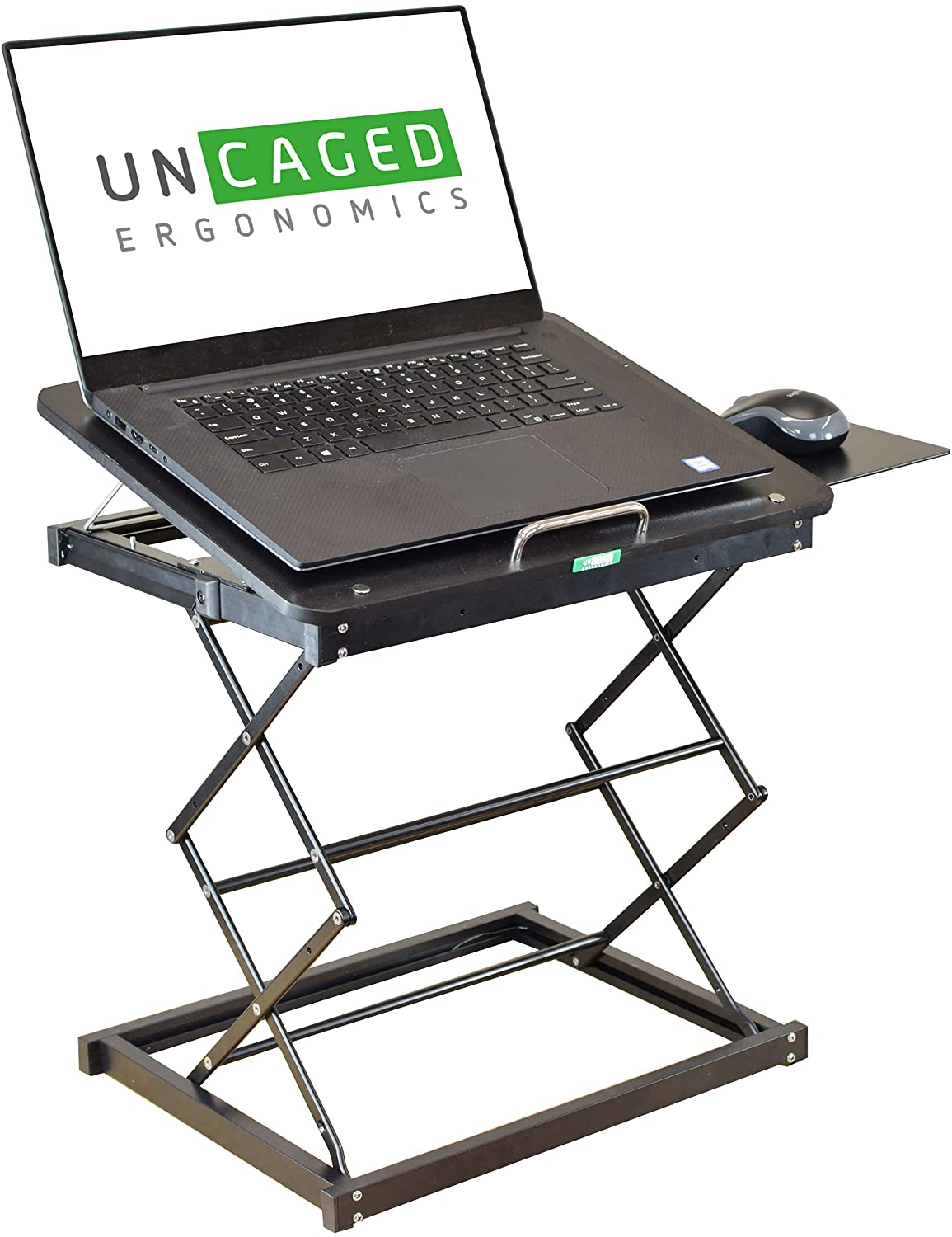 Not sure if a full-fledged standing desk is right for you? Come to an agreement that will allow you to see how your body reacts to being on your feet. This low-cost hybrid desktop converter will let you try out a laptop setup that towers 18" above your desk.
There's also a fold-out accessories tray for your mouse or other accessories. Right out of the box, it's ready to use! It does, however, respond to excessive movement in addition to multiple height adjustments.
Things we liked
Easy to adjust
Fold out accessory tray
Various height settings
Things we didn't like
May not support large laptops
Reported missing parts
What to Consider Before Buying a Standing Desk
So, you've decided that sitting isn't going to cut it any longer, and you've opted to work from a standing desk. But what exactly are you looking for? What should your budget be? Should it be created in an environmentally friendly way? To answer your questions, here's a checklist of things to keep in mind when shopping for a standing desk.
Budget
Because standing desks are a great long-term investment in your health and wellness, we've given the word "budget" the lowest priority. Height-adjustable workstations alone might cost anything between £200 and £3000. Consider a retrofitted standing desk converter if you're on a budget and none of these options works for you.
Weight Capacity
Not all standing desks are built to support a laptop or a desktop computer. If you plan on doing a lot of heavy lifting with your standing desk, make sure to verify the maximum weight capacity.
Ease of Assembly and User-friendly
Some standing desks require only a one-time installation, while others may have more complex installations. A converted standing desk that can be collapsed and packed away, on the other hand, is usually ideal for hot-desking or saving space while not in use. Choose the standing desk that gives you the most flexibility based on your needs.
Worksurface
If you're the dirty co-worker whom everyone in the workplace knows about, or if you need many large screens, make sure to check out the standing desk's accessible work surface.
Warranty
Avoid buying low-cost standing desk alternatives that don't come with a warranty. Quality standing desks have varying guarantee lengths; a decent quality desk should have at least a three-year warranty.
Material and Quality
The number of delicate pieces in a standing desk and the material strength of the standing desk determine the warranty duration. In comparison to metal or wood, cheap plastic would have a shorter product lifespan. You wouldn't place your £2000 PC on a standing desk that was structurally unsafe.
Height
Some standing desks provide additional features such as built-in speakers in addition to their basic functionality. More importantly, the height adjustment range of the standing desk must be checked to ensure that it meets your ergonomic needs.
Ergonomics
A height-adjustable standing desk does not typically meet ergonomic needs. Even though it lifts your laptop, you'll quickly find yourself leaned over and staring at the screen. A good standing desk allows you to work comfortably while facing forward.
FAQs
What are the benefits of a standing desk?
Standing reduces your chances of gaining weight and being obese.
Standing at a desk can help to reduce blood sugar levels.
Standing can help you live a healthier life by lowering your risk of heart disease.
Standing desks seem to help with back pain.
Standing desks might help you feel better and have more energy.
Standing desks have been shown to increase productivity.
How tall should a standing desk be?
To begin, adjust the height of your standing workstation to roughly elbow level. This means that your elbows should be at a 90-degree angle to the ground. As a general rule, a 5'11" (180 cm) person's desk should be roughly 44 inches (111 cm) high.
How long should you stand at a standing desk?
Sitting at a desk all day is terrible for your health, and doctors have long recommended that individuals stand at their desks for 15 minutes every hour. However, according to studies, people should stand for at least 30 minutes per hour.
How long do standing desks last?
The product may be utilised for a lengthy period without failing. Using the approximation of a table lasting 780 cycles each year, all the RA Sit to Stand desks were evaluated to have a total lifespan of 25.6 years.
Are standing desks better than sitting desks?
Standing desks appear to assist with back discomfort, but physicians aren't sure how long you need to stand to notice results. According to a study of call centre staff, employees using a standing desk were 45 per cent more productive than those who sat during their shift.
Sources