appliances & furniture
Best Tumble Dryer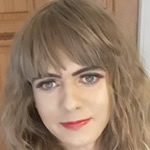 Want to know what the top tumble dryers on the market are?
In this guide, we'll explore the best tumble dryers that are available. We'll discuss how do tumble dryers work, what different types there are, and the best products in terms of category.
We cover all types of tumble dryers, such as:
Condenser tumble dryer
Vented tumble dryer
Heat pump tumble dryer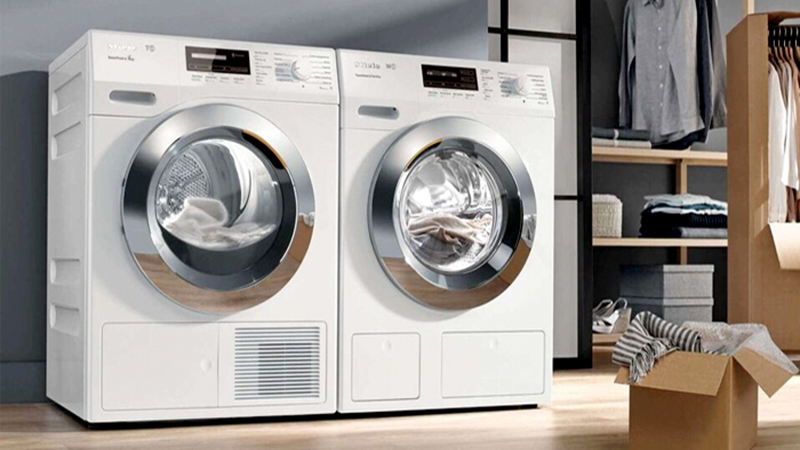 This guide will prove particularly helpful for anyone planning to buy a new tumble dryer, now or in the future.
What Is a Tumble Dryer?
A tumble dryer or clothes dryer is a household appliance that is employed to remove moisture from a dry load (usually clothing, although it could be used to dry bedding as well as other textiles).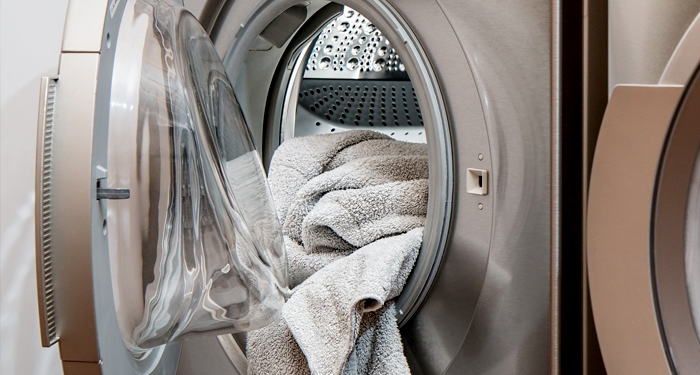 A tumble dryer is generally used soon after textiles have been washed through a washing machine.
Anyone looking for a quick and effective way to dry their washing should avail of a good quality tumble dryer.
How Does a Tumble Dryer Work?
While the process will vary a little depending on the type, brand, and specific product, broadly speaking, tumble dryers work as follows:
A tumble dryer is turned on.
It draws air in and heats up the clothes within to dry them.
Moisture is extracted and either put into a container or release to the outdoors as condensation.
Types of Tumble Dryer
There are many forms of tumble dryer available. Before we get into the best products out there, let's look at the various types of categories and their pros and cons.
Vented Tumble Dryer
A vented tumble dryer uses a physical vent to release moisture/water from your machine. It is then released to the air outside of a household. A long, flexible hose is employed to connect the tumble dryer to its vents.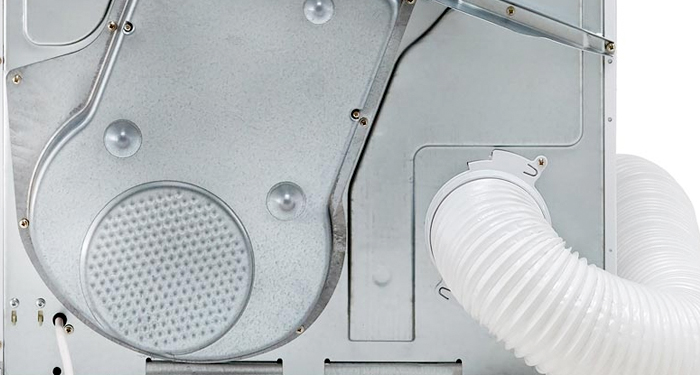 Condenser Tumble Dryer
A condenser tumble dryer collects water in a reservoir (i.e., water tank) that is fixed internally within the tumble dryer. Instead of venting the water, the tank collects the water and works as a dehumidifier. Whether it be a small condenser tumble dryer or a larger one, there are options for every homeowner.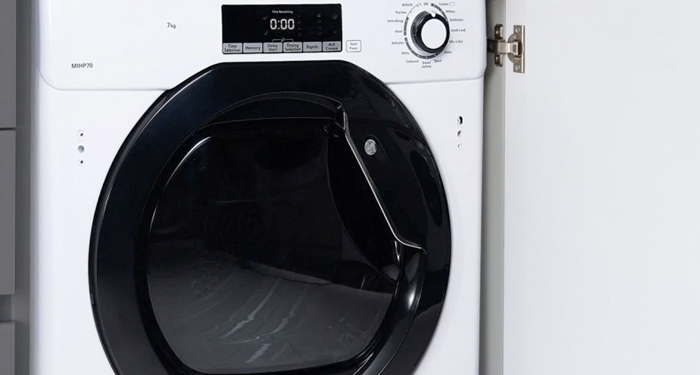 Heat Pump Tumble Dryer
Heat pump dryers work by heating air and absorbing moisture from laundry. It then drains moisture away in the form of condensed air. Heated air is used to dry the clothes while the condensed is extracted.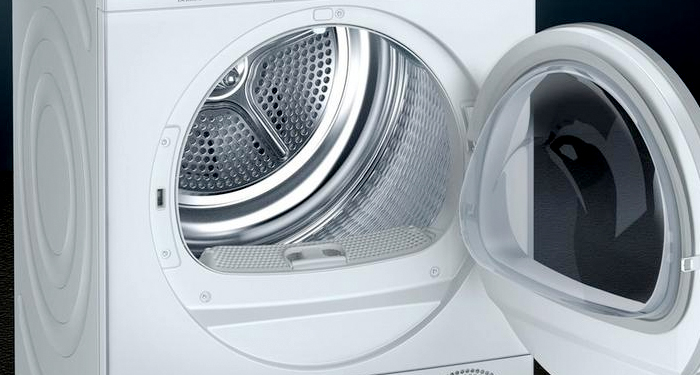 Best Tumble Dryer
Let's now discuss the best tumble dryer products on the market. We'll explore the features of these tumble dryers as well as their pros and cons.
Best Vented Tumble Dryer
Indesit IDV75 Ecotime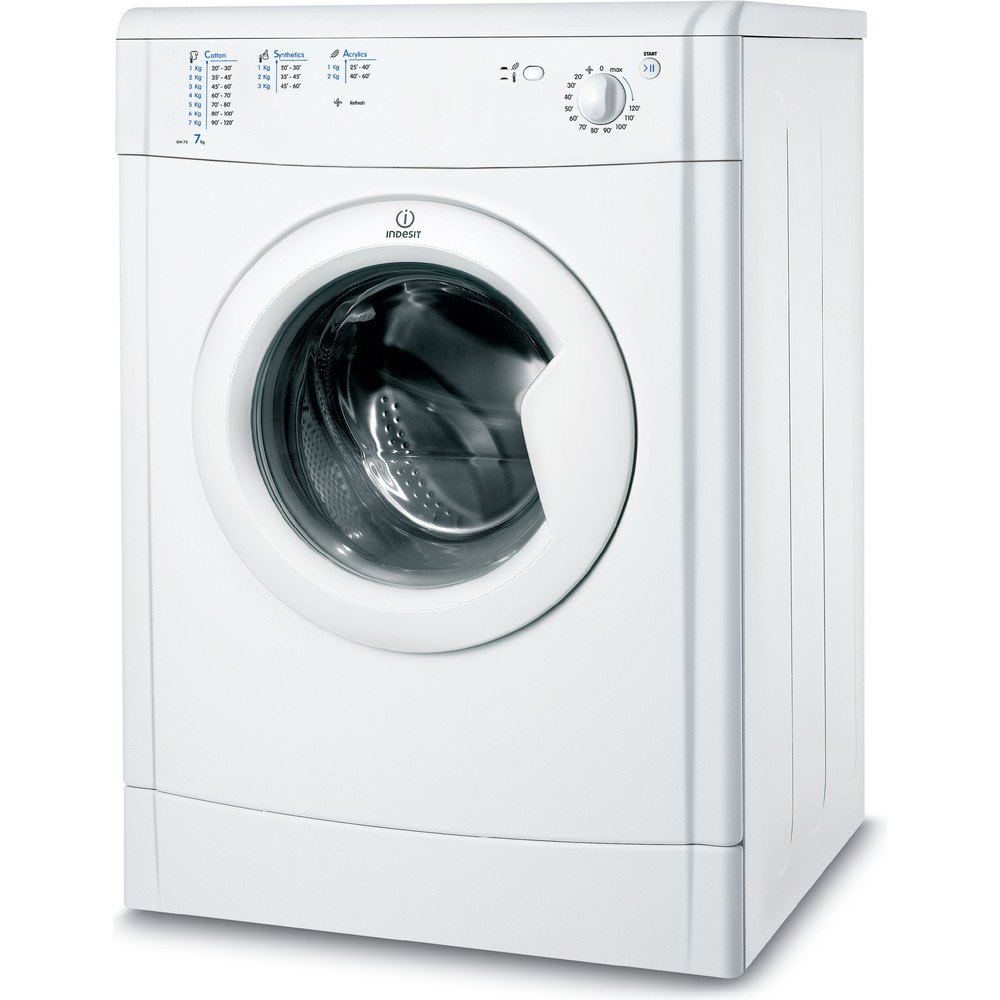 This relatively cheap tumble dryer comes with 12 drying programmes, a timer dial that goes up to two hours, and features reverse tumble action.
Further, the IDV75 is fairly quiet, has a big drum size, dries clothes rapidly, and is easy to use. However, it doesn't really have any fancy features.
Things we liked
Fairly inexpensive
12 drying programmes
Reverse tumble action
Hotpoint TVHM80CP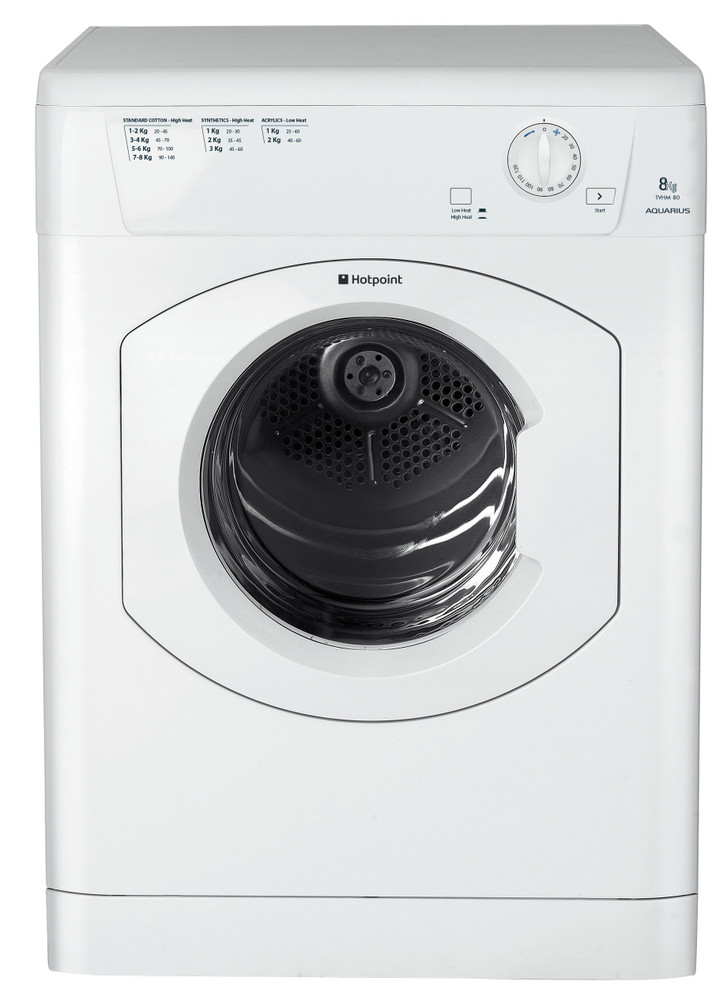 While fairly basic, this vented tumble dryer is a high-quality option all the same. It comes with an 8kg capacity, is fairly easy to use, and can avoid tangling clothes in the process of drying.
In addition, the TVHM80CP has a lint filter that's fairly easy to clean, and it provides good bang for your buck. Further, this tumble dryer has an energy C efficiency.
Things we liked
Can dry clothes without tangling them
Good value for money
Lint filter is quite easy to use
Candy Grand'O Vita CSVV9LG Vented Tumble Dryer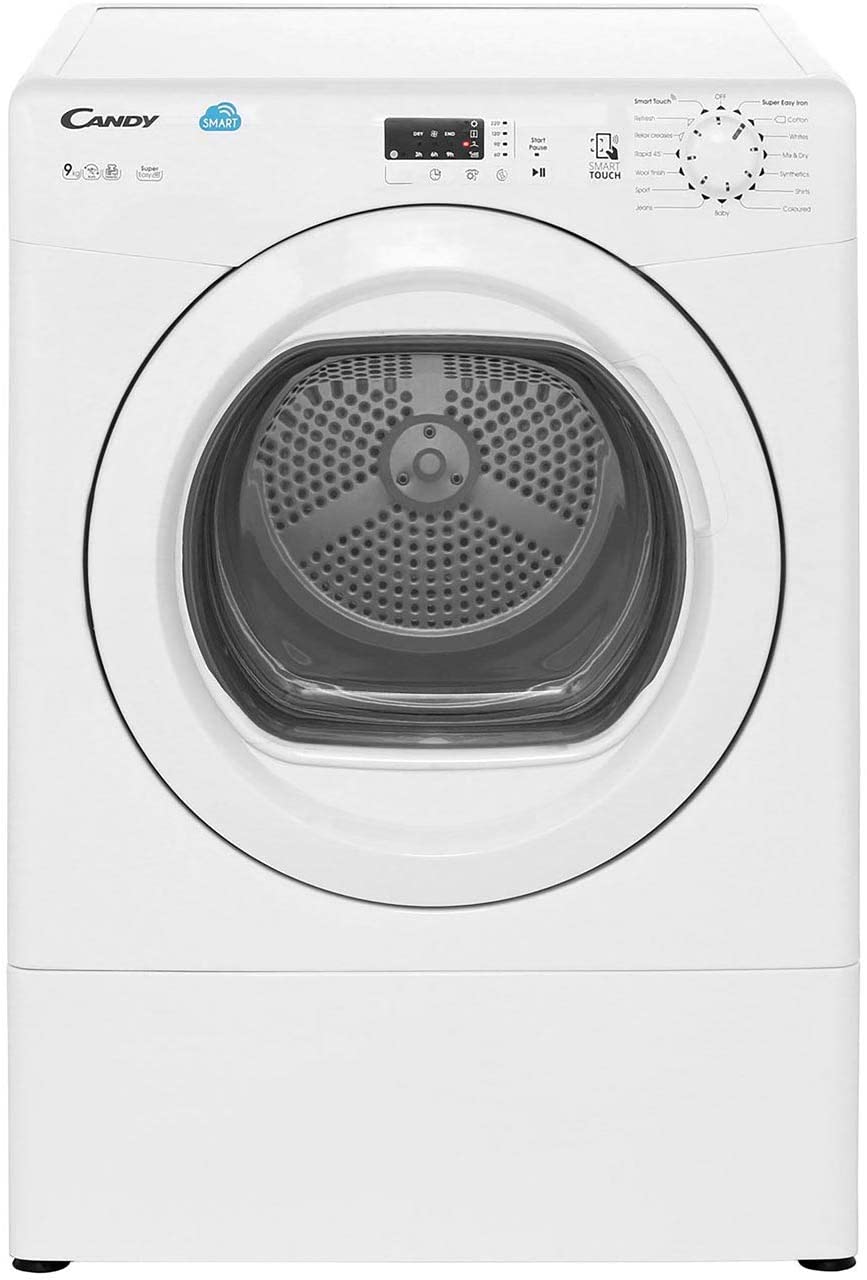 The CSVV9LG includes a 9kg capacity, is perfect for a mid-sized household, and it may be controlled via an Android smartphone. Its Sensory Drying technology also picks up on moisture levels as a way to tell when the cycle should end.
It's also spacious, which is well-suited to larger washes and comes with a mixed dry programme. One downside worth noting is taking it might take a bit of time to get the hang of using its various features.
Things we liked
Sensory Drying technology
Spacious tumble dryer
It can be controlled with an Android phone
Things we didn't like
It takes time to get used to
AEG T65170AV Vented Tumble Dryer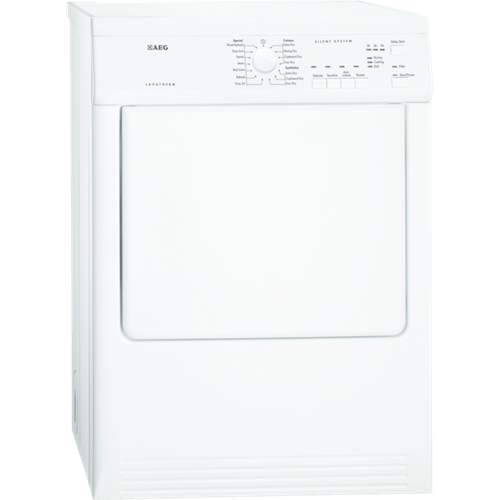 The T65170AV comes with many features and makes drying clothes/textiles especially straightforward. Among its settings include a useful refresh setting, which is perfect for freshening up clothes such as summer clothes in a short space of time.
This AEG tumble dryer has an extra dry function for heavier clothing items and a delayed start option that lasts for as long as nine hours. Beyond that, it can leave clothes particularly smooth and warm, and it's fairly quiet. In addition, the T65170AV is costlier to run because of its lower energy rating.
Things we liked
Various settings
Extra dry function for heavier items
Quiet appliance
Things we didn't like
Low energy efficiency
Pretty costly to run
Best Condenser Tumble Dryer
Siemens Avantgarde WT7HX940GB Condenser Heat Pump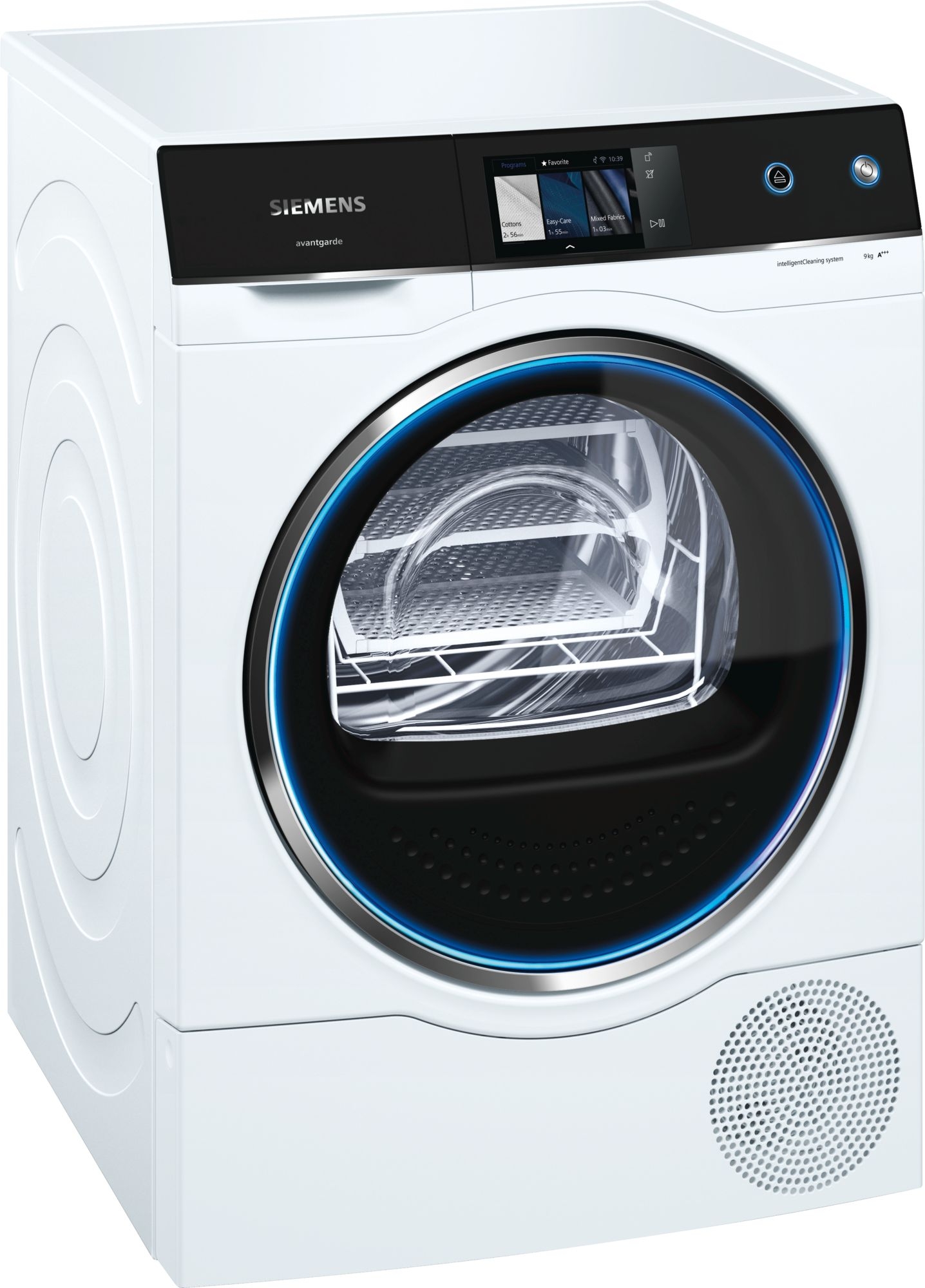 While this tumble dryer is quite dear, the WT7HX940GB tumble dryer has a 9kg capacity, A+++ energy efficiency.
It can be controlled with an Android or Apple smartphone, and it can dry clothes with a fairly fast 40-minute programme.
Things we liked
9kg capacity
Highly energy-efficient tumble dryer condenser
It may be controlled with a smartphone
Fast 40-minute programme
Zanussi ZDC8203WZ Condenser Tumble Dryer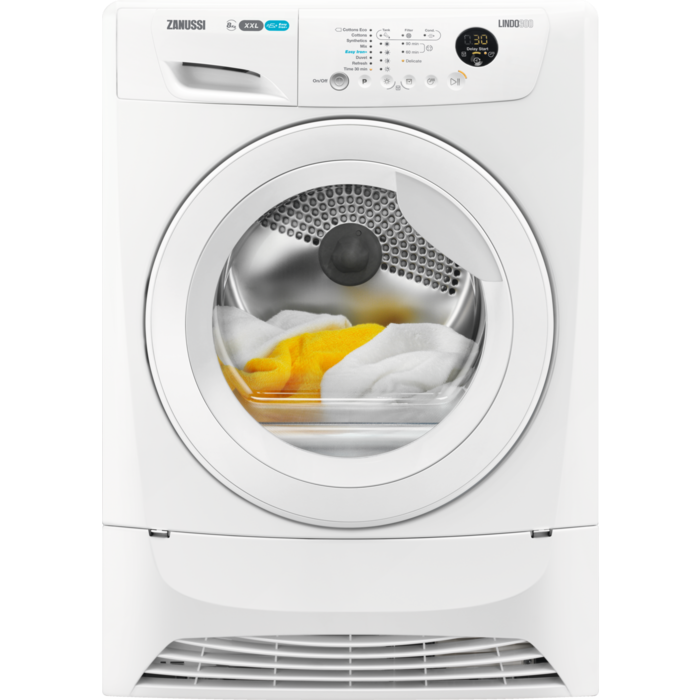 The relatively inexpensive ZDC8203WZ is a versatile tumble dryer with a quite large door, making it easy to load and unload clothing.
Unfortunately, it's pretty loud, only has an energy efficiency rating of B, and doesn't have that many features. But, its price tag offers good value for money, all things considered.
Things we liked
Versatile
Easy to load and unload
Fairly large door
Things we didn't like
Good value for money
Not the most economical or energy-efficient
Beko DTKCE8002W1W Condenser Tumble Dryer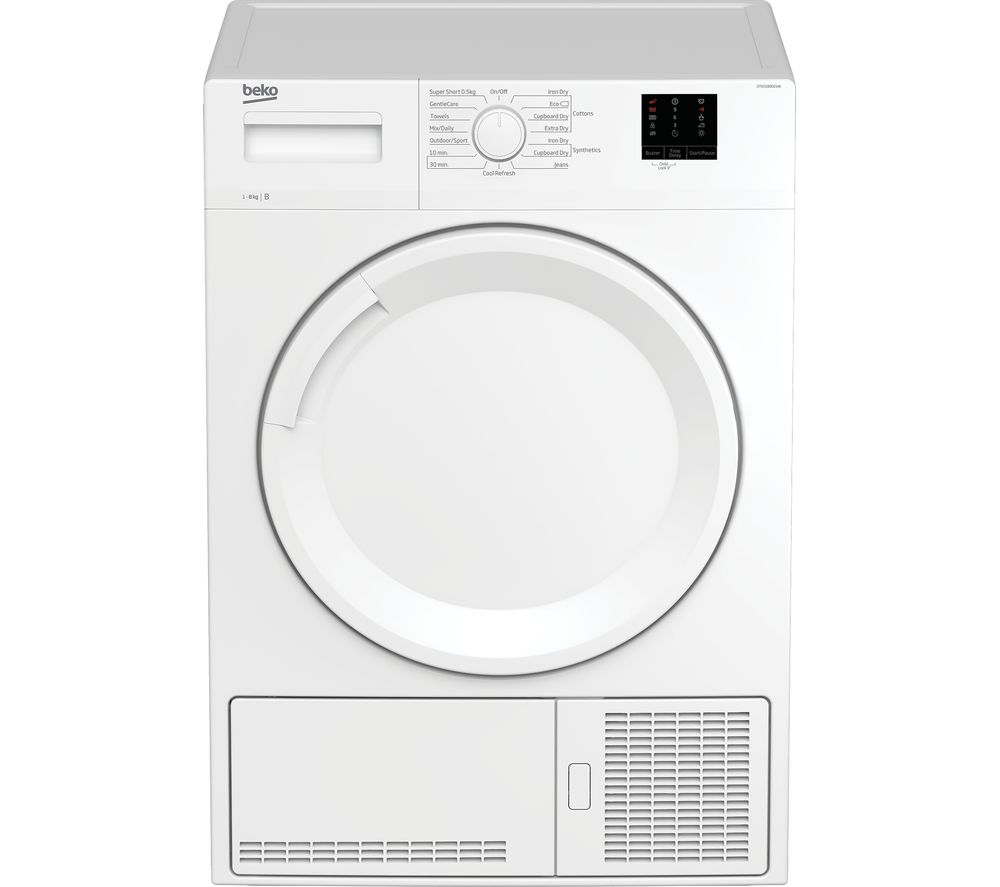 An even more budget-friendly tumble dryer than the ZD8203WZ is this condenser tumble dryer from Beko. It comes with a solid 8kg capacity, offers a great performance, and provides high-end sensor drying.
Among its features are its anti-crease technology. However, it has an energy efficiency rating of B.
Things we liked
Low cost
8kg capacity
Anti-crease technology
Great sensor drying capabilities
Best Heat Pump Tumble Dryer
Miele TSJ663 WP WiFi-enabled Heat Pump Tumble Dryer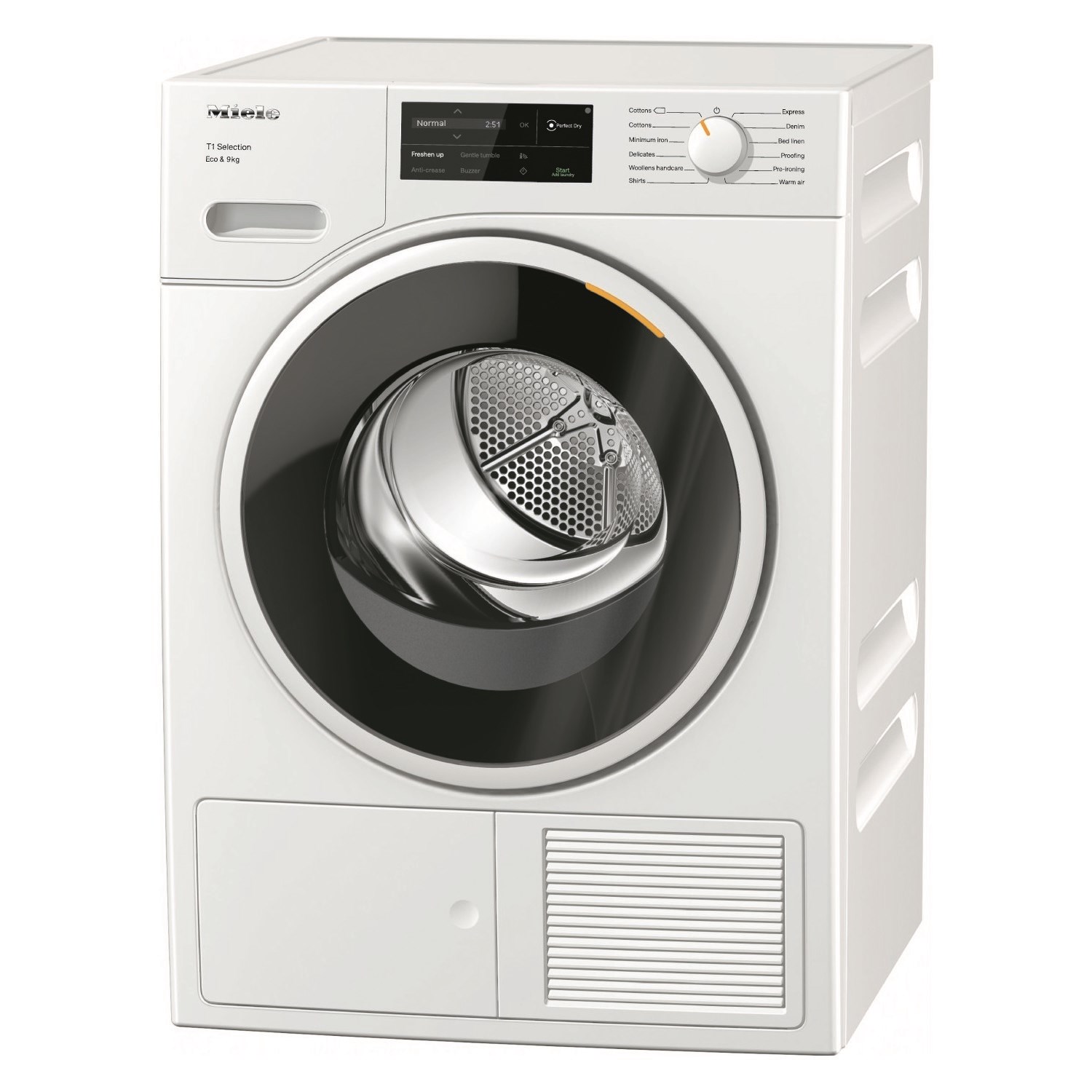 The first heat pump tumble dryer we're looking at is this energy-efficient and hi-tech product from Miele.
The TSJ663 WP is sensor-operated, has a large 9kg drum capacity, can be controlled with a tablet or smartphone, and has features like FragranceDos², which can infuse clothes with a beautiful speciality scent.
Things we liked
Large 9kg capacity
Energy-efficient
Hi-tech product
Smartphone- and tablet-control
Bosch WTW85231GB Heat Pump Tumble Dryer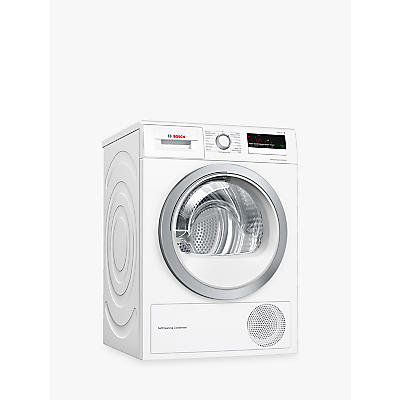 This tumble dryer is a mid-priced tumble dryer with strong energy efficiency and performance. Among its programmes are those for shirts, cotton, sportswear, and delicates. This Bosch appliance comes with an integrated condenser designed to enhance its drying function.
The WTW85231GB has an anti-crease feature along with its SensitiveDrying system. It also has an energy efficiency rating of A++, it's eco-friendly, and comes with a two-year warranty.
Things we liked
Good energy efficiency
Eco-friendly
Strong performance
Various programmes available
Samsung DV90N8289AW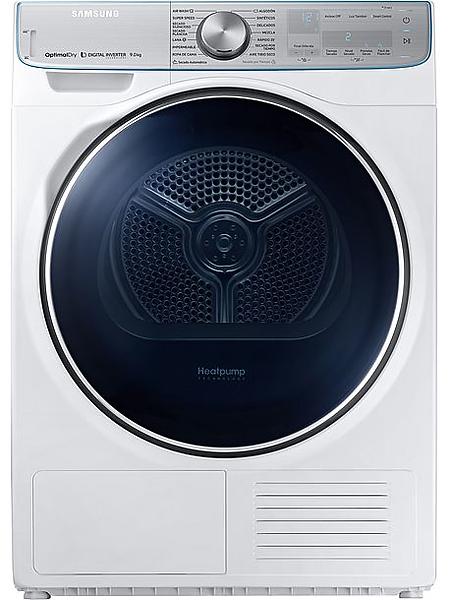 This fairly new appliance from Samsung is an energy-efficient tumble dryer with a solid 9kg drum capacity, a delayed timer of up to 24 hours, and a range of programmes such as Outdoor care, Mixed, and Wool.
Notably, the DV90N8289AW comes with a handy shoe-drying rack. This tumble dryer has a large porthole, dries clothes rapidly, is highly energy-efficient, and comes with minimal clothes tangling. However, clothing may come out creased.
Things we liked
Energy-efficient
9kg drum capacity
Various programmes
Delayed time of up to a whole day
Things we didn't like
Clothing could come out creased
Candy GVSH9A2DCEB-80 Heat Pump Condenser Dryer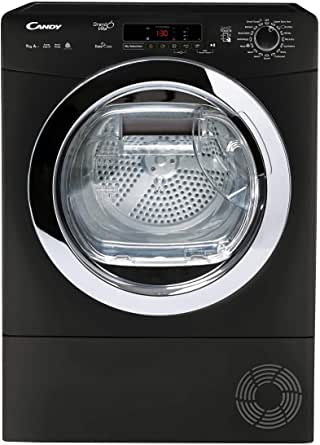 With this heat pump dryer from Candy, you get a one-year guarantee, A++ energy rating, smart technology accessibility, a sleek design and plenty of room due to its 9kg drum.
It may not be the best choice if you're not great with tech as it's quite a hi-tech modernized product.
Things we liked
One-year guarantee
9kg drum capacity
Great energy rating
Smart technology offered
Things we didn't like
Not ideal for all consumers
Best Small Tumble Dryer
Cookology Mini Tabletop Vented Tumble Dryer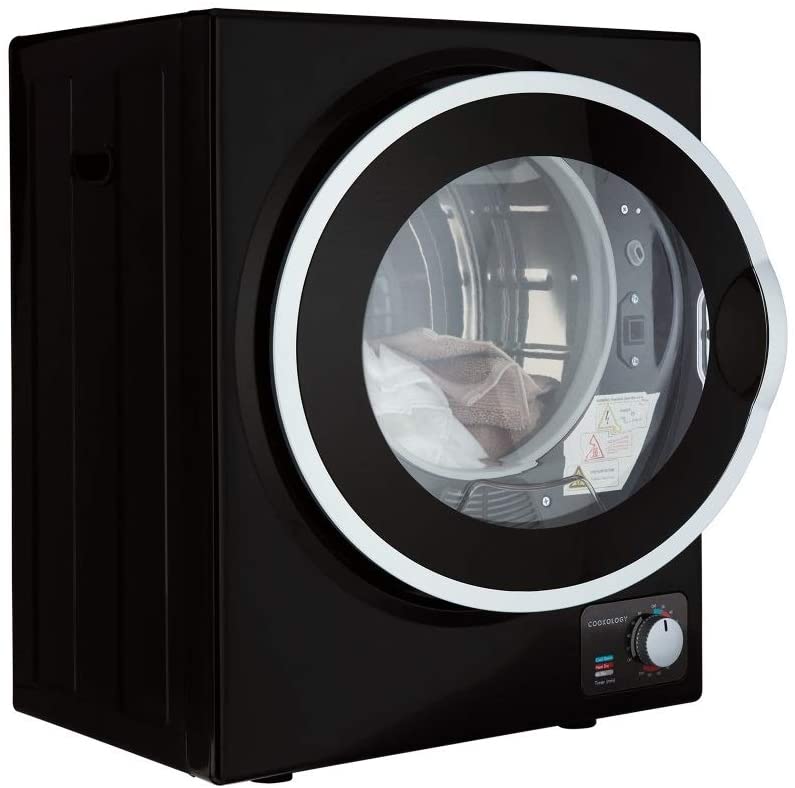 This mini dryer weighs only 17kg, is compact, light, and has a noise output of only 56db. It also measures 58.5cm in height x 49.5cm in width. It has five drying programmes, such as anti-wrinkle. This mini dryer takes about 20-30 minutes to dry items.
It has a 200-minute timer, one-year guarantee, and it can be either wall-mounted or used as a tabletop dryer. However, it's uni-directional, so reverse action is not possible.
Things we liked
Quiet
6kg capacity
Lightweight and compact
20-30 minutes to dry
Hotpoint 4KG Tumble Dryer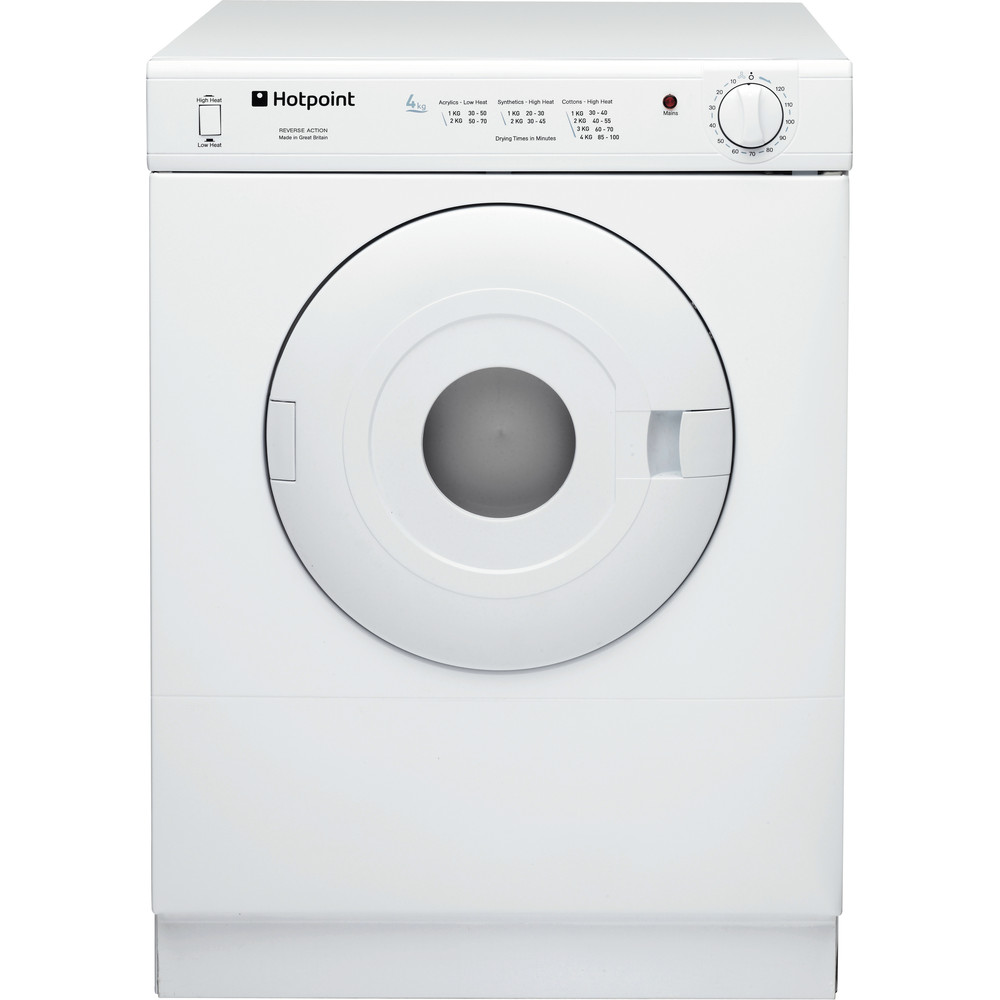 Moving on to this Hotpoint tumble dryer, we have a product with a 20-minute refresh cycle, two-thirds the size of a regular tumble dryer, a 10-years parts guarantee, a one-year labour guarantee, and a filter that's easy to remove.
However, it doesn't come with a dry quick programme, unfortunately.
Things we liked
Two-thirds as large as a regular tumble dryer
Great warranties
Easy-to-remove filter
Teknix Compact Tumble Dryer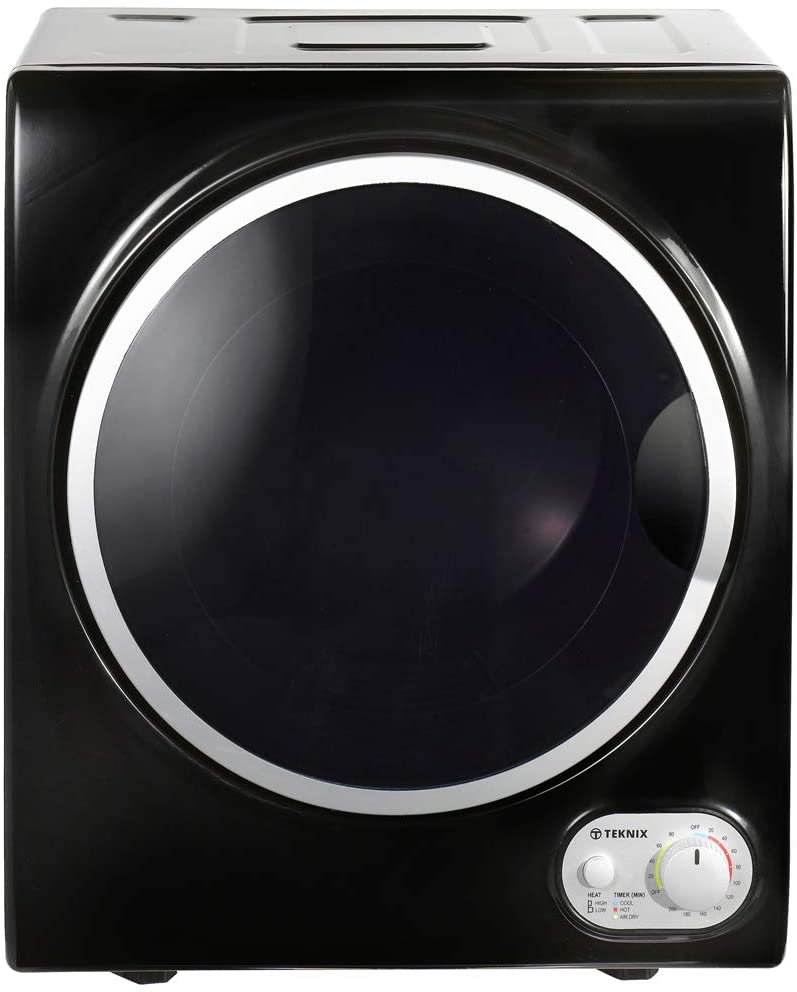 If you'd like a dryer that's the size of carry-on luggage, then the Teknix Compact Tumble Dryer is ideal for you. It produces a mere 57db of sound, is easy to use, the door can open 180°, has a two-year guarantee, and can also be wall-mounted.
With that said, it has just two drying programmes, namely high and low.
Things we liked
Two-year warranty
No larger than a carry-on suitcase
57db of sound
Ease of use
Door may open at 180°
Things we didn't like
Just two drying programmes
What to Consider Before Buying a Tumble Dryer
Before deciding what tumble dryer is right for you, there's a couple of points you need to take into account. Let's break down some examples.
Type
Different types of tumble dryers will be more suited to some homeowners than others. For instance, you may want a compact dryer if you don't have much space. How the tumble dryer works would also suit different homes depending on your property, with an example being a vented tumble dryer that may or may not suit your home.
Size/Capacity
The right size of a tumble dryer will depend on the size and number of loads you'd need to dry on a regular basis. Of course, you may be limited as to the size of the tumble dryer you can choose if your home is short on space.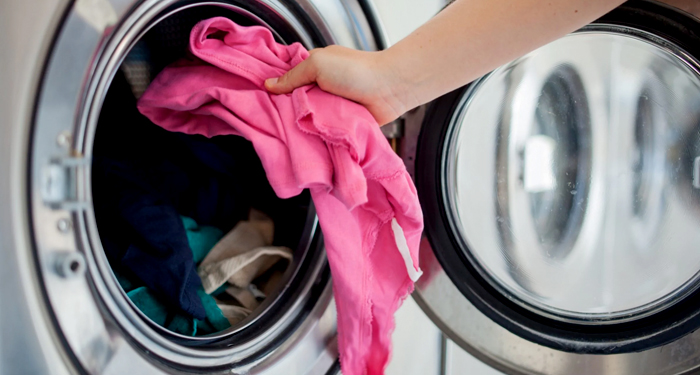 Where You'll Put It
Before making a purchase, you need to ensure that whatever type and the specific product you go for, it'll be able to fit in your home no problem.
FAQs
Which is better, a vented or condenser tumble dryer?
This will depend on your needs and preferences. As discussed earlier, each option has its pros and cons. So, it's best to weigh these up in terms of your own requirements to make a decision.
How much does it cost to run a tumble dryer?
While it will vary based on the type and size of the tumble dryer, this will likely land about £0.67 per cycle. It's reasonable to expect that an average household will spend somewhere between £60 and £100 per year on tumble drying running expenses.
What is an integrated tumble dryer?
This is simply a built-in tumble dryer.
What is the best tumble dryer 2020?
Arguably, the Samsung DV90N8289AW would take this title.
Where can I buy a good tumble dryer?
Plenty of stores provide good products, and you could also check out a website like eBay.
Sources