tech & entertainment
Best Sunrise Clock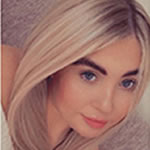 If you struggle to wake up in the morning with a regular alarm clock, why not consider a sunrise clock?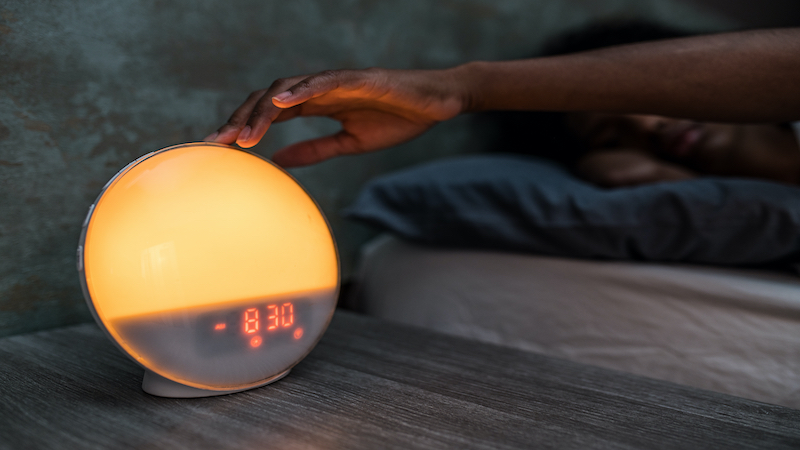 This article will cover everything you need to know about sunrise clocks, including what they are, how they work, the different types and the benefits. You will also find a list of some of the best sunrise clocks available.
Read on to find out more!
What Is a Sunrise Clock?
A sunrise alarm clock is a digital clock that has a built-in artificial light source. It is programmed to gently awaken a person at a predetermined time. It accomplishes this by simulating the gradually growing light of sunrise over a period of 30 to 40 minutes, while certain versions may allow the duration to be altered between 15 and 60 minutes.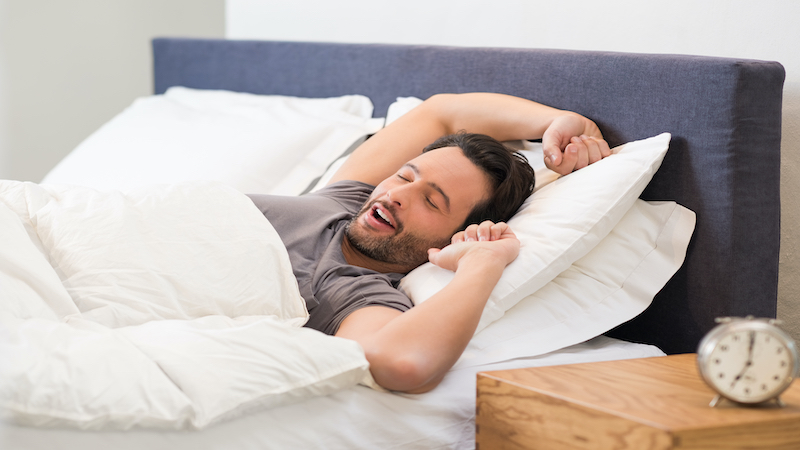 A full-spectrum white or yellow LED lamp may be used in these simulations. The colour spectrum, often known as colour temperature (or "warmth"), of this light may differ slightly from one model to the next. Most are low intensity, ranging from 100 to 300 lux (light intensity), and emit less light than a traditional lightbox.
How Does a Sunrise Clock Work?
Sunrise clocks fool your brain by simulating gradual sunrises in the morning and gradual sunsets at night, which will help you wake up more naturally.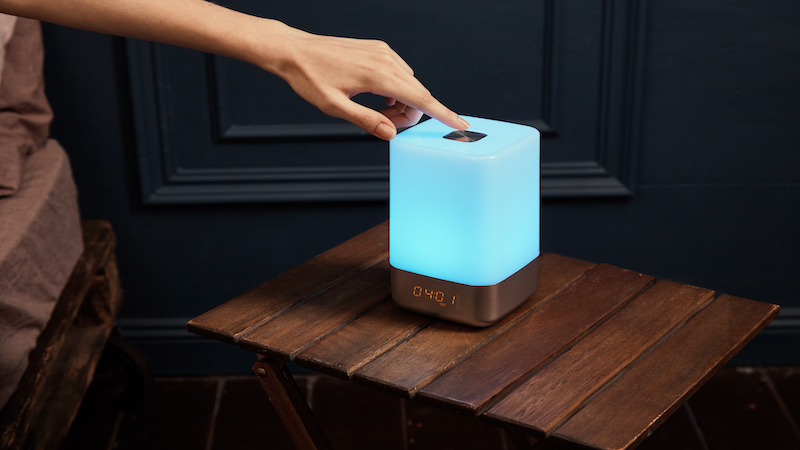 Sunrise alarm clocks can be quite effective since they use the body's natural biorhythms. Because most people are sensitive to both natural and artificial light, natural morning light can assist in waking the body up. Light-based alarm clocks can send out a gentle wake signal to help the body adjust to being alert.
Types of Sunrise Clocks
Sunrise clocks exist in a variety of shapes and sizes, but the concept remains the same. Before you go to bed, you set a wake-up time. Before this time, the light progressively increases in brightness until it reaches maximum brightness at your selected waking time.
Many sunrise alarm clocks also have a sound option to go along with your wake-up light. Because the light has helped you wake up from a deep sleep, you can choose a milder soundtrack instead of an ear-splitting alarm tone that would ordinarily wake the dead.
Here we will tell you about the different types of sunrise clocks that would be suitable for your mornings.
LED Sunrise Alarm Clock
The most common sunrise alarm uses an LED lightbulb, which has a larger colour spectrum, low power usage, and a long lifespan. Basic variants with fewer colour options, usually just white or yellow, are available.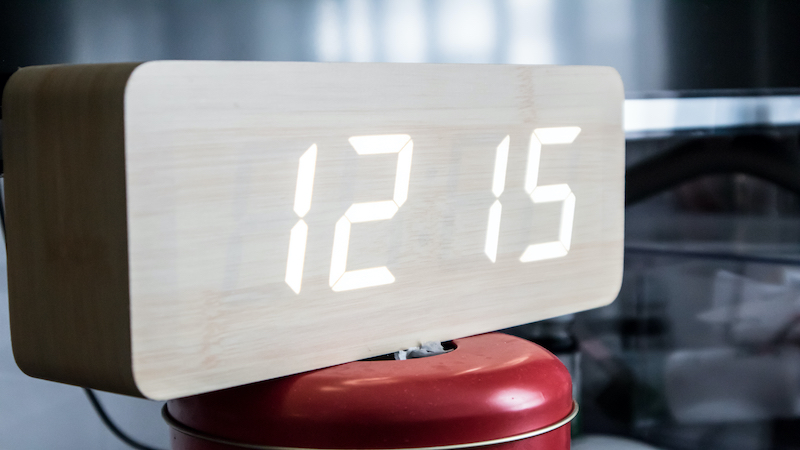 An LED sunrise alarm clock is a gentler alternative to harsh alarms. This sort of clock combines carefully selected mild lights and noises to help you wake up quickly but naturally.
You can be woken up by the soothing sounds of the ocean or the lively sounds of birds, as well as a gradually increasing light that begins 30 minutes before the alarm goes off if you use an LED sunrise clock.
Alternatively, go to bed with sunset stimulation, which gradually dims the room as you go asleep.
Most LED sunrise clocks have colourful patterns with numerous emitting colours, and they can also be used as a table or nightstand lamp while you're not sleeping.
You can also tune in to FM radio and select your chosen station when you're in the mood for a peaceful playlist or catching up on recent happenings.
Halogen Sunrise Alarm Clock
While halogen lightbulbs are less prevalent, many sunrise alarms use them, which provide a pleasant warm light colour that many people prefer to wake up to.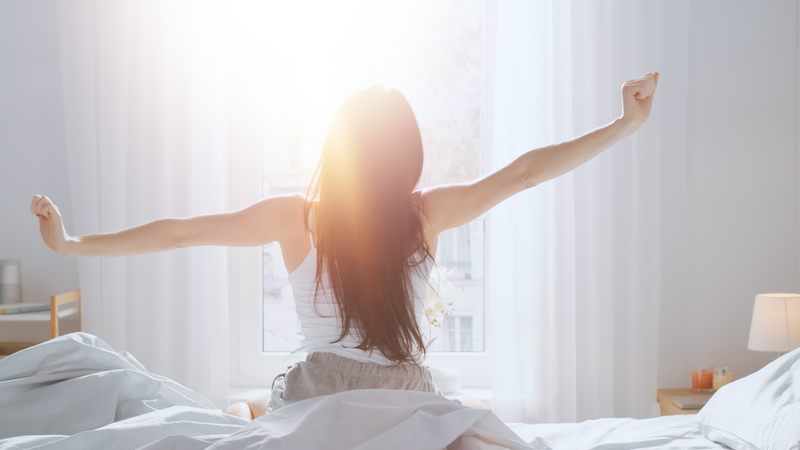 Unlike LED sunrise alarm clocks, the bulbs may be replaced, however, they do not last nearly as long.
Halogen bulbs produce brighter light with a more classic yellow tinge than incandescent bulbs. Those who favour halogen lamps' warm light quality and colour temperature will have to look around for a sunrise alarm clock that employs them.
Halogen sunrise clocks come with a small, lightweight halogen bulb. Better colour temperature is produced by halogen sunrise clocks, which is closer to sunlight than the more "orangey" typical tungsten.
They also have a longer lifespan than traditional incandescent bulbs and provide instant full brightness with no warm-up time. They are also dimmable, making them the ideal way to wake up.
Best Sunrise Clocks
Getting up can be a difficult experience, especially if you're woken up by a noisy alarm clock. It's only natural to want to hit the snooze button and go back to sleep when you're all nice and snug in your bed.
Even for the most graceful of morning folks, getting out of bed is physically demanding. Rather than adding to the tension by waking up to loud, triggering bells and ringtones, some people choose to wake up to sunrise alarm clocks.
We've compiled a list of the top sunrise clocks on the market to help you start your day off right.
Best LED Sunrise Alarm Clock
Philips Wake-Up Light Alarm Clock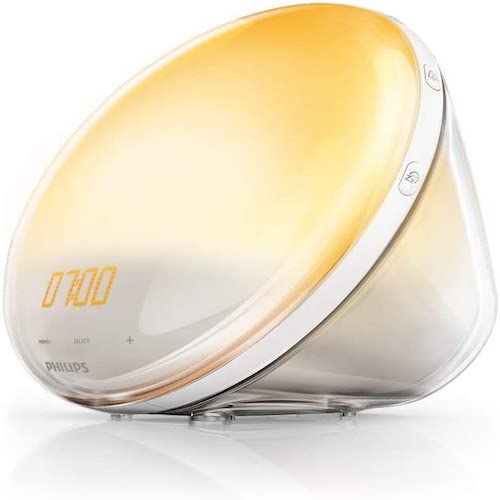 This clinically proven Philips's Wake-Up Light Alarm Clock combines light treatment and sound therapy, making it ideal for anyone suffering with SAD (Seasonal Affective Disorder aka the winter blues).
The lighting, which is inspired by a natural sunrise, begins red and gradually fades into a dazzling yellow over the course of 30 minutes. There are two variants available, each with a choice of 5 or 7 natural sounds, including soft piano and beach noises, as well as an FM radio and a tap snooze option.
This model also comes with a handy seven-minute backup battery to ensure that the alarm goes off at the time you set it, even if there is a brief power interruption. The Philips Somneo Sleep and Wake-up Light with Relax Breath are meant to facilitate light-guided wind-down breathing.
THINGS WE LIKED:
It gradually turns the room brighter
It is adjustable for you to change the colours
Lumie Bodyclock Spark 100 Wake up to Daylight SAD Light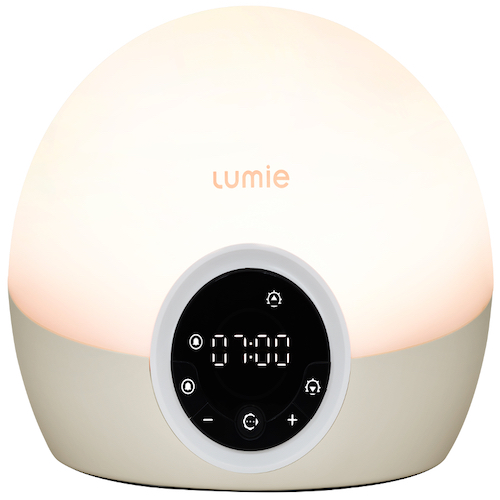 This wake-up light alarm clock is designed to help with insomnia and is ideal for terrible sleepers. It will not only gently and naturally wake you up – brightening 30 minutes before your alarm – but it will also help you fall asleep.
The diminishing light signals the body to make melatonin, which causes you to fall asleep.
The multi-tasking device also functions as an alarm clock, digital clock, and nightlight, switching from a warm glow to a bright sunny environment. Whether you have the seasonal affective disorder (SAD) or the winter blues, this clock will improve your mood, energy levels, and productivity.
THINGS WE LIKED:
Includes a night light
Tap control snooze
THINGS WE DIDN'T LIKE
The light-up effect can be unreliable
Lumie Sunrise Alarm Wake up to Daylight Table Lamp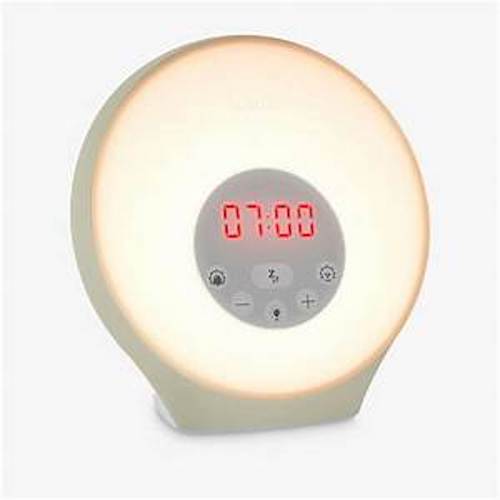 Lumie's Sunrise Alarm will make your mornings easier. This table lamp employs light to mimic a sunrise, assisting you in naturally waking up. The sunrise begins 30 minutes before your alarm and gradually brightens, giving you a peaceful wake-up. If you want another five minutes in bed, you can always hit the snooze button.
Colour-changing light can help you feel better. This light can cycle through a variety of colours, including green, red, and blue. It also has 10 controllable white light levels, making it great for bedside reading.
This sunrise alarm comes with an optional alert beep or a choice of five natural sounds if you wish to add the reassurance of an audio alarm. Birdsong, a purring kitten, tree frogs, osprey, and goats are among them.
In the evenings, this light might also help you relax. It will gradually darken over 30 minutes when you're ready to sleep, and the digital display may be turned off or to a low setting.
THINGS WE LIKED:
Begins 30 minutes before your alarm
Has different light levels
THINGS WE DIDN'T LIKE
Reviews say the quality is not always the best
Best Halogen Sunrise Alarm Clock
Lumie 30 Bodyclock Starter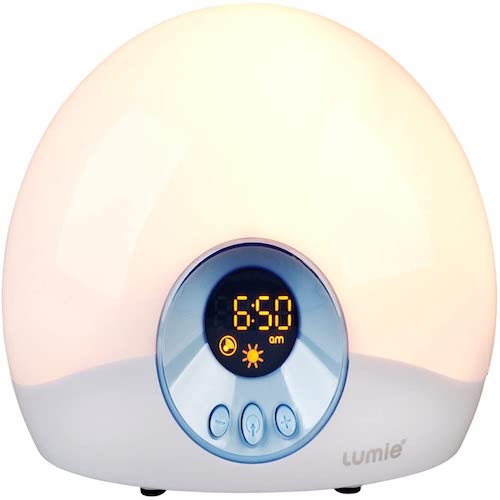 For those gloomy winter mornings, the Lumie 30 Bodyclock Starter Alarm Clock is a terrific alternative to a regular alarm. With a sunrise and sunset feature, as well as a backup alarm, you should feel refreshed and ready to take on the day.
The sleek curving light design is shaped like a half-circle, almost like a sun. It has a solid white base, an indented control panel, and a clock face that is somewhat below the centre.
Although the buttons on this lamp feel a little cheap to the touch, it is one of the more affordable options on the market.
This is a small item that has a subtle appearance in the room.
The clock display's brightness can also be lowered or turned off entirely.
THINGS WE LIKED:
Sleek and compact design
Back-up alarm
Easy to set up
THINGS WE DIDN'T LIKE:
Buttons feel cheap
The alarm can be harsh
Lumie Bodyclock 250 Wake-Up Light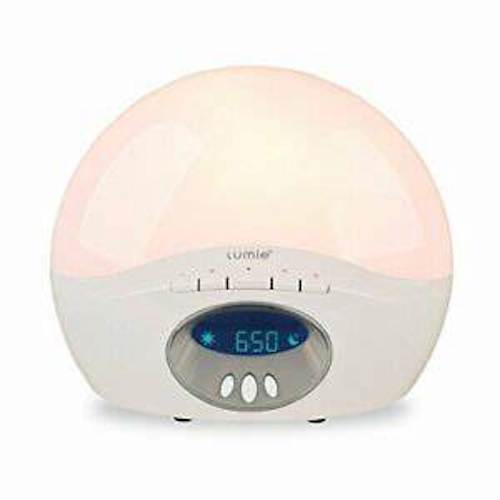 The Active 250 Wake-Up Light uses a 42W energy-saving halogen bulb instead of LEDs. This bulb is the equivalent of a regular 60W household light bulb, and it has a lifespan of roughly 2000 hours.
Fortunately, because bulbs are extensively used in standard lighting fixtures, they are inexpensive to replace.
The Active 250 is a certified medical product that complies with the Medical Devices Directive EC93/42.
It has a stylish semi-circular shape with three front-facing buttons for controlling all functions, including setting the time.
The sunrise simulation's duration can be changed to 15, 20, 30, 45, 60, or 90 minutes.
THINGS WE LIKED:
Lasts a long time
Different time settings
Picket Wake Up Light Alarm Clock Sunrise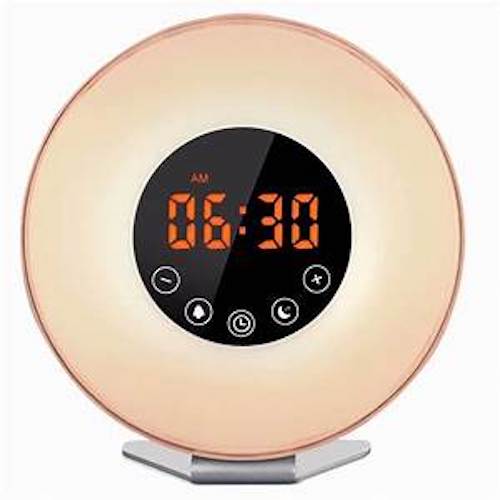 The wake-up curve's default duration (increasing brightness to the selected maximum light intensity) is 20 minutes. The duration of your wake-up alarm time can be tuned to your preference, ranging from 5 to 40 minutes, gradually luring you out of deep sleep as though awakened by nature.
You can enter snooze mode by tapping the snooze button when the alarm clock is playing. The light is kept on, but the sound is turned down. The alarm will sound again after 9 minutes.
Best Budget Sunrise Alarm Clock
FitFort Alarm Clock Wake Up Light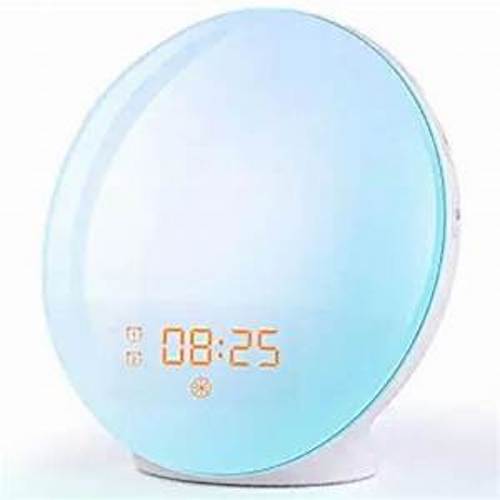 This light is gradually brightened or lowered utilising 11 distinct brightness levels in the sunrise and sunset simulations.
The device also includes a reading light, a mood light with six different colours to pick from. It also has a snooze function, six different nature sounds, and a radio with the ability to save your favourite channels to a playlist and even designate one as your wake-up call.
If you prefer a completely dark environment at night, you may also change the display to high, low, or off.
THINGS WE LIKED:
Affordable
Easy to wake up to
Alfred Sunrise Clock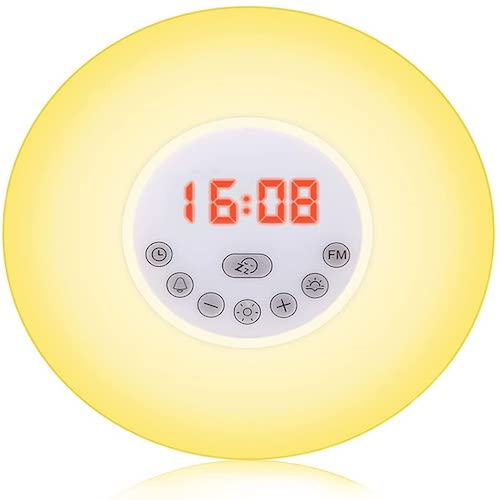 It's a simple light alarm clock, but it gets the job done. There is a battery-powered version available, however, it has restricted capability.
The light begins to turn on 30 minutes before the alarm time, just like other sunrise alarm clocks, however, this lamp is unlikely to suffice as bedroom lighting.
Overall, the choice that does exactly what it says on the tin isn't awful. You'll lose out on some of the jazzier qualities of some of the others, but it's still quite nice.
THINGS WE DIDN'T LIKE:
Affordable
Comes with different sounds
THINGS WE DIDN'T LIKE:
Can take a while to set up
Wake-Up Light Sunrise Alarm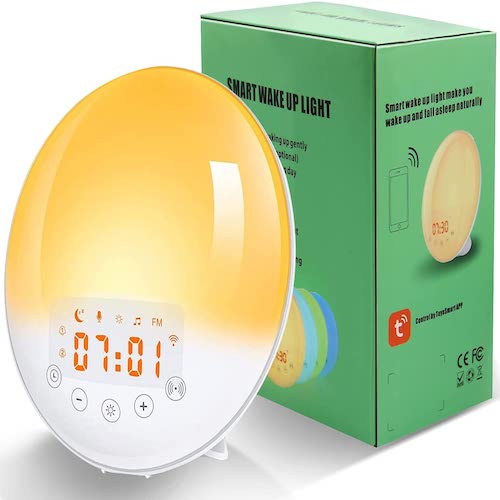 If you're on a budget, this clock is one of the more reasonable options, and it includes all of the essential characteristics that most people look for in a sunrise alarm clock.
You can customise your sunrise with seven distinct colours and 20 brightness levels.
The light brightens from 10% to 100% in 30 minutes, but if you believe that's too long, you can cut the time down to 20 or 10 minutes. You can also choose from a variety of sounds to accompany the light, such as a piano piece or birdsong, or listen to your favourite FM radio station.
The sound volume may be adjusted, however, unlike the light, it will not progressively increase.
THINGS WE LIKED:
Cheap
Gradually lights up in 30 minutes
THINGS WE DIDN'T LIKE:
The sound doesn't progressively increase
Best Smart Sunrise Alarm Clock
Lumie Bodyclock Luxe 750D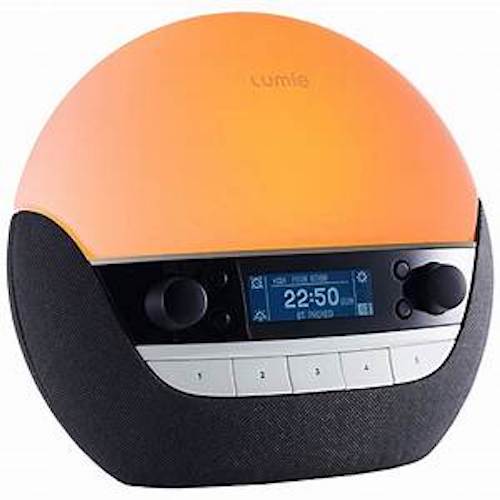 The Lumie Luxe 750D Bodyclock wake-up light has a stylish, modern appearance that will complement any bedside table. The small display screen is set into a black plastic band beneath the glass dome and features a curved glass top and a black speaker base.
The digital display is surrounded by several small buttons that provide easy access to the functions and settings. Unlike the other products in our review, this one has a USB plug on the rear that allows users to charge their devices or listen to their music through the speakers.
It will begin to gradually glow when you have entered your waking period, gradually increasing in brightness until it reaches maximum brightness by that time.
The colours closely resemble those of a real sunrise thanks to the use of blended LED lights, making this the greatest SAD alarm clock on the market.
THINGS WE LIKED:
USB port
20 sound effects
Contemporary design
THINGS WE DIDN'T LIKE
Controls are fiddly
No backup battery
Philips Sleep and Wake-up Light with Relax Breath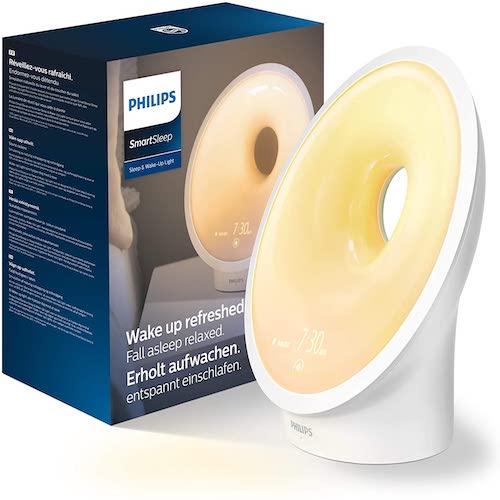 The Philips Somneo alarm clock is on the higher end of the price scale, but if you're looking for a high-end dawn alarm clock, it checks all the boxes.
It offers light-guided breathing routines to help you rest in the evening, a soothing midnight night-light option, and a smart touch display, in addition to simulated sunrise and sunset modes. Personalized brightness levels allow you to pick the one that is best for you.
THINGS WE LIKED:
Can choose what brightness is best for you
Smart touch display
Philips Somneo HF3650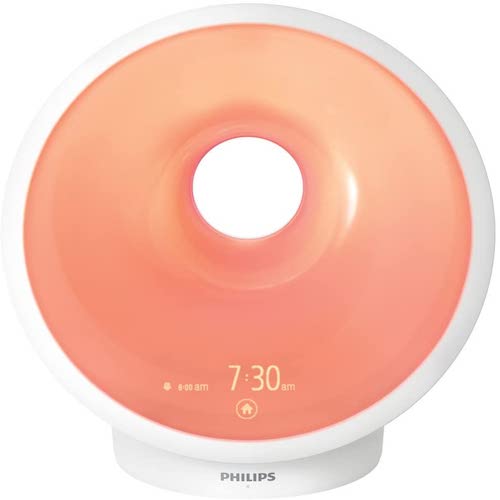 Philips' Somneo HF3650 alarm clock is the newest addition to their dawn alarm clock line. This is a sunrise alarm clock and light therapy lamp with 7 natural wake-up sounds, an FM radio, a white noise generator, and a programmable smart display.
Somneo's new RelaxBreathe sleep aid feature, which employs guided breathing programmes to help you fall asleep faster, is what sets it apart. After just two weeks of use, 79 per cent of Somneo users said the RelaxBreathe function made it easier to fall asleep.
THINGS WE LIKED:
7 different sounds
Guided breathing programmes
Best Smart Sunrise Alarm Clock with Sound Therapy
Lumie Bodyclock Shine 300 Wake up to Daylight SAD Light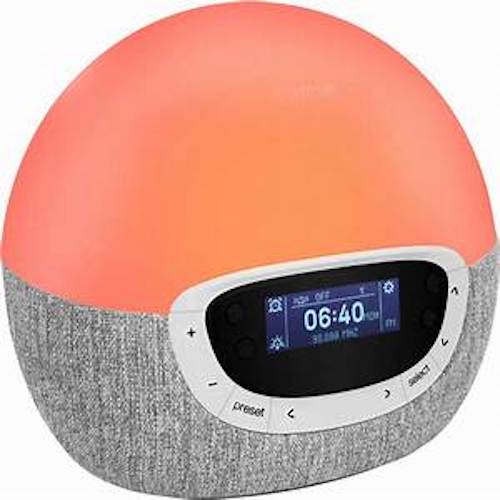 Lumie, one of the pioneers in the field of sunshine alarm technology, offers a variety of devices at various pricing points. The Shine 300 is one of the best available, as the alarm itself is designed to mimic natural dawn or sunset, allowing you to wake up gradually and naturally.
You can choose between a 15-minute and a 90-minute length, as well as several brightness settings. There's also a beep sound, as well as 14 others, to guarantee you don't miss that crucial wake-up time, as well as a built-in FM radio.
THINGS WE LIKED:
FM Radio
Controllable light intensity
Tap control snooze
THINGS WE DIDN'T LIKE:
You can only set it with the radio's frequency
Beurer WL 75 Wake Up App Controlled Light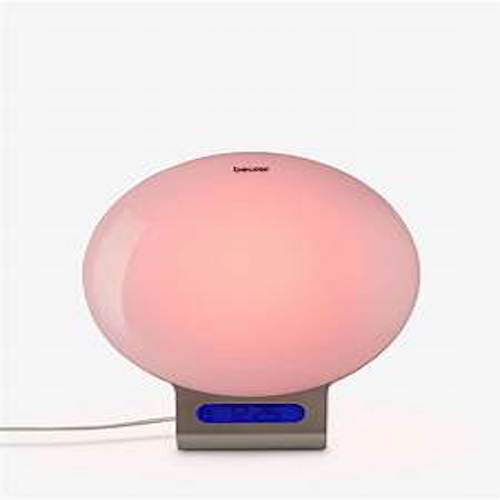 The elegant Beurer wake-up alarm clock fills your room with a softly growing natural-looking light up to an hour before your alarm is set, making you feel ready to start the day.
You may also use the gradual sunset simulation mode, which combines soft sounds and a red night light to help you relax and sleep better. It helps to change your circadian clock and increase melatonin production, encouraging you to wind down and sleep well.
The alarm clock is encased in a sleek modern design with useful extra features such as a radio, six wake-up melodies, and the ability to stream music over Bluetooth.
THINGS WE LIKED:
App-controlled alarm
Plenty of sound options to wake up to
THINGS WE DIDN'T LIKE:
Requires Bluetooth connection which may be unreliable
hOmeLabs Sunrise Alarm Clock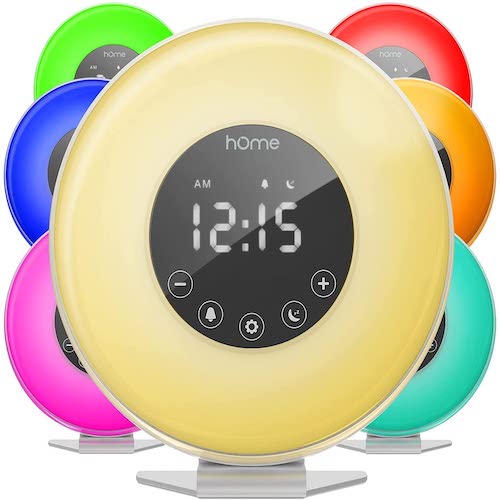 hOmelabs makes what is arguably the greatest affordable morning alarm on the market. It's a popular, feature-packed, budget-friendly wake-up light with over 900 Amazon ratings.
This dawn-imitation progressive alarm clock can ease you into your morning routine for a small price.
It has 6 brilliant hues, a variety of nature and sound effects, and tactile, easy-to-use touch controls, making it suitable for use in any area, including your child's.
It allows you to link not only your home lighting, but also your heating, door locks, refrigerators, and even your toaster via wireless Bluetooth and Wifi. Any part of your smart home can be controlled and automated using voice assistants like Amazon's Alexa or Google Home.
THINGS WE LIKED:
Alexa and Google can be used
Suitable for children
Best Sunrise Radio Clock
Philips HF3505/01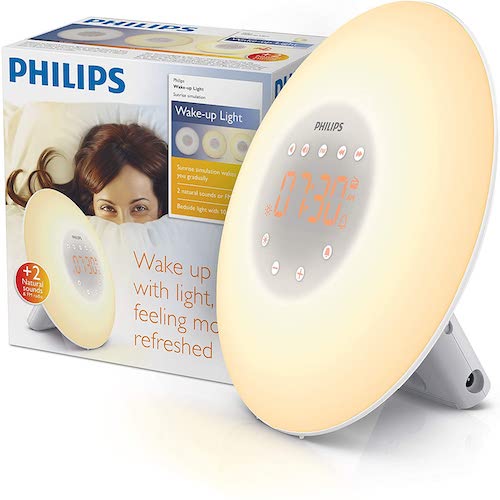 The Philips HF3505/01 Wake-Up Light Alarm Clock is a less expensive alternative to previous models. It has a few fewer features, but it's still a great way to beat the winter blues.
This lightweight wake-up light has a unique and modern design. The circular face has a thin profile and resembles a disc with a little support behind it to keep it upright.
In the centre, the clock face and controls are surrounded by a wide ring of light. Nine buttons are uniformly spaced around the time display, however pressing them without pulling the light away from you can be difficult.
THINGS WE LIKED:
Modern design
Doesn't take up too much space
30-minute sunrise function
THINGS WE DIDN'T LIKE:
No battery backup
Basic instructions
Mosche Sunrise Alarm Clock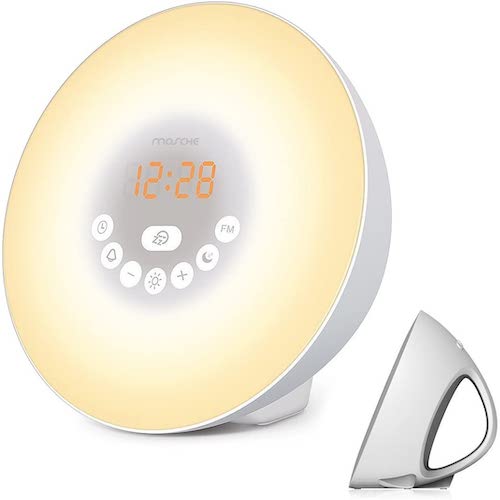 The Mosche Sunrise Alarm Clock is a high-quality, low-cost wake-up light with a long list of features and over 500 Amazon reviews.
There are seven light colours to choose from: indigo, purple, blue, green, red, orange, and white. These can be used as a general mood lighting at night or as a morning slow wake-up light.
There are ten different brightness levels to choose from. There are also seven other wake-up sounds to select from. Nature noises such as birds, woodland, and waves are available, or you can utilise the built-in FM radio.
The Mosche wake-up light can be charged via USB and uses three AAA batteries as a backup power source in the event of a power outage. Overall, the Mosche is a reliable all-arounder with a terrific feature set that provides excellent value for money.
THINGS WE LIKED:
Affordable
Different colours to choose from
Withings Aura Sleep System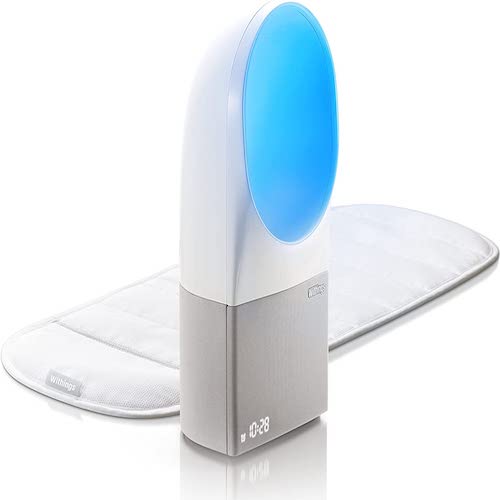 The Withings Aura has an eye-catching appearance that resembles a ship's funnel. The speaker grill and clock are located on the bottom portion, while the multi-coloured LED lighting system is located on the top conical section.
There are no visible buttons. Instead, the entire unit conceals a system of touch-sensitive controls for a variety of activities, including powering on and off, controlling volume, and activating and changing the various light programmes.
The Aura includes various sunrise and sunset simulation modes, as well as a variety of advanced light and sound programmes. Individual sunrise alarms can be programmed to wake you up with a multi-coloured dawn simulation effect. The Aura can also have the same effect in reverse, acting as a sunset simulator to assist you to go asleep.
Pros
Radio included
Smart controls
Easy to use
Best Subscription Sunrise Clock
Smart Bedside Reading Lamp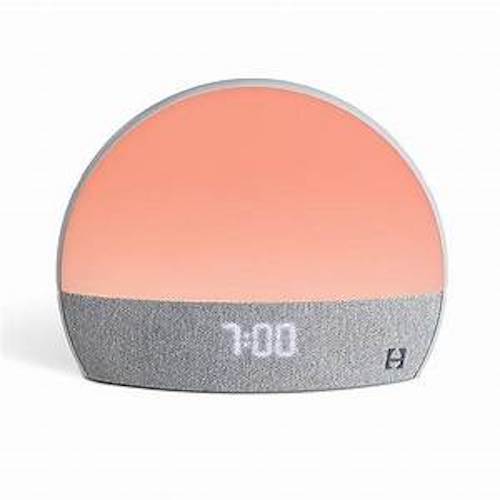 This is another popular online purchase: a clock that you can control with your phone via Wi-Fi or Bluetooth. If you don't want to use your phone before night, there are also touch control buttons.
You may personalise your dawn with different colours and sounds on their app, and you can even scroll through guided meditations, relaxation exercises, and sleep stories to help you go asleep.
The nicest element of this clock, in our opinion, is all the content provided by the firm. However, once your free trial period expires, you'll have to pay to subscribe to get premium access.
THINGS WE LIKED:
Connects to your phone
Touch control buttons
You can get a free trial
Hatch Smart Sleep Assistant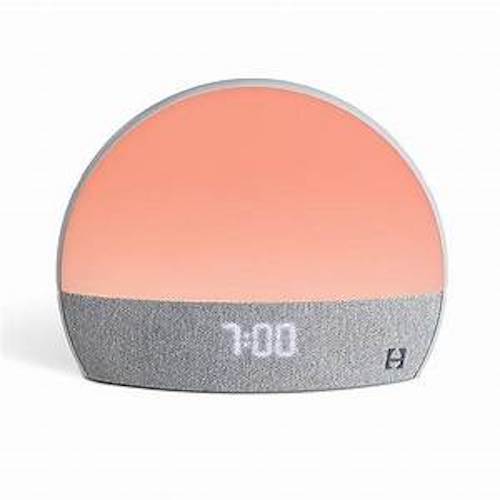 With this sunrise alarm, you can create a mood at any time with a selection of relaxing sounds and lights, as well as personalise a routine to help you fall asleep, remain asleep, and wake up refreshed.
It has a soft-glow reading light that is free of the eye-straining blue hues, as well as relax and unwinds settings that will prepare your mind and body for sleep.
Hatch Sleep Membership is activated, which is an optional in-app membership that provides you with unrestricted access to a growing library of sleep content.
THINGS WE LIKED:
Soft glow reading light
Reduced eye straining
In-app membership
Hatch Rest+ Sunrise Alarm Clock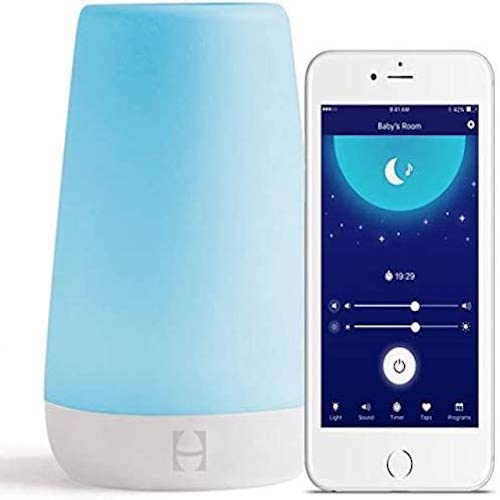 Hatch's Rest+ smart morning alarm is specifically developed to assist newborns and young children in establishing a sleep regimen.
Everything is programmed by the app, just like the adult version, from wake-up and wind-down timings to selecting your child's favourite colour for a night light.
A two-way monitor and an LED display clock that dims and turns off completely are also included. Customers love it, giving it an average of 4.5 stars out of 3,000 reviews.
It, too, allows subscriptions, just like any other hatch product.
THINGS WE LIKED:
Affordable
Great for children
What to Consider Before Buying a Sunrise Clock
Before purchasing a wake-up light alarm clock, keep the following points in mind: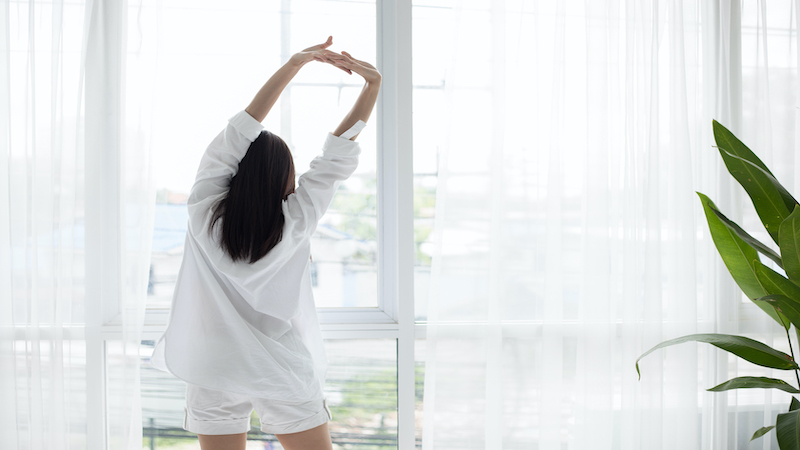 Light Source
To provide a bright yellow light in the morning, most light alarm clocks employ LED lights. The advantage of low-energy LEDs is that you can see a variety of colours. They aren't cheap or simple to replace, but they do last a long time.
Brightness
The brightness of the clock is probably the most important factor to consider. These alarm clocks, like ordinary light bulbs, come in a variety of brightness settings.
Brightness settings are usually shown in 'lux,' which considers the distance between the light source and the observer. Most clocks have a lux range of 100–300. Light therapy lights intended to treat SAD, on the other hand, can easily reach 10,000 lux.
Colour Temperature
These items are offered in a variety of colour temperatures. The most basic types have only one colour, which is commonly yellow or white.
More expensive units, on the other hand, come with multi-coloured spectrums that mimic the natural effect of sunrise and sunset, allowing you to feel energised in the morning and calmer and more restful in the evening.
Sound
You can also get a clock that makes a sound, like birds chirping, to help you to get up more naturally. These morning alarms help you wake up feeling more alert so you can perform at your best throughout the day. They can also include wave effects, trickling water, and natural forest effects, which can help you relax at night.
FAQs
What are the benefits of sunrise alarm clocks?
To get a decent night's sleep, you need to alternate light and darkness daily. Sunrise alarm clocks contain "wind-down" features that replicate a slow sunset to encourage melatonin production at night.
Wake-up cycles encourage cortisol production in the morning by simulating a natural and gradual sunrise to prepare you for wakefulness.
Wake-up and wind-down functions can both help maintain a healthy sleep cycle.
How does a sunrise alarm clock compare to a traditional alarm?
Many dawn alarm clocks include all of the amenities we've come to expect from traditional alarm clocks, such as a radio or music player, custom or numerous alarms, and, yes, even a sound alarm if needed.
Sunrise alarm clocks, on the other hand, use mild light and sound to assist you to wake up before resorting to the louder noises seen in traditional alarm clocks.
Are sunrise clocks worth it?
Sunrise alarm clocks can be beneficial because they tap into the body's natural biorhythm and allow us to wake up naturally without unnatural sounds.
Does a sunrise alarm clockwork for heavy sleepers?
Yes, it helps heavy sleepers by allowing them to wake up to one of the alarm clock's natural noises, such as chirping birds, the ocean, or a lullaby. They can also wake up by turning up the volume and waking up to a pre-set FM radio station.
How long does a sunrise alarm take?
Most sunrise alarms have a 30-minute default setting, although some models allow you to select shorter or longer durations. You may be able to set the alarm in 15-minute increments up to 2 hours.
Sources