tech & entertainment
Best Gaming Chair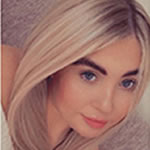 If you're a big gamer, you're undoubtedly used to sitting in a chair for long periods every day. Therefore, it's important that you choose the right gaming chair to ensure you are comfortable while playing your favourite games.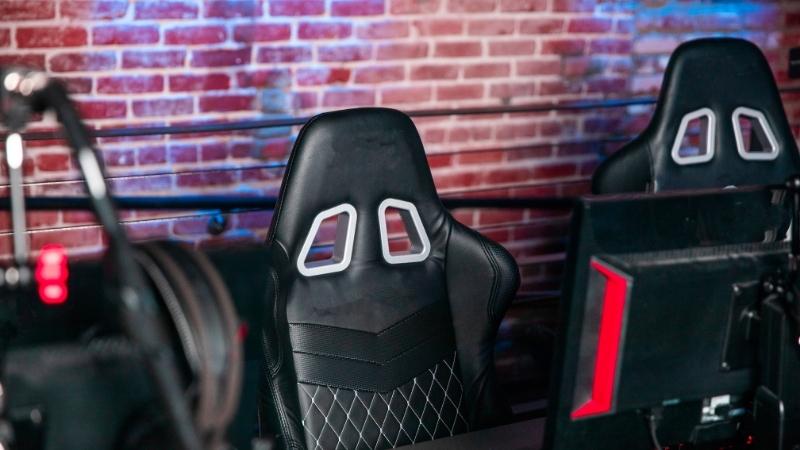 This article will help you find the right gaming chair, while also helping you understand more about what a gaming chair is and how they work.
In this article, we will explore the different types of gaming chairs and the best gaming chairs available.
What is a Gaming Chair?
First, let's explore what a gaming chair actually is...
Many gamers experience back pain as they spent more time sitting. This issue was resolved with the introduction of the DXRacer, the world's first gaming chair, which was invented in 2006. It was a redesigned racing seat with cutting-edge ergonomics.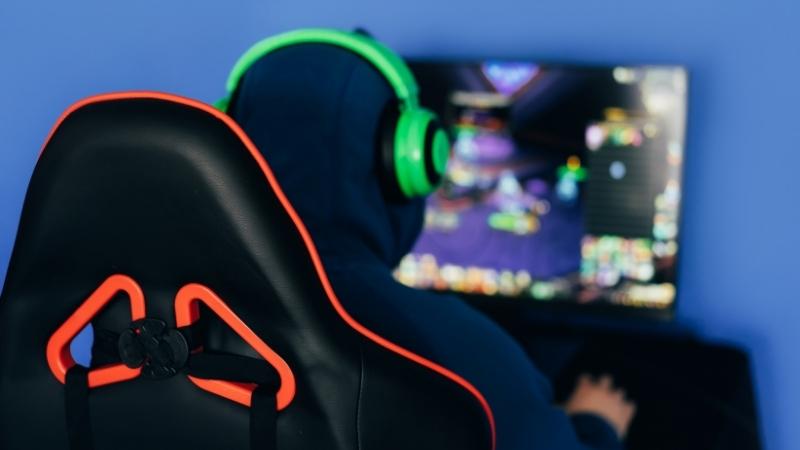 Investing in a gaming chair is much better than sitting in a cheap chair for a long period of time. When you're in pain, it's difficult to concentrate. As a result, your gaming or computing activities will be hampered.
While sitting for long periods, gaming seats keep your body in alignment. This reduces the amount of stress on your body and frees up more energy for computing.
How Does a Gaming Chair Work?
Gaming chairs are crucial to the health and well-being of those who use them. These seats might help you stand taller and feel more energised.
Support cushions are typically positioned at the curves of your neck and spine when sitting in a gaming chair. Most gaming chairs have customisable settings which allow you to recline the chair a comfortable angle of 100° to 110°.
With your head balanced atop your chest and the neck pillow, the chair will absorb your body weight. Your eyes will be fixed on the computer screen, and your mouse and keyboard will be within easy reach.
Your posture improves as you spend more time in a gaming chair. You will have better gaming or working experience if you have a good seating posture.
Many people forget they're sitting in gaming seats because they're so comfortable. Hours can pass in a flash of high-performance computing when your body is supported.
Types of Gaming Chairs
Gaming chairs have evolved over years, and now there are plenty of options to choose from.
Here, we'll go through the different types of gaming chairs that are accessible to you.
PC Gaming Chair
Given that the office chair is the preferred seating option for workers all over the world, it's only natural that a dedicated PC gaming chair would develop from those origins.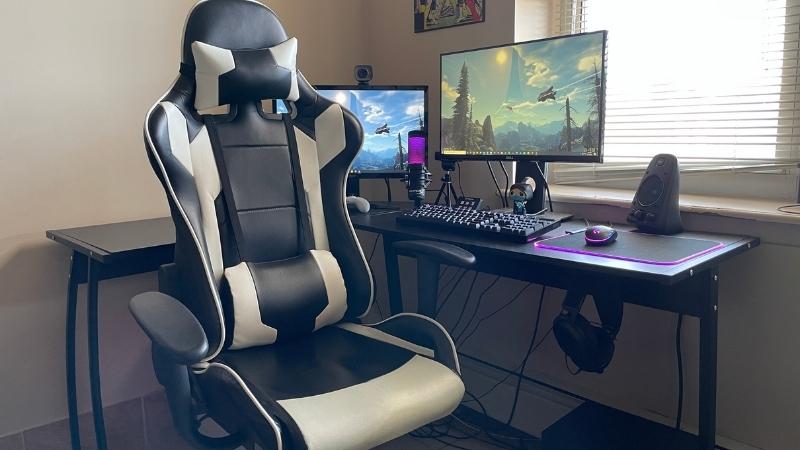 A PC gaming chair typically includes a bucket seat with additional padding. The armrests are also height-adjustable, and these seats provide additional lumbar support. Some models even come with a little pillow and the ability to recline.
Also, sometimes with this type of gaming chair, speakers are incorporated into the headrest on more advanced models.
Platform Gaming Chair
Platform gaming chairs are a completely different species. Most of the time, they resemble a recliner in look. Most models have side pockets for holding game controllers and can rock. There are headphone jacks on the ones that don't have built-in speakers.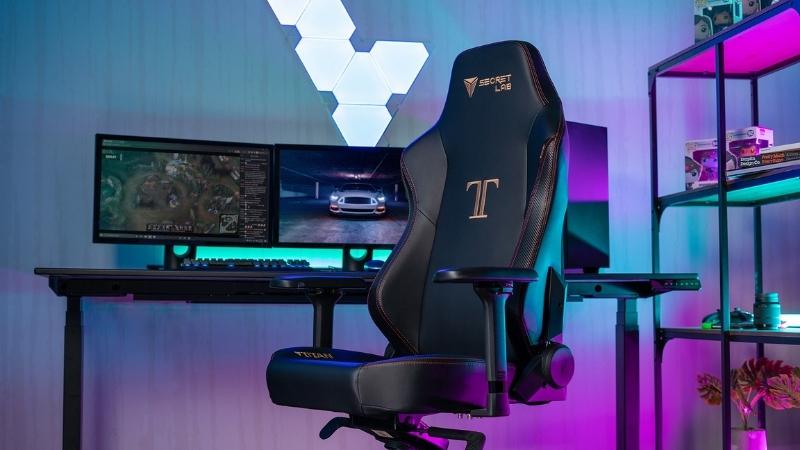 If you're looking for a chair that combines form and function, something like this gaming chair might be ideal for console players, but it would be a poor choice for PC gamers.
Hybrid Gaming Chair
A typical hybrid chair has a swivel base that gives it a look like that of an office chair, but it has the shape and padding found in recliners. Multiple monitors, built-in surround sound speakers, and a variety of gaming control techniques are available on more modern hybrids.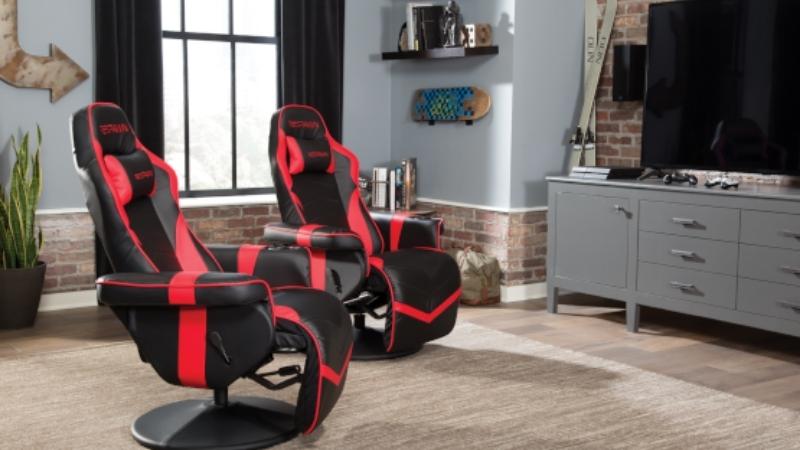 A gaming chair like the hybrid isn't going to fit into everyone's budget or home decor, but it's a fantastic alternative for the dedicated gamer.
Console Gaming Chair
Console gaming chairs are living room chairs that are designed to be used when playing video games in front of the television. Gaming chairs for consoles take advantage of available design space to provide foot and back support, allowing gamers to relax and enjoy gaming sessions.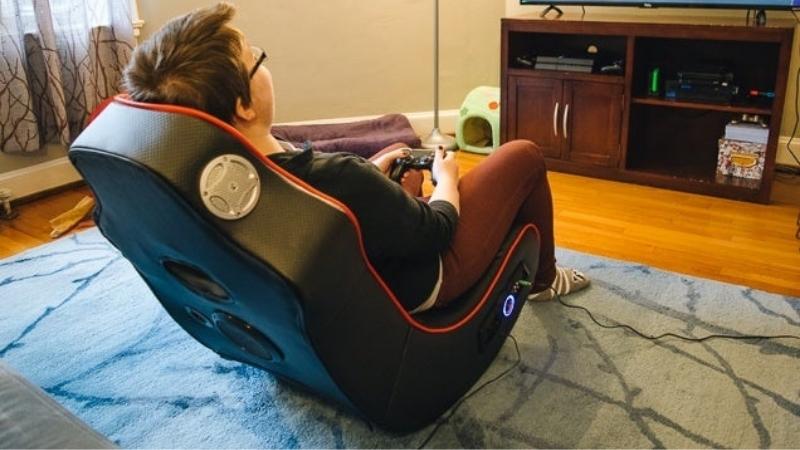 Sitting in a console chair rather than on the floor or a sofa is better for your back. Back support is poor on both the floor and the sofa. When you're gaming on either, your back has to work more to support your torso and arms.
Gaming chairs for consoles include plenty of padding and good back support. Instead of straining your back and neck muscles, they will assist you to relax them while gaming.
Bean Bag Gaming Chair
The comfort of the gamer is paramount with these gaming seats. Beanbag gaming chairs were popular in the 1970s, but they have just resurfaced on store shelves in this century.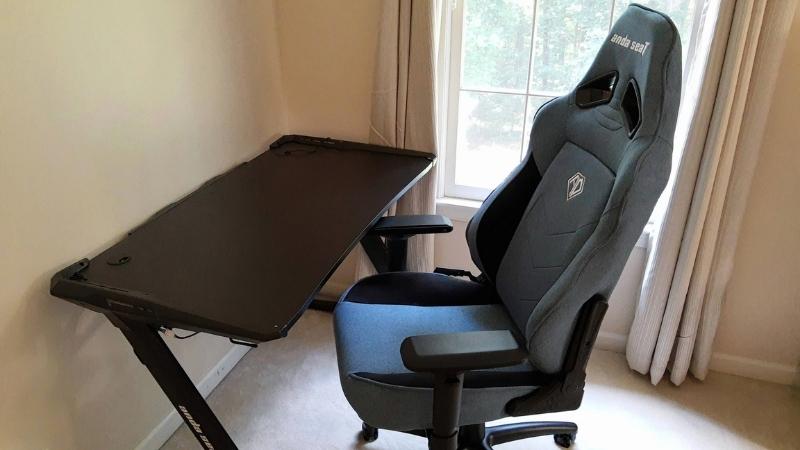 There are no armrests, backrest, headrest, or lumbar support on this chair. It has a lot of flexibility and is lightweight, making it an excellent choice for gamers.
If you need lumbar or back support, though, you might want to choose a specifically built gaming sofa or a memory foam gaming chair that looks like a beanbag chair but has armrests and a backrest.
Racer Simulator Gaming Chair
A racer chair is primarily intended for use in racing games. Genuine leather and PVC leather are the most popular materials used to make them.
While most have the same shape as a PC gaming chair but with extra cushioning, support, and flexibility, some have a lower-profile design like that of motorsport vehicle bucket seats.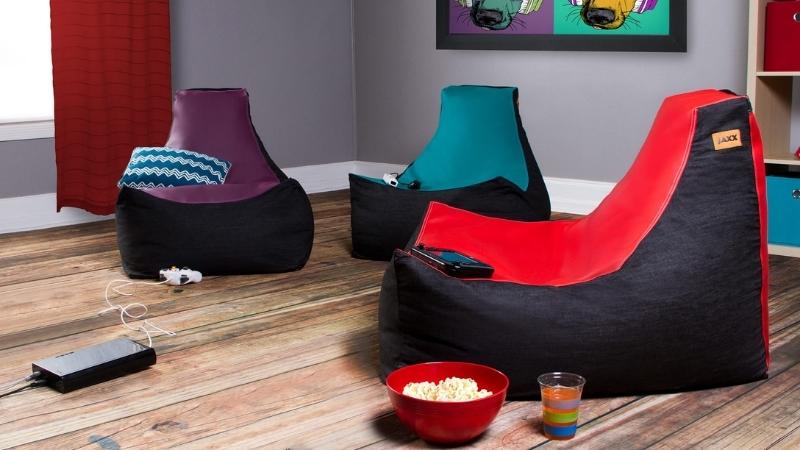 These provide not only the most comfort when gaming, but also the best endurance over lengthy periods. More advanced models will have steering wheels, gas/brake foot pedals, and wheel/pedal support plates.
They also feature casters, armrests, and backrests, as well as height adjustment, reclining, tilting, and swivelling functions. All these characteristics are designed to replicate the real-world racing experience.
Best Gaming Chairs
Your gaming PC setup isn't complete without the greatest gaming chair. Your choice of gaming throne isn't simply a matter of taste; a good gaming chair will offer you complete comfort to allow you to enjoy your favourite pastime.
To help you choose the right chair, we've compiled a list of some of the greatest gaming seats available.
Best PC Gaming Chair
Noblechairs Epic Real Leather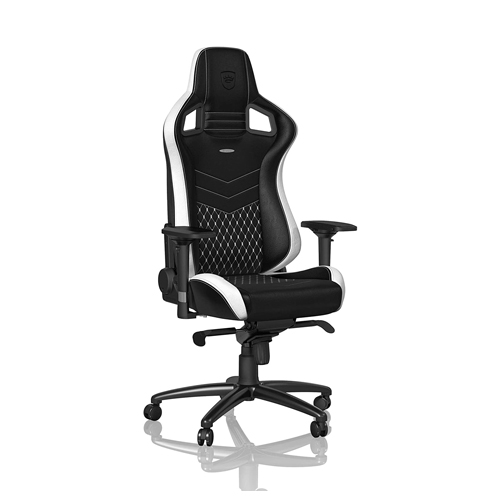 The Noblechairs Epic Real Leather Gaming Chair is one of the best gaming chairs available. If you're searching for a no-compromises gaming chair, this is it, from the cross-thatched stitching to the true leather of its name.
It's also quick and simple to put together. Just remember to read the instructions while you're putting it together. This chair is a dream to sit on once you've finished.
You have complete control over how you modify your position.
Things we liked
Quick and simple to put together
Anda Seat T-Pro 2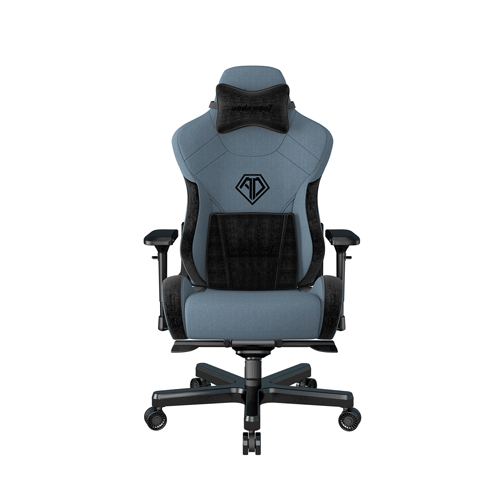 The ultra-sturdy foundation and general construction of the Anda Seat T-Pro 2 are ready to accommodate larger gamers.
We don't think it's the best choice for shorter people, even though the wide seat base allows you to play with your legs crossed.
Although, with no need for lower back support pillows, a higher-end one with built-in lumbar support would make it even better.
Things we didn't like
Not good for short people
Autonomous ErgoChair 2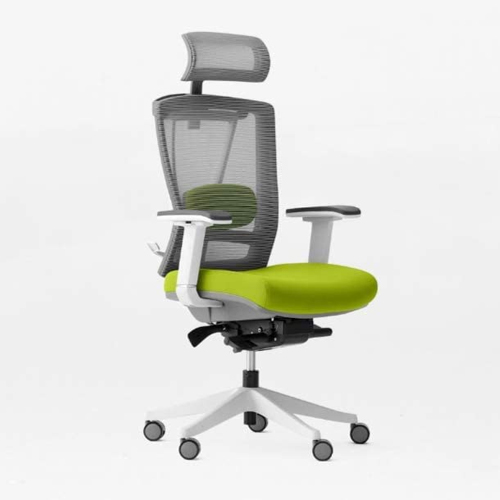 If you want to kick back and play games all day in comfort but don't want a chair that looks like a gaming chair, the Autonomous ErgoChair 2 is the chair for you.
The ErgoChair 2, which is marketed as an office chair, has a very modern and sophisticated look that will appeal to anyone.
It's not just about looks, either: the ErgoChair lets you adjust virtually every aspect of the chair, ensuring that no matter how your body is structured, you'll be comfortable when gaming.
In comparison to the leather back, the mesh back is significantly more breathable.
Best Platform Gaming Chair
X Rocker 51396 Pedestal Gaming Chair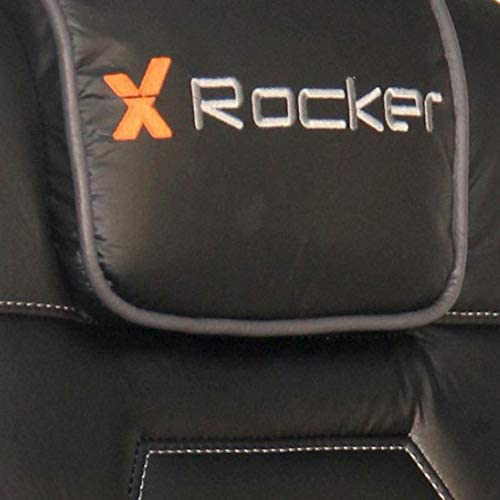 This X Rocker pedestal console gaming chair is one of the best in the category. The elevation it offers ensures a comfortable experience.
It also features wireless audio setup, and a few colour variations are available.
This is an excellent choice for anyone with a tiny or large frame, and the design is exquisite.
This gaming chair for consoles is extremely comfy and comes with a wireless audio system that works with all current-generation consoles.
The chair is pricey, but it's worth it for an excellent quality console gaming chair.
Things we liked
Comfortable
Different colours available
Cohesion XP 2.1 Gaming Chair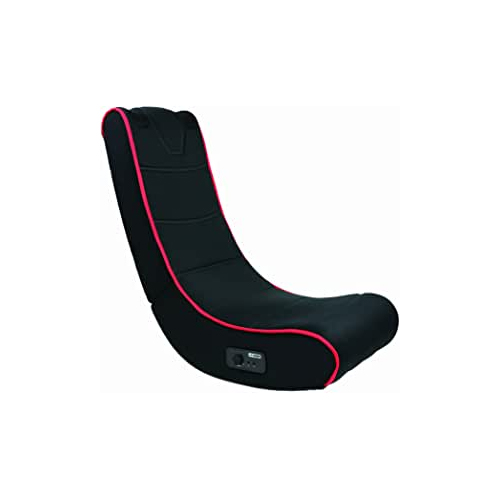 Another console gaming chair with a high weight capacity is the Cohesion XP, which provides excellent comfort, wireless 2.1 audio, and easy storage.
This folding console gaming chair is ideal for individuals who need to store it while they are not using it.
Aside from being convenient, this chair's comfort levels are fantastic, and the wireless audio is a nice touch.
Things we liked
Easy storage
Wireless audio
Things we didn't like
Reviews say it is not as comfortable as they thought
X Rocker 5143601 II Gaming Chair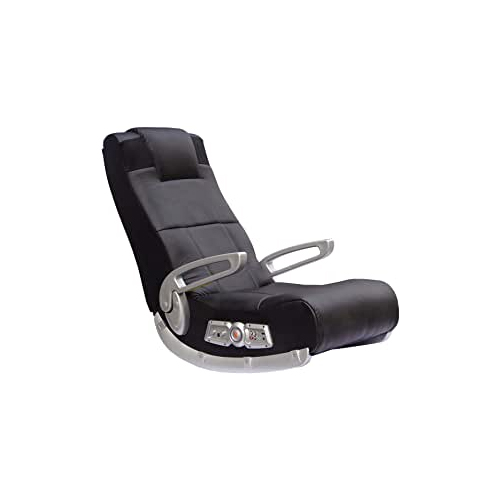 This X Rocker gaming chair is a comfortable seat that shares many of the same characteristics as our top console gaming chair picks.
X Rocker is well-known for its console gaming chairs, so it's no surprise that they've landed on this list.
This chair is made of high-quality materials and includes wireless audio, allowing you to fully immerse yourself in your games.
Things we liked
High quality
Wireless audio
Best Hybrid Gaming Chair
Respawn 200 Mesh Gaming Chair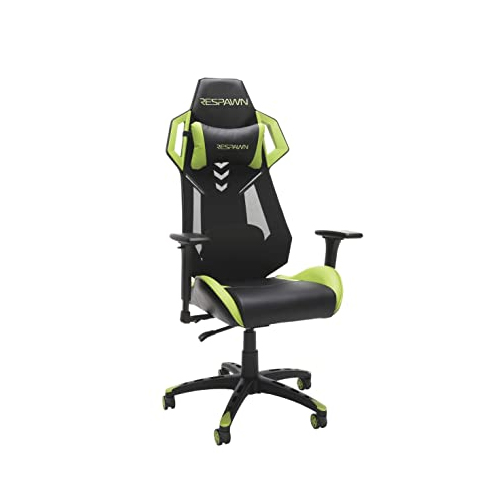 To begin with, most gaming seats are covered in imitation leather. In warmer temperatures, such material can get sticky. With a breathable mesh backrest, the RSP-200 overcomes this issue.
The height and depth-adjustable lumbar support are also excellent features.
You can also reach behind the chair and change the height manually. Twisting the handle will also alter the support angle and toggle the depth.
Things we liked
Adjustable seat
Handles for support
Things we didn't like
Can get sticky if it's hot
Aeron Gaming Chair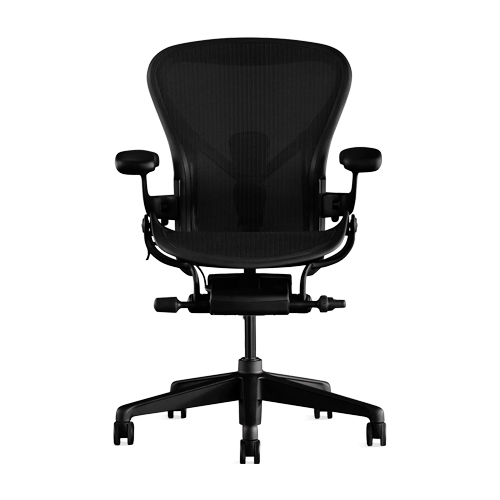 The Aeron Classic Office Chair is available in three sizes: small, medium, and large. The Gaming Edition is only available in medium size.
Aside from the colour pattern, all Aeron chairs have the same functionality.
The Aeron chair boasts the industry's greatest synchro-tilt. Its 8Z pellicle mesh is the gold standard in mesh upholstery for office chairs.
Things we liked
Available in different sizes
Good quality
Sayl Chair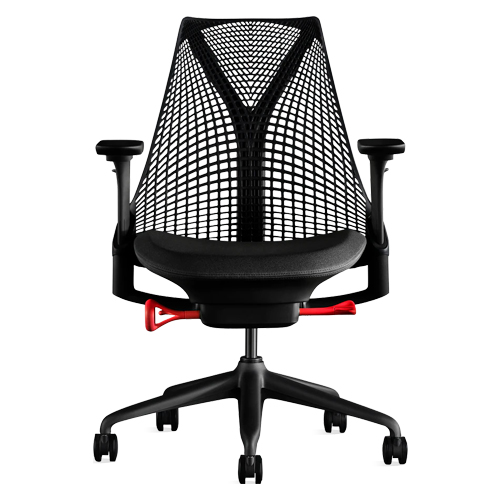 Sayle Gaming Chairs are available in a variety of colourful patterns that match the selection of backrest designs, including bright green, red, blue, black, and white.. You can also choose from a grey or black cloth seat.
Aside from its spectacular appearance, the Sayle chair delivers amazing features at an affordable price.
The Sayle is a chair that combines the greatest features of the Embody and Aeron chairs into a single package.
It takes the Aeron's reliable synchro-tilt capability with the Embody's ultra-adaptive backrest concept.
In such a low-cost chair, advanced synchro-tilt capabilities are uncommon. For instance, the seat tilts up when the user leans back and it tilts down as they lean forward.
Things we liked
Available in different colours
Cheap
Best Console Gaming Chair
Downmix Gaming Chair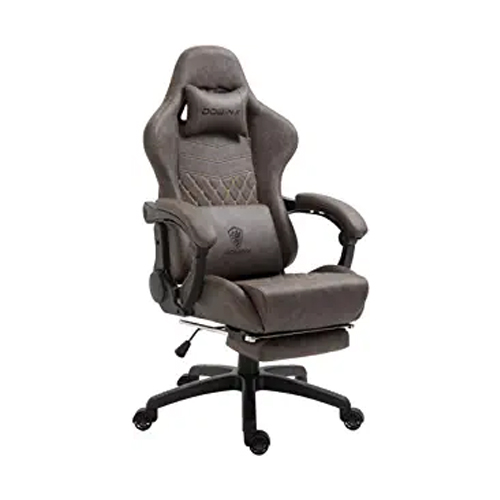 The ErgoChair not only looks great but it also lets you adjust virtually every aspect of the chair. This ensures that everyone feels comfortable when gaming.
In comparison to a leather back, the mesh back is significantly more breathable.
This Downix Gaming Chair focuses on ergonomics and a near-perfect upright sitting position, so you can forget about a sore back. It features lumbar support, as well as a vibrating function.
The footrest is well-made, and you may recline for a quick snooze.
You can also enjoy the luxurious leather and sophisticated colour combinations.
Things we liked
Comfortable
Footrest included
Things we didn't like
Not aesthetically pleasing
Homall Gaming Recliner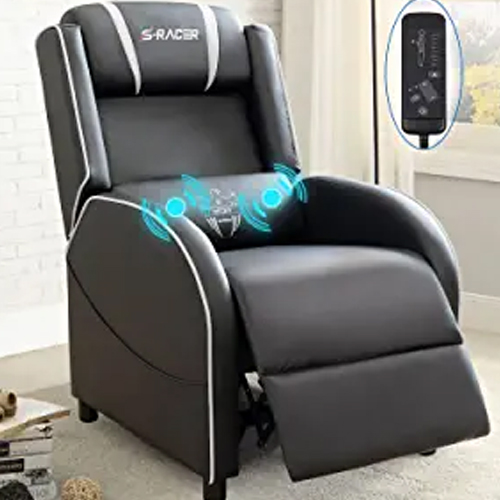 This Homall Gaming Recliner offers the comfort you need to sit and win your first Warzone. Unless you're searching for something a little more eccentric or serious, it's the wholesome complement to your gaming setup that everyone desires.
It is, however, a little on the small side, so it may not be ideal for very tall people.
A fully reclined backrest, a vibrating lumbar cushion, padded footrest, and a comfortable seat make this one of the finest console gaming chairs in 2021 for the casual gamer.
This is the ultimate console gaming couch, and it's the perfect addition to any gamer's setup for slow evenings or weekends.
X Rocker Dash 2.1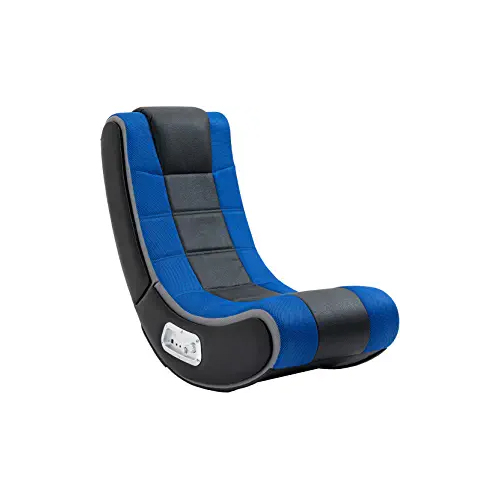 The X Rocker Dash is a great entry-level console gaming chair, and the only one worth buying if you're on a budget. If you're unsure about a rocker console gaming chair, this is the chair for you!
You will receive a simple, no-frills design, although the comfort features are much better. This includes body-hugging cushioning, posture and comfort.
This chair includes a wireless in-built audio setup through Bluetooth as a bonus. Connect your PS5, Xbox One, or Switch to your TV, then put on your headphones and relax.
The control panel is similar to those seen on higher-end X Rocker models, with everything accessible by a knob or a button.
Things we liked
Cheap
Wireless built in audio
Things we didn't like
Body hugging cushions can be annoying
Best Beanbag Gaming Chair
Lumaland Luxury Beanbag Chair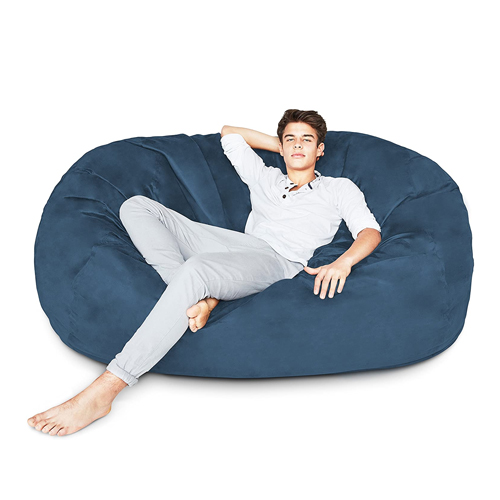 The Lumaland's interior is made of memory foam, which lasts longer than most varieties.
It also has a machine-washable microsuede outer cover, making it simple to maintain.
This lounger is available in a variety of colours and has one of the greatest customer ratings, averaging over 4.5 out of 5 stars across most stores.
Things we liked
Made of memory foam, which lasts longer than most varieties of beans
Available in a variety of colours
Things we didn't like
The quality is known to not be the best
Big Joe Milano Beanbag Chair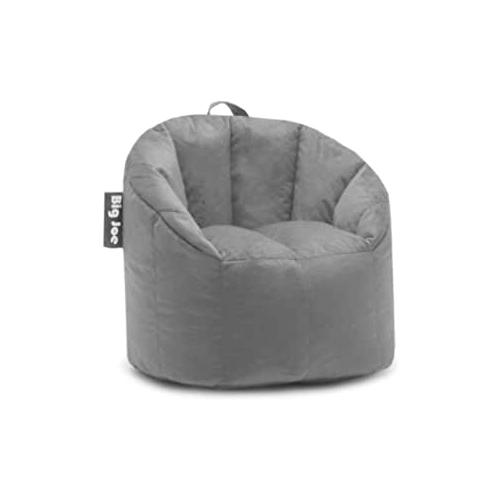 Look no further than the Big Joe Milano if you're seeking the best bag chair on a budget.
You can expect unequalled comfort during all your reclining activities thanks to the actual chair-like design and UltimaX Beans that adjust to your body.
It also features SmartMax Fabric, double-stitched covers, and a built-in handle for convenient transporting.
Things we liked
Unequalled comfort
Adjustable
Things we didn't like
Reviews say you can sometimes stick to the chair
Flash Furniture Kids Beanbag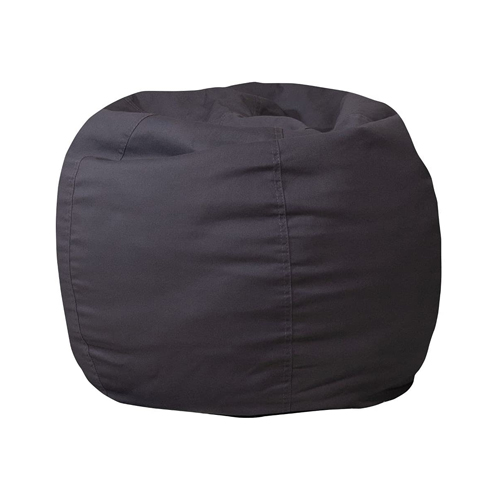 The Flash Furniture Bean Bag Chair, as one of the smallest alternatives on our list, and is the most suitable for young ones!
You can expect outstanding comfort and durability with classic bean bag features including lightweight structure, cotton fabric, and polystyrene beads.
It also comes in several colours and is machine washable, which makes it even more convenient.
Things we liked
Lightweight structure
Machine washable
Things we didn't like
Is smaller so, if it is not for child not the best choice
Best Racer Simulator Gaming Chair
Secretlab Titan 2020 Series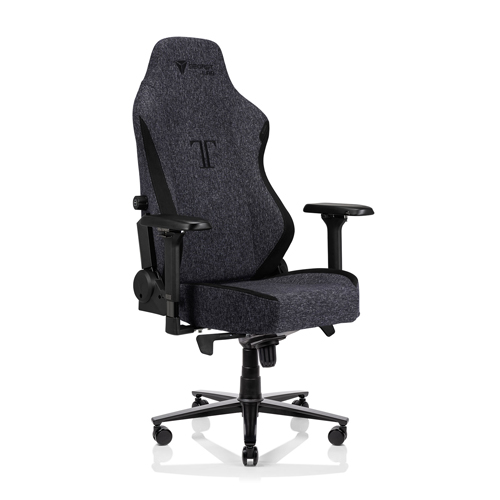 The Titan was designed with a larger frame in mind. This mean you won't be be confined, as it has a fantastic levelling seat base.
Whether you're small or tall, it's a far more comfortable experience that even allows you to sit cross-legged.
The Secretlab Titan also has a lumbar support system built-in, which is comparable to those seen on significantly more expensive task chairs.
Sure, the Softweave Titan is still a costly spot to park your backside, but the added temperature regulation and downright luxurious feel of the fabric make it worthwhile.
Things we liked
Larger frame
Added temperature regulation
Secretlab Omega 2020 Series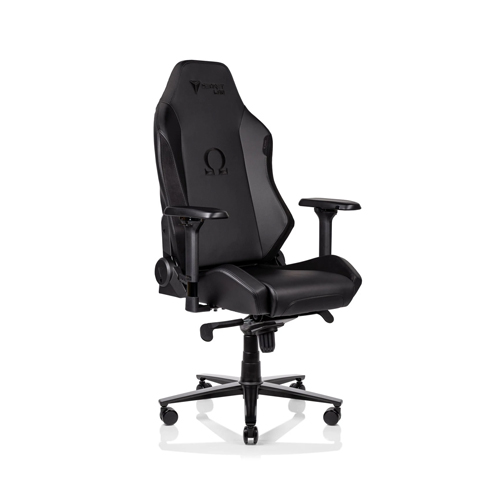 The Secretlab Omega is one of the most high-quality gaming chairs available. Secretlab uses the best materials, from the casters to the base, the lift mechanism, armrests, and seatback.
Secretlab's 2020 series of upgrades have also been incorporated into the Omega.
The armrest is made of premium metal, making it easy to adjust and even more sturdy.
To give support, the chair is made of high-quality, cold-cured foam. It feels a little firm at first, but after a few hours of gaming, it becomes more comfortable.
With its velour memory foam back and head pillows, the Omega stands out from the crowd.
Things we liked
The chair is made of high-quality, cold-cured foam
Adjustable chair
Things we didn't like
Reviews mentioned it begins to make noise over time
AndaSeat Kaiser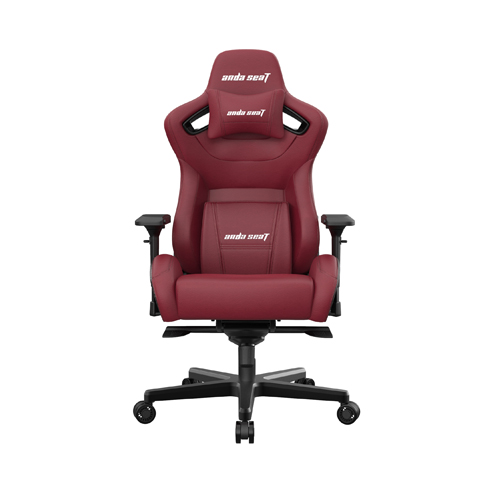 With a weight capacity of 397 pounds and a height of 7 feet, the AndaSeat Kaiser 2 exudes power and authority.
The Kaiser 2 is supported by an enormous frame with robust steel bars.
The Kaiser 2 manages to seem more like a gaming chair for adults, thanks to its superior PVC leather and extra thick memory foam cushioning.
No longer will you have to cram yourself into a gaming chair and hope for the best. The Kaiser 2 satisfies your needs for function, comfort, and aesthetics in a premium gaming chair.
Things we liked
Extra thick memory foam cushioning
Things we didn't like
Heavy, so not good for portability
Best Ergonomic Gaming Chair
Logitech G x Herman Miller Embody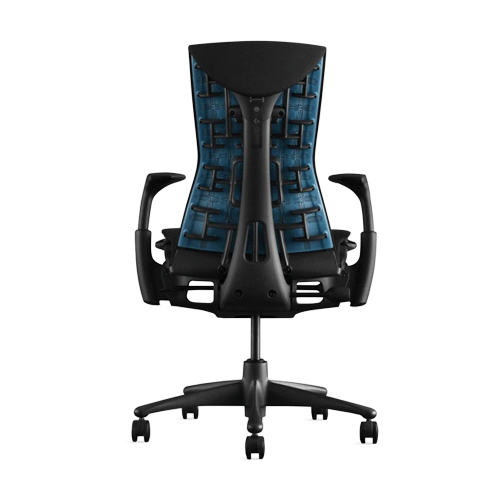 The Logitech G x Herman Miller Embody is quite like its commercial counterpart. But that's hardly a knock against it. This gaming chair features the Embody's cascading back support design and ridiculously high-quality return, but with a few more embellishments to entice gamers.
It also comes with extra cooling material that aids in the support of a more active gaming stance.
It's not so much the improvements that distinguish the Embody as one of the greatest gaming seats on the market. It's the things that haven't changed. It's extremely comfortable to wear for long periods, promotes an active and healthy posture, and is simple to adjust to your frame.
A notable feature is the 12-year warranty. So, while the initial cost may appear high, and it is, you can rest assured that you will get your money's worth in the long term.
Things we liked
Extremely comfortable
Simple to adjust to the frame
Homall Gaming Chair Ergonomic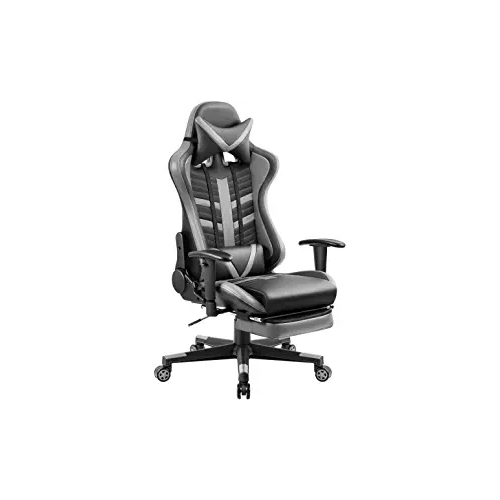 Homall designed an ergonomic chair that comes in a variety of colours, allowing you to pick the colour that best suits your gaming environment and personality.
From 90 to 180 degrees, the back can be adjusted. You can also tweak a knob to allow you to rock back and forth, giving you mobility even while sitting stationary. As a result, your game experience appears to be more dynamic.
The chair is constructed of a solid metal frame to ensure that it will last you for hours of gaming in a single sitting, as well as into the future.
To provide comfort and protection, the foam seat is coated with leather covering. The chair has a high back and extra support to ensure that your gaming experience does not harm your body.
Things we liked
The back can be adjusted
The foam seat is coated with leather covering
Things we didn't like
Can get stuck to the seat sometimes
OFM Essentials Racing Style Gaming Chair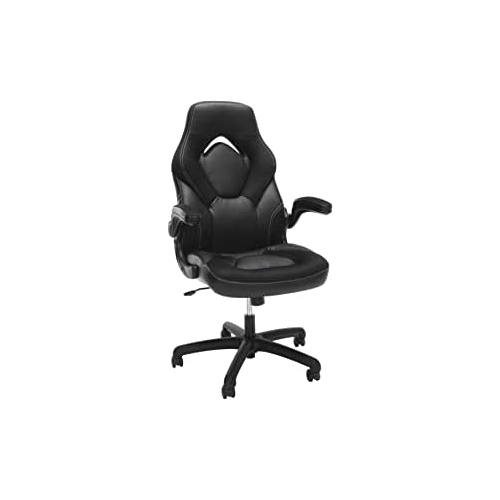 This chair is designed to be both sporty and comfy and is inspired by the types of seats found inside the top racing automobiles.
It includes a fixed headrest with modest wings that is great for neck support, as well as good lumbar cushioning.
You can adjust the chair's height, central tilt, and padded arms to make it fit your needs perfectly.
It's upholstered in luxuriously soft leather that's both comfy and cool to sit on.
One downside is that chair lowers itself at inappropriate times.
Things we liked
A fixed headrest with modest wings
Long-lasting
Things we didn't like
Chair lowers itself sometimes
Best Budget Gaming Chair
Noblechairs Hero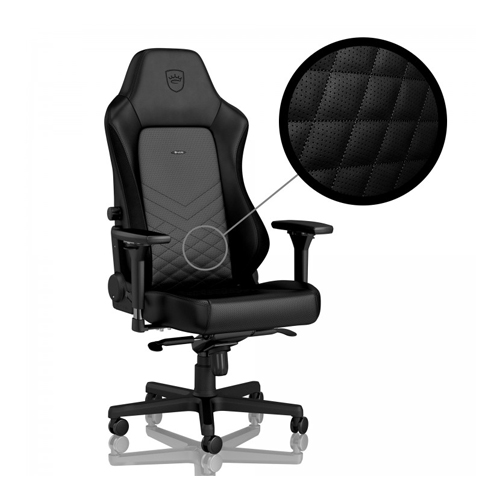 The Hero is simple to put together, except for the part where you attach the back to the seat, which you should do with a friend.
It is solid and supportive, as well as incredibly durable. A word of caution: it is heavy, so if you prefer a softer chair, this may not be the chair for you.
Apart from that, it boasts a comfortable recline, can support up to 330 pounds and has completely adjustable wrist rests. It's heavy, yet it rolls along well on the casters that come with it.
It'll work well in both an office and a gaming environment, so you're getting a chair that can do it all.
Things we liked
Solid and supportive
Can support heavy weight
Corsair T3 Rush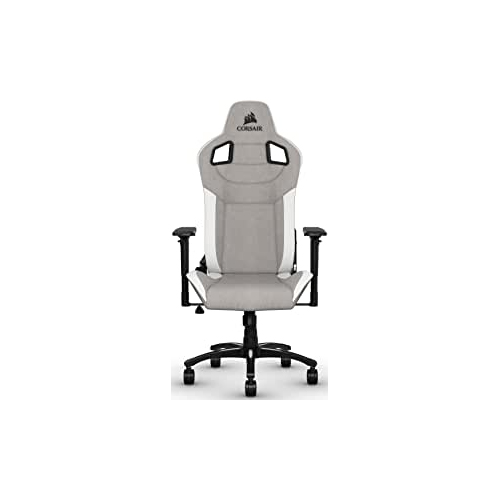 The T3 Rush is quite comfortable, thanks to its memory foam lumbar pillow, but it's even better because it's made of breathable soft fabric rather than synthetic leather. This has the advantage of keeping you cool rather than sweating in your squeaky pleather.
The Rush can also recline to an absurd 180 degrees
The T3 Rush's one major flaw is that it is best suited to people with smaller frames. The T3 will be an uncomfortable fit if you require a slightly larger seat.
Aside from that, the T3 Rush is a stylish gaming chair that doesn't require a bright colour to stand out.
Things we liked
It's made of breathable soft fabric, so you keep cool
Things we didn't like
It is best suited to people with smaller frames
Von Racer Rocking Gaming Chair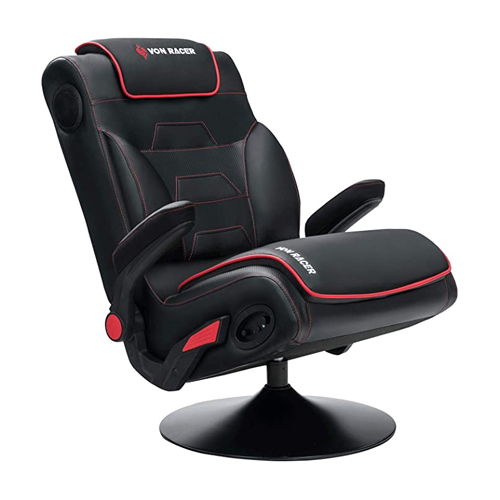 The VON Racer Gaming Chair is one of best value-for-money console gaming chairs on the market.
The little downward tilt is the first thing you should notice.
This is a lounging chair that allows you to lay your entire body backwards, which adds to its comfort factor.
The height is also a significant plus; it's high enough for ordinary chair gamers. There is enough back and side padding, as well as a removable headrest and ergonomic back support.
It also has a built-in audio system with two speakers and a powerful subwoofer!
Things we liked
Allows you to lay your entire body backwards for comfort
A removable headrest
Affordable
Best Gaming Chair with Speakers
X Rocker Surge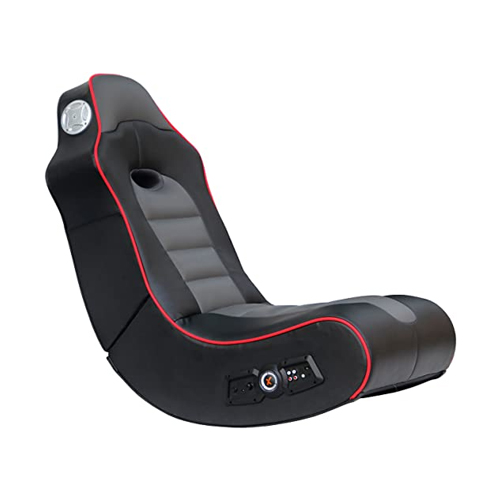 The X Rocker Surge is a classic console gaming chair with floor seating.
The built-in audio outputs and controls are where the X Rocker Surge shines. Feel the game while listening to wireless Bluetooth audio with two speakers.
On the right of the chair, there's a handy control panel with practically all the audio controls you'll need. Simply connect to the built-in audio to get the gaming experience you've always dreamed of.
Things we didn't like
Can sometimes stick to the seat
X Rocker Pro Series H3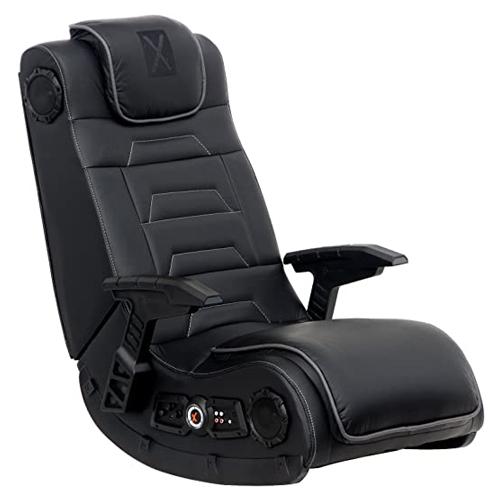 The X Rocker Pro H3 is the best gaming chair for consoles. With an abundance of extra cushioning, superior back support, and soft upholstery – this offers ultimate comfort.
Then there's enough music power to throw a party — two speakers on either side of the headrest, plus four more speakers in front.
This gaming chair will convert in-game noise into distinct vibes, like the X Rocker Surge but better.
Things we liked
Extra cushioning
Two speakers on either side of the headrest and four in the front
X Rocker Premier 2.1 Dual Audio Wireless Bluetooth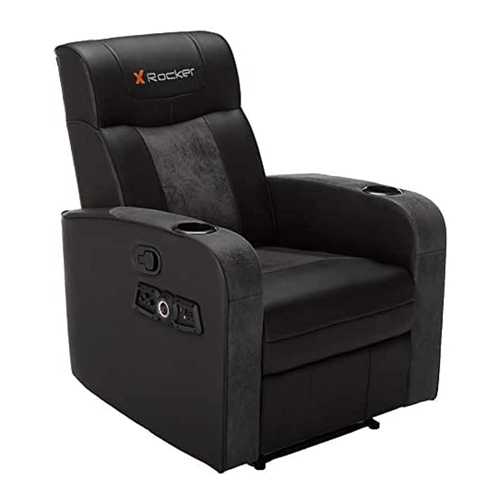 There are no massaging features on this, but it does include two speakers near your head, a subwoofer in the back, and vibration motors to give you some rumble while you play.
It is, nevertheless, comfortable. The frame's long-term viability is debatable.
If you're a larger person, we don't recommend this chair.
Things we liked
Long-term debatable
Two speakers
Things we didn't like
Not suited for bigger people
What to Consider Before Buying a Gaming Chair
Whether you play an Xbox, Wii, PC, or Playstation, your gaming chair can have a significant impact on how well and how often you play. An uncomfortable chair makes for an unpleasant experience, and you don't want to spend hours developing your character just to lose a major battle because of something as insignificant as the chair you're sitting in.
When it comes to selecting the right chair for your gaming experience, there are a few aspects to consider, ranging from the material and price to the adjustable options.
Here are some important factors to consider when buying a gaming chair.
Size
Gaming chairs aren't just expensive; they're also quite large! You'll want to make sure your gaming chair fits in your gaming area while yet leaving enough room for buddies to come over and play.
Likewise, most seats have height and weight restrictions. If you don't double-check these limits before buying, you might not be able to use your chair at all.
Comfort
If you're sitting in a gaming chair, you're in for a long gaming session. To keep yourself comfy, make sure your chair has ergonomic characteristics.
Pressurized lumbar support, mesh lining, an adjustable back and neck rest, and the ability to tilt backwards are among the features. These features improve your gaming experience and are beneficial to your neck and back.
Feature
You may require a gaming chair with additional functions depending on your chosen games. Some chairs, for example, have Bluetooth ports, subwoofers, and vibration capabilities, while others have food storage and game controllers.
Adjustable
A nice gaming chair should also be comfortable for your pals. Your pals are likely to have different preferences than you, which is why having an adjustable gaming chair is essential.
Your gaming chair should have a range of options to fit different playing techniques, whether you prefer tilting it back further or sitting up higher.
Cost
The cost of a good gaming chair can easily run into hundreds of pounds, if not thousands of pounds. Added equipment such as subwoofers or speakers is frequently the cause of these exorbitant charges.
As a result, it's a good idea to sit down and choose exactly what things you require and are ready to pay more for. If your gaming system or other technology already has one of these functions, use it.
FAQs
How do you connect a gaming chair to an Xbox?
On the chair's side control panels you will find the aux input where you should plug the aux cord. The other end of the aux cord should be plugged into the controller.
Why do I need a gaming chair?
Gaming chairs are well worth the money if you spend a lot of time sitting at a computer. Gaming chairs improve bad posture and teach you how to sit properly. Sitting on a high-quality gaming chair is both relaxing and can improve your health.
How long can you sit in a gaming chair?
Keep it under 10 minutes if you're in a deep recline. Most experts recommend a default recline of 100 degrees for typical upright computing. A chair should be able to recline back or forward between 90 and 130 degrees from there.
How long do gaming chairs last?
The best gaming seats can last up to five years, with the average being two to three years. It depends on how frequently you use your chair and the materials it is made of.
What is the difference between gaming chairs and office chairs?
Gaming chairs feature higher backs, whilst office chairs have lower backs. Ergonomically constructed gaming chairs often have reclining, lumbar support, adjustable seat height, adjustable arms, and footrests, among other comfort-enhancing features.
Sources