tech & entertainment
Best Soundbar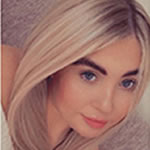 Welcome to Housetastic's review guide on the best soundbars available on the market!
You're not alone if you've never heard of soundbars. With how advanced speaker systems have developed in recent years, they've become increasingly popular.
No matter how modern and up-to-date your TV is, the speakers will still be lacking in sound and quality.
This is where a sound bar comes in!
A soundbar can change the way you watch TV and completely transform the speaker set-up. They're great for listening to music too!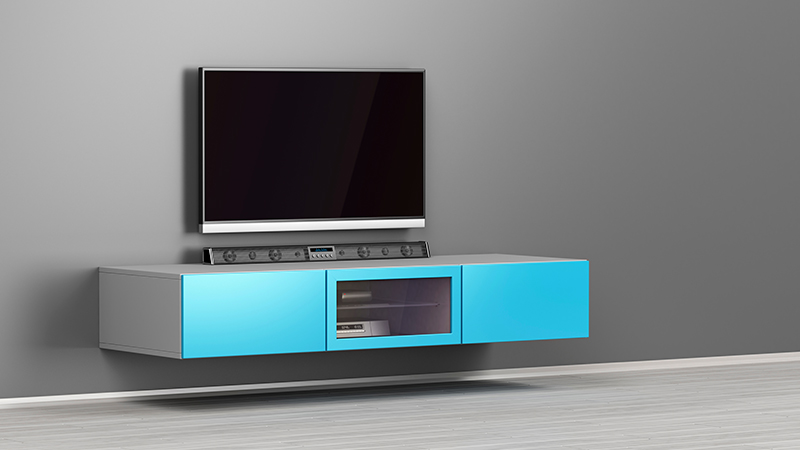 Not sure where to start?
That's why we have created this review guide to help you learn what a soundbar is and how they work and go over the different types of soundbars available, such as a wireless soundbar or Bluetooth soundbar.
So, for all your soundbar information - check out the guide below...
What is a Soundbar?
Soundbars were created as an alternative for the widely used surround sound systems. The first impressions were not good. It's difficult to understand how seven (or more) little inside speakers could produce audio of the same excellent quality as a surround system.
This has changed over time, and soundbars are a common component in many home entertainment systems.
The compact audio components are easy to connect to other devices and provide a surround sound experience to listeners. Most televisions are not sound-proofed.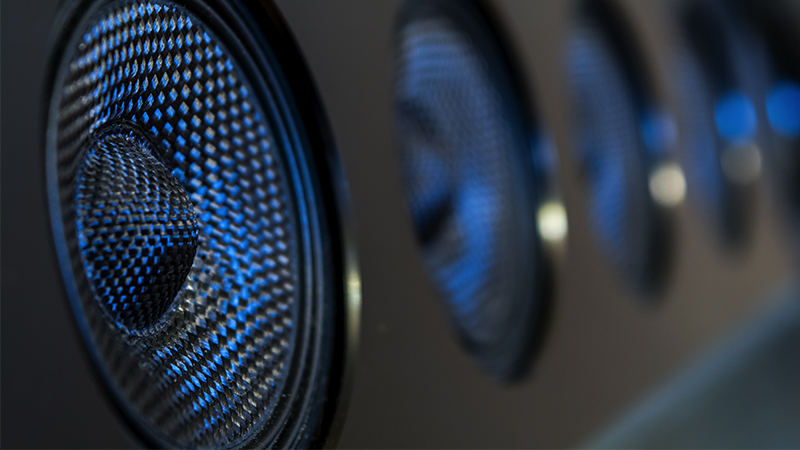 Because of the slim design, adding strong sound is impossible. Therefore the only choice is to use external speakers. This is not only time-consuming, but it also adds cables to your setup. A soundbar eliminates the need for additional cords.
Until the introduction of soundbars, the only audio options were the onboard speakers that came with the components or the wiring in of external speakers.
Surround sound systems are costly, especially if you want to listen to immersive sounds. Soundbars are a good compromise between small speakers and a high-priced sound system.
How Does a Soundbar Work?
Soundbars are packed with technology that does more than just power the internal speakers. The virtual sound component works by putting out distinct waves or beams of sound that bounce off walls.
Some soundbars use technology that assumes the room is a standard size and shape, causing the audio waves to bounce in the same way.
Dead zones can occur since the audio beams have nothing to bounce off in an oddly configured room.
Some soundbars let you adjust the calibrations to fit the proportions of the space, which means you'll avoid dead zones and get better sound. You can produce a similar effect with EQ settings.
Types of Soundbars
There are many options and specs to consider when it comes to setting up a home entertainment system.
You'll have to answer one of the first questions is what kind of sound system do you want to complement your home theatre aspirations. As a result, we'll go over the many sorts of soundbars here.
Single Soundbar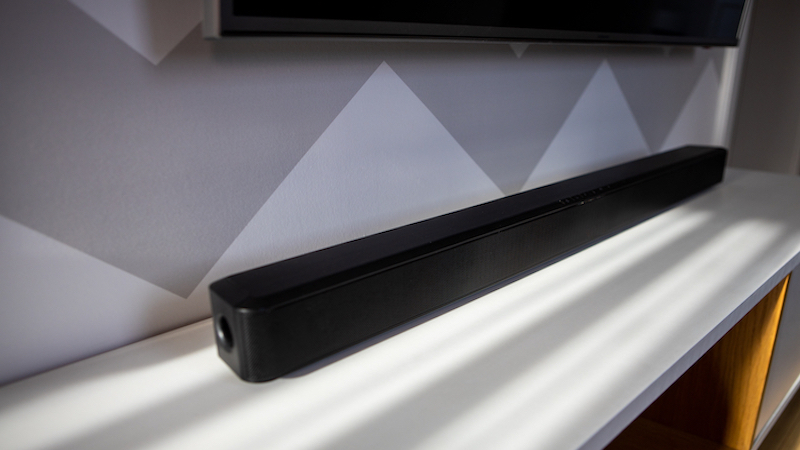 With this soundbar, multiple speakers are housed in a single cabinet, allowing either stereo or surround sound to be created. A separate subwoofer is usually provided with a soundbar or can be used to enhance it.
Soundbase Soundbar
Sound bases are deeper than soundbars, but they are often narrower, and they are primarily intended to be placed beneath the television or on a shelf directly beneath the television. Sound bases feature more internal space than soundbars.
As a result, they offer superior built-in amplification and larger bass drivers, reducing the need for a subwoofer (though a good freestanding subwoofer is challenging to match).
When it comes to audio, bigger is always better. Sound bases are becoming more difficult to come by these days. Due to developments in soundbar technology, the adaptability they provide, and the fact that they're widely represented by some of the greatest brands out there, we normally prefer a soundbar over a sound base.
Hybrid Soundbar
This option includes a soundbar unit that handles the front left, centre, and right channels, a separate subwoofer, and small surround sound speakers for the left and right surround channels, respectively.
The amplifiers that power the surround speakers are contained in the subwoofer, which connects wire to each surround speaker to reduce cable clutter.
Active Soundbar
From a setup standpoint, active soundbars are quite convenient. You won't have to bother about buying a receiver or amplifier, which can save money depending on the situation.
This also implies that if you don't have a lot of room, this can be the ideal alternative for you. Not only does it save money on equipment, but it also has less wiring, allowing for a more compact arrangement.
It is simple to set up and requires less wire to be installed correctly. This opens it up to those who don't want to hire someone to set up their system.
All you have to do is connect the active soundbar to the TV and plug-in power to set it up correctly. It's important to remember that soundbars cannot be powered by the TV alone; they require an external power source.
Passive Soundbar
Because passive soundbars lack a built-in amplifier, they require external amplifiers or receivers to function properly. Active soundbars, which have built-in surround sound capabilities and amplifiers, can be directly compared to this.
Each channel of a passive soundbar has a connection that must be linked to your receiver or amplifier.
2-Channel Soundbar
The most basic enclosure is a 2.0 soundbar, and it does not support full surround sound.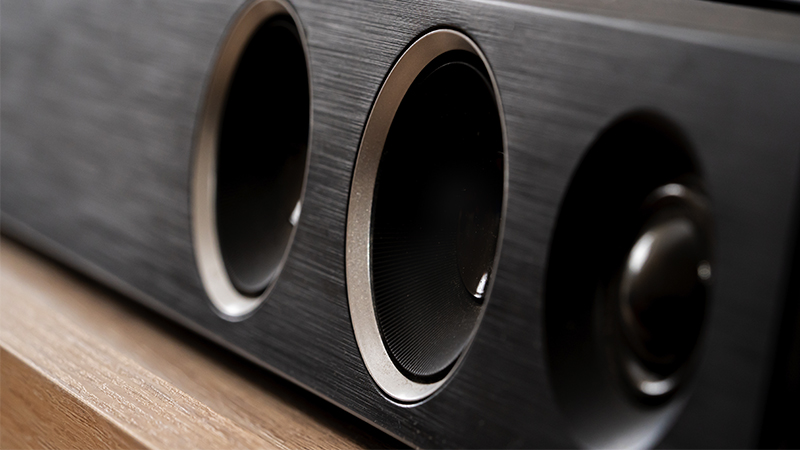 The enhanced sound from your 2.0 channel soundbar, on the other hand, will almost certainly outperform the audio quality from your television. This is a good budget-friendly option for a tiny home theatre or entertainment centre.
3-Channel Soundbar
The conversation now has its channel, and the centre channel increases the quality of discussion in movies and television shows. Most experts advise purchasing at least a three-channel soundbar, and this is a low-cost alternative to simulating a nearly complete home theatre sound system for many people.
A 3.1 channel soundbar will assist small to medium-sized home theatres or entertainment centres.
5-Chanel Soundbar
Instead of merely simulating surround sound, a five-channel soundbar adds it. This means that the bar has two more speakers built-in.
On the other hand, these speakers are heavily angled outward, allowing sound to bounce off the walls. These are normally wirelessly connected to the soundbar, and this product is suitable for a home theatre setup.
7-Chanel Soundbar
The sound information from a 7-channel soundbar is shared between surround sound and rear speakers. This gives you sound capabilities in the front left, front right, centre, left surround, right surround, left rear, and right rear.
Two of the channels will most likely be built-in, while the remaining channels will require the installation of separate speakers to be fully utilized.
Best Soundbar
Adding a soundbar to your setup is a simple way to make your viewing experience more interesting and enjoyable. The best soundbars bring powerful audio into a compact design that fits in front of or beneath your television.
There are no separate surround speakers to fill the area, and there are no snake cables to trip over. This is why we have created this list of soundbar reviews to help you find the best soundbar for your home.
Best Single Soundbar
Siennheiser AMBEO Soundbar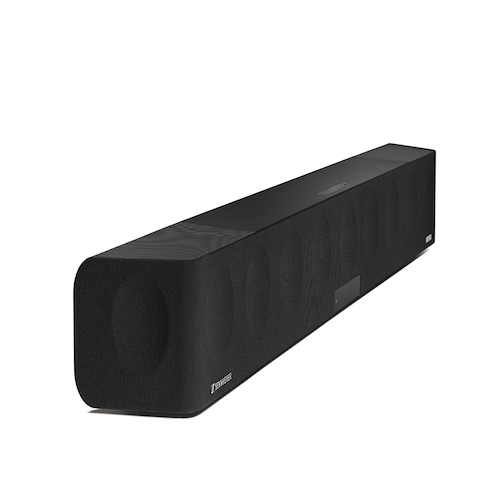 This 5-channel solo soundbar has 13 built-in speakers to create a solitary bar's incredibly immersive listening experience.
It's a good choice for listening to audio during parties because it can become incredibly loud without many compressions. Its balanced mid and treble frequencies render clear and precise vocals and lead instruments.
It has a good surround performance with its AMBEO 3D mode set on, so sound seems to emanate from all directions.
It also contains a room correction feature that enhances audio reproduction depending on your room's specific acoustic characteristics, as well as a parametric EQ to let you tailor the sound to your preferences.
Things we liked:
13 built-in speakers.
Good surround performance.
LG SPS All-in-One Soundbar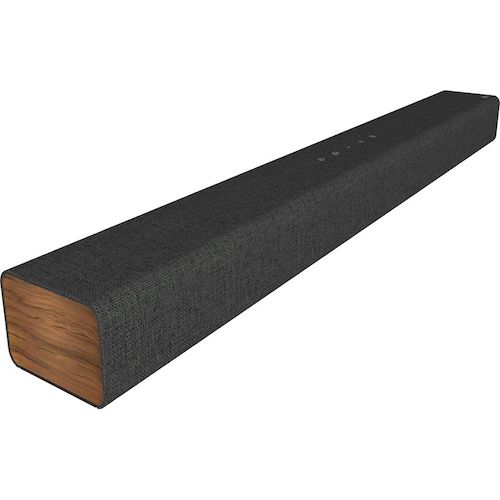 With its elegant design, the LG SP2 2-channel all-in-one sound Bar stands out in its category. Any living space will look wonderful with the dark grey fabric and the wood décor caps on the sides.
It's also made from recyclable materials and comes in environmentally friendly packaging. It has a built-in subwoofer and dual passive radiators.
Things we liked:
All in one soundbar.
Cheap.
Things we didn't like:
It can sometimes make a noise through the song.
Panasonic SC-HTB400EBK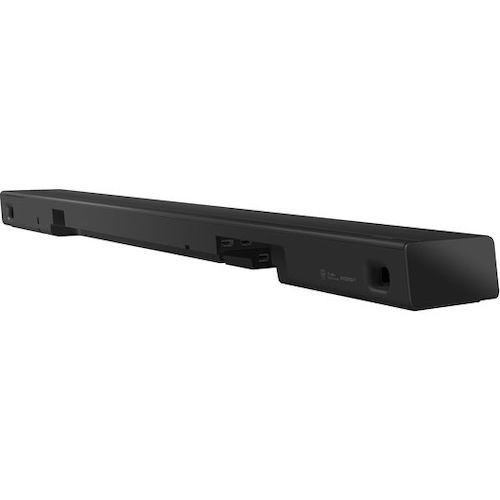 With dual built-in subwoofers integrated into the cabinet, the HTB400 produces strong bass. The sleek one-bar design is kept as simple as possible to complement TVs and goes in with any decor.
The HTB400 is a single bar with many audio capabilities to improve the cinematic experience. It boasts dual built-in subwoofers for action scenes that deliver deep, booming bass.
Things we didn't like:
Some reviews say they don't like the design.
Best Soundbase Soundbar
Q Q Acoustics M2 Soundbar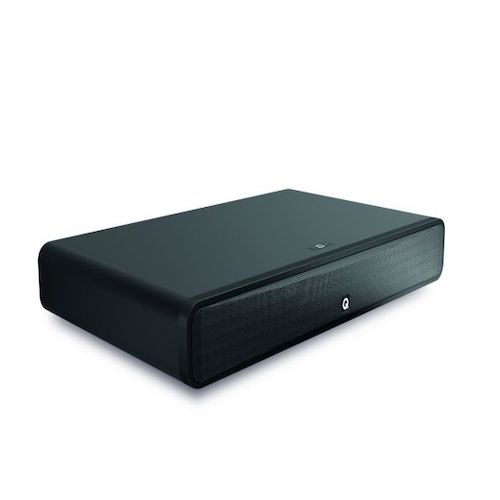 When it comes to enhancing the sound of your television, Q Acoustics appears to be in it for the long haul. The British company has produced excellent-sounding items ranging from speakers to soundbars and sound bases.
This device even earned What Hi-Fiprestigious?'s Award for the finest sound base on the market in 2019 – so you know you're getting a good deal.
The M2 is strong enough to fit comfortably behind a large-screen television. It can support up to 25kg of weight, which is a few kilogrammes more than most 65in LCD TVs. There are ARC-compatible HDMI, optical, RCA, and 3.5mm inputs, and Bluetooth streaming.
Sonos Playbase Blanc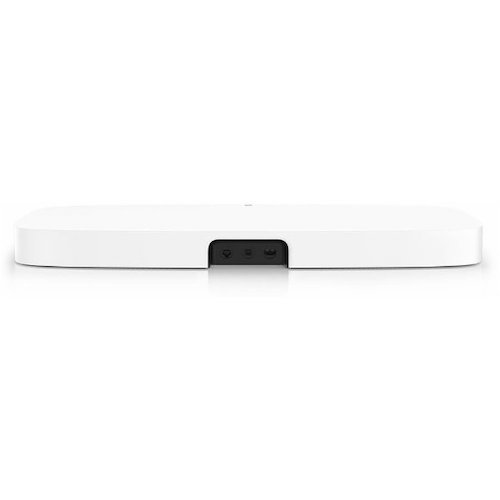 With multi-room speakers, a pair of soundbars, and this sound base, Sonos is the original multi-room champion. Not only will your TV sound better, but you'll also have access to all of Sonos' innovative streaming features, as well as the opportunity to effortlessly connect to a multi-room system and upgrade to a full 5.1 system.
The Playbase is sturdy and can handle televisions weighing up to 35 kilogrammes. It's a powerful, dynamic, and generally detailed rendition, with only a few instances of harsh treble giving us pause.
Things we liked:
Can handle TVs.
Powerful.
Canton Smart Soundbar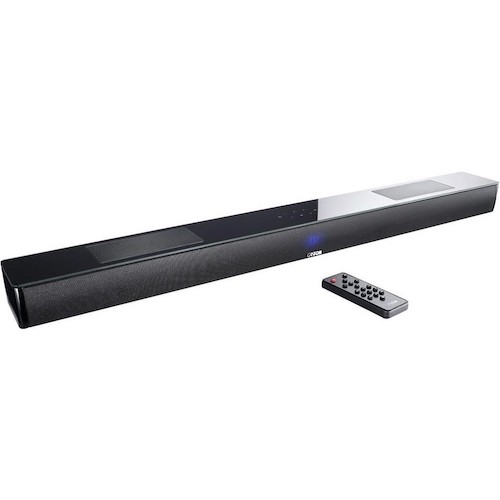 Canton has a solid track record with sound bases, combining good sound quality with ease of use in a well-built and reasonably priced package. The Canton DM55 replaces the DM50, a five-star performer.
With the addition of a glass top, some acoustic changes, and a price reduction, this attractive and capable item has become even more enticing.
There's no HDMI port, but you get terrific sound and wireless Bluetooth.
Best Hybrid Soundbar
Panasonic SC-HTB900
Panasonic's high-end soundbar is well-made and attractively styled. It also sounds fantastic, with a wide, clean, and detailed soundstage.
The dialogue track appears to be locked to the screen, and sound modes enhance the effect: "news" is good for dialogue, while "stadium" is good for sports. There's plenty of basses, thanks to the wireless subwoofer.
Things we liked:
Well-made and attractively styled.
There's plenty of basses.
Sony HT-G700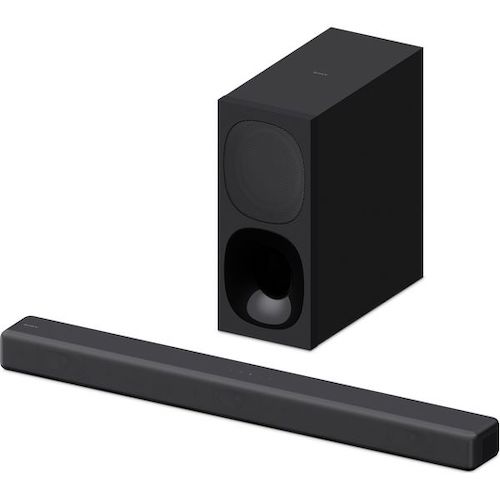 Sony's latest soundbar supports Dolby Atmos, which provides excellent audio that appears to originate from all directions. It's also compatible with other audio formats, including DTS and Dolby Digital, in addition to Atmos.
There are several options for creating a good surround-sound effect. Although a genuine speaker in front of you will do a better job, the impact is intriguing.
When you're listening to music, you can turn these settings off. The remote's music button mutes the centre speaker for enhanced audio separation.
Things we liked:
Provides excellent audio.
The remote's music button mutes the centre speaker for enhanced audio separation.
Polk Signa SE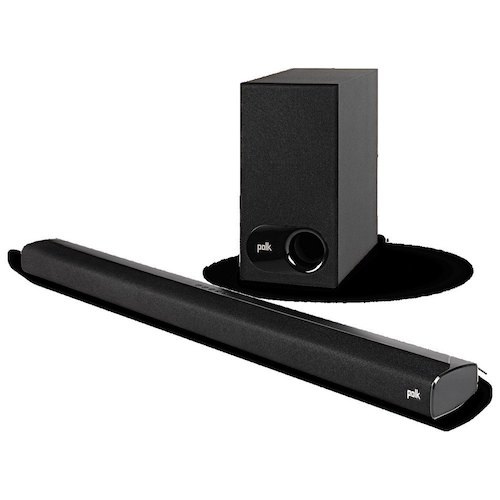 Polk's audio equipment is both affordable and high-quality. The Signa S3 comes with a wireless subwoofer to complement the sleek, attractive soundbar - it's only about two inches tall so that it won't interfere with the TV remote. Polk has developed its speech technology to make the dialogue track crystal clear.
There are also good options for movies and music and a night mode for quieter watching at night. It works with Google Chromecast, making it simple to stream music to the soundbar using Chromecast apps like Spotify and Amazon Music HD.
Thing we liked:
Simple to stream music to the soundbar.
Best Active Soundbar
YAS-207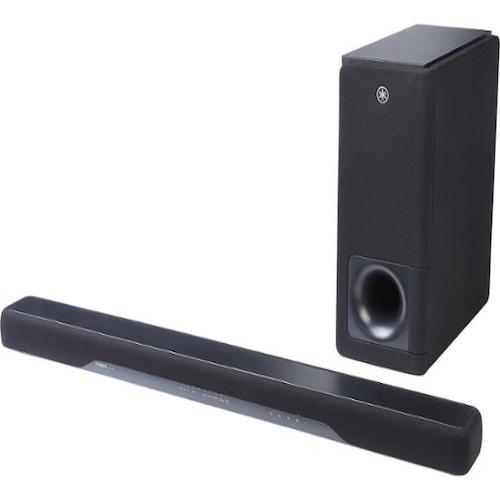 The narrow-pleated tweeter diaphragms strain sound to produce outstanding high notes, while the hefty woofers give best-in-class mid-bass sound.
The bar has a 3000 Hz crossover with a bespoke air core coil, low DCR steel laminate inductors, polyester film capacitors in series, and low DF electrolytic capacitors parallel for crossovers.
The YAS-207 comes with a bar and a wireless subwoofer. The YAS-107 is one of Yamaha's eight current soundbars and one of the two newest. The step-down model features a different driver array, with built-in "subwoofer" drivers and no discrete sub, but it does include DTS Virtual:X.
Vizio SB3851-D0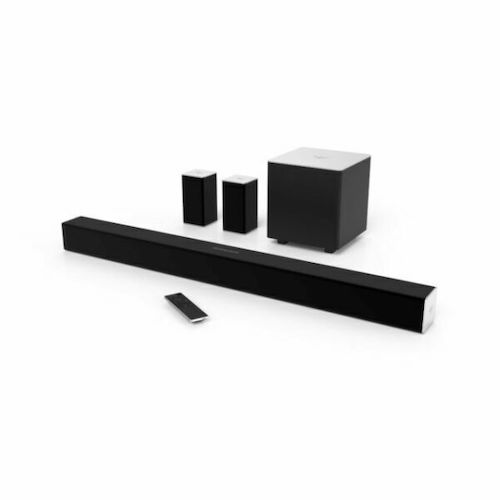 The SB3851-D0 from Vizio stands out in the ever-growing world of soundbars: It's a full-featured 5-channel system with a pair of tiny surround speakers that connect to a wireless subwoofer, making wiring and setup a breeze. Movies are the system's strong suit.
The SB3851-D0 delivers an impactful, engaging experience with television and movies on a tight budget, according to critics, and adds something to the mix that the comparably priced competitors do not.
Things we liked:
Easy to set up.
Tiny speakers.
Yamaha MusicCast BAR 400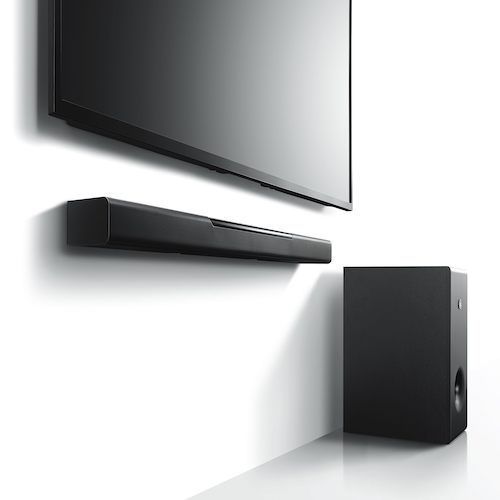 The Yamaha MusicCast BAR 400 soundbar system is a fantastic deal. When you pair it with the company's MusicCast 50 wireless speaker for surround sound, you've got yourself a tremendous wireless five system that delivers an immersive experience while integrating seamlessly with your streaming music apps. Wi-Fi, AirPlay, Spotify Connect, and Bluetooth are all used to connect the system.
Yamaha's BAR 400 offers a sleek, attractive design. The speakers, metallic sides, and backplate are covered by a black metal grille, while the system's LED indicators and touch-sensor controls are on the top.
Things we liked:
Wireless soundbar.
Nice aesthetic.
Best Passive Soundbar
Dayton Audio BS36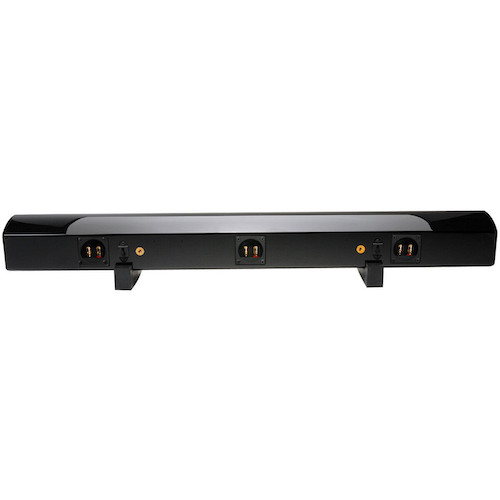 The Dayton AudioBS36 is a powerful 36-inch passive soundbar with a single cabinet that houses left, centre, and right channel speakers. This speaker bar is ideal for plasma and flat-screen televisions. It boasts a simplistic style that mixes in seamlessly with any room's décor.
The Dayton AudioBS36 speaker bar is finished in a beautiful glossy black lacquer. Rubber feet are included in the packaging for installing the device on flat surfaces such as tabletops.
Things we didn't like:
Not suited for anything apart from a flat-screen.
Klipsch RP-440D-SB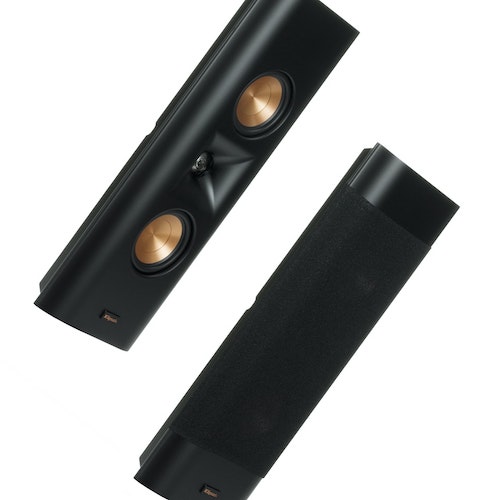 The Klipsch Gallery G-42 is a 5.1 channel home theatre speaker system with a one-piece crossover design. Because it lacks inbuilt receivers, it is a passive soundbar that serves as a receiver.
This is a significant benefit because it eliminates the need for a separate receiver. Furthermore, soundbars' built-in amplifiers are typically not extremely strong.
Instead, it employs cutting-edge horn-loaded speaker technology to deliver crystal-clear audio and sound effects. Three Tractrix horns with 1-inch titanium dome tweeters are used in the soundbar.
This results in higher-quality audio that focuses on the depth and detail of vocals and dialogues. The tweeters were designed specifically to project more volume per watt than ordinary flush-mounted dome tweeters.
Things we didn't like:
Built-in amplifiers are typically not extremely strong.
Martin Logan Motion SLM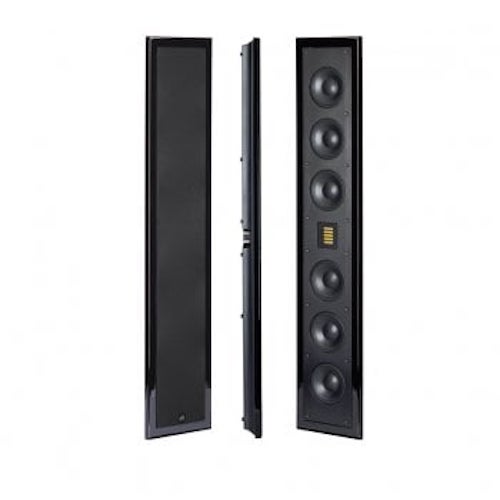 The SLM X3 is a three-channel passive soundbar featuring ultra-high-end electrostatic loudspeakers. It's part of Martin Logan's Motion Series of inexpensive and compact sound systems.
It has stereo sound on the left and right channels and a separate centre channel, and it's perfect for flat-screen TVs and home theatre systems.
The narrow-pleated tweeter diaphragms strain sound to produce outstanding high notes, while the hefty woofers give best-in-class mid-bass sound.
The bar has a 3000 Hz crossover with a bespoke air core coil, low DCR steel laminate inductors, polyester film capacitors in series, and low DF electrolytic capacitors parallel for crossovers.
Things we liked:
Ultra-high-end electrostatic loudspeakers.
Has stereo sound on the left and right channels.
Best 2-Channel Soundbar
Dali Kubik One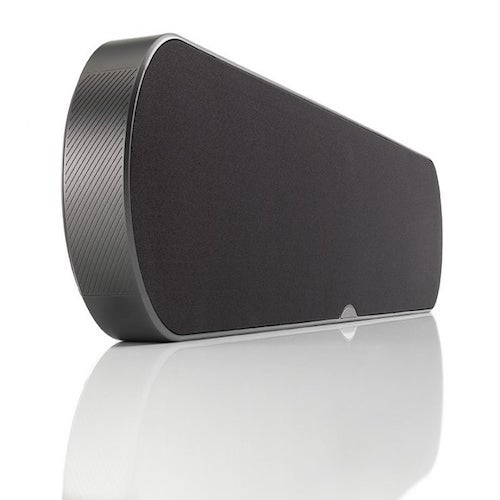 This fantastic soundbar has a highly engaging sound, and it also has a pretty stylish appearance. The bar creates a large, open soundstage and easily pings effects across the room, allowing them plenty of areas to manoeuvre. Even the busier scenes don't seem packed.
Add some powerful low-end heft to deepen the sound, and you've got a punchy soundbar that blows away many of its competitors.
Things we didn't like:
The sound is not as clear as other models.
LG SK8 Soundbar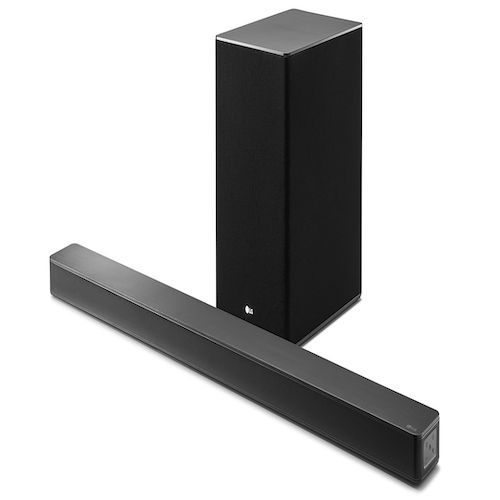 The LG fits neatly behind your TV and produces clear, vivid, and open sound. Although the LG SK8's Dolby Atmos boasts should be taken with a grain of salt because of its lack of "true" sound channels and a hesitant subwoofer, it still has a lot to offer.
It has a more appealing appearance, a more powerful sound and is equally excellent with music at movies.
Things we liked:
Open sound.
Included subwoofer.
Things we didn't like:
The aesthetic is not as nice as other models.
Best 3-Channel Soundbar
Denon S716H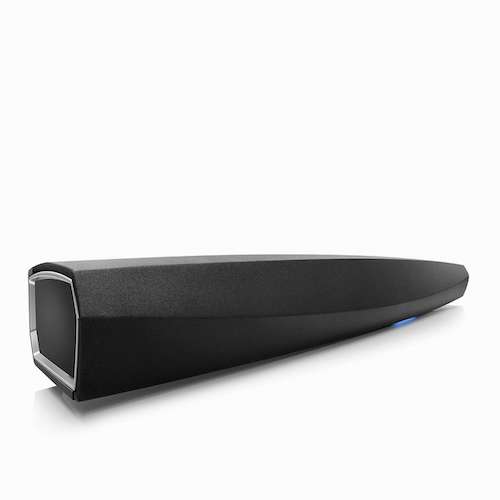 The Denon S716H is pretty much anything you want it to be, with nine drivers grouped in trios for left, centre, and right channels and a virtual surround mode to give the idea of more speakers around the room.
With such a well-balanced soundscape, this soundbar excelled at music right away, with a dependably warm yet refined sound quality all its own.
Things we liked:
Well-balanced.
Warm and defined sound quality.
Cinema Soundbar 600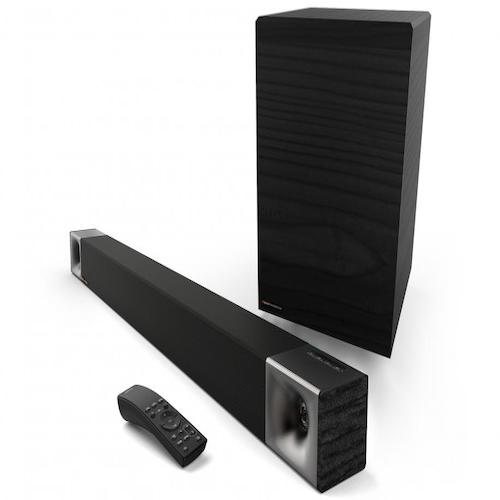 The Klipsch Cinema 600 soundbar provides theatre-like rumbling and superb clarity for movies and music at a reasonable price.
It's a wireless subwoofer with Bluetooth streaming that delivers powerful audio with a deep, theatre-like subbase and sharp high-end quality.
Things we liked:
Subwoofer included.
Bluetooth.
Best 5-Channel Soundbar
Sonos Beam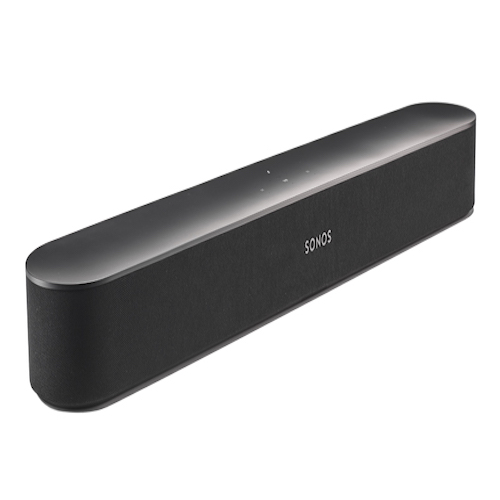 The five-star Sonos Beam is currently the greatest soundbar you can buy in terms of sound per pound. Compared to the Sonos Playbar and Playbase, it has a few extra features, such as an HDMI connection and voice control support from Amazon Alexa and Google Assistant, with Apple Siri to follow.
This is a low-cost soundbar that has the potential to improve your listening experience. It's compact, light, and fits in front of most televisions. There are elegant touch controls on the top, and on the back, there are HDMI and Ethernet connectors. The Beam may be wall-mounted; however, the extra bracket is expensive.
Things we liked:
Voice control from Alexa and Amazon.
Wall-mounted.
Things we didn't like:
The extra bracket is expensive.
Sonos Arc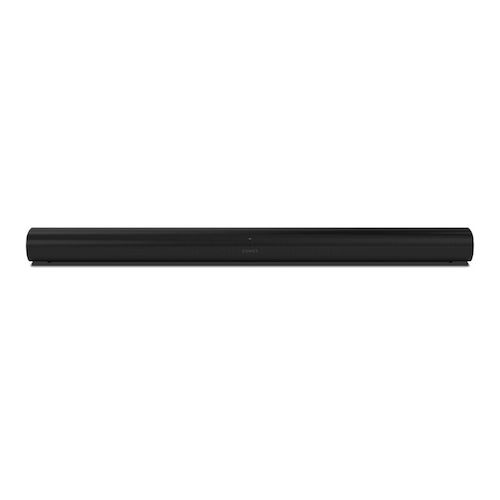 Sonos is no stranger to soundbars, but the Arc is the brand's first soundbar to be fully compatible with Dolby Atmos. In terms of cost, it replaces the Playbar and Playbase and lies above the Beam (located above). The Arc is an excellent match for 55 and larger TVs, and it can be set directly on your furniture or wall-mounted with the £79 wall-mounting kit.
This Sonos soundbar uses 11 drivers to generate your sound field, some of which are firing and directed towards your room to bounce sound off your walls and ceiling. All of this adds up to one of the most convincing Atmos performances a soundbar can deliver. You've been whisked away to the centre of the action. Surround effects are expertly placed, and the sound has a lot of vitality and weight.
Things we liked:
Bound sound off your walls.
Wall-mounted.
Dali Katch One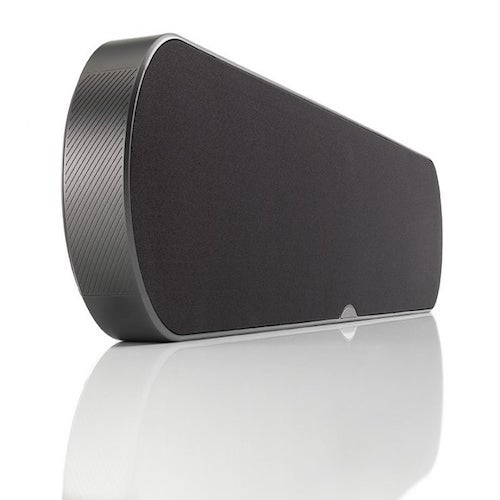 Five distinct audio inputs, three different mounting options, and ten different drivers all work together to give an immersive sound experience. It's fairly tall, so you'll have to put it on a wall, but that will only help the rear-firing drivers produce more bass.
Things we liked:
Five audio inputs.
Different mounting options.
Things we didn't like:
It must be put on a wall since it is a tall model.
Best 7-Channel Soundbar
Samsung HW-Q90R Soundbar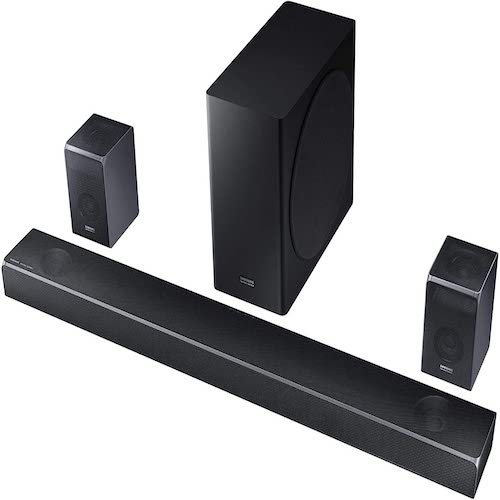 The Samsung soundbar HW-Q90R was the brand's all-singing, all-dancing flagship tv soundbar for 2019, and the newer Q950T has just pipped it in 2021.
It's not only the only soundbar from 2019 to offer object-based audio in the form of Dolby Atmos and DTS:X, but it's also the only one to do so with true rear speakers and four upward-firing drivers.
LG SN11RG Dolby Atmos Soundbar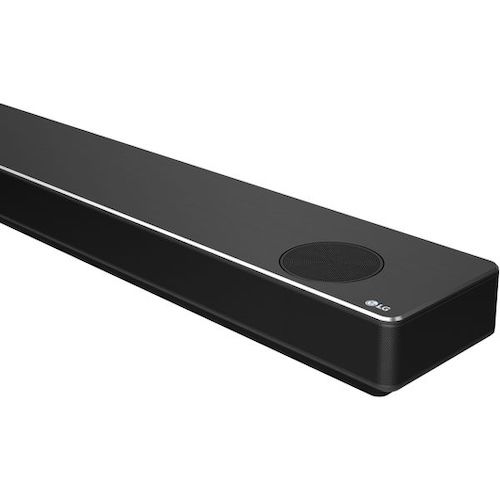 The LG SN11RG was the company's flagship soundbar. It's more than just a soundbar, though, because it comes with a powerful external subwoofer and a pair of powerful back speakers. It's a comprehensive audio arsenal with a 7-channel design. The main soundbar has a stylish and functional design.
Things we liked:
Comes with a subwoofer.
Stylish
Samsung HW-Q950A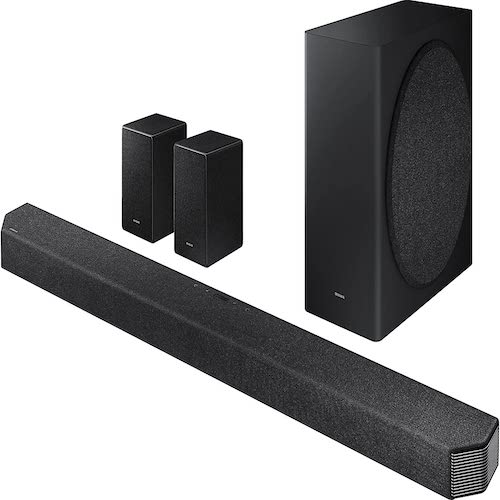 This soundbar delivers the movie experience home with over 600W of power from 22 separate speakers while maintaining all of the space and convenience advantages of a soundbar.
The 7-channel system includes a soundbar that fits TVs up to 55 inches, a subwoofer, and two small back speaker units, all of which are wirelessly connected.
Things we liked:
Wireless units
It fits Tv's up to 55-inches
Best Compact Soundbar
Sony HT-X8500 Soundbar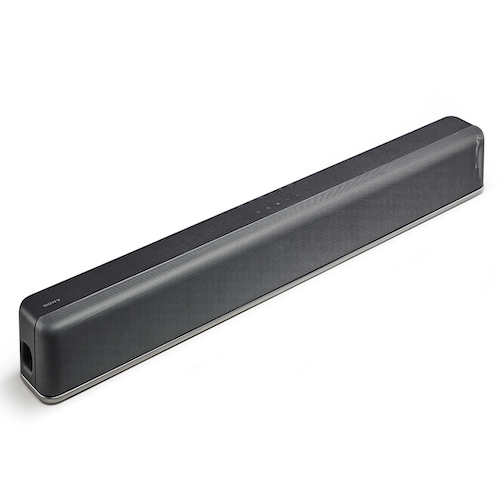 Sony's patented Vertical Sound Engine, which works with Dolby Atmos and DTS:X content to produce a convincing illusion of wraparound sound, allows Dolby Atmos movies to play with a distinct feeling of extended height and breadth, is the secret to the HT-gutsy X8500's performance.
This Sony soundbar's quality and design are outstanding, and its audio performance is crystal clear.
Pros
Good quality and design.
Clear audio.
Bose Smart Soundbar 300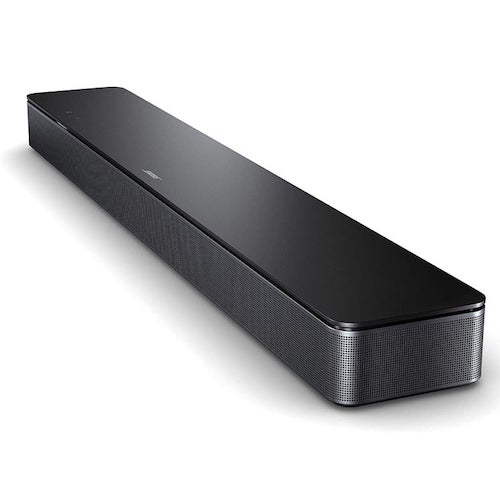 This Bose Soundbar is the best soundbar for small-screen laptops. This well-built 3.0 system has a tiny form that you can simply integrate into your existing computer configuration, and it won't impede your screen.
It's quite loud for its compact size, plus it has Bluetooth connectivity so that you can stream music from your phone wirelessly. If you're looking for a Bluetooth soundbar, this is a great option.
This soundbar has a slightly v-shaped sound profile that gives the bass a little more thump and punches while keeping vocals and lead instruments dazzling and bright. If you prefer a different sound, there are also bass and treble tuning capabilities.
Things we liked:
Loud
Gives bounce due to V shape.
Things we didn't like:
Reviews said it is awkward to set up.
TCL Alto 6+
The greatest tiny soundbar with a subwoofer is the TCL Alto 6+. This two-speaker configuration doesn't take up a lot of room and is loud enough to be used in large spaces or at packed events.
It's also Bluetooth-enabled so that you can stream music from your phone to the bar wirelessly. It offers a very neutral, balanced sound profile that makes it excellent for listening to a wide range of audio sources.
Unfortunately, it does not support Dolby Atmos content, and to play it, it must downmix surround video into stereo, which results in a less immersive experience.
It also lacks more advanced sound customization features such as a graphic equalizer and a room correction mode, which may disappoint some listeners.
Things we liked:
Two speakers.
Stream music from your phone.
Things we didn't like:
It lacks more advanced sound customisation features such as a graphic equalizer and a room correction mode, which may disappoint some listeners.
Best Budget Soundbar
JBL Bar Studio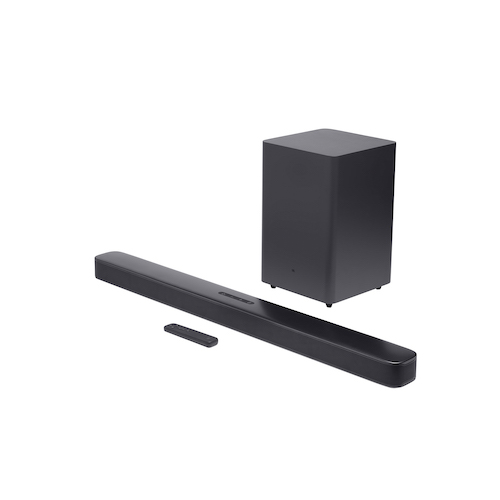 With the compact, powerful, and easy-to-use JBL Bar 2.0 All-in-One soundbar, you can immerse yourself in your favourite film, experience the intensity of the crowd during a game, or rock out in your living room.
Connect JBL Surround Sound to an HDMI ARC or optical connection to bring TV, movies, and sports to life, or simply listen to music via built-in Bluetooth on your smartphone or tablet.
Things we liked:
Easy to use.
Built-in Bluetooth.
Polk Audio Command Bar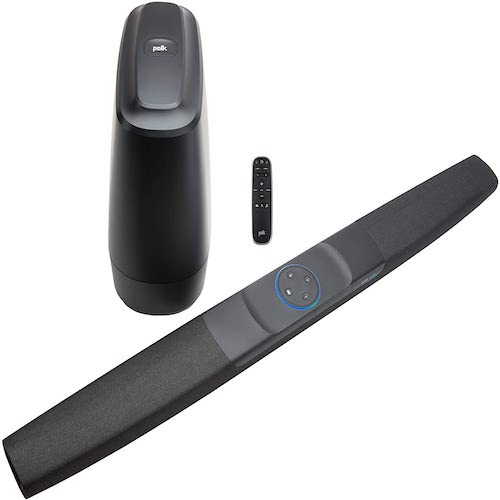 If you're looking for a sleek soundbar for around £300, the Polk Audio Command Bar is ideal for any small or medium-sized living area. The Command Bar comes with Alexa embedded directly into it, as you can see from the soundbar's design, making it unmistakably smart.
It's also a reasonably priced option. It offers a well-defined and strong bass end, some great smart features, and a nice appearance.
Things we liked:
Nice appearance.
Comes with Alexa built-in.
Things we didn't like:
Sometimes the bass can mess up, which annoys reviewers.
Roku Streambar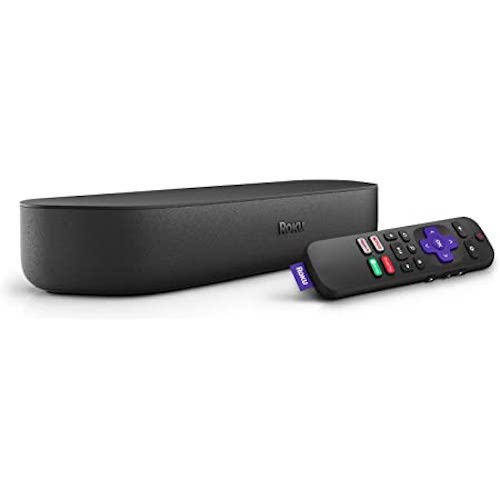 Although it doesn't quite reach five stars, it excels in the areas where it will be most frequently used: projection and clarity.
The Streambar may be used with any television with an HDMI input and can produce 4K HDR at up to 60 frames per second for compatible televisions. Everyone else will get 1080p Full HD, upscaled from lower quality feeds.
The included remote is fantastic, and for an out-of-the-box boost to TV audio and older sets' smart capabilities, the Roku Streambar is a low-risk purchase at this price. In that sense, it's something we can enthusiastically endorse.
Things we liked:
HDMI input.
Included remote.
What to Consider Before Buying a Soundbar
There are a lot of soundbars on the market right now, and although some of them are great, others aren't worth the bubble wrap. In terms of features, each soundbar is unique, and some features require special attention. So, here are some things to consider when buying a soundbar.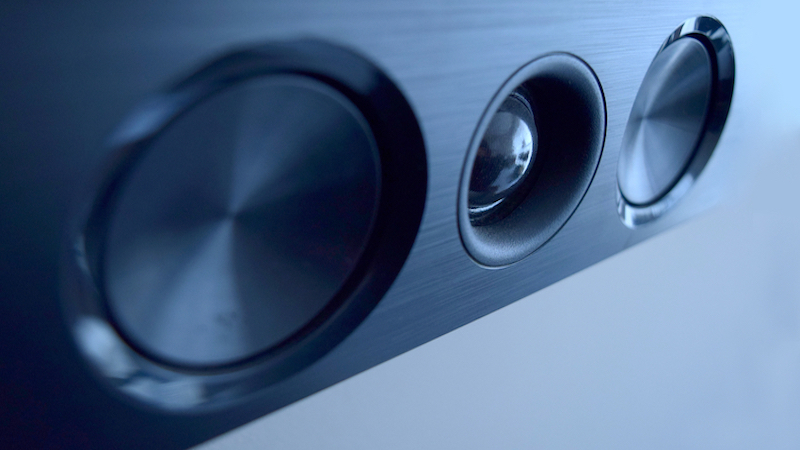 Where Will It Go?
Soundbars can be hung on the wall or placed under your television when it comes to installation. The same can be said for all soundbars: installation is simple.
If your TV is on a table or credenza, place the soundbar exactly below the screen on the same table. Ensure there's adequate room between the TV's bottom and the table. Before you buy a soundbar, double-check the specifications and measure the space.
Size
Your new soundbar shouldn't be bigger than your TV, and in an ideal world, they'd be the same precise width for a uniform appearance. On the other hand, a soundbar may be used with almost any TV.
As a result, when it comes to size, be cautious. Just make sure your TV, especially if it's older than eight years, has the necessary connectivity to attach your new soundbar.
How Do You Want to Control the Soundbar?
Although your soundbar will come with its own remote, you can usually train your existing TV remote to work with it as well.
Will a Soundbar Work With Your TV?
Any soundbar, regardless of brand, will operate with any television. This is particularly true of newer devices, which employ standard wire types. If you're buying a soundbar for an older TV, ensure it supports one of the output channels before you buy.
Budget
If you aren't willing to spend a lot of money on a soundbar, then taking a different look at our budget list is probably the best idea. Soundbars vary in many prices; however, when buying a cheaper soundbar, make sure it is still of good high quality.
FAQs
How do you set up a soundbar?
Set your soundbar right in front of your TV for the greatest effects and watch it straight on.
Suppose space allows, place on a flat surface, like your TV stand. You may mount the soundbar to the wall to conserve room, but you'll need a separate bracket.
If there is a subwoofer, Make sure it's not too close to a wall, as this will cause boomy bass. If it doesn't generate annoying vibrations, you can install it inside your TV cabinet.
Keep it in the middle So that sound disperses equally around the room; your soundbar should have equal space on the left and right edges.
When you're sitting in your TV watching position, situate it within a foot of the height of your ears.
Where should a soundbar be placed?
For the optimum audio quality, it should be placed directly in front of you, preferably at ear level. Because TVs and TV racks are different heights, consider your configuration and desired viewing posture. In general, deciding whether to put the soundbar above or below your TV shouldn't be difficult.
Can you add speakers to a soundbar?
Some people say yes, while others say no. Some of the latest soundbars have additional speakers as part of the system, bringing you much closer to the sound of a real home theatre.
Only if your soundbar is multi-room competent can you install wireless back speakers. And if you have (or want to install) a multi-room audio system across your home, this is a terrific alternative.
Can you add a subwoofer to a soundbar?
A wireless subwoofer is included with many wireless soundbars. And the ones that don't generally have a woofer port, so you can plug in your own if you wish.
What is "cinema sound"?
Most soundbars contain a feature called cinema sound that, according to the manufacturer, simulates the sound of a home theatre. All it does is add a small amount of digital delay, like a fractional echo.
This isn't the same as true home theatre sound, but it does provide the impression of being in a larger space. Some are very spectacular, but you must pay a premium for them.
Sources
https://www.independent.co.uk/extras/indybest/gadgets-tech/audio/best-soundbars-tv-reviews-bluetooth-system-surround-sound-wireless-subwoofer-a9587866.html