appliances & furniture
Best Wine Cooler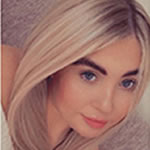 It's tempting to bring food and drinks outside to enjoy the weather on bright days. However, keeping wine chilled in the heat might be difficult.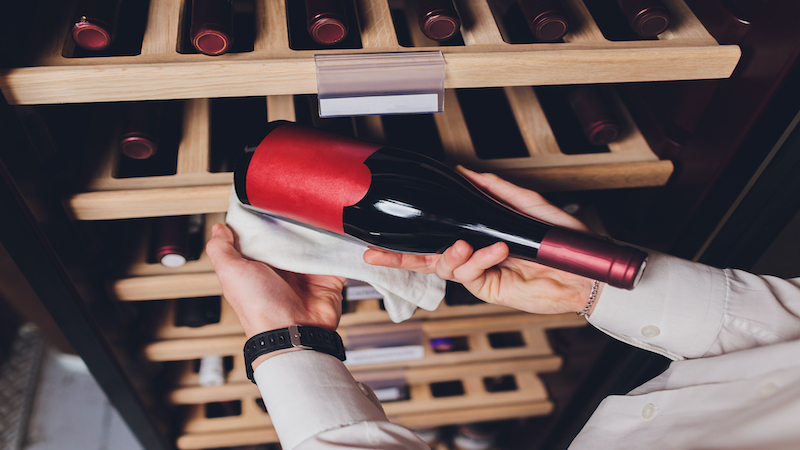 Wine coolers are the perfect solution for this issue, as they keep chilled drinks cold for at least an hour.
So, if you love a cold glass of wine on a summers day but can never keep it cool, then this article is perfect for you!
This article will explain what a wine cooler is and how it works so you can know what you are buying before you purchase it!
We will also cover the different types of wine coolers as well as showing you the best wine coolers! So, if you want to learn more about wine coolers, carry on reading…
What is a Wine Cooler?
Wine coolers are a type a refrigerator designed to chill wine. Wine coolers are made to not only preserve but also age your wine.
The quality of wine and full flavour potential are revealed when it is stored and aged. While not everyone's home or budget can accommodate a vast wine cellar, a wine cooler is perfect for everyone!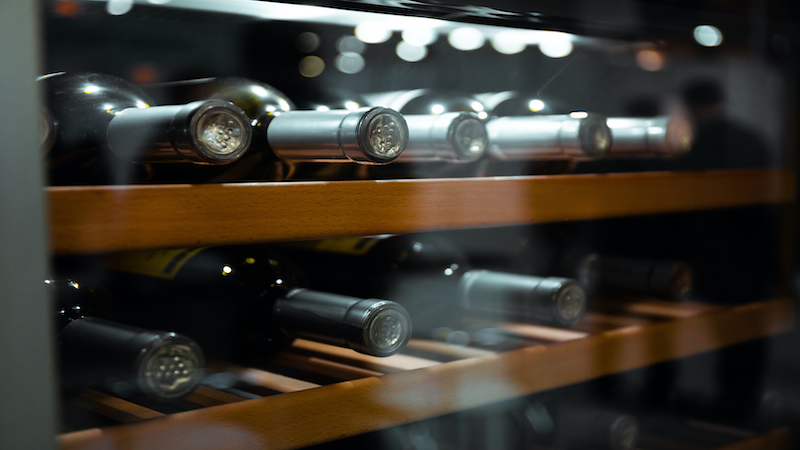 How Does a Wine Cooler Work?
Wine coolers are typically made of an open acrylic cylinder with two air-filled walls. Thermal insulation is provided by the twin walls, which prevents warm air from reaching the beverages.
In the wine cooler, you place a chilled bottle. It must be chilly because it prevents the temperature from increasing too much. The bottle forms a pool of cold air, which stays inside the wine cooler because the density of colder air is higher than that of warmer air.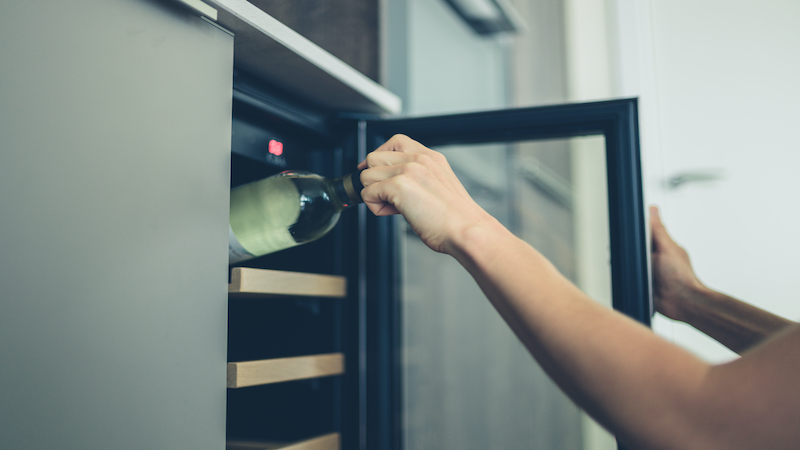 The air inside the insulating walls is somewhat warmer than the air around the bottle but slightly cooler than the air around the cooler. The walls keep warm air from the outside from entering the cooler's inner chamber.
Types of Wine Cooler
When it comes to evaluating the various types of wine storage options available, wine coolers are hands down the clear winner. They make the most sense and are the most convenient alternative for wine drinkers.
Choosing the right wine cooler can be quite difficult, as there are plenty of options to choose from.
To help you select the right one, here are some of the most popular types of wine cooler:
Countertop Wine Cooler
These are ideal for homes with limited floor space, and they're also great if you want to consume your wine rather than collect it.
Counter-top wine coolers are small, with most models holding somewhere between 4 and 24 bottles of wine.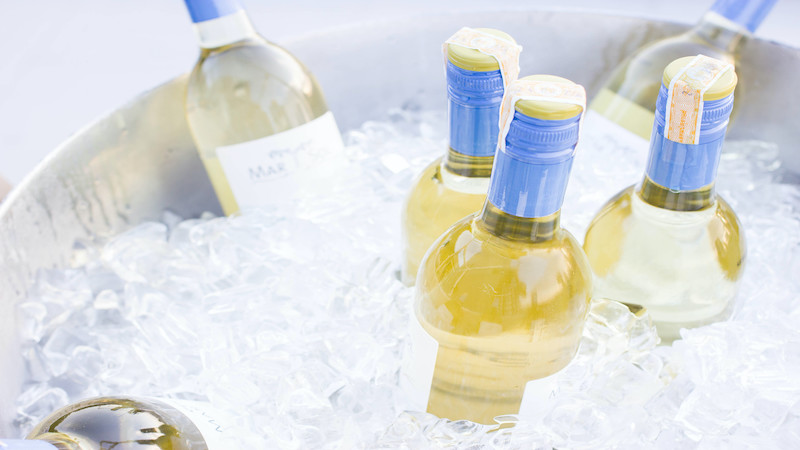 Of course, they come in different sizes depending on your demands, but it's always a good idea to decide on a location for your cooler and measure it before deciding which one you want.
This type of cooler will almost always require some form of ventilation, so make sure you have room for that as well.
Compressor Wine Cooler
This wine cooler operates by utilising technology similar to a refrigerator. This helps to reduce the temperature of the inside of the wine cooler by compressing and releasing air.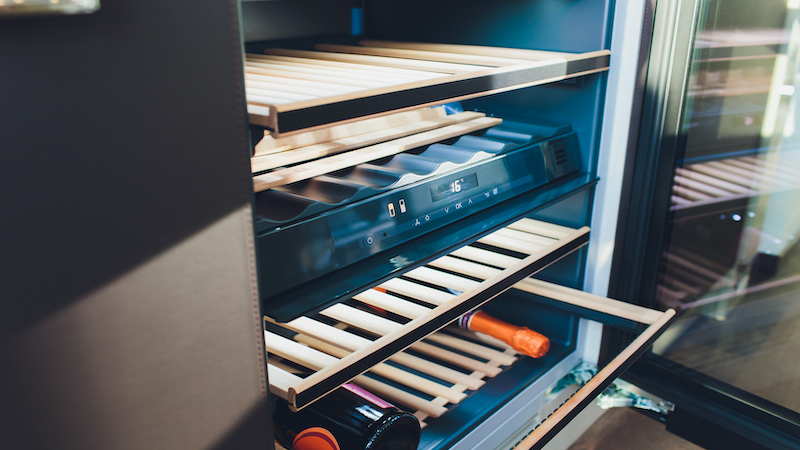 A compressor wine cooler features refrigeration chambers where refrigerant particles are electronically compressed by a compressor. The temperature rises as a result of this, forcing the particles to expel, and the temperature to drop. The particles then expel, causing the temperature of the air to drop.
A small and carefully placed fan then blows the cold air through the cooler's inside. That heat exits through the back of the wine cooler, which is why it's crucial to leave enough space for it to ventilate properly and perform at its best.
This is an ideal wine cooler because once the compressor detects that the pre-set temperature has been reached throughout the wine cooler, it automatically shuts down to prevent the contents from over-freezing. However, the cooler's compressor technology causes vibrations and noises.
Thermoelectric Wine Cooler
This wine chiller is powered by electricity. The design includes an electrolyzed metal rod that creates a temperature differential. To extract this energy from the system, the heated end faces the outside.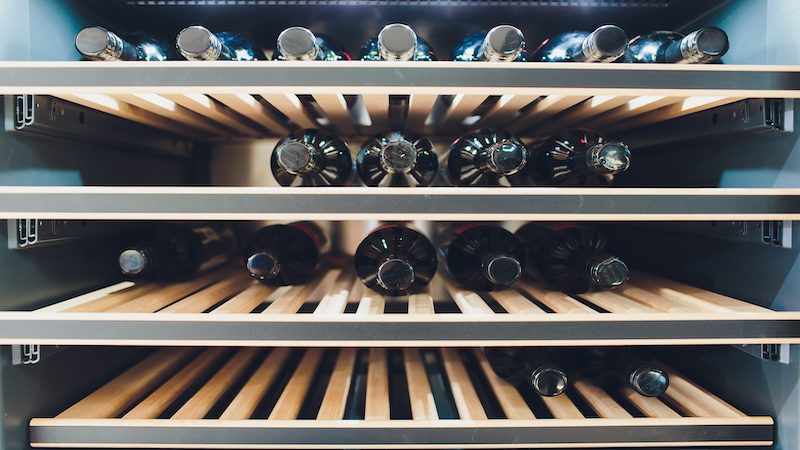 A modest fan, like the compressor wine cooler, is used to circulate the chilly air throughout the cooler.
Since there are no moving parts in thermoelectric technology, it is quiet and vibration-free. As a result, it is a better option for protecting the quality of the wine.
The thermoelectric cooler does not allow for over-freezing. However, it is easily influenced by its surroundings. As a result, storing it in a hotter environment will reduce the cooling ability.
Built-In Wine Cooler
Built-in wine coolers feature front-facing vents and fans just beneath the unit to draw cool air in and discharge warm air on both sides of the vent. Depending on the volume of the wine freezer, built-in wine coolers require 0.25cm to 0.5cm of clearance around each side.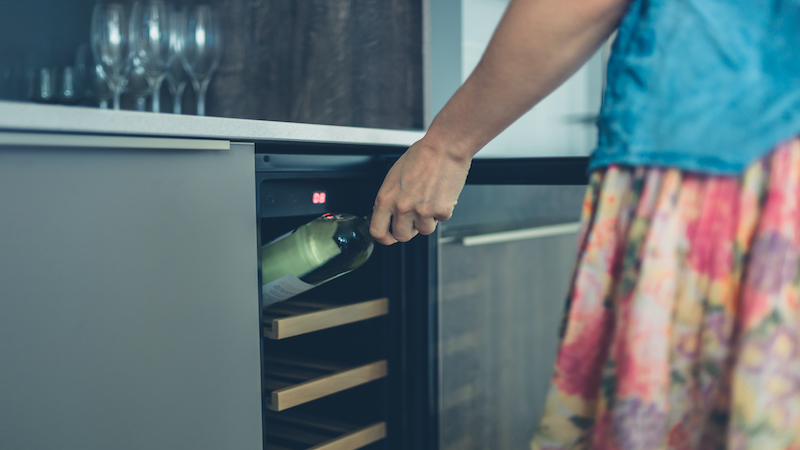 Built-in wine coolers are commonly used as under-counter wine coolers because they are available in a variety of sizes to fit under most countertops.
For the wine connoisseur or interior designer, there are also large capacity wine coolers available as built-in units that can hold up to 200 bottles of wine.
Single Zone Wine Cooler
This type of cooler normally comes with single, seamless storage compartment, as the name implies. The temperature is uniformly distributed and maintained throughout the cooler, ensuring that all bottles of wine are kept at the same temperature.
Inside, the racks are made to retain each bottle separately. Because it only cools to one temperature, the cooling mechanism for this sort of cooler can be either a compressor or thermoelectric.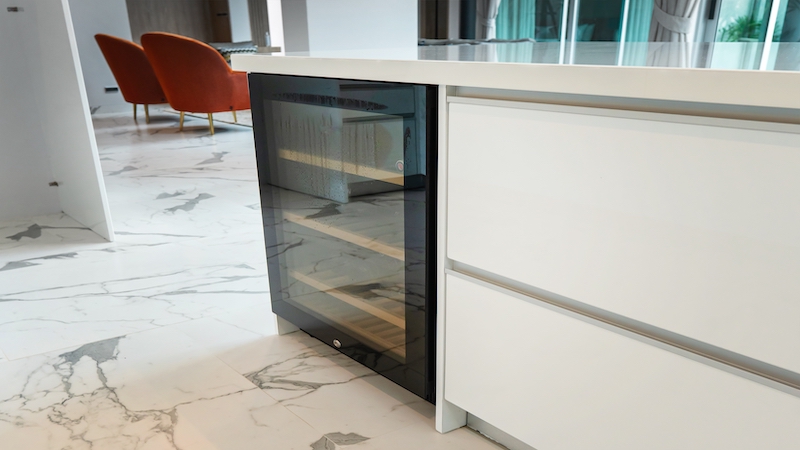 It's helpful for people who want to build a wine collection but just have one type of wine. Also, there's no need to fiddle with the temperature inside because it includes a smooth temperature function.
It cannot, however, hold a range of wines due to its single-temperature feature. This also creates an issue during maturation because the temperature cannot be changed.
Dual Zone Wine Cooler
Within, there are normally two independent storage compartments separated by a horizontal barrier. It can run at two different temperatures at the same time because it has two different portions.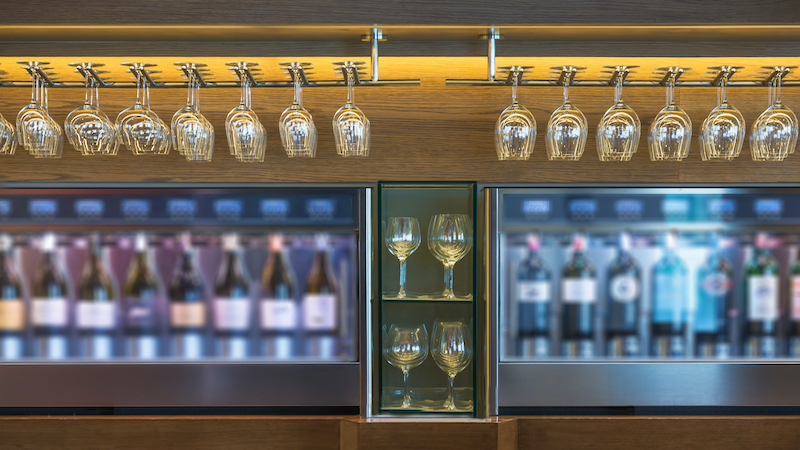 Specially designed racks, like the single zone cooler, hold each bottle individually, allowing for more equal cooling. The dual-zone cooler, like the single zone, can use thermoelectric or compressor cooling.
It's ideal for folks who enjoy a variety of wines because they may be kept at different temperatures in the same cooler. Also, there is no need to bother with the temps because they are already adjusted to the right temperature. Bottles of wine, on the other hand, may not develop properly since temperatures cannot be altered.
Freestanding Wine Cooler
Freestanding wine coolers are meant to be used on their own, not as part of a kitchen or other structure. These devices are typically used to simulate a wine cellar for long-term wine storage and maturation.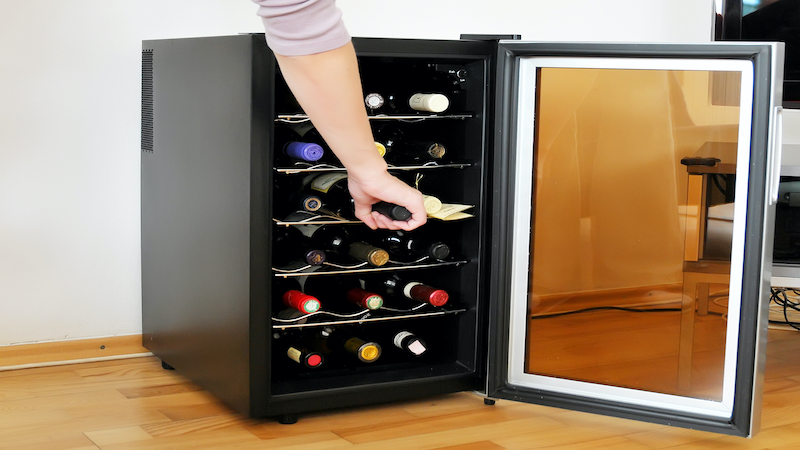 Because the heat is dispersed from the rear of the device, which is also where the cooler air is taken in, these should not be utilised as a built-in wine cooler. Overheating will occur endlessly if warm air cannot escape around the machine. It is recommended to leave 2-3 inches on either side of the unit and not to surround it from above.
Under Counter Wine Cooler
Under counter wine coolers are a great addition to any kitchen and are designed to fit perfectly in between kitchen cabinets for a seamless, streamlined appearance.
An under-counter wine cooler is an ideal choice for any home since it is suitable for both display and storage.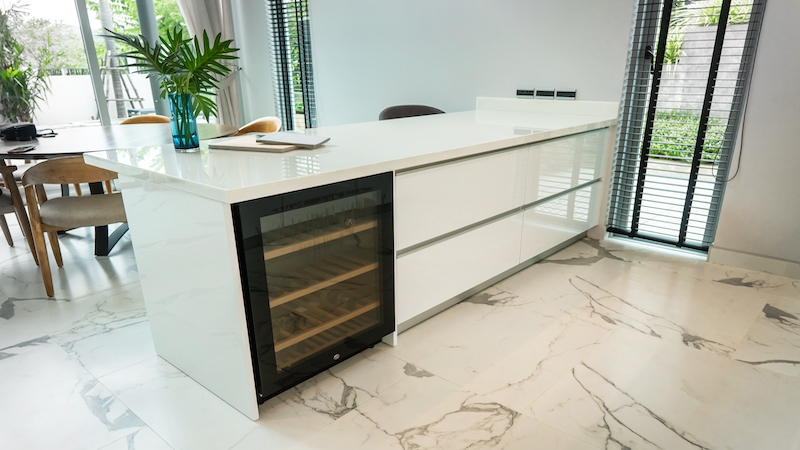 These wine refrigerators have lovely glass doors, hardwood shelves, and interior illumination, making them ideal for exhibition. Wine coolers under the counter also free up much-needed kitchen space, allowing you to make greater use of your cooking space.
Best Wine Cooler
When you start having trouble fitting groceries in between the piled bottles in your refrigerator, you know you're a wine aficionado in need of a wine cooler. If you're starting to build up a serious wine collection and don't have access to a cool, dry cellar for long-term storage, a wine freezer is a fantastic investment.
The trouble with buying a professional wine fridge is that they aren't cheap, and they all look the same when you shop online. However, when you invest this much money on new household equipment, you need to make sure that it is the right fit for you.
To help you buy the perfect wine cooler, here is a list of some of the best wine coolers on the market.
Best Countertop Wine Cooler
Swan SR16210GRN Table-Top Wine Cooler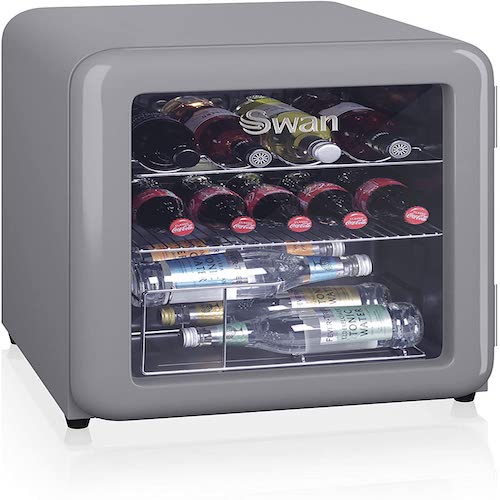 This wine cooler offers proof that having a wine cooler does not require a large budget or a lot of storage space. It can store up to 12 bottles, making it the ideal choice for family gatherings and all those dinner parties we're hoping to throw soon.
It's also very energy-efficient, with an A+ energy rating, so you won't have to worry about high utility bills to keep it running.
Whether you prefer a crisp white or a fruity rosé, the simple settings allow you to quickly modify the environment to match your favourite beverage. It also features an inside light so you can see whatever drinks you're choosing to taste.
Things we liked
Excellent energy efficiency
Easy to operate
Interior light
Things we didn't like
Wine racks are close together
Magic Chef CWC6B 6-Bottle Wine Cooler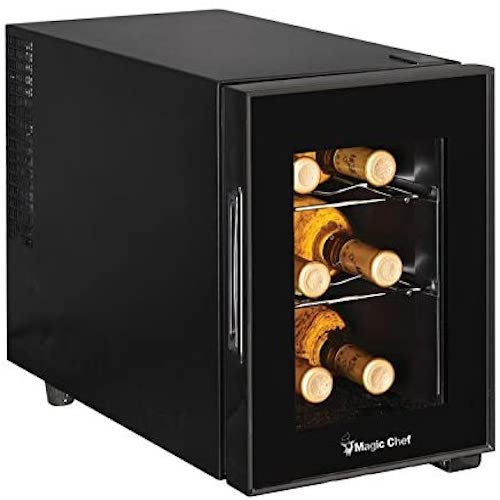 The black cabinet fits perfectly with any décor and has a sleek and compact design. This wine cooler can be used in the kitchen, on a table in the living room, or in the office. The unit comes with three removable chrome shelves, allowing you to simply adjust the internal configuration if you have larger bottles.
This wine cooler is appropriate for both white and red wines and has a temperature range of 46 to 64 degrees Fahrenheit.
You can adjust the legs to the right height, and you can also arrange the wine cooler is the perfect position even on an uneven surface. However, the device does not include a thermostat, so you will need to check the temperature with a thermometer.
Things we liked
Removable chrome shelves
Sleek design
Adjustable features
Things we didn't like
It does not have a thermostat
Avalon Bay AB-WINE12S Bottle Single Zone Wine Cooler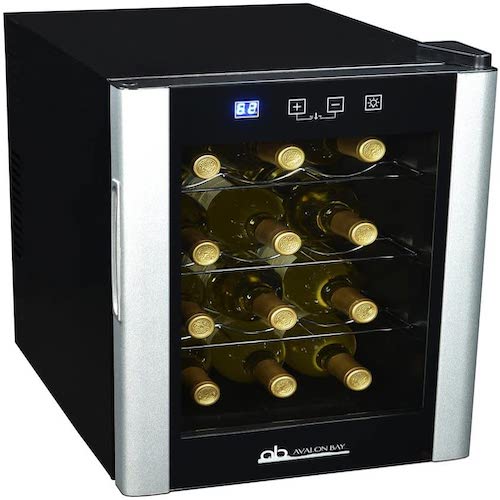 This Avalon Bay 12 AB-WINE12S countertop wine cooler has an attractive appearance and a capacity of 12 bottles.
The inside temperature may be changed between 51- and 64-degrees Fahrenheit, and there are handy digital controls and a lovely soft blue internal light.
The internal configuration of this wine cooler may be easily changed thanks to the three removable chrome shelves. It is also incredibly quiet and has low vibrations thanks to thermoelectric technology.
Even though this is a countertop wine cooler, the manufacturer equipped it with wheels in case you wish to move it around the house.
However, this wine cooler cannot reach temperatures below 53 degrees Fahrenheit.
Things we liked
Digital controls
Internal light
Wheels make it easy to move
Things we didn't like
Temperatures cannot go lower than 53 degrees Farenheit
Best Compressor Wine Cooler
Allavino VSWR172-2BWRN Wine Cooler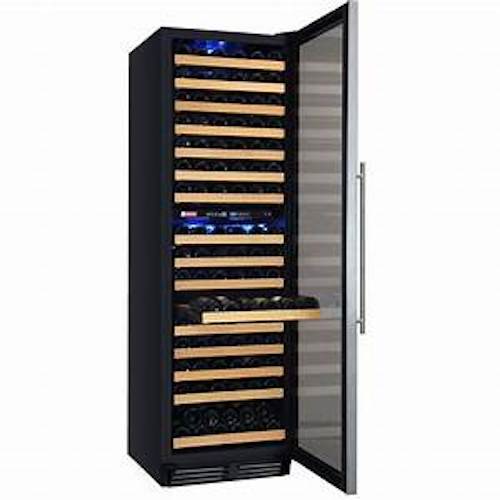 In a dual-zone compressor-based system, the Allavino VSWR172-2BWRN can handle 172 bottles in a clean and classy appearance.
This wine cooler features a front-venting design that may be used as a built-in or as an elegant free-standing item.
The racks are made of metal and have slates made of wood. The weight of the bulk bottles is supported by the metal shelves.
The shelves are thin and flexible, allowing larger diameter bottles to be accommodated without compromising overall storage capacity. Ball-bearing tracks support the racks. These shelves slide in and out, allowing you to easily access your collection.
Vibration is reduced because of the wood slates.
Things we liked
Front vent design
Large capacity
Reduces vibration
Things we didn't like
Not the most durable wine cooler
Allavino Vite Series 305 Bottle Wine Cooler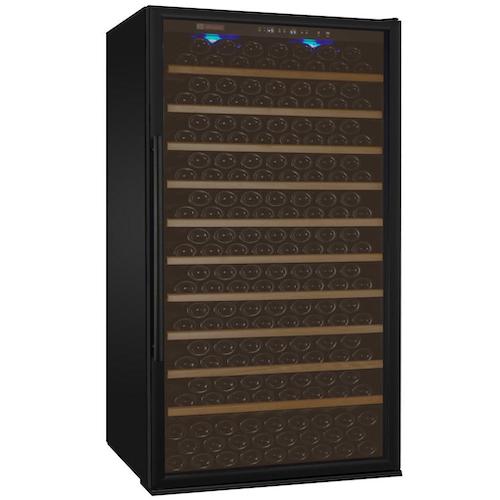 With this model, you know you're getting a professional-grade wine cooler.
This tall, attractive and robust wine cooler has a capacity of 305 bottles. It also feature ten extra-thick hardwood racks, as well as a big bottom area for several rows or large-diameter bottles.
The single-zone cooling mechanism on the Allavino Vite Series YHWR305-1BRT 305-bottle is reliable.
The air inside the chamber is circulated by an internal fan. This fan-assisted cooling technology also helps maintain a consistent temperature between the top and bottom shelves.
Things we liked
Fan-assisted cooling technology
Extra large bottle capacity
Robust bottle racks
Things we didn't like
Not ideal for small spaces
YHLZ Compressor Wine Cooler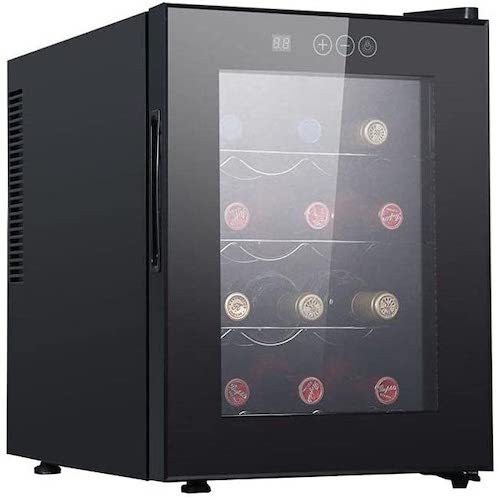 Up to 12 bottles of wine can be stored in this cooler, making it suitable for small wine collections.
The bottle is held in place by the metal shelf for easy access.
This wine refrigerator has a built-in fan to maintain a consistent temperature and preserve the wine until you're ready to serve your favourite bottle.
It features a warm LED light that lights your collection without producing the same amount of heat as a traditional incandescent bulb.
Things we liked
Warm LED light
Great for small collections
Built-in fan
Best Thermoelectric Wine Cooler
Candy CWC 021MK Freestanding Wine Cooler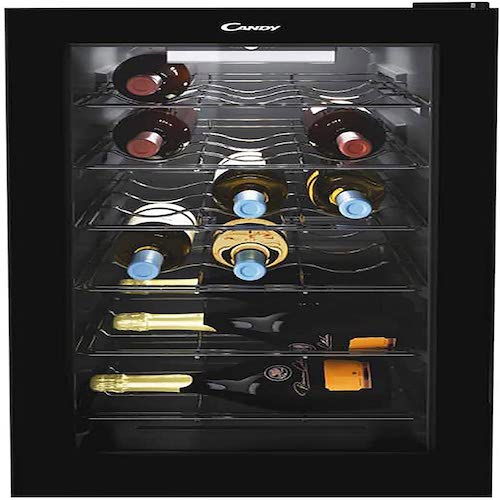 This LED-lit wine cooler makes it easy to see what's in your fridge while also being more energy-efficient than traditional bulbs.
You can store up to 21 bottles of wine in here, and you can adjust the temperature to keep your whites cool or your reds warm by turning the thermostat dial.
Things we liked
Energy efficient
Temperature adjustment
Things we didn't like
Shelves need to be removed to store 21 bottles
ADKY Freestanding Thermoelectric Counter Wine Cooler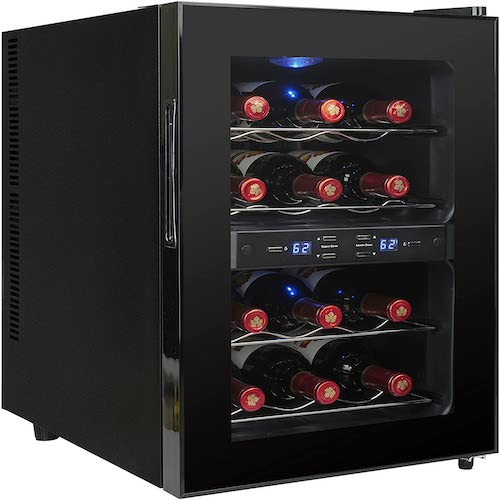 This wine cooler has a 12-bottle capacity and a dual-zone cooling system.
This wine cooler has a temperature range of 44 to 66 degrees Fahrenheit in the upper zone and the same temperature range in the lower zone, making it ideal for both red and white wine storage. You can make the entire cooler the same temperature or set various temps for each zone.
Both zones have a six-bottle capacity and two removable chrome shelves, allowing you to rearrange the shelves to fit larger bottles.
The wine cooler also contains two gentle blue interior lights, one for the upper zone and one for the lower zone, that are regulated separately. However, some users are dissatisfied with this unit's cooling capabilities.
Things we liked
Ideal for white and red wine
Removable shelves
Two interior lights
Things we didn't like
Not ideal for a large wine collection
Whynter 20 Bottle Thermoelectric Wine Cooler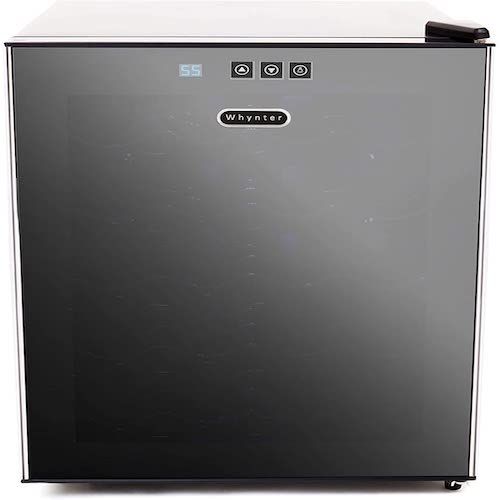 This thermoelectric wine cooler can hold up to 20 bottles of wine. It also has a sleek and modern appearance that is simple to incorporate into your home. It features a single temperature zone that may be adjusted between 46 and 65 degrees.
The LED lighting allows you to view your wine collection at any time, and the on/off switch allows you to turn the light off at any time.
The soft-touch digital control panel makes it simple to set the right temperature. Unlike many other thermoelectric units, which are somewhat noisy, this wine cooler is silent and vibration-free.
Things we liked
Soft-touch digital controls
Quiet operations
Modern design
Things we didn't like
Not ideal for taller wine bottles
Best Built-In Wine Cooler
Baumatic BWC305SS/2 Built-In Wine Cooler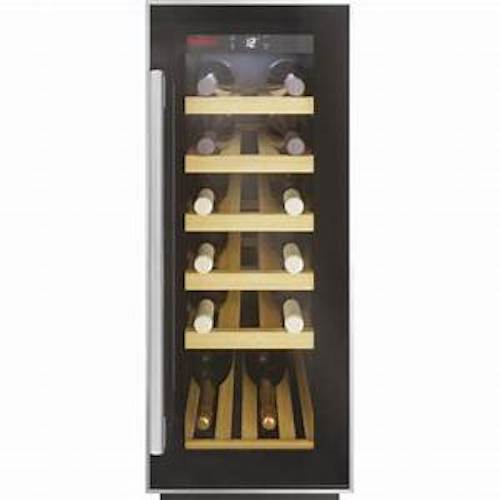 With this wonderful Baumatic wine cooler, you can keep your favourite tipples in tip-top shape. There are 19 bottle spaces inside, so you'll have plenty of place for your favourite table whites and a sparkling rosé or two for special occasions.
This model has an energy efficiency rating of B and an estimated annual energy cost of £26.03, so it won't break the bank. It also boasts a fan cooling system that circulates cold air uniformly over every shelf to keep your chardonnays and pinots at the perfect temperature.
Things we liked
Good energy efficiency
Fan cooling system
Ideal for warming and cooling
Hoover HWCB30UK Cooler Integrated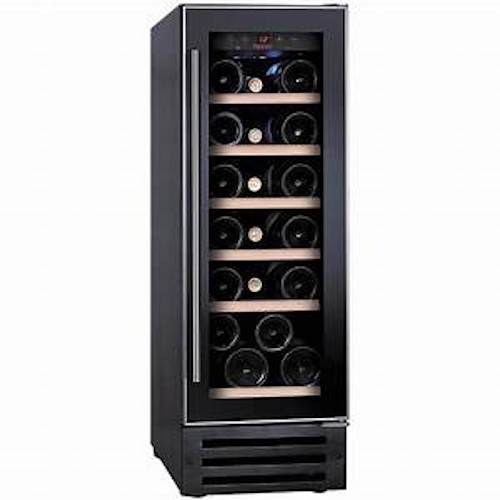 This durable stainless steel Hoover Wine Cooler is the ideal cost-effective addition for individuals who prefer unwinding with a glass of wine at the end of the day.
You can enjoy your drink that has been chilled to your preferred temperature using the LED controls. Your wine bottles will be safe from spills or fall on the five wooden shelves, and the cooler can carry a total of 19 bottles of wine.
Things we liked
LED controls
Durable design
Sturdy shelves
Things we didn't like
Not ideal for low counters
AEG KWE84520M Built-In Wine Cooler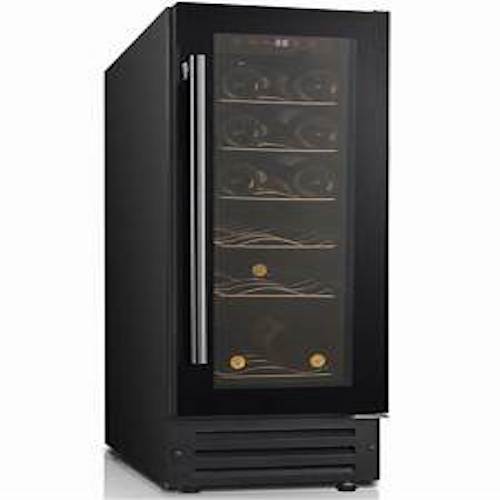 With this AEG cooler, you can keep all your favourite bottles of wine wonderfully chilled. There will be no excuse for running out of bottles with this cooler, which can carry up to 18 bottles at once.
The model also has a temperature range of 5 to 20 degrees, so whether you're chilling red, white, or rosé wine, you'll be able to find the ideal temperature.
There's even a helpful LED light that illuminates the cabinet so you can see which bottle you want right away. And, thanks to the Push2Open feature, all you must do is give the elegant door a gentle push to open it without the use of a handle.
Things we liked
Illuminating light
Push2Open feature
Good for a medium-sized collection
Best Single Zone Wine Cooler
Swisscave Single Temperature Zone Wine Cooler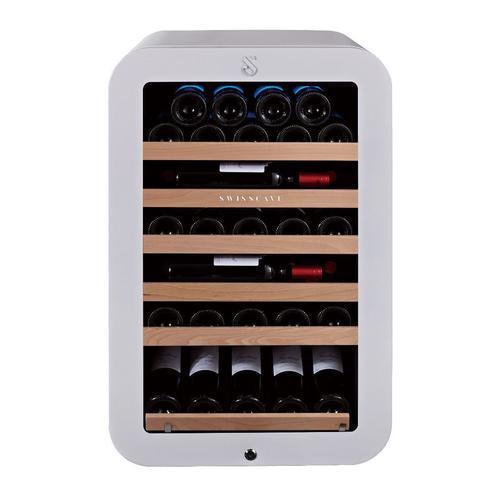 This Swiss Cave Wine Cooler is freestanding and holds up to 39 bottles, making it easy to move around your home.
The extendable shelves make it easy to reach your favourite tipples, and the active charcoal filter, UV-protected glass, and low-vibration compressor keep your wine in perfect condition.
The coolers are available in white, black, or red to match your decor.
Things we liked
Various colour options
Easy to move
Extendable shelves
CDA FWC153SS Wine Cooler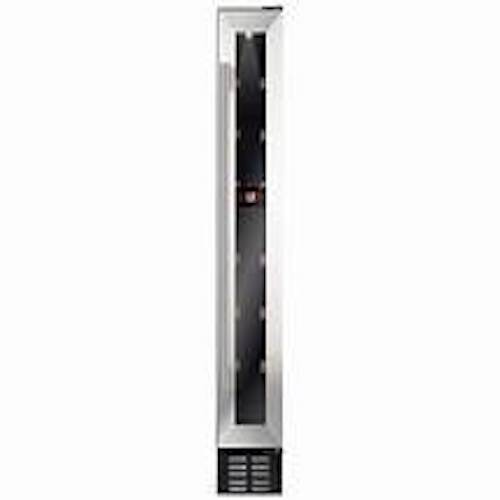 With the FWC153SS Wine Cooler, you'll always be ready to entertain. You can set the temperature to anywhere between 5°C and 20°C, ensuring that you always have a bottle of perfectly chilled white wine on hand when unexpected guests arrive.
The sleek design is perfect for small homes and apartments, but just because it's little doesn't mean it's lacking in utility.
The wine cooler has a smoked glass UV-protected door that is strengthened with double glazing to prevent damage to your wine collection.
Humidity control ensures the long-term preservation of your wine by maintaining a steady humidity level - we'll raise a glass to that.
Things we liked
Great for small homes
UV-protected glass door
Humidity control
Things we didn't like
Not ideal for large bottles
Russell Hobbs 12 Bottle Drinks Cooler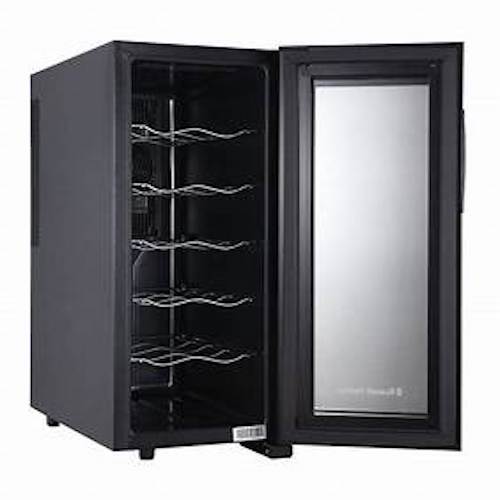 Display your ice-cold beverages while freeing up space in your main refrigerator. The curved wine rack at the top keeps bottles tight, so there's no need to worry about them rolling about.
There's also a wider bottom portion that's ideal for holding larger bottles like champagne. The fridge even has a lock option to keep your bottles safe.
Things we liked
It can hold large bottles
Curved rack design
Lock function
Best Dual Zone Wine Cooler
Cave Cool Wine Cooler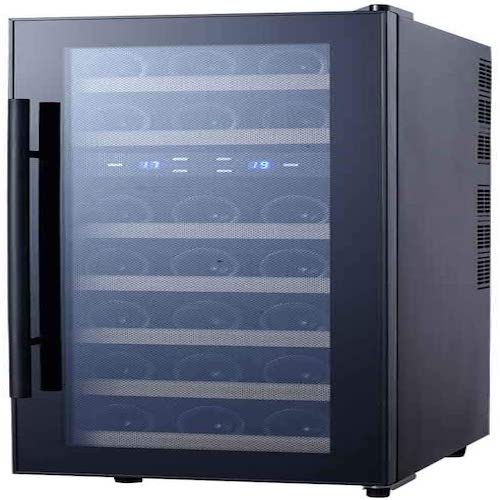 With this dual-zoned wine cooler, you can keep your reds and whites at the ideal temperature. With a temperature range of 7-18°C and 10-18°C, you may keep up to 21 bottles in the two cooling zones together.
The cold zone at the top can contain six bottles, while the five shelves in the lower zone can carry a total of 15 bottles of red wine. You can keep the wine cooler in the garage or basement and keep the temperature set inside, and if it's near a window, it has UV-protection glass.
Things we liked
Great for storing red wine
UV-protected glass
Ideal temperature range
Things we didn't like
Not as much room for cold wine
Haier HWS43GDAU1 Wine Cooler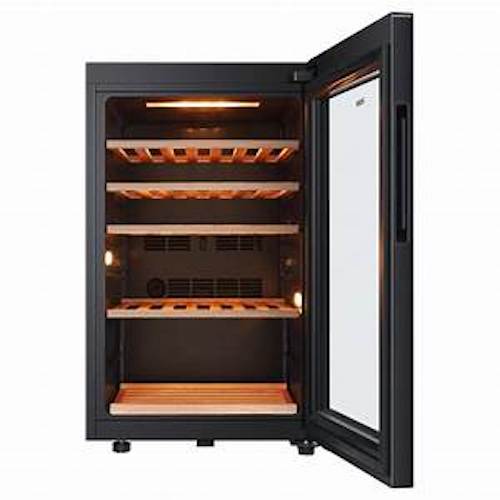 The Haier HWS42GDAU1 is the perfect wine fridge if you want a stylish, high-quality wine fridge with enough room inside to keep the drinks flowing at those summer garden parties.
Inside, there's enough for 42 bottles of wine, divided into two temperature zones that may be adjusted.
With a black design and soft LED lighting, this wine cooler has a beautiful aesthetic. Because the wine cooler is freestanding, it can be placed under a kitchen or utility counter, or just in a room's corner.
The fridge is divided into two temperature zones, each of which may be set between 5 and 20 degrees Celsius. Two of the four basic types of wine, red, white, rose, and sparkling, can be stored.
Things we liked
High-quality design
Soft LED lighting
Ideal for all types of wine
Kalamera Dual-Zone Wine Fridge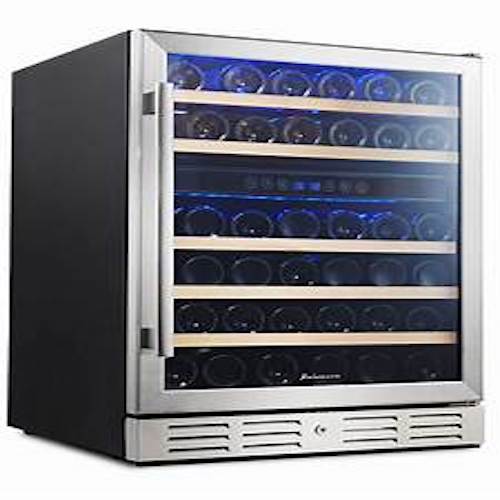 You can either leave this model freestanding or incorporate it into your existing cabinetry.
You get two separate cooling zones, allowing you to store reds and whites for both short and extended periods. Each zone has a wide temperature range, allowing you to cool your wines anywhere between 40- and 66-degrees Fahrenheit.
You can incorporate it into your existing cabinetry or leave it freestanding with this style. You get two separate cooling zones that allow you to store reds and whites for both short and lengthy periods.
Things we liked
Separate cooling zones
Can be integrated into a kitchen
Wide temperature range
Things we didn't like
The top zone does not go below 50 degrees Farenheit
Best Freestanding Wine Cooler
Hoover HWC 150 Freestanding Wine Cooler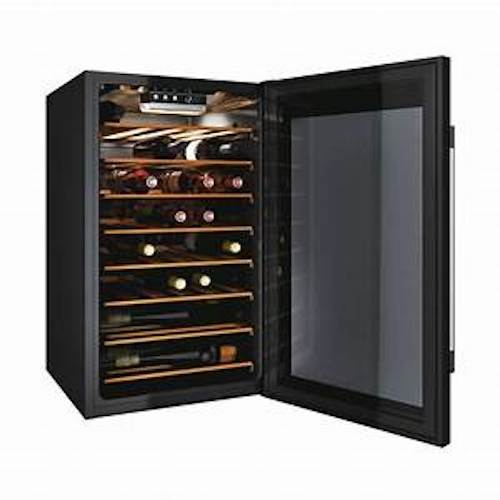 The Hoover HWC 150 UKW/N is a superb wine cooler for the money. Even though there is only one temperature zone, there is enough room inside for 41 bottles of wine.
The difference in temperature between the top and bottom of the fridge means you can easily store both white wine and champagne, or white wine and rose, at the proper temperatures.
This freestanding wine cooler works well beneath a kitchen or utility counter.
To connect your wine fridge to your phone or tablet, simply download the Hoover Wizard app, scan the barcode on the back of your wine fridge, and follow the on-screen instructions.
Depending on the sort of wine you wish to keep, the app allows you to select your desired temperature, which ranges from 44 to 64 degrees Farenheit.
Things we liked
App-controlled temperature
Wide temperature range
Energy efficient
Things we didn't like
Only one temperature zone
AOBOSI Wine Cooler Dual Zone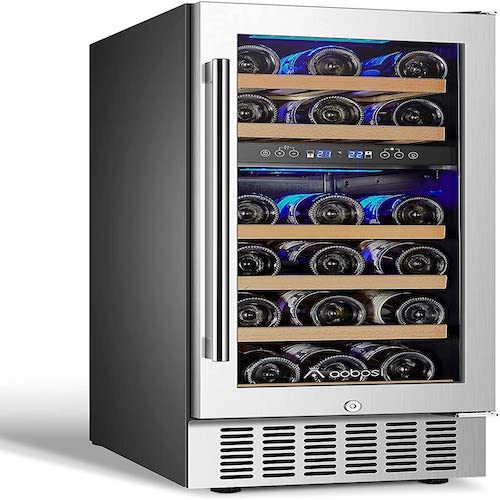 For those with a larger wine collection, this Aobosi freestanding wine cooler is a great option.
This excellent wine cooler has dual cooling zones with unique temperature controls on the control panel.
Semi-sweet and semi-dry white wines, as well as sparkling whites and champagne, should be stored in the upper cooling zone.
The cooler operates at a quiet 42 dB thanks to an integrated and strong compressor.
It's also an energy-saving option thanks to the compressor. Lower levels of vibration are also to be expected, which is necessary for preserving wine flavours and ensuring that your collection matures appropriately.
This huge wine cooler can also accept larger bottles, so you don't have to worry about removing shelves to store your collection.
Things we liked
Quiet operation
Energy saving
Ideal for large bottles
Baridi 12 Bottle Wine Cooler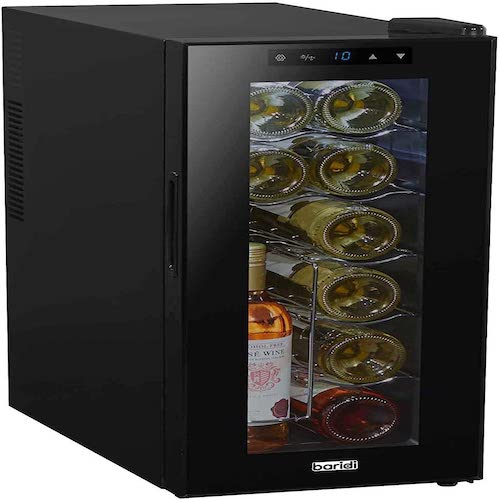 This fridge is more compact than the others on this list, making it an excellent alternative for those with smaller kitchens.
Despite its small size, this refrigerator has enough room to hold up to 15 separate bottles of wine. Inside, there are four sliding chrome wine racks for simple storage and retrieval, as well as a fixed rack at the bottom for extra storage.
A kid safety lock is also included. This refrigerator has a control panel, and if you don't push a control panel button for 20 seconds, the fridge will automatically lock. These safety measures would undoubtedly appeal if you have small children running about the kitchen.
The soft-touch control panel is simple to operate, allowing for quick and easy temperature adjustments.
Things we liked
Child safety lock
Easy to use
Four sliding racks
Things we didn't like
Not ideal for a large wine collection
Best Under Counter Wine Cooler
John Lewis & Partners JLWF303 Under Counter Wine Cooler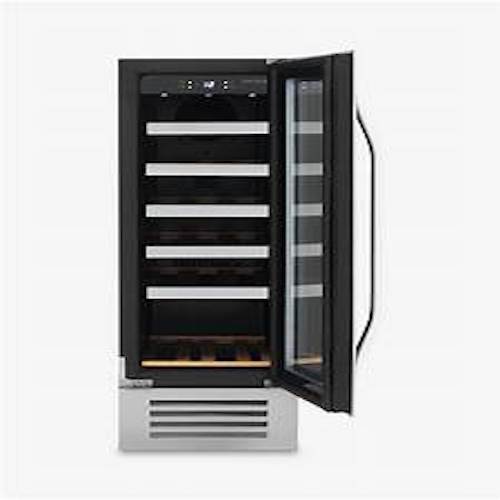 This sleek and stylish wine cooler combines style and functionality. It has a temperature range of 5°C to 18°C and can hold up to 19 bottles on five shelves.
It has a UV-protected black glass door, an LED light temperature indicator, and a white LED light to help you find what you're looking for. It also feature a cooling fan for optimum temperature.
Things we liked
UV-protected glass door
Cooling fan
Five shelves
Things we didn't like
It may be too tall for some counters
Bosch Serie 6 Wine Cooler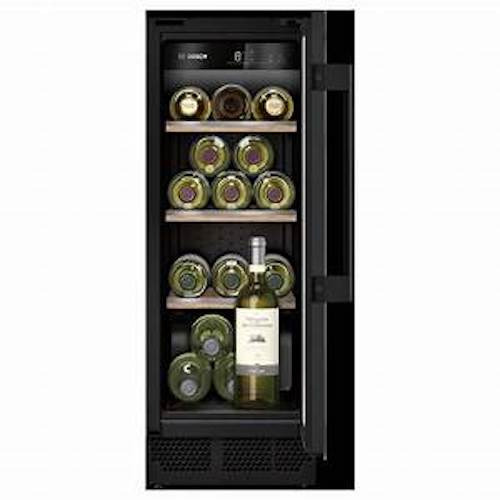 You can enjoy your wines at the appropriate drinking temperature with an adjustable temperature feature ranging from +5°C to +20°C. The large wine cabinet can hold up to 21 bottles, allowing you to stock up on your favourite red, white, or rosé without having to worry about where to put them.
LED lights are also included in the cabinet, allowing you to view the bottles while also stunning your guests.
Things we liked
LED lighting
Wide temperature range
Can comfortably store 21 bottles
What to Consider Before Buying a Wine Cooler
A wine refrigerator is an excellent place to store your favourite wines. To ensure they are the perfect temperature and taste, you should consider the following factors when choosing a wine cooler: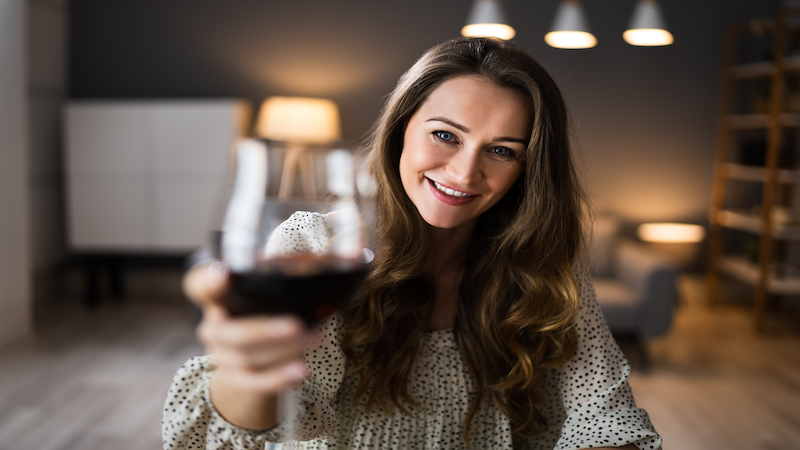 Temperature
Cooler temperatures are necessary, but not excessively so. A wine that is stored at a temperature above 70°F will age quickly, and if the temperature rises much higher, you risk cooking the wine, which will cause it to lose its characteristics and aromas.
Before purchasing a wine cooler, you should check the temperature settings. If you like both red and wine, you should opt for a cooler with a wide range of temperatures.
Light
UV radiation can cause wine to age prematurely. Therefore, to protect your wine you may want to opt for a wine cooler with a UV-protected door.
To view your wine easily, you should invest in a cooler with LED lights, as this help you pick out your wines quickly, while also saving energy.
Vibration
Vibrations in the storage room might harm the wine by producing undesirable chemical reactions, which may speed up the ageing process. Significant vibrations may cause sediment to settle in older wines, giving them a nasty or gritty character.
To avoid this, you should choose a wine cooler with limited vibration to protect your wine, while also reducing noise levels.
Space
Wine fridges are available in a variety of sizes, ranging from a 15cm wide wine cooler to a 70cm wide long-term storage wine cooler for the wine aficionado.
When choosing a wine cooler, you need to consider the size of your collection and how much space you will need to store your wine safely.
Cost
Wine coolers can range in price from £200 for modest units to £5000 or more for large luxury off-the-shelf units. If you want a custom-made unit, expect to pay well over £10,000 for one.
When it comes to wine coolers, it's always a good idea to plan and invest a bit extra now on a unit that will last.
Noise
Nowadays, wine coolers are relatively quiet. In fact, the better grade units with compressors are so quiet that you won't even notice they're on because the compressor/fan systems are so efficient.
However, if you are concerned about noise, a thermo-electric unit is a possibility. These cool using electrolysis and operate without the use of refrigerant gas or a compressor, making them completely silent.
FAQs
How much electricity does a wine cooler use?
A wine refrigerator is not the same as a standard refrigerator for storing food. Wine coolers utilise only 90 to 100 watts of electricity on average, compared to 350 to 800 watts for traditional refrigerators.
Can I build a wine cooler myself?
Yes, it does take time and patience but here is a step by step guide to building a wine cooler:
Check the room for leaks
Install a vapour barrier
Seal the concrete floor
Begin furring the walls
Choose the proper wine cellar door
Check the room for air leaks
Put a finish on the walls
Create a wine cooling system
Put the final touches on your wine cooler.
Are wine coolers worth it?
A wine cooler is a device that protects your wine from changes in the environment, such as temperature and humidity. Regular refrigerators are not ideal for the long-term storage of wine due to these issues. It's worth investing in a wine cooler if you want your wine to age properly and taste its best.
How long does wine last in the fridge?
Red and light white wine tends to last around 3 to 5 days in a fridge.
What temperature should wine be stored at?
Wine should be stored at 11-14 degrees Celsius (52-57 degrees Fahrenheit) generally. Wine storage temperatures should never exceed 24 degrees Celsius, as this causes oxidation, which is bad for the wine.
Sources