appliances & furniture
Best Mini Freezer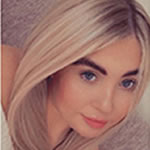 A mini freezer is perfect for compact locations where a standard-size freezer would be too large.
It's a great option for workplaces, garages, entertainment rooms, dorm rooms, and other places where space is restricted but you still need a freezer to keep your food cool.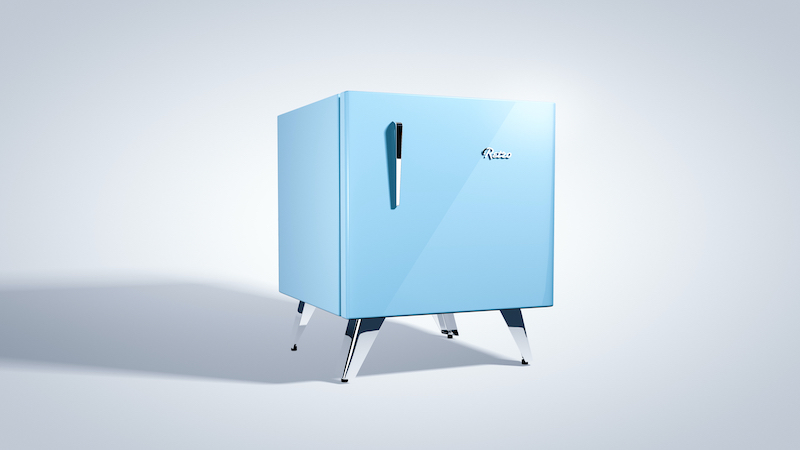 For houses that require a little more freezer capacity than a normal kitchen freezer, a mini freezer can be an excellent option.
Therefore, in this article, we will cover what a mini freezer is, how it works, the different types of mini freezers and the best mini freezers you can buy!
Read on to find out more!
What is a Mini Freezer?
A mini compressor fridge freezer functions similarly to a standard refrigerator. The inner processes are essentially the same regardless of size. When compared to other types, this sort of refrigerator is usually the coldest.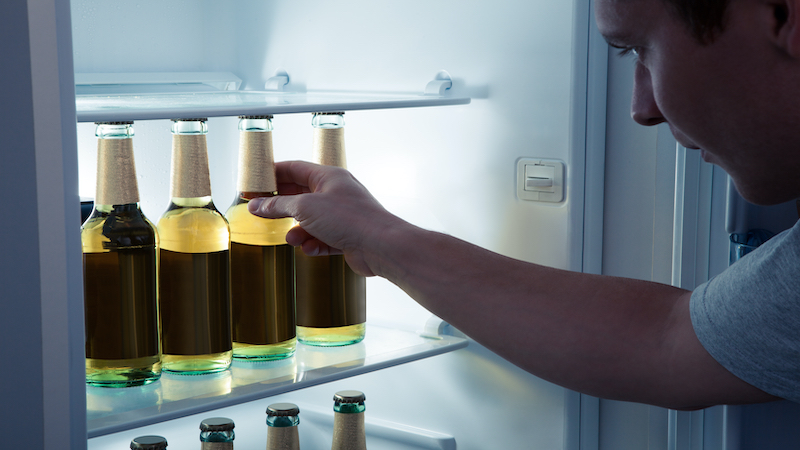 These freezers are extremely versatile and dependable, as they can keep food both chilly and frozen. Even if they aren't level, they operate efficiently! A mini-fridge freezer is ideal for camping or living in a van since it allows you to preserve fresh or frozen food for far longer than normal coolers.
The portability of micro freezers is one of their key advantages. A tiny compressor appliance is the next best thing to a full-sized refrigerator in situations when it is simply not practical. In addition, this sort of compact freezer is quite quiet.
So, if you're trying to sleep in your van and don't want to be disturbed, your fridge freezer won't be producing too much noise. A mini freezer is a great option if you want something that is practical, efficient and versatile.
How Does a Mini Freezer Work?
Refrigerator freezers with compressors use a pump to bring in the refrigerant fluid. This fluid is pumped into a dedicated high-pressure condenser chamber that is maintained separately from the refrigerator section.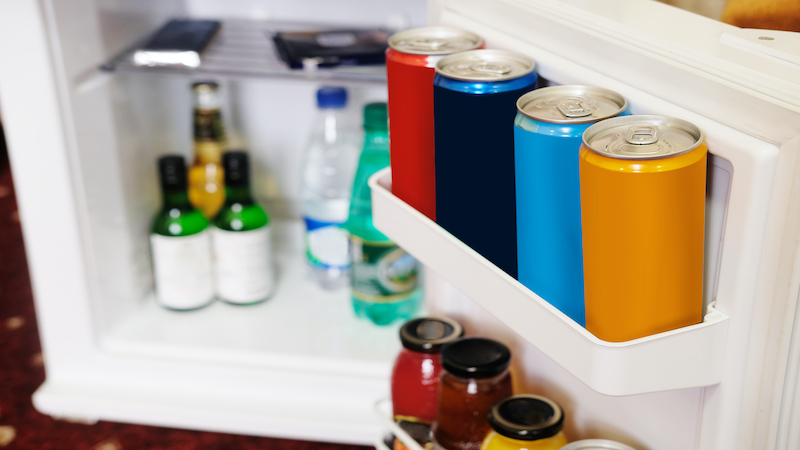 As a result of the increased pressure, the fluid heats up and is expelled into the atmosphere. This is where the magic happens: as the heat is transferred to a lower-pressure evaporator, the temperature rapidly drops.
By alternating between these two fluid cycles, a compressor mini fridge freezer maintains your desired temperature. Cold air is held inside, while hot air is released into the surrounding region regularly. Regardless of the temperature you pick, this effective system can easily maintain it.
Types of Mini Freezers
Mini freezers are available in different styles, models, and configurations.
Here are the different types of mini freezers available read more to see the perfect mini freezer for your home.
Mini Chest Freezer
The chest freezer is the most cost-effective option. It's usually shaped like a huge box or chest with an upward-opening hinged cover. A chest freezer necessitates ample storage space as well as plenty of headroom.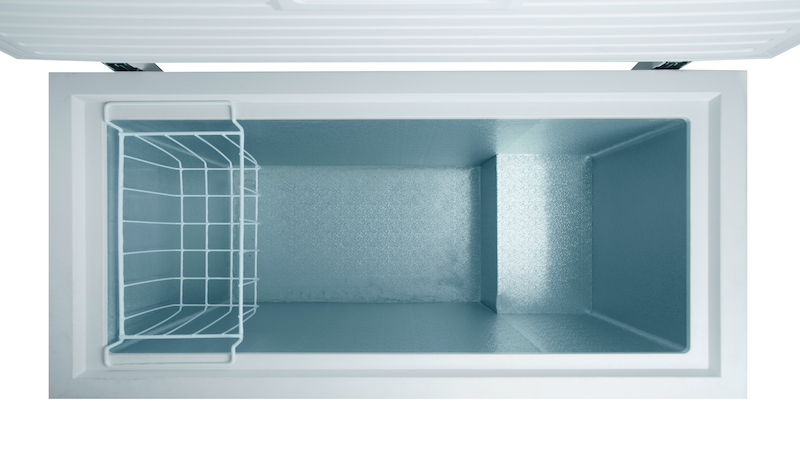 They come in a variety of sizes, from small to large. Because a chest freezer is such a huge device, it is mostly seen in a home's garage, utility room, or basement.
Chest freezers do not have a fan, which restricts air circulation and causes temperature fluctuations; nonetheless, as long as the temperature remains below freezing, the foods will not be harmed.
Meats and other larger products are normally stored in the lower regions of the freezer, where they will freeze solidly and last for months.
Mini Fridge Freezer
When compared to other types, this sort of refrigerator is usually the coldest. These fridges are extremely versatile and dependable, as they can keep food both chilly and frozen. Even if they aren't level, they operate efficiently!
A mini-fridge freezer is ideal for camping or living in a van since it allows you to preserve fresh or frozen food for far longer than normal coolers.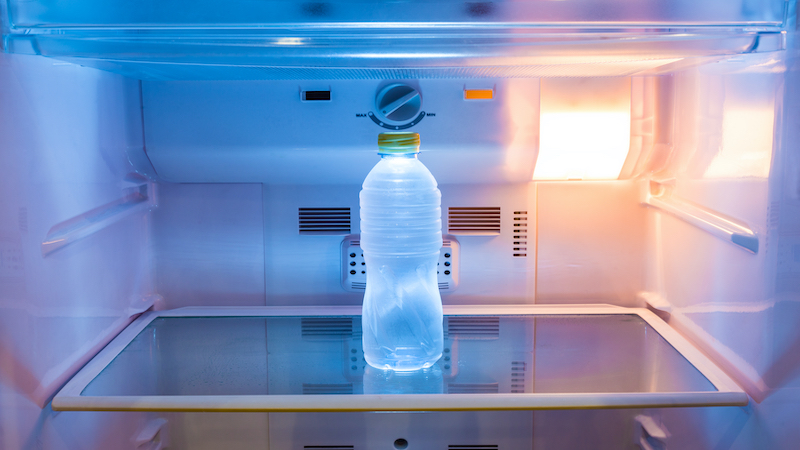 A compressor fridge freezer is a great option if you want something more than a normal cooler. It's practical, efficient, and quite versatile.
You can maintain precise temperatures without having to regularly replenish melting ice because it works wonderfully in a range of settings and environments!
Mini Tabletop Freezer
Tabletop freezers are small and light, allowing them to be put on a counter or tabletop for quick access, which is especially beneficial if space is limited.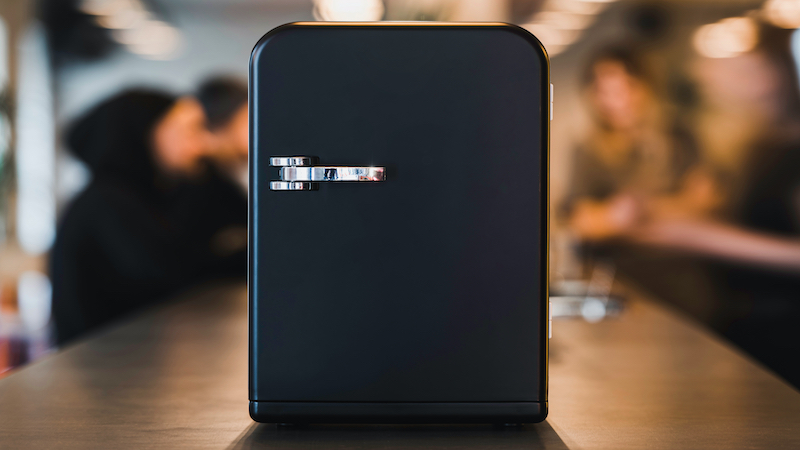 They're also great for stuff you need to get to fast or if you have mobility concerns and can't bend down low.
Portable Mini Freezer
Portable mini freezers are recognised for their "easy transportation." These refrigerators are modest in size and have limited storage space.
They also use very little electricity (as little as 12 volts), making them ideal for travel. People think about them on lengthy road journeys, in dorm rooms, and even in small offices because of their size.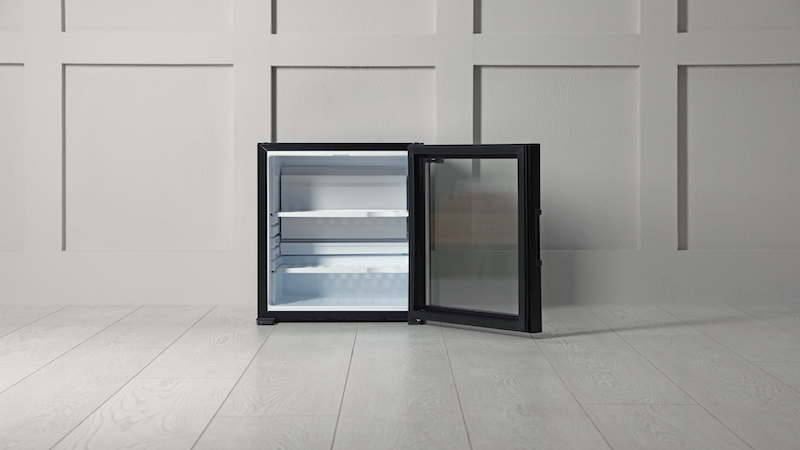 Thermoelectric technology is used in most portable freezers to provide optimal cooling and heating. You read that correctly: "cooling and heating."
For those unfamiliar with the mechanism, there is a pump that suctions heat from within the fridge. The nicest part is that it can also be made to work in the reverse direction.
Mini Deep Freezer
The purpose of a tiny deep freezer is to keep frozen items frozen. Because they're used for long-term storage, they're usually kept at lower temperatures than the freezer.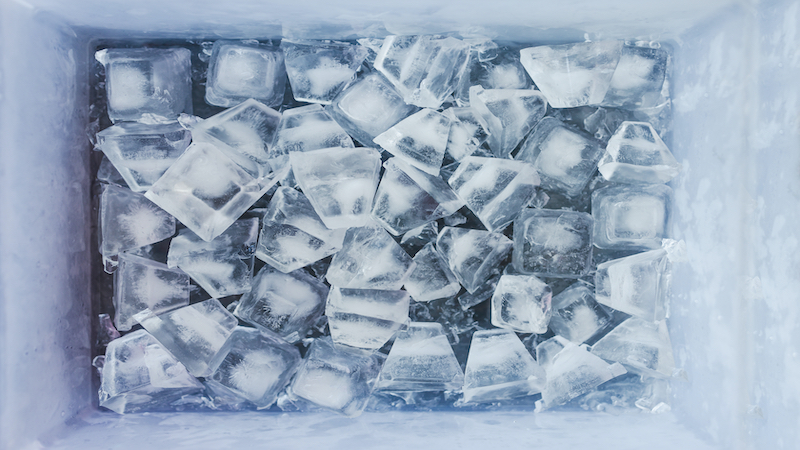 Inside a tiny deep freezer, the insulation is thicker than that of a refrigerator. Domestic freezers can be used as a separate device or as a compartment within a refrigerator.
Best Mini Freezer
Are you seeking a tiny freezer that will fit in your small kitchen? For most homeowners, a freezer is an essential component of their kitchen.
A dedicated chest freezer or upright freezer, on the other hand, is not suitable for every kitchen. If you live in a tiny space, you may require a freezer that fits neatly beneath a unit or can be hidden in a cupboard.
Not everyone has a kitchen big enough for a full-sized freezer which is why we have created this list of the best mini freezers you should buy for your home!
Best Mini Chest Freezer
Sia Slimline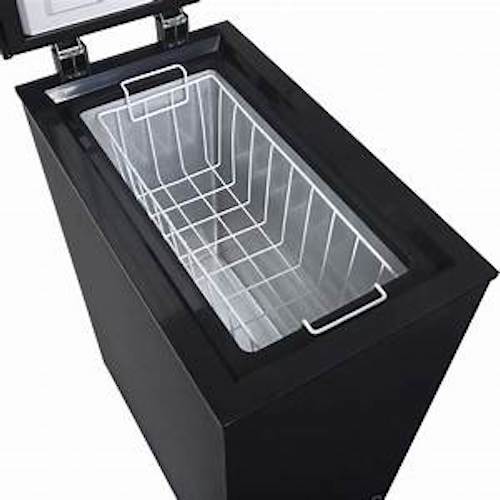 The Sia Slimline is a great option if you want luxury quality and a compact freezer that will endure for a long time. Its taller, slimmer shape allows you to store a lot of stuff while keeping a tiny footprint.
There's no need to worry about the Sia Slimline compact freezer wasting electricity unnecessarily or frivolously because it has an A+ energy efficiency rating.
The Slimline also has seven different temperature settings for complete control. To make defrosting as simple as possible, a convenient drain is installed at the bottom of the appliance. This tiny freezer is matte black in colour and comes with one-year parts and labour warranty.
Given its bigger size, it is also fairly silent in operation. While the slimline design of this freezer saves a lot of floor space, you will have to rearrange the food contents to access items in the freezer's bottom. Furthermore, there is no interior light.
Pros
Excellent energy rating
Slimline design
Seven temperature settings
Cons
No interior light
Limits access to food
Igenix Freestanding Chest Mini Freezer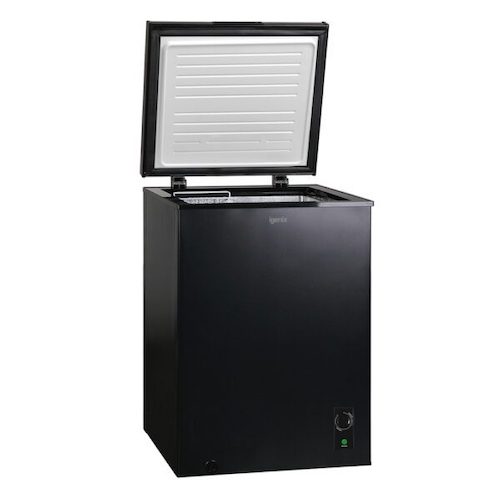 The Igenix IG100 has a high capacity of 100 litres. This is so huge that it hardly qualifies as a tiny freezer. That's why it was our top pick for the best compact chest.
Another reason we like this freezer is that it was designed for use in garages and outbuildings, which is something that not all tiny freezers can handle.
The top of the Igenix IG100 micro freezer has a lift-up door, comparable to a large freezer chest. Despite its bigger size, it operates quietly and includes a rotary dial-adjustable thermostat that allows for precise temperature control.
The IG100 comes with a wire mesh freezer basket that sits within the appliance on top and rests on the upper lip. It also comes with a two-year warranty and adjustable feet to assist keep it level, even if the floor it's on isn't.
The biggest disadvantage of this little chest freezer is that it has an energy class of F, which means it is inefficient. Furthermore, it lacks an inside light, and the mini freezer's larger height makes the contents accessible to shorter people.
Pros
Wire mesh freezer basket
Two-year warranty
Adjustable feet
Cons
Not the best energy rating
No inside light
Russell Hobbs RHCF150 White Chest Freezer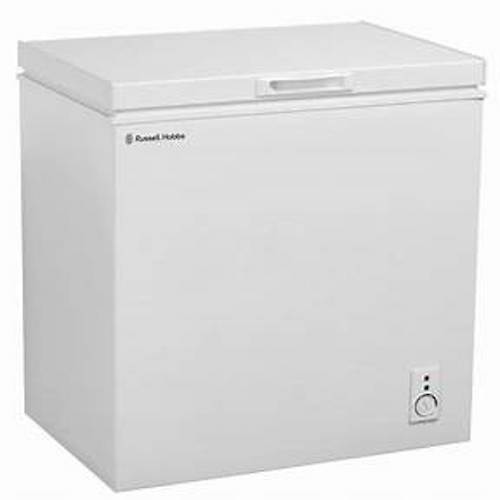 It has a 142-litre capacity, which is more than enough freezer space for a medium-sized family's weekly grocery shopping.
It includes one enormous freezer compartment, however, this may be a drawback for individuals who prefer things to be organised. There is also a wire basket to keep commonly used products. When opened, it has a lid top that balances on its own.
There's also a thermostat that can be adjusted to provide you with complete temperature control.
It can be kept outside (and has adjustable feet, which is useful if you're storing it in a shed or garage with an uneven floor). This is, in our opinion, the best chest freezer money can buy.
Pros
Adjustable feet
Wire basket
Larger freezer compartment
Cons
Not as organised as other freezers
The sticker is hard to remove
Best Mini Fridge Freezer
Erommy Mini Fridge with Freezer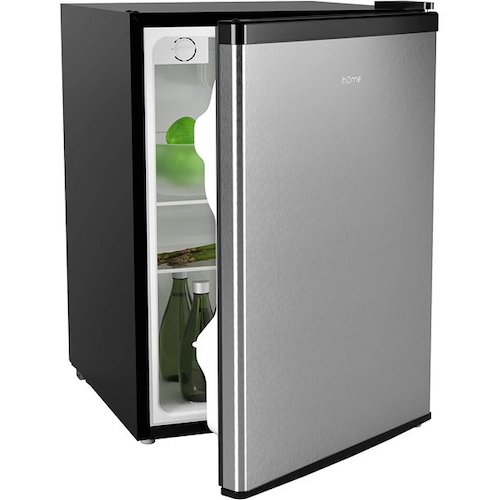 This space-saving compact freezer fridge keeps food, beer, and other beverages cold without taking up too much room. Smaller rooms or areas, such as playrooms and small kitchens, can accommodate this.
The shelf may be removed to increase storage and make cleaning easier. On the top shelf, numerous cans or eggs can be stored, and on the bottom shelf, a litre or taller bottles and containers can be stored.
The temperature of the Erommy refrigerator could be changed between 0 and 5 modes. The temperature may be adjusted by rotating the knob to better match the outside temperature and save electricity.
For your living and working settings, provides a comfortable and peaceful indoor atmosphere. Its energy-efficient design not only saves money on electricity bills but also allows you to live a healthy, low-carbon lifestyle.
Pros
Removable shelf
Adjustable temperature
Energy efficient
Cons
Loud operation
It may be too small for some items
TopZone Mini Fridge Portable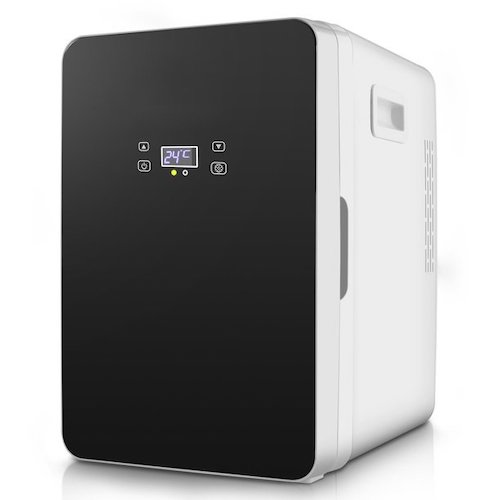 The Mini Fridge serves as both a cooler and a warmer. By using an internal thermostat, you may cool down 20°C below ambient temperature or keep heated to 65°C.
Within an hour, 28°C will drop to -13°C, 28°C will drop to 11.9°C in two hours, and 28°C will drop to 1.3°C in three hours.
Semiconductor refrigeration without CFCs is more energy-efficient, quiet, and environmentally friendly. To set the temperature, all you need to do is touch the LCD temperature control panel.
This refrigerator includes DC power adapters for vehicle cigarette lighters and AC power adapters for normal wall outlets.
This little refrigerator is suitable for use in bedrooms, dorms, nurseries, offices, and trucks, boats, trailers, and RVs. NOTE: If you operate the refrigerator while the vehicle's motor is running, you risk depleting the battery.
The sleek design and tempered glass front door, as well as the removable inset carry handle, make it ideal for use at home or on the go.
Pros
Attractive design
Adjustable temperature
Cons
Loud operation
It may be too small for some items
Lowry LTTF1 Tabletop Mini Fridge Cooler Ice Box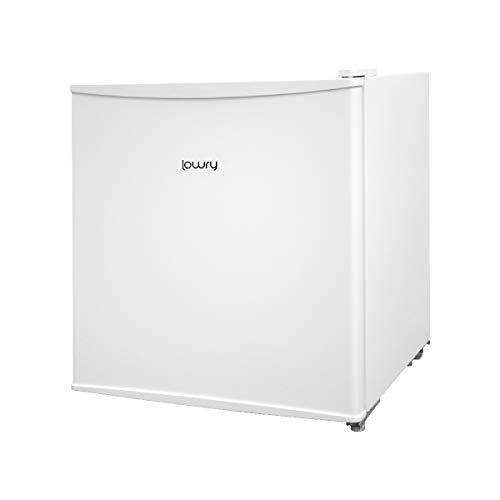 This tabletop refrigerator is small enough to fit in a bedroom or under a desk, and it's ideal for drinks and snacks. With an energy rating of F, this refrigerator helps you save money and reduce your carbon footprint. With the help of this slimline tabletop appliance, you can free up room in your main refrigerator.
This device has a reversible door, an adjustable thermostat for temperature control, adjustable feet, and is 41dB quiet. This fridge comes with a free 1-year guarantee for added peace of mind.
Pros
Reversible door
Slimline design
Compact size
Best Mini Tabletop Freezer
Russell Hobbs RHTTFZ1 Tabletop Freezer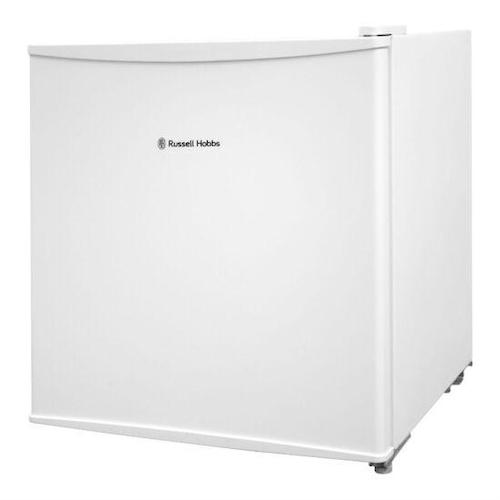 This tiny freezer from Russell Hobbs comes with three thermostat settings for precise control of the internal temperature.
This compact freezer also has a reversible door so you can customise the look to fit your area, as well as a removable wire shelf to keep your freezer contents organised and accessible.
It operates quietly enough that most people aren't aware of it. It comes in either white or black and comes with a one-year warranty.
Every few days, frost may form on the roof of the tabletop micro freezer, but this is easily remedied by leaving the door open for 10 to 15 minutes.
It has an A+ energy efficiency rating, making it environmentally friendly while also saving you money on your electricity bill.
Pros
Excellent energy rating
Reversible door
Three adjustable temperature settings
Cookology MFZ32WH Tabletop Mini Freezer
This little freezer combines performance and convenience into a sleek and compact solution that works in almost any setting.
This appliance is also available in black or white to match your taste. However, it is known to build up a lot of ice quickly so it might include a lot of cleaning.
This will fit neatly under your kitchen cabinet and has an A+ energy rating, so you won't have to worry about your energy cost being affected.
Despite its astonishing power, the Cookology tiny freezer is rather quiet, operating at 42 decibels. Keep in mind that ice can quickly accumulate in the system, so you'll need to defrost it frequently.
Pros
Available in two colours
Good energy efficiency rating
Three adjustable temperature settings
Cons
Needs defrosting frequently
Requires a lot of maintenance
Igenix IG3751 Tabletop Mini Freezer
If you live in shared housing, such as student housing, this little tabletop freezer from Igenix is great.
It has a lock feature, so you can prevent others, including family members, from stealing your food when you're not nearby. We've all experienced the frustration of arriving home to find that our partner has devoured the last of our ice cream.
The Igenix is a little freezer, but it still has plenty of storage space thanks to its 35-litre capacity, and it comes with a wire rack to help you organise your food.
In addition, Ingenix's goods come with a two-year warranty. With an A+ energy rating, this small freezer is surprisingly cost-effective to run.
Furthermore, the freezer has an adjustable thermostat, allowing you to choose how cold you want it to be.
You may even choose the freezer that best complements the decor of your living area, as it is available in both white and stainless steel. However, this device makes a lot of noise and quickly accumulates frost and ice.
Pros
Adjustable thermostat
Lock feature
Available in white and stainless steel
Best Portable Mini Freezer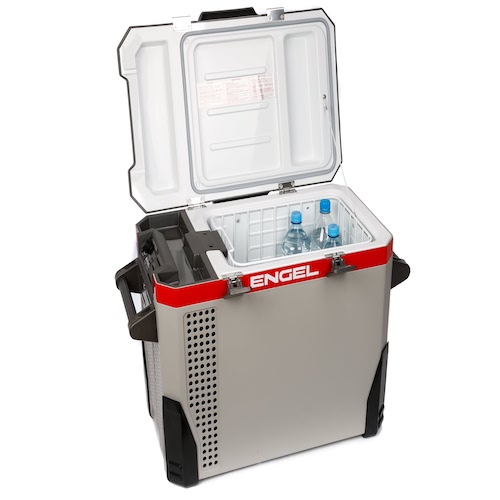 It is a wonderful choice for any travelling family due to its combination of durability, size, user-friendliness, and performance. This high-quality, small model includes a top-opening lid and a slim design that makes it easy to accommodate in your vehicle.
The external case is composed of shock-resistant ABS plastic and is ideal for off-roading or boating. For easy mobility, it includes reinforced corners and incorporated handles.
The Engel can be used as a refrigerator or to freeze or keep frozen items frozen. The temperature display control dial is conveniently situated next to the handle on the side and can be adjusted rapidly.
Despite its overall good quality, there are a few drawbacks to the Engel. The casing and compressor are both solid and long-lasting, however, the lid locks are particularly flimsy.
Furthermore, the locks are not covered by the manufacturer's warranty. Even if the latches are damaged, the fridge/freezer still works fine. A product at this pricing point, on the other hand, should not have this issue.
Pros
Great for travelling
Slim design
Includes handles
Best Portable Mini Freezer
Costway Portable Freezer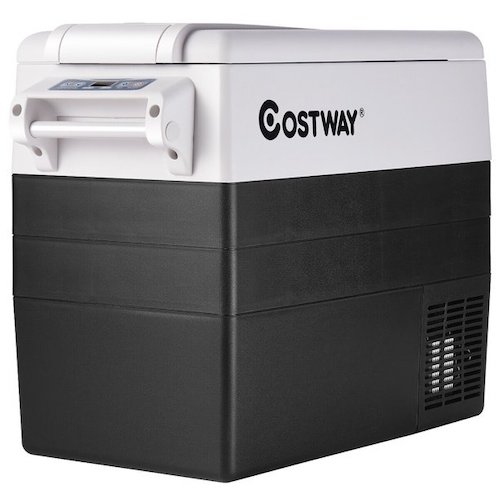 The dual-chambered portable refrigerator and freezer from Costway are ideal for a family looking for a large-capacity refrigerator/freezer with amazing features at a low cost.
This model is built to last and features a drop-in shelf to keep your food supplies organised.
The Costway features a slim profile that makes it easy to transport in a car, truck, or RV. The interior is accessible through the top-swinging lid, and the digital LCD panel is directly on the handle.
The shell is robust, which aids in the cushioning of the components during transportation.
With its powerful compressor, it may be programmed to refrigerate or freeze goods. It also includes two inside compartments, one of which is equipped with a drop-in shelf.
The Costway is regarded as one of the best units for a family in need of space but on a tight budget. If you're going on a trip, the dual partitions make it simple to organise your food, drinks, and meds, and the drop-in shelf is an added plus.
The one-year limited warranty provided by the manufacturer is insufficient. To fully safeguard your investment, you should consider purchasing an extended warranty.
Pros
Good organisation
Robust shell
Drop-in shelf
Whynter FM-65G Portable Freezer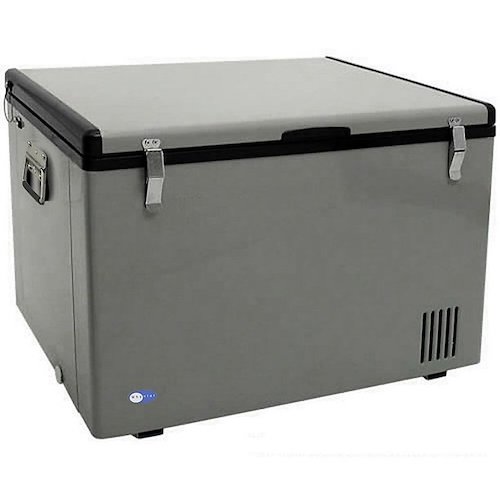 Consider the Whynter if you require a large portable refrigerator/freezer. It's the one with the most storage space on our list. It can hold 65 quarts or 107 cans. This high-quality, heavy-duty choice has a metal shell and is well-insulated.
This device has a large capacity for food storage. It's great for long camping vacations or road trips. It has an LED display with simple controls such as button settings. Setting or adjusting the temperature control range is a breeze.
With its powerful compressor, it may be configured to refrigerate or freeze the contents. For further stability, the handles, hinges, and latches are welded on. Stainless steel is used to make them. The two latches on the insulated top-swinging lid keep it closed.
This is a heavy-duty refrigerator/freezer with a lot of useful functions, so don't expect it to be light. It's a fantastic alternative for a semi-permanent vehicle installation.
It also comes with an inbuilt drain for quick defrosting. The freezer chamber is open, and it includes both a short and tall drop-in basket. In this freezer, you won't have any trouble organising your food.
On the side, directly above the power outlets, is the control panel. This may be tough to reach depending on where your freezer is located. However, these are minor flaws that should not be a problem for most users.
It's one of the nicest apartments for a family with a lot of activities. It's ideal for putting up a base camp or going on extended road journeys because of its versatile capacity.
Pros
Ideal for travelling
It can refrigerate or freeze
High-quality
Cons
Power outlets are awkward to reach
Best Mini Deep Freezer
Northair Freezer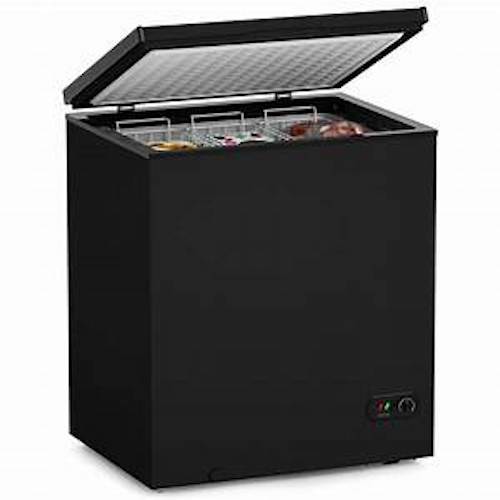 The Northair Chest Freezer is compact enough for the modern home yet large enough to store a substantial amount of food at 3.5 cubic feet. Each freezer is light and portable, measuring 21.2"L x 21.8"W x 30.9"H. As a bonus, two baskets are supplied.
The Northair Compact Chest 3.5 Cubic Freezer is designed for quick freezing. The freezer has a capacity of 3.5 cubic feet.
Capacity to hold your food products, such as meat and steak, ice creams, various types of fish, and quick-frozen dishes, to the best of your ability. The freezer is available in two colours: white and black. Black freezers are more expensive than white freezers.
It comes with a built-in thermostat that allows you to simply alter the temperature; the controller offers seven temperature settings. Level 1 is the coldest, while level 7 is the coldest.
It's ideal for keeping frozen foods, ice cream, and ice. It should generally keep the level 4 presets cool.
The red power-on light is indicated by a red colour light, whereas the green run light is shown by a green colour light. Two-wire baskets are included with the Northair chest freezer.
Its compressor is designed to be quick and quiet, with a noise level of 38 decibels. The embossed aluminium liner was used to design the freezer.
It aids in corrosion resistance and environmental protection. Pure copper is used to making freezer wires. This Northair Freezer is ideal for keeping a hot garage chilly. Northair freezers, in particular, are among the greatest deep freezers on the market today.
Pros
Portable
Corrosion resistant
High-quality design
Midea MRC6050S0AWW Freezer Chest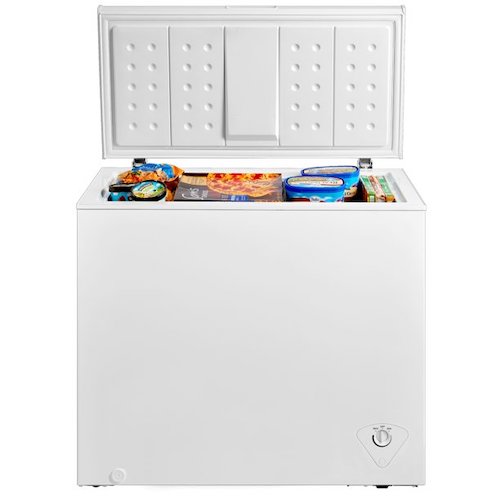 On Amazon, this freezer has 4.6 stars from over 6,300 consumers, and it's clear to understand why it's so popular.
Midea's freezer comes in three sizes (we went with the 5-cubic-foot model, but you can also get a 3.5- or 7-cubic-foot model) and has a temperature range of -12 to -28 degrees.
Its measurements are 24.9 x 21.7 x 33.5 inches, and it uses 217-kilowatt hours of electricity per year. It also has a defrost drain that is easy to use, as well as a retractable storage basket.
The balance-hinge design, which allows the lid to stay open on its own, is praised by reviewers. It also has a one-year guaranty so for the first year, you will have peace of mind.
Pros
Available in three sizes
Balance hinge design
Retractable basket
Cons
It forms a layer of frost overnight
Koolatron KTCF155 Freezer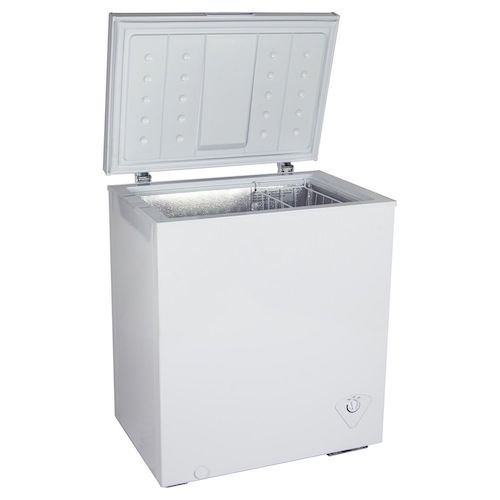 This little freezer has 3.5 cubic feet of storage space, making it ideal for apartment dwellers or persons who need to store food at their workplace. Each year, the energy-efficient cooling system consumes 193-kilowatt hours.
It comes with a removable wire basket that keeps tiny and frequently used things close at hand, making it easier to organise your contents. It's also leak-proof, thanks to an exterior plug that makes defrosting and cleaning the freezer a breeze.
This flip-up freezer model includes two removable wire baskets, making storage easier and allowing you to keep your most important items close at hand.
The leakproof external plug drain makes manual defrosting and cleaning considerably easier, and the external thermostat allows you to regulate freezer temperature without opening the door. Users appreciate how light the freezer is and how simple it is to set up.
Pros
Removable wire basket
Leakproof plug drain
Helpful thermostat
What to Consider Before Buying a Mini Freezer
A small, portable freezer could be the answer to all your food and dehydration worries... That is if you choose the proper model for your needs and space.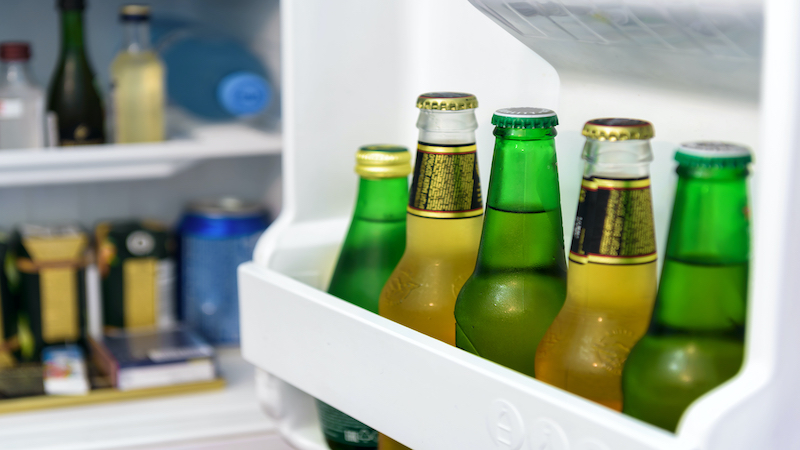 If not, why not? It has the potential to make things much more difficult. Consider a noisy small fridge in a place where absolute silence is required or a modern design in an antique environment.
We'll teach you exactly what to look for when buying a micro freezer so you can purchase the best model for your needs and space.
Where to Place Your Mini Freezer
Decide where you'll put it in the room, keeping power outlets in mind. To avoid unwanted surprises, make sure you measure them!
Some tiny refrigerators can be placed next to existing furniture, while others can be placed on a tabletop or in a cabinet. If you plan on utilising your tiny freezer in a variety of situations or bringing it on vacation, the latter is a good option.
What Will You Put in Your Mini Freezer?
It's tempting to simply choose the style we like most, but keep in mind that some models are more suited to certain types of drinks than others: Some tiny freezers are designed exclusively to hold cans.
They can be as little as 6-can units or as large as multi-shelf versions. In any case, if you only need one for soft drinks or canned beers, they're the finest option.
Models with two or more main compartments and some extra storage on the door side are the most versatile option if you need a mini-fridge for both food and drinks since they allow you to fit goods of various shapes and sizes.
Size
You can make this selection based on the amount of space you have (which is why we asked you to measure it in our first advice!) and how much you plan to store in it.
Mini freezers that specialise in one sort of beverage, such as 6-can or 40-bottle fridges, will normally specify how many units they can hold.
Others should keep in mind that cube-shaped freezers are more restrictive, so they may be a better fit for very small spaces or if you only need your fridge for a few essential items.
Mid-size and larger freestanding options guarantee greater flexibility and offer more room for a variety of drinks and food in various shapes.
Price
Depending on your budget depends on what type of mini freezer you can get. As seen before you can get cheap ones for around £80-£100 however they won't have some of the same features that the expensive ones have.
But if you will barely use it then a cheap mini freezer will be perfect for you.
FAQs
How do you defrost a mini freezer?
Take everything out of the mini freezer, including the food. While cleaning the mini freezer, store non-perishable items in the freezer. Throw away any goods that are expired or have a bad odour.
Remove the plug from the tiny freezer. If at all feasible, relocate the tiny freezer to a location where dripping water will not damage the floors. To absorb water, place a thick cloth in the interior bottom of the mini-fridge. To catch any leaking water, make sure the towel extends across the front exterior of the device.
Allow the tiny freezer to thaw with the doors open overnight.
In the morning, wipe the dampness from all surfaces. Using warm, soapy water, remove any stains and odours from the inside. Clean the mini fridge's shelves, trays, and racks. Using a moist rag, carefully wipe away any cleaning chemicals. Avoid using harsh cleaners or scouring pads that could scratch the tiny freezer's surfaces. Allow the unit to dry completely in the open air.
Plugin the tiny freezer when you get home, then reload it with all of your drinks and snacks after the temperature has cooled down inside. Set the tiny freezer's temperature to a level that is adequate for your food.
Can you remove a freezer from a mini-fridge?
A tiny fridge's freezer should never be separated from it; that is, it should never be cut off or removed. A pipe that draws freon through the freezer cools most tiny fridges. The fridge will simply not refrigerate if the pipe is removed, as there will be no cool air flowing through.
How long can you leave a mini freezer unplugged?
The bacteria will reach hazardous levels faster if the meal warms up. As a result, the USDA recommends tossing food that has been left in an unplugged, unopened fridge for more than four hours. (Frozen foods in a full freezer last two days; in a half-full freezer, they last closer to 24 hours.)
How much electricity does a mini freezer use?
When running, most mini freezers utilise 80 to 100 watts per hour. Let's say a fridge uses 80 watts for 8 hours a day. When you multiply 80 by 24, you get 640 watt-hours each day.
Are mini freezers worth it?
A chest freezer of the same size will provide you with more usable space while also consuming less electricity. According to Consumer Reports, chest freezers do a better job of maintaining a consistent, low temperature, which means they keep food fresher longer.
Sources