appliances & furniture
Best Washer Dryer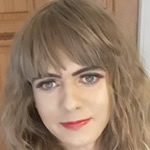 Want to know how much you'd need to pay for a good washer dryer?
In the following guide, we'll discuss the various types of washer dryers, including washer dryer combo reviews, and look at the best products in terms of category.
Among the categories we'll look at are:
Best condenser washer dryer.
Best overall washer dryer.
Best budget washer dryer.
Best integrated washer dryer.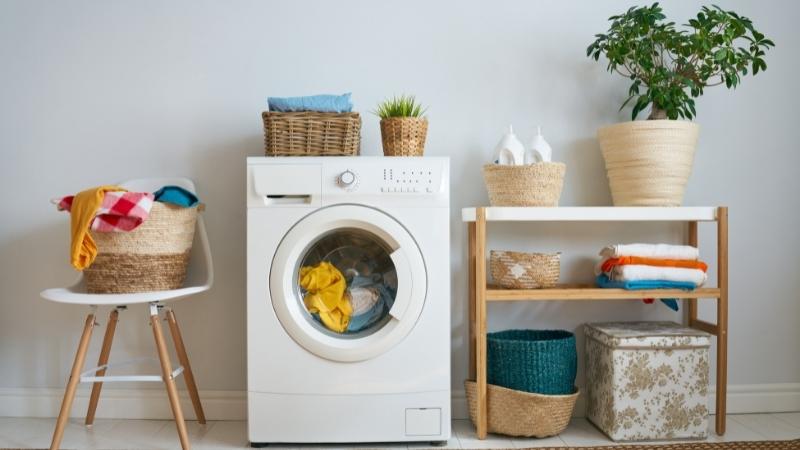 This article will prove especially useful for those thinking of buying a top-notch washer dryer, either soon or at some point down the line.
What Is a Washer Dryer?
First, let's explore what a washer dryer actually is...
This appliance is simply one that allows you to both wash clothes and dry clothes. This 2-in-1 appliance is an effective means of achieving both jobs effectively and in a cost-efficient manner.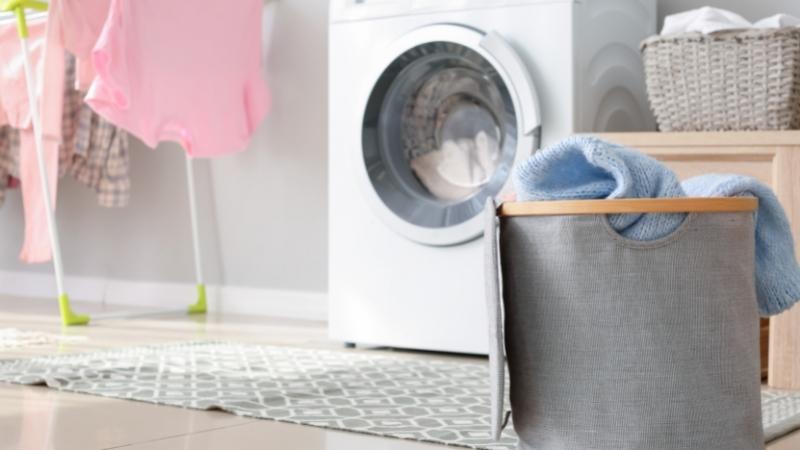 Anyone looking to get the best bang for their buck and to save on space should strongly consider purchasing a washer dryer.
How Does a Washer Dryer Work?
Quite simply, a washer dryer performs initially as a washing machine, thoroughly washing the load that has been added per the chosen cycle before using a drying mode and, of course, acting as a dryer.
Types of Washer Dryer
There are many washer dryer types to choose from in terms of its essential means of functioning. Let's take a closer look at some prominent examples.
Vented Washer Dryer
This type of washer dryer works as a regular dryer and front-loading washer would. When it comes to the drying system, the unit grasps air from the surrounding area to heat up the items within. The heated air is subsequently spun along with the clothes.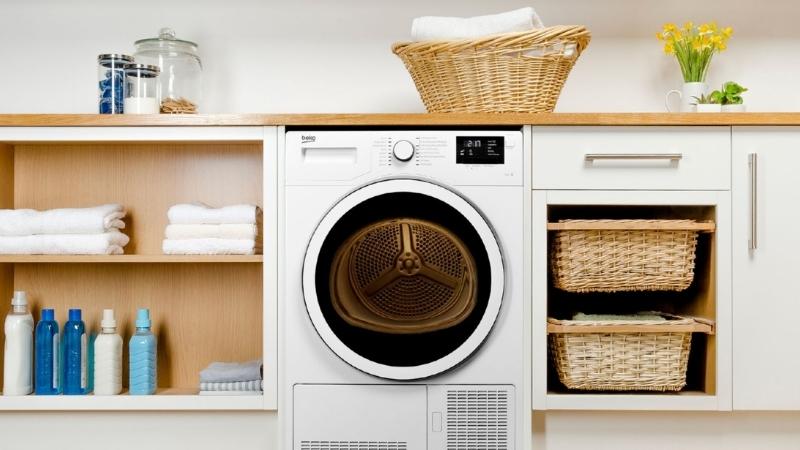 The air collects moisture, generating steam, which in turn leaves the property through a vent, hence what distinguishes it from a ventless washer dryer.
Ventless Washer Dryer
While this type of washer dryer has the same essential functions as a vented washer dryer. Ventless washer dryers employ a condensing drying system that works as a dehumidifier.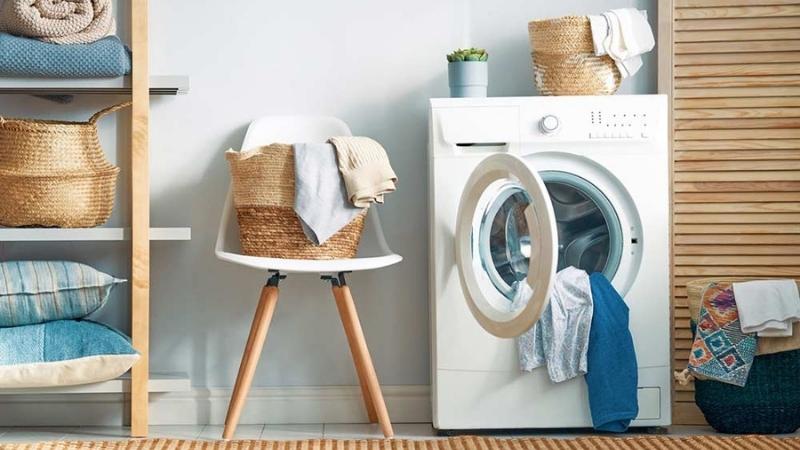 Gas Washer Dryer
This type of washer dryer tends to use less as far as utility costs go, lower energy use, won't involve paying extra for a plug, and they lower the risk of harm to your garments.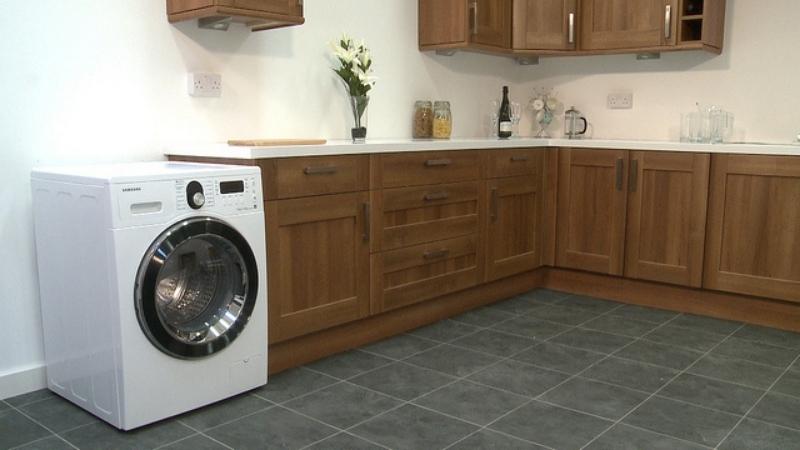 However, gas washer dryers are more costly to run than their electric counterparts, and electric washer dryers also have more installation versatility, and they don't need vents.
Condenser Washer Dryer
This type of washer dryer extracts moisture from wet linen and puts it in a container (i.e. a reservoir). Once the water is collected, the tank should be emptied after. Most modern condenser washer dryers will let you know when your tank's full.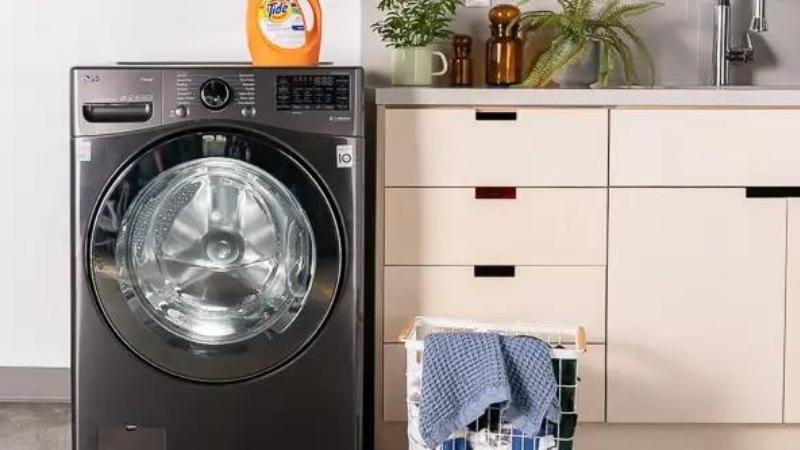 Best Washer Dryer
Here are the best washer dryers available on the market at present:
Best Overall Washer Dryer
Siemens WD14U520GB Washer Dryer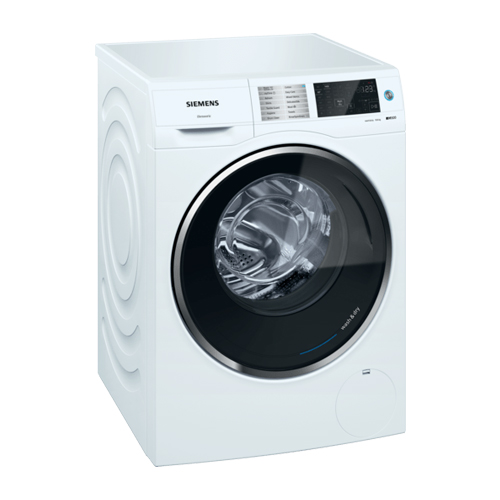 Probably claiming the title of best washer dryer 2020 and maintaining its throne through 2021 is the WD148520GB Washer Dryer from Siemens. While it's not the cheapest option, it offers good value. Additionally, it's energy-efficient and has a 10kg wash capacity as well as a 6kg drum capacity. It also offers a total of 13 wash programmes.
Things we liked
Energy-efficient
High wash capacity
13 programmes altogether
AEG 8000 (L8WEC166R)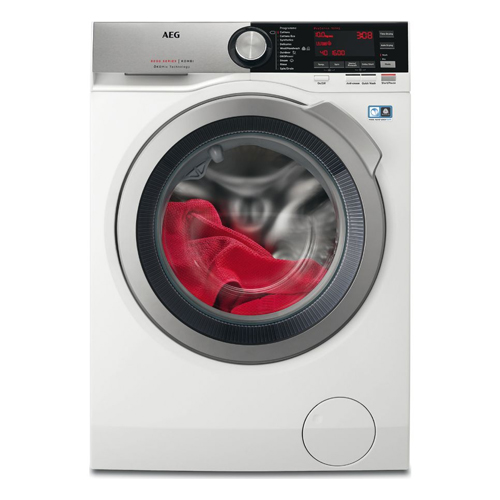 This freestanding washer dryer from AEG has a 10kg wash capacity and a 6kg dry capacity. The AEG 8000 is an example of a condenser washer dryer. It has a maximum spin speed of 1600 rpm, and it has A-rated energy efficiency.
It also comes with DualSense technology design to adjust the temperature and motion drum during the drying process to make sure that fabrics, including those that are mixed, wash and dry evenly.
Things we liked
1600 rpm spin speed
A-rated energy efficiency
DualSense technology
Best High Spin Speed Washer Dryer
AEG OkoMix L8WEC166R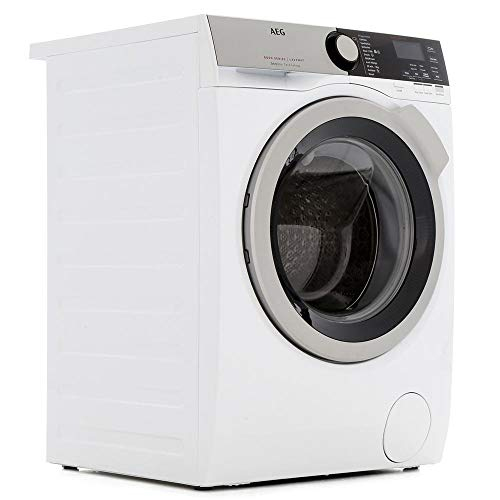 Firstly, we have this 1600rpm spin speed (the spin speed of all washer dryers being discussed in this subsection), which comes with a 10kg washing capacity and a 6kg drying capacity. Its energy use is fairly low when it comes to washing. However, it is undeniably expensive.
Things we liked
10kg washing capacity
Low energy use for washing
Miele WTF121WPM Washer Dryer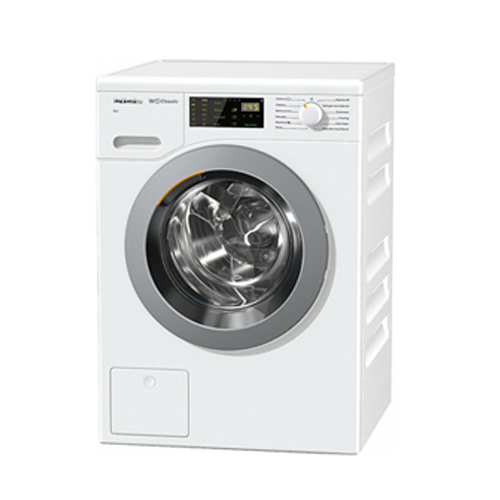 All the same, it's a quiet appliance with intuitive controls and plenty of programmes to choose from. It will save you on running costs too when compared with similar rival products.
Things we liked
Quiet
Very energy-efficient
Washing capacity of 7kg
Easy to use controls
Various programmes
Zanussi ZWD91683NW Freestanding Washer Dryer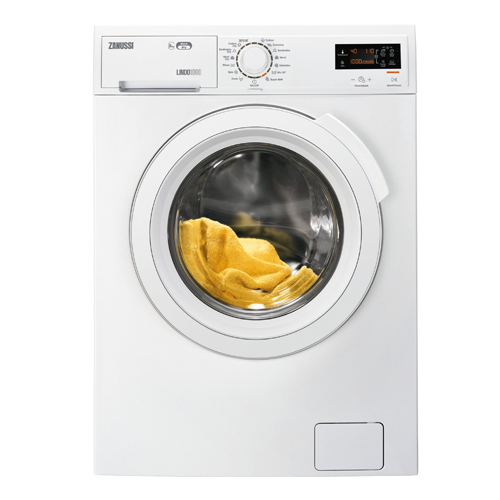 This freestanding washer dryer should remove about 80% of cotton stains and 90% of synthetics stains. It's got a 9kg washing capacity but only a 4kg drying capacity. It too offers 1600rpm. It's also not too expensive given its quality. However, its porthole measures just 30cm.
Things we liked
Freestanding
9kg washing capacity
Things we didn't like
4kg drying capacity
Just a 30cm porthole
Best Condenser Washer Dryer
John Lewis JLWD1614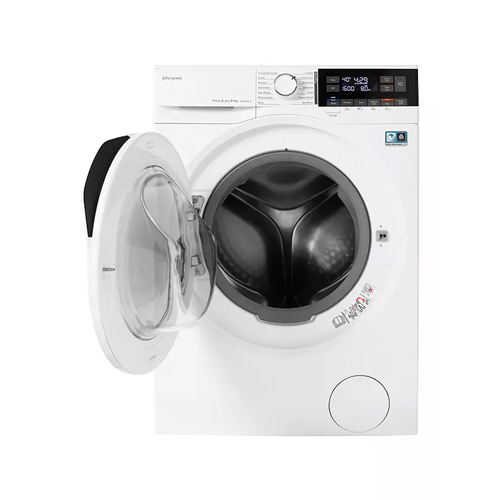 While under the John Lewis label, this mid-priced washer dryer is likely produced by Electrolux, which is AEG's parent company. It has an 8kg wet load capacity, a spin speed of up to 1600 rpm, and an extra large-drum portal. In addition, it has a very useful one-hour wash option.
However, its drying capacity is only 4kg which is a bit lower than most washer dryers out there. Some users report that the touch interface is a bit counterintuitive, and that the manual isn't that helpful.
Things we liked
8kg wet load capacity
1600rpm spin speed
Especially large-drum portal
One-hour wash option
Things we didn't like
Touch interface, not the most useful
Only a 4kg drying capacity
Bosch Serie 6 WDU28569GB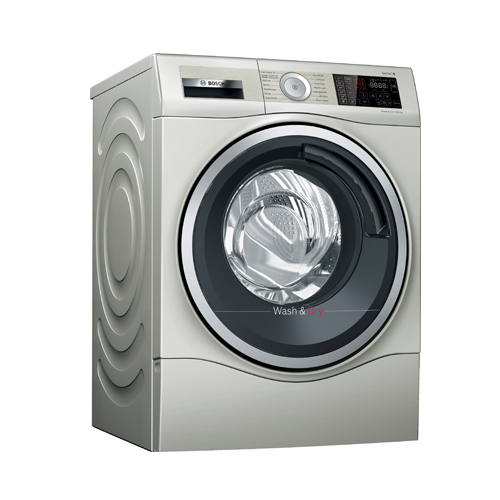 Another prominent yet expensive condenser washing machine is the Bosch Serie 6 WDU28569GB. This versatile washer dryer has a whole of preset wash and dry programmes such as Super Quick 15, HygienCare, Easy Iron and Sportswear. It offers a 10kg wash capacity and a 6kg dry capacity. It comes with a max spin speed of 1400 rpm and has an energy efficiency rating of A.
Things we liked
Versatile
10kg wash capacity
Spins up to 1400 rpm
A-rated energy efficiency
Zanussi ZWD71460NW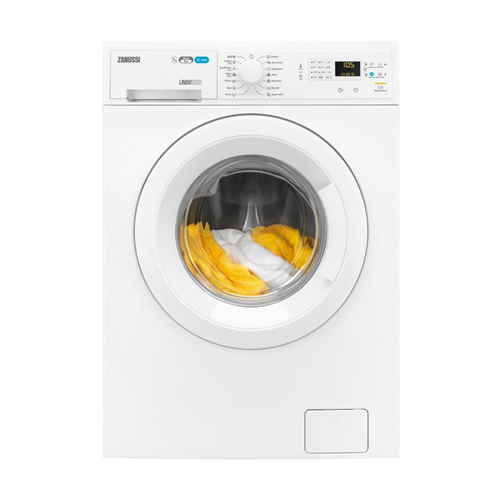 This medium-sized washer dryer offers 14 high-performing programmes, a delay timer, great back for your buck, and its digital LCD screen is particularly helpful. However, it's not that economical, and its drying capacity is just 4kg. As for its washing capacity, this lands at 7kg.
Things we liked
14 high-performing programmes
Delay timer
Digital LCD screen
Economical
Things we didn't like
Not that economical
Just a 4kg drying capacity
Best Budget Washer Dryer
Zanussi ZWD76NB4PW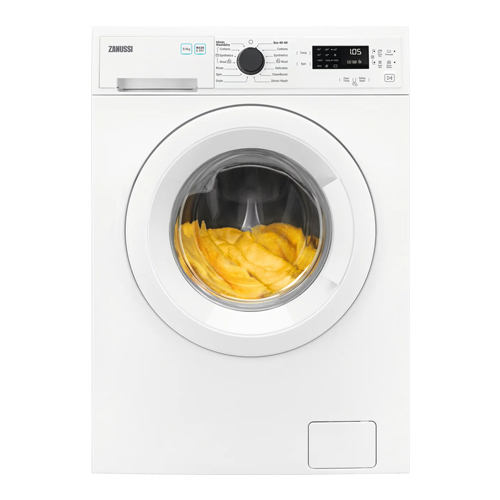 This appliance has a spin speed of up to 1600 rpm, an A-rated energy efficiency, and as for its capacity offers 7kg for washing and 4kg for drying. Among the options provided by the ZWD76NB4PW are a one hour Wash & Dry function, as well as 21 wash and dry programs. This Zanussi washer dryer also comes with an eco mode, which can cut back on your energy bills.
Things we liked
1600 rpm spin speed
A-rated energy efficiency
21 wash and dry programmes
Eco-mode
Things we didn't like
Only 4kg capacity for drying
Not suitable for a particularly large family
Hotpoint FDL9640KUK Washer Dryer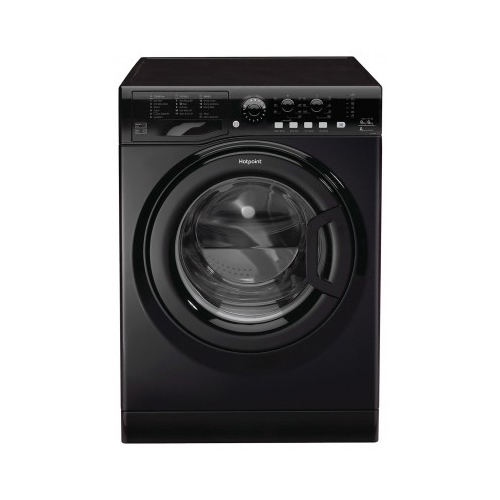 This washer-dryer comes with a 9kg wash capacity and 6kg drying capacity. This appliance's anti-stain technology is also very useful at removing most stains. The FDL9640KUK washes and dries clothes in only 45 minutes, with the same outcome as you'd get from a longer cycle.
It comes with Super Wash and Eco Wash, among other cycles. It has an anti-allergy wash that can remove 99.9% of major allergens, including pet dander, pollen, and dust.
Things we liked
Offers anti-stain technology
Great 45-minute cycle
Anti-allergy wash
Things we didn't like
Not the highest quality washer dryer
Indesit Innex XWDE 861480X S Washer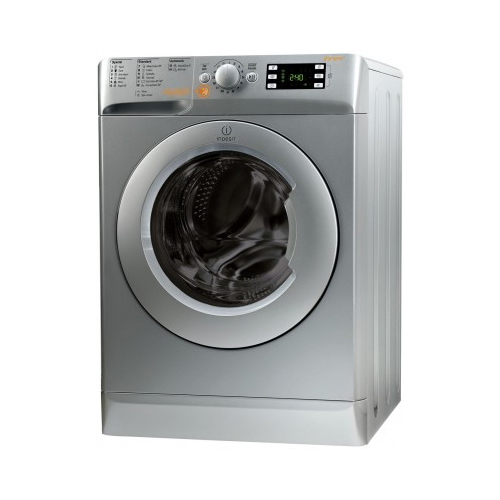 This washer dryer from Indesit employs push and wash dry technology, which allows users to wash and dry their clothes straight through with the press of just one button! It will offer a 45-minute wash and dry cycle that begins with a 30°. The XWDE 86140X S washer dryer comes with a 1400rpm maximum spin and an 8kg washing capacity as well as a 6kg drying capacity.
Things we liked
Multi-purpose
One button for a wash and dry cycle
Budget-friendly
Things we didn't like
Just a 1400rpm max spin speed
Best Integrated Washer Dryer
Beko WDIK85412F Integrated Washer Dryer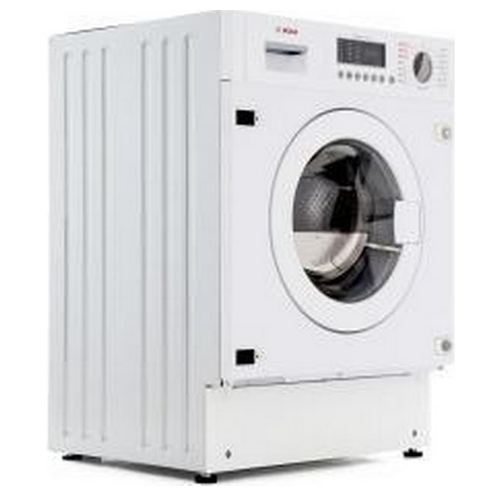 This built-in Beko washer dryer weighs 68kg, provides a 1400rpm spin speed, an 8kg washing capacity (5kg for washing and drying), and comes with a child-lock. Further, variable washing temperatures are available. However, it has a fairly powerful energy-efficiency rating.
Things we liked
Variable washing temperatures
Child-lock
Hoover H-Wash & Dry 300 Pro HBDOS695TAMCE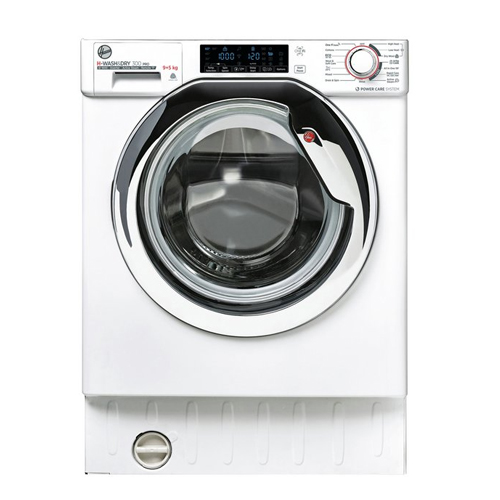 If you're looking for a hi-tech built-in washer dryer, consider this option from Hoover. It has Wi-Fi connectivity and is also a reasonably energy-efficient choice. Beyond that, this washer dryer has a 9kg washing capacity and a 5kg drying capacity.
Things we liked
Wi-Fi enabled
Fairly energy-efficient
AEG 7000 Series L7WE7631BI Integrated Washer Dryer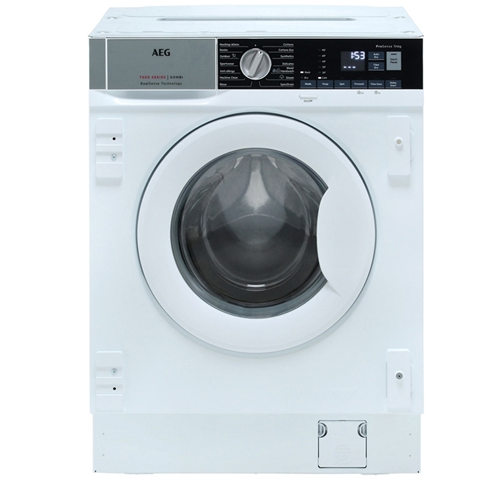 The L7WE7631BI is a popular albeit costly washer dryer from AEG. It's an example of a Currys washer dryer (in terms of what you can find on their website) – with plenty more examples available at Currys. This AEG washer dryer has a maximum spin speed of 1551rpm, a drying capacity of 4kg, and a washing capacity of 7kg.
What to Consider Before Buying a Washer Dryer
There are various points that you should take on board before purchasing a washer dryer. Let's take a look at some standout examples.
Price
While some washer dryers are available for a budget price of under £500, others cost over £1000, and many can be found with a mid-range price of somewhere between £500 and £1000. Picking your budget should be your primary decision before looking into sourcing a washer dryer.
Where You'll Put It
Considering where you're going to locate your washer dryer is an essential point. Some households will have more room than others, and further, where you put your washer dryer will depend on the power source and whether it's a vented or ventless appliance.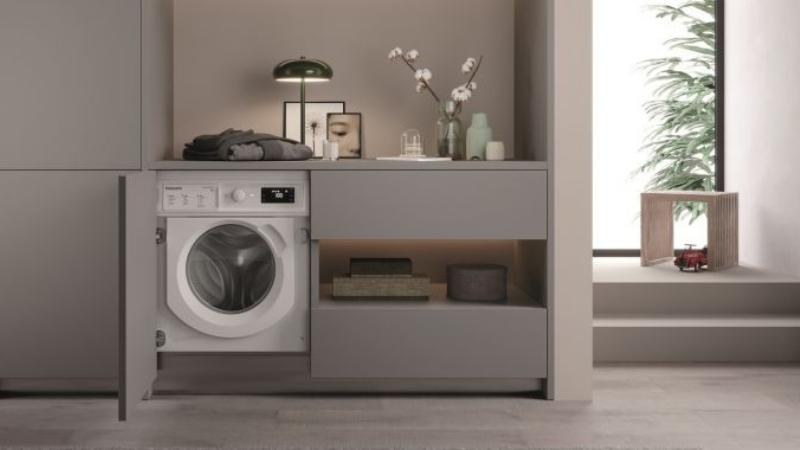 Capacity
While some washer dryers may have a capacity of just 4kg or 6kg for washing or drying, others have significantly more room. The larger your family and the more clothes you and your family go through on a week-to-week basis should be considered when deciding what sort of washing/drying capacity you'd need from a washer dryer.
FAQs
How do you install a washer dryer?
The exact process will depend on a variety of factors. However, generally speaking, you'll need to turn off your current machine, detach its wastewater hose and then fit the new washer dryer. Next, add cold water via the hose and turn on the tap.
Then, fit the wastewater pipe and ensure that the machine is level. At this point, you should be good to go! It's always important to check with your manufacturer's instructions, however, for the exact process.
Where does the fluff go in a washer dryer?
This should be collected by the washer dryer's lint filter.
How long does a washer dryer last?
In general, about ten years. But, of course, the better it's taken care of, the longer it should last.
What is an integrated washer dryer?
This is just another way of saying a built-in washer dryer.
Can I use a washer dryer to only wash?
Usually, yes, so long as it has an option for this. The end result should more or less match that of an equivalent washing machine.
How much does it cost to run a washer dryer?
To wash and dry an average full load, you can expect the running cost to land around £0.75. For an average household, this may add up to about £150 to £250 a year.