appliances & furniture
Best Fridge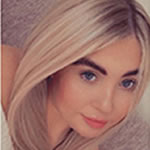 A fridge is a must-have in any kitchen, and if you're a serious eater (or simply live in a busy household), you might have several.
The days of a modest freezer shelf in a small waist-high refrigerator are long gone; today, there are various fridge freezer kinds, forms, sizes, and additional functions to suit all budgets and spaces.
However, there are so many on the market that it can be overwhelming.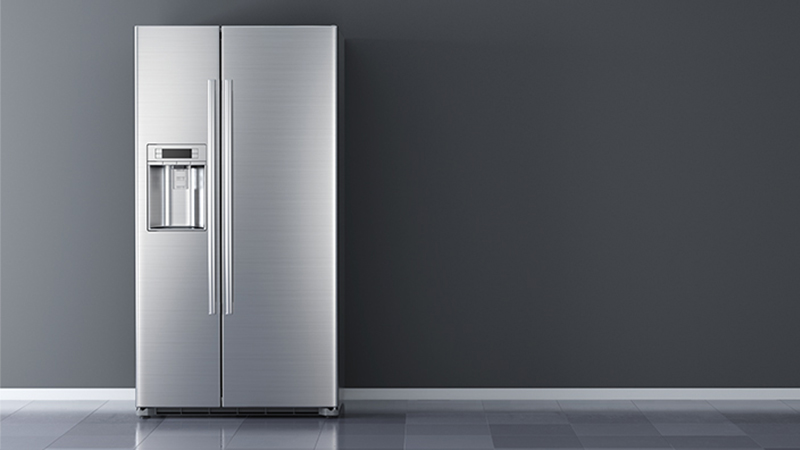 That's why we have created this article to help you find the perfect fridge for your home.
This article will cover what a refrigerator is and how it works and go through and discuss the different types of fridges.
We will also tell you about the best fridges on the market! So, if you want to find out more, carry on reading.
What is a Fridge?
The most valuable household appliance is a refrigerator. It cools food and beverages by forcing a liquid refrigerant through a sealed system, causing it to evaporate and remove heat from the fridge.
The vaporised refrigerant is transferred through coils (at the back or the bottom) outside the refrigerator, and this heats the vapour and converts it to a liquid again.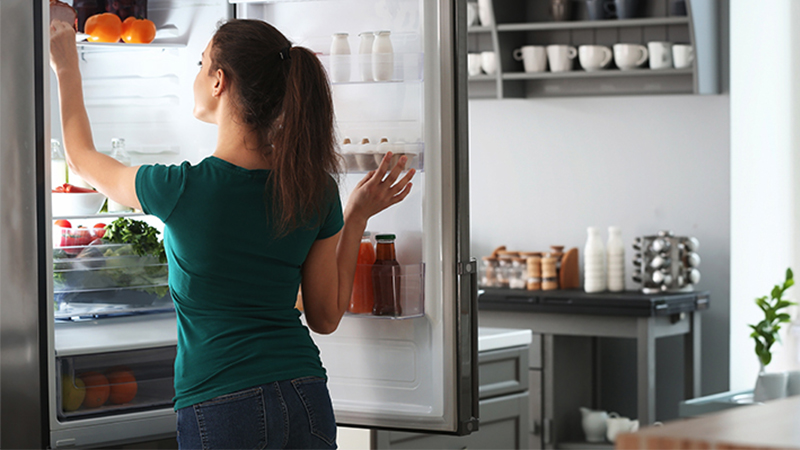 Refrigerators make it simple to keep food fresh. Food that would have gone bad in a matter of hours on the counter now lasts a couple of weeks in the fridge.
This makes our life easier and helps us stay healthy by lowering our chance of contracting food-borne illnesses. Bacterial growth is considerably slowed when the temperature is reduced, and bacterial growth is completely stopped when something is frozen.
How Does a Fridge Work?
There is a narrow pipe flowing back and forth underneath or at the rear of a refrigerator. The pipe used to be filled with Freon gas. Because this isn't exactly eco-friendly in the event of a leak, a new sort of gas or refrigerant is now employed.
The refrigerant starts as a liquid and is pumped via tubes by a motorised compressor inside the fridge. This compresses the refrigerant and transforms it into a vapour, removing the warm air from the refrigerator while leaving cold air behind.
After passing through the thinner pipes outside the fridge, the vapour warms up and returns to a liquid state. Because warm air is released into the room, you may notice heat emanating from behind or beneath the refrigerator.
The cycle is then repeated indefinitely. The compressor turns off when the fridge reaches the specified cold temperature. Because the refrigerator isn't entirely airtight, you'll hear the compressor turn back on as it warms up again.
Types of Fridges
With so many various types of refrigerators on the market, you can pick one that fits your lifestyle by combining the appropriate combination of appearance, storage space, and convenience.
Our article will go over the many sorts of refrigerators so you can compare them and start looking for the ideal one. From a frost free fridge freezer to a larder fridge to a Currys fridge, there are so many options available on the market today. Below is a list of the different types of fridges.
Top Mount Fridge
This traditional refrigerator design places the freezer above the refrigerator compartment, with one side-by-side door for each. This refrigerator has a large in-door storage space and easy-to-access freezer capacity.
Because more advanced features like exterior ice and water are less prevalent in this type of refrigerator, you may typically locate top freezer refrigerators at a low price.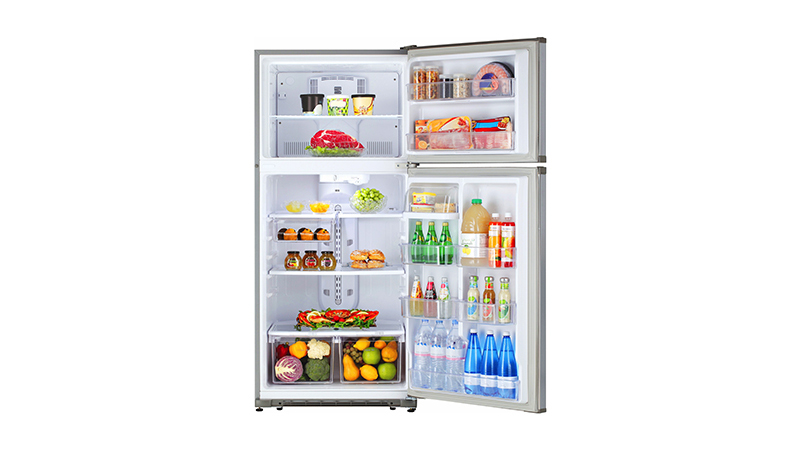 It has a classic refrigerator configuration and appearance, with more refrigerator room than freezer space. Due to the large door clearances, it provides easy access to frozen items, but it requires greater open space in front of the unit.
Bottom Mount Fridge
These freezers are the opposite of top mount refrigerators. The fresh food compartment is located on the top, with the freezer located below and accessed by a side-open door or a pull-out drawer. This design gives you a classic refrigerator aesthetic while making fresh foods more accessible.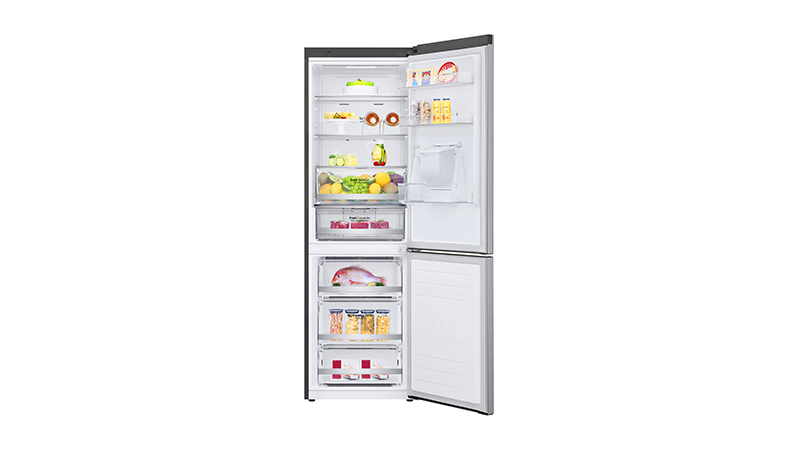 They have a larger refrigerator section than a freezer compartment. The large doors allow for easier access to fresh foods, but this means you need more open space in front of the unit.
Side by Side Fridge
Side-by-side refrigerators have two doors that open from the centre, one for the freezer and the other for the fridge. Shelving that runs from top to bottom allows you to keep vital goods towards the top and less-used items near the bottom.
In comparison to other types of refrigerators, side-by-sides usually have a larger overall capacity and additional functions.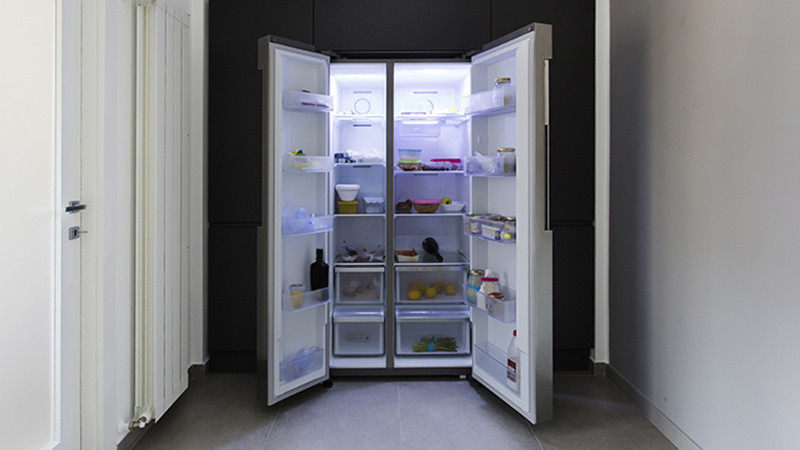 They have slightly greater freezer capacity than a french door refrigerator and vertical storage to preserve fresh and frozen foods at eye level.
They also come with adjustable shelves, door bins, and other storage options, as well as exterior ice and water dispensers. A common feature is the reduced door swing clearance, ideal for compact or tight locations.
French Door Fridge
The layout of this refrigerator is like that of a pantry. Two doors on the top open to reveal one refrigerator compartment, and a freezer drawer swings out from underneath.
Compared to other refrigerators, French door refrigerators frequently have more capacity and functionality. They're a good choice for larger families or those searching for more upscale accommodations.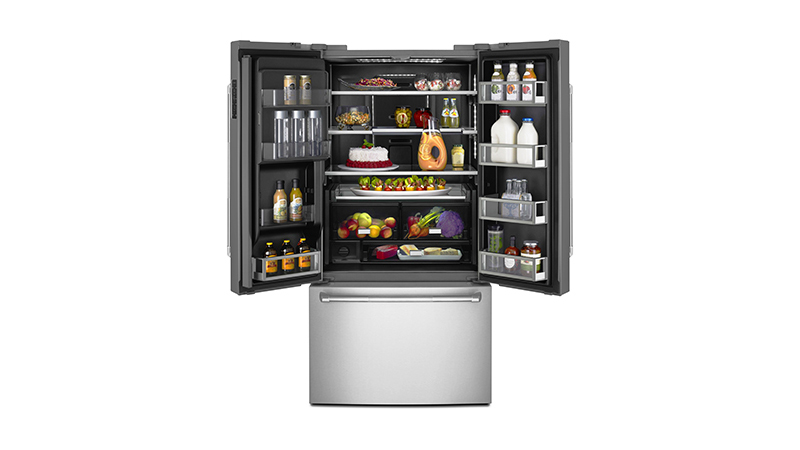 Products like frozen pizza or huge casserole dishes and platters normally require a large refrigerator and freezer compartment.
Additional features include more freezer capacity, exterior ice and water dispensers, adjustable shelves, compartments, and customisable storage.
Built-in Fridge
For a seamless look, built-in refrigerators are attached to the wall and fitted in cabinets. They're usually higher and come in a wider range of widths, up to 48 inches in some cases.
This partly compensates for the loss of depth, as built-ins are typically 24 inches deep to be flush with kitchen cabinets.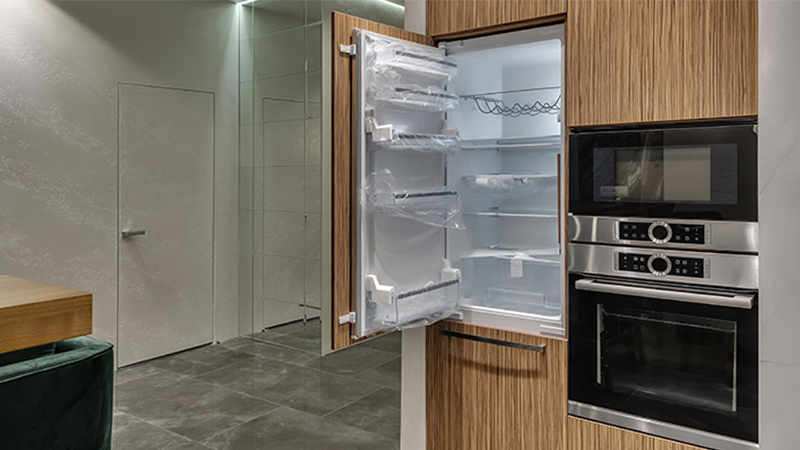 This enhanced aesthetic may come at a cost, and the installation is more permanent. This may not be the ideal solution for you if you plan to remodel or relocate shortly.
Fridge Freezer
This is a cheap fridge for your home as it includes a refrigerator and a freezer; therefore, you don't have to spend that extra money on a freezer. These are very common and come in different designs to match your home décor.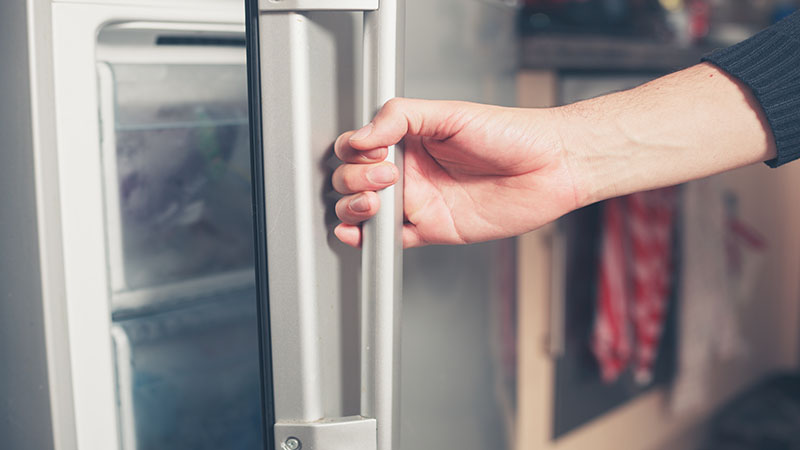 Mini Fridge
Looking to outfit an office, a home theatre, or simply give more cooling space in a different part of your house, such as the garage? A mini-fridge can be a great low-cost alternative and can even work as an under counter fridge.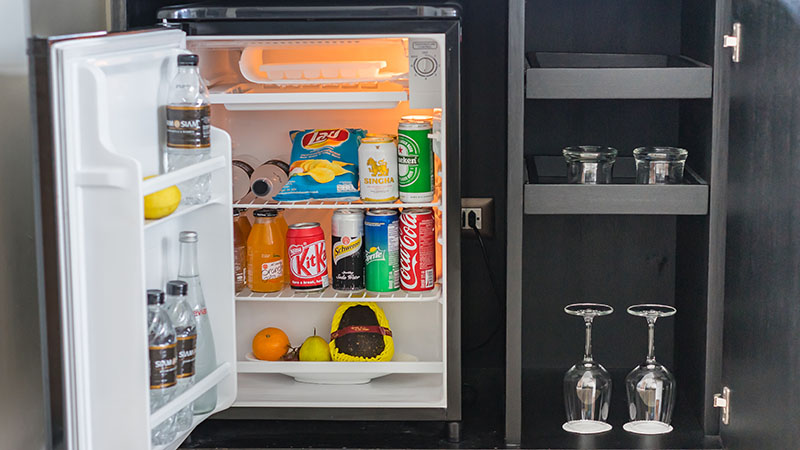 They come in various sizes and capacities, but they're all designed to fit under a desk or counter. They can be purchased as standalone devices or built-in models, just like their full-size counterparts.
Integrated Fridge
When used in this context, the term integrated simply implies "hidden inside a cupboard." Until the cupboard door is opened, the fridge inside the cabinet is completely hidden.
Some people believe that displaying enormous kitchen appliances is unsightly, but it is a matter of personal preference and lifestyle, as it is with most things.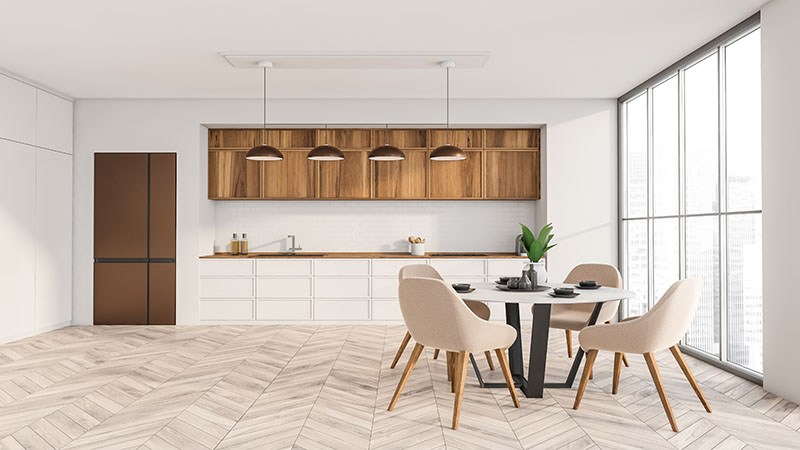 The overall effect is a cleaner-looking environment, particularly significant in open-plan living spaces.
On the other hand, integrated refrigerators consume more energy because they must use more powerful motors to maintain cool (due to the lack of air circulation enjoyed by freestanding fridge freezers). As a result, combined refrigerator-freezers are more expensive to operate.
Best Fridge
Fridges come in various shapes and sizes, even though they all serve an identical purpose. The first step in purchasing one of these appliances is deciding the model you want in your kitchen. This section includes examples of each type of refrigerator freezer.
Best Top Mounted Fridge
Haire Top Mount Fridge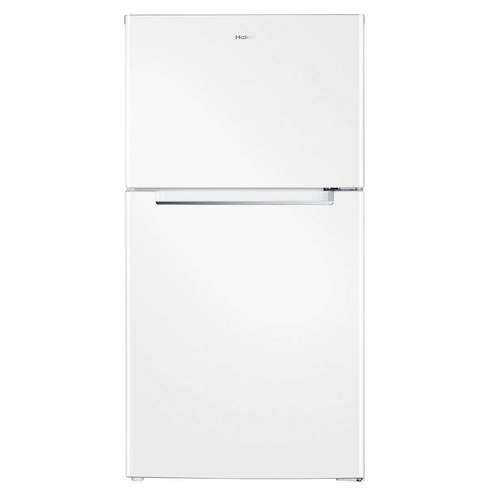 This Haier refrigerator has a total capacity of 198 litres, allowing you to store beverages, fresh vegetables, daily staples, and more. It measures 540mm wide, 1420mm tall, and 595mm deep.
Also included include a white finish, adjustable glass shelves, and a 3.5-star energy rating on the Haier HRF220TW3. It's an excellent choice for chilling fruit, vegetables, eggs, meats, and dairy products.
Pros
Customise storage space.
Reversible door option.
ChiQ Top Mount Fridge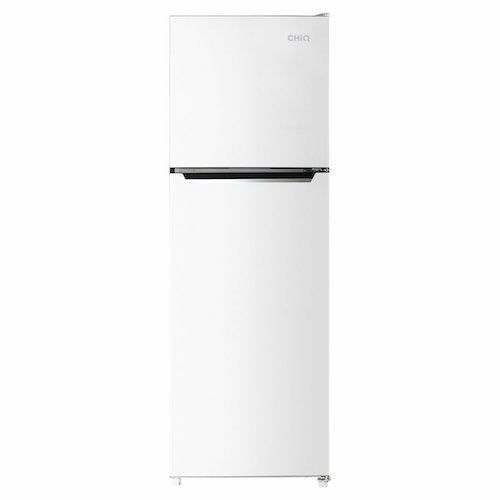 The CHiQ Frost Free feature keeps the unit at the proper internal temperature for better food preservation, eliminating the need to defrost it manually. Multi Air Flow - The technology guarantees that cold air reaches each shelf fast and uniformly, allowing food to last longer.
LG 393L Top Mount Fridge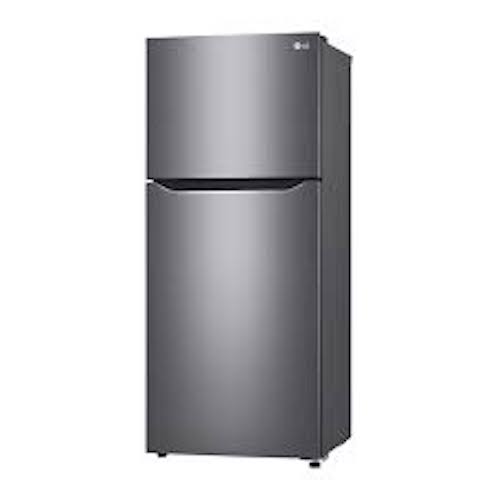 With a total capacity of 393 litres, this LG fridge can store fresh fruit, everyday staples, beverages, and more. It has a width of 700mm, a height of 1680mm, and a depth of 700mm.
The LG GT-427HPLE has a black finish, a right-hinged door, and a 3.5-star energy rating. It's a wonderful option for preserving the freshness of fruits and vegetables.
This is a more expensive type of top-mounted fridge. However, it is the best quality you can get.
Pros
Very stylish.
Has a sleek design.
Best Bottom Mount Fridge
Whirlpool WRB322DMBM Bottom Mount Fridge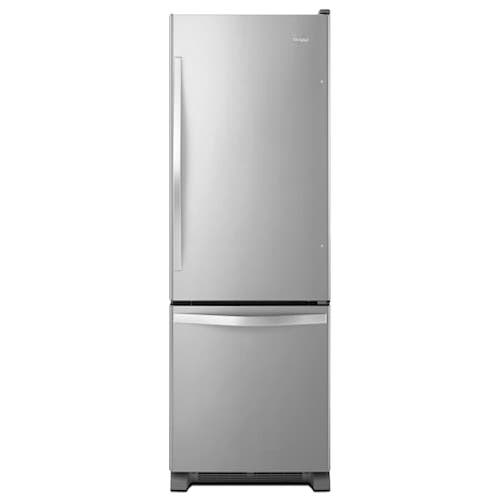 This gadget has everything, from a sleek and simple design that will blend in with your kitchen to a temperature control system that will keep your groceries at the perfect temperature without wasting electricity.
It will also help keep your produce fresher for longer, thanks to its FreshFlow technology, which absorbs any excess gas that would otherwise degrade your food.
In addition, the WRB322DMBM has a lot of storage capacity for your goods. It has a total capacity of 22 cubic feet, with the refrigerator section taking up nearly 16 cubic feet.
The fridge features five shelves to keep your groceries organised, and the freezer has sliding bins for bulkier things that make it easy to find even the most hidden bag of frozen chicken.
This bottom-freezer refrigerator offers the best value for money, with several outstanding features that will help you overlook flaws, such as the lack of a butter keeper.
Pros
Adaptive defrost monitors.
Amena Abb1921BRW Bottom Freezer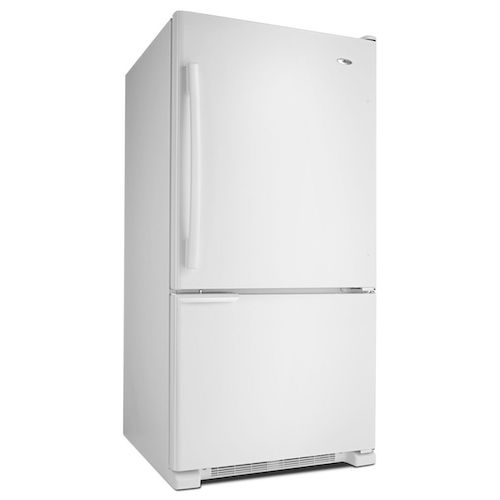 This appliance provides all of the benefits of a bottom freezer without the hefty price tag. With ease, you can add this compact but efficient fridge to your kitchen as it comes in white or black finishes—or polished stainless steel for a minor upgrade charge.
While this device lacks a lot of bells and whistles, it covers all the essentials. You'll find gallon-size door bins for milk or juice, as well as humidity-controlled produce bins, in the easy-to-access fridge.
The control panel is in the centre of the refrigerator, making it simple to modify settings and maintain proper refrigerator and freezer temperatures.
Pros
Very Quiet.
High quality.
KitchenAid KRFF507HBS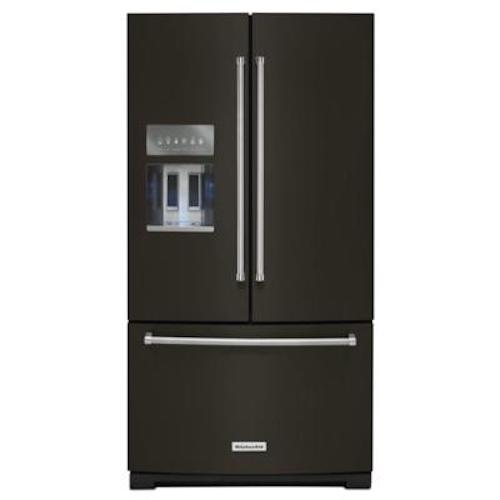 KitchenAid's KRFF507HBS is a stylish option, and it has a sleek stainless steel handle and a black stainless steel exterior. In addition to an external ice and water dispenser, this combination will give any kitchen a gourmet looks and feel.
You'll almost certainly get great feedback from your guests, and you'll appreciate the big interior, which is ideal for keeping many side dishes at once.
It has five glass shelves, two produce crispers, and a pizza box slot for easily and properly storing leftovers. The freezer takes up little under eight cubic feet of space and features tiers and partitions to store long-term items.
On the other hand, the ice machine could leak or have ice build-up around it, and it's also possible that the model will be a little noisy.
Cons
The ice machine could have built up ice.
Best Side by Side Fridge
Frigidaire FFSS2615TS Side-by-Side Fridge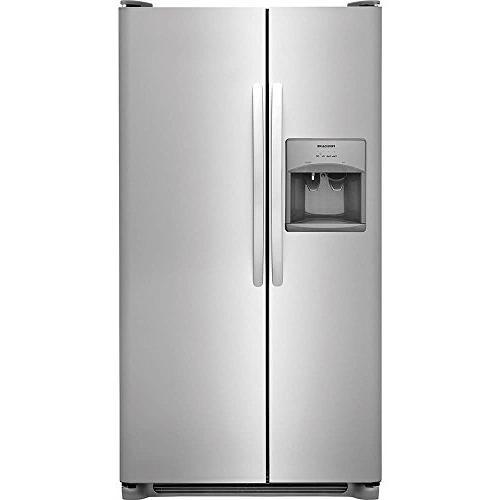 This refrigerator is roomy and offers a variety of shelving possibilities. It lacks the standard features that cost more, but it does include some bonuses that make it a decent value for the money.
Two of the shelves have flat edges, which means they aren't spill-proof. The bottom two, which are smaller, are fixed at a height ideal for children and perfect for storing snacks and liquids.
The upper two-gallon bins are adjustable for larger bottles below and adult-friendly heights. The water filter is in the back right corner, while the thermostat settings are on the top left panel.
This Frigidaire is a terrific value for the money and gets a lot of positive feedback on forums. The features are a good compromise, and you also get a few extras. There have been a few concerns with the refrigerator doors, which were stiff or misaligned in some situations.
Pros
A lot of space for storage.
Cons
Some doors are known to be misaligned with this fridge.
Avanti Side-by-Side Fridge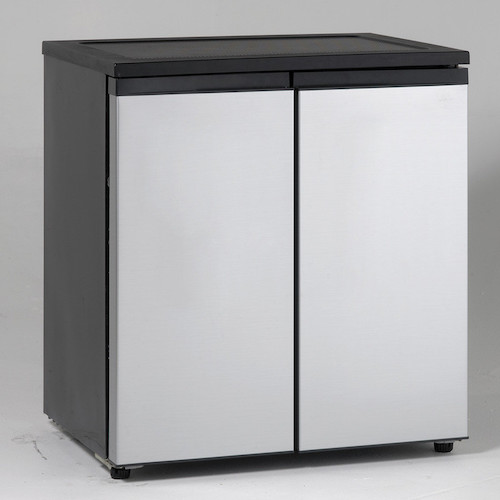 This is a real tiny side-by-side refrigerator with a large freezer compartment. It's space-saving, energy-efficient, and comes with a crisper drawer. People use these in studio flats, Airbnb rentals, small offices, and vacation homes, in addition to small kitchens.
Frigidaire FFSS2315 Side-by-Side Fridge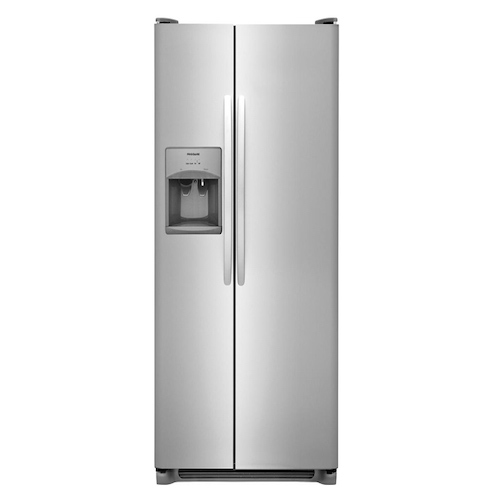 This refrigerator is adequate in all aspects for a 33-inch side-by-side and shouldn't disappoint if you're not looking for anything spectacular. A few additions don't add to the increased cost of a 33-inch model as a compromise.
This refrigerator is basic and adequate in every way, but it frequently costs the same or slightly more than the 36-inch type because of its smaller size. The 36-inch Best to Buy recommendation would be a better option if space isn't an issue.
Cons
The fridge is a bit too basic for its price.
Best French Door Fridge
Siemens iQ700 KF86FPB2A French Door Fridge Freezer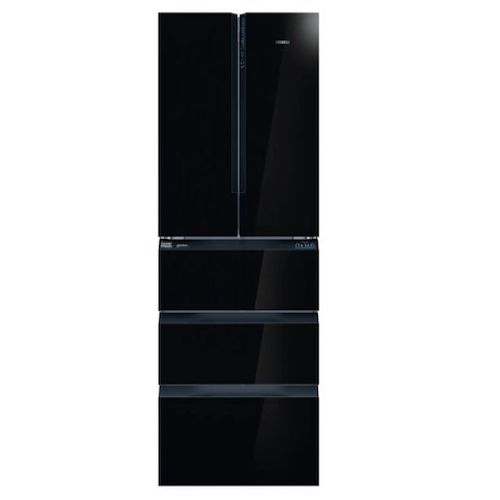 This fantastic Siemens fridge freezer combines an innovative design with outstanding performance and construction. The configuration of the fridge freezer is the star of the show here. It has a large fridge section, two freezer drawers, and a 0C compartment for keeping groceries extremely fresh without completely freezing them.
The glass covering on the appliance has received positive feedback, and it complements the textured finish underneath well. The only major disadvantage, assuming you have adequate space in your kitchen for this large fridge freezer, is the price.
Pros
The sleek designs compliment your kitchen decor
Whirlpool WRF535SWHZ French Door Fridge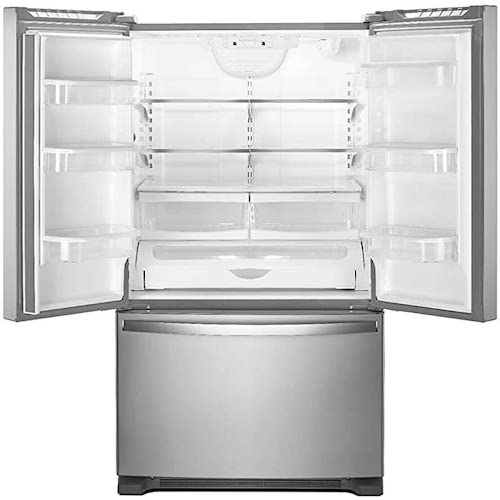 Outside, this French door refrigerator with a bottom freezer is finished in stainless steel. The fridge sides are textured grey, as are most stainless-steel refrigerators. The interior water dispenser and in-freezer ice maker are included in this refrigerator.
Small objects won't fall through the cracks in the freezer drawer, as it is a solid bin rather than a wire basket. A Whirlpool mid-priced and full-featured model is a great option if you have the space to install a piece with wide-swinging doors.
Pros
Includes interior water and ice maker.
Cons
It needs a lot of space to fit in your home.
Hisense RS696N4ICI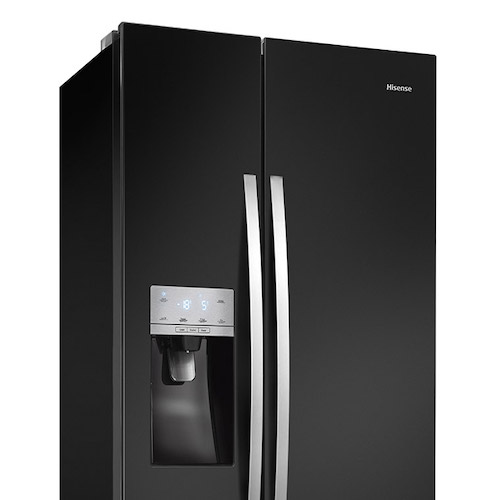 Positive characteristics include outstanding pricing and the availability of double door fridge freezers in various shapes, colours, and sizes; nevertheless, they are the best choice for a backup fridge freezer in the garage or cellar. You can easily access fresh foods from the underneath freezer space.
As the name implies, the freezer-free fridge uses the entire amount of chilling capacity for refrigeration but not for icing. They are ideal for individuals who have a large deep freezer for frozen goods - a larger family capacity than the fridge freezer combination - but they are also ideal for anyone who wants a lot of fresh vegetables.
Pros
Affordable.
Large spaces for food.
Best Built-In Fridge
GE GLE12HSPSS Built-In Bottom Mount Freezer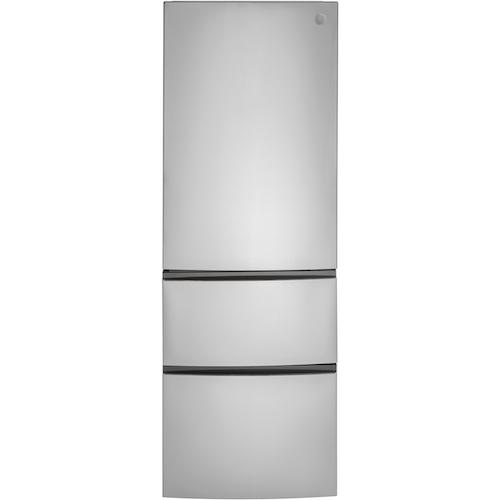 This is an excellent choice for a counter-depth bottom freezer refrigerator. The stainless steel finish on this built-in fridge is eye-catching.
Because of the counter-depth design, it will sit flush with your countertops, giving your kitchen a high-end appearance. But, while this gadget is fashionable, it is also very practical. There are seven shelves in the refrigerator to organise your fresh foods.
The fridge and freezer sections are separated by a temperature-controlled drawer, ideal for storing easy-to-reach food or drinks.
The freezer has a removable tray so you can make the most of this space and keep your most-used things on top. With a lower-than-average price tag, it's a tough choice to beat if you don't need a water and ice dispenser.
Pros
It has an excellent stainless-steel finish.
Includes seven shelves.
Bosch Kir81afe Built-In Fridge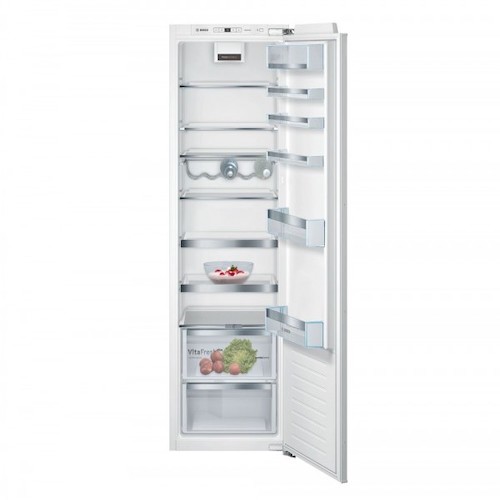 There are seven key shelves, two full-width containers, and six door shelves. Furthermore, it is a little taller than several other types in the industry to fit all of this in.
The containers are a reasonable height despite the number of stockpile opportunities. They feature two or three that are ideal for small items such as butter or cheese, as well as another two or three that may accommodate a variety of taller items.
Pros
Includes six shelves.
Affordable.
Cons
Reviews have mentioned it is loud.
Zanussi ZBB28441SV Built-In Fridge Freezer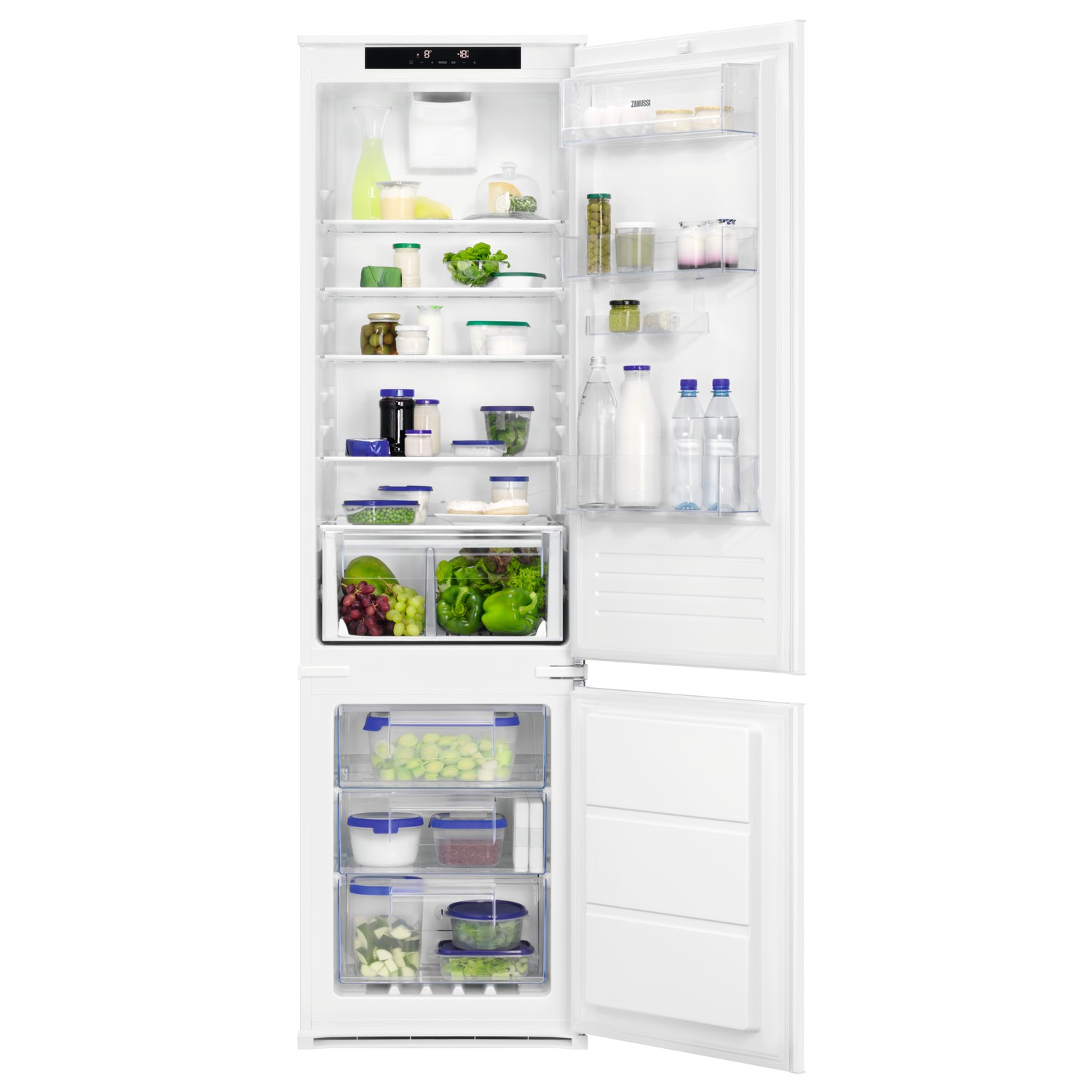 If you're looking for the greatest built-in fridge freezer, this Zanussi model might be the one for you. It has a total combined food storage capacity of 280L (ideal for families) and is generously divided 70/30, so fresh and frozen goods have enough room.
It has a low-frost freezer, which means it takes less time to defrost, and it also has a high energy rating.
Pros
Affordable
Big storage space.
Cons
Ice is known to build up over time.
Best Fridge Freezer
LG Centum GBB92MCBAP 70/30 Fridge Freezer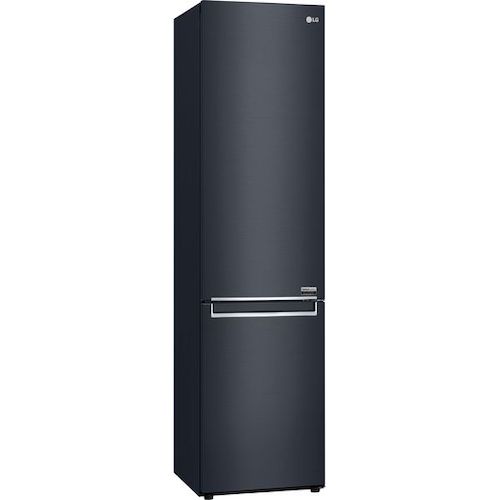 The LG Centum is beautifully built, eerily quiet, and a joy to use, with time-saving features like ice-free compartments that consign the task of defrosting to history's tundra.
Most importantly, it is extremely energy efficient, as seen by the appliance's A efficiency rating, which is an uncommon distinction.
Despite its elegant appearance, this fridge freezer has a lot of storage space, with the refrigerator compartment taking up more than two-thirds of the total area.
Pros
Adds to your décor.
Has a lot of storage space.
Sharp SJ-EX820F2-SL American Fridge Freezer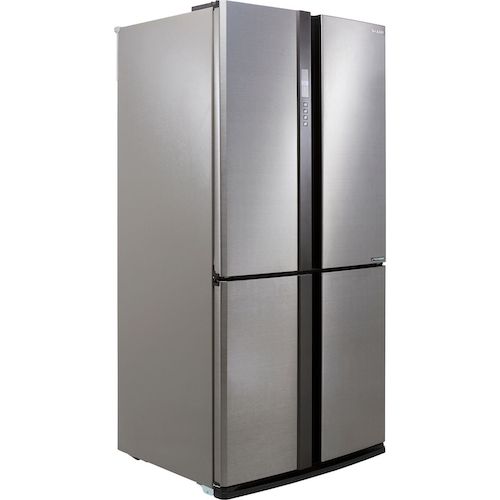 With its sleek, American-style double doors and bright LED lighting inside, this fridge freezer makes a truly slick, modern addition to the kitchen.
The deep, spacious bottle shelves on the inside of the doors, which are large enough to fit five 1L beverages bottles and solve the usual kitchen issue of where to chill bulkier things, are praised in many reviews.
The one major drawback to this stylish fridge freezer is its low energy efficiency, which may be a deal-breaker for people shopping with long-term budgeting or the environment in mind.
Pros
It has LED lighting inside so you can see in the dark.
Bottle shelves have the space to hold 1L beverages.
Cons
This fridge freezer is low on energy efficiency.
LG InstaView GMX844MCKV American-Style Fridge Freezer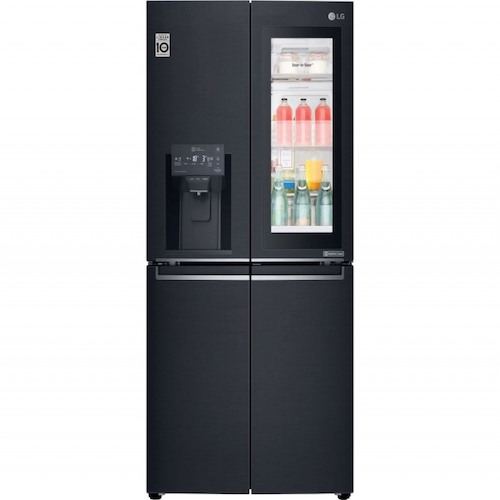 It's difficult to find anything wrong with LG's high-tech refrigerator freezer. Not only does it look fantastic and perform well, but it also offers a few unique features that you won't find in your regular refrigerator.
Its remote operation, which allows you to set the temperature via a connected smartphone app, is a favourite feature.
This appliance's "door-in-door" design means an extra fridge compartment is built into one of the double doors, enabling convenient access to the foods you need most often.
Pros
It has a remote feature so you can use it via your phone.
Best Mini Fridge
Russell Hobbs RHTTLF1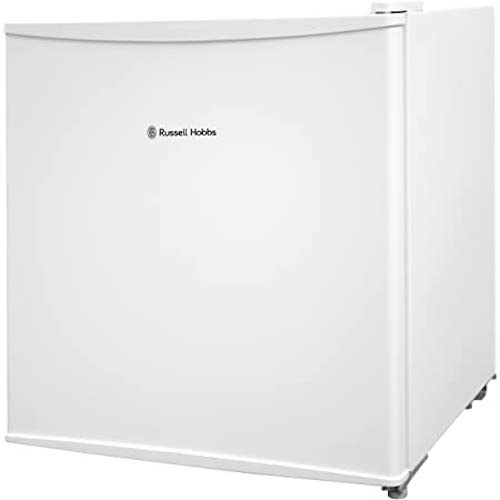 This Russell Hobbs countertop larder fridge with an A+ rating is ideal for studio flats, bedsits, student quarters, and mobile homes. It can also be used as a backup refrigerator.
This small chiller packs a surprising amount of space for its size, making it ideal for most single needs. Two or three pre-packaged meals, a small amount of fruit or vegetables, and a tub of butter will fit comfortably in the main compartment.
It also contains a small freezer compartment that can hold a dozen Magnums or a packet of frozen peas. Meanwhile, you can store a two-pint carton of milk or a litre of water, a couple of bottles, and a pot of marmalade in the inner door.
Pros
Has good storage space for its price.
Cons
Due to its small design, it can't hold big amounts of food.
Liebherr TP 1760 Premium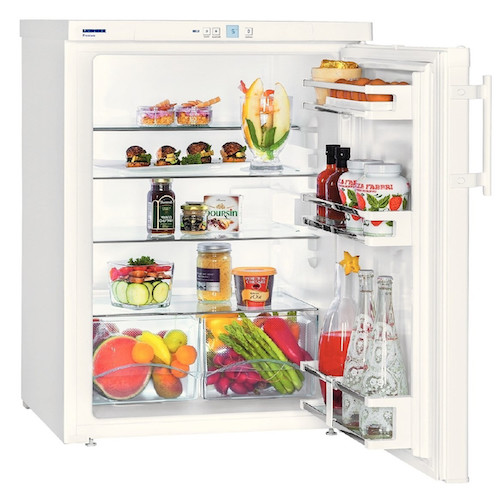 This compact fridge includes two separate salad/veg drawers with integral shelves and three additional adjustable shatter-proof glass shelves.
The top shelf is thinner than the others, allowing tall things to be placed on the lower shelf. This isn't the cheapest mini fridge on the market, but you get what you pay for: it's well-made and, based on the slew of favourable reviews, it's well-liked.
Crucially, its interior temperature remains constant in all environmental conditions, including high heat. It's well worth a look.
Pros
It has different shelves so you can separate your foods.
Fridifaire EFR115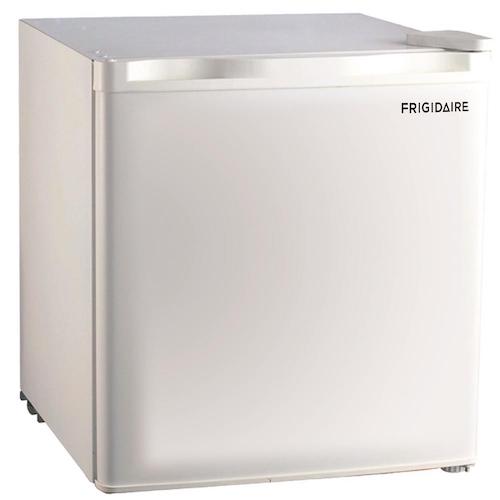 This little fridge is ideal for pop art fans who enjoy bright colour combinations. It's the perfect size for small kitchens and hotel accommodations.
In the small freezer section of the Frigidaire, there's plenty of room to store multiple frozen goods.
Pros
Three different colour options.
Affordable.
Best Integrated Fridge
Bosch Serie 6 KIS86AFE0G Integrated Fridge Freezer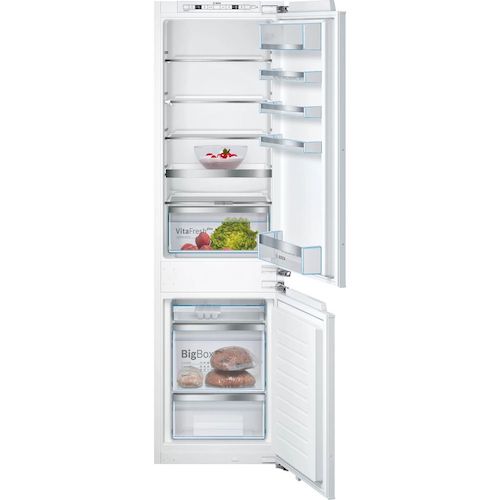 The "Freshsense" technology - a sensor system that adjusts the temperature of the fridge freezer, reducing the risk of food deterioration – was praised in several reviews.
We found the compartment organisation to be logical and user-friendly, and the appliance's inside is sleek but unspectacular.
This type blends in with your kitchen cabinets, with the option of having the doors open from either side of the appliance.
Pros
User-friendly.
Blends in with kitchen cabinets.
Neff N50 KI582SF0F Integrated Fridge Freezer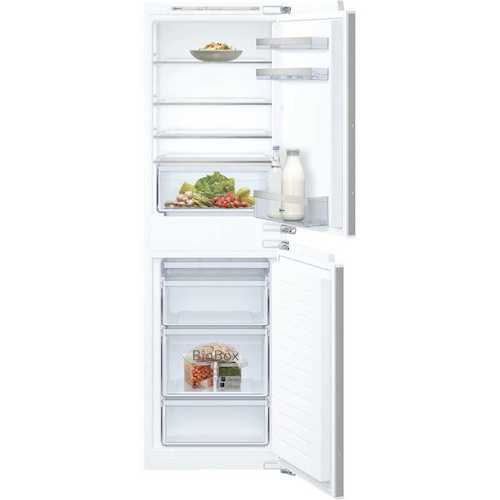 This is one of the favourite integrated fridge freezers, with its sliding hinge allowing it to blend in perfectly with a kitchen unit. It's a straightforward, effective solution that prioritises intuitive design and reliable performance over high-tech innovation.
The freezer space is unusually generous and nicely compartmentalised; therefore, we recommend this fridge freezer to those who prefer to store a lot of food.
Siemens IQ500 KY15RAFF0G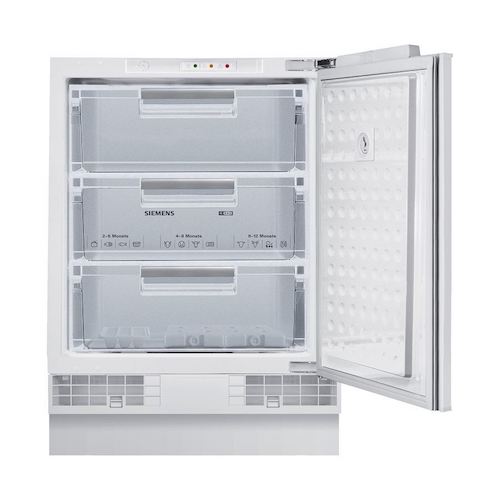 The highly outstanding Siemens iQ500 is a terrific option if you're searching for a built-in fridge that can fit beneath a workbench or in an eye-level compartment, thanks to its integrated style.
If you have fitted units or are considering doing so in the future, it will work perfectly. If you're not sure if it'll be versatile enough for your fitted kitchen, it has a reversible door.
Inside, it boasts easy-to-clean surfaces. The iQ500 is acceptable in energy efficiency, and the fridge has a flame-retardant backing for enhanced safety. Thanks to its relatively quiet functioning, the appliance won't irritate you either.
Pros
Easy to clean.
It is quiet.
Has great energy efficiency.
Best Beer Fridge
Cookology CBC98BK Undercounter Drinks Fridge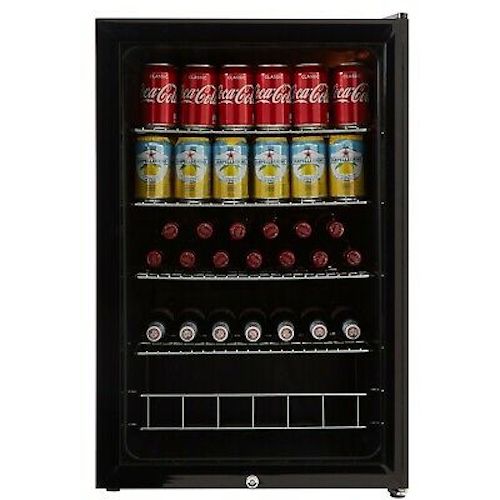 This Cookology model is an all-around amazing drink cooling fridge that does just about everything. It features a nice design with a glass door and illumination inside.
This refrigerator can be integrated into your kitchen or freestanding, depending on your needs. Another fantastic feature is the reversible door, which can fit into any location.
This is a quiet alternative for any home bar, entertainment area, or anywhere else around the house, with an A+ energy rating and noise levels below 40db.
Pros
Has a nice design with light inside.
It has a revisable door, so it fits anywhere.
Cons
Reviews mention how the lights can flicker inside the fridge.
Klarstein Fruit Jerky Plus Food Dehydrator>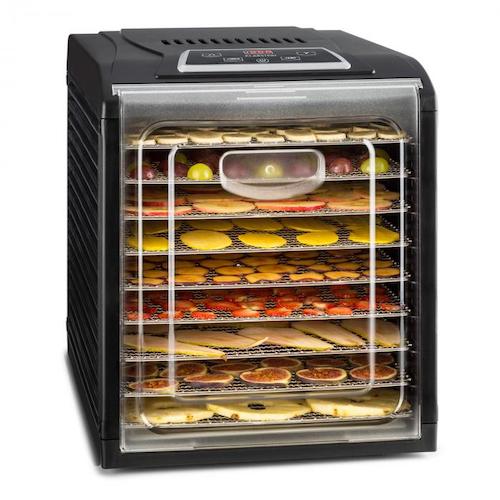 This Karstein beverage fridge is an excellent choice for an upper-class beverage centre that will add a touch of sophistication to your man cave. It may either standalone or be integrated into your kitchen cabinets.
It has a stylish stainless steel design with a double insulated glass lid to keep everything cold and fresh. It can contain up to 132 cans of cold beer.
This fridge is extremely user-friendly, with a touch button for temperature control and an LED display, as well as four adjustable chrome wire shelves. It has LED internal lighting, making it an appealing storage spot for your beer cans.
This fridge's door is reversible, making it even easy to fit into any home. This is a high-capacity beverage refrigerator of exceptional quality.
Pros
Can contain 132 cans of beer.
Touch button for temperature control.
LED internal lighting.
Baridi Mini Wine/Drink/Beverage Built-In Fridge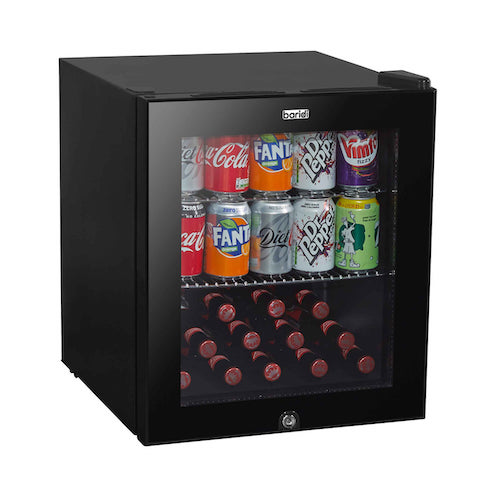 This tiny fridge features detachable shelving, allowing it to be used as a wine cooler or for storing beer cans. With the glass door and black body, it's a stylish design.
It has a temperature range of 3 to 10 degrees Celsius, allowing you to chill your drinks to perfection. It has an A+ rating for energy consumption, making it a green and cost-effective solution. For added security, it has a security lock.
This refrigerator requires at least 50mm of space at the back and 30mm on the sides to keep it adequately ventilated. Make careful to factor this in when determining whether this refrigerator will fit in your home.
Pros
Detachable shelves mean it is easy to clean.
Can change the temperature to fit your needs.
Has a security lock.
Cons
Must check that this fridge is the right measurements for your home.
What to Consider Before Buying a Fridge
A refrigerator is a significant investment. You have many options because there are so many different styles and models. There's a refrigerator out there for you, depending on your budget.
You simply must conduct some study before clicking the "purchase" button, which is the purpose of this article.
Size
You must measure everything before purchasing a new refrigerator. Begin with the fridge's location, and make sure the door does not touch a wall or an island. Also, make sure to leave enough space for ventilation—at least an inch all around.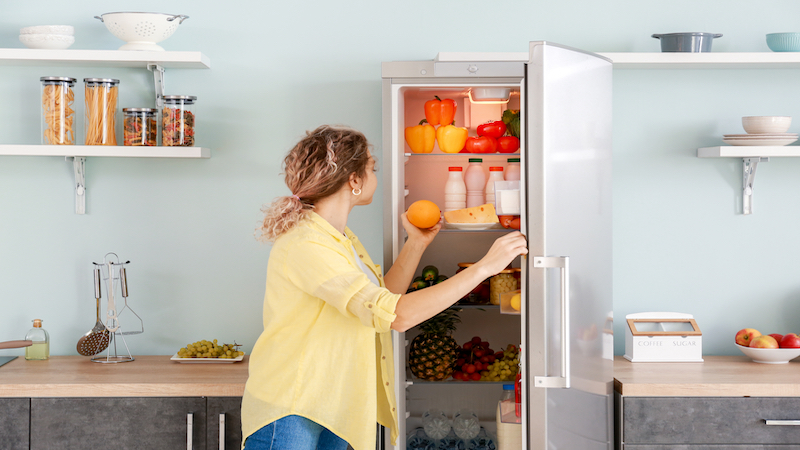 Style
As spoken about, there are multiple types of fridges that you must pick. Therefore, visualise what fridge style will be best for your home.
Budget
Determine how much you can spend before you go shopping. A good top freezer may be had for as little as £600, while French-door refrigerators start at around £1,000 and go higher from there.
Storage
The number of cubic feet of storage your refrigerator requires is determined by the size of your kitchen and your family's eating habits.
While your refrigerator's footprint may be limited by your kitchen design, some refrigerators make excellent use of space and others that don't. For example, in-door ice machines are convenient, but they take up space that could be used to store more food.
Features
Make sure the models you're considering have all the features you want. This can include ice and water dispensers, gallon-size containers in the doors, adjustable shelves, or a door alarm.
Refrigerators with speciality ice makers, smart features, door-in-door designs, air filtration to keep vegetables fresh, and many more features are now available.
FAQs
What temperature should a fridge be?
Between 37°F (3°C) to 40°F (5°C) is the recommended fridge temperature. The temperature in your freezer should be 0°F (-18°C). It takes your fridge roughly 24 hours to adjust to any modifications you make.
How do you reset a fridge?
Most of them do not automatically reset. If the refrigerator has a reset button, simply press it for 30 seconds to repair the problem. To reset some refrigerators, such as those made by Maytag and Amana, the lock and reset or auto buttons must be pressed simultaneously.
How do you clean a fridge?
Spray the fridge's interior with a vinegar-water solution, focussing on the filthy parts and allowing them to soak in. Remove the shelves and drawers and wash them in warm soapy water before setting them aside to dry.
Return to the refrigerator and wipe it down with a towel. Return the shelves and drawers to the fridge after drying them.
How long does a fridge last?
Estimates vary in how long refrigerators can last; some sources claim ten years, while others say up to 25 years.
How to tell if your fridge is going bad
It's not even close to being cold. When you open your fridge, do you get a chill?
Your food is quickly spoiling.
Condensation is present.
In the freezer, ice is forming.
The motor is hot
There's a splash of water on your floor.
Sources