appliances & furniture
Best Washing Machine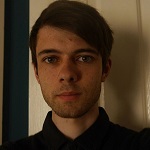 Want to know what the top washing machines on the market are?
In this article, we'll discuss the different types of washing machines as well as the best choices based on a whole host of categories, from front loading to compact to integrated.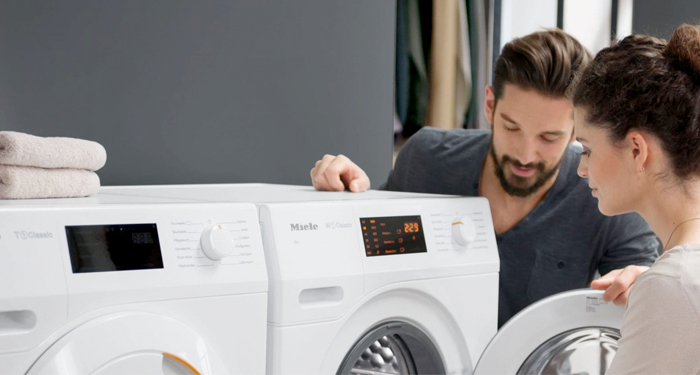 This article will be especially helpful for those looking to purchase a new washing machine soon or even if you're just thinking of investing in one down the line.
What Is a Washing Machine?
This common home appliance is employed for washing laundry. Laundry detergent is added either in the form of powder or liquid to wash the clothes along with the machine's water.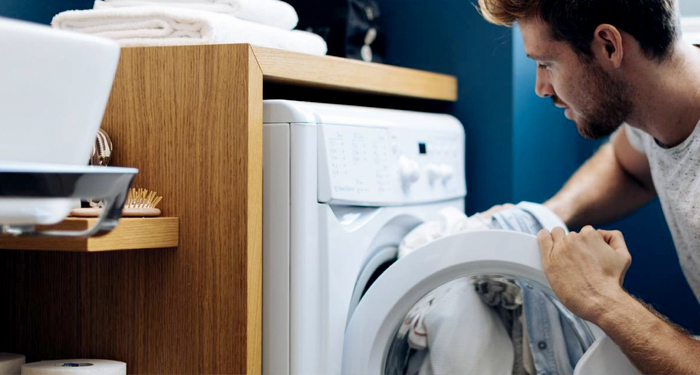 Most homeowners have a washing machine because of its ability to save time and make life easier.
How Does a Washing Machine Work?
Essentially the agitators within a washing machine spin the drum which houses the clothes. The clothes are doused with soap suds/water, with the suds being the result of the detergent used.
This works to remove dirt/stains. There are various types of washes and stages to different washes.
Here's how you use a washing machine:
Separate laundry appropriately
Load laundry items in
Add detergent per the manufacturer's instructions
Check the washing machine that no pets have got in (if applicable)
Firmly clothes the door
Turn to the correct setting and turn the machine on
Let it was your machine
Turn the machine off when it's done
Unload clothes
Close the door again
Types of Washing Machine
Let's now look at the primary types available, namely, to-loading and front-loading machines. We'll lay out what they are, how they differ, and their pros & cons.
Top Loading
As the name suggests, this is a washing machine where you put the clothes in at the top. These are more traditional and are less common in UK households nowadays.
Among the notable qualities of top-loading washing machines is the fact you don't need to bend down to put clothes in, and in some cases, you can add clothes mid-wash.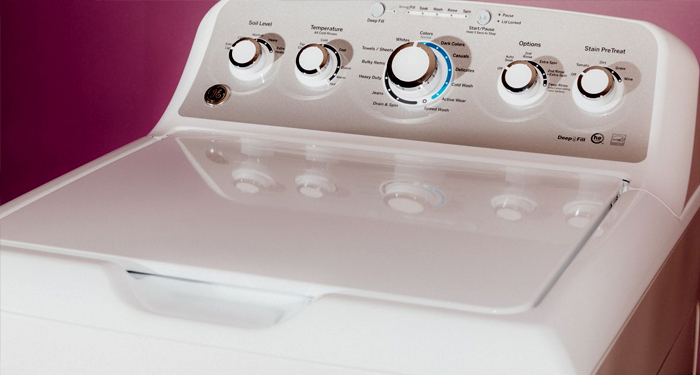 Top-loading machines can further be used to distribute fabric softener and collect lint in a better manner than their front-loading counterparts.
The Good
Large capacity
More ergonomic
Don't vibrate as much
The Bad
High-efficiency top-loading machines need particular detergents
Repairs can be costly
Front Loading
An alternative and more commonplace type of washing machine is one that is front-loading. Notably, front-loading washing machines use about half the amount of electricity as top-loading machines.
Also, front-loading washing machines don't leave clothes quite as wet as their top-loading counterparts. On the other hand, they are less ergonomic and tend to be more expensive to buy upfront.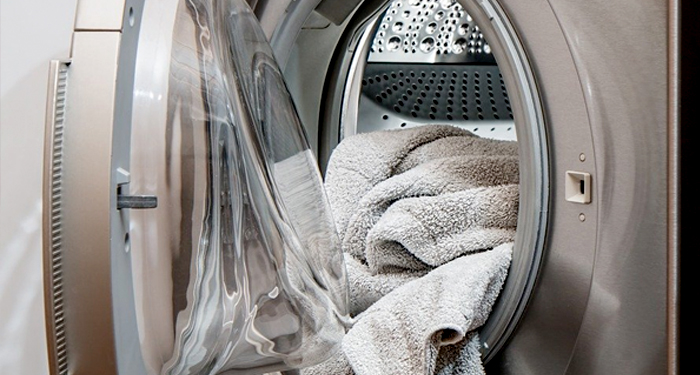 Examples of subtypes of front-loading washing machines are compact, stackable, integrated, and washer and dryer combos.
The Good
Uses less energy
Won't leave clothes quite as wet
Best Washing Machine
There are many top-end washing machines out there. In this section, we'll look at the best choices in terms of category. We'll explain why these machines are good, what they're good for, and lay out their pros & cons.
Please note that we are using the pre-2021 energy efficiency rating figures as many appliances have yet to be rated under the new system.
Best Top Loading Washing Machine
Hotpoint WMTF 722H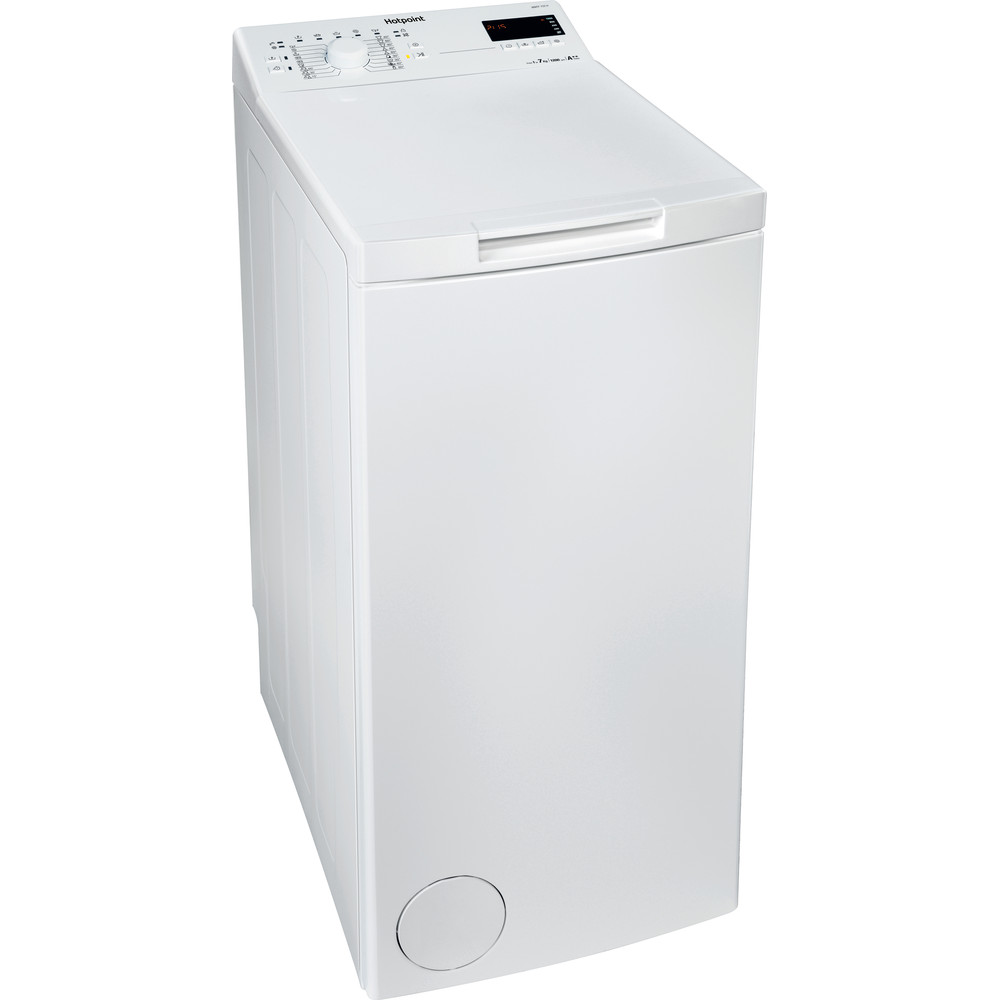 A standout choice is this appliance from the popular Hotpoint brand. It has a 7kg capacity, a decade-long warranty for its parts, 1200 rpm spin, and an energy efficiency of A++. The WMTF 722H offers three fast cycles, and it is slimline, easy to use, and uses approximately 9,600l of water over a one year period (a relatively small quantity).
Beyond that, it also features handy digital controls, and it's not very expensive either. However, it could be quieter with a noise output of 76dB, and it comes with no alarm to show that the cycle is over.
Things we liked
1200 rpm spin
Ease of use
The energy efficiency of A++
Three fast cycles
10-years parts guarantee
Things we didn't like
It doesn't have a 'cycle over' alarm
Not that quiet
Whirlpool TDLR 602010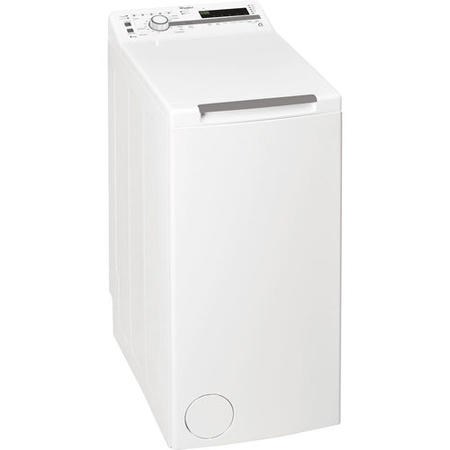 This high-quality 6KG-capacity top-loading washing machine has a max energy efficiency rating of A+++. It uses just 174 kw/h over a given year on average. Since it has a width of only 40cm, it's ideal for small spaces. Now, its design is not the best on the eye, but if you're concerned about performance and value for money, the TDLR 602010 is a great choice.
Among its advantages are that it comes with 'Sixth Sense' tech from Whirlpool, which offers the ability to intelligently measure the type and size of loads before adjusting the cycle time and water appropriately.
The TDLR's Colours 15 programme allows you to wash colour clothes at 15° while achieving the same performance as you'd get with a 40° option. This is both energy- and cost-efficient. Further, this machine comes with a two-year guarantee.
Things we liked
Small and efficient
Advanced and useful features
Tumble dry cycle
Two-year guarantee
Slimline design
Includes load-weighing sensors
Things we didn't like
Not suited to households with big families
Costly
Bosch Serie 4 Freestanding WOT24227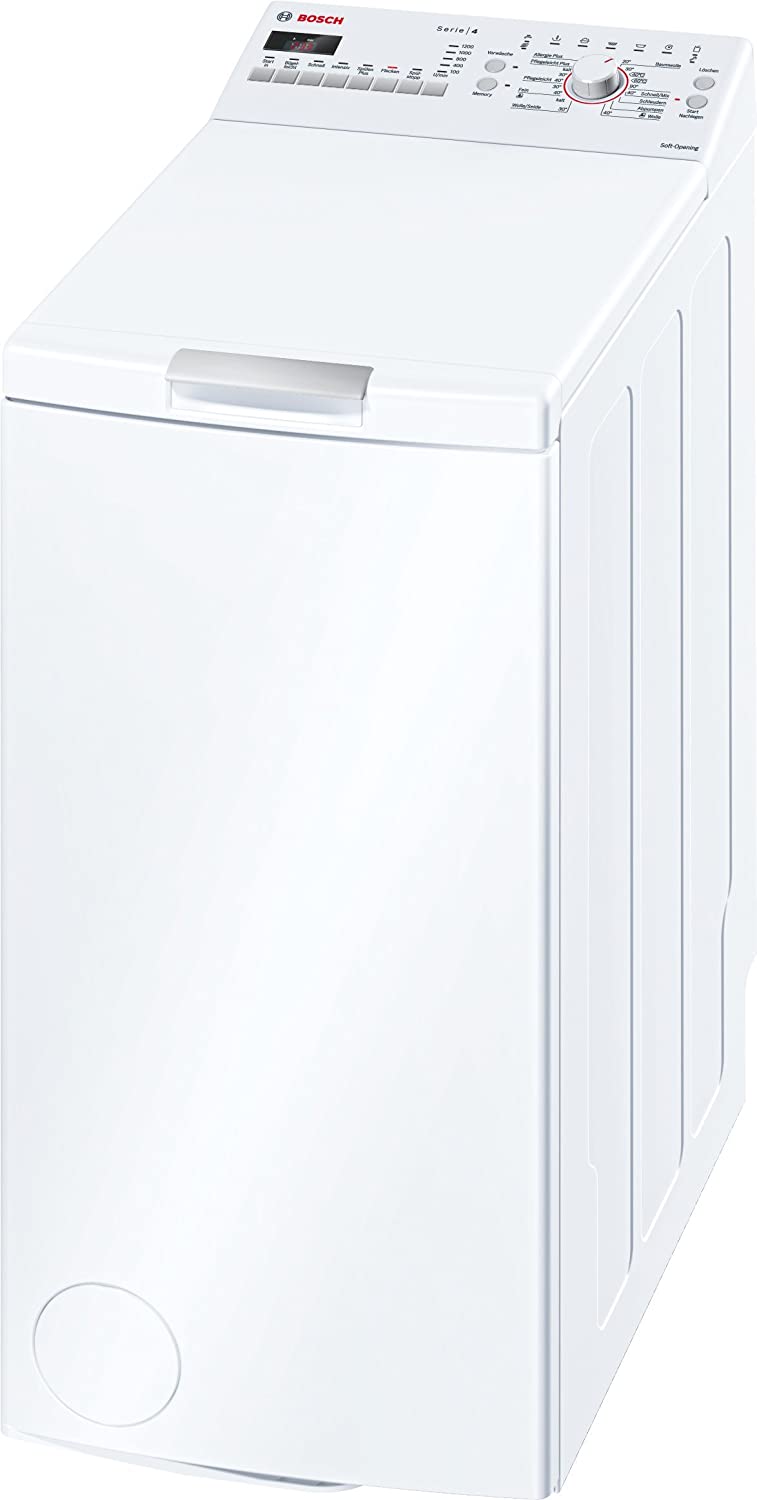 This model is another great buy if you're after a top-loading washing machine. Aside from offering a 7kg capacity, it only uses 174 kw/h of energy and, like the TDLR 602010, has an A+++ energy efficiency rating. Among its helpful features are its allergy-setting and "ActiveWater" mode (works just like Whirlpool's Sixth Sense technology).
The Bosch Serie 4 also comes with a two-year services and parts warranty, auto-lock feature to stop household occupants adding clothes when it's in the middle of a high-temperature wash, as well as a 24-hour delay timer, variable spin speed options, and a fast wash selection.
With a sound output of 59 dB for a low spin and 76 dB for a fast spin, it's a little on the loud side.
Things we liked
Fast cycle
Very energy efficient
Auto-lock feature
Variable speeds
Anti-allergy setting
Two-years services and parts warranty
Thompson Twin Tub Washer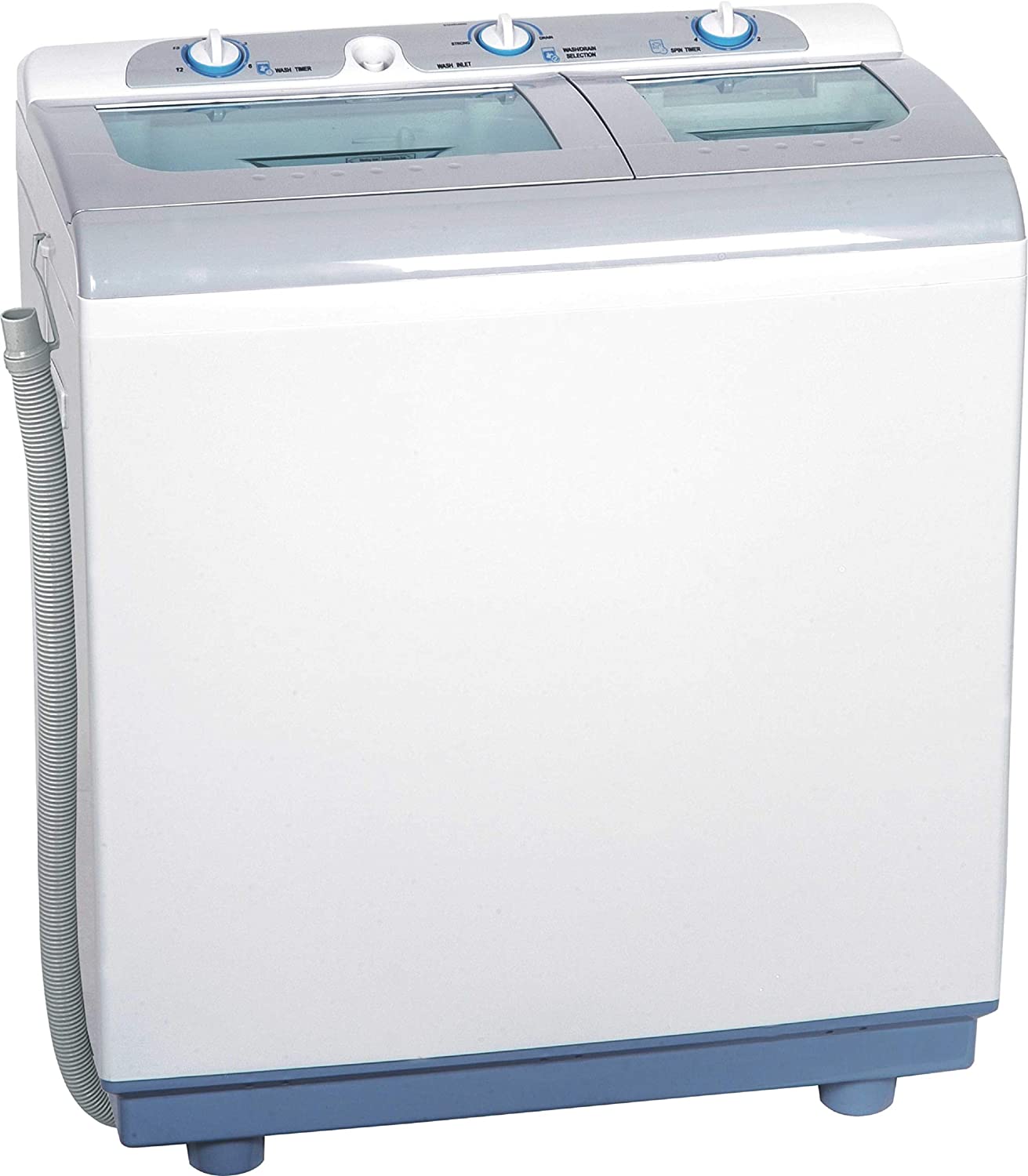 This appliance from Thompson is a particularly modern product. It's also freestanding, so plumbing work is unnecessary. It weighs just 24kg and has a 6kg capacity for suitable washable items.
It has a fast spin speed of 1400 rpm, offers pre-soaking, Quick Cycle Time, and is both light and easy to move. With that said, it has to be close to a sink, and spares aren't easy to source, unfortunately.
Things we liked
1400 rpm
Especially modern
Pre-soaking
Quick Cycle Time
Lightweight and easy to move
Things we didn't like
Must be located near a sink
Spares not easy to find
Montpellier MTL6120W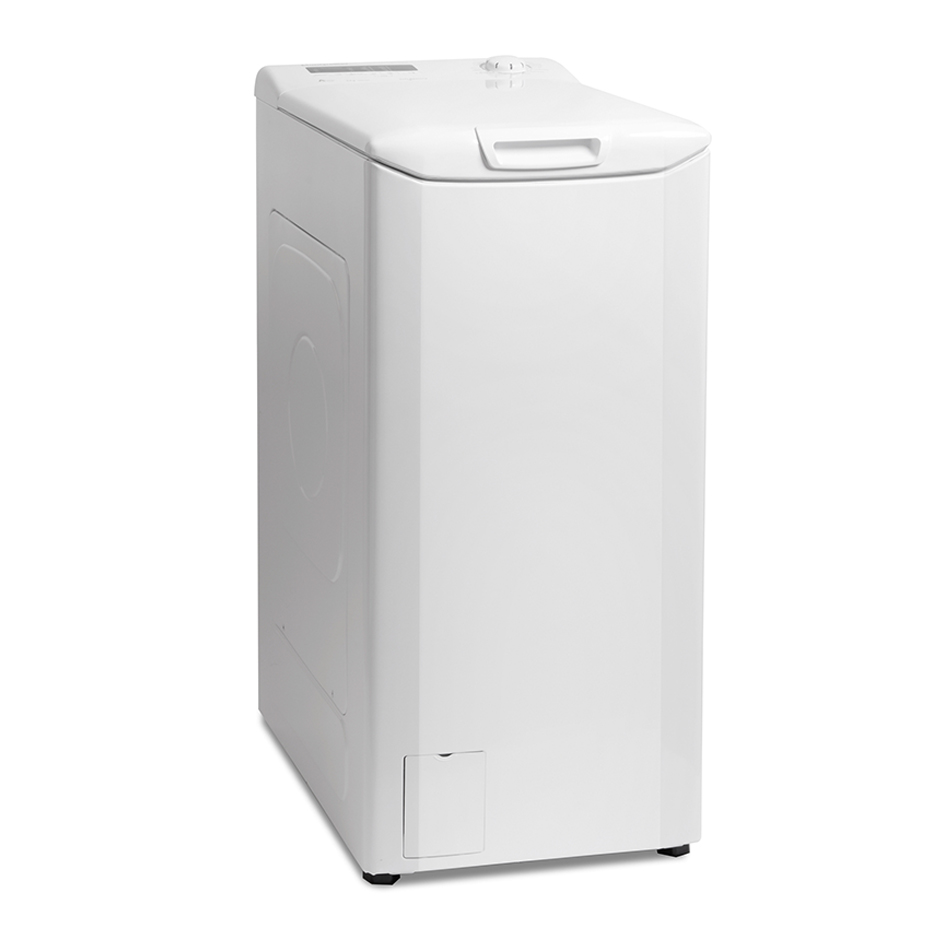 This 6kg capacity washing machine has a slimline depth of 40cm, 1200 rpm, a child lock, and a 24-hour delay timer. It's also relatively inexpensive for a high-end top-loading product. On the other hand, its energy efficiency rating is only A+, making it the 'worst of the best' for such a rating.
However, its value is bumped up by its 30-minute fast wash option, load balance safety feature, and 2-years labour and parts guarantees. Ultimately, it still offers good value for money.
Things we liked
Not too expensive
Decent warranty
24-hour delay timer
30-minute fast wash
Child lock
Things we didn't like
Just an A+ energy efficiency
Best Front Loading Washing Machine
Bosch Serie 6 WAU28PH9GB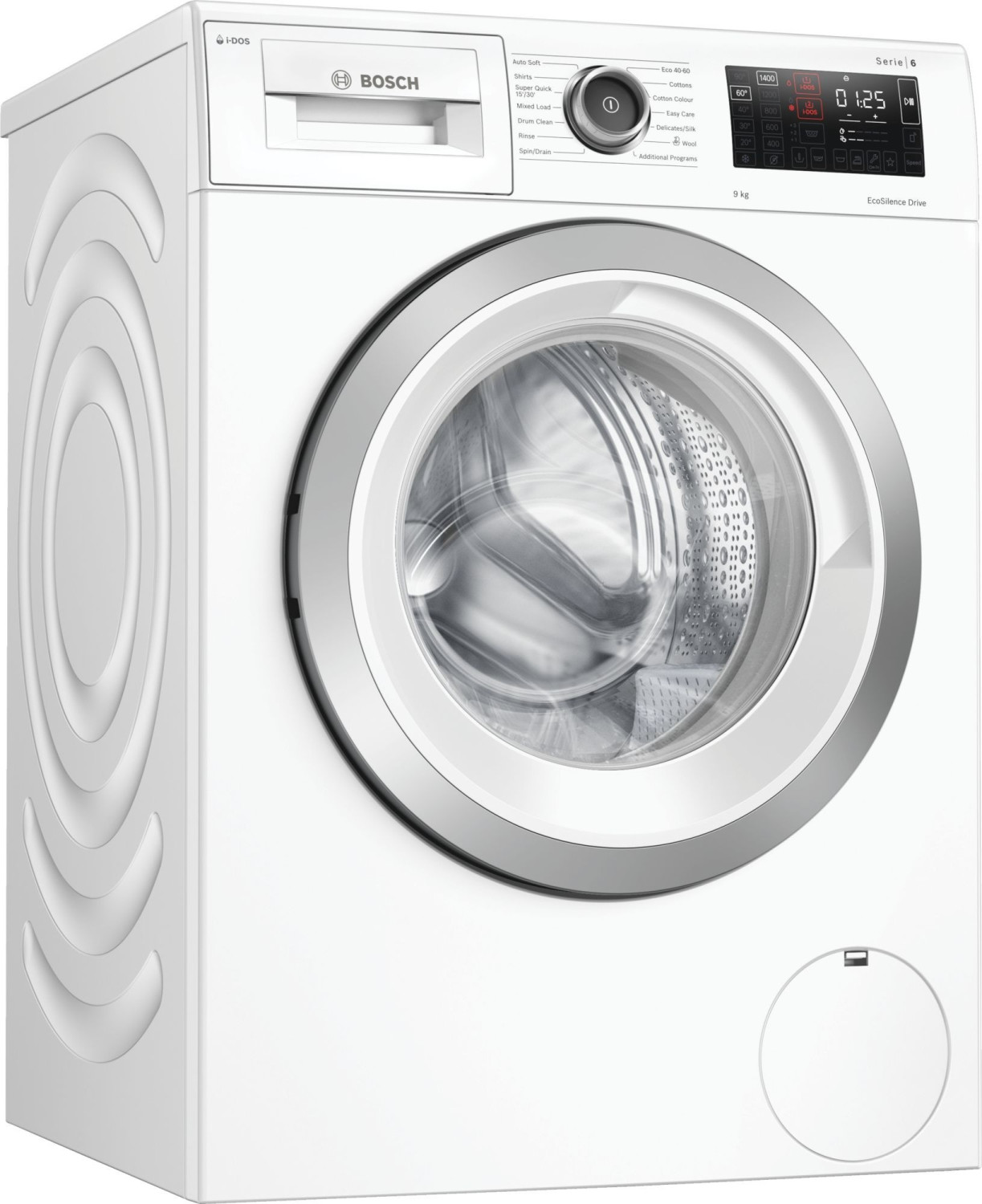 This mid-priced front loading product from Bosch is a great buy for a variety of reasons. It has a reasonably large 9kg capacity for starters, which works alongside Wi-Fi remote control and its hi-tech i-Dos feature. It's also pretty quiet, with a 72dB noise output and offers an A+++ energy efficiency rating and a maximum spin speed of 1,400 rpm.
Further, you can use options for wool, silk, and hand wash alike. If you're not fussed about its advanced features, then it would be on the more expensive side, given its all-around performance.
Things we liked
Spin speed of up to 1,400 rpm
Good wash performance
9kg capacity
Strong energy efficiency rating
Pretty quiet
Advanced features
Things we didn't like
A little costly for its size and performance
AEG L9FEC966R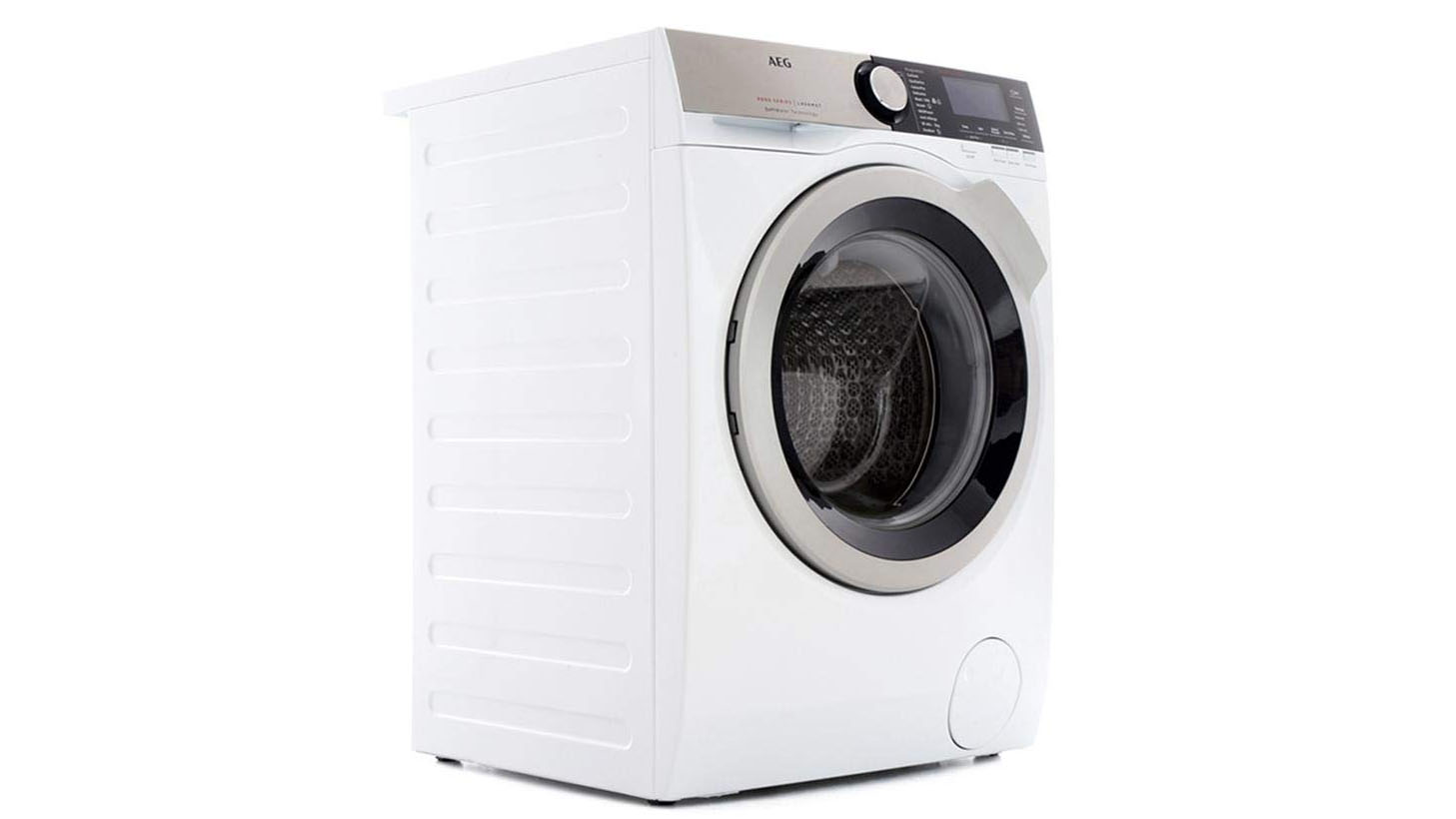 This high-performing washing machine offers a 1,600 rpm spin speed, superlative 160° wash performance, and a very effective quick wash.
It's a top-notch appliance with an Outdoors programme. However, this AEG washing machine isn't cheap, and the 40° wash isn't the best either.
Things we liked
1,600 rpm spin speed
Superlative 160° wash performance
Things we didn't like
Not cheap
40°wash not great
Bosch Serie 4 WAN28281GB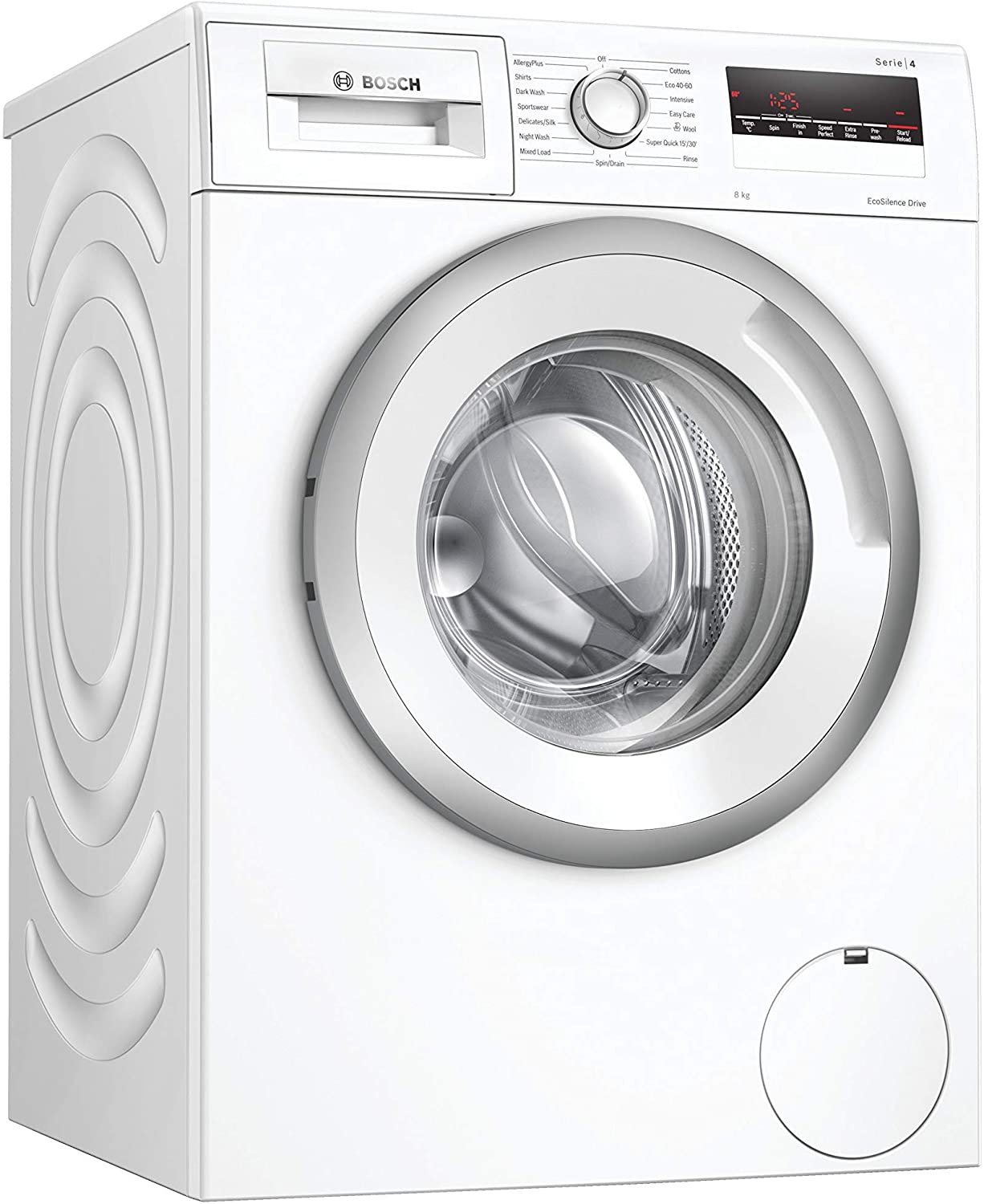 The Serie 4 WAN28281GB is a budget option for those looking to spend less than £500. This washing machine also offers a fantastic performance compared with previous generations of the Bosch Serie 4.
You get a 1,380 rpm, 8kg of capacity, and a decent energy efficiency rating. With that said, you can't replace its bearings because it employs a sealed tank.
Things we liked
Great machine
Not too expensive
Easy to use
Things we didn't like
Filter cover can be fiddly
Bearing replacements not possible
Best Fully Automatic Washing Machine
Miele TwinDos Washing Machine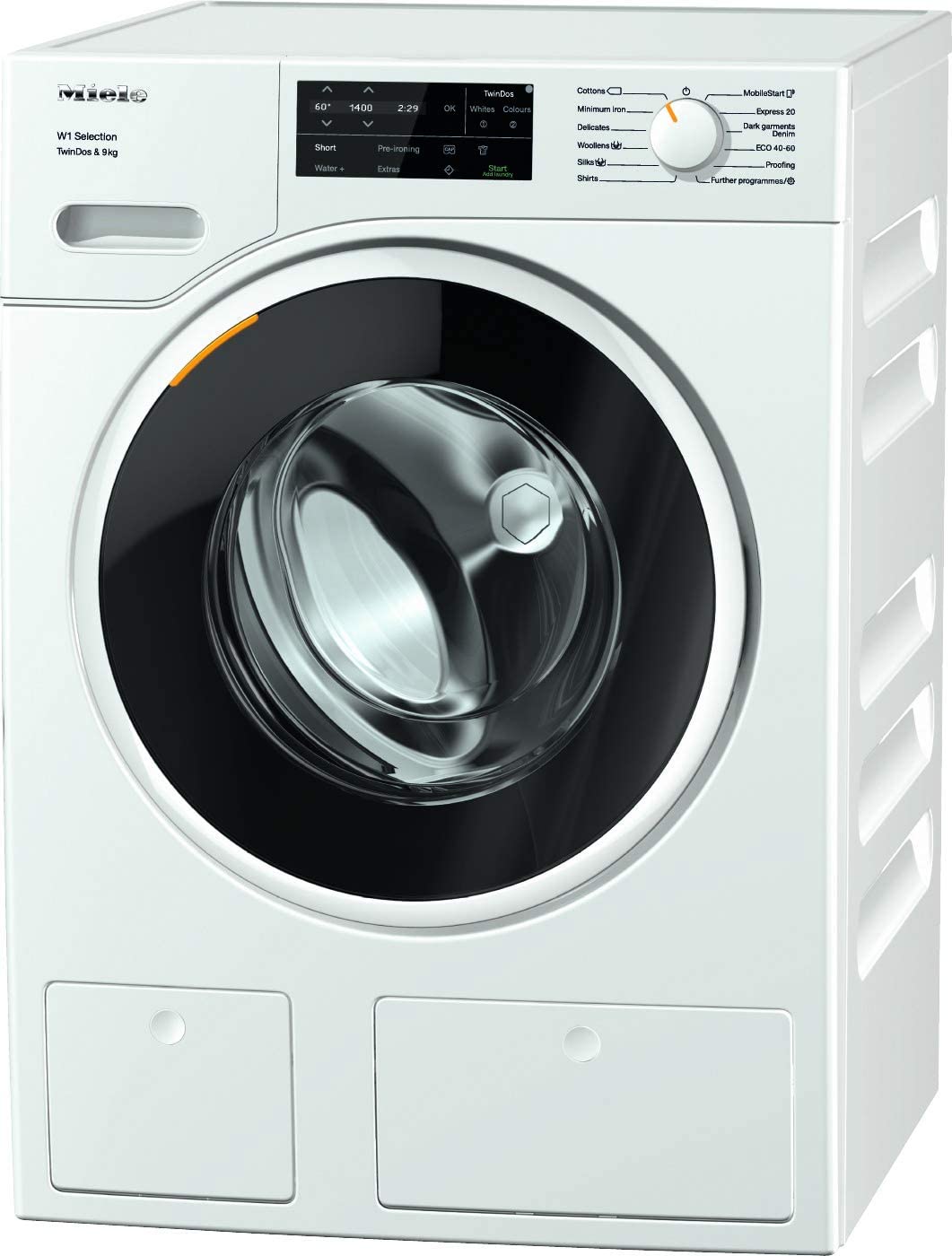 This Wi-Fi-enabled washing machine has a 9kg capacity and a spin speed of 1400 rpm. Its Quick Wash Time is just 20 minutes, it has the highest energy efficiency rating possible, and it allows you to manage your clothes washing with your smartphone!
It's also praised for having ease of installation. However, the Miele TwinDos isn't cheap, and it is more suited to medium-sized families rather than particularly large families.
Things we liked
Spin speed of 1400 rpm
Quick washes in only 20 minutes
Very high energy efficiency
Wi-Fi enabled
Cacoffay Portable Mini Fully Automatic Washing Machine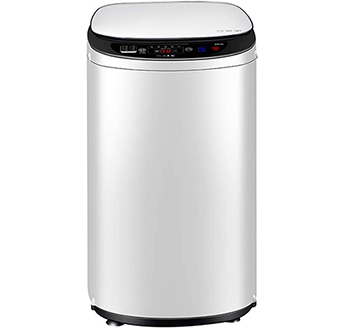 Not only is this appliance fully automated, but it's also energy-efficient. Further, this compact and portable washing machine comes with a barrel air-drying mode, a reasonably sizable load capacity, a humanization design, and no need for instalment. It has a maximum spin speed of 400rpm.
Things we liked
Energy-efficient
Compact and portable
Humanization design
No need to install
Things we didn't like
A little costly considering its size and limitations
Best Semi Automatic Washing Machine
Samsung Twin Tub Top Load Semi Automatic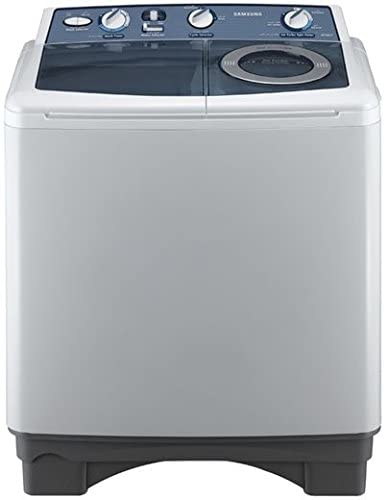 Also known more specifically as the WT50J8, this Samsung washing machine has a capacity of 5kg. It comes with 220v of power, a 30% to 40% drying range, a rustproof base, a centre jet pulsator, and an air turbo drying system (designed for time efficiency).
However, it only has a spin speed of 600 rpm and lacks the qualities of a fully automatic washing machine.
Things we liked
5kg capacity
Rustproof base
Center jet pulsator
Air turbo drying system
BLLXMX Semi-Automatic Portable Twin Tub Washing Machine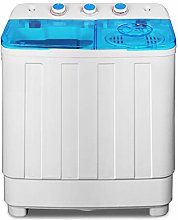 This cheap 4.8kg capacity portable washing machine from BLLXMX is a compact product with an easy-to-use operation panel, new transparent plastic cover, and a decent design as well as a solid level of energy efficiency.
It has three distinct composite pulsators also. It's also low-costing.
Things we liked
Cheap
Straightforward operation panel
Things we didn't like
Not the biggest capacity
Performance not amazing
WTT 200 UK Semi-Automatic Washing Machine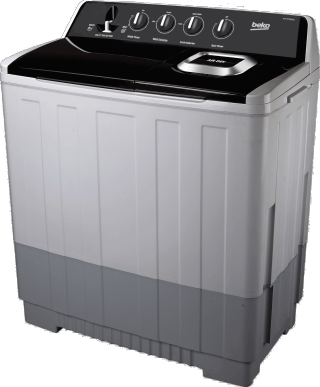 Next, we've got this 20kg capacity semi-automatic appliance. The WTT 200 UK is freestanding, has a voltage of 220 to 240 volts, and weighs about 40kg.
Unfortunately, it's not easy to find, and there isn't too much information available online. However, its exceptional capacity makes it a standout product all the same.
Things we liked
Incredible 20kg capacity
Freestanding
Best Compact Washing Machine
Beko WTK62051W 6kg Freestanding Washing Machine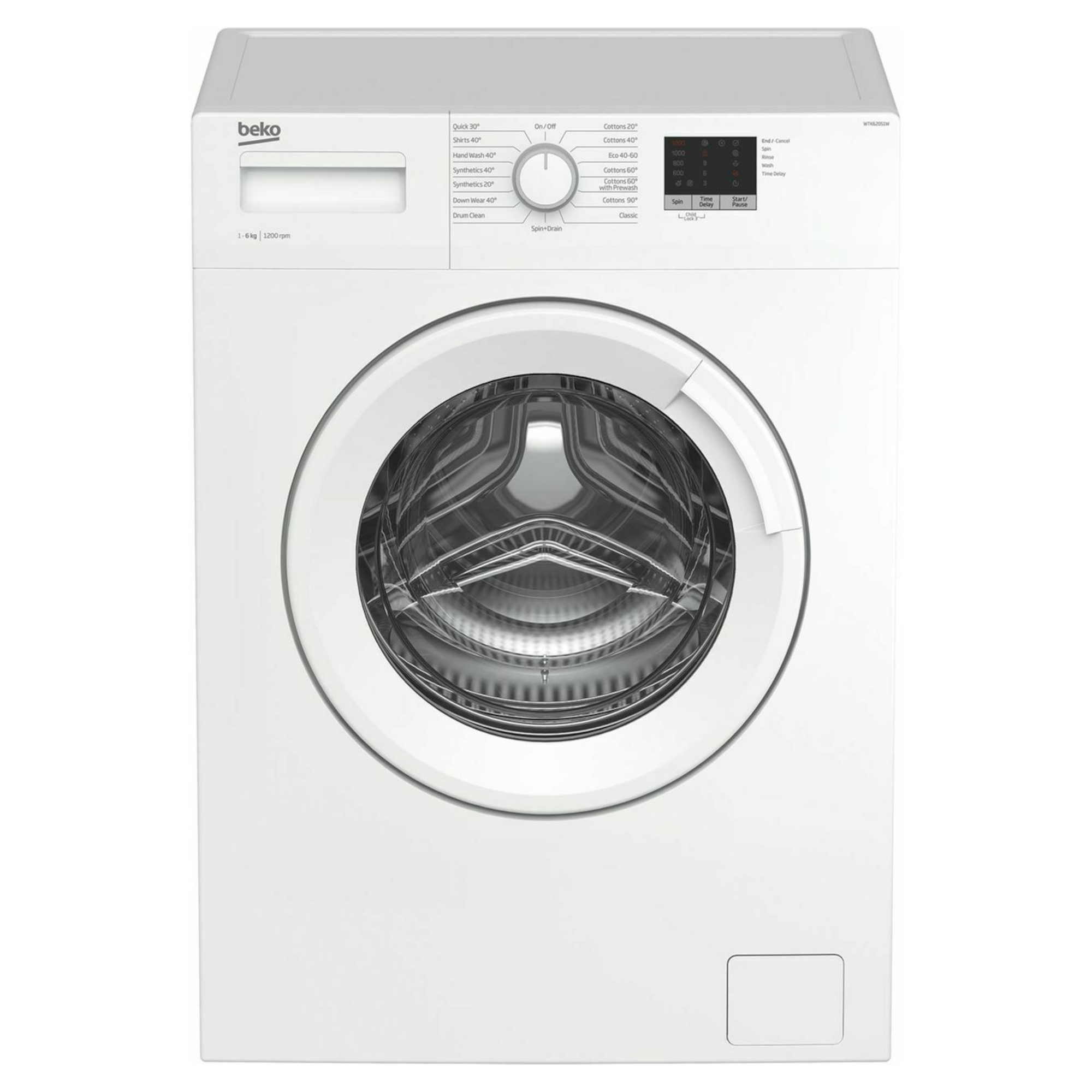 With the WTK62051W, you get a decent load capacity, only a 62dB noise output, and a solid 1200 rpm spin speed. As for its dimensions, it stands at a height of 840mm and a width of 600mm.
It's also a relatively cheap appliance, especially given its performance and capacity. Not only that, but this Beko washing machine has an A+++ rating for energy efficiency.
Things we liked
Great level of energy efficiency
1200 rpm
Fairly low noise output
It doesn't come with the highest washing machine cost
Things we didn't like
Not well-suited to large families
Zanussi ZWC1301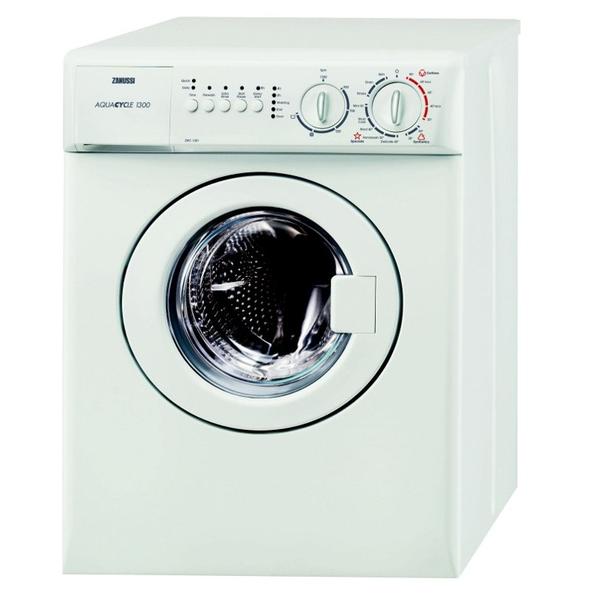 This appliance from Zanussi has a height x width of 515mm x 495mm. However, it receives just an A for energy efficiency, falling several ranks behind the WTK62051W and similarly efficient washing machines. The ZWC1301 offers just 3kg of load capacity, but it provides 1300 rpm, 125 kw/h over a year and a total of 15 programs, including a half-hour Quick Wash.
Unfortunately, this Zanussi washing machine comes with just a one-year warranty. A noise output of 73dB, while not too loud, is significantly noisier than that of the Beko appliance reviewed above.
Things we liked
Especially compact
1300 rpm
15 programs altogether
Things we didn't like
3kg load capacity
Not the quietest
Only a single year warranty
Bosch Serie 2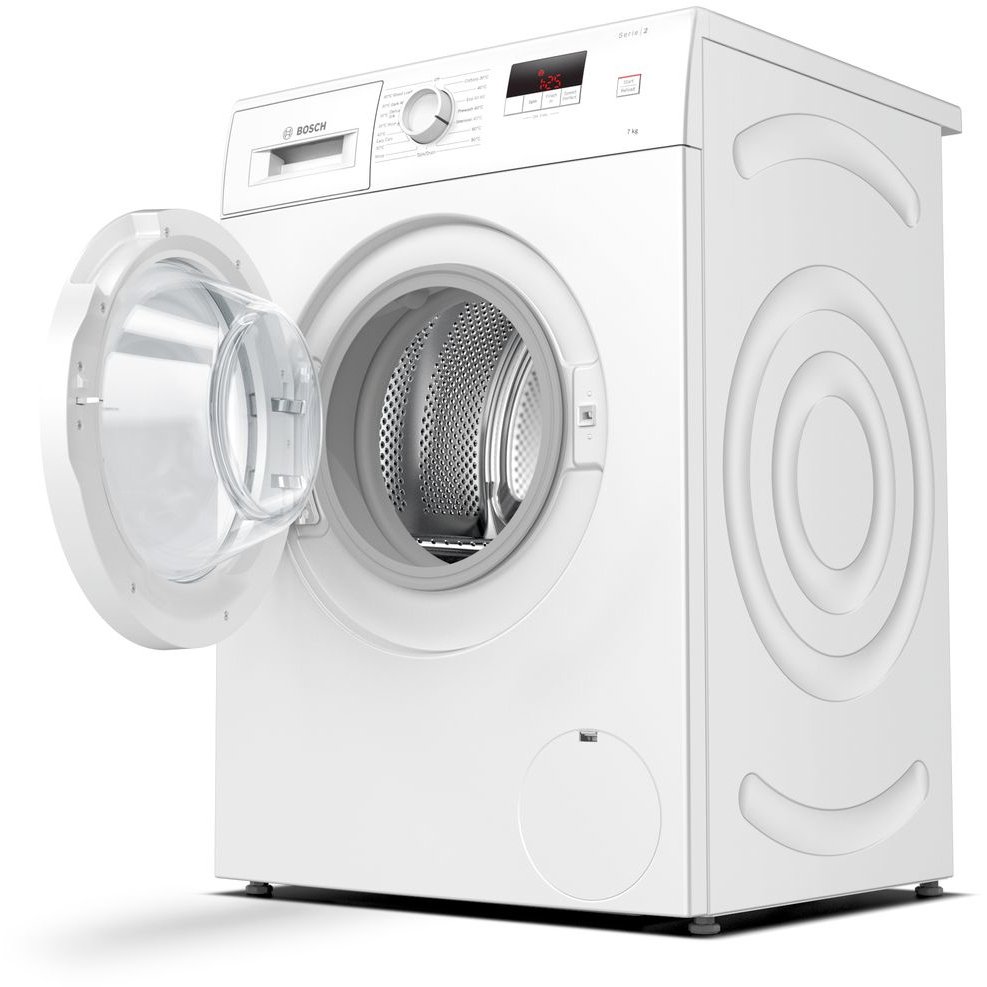 Another strong product from Bosch is the German brand's Serie 2. With an energy efficiency rating of A+++, an ability to leave behind 62% of water post-spin (most washers offer around 50-55% at the end of a cycle), and various premium features, the Serie 2 is a fantastic compact machine.
With the Bosch Serie 2, you get a 6kg capacity, two-year warranty, standout build quality and power usage, and a 15 minute Quick Wash program. With that said, it could be quieter, given that in a high spin, it produces as much as 78dB of sound!
Things we liked
Highly energy efficient
62% of water remains post-spin
Many premium features
Things we didn't like
Two-year warranty
The noise output of up to 78dB
15 minute Quick Wash
Best Integrated Washing Machine
Bosch WIW28301GB Serie 6 Integrated Washing Machine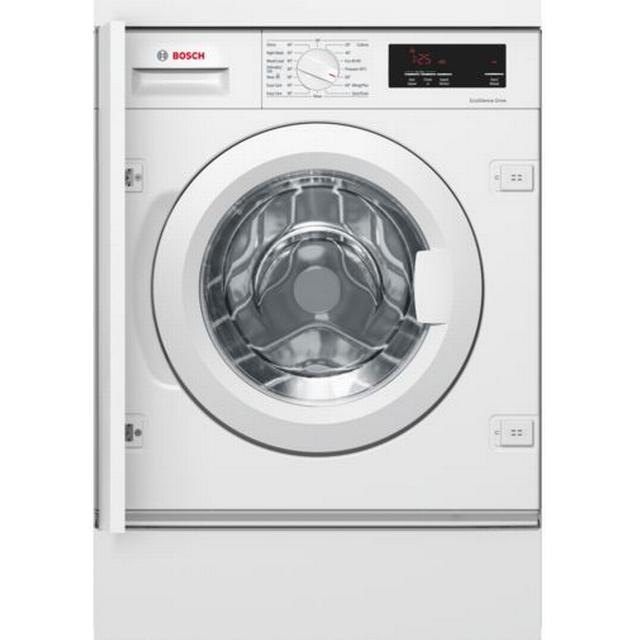 Looking again at the Serie 6, the WIW28301GB is an integrated machine from this family with an 8kg load capacity, A+++ energy efficiency class, and a 1400 rpm spin speed. It also offers features like EcoSilence.
The WIW28301GB Serie 6 has a life expectancy of 20 years, various wash cycle options, and a useful projected progress indicator. Its spin efficiency could be a bit better, though. It's also a little dear, but given its quality, that's not a surprise. All in all, though, this is a highly-rated, popular, and respected appliance.
Things we liked
1400 rpm spin speed
Highly energy efficient
8kg load capacity
Two decades life expectancy
Things we didn't like
Not cheap
Spin efficiency slightly below par
Beko Pro WIX845400 Integrated Washing Machine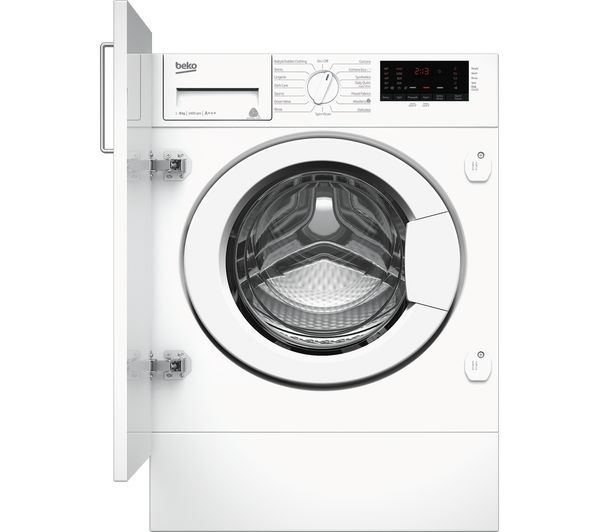 The WIX845400 is another 8kg load capacity appliance with an A+++ energy efficiency. Another matching quality between this Beko washing machine and the previous Bosch appliance is its 1400 rpm spin speed.
This washing machine comes with a sizable porthole door, a very fast 28 minute 'super quick' cycle, and it is also relatively quiet. However, unlike most of the top washing machines on the market, it doesn't come with a wool wash.
Things we liked
Fantastic energy efficiency
1400 rpm spin speed
Good load capacity
NEFF W543BX1GB Integrated Washing Machine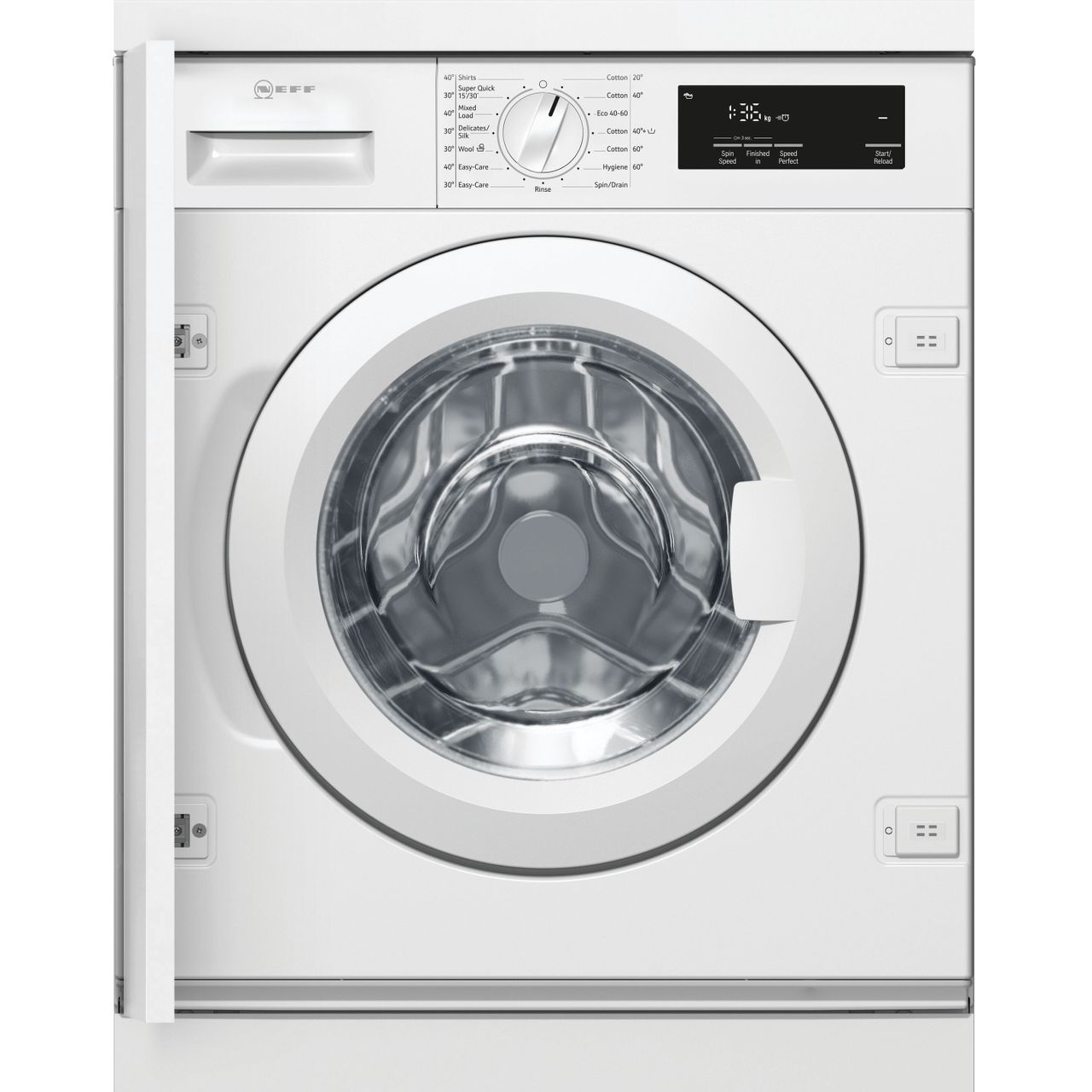 Next up is another A+++ energy efficiency rated integrated appliance, also providing 1400 rpm and an 8kg load capacity. Beyond that, the NEFF W543BX1GB offers a fast 15-minute wash, ease of use, and it is very quiet.
It's great for people who suffer from allergies and for those with sensitive skin. On the other hand, it's a little slow when it comes to filling up with water.
Things we liked
Highly energy efficient
1400 rpm
8kg load capacity
15-minute cycle
Exceptionally quiet
Things we didn't like
Water a bit slow to fill up
Best Washer and Dryer Combo
CASART Full-Automatic Washing Machine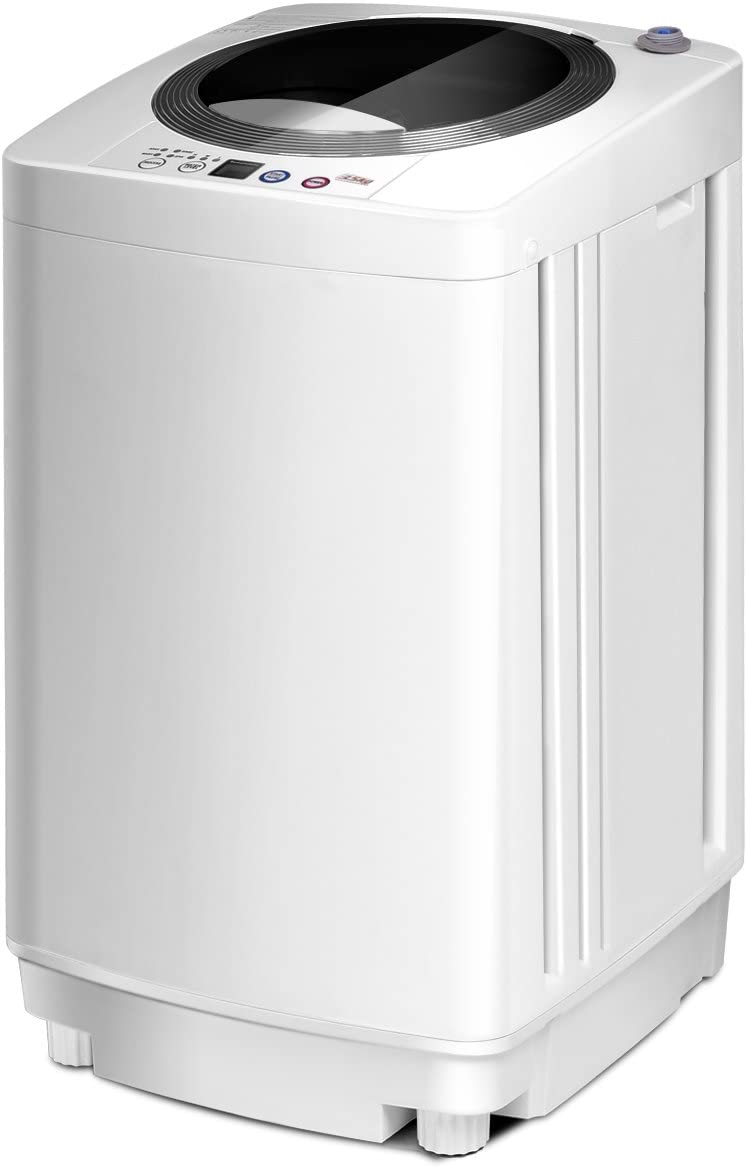 As a compact, built-in washing machine, this fully automatic option from CASART offers good value for money with features such as water & mode control and good spin and wash capacity.
In addition, it's a user-friendly product that is easy to operate.
It can be used as a washing machine OR dryer, depending on your needs. It also comes with power wire and drain house management.
Things we liked
Compact design
Built-in machine
Water & mode control
Decent spin and wash capacity
User-friendly
Things we didn't like
Not suited to a large family
Neff V6540X2GB Integrated Washer Dryer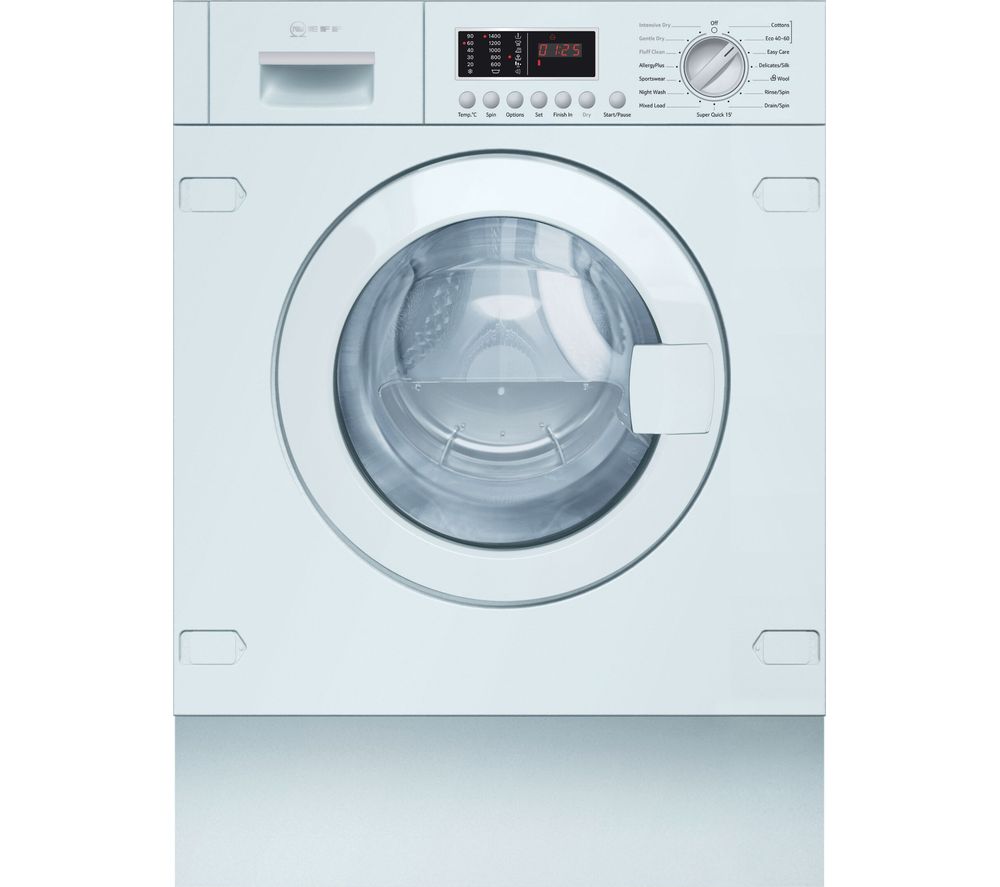 This combo appliance has a 7kg wash capacity and 4kg drying capacity. Despite having a low energy efficiency rating, it offers a Quick Wash option, among other advantages.
Its spin speed is 1400 rpm. Notably, however, it is an expensive product, priced at over £1000.
Things we liked
7kg wash capacity
Quick Wash option
1400 rpm spin speed
LG Turbo Wash 360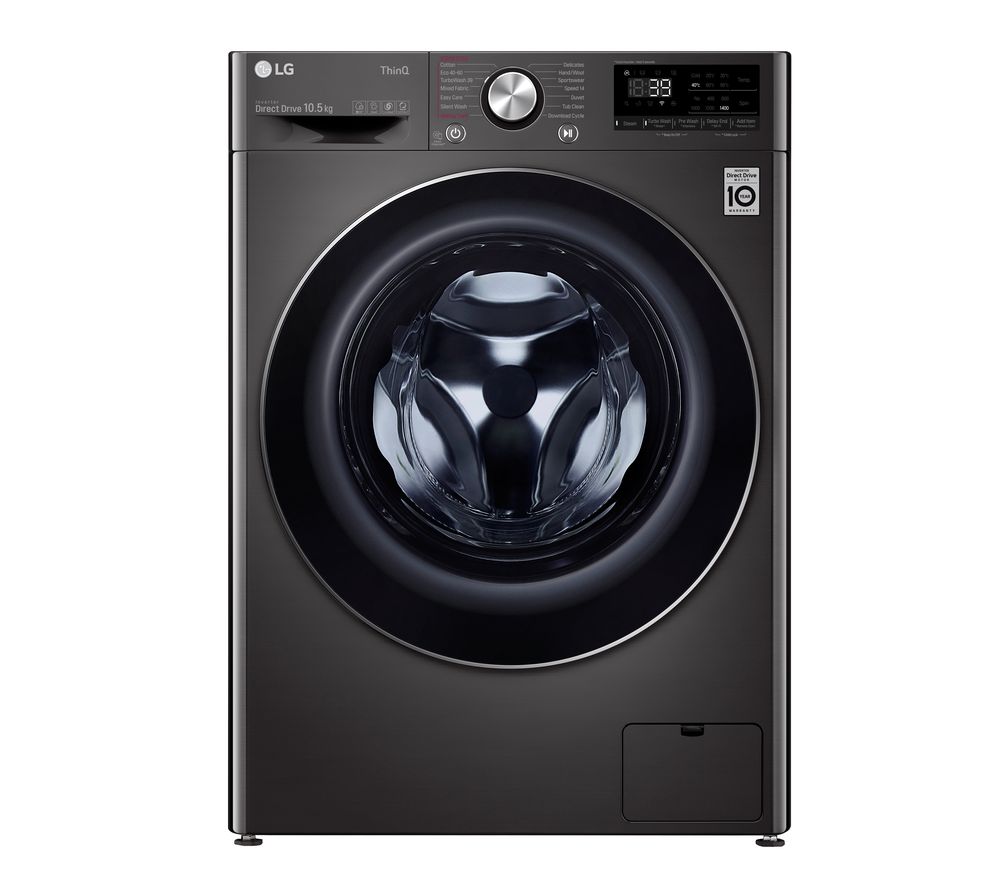 For a hi-tech and energy-efficient combo machine, this 1400 rpm appliance from LG provides a load capacity of 9kg and offers a Quick wash time of just under 40 minutes for a 5kg load.
You can, thanks to its Wi-Fi-enabled capabilities, use your phone to manage the washing. It's also not as costly as the Neff V6540X2GB, despite some of its advantages.
Things we liked
1400 rpm spin speed
9kg load capacity
Wi-Fi enabled
Very energy efficient
What to Consider Before Buying a Washing Machine
There are plenty of points worth taking on board before deciding what is the right washing machine for you. Let's take a closer look at some good examples.
Type
First and foremost, it's essential that you decide what type of washing machine you'd like to use. Whether it be top-loading, front-loading, integrated, Wi-Fi-enabled, or/and semi-automatic appliance, choosing the right type is essential to best meet your needs, preferences, and budget.
Temperature
Each washing machine has its own temperature options and level of variability. Different clothes and loads will need certain temperatures to wash as effectively as you'd like.
Size
The size of the washing machine refers to the actual dimensions of the product, as opposed to its load capacity in particular. Some households will prefer or even require a compact washing machine in order to fit it in a given spot.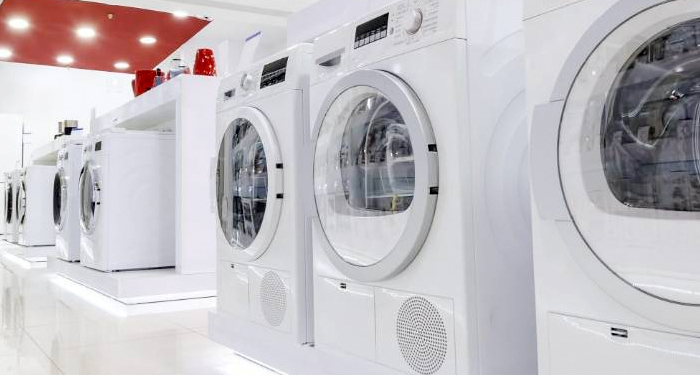 Where You'll Put It
Some appliances need to be near pipework, clothes must be near a sink, and so forth. Make sure you decide where you'd like to place your washing machine before making a purchase (or ensure that it would fit and work correctly if located in any of the several spots you have in mind, regardless of which one you choose).
Load Capacity
Last but not least, there is the capacity of the washing machine to carry clothing. The larger the family, the more load capacity will be needed to meet the washing demand of said family.
FAQs
How do you clean a washing machine?
While there are various approaches, and it is best to consult the manufacturer's guidelines, a common method involves using household products such as baking soda and a toothbrush.
This approach is, broadly, as follows:
Spray white vinegar onto the washing drum
Wipe over its rubber gaskets
Pour distilled white vinegar into its dispenser
Run your machine with hot water
Insert baking soda into the drum
Run your machine once more
Wipe the front and door of your washing machine
Leave the door open a bit, giving the machine time to dry out
Why does my washing machine smell?
The smell could result from mould, mildew, bacteria, and oils, among other causes. Sometimes these may get stuck in the seal, gasket, or/and detergent dispenser and leave behind a smell.
How long do washing machines last?
In general, they tend to last for about a decade if looked after well.
What does it cost to run a washing machine?
Broadly speaking, it costs £0.16 per wash on average, but this will depend a lot on the machine being used and the wash chosen.
Should I buy a Currys washing machine?
There are plenty of high-end products on the market, including some from Currys. It's worth looking at reviews from customers before choosing a specific Currys washing machine to purchase, however, as quality could vary.
Sources