appliances & furniture
Best Toaster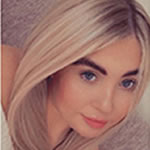 Toast is a food that almost everyone loves, as it is quick and easy to make. However, as technology has advanced, toasters are becoming better and easier to use as time goes by.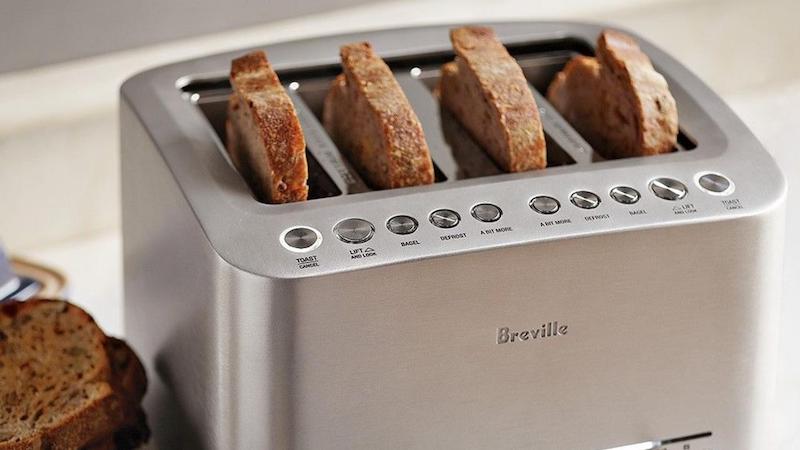 In this article, you will learn more about toasters and what toaster is best for your home. So, if you want to purchase a new toaster but want to buy the right one, this article will help you choose the right toaster.
What Is a Toaster?
A toaster is an easy kitchen electrical device you use to put bread in and cooks the break to make toast for you.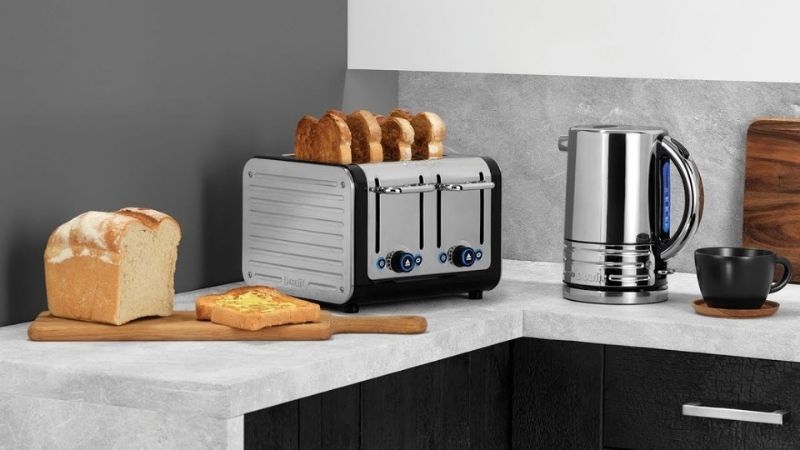 However, you can now buy different toasters with various qualities, such as warming up food and baking sweet foods.
How Does a Toaster Work?
Toasters are quick and easy to use. All you need to do is put slices of bread in the toaster and then push them down and let them cook. Most toasters feature rows of blazing red.
When power passes over these wires, they heat up and direct their heat toward the bread, much like a cluster of small radiators.
Because most people use the same type of bread and slice it in the same way, toast takes roughly the same amount of time to cook. After a particular amount of time has passed, a simple clockwork or electronic timing circuit can be utilised to turn off the heating source.
Turning up the settings on this type of toaster just extends the cooking time. However, not all toasters come with a timer, but it is preferred to have them as you never burn your toast.
Types of Toasters
A piece of bread will not turn into a toaster on its own; you'll need a high-quality toaster that produces tasty slices.
Choosing the ideal one for your needs might be difficult with so many brands, kinds, and styles available.
Here, we'll go over the various varieties of toasters, as well as the qualities that distinguish them.
Standard Toaster
Thanks to a collection of clever sensors, standard toasters flip open as soon as the toasting cycle is finished.
However, depending on the model you choose, you may adjust the speed of the toasting process with either a lever knob or a series of pushbuttons. As a result, you have more control over the toast's brownish crisp.
The most basic sort of standard toasters only has one slot, allowing you to toast only one slice of bread at a time, so if you have a big family, a standard toaster might take too long cooking for everyone.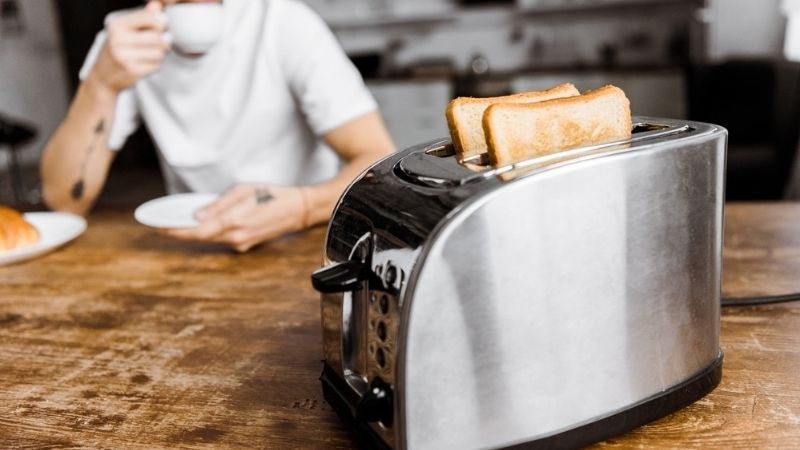 They're made to stay on the counter and blend in with the rest of your kitchen decor. Most of them are made of stainless steel to boost durability and make cleaning easier.
They are simple to use, can toast bread slices of various sizes, and are reasonably priced. However, they may become too heated, resulting in diminished efficiency due to the accumulation of breadcrumbs.
Toaster Oven
A toaster oven is an excellent choice if you want a flexible device that can toast as well as cook dishes. They have a frontal door with horizontally organised racks that open.
All you have to do is put food on the racks, shut the door, and use the knobs or digital controls to select the needed cooking cycle and temperature.
Once the desired colour is reached or the pre-set cooking cycle is completed, toaster ovens are designed to turn off automatically.
Many toaster ovens are capable of much more than just toasting a slice of bread, as they also have computerised controls as well as cooking pre-sets.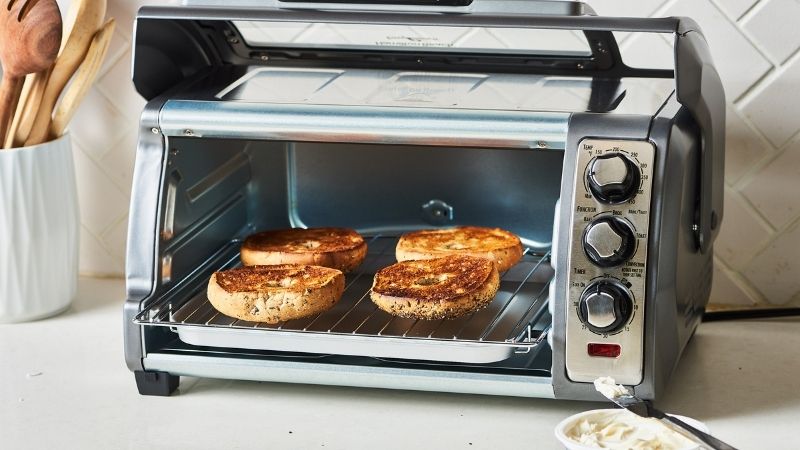 Some Smart Toaster Ovens have sensors and a comprehensive range of functions that allow you to regulate every aspect of your cooking, including how brown you want your bread to get.
Because of the horizontal layout of toast slices, toaster ovens allow you to toast with toppings like cheese and garlic.
They are small ovens that come in a variety of sizes. Larger models are even capable of roasting an entire turkey. They are, however, quite hefty, and the surroundings can become quite heated, necessitating sufficient ventilation.
Commercial Toaster
Commercial toasters, like conventional toaster ovens, have a cooker at the top and bottom of the chamber.
The signature feature is a chain-driven belt that transports bread through the chambers swiftly, allowing you to toast two or four slices of bread or a huge quantity of bread slices with ease. By the time the bread reaches the end of the conveyor belt, toasting is usually finished.
The toaster has an easy-to-turn knob to manage the timer speed, which can assist you to control the belt pace. To get darker toast colours, turn the slider down and lock in a slower belt speed.
Most models just have a single rack that can store up to three rows of bread pieces.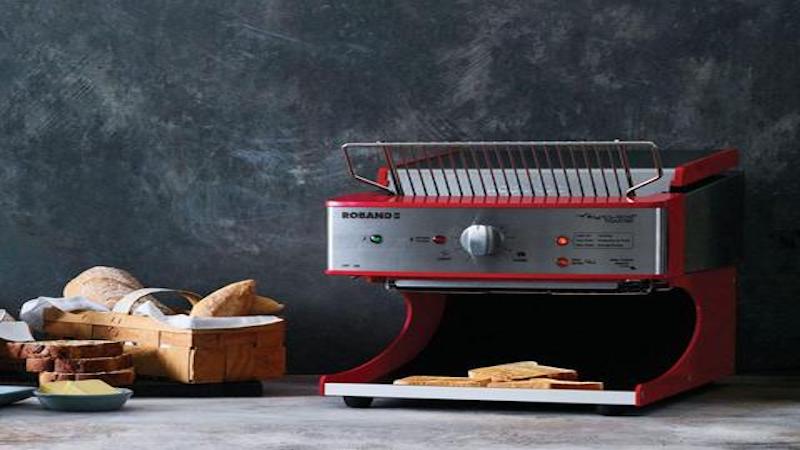 These aren't particularly attractive or well-suited to your home kitchen design. But if you own a restaurant, though, their industrial style and durability are much more appealing.
A typical kind may produce up to 1,000 slices of bread every hour. On the other hand, some newer versions were designed with certain dishes in mind, such as hamburger buns and chicken.
They have a hard design as well as a sturdy design. The outside remains cool to the touch while providing fast toasting for eateries and bakeries.
They do, however, have more complicated controls than slot toasters. They're also quite heavy and considerably more expensive.
Convection Toaster Oven
The convection toaster oven is an older technology that is now available on many toaster ovens. Its most notable feature is a built-in fan that aids in proper heat distribution.
The fan circulates warm air around your dish, ensuring that all the components cook evenly. The ultimate product is crispy, evenly toasted chunks with a brownish tint that is appealing from all angles.
A convection toaster oven has many of the same features as the traditional toaster oven we discussed earlier.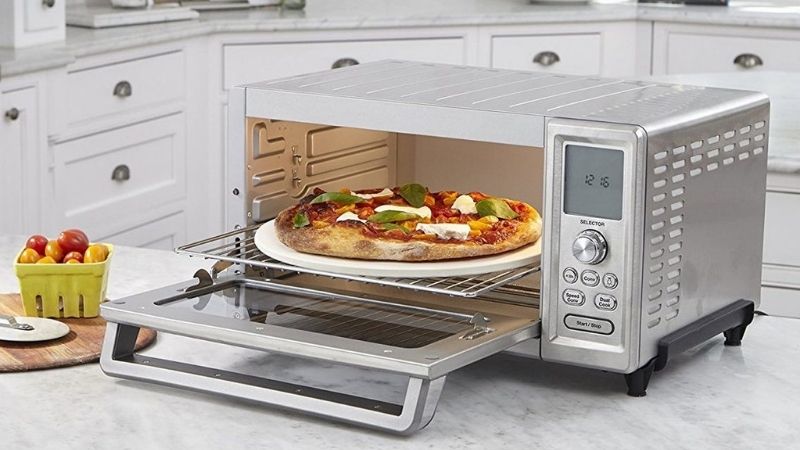 These toaster ovens may also have features such as an Air Fryer, a dehydrator, and dedicated pre-set cooking options for items such as pizza, bagels, and rotisserie chicken.
When compared to toaster ovens, commercial toasters are the most energy-efficient and cook faster. They also cook evenly in all directions. However, they do not raise the dough when baking things like cake.
When utilising the convection option, you must also alter the temperature and cooking cycles in the recipes.
Best Toaster
Best Standard Toaster
Cuisinart The Bakery Artisan Toaster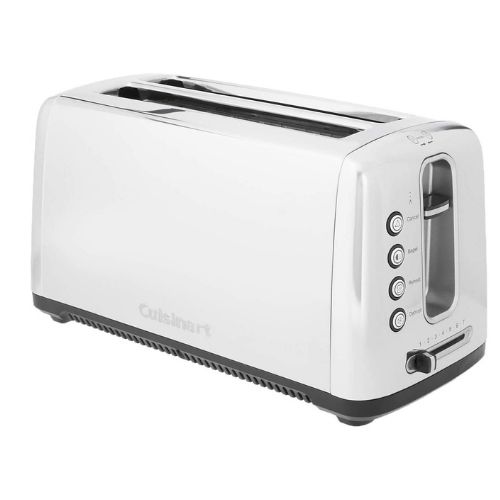 Clear space on your countertop for the Cuisinart Bakery Artisan Toaster if you constantly have an unsliced loaf of bread in your kitchen. It has two lengthy slots that allow entire slices to be cut.
You can toast four ordinary pieces of bread at the same time, in addition to enormous slices. This model's controls are incredibly easy to use. It also has a crumb tray that can be removed.
Things we liked
It is great for large slices of bread
Easy to use
Removable crumb tray
Things we didn't like
Not ideal for smaller items
Dash Clearview Toaster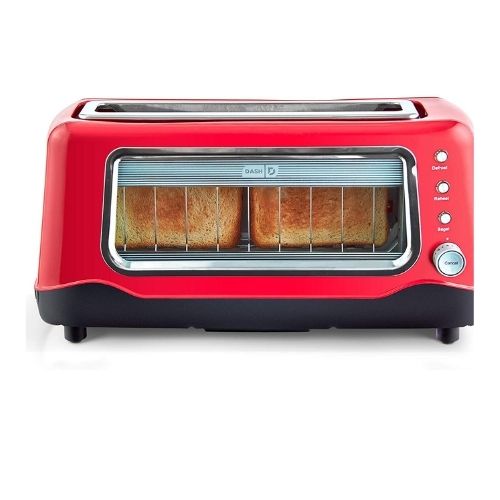 The DASH Clearview Toaster has a glass pane that allows you to see your toast brown. It can fit a large slice of bread without needing to cut it in half since it has one long slot instead of two short ones.
It's simple to clean, thanks to the removable crumb tray. Some reviews complain that the colour range between 2 and 6 is difficult to distinguish, yet it still toasts evenly.
However, it is a standard toaster with an aesthetically pleasing look to add a different vibe to your kitchen. It is reasonably priced and something that every household needs.
Things we liked
The glass pane allows you to monitor toast
Easy to clean
Ideal for large pieces of bread
Things we didn't like
Takes awhile to cool down
Bosch DesignLine Stainless Steel Toaster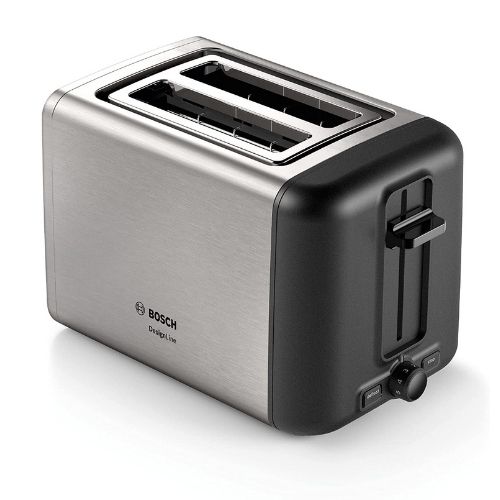 It has defrosted, reheat, and cancel buttons, but if you're addicted to bagels, you'll want to skip this one because it doesn't have a special pre-set for them.
Tall slices may not fit and must be turned halfway through to guarantee that both sides are fully toasted.
Still, the toaster's bold colour, affordable price, and graceful shapes will nonetheless satisfy you in the morning.
One of the downsides is frequent cleaning, as crumbs collect in the rim surrounding the toasting slots, making them difficult to remove.
Things we liked
Defrost function
Stunning design
Affordable
Things we didn't like
Requires regular cleaning
Best Toaster Oven
Oster Digital Countertop Toaster Oven
It's slim and space-saving but can also hold nine pieces of bread at once.
It features settings for cookies, roast, pizza, bagel, toast, bake, reheat, and keep it warm, so you don't have to fiddle with temperatures or times if you don't want to.
With two basic dials and underappreciated start and cancel buttons, it's quite simple to use. Also, the display is quite easy to read.
However, it is an expensive toaster oven to buy but comes with different features that make cooking so much easier. The only downfall on the reviews is that the preheat alert is quiet, so you have to be careful to avoid your food burning.
Things we liked
Compact design
It can hold nine slices of bread
Simple to use
Panasonic FlashXpress Compact Toaster Oven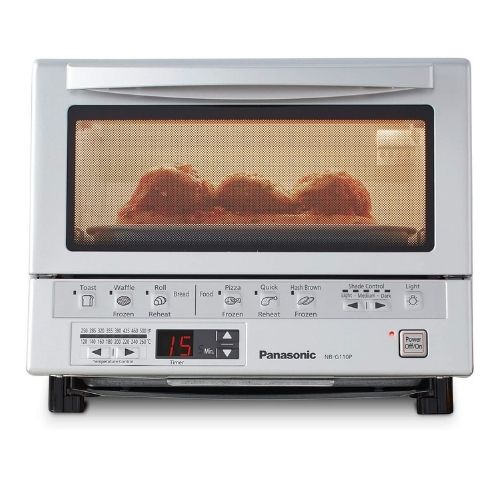 This highly rated toaster oven is small and can determine the cooking time automatically based on the food item picked from the pre-sets.
It can toast, reheat waffles and buns and cook frozen dishes like pizza and hash browns with its pre-set functions. Because the rack is hooked to the door, it will automatically draw forward when you open it.
Keep in mind that the oven will only heat for a maximum of 25 minutes, so it's ideal for frozen dinners, but you'll have to restart it for longer bakes.
The pan is tough to clean and rusts rapidly, according to reviewers. Before putting food on it, it is recommended that you cover it with a fitting sheet of foil.
Things we liked
Multifunctional cooking
Automated cooking time
Easy to use controls
Things we didn't like
The oven takes awhile to heat up
Hamilton Beach 4 Slice Toaster Oven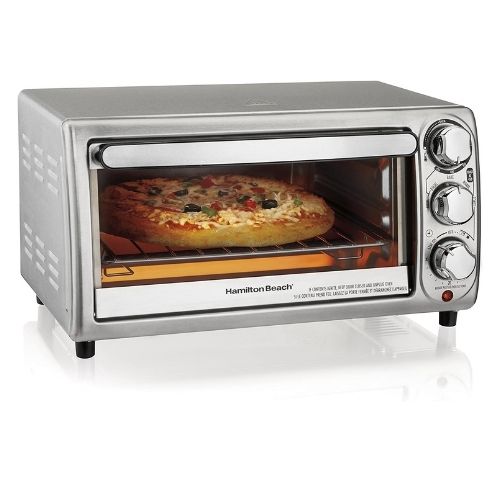 The Hamilton Beach 4-Slice Toaster Oven toasts bread better than any other oven at a lower cost. This basic model lacks features like digital controls and pre-programmed cooking options, yet it warms evenly.
The Hamilton Beach's small size makes it suitable for households with limited counter space, yet its oven cavity can still fit four slices of bread.
Because this toaster oven operates at a lower temperature than others, you'll need to raise the temperature by roughly 25 degrees while baking or roasting. However, given the low price, this is a tolerable flaw.
Things we liked
Affordable
Great for small spaces
Ideal for toasting bagels
Things we didn't like
The temperature does not get as hot as other toaster ovens
Best Commercial Toaster
Omcan Commercial Conveyor Toaster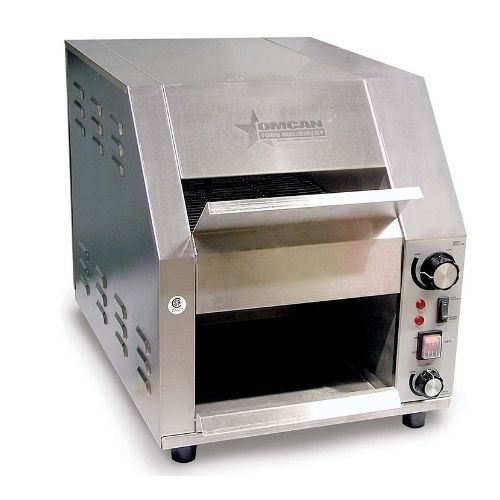 This is a great toaster for industrial kitchens that need something that will last a long time. It's made of tough, gleaming stainless steel that'll last a long time.
This machine is capable of baking a wide range of items, including bread, bagels, and more. It's worth noting that, unlike some other machines, it can bake various types of bread with identical quality.
It features the flexibility to alter the speed and manage temperature, making it simple to adjust while in use. Despite its position in the middle of the market, this is a reasonably functional device at a reasonable price.
This toaster will probably not be picked by many for a commercial kitchen due to its classic and not-so-beautiful appearance.
Things we liked
Ideal for industrial kitchens
Multifunctional settings
Easy to use
Things we didn't like
Not as aesthetically pleasing as other toasters
Waring Commercial Toaster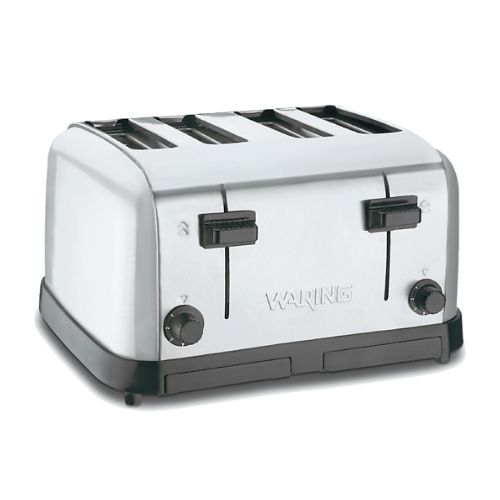 With this medium-duty 4-slot toaster, you can take control of your morning. Because no two people prefer their toast to be precisely the same, this toaster has two browning settings so you can control how golden your toast is.
This toaster comes with a retractable crumb tray to help you keep everything clean in the kitchen. These crumbs can collect in this tray, which you should remove and empty once a week for the greatest results in terms of cleanliness.
However, it feels cheap, although it is expensive and has very small buttons that are hard to press.
Things we liked
Two browning settings
Retractable crumb tray
Easy to use
Things we didn't like
Small buttons may be hard to press
Cuisinart Commercial Toaster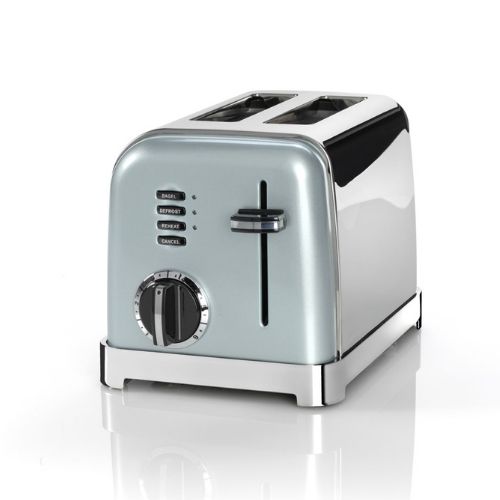 Its modest size allows it to be put away in a small area of the kitchen and brought out as needed. This device also comes with a cable wrap so you can tuck it beneath the toaster's base, out of sight and out of mind.
The fact that it offers two different sorts of bread shading preferences on each side of the toaster that can be enabled by default is a unique feature of this toaster. This means that two individuals can use it at the same time to achieve the toast they desire.
The buttons on this machine are small, however, it is very easy to clean with a sleek design to suit your kitchen.
Things we liked
Great for small kitchens
Sleek design
Best Convection Toaster Oven
Breville Compact Smart Oven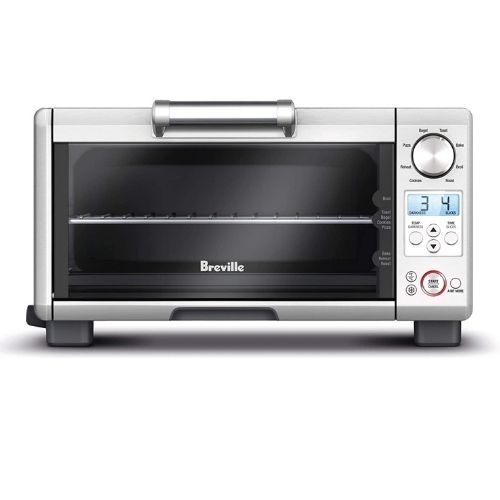 The Breville Compact Smart Oven is incredibly simple to operate, thanks to electronic controls and pre-programmed cooking routines for bagels, cookies, and pizza.
It swiftly browns bread, can make a lovely cake, and also roast tender potatoes and poultry. Cleaning is a breeze because of the non-stick coating.
The stainless-steel design feels robust, and the control panel is also quite straightforward to operate.
It heats foods very quickly and makes them even better as it is super easy to clean! However, it is very expensive, so it could affect your budget.
Things we liked
Compact design
Long-lasting
Easy to clean
Hamilton Beach Sure-Crisp Fry Toaster Oven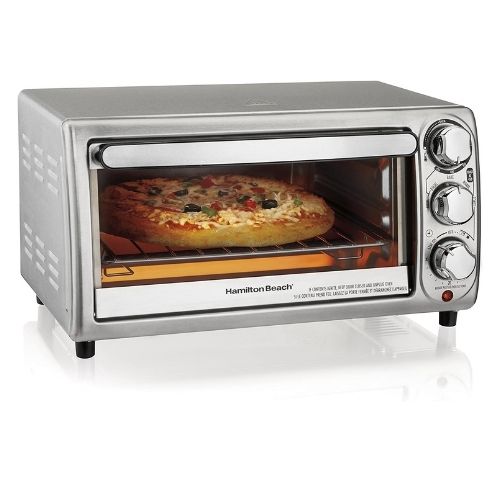 The Hamilton Beach Super-Crisp never disappoints. While it has a simple design and simple controls, it toasts bread and bakes pizza evenly in a short amount of time.
Its air frying powers are amazing. It produces crispy and juicy wings and crispy fries that don't dry up.
Aside from its performance, the compact footprint won't take up much room on your counter, but it can still handle six pieces of bread and a 13-inch frozen pizza, so you won't have to trade size for usability. However, its timer only goes up to 30 minutes.
Things we liked
Simple to use
Includes an air frying function
Great for small kitchens
Things we didn't like
The timer only goes up to 30 minutes
Cuisinart Chef's Convection Toaster Oven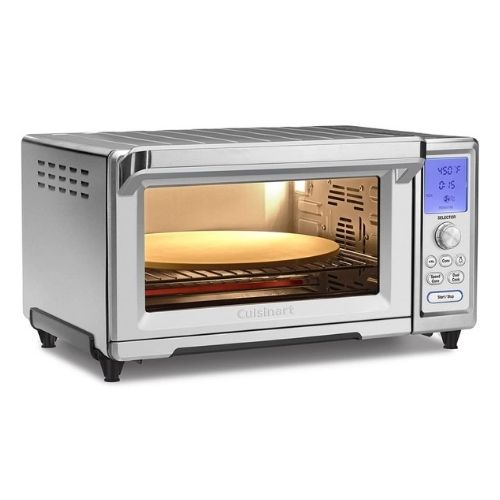 Despite its small size, the stainless-steel Cuisinart Deluxe Convection Toaster Oven Broiler can cook a golden-brown chicken in an hour and toast almost as quickly as a pop-up toaster. Its large interior can easily accommodate a 13-inch pizza.
It has a large interior, numerous convection fan settings, and can be programmed to dual cook, which means you can brown the skin on a chicken at one temperature and finish cooking it at another. However, reviews have said that its preheat alert is quiet.
Things we liked
Great for cooking large meals
Compact design
Robust toaster
Things we didn't like
The preheat sound alert is too low
Best Budget Toaster
Black + Decker 2 Slice Toaster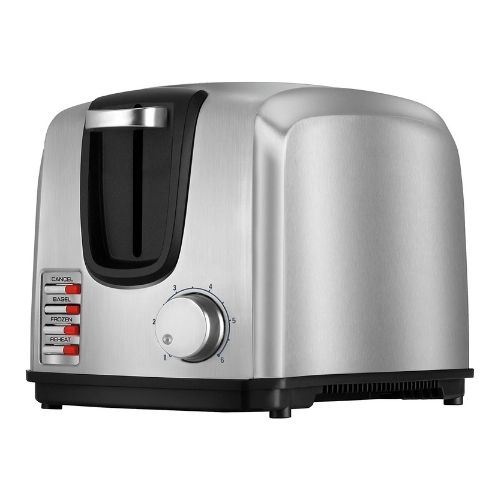 If you like toast for breakfast, you'll appreciate that this model can toast bagels, large, handcrafted slices of bread, and English muffins.
It's ideal for dorm rooms, kitchens with limited counter space, or anyone on a budget because of its low price and compact countertop footprint.
Its price is amazing for the quality of this amazing two-slice toaster, and it comes in a gorgeous matt black with a stainless-steel front.
Things we liked
Great for small kitchens
Budget-friendly
Stunning design
Things we didn't like
Not as versatile as other toasters
Cuisinart 2-Slice Compact Toaster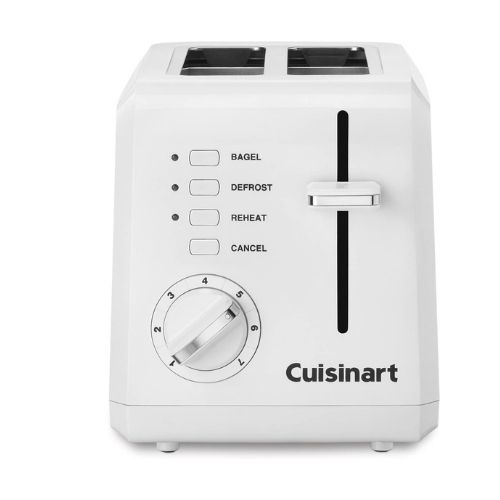 The Cuisinart 2-Slice Compact Toaster is your best bet if you don't want to give up too much counter space or live in a house or dorm with a small kitchen.
It toasts bread to a golden-brown doneness every time, and the settings bagel, defrost, and reheat are simple to read and select. More advantages: The slots in the Cuisinart are large enough to accept thick bagels.
It is an all-black toaster with buttons and a nob to choose different timing settings. It is a great price for a highly advanced toaster.
Things we liked
It doesn't take up a lot of space
Simple design
Great for thick bagels
Things we didn't like
The frozen setting isn't the best
Wilko Red 4-Slice Toaster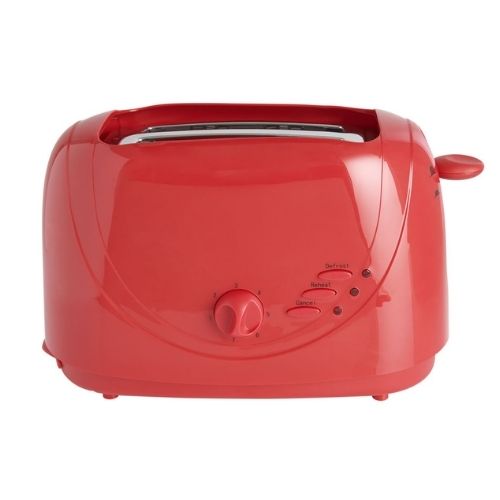 This vivid, cherry-red toaster, which you'd never believe was so cheap, will add a splash of colour to your kitchen. The classic machine has a sleek, rounded shape with chrome highlights, and the dials to control browning appealed to us.
The cord storage underneath is useful for tucking away excess wire and keeping workstations tidy.
It features defrost, reheat, and cancel buttons, but if you're addicted to bagels, you might want to skip this one because there's no dedicated setting for them.
Tall slices of bread don't quite fit and needed to be turned halfway through to ensure both sides were completely toasted, but the bold colour, low price, and elegant contours of this toaster will still delight your mornings.
Things we liked
Bold design
Cheap
Defrost function
Things we didn't like
Not ideal for tall slices of bread
Best 2-Slice Toaster
Bosch ComfortLine Compact Toaster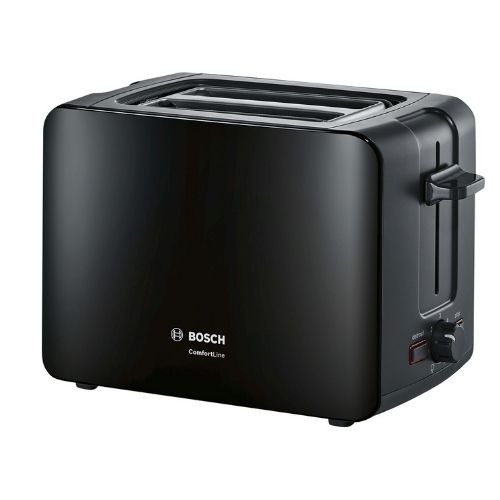 The two slots are large, and the automated centring mechanism ensures that all toasted foods are evenly browned on the outside. It includes a high-lift function that allows you to remove items without getting burnt.
On the opposite end of the toaster lever is a switch that regulates an inbuilt rack that pops up and acts as a warmer and crisper when the dial is set to two.
This toaster is clean and contemporary. It also offers a sleek look with a sturdy build and also features six browning settings.
Things we liked
Available in various colours
Even browning
High lift function
Things we didn't like
Not ideal for some bread sizes
SMEG 2-Slice Toaster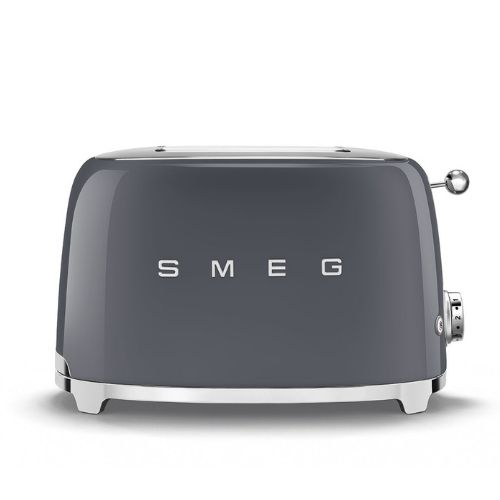 This toaster does all you need it to do, and it does it well, despite its small size.
It has six browning settings, a defrost button, a one-side toasting function for bagels, and a reheat function for those of us who get distracted and forget to reheat our bread.
Doorstop slices from a complete farmhouse loaf, as well as regular store medium pre-cut bread, fit perfectly in the two wide toasting holes. The self-centring racks keep the bread in place neatly, and there's plenty of room for a substantial pop-up.
The removable crumb tray pops out from the side, which may be an issue if you're tight on room, but it's a convenient feature.
Things we liked
Removable crumb tray
Six browning settings
Reheat function
Things we didn't like
Not ideal for limited counterspace
Russell Hobbs Emma Bridgewater Polka Dot 2-Sliced Toaster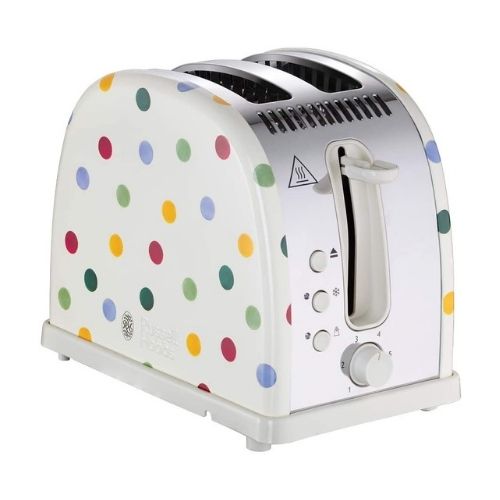 The retro-style look is carried over to the controls, which include a 1-5 dial, as well as eject, frozen and reheat options.
There's no lift-to-look when you press the lever down, but we thought the Russell Hobbs toasted evenly and were pleased with how it performed in our tests.
These holes are exceptionally broad, so anyone who enjoys a slice of toast in the morning won't be disappointed. This toaster measures H22 x W17 x D27cm, which is a bit on the large side for a two-slice toaster.
Things we liked
Unique design
Even browning
Wide bread slots
Best 4-Slice Toaster
Morphy Richards Verve Toaster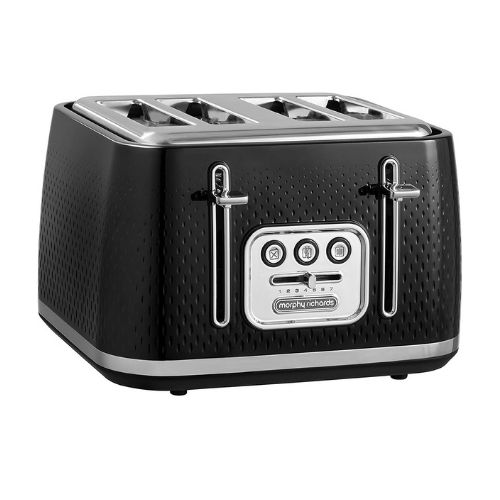 The Morphy Richards Verve Toaster has broad slots, and your toast will pop up once it's done, allowing you to leave it to brown while you get ready for the day.
This option does not have a bagel or crumpet function, but it does have reheat and frozen options.
Simply press these buttons after pressing the lever down to activate, and then click the illuminated button to finish the cycle and see your toast appear.
The Morphy Richards Verve Toaster is affordable and packed with useful features. The levers allow you to lift the bread and the slider dial allows you to regulate your toasting level.
It is available in three colours: cream, black, and white. It doesn't have the most vibrant colour palette, but it will fit right in if you have a neutral kitchen.
Things we liked
Available in various colours
Affordable
Reheat function
Things we didn't like
No bagel or crumpet function
Dualit New-Gen Four Slice Toaster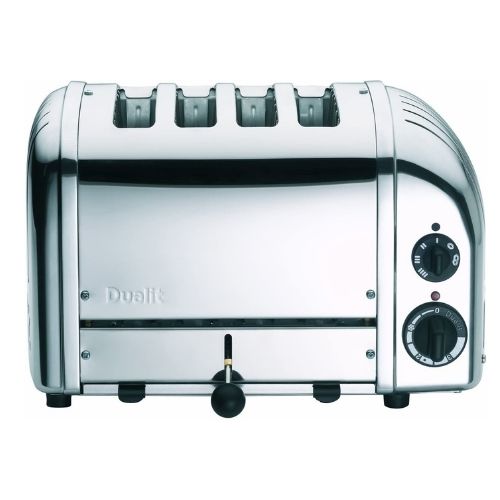 There is no automated pop-up, but it does have nice broad slots; simply lower your toast in manually using the lever on the front, then set the browning control to the desired setting, and the countdown begins.
Raise the lever to expose the toast without interrupting the process, then lower it if it's not done enough or turn the dial to zero if it's done.
There are options for toasting one, two, three, or four slices at a time, as well as defrosting and keeping toast warm. It browns bread faster and more uniformly than most models, taking just over a minute and a half to produce wonderfully browned bread.
The majority took more than two minutes, and while 30 seconds may not seem like much, it can make all the difference when you're hurrying to get the kids to school.
Things we liked
Fast cooking time
Wide bread slots
It can fit four slices of bread
Things we didn't like
No automated pop up function
Breville Impressions 4-Slice Toaster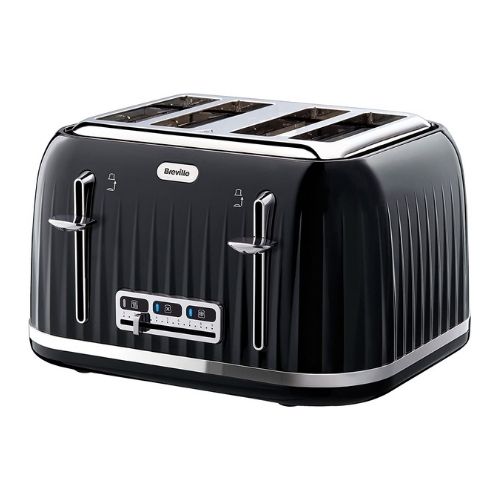 Despite the plastic outer case, it feels nicely crafted, and the chrome accents provide a bit of lustre. The instructions are clear and simple to follow, making it simple to unpack.
However, there isn't much to get confused about because the fascia controls are really simple. The four slots each had two control levels, which was ideal for handling the needs of fussy family members with diverse tastes.
As the toast pops up, it makes a pleasing and noticeable noise, so you'll probably never need to use the keep warm feature. There is standard stop and defrost controls, as well as an easily accessible crumb tray. Although it isn't the fastest toaster, it is rather consistent.
If you're making a large batch, swiping the lever to the left after the first batch will prevent future slices from overheating as the toaster warms up.
Things we liked
Accessible crumb tray
Two control levels
Simple to use
Things we didn't like
Not as fast as other models
What to Consider Before Buying a Toaster
Size
If you're going to keep your toaster in a cabinet while it's not in use, it doesn't matter how it looks or whether it matches the rest of your kitchen decor.
If you're going to keep a toaster on the counter, it should blend in with the rest of your kitchen. Consider the colours and textures in your kitchen when choosing a toaster.
Style
Is your toaster going in the kitchen for the show? If so, you should think about buying a toaster and kettle set so that your kitchen décor matches.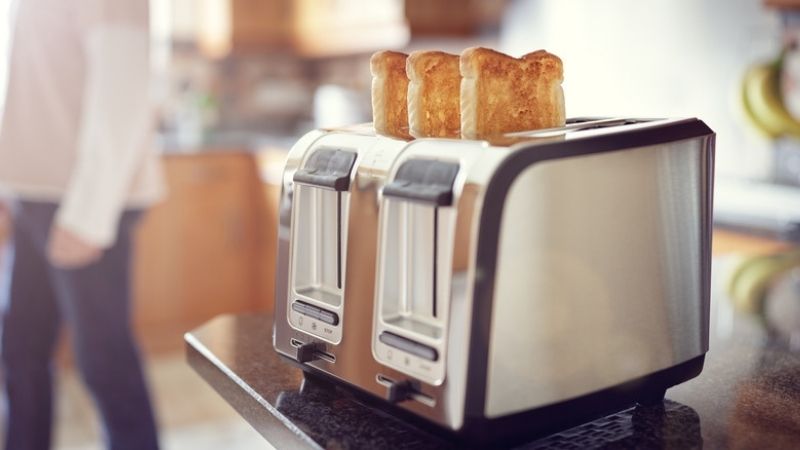 You can buy these almost everywhere as kettle and toaster sets are extremely popular. Argos toasters come with the option of buying a kettle with the same style to it.
The Number of Slices
Do you have a big family? Maybe consider getting a toaster that will cook a good few slices.
It also depends on the type of toast you use. When the bread is too large, the tops protrude and don't appear to toast. Larger slices of bread necessitate the use of deep bread carriages.
Toast Colour
If your toaster has a limited shade range, it will be difficult to get your preferred toast colour.
If the shade of your toast (how much it's cooked) is important to you, then seek a toaster with a large shade range. Depending on the type of bread you're toasting, you'll have additional possibilities.
Functions
Some toasters have a thaw function that turns frozen bread into delicious toast in minutes. Some toasters can toast one side for a given period while toasting the other side for a different amount of time.
Consider what extra features are vital to you if you want to do more than slap a piece of toast in your toaster.
Maintenance
Toasters must be cleaned regularly to prevent a build-up of crumbs. A removable crumb tray makes life easier rather than tipping it upside down and beating it on the bottom to get the crumbs out.
FAQs
When was the toaster invented?
Alan MacMasters of Scotland invented the first electric toaster in 1893. The device was dubbed the "Eclipse Toaster" and was developed and marketed by the Crompton Company in the United Kingdom.
What is the best way to clean a toaster?
Remove the toaster from the outlet. Always make sure a toaster is unplugged and cool before using it for anything other than toast.
Shake out the crumbs by turning the toaster over so the top is towards the ground. It's usually ideal to do this over a garbage can or even outside.
Fill the sink halfway with water and a few drops of dish soap.
Pull the tray out of the toaster's bottom with care.
Remove any remaining crumbs from the bin and soak them in the water.
Brush any crumbs or residue from the inside with a big flat, clean paintbrush or pastry brush. Start at the top and work your way down.
Wash the crumb tray with a cloth and set it aside to dry.
How long should a toaster take?
1 to 4 minutes on a medium setting in a toaster—leave stripes on the bread. Even the quickest toaster ovens take twice as long as toasters since toasting times are proportional to volume.
Why is a toaster important?
A toaster is capable of much more than just toasting. QSRs that use their toaster ovens to their full potential can brown, melt, finish, and even cook things.
The right device can replace old toasting platforms while simultaneously increasing menu diversity, reducing energy use, and saving money.
What won best toaster 2020?
KitchenAid 2-Slice Toaster 5KMT221 is the best 2-slice toaster 2020.
Sources