appliances & furniture
Best Juicer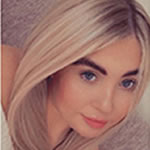 Juices are known to help us increase the amount of fruit and veg we eat a day as you can pop a load in a juicer and then drink, which can instantly provide your body with the nutrients it needs in just one drink!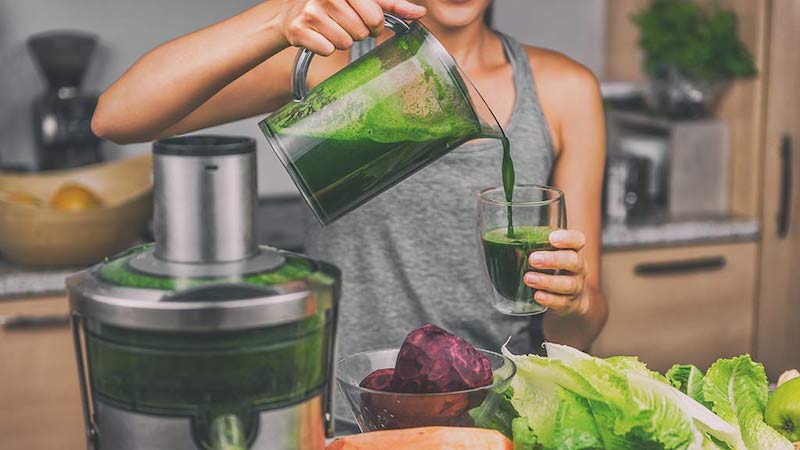 So, if you are thinking of buying a juicer or not sure what a juicer is? This article will help you find the perfect juicer. It will cover the best juicers for beginners, budget juicers, and the most popular juicer brands.
What Is a Juicer?
In the process of juicing, a juicer, also known as a juice extractor, extracts juice from fruits, herbs, leafy greens, and other types of vegetables. The pulp is crushed, ground, and/or squeezed to extract the juice.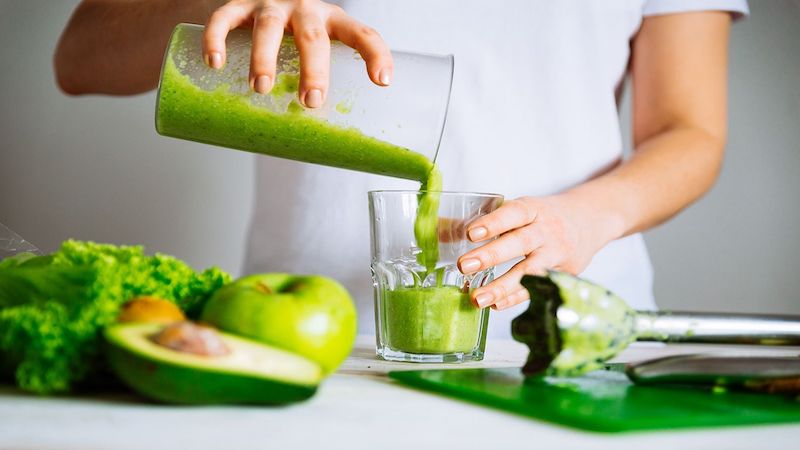 It creates a healthy drink with many nutrients.
They have become extremely popular in the past few years as people are starting to see the benefits they can offer.
How Does a Juicer Work?
Juicers separate the juice from the fibre and pulp of fruits and vegetables. To get the same volume as a blended smoothie, they may require a considerable amount of produce.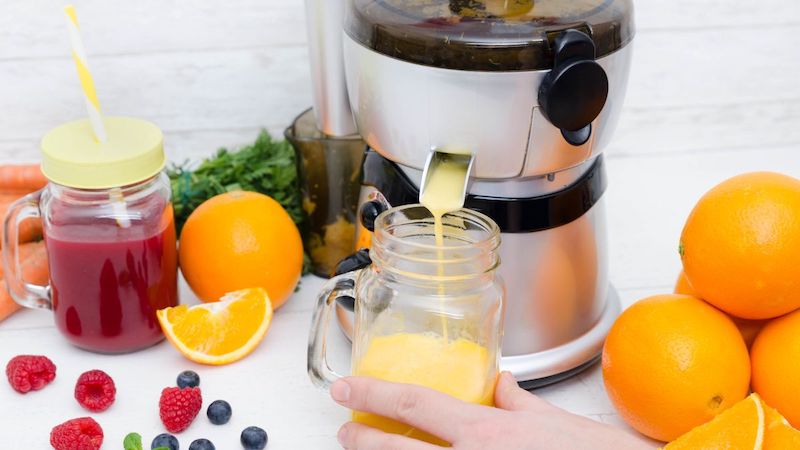 A juicer takes all of the nutrients from the fruits and vegetables for you, saving your body energy by eliminating the need to break down the meal. It can quickly absorb the juice and use the energy saved to restore and repair itself.
Types of Juicer
Before you buy your first juicer, you should learn more about the five different types of juicers.
Regardless of whether a machine has distinctive features or characteristics, its functions will fall into one of five categories: centrifugal, masticating, twin gear, press and slow juicers.
These juicers differ in terms of how they extract juice, how fast they work, the quality of juice they produce, and even how loud they are.
The best juicer for you may also be determined by the amount of money you're willing to invest.
Juicers can be costly, although expensive juicers need an initial investment, many of them are designed to extract the maximum amount of juice from your vegetables. This saves you money and cuts down on food waste.
Read on to learn about the five main types of juicers, the benefits and drawbacks, and which features to look for if you're ready to buy one.
Centrifugal Juicer
Centrifugal juicers use tiny teeth on a fast-revolving basket to crush up produce. After that, the juice is strained through a fine-mesh filter.
This method is rapid, but it produces a lot of foam, which some people find unpleasant or believe causes their juice to oxidise.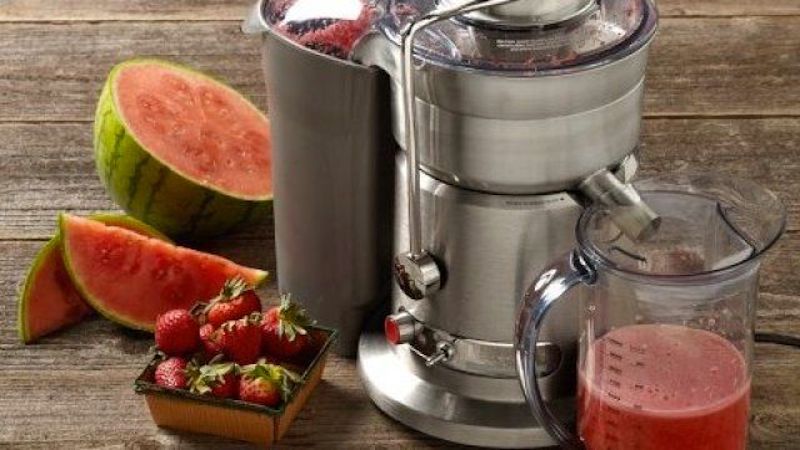 The most economical juicers are centrifugal juicers, which are ideal for folks who are new to juicing. Rather than high-fibre leafy greens like kale, centrifugal juicers work best for carrots and other hard fruits and vegetables.
Most centrifugal juicers are small, light, and simple to set up and use, with dishwasher-safe parts. These juicers are quick, but they are also loud.
Masticating Juicers
Masticating juicers use blades with sharp metal teeth to simulate "chewing" fruits and vegetables. They then press as much juice as possible from the pulp, resulting in excellent yields with no foaming or oxidation.
Leafy greens like wheatgrass, spinach, and kale can be easily juiced with this slow juicer approach.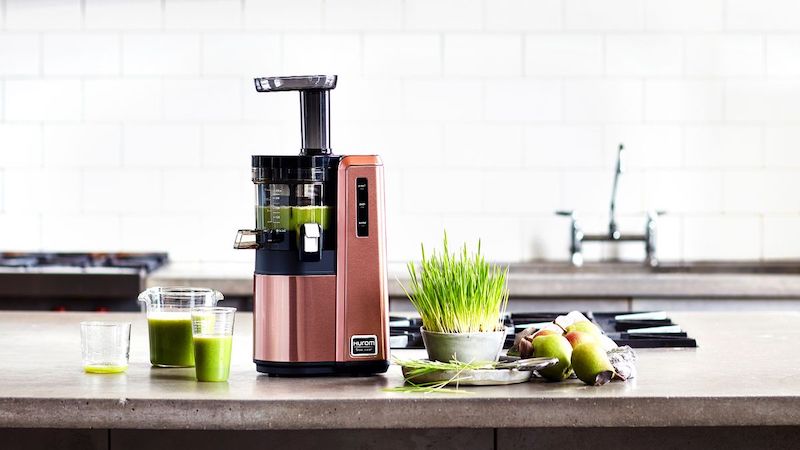 Masticating juicers take longer to make juice, but they don't heat it. More nutrients are expected to be preserved in the final juice as a result. These juicers are usually quieter and have a low hum.
These juicers feature more powerful motors that are more expensive, but they let you make nut butter, baby food, sorbets, and even pasta.
Twin Gear Juicer
Twin gear juicers, as the name implies, have two gears. The augers chew up the produce as they rotate and pull it in. The augers then extract juice from the chewed-up vegetables by forcing it through a fine screen.
This juicer is also believed t extract more nutrients than the juicers spoke about below. They can also produce baby food, nut butter, sorbets, and pasta, among other things.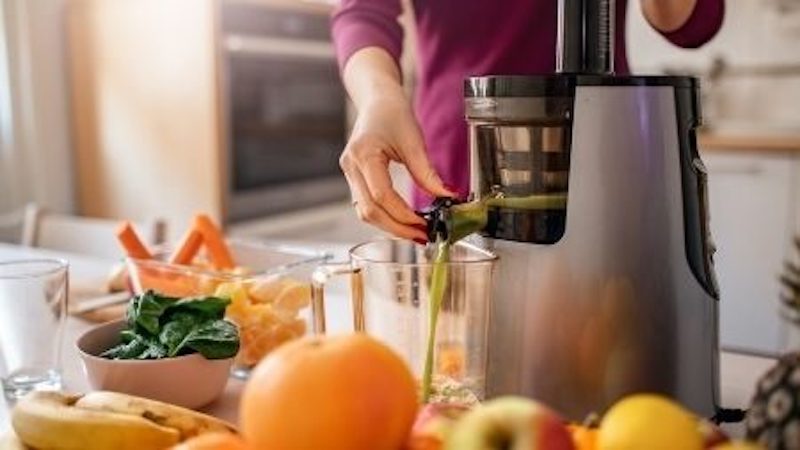 They are quiet, so if you have a baby or don't like loud noises, then this quiet juicer would be perfect. They are, however, more expensive and slower.
They require more counter space than a centrifugal juicer and are more difficult to clean than single-gear juicers.
Juice Press
A press juicer conducts its job by separating the fibre of vegetables and fruits from the juice using the best juicing method while retaining its critical nutrients. People get pure juice with all the good stuff intact as a result.
Because enzymes and nutrients are damaged when vegetables and fruits are heated, a centrifugal or conventional style juicer uses high-powered blades to pulverise the vegetables and fruits into a juice.
Cold press juicers extract juice by pressing vegetables and fruits into pulps without any friction heat.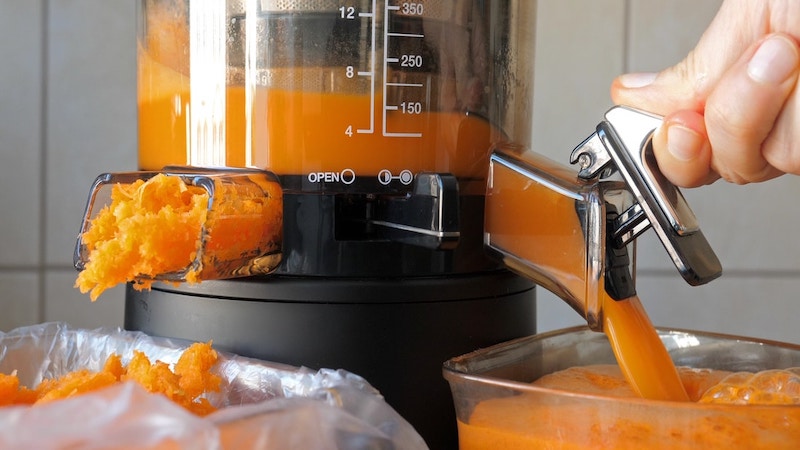 You can make cold-pressed juice with organic ingredients from the market, and these juicers have a "reset" button. Although they are expensive to buy, they can save you a lot of money and ensures that you consume nutritious and healthful juices.
The drink is especially beneficial after overindulgent weekends, vacations, or when individuals are feeling down due to the weather.
Slow Juicer
With the use of a mortar, a slow juicer 'crushes' your ingredients very slowly. This device works on the principle that the fewer spins per minute, the more juice you have left.
The pulp is then separated from the juice, much like with a juicer. Juicing using a slow juicer takes a little longer than juicing with a regular juicer.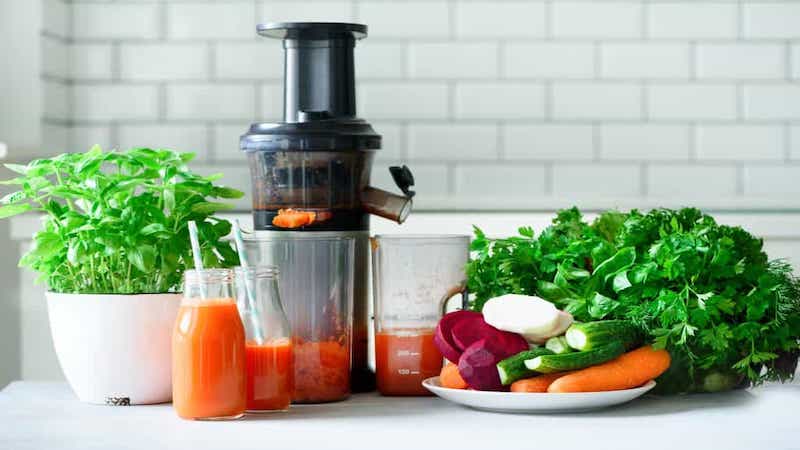 Slow juicers are slow because they must employ a pressing force to force the juice through the filter without generating excessive heat and friction.
For that pushing force, a low-speed induction motor is required. In each case, speed is simply a required part of the juicing process.
Best Juicers
It might be time to give juicing a try, whether you're trying to increase your fruit and vegetable intake or just curious what all the fuss is about. Here's a guide to finding the best juicer for your needs.
Best Centrifugal Force Juicers
Nutribullet Centrifugal Juicer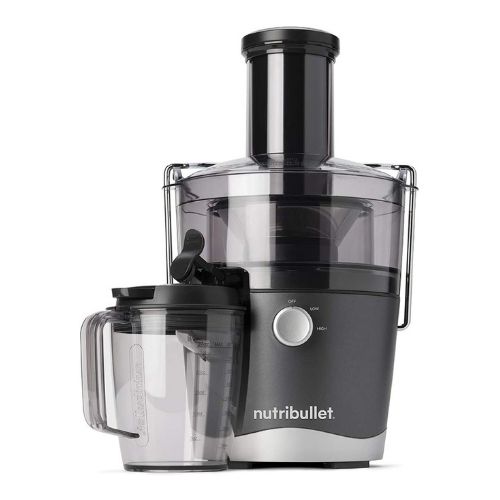 It has an exterior pulp container and a central extraction column. The recipe book is amazing, with lots of inventive ideas for health shots and even instructions for using up the pulp once you're done, which is a great touch for folks who don't like wasting food.
The juice was mainly froth-free and full of wonderful flavour. There are two speeds: high and low, and the instruction book explains which setting to use on certain fruits and veggies to enable you to create your recipes.
If you're making juice for a group of people, the outer pulp container can fill up quickly, but it's simple to clean, thanks to the angled brush that scrapes away excess pulp and scrubs the centrifugal mesh. Most of the pieces are dishwasher safe, which is a huge plus when it comes to juicing at home.
Things we liked
It comes with a helpful recipe book
Easy to clean
Things we didn't like
Not ideal for large batches
Not all parts are dishwasher safe
Braun Multiquick 7 Juicer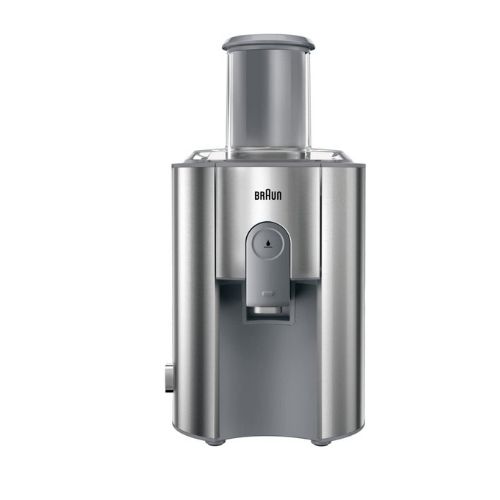 The Identity Spin juicer is efficient, quick to construct, and packed with functions, giving you a lot of bang for your cash. It not only whizzes through large chunks of fruit and vegetables in seconds, with even whole apples fitting down its 7.5cm chute.
The anti-drip and anti-splash spout also keeps your worktop immaculate.
It features a 900W motor with two speeds that adapt to both hard and soft fruit. It also has a 1.25-litre covered container with a foam separator that stores juice.
The machine makes a lot of noise when it's running. It can make a glass of juice in around 15 seconds, which is comparable to the yield of more expensive equipment. The Identity Spin's similarly efficient form may not appeal to everyone - it's chunky, and at 6.2kg, it's not ideal for lifting into and out of a cabinet.
Clean-up, on the other hand, is a significant plus for fans of low-maintenance gear: all the parts are dishwasher-safe, and there's a cleaning brush included for removing tough fibres from the micro-mesh filter.
Things we liked
Great for hard and soft fruit
Dishwasher safe
Things we didn't like
Too large for small kitchens
It can be hard to remove pulp
Cookworks Whole Fruit Juicer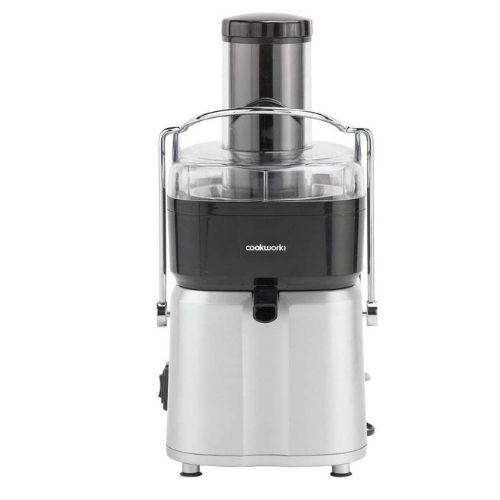 This simple centrifugal model is a nice way to get your feet wet. For starters, the broad tube allows you to process whole fruit. There are also two speeds instead of the typical one found on a budget juicer, allowing you to juice hard and soft fruit separately.
Although the juicer is simple to use and build, the juicer's performance can be disappointing at times with a secure locking handle. It's a loud juicer that vibrates when turned on and takes a few seconds to settle down after being turned off.
Things we liked
Great juicer for beginners
It features two speeds
Things we didn't like
Loud operation
Not the best performance compared to other models
Best Masticating Juicers
Phillips Cold Press Masticating Juicer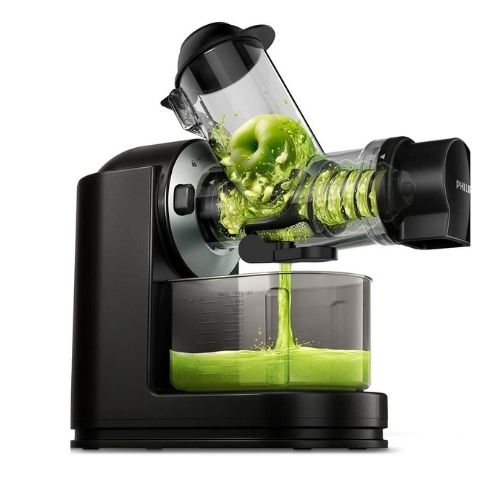 The Philips offers a full glass of juice in under a minute and uses cold pressing to produce extraordinarily smooth and balanced juice.
The covered feeder tube feeds an apple whole into the corkscrew mechanism, which you may reverse to help any resistant ingredients through.
Juice is collected in a container beneath the machine by a spout with a tap, successfully preventing dripping, which is a common problem with juicers.
This is a nice mid-range juicer if you have space. It has a contemporary design and is operated by a button; however, the machine is extremely deep and small in breadth.
It includes five juicing recipes and is simple to assemble, clean, and wash. Overall, this is a fantastic juicer.
Things we liked
Fast juicer
Simple to clean
Things we didn't like
Not ideal for large batches
Whole fruit cannot be used
Kuvings EV0820 Juicer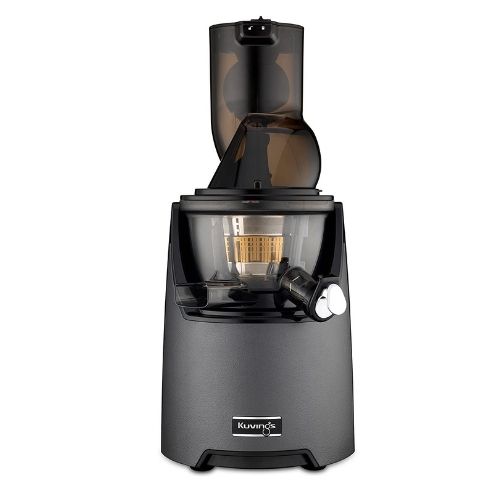 This is a good juicer with a lot of extra features that make it very easy to operate, just what you'd expect for the price. To assist you, the stacker build style is highlighted by red dot markers.
Its large feeder funnel and key screw mechanism are ideal for entire fruit and vegetables like crisp apples and carrots.
The lid lock on the feeder funnel keeps unruly materials in while they drop into the juicer drum. A built-in pulp sieve ensures that the juice extracted is pure and fresh.
Things we liked
Great for whole fruits and vegetables
Red dot indicators
Things we didn't like
It does not come with accessories
Expensive
HR1947 Avance Masticating Juicer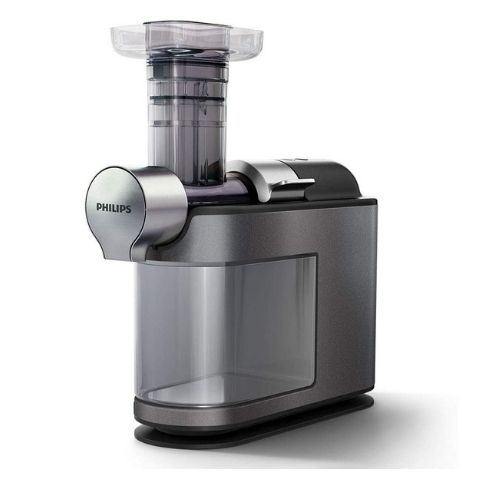 Thanks to specialised cord storage and pieces that fit inside the pulp container, it's slim, attractive, and a pleasure to store. It's simple to put together and can be cleaned by hand in about a minute.
The Avance, on the other hand, has a few oddities. One is a narrow feed tube, which means that while you'll save time cleaning up, you'll spend some of it chopping beforehand.
The juice yield is high, it's nearly impossible to clog due to the lack of a sieve, and it's quiet enough to have a conversation while using it. Although the Avance is pricey for a machine that simply generates juice, its small size and low maintenance make up for it.
Things we liked
Attractive design
Simple to clean
Things we didn't like
You will spend more time chopping ingredients
Pricey
Best Twin Gear Juicers
Tribest Greenstar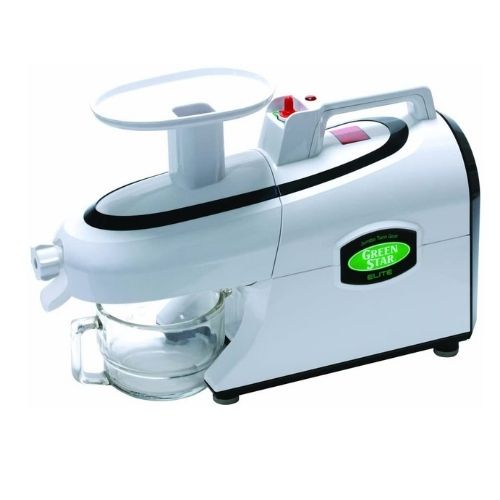 The machine includes a three-stage masticating system with pocket recesses on its sharp teeth to maximise coverage while juicing tougher materials.
Its motor isn't the most powerful on the market, but it can cut and crush everything you feed it, including apples, pears, ginger, and delicate and thin leaves, and squeeze out the juice.
When juicing different materials, the juicer has an adjustment knob that you may move to raise or decrease the pressure required for pulp ejection to maximise juice production.
It also comes with two screens, allowing you to choose how much fibre you want in your juice.
Things we liked
Pressure adjustment function
Effective sharp teeth
Things we didn't like
Not the most powerful juicer
The pulp can be dry
Super Angel Pro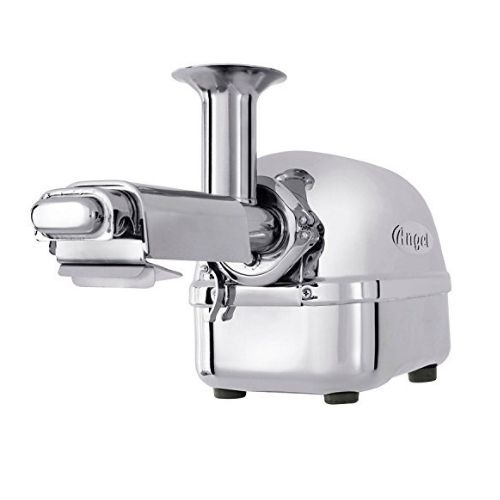 When the machine is overfed, it adjusts its speed to avoid jamming. The fact that the rpm never exceeds 82, the lowest among all triturates, is the icing on the cake.
This reduces the danger of the motor being too hot, preventing any heat transfer to the juice and keeping all the enzymes and micronutrients active and fresh.
Things we liked
Speed adjustment function
Anti-jamming system
Green Power KPE1304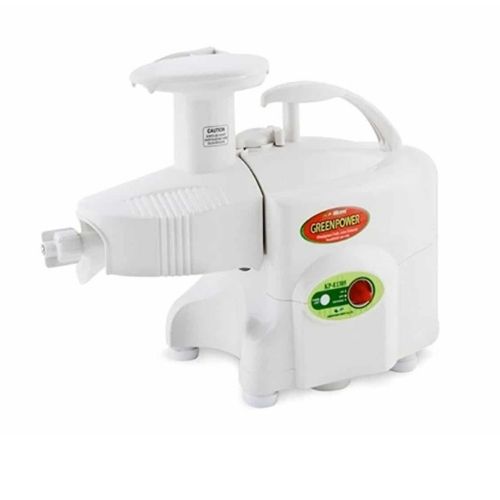 A hot motor is normally connected with a greater speed, but it's a little price to pay to cut your juicing time in half. In truth, the heat generated is negligible if you carefully follow the directions and turn it off every 25 minutes.
This small machine outperforms the competition. It comes with a multi-purpose kit that contains an extra screen for preparing nut paste, nozzle pairs for dry and water production, and various juice and noodles outlets.
Things we liked
Multifunctional design
Quiet operation
Things we didn't like
Bulky design
Not dishwasher safe
Best Juice Press
Breville Juice Fountain Plus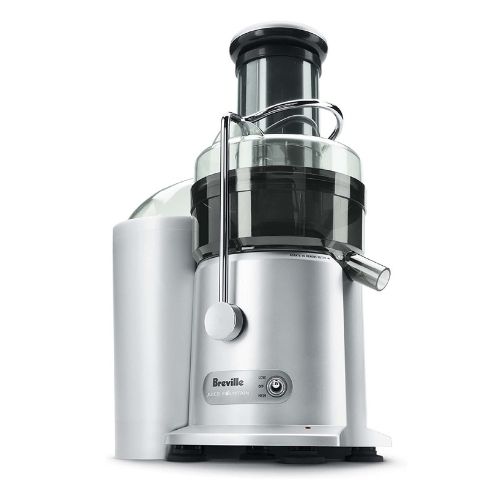 Because this juicer has an extra-large centrifugal chute and a 2.5-litre pulp container, you won't have to do any pre-chopping or pre-cutting to receive the delicious juice of your dreams.
Plus, except for the motor housing, all the parts are dishwasher safe, making clean-up a pleasure.
Things we liked
No chopping preparation required
Dishwasher safe
Things we didn't like
Not ideal for soft or leafy ingredients
Leaves pulp very wet
NutriBullet NBJ50200 Juicer Pro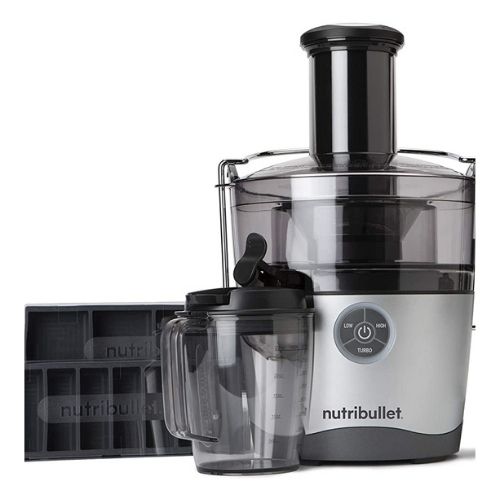 There's a reason this is a classic. It's powerful while remaining cost-effective. It has both narrow and wide chutes, so you can manufacture any type of juice you want.
It also has unique features, including a no-drip spout and a sealed juice pitcher, which are ideal for meal preparation.
Things we liked
No-drip spout
Easy to use
Things we didn't like
It stains easily
Requires regular cleaning
Hurom HP Press Juicer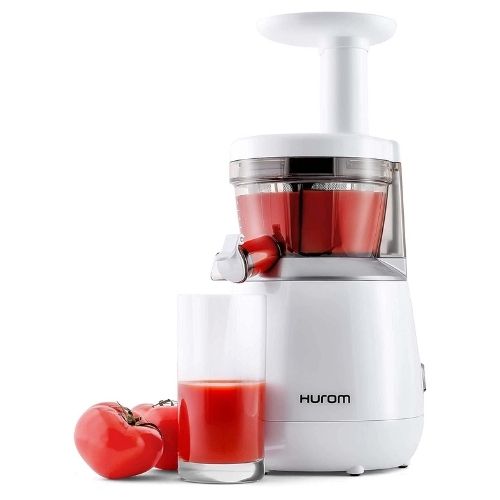 This compact Hurom HP Slow Juicer is the kind you want if you're looking for a petite press juicer that's excellent for single servings or smaller meals.
A low-speed auger extracts every drop of juice from fruits and vegetables, leaving your drink silky smooth and pulp-free. Low-speed juicing keeps things quiet while in operation and produces very little heat.
Things we liked
Great for quick small meals
Produces pulp-free juices
Things we didn't like
It can be hard to clean
It takes time to assemble
Best Slow Juicer
Hurom H101 Easy Clean Slow Juicer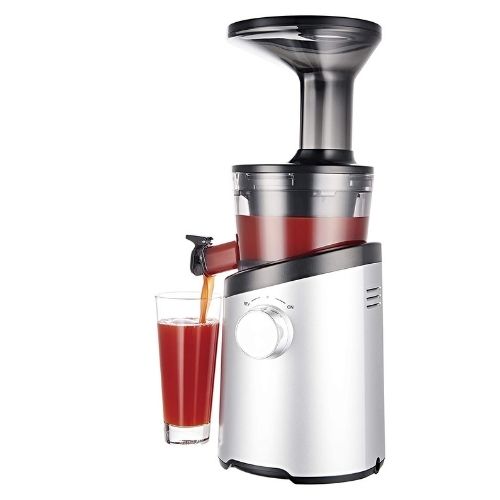 Most juicers contain metal mesh strainers that must be cleaned regularly. The heavy-duty plastic strainers on the Hurom Easy Clean Slow Juicer are a game-changer: they have huge vertical grooves that are easy to clean.
The tiled juicing chamber also produces more juice, resulting in less clutter inside.
This slow juicer comes with a double-sided cleaning brush that goes into all the crevices, in addition to the updated strainers and upgraded inside.
Furthermore, the pulp outflow features a small trap door that makes cleaning and digging around even easier.
Things we liked
Durable design
Easy to clean
Things we didn't like
Not ideal for leafy greens
It can be hard to assemble
Breville Big Squeeze Slow Juicer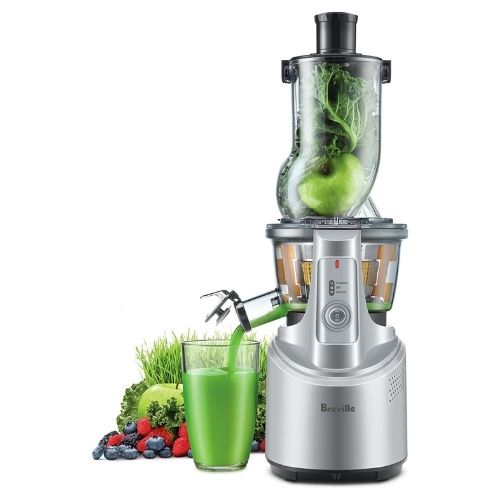 The Breville Big Squeeze has a unique feed tube design that can handle all fruits and vegetables. It has a larger compartment for huge fruits and vegetables and a smaller section for slender, leafy greens.
It also features a large funnel that enables ingredients to automatically feed into the auger without the assistance of the pusher. This arrangement helps prevent jamming and reminded us of commercial orange juice machines that have a line of oranges ready to be squeezed.
Things we liked
Large funnel
Automated feeding function
Best Citrus Juicer
Smeg CJF01 Citrus Juicer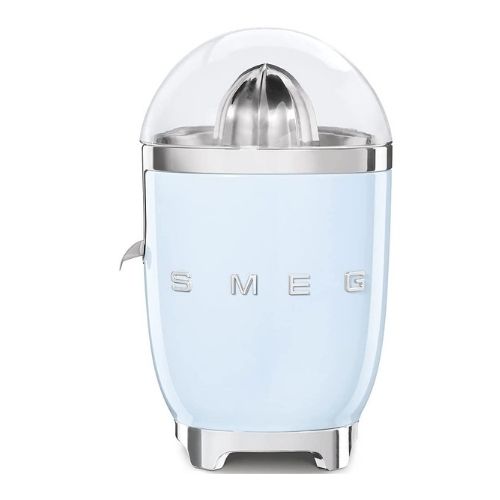 The Smeg CJF01 Citrus Juicer isn't a multi-tasker, but it's a lovely device that we'd never want to remove from the kitchen counter. It's a little bigger than most citrus juicers, but it's quite simple to operate and set up.
When you press down on a lemon or orange, the electric juicer starts spinning, and the pulp is squeezed through a replaceable pulp filter.
Simply fill a cup with fresh OJ or lemonade by clicking down the side spout. You can't juice anything but citrus in this option, as the name implies, but it's a great breakfast companion that comes in various colours.
The attachments are all dishwasher safe, and the body is made of die-cast aluminium, which feels sophisticated and high-quality.
Things we liked
Simple to use
Dishwasher safe
Things we didn't like
It can only be used for citrus fruits
Expensive
Zulay Professional Heavy Duty Citrus Juicer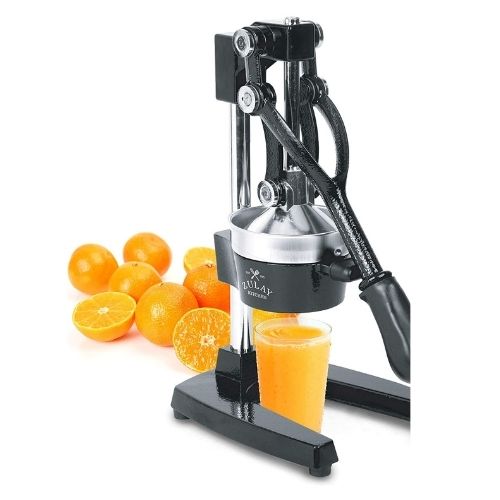 With a single pull of the handle, this commercial-grade juicer employs gravity and leverage to extract as much juice as possible. The original juice press is a true workhorse, with its cast-iron base and strong design.
This press is ideal for creating fresh-squeezed orange or grapefruit juice if you have the counter space. It's also perfect for pressing large quantities of any size citrus fruit and is frequently used by bartenders who manufacture their mixes. It's also available in a variety of colours.
Things we liked
Impressive juice extraction
Various design options
Things we didn't like
Not suitable for large fruit
It is not motorized
BLACK+DECKER CJ625 Citrus Juicer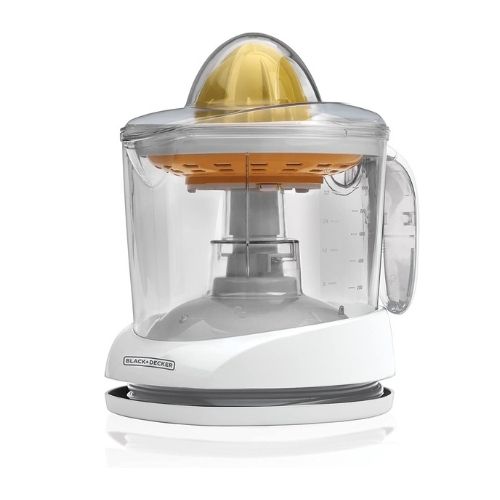 If you want the convenience of an electric juicer but don't want to spend a lot of money, this Black & Decker model might be perfect for you.
This juicer has an auto-reversing cone that helps you extract as much juice as possible from your citrus. It can juice up to 34 ounces in one go. You can even modify the quantity of pulp in your juice with the pulp control option.
The unit comes with a plastic cover and integrated cable wrap for easy storage, and all removable parts are dishwasher safe.
Things we liked
Budget friendly
Easy to store
Things we didn't like
Loud operation
Not as durable as other models
Best Cold Press Juicer
BioChef Axis Cold Press Juicer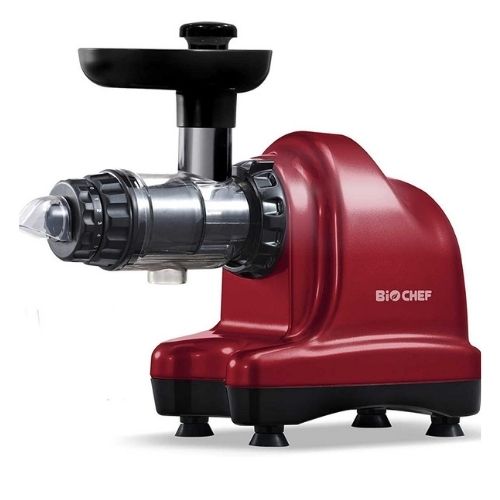 If you're not in a rush and want seriously high-quality juice, the BioChef will extract the maximum amount of juice from any ingredient you feed it. It can handle fibrous and crunchy fruits and vegetables.
You may cut and throw parts in at the same time with a convenient feeder dish, eliminating the need to rush, but make sure fruits like apples are quartered. The funnel is modest in size.
Because of the corkscrew masticating mechanism, there are no exposed blades to clean. This juicer has a surprising degree of versatility, as you can produce nut butter, pasta, and sorbets with this machine. It is also a strong and sluggish juicer.
Things we liked
Versatile function
Helpful feeder dish
Things we didn't like
It takes awhile to make juice
Not ideal for whole fruits
Omega Cold Press Horizontal Slow Juicer
Omega's slow juicer prevents oxidation, heat build-up, foaming, and clogging, all of which results in a better-tasting and healthier juice.
The machine's sleek design also means it will fit on your counter better than other bulkier models.
Things we liked
Oxidation prevention
Attractive design
Things we didn't like
Not ideal for large fruit
Best Juicer for Beginners
Sage SJE830BSS The Nutri Juicer Cold XL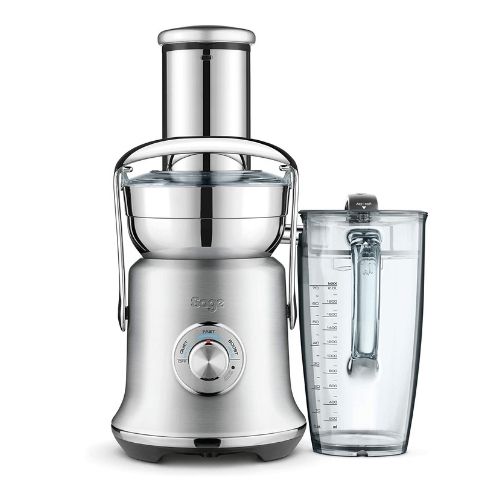 The centrifugal Nutri Juicer Cold XL is simple to build, feels reassuringly sturdy, reduces chopping, and everything, save the pusher, can be thrown in the dishwasher or cleaned in seconds. As a result, you'll be able to prepare juice swiftly and with minimal mess.
There's also a quiet option for delicate fruit processing and a boost option for hard veg.
Aside from its speeds, it has smart design features like a huge pulp container and two-litre juice jug with an airtight lid, which means you can juice a batch and keep it in the fridge for up to three days, and a flexible nozzle that allows you to juice directly into a glass.
However, there are a few drawbacks, such as the absence of recipes and the lack of an anti-drip spout, so it's best to keep a glass in place after you've done it or risk having to clean up spills.
Things we liked
Dishwasher safe
It comes with helpful accessories
Things we didn't like
No anti-drip spout
It does not come with a recipe book
Omega NC900HDC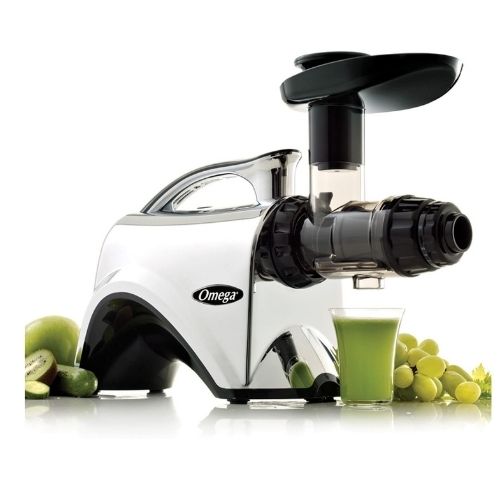 This high yield Juicer is a great place to start for a newbie because it's easy to clean and versatile. It also comes with a 15-year warranty, meaning you won't have to worry about it breaking, and it's quiet.
However, it is an expensive juicer for your first one, but the outcome of the juice is always perfection.
Things we liked
Ideal for beginners
15-year warranty
Things we didn't like
Expensive
The clear juicer container can become cloudy
Aeitto Juicer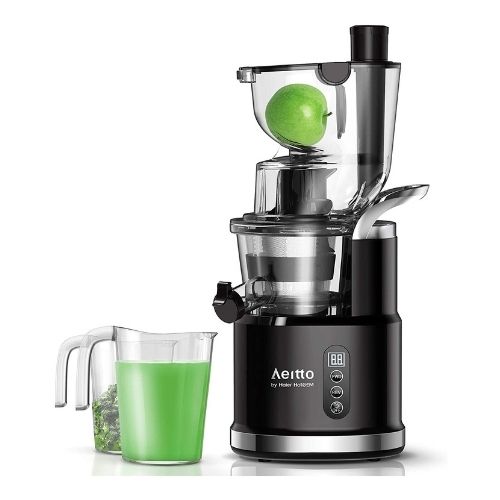 The Aeitto provides all the advantages of a slow juicer at an economical price. It won't provide a larger yield than Omega or Kuvings, but it is simple to clean, disassemble, and utilise.
One disadvantage is that its motor power is inferior to its competitors, and it may not be as durable.
It may clog after 2 cups of juice, in which case you can try using the opposite setting. If it doesn't work, you'll have to disassemble the juicer and clean it before continuing to juice.
Things we liked
Budget friendly
Easy to clean
Things we didn't like
Prone to clogging
The motor is not as powerful as other models
Best Budget Juicer
ElectriQ HSL600 Juicer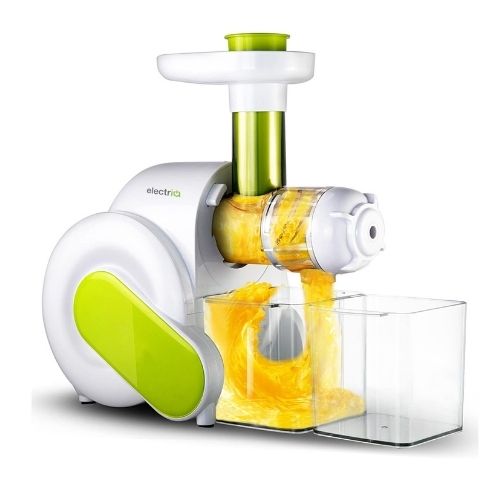 It's simple to put together; the pieces fit together logically and resemble a large pencil sharpener. There are clear, easy-to-read graphics in the instructions, as well as some simple juice recipes if you need a little extra help.
This type has a quiet motor that doesn't generate much noise once it's turned on. Because the feeder funnel isn't particularly large, tougher fruits like apples will require some slicing. The juice produced is of high quality, being clean and fresh with a little pulpy texture.
The white design easily reveals any juice splatters, which is a good thing when it comes to cleaning the machine clean because every drop is visible.
Things we liked
Easy to assemble
Quiet operation
Things we didn't like
The feeder funnel is quite small
It produces a lot of pulp waste
Stellar Electricals Juice Extractor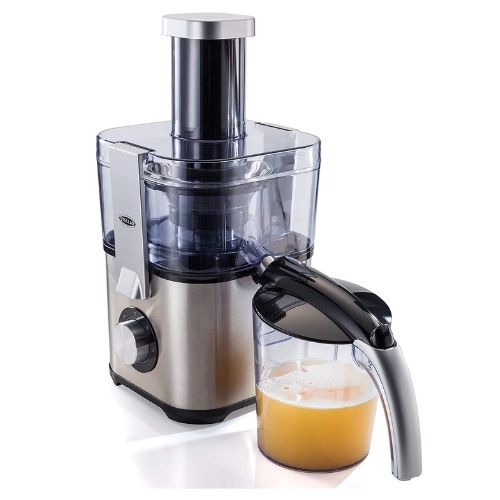 This cheap and easy juicer has two settings, which is perfect for different types of fruit and vegetables, and a useful handbook that explains which foods to juice at which speed is included.
The front and back panels lock the lid in place, and the switch illuminates blue when it's plugged in, signalling that it's ready to use.
It's a pain to clean, as are most juicers. All the attachments can be put in the dishwasher. However, because the jug's cover cannot be removed, we found that cleaning it by hand is easier.
Another advantage is that you can put whole apples and oranges in this juicer, which considerably reduces prep time.
Things we liked
Easy to use
Perfect for most fruit and vegetables
Easy Clean Big Mouth 2-Speed Extractor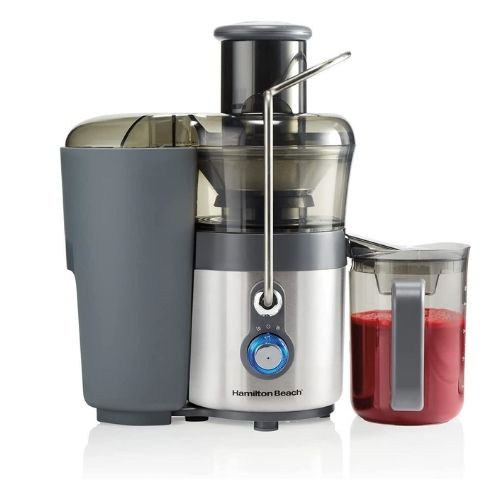 It's simple to put together, use, and clean, and it produces smooth, pulp-free juice. The best aspect is that all the components can be washed in the dishwasher.
For those who prefer to wash by hand, it also comes with an innovative side-cleaning tool.
The tool protects your fingertips by wiping away pulp from the inside, outside, and bottom of the cutting blade in one stroke. While the juicer is a little loud, the price, speed, and results are unbeatable.
Things we liked
Produces pulp-free juicer
Dishwasher safe parts
Things we didn't like
Stains easily
Not ideal for large chunks of fruit or veg
What to Consider Before Buying a Juicer
Before you buy a juicer, make sure that it is the right juicer for you. This section of the article will help you think about the type of juicer you want.
Types of Fruits and Vegetables
Try to estimate how much of each of the following you plan to juice: Soft Fruits, Citrus Fruits, Harder Fruits, Vegetables, and Leafy Greens will be juiced.
Unfortunately, no juicer is meant to excel at all the above, so it's crucial to figure out what you'll be juicing the most, as this will have a big impact on which juicer is ideal for you.
Budget
If you want to make juicing a regular part of your diet and health routine, don't compromise on the expense. Many individuals begin juicing by purchasing a cheap centrifugal juicer for under £100. However, the effort required to assemble the juicer may rapidly discourage you.
Because of the high quantity of waste and low quality of juice, the juicer becomes just another kitchen gadget that collects dust or, worse, breaks down within the first year.
If you are ready to pay £200 or more, you will be rewarded with a high-quality juicer that will last at least ten years.
The Time it Takes
Many marketing brochures exaggerate the amount of time needed to construct, disassemble, and clean a juicer. After a few uses, we've found that assembly, disassembly, and cleaning become second nature.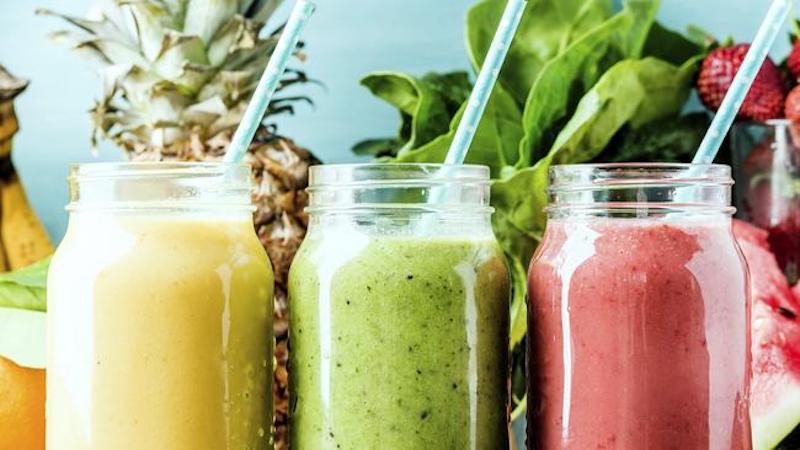 Although many juicers have additional parts, rinsing and cleaning these parts under a running tap just takes a few seconds.
Additional Features
Many juicers now provide a range of food processing options. Many now can create oils, nut butter, ice creams and sorbets, pasta, crush ice and coffee, as well as a variety of other grinding and mincing functions.
So, if you want your juicer to do more than just juice your food, then consider this.
Juicer design and aesthetics
Keep your juicer visible in your kitchen to get the most out of it; otherwise, it may wind up unused in a cupboard somewhere.
Many juicer designs are magnificent; most of the major manufacturers have attempted to provide a variety of forms and colours to fit into a modern kitchen setting.
Consider the colour of your other kitchen appliances, the size and shape of your juicer, and the space around your juicer for collection bowls, as well as the space above your juicer where you will need to reach the hopper to feed produce in.
Many juicers are huge and either horizontal or vertical in design; when selecting a juicer, keep the juicer dimensions in mind.
FAQs
What can you do with a juicer pulp?
Make a delicious bread loaf with the pulp to make a sweet and healthful treat by mixing apple and carrot pulp into your favourite banana bread recipe.
Make your baby food If you have a little child, repurposing your juicer pulp to make a tasty, nutritious baby food is a terrific way to get rid of it! To make applesauce, simply add a little water to the juicer pulp and blend at low speed in your blender. Your child will enjoy the sweet flavour while also benefiting from the nutrient-dense pulp.
Adding pulp to fresh salads will provide fibre and flavour.
What is the best way to clean a juicer?
First and foremost, a thorough rinsing to remove any leftover pulp. Juicers still need to be cleaned, but it'll help make your cleaning area less cluttered.
Manual scrubbing on the screen and in the pulp outflow comes next. These are the most prevalent sites for pulp clogging, and if it isn't removed completely, it might dry out and cause problems later in the life of your juicer.
You have two alternatives after the scrubbing stage. If your parts are dishwasher safe and you want to save time, you may now run them through a brief cycle in your dishwasher. If you don't have a dishwasher or your juicing components aren't dishwasher safe, you'll have to perform some physical scrubbing for the remaining pieces.
After completing either of these methods, dry the pieces and reassemble the juicer.
What was voted best juicer in 2020?
The ninja juicer was voted the best juicer in 2020. According to numerous customer evaluations, this device was a good entry-level juicer.
The Ninja BL480's 1,000-watt engine ensures consistency when it comes to juicing. That's more than enough strength to completely extract juice from even the densest fruits and vegetables.
What should you never put in a juicer?
Broccoli
Avocado
Coconut
Pears
Pineapple
How many lemons will make a cup of juice?
So you'll need five and a quarter lemons to make a cup of fresh lemon juice in a lemon juicer. However, because some lemons are less juicy than others, a cup of lemon juice would require five and a half lemons.
Sources