appliances & furniture
Best Freezer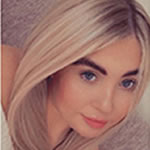 Most families have a refrigerator and freezer compartment, the cooling occurs in the freezer, and the cool air is circulated into the refrigerator chamber by a fan.
The cooling system of a deep freezer, whether it's a modest residential appliance or a massive commercial walk-in facility, works on the same basic premise.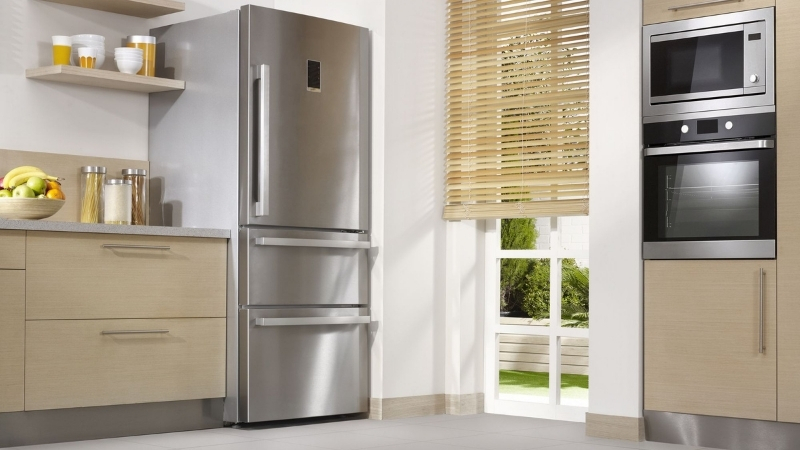 In this article, we have made it easy for you to understand what a freezer is and how it works, as well as explaining the different types of freezers that are available.
So, if you are moving out or need a new freezer this article will show you the best freezers to buy for your home!
If you want to learn more and find the perfect freezer for your home, then carry on reading…
What is a Freezer?
First, let's explore what a freezer actually is...
Although it may appear to be a recent innovation, storing food for later use has long been a necessity, while ice for drinks dates to ancient Mesopotamia.
Food that was kept cold decayed far slower than food that was simply left outside, as the ancients observed. They began by creating pits in the ground, insulating them with sand and straw, and then covering them with snow.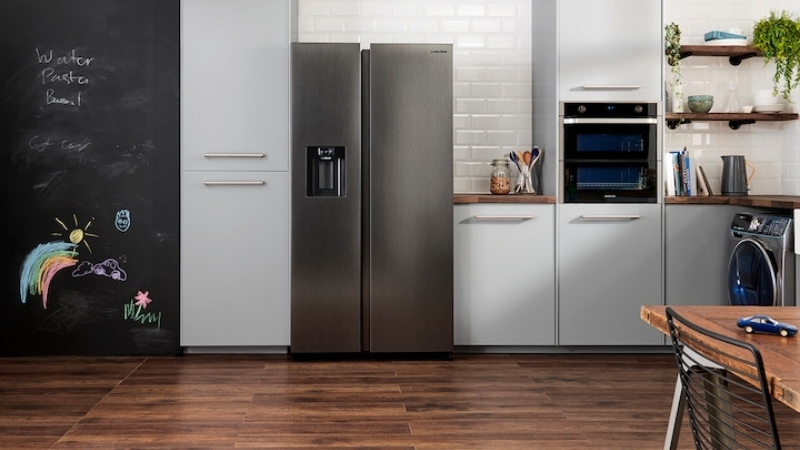 The food was subsequently preserved for at least two to three weeks in these ice caverns or pits. Warm air from outside the pits could prevent the snow insulating the pits from adequately cooling their food. Therefore they made sure the entrance to the pit was narrow and small to prevent air seepage.
However, now a freezer is a big container, like a refrigerator, in which the temperature is kept below freezing so that food can be stored for lengthy periods.
Many people have a freezer in their home as it freezes certain foods, so they don't go off. Therefore, saving you money.
How Does a Freezer Work?
The refrigerant, which is in the form of a vapour, starts the cooling process at low pressure. It enters the compressor, which is often located in the lower back. This compresses the vapour's particles, heating it and transforming it to a higher-pressure state.
The heated, pressurised refrigerant is then injected into a tube and the condenser from the compressor.
Have you ever touched the outside of a freezer and been taken aback by how warm it is?
The heat emitted by the condenser coils is this. These are usually found underneath or towards the bottom of the freezer. It is then cooled after being exposed to the room's atmosphere. The vapour maintains its high pressure and loses heat as it passes through the coils.
The liquid refrigerant is forced to convert back to a low-pressure vapour as it goes from the top component into a much larger evaporator as the pressure declines. The evaporator absorbs heat as well, resulting in a cold vapour that maintains the unit's temperature low enough to freeze food. The vapour is returned to the compressor, which restarts the process.
Types of Freezers
Both in the home and the workplace, the freezer is one of the most often utilised appliances. A freezer is necessary for preserving items for lengthy periods. It preserves the food at extremely low temperatures, ensuring that it is safe from microbial contamination and harm.
Here, we have set out the different types of freezers that you may want in your home.
Fridge Freezer
This is a more affordable freezer for your home because it incorporates both a refrigerator and a freezer, eliminating the need to spend extra money on a refrigerator. These are common, and they come in a variety of styles to match your home's decor.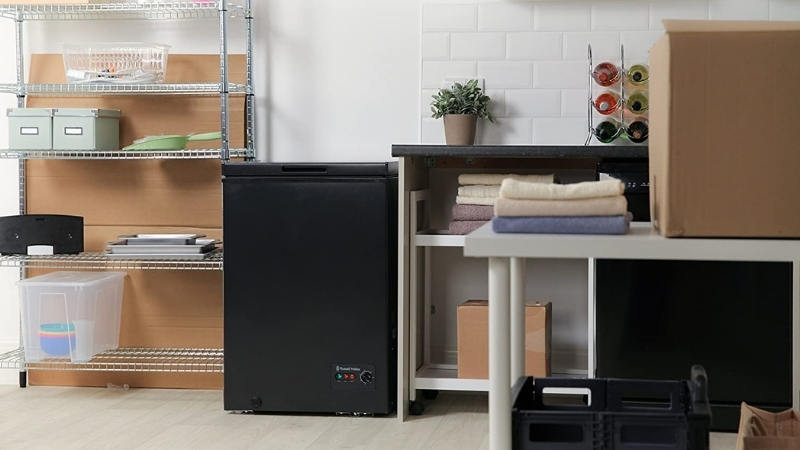 Display Freezer
Display freezers are the kind of commercial refrigeration equipment you'd find in a supermarket or convenience shop. Customers may be able to see the goods for sale without opening the door with the help of a display freezer.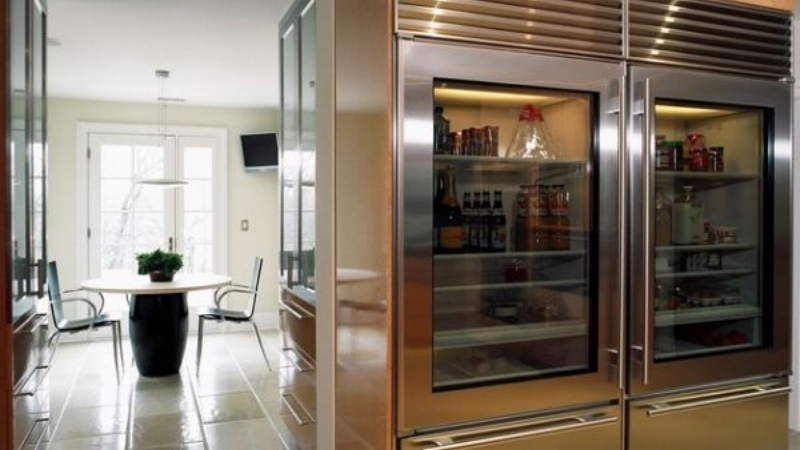 Chest Freezer
Chest freezers are the most utilised freezers in business settings. They are both cost-effective and large. The interior and outside are fashioned like a huge box, which allows for a lot of storage. Chest freezers have easy-to-use hinged lids that open upward.
Chest freezers come in sizes ranging from 2.1 cubic feet to 40 cubic feet. They are used commercially in hotels, restaurants, and other large-scale businesses for storing bulk items due to their extraordinarily huge storage capacity.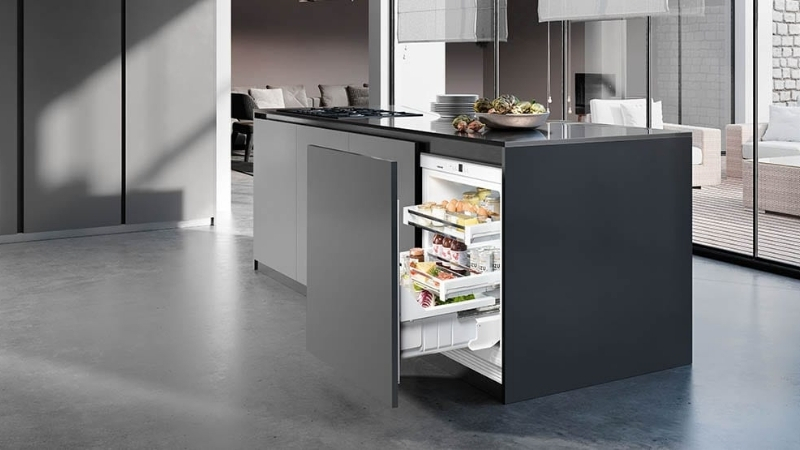 One disadvantage of chest freezers is their large size, which necessitates a lot of space.
Furthermore, these freezers lack a fan, resulting in temperature fluctuations. Because cold air is heavier, the bottom of the freezer is cooler. As a result, meats are frequently stored in the bottom regions of the refrigerator. Baskets in the freezer are an extra feature that aids in improved organisation and easy access to stored things.
Upright Freezer
Upright freezers resemble refrigerators in appearance. They are vertical and function similarly to a refrigerator in that they hold the goods on the various shelves and compartments. They take up less room than chest freezers, making it easier to locate storage space in the home.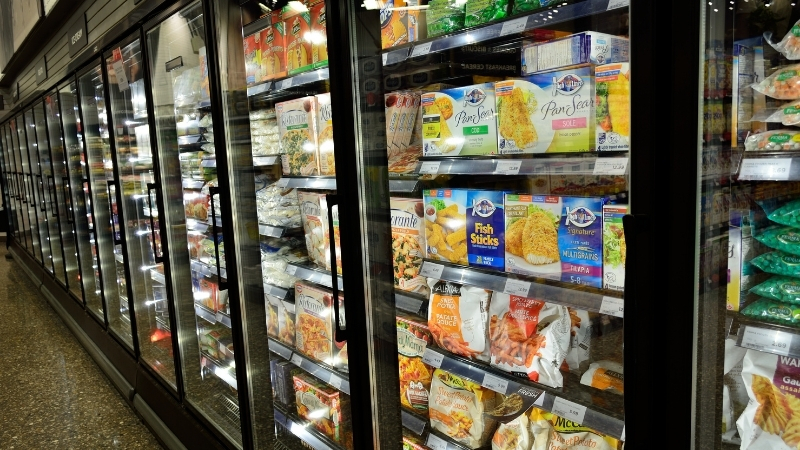 Portable Freezer
The storage capacity of portable freezers is limited. They're designed to hold a small number of products while you're travelling or transferring any frozen meals. They are ideal for small offices and may be placed in any corner of the room due to their compact size.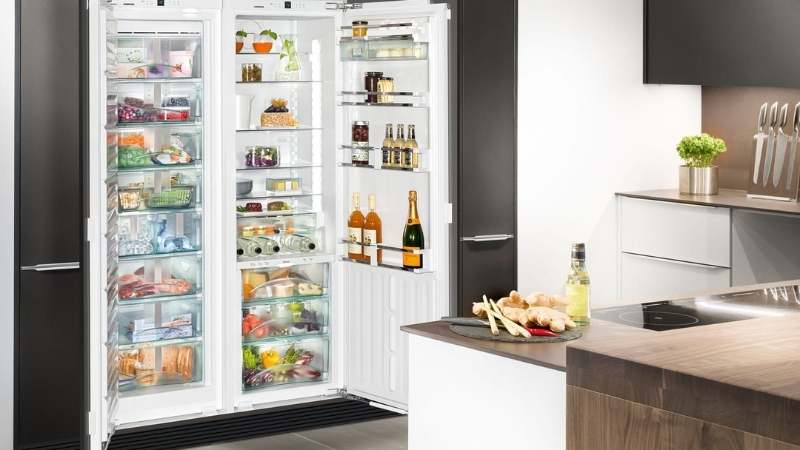 Drawer Freezer
Both catering and household use benefit from drawer freezers. They keep everything very well organised. The food items are easily accessible. The cost of drawer freezers is a major disadvantage.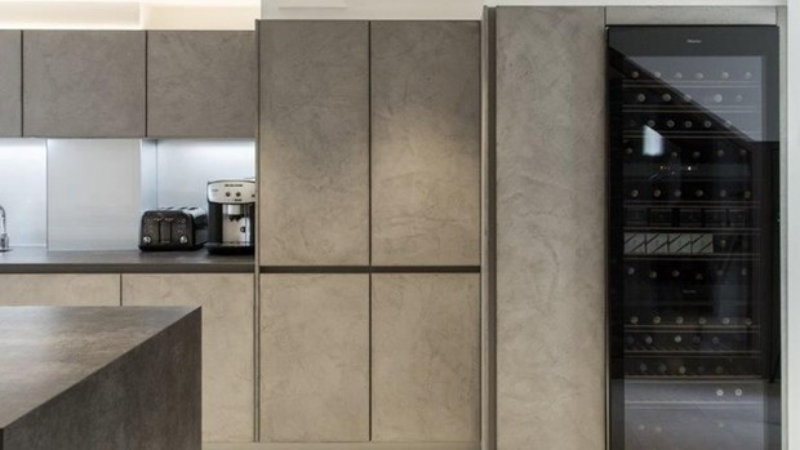 They are quite costly and cannot be used in place of a full-size freezer. The nicest thing about drawer freezers at home is that they are easily accessible to youngsters and disabled persons who use wheelchairs.
Under Counter Freezer
The under counter freezer is a small, compact freezer that fits under a regular kitchen counter. Typically, the unit is the same size as a typical under-counter dishwasher.
While small, these freezers can perform all the activities of larger freezers, with the only major difference being the number of frozen things they can hold.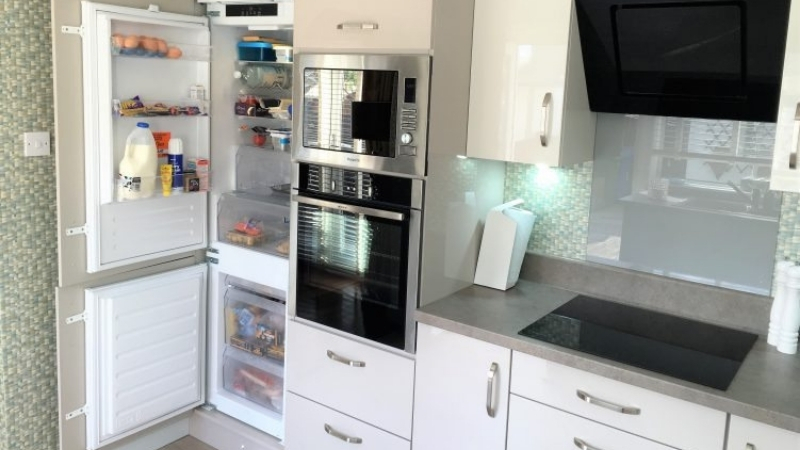 Integrated Freezer
When used in this context, the term integrated simply implies "hidden inside a cupboard." Until the cabinet door is opened, the fridge freezer inside the cabinet is completely hidden.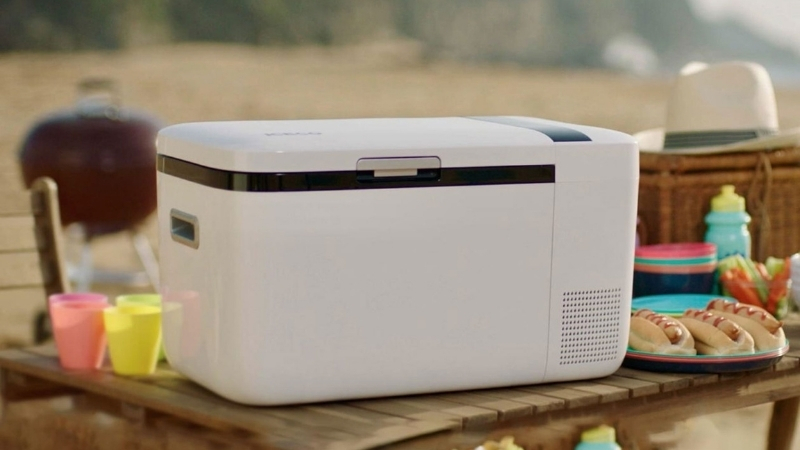 Best Freezers
It's generally a good idea to have lots of extra food on hand, and a freezer is an ideal location to keep them.
But, which freezer should you choose?
Here we will discuss the different types of freezers you can buy!
Best Fridge Freezer
LG Centrum GBB92MCBAP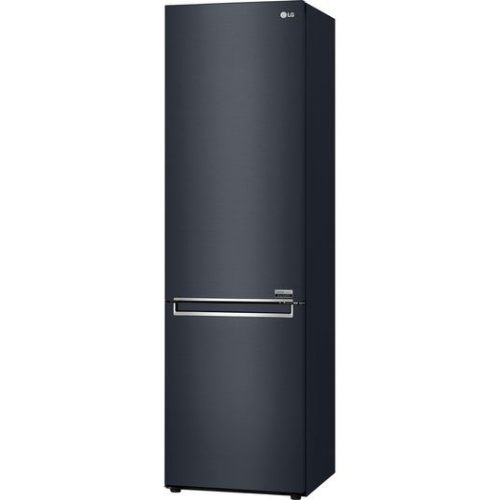 The LG Centum is beautifully built, quiet, and a joy to use, with time-saving features like ice-free compartments.
Most importantly, it is extremely energy-efficient, as seen by the appliance's A efficiency rating, which is an uncommon distinction.
Despite its elegant appearance, this fridge freezer has a lot of storage space, with the refrigerator compartment taking up more than two-thirds of the total area.
Sharp SJ-EX820F2-SL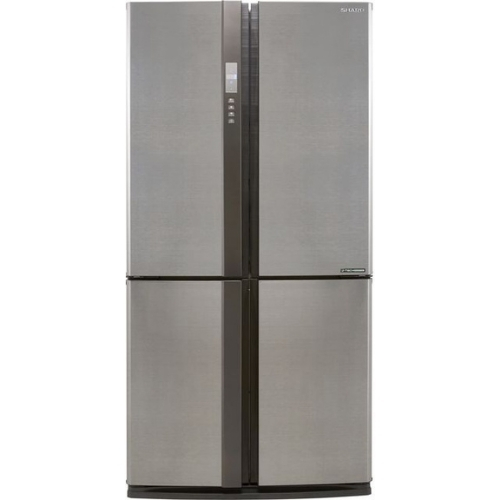 With its sleek, American-style double doors and bright LED lighting inside, this fridge freezer makes a truly slick, modern addition to the kitchen.
The deep, spacious bottle shelves on the inside of the doors are large enough to fit five 1L beverages bottles. They also solve the typical kitchen dilemma of where to refrigerate heavier things.
The one major drawback to this swanky refrigerator freezer is its low energy efficiency. This may be a deal-breaker for people shopping with long-term budgeting or the environment in mind.
Things we liked
LED inside lighting
Large enough to fit 1L bottles in
Beko Harvestfest CFP3691DVX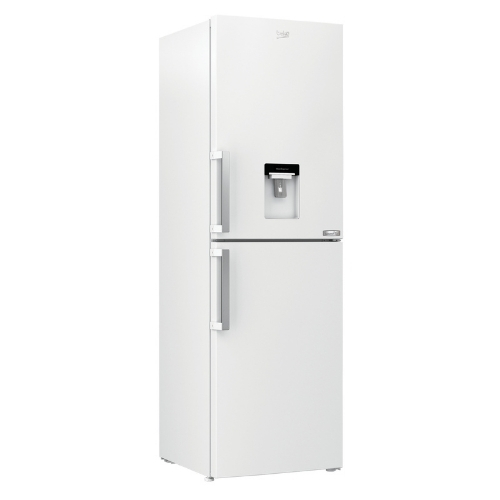 With equal amounts of space taken up by the freezer and refrigerator compartments, this reasonably priced fridge freezer from Beko would be especially well-suited to households that freeze a lot of items.
The drawback is that after a large shopping trip, consumers may run out of fridge space.
This model offers numerous fascinating bells and whistles, despite its low price.
We were particularly pleased by the appliance's "harvest fresh" technology, which uses illumination to imitate a natural light cycle to keep fruits and vegetables fresh.
Things we didn't like
Not a lot of fridge space
Best Display Freezer
Chef's Exclusive CE319 Display Freezer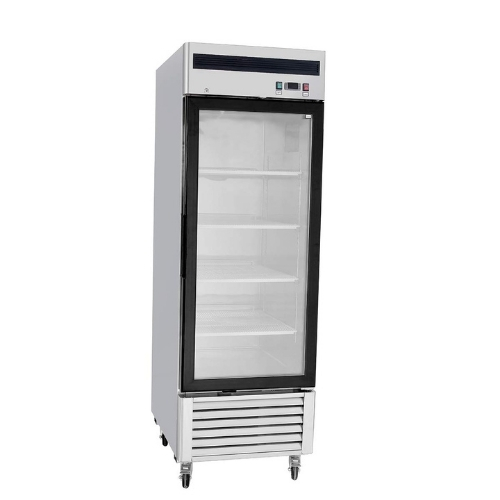 Users will appreciate the big storage capacity of this business display freezer. That means you can be confident that this freezer will hold all of your favourite foods, snacks, fruits, veggies, and even ice cream.
It has four movable shelves, allowing you to easily organise your freezer and ensure that everything is always within reach.
This commercial glass freezer allows you to customise the freezer's temperature to meet your demands and the goods you're storing within.
The best part about this display freezer is that the doors close themselves.
You'll never have to worry about forgetting to close the freezer doors after taking something out, thanks to this function.
Things we liked
For removable shelves
Adjustable temperature
Tiger Chef Commercial Top Chest Glass Top Freezer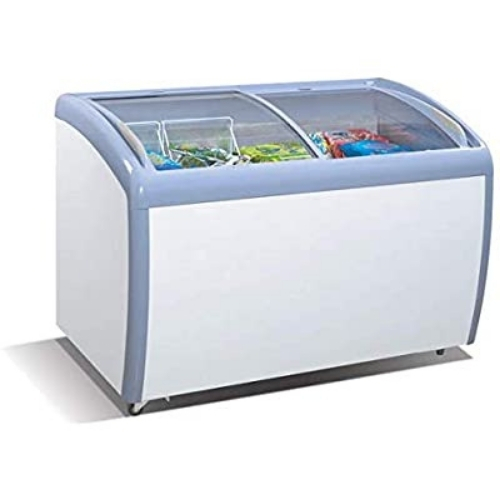 This commercial glass freezer allows you to customise the freezer's temperature to meet your demands and the goods you're storing within. The best part about this display freezer is that the doors close themselves.
With this type of freezer, you'll never have to worry about forgetting to close the freezer doors after taking something.
This glass top chest freezer comes with removable wire baskets to guarantee you have enough area to organise your freezer according to your needs. They're made to fit snugly within the freezer.
It employs a polyester oil-based refrigerant that is environmentally friendly. That means that if this refrigerant accidentally enters the atmosphere, it will not harm the ozone layer.
It has a drain plug built into it. This function makes cleaning this fridge a breeze. To clean the freezer, simply defrost it, spritz it with a cleaning solution, and wipe it down with a clean cloth.
This glass-top chest freezer is lightweight and portable. It has pre-installed locking caster wheels, so you may move it around the room without damaging the floor.
Things we liked
Cheap
Easy to clean
Environmentally friendly
Glass Door Merchandiser Freezer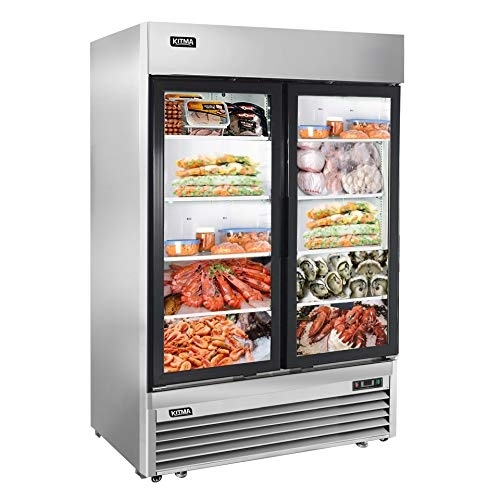 This two-door display freezer has a lot of convenient features. It is constructed of stainless steel and includes double-layered glass, removable wire-coated shelves, adjustable temperature, self-closing doors, a safety door lock, and pre-installed casters for easy mobility.
It has a powerful compressor that uses the environmentally friendly R290 refrigerant, which has a chemical composition that is quite pure. That means that if it gets into the atmosphere, it will not harm the ozone layer.
It has been strategically placed to reduce temperature transfer and maintain the fixed temperature throughout the unit. Temperature control is also included with this twin glass door freezer.
You can quickly modify the freezer's temperature according to your demands and the ingredients you're storing within the device thanks to this feature.
It includes corrosion-resistant wire shelves to help you better organise your freezer.
Things we liked
Double layered glass
Temperature control
Best Chest Freezer
Zanussi ZCAN38FW1 Chest Freezer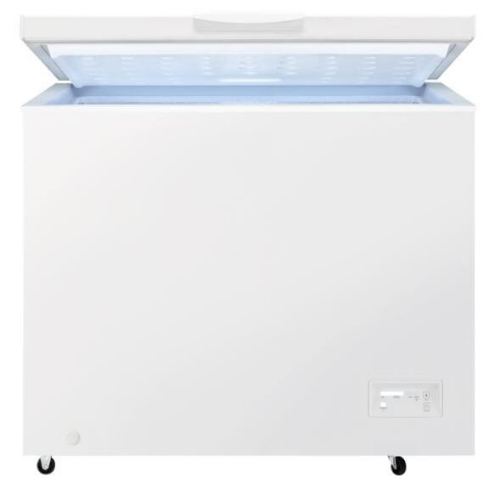 The Zanussi ZCAN38FW1 is a unique white box that has been thoughtfully designed.
First and foremost, we appreciate the lid's well-balanced design. That means it won't slam into your skull if you're loading or unloading. A bonus is always welcome.
Because this model is so large, you can stuff as many goods and supplies as you like.
It comes with three useful storage baskets for the most often used goods, which we can't stress enough how useful they are. It's also equipped with caster wheels for ease of movement.
Granted, the controls are restricted, but because this model is effectively a plug-and-play piece of equipment, there's no muss, no worry when it comes to setting it up.
Things we liked
Well balanced
Large storage space
Beko CF374W Chest Freezer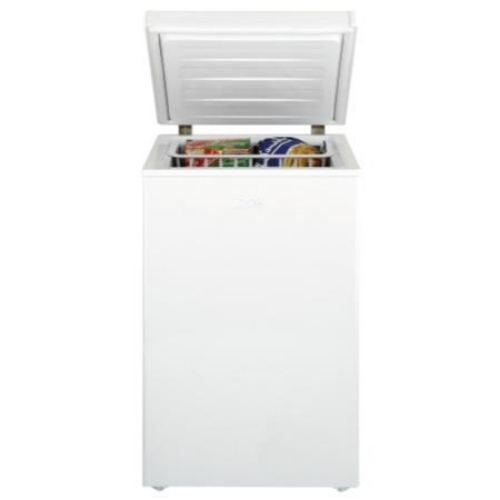 This 104-litre chest freezer, rated Class A+, can withstand temperatures as low as -15°C. However, tt can also keep your food frozen in temperatures as high as 43°C.
It efficiently freezes items without consuming excessive amounts of electricity, though you will need to defrost them from time to time.
The disadvantage is that finding stuff may require bending over and rummaging through a large box's bottom. However, there is a movable basket on top for your most-used items.
Things we liked
Low and high temperature options
Affordable
LEC CF250LW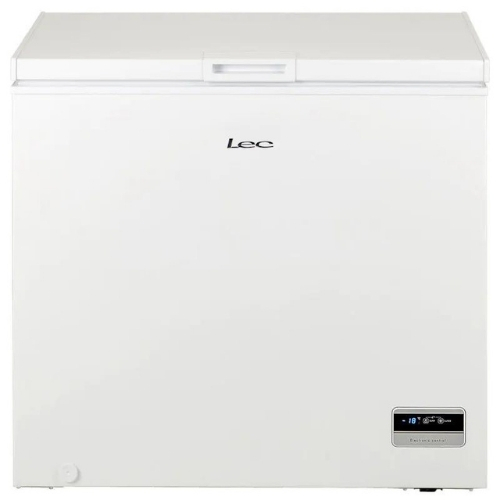 If you have a large family, this 250-litre chest freezer is a good option.
This freezer is fairly large, therefore accessing goods necessitates a lot of item shuffling. This extra space comes at the sacrifice of usability.
Keep in mind that this type of freeze will require manual defrosting at some point, and it is not suited for use in an outhouse, garage, or shed, as are most freezers.
Things we didn't like
Not suited for garages or sheds
Best Upright Freezer
AEG AGB62225NX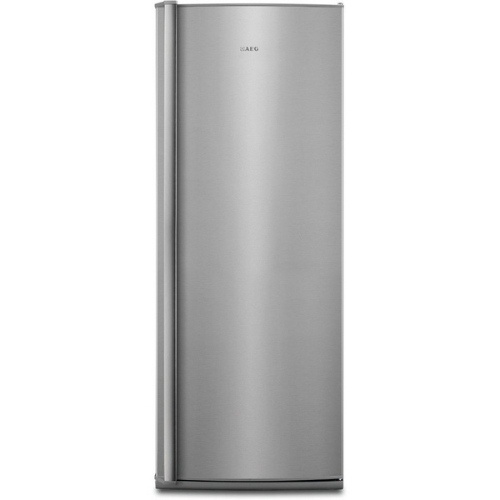 Freezers used to be plain white boxes with very little flair. No longer, as the AEG AGB62226NX demonstrates, arriving with a stainless steel exterior that looks the part.
There's just enough room for roughly nine bags of groceries, so it's not the biggest capacity appliance out there.
It also features a cool temperature display. Meanwhile, AEG has done an excellent job with the six interior drawer sections, which look reassuringly high-end despite being mostly clear plastic.
It also has an anti-fingerprint treatment on the door.
Things we liked
Temperature display
Anti-fingerprint, so it doesn't look dirty
Things we didn't like
Not aesthetically pleasing
Liebherr GNP1913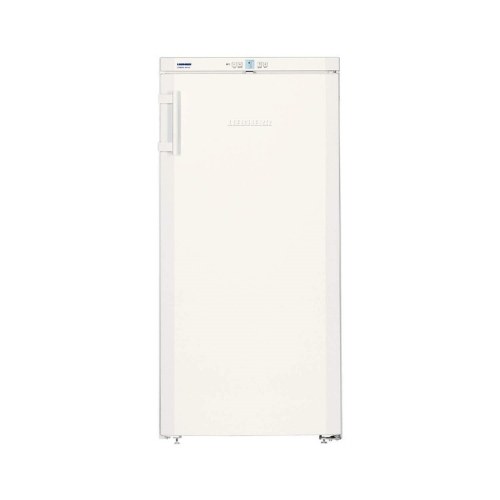 Because it's a Liebherr, it has standard build quality and design that we've come to expect from this German white goods mainstay.
From the exterior, it appears to be quite appealing, with its plain white lines.
The five solid compartments allow you to split your stuff into desired parts, and the easy-to-use controls are positioned above the door at the top of the appliance.
If you're concerned about the energy consumption of a secondary appliance, the GNP1913 has an A++ energy rating.
The operating noise level is quite good at 42db, and there's a child lock for further security.
The audio door alarm alert is also a useful feature, and the automatic SuperFrost feature reduces ice build-up and improves efficiency.
Things we liked
Good quality
Five compartments
HotPoint UH6F1CW.1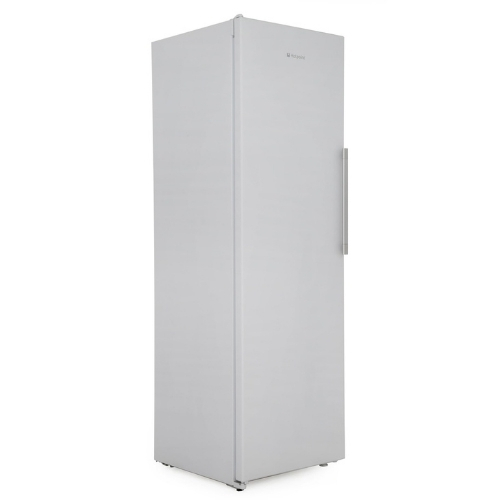 Not only will the Hotpoint UH6F1CW.1 look good in your kitchen, but it will also perform well.
This tall freezer can easily hold 12 bags of groceries and is frost-free, so you'll never have to manually defrost it again.
It contains six compartments on the inside, as well as a fast-freeze mode for quickly cooling a significant volume of newly introduced food and an open-door alarm.
It's available in white or graphite to match your kitchen's colour scheme, and it has a reversible door to accommodate the room's arrangement.
This model also includes an ice cube tray, allowing you to enjoy chilled drinks during the summer.
Things we liked
Can hold up to five bags of shopping
Available in different colours
Best Portable Freezer
Portable Car Freezer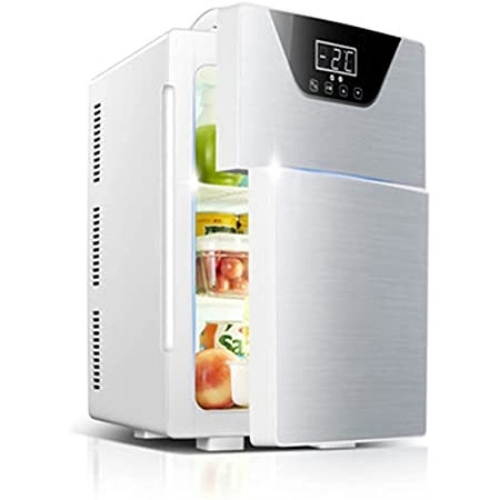 The HSTFR Mini freezer's shell and inside are composed of ecologically friendly ABS materials that are fashionable and generous, as well as dirt-resistant and easy to clean.
The door's surface is toughened glass that is sturdy and easy to wash.
No matter where you go, the portable freezer with handles is great for camping, travelling, vacationing, or spending time outside with family.
Things we liked
Easy to clean
Ideal for travelling
Things we didn't like
Not ideal for long term storage
Dellonda Portable Freezer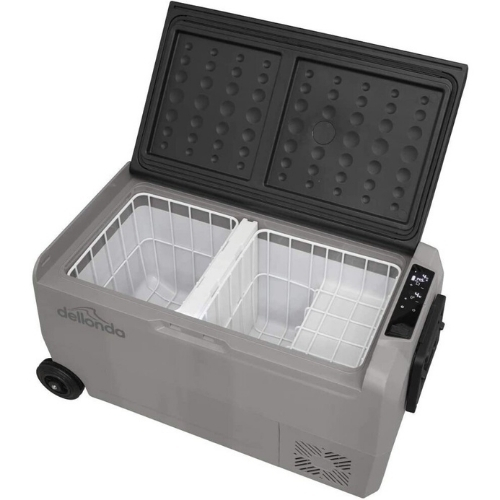 This portable compressor fridge freezer cool box is perfect for extended road trips, camping excursions, and other types of travel. The lightweight and compact design allow you to take it with you wherever you go.
An AC to DC adapter is included, allowing you to use it both at home and in your vehicle. A 3.5 metre DC power cable is included in the package.
Things we liked
Easy to carry
Adapter is included
Vevor Car Freezer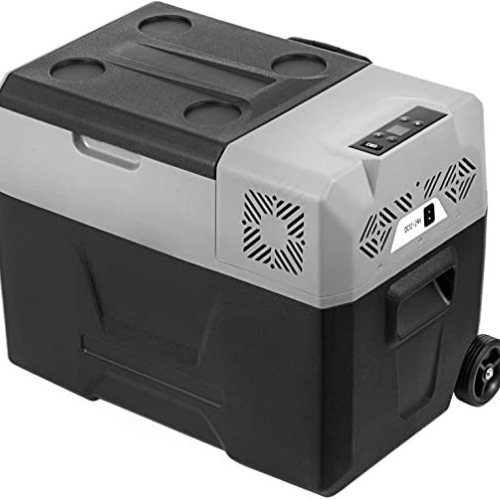 With this freezer, you can store a lot of liquids, veggies, and fruits in it because it holds up to 35 litres. It'll suffice for a modest gathering or picnic.
With the electronic temperature control panel, which displays the internal temperature. You may select the desired temperature to fulfil various needs.
It comes with a retractable wire basket that makes cleaning a breeze.
Things we liked
Large capacity
Easy to clean
Best Drawer Freezer
Summit SP6D37ADAX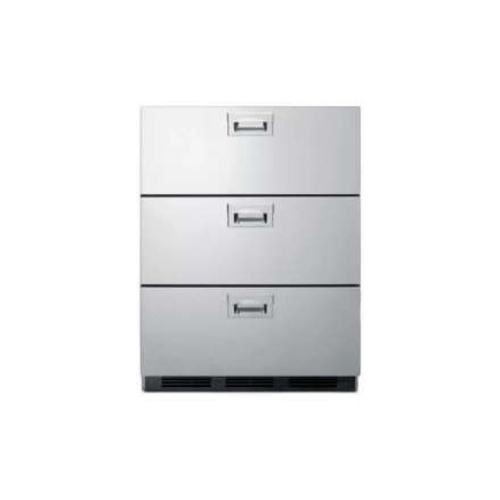 Summit's 24-Inch-Wide Triple Drawer Refrigerator is made entirely of stainless steel and may be utilised freestanding or built-in.
It has an automatic defrost, so you don't have to worry about it icing over. It also features an adjustable thermostat, so you can customise the freezer to your specific needs.
Zids240HSS Monogram Draw Freezer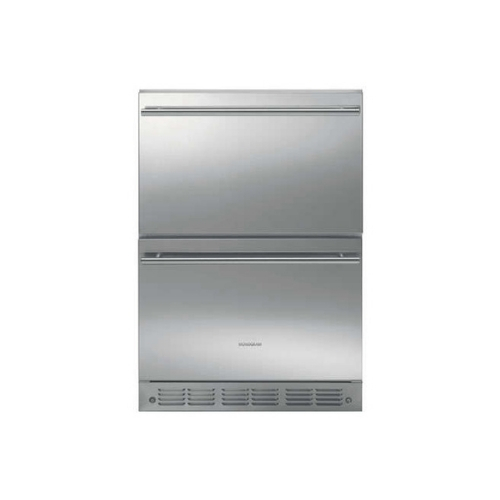 Refrigerator drawers have the advantage of good cabinet-depth, allowing them to be tucked away unobtrusively and freeing up space in the kitchen.
The control type is electronic, and the digital temperature is shown so you can monitor the temperature of your freezer, as well as temperature control that can be adjusted.
Best Deep Freezer
Russell Hobbs RHCF200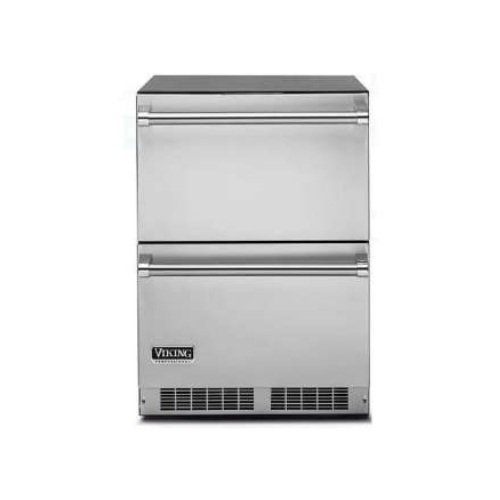 There's plenty of room in this large freezer to stock up on basics and batch-cooked dishes.
With an F energy rating, this freezer helps you save money and reduce your carbon footprint.
This chest freezer has an adjustable thermostat and a counterbalanced door, as well as adjustable feet for uneven terrain.
It also comes with a 5-year guarantee for further peace of mind.
Things we liked
Helps you save money
Large storage space
5-year guarantee
Cookology CCF99WH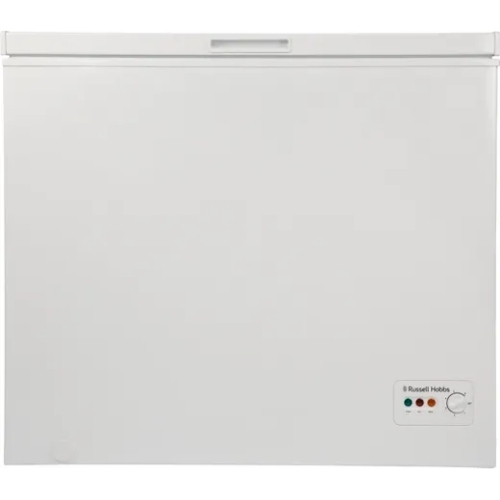 This chest freezer offers a great aesthetic, an excellent performance, and a good value price.
The average energy use of this chest freezer is 168kWh per year, which means that running it continuously will cost you roughly 7 pence per day (based on an average rate of £0.155 kWh). This ensures the CCF99BK Chest Freezer a significant money saver.
Things we liked
Cheap
Helps you save money
Hoover HVTU542WHK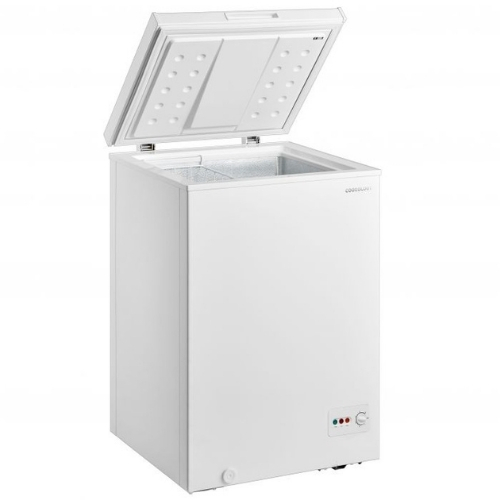 This deep freezer has an 82-litre net freezer capacity and four transparent freezer drawers for easy access and complete visibility of the contents.
Also, any kitchen environment will benefit from the external metal handle.
Things we liked
Good quality
External metal handle makes it easy to use
Best Undercounter Freezer
Liebherr Undercounter Freezer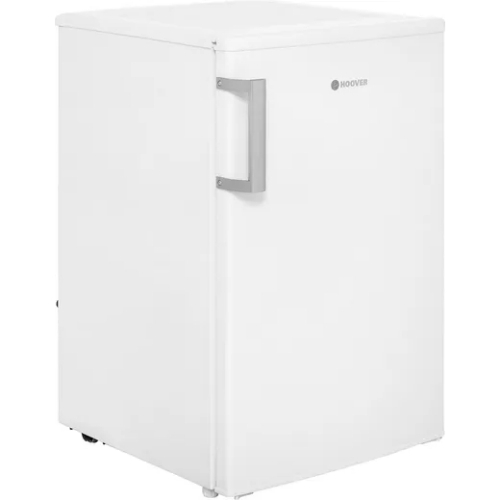 This under-counter freezer may not be the largest on the market, but if you're short on space or don't need a lot of frozen food that you'll probably forget to eat, this model is a dream come true.
The Liebherr, despite its modest size, is brimming with the kind of inventiveness and functionality you'd expect from a premium brand.
It also freezes your food quickly and effectively. Thanks to the SuperFrost function, it allows the appliance to accomplish its job while simultaneously achieving an A++ energy rating.
The Liebherr GP1213 Comfort detects when the food you've placed in its welcoming innards has frozen properly and switches back to its usual functioning mode.
The compartment is known as 'VarioSpace,' and the clever minds at Liebherr have made it oh-so-easy to move and remove drawers as needed.
Similarly, the no-nonsense controls above the door are simple but effective, as is the kid lock that prevents it from being accidentally turned off.
Things we liked
Freezes food quickly and effectively
Removable draws
Kid-lock
Siemens IQ500 GU15DAFF0G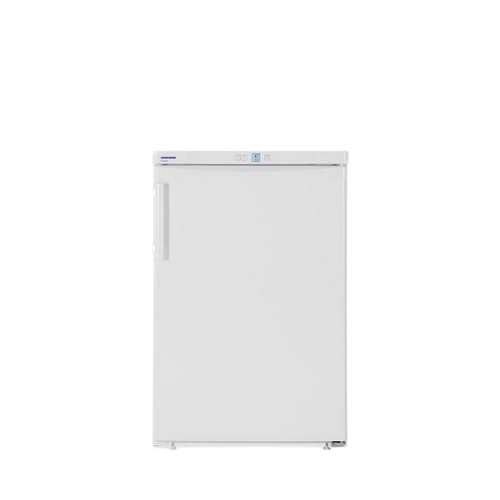 The proportions of this built-in 98-litre model are ideal for fitting under the kitchen worktop and between the cupboards.
It boasts three pull-out drawers and a super freeze function that instantly lowers the temperature when you're loading up on groceries.
Things we liked
Three pull out draws
Works well
Miele F12011S-1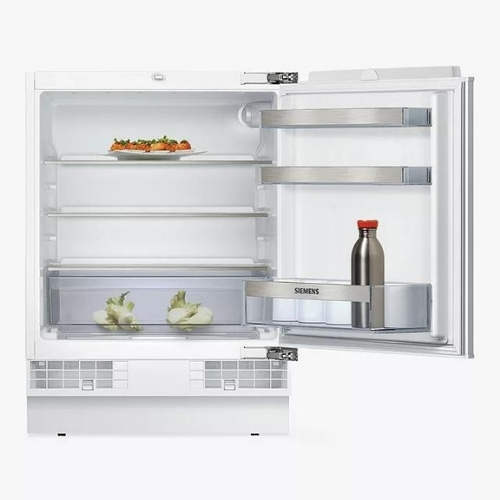 This model can hold up to 6 shopping bags worth of food in a freezer that is only 55cm wide.
You can also remove the cold glass plates between the freezer drawers if you need to freeze larger goods, such as a large fruit cake or pizza.
The temperature of this freezer is controlled via a dial on the front, which offers convenience.
The freezer will alert you when it's on and if the temperature has risen too high.
Things we liked
Large storage space
Removable draws
Best Integrated Freezer
Samsung RZ32M71207F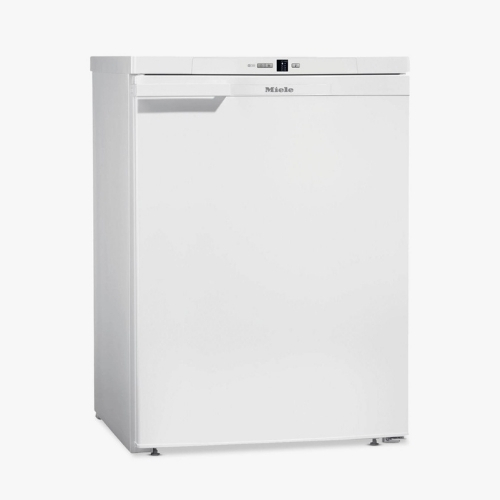 By circulating cold air throughout the interior, Samsung's True NoFrost technology eliminates all frost and ice.
This helps keep food fresh, especially short-life vegetables like lettuce, cucumbers, and tomatoes, by maintaining stable internal temperatures.
Samsung's digital inverter compressor runs constantly, saving money over traditional compressors that turn on and off at different times.
This massive 315-litre model is finished in brushed steel, giving it an even more costly appearance. It contains four large drawers, a small flapping top shelf, two open shelves, a slim ice maker, and two narrow door-mounted trays for smaller goods on the inside.
If you buy the matching fridge, you can put them side by side to make one massive American-style refrigerator-freezer combo.
Things we liked
Keeps food fresh
Nice finish
Bosch Serie 6 GIN81AEF0G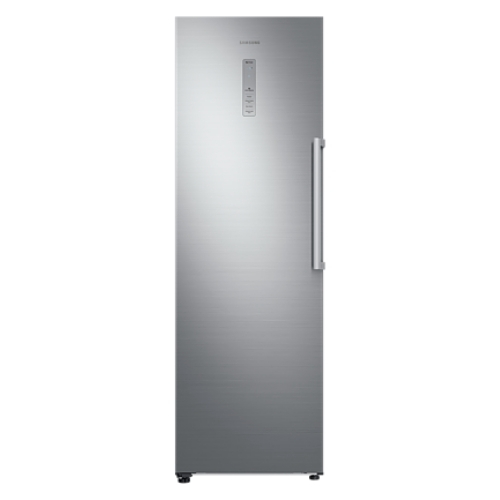 The Bosch Serie 6 GIN81AEF0G is a built-in integrated freezer that will fit perfectly into a sophisticated kitchen plan if the H177.2cm x W55.8cm x D54.5cm dimensions allow.
One disadvantage is that, with 211 litres, it isn't nearly as large as other freestanding models. Nonetheless, this is a lovely appliance that becomes even more appealing once you open the door.
The freezer includes a reversible door, which allows you to easily incorporate it into your favourite location.
Freshsense is used in this upright integrated number, which means that the air inside is better handled. In the end, this should mean that your frozen food will last longer.
There's little nothing to do in terms of controls – buttons are located at the top behind the door. So, this is a decent option if you don't have time to monitor your freezer.
Things we liked
The air inside is well handled
Reversible door
Things we didn't like
It isn't as large as other freestanding models
HotPoint Aquarius HZA1.UK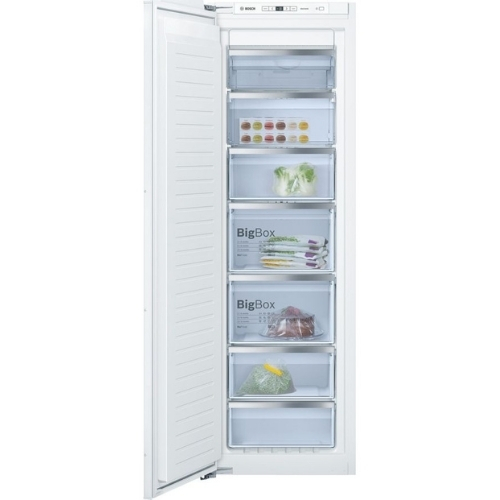 Although it is a little model that fits beneath your worktop, the Hotpoint Aquarius freezer has plenty of storage space. Its three deep drawers have a total capacity of 91 litres.
An evaporator prevents ice from forming on the interior and comes with an adjustable thermostat to keep your food at the proper temperature while using the least amount of energy possible.
Best Small Freezer
Russell Hobbs RHTTFZ1B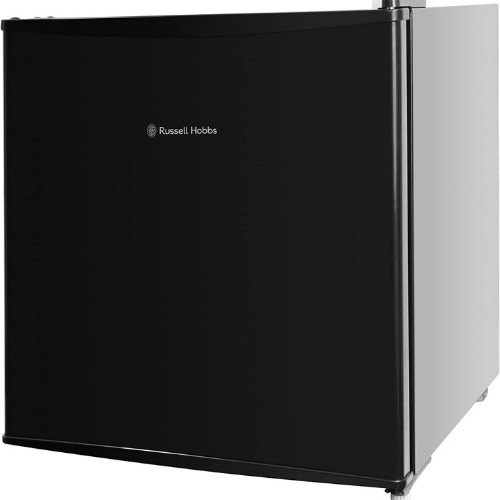 Unless you have a large family to feed, this modest budget freezer will suffice.
It's one of the smallest household freezers on the market, at just 492mm height and 472mm wide, so you should have no trouble finding a place for it.
You can store even larger objects if you remove the single shelf. You'll be astonished at how much you can fit inside.
This doesn't have any cutting-edge technology because it doesn't require it.
You'll have to defrost it from time to time, but you won't be wasting a lot of food in the process.
If you don't have a lot of fridge space but still want to be able to freeze things without taking up half your kitchen, this mini chiller is a great solution.
Bush MUCFR55BLK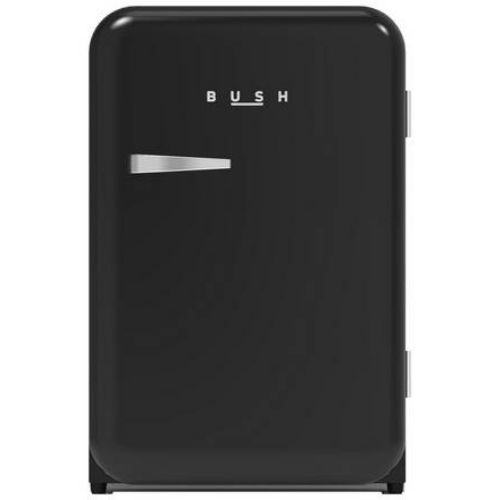 If you're looking for a small, retro-styled freezer that comes in a variety of colours, this Bush freezer is for you.
This compact freezer holds roughly four shopping bags of frozen food and has a capacity of 74 litres, making it ideal for smaller kitchens.
It has three storage bins that you may fill with things that you want to preserve fresh or eat later.
With an A++ energy rating and the QuietMark seal of approval, this freezer will save you money as well as the environment.
Make manual temperature adjustments to control how quickly and how long your items freeze. It also comes in black and white colourways.
Things we liked
Multiple colours
Saves you money
Simple Value DD1-05 Tabletop Freezer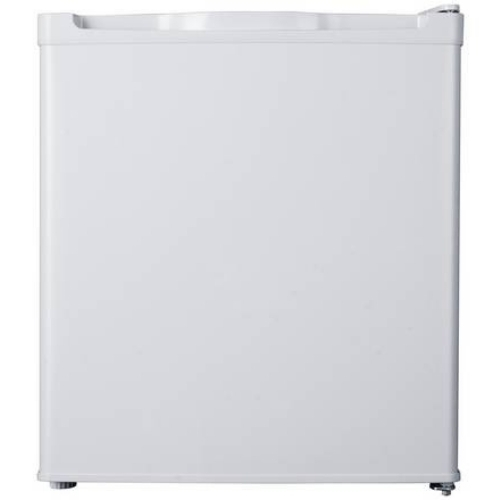 If you're short on the room or just need an extra freezer to keep outside the kitchen, this small deep freeze is a good option.
It fits on any table or work surface and can accommodate up to two shopping bags of groceries.
Furthermore, the plastic interior is quick and simple to clean, making maintenance a breeze.
Things we liked
Easy to clean
Fits on any table
What to Consider Before Buying a Freezer
Buying a freezer is not an easy choice as they are in your home for a long time. Therefore, before you buy such an important appliance for your home you should think about what you need.
Here are some factors you need to consider before you buy your freezer:
Size
Most customers who purchase a freezer already have freezer capacity in their refrigerator and are looking to expand. As a result, for many freezer buyers, size and capacity are the most significant factors to consider.
Before you start looking at your options, you should have a rough estimate of how much space you need in your freezer so you can find one that meets your demands.
You should also consider how much space it will take up. Where do you intend to store the freezer, and how much space do you have there?
An upright freezer is easy to fit into a kitchen, but if you require the size of a chest freezer, you'll need to be sure you have the space in your home to store it.
Cost
Know your budget for buying a freezer right away, but also consider how long-term prices compare. If you choose an energy-efficient model that is more expensive upfront than other options. The operating costs will pay for themselves over time.
Because upright freezers are more expensive and use more energy than chest freezers, be aware that you're paying a premium for convenience.
Automatic defrost, for example, will cost you more, but the comfort of not having to deal with manual defrosting may be well worth the extra expense.
Keep in mind the cost of shipping as well. Because a freezer is usually quite large and heavy, the fees might quickly add up unless you choose a company that offers free shipping.
Amount of Use
Look at your household's typical routines to see how your freezer is utilised regularly. Think about how much food you'll need it for during the times when you'll need it the most. For example, straight after a supermarket run or over the holidays.
Noise
Every freezer makes a certain amount of noise, although some are far quieter than others. If you plan to keep your freezer in a room where you spend a lot of time, you should think about the noise levels of the various models you look at.
Self-defrosting freezers are generally quieter than manual-defrosting freezers.
FAQs
What temperature should a freezer be?
The recommended temperature for your freezer is roughly -18°C, but it will work fine at -25°C as well.
How do you defrost a freezer?
Allowing the ice to melt on its own is the safest and easiest approach to defrost a freezer. Leave the door open after unplugging your appliance and wait for the ice to melt on its own.
If you want to speed up the melting process, place a fan near your freezer to aid in the defrosting process.
Can a freezer be too cold?
Yes, your food should be frozen in a freezer that is cold enough. However, if the temperature is too low, frost and ice may form. If you observe that your refrigerator is warm, yet the freezer is extremely cold, your defrost heater may be broken.
How long after I defrost my freezer can I put food back in?
It is acceptable to refreeze food that has been thawed in the refrigerator without cooking, though there may be a loss of quality owing to moisture loss during thawing.
You can refreeze the unused portion of previously prepared items that have been thawed in the refrigerator. Leftovers should be frozen within 3-4 days.
Are freezers expensive to run?
Because it's one of the few appliances you have to keep on all the time, running a fridge-freezer costs about 7% of your overall energy bill.
Sources
https://www.independent.co.uk/extras/indybest/house-garden/kitchen-appliances/fridge-freezers-best-brand-quality-size-fit-a9417626.html