appliances & furniture
Best Dishwasher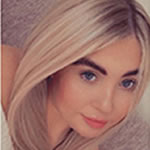 Owning a dishwasher has numerous advantages for you and your family.
Whether you're a frequent cook who doesn't want to clean the dishes after each meal or you have a busy family who could use a helping hand around the house, a dishwasher is the ideal time saver.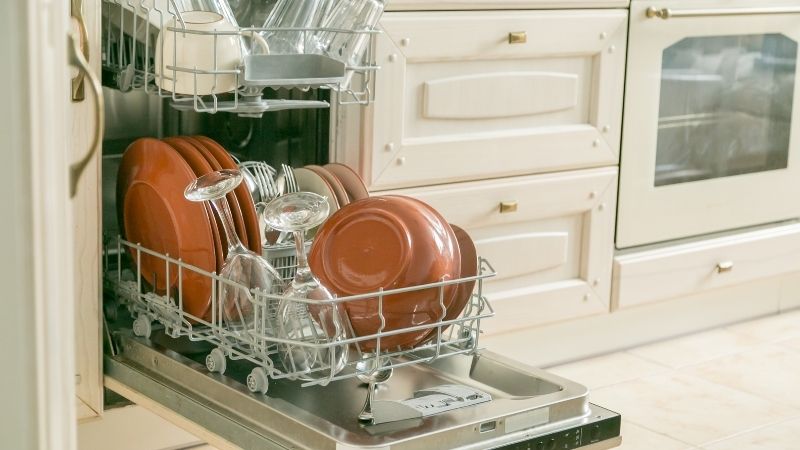 So, if you are looking to improve your home and make your life easier, this article will help you learn more about dishwashers!
We will cover what a dishwasher is, how they work, the different types you can get as well as a list of some of best dishwashers available to purchase!
What is a Dishwasher?
First, let's explore what a dish washer actually is...
A dishwasher is machine that contains multiple dish racks and utensil storage for washing. Most dishwashers feature a tablet compartment where compacted detergent solutions are used to clean the dishes once the dishwasher is switched on.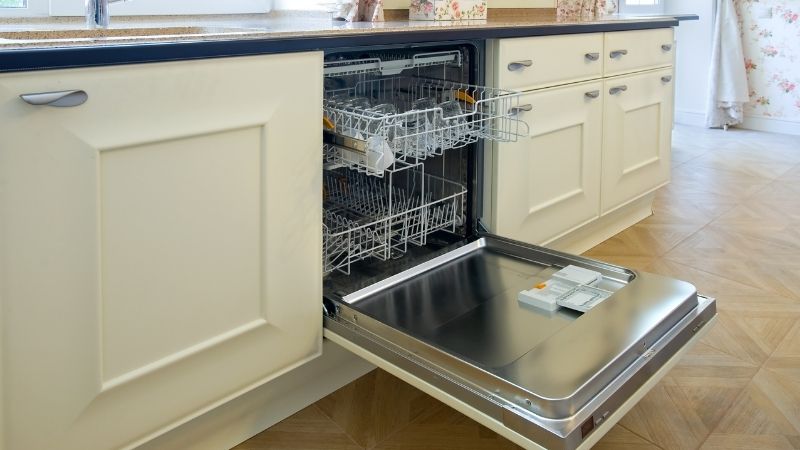 The dishwasher's purpose is to distribute and direct detergent solution and rinse fluids over, under, and around the dishes to loosen and eliminate filth.
It is quicker than washing the dishes yourself and you can wash more at the same time!
Modern dishwashers will not only wash dishes but will also dry them and ensure they are ready to put away, making life much easier.
How Does a Dishwasher Work?
A dishwasher is an automated dishwashing machine that cleans and rinses soiled dishes. Humans must load the dishwasher, add detergent, set the appropriate cleaning cycles, and switch it on, but the dishwasher does several tasks on its own. A dishwasher:
Fills the dishwasher with water
Heats the water to the proper temperature
Opens the detergent dispenser at the appropriate moment
If the user has selected that setting, it shoots water via jets to clean the dishes
Drains the filthy water
Sprays more water on the dishes to rinse them
Dishwashers ensure that everything is in working order.
The length of each cycle is controlled by a timer. To avoid overheating, sensors monitor the temperature of the water and the air.
If the water level rises too high, another sensor detects it and triggers the drainage mechanism. Sensors in dishwashers detect dirt in the water on the dishes. The dishwasher knows the dishes are clean when the water is clear.
Types of Dishwashers
The type of dishwasher is a crucial consideration when searching for the right product. The model you select will be determined by the size of your family, your budget, and the amount of space in your kitchen.
Buying a new dishwasher can be a bit confusing at first, with so many varieties, styles, and features available on the market.
To help you choose, here are some of the most common types of dishwashers:
Built-in Dishwasher
Built-in dishwashers are the most well-known dishwashers. They're solely designed to fit under benches and don't usually come with sides or a top.
Built-in dishwashers have a few advantages, including the fact that they are very quiet because they are surrounded by cupboards in your kitchen.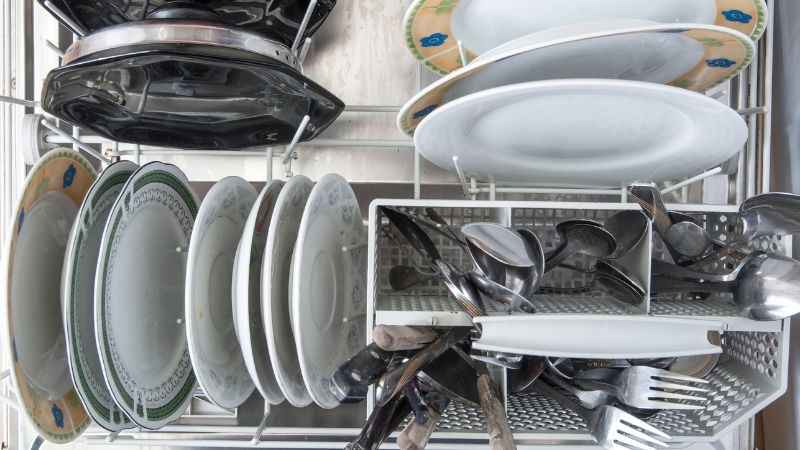 They're also convenient to run because they're close to where the food is made. Because it is permanently installed kitchen equipment, a built-in dishwasher may not be the greatest solution if you want to move furniture around in the future.
Countertop Dishwasher
Countertop dishwashers are smaller than portable dishwashers and are ideal for households with a modest number of people. Countertop dishwashers are simple to use and fit on your counter; however, they have a smaller capacity than other dishwashers.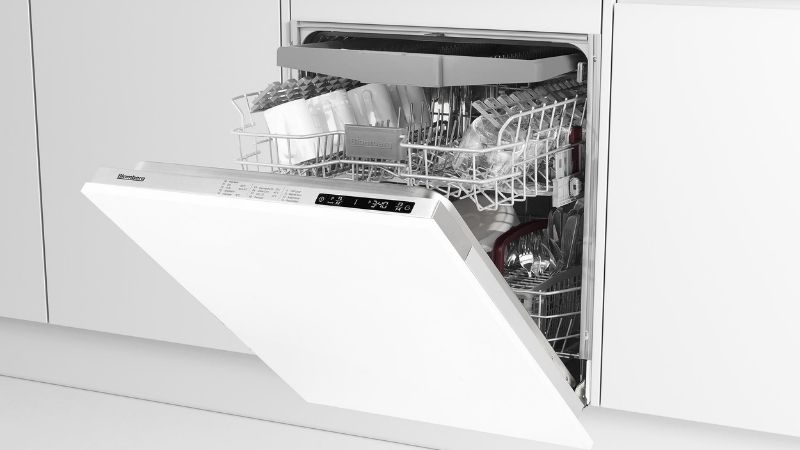 Countertop dishwashers have the advantage of varying sizes and the fact that they do not need to be built in, means it is easy to install.
A countertop dishwasher is also good option if you don't have enough space for a portable dishwasher.
Top Control Dishwasher
If the aesthetics of your kitchen is essential to you, a top-control dishwasher may be the best option. The controls are hidden from view in these units, creating the illusion of a seamless transition between your dishwasher and your cabinets.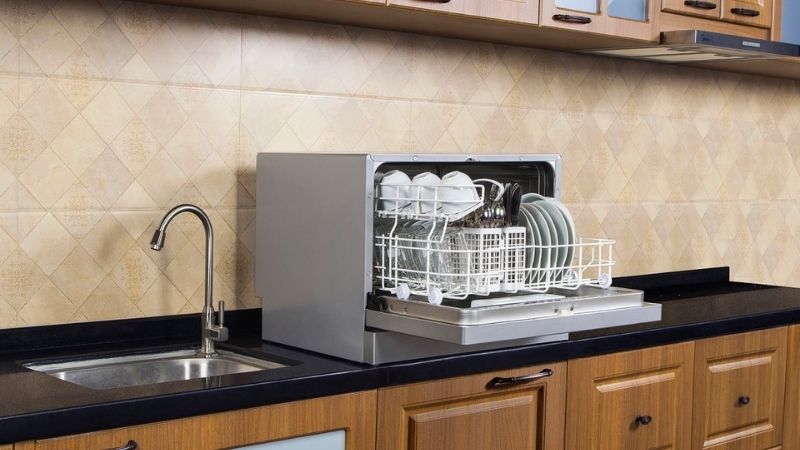 These controls are accessible when the dishwasher door is open, and you don't have to worry about pressing the wrong button because they operate electronically or with light-touch sensitive technology.
The buttons are merged into the top of your system so that they are flat and unnoticeable, improving the overall aesthetic of your device.
Front Control Dishwasher
Front-control dishwashers are ideal for families who desire quick access to their dishwasher. This makes choosing your cleaning options, setting it, and walking away from a breeze.
Front-control dishwashers are the greatest option if you want to see your options or quickly educate your children on how to run your dishwasher.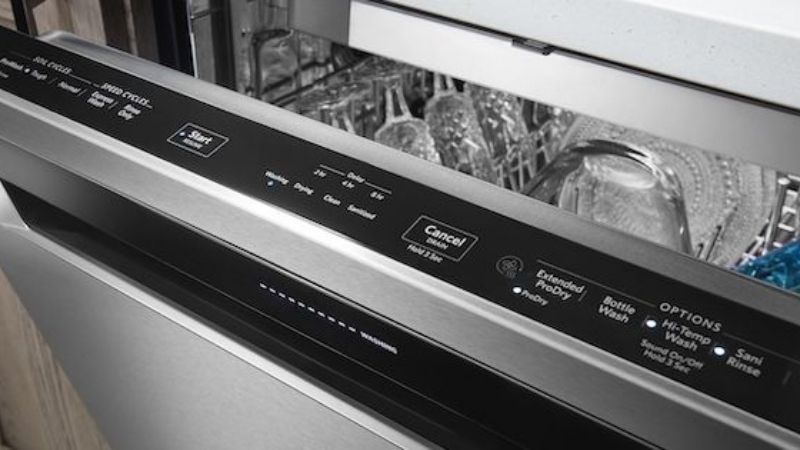 Most people grew up with front-control dishwashers, so having one in their own house will be very comfortable. They are simple to use and maintain.
Integrated Dishwasher
Dishwashers that are integrated must be installed in your kitchen. If you have a fitted kitchen with a uniform appearance. Integrated dishwashers are a good option because they are hidden once installed.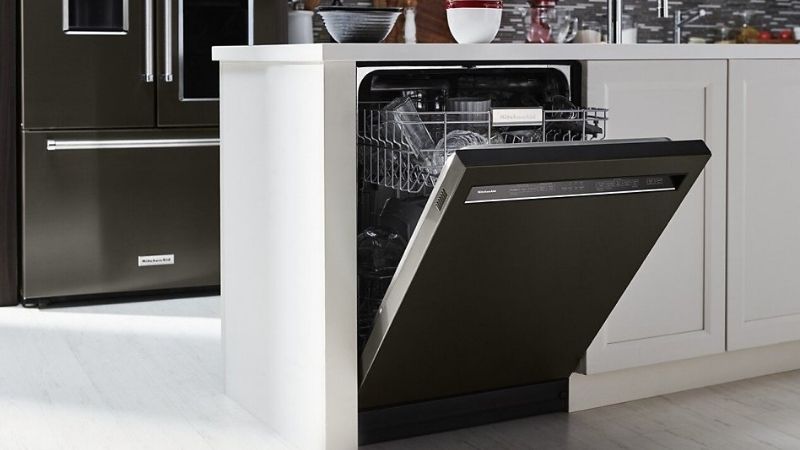 They come in two options as well as the semi-integrated dishwasher which you can learn about below. However, fully integrated dishwashers are great for homeowners who want their dishwashers to be entirely hidden.
Semi-Integrated Dishwasher
Semi-integrated dishwashers are like fully integrated dishwashers, however they still have the control panel visible. Instead of being entirely concealed, semi-integrated alternatives are now a little easier to use and troubleshoot if the machine malfunctions.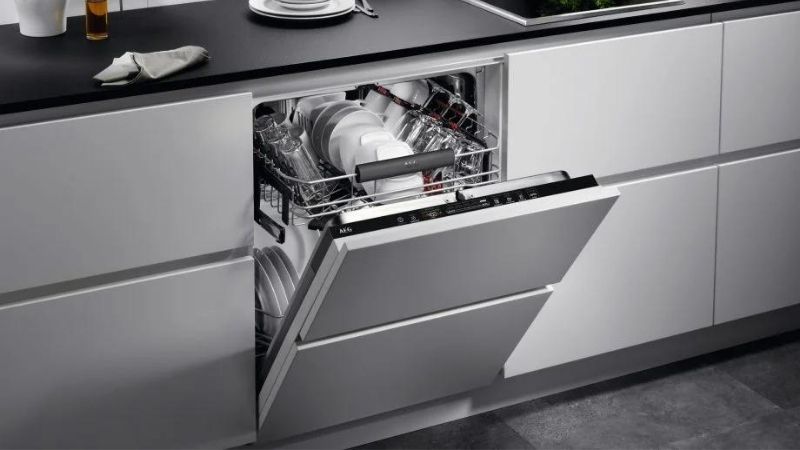 Which option you choose is determined by the style you desire for your kitchen and the amount of effort you are willing to put into repairing or using your dishwasher.
Portable Dishwasher
If you move frequently, don't have dedicated space in your kitchen for a dishwasher, or can't connect the appropriate plumbing to have a built-in dishwasher installed in your home, a portable option should be considered.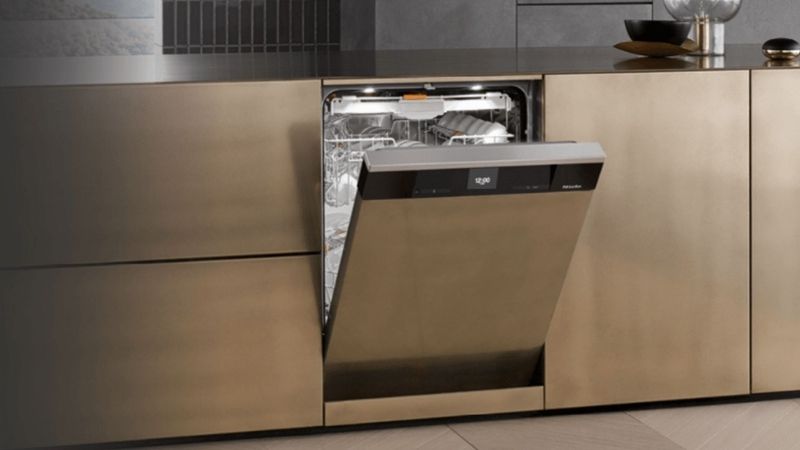 They're easy to move around in your kitchen, provide more counter space, and are ideal if you're not going to be doing a lot of laundries.
Freestanding Dishwasher
Freestanding dishwashers are a stand-alone appliance that may be used anywhere there is water and drainage.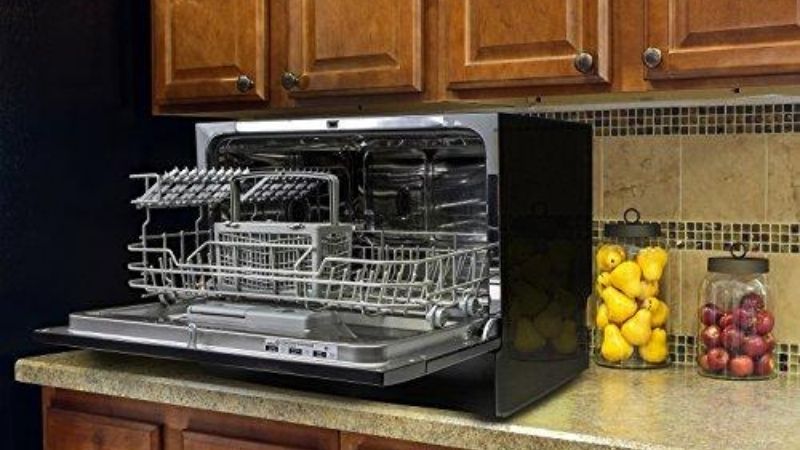 They're easy to move around in your kitchen and provide more counter space.
Drawer-Style Dishwasher
A drawer dishwasher is the most recent dishwasher design. Drawer dishwashers open like drawers rather than having a pull-down door, and because they're smaller than typical units, they're ideal for a home with a modest number of dishes.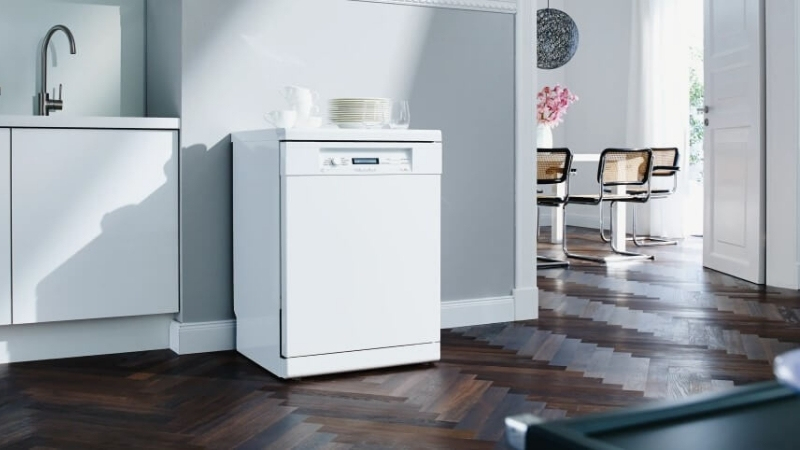 Dishwashers of this sort are available in two sizes: one drawer and double drawer dishwashers.
Slimline Dishwasher
If you have a tiny or narrow kitchen, slimline models are great. Slimline dishwashers have a similar appearance to freestanding dishwashers, but they are narrower in width, giving them a thinner appearance.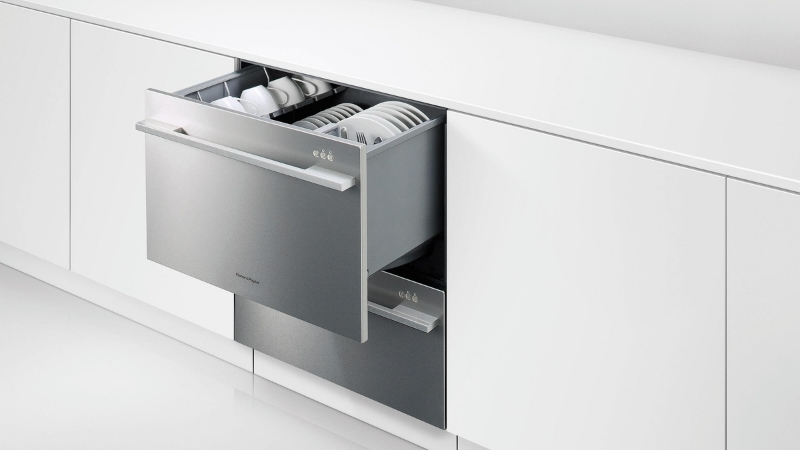 Slimline dishwashers clean just as well as their larger counterparts, but with a more compact design.
Best Dishwasher
One of the best purchases you can make for your house is a high-quality dishwasher. It not only saves you time and worry by eliminating the need to wash dishes by hand, but it also conserves energy and water, cutting your utility expense.
There are hundreds of dishwasher models to choose from, and sorting through them to find the finest one is as time-consuming as dealing with a mound of dirty dishes.
In this section, we have picked the best dishwasher options for you to buy for your home!
Best Built-In Dishwasher
Bosch 300 Series Dishwasher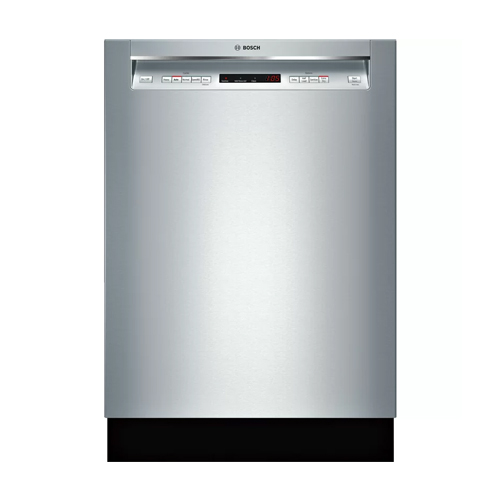 This Bosch dishwasher has a stylish appearance that will complement any kitchen. You can also get a bar-handle version if you don't want curious kids fiddling with the router control panel.
All versions in the 300 Series are roomy, quiet, and energy-efficient, with lots of cycles.
If you have a large family or simply need to clean a lot of dishes, the V-shaped third rack, which offers up to 30% more capacity than other dishwashers, can come in handy.
This dishwasher dries faster, is quieter, and has more capacity and adjustable racks than the cheaper Bosch 100 Series.
If something goes wrong, Bosch is known for providing excellent customer care and a comprehensive guarantee.
Labour and parts are protected for one year, racks and electrical systems are covered for five years, and the tub and door liner is covered for life.
Things we liked
30% more capacity than other dishwashers
Quick drying function
Bosch 800 Series Dishwasher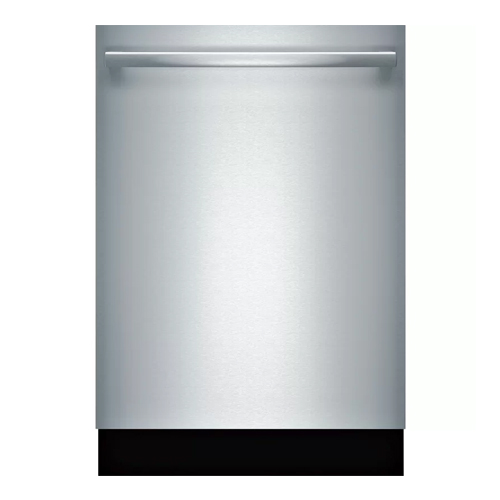 Many dishwashers have a bad habit of retaining moisture, resulting in damp dishes that must be dried with a dishcloth. That will be a thing of the past if you purchase Bosch's 800 Series dishwasher.
This model absorbs water and holds heat, making it a fantastic aid in removing moisture from your dishwasher and speeding up the drying process.
Aside from drying thoroughly, the dishwasher has plenty of stain-removal power, so oily pots, soiled plates, and bowls with crusty food residues should all be no problem.
It has a sanitise cycle that can be used to clean baby bottles.
Things we liked
Sanitise cycle
Excellent stain removal ability
Hoover H-Dish 300 HDI 1LO38SA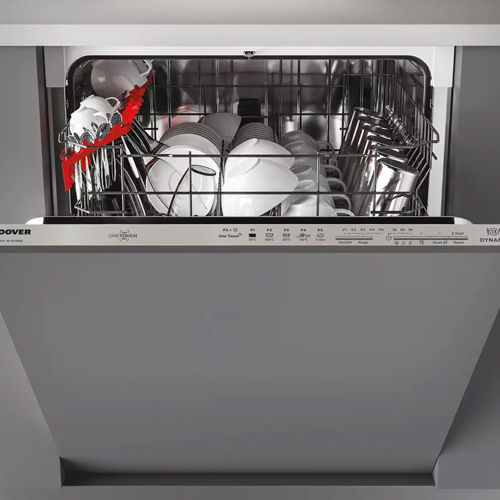 This is, without a doubt, one of the best built-in integrated dishwashers available, and for good reason. It has everything you need to make your dinnerware looking fresh – and is a great price.
It can wash up to 13 place settings in one load and has 6 wash programmes and 4 temperatures to experiment with.
You can even use an app on your phone to manage the machine, so you can start it on during your lunch break at work and it will be clean when you get home. The dishwasher will automatically open after the cycle is complete, allowing your dishes to air dry.
Things we liked
Large dish capacity
App compatibility
Things we didn't like
Fitting instructions aren't the best
Best Countertop Dishwasher
Klarstein Amazonia 6 Tabletop Dishwasher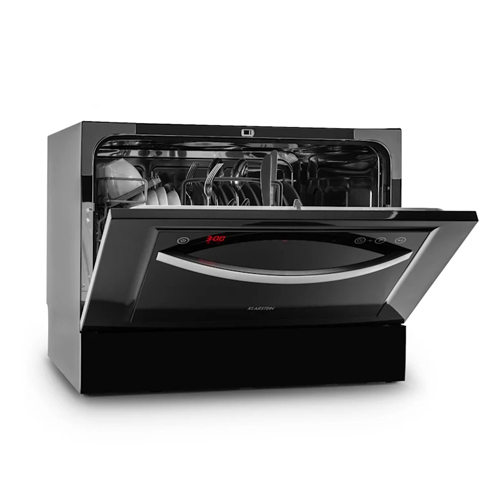 A lovely and compact tabletop dishwasher with seven different wash programmes ranging from eco-friendly to intense.
Every possible mode can clean even the dirtiest of dishes without putting the unit under stress, and the Klarstein Amazonia 6 has an A+ energy rating, making it a very cost-effective addition to your household.
This tabletop dishwasher is much easier to install, as it does not require plumbing work.
Things we liked
Does not require plumbing
Energy efficient
Cookology Mini Counter Top Dishwasher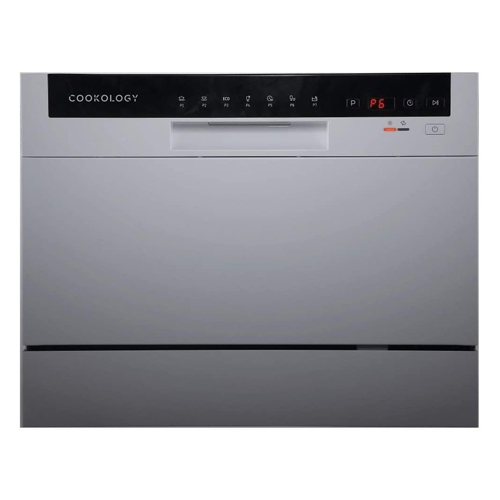 The design is simple and elegant, and it will blend in with its surroundings.
The single tray/basket easily swings out and features a cutlery basket in the front centre.
The display is easy to read, and there are indicators for each of the seven preset cycles.
Using the independent LED display as a reference, you can select the proper programme for your needs using the control buttons.
The Cookology CTTD6WH is a great little dishwasher that fits directly on the counter or in a cabinet for easy access.
Things we liked
Seven preset settings
Easy to use
Bosch Serie 4 Tabletop Dishwasher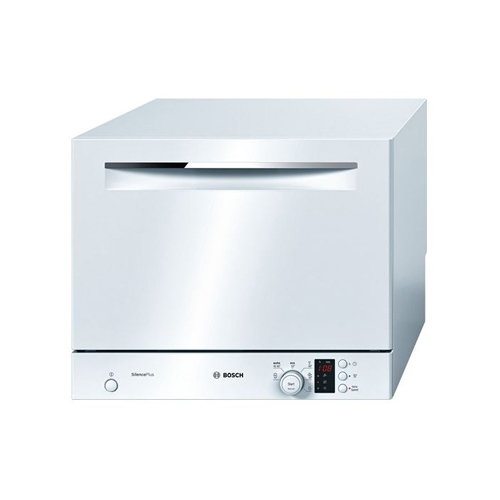 The Bosch Serie 4 model has adjustable racks for heavy objects like dinner plates, and it holds 6 place settings. The Vario basket system for silver baskets, silverware, and cups is located inside.
It offers six wash modes, including Eco, which is a perfect choice for a device with an A+ energy rating.
The design and construction are both stunning. A silver model made entirely of stainless steel offers a splash of colour to your kitchen.
Things we liked
Eco cycle option
Adjustable racks
Best Top-Control Dishwasher
AutoDos G7566 Smart Dishwasher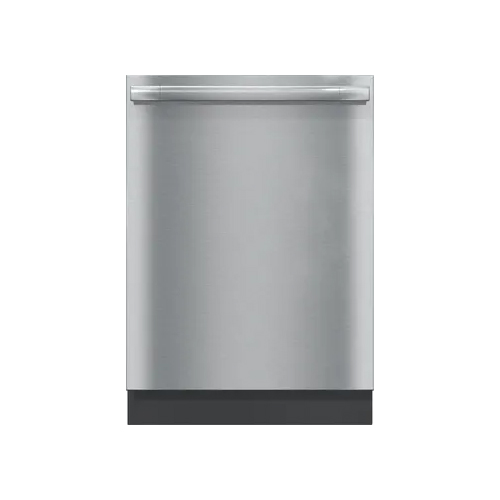 This dishwasher, with its top-hidden controls, is not only sleek and stunning to look at, but is also a genuine cleaning workhorse with innovative features that make it simple to use.
The AutoDos system uses Miele's PowerDisk, which delivers the proper quantity of cleaning powder for the cycle and can last up to 20 washes.
This Miele dishwasher includes an EcoStart feature that allows you to programme the dishwasher to run when utility rates are at their lowest.
It also uses an EcoTech Heat Exchanger that absorbs heat from the dishwasher and transfers it to the incoming water, preventing it from being wasted.
The dishwasher can also be turned on via the Miele app, making life much easier.
Things we liked
Eco-friendly features
Remote app control
Frigidaire Built-In Dishwasher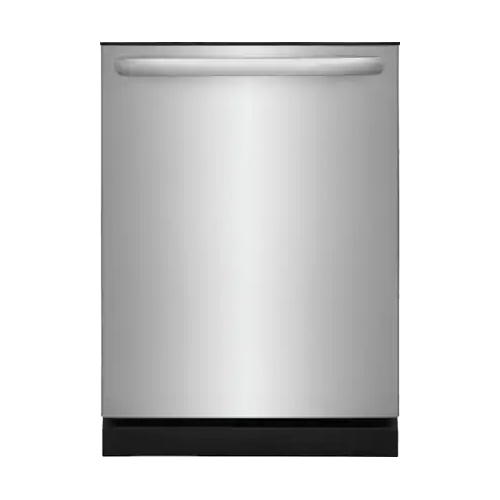 Many people consider this to be the greatest top control dishwasher.
All the necessary controls are located on the door of this dishwasher. When the door is closed, all these switches disappear. As a result, the dishwasher has a sleek appearance.
The dishwasher includes a strong grip on the top of the door that makes it simple to use.
All pathogens are killed using multi-cycle processes. As a result, NSF certified the dishwasher as having a high level of sanitary performance.
There are four distinct colour options for this dishwasher model.
Things we liked
Excellent sanitary performance
Various design options
Things we didn't like
It doesn't dry dishes thoroughly
GE Profile PDT845SSJSS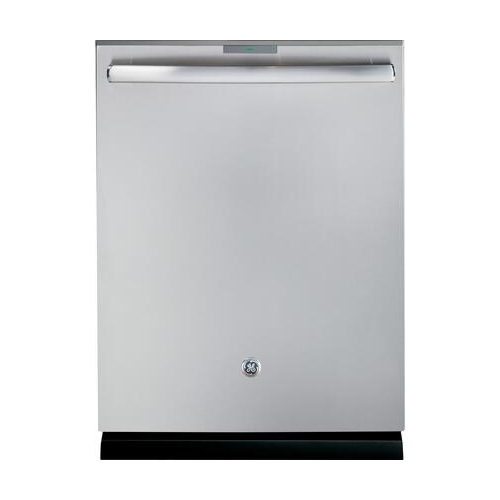 GE is a well-known name in the electronics industry, so it's no surprise that they've created a great top control dishwasher.
This dishwasher has a low noise level of 42 dBA. It also has a cleaning cycle of seven cycles.
Powerful quad blade wash arms are included in the dishwasher. It also consumes little energy, resulting in lower electric bills.
Another great feature of this dishwasher is the 16 separate places where you can put different kinds of utensils.
On the top of the door is a touchscreen for an operation that is very simple to use.
Things we liked
Quiet operation
Sixteen storage area
Things we didn't like
Does not dry everything completely
Best Front-Control Dishwasher
LG LDF5545SS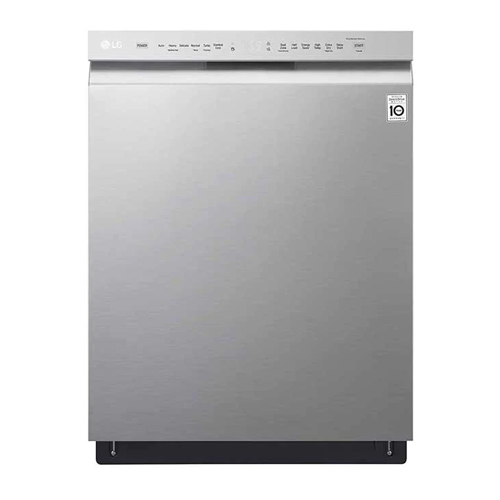 It is one of the most widely used front control dishwashers on the market.
All of the controls for this dishwasher are located on the front panel, above the door.
This dishwasher operates at a temperature of over 150 degrees Fahrenheit, killing 99 per cent of germs. At the same time, it is extremely energy efficient and can reduce electric bills.
Dishes and utensils are stored in a stainless-steel tub. The dishwasher has a height of roughly 24.6 inches, a width of around 23.75 inches, and a depth of around 33.6 inches.
It comes with a convenient rack and a powerful quad-wash system for washing dishes and cutlery.
Things we liked
Excellent quad-wash system
Convenient racks
Things we didn't like
Not ideal for lightweight plastic dishes
Front Control 51 dBA Dishwasher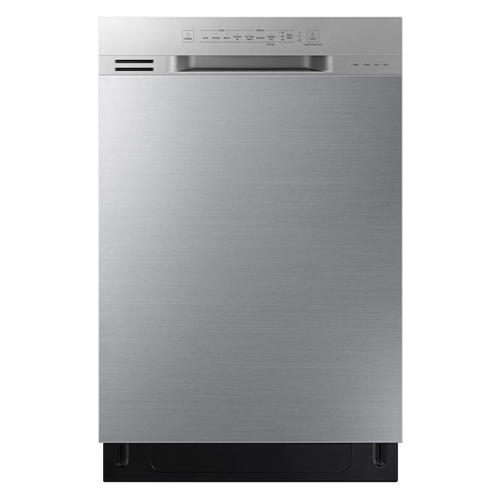 This dishwasher runs quietly. It also has three racks, allowing you to clean more dishes and utensils at once.
It cleans using a rotational action that removes all particles from the utensils' nooks and crannies.
A digital leak sensor is also included in the dishwasher.
In addition, the dishwasher is available in three different colours.
Things we liked
Three racks
Digital leak sensor
Bosch Serie 2 SMS24AW01G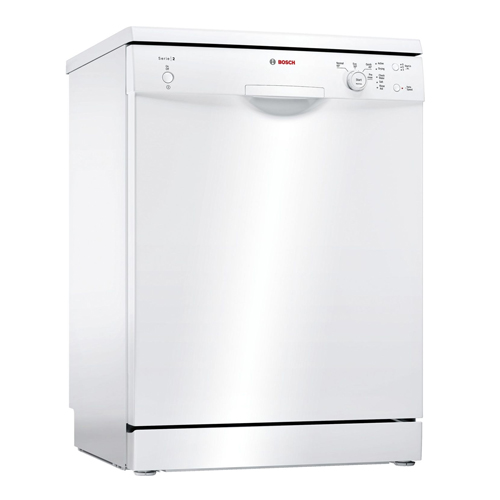 The Bosch Serie 2 SMS24AW01G might be just what you're looking for if you're seeking the best budget dishwasher.
Aside from the inexpensive price, this dishwasher has a lot going for it, including a simple, intuitive design and a trusted brand name.
This type comes with 12 place settings, including ones for tableware, cutlery, and glass, as well as adjustable racking and automated load adjustment.
In short, you get a lot of functionality in a stylish package, and while some may be disappointed by the lack of a digital display, the physical dials are adequate.
Things we liked
Budget-friendly
12 place settings
Best Integrated Dishwasher
Estar Built-In Integrated Dishwasher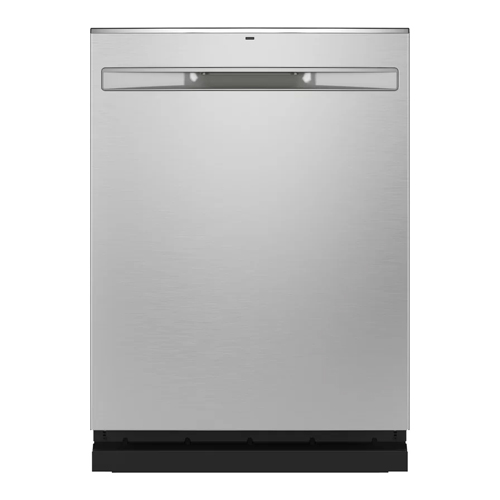 This is a high-end-looking dishwasher with a mid-range price tag.
The dishwasher has an extra-large capacity that can accommodate 16 place settings, as well as a stainless-steel tub and built-in third rack that allows you to clean more spatulas, serving utensils, and lids in fewer loads.
It has a lustrous, fingerprint-resistant finish.
Its incorporated hard food disposer pulverises food particles using stainless steel impellers, ensuring that no muck remains on your plates after the fan-assisted heated dry cycle.
It has four bottle wash jets that spray deep into tall things like water bottles, narrow glasses, and jars that would otherwise have to be washed by hand.
Things we liked
16 place settings
Bottle wash jets
Things we didn't like
Not as much space as other models
Bosch SMV68MD02G Integrated Dishwasher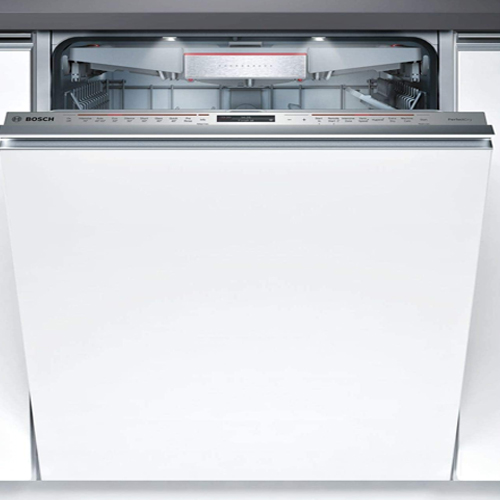 This dishwaser has eight automatic programmes to pick from, and also adjusts the amount of water used, the temperature of the water, and the time it takes to rinse to suit the level of soiling.
Use the ExtraDry function if you prefer your dishes to be fully dry when they come out of the dishwasher.
Things we liked
Various adjustment settings
ExtraDry function
Things we didn't like
The cutlery tray takes up a lot of room
HotPoint HSFO3T223WUK Dishwasher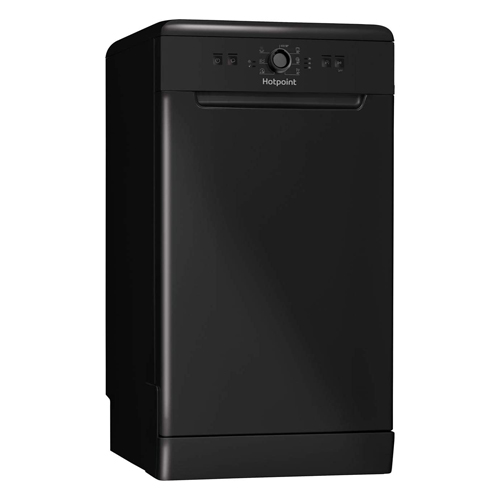 This dishwasher is affordable and also has a high energy rating, a low noise level, and 10 different wash programmes to pick from.
The 3D Zone Wash will come in helpful if you need to remove any hard burnt-on foods because it focuses on cleaning specific regions.
The inverter motor makes this model extremely quiet, which is great for open-plan living.
Things we liked
3D zone wash
Quiet operation
Things we didn't like
Too small for large households
Best Semi-Integrated Dishwasher
Miele G7312 SC AutoDos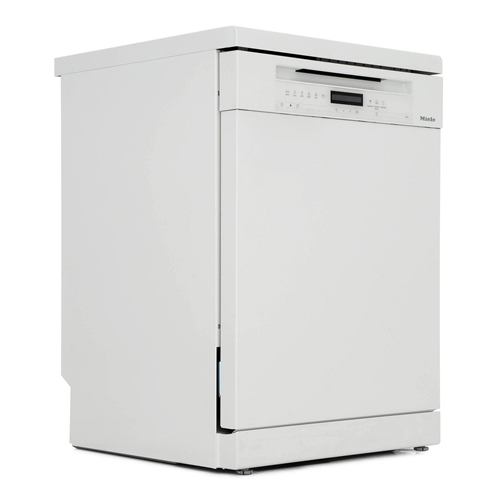 This feature-rich freestanding dishwashing machine is highly regarded for efficiency.
It includes a height-adjustable upper basket and a top-mounted 3D MultiFlex cutlery tray that can be adjusted to accommodate the stalks of tall wine glasses below. The baskets in this machine can be configured in almost any way you like.
Another useful Miele innovation that has been adopted by others is the AutoOpen drying system. At the end of the wash programme, the door clicks to open a bit to allow fresh air to finish the drying process and remove any lingering dampness.
This Miele is a standout performer; it's simple to operate, quiet, and, most importantly, dependable. You will, however, must pay a substantial sum for the pleasure.
Things we liked
AutoOpen drying system
Adjustable basket
Miele G7310 SCI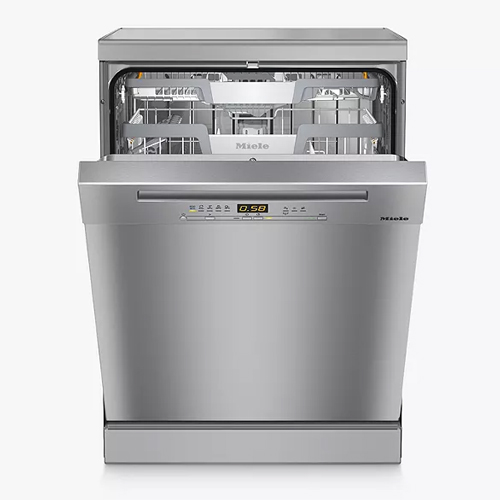 This dishwasher enables you to initiate washing and drying cycles from your smartphone, check on the machine's state, and even purchase more detergent.
There's an integrated system for keeping up to 20 loads of detergent and dispensing just enough each time, so you don't have to measure out soap every time you want to clean any plates, knives, forks, or glasses.
A 3D Multiflex tray is also included, which is designed to help you load smaller objects like silverware or chopsticks more efficiently.
Things we liked
Smartphone control
3D cutlery tray
Neff S41E50W1GB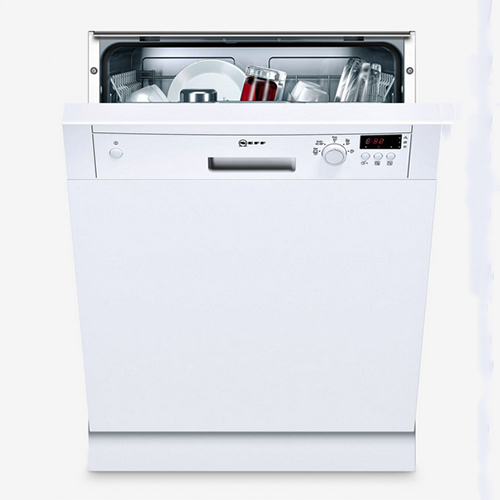 For ultimate convenience, this dishwasher offers a delay start option and a cutlery tray.
With an EU energy efficiency level of A+, it's especially cost-effective.
This dishwasher comes with a cutlery tray, making loading and unloading are simple.
Because it uses gentle washing of delicate glassware, it produces perfect results.
Things we liked
Delayed start function
A+ energy efficiency
Things we didn't like
It can be hard to get used to
Best Portable Dishwasher
Cookology CMDW2GD Mini Portable Dishwasher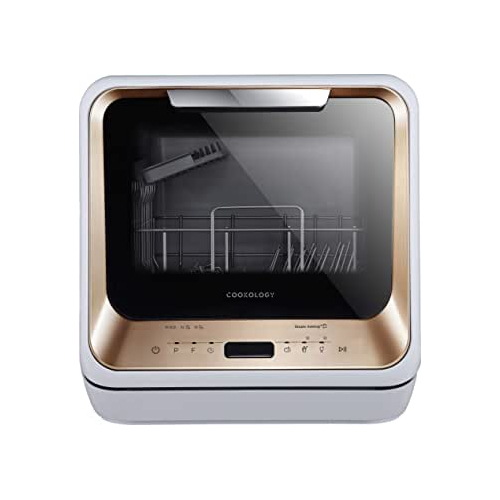 Cookology created this product to blend quality, appearance, and performance.
You can actually take this dishwasher with you wherever you go because it has a manual fill option. All you need to do is fill it up, direct the waste pipe into a sink, and plug it in!
The Baby Care setting on this tiny dishwasher allows you to sterilise your baby bottles.
A fruit basket is supplied, and you can use the hot or cold fruit wash programme to wash fruits and vegetables.
Things we liked
Fruit and vegetable wash function
Baby Care setting
Single Homie Tabletop Portable Dishwasher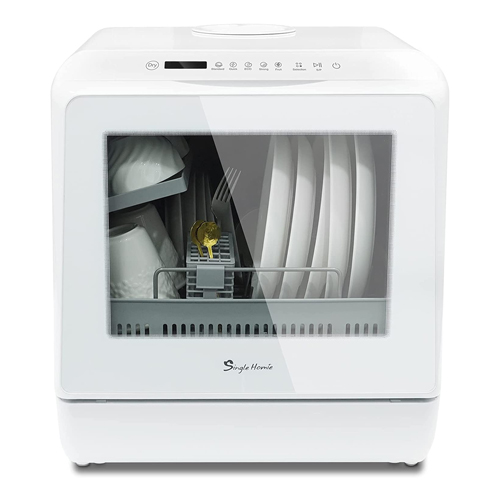 The tap water mode and the built-in water tank mode are both supported by the countertop dishwasher.
The smart no-installation design of the countertop dishwasher removes the need to change kitchen water pipes and cabinets.
The drying mode is ideal, with low-consumption residual air and fan air double-effect drying to effectively eliminate water vapour and keep dishes dry for up to 73 hours.
To efficiently respond to diverse washing needs for different filthy dishes, the small dishwasher includes 5 washing modes: standard, eco, strong, quick, and fruit wash.
Things we liked
Excellent drying features
5 wash settings
Things we didn't like
It may require an adapter
Fengclock Table-Top Dishwasher Portable Mini Dish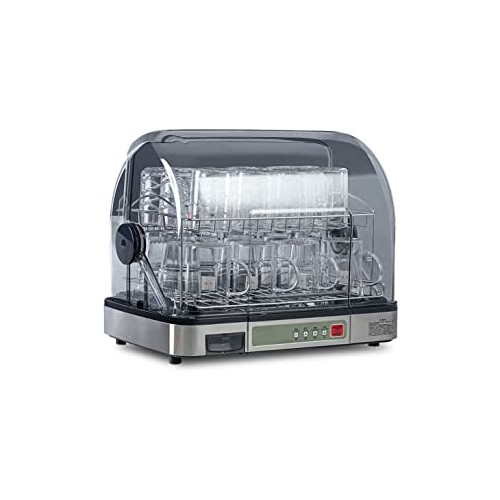 This dishwasher has a total size of around 365mm, so it is ideal for placing on the tabletop as it won't take up much space.
This is adequate for daily usage. It also features an extra heat function, which involves the use of air circulation to efficiently dry the dishes when you're done.
It has a modest footprint and may be used in a variety of locations.
It also comes with intelligent control buttons for simple operation, high application, dryness, UV disinfection, drainage, and dustproof design
Things we liked
UV disinfection
Great for small kitchens
Things we didn't like
It cannot hold a lot of dishes
Best Freestanding Dishwasher
Bosch Serie 2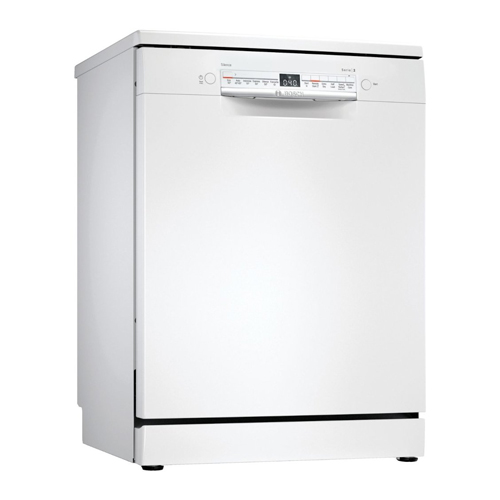 With the Bosch SMS24AW01G Freestanding Dishwasher, you can give your tableware a better clean.
This no-frills model is a good alternative for small to medium-sized kitchens if you don't need a lot of washing programmes that you won't use.
It has only four settings: normal 65, eco 50, quick 45, and a pre-rinse for ultra-dirty goods, which you can select by rotating and tapping the main dial.
This machine doesn't have a countdown timer, but it does provide some input during the wash and dry cycle, so you can estimate how long it will take to complete.
It also has a rudimentary delayed timer function, which isn't necessary unless you want to save money on electricity by using it at night.
Things we liked
Delayed timer
Eco setting
Things we didn't like
Not ideal for large families
BEKO Pro AutoDose Full-Size Dishwasher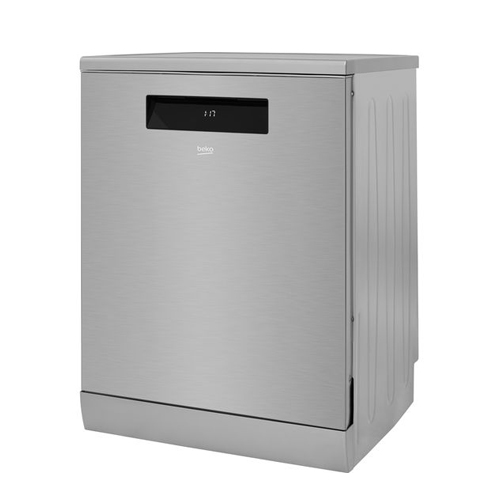 This full-sized standalone dishwasher is both cost-effective and capable of providing excellent washing results.
There are 14 location settings available, and the AutoDose feature eliminates the need to refill the detergent and rinse aid reservoirs every few weeks.
It also includes a Wi-Fi remote control via Beko's HomeWhiz app, as well as Alexa support. Without getting out of your chair, you may ask Alexa to start a wash or inquire about how long till the current wash finishes.
Washing performance and energy efficiency are both highly competitive for the money, although the more costly models outperform the less expensive versions on both counts.
Things we liked
14 location settings
Wi-Fi comptability
ElectriQ 6 place Freestanding Table Top Dishwasher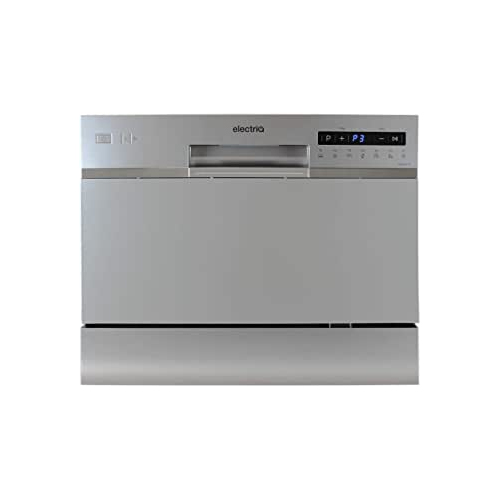 This device was specifically built for holiday houses and caravans, as well as the kitchen.
There are two ways to connect the dishwasher to the plumbing system. It can be directly connected to the kitchen faucet.
The model comes with six place settings and a cutlery bin for ease of use. While the capacity isn't the greatest, it's more than enough for couples or single homes to meet their demands.
The lack of a drying feature in the electriQ is a flaw in the device. It can take up to an hour or more to completely dry the load.
Things we liked
Great for holiday homes
Cutlery storage
Best Drawer-Style Dishwasher
Fisher & Paykel DD60SCHX9 Dishdrawer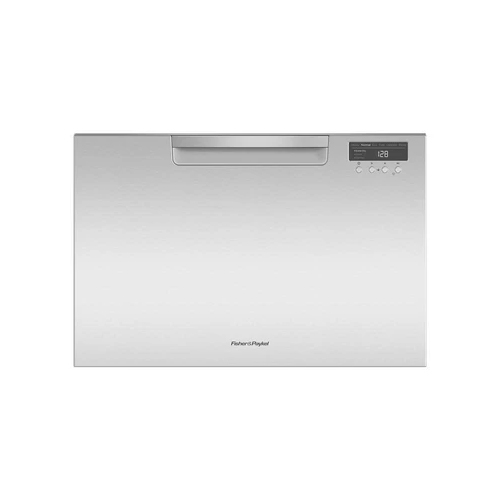 This great independent drawer-based dishwashing platform, which is unique to Fisher & Paykel, is intended for space efficiency, making it ideal for small kitchens.
This model is excellent for any home, with a total of 6 programmes, space for 6 place settings, and an F rating for energy, washing, and drying.
Things we liked
Compact design
6 wash settings
Things we didn't like
Not suited to large households
Fisher Paykel DD24SAX9 Drawers Full Console Dishwasher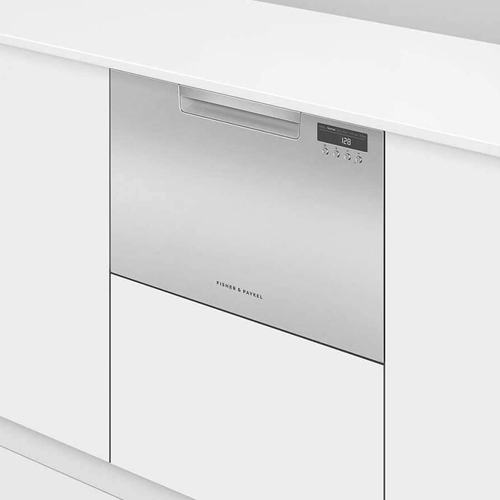 Due to its shiny stainless steel material structure, the Fisher Paykel DD24SAX9 offers a sophisticated appearance.
The design of the dishwashing machine makes it stain and humidity resistant.
It includes high-end features such as an ergonomic recess handle for opening and loading the dishes.
The dishwasher's existence of smart drive technology allows it to react quickly to load changes in the machine.
This machine includes six wash cycles as well as fan-assisted drying technology, ensuring that your dishes are thoroughly cleaned.
Two cutlery baskets and cup racks are integrated into the dishwasher, allowing cups and silverware to be stored separately.
Things we liked
Easy to load and unload
Fan-assisted drying function
Fisher Paykel DD24DV2T9N DishDrawer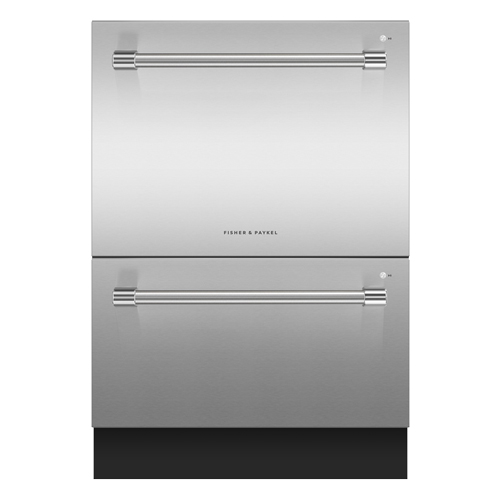 This dishwasher has a sleek stainless-steel finish for added durability.
It's equipped with delay start technology to ensure a smooth start-up.
A brushless motor with Smart Drive Wash capability functions as both a water and drain pump for maximal and optimum washing.
Things we liked
Delayed start function
Durable design
Things we didn't like
It does not dry plastic dishes thoroughly
Best Slimline Dishwasher
Bosch Serie 2 SMV2ITX18G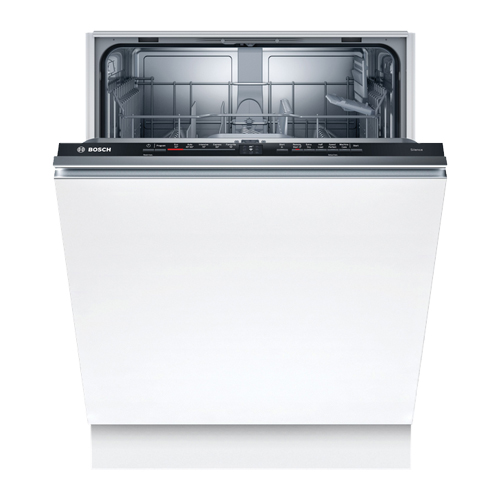 This Series 2 free-standing model comes with a few more features to make life a little easier. The top basket can be adjusted in height to accommodate larger things such as pots and pans.
For more delicate objects, there's a glass protection setting, as well as an ExtraDry button for faster drying.
During auto settings, an AquaSensor III system, according to Bosch, will automatically change the water temperature and rinse time to best suit the soiling of the plates.
Things we liked
Glass protection function
Water temperature adjustment
Things we didn't like
Cutlery box is in an awkward position
Bosch Serie 4 SPS4HKW45G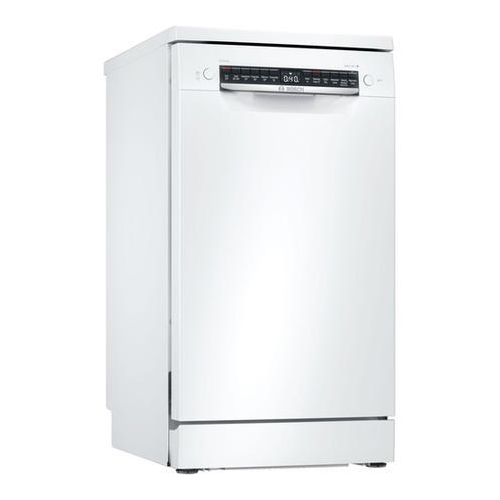 Its slimline design allows it to fit into spaces where conventional dishwashers cannot, making it ideal for tiny kitchens with limited room.
Aside from the small design, there are several very intriguing capabilities here, including remote control from your smartphone. For difficult-to-dry loads, there's an additional dry mode.
You can choose from six different programmes, including an economy mode and a versatile basket system that can accommodate a wide range of cleaning loads.
Things we liked
Smartphone control
Eco mode
Things we didn't like
It can be difficult to connect to Wi-Fi
Push & Go DSF03T224ZUK
https://moltos.co.uk/product/86660
It accommodates 10 place settings, and the height-adjustable top rack and removable cutlery basket make it easy to manage awkward loads full of pots and pans.
It's also simple to operate, and the push & go button allows you to start a standard wash with just one button press.
Things we liked
Large capacity
Easy to use
Best Small Dishwasher
Samsung SW60M6050FW Dishwasher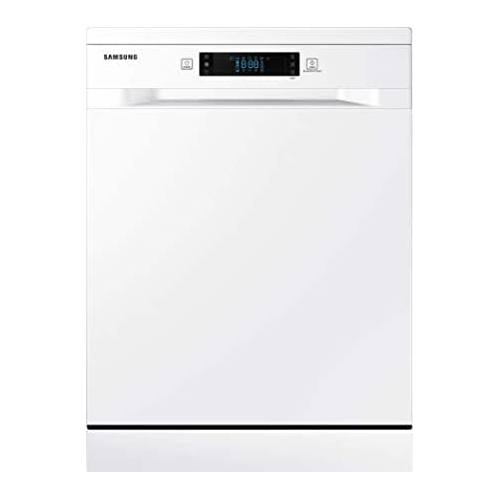 The Samsung DW60M6050FW dishwasher has a capacity of 14 place settings.
It also has a hygiene rinsing mode that raises the temperature of the final rinse to 70°C, giving your dishes a more sanitary thorough clean.
Another feature that makes this family-friendly is the child-proof latch on the door.
The upper basket may be moved up and down to accommodate plates and pots. The angle of the spikes can be altered to effectively sustain the load.
If you only have a few items to wash, you can choose to perform a half-load wash, which automatically adjusts water and energy to the amount inside.
Things we liked
Child proof latch
Excellent sanitary functions
Things we didn't like
Not ideal for large glasses
SMEG DFD13TP3X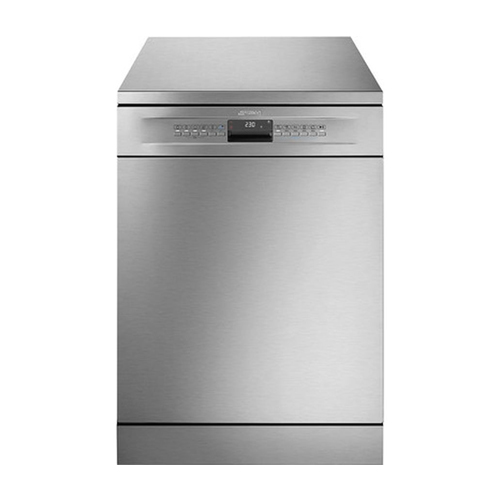 The SMEG DFD13TP3X is well-designed and has a slew of features that make washing and drying as easy as possible for you.
It consistently produces excellent results, it's flexible and versatile, and has enough capacity to meet the needs of smaller families.
If you have any doubts about this dishwasher's capabilities, consider the 10 different programmes and six different wash temperatures available.
It also has special modes such as the quick wash mode, which gives your items a quick rinse in just 27 minutes. This is ideal for when unexpected guests arrive, and you need something to serve food on.
Things we liked
Quick wash function
10 programme options
Things we didn't like
The instructions are complex
Bosch Serie 4 SKS62E22EU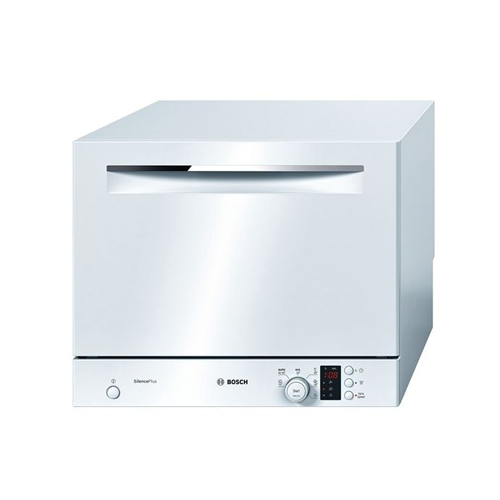 It has enough room for six standard dinner plates, a few side plates, a quartet of mugs, a carving knife or two, and a collection of utensils.
It also has a sensor that detects the amount of water in the container and adjusts the water usage accordingly.
If you live in a studio or open plan, it shouldn't bother you because it's rather quiet.
The Serie 4 has five washing cycles ranging from 40 to 70 degrees Celsius, and it does a good job on most items.
The Serie 4 is pricey for its size.
Things we liked
Water level detector
Quiet operation
What to Consider Before Buying a Dishwasher
You may believe that dishwashers haven't changed much since you last purchased one, but there are many new features and factors to consider. They're smarter, more feature-rich, larger, and more efficient than they've ever been.
Here are some things to think about before you buy.
Efficiency
Over the last few years, full-size dishwashers have become a little more energy efficient.
Based on using it five times a week, a 13-place setting dishwasher would cost roughly £60 per year to run in 2011. A similar-sized dishwasher would cost roughly £55 per year if purchased today. A £5 saving. This is because dishwasher energy efficiency has improved significantly.
Extra Features
Modern dishwashers offer a wide range of innovative features, including silent operation. Many dishwashers claim to reduce noises emitted during the filling and washing cycles.
Other features include a vigorous wash paired with a rinse that includes a burst of higher temperature of up to 70°C (steam, hygiene, or baby protect). Alternatively, a higher-temperature short-burst rinse may be used to end a regular programme.
Size
Dishwashers come in six, eight, ten, twelve, fourteen, and sixteen place settings, with the number of place settings determining the size of the dishwasher. Compact dishwashers with six or eight place settings are ideal for two or three-person households.
Cost
If you don't want to spend a lot of money on a dishwasher, you can get a standard small one on a budget that is still good quality.
FAQs
How do you clean a dishwasher?
Add 1 cup white vinegar, place in a dishwasher-safe bowl on the bottom of the empty dishwasher, then turn on the dishwasher's hot water cycle. Any lingering food, grease, soap scum, residue, or other filth will be broken down by the vinegar.
How do you install an integrated dishwasher?
Disconnect the dishwasher's power and water supply
Remove any screws that hold it to the counter
Remove any cabinet parts that are enclosing it
Pull your dishwasher out of the cabinetry using furniture rollers or any other device that will allow you to do so. It may already have rollers placed on the bottom
Remove the back of the 'junction-box cover' - all the wiring will be located here. Remove any wiring, tubes, or other items with care. The water supply, drainage tube, and any compression fittings can then be disconnected. A bucket, especially with the water supply and drainage tubes, may be useful at this point to catch any remaining water.
Are dishwashers worth it?
The convenience of not having to hand wash dishes is one of the main advantages of using a dishwasher. If you're pressed for time or have a large family, a dishwasher will save you the time and work of hand-washing your dishes. Dishwashers are also more hygienic and efficient when it comes to cleaning.
What was the best dishwasher 2020?
The Bosch 300 Series Dishwasher.
How long does a dishwasher last?
According to studies, an average dishwasher should last roughly ten years. However, this does not rule out the possibility of having to spend money on maintenance during that time.
Sources