kitchen & cooking
Best Smoothie Maker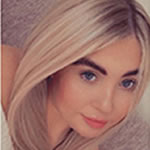 Getting your five-a-day doesn't have to be a chore. Smoothie makers help you get out of bed in the morning by making a fruity drink that is significantly healthier than store-bought alternatives.
Smoothie makers, often known as bullet blenders, produce only one drink at a time, making them ideal for grab-and-go situations. The small blending jug transforms into a cup when you close the lid, and you're ready to go.
Making smoothies at home is a simple and inexpensive way to get your five-a-day, and it may be healthier than buying ready-made ones, which can include a lot of sugar.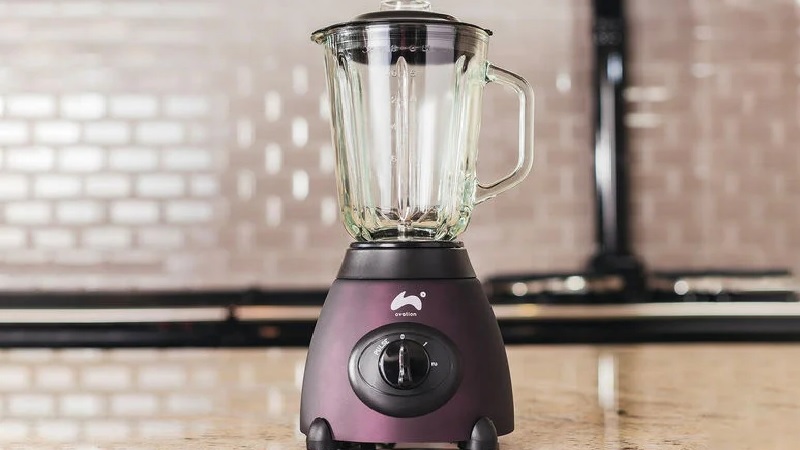 By adding a smoothie maker to your kitchen arsenal, you'll be able to produce nutritious fruit and vegetable-packed drinks in a flash while maintaining complete control over the ingredients you use.
In this article, you will learn about the different types of smoothie makers for your home. This article will also cover what a smoothie maker does and how it works, so you will get a clear understanding of what you are buying.
What is a Smoothie Maker?
A smoothie maker is a device designed to create easy smoothies in your own home. It has blades that are meant to cut fruits at a faster rate and a smaller size, so it creates a perfect smoothie texture. As a result, it outperforms blenders when it comes to producing smoothies, as that is its main job to do.
Because the primary purpose of a smoothie maker is to manufacture smoothies, they often have a lower capacity and are meant to make only one drink at a time. They also include cup attachments, so you can carry your smoothie with you by unscrewing the cap and screwing on the lid.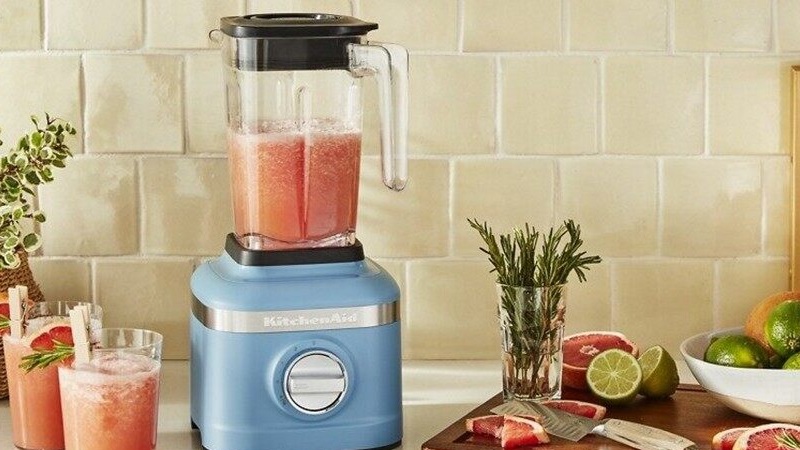 Making nutritious, healthy summer drinks for your family is a breeze with a smoothie maker.
Smoothie makers can extract the grainy texture of berries, the irregularly cut fruit pieces, and the softness of green vegetables.
In comparison to what a blender can produce, this device assures that the product is a lot silkier and smoother drink. The taste may not change, but the improved texture gives the drinker a different sensation.
How Does a Smoothie Maker Work?
The main operations of a smoothie maker are 'on' and 'off' as the smoothie makers are always easy to use. As a result, it can only perform a limited number of functions and don't have that many extra features on the machines.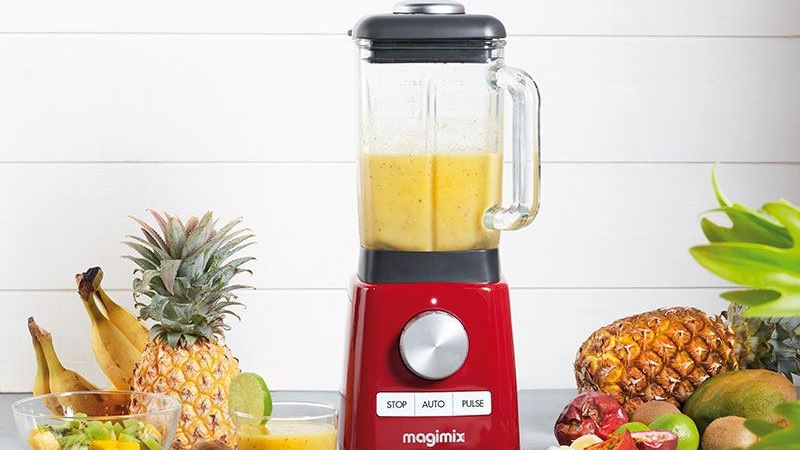 Typically, a smoothie maker is made up of two separate parts. One is a cup, while the other is a pitcher-like item with a spout for pouring out the drink.
This allows the user to prepare the drink in the cup and then drink from it. Smoothie makers also come with a built-in stir stick that can be used to remove contents stuck to the sides and guarantee proper blending.
Some smoothie machines use vacuum blending technology, which claims to lock in vitamins, preserve nutrients, and improve the overall blend and flavour. Even several hours later, your smoothie will look brighter, have a lighter texture, and taste better than a standard mix of the same recipe.
Types of Smoothie Makers
If you enjoy smoothies and want to improve your digestive health by consuming more fibre, a smoothie maker may be the ideal option.
Smoothie makers are far more practical if you simply want to make one part of a fruity drink at a time. As a result, they are usually less expensive and waste less food.
They're also more compact, making them easier to store if you don't want to add to your kitchen counter clutter, and the cup attachment comes in handy if you want to take your freshly made beverages with you on the go.
Do you drink smoothies all the time for a healthy diet? Or do you use them to go to the gym and create your smoothie protein shakes? Or even just have them every so often because you enjoy having one? These questions should affect the smoothie maker you want as the reason will have different features that suit you the most.
Smart Smoothie Maker
A smart smoothie sensor technology is included in smart smoothie machines, which properly weighs each ingredient and tracks the nutritional value in real-time. They also offer a free app with recipes and the ability to weigh your ingredients for you.
The ingenious built-in scales will help you balance your Nutri Blasts. Simply select a recipe from the app's free library and begin adding ingredients without even measuring them. As you add each ingredient, the app displays the calories, fat, total carbs, fibre, and protein content of your meal. You can also view exactly what you're making via the app.
They are quite simple to use. Your smartphone or tablet's Bluetooth automatically connects to your smart smoothie, and you can view a personalised selection of recipes with only a few taps of the app. There are hundreds to select from, and you may tailor the recipes to your personal preferences and wellness objectives.
Standard Jug Smoothie Maker
This smoothie maker is essentially a jug blender with taps for dispensing blended drinks, so you can theoretically blend your drink and pour it directly into your glass.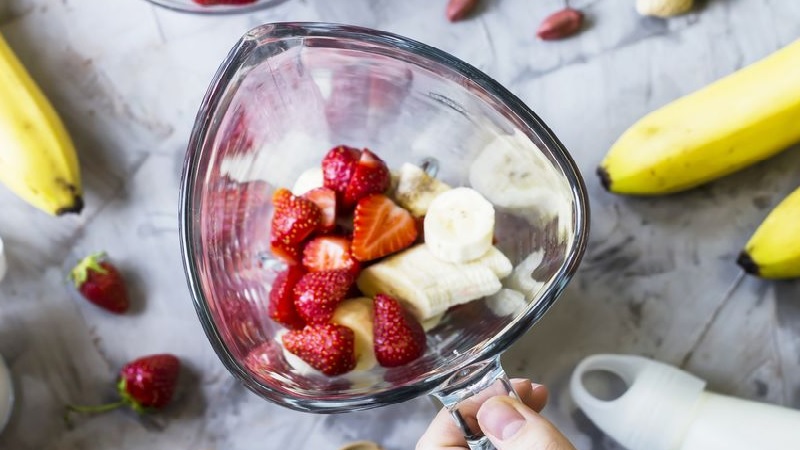 It's no surprise that the standard jug smoothie maker has remained a kitchen staple for so long. They can make smoothies and shakes in seconds and can also be used to make soups, sauces, and even mayonnaise. They may be used in various smoothies, soups, drinks, sauces, and even ice cream recipes.
However, with these types of smoothie makers, they can be difficult to store. They are also known to crate bitty and thick smoothies so, to avoid an extremely thick or tiny drink, you'll need to have the appropriate proportion of ingredients.
Digital Smoothie Maker
Simple, quick, and tasty. With digital smoothie makers, you can prepare ultra-smooth, tasty drinks and smoothies in seconds by pulsing and blending. Whole fruits and vegetables, difficult nuts and seeds, and even ice can be easily broken down using digital smoothie makers.
You get 100% of the nourishment you put in when you make delicious, smooth, ice-cold drinks with no waste.
These smoothie makers are reasonably prices and not hard to figure out. It is probably best for a beginner as they only include a few buttons, and they are ready to go. Some also come with a timer so it can tell you when the smoothie is complete. This makes your job easier, and you won't have a smoothie that has lumps and bits in it.
Mini Smoothie Maker
Mini smoothie makers, like the Nutribullet, are a popular choice for folks who just need one or two servings. Most come with a travel lid, allowing you to effortlessly transform the blending cup into a travel mug and take your smoothie with you wherever you go.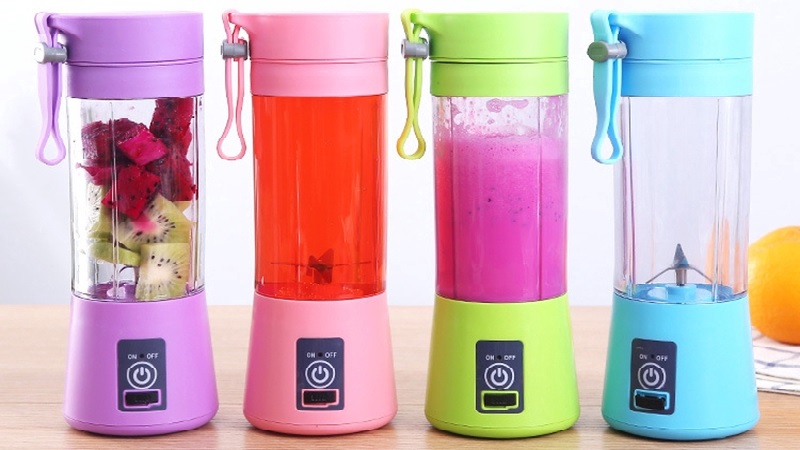 Mini smoothie machines combine directly into a drinkable cup, making it very simple. The cups normally come with lids so you can transport or store your smoothie simply. Some smoothie makers include sports bottles that are ideal for transporting a protein-rich smoothie to the gym.
However, because they are smaller than typical smoothie makers, with a maximum capacity of roughly 600ml, you won't be able to combine large batches at once. They usually lack more expensive versions' added functions, such as timers, automatic programmes, and numerous speed settings.
Best Smoothie Maker
Making your own at home allows you to save money on expensive pre-mixed bottles. It's also a quick method to get your daily dose of fruits and vegetables.
Smoothies have been popular since the early twentieth century. These delightful drinks are a terrific way to top up on health-enriching nutrients by combining fruit, vegetables, and sometimes ice with juice or water.
Smoothie-makers, or blending equipment for making smoothies, have evolved over the years. There's a smoothie maker for everyone, from basic, smart smoothie makers designed to swiftly blitz small batches of smoothie to more classic smoothie makers with blender-style jugs.
Read on to discover the best smoothie makers with all different features.
Best Smart Smoothie Maker
NutriBullet Balance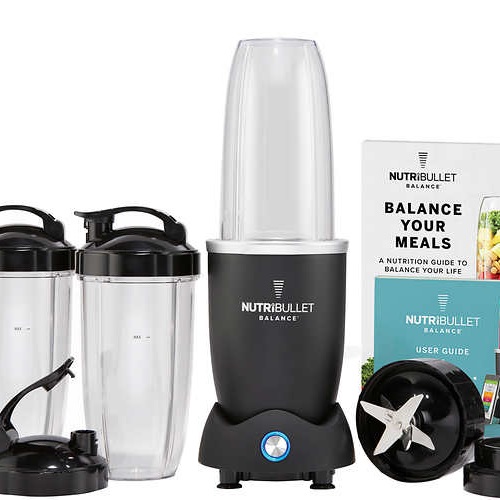 This smart smoothie maker is a favourite as it is easy to clean. The two 930ml mugs can be washed in the dishwasher, which makes cleaning much easier.
It also comes with an app that allows you to weigh ingredients and calculate the nutritional value of your smoothie, as well as hundreds of recipe ideas. All you have to do is download the app on your phone, and the smoothie maker works itself.
It was discovered that while the app was precise when weighing solid items, it was less so when weighing liquids. This was the only downfall of this smoothie maker apart from that it is a popular well-working smoothie make that will last a long time in your home.
Things we liked
Easy to clean
Mugs are dishwasher safe
Weighing and nutritional value functions
App control
Things we didn't like
The blade may get trapped during when put in the dishwasher
Lakeland Touchscreen Smoothie Maker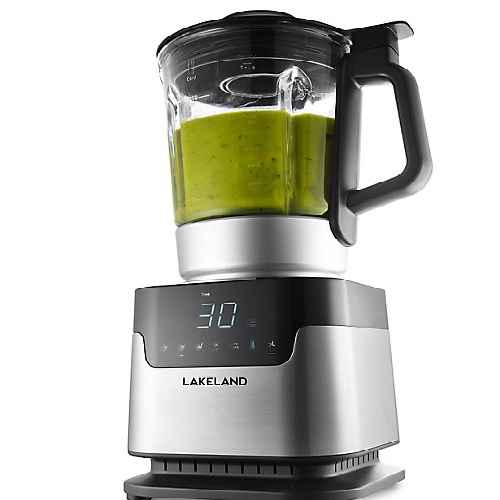 Your smart smoothie maker has automatic settings; the temperature can be adjusted between 75 and 100°C, the timer can be set up to 60 minutes, and three blend speeds – low, medium, and high – enable you to get it precisely how you want it, all controlled through your smartphone.
It's also quite simple to operate. All you need to do is select what you want on the touchscreen LED control panel.
Cleaning is simple and quick. It comes with a cleaning brush so you can get right behind the stainless-steel blade owing to its auto-clean mode and non-stick heating plate.
The heavy-duty, long-lasting glass jug allows you to keep an eye on your ingredients while they're cooking, and because it mixes in short, gentle bursts of moderate stirring, you can reach any consistency you choose.
Things we liked
Three blend speeds
Automatic functions
Achieves good consistency
Durable
Things we didn't like
You cannot get the bottom wet so it can be hard to clean
Ninja Blender with Auto-IQ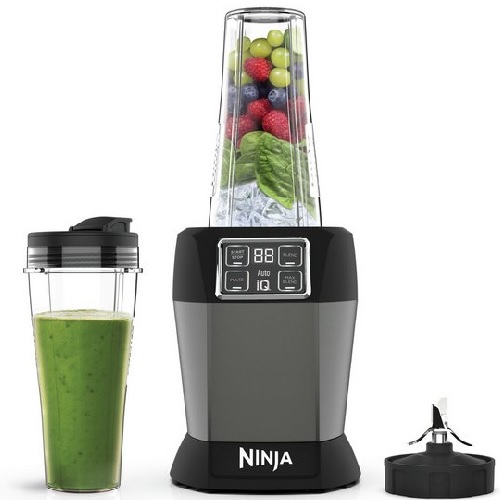 This simple machine combines smoothies in seconds, mashing all of the tough ingredients threw in with ease. It includes three settings, including two auto programmes and an LED countdown timer, so you can always obtain the perfect blend.
The two 600ml cups feature a convenient measuring scale on the side, so you know precisely how much protein powder to add, and there's also a recipe book to get you started.
This smoothie maker is also a smart smoothie maker, which means it comes with an app that you download on your phone. It can be hard to understand the app and can take a while to get used to, but once it is set up, you can make smoothies within minutes!
It is dishwasher safe, so it makes cleaning easier, as once you have created your smoothie, you can just pop it in the dishwasher, and cleaning is sorted!
Things we liked
Quick smoothie maker
Convenient measuring scales
Smart functions
Dishwasher safe
Things we didn't like
Not as powerful as other models
Best Standard Jug Smoothie Maker
Wilko Black 1000W Power Blender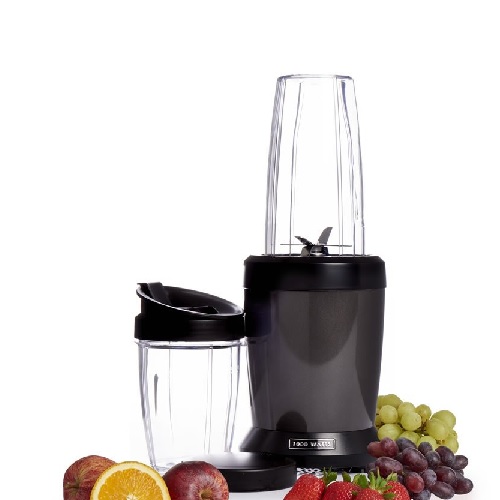 This machine is noted for its remarkable blending performance and offers excellent value for money, proving to be equally as effective as the more expensive machines in our assessment.
It just has one blending function, which has shown to be effective for all tasks, resulting in velvety, silky smoothies.
This smoothie maker comes with 500ml and 800ml blending cups, as well, as the lids are leak-proof, even when bending at full capacity. However, the jugs aren't dishwasher safe, although they are simple to clean by hand. Overall, for the price, this is an excellent smoothie maker.
Things we liked
Great value for money
Various sized measuring cups
Leak-proof lids
Things we didn't like
The jug is not dishwasher safe
IKOHS OSIT Big Blender with Portable Jug
The OSIT creates beautifully even-textured smoothies in a surprisingly short amount of time. Given its motor's very low power output, this is quite surprising.
It can easily blend a variety of fruits and vegetables. It doesn't appear to collect small seeds, such as raspberry seeds, so keep that in mind while making smoothies.
It's a very simple device to set up: simply fill the jug and blade lid with your smoothie ingredients, then slide the blade lid's bottom onto the power base.
After that, all you have to do is hit the massive power button on the front of the power base to start the smoothie maker. It's also simple to operate the machine.
The OSIT's one other drawback is that it lacks many unexpected features. It only has one task, and it performs it exceptionally well.
Things we liked
Ideal for blending fruit and vegetables
Easy to use
Produces quick smoothies
Salter NutriPro Blender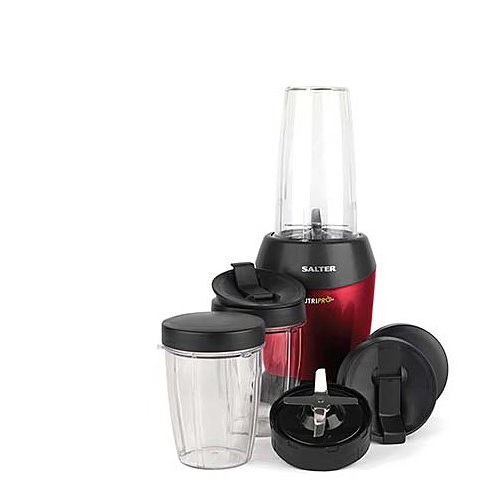 The Salter NutriPro 1200 produces a fantastic smoothie by blending vigorously and consistently. The NutriPro 1200 is simple to set up and use: simply select one of three blending cups, connect it to the six-blade lid attachment, push it down into the base unit, and spin clockwise.
The instruction handbook is well-designed and simple to follow. There are 50 basic smoothie recipes in this book.
While the NutriPro is a simple and easy smoothie maker, on the whole, one feature that sets it apart is the inclusion of two storage lids, which can be used to lock drinks inside the blending cups and keep them in the fridge or freezer.
Things we liked
Simple set up
Easy to use
Comes with a helpful handbook with 50 smoothie recipes
Best Digital Display Smoothie Maker
NutriBullet Graphite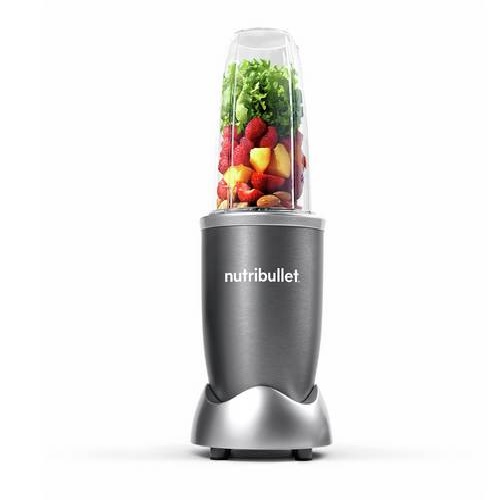 This smoothie maker not only does it all, but it also comes with a recipe book and a piece of nutrition advice.
It easily breaks down a variety of soft fruits, fibrous vegetables, hard nuts, seeds, and ice. However, it doesn't pulverise raspberry seeds, leaving an otherwise smooth blend with quite a rough texture.
It's simple to store, even though it comes with a variety of accessories, including powerful extracting blades, a 680ml tall cup, and a smaller 500ml cup with a handle. It also shuts down automatically if it overheats until it's safe to use again.
Things we liked
Powerful blades
Easy to store
Comes with a recipe book
Things we didn't like
Not ideal for raspberries
Bosch VitaMaxx Vacuum Smoothie Maker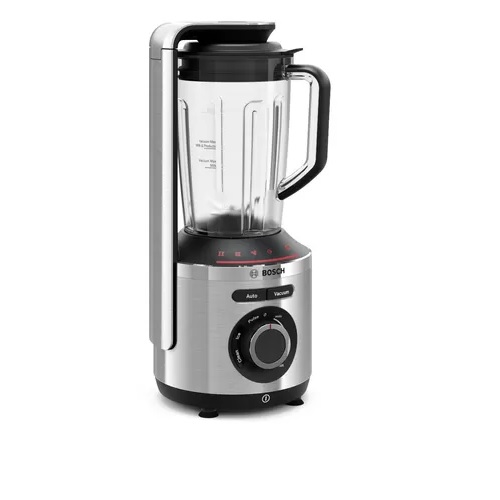 With outstanding blending power and high-quality components, this is one of the best smoothie makers on the market.
It contains a deoxygenation function, which uses a vacuum to eliminate oxygen from the smoothie, resulting in the most brilliant end product, as well as a variety of handy attachments like storage containers.
Given its wide inventory of attachments, LED symbols, and marks, setting up the VitaMaxx might have been difficult. However, Bosch does an excellent job of teaching how to use the appliance through the Quick Start Guide.
The VitaMaxx has one drawback: it's quite noisy, which is understandable given that it generates the power required to make excellent smoothies.
It can be used to make a delicious drink with raspberries, blackberries, banana, peach, mint, and orange juice, and it effortlessly cut through all of the ingredients.
Things we liked
Comes with a range of attachments
Impressive blending power
Deoxygenation function
Nutri Ninja with FreshVac
The Nutri Ninja is a versatile, feature-packed smoothie maker that dependably blends powerfully. Its FreshVac oxygen pump accessory adds colour and flavour to smoothies, setting it distinct from competitors.
The FreshVac pump's manufacturer aids customers in setup by placing stickers on important portions of the components and instructions for safe blade removal and battery installation in the FreshVac pump.
Because this isn't a smoothie maker that most people can set up completely on their own, it's best to read the instructions carefully.
While the Nutri Ninja isn't the most user-friendly blender, it's straightforward enough to operate after you've gotten the hang of it.
The instruction papers that come with the appliance are quite clear, and the Ninja Kitchen YouTube channel has more information for people who like to learn by watching.
Things we liked
Easy to set up
Versatile design
Safe blade removal
Things we didn't like
Not as user-friendly as other models
VonShef UltraBlend Smoothie Maker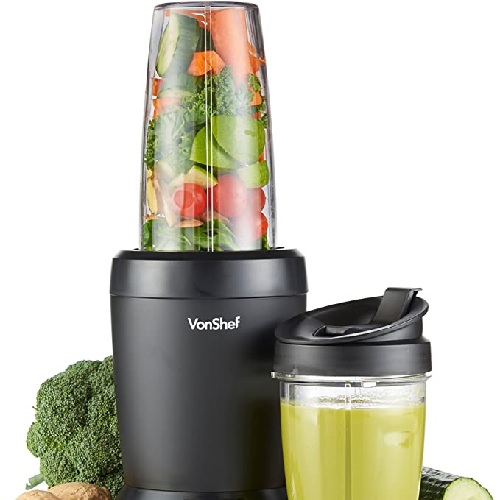 The VonShef Ultrablend is ideal for those with hectic schedules or who struggle to get their five-a-day. It's perfect for carrying to work, college, the gym, or on the road.
The blender may also be used to purée vegetables for soups, demonstrating its versatility.
It's an ideal blender for smoothies because it's extremely strong and crushes ice in a matter of seconds.
Things we liked
Great for making soup
Powerful blender
Produces quick smoothies
Best Mini Smoothie Maker
IKOHS MOI SLIM Smoothie Maker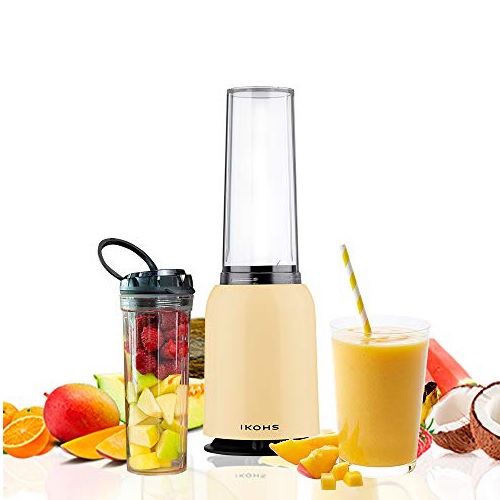 This elegant smoothie-maker performs admirably in comparison to its lightweight design and affordable pricing. The 400ml blending capacity may be too little for some, but it's still a wonderful alternative for individuals who don't want to blend enormous volumes.
There isn't a more basic smoothie maker than this one, which only has a blade attachment, cup, power base, and sports lid.
The appliance is turned on by pressing the cup and blade attachment into the base, which has proven to be a very useful activation mechanism. Overall, this is a straightforward device that gets the job done quickly and well.
With a stylish, simple profile and various colours, it's one of the best-looking smoothie makers on the market. It also has a nice sound, with a deep tone and low volume that isn't distracting.
Things we liked
Lightweight model
Easy to use
Stylish design
Ninja Foodi Power Nutri DUO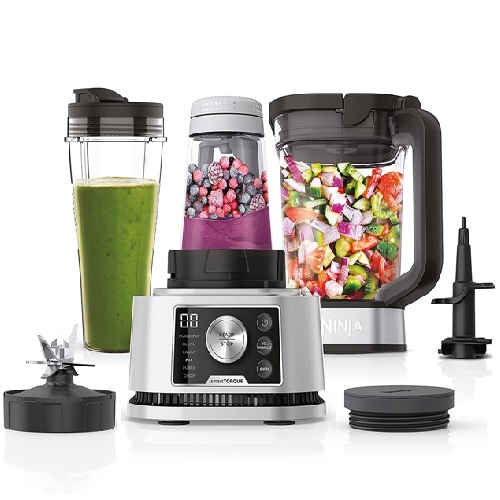 This small, portable personal blender fits easily in a cupboard or on a kitchen counter. It includes two 24-ounce jars with to-go lids, allowing you to mix single-serve drinks and transport them to work or the gym.
A 14-ounce 'Power Nutri Bowl' with manually spinning arms to help force food towards the vortex is also available. Clean-up is simple when you've finished using it because the jars, lids, and blades can all be placed in the dishwasher.
Unfortunately, unlike most personal blenders, you can't use them to blend hot ingredients into soups and sauces. Therefore, if you wanted a smoothie maker with other features, this one probably isn't the best fit.
It also only has the one-speed setting, which may disappoint some users. Overall, if you're looking for a little blender that works well and does its job making smooth smoothies, this is an excellent choice.
Things we liked
Portable design
Includes 24-ounce jars
Stylish design
Things we didn't like
It only features one speed setting
Breville Boss to Go Sport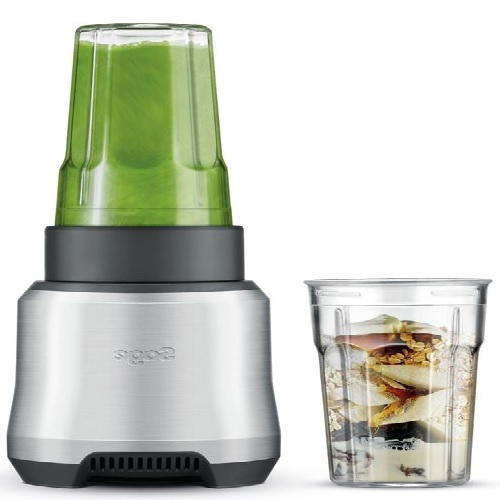 Try the Breville Boss to Go Sport if you want a tiny blender with high-quality features. It's more difficult to clean than the Ninja Foodi Power Nutri DUO and has fewer jars, but it feels much more firmly built.
The base is composed of sturdy metal, and the two accompanying jars, a 23-ounce main jar and a dual-walled 15-ounce supplemental jar, appear to be quite durable.
It can be used to make a delicious smoothie, crushed ice of bar-quality, and spreadable nut butter. Unfortunately, while most liquid meals may be removed with a quick rinse with water, stickier foods like nut butter may require the use of a brush.
Things we liked
High-quality design
Sturdy smoothie maker
Ideal for quick liquid meal preparation
What to Consider Before Buying a Smoothie Maker
When selecting a smoothie maker, there are a few key features to consider, including:
Size
Smoothie makers are available in various sizes. The most common models range from a small 0.47 litres to a more generous 0.93 litres, depending on whether you want a quick smoothie for one or are eager to share your concoctions.
Design
A smoothie maker has a design that is quite similar to that of a coffee maker, but it contains more components that help it do its job better. From the cup to the blade, everything you'd expect to find in a blender is included.
Some smoothie makers, on the other hand, may have a spigot. The smoothie you just created is dispensed through this fixture. A stirring stick is also included in the lid to help the contents of the jar blend properly.
You could find a smoothie maker that matches the design of your kitchen. Therefore, if your toaster and kettle are black, then try to find a black smoothie maker to match your decor. You obviously won't need to worry about this if you plan to store your smoothie maker away.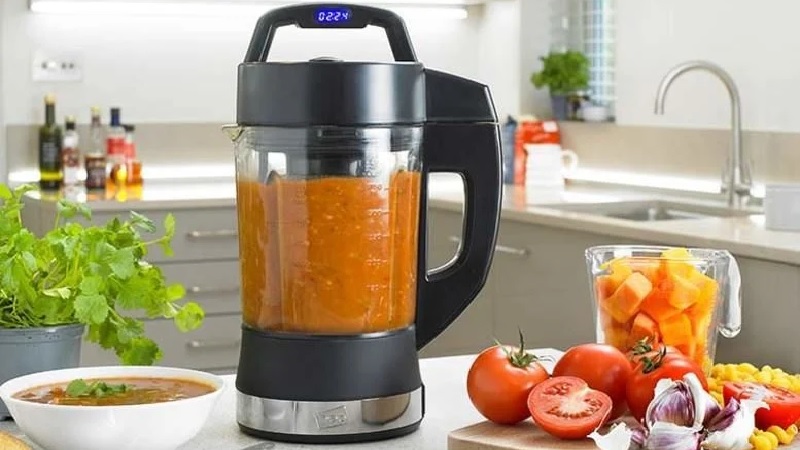 Speed
Many smoothie machines just have a one-speed option, which begins when you place the jug on the motor and click it in place. For added control, manual speed adjustments and a pulse setting may be available.
Multi-purpose
There is a variety of equipment on the market currently that are essentially blenders but also have a smoothie-making function. These multi-functional units are typically more expensive and take up more counter space than a simple smoothie maker.
Cost
If you are on a budget, it is probably best to get a smoothie maker that doesn't have many additional features, as they tend to be a lot cheaper. However, if you are not on a budget and want to spend some extra money on a smoothie maker, then there are a variety of features and additional advances you can have on a smoothie maker.
Cost is a major consideration. There are many economical solutions for high-quality, long-lasting devices on the market. There is also a plethora of professional-grade equipment available at astronomically high prices! Before making a purchase, consider your budget and your requirements.
FAQs
What is the difference between a smoothie maker and a blender?
Blenders can handle a wide range of kitchen jobs, from chopping nuts, shattering ice, and grinding spices and coffee beans to puréeing vegetables for soups and sauces. They usually come with a big base unit, multiple power settings or speeds, and a pouring jug attachment.
Smoothie makers, on the other hand, work similarly to blenders but are less powerful and compact. Because their main purpose is to prepare smoothies, they usually have a lower capacity and are only designed to make one drink at a time.
They also include cup attachments, so you can carry your smoothie with you by unscrewing the cap and screwing on the lid.
How do you make ice cream with a smoothie blender?
In a blender or food processor, layer the ingredients in the order stated above.
Blend until smooth, scraping down the sides of the basin or pitcher as needed.
Serve right away for delightful soft-serve ice cream or freeze for an ice cream that is easier to scoop.
Allow 20-30 minutes to thaw on the counter before serving if frozen. This will almost entirely freeze solid.
Some people prefer to sip it via a straw, so add an extra splash of milk to the blender and blend until smooth.
This resulted in a deliciously thick milkshake-like smoothie that I thoroughly loved.
Enjoy!
How do you clean a smoothie maker?
Step 1: Pour about a third of a cup of warm water into your blender.
Step 2: Add a few drops of your preferred dishwashing liquid.
Step 3 - Turn on your blender or smoothie maker and let the blade move the soapy liquid around the inside of the machine.
Step 4: Drain and rinse!
Are smoothies healthy?
The dangers of eating too much sugar. Including smoothies in one's diet without restricting calories or risking weight gain. Putting too much reliance on smoothies for nutrition and cutting back on food nutrition. The smoothie may or may not be healthful, depending on how it is prepared.
What is the difference between a juicer and a smoothie maker?
A juicer removes the fibre and pulp from the fruit and vegetables, leaving only the juice, whereas a smoothie maker combines the fruit and vegetables into a drink. When not in use, a smoothie maker is smaller and easier to store. If space isn't an issue, the choice between the two is purely a matter of taste.
Sources