kitchen & cooking
Best Milk Frother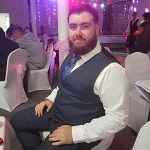 Is a good cup of coffee essential to your daily routine?
Although it may not be something many people consider, investing in your milk frother can save you money whilst still indulging in the luxury of a barista-style coffee - even saving you a journey to the coffee shop.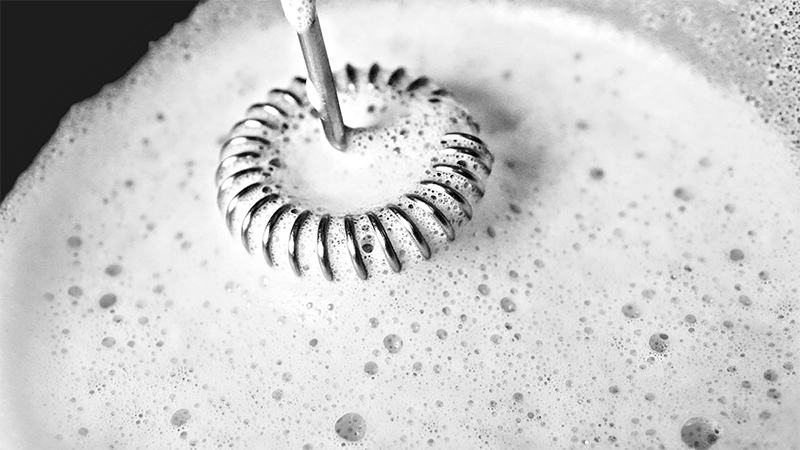 A milk frother can help you create delicious and aesthetically pleasing cups of coffee and hot chocolate from your kitchen. Easy to use and exciting investment, a milk frother could be just the kitchen upgrade you didn't know you needed.
So, if you want to know more bout the best milk frothers on the market, carry on reading below!
What Is a Milk Frother?
A milk frother is a kitchen utensil designed to make milk froth that can be added to any drink of your choice. Classic options include coffees such as cappuccino, latte and even hot chocolates. It works by aerating the milk, creating a thick, bubbly foam.
The bubbles formed to increase the volume of the milk to make it light and airy and the perfect addition to any barista-style drink.
You can use a milk frother for any kind of milk, including plant-based drinks such as oat or soy milk. When frothed, full-fat cow's milk creates a thicker, heavier foam, giving more body to your hot drink.
Low-fat milk and skim kinds of milk are much lighter and generate more foam due to the larger air bubbles that can form, giving more delicate aeration to your drink.
The froth is traditionally used as a final addition to a coffee, creating a delicious foamy top to create beautiful patterns in a true barista style.
Your milk frother will give you the ability to produce café quality milk and coffee recipes from home.
How Does a Milk Frother Work?
Manual Frother
Fill the carafe of your manual frother one-third of the way with milk. This will leave enough room for the foam to develop without overflowing.
Chill your carafe of milk and put the carafe of milk into the refrigerator to ensure the milk is cold – especially important when using UHT and room temperature liquids. This should only take around half an hour.
You can froth warm and steamed milk, but it may not produce as many bubbles.
Plunge the handle for 30 seconds. Use one hand to plunge and the other to hold the carafe in place. It is normal to have to push harder as the foam builds due to the formation of bubbles.
Check the froth. Liftoff the lid to ensure you are happy with the froth. If you prefer more foam, plunge for up to another 30 seconds – any longer will begin to break down the bubbles you have already formed.
Heat the froth. Gently heat your froth in the microwave, not letting it boil, and this should only take a couple of seconds. Once you are happy with the temperature, spoon the froth over your hot drink.
Electric Frother
Fill a jug or carafe one-third of the way with milk. This will leave enough room for the froth to develop without overflowing.
Hold your frothing wand vertically in the milk. Ensure the wand's head is submerged in the milk, and turn the frother on to its highest setting.
Stir the wand through the milk for 30 seconds, keeping the head of the frother near the bottom to help generate the foam. Bubbles will begin to form.
Stir for another 30 seconds, this time in an up-and-down motion to generate the last of the bubbles. Be sure to keep the head submerged at all times to prevent making a mess.
Check the froth. Once you are happy with the froth, turn off the milk frother and spoon or pour into your hot drink.
Types of Milk Frother
Electric Milk Frother
Electric milk frothers are the simplest way to froth your milk. They are handheld devices and use a motorised whisker, which spins quickly through the milk to build up the froth.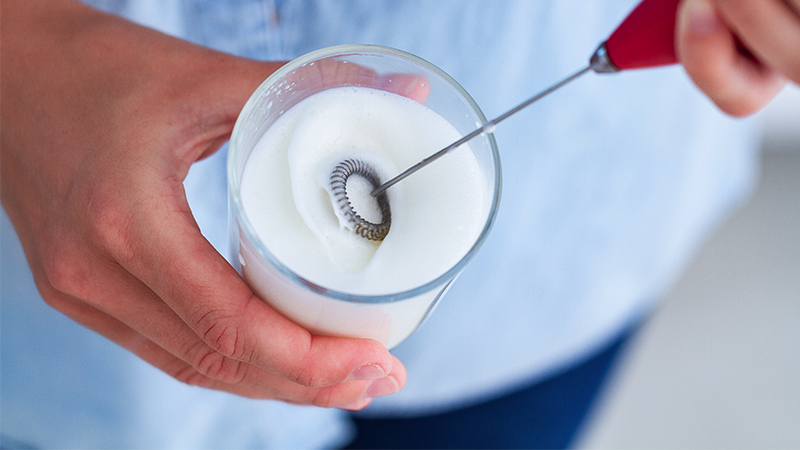 They are usually battery powered rather than having a wire that could potentially get tangled in the whisker, keeping your device mobile and stress-free.
Manual Milk Frother
The most common type of manual milk frother is a stovetop frother, consisting of a metal jug and frothing pump.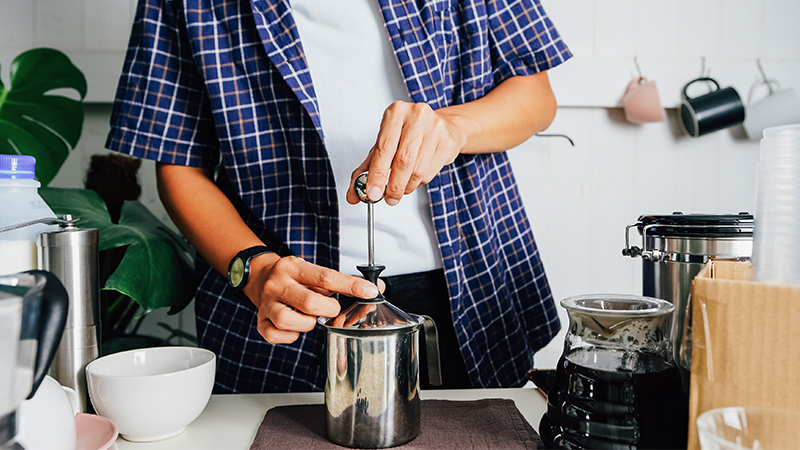 Once the jug is filled with milk, it goes on the stovetop to heat up, and when the handle is pumped, foam is created.
Automated Milk Frother
A great all-rounder, Jug frothers can easily heat and froth milk simultaneously, with its inner heaters and whisk creating a consistently smooth foam. They are simple to use and affordable, making a jug frother a great fit for any coffee-making skillset.
Steam Wands
Steam wands come built into an espresso machine, making this option well suited to coffee enthusiasts who are willing to splash out on this small luxury.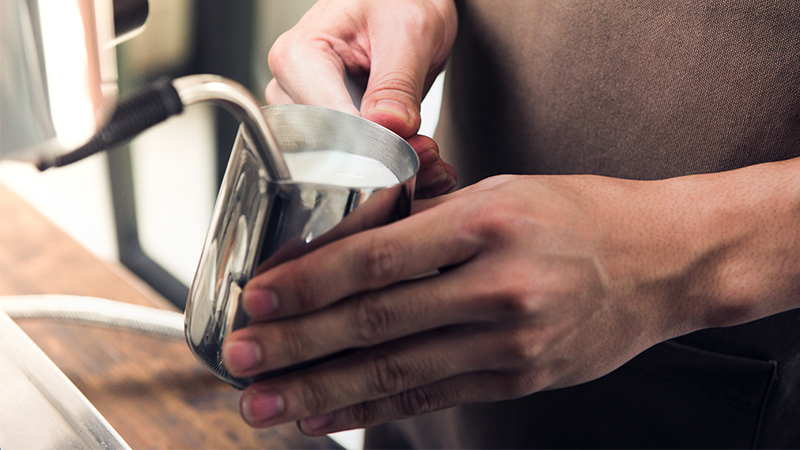 They are used in coffee shops due to their diverse use and consistent texture, making this frother perfect for those looking to create professional-grade coffees at home.
Best Milk Frother
Best Milk Frother
NESPRESSO Aeroccino 3 Frother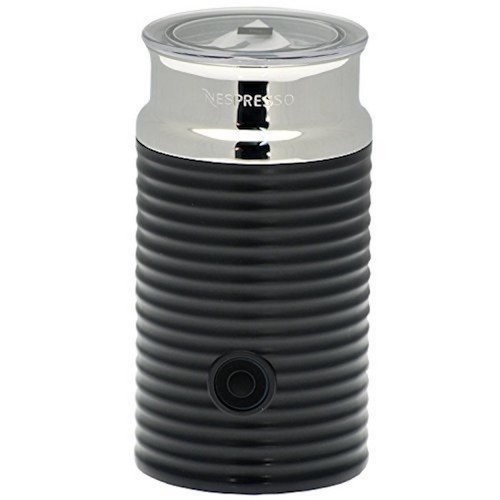 This Nespresso milk frother is easy to use, easy to clean, and great for frothing plant-based kinds of milk – something that other machines can struggle with.
It even comes with an option for extra thick foam, which is perfect for trying out your latte art. It takes only one minute to froth both hot and cold kinds of milk and heats milk in only two minutes. This milk heater and frother is perfect for any budding home barista.
Pros
It comes with a spill protector
Parts are dishwasher safe
Easy to use
Cons
Can only make ½ cup of froth
It does not come with a non-metal serving spoon
Lavazza a Modo Mio MilkEasy Milk Frother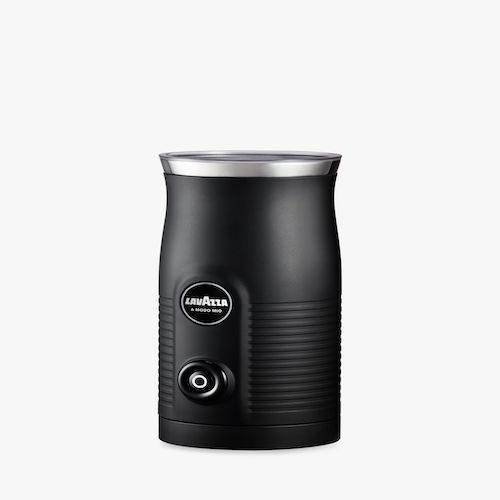 This Lavazza milk frother is powerful and compact, perfect for those short of storage space. It has three settings, happily warming milk and frothing hot or cold milk – all easily selected on the front of the machine.
It is easily cleaned, slots onto a kettle-style base, and stays nice and quiet while working its magic.
Pros
Dishwasher safe
Transparent lid so you can easily watch as your milk froths
Easy to use and beeps when ready
Cons
Magnetic whisk is at risk of breaking
You can only really do one drink at a time
Best Milk Frother with Motorized Whisk
Milk Pro Frother POWERLIX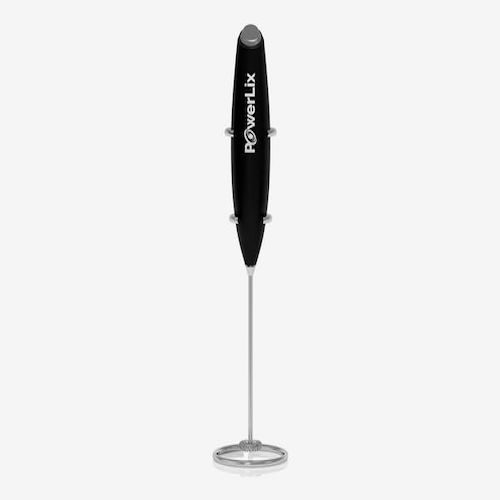 This super simple milk frother is perfect for any household, and it is compact and portable and easily stored and runs on only two AA batteries. This model is also super quick, giving you the perfect froth in under 30 seconds.
Pros
Compact and easily stored
Froths milk quickly and easily
Cons
Battery-powered (could run out whilst using)
Milk needs heating separately
Milk Frother AEROLATTE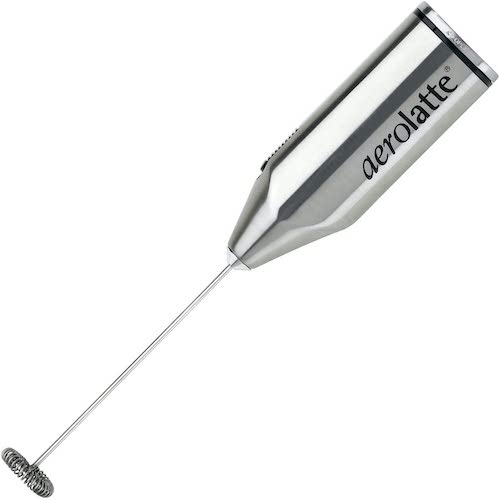 Small and portable, this milk frother is perfect for more crowded kitchens or even to take with you on the go. It is lightweight and runs on only two AA batteries, and it is made of high-quality stainless steel to prolong use.
The whisk is detachable, making cleaning even easier, and comes with an impressive two-year warranty.
Pros
Compact and easily stored
Two-year warranty
Cons
Battery-powered (could run out whilst using)
Milk needs heating separately
Best Manual Milk Frother
Latter Manual Milk Frother BODUM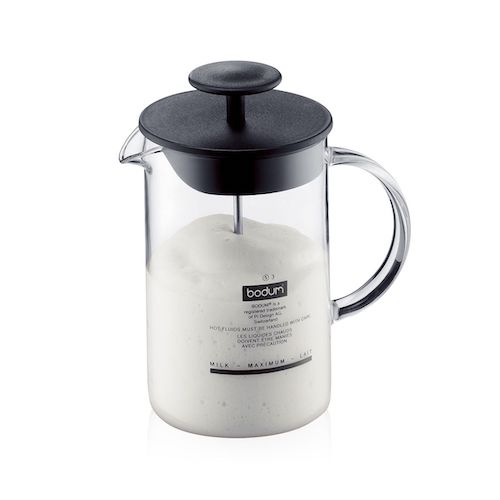 Similar in style to a classic French press, this manual milk frother is aesthetically pleasing and easy to use. It is microwavable and dishwasher safe, meaning you get to cut both corners in heating milk and cleaning up afterwards.
It has a good grip, and you do not have to put much force into the pump, making your milk frothing experience more enjoyable.
Pros
Compact and portable
Works with all types of milk
Good grip and easy use
Cons
Leaks during use
Milk needs heating separately
Vktech 400ml Stainless Steel Manual Milk Frother Double Mesh Milk Creamer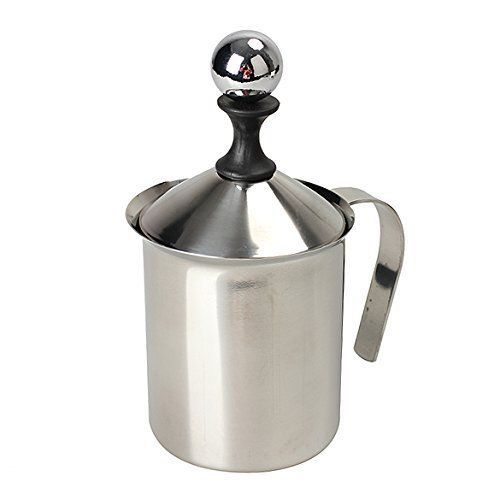 Made of high-quality stainless steel, this milk frother is perfect for a coffee connoisseur or used in a professional setting. Although a little noisy, this is to be expected from this style of milk frother, and it is worth it for the high-quality froth achieved after only a short time pumping the milk.
It can be a little messy and spill over when creating these voluminous bubbles, so be ready with some kitchen roll to hand to clean up after your masterpiece has formed.
Pros
Easy to use
It makes thick and foamy froth
Cons
Noisy during use
Can overflow during pumping
Best Automated Milk Frother
The Milk Café BREVILLE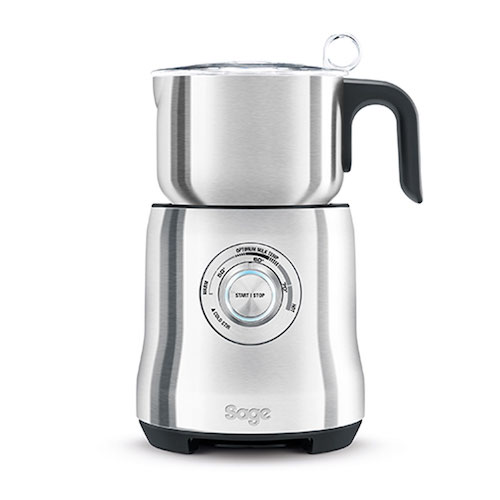 As quite a large milk frother, this device is perfect for frothing for multiple drinks at once. Easily controlled with a temperature dial, this frother also has a built-in measuring cup in the lid, making it easier than ever for you to get the perfect bubbles every time.
It is dishwasher safe, easily cleaned, and clever enough to turn off if the milk becomes too hot to froth properly.
Pros
Can make up to three cups
Easy-to-clean and dishwasher safe
Froths plant-based kinds of milk
Silent operation mode
Cons
Large size makes it too big for making just one drink
Need a minimum of one full cup of milk to work
Quite expensive
Barista Recipe Maker NESPRESSO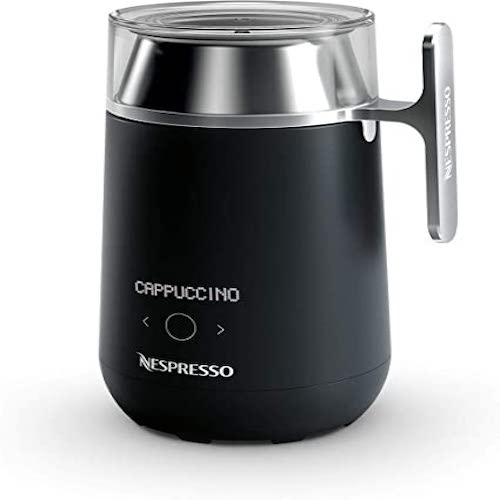 This smart milk frother pairs to your smartphone through the bespoke Nespresso app. It allows you to choose your favourite milk-based coffee to add to the systems main control panel.
In total, there are 13 recipes to choose from, including lattes, cappuccino and even options for latte art. The app will guide you to how much milk to add into the jug and automatically froths your milk flawlessly.
The machine also has touch-screen controls making it easy to use. It shuts down automatically when not in use, so it's an eco-friendly option too!
Pros
It makes a wide range of drinks
Can make single or multiple drinks
Easy-to-clean and dishwasher safe
Cons
Whisk can make pouring difficult
Does not froth plant-based kinds of milk
Best Milk Frother with Built-in Steamer
Bambino Plus Espresso Maker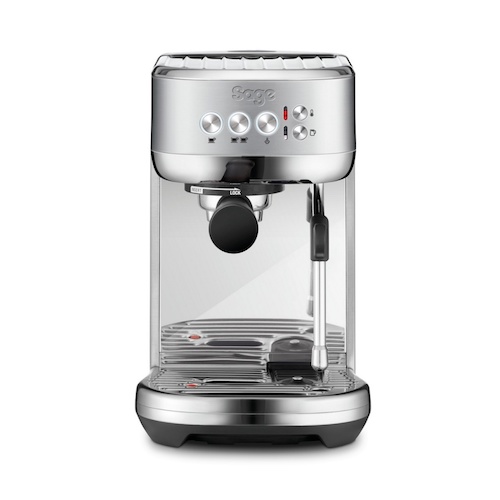 The Bambino Plus is a milk frother, milk steamer and espresso maker all in one, meeting any of your coffee needs. As a true barista-style coffee machine with a milk frother, the wand heats and foams the milk with tiny bubbles, making a smooth and delicious froth to top your hot drink.
The temperature and foaminess are easily selected, and the steam wand cleans itself after every use.
Pros
Small and compact, easily stored
Looks good and is eco-friendly
Cons
It can be difficult to use a steam wand
The material could be of better quality
Expensive
HadinEEon Automatic Electric Milk Steamer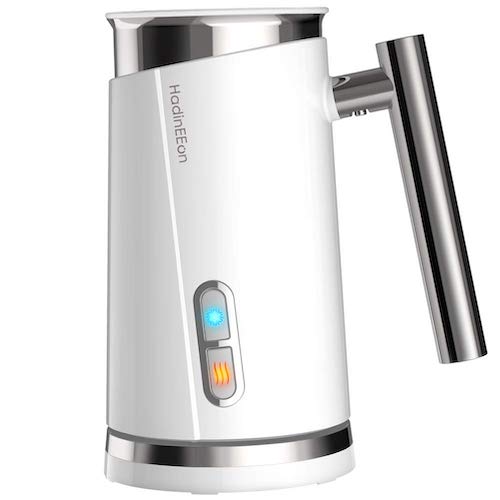 This steamer is made very much kettle-style, making it super easy to use and pour. It includes two whisks, one for frothing and one for heating, meaning you don't have to stress about doing these separately.
The only downside is that this model is not suitable for frothing plant-based kinds of milk, but if dairy is the one for you, this machine will give you the perfect froth every time.
Pros
Easy to use
Quick at producing good quality froth
Two-year warranty
Cons
Not waterproof can make cleaning difficult
What to Consider Before Buying a Milk Frother
Build Quality & Weight
It is important to consider that the more you are willing to spend on a milk frother, the higher the quality is likely to be. Cheaper models are often made from lightweight plastics, which can bend and even crack when put under pressure, meaning that they may not be as durable and long-lasting as other more expensive milk frothers.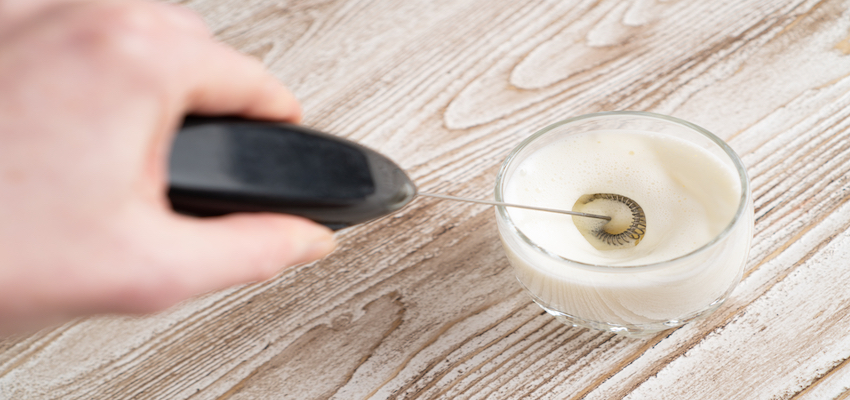 When looking to purchase a milk frother, aim to get one with a strong and durable casing, making it last longer. A good sign of this is a heavy handle, which usually means stronger inner support to avoid cracking.
The Materials Used
Following the last point, a high-quality milk frother will be made from high-quality materials, using thicker plastics and metals to prevent damage and wear. Cheaper milk frothers tend to have thinner wands, which are more susceptible to breaking. A reliable material to look out for is stainless steel, as this metal is very durable and will not rust, allowing you more use out of your milk frother.
Motor Power and Speed
There is no point in a milk frother that will not froth. A good starting point for a model that will froth most kinds of milk is to look for one with a minimum of 15,000 RPM motor. The higher power your frother has, the more air it can produce in your drink.
Know your Budget
As with any kitchen product, there is a huge range of different milk frothers on the market for various prices.
However, there is little need to splash out on high-end models and brands when most products under £20 will show great results. The amount you choose to spend is down to personal preference and how concerned you are with the potential quality and texture of the foam created.
FAQs
How do you make a cappuccino with a milk frother?
Brew your coffee.
Heat the milk while the coffee is brewing - this is usually done in a milk heater or a saucepan.
Pour the coffee into a cup and top up with the warmed milk. Make sure to leave half of the hot milk to froth.
Froth the milk as per the instructions for your frother. Once this is done, spoon the froth over your cappuccinos and dust with chocolate to serve.

How do you clean a milk frother?

Fill a cup or bowl with warm water and soap (not too much, or there will be too many bubbles!)
Put the whisk into the water and turn on the milk frother. This will clean the whisk more thoroughly than by hand.
Empty and rinse the cup, and refill with fresh water. Repeat the process to rinse and remove bubbles from the frother.
Some frothers are dishwasher friendly and can be placed in with your other utensils. If you are unsure, refer to the manual that comes with your milk frother.
Why is my milk not frothing?
If the milk has a high-fat content, it can be not easy to generate light and airy bubbles. Opt for lower-fat options such as semi-skimmed milk to get a fuller froth.
Why does frothing milk make it sweeter?
Heating milk helps increase the sweetness. When the natural carbohydrates found in milk are heated, they break down into simpler sugars easier to taste.
Is steamed milk the same as frothed milk?
In short, no. Steamed milk is made by heating milk with a steam wand, and Frothed milk is made by taking hot milk and aerating it, creating small bubbles and a foamy texture.
Sources