kitchen & cooking
Best Coffee Grinder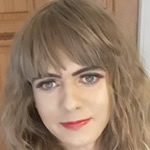 Are you looking for the best coffee grinder in the UK?
Okay, we may not be able to find you the specific best unit of all, but we can help you find the best product! Of course, finding the ideal coffee grinder will depend on your preferences.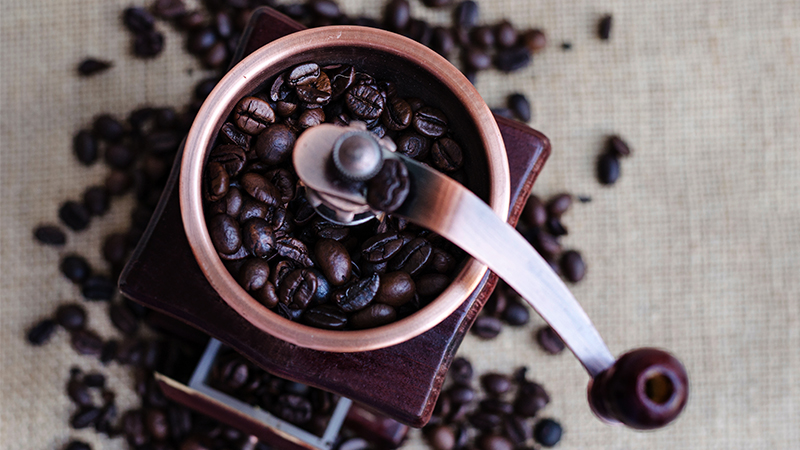 Thankfully, in this article, we're going to look at various categories of high-end coffee grinders.
Anyone looking for a high-end coffee grinder will find this guide helpful.
What Is a Coffee Grinder?
In essence, a coffee grinder is a machine used to turn coffee beans into a cup of coffee. Anyone who wants fresh and exuberating coffee should consider using a coffee grinder since they offer enhanced flavour.
How Does a Coffee Grinder Work?
Coffee grinders work by grinding down coffee beans using a given mechanism to turn full beans into tiny granules. How they achieve this can vary by quite a bit, and we'll look at this in the next section.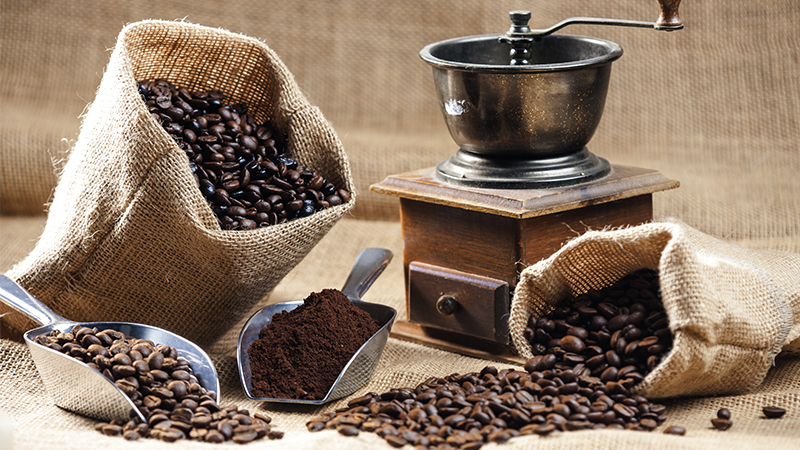 Types of Coffee Grinder
There are many different types of coffee grinders. Below is a list of the different types of coffee grinders that you can find on the market today.
Burr Grinder
Also known as a burr mill, a burr grinder grinds down coffee beans with a mill that is usually turned manually. It comes with two revolving surfaces that are abrasive and used to grind down the beans.
Electric Grinder
It won't surprise you that an electric grinder is great for getting the job done fast. Electric grinders are powerful and effective and will save you both time and effort over most other options. They are likely to cost more than manual coffee grinders, though.
Manual Coffee Grinder
Manual coffee grinders tend to be quite small but mighty. They can consistently produce uniform-sized grounds for all grind sizes. However, there aren't always as many settings or extra features included on these coffee grinders. They feature a crank that allows you to manually grind the coffee.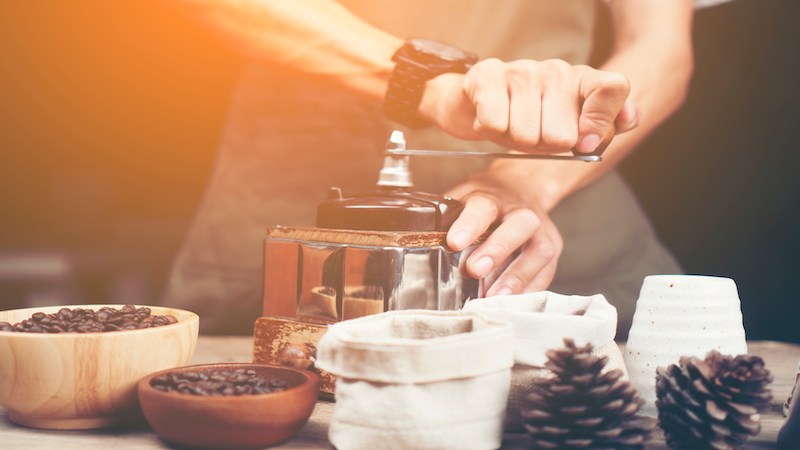 Conical Burr Grinder
This specific burr grinder comes with two cone-shaped burrs, both of which have ridges and are designed to crush or grind down the coffee beans. They tend to produce minimal sound, energy, and heat, albeit you're likely to have an imbalanced flavour with a conical burr grinder.
Flat Burr Grinder
If you want to use a burr grinder with more balanced flavour results, then a flat burr coffee grinder is right for you. They can also enable a higher percentage of extraction than conical burr grinders and creativity and variability. However, it's the opposite of a conical burr grinder in that it generates a lot of sound, energy, and heat.
Blade Grinder
These coffee grinders utilise a blade at the middle of the grinder to rapidly and effectively churn coffee beans into tiny granules. These tend to be electric-powered, and they work quite comparably to blades from food processors or blenders.
High-Speed Grinder
These grinders come with a high RPM and are naturally fast and effective. However, they produce more heat and undoubtedly tend to cost more.
Low-Speed Grinder
If you want something cheaper and produces less heat, you should consider a low-speed grinder. The main reasons to buy one would be if working with a pressurised gasket or brewing in a way for which consistent grinds aren't necessary, such as for French press or drip.
Stepped Coffee Grinder
These coffee grinders have specific notches or levels that allow you to accurately determine how the grinder will deal with the coffee beans.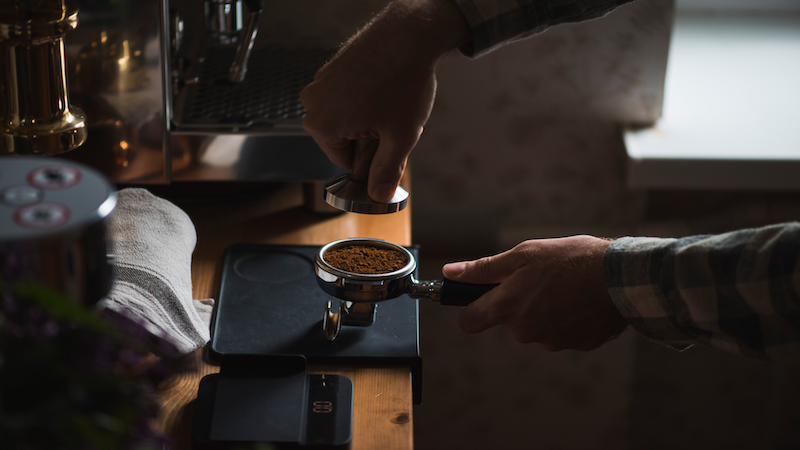 Stepless Coffee Grinder
These grinders are considered infinite grinders in that they do not have specific notches/levels to alternate for the type/level of coffee grinding as you'd find on a stepped coffee grinder.
Best Coffee Grinder
Now, let's look at what our favourite coffee grinders are. We'll break these down into categories, discuss what we like about these products, and explore their pros and cons.
Best Burr Coffee Grinder
Wilfa WSCG-2 Silver Electric Burr Coffee Grinder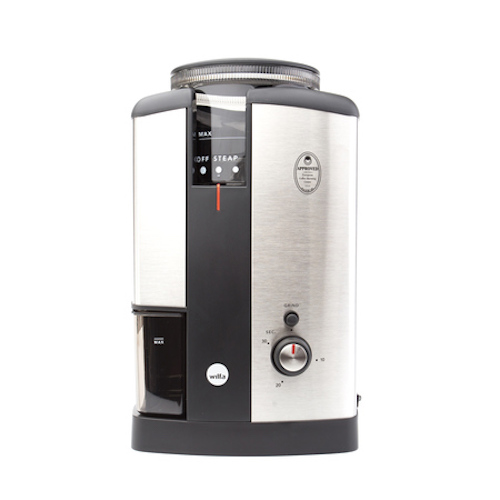 The Independent rated this popular coffee grinder as the best burr coffee grinder, and it has a five-star rating on Whittard. With a capacity of 250g, it has a total of five settings.
It comes with useful approaches to brewing, and you could choose the options of filter or fresh press. This Wilfa coffee bean grinder has hi-tech features and is easy to use. With that said, it is a bit on the pricey side.
Things we liked:
Good capacity
Various settings
Useful methods for brewing
Things we didn't like:
Useful methods for brewing
Le'Xpress Hand Coffee Mill
This hand grinder has three grind settings. All in all, it's easy to use; you add the beans, turn the handle, and the ceramic burrs get to work.
If you'd like, you can adjust these burrs such that they'll offer up fine, medium, or even coarse granules. No matter what, the Le'Xpress Hand Coffee Mill produces consistent grounds. It's small and compact, albeit it isn't nearly as advanced as most coffee grinders in our guide.
Things we liked:
Ease of use
Inexpensive
Light and easy to use hand coffee grinder
Hario Mini-Slim Pro Coffee Hand Grinder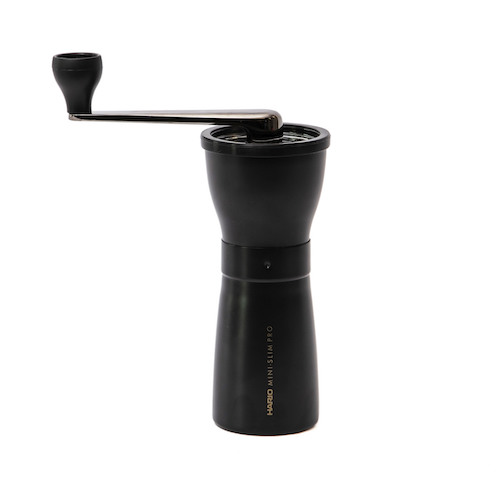 This easy-to-use hand grinder is made primarily of stainless steel and comes with a cast aluminium handle. It also features an enforced stabilising column.
Also, the ground bottle holds about 25-30g of coffee and attaches to the hopper through a bayonet mount. This, in turn, makes it easier to pour coffee into the brewer.
Things we liked:
Useful and effective
Lightweight and slim
Things we didn't like:
It could be a bit cheaper
Best Electric Coffee Grinder
Sage Smart Grinder Pro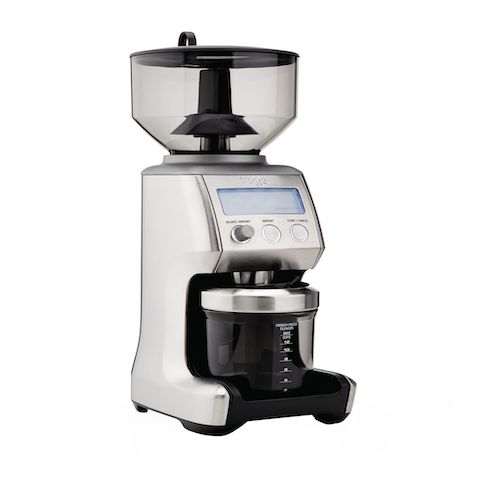 When we get on to the electric coffee grinders, of course, it should be no major surprise that the price goes up.
In fact, some can be two to four times as dear as a non-electric option, although the average cost appears to be just a bit more expensive than that of a manual alternative.
Obviously, with better tech, you get more features. For instance, it comes with a gride-time countdown, and the grounds canister can slot into position magnetically.
Further, a smooth and rounded dial allows you to set the grind time down to the decimal point. There are sixty grind settings in total, and it comes with an LCD display.
Things we liked:
Highly rated
Plenty of useful features
Smooth and rounded dial
Things we didn't like:
Temporarily out of stock as of August 2021
Salter Electric Coffee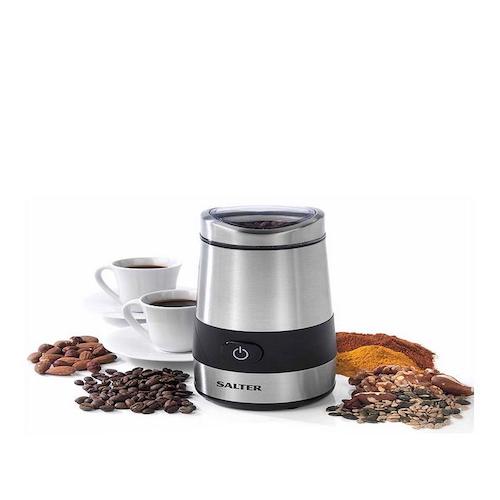 If you'd like a less expensive electric coffee grinder, you should consider this product from Salter. It's compact and easy to put away after use.
This Salter Electric Coffee grinder comes with a 60g capacity, and it can complete a fine grind in half a minute or less. With that said, obtaining a consistent grind can come down to the right personal judgment with just a single speed option.
Things we liked:
Slick design
Fairly cheap for an electric coffee grinder
Fine grind in 30 seconds or even sooner
Best Manual Coffee Grinder
Nanci Manual Coffee Grinder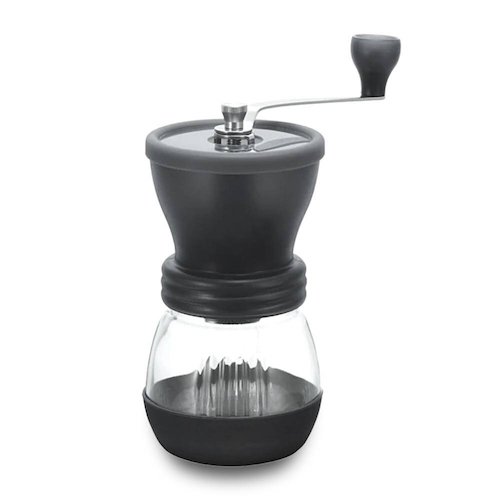 If you'd like a manual coffee grinder like this one from Nanci, you're looking at spending a notable amount less (on average) than you would if buying an electric coffee grinder.
This black stainless-steel product also consists of ceramic. Further, it's easy to store given that it's quite compact and the brand guarantees customer satisfaction. It has a capacity of around 50g to carry coffee beans.
Things we liked:
Easy to store
Adjustable coarseness
Not too costly
Henry Charles Stainless Steel Manual Coffee Grinder
Another fairly cheap but high-end coffee grinder is this manual product from Henry Charles.
This is also a hand crank mill. Its compact size makes for easy storage, and notably, it weighs just 0.28kgs. It has a smart design and is well-suited to many coffee lovers.
However, it might not be a good choice if you're looking to grind coffee beans such as espresso; you could be at it for three to five minutes, and it should be a bit easier for filter, Aeropress, or cafetiere.
Things we liked:
Hand crank mill
Compact and lightweight
Neat design
Things we didn't like:
Not suited to all coffee bean types
Hario Mini Mill Slim Plus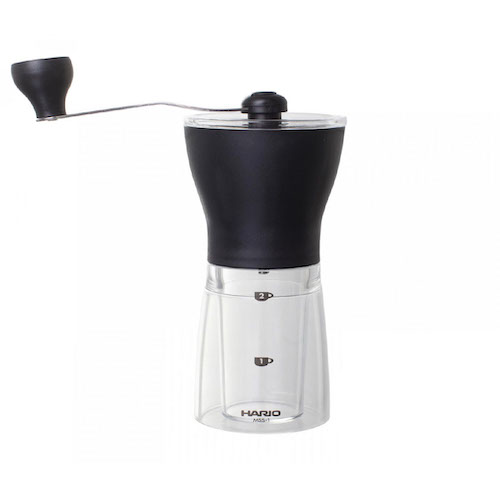 This sleek and super slim coffee grinder is both easy to use and easy to clean. Further, it offers a consistent grind, and it comes with a well-designed grind that offers ideal and fresh coffee.
The Hario Mini Mill Slim Plus has a 24g capacity and can be stored without its handle, and it's also pretty portable.
Things we liked:
Decent pricing
Lightweight
Slim option
Fantastic design
Things we didn't like:
Not quite as cheap as other notable manual coffee grinders
Best Conical Burr Coffee Grinder
Tiamo Hand Grinder Slim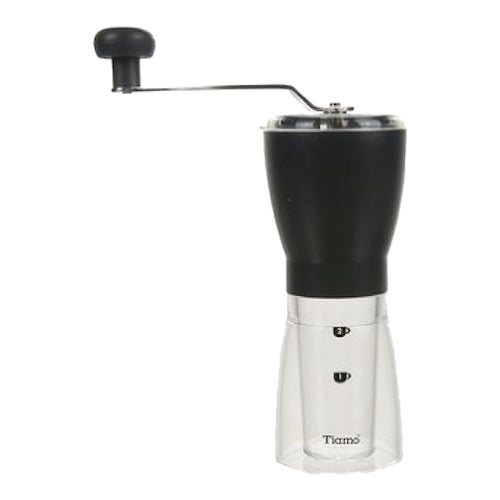 This product from Tiamo is another pretty inexpensive manual coffee grinder. It has a 25g grinding capacity and a 60g capacity in the actual storage container.
The burrs are made of ceramic. It may not be the most durable option as far as manual coffee grinders go, but it's a pretty good bang for your buck. It's made of plastic, and unsurprisingly, it's pretty lightweight.
Things we liked:
25g grinding capacity
60g capacity
Lightweight design
Things we didn't like:
Not likely as durable as most other options
Normcore Hand Coffee Grinder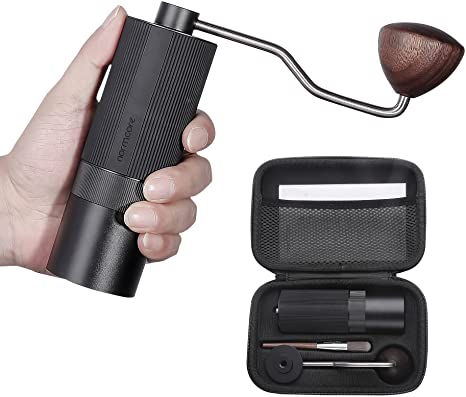 While this product may be a good bit more expensive than most conical burr hand coffee grinders, it has plenty of slick features. For one, it comes with a built-in grind selector that comes with 24 levels altogether.
Its steel burrs have a stainless-steel coating, making them especially durable and resistant to corrosion. The Normcore Hand Coffee Grinder has a 4.5-star rating from 117 ratings altogether.
Things we liked:
Lots of great features
Built-in grind selector with 24 levels in total
Long-lasting and corrosion-resistant
Best Flat Burr Coffee Grinder
Fellow ODE Brew Grinder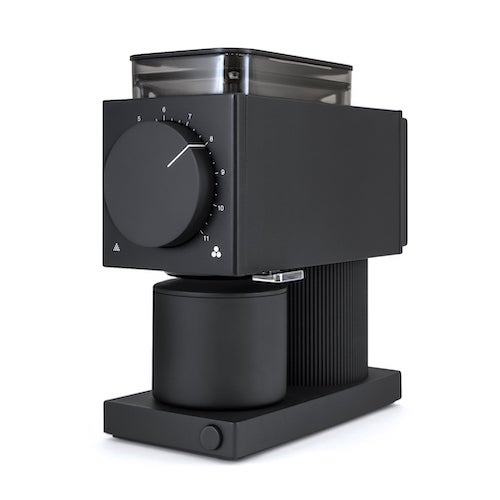 Now, this is an expensive option, but if you want something with solid, high-quality and reliability, the Fellow ODE Brew Grinder is certainly worth considering. It's compact, stylish, precise, and very effective. Not only that, but it's also got a five-star rating on Coffee Hit, and through their site, it's possible to pay in four segments (interest-free).
However, there could be more room when choosing the finer details through the dial, and its electronics are reportedly prone to problems. All in all, though, this is a great product.
Things we liked:
Very high-quality
Powerful and effective
Well-designed
Things we didn't like:
Electronic issues can arise
The dial could be a bit better
NOBRAND Electric Coffee Grinder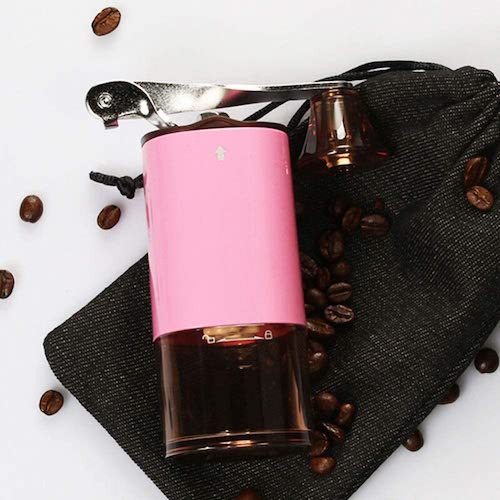 This ironically named brand offers a whole host of kitchen appliances, including this electric flat burr coffee grinder with a reasonable price for its quality and capabilities.
It has an ergonomic design, and it's small, light, and offers pretty uniform grinding. It's easy to use and a great choice for coffee makers of all experience levels.
Things we liked:
Reasonable price
Good quality
Ergonomic design
Small and light
Things we didn't like:
The exact popularity is a bit unclear (albeit it's a pretty solid choice for sure)
Best Blade Coffee Grinder
Bodum Bistro Electric Coffee Grinder
While a bit costly, this coffee grinder is neat, saves plenty of space, and has an adjustable grind with 12 settings such as French press and espresso.
Not only that, but the Bodum Bistro Electric Coffee Grinder comes with a friction clutch to stop the grinding gear from being damaged by unwanted materials being added in with the coffee beans.
Since it doesn't spin as fast as a wheel model, it's not as loud nor as messy. It consists of plastic, stainless steel, rubber, silicone, and borosilicate glass. It may take 5 to 20 seconds to grind, and this coffee grinder also features a pre-grind timer.
Thing we liked:
Nice design
Adjustable grind with 12 settings
Friction clutch
Fast and effective
It comes with a pre-grind timer
Hamilton Beach 80335 Black Coffee Grinder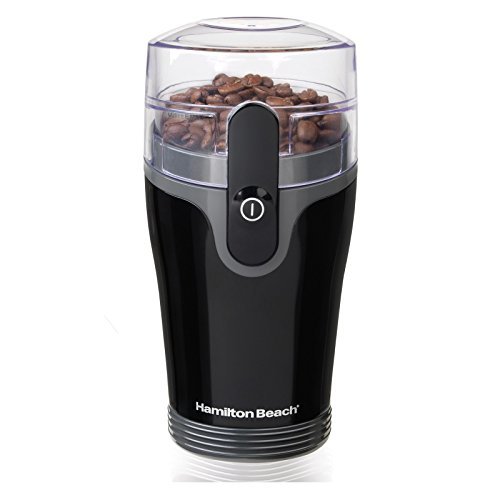 With a 4.5-star rating (from nearly 29,000 ratings on Amazon), you know you're getting something top-notch with this coffee grinder from Hamilton Beach. But, what about it exactly is so great? Well, for one, it's not as loud as most of its competitors (okay, nice start, but what else?).
Beyond that, it offers storage for its cord, it has a useful on/off switch, a removable grinding chamber, and it can also grind spices and coffee beans. It's also a popular choice among reviewers online, and here we add ourselves to the list.
Things we liked:
Surprisingly inexpensive
Highly rated
Popular choice
Various helpful features
Mr Coffee IDS77 Blade Grinder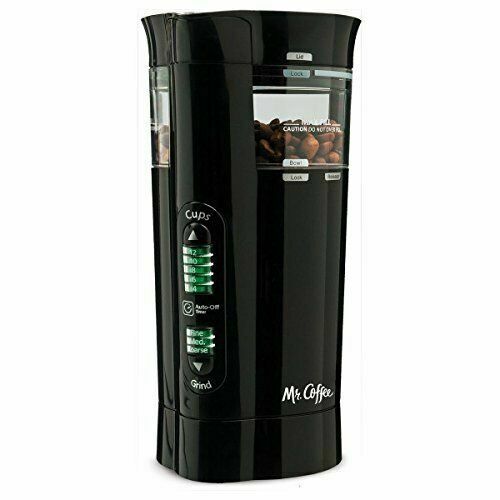 Considering this is an electric coffee grinder and one that is blade-based, its pricing is fairly decent. It can grind between four and twelve cups of coffee beans, and it features a removable grinding chamber that comes with a special cleaning system designed to freshen up the chamber wall.
Beyond that, the Mr Coffee IDS77 Blade Grinder comes with versatile blades for various uses. Out of more than 9,000 responses, this product has a 4.5-star rating on Amazon.
Things we liked:
Decent pricing
Versatile blades
Highly rated product
Lots of great features
Best High-Speed Coffee Grinder
SHARDOR Coffee Grinder Electric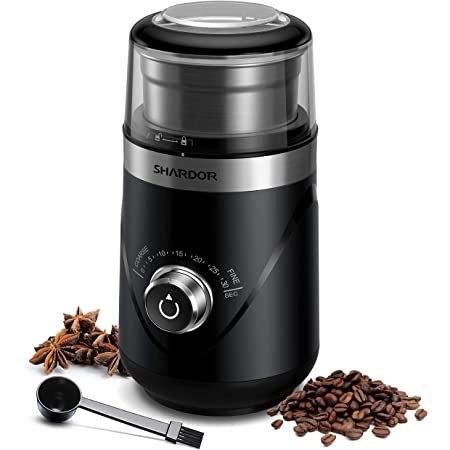 While a bit more costly than the Salter coffee grinder, this product from Shardor has a very solid four and a half star rating on Amazon (from nearly 2,200 ratings). It comes with a speed of 24,000 rpm, such that great results are possible in just 8-15 seconds.
It's also easy to clean and is a multi-purpose product that can grind down foods like dried spice, rock sugar, cinnamon, chickpeas, dried chilli, and more. Among its safety elements are its non-slip rubber feet. This coffee grinder is certainly a contender for being the overall best choice to appear in our guide.
Things we liked:
Highly rated
Fast, powerful, and efficient
Good safety operation
S SMAUTOP Portable Grain Mills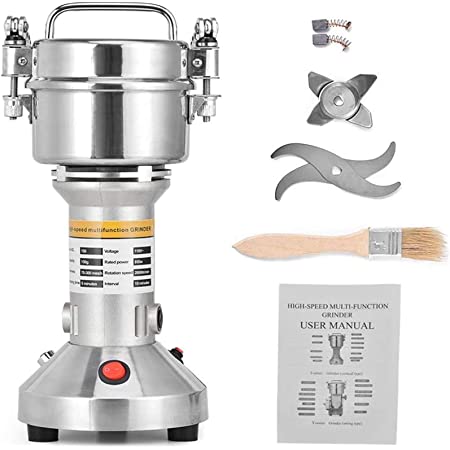 With powerful performance and a whopping speed of 28,000 RPM, this 220v electric coffee grinder is certainly solid value for money. Notably, it works fifty times as efficiently as that of traditional motors.
It comes with a three-layer stainless steel blade, and said stainless steel is also food grade standard. Its design is compact, and this product can be considered multi-purpose, though most consumers will likely just use it for coffee.
Things we liked:
Very efficient
Powerful and effective
Not too expensive
Things we didn't like:
Not quite as popular as most coffee grinders on this list
LUCHUII Electric High-Speed Coffee Bean Herb Seasoning Grinder Power Machine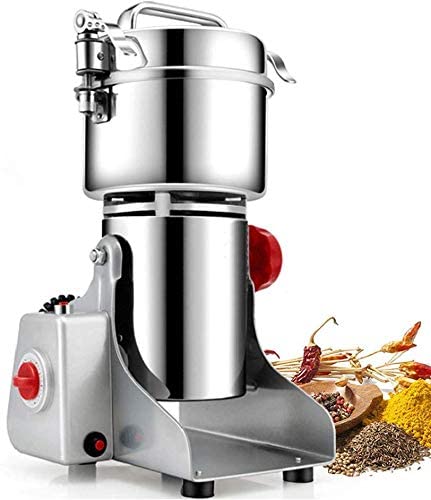 This funky looking coffee grinder (although to be fair, all of the high-speed coffee grinders are pretty eccentric) is on the more pricey side.
However, it's also multi-purpose, it comes with some useful features and satisfaction is guaranteed by the manufacturer. More importantly, though, it seems to be quite popular among consumers.
Things we liked:
Useful features
Satisfaction guaranteed
Great customer ratings
Best Low-Speed Coffee Grinder
Capresso Infinity Conical Burr Grinder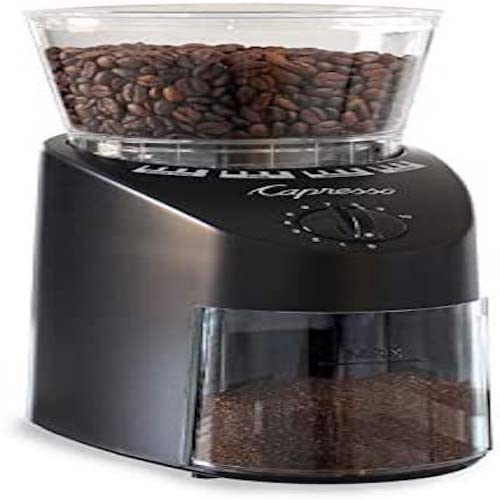 While this coffee grinder would fit in with the rest of the top-end conical burr grinders, this product is more notable for having a slow RPM speed of under 450.
It offers commercial precision grinding, can grind a wide range of coffee beans (including ultrafine Turkish and French press coarse), has a large capacity, and it's easy to clean.
It isn't cheap, though. But it does have a 4.5-star rating on Amazon (out of almost 6,000 ratings), so all things considered, this product offers a decent bang for your buck if it's within your proposed budget.
Things we liked:
Versatile
4.5-star rating
Breville BCG820BSSXL Smart Grinder Pro Coffee Bean Grinder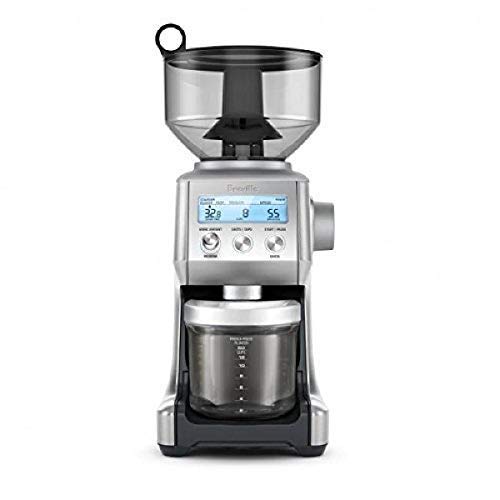 Also, with 450 RPM, this Breville coffee grinder is a great contender for your product of choice if a low-speed coffee grinder is what you're after.
It comes with sixty grind settings, a digital timer, a manual push button, and a portafilter holder. It has a 4.5-star rating on Amazon (out of 2,600+ ratings and counting). It also comes with intelligent technology. It may, however, be a tad difficult to source.
Things we liked:
Solid quality
High ratings
60 grind settings
Various neat features
Great manual coffee grinder
Baratza Encore Conical Burr Coffee Grinder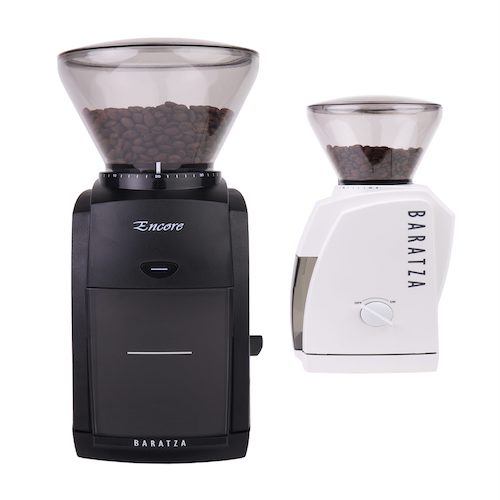 Again, we're looking at a high-quality conical burr coffee grinder, but with a 550 RPM, it deserves a spot among the best low-speed coffee grinders.
It can grind around 0.8 to 1.1 grams a second. The Baratza Encore has forty grind settings along with pulse and auto-grind buttons. Unfortunately, it doesn't come with a portafilter holder, and it is a little expensive.
Things we liked:
High-end coffee grinder
Decent choice of features
Best Stepless Coffee Grinder
Laudan Manual Coffee Grinder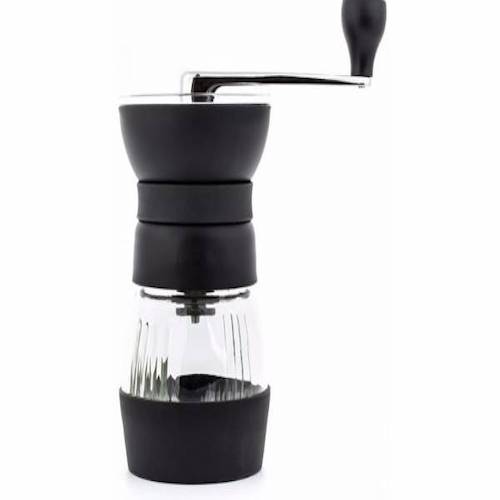 By nature, stepless coffee grinders tend to be manual options, given that these products do not come with specific levels in most cases.
While expensive, the Liudan Manual Coffee Grinder is lightweight, has a beautiful stainless-steel design, is easy to clean, and is fairly popular.
Things we liked:
Nicely designed
Lightweight
Zulay Kitchen Manual Coffee Grinder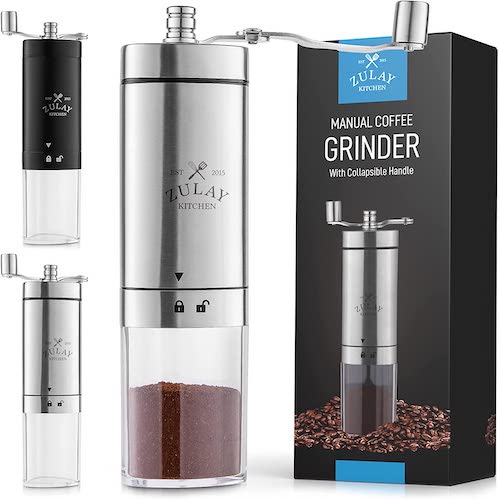 With a four-star rating (from 59 responses), the Zulay Kitchen Manual Coffee Grinder is a solid option, particularly considering its low price tag.
It's portable, travel-friendly, hassle-free, and despite its cost, is a premium built. It comes with a neat carrier bag.
Things we liked:
Inexpensive
Premium built
Portable
It comes with a carrier bag
Things we didn't like:
Not that many reviews/ratings online
Groenenberg Coffee Grinder Manual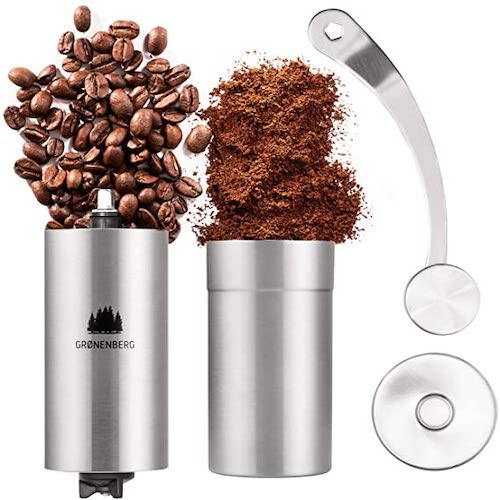 This neat and reasonably priced manual grinder is eco-friendly, sustainable, portable (ideal for camping, in fact), easy to use and clean, and provides precise grinding. With a 4.5 star rating out of more than 2,600 ratings on Amazon, this is an all-around high-quality stepless coffee grinder.
Things we liked:
Decent pricing
Environmentally conscious
Precise grinding
Highly rated
Best Stepped Coffee Grinder
Compak K3 Touch Advanced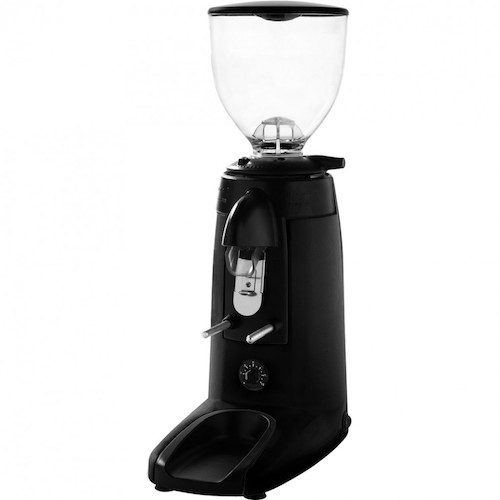 The Compak K3 features a powerful motor that enables continuous and effective work to grind down the coffee beans. It provides cold grinding at low speeds.
It comes with an automatic and manual operating mode, a portafilter rest system, accurate micrometrical grinding adjustment, precise dosing, and an analogic switch-based timer.
Its working cycle is about two to ten minutes. Now, here's the bad news; it's very costly. But, if you want high-quality, you should still consider the Compak K3.
Things we liked:
Great at its job
Cold grinding at low speeds
Various useful features
Mahlkonig Vario Home Espresso Coffee Grinder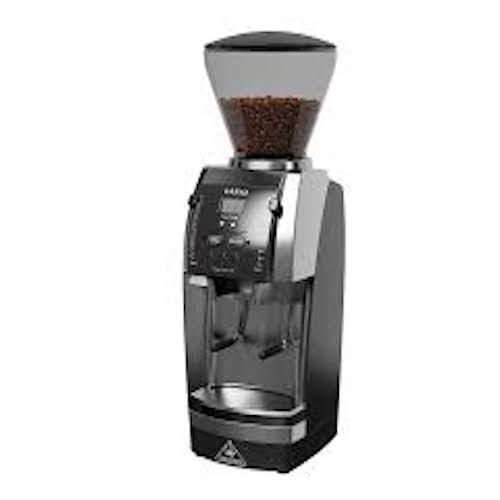 Another expensive top-quality coffee grinder is this product from Mahlkonig. It comes with an LCD display, grind-on-demand, 54 mm ceramic grinding discs, an electronic controller, a belt-drive motor (which helps keep the noise down), and a portafilter holder along with an antistatic grounds bin.
Further, the design is quite compact. The real bummer is that it's the most expensive coffee grinder on this list.
Things we liked:
Hi-tech
Great quality product
Not too loud
Antistatic grounds bin
What to Consider Before Buying a Coffee Grinder
As with buying any new product, there's a few pointers worth looking at when considering which option is best for you.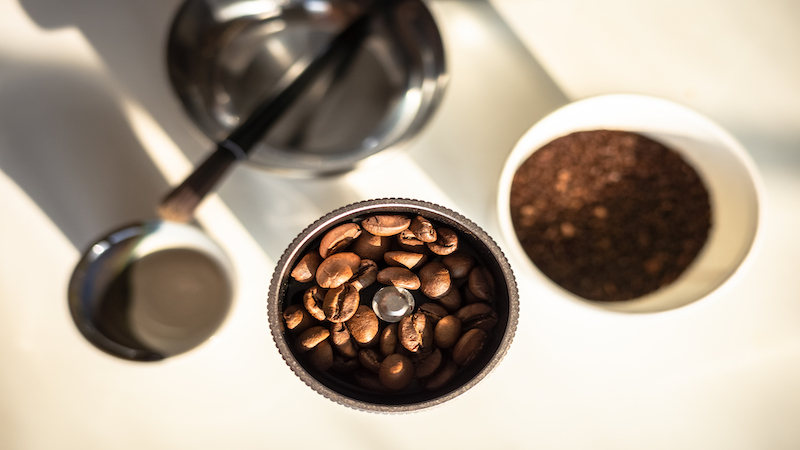 Cost
To start with, you should consider what your budget is. Some coffee grinders are available for around £20 or less, while others cost hundreds of pounds, and many also fall in between these two ends of the price scale.
The more you spend, the higher the quality will likely be, but ultimately what matters is getting good value for your money, regardless of how much you spend.
Size
Do you need a large coffee grinder to help you produce lots of coffee for a big family? Or, perhaps, you just need to use it once a day for yourself? This is when the size of the coffee grinder will prove relevant.
Type of Coffee
Some coffee grinders are equipped to deal with pretty much any type of coffee bean, while others are less so, and some are pretty exclusive to just a few options.
So, whatever the case is, it's important to consider the type of coffee you'll be dealing with when making a purchase.
Capacity
How many grams of coffee beans a coffee grinder can hold will vary significantly by product. If you want to crush plenty of coffee beans at a given time, then look for one with a large capacity and vice versa.
Speed
As discussed earlier, the speed of a coffee grinder is relevant. Low-speed coffee grinders are a solid choice for use with pressurised baskets or if you're trying to undertake a brewing process in which consistent grinds aren't necessary (e.g., drip, French press, and so forth).
While high-speed coffee grinders produce more heat, they are fast and effective.
FAQs
How do you clean a coffee grinder?
With the grinder powered off and plugged out, you could use a soft grinder brush to get rid of debris in many cases. You could use a slightly damp cloth to wipe it down, but it's vital to ensure that the grinder is fully dried before putting back in place. Of course, you should always see the manufacturer's guidance on this before cleaning a coffee grinder.
Can you use a coffee grinder for spices?
Some are suited for this purpose while others are not. You'll need to check the specific product to be sure.
How long do coffee grinders last?
If they're well looked after, they should stick around for five to seven years, but they could go more, especially if it's a particularly high-quality/durable product.
Can I just buy a coffee machine with a grinder?
Yes, there are plenty of these two-in-one appliances out there.
What is the best overall coffee grinder?
We'd recommend the Wilfa WSCG-2 Silver Electric Burr Coffee Grinder or the Fellow Ode Brew Grinder.
Sources