kitchen & cooking
Best Slow Cooker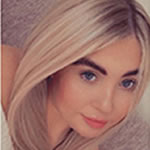 Slow cookers are something that almost every household has or needs. Slow cookers help tenderise less expensive cuts of meat by cooking them for a long time at a low temperature. The flavour of food is enhanced by using a slow cooker.
Therefore, if you are the cook of the house, then you should consider buying a slow cooker as they are easy and then you have purchased one forever!
During this article, you will learn more about slow cookers and hopefully find out which type of slow cooker is best for your home, as well as some slow cooker recipes.
This article will cover what a slow cooker does and how it works, types of slow cookers, top-rated slow cookers, and what you should consider before buying a slow cooker.
What Is a Slow Cooker?
A slow cooker has three parts: a base with the heating element, a vessel, and a glass lid. The meal is placed in the vessel for cooking. It's usually made of strong stoneware to maintain the heat constantly, even, and consistent. They are also extremely long-lasting.
Slow cooking is like cooking on the stovetop or in a dutch oven. Heat in a slow cooker starts at the bottom and moves up the sides before reaching the food.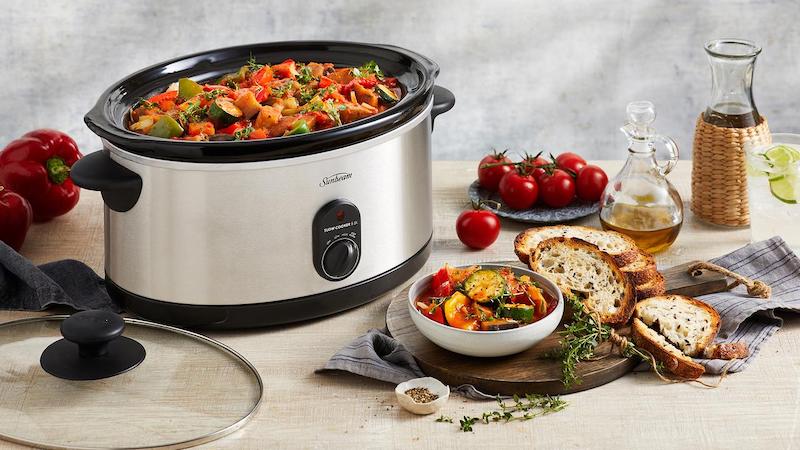 The heat generates steam, which forms a vacuum seal with the lid. Cooking at low, steady heat helps to keep the moisture in the food. There is no evaporation or concentration of the liquid.
You can change the temperature for the meal you are cooking if you need to.
For example, if you are making a large roast, it is best to use the low setting. However, it is probably best to keep it on the high setting for stews or soups, so it doesn't go off or begin to evaporate.
How Does a Slow Cooker Work?
Slow cookers are inexpensive to purchase, operate and are ideal for maximising the use of low-cost items. They provide a healthier, low-fat cooking option with the least amount of work.
Cooking in a slow cooker involves the following processes:
Preparation
When browsing for recipes, stay away from those that require a lot of pre-planning. Many recipes, especially soups and stews, can be made with just about any combination of ingredients.
It's preferable to fry the onions first because the flavour is different than when they're added raw but try both methods and see which you like.
The Night Before
Everything you'll need for your slow-cooked supper should be prepared the night beforehand, then placed in the slow-cooker dish, covered, and stored in the refrigerator overnight.
The dish should be as near to room temperature as possible when you wake up, so take it out of the fridge and set it aside for 20 minutes before turning on the stove.
Choose Meats
Cheaper portions of beef brisket, hog shoulder, lamb shoulder, and chicken thighs cook well in slow cookers. You can also use less beef because prolonged cooking concentrates the meaty flavour throughout the meal.
Trim the Fat
There's no need to add oil in a slow cooker because the contents won't catch if there's adequate moisture. You also don't need much fat on your meat.
As you fry meat, a lot of the fat drains away, but this won't ever happen in a slow cooker, so trim it off.
Reduce Liquid
Because your slow cooker has a firmly sealed lid, the liquid won't evaporate, so if you're modifying a normal recipe, cut the liquid by about a third. Only the meat and vegetables should be covered.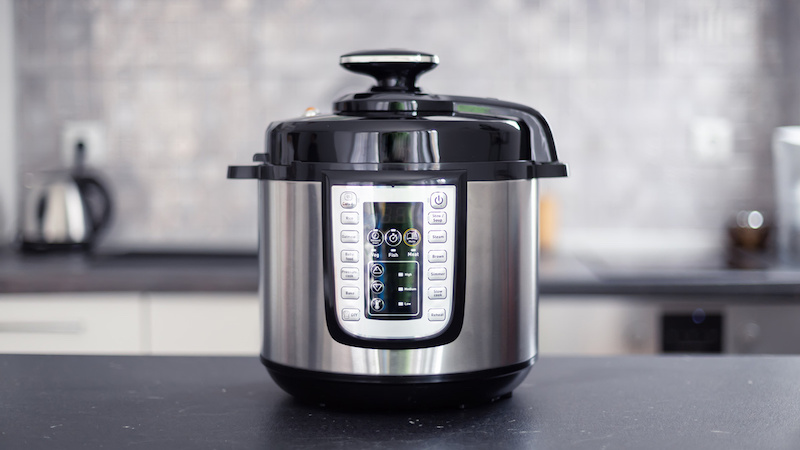 If you overcrowd your slow cooker, it will leak out the top, and the food will not cook properly.
Thicken the Sauces
The liquid does not thicken or reduce. Before putting the meat in the slow cooker, roll it in a tiny amount of seasoned flour, or use cornflour at the end.
If you choose to do the latter, combine a teaspoon or two of cornflour with a little cold water to make a paste. Close the lid on your slow cooker after you have stirred in the ingredients.
Use the Low Setting
Most foods thrive from a moderate, soft heat to fully bring out the flavours, so use the 'Low' setting as often as possible. This also means that if you're going out for the day, you won't have to worry about it as it'll take care of itself.
Leave the Slow Cooker Alone
You don't have to continually examine the contents of a slow cooker because it's designed to do its own thing. Every time you remove the cover, part of the heat is released, so the cooking time will need to be increased if you keep doing this.
Wait Until It Is Done
Cooking in a slow cooker is a long process. For example, if a meal takes about 15-30 minutes normally, cook it for about 1 or 2 hours in the slow cooker.
Types of Slow Cookers
As slow cookers are very popular, companies decided to create different types of slow cookers, one for different features. Therefore, in this section of the article, you will learn about the different types of slow cookers and what they are used for.
It will also cover the advantages and disadvantages of each slow cooker, so this will help you know which type of slow cooker is best for you.
Programmable Slow Cooker
Programmable slow cookers allow you to control the time heat, and that's all you have to do when making food with a digital program setting at the front of the cooker.
They also normally feature additional cooking capabilities and digital displays, making cooking easier. It also allows you to do what you want with your day without worrying about the food cooking at home.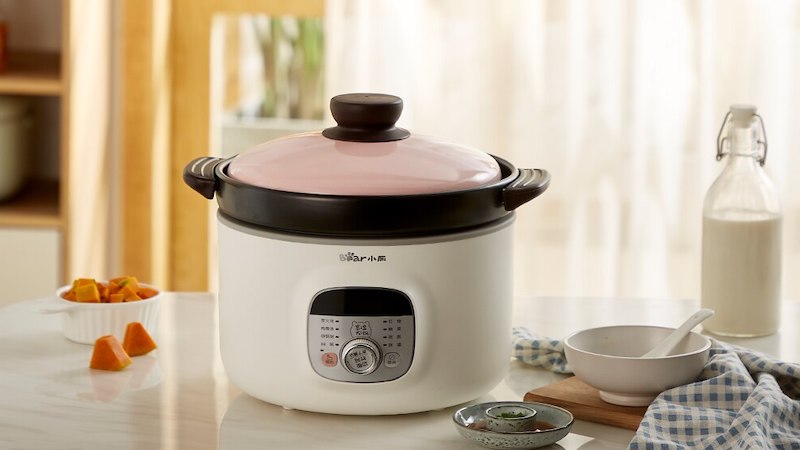 When the cooking time is up, keep already cooked food at the ideal serving temperature. Your programmable slow cooker will switch to the warm setting on its own as it knows when the food is cooked inside your slow cooker.
Basic Slow Cooker
A basic slow cooker includes a covered circular or oval cooking pot made of glazed ceramic or porcelain, encased in a metal case that contains an electric heating element.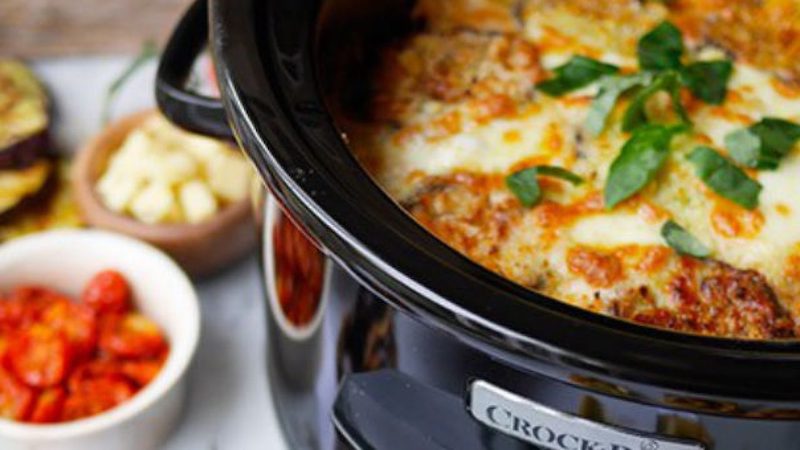 These are the most popular slow cookers as they are basic, simple to use and affordable.
Multi-Functional Slow Cooker
A multi-cooker combines the cooking capabilities of several different appliances into a single electric device.
Slow cooker, rice cooker, pressure cooker, electric pot, steamer, fryer, air fryer, dehydrator, yoghurt maker, and bread maker are all included in this type of appliance.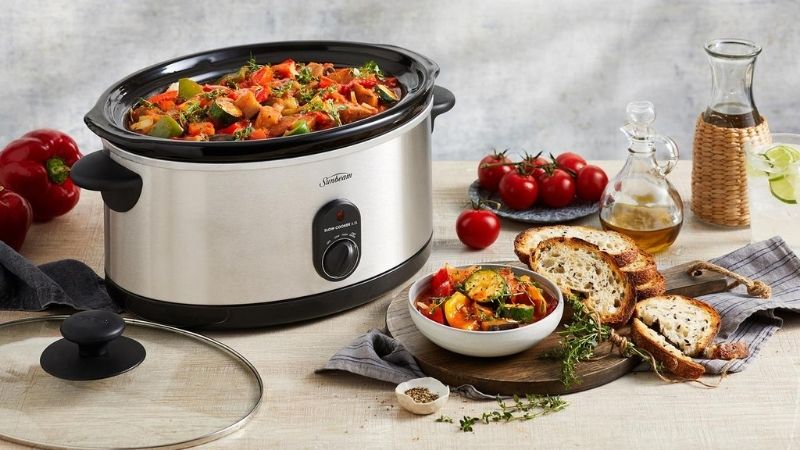 Also, this slow cooker lets you know when the food is ready, and if you are not present, it will switch to keep warm mode. In some cookers, the keep-warm mode can last up to 12 hours. These are known for the famous brand on the ninja multi cooker as they hold an amazing reputation.
Copper Slow Cooker
A copper slow cooker has the same abilities as the basic slow cooker. It doesn't have many additional features however does come in a beautiful copper colour, almost rose gold.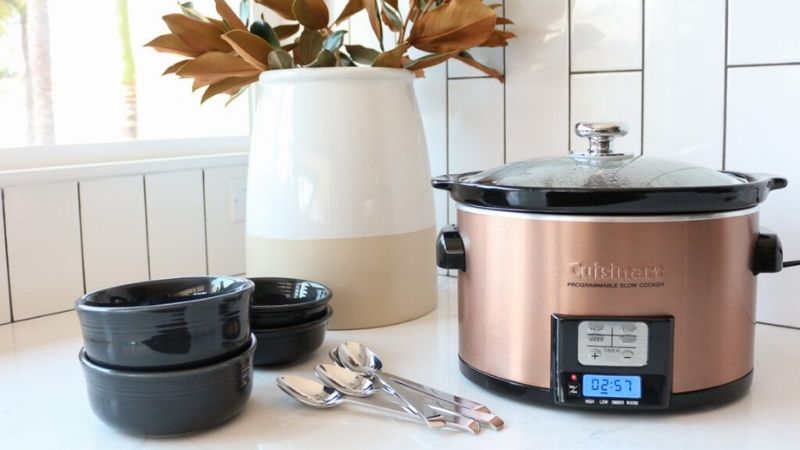 Ceramic Slow Cooker
Ceramic slow cookers are normally known as crockpots. Except for the name and some slightly updated functions, a crockpot is essentially the same as a slow cooker.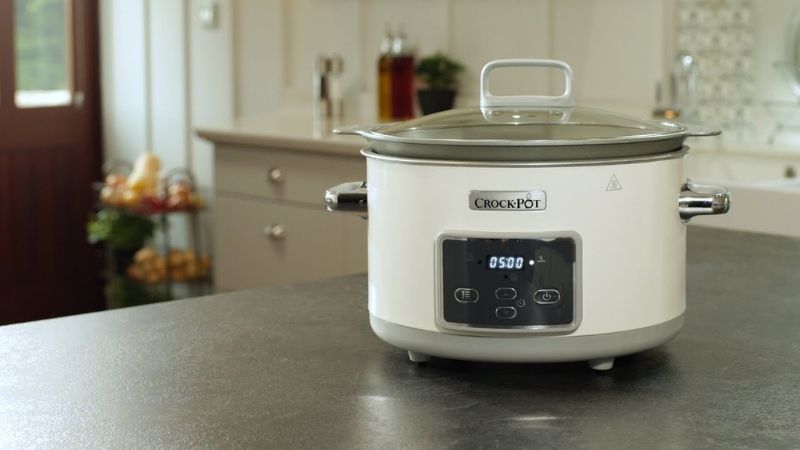 For cooking, crockpots use ceramic pots rather than metal ones. It's difficult to say which is better for preparing meals, but the crockpot has a distinct advantage. However, a ninja slow cooker uses ceramic slow cookers to help give the customer an easy time.
Aluminium Slow Cooker
An aluminium slow cooker is probably one of the most popular designs in people's homes. An aluminium slow cooker may be safely used on the stovetop to brown meats or cook vegetables before transferring to the base for slow simmering.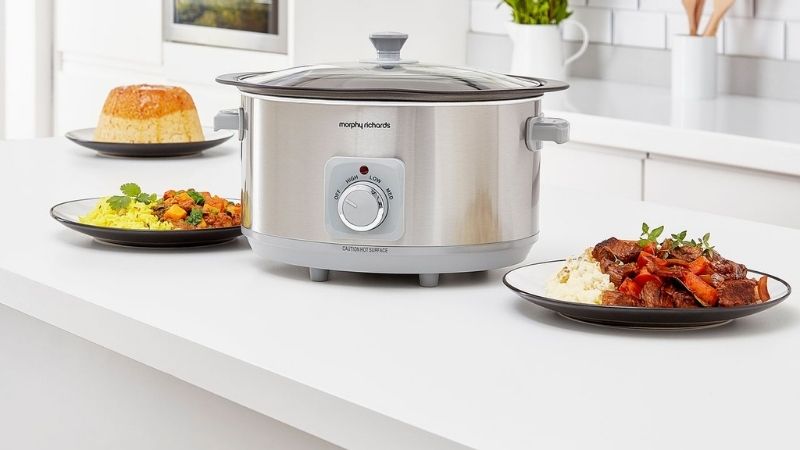 Best Slow Cooker
The slow cooker is a cost-effective and energy-efficient choice. And, as if by magic, it can transform low-cost products into delectable, healthful meals.
It's hard to say what the best slow cooker is when there are so many! So, during this section, you will be shown various slow cookers, including the best slow cookers from 2021 and the best slow cooker in 2020.
Best Basic Slow Cooker
Argos Cookworks Slow Cooker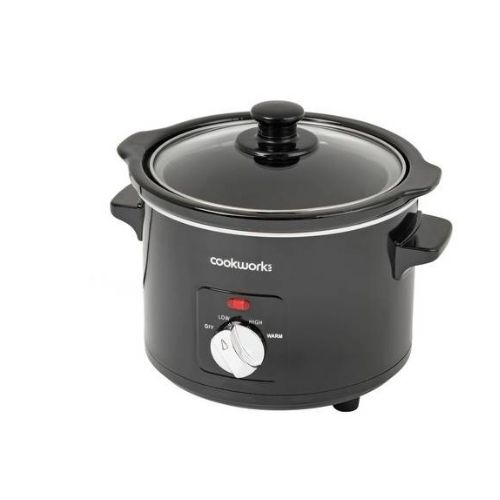 Chilli, curries, or stews can be cooked in this easy-to-use slow cooker with a huge black bowl. It is topped with a glass lid so you can keep an eye on the progress of dinner, it can easily satisfy five or six people.
Although the bowl is oven-safe, it cannot be used on the stovetop, so you'll need to sauté the ingredients in a separate pan first.
However, it is not dishwasher-safe, so you'll have to wash the very hefty pot by hand, but for simple size and price, it's hard to beat.
Its high and low settings are fantastic for cooking, but its keep-warm feature may struggle to keep the temperature consistent throughout.
Things we liked
Very affordable
Easy to use
Things we didn't like
Struggles to maintain consistent temperature
Heavy pot is hard to clean
Crock-Pot Hinged Sauté Slow Cooker
Cooking one-pot meals is handy, but cleaning up afterwards may be time-consuming. There are no other pans to wash with the DuraCeramic Sauté Slow Cooker because it can be used to sauté food beforehand on any type of burner, including induction.
Its hardwearing ceramic-coated pot means even sticky sauce residue glides straight off with a quick wipe.
Its dishwasher-safe removable lid features a secure seal to keep the heat inside and opens when you're adding ingredients or stirring neatly to avoid damp streaks on the worktop caused by placing lids down.
On the negative side is the lack of automatic features, as the lid must be removed before the bowl can be taken out. Also, the only way to switch between low and high is to use the manual control dial.
Things we liked
Hardwearing pot
Secure seal retains heat
Things we didn't like
Non-automatic
Time-consuming cleaning
Swan Slow Cooker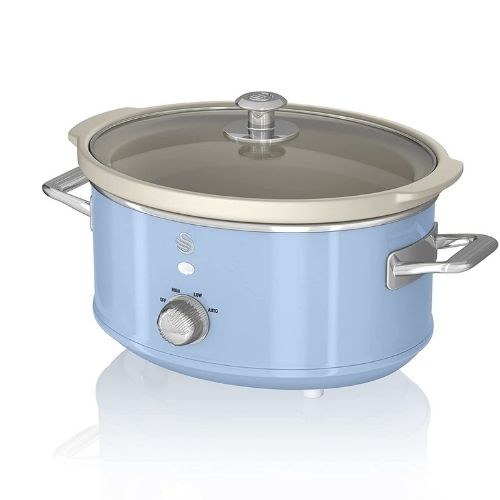 This bright slow cooker is a refreshing departure from so much stainless steel and simply functional designs, proving that limited worktop space doesn't have to mean compromising on flair.
It comes in various colours ranging from pastel blue to vivid red, and a matching control knob.
The one catch is that the proportions are portioned for larger pots, so you'll have to alter them to fit the size of your bowl.
Things we liked
Available in various colours
Things we didn't like
Proportions may be too big
Best Programmable Slow Cooker
Cuisinart 6.5 Quart Programmable Slow Cooker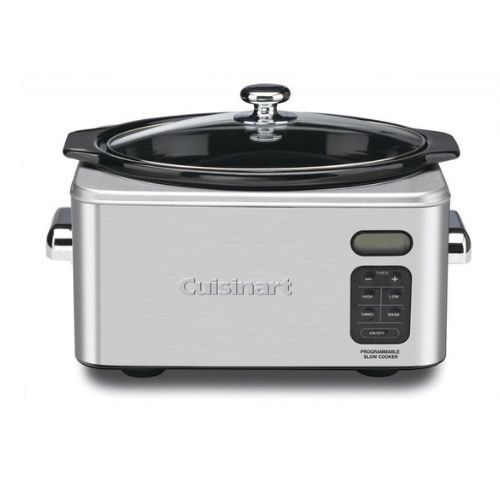 The Cuisinart Programmable Slow Cooker has four heat settings, a 24-hour timer with a digital countdown display, and an automated changeover to the "Warm" mode once the specified time is up.
The oval-shaped ceramic cooking pot accommodates huge chunks of meat, and incorporated handles make lifting and removing it from the base unit simple.
A built-in rack also lets you utilise a 1-quart souffle pan, ramekins, and other bakeware. A transparent glass lid with a big chrome-plated knob handle and a stainless-steel rim to prevent chipping offers a safe, comfortable grip.
However, the price of this programmable slow cooker is slightly expensive compared to the other slow cookers out there. However, if you're looking for a good quality slow cooker that you will use a lot, this could be useful to your home.
Things we liked
Ideal for large families
Very easy to use
Things we didn't like
More expensive than other brands
Crock-Pot Stovetop-Safe Programmable 6 Quart Slow Cooker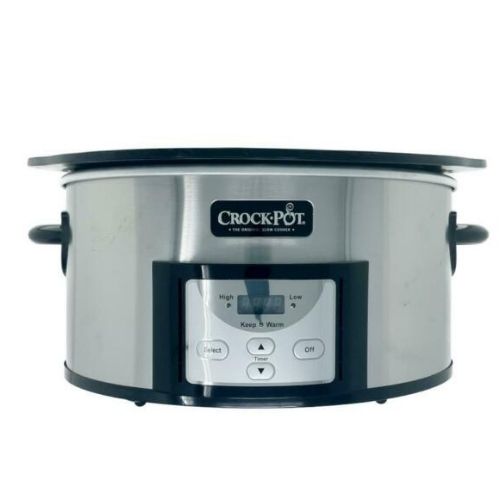 For even more convenience, Crock-Pot provides a programmable variant with a countdown timer and a stovetop-safe insert. The inner pot is oval and fits larger portions of meat.
The integrated handles make lifting in and out of the base a breeze. It can also be used safely on the stovetop to brown meats or sauté vegetables before transferring to the base for slow simmering.
It is hard to clean, so keep this in mind when considering buying this slow cooker.
Things we liked
Safe to place on the worktop
Features a countdown timer
Hamilton Beach Programmable Slow Cooker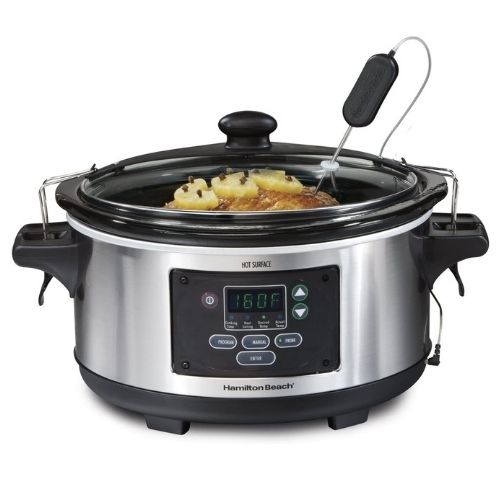 The non-stick metal insert may be browned and seared on the stovetop before being placed directly into the base for slow cooking.
Its oval form makes it ideal for larger chunks of meat or whole chicken, and its lightweight construction and wide, integrated handles make it simple to lift and transport.
The Hamilton Beach Cool Surround has programmable settings and cooktop compatibility, as well as insulated safety to keep the exterior from becoming too hot.
With its stay-cool base, this is an excellent choice for the buffet table, children's parties or any other location where accidentally hitting a hot surface is a worry.
Things we liked
Ideal for large food items
Easy to lift and move
Things we didn't like
Can damage countertops
Expensive
Best Digital Slow Cooker
Tefal 8-in-1 Multi-Cooker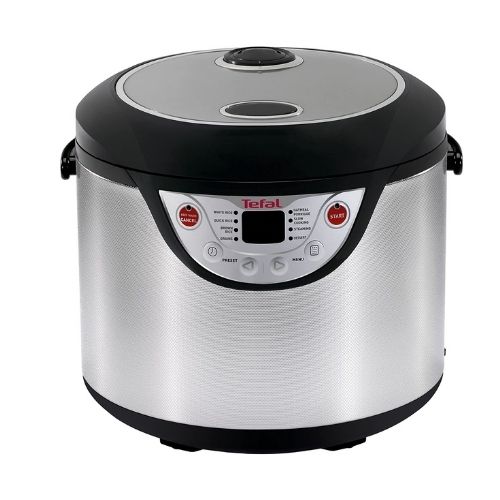 This may be used as a rice cooker as well as a slow cooker. It also comes with a steaming tray made of polypropylene. We really like the porridge option since you can put all your ingredients in, close the lid, and cooks delicious oatmeal without bubbling over and making a mess.
As it is a digital slow cooker, it will do all the work for you by timing and telling you when your food is ready.
Its pot is composed of lightweight metal, like the Morphy Richards, so it's convenient to carry but doesn't keep heat well while serving.
The Tefal multi-cooker offers excellent value for money due to its numerous functions, including slow cooking and rice cooking.
Things we liked
Good value for money
Multi-functional
Russell Hobbs Sous Vide Slow Cooker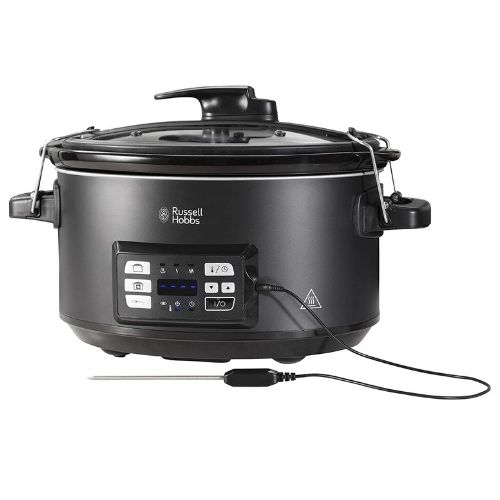 The Russell Hobbs Slow Cooker is a multi-tasker at its finest.
You may use a temperature probe and sous-vide capabilities to ensure that your meat is cooked to perfection before cutting it open or fill a water bath for delicious fish or vegetables.
On the front control panel of this digital slow cooker, you'll find a probe and sous vide setting, as well as a conventional slow cooker mode. You can pick between high and low heat, as well as a keep warm option, and set a timer.
When planning your dinner around this, keep in mind how long it will take for the water to come to temperature. It can take up to 20 minutes but adding already hot water can help speed up the process.
Things we didn't like
Water takes a while to heat up
Crock-Pot Lift & Serve Digital Slow Cooker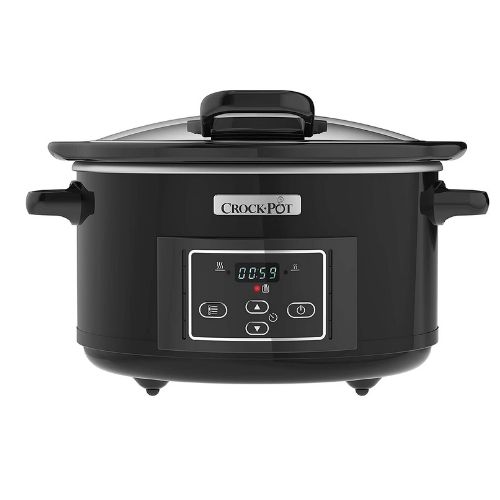 Set your cooking duration from 30 minutes to 20 hours with the digital timer, perfect for having supper ready when you get home from work or Saturday's football game with the kids. It also includes a keep warm setting, so you don't have to consume it right away.
This slow cooker features a huge capacity bowl, making it ideal for cooking everything from casseroles and soups to tagines and chocolate puddings.
However, some customers complain that the lid seal is inadequate, allowing moisture to spill onto the worktop during cooking.
Things we didn't like
The lid seal may be faulty
Best Multi-Functional Slow Cooker
Crock-Pot Express Crock Multi-Cooker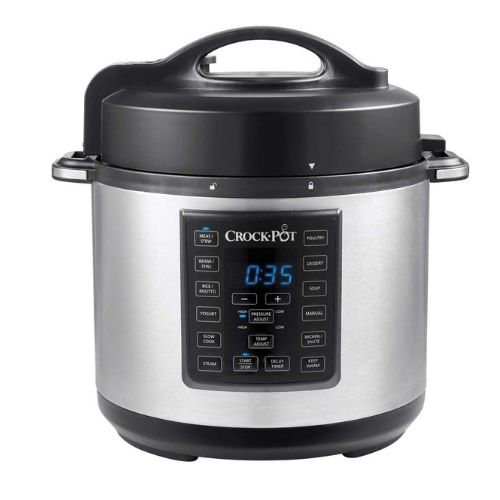 The 6-quart Express from Crock-Pot is a slow cooker that also pressures cooks, browns and steams. So, if you don't have time to add ingredients in the morning but still want an easy, stress-free lunch, make chilli, soup, or stew on the pressure cook setting once you get home from work.
It includes a delayed beginning and keep warm option that allows you to keep your food warm until everyone in the family is ready to dine. Place the non-stick cooking pot in the dishwasher once you're finished for simple clean-up!
Things we liked
Features a keep warm option
Stress-free cooking
Things we didn't like
It can be hard to clean without non-stick pots
Breville Fast Slow Pro Multi-Function Cooker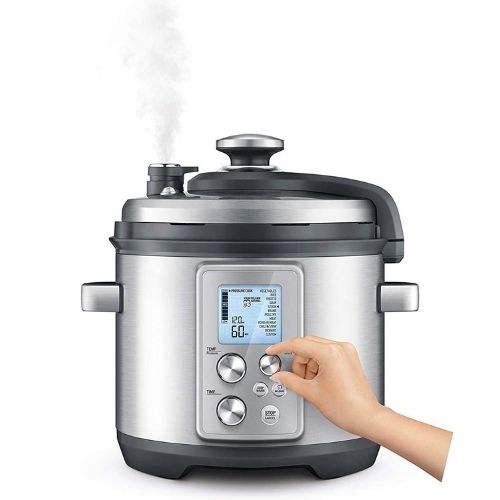 You'll adore Breville's Fast Slow Pro if you want a cooker with a wide range of options and unique bells and whistles. You may pick from 11 pressure cook methods as well as high to low options for slow cooking with this elegant six-quart gadget.
You can also fine-tune the temperature and pressure level or choose from a menu of pre-programmed options for vegetables, rice, risotto, soup, stock, beans, chicken, bone-in meat, chilli and stew, dessert, and custom.
When pressure-cooking and slow-cooking beef stew, it performs admirably. It is also a known fact that it is straightforward to operate the LCD screen with this slow cooker, and the cooking element is dishwasher safe.
Things we liked
Easy to use
11 pressure cooking options
Wolf Gourmet 7-Quart Multi-Function Cooker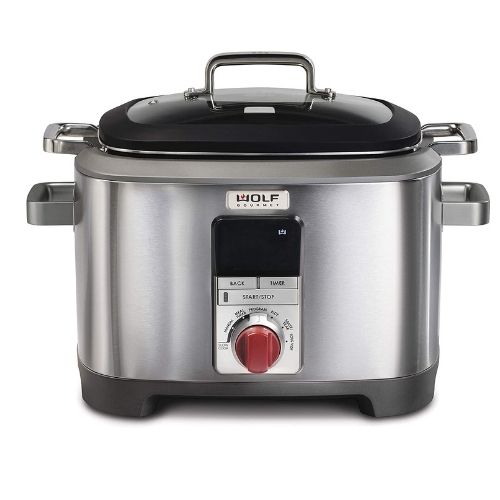 The Wolf Gourmet 7-quart Multi-Function Cooker has six easy modes, featuring slow cook, sous vide and saute/sear, so you'll be ready to tackle any dish.
This cooker is a winner since it comes with a removable stainless steel cookware piece that can be used on gas, electric, or induction cooktop. The temperature probe allows you to keep track of the internal temperature.
In the reviews, this slow cooker delivered the most tender roast. You won't have to worry about cleaning because the insert and lid are both dishwashers safe, and Wolf backs up their goods with a five-year warranty.
Things we liked
Features a removable cookware piece
Has six cooking modes
Best Copper Slow Cooker
Next Copper Effect Slow Cooker
Next's copper slow cooker has two strong handles that make transporting it a breeze. Its sleek design will complement the decor of any kitchen.
It results in a flavourful chicken curry with little moisture loss and tender meat. However, it suffers a little with tougher meat since the stew's beef can be a touch chewy at times.
This machine is simple to operate and set up, which is precisely what you want in a machine like this. However, this slow cooker comes with a slightly unstable lid, and on reviews, it is mentioned that it isn't great for making food such as stew in this slow cooker.
Things we liked
Simple set up
Aesthetically pleasing design
Things we didn't like
Not the best for tough meat
Unstable lid
Tower Slow Cooker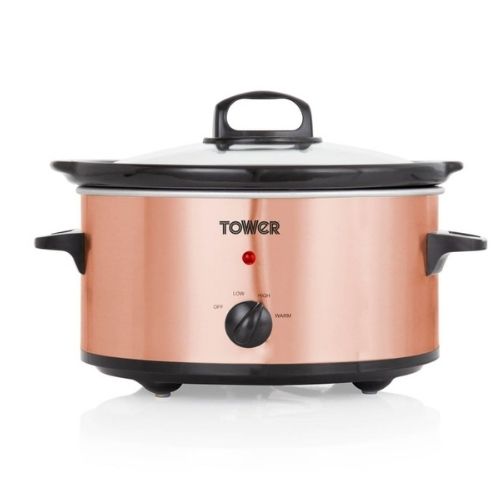 This Tower Slow Cooker eliminates any concerns about running out of time to prepare nutritious meals from scratch. Any meat may be cooked while preserving flavour, and vegetables and stock can be added to the same pot before being left to slow cook while you are gone for the day.
The quality is so amazing it can last a very long time in your home without breaking. However, if it comes with any faults, then you are promised a return.
Things we liked
Preserves flavour
High-quality
Things we didn't like
Not ideal for large families
Best Ceramic Slow Cooker
Crock-Pot SCCPRC507B-060 Slow Cooker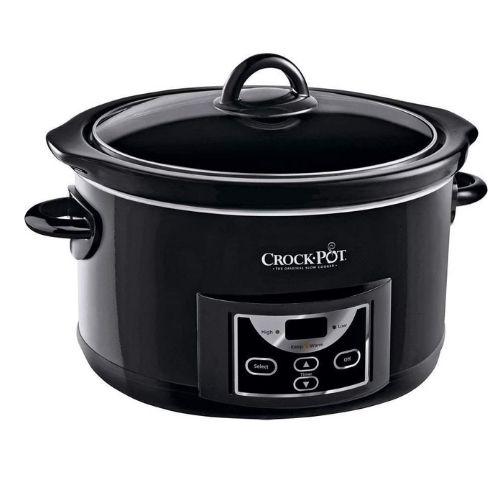 This simple slow cooker can feed a family of six people and comes with a 4.7-litre removable ceramic inner pot that is also dishwasher safe. The Crock-Pot also comes with a built-in programmable timer that automatically switches the setting to "keep warm" when the cooking is done.
As an extra bonus, the slow cooker has an incorporated programmable timer that will convert the cooker to the keep warm option once the cooking period has passed.
It is also a very affordable slow cooker. However, this slow cooker has no auto function feature, although the price and quality make up for it.
Things we liked
Ideal for large meals
Dishwasher safe
Salter EK2842 Chalkboard Slow Cooker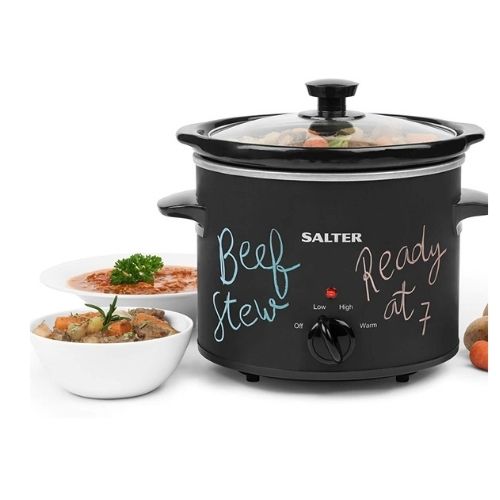 This ceramic slow cooker has a blackboard exterior, making it a stand-out device that would look at home in any kitchen. It's fun, quirky, and family-friendly. It also works admirably in the kitchen, producing a fragrant, flavourful chicken curry and a luscious beef stew.
This would be excellent for someone who enjoys involving their family in the kitchen but does not want to spend much money.
It comes with three coloured pieces of chalk. However, the chalkboard does overheat slightly during the cooking and doesn't have a built-in timer, so you are not informed when the food is done.
Things we liked
Unique design
Great for Curries
Best Aluminium Slow Cooker
All-Clad 7 Quart Gourmet Slow Cooker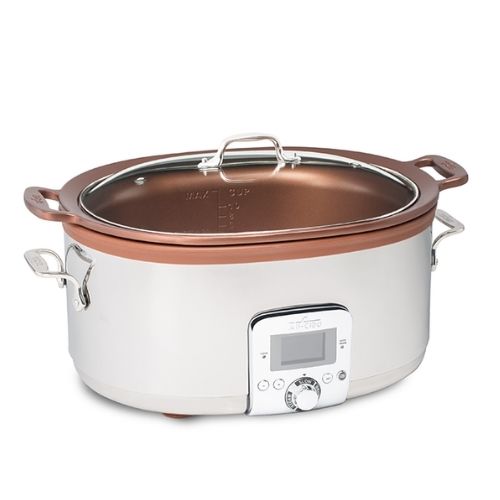 The adjustable 7-quart aluminium insert in this tried-and-true slow cooker is attractive enough to take directly to the table for dinner as it comes with a beautiful design.
The computerised controls include low, high/low, and high settings for slow cooking, as well as a programmable 20-hour timer.
You may safely keep food out for a lengthy amount of time with a five-hour keep warm setting. Bonus: This model may be used to brown, steam, and boil rice.
Things we liked
Features a durable aluminium insert
Computerised controls
Morphy Richards Sear and Stew Slow Cooker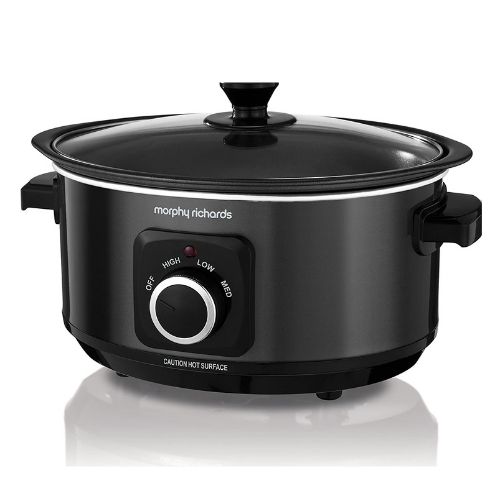 You'll be slow cooking everything you can with the Sear and Stew since it's feature-rich, adaptable, and easy to use. It has the potential to change the way you eat.
Its pot is made of aluminium rather than ceramic, so you may brown meat and vegetables on the stovetop (not induction). Then, either on high or low heat, transfer it to the base to gently cook.
It bubbles well when cooking, and the base's exterior only warms up a little. It switched to keep warm after the timer had expired, but it was still hot enough to serve.
Because the pot and the toughened glass lid are both dishwasher safe, clean-up is a breeze. As well as being one of the best aluminium slow cookers.
Things we didn't like
Not ideal for placement on induction hobs
Instant Pot Duo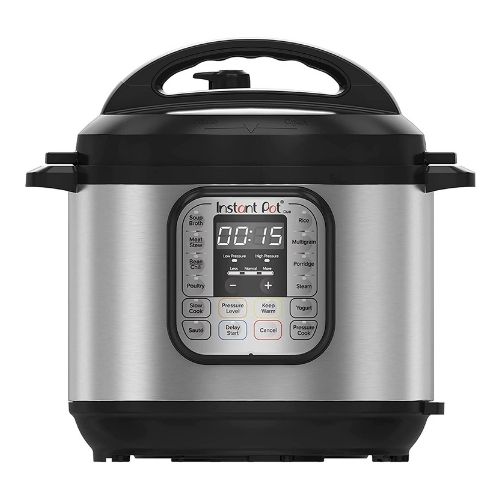 Without being exorbitantly pricey, the aluminium Instant pot duo has more complex features and programmes than its predecessor. It can reduce the processing time by 6 hours, resulting in increased efficiency and lower energy use!
However, it is also not very simple, and reviews express how complicated this slow cooker can be.
Things we liked
Quick processing time
Increased efficiency
Things we didn't like
Complicated to use
Expensive
Best Small Slow Cooker
Judge JEA34R Slow Cooker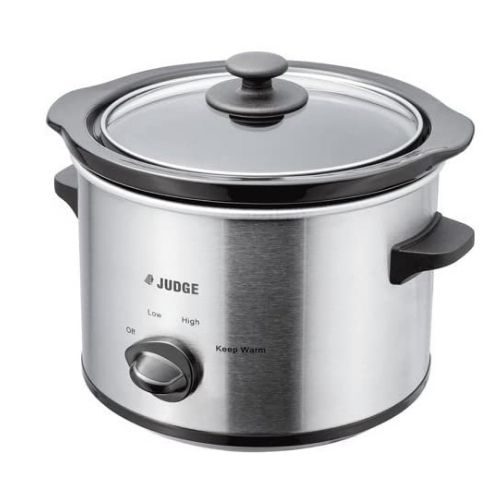 The size of this slow cooker is ideal for a one- or two-person home as it is the best small slow cooker. It can make a satisfyingly thick soup and can also cook meats like beef, yielding a rich gravy.
The disadvantages are that there is no indicator light, the lid periodically spits, and water collects in the rim, which makes it awkward to pick up. However, overall, this is a small slow cooker that does a good job at such a low price.
Lakeland Slow Cooker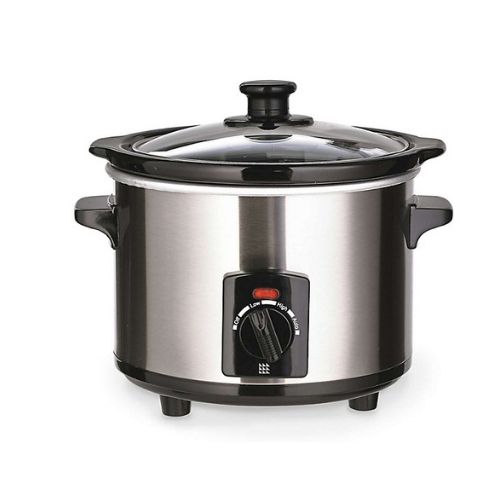 If you're only cooking for one or two people, the smaller size will help with storage and energy efficiency. This slow cooker comes with a 1.5-litre ceramic bowl and three manual settings: high, low, and auto.
The pot warms up to a high temperature before lowering it. For consistent heat distribution, a base element wraps around the bowl.
It also includes a lot of tips for starting started with slow cooking, but only several recipes. The capacity of this slow cooker will limit anyone who wants to create more than a small meal.
Both the cover and the bowl can be washed in the dishwasher, making clean-up a breeze. They're also not unduly hefty because neither is particularly large.
Things we didn't like
Not ideal for large meals
Morphy Richards Small Slow Cooker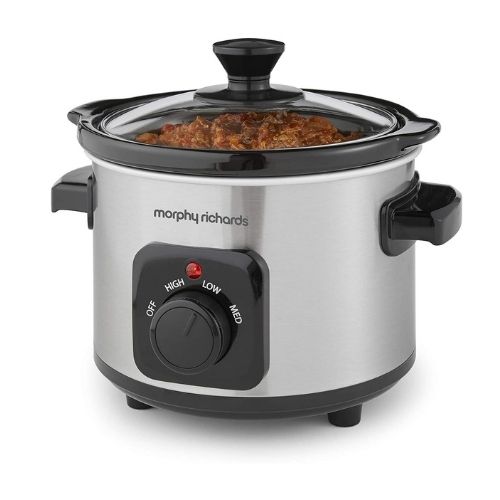 1.5L Ceramic Slow Cooker by Morphy Richards Slow cooking is one of the healthiest and most economical cooking methods. The 1.5L Ceramic Pot is suitable for curry and chilli and is ideal for small families.
You can choose your cooking temperature from Low, Medium, or High with the simple dial. This guarantees that your dinner will be ready when you want it.
This guarantees that your dinner will be ready when you want it. The product instruction booklet includes a range of recipes for you to try. The reinforced glass cover allows you to see the cooking process while keeping the heat in, and the removable ceramic pot doubles as a serving dish.
When you're finished, simply place the ceramic cooking pot in the dishwasher to clean it quickly.
Things we liked
Very cheap
Ideal for small families
What to Consider Before Buying a Slow Cooker
Method of Heating
A removable insert is usually snugly encased in the base of most slow cookers. The heating element may be only on the bottom, or it may extend up the edge of the base if you're lucky. Some slow cookers simply have a crock on top of the heating element.
Heat isn't spread evenly, so you'll have to stir the meal more frequently to avoid scorching. So, depending on what you would prefer is something that should be considered before buying a slow cooker.
The Shape
Slow cookers are often round or oval. Consider what you want to cook in the slow cooker and let that guide your form selection. Whole chickens, brisket, and ribs, for example, will fit better in an oval form, but if you're just making beans or stews, the shape isn't as important.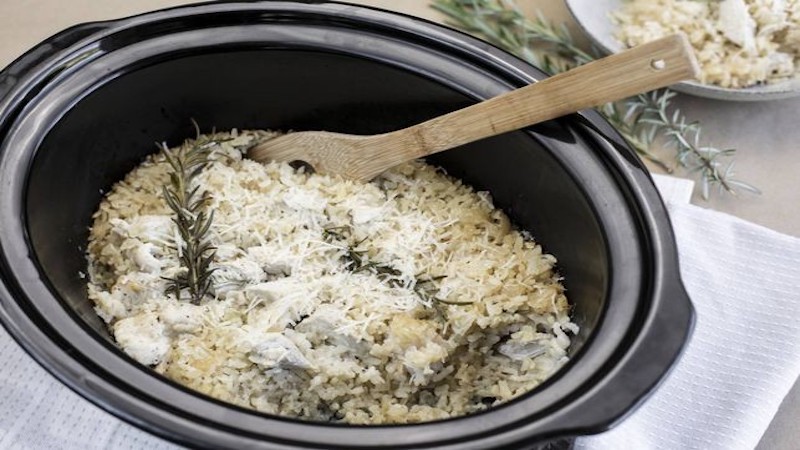 You can choose the one that fits best in your cupboard or on your counter.
The Size
You can have tiny slow cookers that are only good for keeping dips warm, or you can get a slow cooker with a lot of capacity. Smaller three- to four-quart slow cookers will suffice if you have a small family, don't mind scaling down recipes, and don't enjoy leftovers.
Many slow cooker recipes are designed for a standard-sized slow cooker.
FAQs
How do you cook lamb in a slow cooker?
In a large non-stick frying pan, heat the oil. Brown the lamb for 4-5 minutes on each side. Reduce the heat to low in the slow cooker. In a saucepan, melt the butter until it foams, then mixes in the flour. Gradually whisk in the stock until it is fully integrated.
Place the lamb on top of the onion, garlic, thyme, and rosemary in the slow cooker. Pour the lamb gravy over the top. Cook for 8 hours, or until soft and supple, with the cover on.
Strain the liquid into a pan and cook until it has thickened somewhat. Remove the lamb from the pan and place it on a platter, covered. Serve the lamb with mashed potatoes, green vegetables, and gravy, thickly sliced or shredded (it will be rather tender).
How do you clean a slow cooker?
To clean a slow cooker, you can either put it in the dishwasher depending on the make of the slow cooker. Or you can fill the slow cooker insert halfway with water, add a few drops of dish soap, and set the timer for one hour.
Remove the soapy mixture after 60 minutes and give the inside a quick rinse. Yes, it is that simple.
What is the average cost of a slow cooker?
Slow cookers range in price from £30 to £80, and they can save you hundreds of pounds over countertop convection toaster ovens and broilers.
Slow cookers can also help you save money on groceries by allowing you to buy cheaper cuts of meat and tenderise them for longer periods over low heat.
Are slow cookers healthy?
Slow cookers can be used for a lot more than just heating up odd meals for your annual holiday gathering.
In fact, if you're attempting to eat healthier, your slow cooker could be one of your most useful—and underutilised—tools. The first reason is that it is one of the healthiest methods of cooking meat.
Are slow cookers worth it?
A slow cooker saves a lot of electricity compared to an oven. Even if allowed to cook all day, it will consume less energy than cooking the same dish for an hour in your oven.
Because of the longer cooking time, you'll be able to use cheaper cuts of meat for your slow cooker dishes, which will become tender and delicious.
Sources