kitchen & cooking
Best Pressure Cooker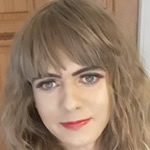 Want to know what the top pressure cookers on the UK market are?
In the following guide, we'll discuss our favourite pressure cookers in terms of category and discuss their pros and cons, among other factors.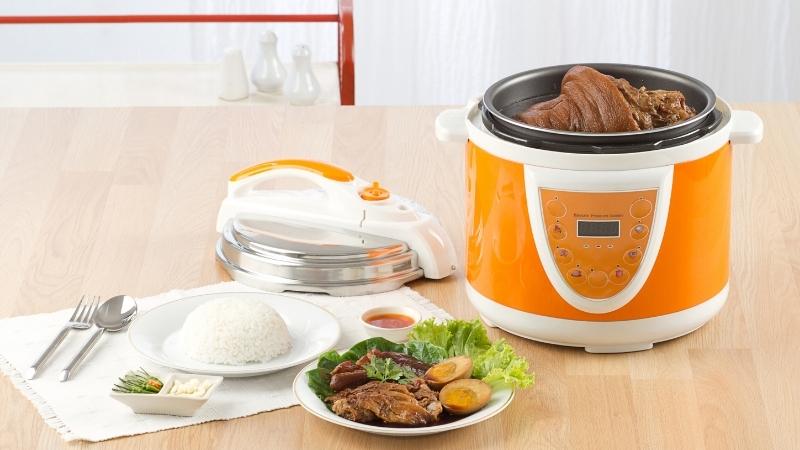 We'll also look at how pressure cookers work and break down the different types.
Anyone considering purchasing a pressure cooker should read on as we've got plenty of great choices in our reviews below.
What Is a Pressure Cooker?
First, let's explore what a pressure cooker actually is...
As the name suggests, this type of cooking involves cooking food items with the use of high-pressure steam. This can be achieved with a water-based cooking liquid or just good old H2O. Pressure cookers are economical and fast, meaning they can save the two resources that make the world go round: time and money.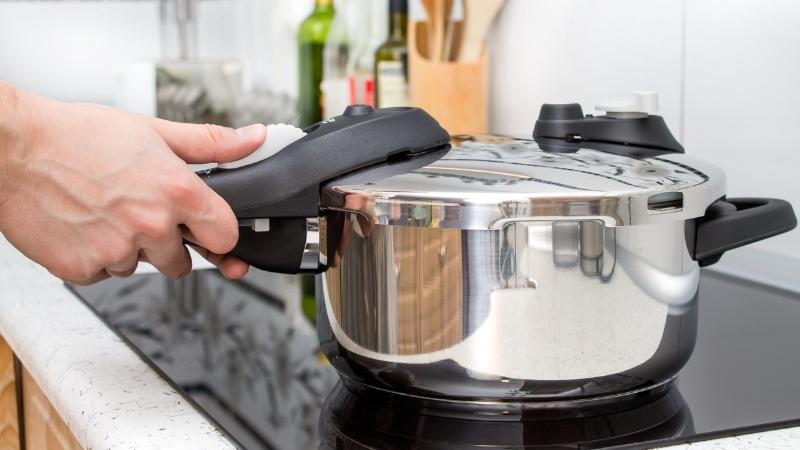 How Does a Pressure Cooker Work?
Pressure cookers are sealed chambers, and the steam that is generated is kept within this sealed chamber to heat the food items. With an accumulation of steam, pressure grows, which means that the boiling point of water goes past 100°C. This results in no evaporation, leading to better-flavoured food.
Type of Pressure Cooker
Before we review the best pressure cookers out there, let's discuss the different categories of pressure cookers.
Traditional Pressure Cooker
A conventional pressure cooker is manually operated and does the job in a relatively simple manner. While these appliances may not be as complex or exciting as other options, they tend to be inexpensive and get the job done.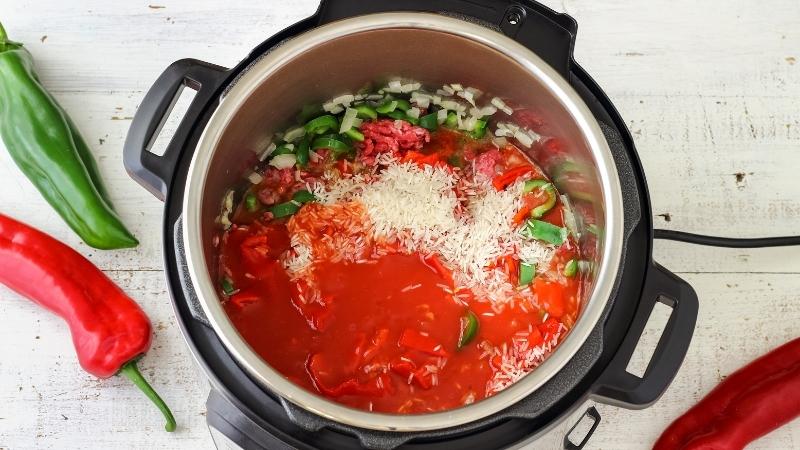 Electric Pressure Cooker
Electric-powered pressure cookers are generally more powerful and effective. Of course, unsurprisingly, they do tend to be dearer, and they will come with various levels of wattage.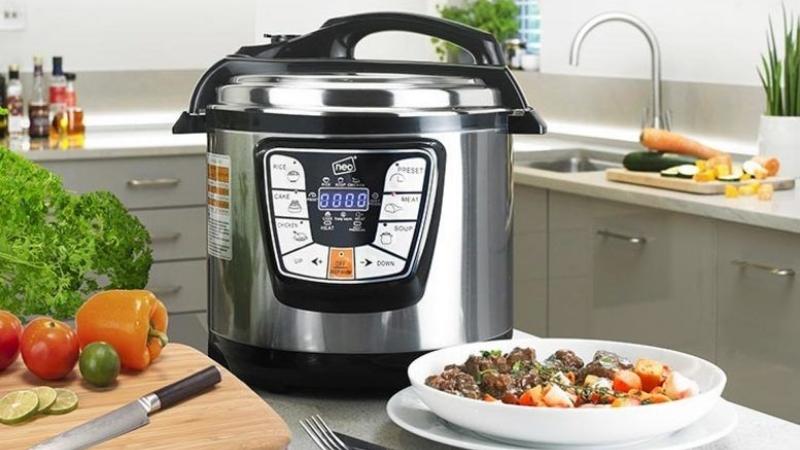 Multifunctional Pressure Cooker
This type of pressure cooker has many functions, offering many cooking settings to deal with various foods and produce a wide range of results. Multipurpose pressure cookers are great for those who want different results.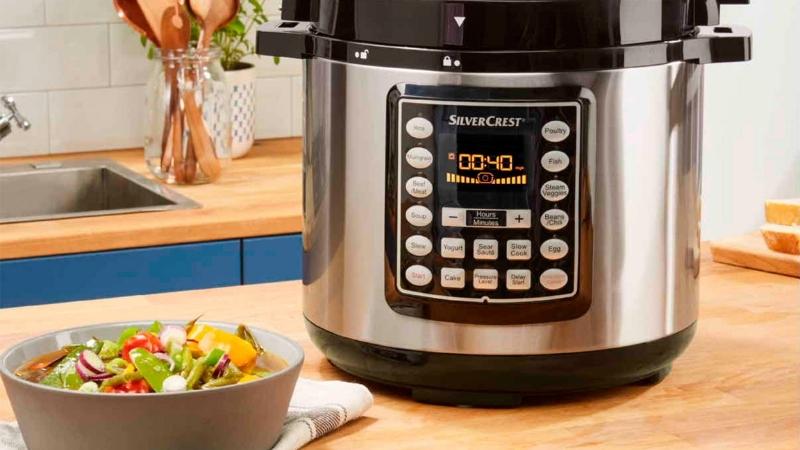 Digital Pressure Cooker
These hi-tech, modern pressure cookers are great if you want something with a useful display with various functions, giving you the ability to finely tune the cooking based on your preferences. Digital pressure cookers may have added benefits like built-in recipes available on the screen.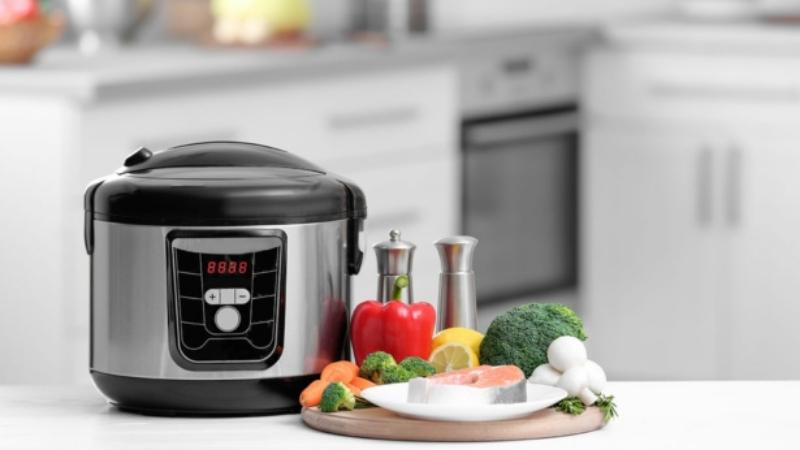 Best Pressure Cooker
So, what about the best pressure cookers? In this section, we'll lay out the best pressure cookers in the UK and discuss what they're good for as well as their pros and cons.
Best Traditional Pressure Cooker
Tower T80245 Pressure Cooker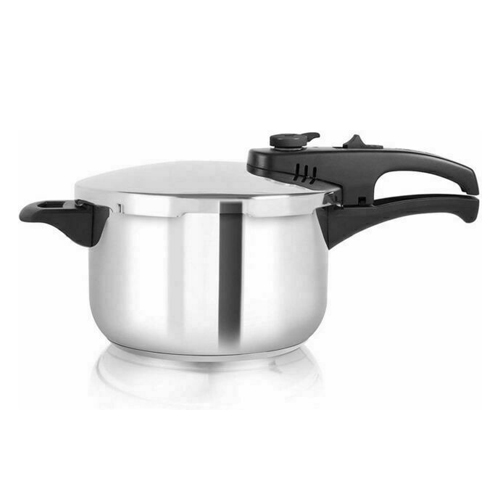 The T80245 is available in 3-litre or 6-litre options. Both are made of steel and have a stainless-steel colour. With a 4.5-star rating on Amazon (from almost 1,700 ratings), the ability to retain around 95% of vitamins and nutrients in the food it cooks, and the option of a ten-year extended warranty, it's hard to go wrong with this product if you're after a conventional pressure cooker.
Things we liked
Healthy
Eco-friendly
Two solid options
High rating
Nicely designed stainless steel pressure cooker option
Hawkins Classic CL15 1.5-Litre Pressure Cooker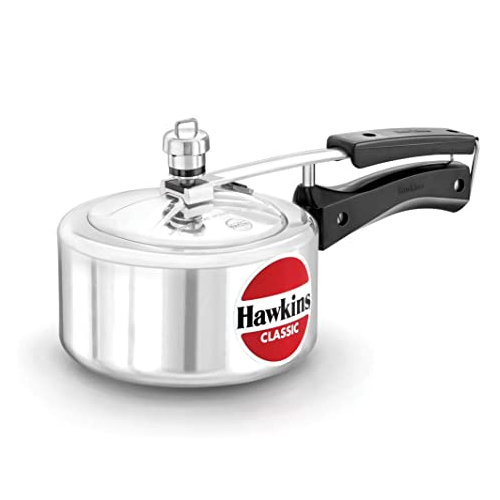 This small, silver pressure cooker has a decent price tag, a 1.5-litre capacity, and a decent four-star rating on Amazon. Thankfully, its lids also seal from the inside for safety reasons. Further, the inside fitting lid will only open up once pressure falls sufficiently. It comes with a long-lasting gasket and a shielded safety valve.
Things we liked
Good rating on Amazon
Seals internally
Durable gasket
Shielded safety valve
Prestige Pressure Cooker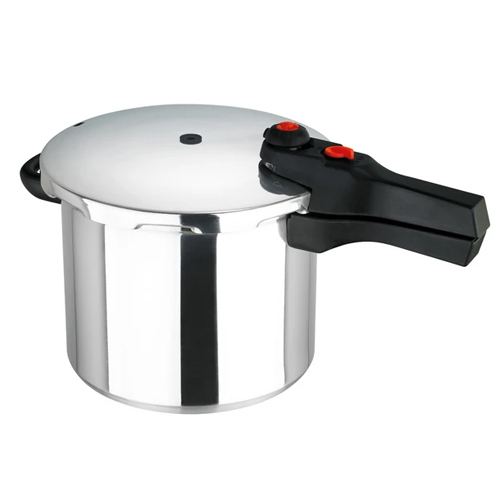 While a bit more costly than the former two choices, with a 4.5-star rating on Amazon, a solid 6-litre capacity, and an ultra-safe lock, among other notable features, the Prestige Pressure Cooker is a great solution for your cooking needs. It's also around 70% faster than regular cooking.
Things we liked
Fast and healthy meals
Highly rated
Various features
Best Single Purpose Pressure Cooker
Fissler Vitaquick/Pressure Cooker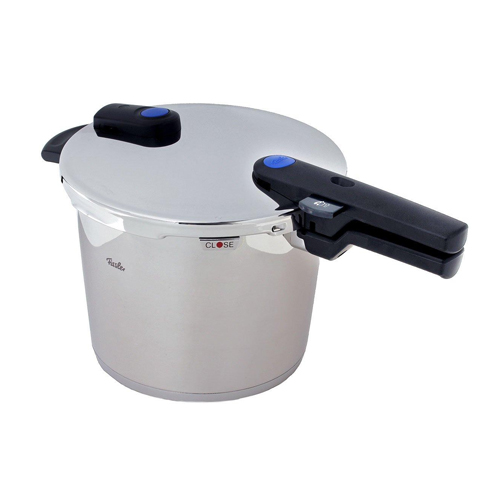 Like all others in this category, this pressure cooker is simply made for one purpose - to pressure cook food. While expensive, the Fissler Vitaquick/Pressure Cooker is high-quality, has a substantial 8 litres capacity, and comes with two cooking levels in total. It weighs a little over 4kg, is manually operated, and is made of stainless steel.
Things we liked
Large capacity
Two cooking levels
Effective
Prestige Smart Plus 4L Pressure Cooker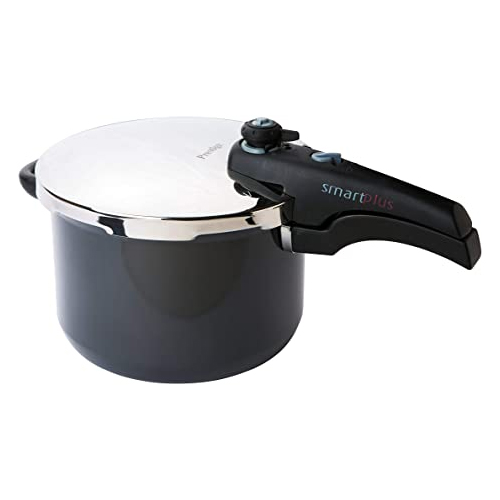 Another product from Prestige is their relatively small 4-litre pressure cooker with non-stick qualities, a fairly light weight of 2.12 kg, and a slick stainless-steel aesthetic/design. Beyond that, it can cook meals about 70% faster than regular cooking, is suited for all hob such as induction, comes with an ultra-safety lock, and is a good choice for the average-sized family.
Best Electric Pressure Cooker
Instant Pot Duo Evo Plus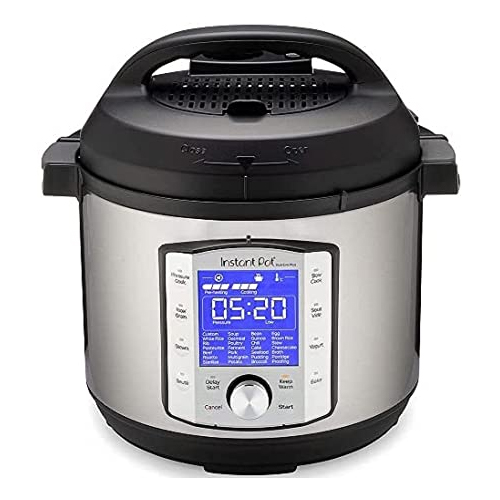 If you'd like a great electric pressure cooker, you should consider the 5.7-litre Instant Pot Duo Evo Plus. While, as an electric pressure cooker, you'd need to splash out a bit more on it, it has a strong 4.5-star rating, and it offers a 10-in-1 capability. It comes with a cookware grade inner pot, and it has a 1200-watt heating element for fast cooking (it does have instant in its name, after all). One downside of its design is that it kind of looks like a radio at the front.
Things we liked
Fast and effective instant pot pressure cooker
Large capacity
Highly rated
Multifunctional
Things we didn't like
The design may be questionable to some
Crock-Pot Express Pressure Cooker CSC051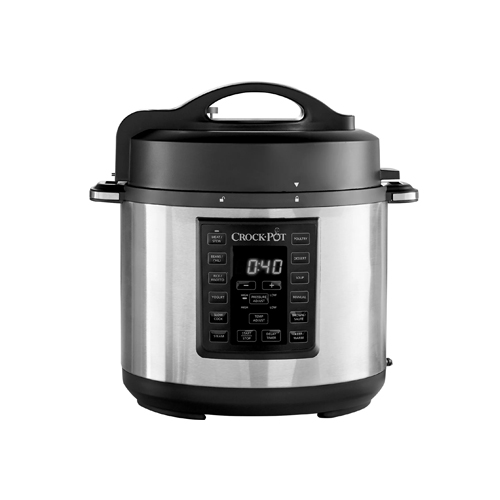 This product has four cooking options: slow cook, cook, steam, and sauté (aka brown). You can also use the optional manual function as well as its delay timer for total control. The CSC051 has a non-stick removable bowl, airtight locking lid, and it can cook around 70% as fast as regular cooking (just like the previous pressure cooker). It's also relatively cheap for an electric pressure cooker.
Things we liked
Lots of great features
Four cooking settings
Airtight locking lid
Drew & Cole Pressure King Pro Electric Pressure Cooker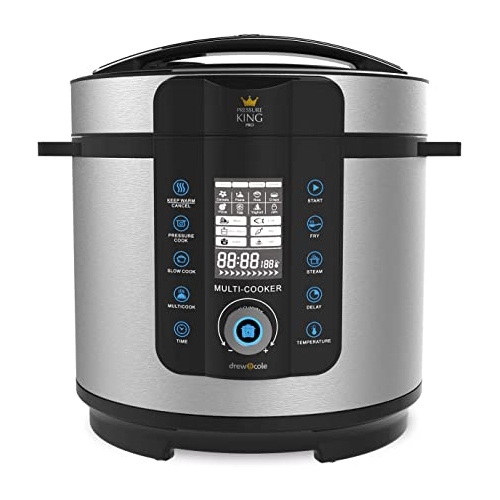 The Drew & Cole Pressure King Pro is a pretty compact product with a 3-litre capacity. Its versatile comes with eight pre-set programmes as well as a 24-hour delay timer. It has safety devices, is easy to clean, and can ensure that cooked food holds on to 95% of its nutrients. It's also relatively inexpensive for an electric pressure cooker.
Things we liked
Compact design
8 programmes
Various useful features
Easy to clean
Not too dear
Things we didn't like
No notable issues that we know of
Best Multifunctional Pressure Cooker
Ninja Foodi Multicooker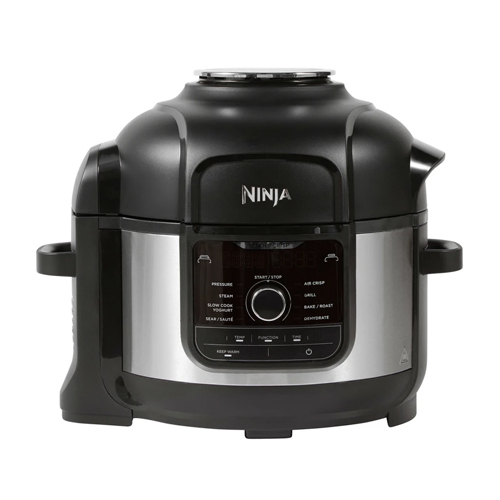 There are an incredible five distinct designs available when choosing this multifunctional pressure cooker (or put simply and neatly in its title 'multicooker'). There is the mini 6-in-1 option that is actually pretty sizeable considering it has a 4.7-litre capacity. Then are 7-in-1 and 9-in-1 6-litre capacity pressure cookers. Finally, you could also choose the max 7-in-1 or 9-in-1 7.5-litre capacity appliances.
As for the price, they all come with a cost that is pretty reasonable given their size and abilities, with the largest products costing a little over twice as much as the mini 6-in-1 multicooker. The number in X-in-1 titles of these designs refers to ways they can cook (e.g., air crisp, grill, slow cook, steam, and so on). To top it all off, these Ninja pressure cookers have a five-star rating on Amazon (from over 7,000 responses).
Things we liked
Various stunning designs
Good value for money
Popular choices
Pressure King Pro 12-in-1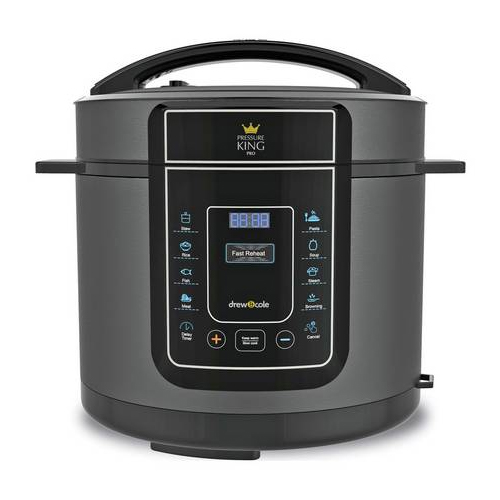 The Pro 12-in-1 from Pressure King is an aluminium-based pressure cooker. It has a 5-litre capacity, is versatile, safe, easy to use, and straightforward to clean. It too can help food retain as much as 95% of its nutrients and vitamins. Notably, it can cook as much as 90% faster than regular cooking.
Things we liked
5-litre capacities
Versatile
Safe and easy to use
95% of nutrients and vitamins can be retained
Things we didn't like
Availability seems to be limited (as of August 2021)
It can be abrasive on some surfaces
ICKTEK Air Fryer Lid for Electric Pressure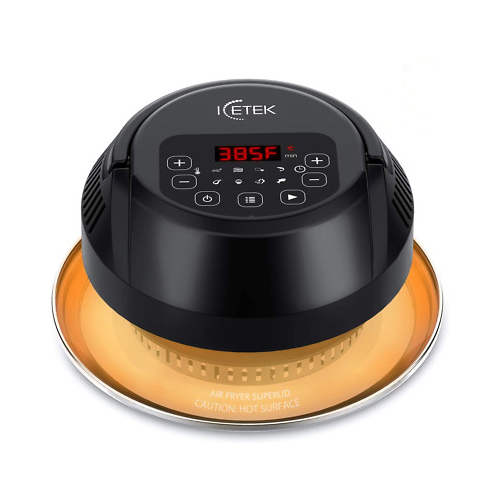 This very useful appliance is an 8-in-1 product. It can cook pizza, shrimp, sweet potato, chicken, and more. It comes with 360° air circulation as well as safety protection, and it offers healthy cooking. Its LED touch panel is simple and helpful to use.
Things we liked
360° air circulation
Safety protection
Healthy cooking
Useful features
Best Digital Pressure Cooker
Tefal Cook4Me+ CY851840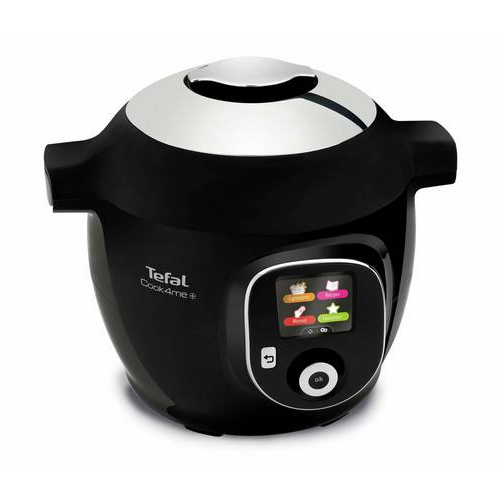 The CY851840 is a uniquely and cutely designed digital pressure cooker with a 4.5-star rating on Amazon (albeit out of less than 200 ratings). 100 recipes are accessible on its screen, and there is also a cool Cook4Me app with 200 further recipes to check out. It comes with an automatic pressure release as well as a keep warm function.
But that's not all…
While there's a standard version of this that would likely attract most purchases, for more than double the price, you can get the connected capability version of this pressure cooker.
Things we liked
Unique design
Highly rated
Easy-to-access pressure cooker recipes
Two versions to choose from
Things we didn't like
The design is not for everyone
The connected Capability version is quite expensive
Drew & Cole Clever Chef Pro 6-in-1 Digital Pressure Cooker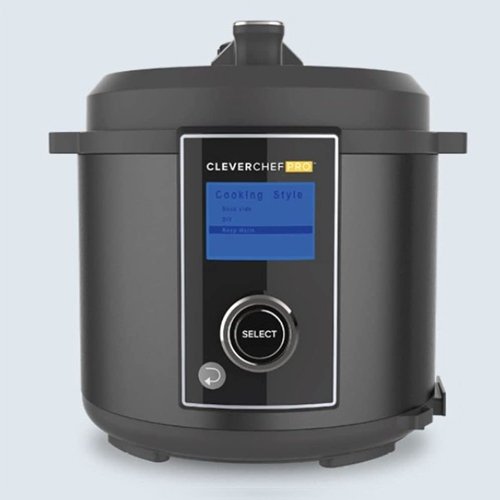 This multipurpose digital pressure cooker is available with a 4.8 litre or 5.7-litre capacity. It's made of stainless steel and reportedly cooks to as much as 90% faster than regular cooking. It comes with pro-precision technology and fifty pre-set cooking settings. We also like its neat and clean design.
Things we liked
Well-designed
Two sizes to choose from
Very fast
Pro-precision tech
What to Consider Before Buying a Pressure Cooker
As with making any new purchase, there are a lot of points you should take on board. Here's some stand out examples.
Cost
There are many pressure cookers available for about £30 to £40, but some will cost a bit more than that and others will go beyond £100. Once you know your budget, everything else can fall into place from there.
Size
The demand of use for a pressure cooker should determine what size it ought to be. A family may need a four to six litre (or larger) pressure cooker, while one person or for limited use may be interested in a three-litre or smaller pressure cooker. It will really depend on your needs.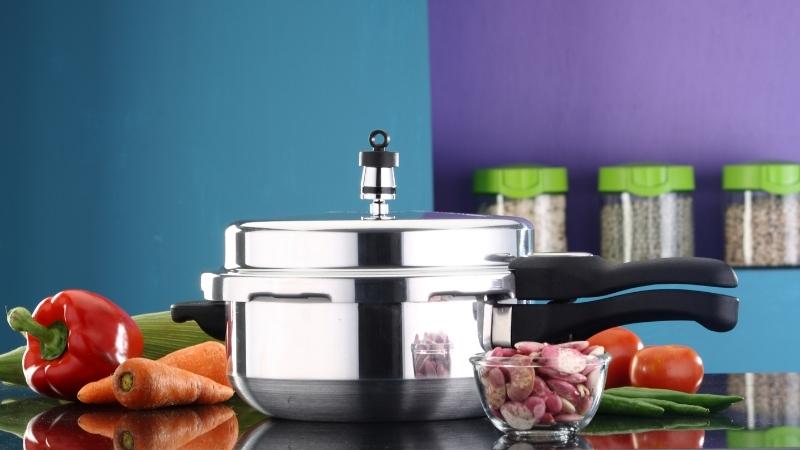 Easy to Use
Some pressure cookers are super easy to use, while others may take a little getting used to. For some people, as well, manual pressure cookers are ideal, while digital/electric options may be seen as a nuisance, albeit the opposite could be true, especially if you're very used to modern digitized appliances.
Type of Food
Different pressure cookers have varied cooking preferences or needs for different food types. For this reason, it's important that you carefully check what types of food any given pressure cooker can deal with before buying it.
Functions
While many pressure cookers are pretty straightforward in how they work, others are more complex and come with various settings and useful features. Depending on how precise you want the cooking to be, you may want more or less functions.
FAQs
What can you cook in a pressure cooker?
Among the most popular foods to be used in pressure cookers are soups, mash, stew, beans, tough cuts of meat, and artichokes. However, you should check with the manufacturer's instructions/guidance to see what exactly a given pressure cooker offers.
What are the benefits of using a pressure cooker?
The main advantages are that they can save you both time and money.
Where can I buy pressure cooker parts?
Usually, it's best to visit the manufacturer's website, though you might also find parts on sites like eBay.
What is a microwave pressure cooker?
Quite simply, these are pressure cookers that are safe to add to a microwave for cooking purposes (as a way to create the heat needed to produce steam inside).
How energy efficient are pressure cookers?
Broadly speaking, they use around 50-75% less energy as conventional cookers.
Sources