kitchen & cooking
Best Pizza Ovens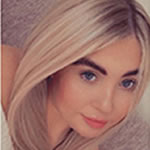 Pizza ovens are every pizza lover's dream as they cook the perfect pizza for you in a small amount of time.
This article will help you decide if a pizza oven is right for you or teach you about the different types of pizza ovens, the best pizza oven, and the pros and cons of the different pizza ovens. This will help if you are deciding on what pizza oven to buy.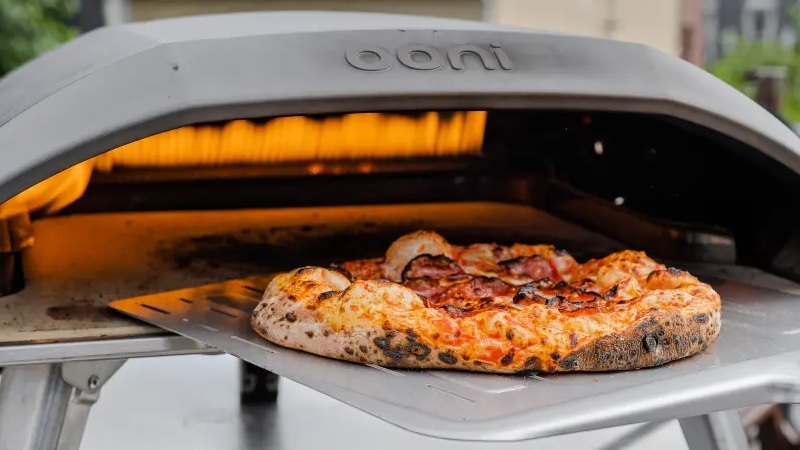 So, if you are looking to buy a pizza oven but don't know where to start or don't know what to look for, this article will be perfect for you!
There are multiple types of pizza ovens, all having their independent feature that makes their pizza oven better. Due to this, this article will break down and inform you on what each pizza oven does and why it is the best for your home.
What Is a Pizza Oven?
A pizza oven's thick walls provide so much mass and insulation that it remains hot for a long period, which is also what makes the pizza nice and crispy on the crust.
It retains enough heat to cook low-temperature foods for up to 24 hours. It is sufficient to add a log every 20 minutes to maintain the greatest temperatures as you don't want the temperature to drop.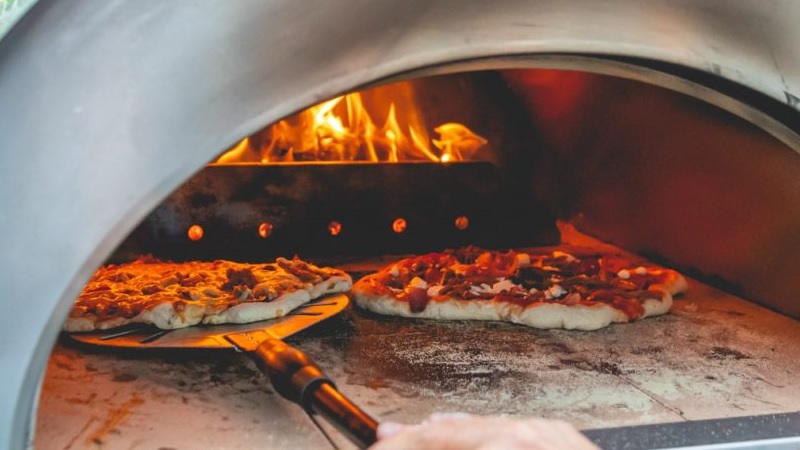 The pizza oven's extreme heat cooks the pizza in around 90 seconds, providing several advantages. The texture is much better, with a crunchy exterior and a moist interior everyone loves a pizza made from a pizza oven. Longer cooking in regular ovens dries up the crust, making it harder and doesn't have that crunch compared to a pizza oven.
The caramelisation and wood smoke enhances the flavour. More browning has occurred, resulting in a "cheetah spotted" appearance.
How Does a Pizza Oven Work?
Cooking using a wood-fired pizza oven isn't as difficult as you may think. All you have to do is start a good fire in the oven's centre and let it heat both the hearth and the inner dome. The oven will absorb the heat you generate from your fire, which will be radiated to allow food to cook.
Once the oven dome and floor have reached the desired temperature, just push the fire to one side with a metal peel and begin cooking using wood rather than the gas or electricity you normally use.
Except for the fire, there are no temperature dials or controls. Thus adding wood is the equivalent of turning up the thermostat. You allow the temperature to fall if you don't fuel the fire.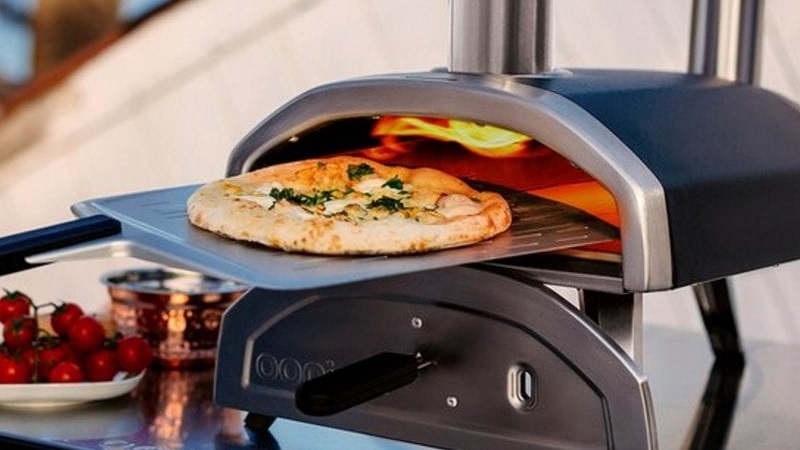 What you want to cook in your wood-fired oven determines how hot you want your oven to go. A temperature of roughly 400-450°C is required for pizza; if you desire to utilise another cooking technique, such as roasting, a temperature of around 200-300°C is required.
To heat the oven properly, some ovens require you to leave embers on the oven floor. Others have little or no insulation, requiring you to feed the fire considerably more frequently. However, this will result in too much direct heat, causing the top and bottom to cook unevenly.
Another thing to keep in mind is that if the oven's floor isn't holding heat, you may need to warm it before cooking each pizza.
Types of Oven Pizzas
Pizza is undeniably one of the most popular and commonly available dishes on the planet. Why not go one step further and purchase your pizza oven? Particularly now that home cooking is experiencing a renaissance. What are the many types? Let's take a closer look.
Conveyor Pizza Oven
A conveyor oven, like a regular deck pizza oven, allows you to rapidly and easily prepare huge quantities of identical items with little or no cooking experience, making it ideal for busy takeaways, restaurants, canteens, and residential care facilities.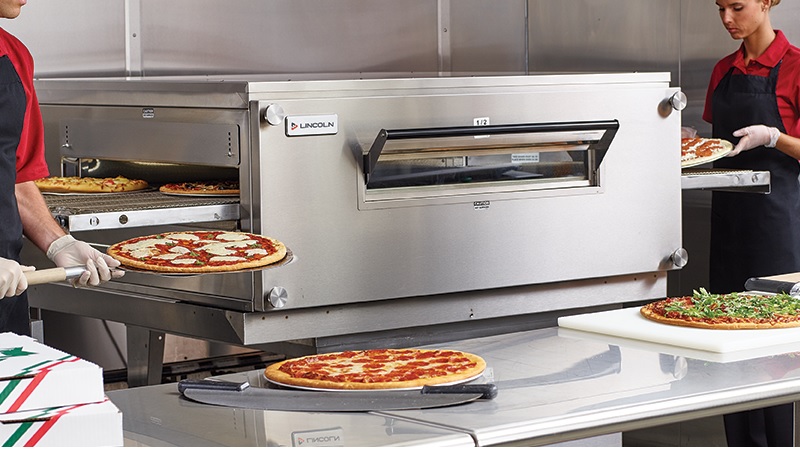 The product is cooked by blowing hot air from the top and bottom heat sources in conveyor ovens, which use a belt to transfer goods through a cooking cavity. Countertop and floor variants are available in both gas and electric versions.
The pizza is placed on the front of a conveyor belt in these ovens. To cook the pizza, the conveyor transports it through the oven. The conveyor then transports the pizza to a resting area outside the oven after it's finished.
Pizza Deck Oven
Double-deck pizza ovens allow you to quickly and conveniently cook pizzas to perfection on a stone or brick base for an authentic crispy crust. If you don't want to take up too much space but still need to make a lot of pizzas, then double-deck is the way to go.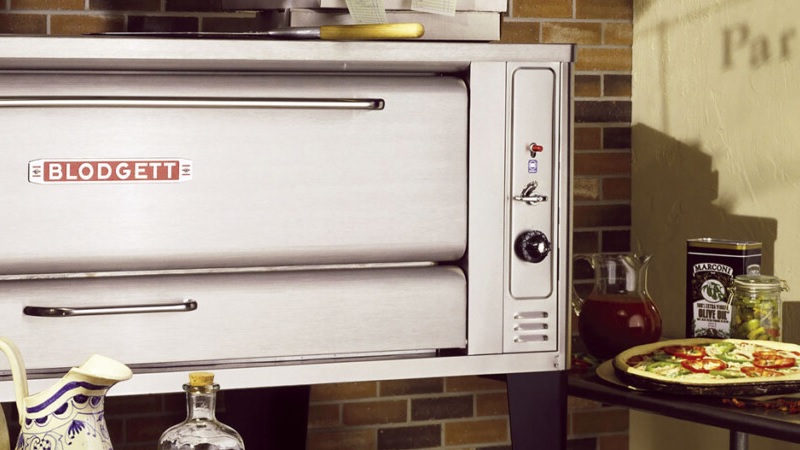 Radiant heat is also used in deck ovens, which is a technology that uses infrared heat waves to permeate the dough and heat it evenly.
Convection Pizza Oven
Pizza convection ovens circulate hot air, simultaneously cooking all sides of the pizza. Convection pizza ovens brown cheese toppings before they finish cooking the pizza dough because the heat comes from the circulating air.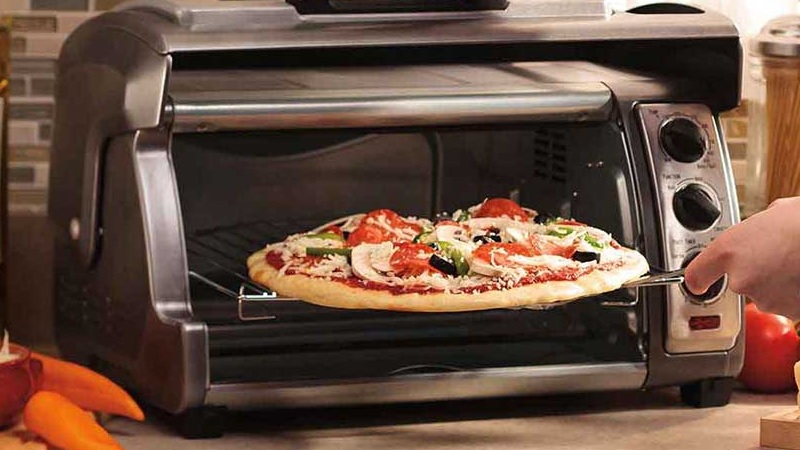 Because a convection oven heats up faster than a regular oven, reducing the temperature will yield the greatest results for your pizza. When cooking with a standard oven, you'll need to reduce the temperature by 25 degrees from what the pizza box recommends.
Electric Pizza Oven
It's a pizza-making machine that generates heat using electricity. An extra heating element, similar to a broiler, is put at the top of an electric oven to bake the top of the pizza.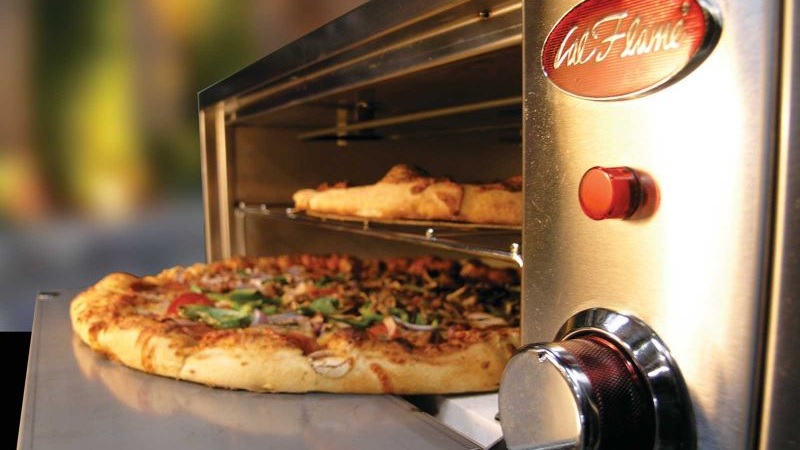 The shelf or deck is made of stone, brick, or ceramic tile. They're usually portable, may be used indoors, and are smaller than conventional pizza ovens.
Gas Pizza Oven
Gas-fuelled pizza ovens are an excellent choice for anyone who wants a little more control over the temperature at which the oven cooks, as well as the ability to create a ready-to-cook environment in a matter of seconds.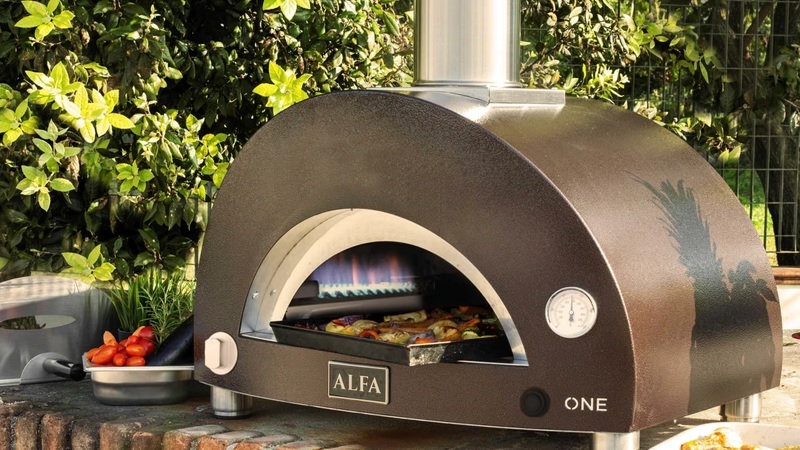 A gas oven may be beneficial if you have a busy family who needs a quick and convenient way to cook their meals.
Best Pizza Ovens
When it comes to making good pizza, heat is important, and the oven must quickly reach the high temperatures required to cook the dough (typically approximately 500°C). The base and toppings should cook rapidly in the oven so you can take advantage of the warmth and keep the pizzas coming until everyone is satisfied.
Therefore, during this section, you will learn the best pizza makers for all different categories. Therefore, if you are looking to buy a pizza maker but don't know where to start, this was meant for you.
Best Conveyor Pizza Oven
Omcan Conveyor Commercial Pizza Oven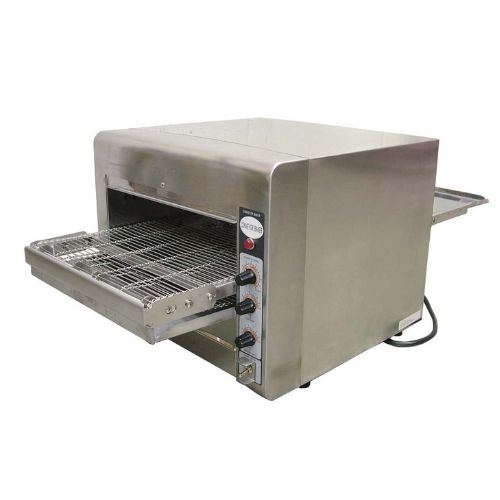 Using Omcan's ventless convection oven with a 14-inch conveyor belt to bake/reheat pizza has never been easier.
Built-in infrared heaters with variable speed and temperature settings will keep your food at constant temperatures utilising built-in infrared heaters with variable speed and temperature controls.
Things we liked
Speed control
Various temperature settings
Reheat function
Things we didn't like
Not as long-lasting as other pizza ovens
Star Electric Heater Conveyor Oven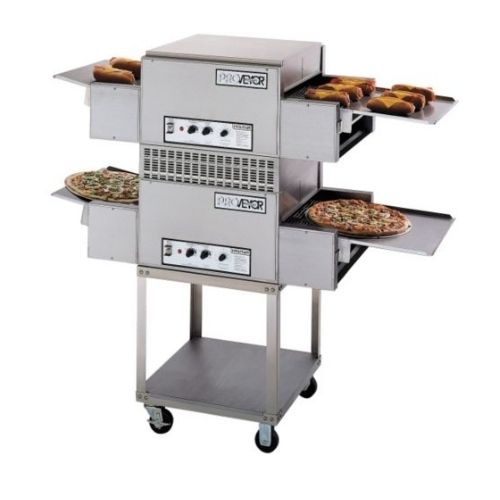 For an affordable price, you can buy a highly efficient conveyor pizza oven that could make your kitchen work easier and less error-prone.
Get one of the top commercial conveyor pizza ovens, which will revolutionise the way you work in the kitchen and make every second count. This incredible equipment has so much to offer that you'll be happy with the outcome.
Things we liked
Affordable
Easy to clean
Multifunctional cooking
Best Pizza Deck Oven
Gardeco Pizzaro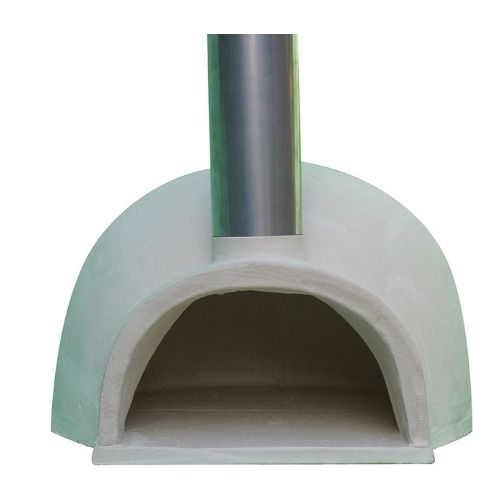 Cooking pizza in a clay oven is the epitome of authenticity. This elegant design features a cooking dome and chimenea constructed of traditional, crack-resistant clay that is guaranteed for five years against thermal stress breaking.
You can make two to three pizzas at a time with just one fire! The rustic oven cavity must first be preheated from the inside.
Things we liked
Five-year guarantee
Cooks multiple pizzas
Easy to set up
Things we didn't like
It takes awhile to heat up
Alfa Venere Pizza Oven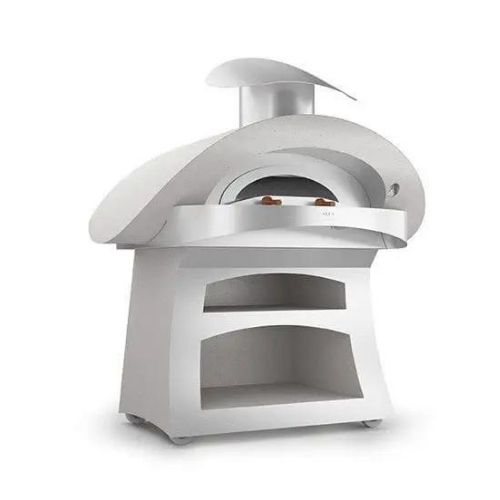 Do you have £5000 to spare? How about this extremely stylish wood-fired model from Alfa, the Italian pizza oven experts?
This stunning hand-made piece of creative pizza-baking is created out of double-thick fireclay, swaths of heat-resistant stainless steel, and sheets of iron, weighing in at a monstrous 93kgs when the oven and optional stand are combined.
Things we liked
Stunning design
Robust pizza oven
Great for outdoor cooking
Waring Commercial Double Deck Pizza Oven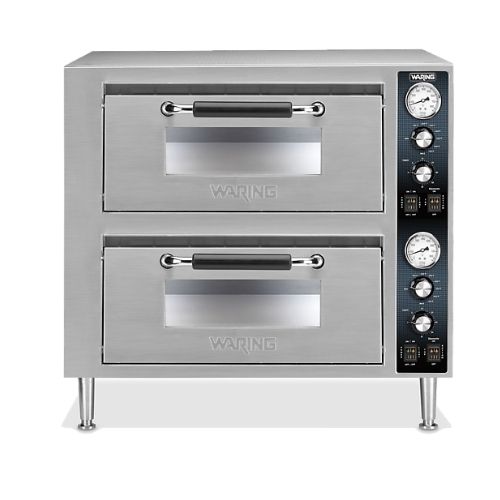 With the Waring Commercial WPO750 Double Deck Pizza Oven, you can't go wrong. This model has a vertical construction that allows you to stack your pizzas on top of each other rather than side by side, as most traditional models do.
The Waring Commercial WPO750 costs just over £1000. It has a 28-inch-wide electric oven with a double-deck and separate compartment doors for easier access.
Things we liked
Vertical stacking
Audible alerts
Cooks multiple pizzas as the same time
Things we didn't like
Only has a one year warranty
Best Convection Pizza Oven
Black & Decker Countertop Convection Toaster Oven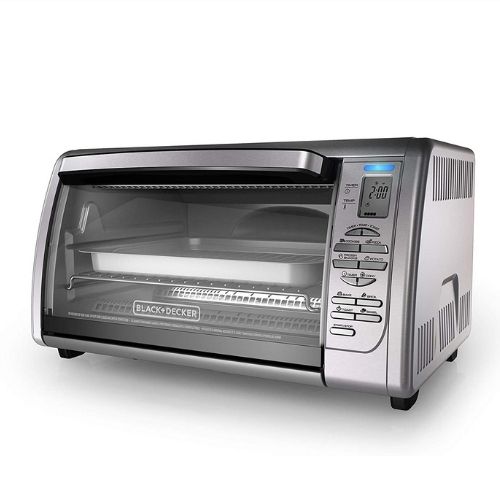 It will not let you down in terms of the end product. It helps you prepare an even and crispy dinner, with cooking options ranging from bagel and pizza to frozen snacks, potatoes, and cookies.
It's large enough to fit two 12-inch pizzas, casserole dishes, and a whole chicken, and it's designed to cook everything to perfection by circulating hot air around the dish. This is a dependable, high-quality product with a good design and useful functions that make cooking easier.
Things we liked
Multiple cooking options
High-quality design
Large capacity
Things we didn't like
Not ideal for toasting bread
Toshiba Digital Toaster Oven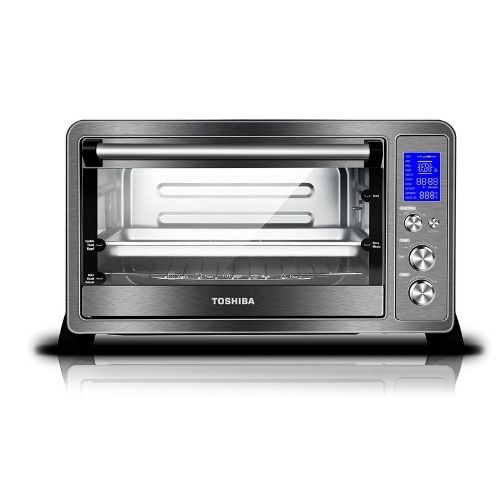 The Toshiba Digital Toaster Oven is a product that offers excellent value for £113. It features functionalities that allow you to prepare almost anything and adjustable racks that allow you to store dishes and containers of various sizes.
Toshiba has thought of everything with its numerous accessories, including a removable crumb tray, rotisserie kit and lifter, supporting rack, baking pan, and rack clamp.
The convection fan circulates air throughout the oven, ensuring quick and even baking. The convection setting seals in all of the aromas and liquids, resulting in a moist and tender meal. It has a wide range of operations, ten cooking settings, and a large, easy-to-clean interior.
Things we liked
Budget friendly
Removable crumb tray makes it easy to clean
Even cooking
Nuwave Bravo XL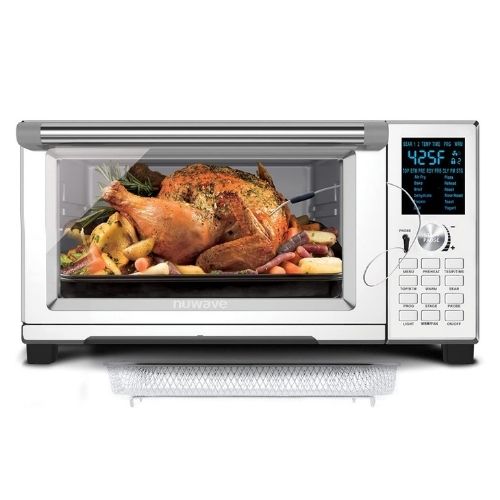 This oven allows you to monitor the food's internal temperature while it cooks. As a result, when the oven reaches the set temperature, it will turn off.
When it comes to this Nuwave model, quality is one of the first things that come to mind, starting with the stainless-steel material, tempered glass, and non-stick enamel pans that come with it.
This costs around £140, which is an amazing price for the quality of the pizza oven.
Things we liked
Automated turn off function
Comes with non-stick pans
Cheap pizza oven
Things we didn't like
It gets quite hot on the outside
Best Outdoor Pizza Oven
DeliVita Pizza Oven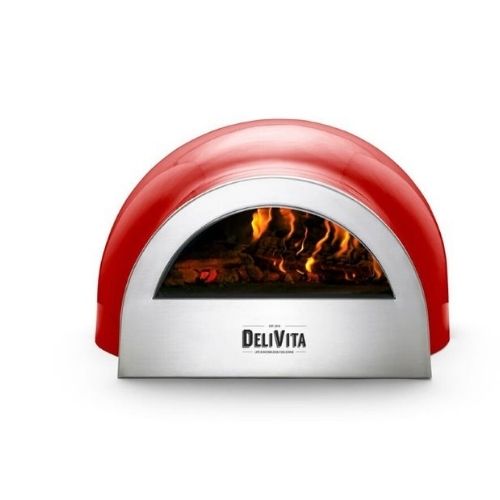 This is a good overall outdoor pizza oven, is now available on their website. The DeliVita cooks as well as it looks, and it's wood-fired and big enough for 12-inch pizzas, thanks to the traditional clay base. This ensures it reaches the perfect cooking temperature in under 30 minutes while remaining safe to touch on the outside.
The bases have a fantastic wood-fired flavour, and they can simply be flipped within the oven to modify whether you want them crispy or not.
Things we liked
Large capacity
Quick cooking
Fuel friendly
Things we didn't like
It does not come with any accessories
Ooni Karu 16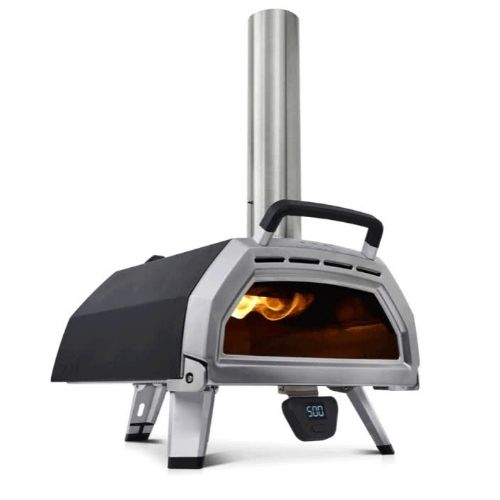 This pizza oven is a lot more affordable than the DeliVita. The Karu 16 comes with a front-mounted digital thermometer that will show you that the oven, like most Ooni ovens, will be ready to receive your dough in 15 minutes. We found it to be only a shade under 14 minutes when using wood.
The business has re-engineered the design with the full glass door to provide a real-time view of how your culinary masterpiece is performing under the heat.
This was a huge plus because one of the most important things to remember while making great pizza is to keep your eyes on it as soon as it hits the hot stone. You'll only need sixty seconds to finish the pizza.
Things we liked
Cooks pizza in 15 minutes
See through glass door
See through glass door
Stadler Made Outdoor Oven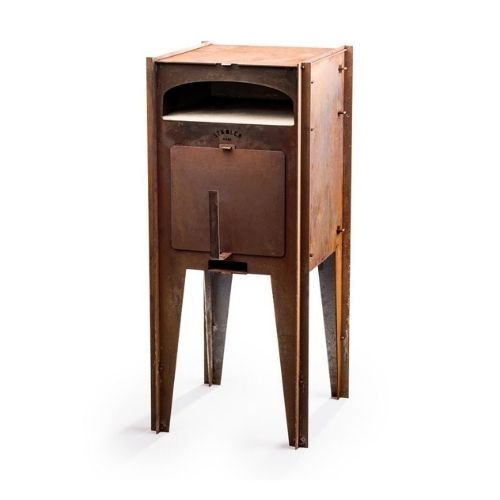 This outdoor oven pizza is so well-engineered that once it's put together, you can count on uniform heat distribution over the cordierite baking stones.
This means you won't have to keep fiddling with the dough, which can lead to sticking and tearing, and the oven will give a crispy 11-inch base in four to five minutes.
Because the oven's corten steel parts are sent flat-packed, you'll need to put it together, but thanks to the well-thought-out design, you won't need to be extremely handy to get it up and running.
You'll have to wait slightly over half an hour after the fire is set before you can begin cooking, but the pizza quality is consistently superb, with smoky and flavourful crust.
Things we liked
Easy to set up
Even heat distribution
Made from durable materials
Things we didn't like
It takes awhile to heat up
Best Wood Fired Pizza Oven
Igneus Classico Pizza Oven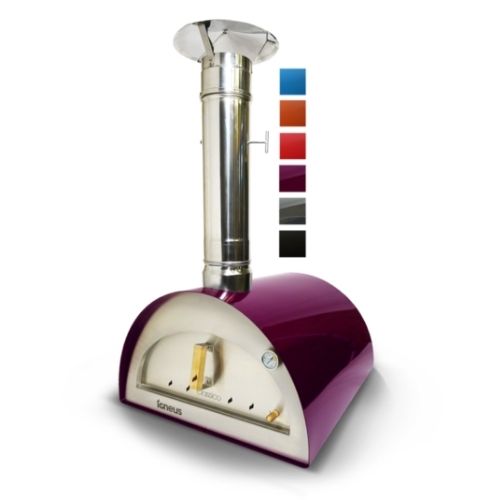 With its typical wood-fired opening large enough to cook two ten-inch pizzas at once and a cooking surface of 23 inches by 23 inches, this wood-fired oven will make you feel like a true pizzaiolo.
The Classico takes only 13 minutes to reach the needed 500°F and produced crisp, light pizzas with little turning, with the design imparting a genuinely realistic woody flavour throughout the pie.
Please be aware that the oven will get hot to the touch and will take several hours to cool entirely.
Things we liked
Heats up quickly
Produces authentic flavour
Multifunctional cooking
Things we didn't like
It takes awhile to cool down
OFYR Pizza Oven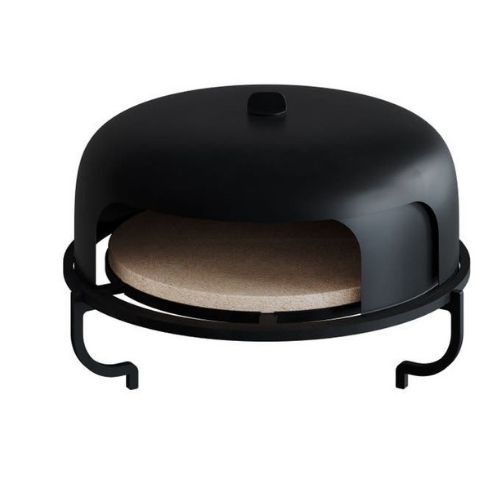 Cooks ten-inch pizzas on top of the natural wood fire opening. The stone is inlaid on a double-sided cast iron plate.
The closures cleverly swivel around one another to show a large aperture that makes it easy to place your pizza on the stone and then close to maintain the temperature while cooking.
Because you can't always keep a watch on the pizza, some guesswork is required, but waiting 25 minutes for it to heat up, you'll have your pizza just under two minutes.
Things we liked
Easy to use
Pizzas cooked in under 2 minutes
Ideal for cooking 10-inch pizzas
Things we didn't like
It takes 25 minutes to heat up
Ooni Fyra Portable Outdoor Pizza Oven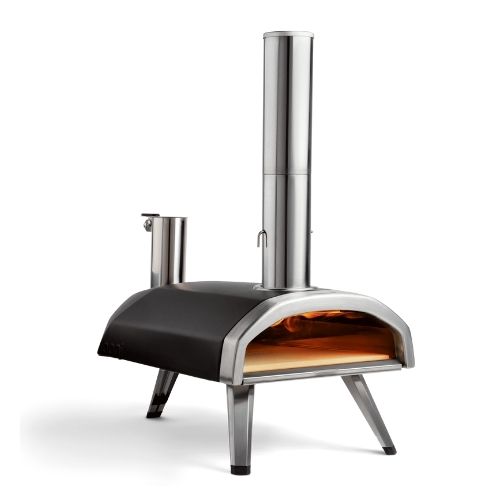 When it comes to price and quality, this wood-fired pizza oven strikes the perfect balance for an affordable price.
Getting the perfect pizza may take a few tries, but if you get the knack of flipping the pizza as it cooks, you'll be able to make evenly cooked, authentic Italian pizza whenever you want!
To clean the Ooni Fyra, simply empty the fuel tray in the back of the oven and wipe down the pizza stone. Its legs fold out for use on wooden, steel, or stone tables, and the chimney twists off to allow you to store it inside the oven and transport it.
Things we liked
Easy to clean
Portable pizza oven
Cooks stone-baked pizzas in under a minute
Things we didn't like
Difficult to get the temperature right
Best Gas Pizza Oven
Vango Camp Chef Pizza Oven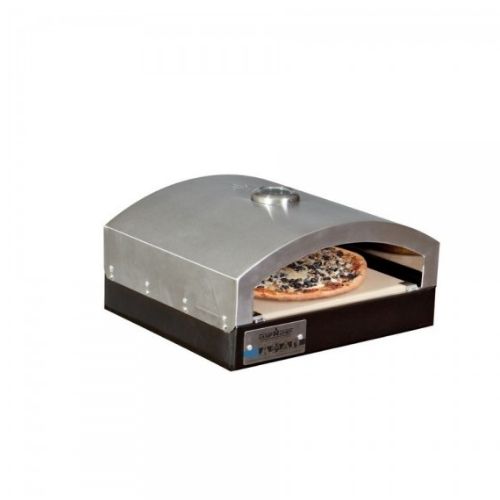 This is a terrific way to repurpose a regular camping cooker to make something a little more unique. It's designed to work with the manufacturer's camp chef cooking system.
The oven stands on top of the gas burners and uses them as a heat source to heat the ceramic pizza stone.
When the stone is ready to cook, you can use a handheld infrared thermometer. The oven makes delicious ten-inch pizzas, with the stone pulling moisture out of the dough for a crisp foundation and chewy crust.
Things we liked
Ideal for cooking 10-inch pizzas
Even heat distribution
Portable design
Things we didn't like
It can be difficult to get the pizzas in and out
Ooni Koda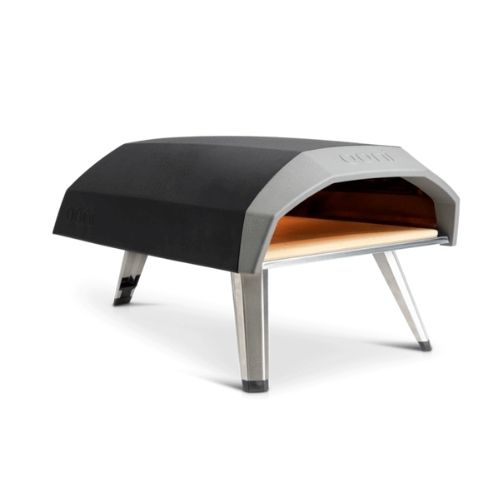 The legs fold away for easy storage, and the temperature is controlled by a dial. It doesn't get any easier than this. It is appreciated that the fact the gas burner is incorporated. If you get the Ooni Fyra, you'll have to pay extra for this, but the Koda comes ready to use right out of the box.
You can cook your pizza in 60 seconds, and it heats up quickly to reach 500 degrees in 15 minutes.
Things we liked
Easy to store
Cooks pizza in just one minute
Heats up quickly
Things we didn't like
It can be difficult to rotate the pizza
Firepod Pizza Oven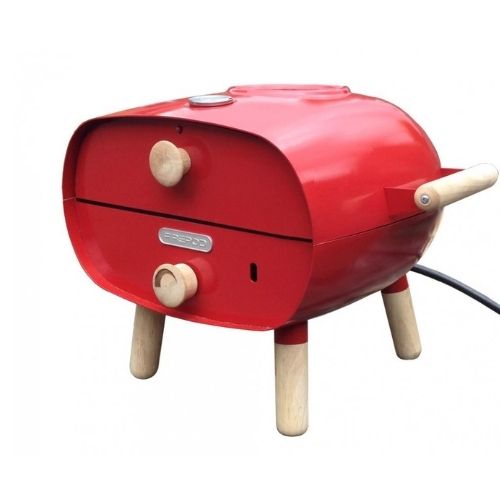 Because the Firepod is powered by patio gas, it heats up quickly and is simple to operate. Unlike the other models, Firepod recommends baking pizzas at 350 degrees Celsius (50 degrees lower than the standard).
Another excellent feature of this model is that it can be used as a full-fledged gas bbq pizza oven by simply replacing the pizza stone with the optional double-sided Griddle and cooking a few sausages or a Full English breakfast.
Things we liked
Simple to use
It comes with additional pizza tools
It works as a barbecue
Things we didn't like
Hard to lift while packaged
Best Electric Pizza Oven
Sage Smart Oven Pizzaiolo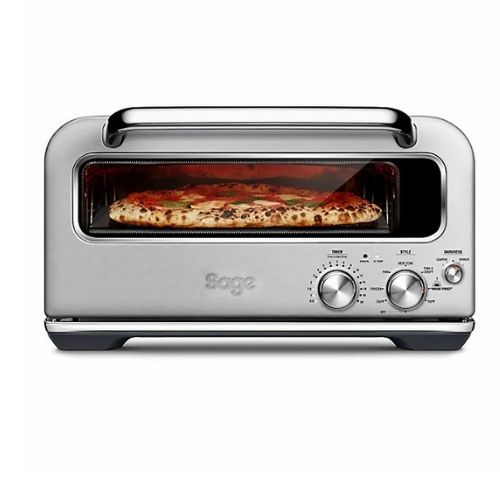 The Sage Smart Oven Pizzaiolo is a cutting-edge indoor pizza maker. It can reach 400°F and cook true Neopolitan-style pizzas, deep-dish pizzas, and even frozen pizzas. Despite its electric nature, the Sage Smart Oven Pizzaiolo provides the authentic wood-fired pizza experience without the hassle of setting up an outside oven.
The immediate benefit is that you may enjoy freshly made pizza all year long, and your pizza party will never be rained out.
The Sage Smart Oven Pizzaiolo's obvious disadvantage is its expensive price. Still, when you consider that it plugs directly in, comes with a pizza peel, and doesn't require a thermometer to determine whether it's hot enough to cook your pizza precisely, it's worthwhile.
Things we liked
Authentic wood-fired taste
7 preset settings
Crust darkness function
Ferrari Delizia Pizza Oven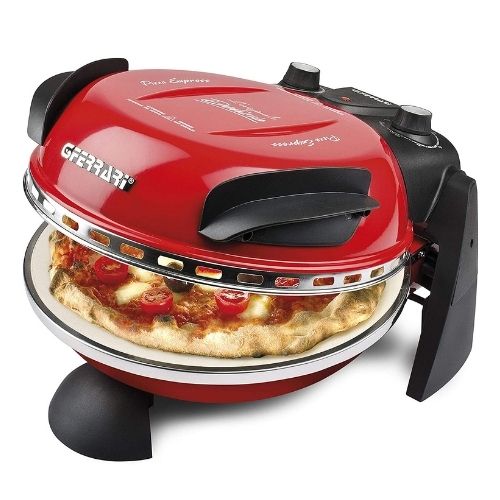 The thermostat assists you in choosing one of three temperature settings, and an indicator light indicates when it is turned on and ready to use. This is considered the best temperature for creating pizza since it produces a crispy base and even cooks quickly.
A refractory stone hot plate adds to the original flavour of the finished product, giving it the same feel as old wood-fired clay ovens.
It makes adding and removing pizzas from the oven easier, but it may also be used with metal peels if you wish to buy them afterwards. Only thin-crust pizzas should be baked in this oven; the dough rises a lot, and a deep pan or packed crust would end up reaching the lid.
Things we liked
Three temperature settings
Helpful indicator light
Ideal for 11-inch pizzas
It only takes 3 minutes to cook pizza
Things we didn't like
Not ideal for thick crusts
Giles & Posner Italian Stone Baked Bella Pizza Maker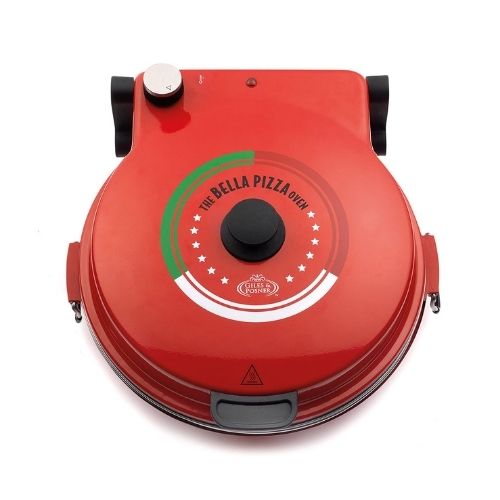 It functions similarly to a panini or waffle maker, sitting on top of your kitchen counter and producing excellent results in the privacy of your own home. It's compact, but thanks to smart heating technology, it cooks at a startlingly fast rate that traditional oven appliances can't match.
It retains many of the characteristics of a large outdoor oven, such as the removable pizza stone. On the other hand, the temperature is easier to adjust with five settings to pick from, and you don't have to worry about adding fuel because it's electric. There's also no smoke, which is fantastic if that's something that bothers you.
Things we liked
Smart heating technology
Five adjustable heat settings
Compact design
Things we didn't like
The stone needs to be left to cool to prevent a burnt base
Best Small Pizza Oven
La Hacienda Stainless Steel BBQ Pizza Oven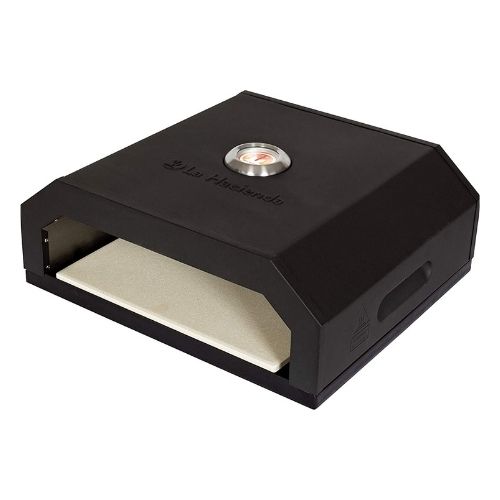 This Hacienda portable oven is 40 x 35 cm in size, so you'll need a BBQ that fits it. It has a utilised a barrel-shaped charcoal grill, but it would also fit a square or oblong gas grill, as well as a huge spherical charcoal grill — double-check dimensions before purchasing.
The housing distributes heat evenly throughout the pizza, ensuring that both the top and bottom cook to perfection. The temperature dial is very user-friendly; rather than having numerical increments, it is divided into three sections: warm, perfect, and hot. We discovered that the best pizza was made by cooking on the hot side of 'ideal.'
Things we liked
Even heat distribution
Easy to use
Portable design
Gozney Roccbox Pizza Oven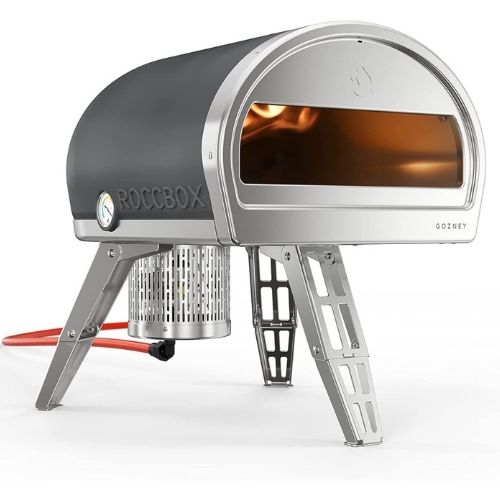 The Roccbox is an investment as you get a pizza oven with excellent build quality and perfect functionality for the money. Gozney is a high-end brand, and the Roccbox structure reflects this.
Even if you are new to the art of dough-slinging, the completed pizza is restaurant-quality. It is, however, less portable than other compact pizza ovens, such as those made by Ooni.
If you like pizza and plan to use the oven frequently, get the protective cover and put it out all summer so you can quickly light up the gas and have pizza.
Things we liked
Robust design
Multifunctional cooking
Simple to use
Things we didn't like
Not as portable as other products
Best High-Quality Pizza Oven
Gozney Core Pizza Oven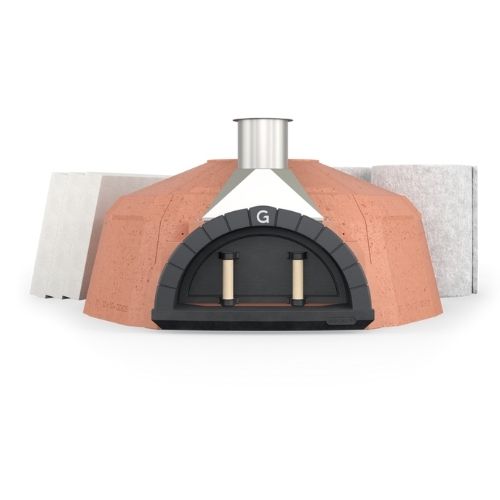 For an affordable price, you can now buy a restaurant standard pizza oven that makes the best quality pizzas! If you want to take your pizza baking to the next level, consider investing in this kit oven.
As the name implies, the core is intended to serve as an internal oven for any outward design you may have in mind. The modular kit comes in one box; all you need to do is provide the base and outside finish.
Given the size of the oven, which can cook 12-inch pizzas at a time, it takes around 30 minutes to heat up. The heat regulation and retention were excellent, and the pizzas had a delicious smoky flavour to the dough; lightly charring the crust and crisping up the toppings required minimal control.
Things we liked
Affordable
Ideal heat regulation
Offers smoky flavour
Things we didn't like
It can take up to 30 minutes to heat up
Super Grills Outdoor Pizza Oven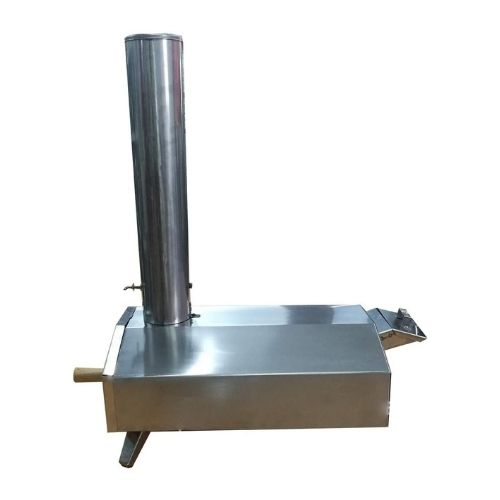 This is one of the more flexible ovens on the market, and most customers like how simple it is to operate while still providing high-quality results. This means that even if you don't bake pizza every week, the Super Grills Outdoor Pizza Oven can provide you with a world-class baking experience.
Another significant benefit is that this equipment may be used to prepare a variety of other delectable dishes. It inspired me to branch out and try other things, such as some amazing BBQ recipes and even loaves of bread and pasta.
Things we liked
Simple to operate
Efficient cooking
Multifunctional cooking settings
What to Consider Before Buying a Pizza Oven
Type of Pizza Oven
As you can see above, there are a wide variety of pizza ovens sold worldwide, so before buying a pizza oven, think about who you are cooking for, how you like your pizza, and which would suit your home more.
Price
Pizza oven prices range from less than £50 to several thousand pounds, depending on the model and size you choose. Most portable pizza ovens cost between £200 and £300, so make sure it's perfect for you before you buy.
Ooni pizza ovens, including the Ooni Karu wood-fired pizza oven and the Ooni Koda gas pizza oven, are normally available for around £250.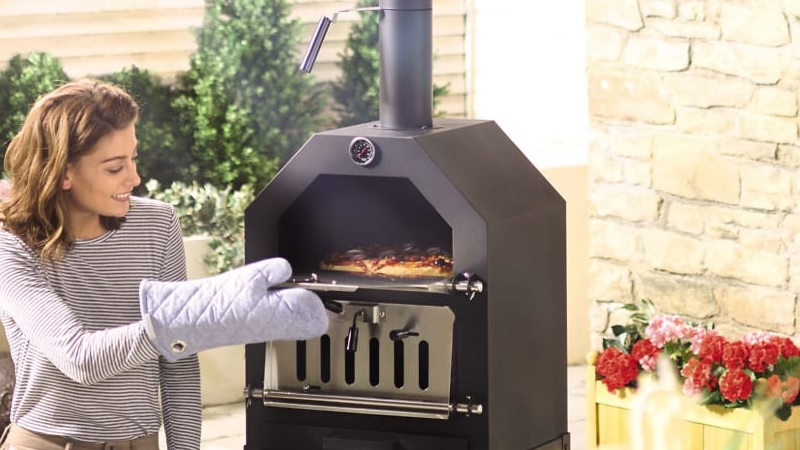 Ovens Get Hot on the Outside
Because most tiny pizza ovens are made of metal, they can get quite hot on the outside as well as the interior unless they have some form of heat-resistant coating.
If there will be children or dogs present while cooking, this is something to keep in mind, as you may want to opt for pizza ovens with a heat-resistant body.
FAQs
How do you build a pizza oven?
Make a plinth. It must be sturdy. The plinth frame might be made of bricks, breeze blocks, or wooden sleepers. Make a shallow trench by clearing the ground. Use cement if the frame is made of bricks or breeze blocks. Screw the pieces together if you're using wood.
Make the dome mould. To form the clay, make a mound of damp sand. Place it on the plinth you've just constructed and build up the dome-like a gigantic sandcastle. It should have a bottom diameter of 80cm and a height of 40-45cm. Keep an eye on it from above to ensure it's still around. Cover it with damp newspaper when it's finished to keep it from drying out while you puddle the clay.
Roll handfuls of the puddled clay/sand mix into 20-cm-long, 10-cm-thick sausage shapes, then stack them up in circles around the sand dome, starting at the base (leave the newspaper on) and working your way up until the dome is completely covered.
Cut out the entrance to your oven with a kitchen knife. Once you've carved the entry, scoop out the sand within. It needs to be big enough to slide a roasting tray through it but small enough to keep the heat in. Allow the dome to dry for at least one night. Light a small fire inside the next morning to help the clay dry out even more.
To establish the angle for the arch, use bricks and more sand/clay mix as mortar and build an arch to fit around the entryway. More clay mix is used to secure the arch to the clay dome. Next, create a clay collar to hold the chimney in place by cutting a hole in the dome's ceiling near where the arch joins the dome.
Four litres of slip should be made (a mixture of clay and water with the consistency of cream). Stir in 14 litres/6 kilogrammes of wood shavings until thoroughly combined. Apply the insulation layer to the clay dome and wait two hours for it to dry.
This is a significantly larger version of the first oven layer. Puddling the clay and sand together is a good way to combine them. Make sausage-shaped bricks and firmly press them together to cover the insulation layer to a thickness of 7-10cm all around. As in step 3, smooth the surface. Clean away any residual sand or debris after the finished oven has had a chance to cure for a day or two ... And now you're all set to go!
What can you cook in a pizza oven?
When you buy a pizza oven, you don't only just pay for this to make only pizza. It can cook roasted vegetables, baked/grilled fish, steak, flatbreads and jacket potatoes.
Is a pizza oven worth it?
Pizza ovens are a great purchase because they may help you save a lot of time. They are, however, more energy-efficient, as they take less time to preheat and do not heat the entire house. However, we believe that what you save in terms of time is lost in terms of pizza quality.
How long do you cook a pizza in the pizza oven?
The brick oven is designed to cook pizza rapidly due to the considerable heat trapped in the dense walls. The radiant heat from the fire and the heat rebounding off the inside walls of the oven crisps the outside of the pizza quickly at such high temperatures. As cooking time is reduced, you can cook a pizza in 10-15 minutes.
Is wood fired pizza healthier?
Because fruit and vegetable toppings on a pizza are cooked much more quickly in a wood-fired oven, they retain more antioxidants and nutrients. If a pizza takes longer to cook than in a standard kitchen oven, it will lose nutritional content.
Sources