kitchen & cooking
Best Kitchen Hot Water Tap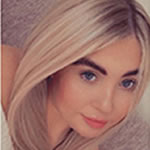 Kitchen hot water taps are becoming increasingly popular as they offer instant access to hot water.
There are numerous advantages to using an instant hot water tap. You could be tired of filling and boiling your kettle every time you want a hot drink, for example.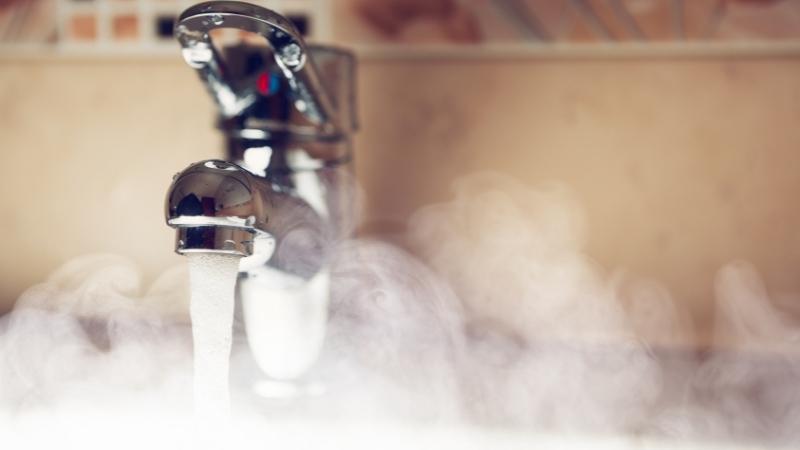 In this article, we will discuss everything you need to know about kitchen hot water taps, how they work and the different types of kitchen hot water taps.
We have also compiled a list of some of the best kitchen hot water taps available to help you choose the right one for your home!
What is a Kitchen Hot Water Tap?
First, let's explore what a kitchen hot water tap actually is...
With a kitchen hot water tap, there's no need to boil a kettle because a boiling water tap provides hot water quickly.
The water is kept at the proper temperature in a device under your sink so that when you turn on the faucet, you get blazing hot water immediately.
When compared to using a kettle to make numerous cups per day, this can help you save money, time, and energy.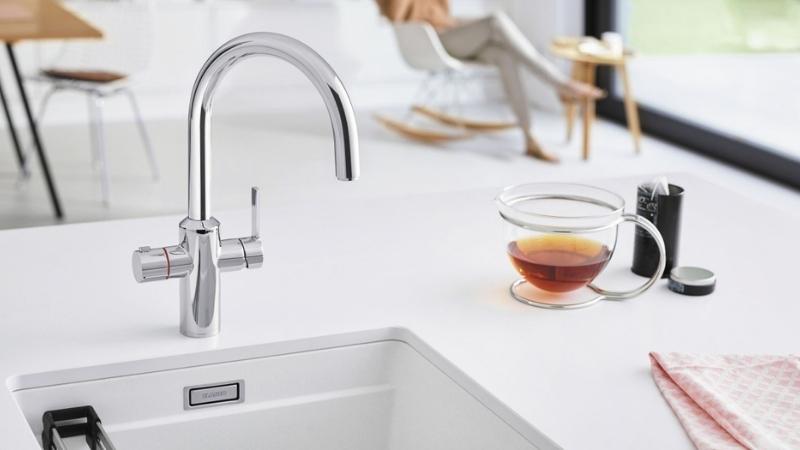 You can purchase a kitchen hot water that blends in with your kitchen's decor, as they come in a variety of forms and sizes.
The water from an instant hot water tap can reach temperatures of up to 98°C.
People believe that installing a boiling water tap requires a lot of effort, but this is not the case. Boiling water taps are typically powered by a regular outlet, and while we recommend hiring a plumber, the installation is simple.
How Does a Kitchen Hot Water Tap Work?
Kitchen hot water taps typically need to be installed by a plumber if it is an advanced tap. Therefore, this can be a pain, but you don't want to take the risk and DIY and have the chance of breaking your sink.
Kitchen hot water taps are so easy to use, as all you need to do is turn your tap on like you would normally and there will be an option for boiling water just like there is cold and hot. The boiling water comes out instantly just like it would out of the kettle.
Instant hot water taps function similarly to an electric shower. Water is drawn from your home's mains supply and is quickly heated by an electrical element within a well-insulated storage tank.
In contrast to a shower, most instant hot water tanks heat water to between 96 and 98 degrees Celsius. This offers a constant supply of extremely hot water without the need for a kettle.
Types of Kitchen Hot Water Taps
Are you looking for the greatest boiling water taps?
There are a variety of kitchen hot water taps available, some of which can reach temperatures of up to 100°C and provide litres of boiling water in an instant, ideal for boiling pasta or making tea.
Knowing what type of tap you want before purchasing is critical since you want one that will meet your requirements.
To help you choose the right one, here are some of the popular types of kitchen hot water taps.
Hot Only Instant Hot Water Taps
These are perfect as a backup tap, frequently positioned on a kitchen island near where you might make a coffee or cook a meal because they only dispense boiling water.
This type of tap only uses hot water and is unable to produce cold water. However, if you only need quick hot water, this style of tap will be enough for your daily cup of coffee.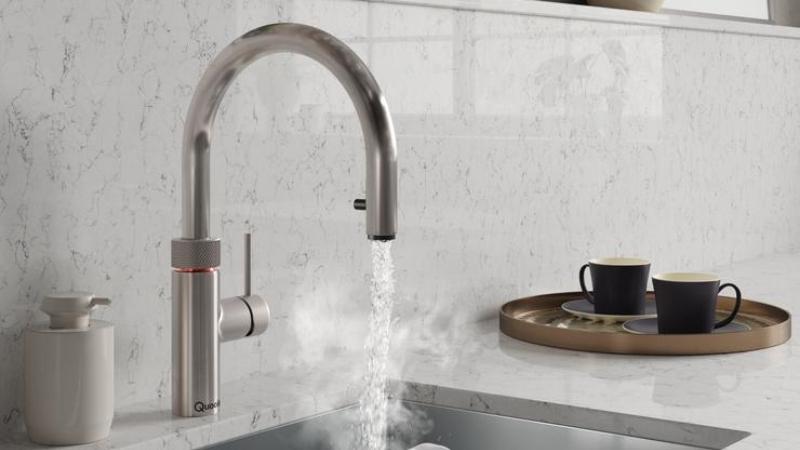 Sometimes you can buy the plug-in versions which stop the cold water working therefore you have to take it off for your tap to work as normal.
The boiling water tap tank is usually found in the cupboard beneath the kitchen sink, which is usually reserved for the kitchen bin or cleaning supplies. Due to this, if you don't have much storage room then this hot water tap may not be ideal for your home.
Hot and Cold Instant Hot Water Taps
Some hot water taps include variants that can dispense both hot and cold water. A chiller or a refrigerator can be attached to the cold-water side. Both sources can be connected to a water treatment system.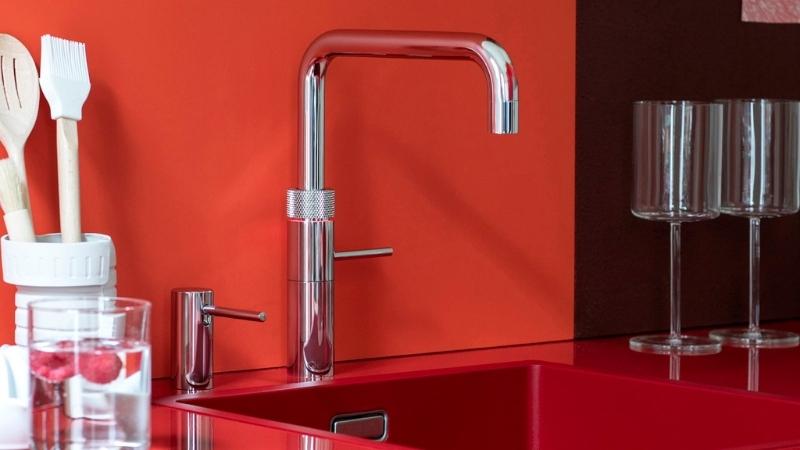 This sort of faucet eliminates the need for a third spout at the sink, namely the purified cold waterspout. As a result, your water is not only cold but also delightful.
Due to this, it gives you the best of both worlds as you have quick access to both freezing cold and boiling hot water.
3-in-1 Hot Water Taps
Boiling water is available from 3 in 1 taps in addition to your standard hot and cold-water supply. For many individuals, this is a convenient solution because the boiling water tap can simply replace your ordinary tap.
So, you don't have to get rid of your old one because it still produces cold and hot water, while also providing boiling water.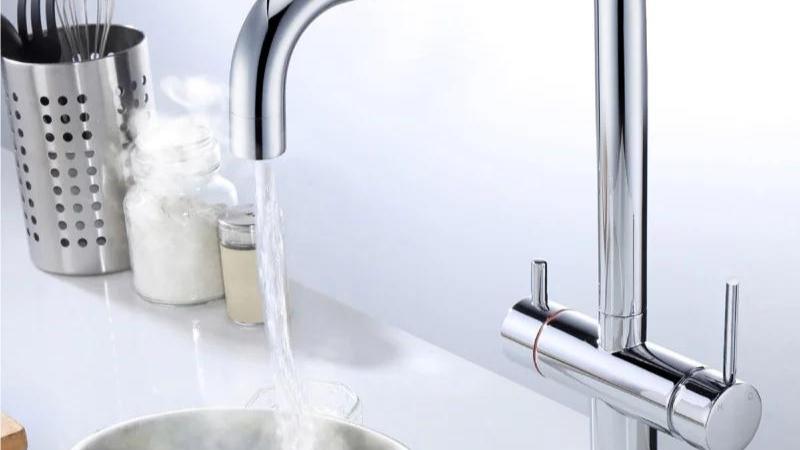 Therefore, if you don't want to get rid of the standard modern-day tap then you don't need to with a 3-in-1 hot water tap as it can produce a variety of temperatures.
It allows your home to be more flexible and you don't have to keep re-heating the kettle when visitors come round!
4-in-1 Hot Water Taps
Standard hot and cold water, boiling water, and filtered water are all available from a 4 in 1 tap. These water filters eliminate pollutants and provide great-tasting water at the touch of a button.
As a result, while you have all the same options as the 3-in-1, you can also filter your water to ensure that it is healthy and clean.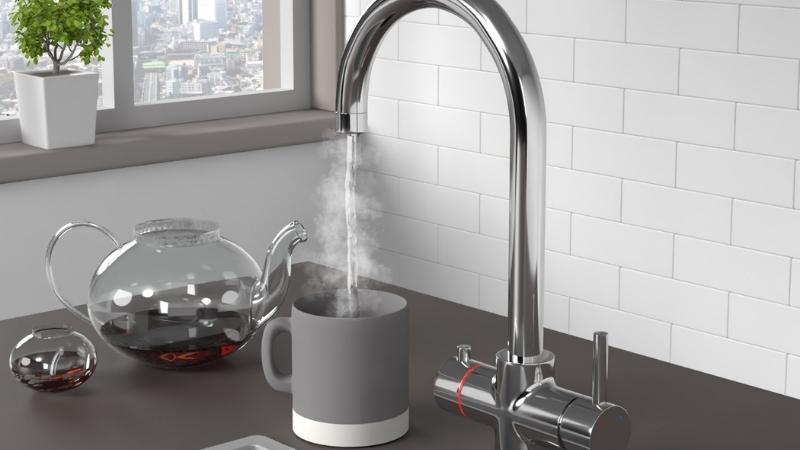 Water filters remove pollutants such as sediment, taste and odour, hardness, and bacteria from the water, resulting in higher-quality water. As a result, a 4-in-1 hot water tap ensures that the water you use, and drink is as clean as possible.
By removing the chlorine, drinking filtered water reduces your risk of getting ill. Therefore, buying a 4-in-1 tap water will massively benefit your health.
Instant 98 Degrees Taps
The water is kept at a high temperature by a small stainless steel electric tank put under the kitchen sink. On the sink, the associated tap is situated at the countertop level.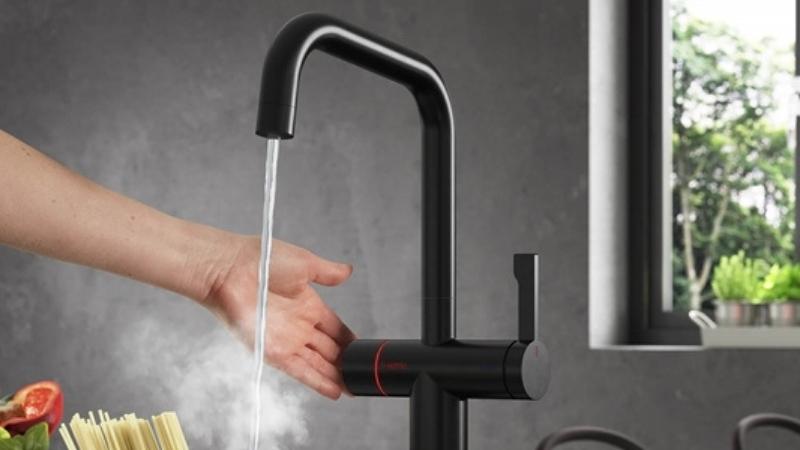 To turn on the tap, all you need to do is press a button or turn the tap to get water that is practically boiling (98 degrees), although it may be adjusted to a lower temperature.
If you're used to filling a kettle and waiting for it to boil, hanging around while the microwave cooks, or turning on a burner under a large pasta pot, you can skip all of that and purchase an instant 98-degree water tap for your home.
Best Kitchen Hot Water Tap
If you require steaming quantities of water at a moment's notice, the greatest boiling water taps, and hot water taps are ideal. It's also a far more elegant alternative than a quick hot water kettle, however handy they are.
If you're looking for a hot kitchen tap, continue reading to learn more about the best hot water kitchen taps available.
Best Hot Only Instant Hot Water Kitchen Taps
InSinkErator Chrome Effect Filtered Hot Water Tap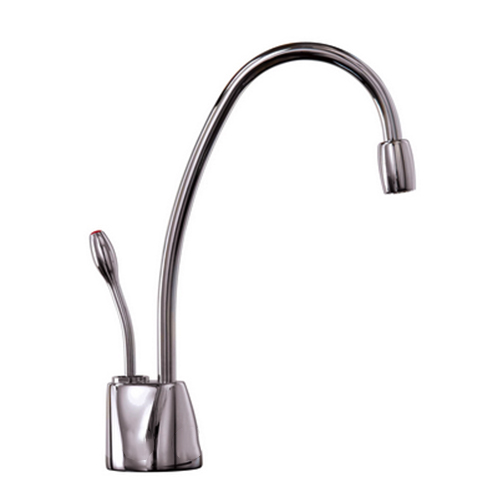 If you don't want a boiling water tap to replace your main tap, the InSinkErator Chrome Effect Filtered Hot Water Tap is a good option. It's inexpensive, has a capacity of only 2.5 litres and is perfect for a quick cup of coffee.
The InSinkErator Chrome Effect Filtered Hot Water Tap is a reasonably priced solution that will sit to the side of your sink in new or existing kitchens.
It offers a streamlined option with a single lever control that is easy to distinguish from the main tap and an auto shut-off lever.
One downside is that it has a smaller capacity and cannot replace a hot and cold tap.
Things we liked
Affordable
Single lever control
TopSer Electric Hot Water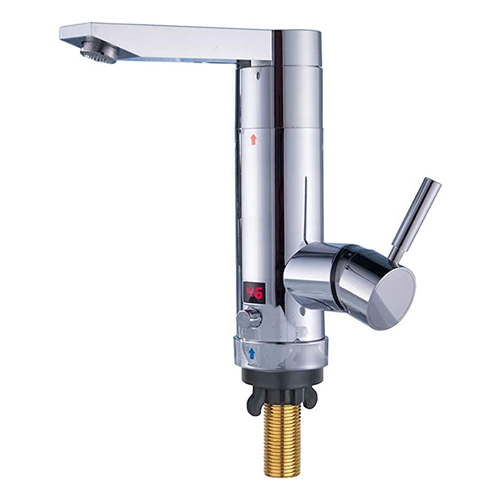 This boiling water faucet has an adjustable power selection feature that prevents frost from forming on your kitchen equipment.
The TopSer faucet has a lot to offer if you want filtered, high-quality boiling water in seconds.
The nickel-chromium multi-core heating elements have been constructed using state-of-the-art precision welding to eliminate dry burning and water leakage.
One problem with this tap is that it struggles to handle huge amounts of water. However, many boiling faucets on the market today are in the same boat.
Things we liked
Adjustable power function
Produces high-quality filtered water
Things we didn't like
It can't hold a lot of water
Titan Life Water Instant Heater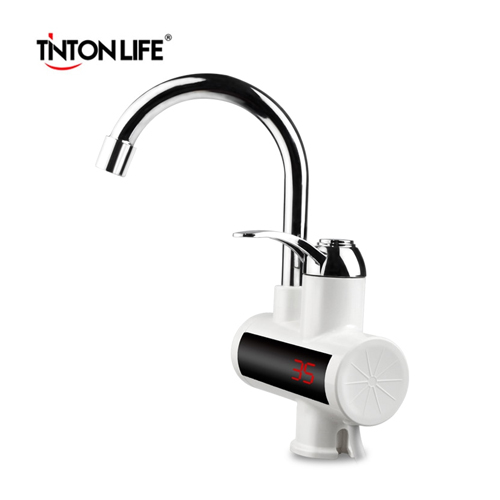 If you're concerned about your budget, this rapid boiling water tap comes at a fantastic price. It also includes everything you'll need to enjoy boiling water quickly.
The TINTON LIFE faucet does not appear cheap, since it features cutting-edge components such as a ceramic spool and a high-purity copper-heating element.
L
The set also includes a socket converter, so you can get started utilising your new tap right away.
The TINTON, however, does not produce as much heat as some of its competitors, with a maximum temperature of around 40 degrees.
If you want the water to get very hot, you must restrict the flow of the water, which means that filling large buckets and washing bowls takes a long time.
Things we liked
Comes with a socket converter
Cutting edge design
Things we didn't like
Only has a maximum temperature of 40 degrees
Best Hot and Cold Instant Hot Water Kitchen Taps
Grohe Red Duo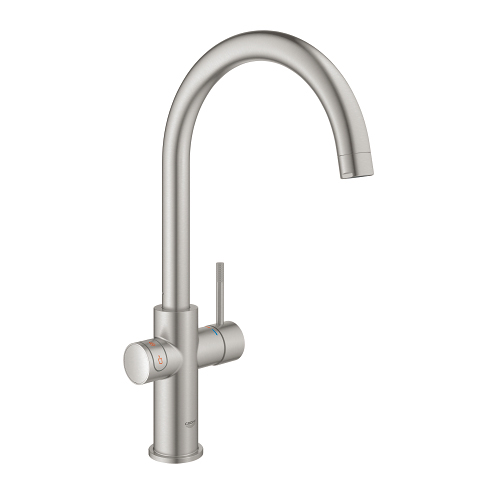 This product has a hot water tap on one side and a conventional hot and cold tap on the other.
The mono variant, on the other hand, is only the hot tap, which you can use in conjunction with your existing tap arrangement.
Depending on your needs, you can pick between a 3 litre and a 5.5-litre boiler. You will, however, require space in your kitchen cabinet to accommodate this installation.
It has a very practical two-step, child-safe technique for distributing hot water, so it's ideal for anyone with a family.
The design and construction quality are also outstanding.
Things we liked
Child safety features
Various boiler sizes
Pudin Electric Instant Heater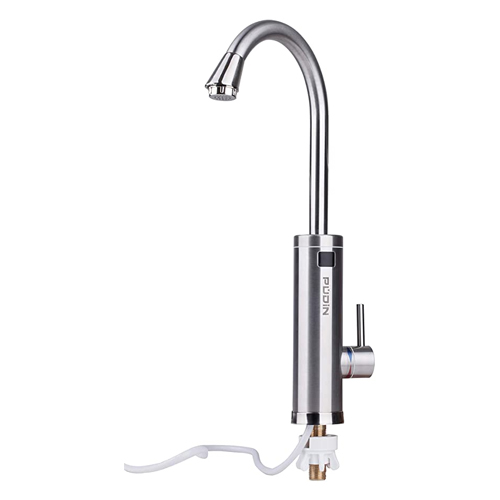 The LED display on this Pudin electric heating tap displays how hot your water is while you're using it, giving your kitchen a more stunning appearance.
You won't have to worry about safety issues with your boiling water tap thanks to the isolated heating technology.
You may also have both hot and cold water in a matter of seconds, making your life easier and more convenient.
If you wish to do it yourself, the hot/cold system also comes with installation instructions.
Things we liked
Isolated heating technology
LED heat display
Bristan GLL RAPSNK3 C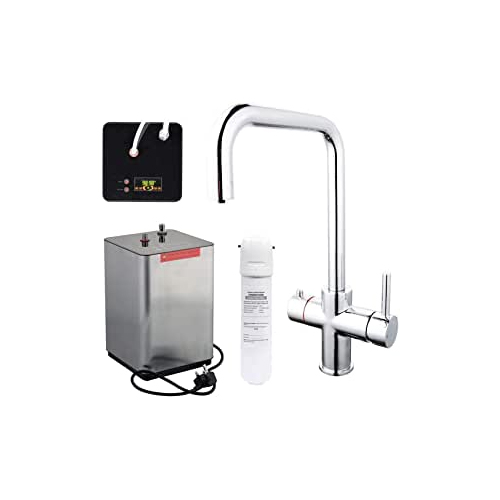 The only difference between this RAPSNK3 and the Bristan RAPSNK4 is that it does not filter the water.
After all, not everyone will use this feature, and if you only require quick hot water, you will save a significant amount of money.
The tap has a curved chrome finish and a compact tank that allows it to fit in almost any place.
At any given time, the tank holds 2.4 litres of water, which is roughly enough for six mugs of coffee.
Another significant advantage is the temperature selection, which allows you to choose between 75°C and 98°C.
However many reviews have complained about how bulky the hot water tap is, but depending on what style you like this could be for you.
Things we liked
Compact tank
Various temperature opti9ons
Best 3-In-1 Hot Water Kitchen Taps
Quooker Fusion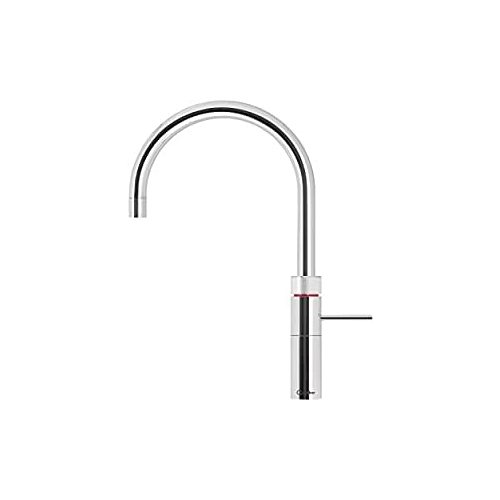 Instant 100°F boiling water, as well as cold and hot water, are all available from a single tap.
Thanks to its double push and flip switch, this 100°C boiling water tap is extremely safe, and it also delivers your steaming water via an aerated spray for added confidence.
The presence of a red warning light ring indicates that the water is being boiled.
Installing a Quooker boiling water tap maybe a little more difficult than other models. However, the advantage is that you may better personalise it to your needs.
Things we liked
Safe design
Red light indicator
Adobe Pronteau Prosteam 3-In-1 Kitchen Tap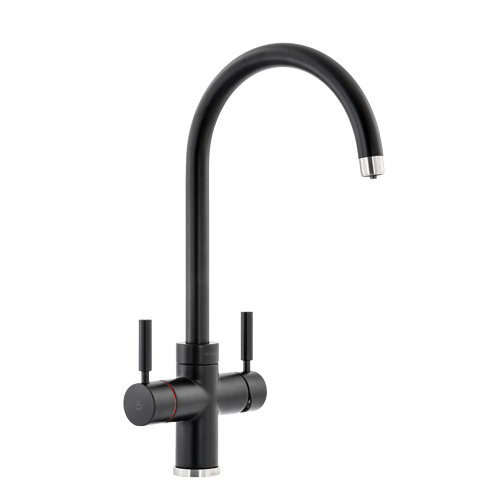 If you're tired of traditional chrome, the Abode PT1105 Pronteau is a terrific alternative because it's available in a variety of finishes in addition to the standard polished silver.
Although the 2-litre water tank isn't the largest, it is well suited to modest homes.
There's hot, cold, and filtered water on tap up to 98°C, and the Abode's full 360° rotation makes it particularly convenient for everyday usage.
The Abode PT1105 Pronteau is also one of the more reasonably priced boiling water taps on the market, which adds to its allure.
Things we liked
Various design options
Fair price
Things we didn't like
Water tank is quite small
Fohen Flex Matt Black 3-In-1 Instant Boiling Water Tap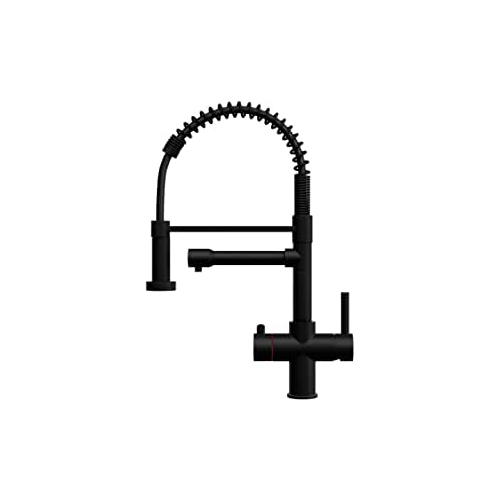 The Fohen Flex Matt Black 3-in-1 Instant Boiling Water Tap has a unique industrial-style design that stands out among the top boiling water taps.
It has a touch-screen control device with a temperature range of 75 to 98°C.
It includes a child-safe function that allows you to start the boiling tap by pressing down on the left handle and twisting it. The main tap, on the other hand, is controlled by the right handle.
In terms of adaptability, touch controls are a major plus. However, the tap does not quite reach 100°C, but it is close.
It comes with a matt black finish that will match the décor of your home and make it aesthetically pleasing.
Things we liked
Touch screen control
Child safety function
Best 4-In-1 Hot Water Kitchen Taps
Franke Omni 4-In-1 Manual Kitchen Tap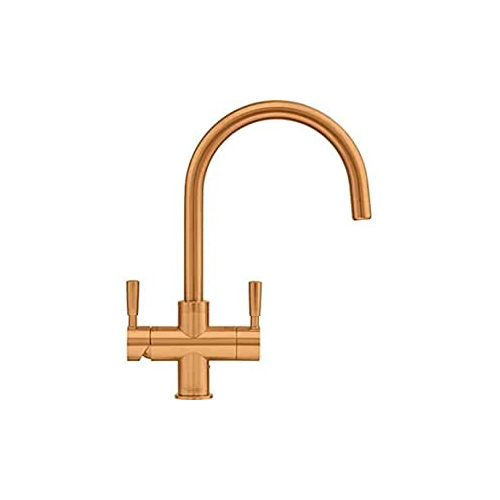 The Franke Omni appears to be a standard tap design at first glance, but it quickly becomes apparent that it has a lot more to offer.
It can supply water at temperatures up to 100°C, and it can deliver a lot of it thanks to a 4-litre tank. We also appreciate how simple it is to put together.
If you have a family, you'll like the child lock, and the design is simple to operate whether you're right or left-handed.
When it's time to change the filter, a warning sounds, and the splash-proof feature comes in handy when filling up pots for cooking.
Things we liked
Large 4-litre tank
Features a child lock
Things we didn't like
Gold design may not match decor
Qettle 4-In-1 Instant Boiling Water Tap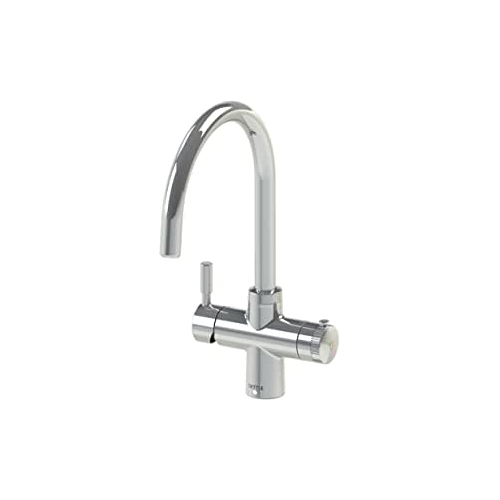 The 4-in-1 Instant Boiling Water Tap from Qettle is noteworthy in that it can provide up to eight cups of water, cold, hot, or up to 100 degrees Fahrenheit, nearly instantly.
The four-litre tank size is enough, and reheating takes only 10 minutes.
It comes with a top clasp to keep it safe from curious toddlers, and the replacement filter cartridges are also recyclable. When they need to be replaced, the LED display on the tap will give you a heads-up.
However, to install the Qettle 4-in-1, you'll need a plumber, but that's generally a good idea with anything involving water.
Nonetheless, it is reasonably priced and offers hot water up to 100 degrees Celsius.
Things we liked
Large water capacity
Recyclable filter cartridges
Things we didn't like
Requires professional installation
Lusso Filtrata Matte Black 4-In-1 Boiling Water Tap (£595 Lusso)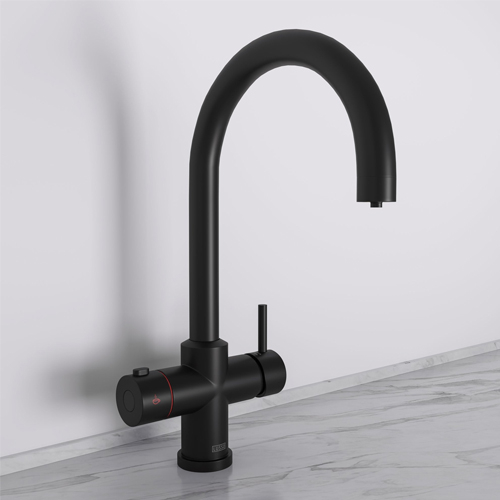 At the touch of a button, this unique Filtrata design produces four various water temperatures, including freshly filtered boiling water, filtered cold water, and regular hot and cold water, all from a single tap.
You won't need separate water filters, bottled water, or even a kettle in your kitchen anymore, and the 360-degree swivel spout makes it easy to use in any situation.
Its contemporary spout is also fully insulated, so it's always cool to the touch, and it's equipped with a childproof safety lever for further security.
The energy-efficient tap comes with the filter kit and boiler system you need to enjoy instant access to fresh, clean water with a temperature of up to 100 degrees celsius.
It comes in matte black, brushed gold, or brushed nickel, so you can choose a stylish finish that best suits your home.
It also comes with the filter kit and boiler system you need to enjoy instant access to fresh, clean water with a temperature of up to 100 degrees celsius.
Things we liked
Fully-insulated spout
Various design options
Things we didn't like
Replacement filter is expensive
Best Instant 98 Degrees Taps
InSinkErator Filters and Boiling Water Tap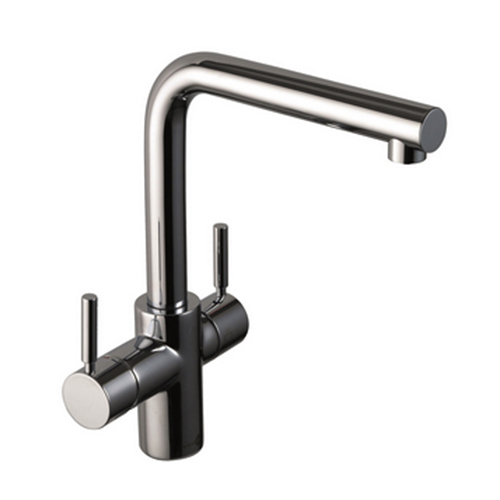 If you're looking for a do-it-all tap that won't take up too much space in your kitchen, this InSinkErator filtered water tap is a great option.
It includes a safety push down lever that can flow boiling hot water up to 98°C.
The InSinkErator's construction quality and general appearance and feel are far more expensive-looking than its price tag suggests.
The InSinkErator's hot and cold functionality makes it a useful, adaptable addition to the sink, and the filter ensures a fresher taste, whether you're drinking a cold glass of water or a hot beverage.
This InSinkErator filter tap's 2.5-litre tank is little in comparison to other models.
Things we liked
Safe push down lever
Great for small kitchens
Carron Phoenix Larunda 3-In-1 Filtered Boiling Water Tap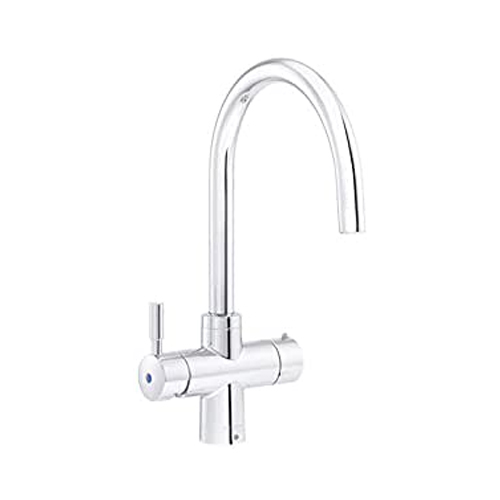 This Carron Phoenix boiling water tap is a sleek new tap that not only dispenses 980C hot water but also hot and cold water from a single tap.
Your hot water will always be free of sediment, smell, and undesirable particles thanks to its water conditioning filter.
However, it takes a long time to dispense huge amounts of water at once, and several reviewers complained that the temperature didn't quite reach boiling.
It also spits occasionally when in use, and sections of the tap get hot to the touch.
The tap comes in a chrome finish and has a timeless swan-neck design that will go with a variety of kitchen styles.
It has a cool-touch spout and a push-and-twist action to prevent the steaming hot water function from being accidentally activated.
Its 2.4-litre tank fits neatly in a cupboard under the sink, and the pricing is reasonable.
Things we liked
Cool-touch spout
Water conditioning filter
Things we didn't like
It can get hot on the outside
Bristan APSNK3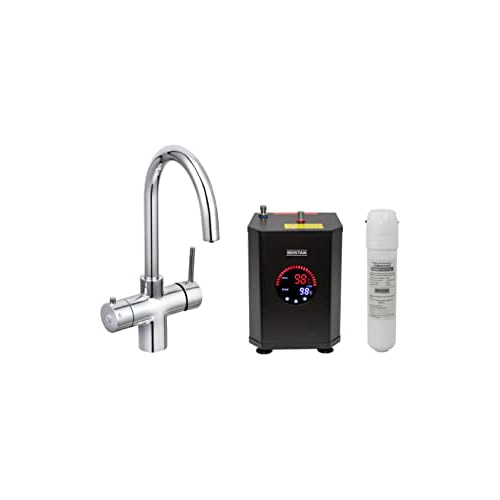 This is an incredible hot water tap with a swivel spout that stays cool to the touch even when the boiling water feature is on.
There are seven temperature settings, including 98°C for making the perfect cup of tea or coffee, sterilising infant bottles, or blanching vegetables.
The tank has a capacity of 2.4 litres, which is enough to make 6 large cups of tea.
A 2-year guarantee is supplied for the tank, and a 5-year warranty is given for the tap.
Though this is a highly useful piece of kitchen equipment, there are some drawbacks, such as the fact that the filter must be replaced every six months or so.
You'll also need to keep up with the tank portion of the set regularly.
A plumber will also need to visit your home to install the hot water tap, which can be inconvenient and costly.
Things we liked
Seven temperature options
5-year warranty
Things we didn't like
The filter needs to be replaced regularly
What to Consider Before Buying Kitchen Hot Water Taps
Before you purchase a hot water tap you don't want to just pick the first one you see, as you want one that will match your décor and meet your budget.
To help you choose the right kitchen hot water tap, here are some factors you consider before making your final choice:
Installation
The latest boiling water taps not only provide quick hot water but also provide hot and cold water from the mains.
You'll need a replacement kitchen sink with only one hole if you're changing from two pillar taps to one boiling water tap. However, if that's too much of a hassle, it's worth looking for the best hot water dispenser as a freestanding alternative.
Temperature
While boiling water taps are commonly referred to be immediate hot water faucets, most boiling water taps only heat the water to 100°C and distribute it at 98°C (many have adjustable temperature settings). Only a few taps can deliver boiling water.
Filtered Water
Look for models with a filter that purifies the water before it enters the boiler tank. This will not only keep limescale from forming in the tank but will also improve the taste of the water.
Price
With prices starting at roughly £500, boiling water taps, hot water taps, and boiler tanks are not exactly 'affordable' by anyone's budget.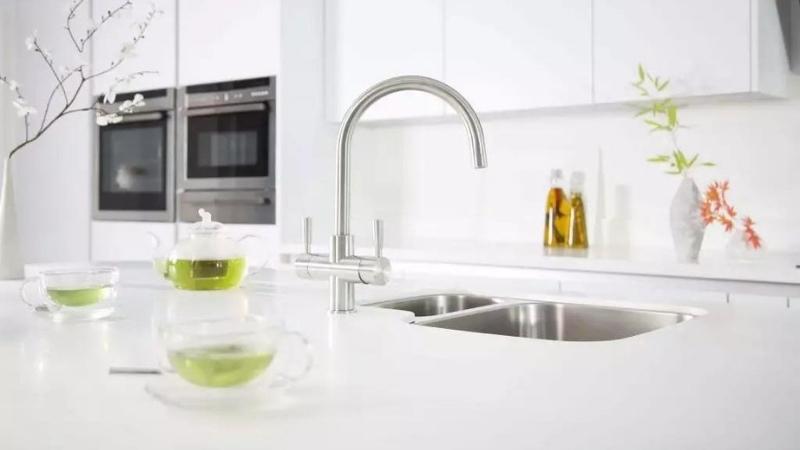 The cost may also increase if you need to hire a plumber to install it, which will add a significant amount to the overall price.
Size
Tanks differ in size and wattage of heating components. The majority are 1/3- to 1/2-gallon and have wattages ranging from 500 to 1,300. Up to 60 cups of hot water per hour can be produced using a 750-watt, 1/2-gallon tank.
Tanks with higher wattage can give up to 100 cups. Most models have a dial for fine-tuning the temperature up to 190 degrees Fahrenheit, and they must be connected to a 120-volt outlet.
FAQs
How much does it cost to install a boiling water tap?
The price of installing a hot water tap varies depending on several factors. To begin, the arrangement of the kitchen will influence the cost of installation, as you'll need a small boiler unit installed near the tap, as well as holes drilled for the tap to sit in.
For a single boiling water tap, it would cost around £250-£300 whereas a 4-in-1 boiling water tap would cost £500-£1200.
What are the benefits of a boiling hot water tap?
Boiling water taps deliver instantaneous hot water, eliminating the need to wait for the kettle to boil, saving time - great for running around on busy workday mornings or making hot beverages for guests.
Also, if you buy a filtered hot water tap then this will offer you cleaner water, as it clears out all the dirt from the water.
How much electricity does a boiling water tap use?
Every time you boil a full kettle containing 1.5 pints of water, it costs roughly 2.5p, and on average, UK homes use the kettle five times a day. This costs roughly 12.5p per day to run if the kettle is always filled, but the Quooker hot water tap, for example, only costs around 3p per day to run.
Are kitchen hot water taps environmentally friendly?
A boiling water tap can contribute to a more sustainable home in comparison to oiling a typical kettle to its full capacity which uses a significant amount of energy and costs roughly 2.5p for every boil.
Are kitchen hot water taps good for you?
Yes, boiling water faucets are beneficial to your health. We believe that boiling water from a tap is safer than boiling water in a kettle, pot, or even a microwave. Another factor to examine is if the spout of the boiling water is insulated.
Sources