kitchen & cooking
Best Ice Cream Maker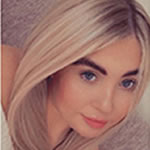 Ice cream is a food that every family loves. However, buying the same ice cream can get repetitive and cost you quite a lot of money. Therefore, you should buy an ice cream maker! It is fun to do, and you can create all different types of ice cream flavours.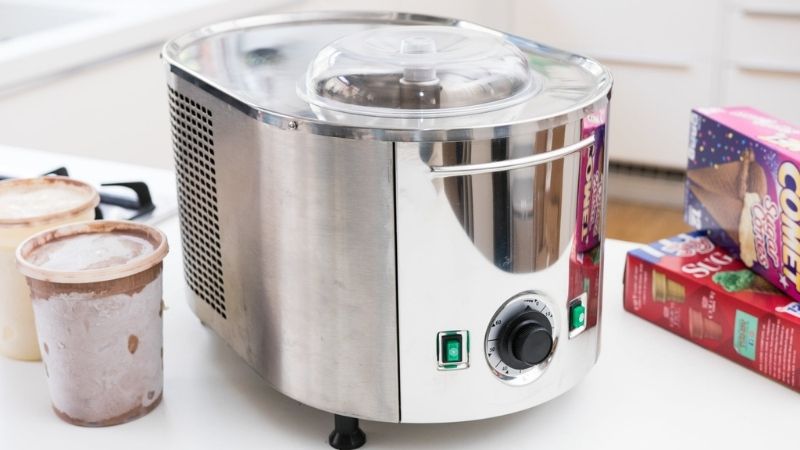 In this article, you will learn more about ice cream makers, such as the different types of ice cream makers, how they work and the best one for your family home!
So, if you are looking on buying an ice cream maker, this article will take you in the right direction on what to buy.
What Is an Ice Cream Maker?
An ice cream maker is a piece of countertop equipment for making ice cream at home. Freeze-first and self-freezing ice cream makers are the two varieties available. The best type for you is determined by various factors, including your budget and available space.
An ice cream maker may provide you with something to keep you cool in the summer heat, as well as much more. If you want to avoid ingredients or just use the freshest produce available, an at-home ice cream machine is great.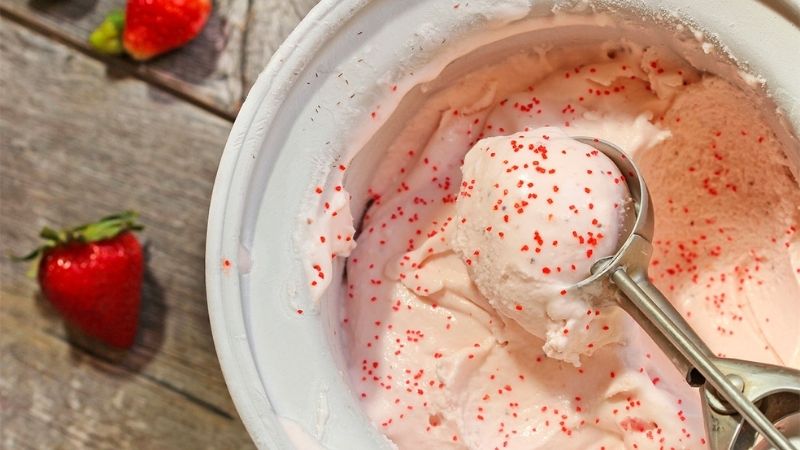 With an ice cream maker, you can create unique, intriguing, and daring flavour combinations that aren't available in store-bought ice cream.
While there are some fantastic vegan and dairy-free ice creams on the market, they can be pricey and come in a restricted variety of flavours. You don't have to miss out on an ice cream maker because you can produce your flavours and save money.
How Does an Ice Cream Maker Work?
All ice cream makers operate in the same way. Make a loose dairy or fruit base first, then pour it into the machine. The machines then turn the base into a rich, creamy dessert using a combination of cooling and constant-yet-gentle churning.
The swirling then introduces a little amount of air, which is essential for achieving a smooth, semisoft consistency; without it, the bases would freeze into hard bricks.
The base is transferred to a clean container and placed in the freezer for a brief firming-up phase once it has thickened to the consistency of a milkshake or soft-serve ice cream.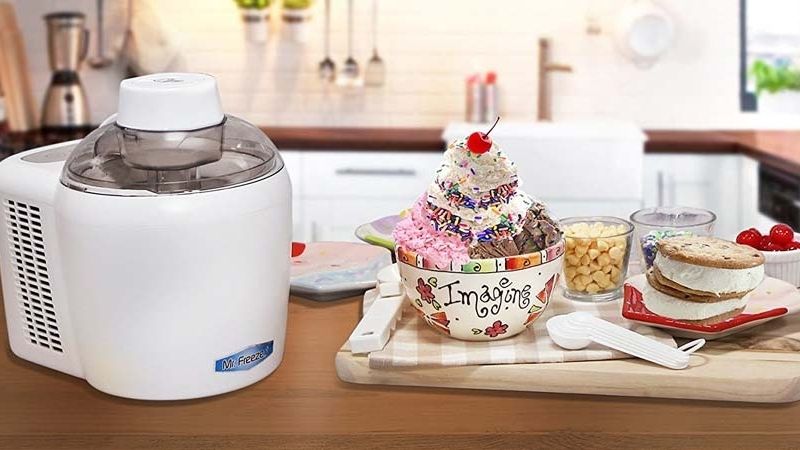 When churning and transferring the dessert, working swiftly is essential to avoid the production of huge ice crystals and unintentional thawing.
Some of the machines required frequent human participation, while others were fully hands-off, and a lot of it had to do with paddle design. Paddles with blades and bars meant to scrape the edges of the bowls while churning were available in a variety of styles.
Types of Ice Cream Makers
We've put up a list of the various types of ice cream makers available on the market. Each has its own set of features and is best suited to making various sorts of ice cream.
We go through every item in depth so you can make an informed decision and select the option that will best help you realise your ice cream dreams.
Classic Ice Cream Maker
Homemade ice cream, or even commercial ice cream, used to be created with chunks of ice and rock salt to transform the 'batter' into ice cream until technology took over everything.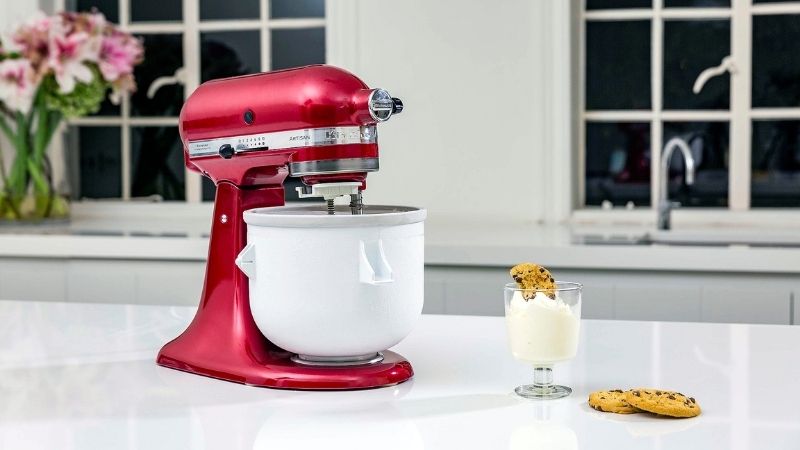 These vintage ice cream machines are still found in some tiny ice cream parlours, and some homes were creating huge batches of ice cream is a routine, even though they are rarely utilised nowadays.
They need to put more work in than the other types of ice cream makers. However, they can be fun to use as you can create your favourite ice cream with your children. This ice cream maker is also the most affordable as it doesn't usually come with advanced or extra features.
3-in-1 Ice Cream Maker
Are you one of those people that takes a long to decide whether to order ice cream, sorbet, or frozen yoghurt at an ice cream parlour?
If you're searching for a solution to escape those awkward moments of awkward silence, or if you're an ice cream connoisseur who wants to try all the different flavours, the 3-in-1 ice cream maker is for you.
With a 3-in-1 ice cream maker, a unique gel is used in the freezer bowl instead of rock salt and ice. Place it in the freezer for at least an hour before putting it in the machine and adding the ingredients.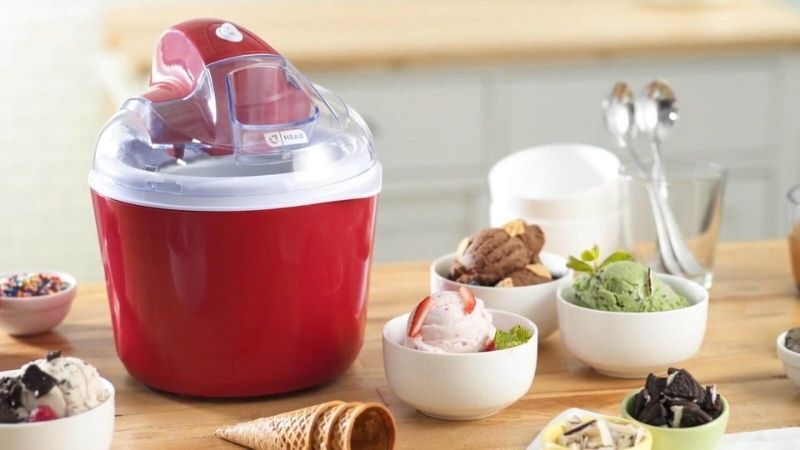 Turn on the appliance, then sit back and relax as the motor-driven mixing paddle takes care of the rest. In less than 30 minutes, your ice cream will be ready.
This ice cream maker allows you to make the most of the cost as it doesn't only just make ice cream it is useful for a variety of sweet foods for your family! It is also an investment as you won't be spending any money on these foods as you can make them in your own home.
Electronic Ice Cream Maker
Although the freezer bowl for electronic ice cream makers must still be chilled manually before use, the term "electronic" refers to the speed-control feature of these machines.
Many ice cream makers include electric mixing paddles, but they aren't usually classified as electronic ice cream makers unless they have a speed-controlled mixing option.
These are the most popular ice cream makers as they are more advanced, and you don't have to do much for your ice cream to be made! However, they are more expensive, but if you want an easy to use, ice cream maker that will last you a long time, then it is probably best to go for an electronic one.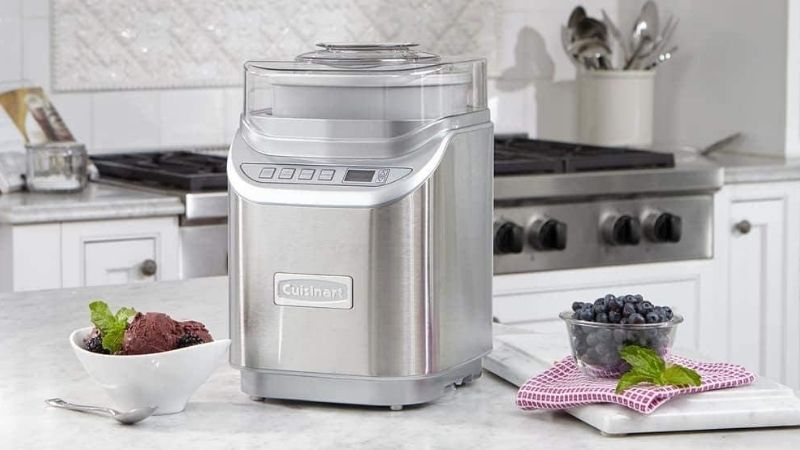 Electronic ice cream makers, in other words, are machines that can make ice cream, sorbet, gelato, frozen yoghurts, and other frozen treats based on the mixer settings you select.
They may be pricier, but that's just because they provide more convenience and advanced controls, allowing you to make relaxing treats of varying consistency. These are the ice cream makers of choice for more experienced users or those who take their ice creams seriously.
Gelato Ice Cream Maker
Gelato is the Italian word for ice cream, and while it is often different from normal ice cream, culinary experts use it to refer to a specific form of ice cream.
A gelato or compressed ice cream machine is a must-have if you enjoy a gelato or prefer creamier and richer ice creams. A gelato machine, like most current ice cream producers, is automatic.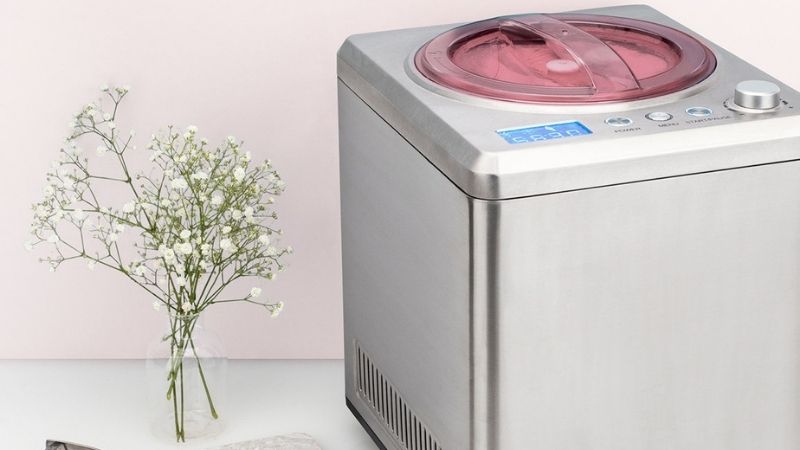 It has automated mixing paddles, but the fact that you can use it whenever you want makes it much more convenient. This is because the ice cream bowl does not require freezing or cooling before use. Simply put the ingredients in the machine and leave the rest to it.
This style of ice cream machine often has two mixing paddles, one for conventional ice cream and the other for gelato. Furthermore, because creating true gelato necessitates exact measures, timings, and mixing, these electrical machines have a touchpad control panel with an LCD screen.
Thai Rolled Ice Cream Maker
Thai rolled ice cream, also known as stir-fried ice cream, is a popular Southeast Asian delicacy that has only lately gained popularity. Bring this Thai-styled ice cream maker home if you want to see what all the fuss is about.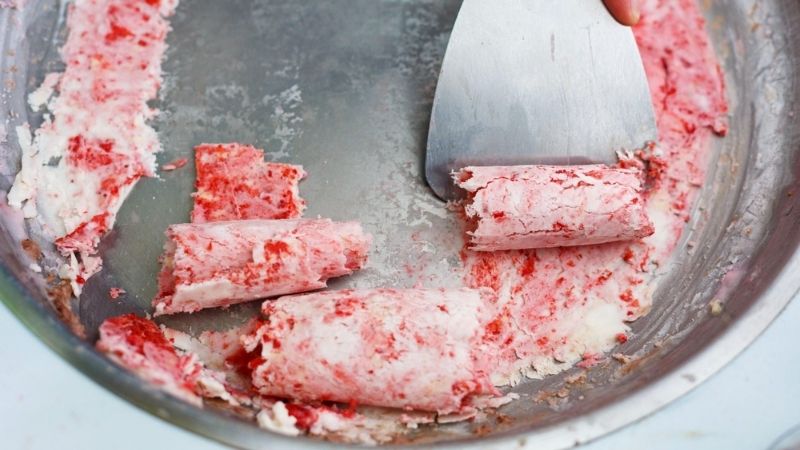 It's made up of a gel-filled plate-like container with an iron lid. It does not require electricity to work, and it is safe enough for children to use unattended. It comes as just a simple plate, and you must do all the work yourself.
It is good for children as it is fun to do, and you can add different flavours to it. They are also not expensive to buy and can last you for years
Best Ice Cream Maker
When the weather starts to heat up, nothing beats a scoop of cool ice cream. And we're convinced that creating it from scratch is the most delectable way to savour it. It may appear like changing cream and sugar into delicious, silky-smooth ice cream is a hard feat, but all you need is a basic ice cream machine.
Ice cream makers are used to accelerate the freezing of ice cream bases. Smaller ice crystals and a smoother finished product result from shortening the time it takes to freeze the mixture and adding some churning activity. So when looking for an ice cream maker, you want one that will do the job flawlessly.
Are you unsure of where to start for the search for your new ice cream maker?
You'll need an ice cream machine that freezes quickly to avoid hard crystals and unnecessary air for the smoothest, most delectable frozen desserts. Here are the best homemade ice cream makers to buy, ranging from low-cost hand-crank ice cream makers to 3-in-1 ice cream makers, electronic ice cream makers, and more.
Best Classic Ice Cream Maker
Chef'n Sweet Spot Ice Cream Maker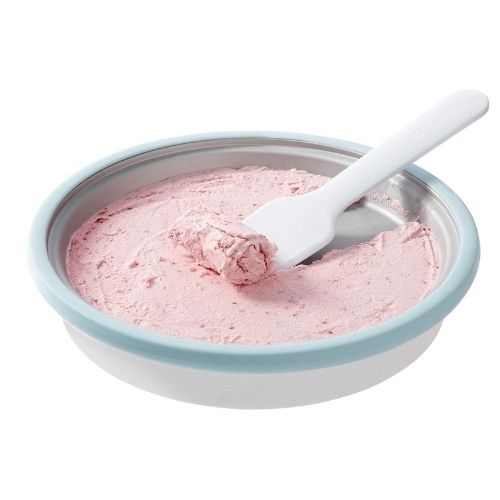 If you have little children who enjoy helping in the kitchen, this amusing gizmo is a terrific way to entice them to try handmade delights.
Freeze the dish for 24 hours before adding the batter and toppings, as done at Cold Stone Creamery. You can also add rolled ice cream to the mix (which is exactly what it sounds like).
The flat plate is also ideal for making the iconic Thai treat at home; simply roll the ice cream mixture with the scraper as it solidifies. It is an easy-to-use classic ice cream maker that also is fun to make.
Also, because the metal surface is so cold, your cream or sorbet will freeze almost instantaneously, allowing you to serve dessert in minutes.
This model includes a handbook with dozens of recipes for fun ice cream, sorbet, and frozen margaritas for only £44!
Things we liked
Simple to use
Easy to clean
Can be stored away easily
Things we didn't like
It takes longer to take than the label promises
Zoku Ice Cream Maker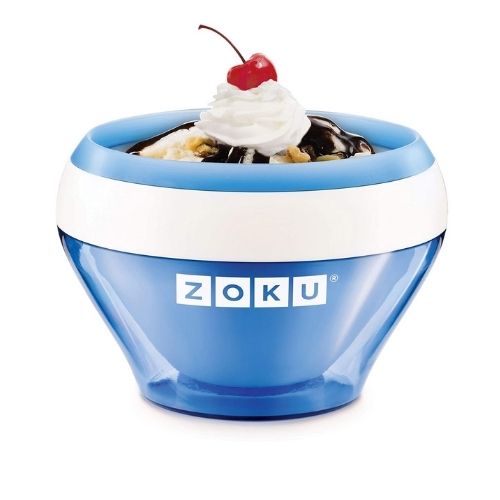 This tiny ice cream maker is here to save the day when a single serving is all you need because ice cream isn't just for kids or crowds. Its charming ice cream sundae dish is also available in five different colours that you keep in the freezer for when the mood strikes.
Simply pour in the batter and stir by hand. Soft serve takes ten minutes, whereas firmer ice cream takes thirty minutes.
However, all the recipes in the instruction booklet make one quart or six servings. For a single person, this is not particularly user pleasant. You'd have enough mixture for five servings, but you'd have to wait for 12 hours between usage which can be super annoying.
Things we liked
Great for multiple servings
Easy to store
Comes with helpful recipes
Things we didn't like
Not ideal for small servings
YayLabs! Softshell Ice Cream Ball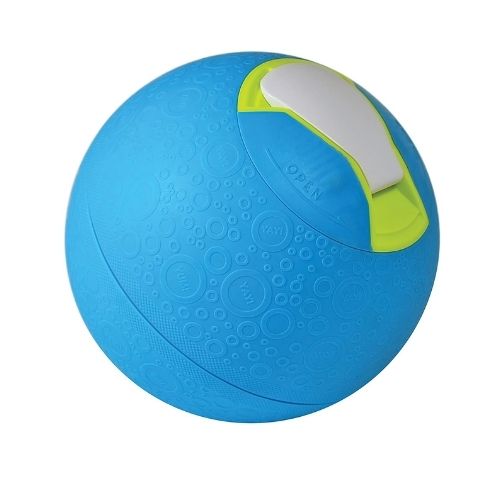 This is another manual ice cream maker, but the method for getting from point A, which is a pre-frozen bowl full of ingredients, to point B again, a bowl full of wonderful ice cream, is genuinely unusual.
Instead, rather than waiting for the machine to do the work for you, you must toss or kick the ball about for roughly 25 minutes to receive your delicious reward. Have a blast!
Things we liked
Great for kids
Takes around 15 minutes to make
Things we didn't like
Difficult to scoop out the ice cream
Best 3-in-1 Ice Cream Maker
Lakeland Digital Ice Cream Maker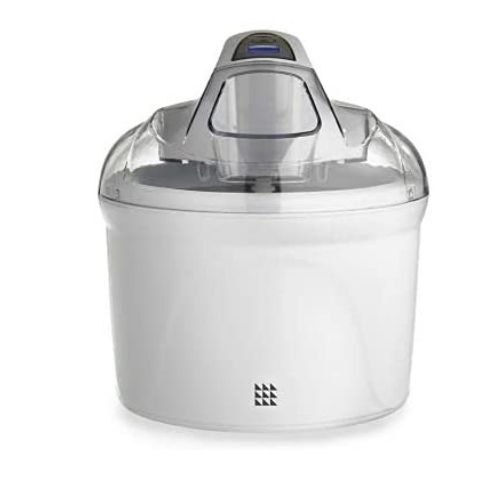 To get things started, simply freeze a bowl and cover it with its lid. It boasts a 1.5-litre capacity and a large mixing paddle to achieve a smooth ice cream, sorbet, or frozen yoghurt consistency. The big chute makes it easy to add more materials.
Although the removable dish must be pre-frozen, the ice cream only takes 20-40 minutes to make. The other dishes, such as sorbet and frozen yoghurt, take around the same time to make.
It does take a long time to thicken to become ice cream, so depending on your child's age, they will likely become bored with the process long before they reach the goal, but it tastes delicious if you get there.
Things we liked
Great for multiple servings
Ideal for making healthier frozen yoghurt
Compact design
Things we didn't like
The removable dish needs to be pre-frozen
Noisy operation
Cuisinart ICE3IU Ice Cream Maker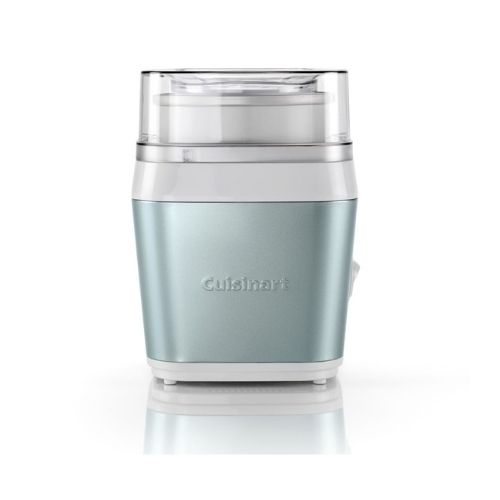 Cuisinart can give your kitchen a splash of colour. With a capacity of only 1.4 litres, it's one of the smaller versions on our shortlist, but that means it'll fit easily on your kitchen counter.
In just 25 minutes, it can make excellent ice cream, frozen yoghurt, or sorbet. After you've prepared a frozen dessert, cleaning up is a breeze, thanks to the dishwasher-safe paddles and lid.
The Cuisinart ice cream maker reviews are on how it is worth having in your home.
Therefore, if you can afford the expensive price, the Cuisinart ICE-70 Ice Cream Maker is well worth it because of its many useful features, like the built-in timer and unusual gelato setting. This item will not disappoint you if you're seeking a high-quality ice cream maker for your home.
Things we liked
Colourful design
Ideal for small kitchens
Built-in timer
Things we didn't like
Expensive
Noisy operation
KitchenAid Ice Cream Maker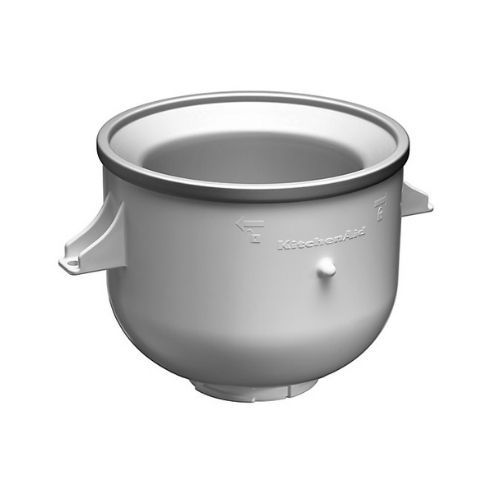 The huge bowl holds 1.9 litres of ice cream and must be frozen for up to 15 hours before use, so make sure you have enough freezer space. Attaching the motor assembly and dasher to the mixer is a little tricky at first, but it's simple once you get the hang of it, and reviewers indicate the results are always impressive.
It can take around half an hour to make light-as-air ice cream, but this ice cream maker also makes exquisite sorbet, frozen yoghurt, and even a strawberry slushie. After that, the attachments needed to be hand-washed, but they are easily cleaned in seconds.
Things we liked
Simple to use
Large capacity
Great for slushies frozen yoghurt and sorbet
Things we didn't like
Needs to be frozen for 15 hours
Hard to assemble
Best Electronic Ice Cream Maker
Cuisinart Ice Cream Maker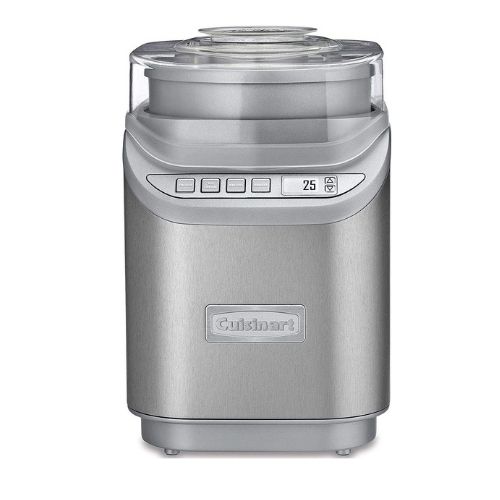 This tiny workhorse has you covered whether you want ice cream, gelato, sorbet, or custard. It includes a mixing paddle that doesn't require you to open the bowl and scrape down the sides.
It also includes a very strong engine and a freezer bowl that is double insulated. Both characteristics result in ice cream that is ready to consume in about 20 minutes. However, as you can see, it is an expensive ice cream maker but will last you years.
Things we liked
Double insulated freezer bowl
Long-lasting
Multifunctional product
Things we didn't like
Expensive
Hard to assemble
Nostalgia 4-Quart Electric Bucket Ice Cream Maker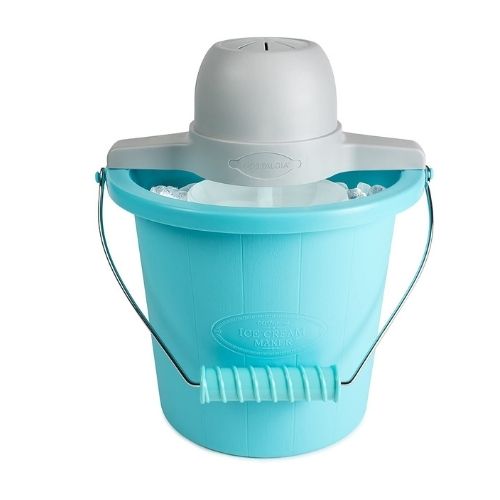 This is the perfect ice cream maker for a day trip, as It includes a handy carrying handle so you can simply bring it everywhere.
There is no need to scoop your homemade ice cream into an insulated container. Instead, you can just pop on the top and depart after only 20 minutes of churning it.
Make a pot of your favourite sauce and a few toppings, and you've got yourself a mobile sundae station for only £50!
This ice cream maker has various positive reviews, including the fact that the machine comes to a halt when the ice cream was finished, which makes the process easier.
It's also simple to put together, is easy to clean and works perfectly. Therefore, for the price of £50, it is a high-quality ice cream maker that will do the job.
Things we liked
Easy to transport
Comes with an insulated container
Simple to clean
Things we didn't like
It takes awhile to freeze
Dash My Pint Electric Ice Cream Maker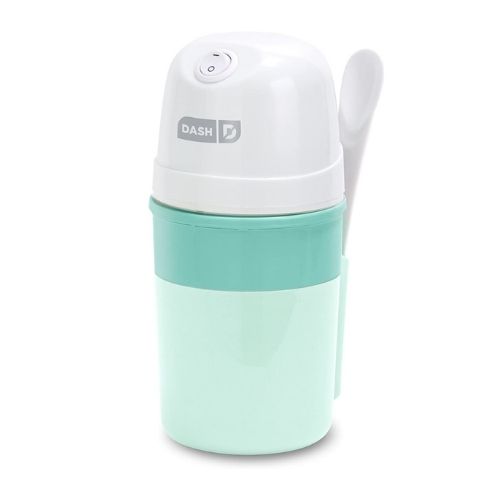 This device, like its larger counterparts, churns ice cream at the touch of a button. It doesn't take up much counter space, weighs only a pound, and comes with a charming spoon for all your mix-ins, like chocolate chips, unlike most of them. It's perfect for single servings, but it can also be scaled up to 16 cups in under 30 minutes.
Pick one up, and you'll have fast access to a plethora of recipes for any flavour combination.
Things we liked
Great for small kitchens
Ideal for single and large servings
Great for kids
Things we didn't like
It does not turn off automatically
Best Gelato Ice Cream Maker
Cuisinart Ice Cream and Gelato Maker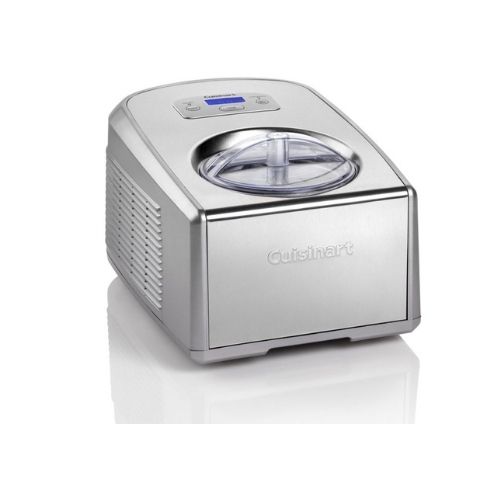 Don't let the price tag on this one catches you off guard. If you make ice cream or gelato at home frequently, this is the improvement you need—and deserve.
With an autonomous operation, 60-minute countdown timer, touchpad controls, LCD readout, and two paddles for gelato and ice cream, it's more upscale than the other machines on this list.
The stay-cool function preserves everything at the correct temperature until you're ready to eat, while the compressor provides uniformity and convenience without pre-freezing.
Things we liked
No need to pre-freeze anything
Built-in timer
Touch controls
Costway Ice Cream Maker Electric Gelato Maker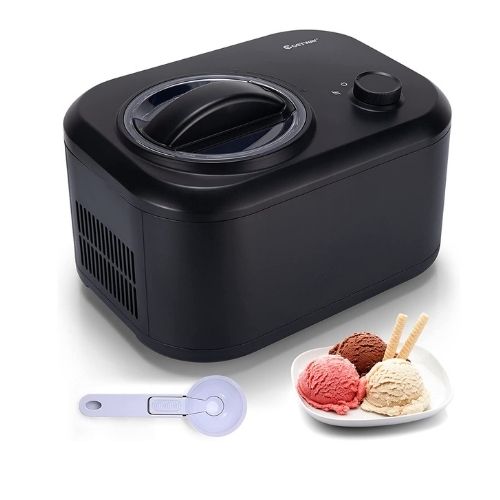 There are three operation modes to meet your needs for various varieties of desserts. As needed, you can change the control knob to mix just, cool only, or ice cream mode (maximum 40 minutes). The simple control panel makes it simple to make homemade desserts.
If the ice cream is not eaten or stored in time, the machine will automatically start every 10 minutes and chill for 10 minutes to retain the fresh taste and texture of the ice cream (cooling time: 1 hour). The machine will automatically shut off after ten short beeps when it is finished.
With a wet towel, you can easily complete the daily maintenance. In addition, all non-electric pieces, such as the transparent cover, mixing paddles, and 1L freezer bowl, are detachable for safe cleaning underwater. These components are very simple to reassemble for reuse.
Things we liked
Various freezing and cooling feaures
Auto restart
Easy to clean
Magimix Gelato Expert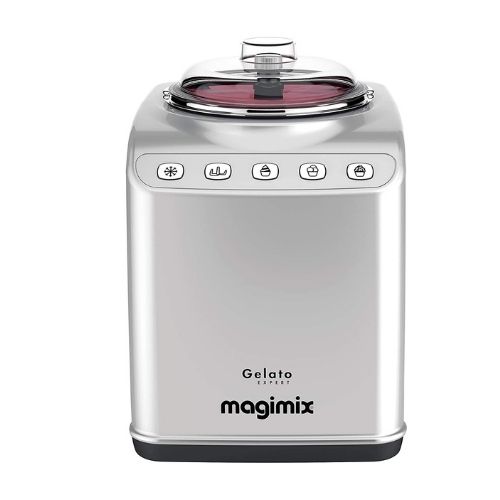 You'll need to be a real ice cream fan to spend the money on this sturdy-looking machine, as it's quite pricey. It has a professional appearance and takes up surprisingly little worktop space, fitting together quickly and easily right out of the box. However, there's no need to pre-freeze the bowl because of the built-in freezer!
It comes with two bowls and paddles, so if you need a large batch or want two distinct flavours, you can create a second two-litre batch right after the first.
There are three programmes for making ice cream, gelato, and granita, all of which are expected to deliver excellent results in just 20 minutes. Reviews say the gelato is very soft and fluffy, so it needed to be eaten right away.
There's a manual mode for fine-tuning the consistency, as well as a pause button for checking progress or adding extra ingredients like fruit or chocolate chips near the end. It'll even keep your ice cream at the perfect temperature for two hours until you're ready to eat.
Things we liked
Great for making different flavours
Manual mode is an option
Easy to clean
Best Thai Rolled Ice Cream Maker
Whynter Automatic Instant Frozen Pan Roller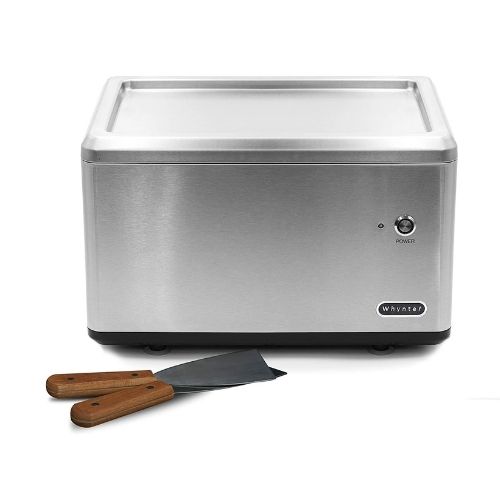 Another excellent ice cream roll maker for home use is this one. One frozen pan and two spatulas are included in the set.
It's simple to use because it doesn't require electricity, rock salt, or ice. You'll need to plan because you'll need to chill your pan for at least 10 hours before using it, but after that, you're good to go.
Once you've prepared your mixture, pour it onto the frozen pan and roll it out using the spatulas provided. It's so simple to use that you can make ice cream with your kids. They can be as creative as they want with their toppings to make their unique frozen dessert.
This ice cream roll machine is a 3-in-1 ice cream maker that can be used to make ice cream, sorbet, frozen yoghurt, or gelato, among other desserts, which makes it a, as well as a Thai, rolled ice cream maker!
Things we liked
Easy to use
3-in-1 ice cream maker
Great for making ice cream with kids
VEVOR Commercial Ice Cream Roll Machine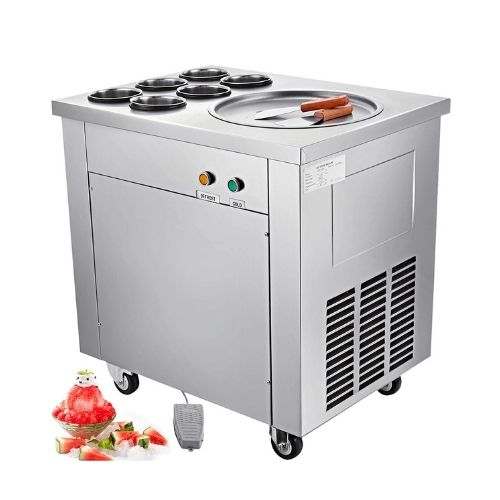 The industrial ice roll maker from Vevor is the finest answer for your ice cream business. If you're thinking of beginning your own rolled ice cream business, this could be the machine for you.
Vevor's brand is well-versed in ice cream, and you can rely on its quality. It's also incredibly portable, which is ideal if you plan to go to fairs and festivals or have a mobile business.
The machine comes with a frozen pan with a 19.7-inch diameter, which is ideal for the larger crowds that will be waiting to buy! One minute is all it takes to make rolled ice cream.
This machine's temperature and power can be readily controlled, and it can manufacture many ice creams at once. The stainless-steel construction assures that it will last a long time, making it an excellent investment for your company.
This ice roll maker can make soft or firm ice cream, ice mud, or slushies from various mixtures and tastes, including fruit juice, milkshakes, and smoothies. This is a great option if you want to start a business with an ice cream roll machine.
Things we liked
Easy to use
Great for multiple servings
Versatile design
Things we didn't like
Not ideal for single servings
E&B Ice Cream Maker/Roller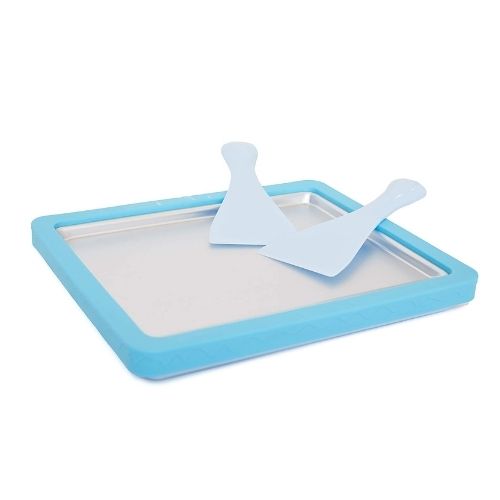 The E&B ice cream roller is a great ice cream maker for the whole family. It is available in two colours: blue and pink. Your children will be able to make ice cream, sorbet, frozen yoghurt, or granita, while the parents will be able to enjoy frozen drinks!
The ice cream roller is simple to operate and does not require electricity or rock salt and ice like traditional ice cream rollers do. Simply pre-freeze the ingredients, and you'll have rolling ice cream in no time!
Because you have complete control over your ingredients, this ice cream machine may accommodate any dietary restriction. Splurge on some delectable delights or keep it healthy with some fresh fruit toppings.
Consider the E&B ice cream maker if you're searching for a fun ice cream roll maker to enjoy with the whole family. It will not let you down.
Things we liked
Multiple design choices
Simple to use
Complete recipe control
What to Consider Before Buying an Ice Cream Maker?
Although nothing beats the taste of handmade ice cream, making it has always been a chore. Ice cream machines from the past required twisting and churning with blister-inducing handles.
Newer models required ice bags and layers of rock salt, resulting in a soupy melted mess. Modern ice cream makers, on the other hand, are fantastic.
Therefore, in this part of the article, you will begin to think about what you need to think about before buying an ice cream maker. Is it worth you buying one, and what type of ice cream maker are you looking on buying?
Ease of Use
One of the most significant differences between different types and models of ice cream makers is how simple it is to produce homemade ice cream with them. There's a reason why some customers are ready to pay more than twice as much for compressor ice cream makers as for other types: they take care of most of the job.
The main deciding factor is how it is easy to operate. When it comes to electric frozen bowl models, having an extra bowl or one that freezes faster than others make it easier when you want to make ice cream quickly. Therefore, you want to make sure that your ice cream maker is easy to use and works the way it is meant to.
Cost
There's a significant price difference between basic ice cream makers and high-end compressor-style units. You can acquire an old-fashioned ice cream maker for as little as £30 on the low end, but you should be prepared to put in the extra effort required to make homemade ice cream with this type of appliance.
If you're looking for something under £100, the ice/salt and frozen bowl categories provide plenty of possibilities. If you're willing to pay a little more for faster, easier ice cream preparation, compressor ice cream makers may be had for around £200, which is less than the high-end devices.
A product that falls somewhere in the middle will satisfy most handmade ice cream fans.
So, depending on your budget depends on what type of ice cream maker you can purchase as different types are different prices.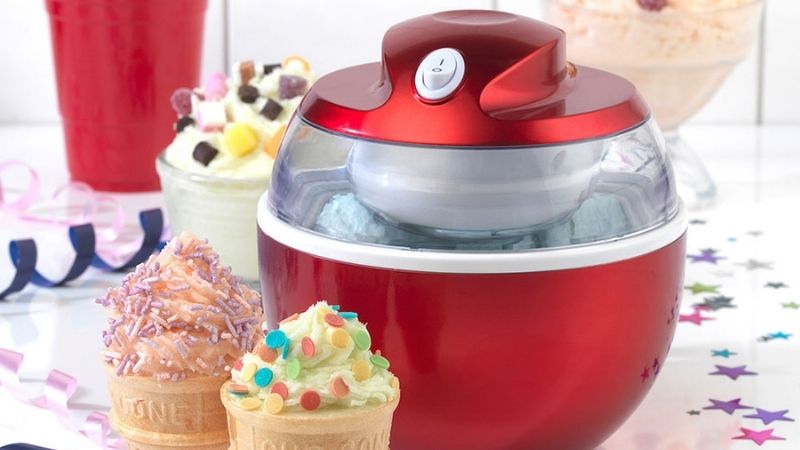 Style
Do you want an ice cream maker that you can put away after use? Then you need to think about the size of the ice cream maker. This could be difficult as most ice cream makers are big and are hard to put away.
However, some ice cream makers come in different colours, so you could find an ice cream maker that matches your kitchen décor and fits your kitchen nicely.
Built-in electric cooling system
It's clear to see why these are the most popular options for commercial ice cream manufacture, as there's no need to wait for a pre-frozen bowl to warm up and cleaning up the machine is a breeze.
Batch after batch can be created in sequence, and these machines can have a higher capacity than other types while still being effective. Depending on the desired ice cream texture, some machines even feature different mix and temperature settings.
FAQS
Can you make anything else in an ice cream maker?
If you like a slushy chilled beverage or enjoy a frozen Coke, your ice cream machine can make it in no time! Simply pour your favourite soda or sweetened beverage into the cooled canister and swirl until it reaches the desired level of iciness.
Giving your breakfast smoothie a whirl in your ice cream maker may get it super frozen to milkshake consistency in minutes, which will help it remain cold longer in your cup, whether you're taking it for a walk or just having it join you for your morning Zoom conference. That last inch of hot smoothie is no one's favourite.
A quart container of potato salad, coleslaw, or other BBQ side dishes, as well as a large tub of sour cream dip, will all fit nicely in the refrigerated canister. If you and your family are dining al fresco, simply place the plastic container inside the canister to keep it chilled.
How do you clean an ice cream maker?
Using dishwashing soap and water that has been heated to at least 140 degrees, make a hot, soapy water solution. Before putting the machine on the wash cycle, close the freezing chamber so it can contain water and pour the solution in. When the wash cycle is over, drain the machine.
Is having an ice cream maker worth it?
If you live near Aldi's or Costco, you can get heavy cream for a lower price. If you prefer the higher-quality ice cream brands sold at your grocery store, which typically cost at least £5 per pint, buying an ice cream maker and making it yourself is well worth it. It just depends on how much ice cream you normally buy.
Is using an ice cream maker healthier?
Using an ice cream maker is a much healthier option. Not only will the ice cream you create with your machine be significantly healthier than store-bought ice cream, but it will also be far healthier than the trendy "no-churn" ice cream recipes.
Preservatives are commonly found in store-bought ice creams, which you won't find in handmade ice cream (which is likely to be consumed soon!). They're also loaded with sugar. In ice cream, sugar is essential. However, you don't require as much as is used in commercial ice cream.
Are ice cream makers easy to use?
Making your ice cream is as simple as it gets, and you only need a few pieces of equipment. A saucepan, as well as a strainer, are required for smooth results. Icecream takes some time to make, roughly 15 minutes in most home ice cream machines. If your ice cream still isn't soft serve after 15 to 20 minutes, you might not be able to get it to "thicken" any further in the ice cream machine.
Sources