kitchen & cooking
Best Electric Knife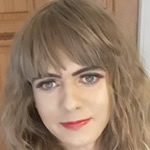 Want to know what the best electric knives on the market are?
In this article, we'll look at our favourite products and explore other relevant topics like how an electric knife works and a closer look at the various electric knife categories.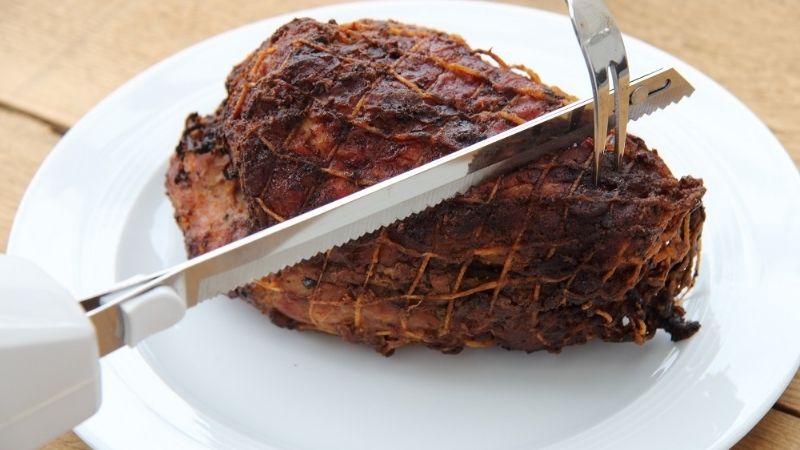 Anyone looking to purchase a top-quality electric knife will find this guide useful.
What Is an Electric Knife?
This type of knife is an electric tool designed for cutting up and through food. It comprises a pair of serrated blades held together through clipping.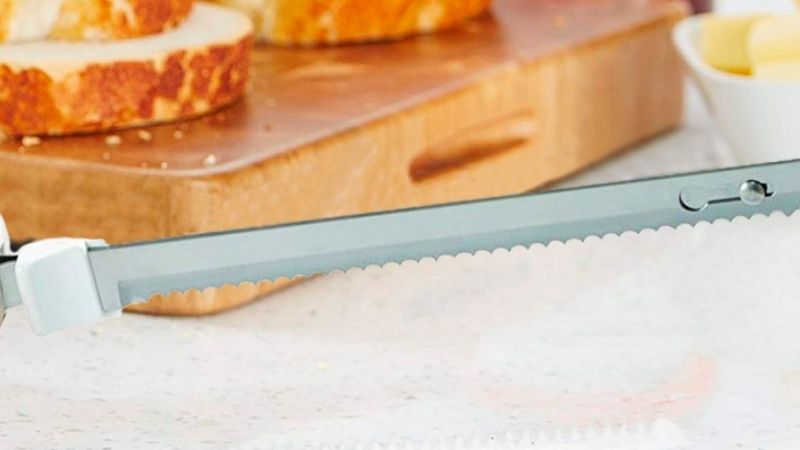 Once turned on, the blades move lengthways in a continuous motion in order to effectively see through the food (something a normal knife simply won't do).
Anyone looking to get the job done fast or who needs to cut through plenty of food (for a special occasion) should consider investing in an electric knife.
How Does an Electric Knife Work?
Put simply, an electric knife uses an internal motor to power serrated blades so that they can saw through foods and cut them far more effectively than an ordinary knife would.
Types of Electric Knife
Electric Steak Knife
These are electric knives that are well-suited to cutting through steak. Given that this is considered one of the tougher meats, we're pretty much referring to heavy-duty and sturdy electric knives in this case.
Electric Fish Knife
Again, with this type of electric knife, we're really just considering those that are well-suited to cutting through fish. Of course, it's fair to say that electric fish knives could vary quite a lot, considering that they may be needed to cut through frozen or soft, cooked fish.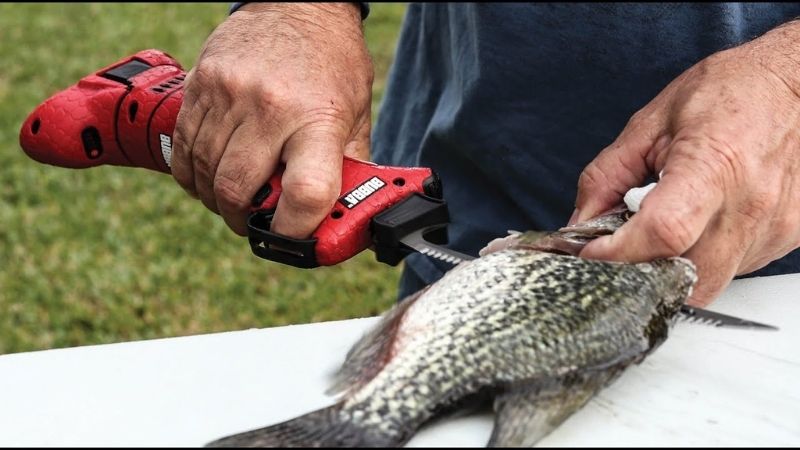 However, there will be specific products that are more suitable for the job than others, either way, even if 'electric fish knife' may not be a completely definable category in of itself.
Electric Multipurpose Knife
If you want an electric knife that's something of a jack of all trades, then a multi-purpose one may be the right choice for you. What you get with an electric multi-purpose knife is usually one that can cut through a wide range of foods and textures.
If you want a product that can cut through foods, whether they're or not they're frozen, then you should consider a multi-purpose electric knife. That said, these generally cost more.
Electric Bread Knife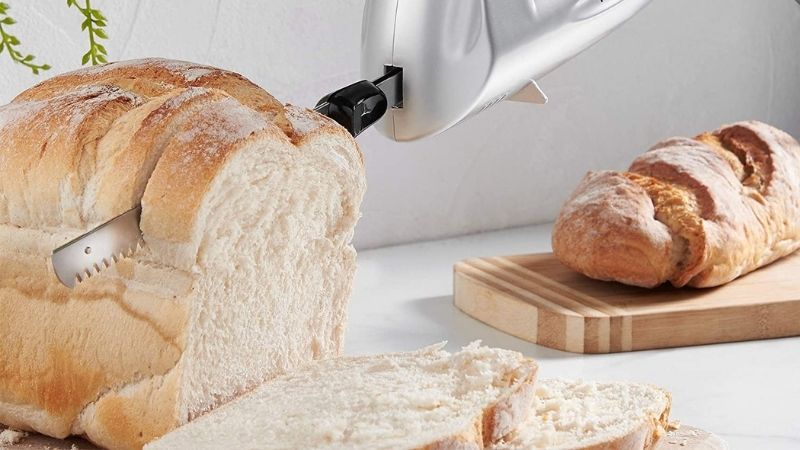 These are electric knives that are great for cutting through bread, including crusty bread (which can be quite awkward to deal with using a regular knife given its texture).
Electric Carving Knife
In this case, we're considering electric knives that are perfect for carving meats. For a holiday or family gathering, you'd want something like an electric carving knife at the ready to cut through large amounts of food quick and fast.
Best Electric Knife
We'll now discuss the best electric knives on the market by category. In each category, we'll look at various products and discuss what they're good for, why we like them, and lay out their pros and cons.
Best Electric Steak Knife
Judge JEA76 Electric Knife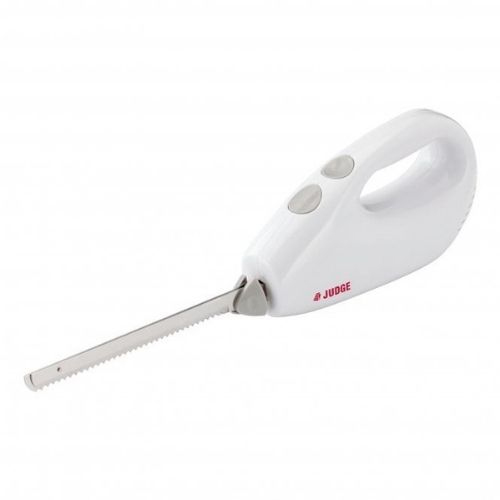 If you're looking for a tough and powerful knife to take on meats, then this electric-powered unit from Judge is certainly worth considering.
The JEA76 has 150 watts of power behind it, weighs just 0.78kg, has a cord length of 0.8m, and is made of plastic. It has a clean design and is quite ergonomic too. However, it isn't deemed as reliable as some other options on the market. It's not great for frozen foods either.
Pros
Ergonomic and neat design
150 watts of power
0.8m cord length
It weighs only 0.78kg
Cons
Durability is reportedly iffy
It doesn't offer much for cutting frozen food
Cookworks 2 Blade Electric Knife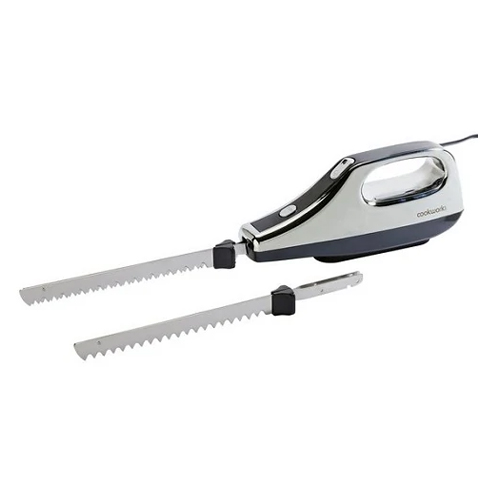 This incredible two-blade electric knife has a five-star rating on Argos' website (although only from 81 ratings, to be fair). However, it has a lot going for it to back up such a rating. With two blade options, it offers the capacity to deal with foods ranging from soft meats to frozen meats. It has a one-metre cord length, is ergonomic, and is also relatively cheap.
Pros
Easy to hold
Different knives included
Quite expensive
Cons
Pretty noisy when operating
Andrew James Meat Slicer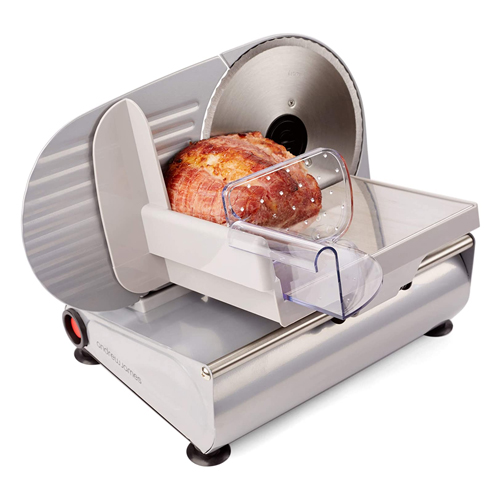 With a strong 150 watt motor, this electric knife is great for cutting through meat. Thankfully, the motor is also pretty quiet. It features three stainless-steel blades with a diameter of 19cm. The slicing thickness of these blades ranges from 1mm and 1.5cm. Further, the Andrew James Meat Slicer comes with a blade guard with spikes and stabilizing feet too. Both of these features are great for keeping both the food and electric knife firmly in position.
Things we liked
Powerful but reasonably quiet motor
Three interchangeable blades
Two-year guarantee
Safety features
Things we didn't like
A bit on the expensive side
Best Electric Fish Knife
Tower T19003 Electric Carving Knife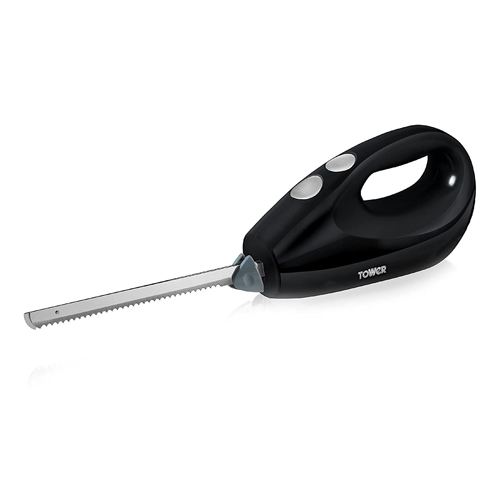 The T19003 electric carving knife has 175mm serrated, stainless steel blades and notably is a highly-rated option with a 4.5 stars rating on Amazon (out of 950 reviews). This electric tower knife has a strong 180 watts motor, offering fast and efficient results. However, it may not be suited for cutting foods like crusty bread or frozen foods. It is a good option for softer foods, including fish.
Things we liked
Powerful 180 watts motor
Highly-rated
Great for soft foods
Things we didn't like
Reportedly not suited to cutting some foods
It may be trickier to source
Rapala Heavy-Duty Electric Fillet Knife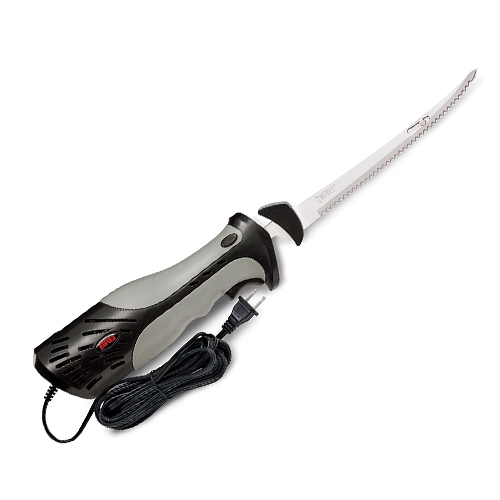 This heavy-duty product from Rapala is made of high-quality material and has a 4.5 stars rating on Amazon (out of more than 1,100 ratings). Unfortunately, though, it may also be a bit difficult to source.
Things we liked
High-quality material
4.5 stars rating on Amazon
Things we didn't like
It may be tricky to find online for purchase (availability could be limited)
Best Electric Multipurpose Knife
Wahl James Martin Electric Knife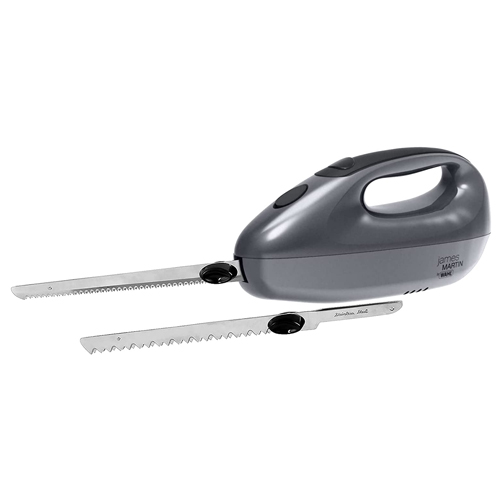 This lightweight 0.82kg stainless steel electric knife from Wahl James Martin comes with a mix of coarse and standard blades, making it a great multi-purpose option. Also, given how useful it is, it's also pretty cheap. It comes with a safety mechanism. It's decently priced too. It's not ideal for frozen foods.
Things we liked
Good price
Multi-purpose electric knife
Coarse and standard blades
Fairly cheap
Safety feature
Things we didn't like
Not great for frozen foods
Kenwood KN650 Electronic Knife
Many electric carving knives are not great for food items taken directly from the freezer but the Kenwood KN650 is an exception to that rule. This knife is fantastic for use on frozen foods. It comes with various blades, and one is especially designed to cut through frozen foods. Further, the KN650 also comes with a safety on/off switch. On the other hand, the button used to turn off the knife isn't exactly in the most ergonomic position.
Things we liked
Safe to use
Ideal for frozen foods
It comes with a safety switch
Dishwasher-safe blades
Things we didn't like
The operation button isn't present in the most ergonomic place
Best Electric Carving Knife
VonShef 150W Electric Knife - Serrated Carving Knife Set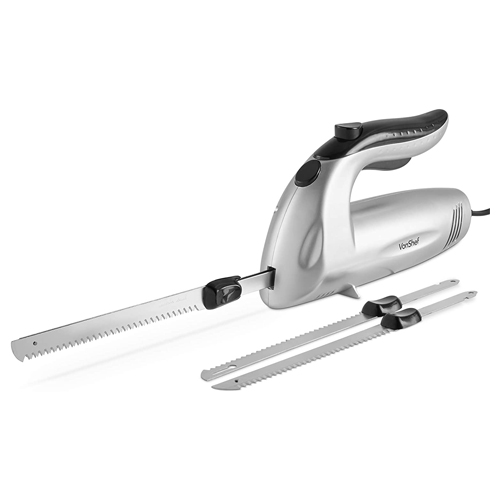 One of the best electric carving knives on the market is this interchangeable set from VonShef. Of the two blades offered with this electric knife, you get a heavy-duty blade that is ideal for cutting through meat.
It's straightforward to attach and remove the blades and both are safe to put in the dishwasher. However, the other blade is better suited to fruit, veg, bread, and the likes. It produces low noise and vibration. It also has a dual safety switch.
Things we liked
Features two blades
Suited for many foods
Safety feature included
Dishwasher-safe blades
Things we didn't like
The cord is relatively short
Geepas 150W Electric Knife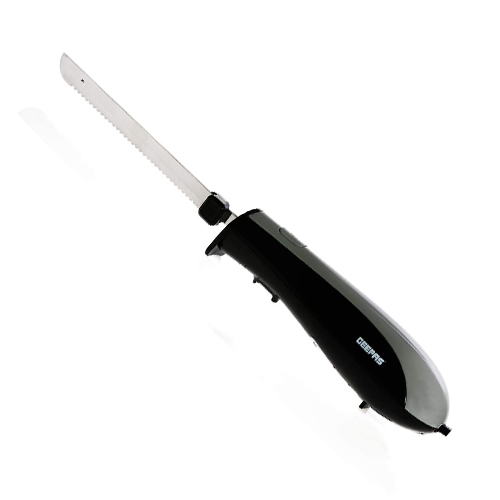 This Geepas serrated carving knife is a great versatile choice. It can cut through foods such as meat (including turkey), fruit & veg, and bread. It has 150 watts of power and produces just 85dB of sound. It has a comfortable grip handle, a two-year guarantee, and a single start button. Further, it carves through meats with ease, earning its place in this category. It's also not too expensive either.
Things we liked
High-end versatile product
Multi-purpose product
Two-year guarantee
Comfortable grip handle
Russell Hobbs Electric Carving Knife 13892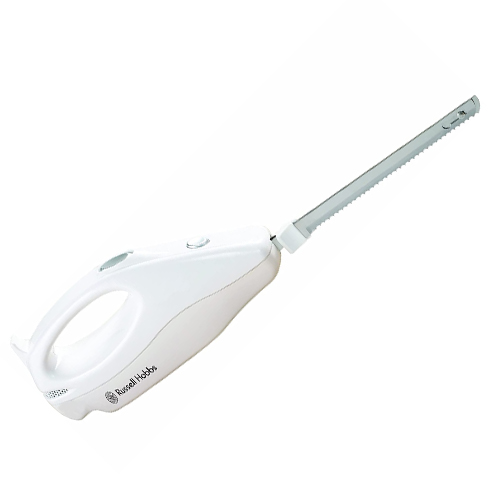 This next carving knife is very versatile and may be used on bread, meat, frozen food, and more. It has a power rating of 120 watts, and it comes with a variety of useful features, such as its intuitive thumb-tip control button for ease of operation and its detachable blades that make cleaning easy.
It weighs a mere 880g and features both a safety mechanism and a comfortable grip. However, a range of different blade types are not included.
Things we liked
Safety features help avoid accidents and protect kids
Ease of use
Comfortable grip
Cutting motion is strong
Best Electric Bread Knife
Lloytron Electric Carving Knife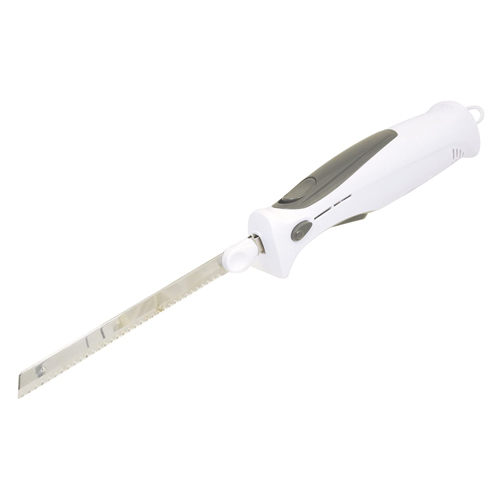 You can use this great electric knife for several hours at a time before it begins to overheat. It has an efficient 120 watts motor. While the motor is powerful, it is pretty quiet, thankfully. This electric knife from Lloytron comes with a dual safety on/off switch and has a built-in loop for ease of storage. It comes with twin and sharp blades that are made of stainless steel with a simple release. The blades are dishwasher-friendly.
Things we liked
Powerful but quiet motor
Dual safety switch
Dishwasher-friendly blades
Simple release
Things we didn't like
It may be tricky to source
Has WDR rather than HDR
It turns off in order to recharge
ATUIO Elite Cuisine EK-570B Electric Knife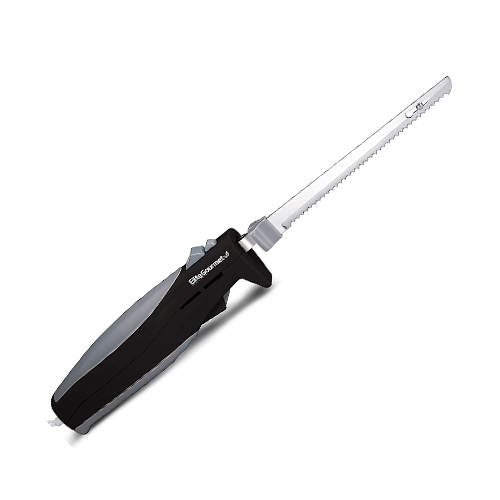 This precise and powerful electric knife is a great choice to deal with bread as well as foods like meat, vegetables, and cheese, leaving uniform slices as the end result. With an ergonomic design, you won't have hand cramps at the end of using this product.
It comes with single-trigger touch control, a helpful eject button, dual-action slicing, and a blade cover is also included. Unfortunately, its availability appears to be pretty limited as of the time of writing.
Things we liked
Great for a wide variety of foods
Various help features
Blade cover included
Things we didn't like
Availability seems to be limited
Waring Commerical WEK200 Cordless Electric Knife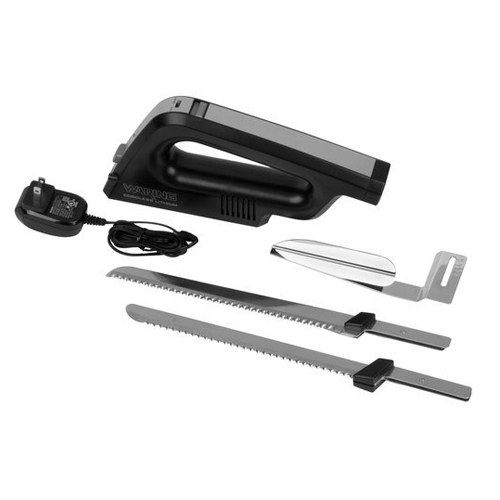 If you're after a cordless electric carving knife that's also great for use on bread, then you should certainly consider the WEK200. Its built-in battery charges fast, its LED light helps enhance visibility, there's a power switch safety, and an interlock is present to help prevent accidents. However, this is a particularly expensive electric knife.
The Arlo Video Doorbell has smart motion detection.
Things we liked
Versatile
Great for carving and for cutting bread
Helpful LED light
Interlock for safety
Fast charging battery
What to Consider Before Buying an Electric Knife
But, what else should you take into account before purchasing one of these products? Let's take a closer look.
Cost
Most electric knives cost around £15 to £30. However, some can cost quite a bit more and even up to or more than £100 in some cases.
Size
You may prefer a certain-sized electric knife, depending on what you find the most ergonomic. Although, it should be noted that in general, the larger an electric knife, the more powerful and effective it tends to be (this is also correlated with price in most cases).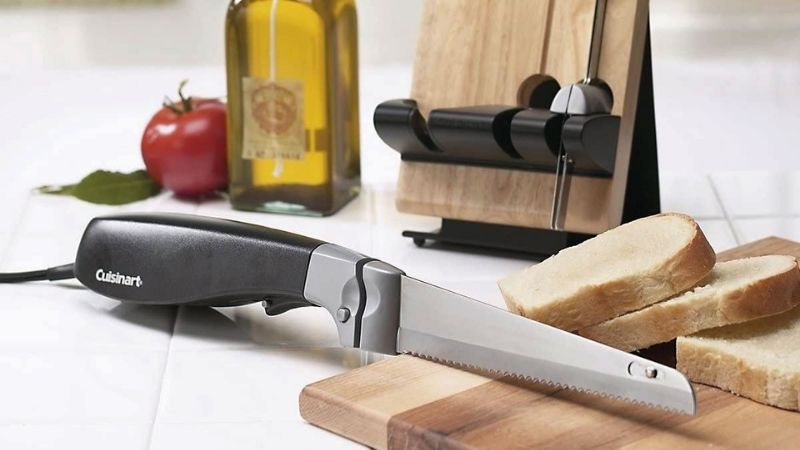 Blades
Some blades are more suited to softer foods, while others are great for dealing with tough or/and frozen foods. You'll need to consider this when making a purchase. Of course, some electric knives feature a range of blades, and this may be preferable if you want to cut through a variety of different food items.
Shape
This is another important factor as the shape of the electric knife can influence how ergonomic it will feel and how useful it will be for cutting into certain food types.
FAQs
How do you clean an electric knife?
You should always see the manufacturer's instructions before washing the blades of an electric knife. In general, though, removing the blades and washing them by hand using dish soap and water before drying thoroughly. You should not immerse them in water, however, if taking this approach. Some (although not all) electric knives could be dishwasher-friendly blades.
How do you sharpen electric knife blades?
Again, check the manufacturer's advice on this before taking any action. With that said, in most cases, you'll be able to achieve this by unplugging and powering off the knife, removing the blade, using coarse grindstone, repeating on finer grindstones, and carefully cleaning and reassembling. It's worth taking a look online for a good electric knife sharpener.
How long do electric knives tend to last?
They generally last for many years.
What is the overall best electric knife on the market right now?
We'd argue that either the Cookworks 2 Blade Electric Knife or the Geepas 150-watt electric knife are the best choices out there. But, of course, you'll need to consider what your needs, preferences, and budget are.
Where can I buy an electric knife?
You'd find electric knives on many homeware websites and stores. Also, you could check out eBay, Amazon, or the home site of manufacturers.
Sources