kitchen & cooking
Best Coffee Pod Machine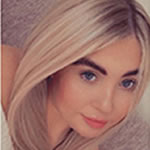 Coffee pod machines are the new useful product to have in your home if you are a coffee lover! Throughout this article, you will learn more about coffee pod machines and make you wonder if a coffee machine is what you need!
In addition, coffee pod machines deliver consistent results that are notoriously difficult to achieve with traditional espresso machines and most bean-to-cup versions.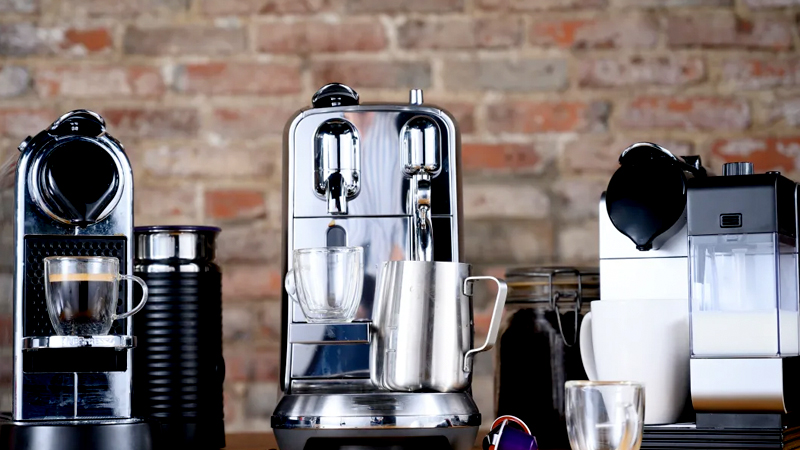 With a capsule machine, you simply place the pod in the machine, press the button, and a torrent of strong crema-topped black gold emerges, each one as potent as the last.
If you are a coffee lover and continuously buy coffee even though you have a favourite. Then buying a coffee maker is the best decision you could make! You can continuously have your favourite coffee in your own home due to buying your coffee pod machine. You will learn more about what you need to know when buying your coffee maker and which one to go for.
What Is a Coffee Pod Machine?
During this section of the article, you will learn what coffee does, how it works, and why it is right for you.
A coffee pod machine is a new and improved way of making your favourite brew. It has become an easier way to make coffee in your home without paying extra money to order out!
All pod machines work in the same way for you to get a perfect cup of coffee: the user places a coffee pod in the machine, presses a button, and the machine pumps hot water from an in-built reservoir through the pod and into a cup as coffee, and that's all you have to do!
Coffee pods are a contentious but widely used product in the coffee industry. Some people adore them, while others believe they mark the end of traditional espresso and barista skills. When home coffee became available, the popularity of coffee pods skyrocketed.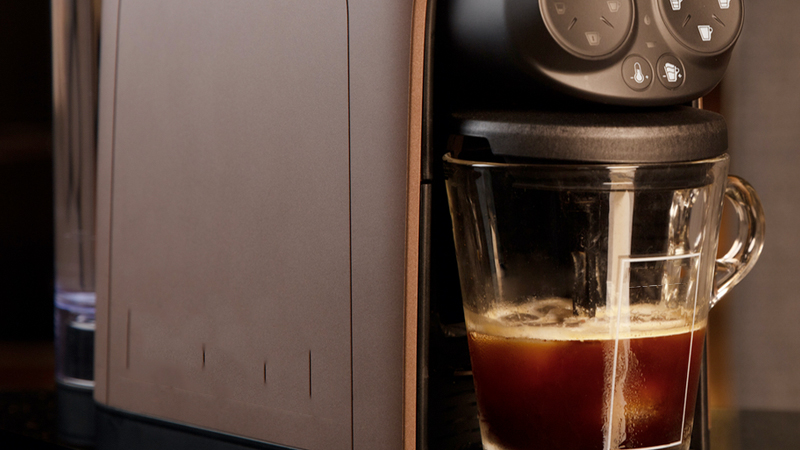 They allow normal people like you to select a style of brew that we enjoy and ensure that we get the same flavour every time we press a button.
Cafes and restaurants were also influenced to adopt them for the same reason. Being able to give a consistent coffee flavour to your customers turns them into loyal, recurrent customers.
So, if you want a decent cup of coffee but don't want to deal with the hassle of grinding beans, spooning ground coffee, or boiling a kettle, a pod-coffee maker might be the answer.
These fool proof machines capture all of the mess and hassle in a single, disposable plastic pod—as simple and convenient as a tea bag—and can produce delicious coffee in just a few minutes.
Even though they're pricey, if you're used to buying your coffee at the local coffee shop, they'll quickly pay for themselves.
How Does a Coffee Pod Machine Work?
If you are wondering about the workings of a coffee pod machine. You simply fill up the back tank with water. The flavour of the ground coffee in the pod is released when hot, high-pressure water is pumped through it. Water pumps up and into the pod through a narrow hole at the edge of the Tassimo, then drips back down through a larger hole in the centre.
However, there are multiple ways to work a coffee pod machine depending on the coffee. Whatever method you use to prepare your coffee, you'll need two things: water and the coffee itself. The water should not be boiling when making ideal coffee; it should be slightly colder; the exact temperature depends on the sort of coffee you're using.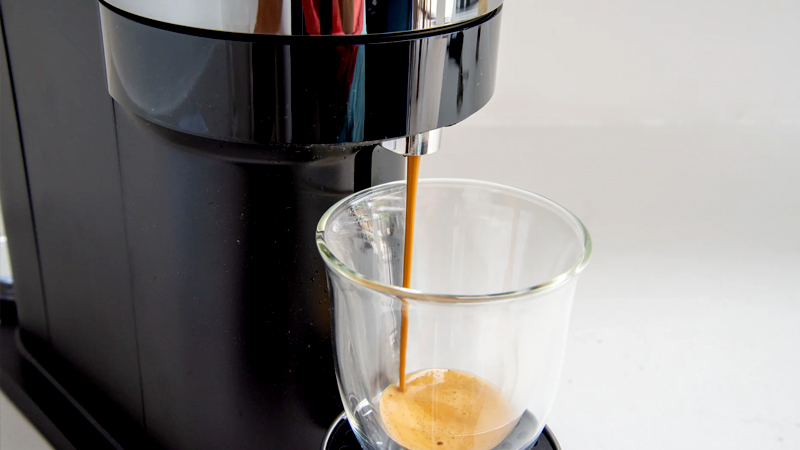 As most people know, coffee is harvested in the form of beans, which must be treated in various ways before being roasted and ground to a powder to release the taste we all enjoy. Here are three different types of coffees and how to use them when using a coffee pod machine.
Firstly, you combine the water and the ground coffee to make drinkable coffee, but different coffee-making procedures do so in different ways:
Cafetière: Simply spoon ground coffee into a pot and cover with hot water. As convective heat swirls around the coffee grinds, the water gently releases the taste. A nice pot takes roughly 5 minutes to make.
Instant coffee: The simplest of all the coffees. To dissolve the coffee powder, you put a spoonful in the bottom of your cup and pour near-boiling water over it. Apart from your cup, there's nothing to clean, but the coffee is usually devilish.
Coffee-shop machine: The best coffee is usually made by espresso machines found in coffee shops. They function by swiftly heating water to the proper temperature before forcing it through a metal vessel carrying ground coffee under high pressure. On the other hand, professional machines are costly and require a high level of competence to operate properly. They're also difficult to keep clean.
Due to this, you may either have bad-tasting coffee that is quick and easy to make, or you can have good coffee that takes time and effort to make. However, smart coffee businesses have developed a technique to allow us to experience coffee-shop quality at instant-coffee speed in the last few years: the coffee pod machine.
Types of Coffee Pod Machines
As coffee pod machines are growing increasingly popular, different types have become popular, and they all have varying qualities.
During this section, you will learn about the different types of coffee pod machines, such as the 2-in-1 pod coffee machine, dual-purpose coffee pod machine and the digital coffee pod machine. Therefore, you will figure out what you think the best coffee pod machine that suits you!
2-in-1 Pod Coffee Machine
A 2-in-1 coffee pod machine simply lets you brew two different types of coffee in one! Full pot vs single cup you can use your favourite ground coffee to make a single-serve cup or an entire pot of coffee.
The 2-in-1 pod coffee maker makes it simple to brew both ways, no matter which method you prefer. It is basically the same as normal coffee pod machines, however, it lets you put in two capsules at once.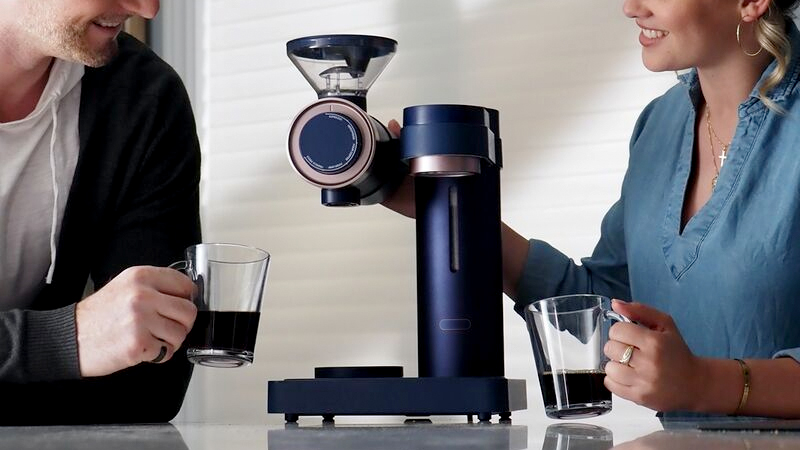 These are a popular type of coffee pod machines as they work with two types of pod systems and have a small footprint that works very well with the machine. Make a single cup of coffee with losing ground coffee. Adding your preferred ground coffee couldn't be easier with the included mesh scoop: just scoop, place, and brew.
Also, how many times have you stepped out the door and wondered if you forgot to switch off the coffee pod maker? The 2-in-1 coffee pod machine now turns off automatically after 2 hours, so there's no need to worry about turning around to check.
Dual Purpose Coffee Pod Machine
The machine accepts a variety of capsules, from Dualit's own to Nespresso's. It extracts the coffee from the pods and fills the cup with a hot, aromatic brew.
It's simple to operate, with only one button for a single espresso and another for doubles. The built-in steamer wand can be used to add milk, resulting in silky lattes, cappuccinos, and macchiato.
So, if you like a variety of hot drinks such as tea and coffee, then this machine is the best as it makes both for you! However, these coffee pod machines can be expensive as they can vary from depending on your budget!
Different to the 2-in-1 coffee pod machine, you can only brew one coffee or tea at once. The machine is built to swap whenever you want. With a simple push of a button, they can make you a cup of coffee, espresso, or any other beverage in under a minute.
If you don't have a lot of time or are usually on the go, you'll appreciate this. They are also easy to use as it sounds complicated; however, if you want to change your brew, all you have to do is change the coffee pod in the machine.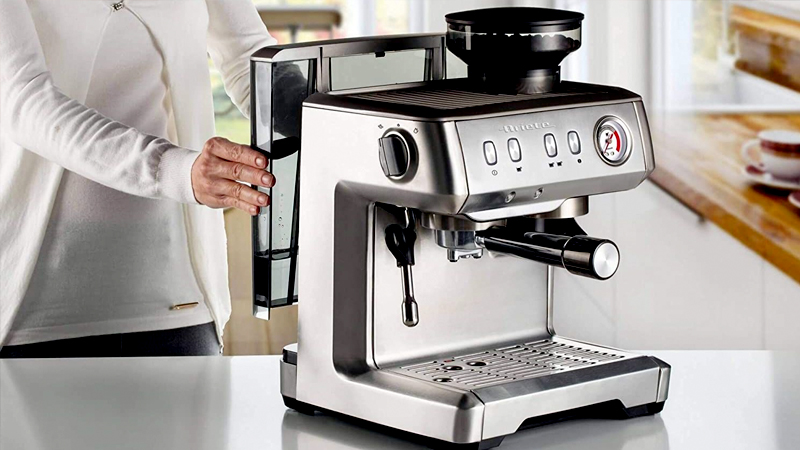 However, on dual-purpose coffee pod machines, some people don't like that you can't change the machine's temperature or other settings with a single-serve unit. You can, however, re-program the volume and memory settings (if available), giving you more control.
This is good for advanced users who understand how to properly operate an espresso machine, so if this is your first time buying a coffee pod machine, this probably won't make a difference to you.
As well as this, many coffee pod machines only utilise their coffee pods. Committing to a single-serve espresso machine sometimes also means committing to its brand of coffee. This could also indicate a reduction in the number of coffee varieties accessible.
So, when you buy a machine, make sure you check the available coffee pods because you might be limited if you buy them without checking what coffee pods you can use.
Digital Coffee Pod Machine
Digital coffee pod makers are highly advanced coffee pod machines as they can do a bit of everything from the previous coffee pod machines. It has a chrome lever that closes with a pleasant thud to activate its capsule holder. It also learns your favourite coffee by turning it on at the setting you've used the most in the previous 11 times.
Therefore, you can get any type of hot brew you want from this coffee pod machine, so although it is expensive, it is also an investment because you will be able to make anything you want!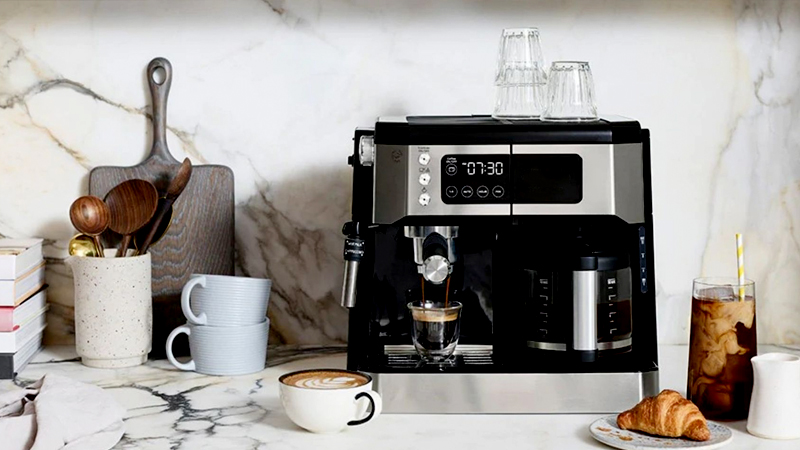 However, these types of coffee pod machines can be super expensive. So, if you are on a budget and do not want a highly advanced coffee pod maker, this digital coffee pod machine is probably not the one for you. As well as this, with digital coffee pod machines, it's generally a good idea to remember to turn off the coffee machine after each usage.
The most difficult and messy component of these types of machines must be utilising the coffee pod. This can be very messy, so if you love constantly cleaning, then this one might not be for you for this reason as it can be messy.
Best Coffee Pod Machine
During this section, you will learn more about the brands of coffee pod machines and which ones the best. You will learn about which one will suit your home and you the most.
Choosing the proper machine entails more than simply selecting one with a pleasing design. Because Tassimo pods do not operate in Nespresso machines and vice versa, you should also evaluate the pod options accessible with each machine.
Americanos and lungos are prioritised by some pod coffee machines, which use high-quality grounds, plenty of bar pressure, and small cup sizes.
The Best 2-in-1 Coffee Pod Machine
Bosch Tassimo My Way 2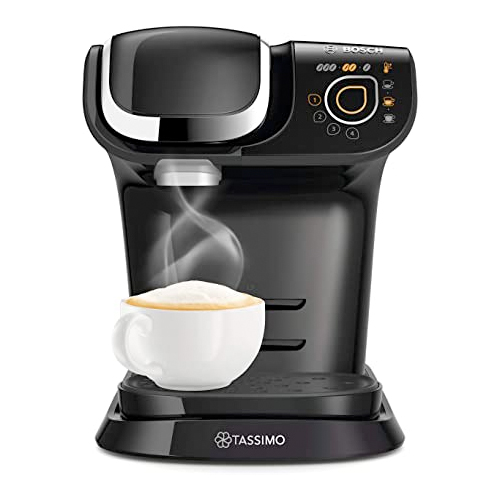 This 2-in-1 coffee pod machine can store up to four personalised settings, making it even easier to obtain your ideal coffee. This means you won't have to repeatedly reset the machine to the way you want your coffee, as it already knows.
Of course, because this is a Tassimo, it will also brew tea, hot chocolate, and several other beverages, making it ideal for a busy family who like variety.
It's all about the barcodes with the Tassimo brand. Each T-disc is inserted into the My Way coffee machine, which reads it and dispenses the correct amount of water with the necessary pressure.
It has a self-cleaning feature and dishwasher-safe parts, so your coffee will always taste wonderful, and the machine will be clean. On the other hand, this machine can be quite expensive, and it is also known to be low in pressure, so its quality is not always known to be the best.
Things we liked
Self-cleaning feature
Features four personalised settings
Lakeland 2-in1 Coffee Pod Machine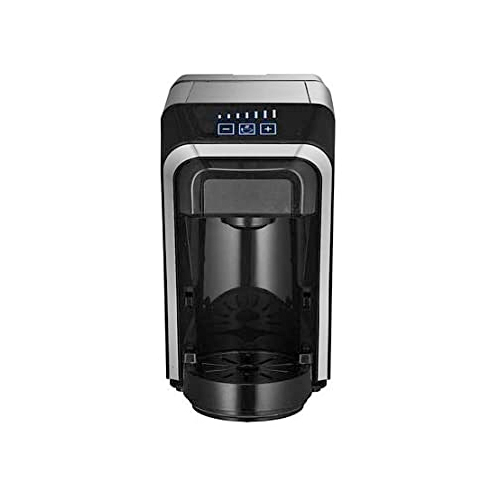 This is a modern 15-bar coffee pod machine that accepts capsules from Nespresso and Dolce Gusto. In 20 seconds, you'll have all you need with just one push of a button. There are seven cup sizes to choose from, as well as an automatic capsule puncturing mechanism.
Also, if you buy this product from Lakeland and want to return it for up to three years, you'll need evidence of purchase.
However, the pod coffee machine reviews have said that, unfortunately, the coffee it distributes isn't quite hot enough.
It is also very expensive, so if you're sticking to a budget, this one might not fit what you are looking for.
Things we liked
Seven cup sizes
Quick process
Things we didn't like
Pricey
The coffee may not be hot enough
Nespresso Pixie Coffee Pod Machine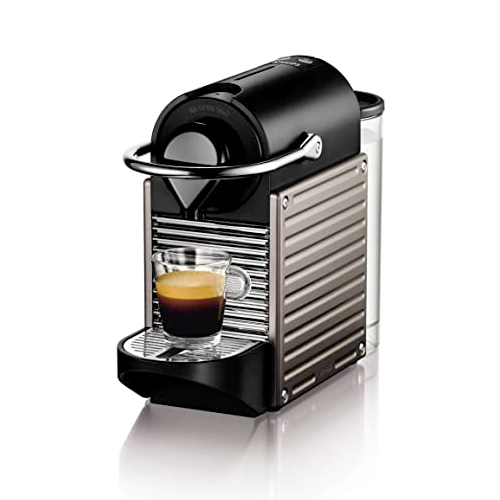 This 2-in-1 coffee pod machine is known for the long-lasting quality that they always give out. It is an automatic coffee machine that produces Expresso and Alto Lungo.
The Pixie Nespresso machine also boasts a 19-bar high-pressure pump and a quick heat-up system with only two buttons. In one single motion, you can extract all the flavours from your coffee.
The reviews of the coffee maker are not always positive as this coffee pod machine review said that the water holder is delicate and won't click into place. More significantly, the distance between the drip tray and the spout is quite small, making it harder for cups to fit. Although the drip tray can be flipped up, only a slim mug will fit snugly enough beneath the spout.
The Best Dual Purpose Coffee Pod Machine
Dualit Express-Auto Coffee and Tea Machine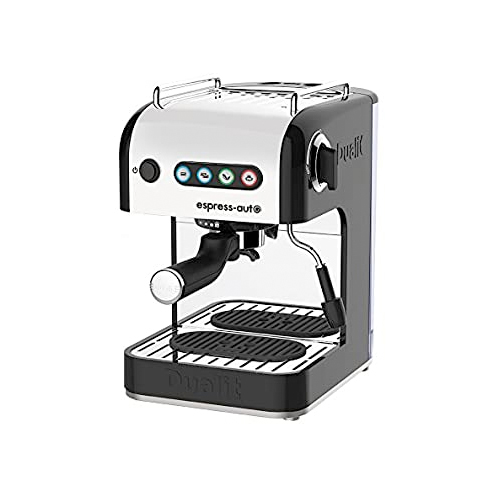 The Express-Auto is a multi-brew pod coffee machine with a 19-bar pump pressure. This means you may use it to create coffee not only with Nespresso capsules and ESE pods but also with other types of coffee. This includes tea capsules, its NX capsules, and even ground coffee, offering you options that a single-pod system lacks.
There are two buttons for a single and double espresso, as well as a tea button. This can also be changed to make it warmer or cooler. For foaming milk, there's an easy-to-clean steam wand, and the water tank holds 1.5 litres. There's even a useful "drip tray full" indicator that tells you when it's time to clean the coffee machine's dregs.
However, it is very expensive for this coffee pod machine. Therefore, it does feel very pricey to buy at the time, but you are saving your money as you don't need to buy out.
Nescafe Dolce Genio Black Coffee Machine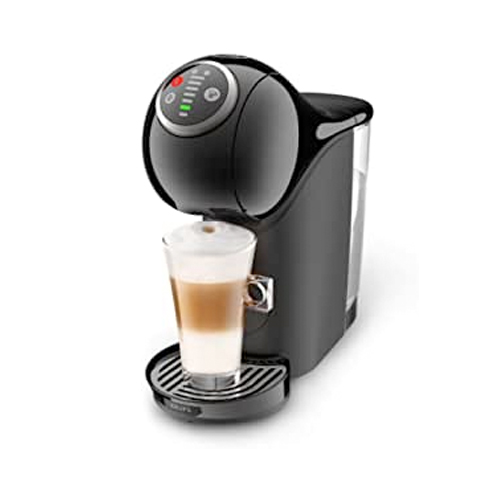 Create your ideal coffee drink from over 50 options, including Espresso, Latte Macchiato, hot chocolate, teas, and cold beverages. The NESCAFE Dolce Gusto Genio S machine is an automatic, ultra-compact machine created with creativity and functionality in mind.
Make professional-quality coffee with the machine's high-pressure technology, and feel free to go big with the XL functionality. It is also an average priced coffee machine!
This is a cheap and affordable coffee machine as you can buy other ones at a higher expense. Therefore, if you are looking for a cheap, good-quality coffee machine, this would be perfect for you.
The Best Digital Coffee Pod Machine
Lavazza Desea Coffee Pod Machine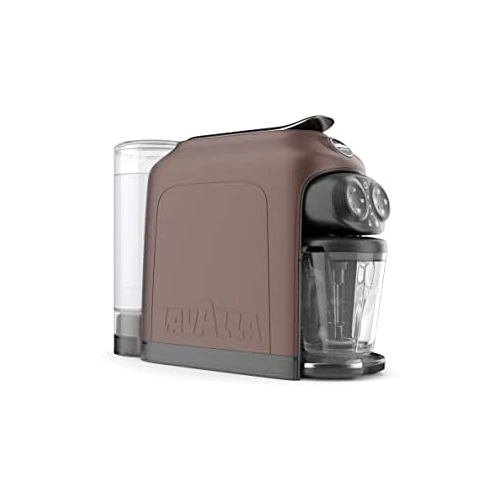 Firstly, the most rated digital coffee pod machine is the Lavazza digital coffee machine, these are the best you can get! Do you enjoy cappuccinos but don't want to deal with the mess and clean-up that comes with frothing and decanting hot foamed milk? The Deséa pod coffee machine is the machine for you.
It comes with a dishwasher-safe glass cup that doubles as both your frothing vessel and mug, as well as a 1.1-litre water tank that is compatible with the brand's eco-friendly biodegradable capsules. It also has more features than a typical digital coffee pod machine.
There's a button for more foam, a coffee temperature increase, and a cleaning cycle, for example, all of which may be used to ensure that your first drink is always as excellent as the last.
The only downside of this coffee maker is that the frothing boost button isn't suited for bigger volumes of milk since it will overflow, and capsule disposal isn't automatic, so you'll have to remember to raise the lever at the end to release the pod into the inbuilt bin. But apart from that, this digital coffee pod machine is perfect for anyone's home!
Things we liked
Coffee temperature increase options
Has biodegradable capsules
Things we didn't like
Not suited to large amounts of milk
Nespresso CitiZ & Milk Coffee Pod Machine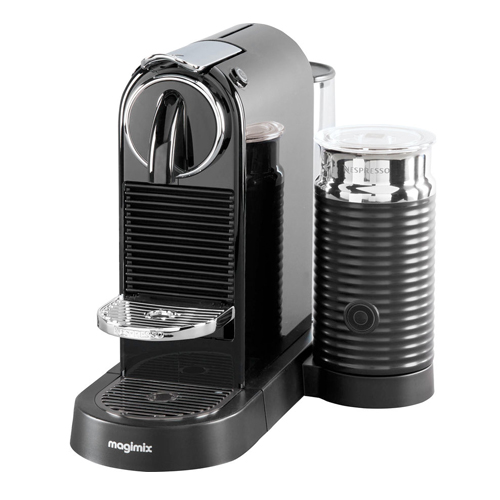 This digital coffee pod machine not only fits into the tiniest of kitchens due to it being a small size, but it also has only two programmable buttons, making it ideal for dazed mornings when all you want is a quick cup of coffee. The Nespresso coffee machine is also known to be able to heat up in seconds, and you can put a pod in right away, press the brew button, and walk away.
Unlike several little coffee pod machines, the one-litre water tank is quite large for its small size, so it should last the entire day without needing to go to the sink and refill it. There's also an interior container for discarded capsules, which only needs to be emptied once a day.
On the other hand, this coffee pod machine does have its downfalls that might make you think twice about getting this coffee pod machine is the price, as the CitiZ is more expensive than other comparable machines.
Also, the fact that milky drinks aren't available unless you pair it with an Aeroccino 3 - this is a machine for black coffee enthusiasts on its own. So, if you don't mind paying extra and only drink black coffee, then this is perfect for you.
Things we liked
Large water tank capacity
Ideal for small kitchens
Things we didn't like
Pricey
Milky drinks only available with an Aeroccino 3
Illy Y3.2 Iperespresso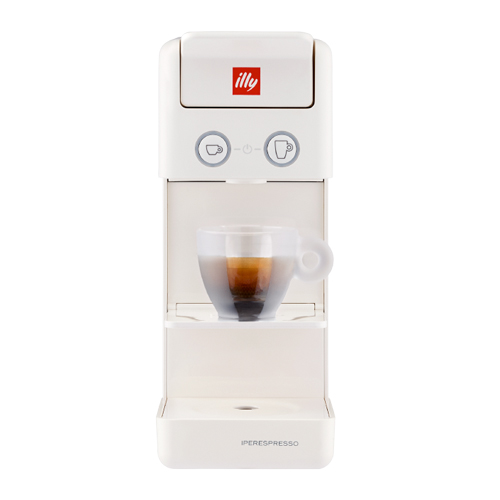 This machine, like all pod machines, takes the guesswork out of brewing espresso. Lift the top flap (which ejects the previously used pod), insert a new pod (from nine various blends), close it, and press either the big cup or small cup button.
However, despite the 37p cost per pod, the Y3 uses a unique two-stage extraction technique, and the coffee it produces is so rich and gratifying.
Things we liked
Cheap coffee pods
Easy to use
The Best Coffee Pod Machine with Milk Frother
Sage Creatista Uni Nespresso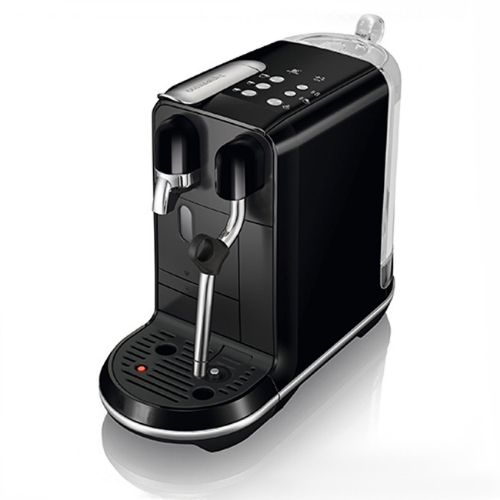 The Creatista coffee pod machine is well-built, with a reassuringly big quantity of metal employed in the build, but it's the Sage-like, straightforward interface that stands out. The top of the machine has an LED panel that shows one of eight coffee varieties, ranging from short shot ristretto to latte macchiato, and it's quite simple to use.
The foaming wand is also wonderful and nearly fully automatic; it is what makes the coffee machine so special simply set the desired quantity of froth and press the button for everything from warm milk to a Matterhorn-style pinnacle of rich, creamy froth.
This is one of the more expensive coffee machines.
Things we liked
Eight coffee variations
High-quality foaming wand
Dualit Café Plus Coffee Pod Machine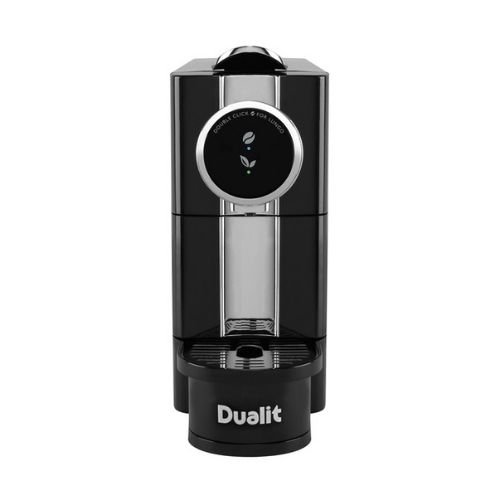 Dualit's Nespresso machine is compact and easy to operate, with a touch interface that offers a selection of extracts ranging from espresso to Americano, as well as a side-mounted milk frother for cappuccinos. It also heats up in just 40 seconds, which is ideal for individuals who need to get out of the house quickly in the morning.
On the negative side, the Café Cino is extremely loud, and the metal cup tray rattles when used with a small espresso cup. Therefore, if you find loud sounds annoying, then this isn't the best machine to be in your home. On the bright side, it makes just as good an espresso as the majority of the machines on this page, so it's worth a look.
Things we liked
Very powerful - expels air quickly and efficiently
Heats up in 40 seconds
Easy to use
Delonghi Nespresso Lattisima Pro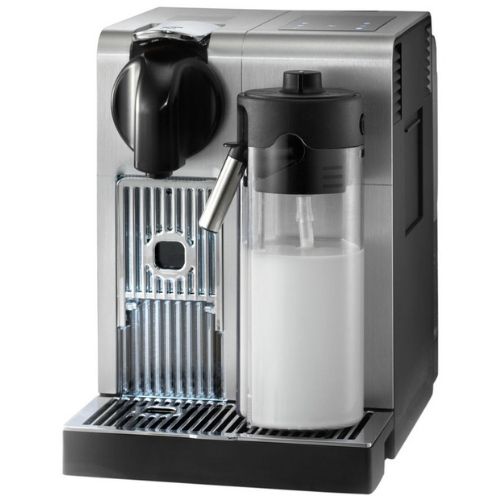 Nespresso is the most widely available capsule brand, with many high-end hotels including them in their rooms. It's no surprise because this elegant, well-designed DeLonghi-branded appliance would look great in a gorgeous kitchen, taking up very little room and easy to store while producing outstanding espressos, lattes, and, to some extent, cappuccinos.
The Lattissima Pro comes with an automatic milk frother that produces an amount of foamy stuff before the coffee extraction process. As every coffee aficionado knows, a proper cappuccino should have the milk poured into the espresso shortly before pouring.
Things we liked
Automated milk frother
High-end design
What to Consider Before Buying a Coffee Pod Machine
A nice personal coffee machine is usually well worth the investment. Not only will you save more money per cup than if you bought it from a coffee shop, but it will also be faster and more convenient than travelling to your local coffee shop.
All pod machines work in the same way: the customer uses a coffee pod in the machine, pushes the button, and the machine flows hot water from an in-built tank through the pod and into a cup as coffee. Some have a milk frother or steaming wand that can be used to make milk for lattes, cappuccinos, and other beverages.
However, some are good for different purposes, only make certain coffee and other features of different coffee pod machines.
So, in this part of the article, you will learn about the different things you should consider when you are looking to buy a coffee maker and think deeply about it as some coffee makers are not cheap and can be bought at a high expense.
Long-term Cost
Purchasing a coffee maker is a long-term investment. Although they can be expensive if you choose a single-serving machine, you'll be spending money on the essential pods and capsules regularly.
Brewing Temperature
Because the ideal brewing temperature for a pot of coffee is 196°F to 205°F, if you're a serious coffee drinker, you'll want to invest in a machine that can brew at high temperatures. Hint: Most high-end machines will mention their brewing temperatures on the box or the internet.
Amount Coffee you Drink
A single-serving machine may be ideal for you if you only drink one cup each day. If you prefer a tea or coffee to keep you moving all day, the largest pot available may be the best option, and you're best looking for dual purpose coffee pod machines. Look for machines with a 12-cup capacity.
How Easy it is to Clean
It's not ideal if you have to flip open a lid to add the coffee, and the lid strikes the bottom of your top cabinets before it can fully open. Check to see if the components will work in your kitchen and with your lifestyle.
If you're considering a machine with a carafe that must be hand-washed and aren't sure you'll have that type of time every day, consider something that can be put in the dishwasher.
What features do you want to include?
Do you think you'll need a machine that can be scheduled to start automatically the night before? Are you frantic as you rush out the door? Choose a model that shuts off automatically, so you don't have to worry about anything else as you race to work.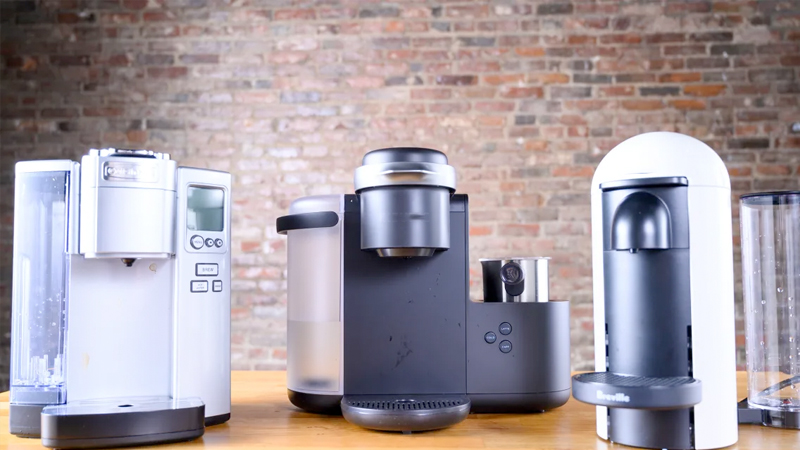 FAQs
How Do You Clean a Coffee Pod Machine?
First, you must wash the outer surface of your coffee pod machine to make sure it is looking nice and clean from the outside. Then you need to clean the interior y taking a clean toothbrush and brush any excess parts on the coffee machine that shouldn't be there. Give the outside another wipe and soak your cloth in white vinegar.
You must then clear all the water from the tank and remove the water filter. Fill the water filter up halfway with water, add half white vinegar and let it soak in there for about 30 minutes! Allow the water to run on the largest cup setting.
Repeat this process as many times as necessary until the machine is empty. You now have a clean machine ready for your next morning brew!
However, if you have a coffee pod machine that can be dismantled and put in the dishwasher, that is another way to wash it but not every coffee pod maker comes with this feature.
Can You Use Coffee Pods Without a Machine?
You may be able to just set the pod in a coffee mug and pour water over it, depending on the sort of pod you have. To do so, take the pod out of its container and place it in your mug and then add the hot water to it.
Allow the pod to soak in the water for a few minutes. Use a spoon to hold the pod underneath the water if it floats to the top of the mug. Stir the water now and then. Make sure you pay attention to this step because if the pod doesn't soak properly, your cup of coffee will be off.
What Is The Average Cost of a Pod Coffee Machine?
You can pay for a good quality coffee pod machine for about £70; however, anything under will probably not last you a long time. However, some coffee pods are very expensive, such as the Jura E8 Coffee Maker, which sells for over £1000!
Therefore, the average reasonable price you could pay is around £70-£300 for an average coffee maker. Any extra features you want to be included will probably make your budget increase.
What Was the Best Coffee Pod Machine from Recent Years?
Although Nespresso offers a wide choice of coffee makers that work with its pods, one of the most recent versions – the Nespresso Creatista Plus Coffee Machine by Sage – stood out in 2020.
It also features a 19-bar pressure system, so it's quick and powerful. Its dial allows you to quickly select from eight drink options, including cappuccino, latte macchiato, ristretto, espresso, lungo, or milk frothing. To complement its elegant frame, it comes with a sophisticated stainless-steel barista-style milk jug.
How Much Are Coffee Pods?
A 50-count container of coffee pods costs £28, or 56 pence per serving, on Amazon. Starbucks Verismo pods are much more expensive, ranging from £10 to £12 for a 12-pack, or 83 pence to £1 for each cup. Therefore, you can pay extra to have the exact coffee you want from the shop or instead of paying £5 for a drink at Costa, you may have several more at home for a fraction of the price.
Sources