kitchen & cooking
Best Bread Maker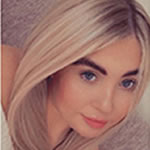 If you're a bread lover and want to make your own bread, a bread machine is a good investment. Perhaps you're sick of preparing bread by hand and have a hectic schedule. If this is the case, you can benefit from a bread maker which is highly convenient, practical, and well worth the money.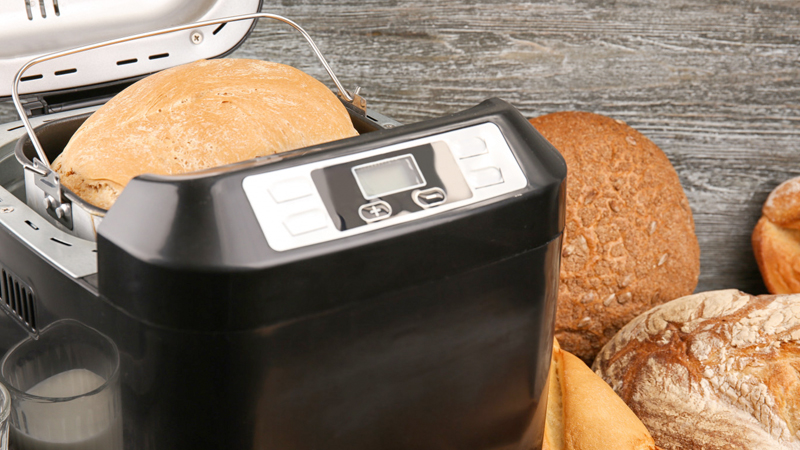 If you are thinking of making your own bread or want to buy a bread maker, then this article will help you know where to go and what type of bread maker will be best for you.
What Is a Bread Maker?
A bread making machine, sometimes known as a bread maker, is a form of home equipment that bakes bread from raw ingredients. It consists of a bread pan with one or more built-in paddles at the bottom, which is positioned in the centre of a small special-purpose oven.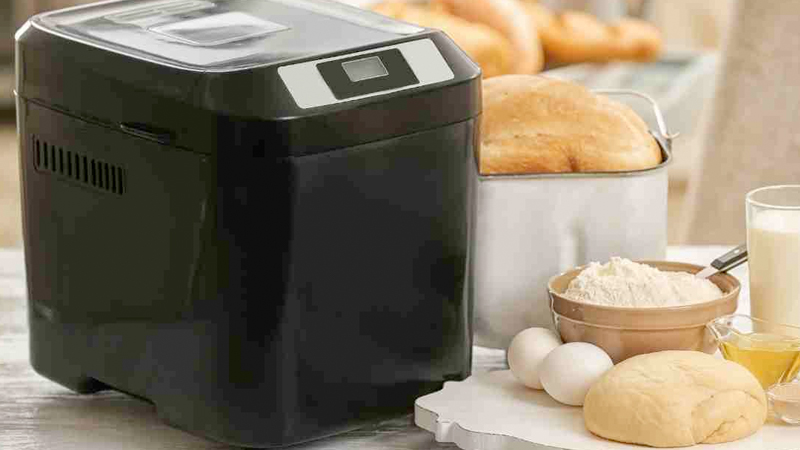 The beauty of a bread maker is that it takes care of all these tasks for you.
How Does a Bread Maker Work?
A breadmaking machine is essentially a small electric oven that can accommodate one large bread pan. The tin is unique in that it includes a bottom axle that links to an electric motor underneath. Inside the tin, a little metal paddle clicks onto the axle. A waterproof seal holds the axle in place, ensuring that none of your bread mixtures escapes.
You begin by placing your paddle in the tin. You measure out your ingredients and load them into the tin when it comes out of the oven. All you must do now is place your tin in the oven, use the electronic control panel to select the desired programme, close the lid, and wait. You can see what your bread maker is doing if it has a glass lid. You'll have to listen and use your imagination if the cover is opaque.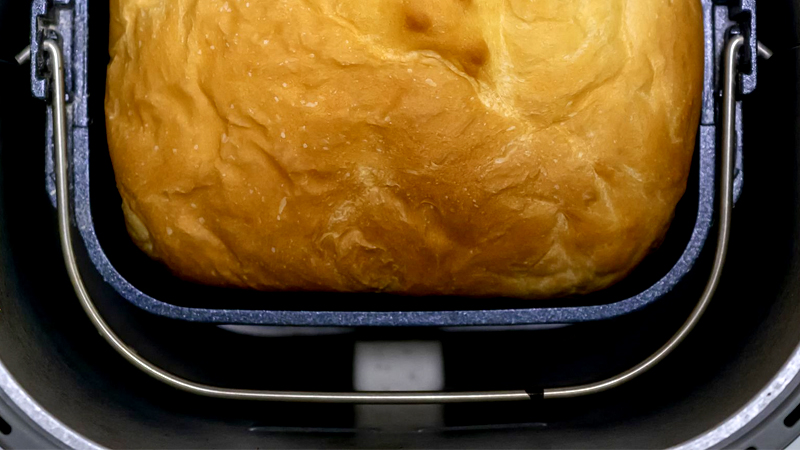 The whirling of the machine's engine as the paddle revolves around kneading the dough is one of the first sounds you'll hear. During the rising phase, everything will be silent. During the proving, you'll hear additional kneading and another time of silence.
Finally, the oven will turn on, steam will emerge from the exhaust vent, and you will begin to smell the lovely aroma of baking bread after a few minutes. Although most machines come with recipe booklets for generating more complicated forms of dough, the basic breadmaking process is entirely automated.
Types of Bread Makers
There are so many types of bread makers you can now purchase as they are now more advanced and growing more popular. The greatest bread makers are straightforward machines that largely follow the same design principles. Before the pan is placed into the machine, you'll receive measurement instruments and a bread pan into which the ingredients will be placed.
Therefore in this part of the article, you will learn more about the different types of bread makers and the features that come with them.
Non-Stick Bread Maker
When using a bread maker, one common issue is that the loaves stick to the pan and are difficult to remove in one piece. When you choose a bread maker with a non-stick pan, you will not have to worry about dealing with a loaf that comes out in pieces or having to use a lot of extra oil within your pan to ensure that your bread does not stick.
After it has done baking, your loaf will easily slip out of the pan and will be precisely shaped, so you won't have to worry about tears or missing parts due to adhering to the pan.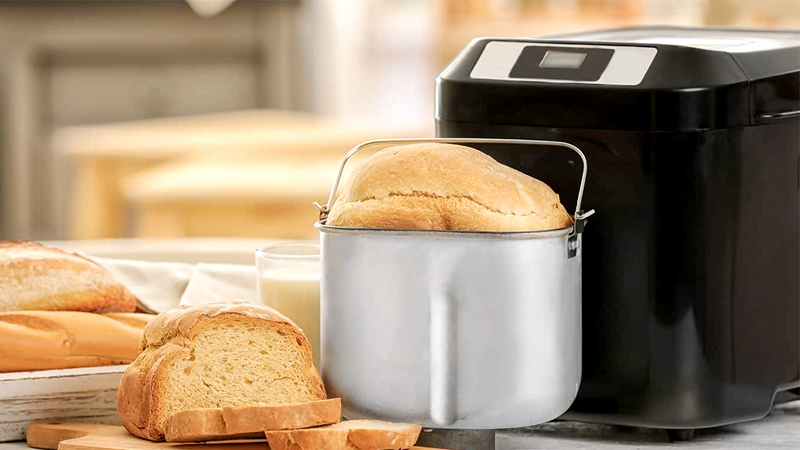 Alarm Bread Maker
One of the biggest advantages of using a bread maker is that you don't have to keep an eye on the bread while it's baking in the oven. It's a good idea to have a bread maker with an alarm if you don't want to allow your bread over bake or sit in the bread maker for too long.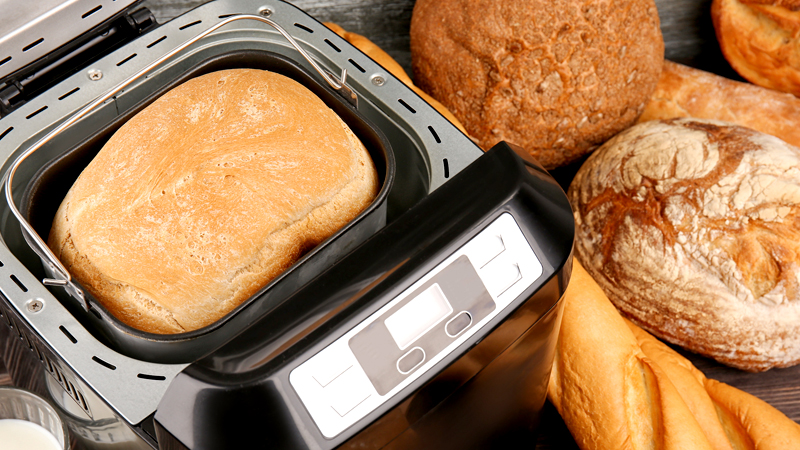 This feature will notify you when your bread is done baking, allowing you to swiftly remove it from the bread maker and avoid it adhering to the pan or getting overbaked as it cools.
Bread Maker with Recipes Included
It might be difficult to get started with a new bread maker, especially if you have never baked bread before. Instead of attempting to discover a recipe that will work with your new machine, when you get a bread maker that includes recipes, you can rest assured that these recipes will also work with your bread maker.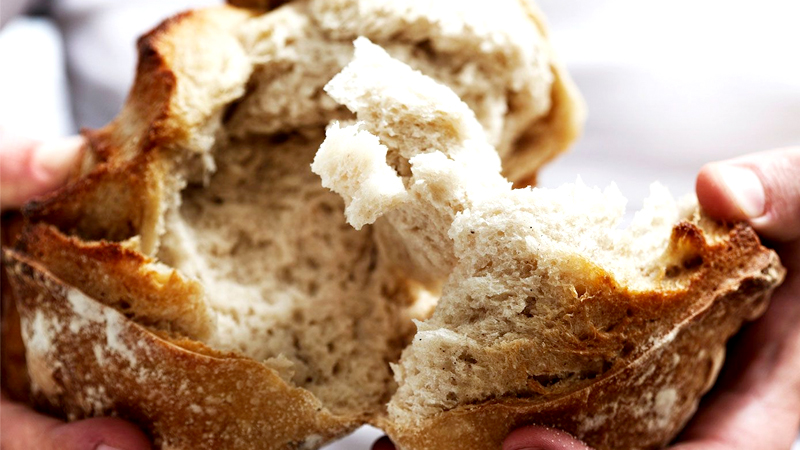 This will relieve the tension and pressure you're under to make a beautiful loaf, ensuring that you're successful right away with your new bread machine. This will enhance your confidence and enable you to use tried-and-true recipes that are certain to succeed.
Adjustable Loaf Size
Many bread machines can only make one size loaf. If you want to be able to bake several sizes, you should buy a bread machine that allows you to vary the size of your loaf. This prevents overbaking if you only need a little loaf for yourself and your husband, but it also allows you to make larger loaves that are ideal for delivering to a party.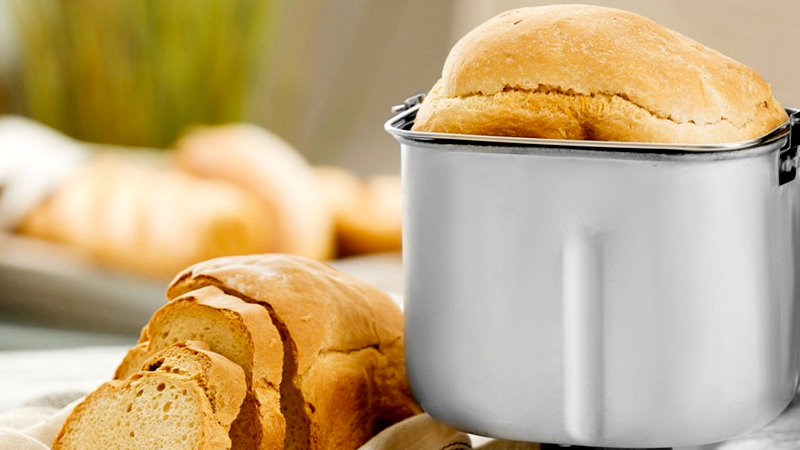 You won't have to worry about running out of bread, or it grows stale before you can consume it because you can easily modify the size of your loaf to match your needs.
Programmable Bread Maker
Unlike older bread machines, current bread machines are programmed. This means you can specify the time, temperature, and whether there will be any items blended into your loaf. You can also alter the parameters of your machine so that you do not accidentally over or under bake your loaves.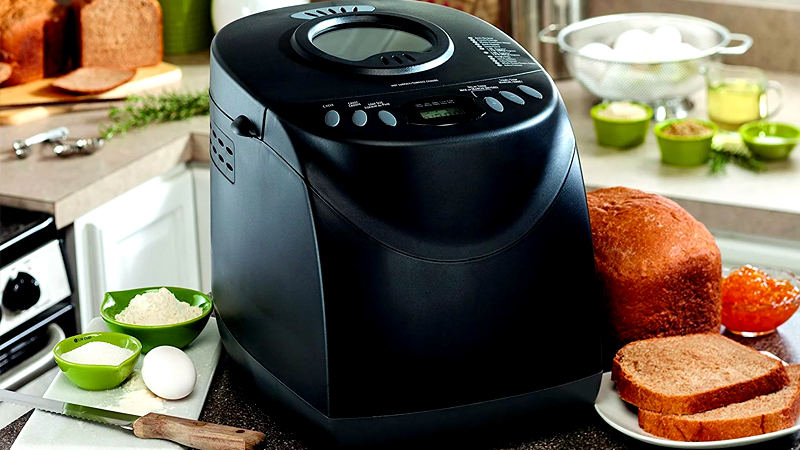 Because all flours bake differently, you'll want to acquire a programmable bread machine so you can obtain an even bake every time you use it. Bread machines without this option may be less expensive, but you will lose a lot of control over the quality of your loaves if you do not buy one with this feature.
Bread Maker with Delayed Start Feature
One of the most significant advantages of using a bread machine to assist you with your baking is the ability to load all your ingredients into the machine, set the delayed start, and bake your bread later when you are not present. This is a terrific method to ensure that you always have freshly baked bread right before supper or to relieve some of the stress that comes with party planning.
If you believe this is a feature you'll appreciate, make sure the bread machine you purchase offers a delayed start option. This function will relieve a lot of the anxiety and worry associated with baking bread, allowing you to relax on the day of your bake.
Yeast Dispenser Bread Maker
You'll want to make sure your bread machine has a yeast dispenser if you intend to use the delayed start feature or schedule it to bake later. This will prevent your yeast from being applied to your dough too early, causing it to grow slowly and making it difficult for your bread to rise properly.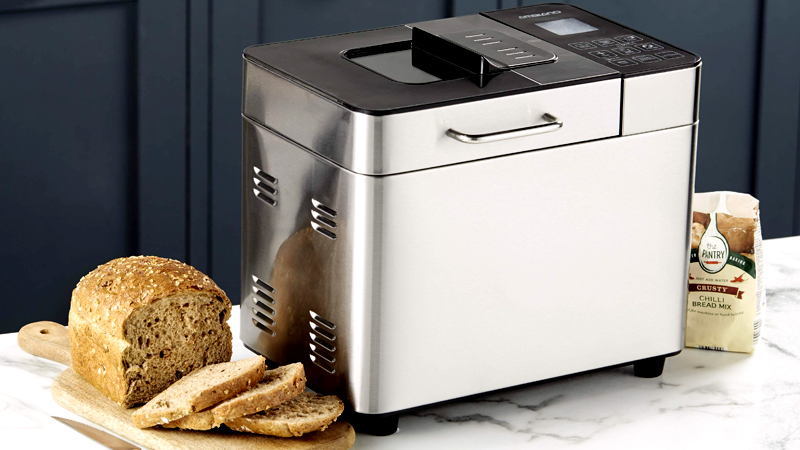 You may rest easy knowing that every time you use your bread machine, you'll get fully risen loaves because you added your yeast at the precise time in the mixing process. This handy option isn't available on all bread machines, which is a shame because it ensures that new bread bakers may generate wonderful loaves and resume them with ease.
Automatic Shut Off Bread Maker
If you use a bread machine, there's a chance you won't be home when the bread is done baking. The ability to leave your kitchen while your bread bakes is a very typical reason for purchasing a bread machine, and not having to stay around and supervise the hot oven is part of the appeal of these devices.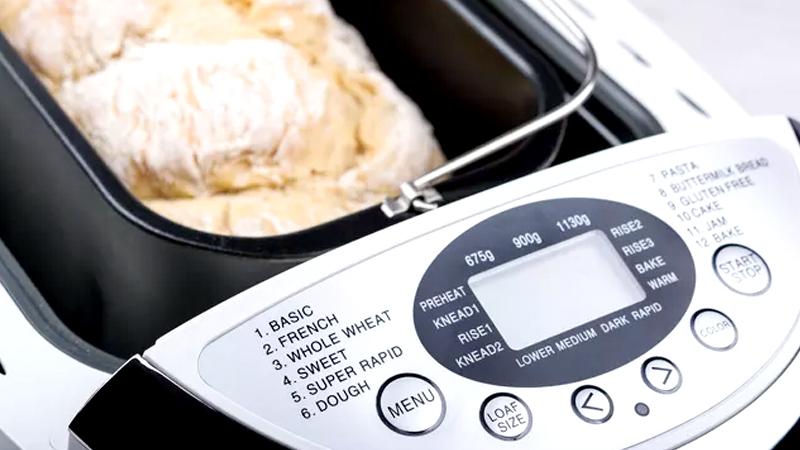 As a result, shopping for one with an automated shutoff is a fantastic notion. This means that after the baking cycle is complete, your bread machine will turn off and will not continue to run. If your bread machine does not have an automated shutoff feature, make sure you are close by to turn it off when it is done baking.
The Best Bread Makers
If you're new to the breadmaking craze and don't know your kneading from your rising, a bread machine could be one of the best buys you'll ever make. Simply put the ingredients in the machine and press the appropriate button, and you'll have wonderful warm bread in a matter of hours.
Bread comes in a variety of forms and sizes, as well as varied crusts, ingredients, and flavours. Some bread makers can also make pizza dough and gluten-free choices, as well as cakes, jams, and even ice cream.
This part of the article will show you the best bread makers you can buy and the pros and cons of each one to help you pick the best bread maker for your home. Therefore, if you don't know what bread maker to buy, this section will help you.
Best Non-Stick Bread Maker
Sana Smart Bread Maker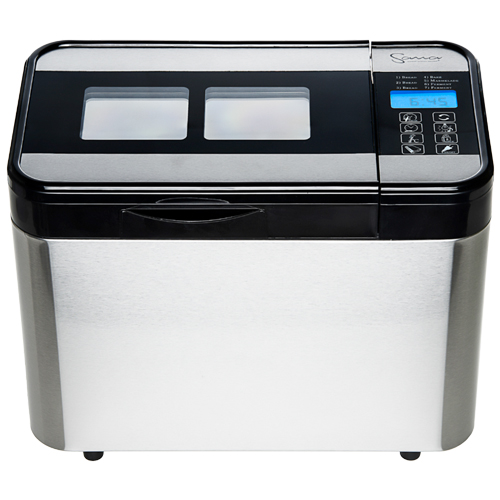 The bread pan is made of stainless steel and comes with two stainless steel kneading blades. Sana bread makers are available in three models: basic, standard, and unique. Each model has the same stainless steel bread machine, however, different accessories are included with each model.
Horizontal bread machines are far more effective since the multiple kneading paddles thoroughly knead the dough, leaving no mixture untouched. It is also non-stick, so you don't have to worry about it sticking to the sides of the machine. It also allows you to mould the dough before the second rise. The Sana comes with glass lids and a digital thermometer, as well as the ability to change the programmes manually.
Things we liked
Non-stick bread maker
Multifunctional model
Flexible settings
Things we didn't like
Not ideal for small kitchens
Breville BBM800XL Bread Maker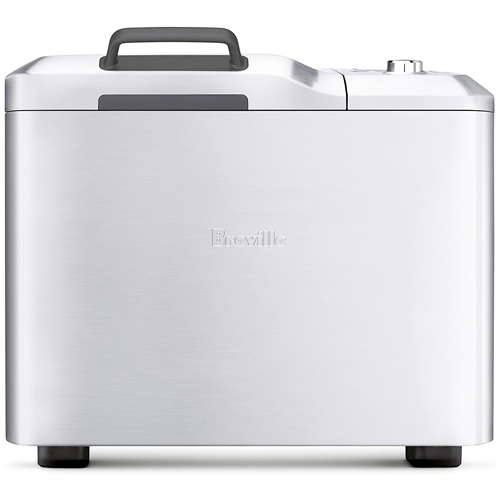 Not only is the Breville BBM800XL one of the greatest bread makers on the market, but it also allows you to customise the settings to your liking. The bread pan has a Teflon non-stick coating, but because you can control the temperature manually, you don't have to worry about anything hazardous getting into your bread while it's cooking.
You'll find the non-stick bread pan and a collapsible paddle inside your machine, which will collapse before the bake cycle starts to avoid the irritating kneading blade hole at the bottom. Although removing the paddle from the bread maker is simple.
Things we liked
Customisable settings
Non-stick coating
Features a collapsible paddle
Best Alarm Bread Maker
Cuisinart Bread Maker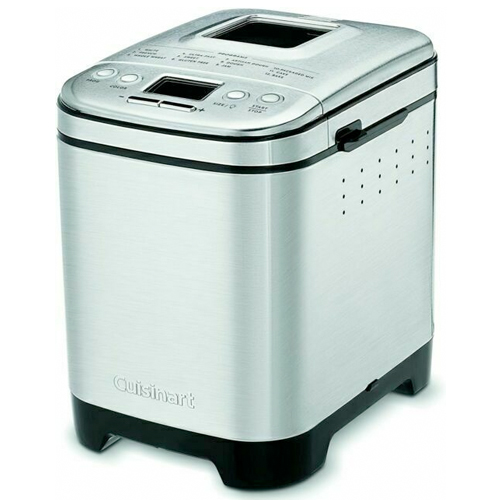 This bread maker lives up to the high standards you'd expect from a reputable brand like Cuisinart. It has 12 pre-set bread settings, three bread colours, and three loaf size options, as well as handy alarms that remind you to remove the kneading paddle or add mix-ins. This machine is also reasonably modest in size and has a pleasing design.
Things we liked
12 pre-set functions
Helpful alarm
Compact design
Things we didn't like
It may take awhile to get used to
Russell Hobbs Bread Maker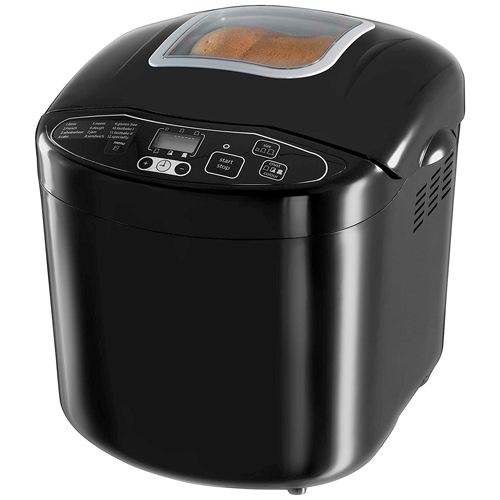 This gleaming black bread maker works well with other kitchen appliances with its curved top and simple controls. It is, as the name implies, one of the most compact models available without sacrificing quality. It also contains 12 options, which include pieces of bread, jams, and doughs. You may also watch all the action unfold in real-time using a huge viewer window.
This bread maker also comes with an alarm to tell you when your bread is done! However, reviews focus on the chaos it creates. People enjoyed the model's easy-to-understand visuals, which indicated bread and crust size as the timer counted down how long the bread had to cook. The model is also noisy when mixing and kneading, but not in an obnoxious way.
Things we liked
Compact bread maker
It features an alarm timer
Easy to use
Lakeland Touchscreen Bread Maker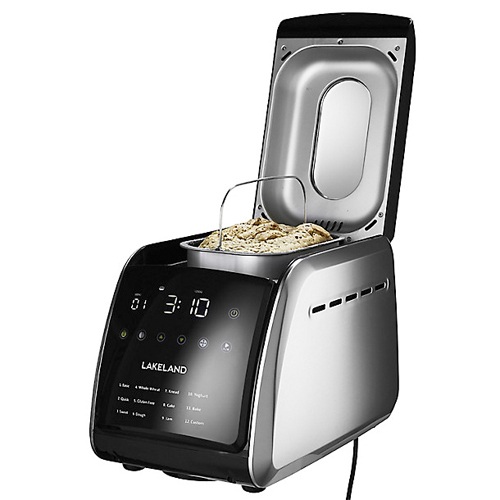 With the help of the guide that offers you step-by-step directions on how to make each type of loaf, this black and silver LED touchscreen bread machine is incredibly easy to operate. You can watch the bread being kneaded, rising, and baking through the window at the top once you've chosen your setting, which is found rather relaxing.
The reminder alarms to add ingredients were particularly helpful, as were the keep warm option and the delay timer. When kneading, though, it was a little noisy.
Things we liked
Easy to operate
It features a reminder alarm
The Keep warm function
Best Bread Maker with Recipes Included
Morphy Richards Home Bake Bread Maker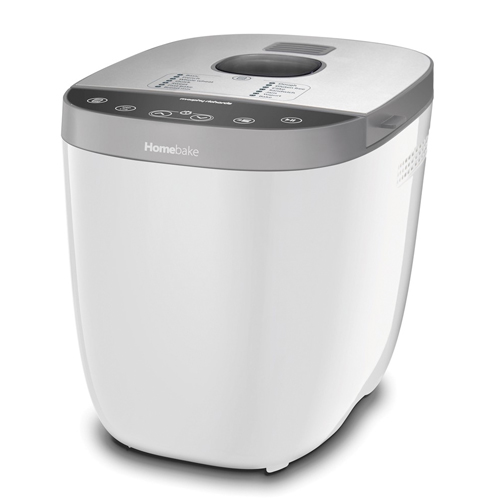 The Morphy Richards home bake bread maker is a tall, attractive appliance. It has gently sloping sides that assist it to have a smaller overall footprint, which is advantageous if the room is limited.
There's a wide, clear viewing glass and 14 different programmes, ranging from basic white bread to pastries, jam, gluten-free bread, and even yoghurt. The recipes included are the best of the bunch — they are simple to follow and made using the machine a breeze. Reviewers experienced a minor issue with the folding paddle, but there isn't much to complain about.
Things we liked
Aesthetically pleasing design
Ideal for small kitchens
Offers plenty of recipe ideas
Sage the Custom Loaf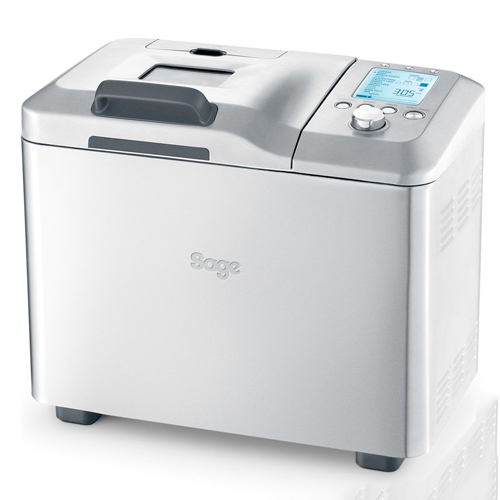 Sage the Custom Loaf bread maker has a superb, high-quality stainless-steel shell and is quite attractive. This is large bread maker, so it may not be suited for small spaces.
It comes with a good selection of pre-programmed recipes as well as an exciting custom option for those who prefer to experiment, as well as other unique features such as a helpful light to check how your bread is doing and a collapsible paddle for kneading the dough.
Things we liked
High-quality design
Various recipe settings
Helpful light
Things we didn't like
Not ideal for small kitchens
Hamilton Beach Premium Dough Maker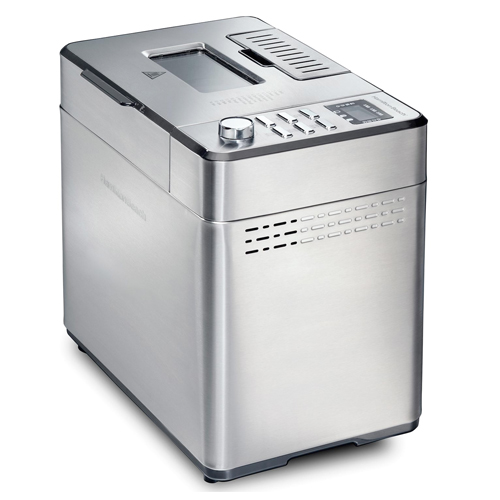 For quick and easy bread and dough manufacturing, the Hamilton Beach machine is a fantastic choice. Basic recipes and comprehensive instructions on how to use the appliance are supplied in the manual, and unlike similar devices, this bread maker is exceptionally quiet when in operation. It includes 14 pre-programmed settings, as well as three different crust sizes and colours.
Things we liked
Quiet operation
Includes 14 settings
Custom crust sizes and colours
Things we didn't like
It moves around during use
Best Adjustable Loaf Size Bread Maker
Tower T11002 Digital Bread Maker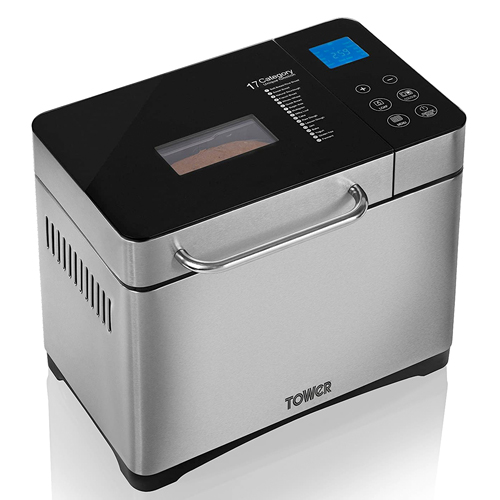 It's controlled by a responsive touchscreen, and you can bake different-sized loaves.
According to reviews, the texture was not stodgy, which is a common problem with other bread makers. The crust was perfect for sandwiches because it wasn't overly crunchy. Critics also stated that the one issue was that they were unable to grasp gluten-free cooking.
Things we liked
Easy to use touchscreen
Various size settings
Great for sandwich bread
Things we didn't like
Not ideal for gluten-free bread making
Cuisinart 2-Pound Convection Bread Maker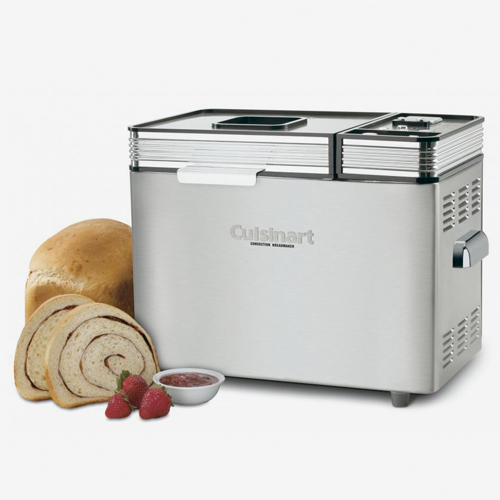 Whether you pick 1-, 1-1/2-, or 2-pound loaves, convection baking ensures even baking in this bread maker. An audible tone allows you to add mix-ins at the exact appropriate time in the breadmaking process, and another tone allows you to remove the finished dough from the paddles and shape it by hand for the final bake.
With a sleek brushed stainless-steel surface, embossed branding, and large, durable handles, this bread maker also looks beautiful on the counter. Glass allows you to see the bread baking and LED indications to allow you to track the progress. For cleaning purposes, the lid can be removed.
Things we liked
Helpful alarm timers
Aesthetically pleasing design
Glass screen helps you monitor the bread
Things we didn't like
The bread pan may be too small
Panasonic SD-2511WXC Bread Maker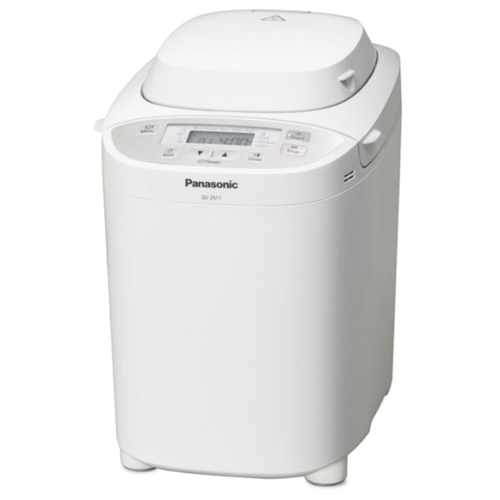 This huge white bread maker is as tall as it is deep, with a curved top and a fruit and nut dispenser. There are a total of 33 settings, with 18 for bread or cakes and the rest for various doughs of different sizes.
Unlike others, it comes with two bread paddles, two measuring spoons, and two big measuring cups, which can be simply stored and utilised even when you aren't cooking bread. During the breadmaking process, the digital display is incredibly helpful, displaying when the dough is kneading, rising, baking, and how much time is remaining.
Things we liked
It has 33 different settings
It comes with additional accessories
Features a helpful digital display
Things we didn't like
It can take awhile to get used to
Best Programmable Bread Maker
Lakeland Digital Bread Maker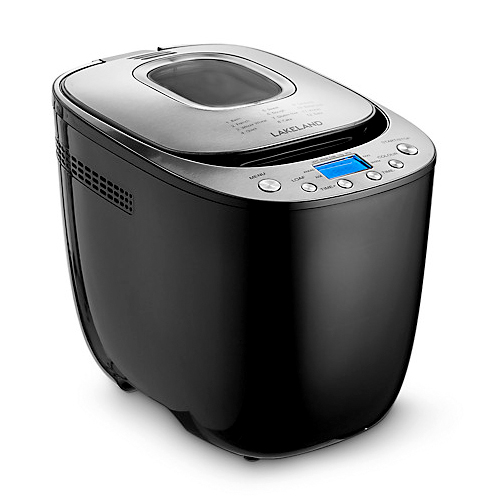 You can't go wrong with this Lakeland bread maker, which comes with an amazing 12 pre-programmed recipes for bread, pizza dough, gluten-free loaves, and cake in a variety of sizes and crust colours.
A large viewing glass allows you to keep an eye on the progress of a bake, as well as a control panel with a clear LED screen and simple, straightforward touch buttons.
Things we liked
Great for gluten-free bread
It features large viewing glass to keep an eye on the bread
Simple to use
Tower T1105 Bread Maker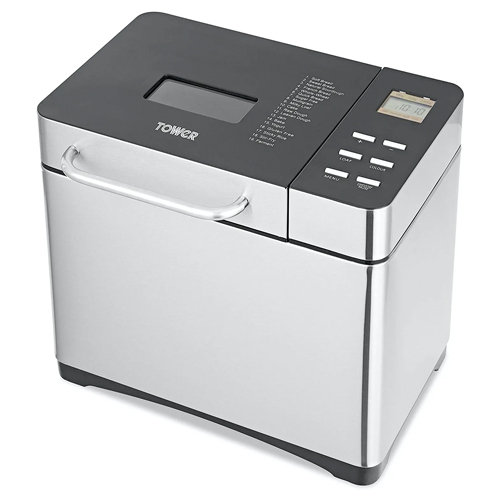 The Tower bread maker has a professional appearance with its robust stainless-steel casing, large viewing window, and simple, simplistic touch panel on the lid. It comes with 19 pre-programmed recipes that include bread, cakes, jam, and yoghurt.
When not in use, a detachable fruit and seed dispenser clips neatly into the lid. It makes a little more noise than others, but that shouldn't deter you from enjoying this machine and the great bread it produces.
Things we liked
Durable design
It has 19 pre-set functions
Multifunctional bread maker
Best Bread Maker with Delayed Start Feature
Oster Expressbake Bread Maker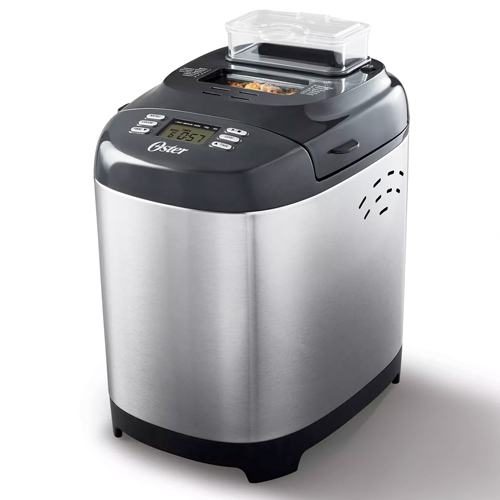 This is a solid foundation that is simple to use and maintain. It offers 12 bread settings, a programmable delay timer, and a warm option, making it ideal for bakers who want to set it and forget it. The see-through lid and digital panel allow you to keep track of your progress.
This is an excellent choice for new bakers or those who only require a basic bread maker to produce basic loaves.
Things we liked
Simple to use
Great for beginners
12 different bread settings
Things we didn't like
Not ideal for more complex recipes
Zojirushi BB-PAC20 Home Bakery Virtuoso Breadmaker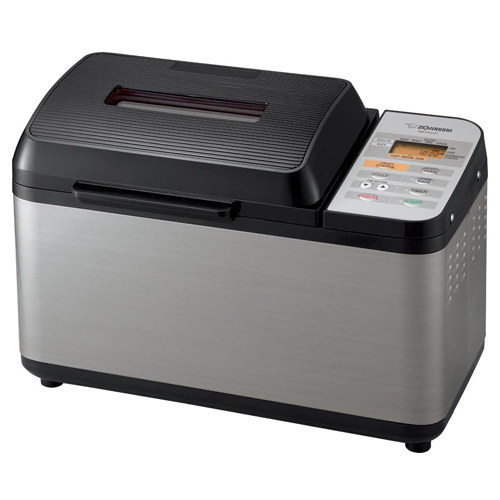 This is another popular bread maker with personalised settings on the market. The Zojirushi, like the Breville, has a Teflon bread pan. You will have freshly made bread cooked at a healthy temperature because you can manually change the temperature. Other qualities of the Zojirushi make it stand out and make it well worth the investment.
The Zojirushi offers a 60-minute keep-warm function as well as a 13-hour delayed timer.
Things we liked
The keep warm function
It features a delay timer
Teflon bread pan
Things we didn't like
It moves around so it may require sunction cups
Breadman 2-Pound Professional Bread Maker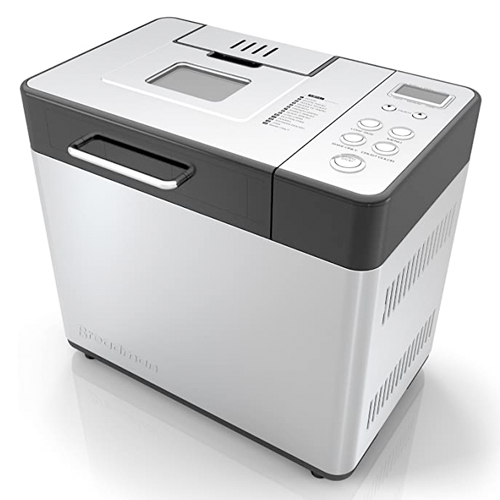 White, white rapid, whole wheat, whole wheat rapid, French, French rapid, sweet bread, quick bread, low-carb, gluten-free, dough, artisan dough, jam, and bake alone are among the 14 baking functions available with this bread machine. The crust can be made light, medium, or dark, and it creates 1-, 1 1/2-, and 2-pound loaves.
There is a 15-hour delayed start option, and a 1-hour keep warm option, so you can add ingredients and bake later. Without raising the lid, you may monitor the procedure through a top glass.
Things we liked
14 bread making functions
It features a 15-hour delay timer
Customisable crust options
Things we didn't like
The cord is short so you might need an extension cable
Best Yeast Dispenser Bread Maker
Panasonic Automatic Bread Maker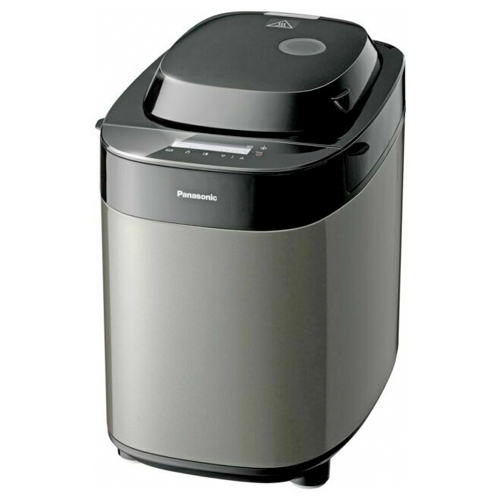 The Panasonic SD-ZX2522 is a fantastic machine with 37 different programmes, including bread, doughs, pasta, jam, and gluten-free baking, to mention a few. It also comes in three different loaf sizes and crust colours.
The top contains a separate yeast dispenser as well as an automatic fruit and seed dispenser, allowing the machine to run at any time of day or night without the need for human intervention. With tall, lidded cups and a one-gram measuring spoon for sourdough starters, even the accessories on this machine are excellent.
Things we liked
37 pre-set functions
It has a separate yeast dispenser
Customisable loaf size and colour options
Sage Custom Loaf Pro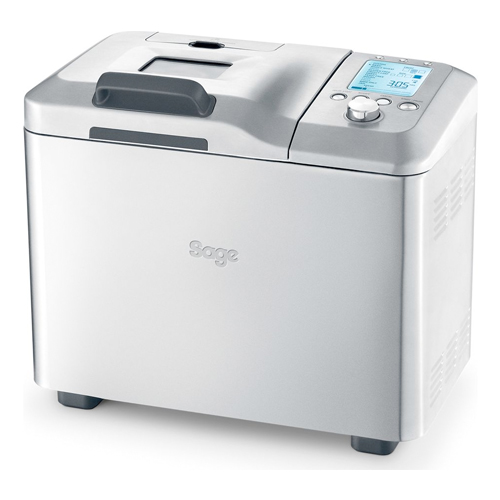 This brushed stainless steel bread maker has a rectangle design, a black handle, and a digital display that counts down the minutes until your loaf is ready. Other options include yeast-free pizza and pasta dough, as well as a bake-only option for those who want to mix and knead their own bread.
One disadvantage is that this bread maker is extremely noisy; you can hear every step of the process, making it unsuitable for evening use.
Things we liked
Great for cooking yeast-free pizza
It has a bake-only option
Attractive design
Gastobrack Bread Maker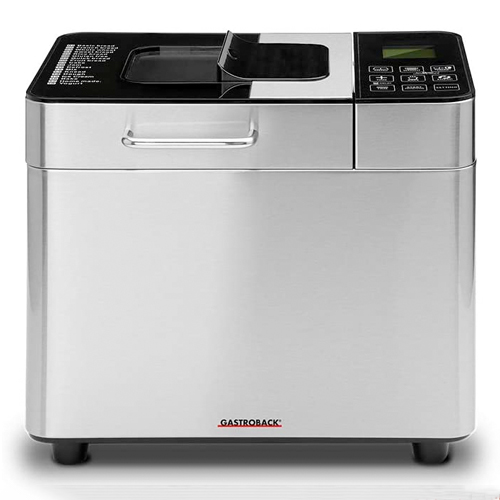 The Gastroback model, despite its size, is multi-functional since it can create bread and ice cream. The programmes are detailed down the left side of the lid, and there are large buttons on the right for the menu and changing the kneading or time settings.
The lid also has a wide viewing window and an easy-to-fill fruit and yeast dispenser. You can prepare basic pieces of bread like white and French, along with sweet and fruit bread, with an astonishing 18 options.
Things we liked
Multifunctional design
It has a wide viewing window
It has 18 different settings
Best Automatic Shut Off Bread Maker
Cuisinart Compact Automatic Bread Maker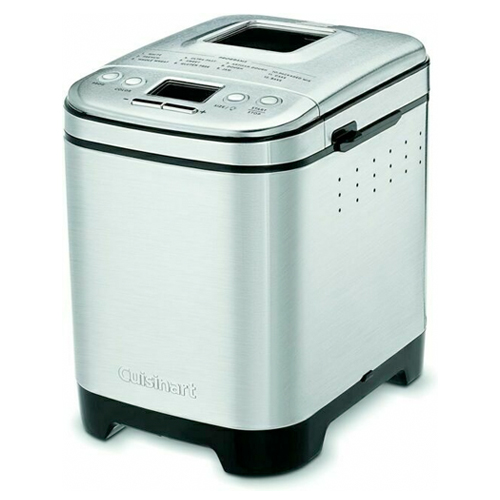 Everyone enjoys freshly baked bread, but not everyone has the time to make it. Allow Cuisinart to handle it for you. This versatile and small automatic shut off bread machine comes with 12 pre-programmed menu options, as well as a variety of crust colours and loaf sizes.
That delightful aroma of freshly baked bread can be waiting for you when you wake up, thanks to a simple 13-hour delay-start timer.
Things we liked
12 pre-programmed settings
Helpful delay timer
Compact design
Things we didn't like
The pan may be too wide for some baking options
Hamilton Beach 9 Bread Maker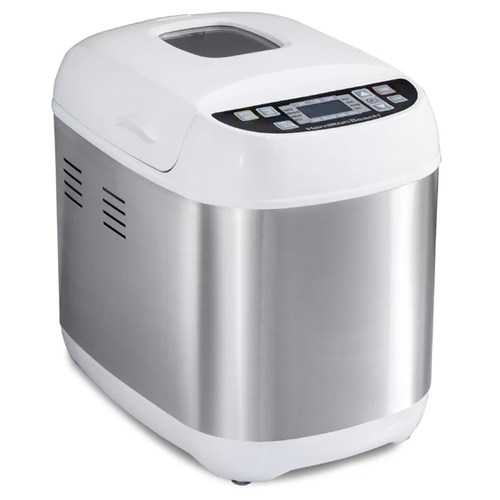 The Hamilton Beach artisan dough and bread maker allows you to prepare everything from a simple loaf of bread to fresh focaccia dough without rolling up your sleeves to mix and knead. Simply add the materials, select the cycle, and press the start button. It won't be long before your kitchen feels like your own bakery, thanks to 14 pre-set settings for a range of bread and doughs.
This bread maker has gluten-free and whole-grain bread options, allowing you to prepare healthy bread with a range of flours. With three loaf sizes and three crust tints, you can personalise your bread right down to the size and colour. The delay timer allows you to add ingredients and start baking later, and the automatic shut off also stops you from burning your bread.
Things we liked
Ideal for gluten-free baking
14 different settings
It features a delay timer
Things we didn't like
The manual does not include bread recipes
What to Consider Before Buying a Bread Maker
Shape and Size
When baking bread in the oven, you can choose your loaf tin, but when baking it in a bread machine, all your loaves will be the same form, so consider how big or tiny you want them to be.
Settings
Think about how many settings you'll need. Some machines have regular settings for making white, brown, and wholemeal loaves, while others can manufacture a wide variety of different dishes, including ice cream.
Timer
For other people, a timer is a deal-breaker because postponing the start time allows you to ensure that you have a loaf of bread waiting for you when you get home from work or when you wake up in the morning. Similarly, if you need additional ingredients, an automatic dispenser is beneficial.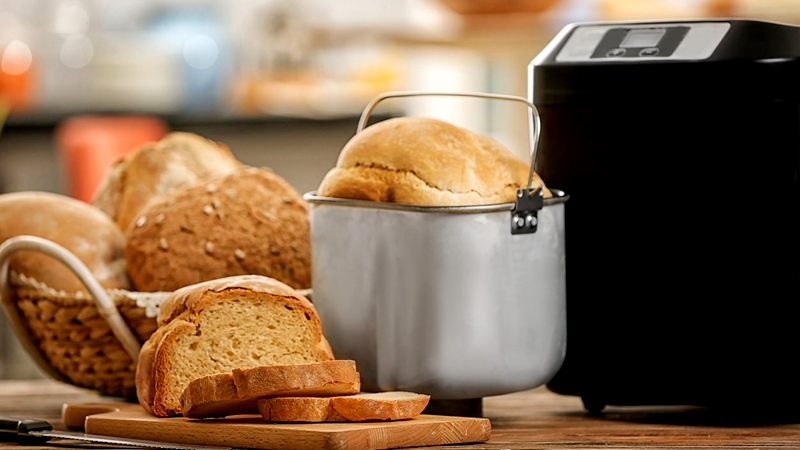 Accessories
To make following instructions easier, you might wish to look for additional accessories, such as measuring cups and spoons.
Viewing Window
If you want to check on the progress of your bake without having to lift the lid, this is a useful feature. It's not a must, but we notice when a bread machine is missing one.
Keep Warm
Keep-warm mode keeps your freshly cooked bread warm for up to an hour after the programme is finished.
FAQs
How do you make banana bread in a bread maker?
The eggs should be whisked together.
Using a fork, mash the bananas.
Microwave the butter to soften it.
Combine the eggs, butter, and bananas in a bread pan, then add the remaining ingredients.
Replace the bread pan in the bread machine (along with all the ingredients), close the bread machine lid, and plug in the bread machine.
Press the start button after entering the bread machine settings (Sweet Quick Bread, Light Colour).
Allow the banana bread to rest in the warm bread pan on a wooden cutting board for 10 minutes after removing it from the bread machine.
After the 10-minute "cooldown," remove the banana bread from the bread pan and cool completely on a wire cooling rack.
How do you clean out a bread maker?
To clean the bread pan, use soap, water, and non-abrasive cleaning utensils. The pan should not be submerged in water. Bleach, strong chemicals, and abrasive scrubbers should all be avoided.
Turn the machine on its side, collect the crumbs in a pile, and then sweep them out.
Wipe any locations where the bread rose too high on the top or sides of the machine with a moist towel (if needed).
Using a moist cloth or sponge, gently wipe the heating elements.
To avoid rust, pat the machine parts dry and/or let them air dry before reassembling them.
What else can you make in a bread maker?
It can also be used to prepare a variety of different meals. The most typical thing is a cake, but you can also create jam, pizza dough, rice dishes, scrambled eggs, yoghurt, and even ice cream.
Is bread healthier when made by a bread maker?
Bread makers are supposed to be healthier than store-bought bread since you can choose exactly what ingredients go into your loaf to fit your dietary needs. For example, you can reduce the amount of salt, and your loaf will be free of additives. Similarly, seeds can be added to handmade bread to increase its fibre content.
Is a bread maker worth it?
A bread maker is a practical, helpful, and worthwhile buy because it reduces the cost of making bread by up to half, allows you to customise your recipe any way you want, and allows you to cook in batches, so your family always has fresh bread.
Sources