diy & tools
Best Telescopic Ladder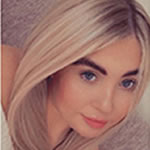 Are you willing to trade in your old ladder for a new telescopic ladder?
Before you buy one, it's important that you understand everything there is to know about telescopic ladders.
Telescopic ladders are made with cutting-edge technology and are becoming increasingly popular. They are lightweight and compact.
You can get to any height you desire with a telescoping ladder, so you can do a range of jobs with only one ladder.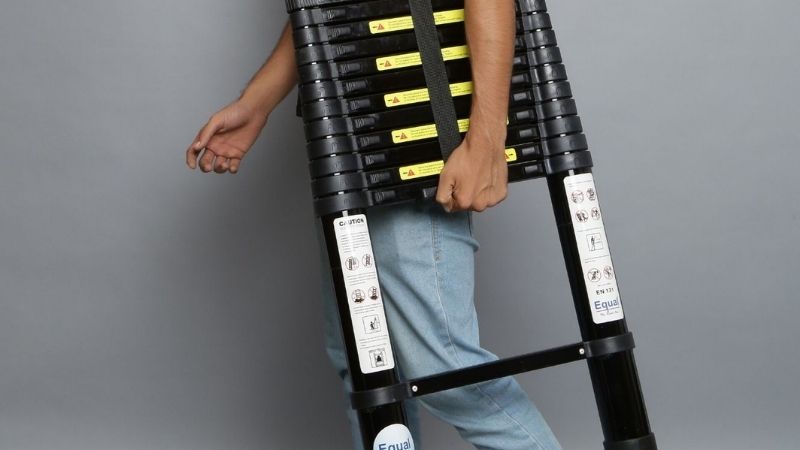 In this guide, you'll learn everything you need to know about telescopic ladders before purchasing one:
Do you know what a telescopic ladder is?
How does it work?
The different types of telescopic ladders?
The best telescopic ladders?
If not, all the information you need is in this guide, so carry on reading to find out!
What Is a Telescopic Ladder?
The telescoping ladder is ideal for working in situations where a typical ladder would be dangerous. Traditional ladders are more versatile, portable, and practical than telescoping ladders.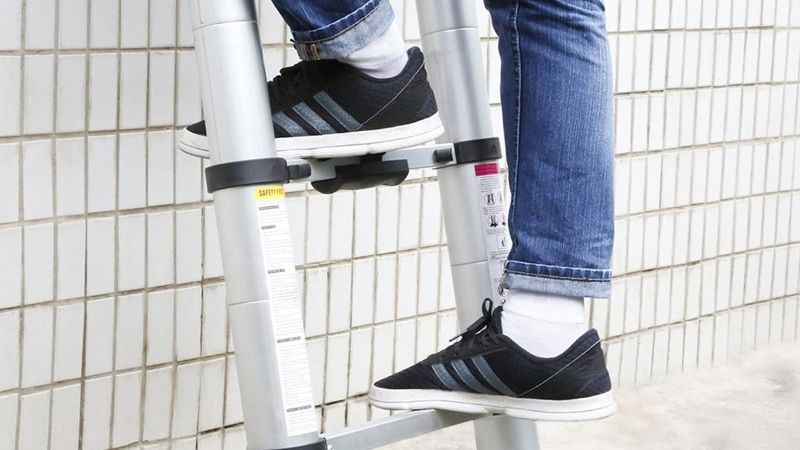 Unlike traditional adjustable or extension ladders, Telescoping ladders use unique technology to extend and lock by the foot to the user's desired height, making them incredibly adaptable. They're composed of aircraft-grade aluminium alloy and fold up tiny enough to fit in a car's trunk.
Depending on whether you need a ladder for household or commercial use, there is a range of options. If you're looking for an excuse to go out and get a telescoping ladder, look no further! This article will provide you with information on the best telescoping ladders available.
How Do Telescopic Ladders Work?
The telescopic ladder functions similarly to a standard telescope, with each step sliding down to pile on the next step and eventually collapsing to make room. This results in a portable, smaller ladder that is easy to carry and manage. You won't have any trouble fitting the telescopic ladder into the trunk of your car, and you won't have to worry about space constraints.
When the telescopic ladder is extended, each of the step's locks into place. This means that the ladder does not need to be fully expanded before being used. Unlike a long traditional ladder, you can erect the ladder to the height you require.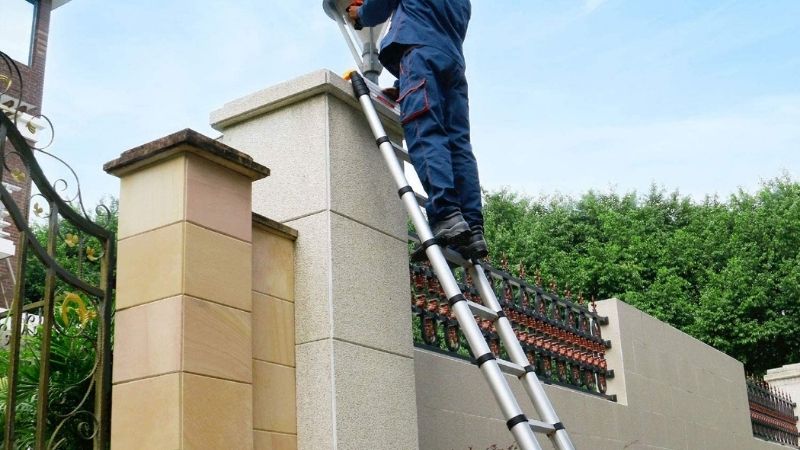 One thing to keep in mind is that the telescoping ladder's locking mechanism is responsible for your safety. Various reports have surfaced of circumstances involving ladders being worn down without the owner's knowledge, resulting in the rung not locking into its proper position.
Unfortunately, it is nearly impossible to view the locking mechanism physically most of the time. To avoid an accident, you should thoroughly inspect the telescoping ladder before climbing it.
Types of Telescopic Ladders
Telescopic ladders are a must-have for any home improvement project or ordinary trade job. These ladders can simply be expanded in height to finish the task at hand before being collapsed back to their original size.
This makes them perfect for a wide range of tasks, including washing windows, getting into loft spaces, changing light bulbs, and installing fixtures in high-up areas of a house.
However, there are different types of telescopic ladders, and each one comes with its own features, including:
Aluminium Telescopic Ladder
Aluminium telescopic extensible ladders are great for individuals who need to save space while transporting or storing their ladders. This is due to their ability to compact to a third of their greatest height. This makes them excellent if you need to go into a loft but don't have a lot of storage space.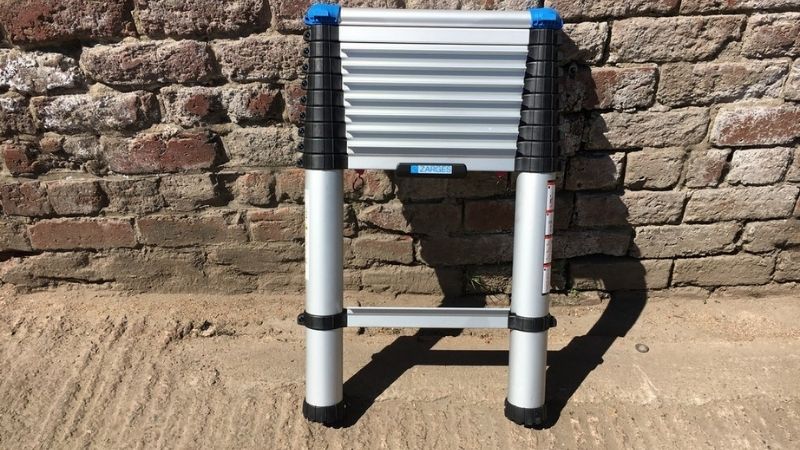 These ladders are lightweight and come in a variety of maximum heights. A light aluminium telescopic ladder can be extended up to 380cm. Work can be done from a height of up to 5 metres. Aluminium ladders are adaptable and simple to store. They work at heights of up to 5 metres! It is made of a strong aluminium alloy that will last for a long time, ensuring that you receive your money's worth.
Loft Extension Telescopic Ladder
A telescopic loft ladder is a great sliding alternative if you have height and storage space constraints. This metal ladder is long-lasting and can easily handle heavy use. The operation is simple, requiring only a single button press to release and lock each tread into place.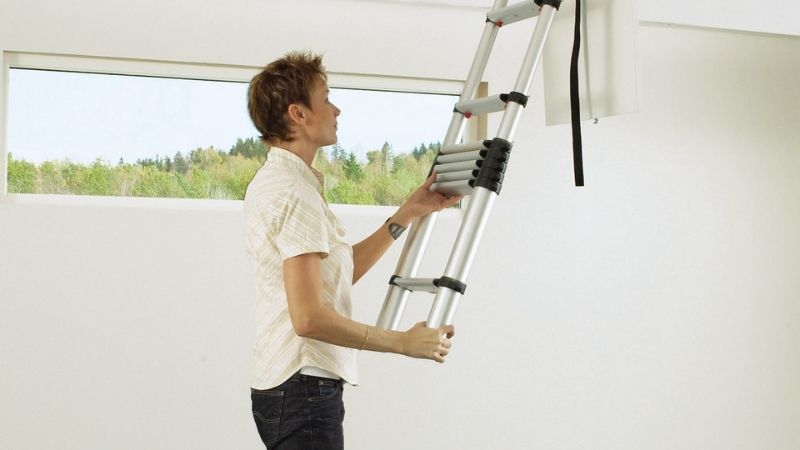 Loft extension telescoping ladders may be used as a straight ladder with a height range of 2.85 feet to 13.45 feet and are perfect for industrial and do-it-yourself applications such as home and building maintenance, window cleaning, exterior and interior decorating, painting, and many more. In addition, the telescopic form enables convenient transport and storage.
Telescopic A-Frame Ladder
A framework telescopic ladders are designed to fold and collapse in on themselves (like a telescope) so that they may be easily stored and moved around but then reassembled into a safe and secure full-size ladder when needed.
A-frame telescopic ladders are corrosion-resistant and one of the best solutions for outdoor operations. They're always nicely weighted to help you feel more stable while climbing. A-frame telescopic ladders fully stretch in seconds and fold in half as well as shrink in size for increased stability and complete peace of mind.
Multi-Purpose Telescopic Ladder
A 3 in 1 Multi-Purpose Telescopic Ladder is a compact, flexible tool that converts to three ladders. It changes from an extension ladder to a step ladder to a stair-step ladder fast and simply. This type of telescopic ladder is suitable for both professional and home use.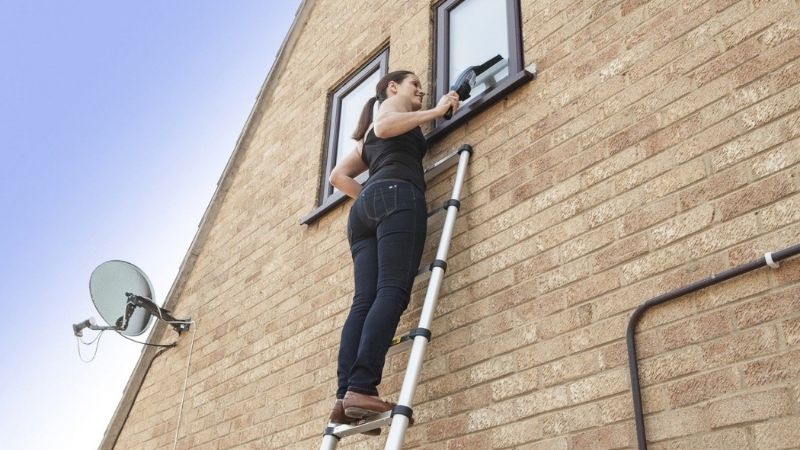 A multi-purpose telescopic ladder includes two locking mechanisms on each step. These are steel pints that are spring-loaded and automatically lock into position as the ladder is extended. Each mechanism is linked to a locking lever that may be seen from the outside. So, they are so easy to use and great to have in your home as they are good for every DIY project in your home.
The Best Telescopic Ladder
Do you require a mobile and easy-to-store ladder? Telescopic ladders can be folded in half (or more) to make them easy to transport upstairs or store on a shelf.
It's reasonable to say that the best telescoping ladder could be a significant part of your life, whether you're a huge fan of all things DIY or your job requires you to spend a lot of time reaching high areas. While it may appear unusual at first, this useful tool has grown in popularity among homeowners and tradespeople in recent years.
To help you find the best telescopic ladder for your home, take a look at the following telescopic ladder reviews.
Best Aluminium Telescopic Ladder
Telescopic Extendable Ladder Charles Bentley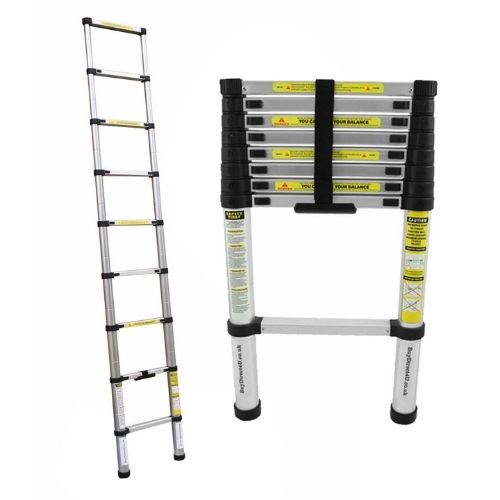 The Extendable Telescopic Ladder is a good candidate. This budget-friendly variant is certified to many standards. The creators created it with an aluminium body and nylon straps/ropes, and when fully stretched, it measures 2.6m from its feet to the tallest rung.
The wonderful characteristics of the secure locking mechanism, non-slip rubber feet, and quick opening/closing make it an ideal and safe telescoping ladder for home and work. It has a maximum length of 2.6 metres and a folded length of 75 cm.
This lightweight DIY retractable ladder is easy to store and weighs only 7kg while supporting a maximum load of 150kg. However, because of its heavy, quick shutting nature, caution should be exercised, and this telescopic ladder may not survive with more sturdy versions.
Things we liked
Budget-friendly
Lightweight design
Things we didn't like
Heavy shutting nature can be dangerous
5M Aluminium Telescopic Ladder by Finether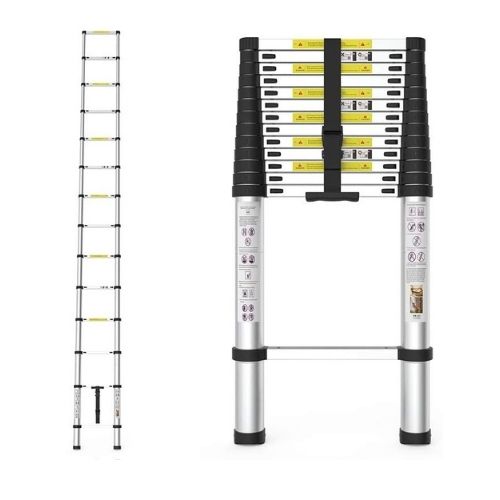 The strong aluminium construction ensures that this is a long-lasting, heavy-duty tool that will safeguard the structure from corrosion and rust. Anti-slip caps hold the upper and bottom components of this collapsible ladder, preventing any movement while in use.
Every step has a double coupling to keep your hands from getting caught in the mechanism. It comes with a storage bag for convenience.
This retractable DIY ladder has a height of 96cm and can stretch up to 5 metres when its 14 steps are fully inflated. Because of its solid feet, it can withstand a maximum weight of 150kg, making it one of the best ladders on the market.
Everything comes with a tight strap that keeps it together, making it easy to store and carry. Due to its weight, it is best used by two people.
Things we liked
Long-lasting design
Easy to store
Things we didn't like
Requires two people to set it up
WolfWise 3.2m Aluminium Telescoping Ladder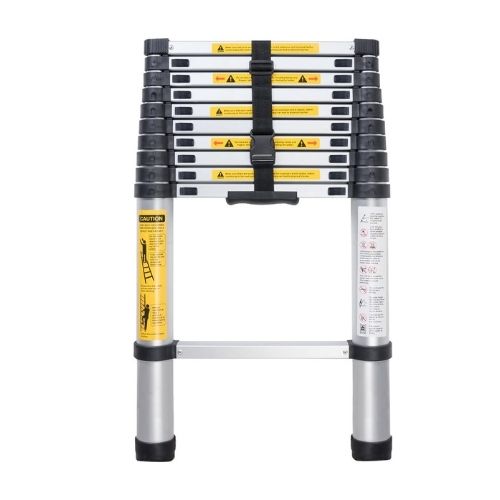 The WolfWise 3.2m telescoping ladder is a terrific device to have around the house or on your next work because it is designed for safety and stability.
Each segment of this ladder is engineered to open and close easily without putting your fingers at risk. The non-slip caps keep your device firmly in place while you work, reducing the risk of falling.
This lightweight aluminium ladder can hold up to 150kg of weight. The WolfWise telescopic ladder is ideal for travelling. Additionally, a heavy-duty strap is included for easy hauling.
One disadvantage is that it is a little heavier than expected. You'll have to be very careful when placing the runners down, as you don't want your fingers to get caught.
Things we liked
Opens and closes easily
Non-slip caps
Things we didn't like
Requires care when unfolding it
Best Loft Extension Telescopic Ladder
Aluminium Telescoping Loft Extension Ladder by Finether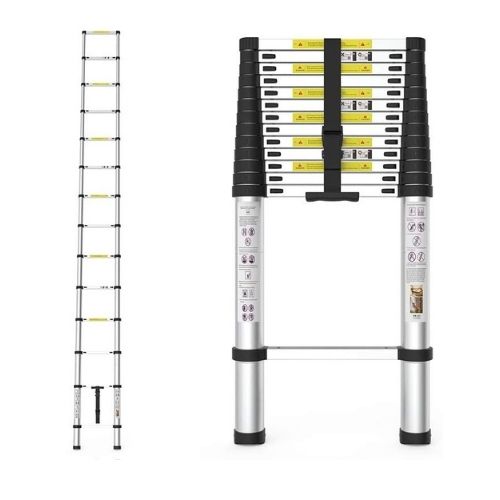 Finether's Telescopic Loft Extension Ladder is an EN131 certified product, meaning it is safe, environmentally friendly, and dependable. Durability, mobility, and rust resistance are all provided by the lightweight aluminium alloy construction.
This fantastic ladder folds up into a little package that can be easily secured with the supplied strap, making it simple to store.
It has bottom covers on its feet to keep it from slipping when in use. Fingers becoming stuck in the moving mechanism are less likely with double coupling rungs. When shutting it, protective spacers reduce friction. It can be extended to a height of 3.8 metres, yet it is only 84cm tall when closed.
It also functions as a telescopic step ladder and an extension ladder. However, this telescopic ladder lacks a stabiliser bar, and even with safety features, you must keep your fingers out of the way of the closing ladder.
Things we liked
Rust resistant
Easy to store away
Things we didn't like
It lacks a stabiliser bar
DICN Telescoping Attic Ladder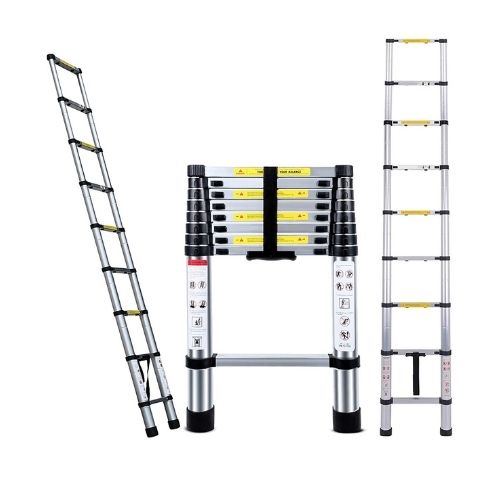 This telescopic ladder is an anti-slip rubber foot, and a rubber sleeve on each step provide optimal safety. A locking clip in each segment also improves overall reliability while in use. The ladder can be hung on a pipe with a diameter of less than 7cm using detachable hooks.
It also has a retractable design that makes it easy to carry around; it's a great helper for home, workplace, loft, and outdoor activities.
It is lightweight and sturdy, made of corrosion-resistant aluminium alloy. Supports up to 330 pounds. It's extremely lightweight, with fastening straps and a grip handle that makes carrying the ladder with one hand a breeze.
Things we liked
Helpful locking clips
Sturdy design
Things we didn't like
Ladder is prone to twisting
Autofu Aluminium Extension Folding Telescopic Loft Ladder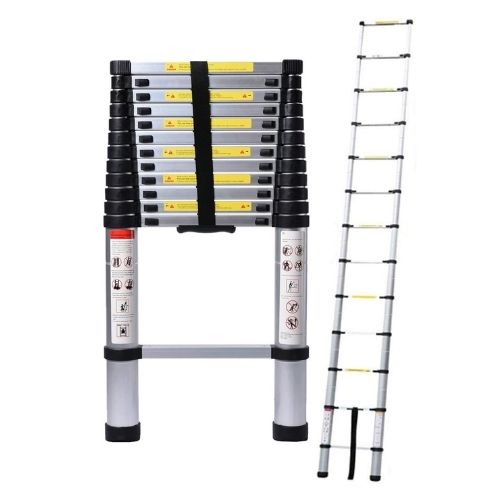 With a collapsible shape, this telescopic ladder saves room and is easy to store in tight spaces. It can also be used for multiple purposes because it allows users to reach higher elevations.
Window washing, garden maintenance, access to the loft, and other interior and outdoor tasks are all possible with this tool.
Thanks to its high-quality aluminium construction, this telescopic ladder is safer, lighter, and has wider threads for a more pleasant ascent.
To ensure optimal safety, it incorporates anti-slip rubber feet and a rubber sleeve on each step. The grip handle allows the user to carry the ladder with just one hand.
Things we liked
Anti-slip design
Easy to carry
Things we didn't like
The gaps between steps are quite big
Best A Frame Telescopic Ladder
3.2m Telescopic Ladder by Xtend & Climb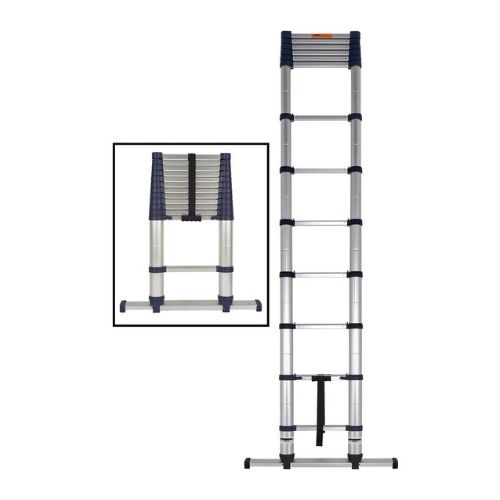 This a-frame ladder is 12.2kg in weight and can support up to 150kg of weight. This type has ribbed anti-slip feet and durable nylon couplings for site use, allowing for maximum height reach. It also complies with EN131 requirements.
It's made from aerospace-grade 6061 alloys, making it one of the best telescopic ladders on the market. It extends to a length of 3.2 metres when fully extended, with a generous 3.8-meter version available if you need that extra bit for reaching tremendous heights.
It's extremely pricey compared to other telescopic ladders, but if you can find a good bargain or a sale, it's well worth it.
Things we liked
Generous extension
Durable design
Quieting Multi-Purpose Aluminium Folding Telescopic Ladder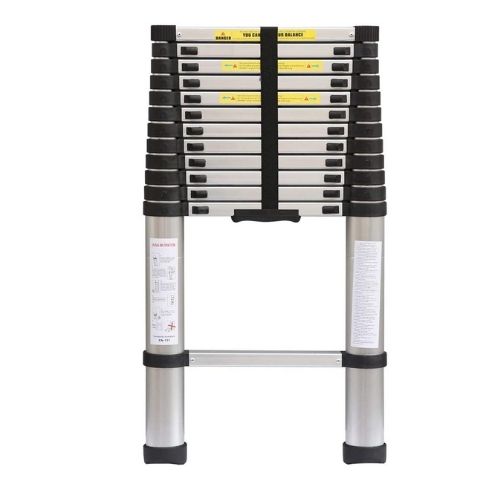 This design is made of lightweight aluminium. The load-bearing capacity is 150 kg. It also has a collapsible form that makes it practical to use and transport. It's a 5m aluminium telescoping ladder that may be used for a variety of tasks.
This telescopic ladder is lightweight, simple to operate, ideal for usage in and out of the home, safe, and has rubber-tipped feet. It also features a secure locking key that prevents bumping and friction between two adjacent steps.
Things we liked
Excellent load-bearing capacity
Lightweight design
ZanGe Multi-Purpose Telescopic A-Frame Ladder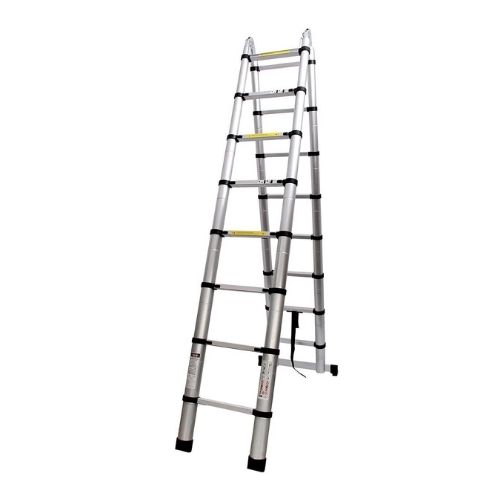 This ladder weighs approximately 13.5kg and is built of high-quality aluminium that is rust-resistant and long-lasting.
It comes with anti-slip rubber and a stabiliser bar at the bottom, as well as safety locking hinges, which offer optimal stability and safety when in use. The ladder is also compliant with European safety standards.
These A-frame telescopic ladders are 1.9m and 1.9m long when fully extended and 3.8m when folded down. It folds up into a small size and comes with storage straps, making it incredibly convenient to store and travel.
This ladder may be converted into an A-frame ladder or a straight ladder of various lengths to suit a variety of jobs. Perfect for painting, cleaning windows, and other DIY projects around the house.
Things we liked
Anti-slip capabilities
Great for transporting
Things we didn't like
Not ideal for shorter people
Best Multi-Purpose Telescopic Ladder
Multi-Purpose Folding Aluminium Ladder by Nestling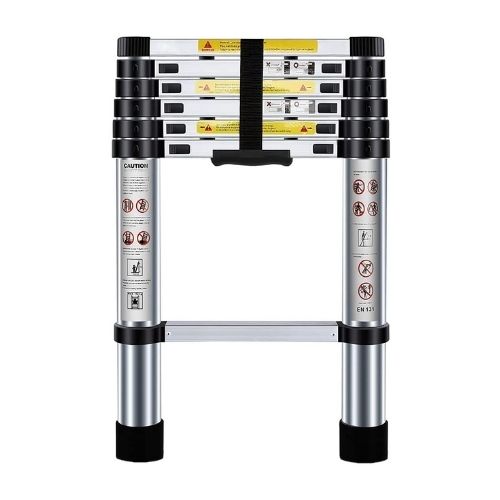 The Multi-Purpose Folding Telescopic Ladder from Nestling is a useful extension ladder for occasional domestic activities. You may use it for a variety of modest and large jobs thanks to the rung-by-rung extension.
It folds up to 95cm for easy transportation. It comes in two sizes and heights: 3.2 metres and 3.8 metres.
The anti-roll bar, as well as the slip-resistant rungs and rubber bottoms linked to the feet, add to the safety. It is one of the greatest telescoping ladders because of these properties.
It also has a solid locking key that allows the extending pieces to move smoothly.
When shutting the ladder, finger protection is strengthened to prevent pinching, although caution must be exercised to keep fingers away. It has wider anti-skid rungs and a stabiliser bar, ensuring that it is safe to use.
However, it does not come with a carrying bag and can only support a fraction of the weight that the other ladders can.
Things we liked
Smooth operation
Anti-skid rungs
Things we didn't like
It does not come with a carrying bag
AutoBaBa Multi-Purpose Retractable Ladder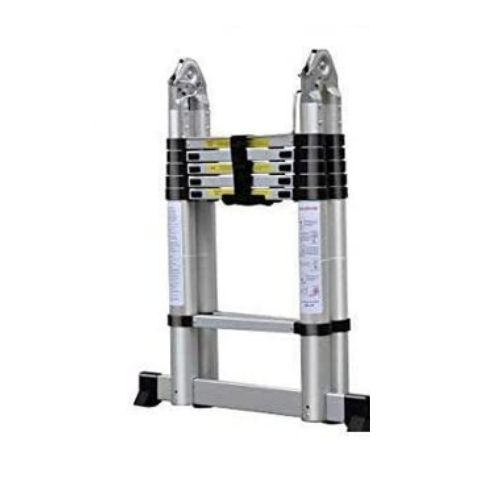 The AutoBaBa is a terrific all-purpose tool that is light, easy to use, and ideal for jobs inside and outside the home. The tough aluminium will give you the confidence you need to take on any endeavour, no matter how difficult.
Furthermore, this telescoping ladder extends to a height of 5 metres, which is sufficient for almost any task.
The AutoBaBa folding ladder folds down to a handy 88cms when not in use, making it ideal for anyone who needs to take their ladder with them on the road. When unfolded, this 8-step ladder expands to a 16-step ladder.
However, it's somewhat bendy in the middle when the extension is up, so it's a bit nerve-wracking to use when you're up high.
Things we liked
Easy to use
Great for most jobs
Bowose Multi-Purpose DIY Extendible Ladder Kit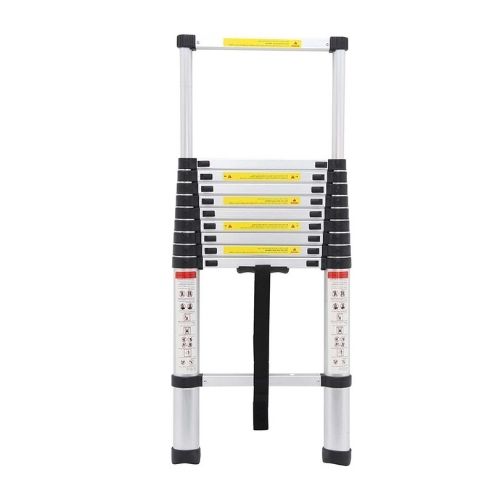 This Bowose Telescopic ladder is a simple and dependable solution to manage your daily DIY jobs at home. It can support up to 150 kilogrammes of weight at any given moment and is quite light, making it ideal for transporting around the house.
The anti-slip rubber sleeves on the bottom of the ladder and surrounding each rung ensure that you stay safe while climbing up and down.
Furthermore, when not in use, the ladder folds down to a modest 88cm.
Things we liked
Great for DIYers
Safe anti-slip rubber sleeves
Best Small Telescopic Ladder
Hovento 2M Aluminium Multi-Purpose Climb Telescopic Ladder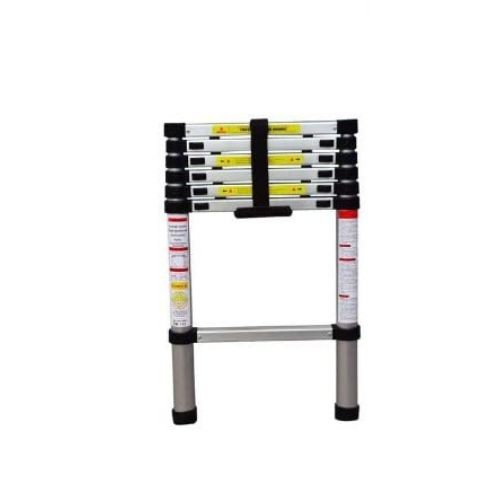 This tiny telescopic ladder is lightweight, portable, and ideal for both household and commercial applications. It has an extensible design that makes it comfortable to use and transport.
It has a fully automatic up and down operation with a proprietary One-Touch release mechanism that makes it simple to set up.
Telescopic ladder reviews have said that the ladder is both compact and lightweight, but also solid and sturdy when completely extended. They're easy to use and extend safely and efficiently.
Things we liked
Automatic operation
Easy to use
Things we didn't like
Not ideal for higher up jobs
Finether 3.2M Telescopic Ladder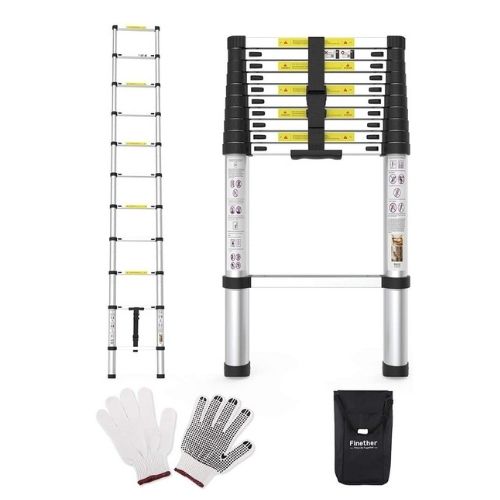 The connections between rungs have also been upgraded from prior designs to improve stability and prevent pinching. This ladder is exceptionally easy to travel and store due to its lightweight and ability to fold down to an 8cm width when retracted.
It's much easier to transport thanks to a sturdy strap and grip handle. However, because it is little, it may not be able to reach all DIY projects.
The ladder is built of corrosion-resistant, lightweight aluminium that can withstand extremely high and low temperatures. The rungs can be extended by 1 foot at a time up to a maximum height of 3.2 metres.
Things we liked
Easy to transport
Corrosion resistant
Things we didn't like
Not as durable as other models
DICN 3.2M Extendable Aluminium Ladder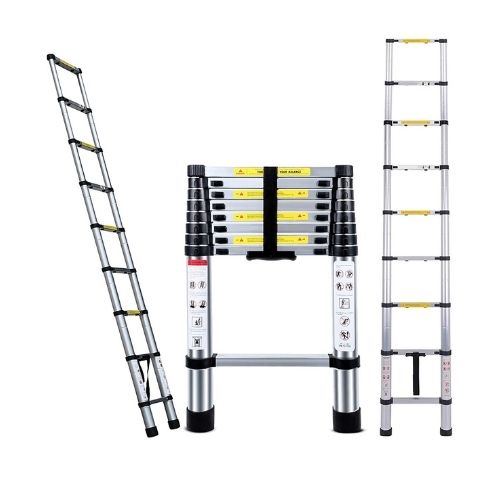 This ladder is both light and strong. It weighs about 9.2kg and can support up to 330lbs/150kg of weight. It has a retractable design that folds down to 82 x 49 x 8.5cm, as well as an easy-grip handle that allows it to be stored and carried with just one hand.
This ladder incorporates non-slip rubber feet and a rubber sleeve on each rung to make it safer to climb.
Things we liked
Safe rubber grips
Easy grip handle
Things we didn't like
Caution is required when extending it
Best Large Telescopic Ladder
Batavia Giraffe Safety Telescopic Ladder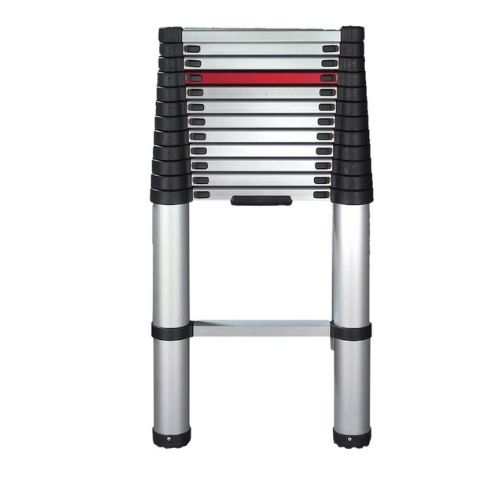 When fully extended, the Batavia Extendable Telescopic Ladder reaches a height of 3.8 metres. It's ideal for interior maintenance because of this function.
The straight ladder can withstand a load of up to 150kg while only weighing 8.5kg. It is also made of high-quality aluminium.
It has been TUV/GS tested, so you can rest assured that everything will be as safe as a house when you use it. This ladder's adaptability and durability will wow you.
It's light, and easy to use and store. When compared to its more robust counterparts, the folded size is small.
Things we liked
Great for indoor maintenance
High-quality design
12.5 Feet Extendable Ladder by Leogreen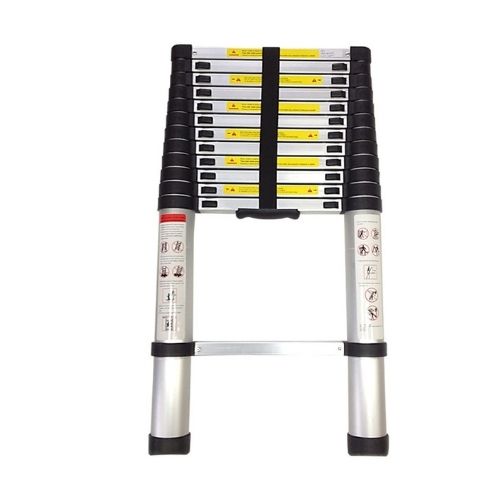 This model opens to a height of 3.8 metres, but there are various alternatives according to your specific needs and tastes. The ladder can be purchased with a carrying case and/or a stabiliser for increased stability. This lightweight ladder is convenient to store and transport.
It weighs 11.5 kilogrammes and has robust enough feet to support a weight of 150 kg. When completely extended, it can reach a height of 3.8 metres from its feet, and when fully folded, it can reach a height of 80cm.
Because these specs are identical to those of the other telescopic ladders in this evaluation, you should think about other characteristics when deciding whether to buy telescopic ladders.
Things we liked
Great for transporting
Comes with a carrying case
Things we didn't like
It can be tricky to close
Ohuhu Telescopic Ladder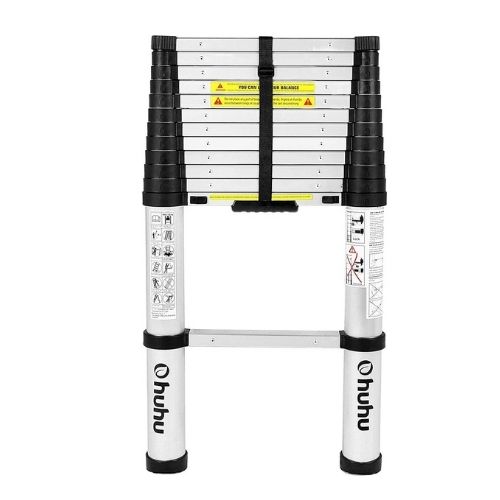 The Ohuhu telescoping ladder is an ideal alternative for anyone who needs quick access to a robust retractable ladder. It is simple, convenient, and trustworthy.
It's simple to extend your ladder according to your demands with the one-button retraction system; merely press down once on the thumb button, and the ladder will instantly drop into position.
The extra-wide steps ensure that you may safely climb to your desired location without fear of slipping. There are also locking devices in place to keep fingers from becoming caught.
One minor disadvantage is that this ladder may not perform well on smooth surfaces, such as polished floors. With constant use, it can also get fairly hefty.
Things we liked
Simple to use
One button retraction system
Things we didn't like
Not ideal for smooth surfaces
Best Quality Telescopic Ladder
Next Generation Extendable Telescopic Ladder by Pavo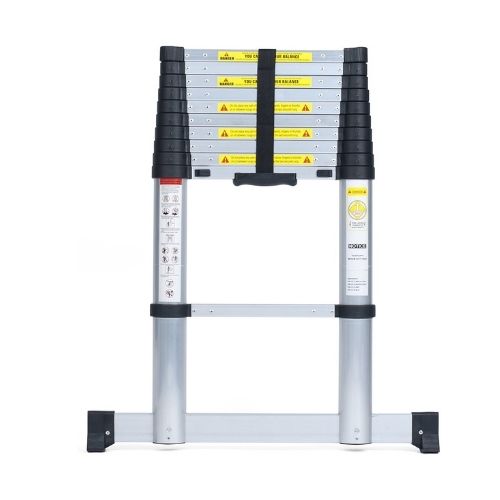 The Pavo Telescopic Ladder is extendable as well as collapsible. Normally, telescoping ladders are cumbersome and difficult to transport, but this version is folding and easy to store. This loft ladder has a 3.2-metre extended reach and a total of 10 steps.
The double-layered structure results in a sturdy and light ladder that can support up to 150kg while only weighing 10.5kg. It features a next-generation automated folding leg technology that protects your fingertips for added security. Falls and slips are avoided thanks to the non-slip design.
For the Pavo ladder, you will only have to pay a small sum of money as it is affordable, and the ladder collapses to a small size when closed, making it easy to carry, clean, and store.
Things we liked
Easy to transport
Automated folding leg technology
Things we didn't like
Not ideal for smaller people
WolfWise 4.7M Telescoping Ladder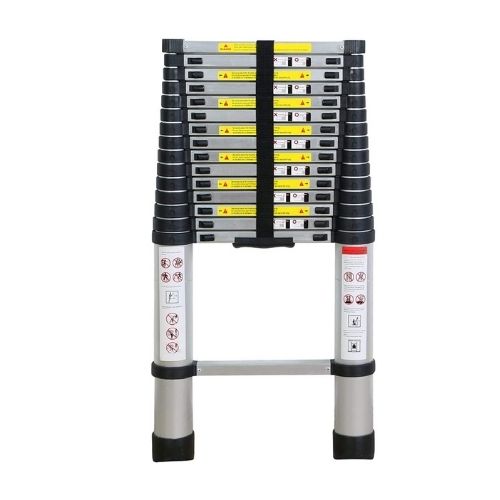 This telescoping ladder is one of the tallest telescopic ladders on the market, with a height of 4.7m. It can be used for a variety of home DIY and light professional projects.
It is well-built from robust aluminium and weighs only 13.3kg, making it easy to transport by car or by hand. When collapsed, the frame measures 95 x 48cm, which is small enough to fit in most vehicles or vans.
The WolfWise 4.7M Telescoping Ladder is a great telescoping ladder perfect for DIY and light professional use, with a total height of 4.7m, sturdy catches, and a weight of just 13.3kg.
The ladder itself, like other telescopic ladders, has plenty of essential safety advice printed on it. Always read the handbook before using anything.
Things we liked
Ideal for transporting
Sturdy design
Things we didn't like
Caution is required when unfolding the ladder
Parker Products 3.2M Extendable Aluminium Telescopic Folding Ladder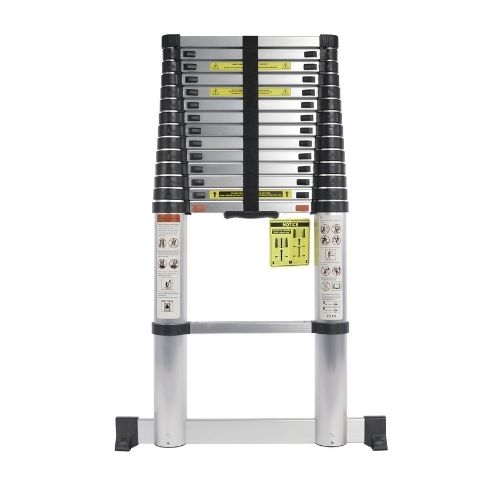 This telescopic ladder's aluminium structure makes it significantly safer, lighter and has wider threads for a more pleasant ascent.
It has a collapsible form that makes it convenient to store in small spaces. 82cm x 49cm x 8.5cm when folded to ensure optimal safety, it incorporates anti-slip rubber feet and a rubber sleeve on each step. The grip handle allows the user to carry the ladder with just one hand.
It is also ideal for indoor and outdoor housework, window cleaning, yard maintenance, access to the loft, and much more.
Things we liked
Easy to carry
Great safety features
Things we didn't like
It cannot be opened from the top
What to Consider Before Buying a Telescopic Ladder
Telescopic ladders are, without a doubt, the most convenient sort of ladder for such projects. It pays to shop around for the best telescoping ladders. This section of the article will help you know what to look for before buying a telescopic ladder.
Price
Telescopic ladders cost a lot of money, depending on what you want to do with them. Avoid models that appear to be significantly less expensive than the rest; they are frequently too good to be true and will not last as long or be as safe as others!
You should budget between £80 and £200 for a telescopic ladder. If you are on a budget, think about how much you want to spend and see what telescopic ladders will fit your price.
Ladder Height
When it comes to ladders, height is without a doubt the most important factor. Most telescoping ladders (including all the ones on this list) are 5 metres or shorter.
Only purchase a ladder that is tall enough for your needs. When collapsed, shorter ladders will be lighter and smaller, readily fitting into most cabinets or loft areas.
Ladder Weight
The weight of the ladder is determined by the material. Most ladders today are built of aluminium, which is known for being lightweight but durable and long-lasting.
Most telescopic ladders weigh between 10 and 18 kilogrammes, although others are lighter, weighing 10 kilogrammes or less, making them easy to carry over a short distance on foot.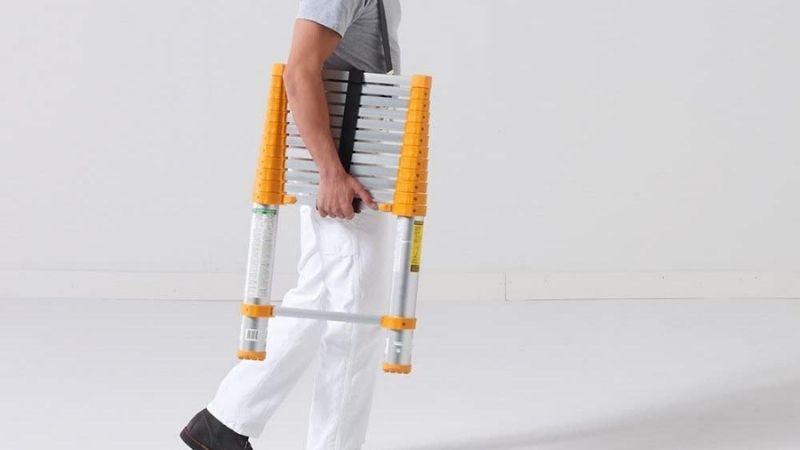 Material
This feature makes it easier to store a ladder in a space-constrained home. The ladder should also be built of a tough, heavy-duty material that won't buckle under the strain.
Falling from a ladder that is of poor quality can be disastrous, especially when using one with such a long reach. It is possible to sustain shattered bones or worse.
As previously said, aluminium is a popular material for telescoping ladders since it does not corrode when used outside in wet weather. The ladders normally lock in increments throughout the length of the ladders, making it difficult to obtain a precisely needed height. However, it is usually sufficient for accomplishing a wide range of jobs.
Storage Space
Know how much space you have in your home for tools. Telescopic ladders are made to save space in storage. Nonetheless, it's worth mentioning that they come in a variety of folded sizes. To avoid sacrificing storage space, choose the set you are most comfortable with.
FAQs
How do you use a telescopic ladder?
Using a telescopic ladder involves the following steps:
Release the retracted ladder's locking strap. Place the ladder in a ready-to-use upright position.
To keep the ladder in place, step on the lowest rung.
Using both hands, remove the connector from the top rung.
Before extending the next rung, you should fully extend each rung and confirm that the locking mechanism is engaged.
Do this until you have reached your height.
Hold the ladder by the couplings beneath the rungs and make that the latches are in good working order.
Place your thumb on the lock buttons you want to disable and your other hand under the coupling.
Placing your other hand over the locking mechanism may cause it to become stuck.
As the higher tier drops, concurrently press the lock buttons within.
Do this until rungs are put down.
How do you assemble a telescopic ladder?
Fold out the two pieces of the ladder until the sprung hinge locks are locked into the first position, then press in the two hinge locks and continue folding out the two portions of the ladder until it is straight, and the hinge locks are locked out into the second position.
Pull the spring-loaded locking arms outward to extend the ladder and adjust the length as needed.
Make sure the locking arms are in place. Manoeuvre the ladder into place with care, ensuring that the angle and location are ideal for maximum stability.
What is the tallest telescopic ladder you can get?
The current longest telescoping ladder is 20 feet. As you can see, this makes it hefty, and it must be wider than other shorter telescopic ladders to provide sufficient strength.
Are telescopic ladders worth it?
Telescopic ladders have more moving elements than ordinary step ladders meaning they are worth having in your home. All of the systems must be properly tested regularly. Telescopic ladders can potentially be damaged while being stored or transported if they are not properly wrapped.
Are telescoping ladders dangerous?
Telescopic ladders have been increasingly popular in recent years due to their ability to fold up and store effortlessly. However, they may require many locking mechanisms to operate, and even a single broken element or damage can cause the ladder to collapse.
Sources