diy & tools
Best Garden Fork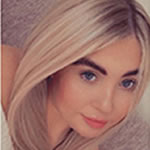 Your gardening tool collection tends to develop as you gain experience as a gardener. We always start with the basics: a spade for large work, a trowel for little chores, and pruners, of course. Even though you could probably get by with just these three tools, they aren't necessarily the most efficient for every gardening task.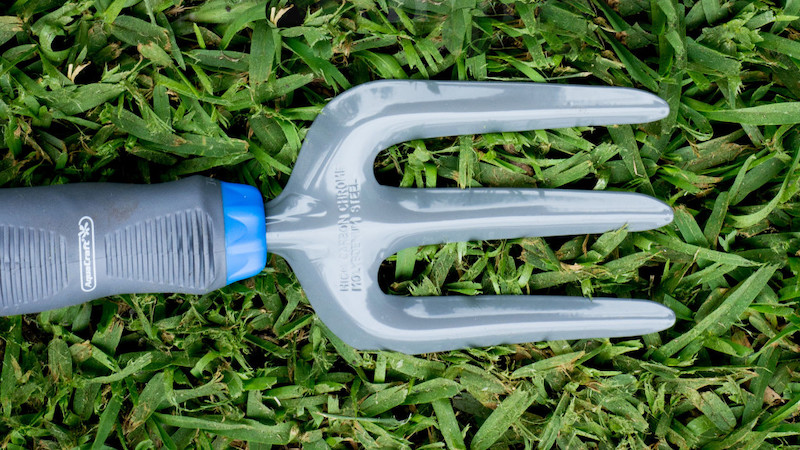 Due to this, in this article, we will discuss all the different types of garden forks and the best ones out there to buy! So, if you want to reinvent your garden, then this article is perfect for you. We will also cover information about garden forks such as what they are and what they're used for. Therefore, if you are wanting to buy a garden fork but are not sure what one is suitable for you then carry on reading…
What is a Garden Fork?
Garden forks come in a variety of shapes and sizes. Each type is designed to serve a certain purpose. Some have four to eight tines with a horizontal curve at the top and a little upward curve at the bottom.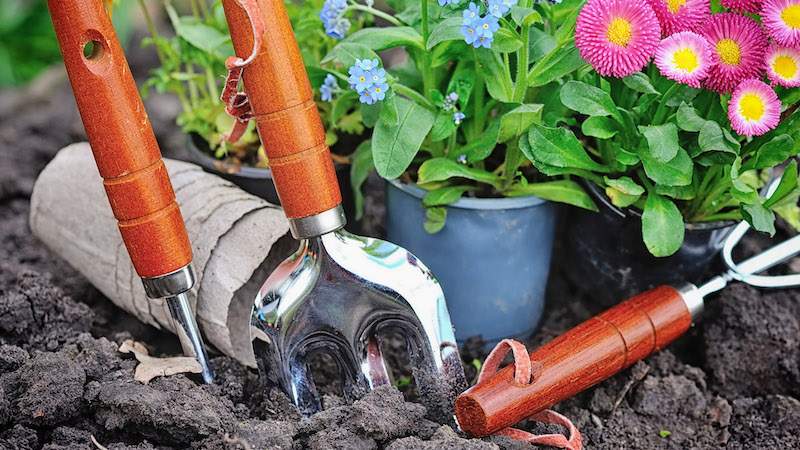 They're mostly used to transport compost, mulch, or soil. The tines' curves aid in scooping up huge quantities of mulch or compost for spreading in the garden or turning and mixing compost piles.
Plants with strong, huge root structures are also dug up with digging forks.
These can be weed patches or garden plants that you want to transplant or divide. Digging fork tines inflict less damage to root structures, allowing you to extract more roots than you might with a spade.
How Does a Garden Fork Work?
A garden fork is a fork that has four to six flat tines with no curves. The purpose of a garden fork is to dig, as the name implies. When digging into a compacted, clay or rocky ground, a garden fork is an instrument to use over a pitchfork or compost fork.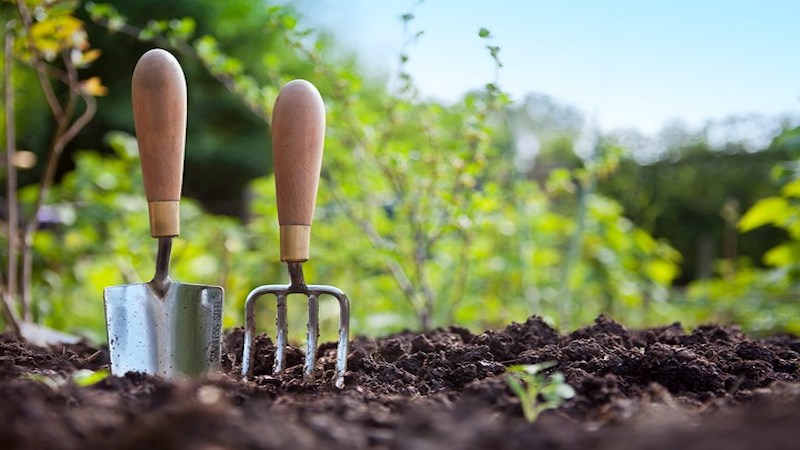 The garden fork's powerful tines may penetrate difficult soils that a spade may struggle to cut through. The garden fork can be used to "dig" the earth or merely loosen it up before digging with a shovel. Using a garden fork will lessen the strain on your body in any case.
If you're going to use a garden fork for demanding work, make sure it's a sturdy one. The best alternative is to use a garden fork made of steel. To make the tool more lightweight, the tines and fork are usually made of steel, while the shaft and handles are usually made of fibreglass or wood. Although the shafts and handles of garden forks are made of steel, they are heavier.
Types of Garden Forks
Although there are many different varieties of garden forks, most individuals simply have one that they use for everything. Alternatively, if they have more, they are all the same kind.
The garden fork is generally used for this. Alternatively, if they have more, they are all the same kind. Knowing the many types of forks and their functions can aid you in selecting the ideal instrument for you and the job at hand.
In this part of the article, you will learn about the different types of garden forks and their purposes for your garden, read to learn more.
Traditional Garden Fork
In the United Kingdom, traditional garden forks are the most used garden fork. There are normally four tines or prongs on them. For the most part, this is what most people use in the garden.
These are used for soil turning, breaking up, and excavating. They're also commonly used to lift potatoes and turn compost instead of other types of forks.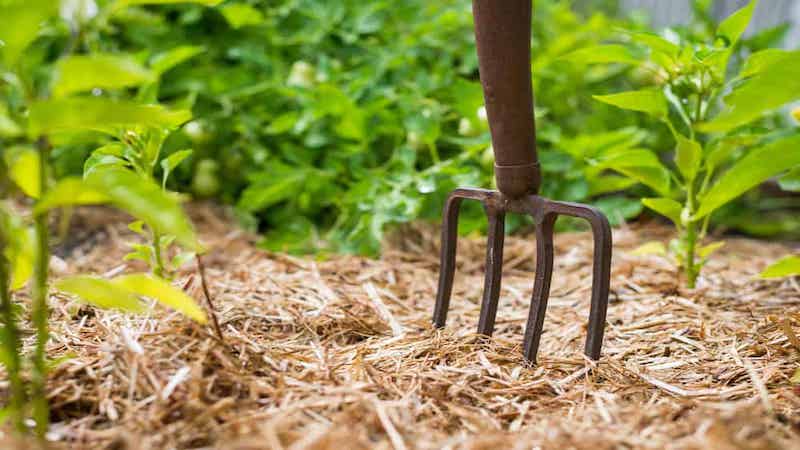 The garden fork is the largest of these tools and is best used in broad areas. When is it appropriate to use a garden fork? These heavy-duty tools are ideal for jobs such as breaking up stubborn soil or starting a new garden.
Double digging and aerating soil are two further use for a garden fork. They're especially effective if your soil is compacted or has a lot of clay.
Border Garden Fork
Because the border fork is a smaller version of the garden fork, it's ideal for little individuals and areas. If you have a small garden and a larger fork would be overkill, you should buy a boundary fork. Borders raised beds, and other tight spaces where a larger fork could not fit are also good uses for them.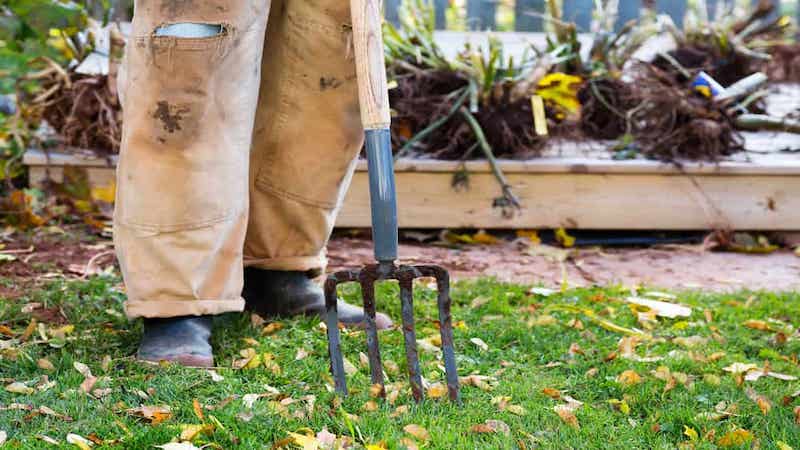 They have four tines, but are lighter and narrower, making them better suited to tiny feet and borders. They're ideal for folks who are smaller or who find using a full-sized fork excessively cumbersome and tiring.
Some people may discover that the angle of their foot on the border fork is uncomfortable and that it slips off. Some people also complain that it isn't powerful enough for the toughest aspects of gardening and that digging over the earth takes longer because of its tiny size.
Digging Garden Fork
The digging fork (also known as the spading fork) is a cousin of the garden fork and is used for digging or turning over lighter soil types as well as collecting root vegetables. Digging forks, like garden forks, usually have four tines.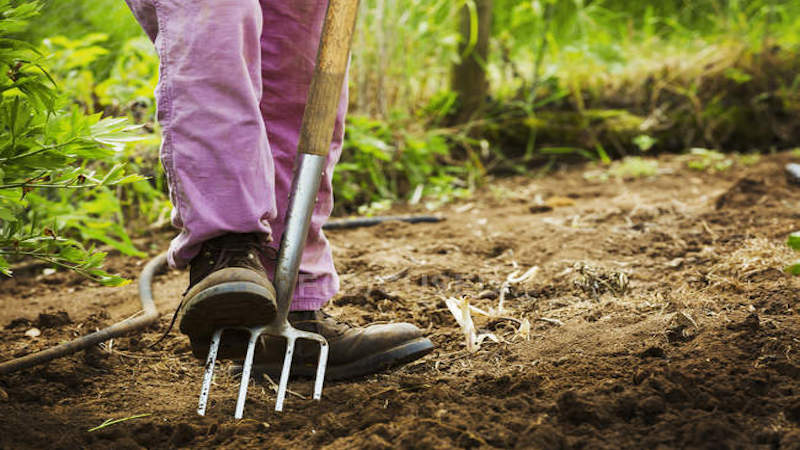 A digging fork is a fork that has four to six flat tines with no curves. The function of a digging fork is to dig, as the name implies. When digging into a compacted, clay or rocky bed, a digging fork is an instrument to use over a pitchfork or compost fork.
Plants with robust, huge root structures are also dug up with digging forks. These can be weed patches or garden plants that you want to transplant or divide. Digging fork tines inflict less damage to root structures, allowing you to extract more roots than you might with a spade.
Potato Garden Fork
Potato forks come in a variety of shapes and sizes. These are intended for lifting potatoes and should not be used to dig, as they feature blunt tips that prevent you from poking holes in the potatoes.
Some have the same number of tines as a regular fork, but many have extra tines to prevent the potatoes from falling through the gaps.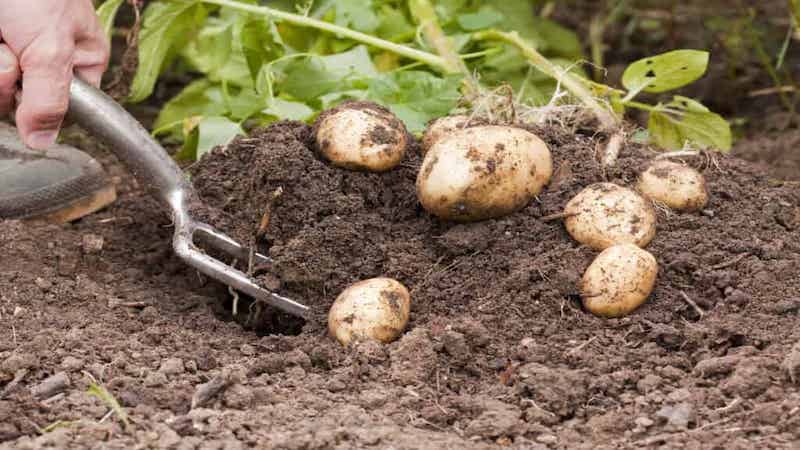 The potato fork is a customised fork that enables potato harvesting faster and easier. These feature variable numbers of tines and, in most cases, blunt ends to avoid damaging the potatoes.
With additional tines, you'll be able to dig up more potatoes that you might have missed otherwise. Because the fork is holding a lot of weight and needs to be able to lift the potatoes, slightly heavier steel would be preferable.
Compost Garden Fork
These are typically used for hay and straw, as well as turning over your compost pile. The appearance of these forks is considerably distinct from that of ordinary forks.
They have four tines, although they are long and slender. They're frequently bent to accommodate more compost. The tines are razor-sharp to efficiently stab the compost.
A compost fork is a pitchfork with extremely sharp tines meant to cut into compost. When turning over the compost pile, makes it easy to grab and raise the compost.
Best Garden Fork
You can't even start gardening without first preparing your soil. For your plants to grow as robust and healthy as possible, you'll need well-maintained, aerated soil. However, this can be a difficult task, as it necessitates soil rejuvenation through loosening and turning.
Forks make this simple; they're one of the most basic but useful garden tools. They're not only useful for cultivating and preparing the soil for planting and sowing but they're also made to effortlessly lift and transplant plants.
Forks come in a variety of shapes and sizes, but most people use a digger fork. So, in this section of the post, you'll learn about the greatest garden forks available.
Best Traditional Garden Fork
Spear & Jackson 4550DF Traditional Stainless Steel Garden Fork
This garden fork's rust-resistant mirror-polished stainless-steel head and weather-proofed hardwood shaft make it a solid and long-lasting option.
Its wishbone handle, combined with its small shape, makes it easy to operate and allows for long periods of continuous work. It has a traditional appearance yet is made of long-lasting contemporary materials.
The Good
Sturdy design
Ideal for loosening roots
10-year guarantee
The Bad
Not suited to heavy digging
The tines may bend with heavy use
Wilkson Sword 1111112W Garden Fork

This Wilkinson Sword 1111112W Garden Fork is available for £26 and comes with a 10-year guarantee. It's more convenient to use when digging, cultivating, or compacting the soil.
This garden fork, which is part of the stainless-steel digging series, is made of high-quality materials and will last for many years. The stainless-steel head is complimented by an Ash handle that is easy to grip.
The Wilkinson Sword 1111112W is larger than most garden forks on the market, yet it is light, weighing only 1.8 kg. This makes it excellent for anyone with back issues or those who need to cover a broad area.
The Good
Easy to use
Robust design
Lightweight fork
The Bad
Not ideal for heavy clay soil
Prone to bending
Truper 30293 Garden Fork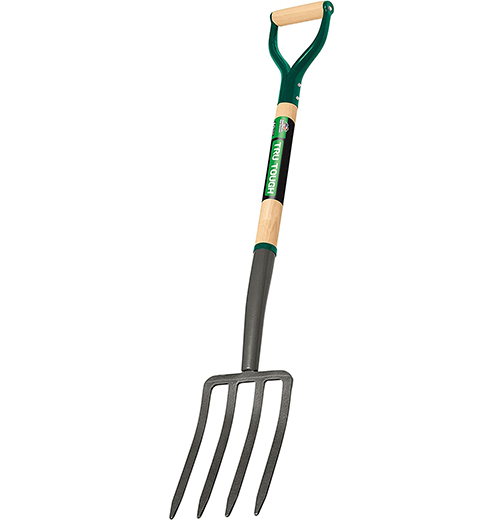 Looking for an excellent classic garden fork with a sturdy ash handle that works as a spade? Truper has a hit on his hands with this one. The D-grip is comfortable, and it allows you far more control than many other standard garden forks.
The grey steel head has four tines and is clear coated for extra durability. For those times when you need to dig through hard or compacted dirt, the tines are fine and crisp.
The Good
Easy to clean
Sturdy garden tool
Well balanced
The Bad
Handle moves during use
Unsuitable for compacted soil
Best Border Garden Fork
Roam Wild Multi-Digger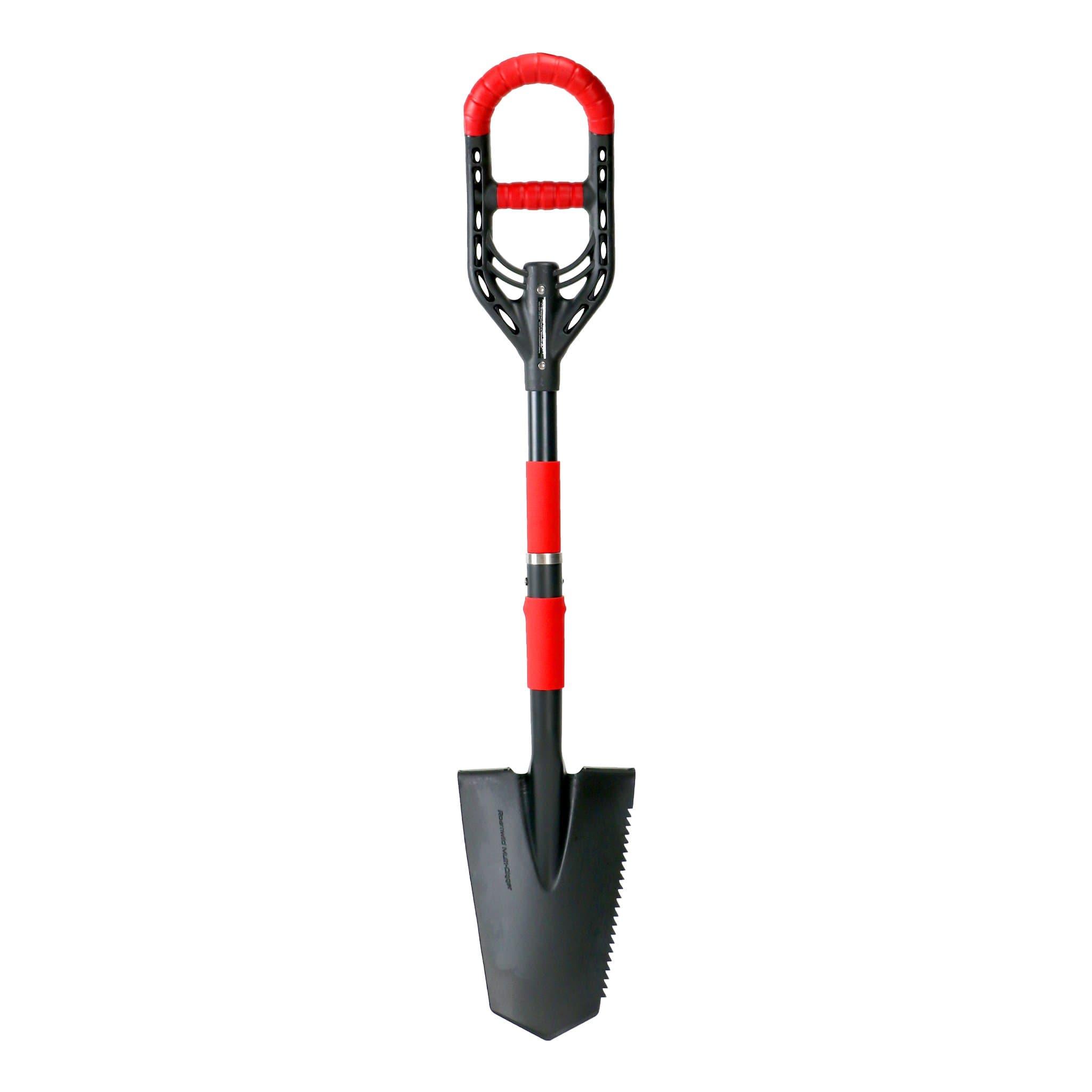 This border fork is unique. Instead of the typical four tines, the centre two are combined into an arrow form, which is reinforced by two chopping blades. It has a dual grip handle with a second handle running through the centre that may be used in several grips.
This border fork can't be beaten for lump breaking and digging in soil because of the strength and fine sharpness of the arrow-shaped tines.
The arrow-shaped tines that make it so robust, however, leave a large gap on either side through which all soils tested fell. This makes it ineffective for turning over soil and especially for transplanting, but it's ideal for breaking up soil or cultivating a new garden.
However, it has a reputation for being difficult to turn over and transplant, as well as being too heavy and expensive.
The Good
Ideal for lump breaking
Strong tines
Requires little digging effort
The Bad
Expensive
Difficult to turn
Pedigree Border Fork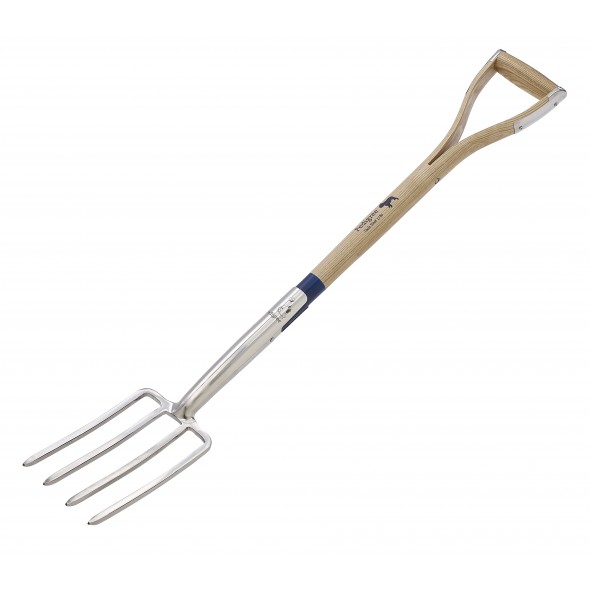 This border garden fork is a showstopper. The stainless-steel tines are amazing; they glide into the soil with ease yet aren't slippery, and they hold enormous forkfuls of soil for easy turning over and transplanting.
There was a little clotting at the top where the tines met in some testing, but it wasn't severe.
With a double riveted socket and a single riveted head with metal guards, it's fairly sturdy. However, because of the way it was finished, it received a worse grade.
Parts of the fork aren't properly sanded and splinter, and it's leaned too heavily on the tines. However, it is well renowned for being unbalanced and having a poor conclusion.
The Good
Sturdy design
Hold large amounts of soil
Easy to turn over
The Bad
Prone to splintering
Slightly unbalanced
Silverline 675067 Border Fork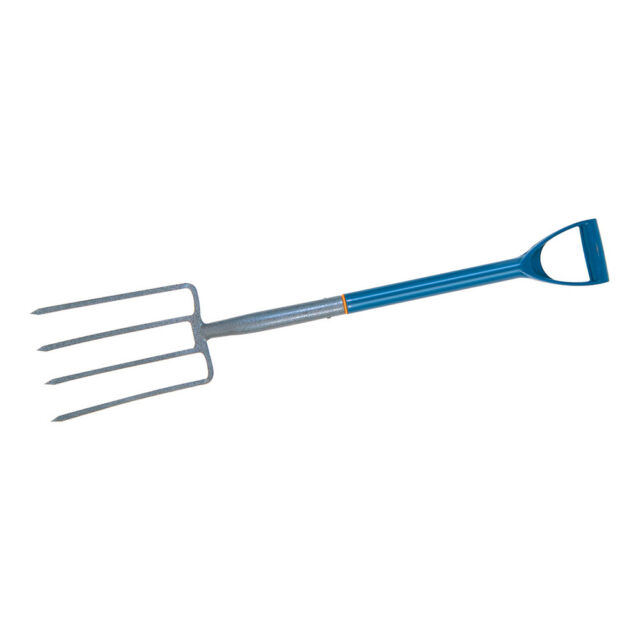 This fork with an epoxy-coated hammered finish and a polypropylene shaft is built to last. It is shorter than the normal garden fork, at 95cm in length, making it an excellent choice if you will be working in a limited space or are on the shorter side.
All Silverline hand tools come with a lifetime warranty, indicating that they were designed with longevity in mind.
This is a border fork, so use it to keep your beds in good shape; its small size makes it ideal for tight spaces; keep in mind that it isn't suitable for rough or chalky soil.
It is, however, quite heavy for its size; yet, for the low price, it is difficult to dismiss this option.
The Good
Ideal for small spaces
Affordable
Long-lasting
The Bad
Heavy for such a small garden fork
Not ideal for rough or chalky soil
Best Digging Garden Fork
Sophie Conran for Burgon and Ball Digging Fork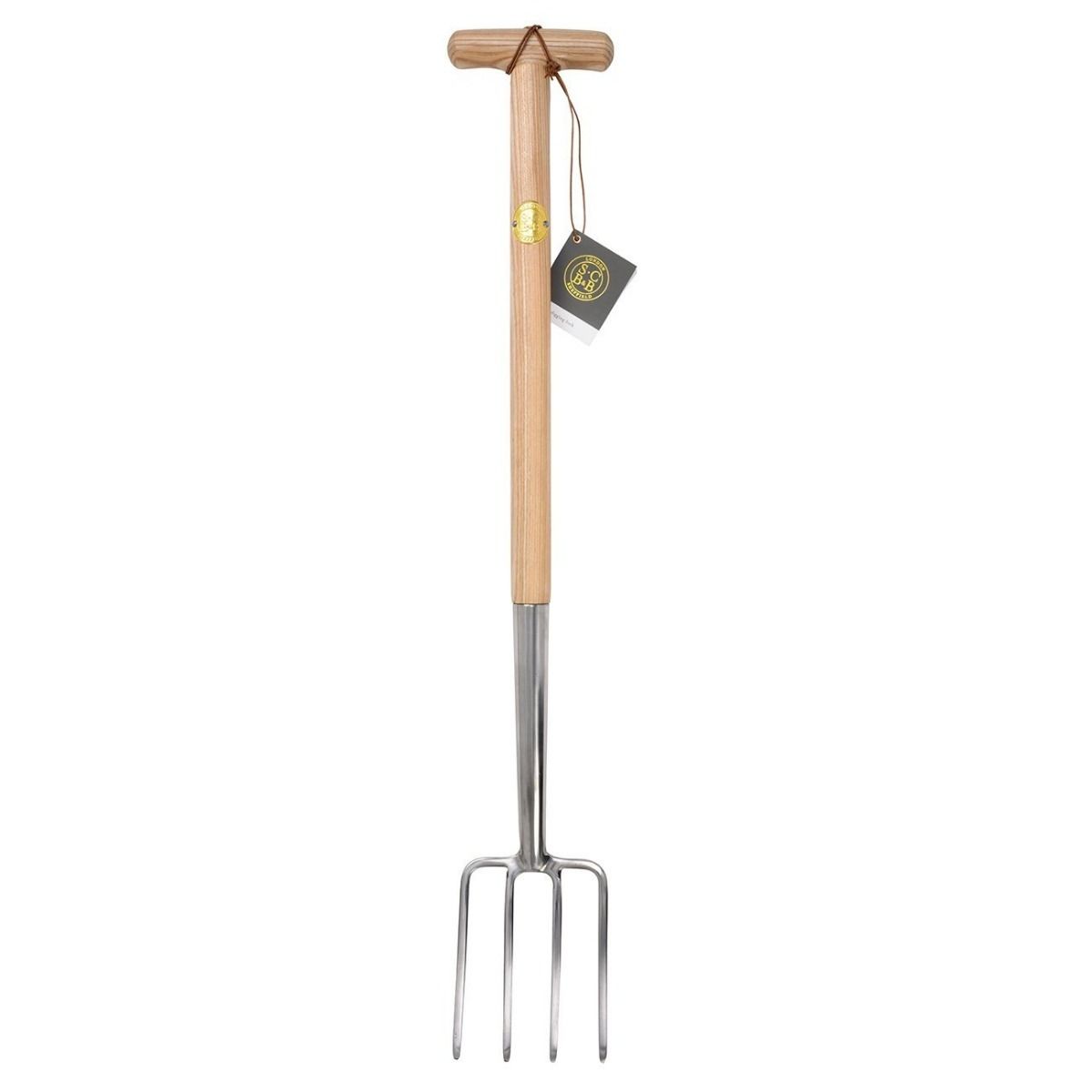 Its tines are tiny, making it ideal for manoeuvring in tight locations. The mirrored steel tines prevent soil from clinging, and the FSC-certified ash shaft and T-shaped handle are comfortable and easy to use with two hands.
It takes to clay with minimal resistance, but because it's short – only 19cm – it's a little difficult to get leverage while turning it over and transplanting it. However, critics have stated that it has a poor finish and that the short tines make getting leverage difficult.
The Good
Great for tight spaces
Easy to use
Has minimal resistance
The Bad
Quite difficult to turn over
Short length
Amtech U1700 Digging Fork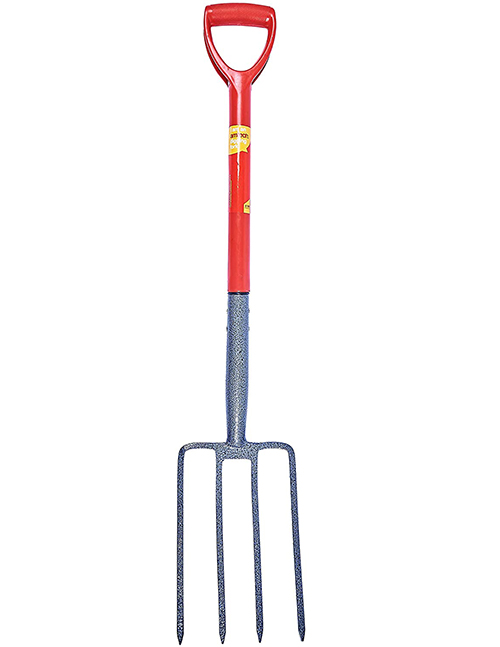 This budget-friendly Amtech offering promises to be built to its high standards, ensuring durability and resistance to regular wear and tear.
For individuals who are just getting started in gardening, this is a fantastic alternative.
The Good
Good level of resistance
Low cost
Durable design
The Bad
The fork bends quite easily
Not ideal for deep roots
Rolson Digging Fork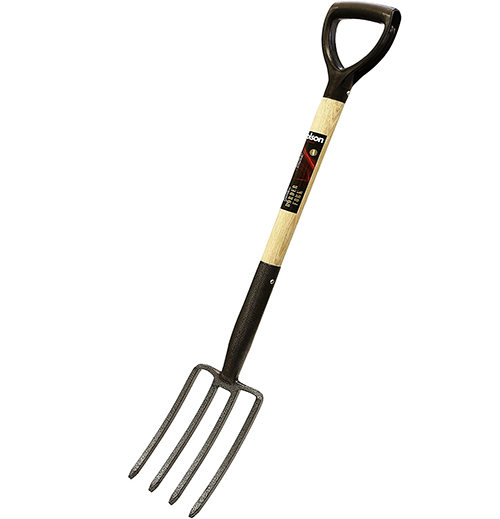 The Rolson Digging Fork has a hammer tone finish that has been heat-treated. The heat treatment on the fork's handle ensures durability and strength, ensuring that it will endure a long time.
The Rolson Digging Fork's carbon steel head is designed to endure all types of muck and mud from gardens and lawns. It may also become entangled in weeds and grass fragments.
Because the handle is not particularly long, tall persons may find it difficult to use. The Rolson Digging Fork should be in any home with a garden or a front lawn, as it is ideal for occasional light use.
The Good
Strong digging fork
Ideal for removing weeds
Heat treated
The Bad
Not ideal for tall people
Heavy use is recommended
Best Compost Garden Fork
Fiskars Ergonomic Compost Fork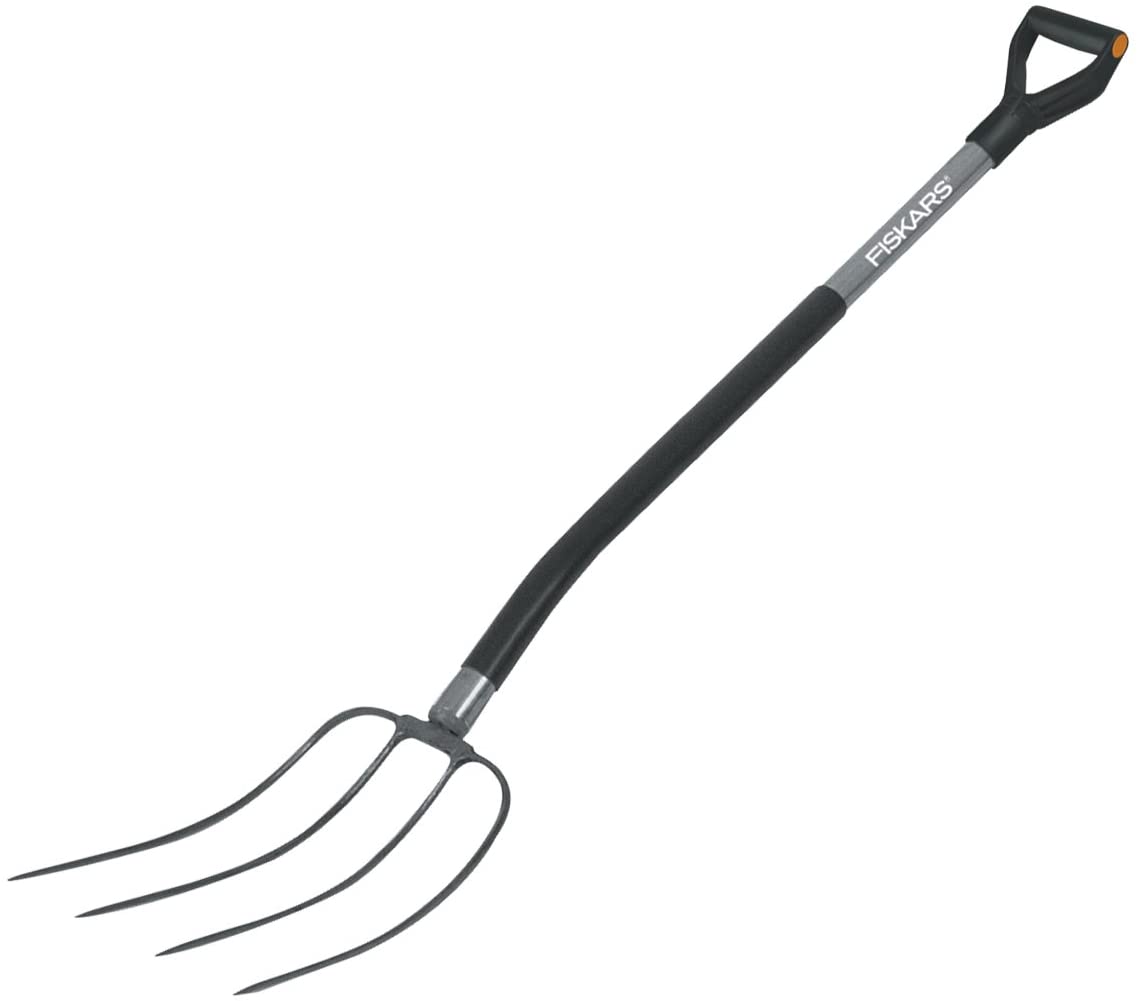 This garden fork was created with efficiency in mind, as the name says. The boron steelhead, with its sharp four prongs, enables efficient work, while the long handle and D-shaped handgrip provide a comfortable grip even during the most strenuous tasks.
A natural hand position is possible because of the 170-handle angle. For a long-lasting attachment, the head is soldered to the handle.
The spade blades have been sharpened to improve soil penetration. For loosening and distributing straw, hay, or grass, as well as garden debris, use a compost fork with four tines.
The Good
Efficient garden fork
Provides a good grip
Long-lasting
The Bad
Plastic handle is not very durable
Fairly small garden fork
Fiskars Spade Fork for Hard Stoney Soil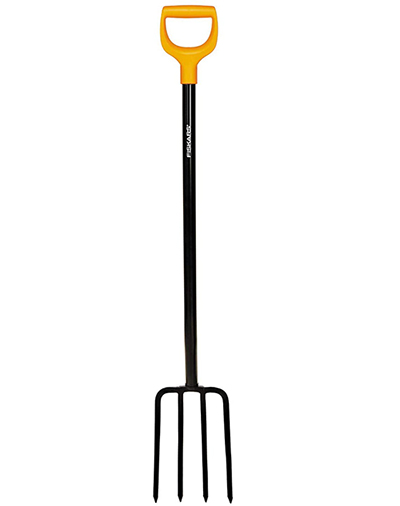 This garden fork is ideal for loosening hard, stony soils and is designed to deal with more difficult terrains. With a length of 122cm and a weight of 1.66kg, this fork is suitable for people of all sizes.
Because of its modest weight and ergonomic shape, it is a simple digging tool.
The Good
Ergonomic design
Lightweight fork
Ideal for people of all heights
The Bad
Not ideal for heavy digging
Tines are prone to bending
Fiskars Xact Soil Work Fork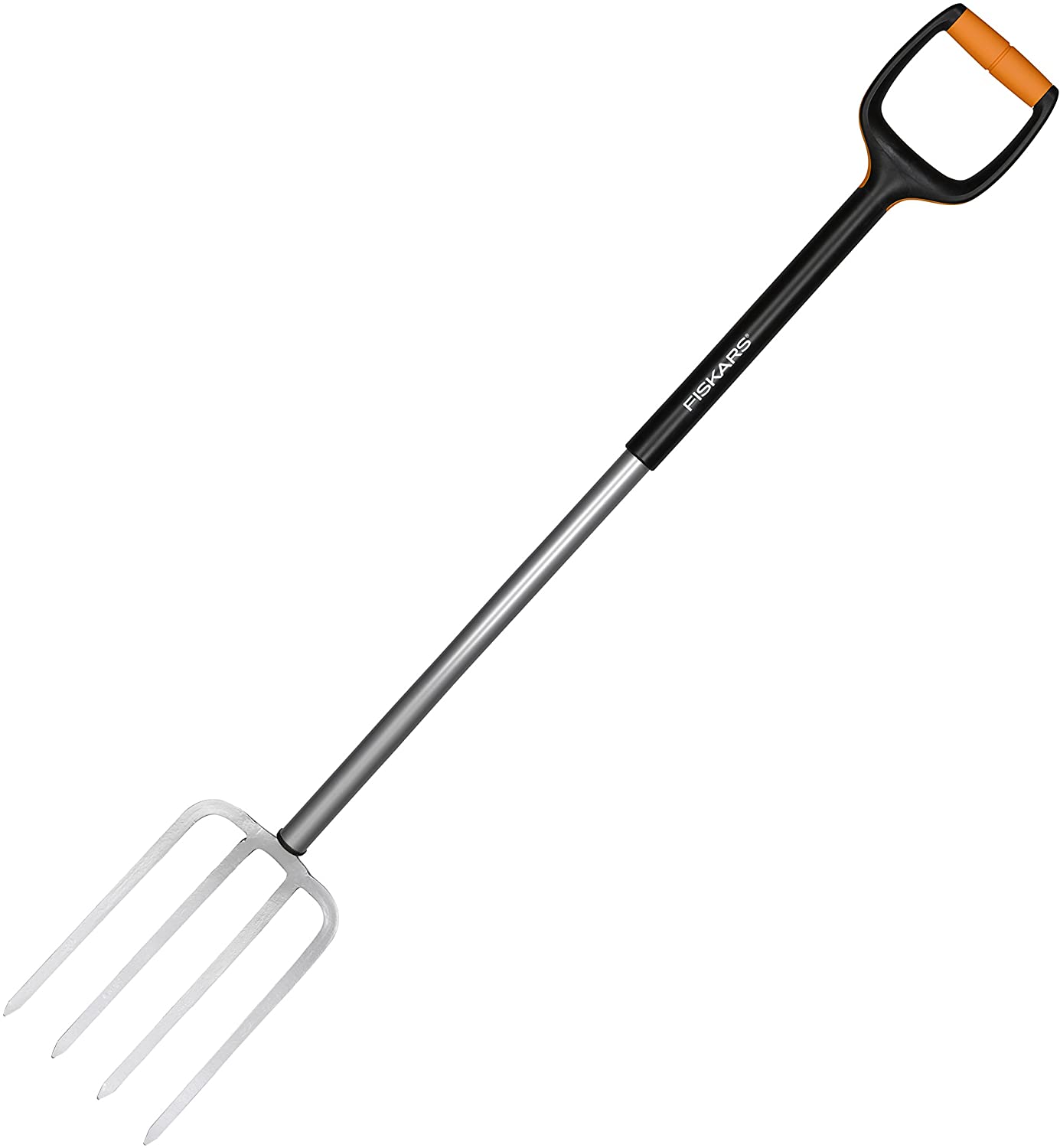 The Fiskars Xact Soil Work Fork's design has been developed throughout time to increase durability, sturdiness, and stability while working.
The Fiskars Xact Soil Work Fork is great for aerating soil, moving garden detritus, and upsetting the earth to get rid of insects and bugs. It can also be used to rake weeds and stones.
This type is designed for landscapers and gardeners that are taller. This Fiskars variant's user-friendliness is enhanced by the firm D grip and non-slip surface.
The four sharp tines are composed of high-quality steel, and the handle is glass-fibre reinforced.
The Good
Ergonomic shape
High-quality material
Ideal for tall people
The Bad
Requires a lot of effort
Not suited to smaller people
Best Stainless-Steel Garden Fork
Wilkinson Sword Stainless Steel Border Fork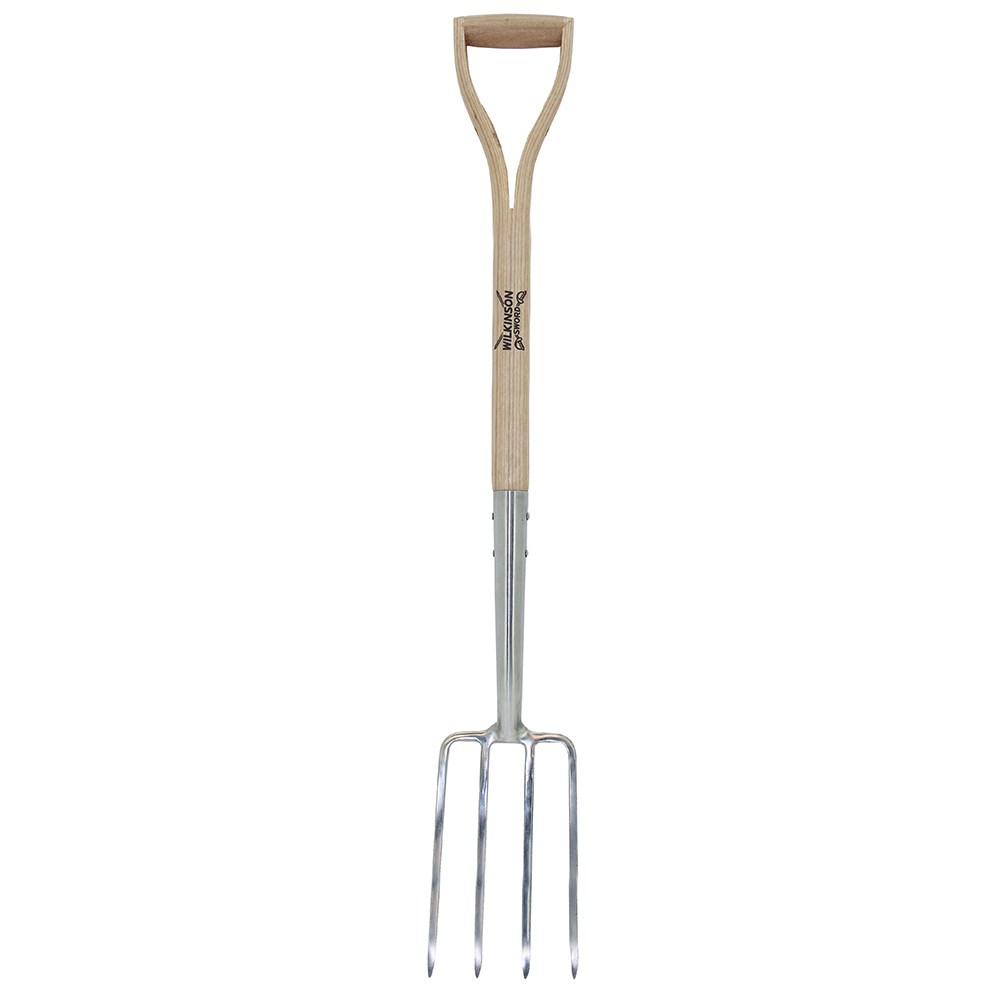 Look no further for a simple stainless steel border fork. With a smooth ash handle, this traditional garden boundary fork has no ergonomics but is nonetheless easy to grasp. It works well - some dirt attaches to it, but it pushes into the soil with little effort and scoops up a lot.
It's also good at breaking up lumps, although it has a hard time with finer dirt and compost. The pricing is even more essential; this is a good fork at a very cheap price. It does, however, appear to be a little basic, and some reviews claim that it struggles with finer soils.
The Good
Easy to grip
Ideal for breaking up lumps
Smooth handle
The Bad
Basic design
Not suited to finer dirt and compost
Greenman Garden Tools Stainless Steel Border Fork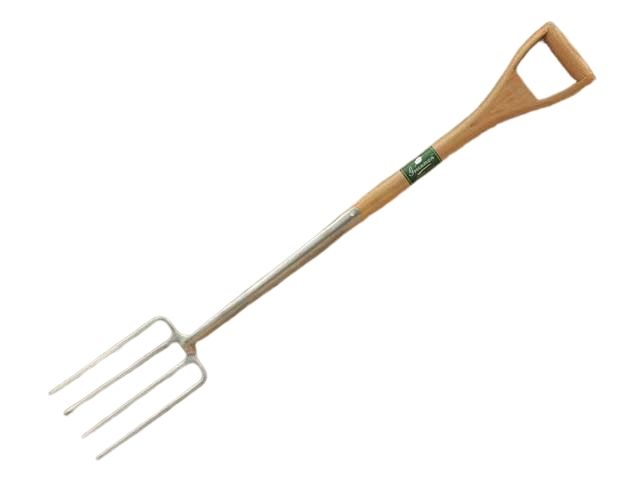 This fork's handle has a classic YD design, but it's reinforced with a block of ash welded into the fork where the handle meets the shaft for added strength. Despite being mirror-polished stainless steel, the tines encountered a lot of resistance while striking the dirt, and a lot of soil stuck to them.
When turning over and transplanting, however, it performed significantly better because the narrow spaces between the tines allow it to pick up dirt without clumping it together. However, some soil sticks to the tines, and it only strikes in average conditions, according to reviewers.
The Good
Great for transplanting
Comfortale use
Good at turning over
The Bad
Soil sticks to the tines
Not great at striking in
Draper 83755 Extra Long Stainless Steel Garden Fork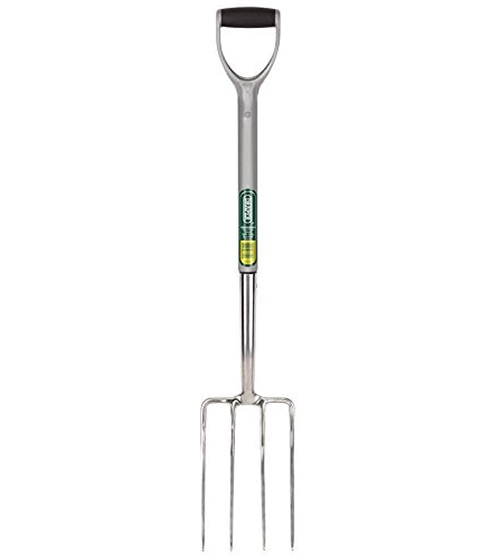 On the other end of the spectrum is Draper's extra-long option, which is perfect for gardeners 6 feet tall and up.
Its stainless-steel frame makes it a solid garden fork, and the soft-grip handle makes it quite comfortable to use for long periods.
The Good
Ideal for taller people
Soft grip handle
Long-lasting
The Bad
Prongs are prone to bending
Heavier than other models
Best Value Garden Fork
Draper Heritage Range Border Fork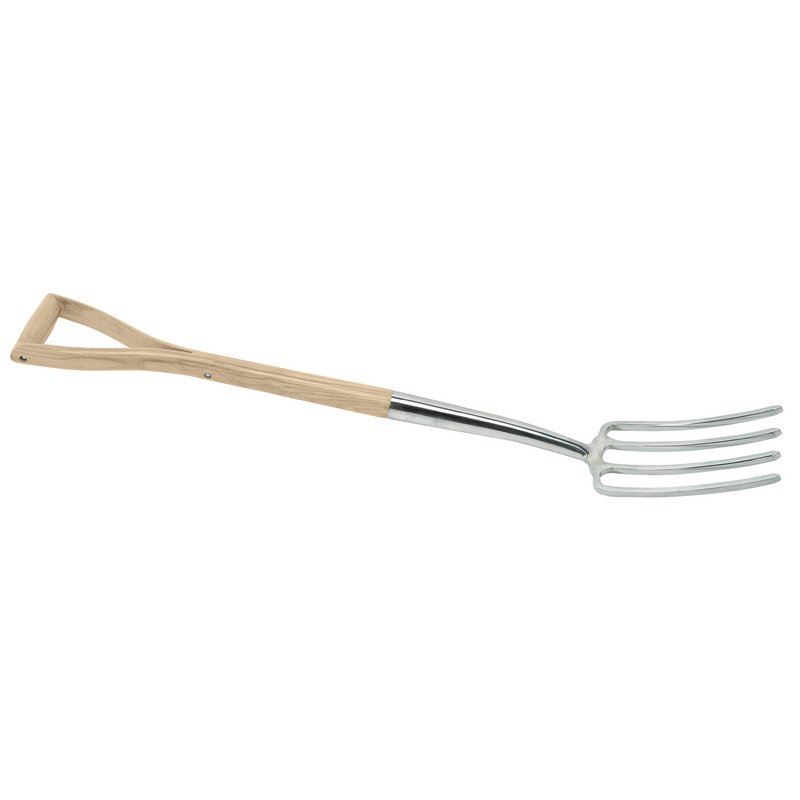 The Draper Heritage Range Border Fork is made to European Union standards and is reasonably priced. The Draper Heritage Range Border Fork is one of the most durable options on our list.
Draper has been making and selling garden tools in the UK for over 90 years, and this variant continues the tradition of excellence.
The handle is around 130 cm long, and the overall length is 156 cm. You have adequately covered thanks to the 10-year guarantee.
If you need a replacement during the guarantee period, take a few photos, attach the original receipt, and email Customer Service for assistance.
The Good
High-quality brand
Durable design
10-year guarantee
The Bad
Reports of bent spikes
Not all of the prongs are sharp
Wilkinson Unknown 111201W 100cm Digging Fork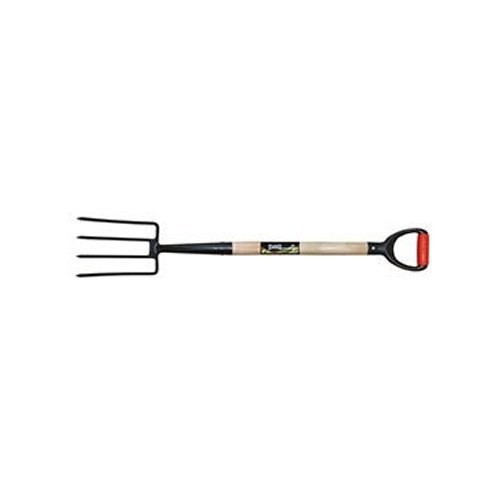 This is ideal for gardeners because it is inexpensive but delivers a fantastic result.
It's a Wilkinson Sword multi-tool sport with a very low price tag.
The Good
Budget friendly
Robust design
Easy to clean
The Bad
Not suitable for heavy use
Prone to bending
Amtech U1500 Border Fork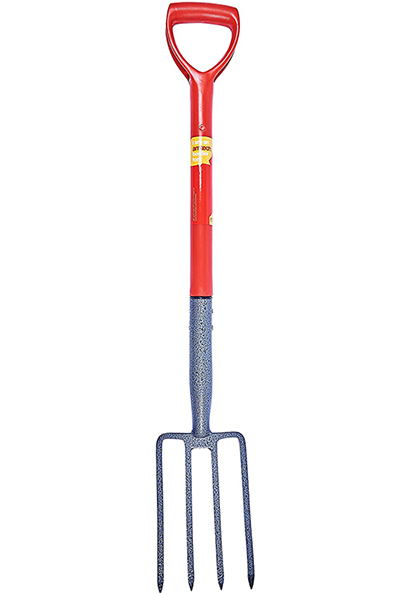 This garden fork has a drop forged steelhead and a polypropylene d-shaped handle, making it incredibly easy to use and simplifying your job 100 times. The handle is also around 24" long, allowing for a decent grip.
Amtech is also known for producing high-quality products at an affordable price. This garden tool would make an excellent gift because it is inexpensive and practical for your home.
The Good
Very easy to use
Well known brand
Provides good grip
The Bad
Heavy handle
Hard to transport
Best Ergonomic Garden Fork
Spear & Jackson Digging Fork
This digging fork is ideal for aerating the soil and removing debris from the garden or lawn. It's well-balanced and easy to operate. The handle fits comfortably in the hand and has an ergonomic grip.
The Spear & Jackson Digging Fork is a classic tool that is always in style. Traditional gardening tools have always been known for their simplicity, and this one does not disappoint.
The polished stainless-steel head prevents dirt and muck from adhering to the tines. For long-term use and durability, the shaft is composed of hardwood.
The Good
Great ergonomic grip
Good value fork
Well-made design
The Bad
Thick tines are restricting
Not ideal for digging deep roots
Fiskars 1001413 Ergonomic Garden Fork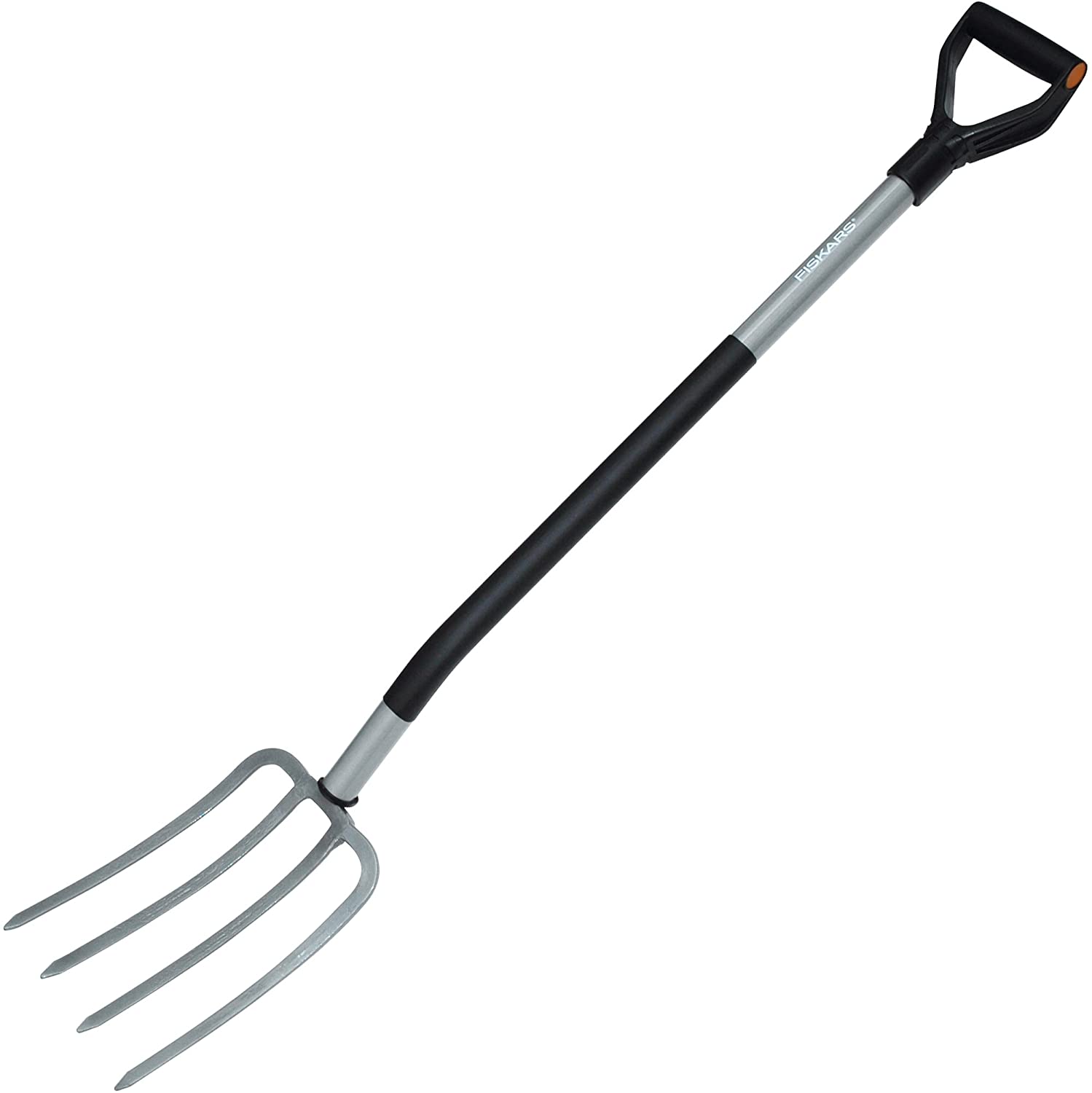 Fiskars' 1001413 Ergonomic Garden Fork features a striking grey and black colour scheme, four prongs, and a length of 122 cm. Amazon will set you back £33 for it.
Digging and tillage are made simple thanks to the ergonomic design. It's great for loosening and turning stony and hard soils. It's long at 122 cm, yet it's suitable for people of all heights.
The handle may appear to be too long to be useful. Its size, on the other hand, saves the user's back and muscles from strain and is pleasant to use for long periods.
Regardless of hand size, the D-shaped grip is just as comfortable. With four prongs, the Boron steelhead is suitable for digging or tilling dirt. This garden tool, designed in Finland, will last a long time and be simple to use.
The Good
Good size
Simple to use
Comfortable grip
The Bad
Not as stable as other modesl
Not suited to tough soils
Radius Garden 203 PRO Ergonomic Stainless-Steel Digging Fork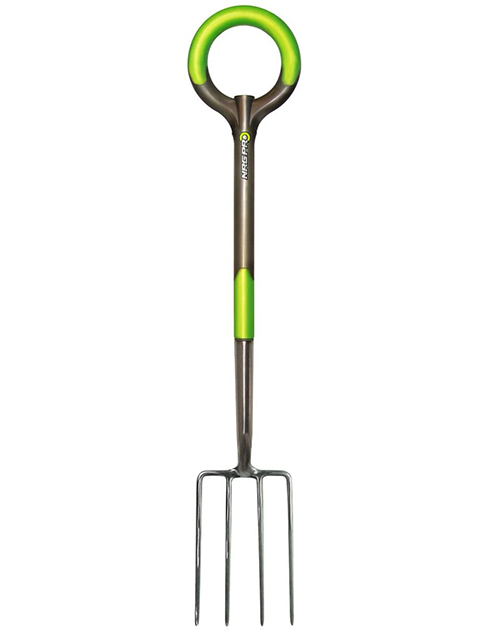 When you first see the "O" shaped handle of the Radius garden fork, you will notice that it is unique. This cutting-edge design was chosen for its capacity to relieve stress in both the hands and the wrists. The handle is large enough for both hands and the material is non-slip.
The stainless-steel head features four razor-sharp tines that will pierce even the toughest dirt, and the steel shaft is resin-encased so it won't bend or break.
The Good
O-handle provides a great grip
Sturdy design
Comfortable use
The Bad
Unsuitable for stubborn roots
Not ideal for tall people
Best Small Garden Fork
Fiskars Light Digging Fork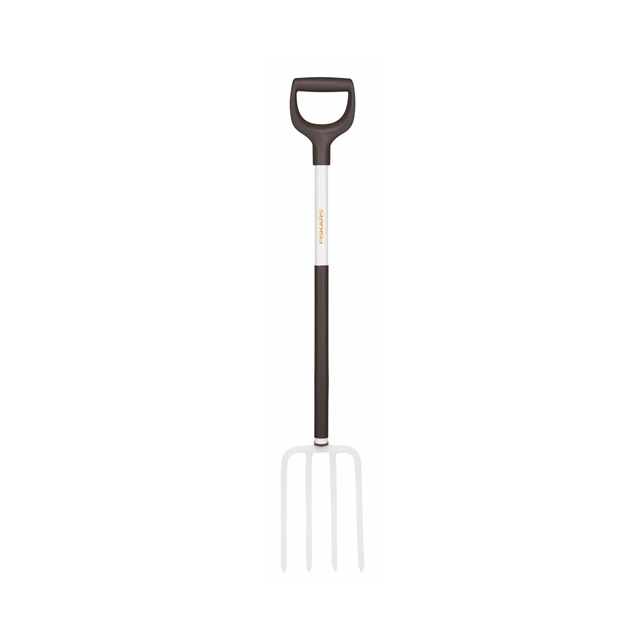 Fiskars' excellent quality digging fork is designed for working on stony ground floors or compact levels with limited access. It contains four ultra-hardened steel prongs and is proven to be durable when in use. The Fiskars Light Digging Fork is ideal for digging, aerating the soil, and unsettling the top layer to remove dirt and plant debris.
The oval-shaped aluminium shaft is lightweight and provides excellent grip. It also has a soft grip to cushion your hands and prevent blisters when you're working in the garden or on the lawn. The sleeve is also plastic coated, which improves grip while also keeping you warm in cold weather. Other useful equipment can be found in our guide to cordless hedge trimmers.
The Good
Lightweight aluminium handle
Durable design
Avoids posture issues
The Bad
Not suited to hard ground
Fairly expensive
Kosma Digging Fork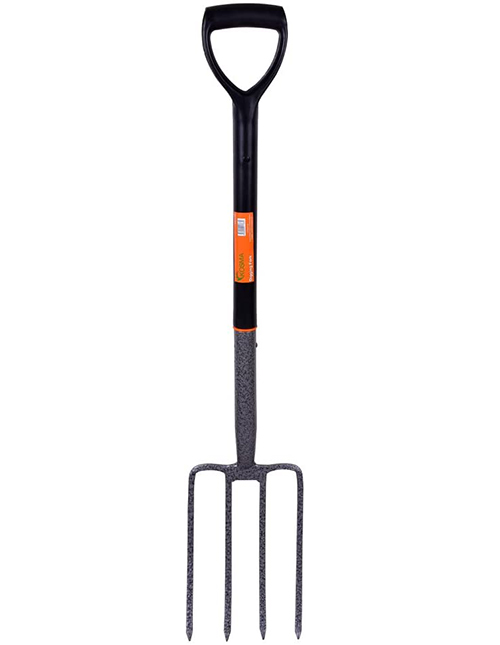 For digging and cultivation, the Kosma Carbon Steel Digging Fork is ideal. The polypropylene shaft is tough, and the soft-grip handle tilts forward for a comfortable grip at the right digging angle.
The blade and socket are made of carbon steel that has been heat-treated for strength and coated with a rust-resistant powder coating. For little gardens, this is the ideal option.
The Kosma Digging Fork makes digging, tilling, and cultivating, as well as other important gardening jobs, simple.
The Good
Rust-resistant
Simple gardening use
Provides a comfortable grip
The Bad
Slighty loose handle
Difficult to get hold of in store
Hamble Green Blade BB-GF201 Border Fork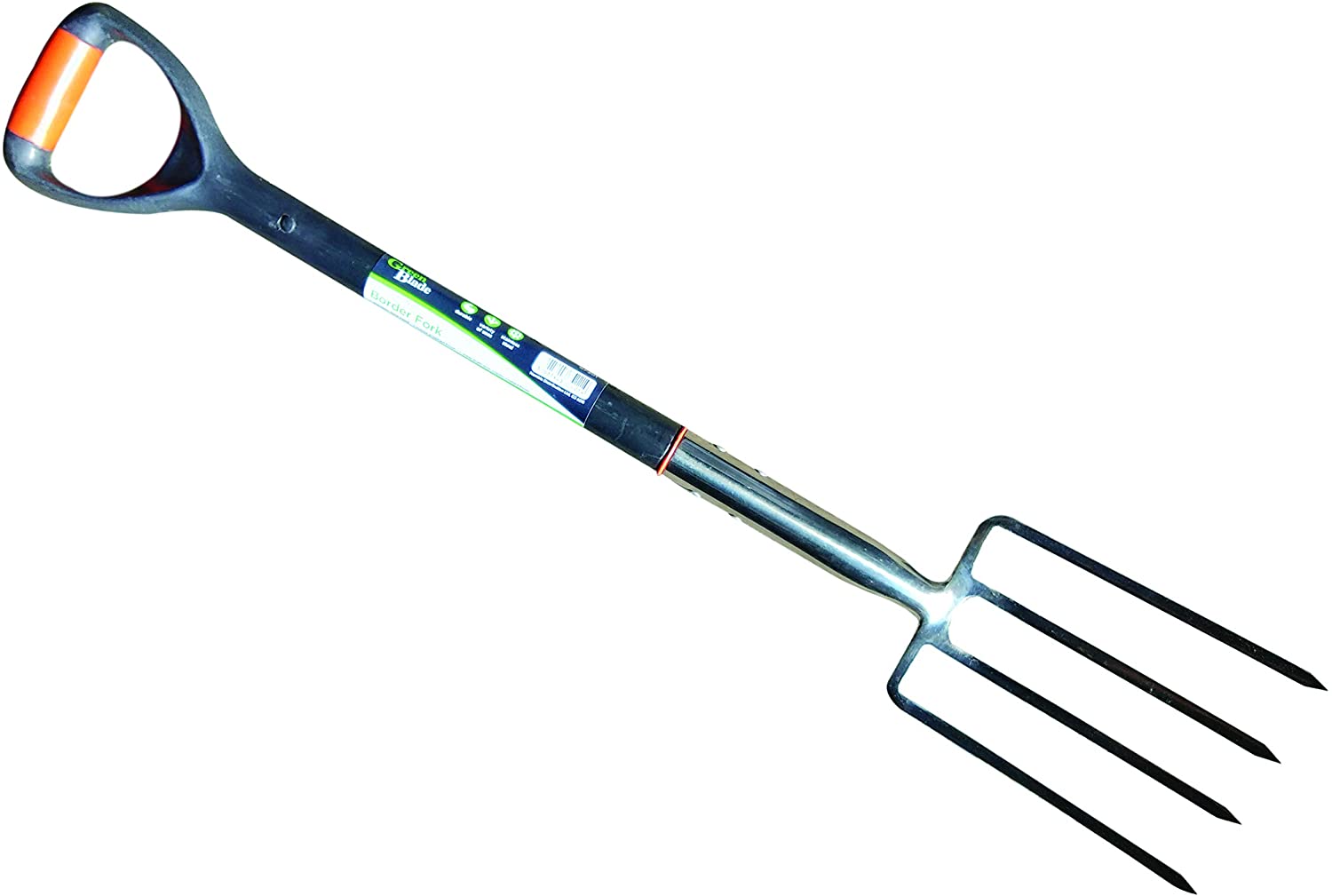 For digging and planting, the Hamble Green Blade BB-GF201 Border Fork is ideal for smaller gardens. One can be purchased for £16 on Amazon. If you're a beginner or simply want to update, this Hamble tool is ideal.
Precision is ensured by the stainless-steel head, which has a rust-resistant surface. The shaft and handle are made of high-impact plastic coated steel and are easy to grip, making a variety of gardening jobs simple to execute.
Garden tools and basic garden maintenance supplies are available from Hamble Green Blade. This Hamble Green Blade BB-GF201 Border Fork also comes with a 12-month no-quibble guarantee.
The Good
Perfect for small gardens
Rust-resistant material
Ideal for digging and planting
The Bad
Heavy for a border fork
Not ideal for turning over beds
Best Long Handled Garden Fork
Kent and Stowe Carbon Steel Border Fork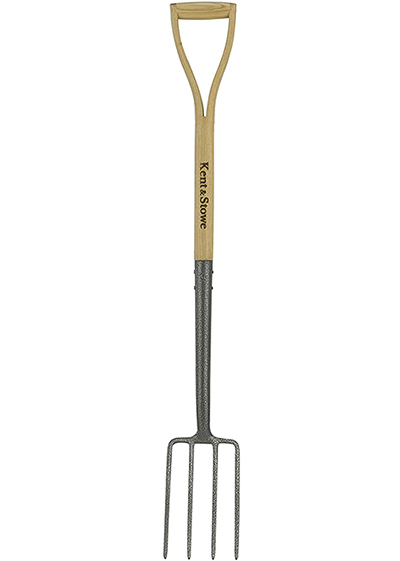 The Kent and Stowe Carbon Steel Border Fork is great for aerating soil, cultivating it, turning it over, and breaking it up. Carbon steel tines are used in the head for further durability and strength. The Kent and Stowe Carbon Steel Border Fork has a traditional wishbone split wood pattern on the handle.
The Kent and Stowe Carbon Steel Border Fork is a well-balanced, efficient, and comfortable to use alternative. It has a strong grip and is lightweight, making it easy to move around the yard or lawn.
The manufacturer also offers a 10-year warranty on the Kent and Stowe Carbon Steel Border Fork. Other useful garden equipment can be found in our guide to pruning saws.
The Good
High-quality design
Lightweight garden fork
Well-blanaced
The Bad
Tines are prone to bending
Ideal for light digging
Bulldog Border Fork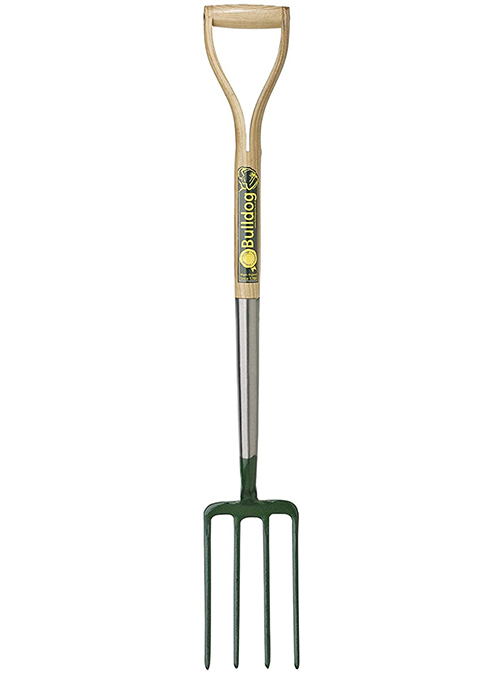 The Bulldog Border Fork is a flexible gardening tool that may be used in a variety of ways. The ash 28-inch handle is forward slanted to provide a tighter grip in the hand. This design guarantees that it is comfortable to use for long periods.
The Bulldog Border Fork's head is made of securely forged carbon steel, offering it greater durability and longevity than competitors in the same category.
The tines are also coated with an epoxy coating to prevent rusting and corrosion over time. It also makes mud and clay less likely to stick to it.
Many landscapers and gardeners choose the British-made Bulldog Border Fork because it is designed for intensive use.
The Good
Fairly priced
Good longevity
Designed for intensive use
The Bad
Takes awhile with harder jobs
Tines may bend
Faithfull Steel Fork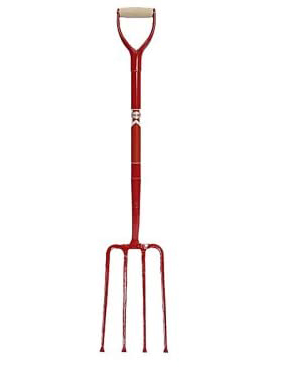 The Faithfull Steel Fork is an all-steel fork designed to be extremely adaptable by craftsmen. Carbon manganese steel is used for the body, which is noted for its strength.
The Faithfull All Steel Fork is also epoxy-coated to protect it from rust and corrosion. The handle shaft is made of tubular steel and is designed for enhanced strength and longevity.
For increased coverage, the fork is square-shaped and made of ultra-durable forged steel. This new design keeps the tines healthy and protects them from bending or breaking.
The MYD hilt is mounted to the 28-inch shaft for added comfort while in use.
The Good
Comfortable use
Corrosion and rust resistance
Long-lasting
The Bad
Issues with broken handle
Colour is hard to spot in the garden
What to Consider Before Buying a Garden Fork?
Before you go out and buy a garden fork or order one online, as with any tool purchase, there are a few questions you should ask yourself. This section of the article will assist you in considering your options before making a purchase.
What Work Will You Need a Garden Fork For?
What kind of employment do you intend to do? Do you need a heavy-duty digging fork to clear land and prepare it for planting, or just to keep the soil turned over? Think of this before buying a type of garden fork.
How Big is Your Garden?
When you have a large garden to work with, the last thing you want is a little fork that makes you work twice as hard to turn the soil over. If you don't need to use it as much, you might be able to get away with a less expensive fork.
Will It Be Too Heavy?
The larger the fork, the more weight it will have. Select a fork that you will be able to use for several hours at a time. A cushioned handle, while not strictly necessary, would be worth considering. It all comes down to how many hours you plan to spend with your garden fork in each period.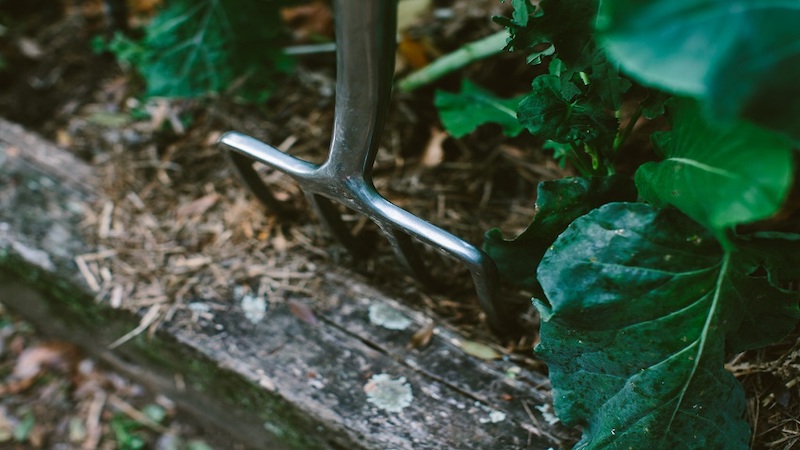 What Materials do you Want Your Garden Fork Made Of?
The materials used to make the fork can also indicate whether the instrument is appropriate for you. Forged steel garden forks are the most popular and the most durable on the market. A stainless-steel tool, on the other hand, maybe more convenient if you want a tool that slides effortlessly over various types of terrains.
What Handle Length Do You Want?
The length of the handle is another crucial feature. Choose a garden fork with a long handle so you can finish your chores without having to bend too much. You should be able to wield the instrument while maintaining excellent posture since this will assist you to avoid tension and back or articular pain.
What Handle Grip Do You Need?
Check that the handle is easy to grip, regardless of the material. Garden forks are often heavy-duty equipment, which is a significant consideration. This is an important consideration, especially if you have small hands or a weak grip.
FAQs
How do you replace a garden fork handle?
Place your shovel in a vice and tighten it.
Remove the rivet securing your broken handle to the shovelhead shaft with a chisel, angle grinder, or sawing. If the rivet is extremely tight, pry it up with a chisel just enough to get a hacksaw blade into the area.
Once you've made enough clearance for your hacksaw blade, remove the rivet's head.
Remove the rivet with a punch or a narrow screwdriver.
Once the rivet is removed, you'll have to deal with the mess of a handle left inside the shaft. All the wood must be removed.
What is a garden fork prong called?
Teeth, prongs, or teeth are spikes that are parallel or branched and constitute elements of a tool or natural thing. The number of tines on a pitchfork can be as few as two, four on a garden fork, and numerous on a rake or harrow.
What is a garden hand fork used for?
Hand forks are commonly referred to as 'weeding forks,' although they are useful for a variety of tasks in the garden, including preparing planting holes, transplanting, aerating, and mixing additives into your soil. They are also essential for levelling along border margins and tidying up.
What garden forks are best for women?
Border forks can be used for weeding, lifting, and composting. They're also ideal for folks who live in tight spaces, ladies, and people who have little feet. They should be identical to a larger fork in every manner except weight and width.
What is the best metal for garden tools?
The strongest materials for blades include hand-forged steel, carbon steel, and stainless steel. Aluminium is lighter, but it has a lower strength. I would stay away from tools made of this metal. Carbon fibre is a light, robust material that works well for handles but not blades.
Sources