diy & tools
Best Mitre Saw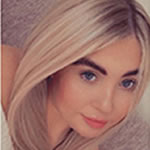 Want to discover the best mitre saw to buy?
We've reviewed a range of chop saws so you can choose and purchase exactly what you need!
In this guide, you'll also learn more about mitre saws such as what are they and how do they work?
Additionally, we'll go through the different types of mitre saws (including sliding mitre saws & electric mitre saw) and which type is best for personal or professional use.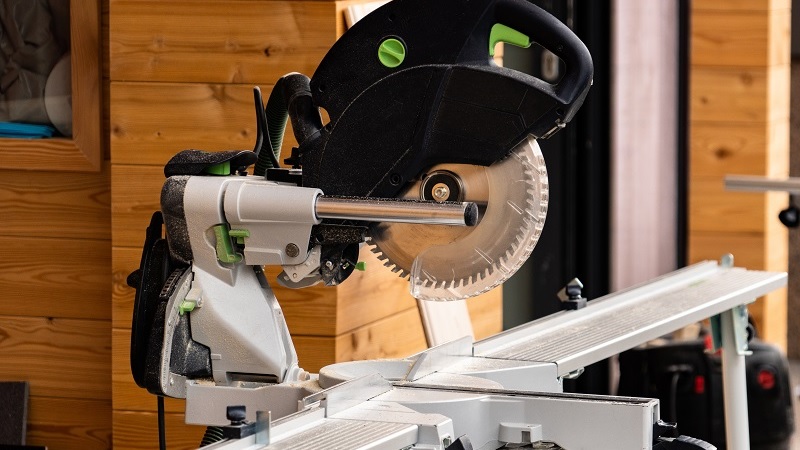 What Is a Mitre Saw?
A mitre saw is a tool with several uses, but its primary function is to make crosscuts and mitres in a workpiece. It's used to cut door trims, baseboards, and crowns to size, as well as framing and cutting moulding.
Mitre saws are the go-to equipment for these types of tasks, from carving out the original joint to slicing off a small bit to make the right fit.
Mitre saws (also known as 'mitre' saws) were initially a hand-operated tool consisting of a circular saw suspended on rollers. To help guide the saw and allow it to produce correct crosscuts, a mitre box was employed.
These power tools perform the same task with greater ease and efficiency. When it comes to mitre saws, this power tool variant is the most convenient.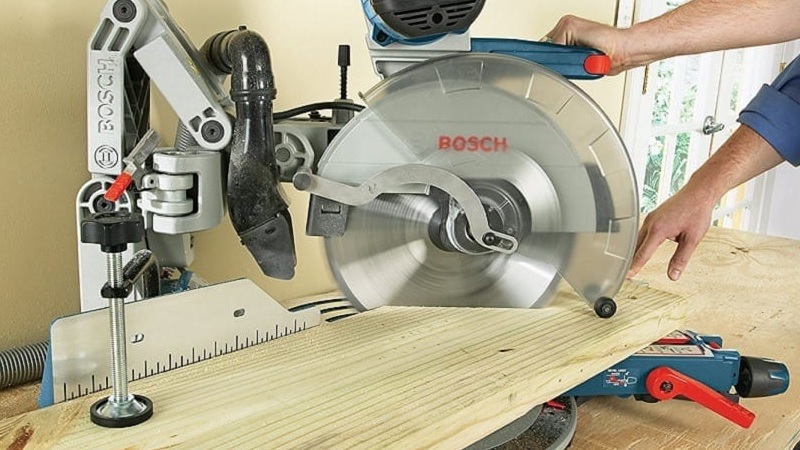 A mitre saw's precise cutting operation is suitable for places that demand high accuracy, such as putting together outdoor decking. Most decking requires mitre cuts for the corners.
Compound mitre saws can also be used to make bevel cuts, and they can be utilised on handrails if necessary.
How Does a Mitre Saw work?
A revolving, circular blade is pulled down onto and through a piece of wood or workpiece that is held in place, usually at a 90° angle by a fence, by this modern power tool variant of the mitre saw. This creates a perfect cutting angle between the blade's plane and the longest workpiece edge's plane.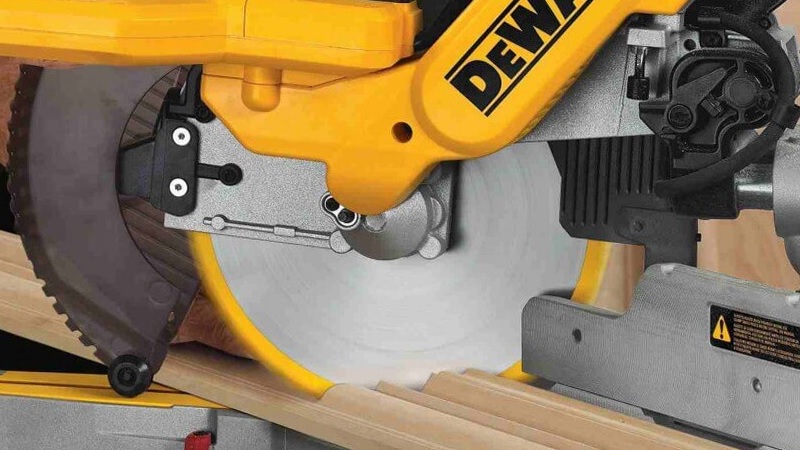 Mitre saws with various blade diameters for varied uses are available, and the angle can be simply altered based on the intended cut.
Types of Mitre Saw
One of the most important factors to consider is the mitre saw blade size required for the task at hand. It will be easier to create accurate crosscuts in the wood if you know what size saw you require.
Regular mitre saws produce straight cut through wood and timber pieces. The depth is determined by the blade size of the saw and whether it has an adjustable base.
So, if you want to know more about the different types of mitre saws, read on.
Sliding Mitre Saw
These are like compound mitre saws, but they can slide out on a rail as well. Mitre saw rails are advantageous because they increase the cutting width and allow you to work with larger pieces of wood. They're ideal for cutting larger materials like worktops, boards, decking, and sheet goods.
A sliding mitre saw can perform all the functions of a compound mitre saw, but it also includes rails that allow you to slide the saw forward and backwards. This dramatically enhances cutting capacity by allowing you to cut much thicker pieces of material.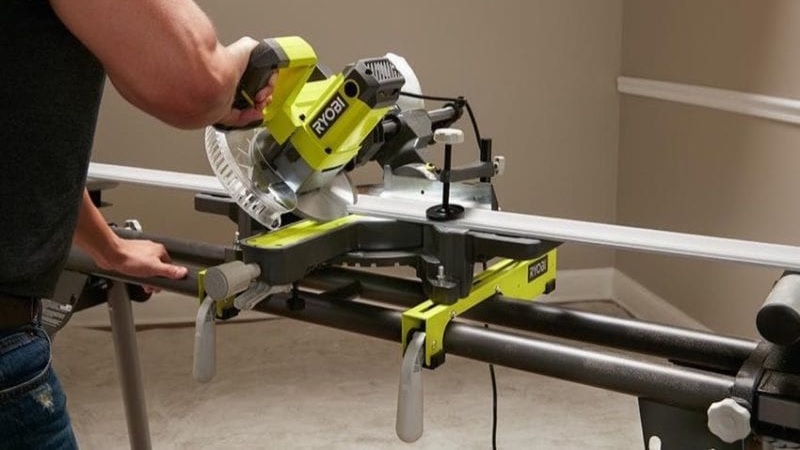 On the negative side, they are usually more expensive. If you know you'll use it, it's well worth the money, but if you're not sure what kind of work you'll be performing, a sliding mitre saw might not be necessary.
In addition, they take up a lot more room than a compound mitre saw. Sliders simply require more space to work because their design allows for front-to-back movement.
Compound Mitre Saw
The majority of DIYers will purchase a compound mitre saw since the saw's arm can be readily moved to the left or right, allowing for more intricate cuts. They're perfect for skirting joints, boxing in, and MDF work because of this. You can use it without difficulty with a compound mitre saw.
One of its major advantages is the thickness of the incision. When compared to other types of saws, this one can make a thicker cut.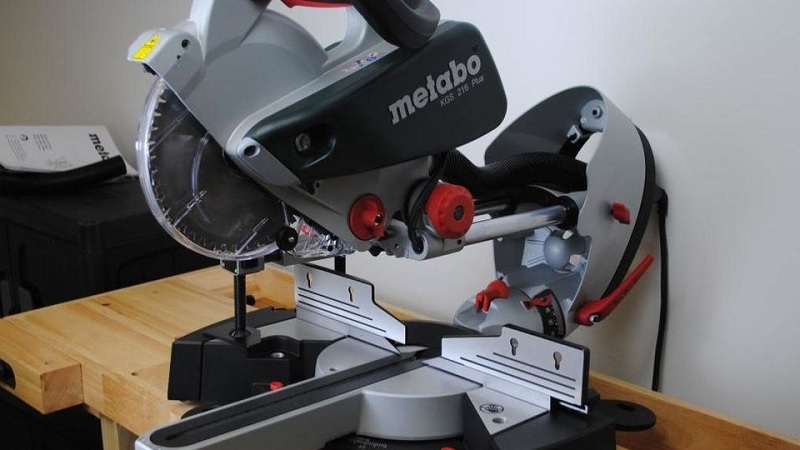 However, Electricity is required for the instrument to function. If you're working on a project and the power goes out, you won't be able to utilise the tool. You must wait for the electricity to be restored before continuing your project.
It also causes havoc on the environment. There isn't a container for the wood dust and chips in the tool. After completing the project, you must clean up the area.
Compound Sliding Mitre Saw
The rail or rails on the sliding saw are the fundamental distinction between a sliding compound mitre saw and a compound mitre saw. As you cut, you can slide the saw back and forth on these rails.
The saw can perform all the functions of a compound mitre saw. It just enables you to cut larger materials. This is especially useful if you're working on a project that requires you to use bigger boards.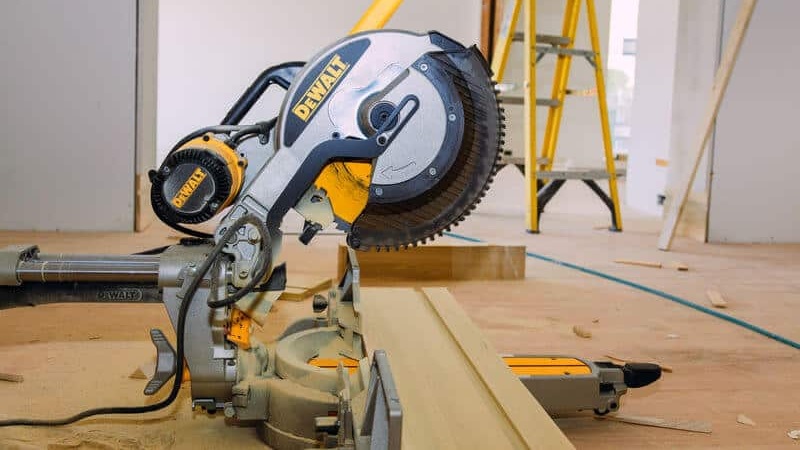 The sliding compound mitre saw is preferred by most woodworkers who work with thicker materials regularly. If you won't be cutting wider boards or only require a mitre saw on occasion, a compound mitre saw is a way to go.
Most of the time, this saw will provide you with all the cutting power you require at a lower cost.
Dual Compound Sliding Mitre Saw
Dual compound sliding mitre saws have a right and left tilt, allowing you to bevel in both directions without having to flip the workpiece.
Without flipping the piece, you can make the first cut, slide the moulding down, tilt the blade to the opposite side, and make the next cut. This feature comes in handy for cutting unusual angles on furniture legs, braces, and other parts.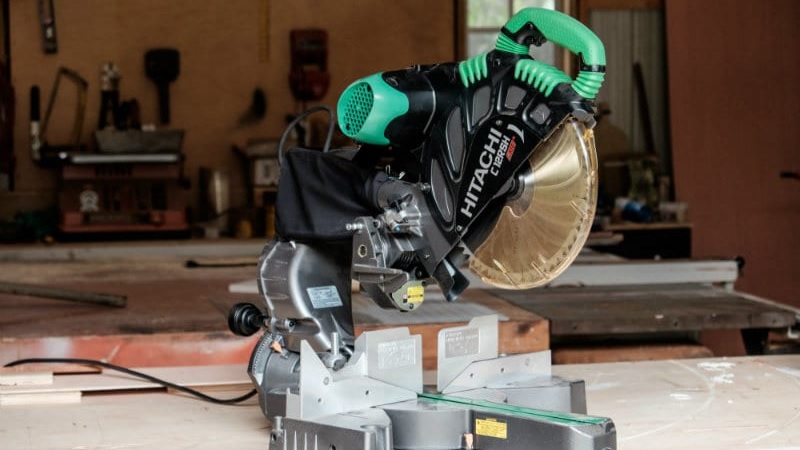 Dual compound sliding mitre saws are more advanced and offer more possibilities than many regular mitre saws, allowing them to adjust to more difficult angles. The dual-compound sliding mitre saw, on the other hand, is reputed to be more expensive.
Cordless Mitre Saw
The fundamental purpose of a cordless mitre saw is to cut through wood with minimal effort and precision. It creates the perfect finish with a smooth and strong cutting action.
Changes from one set up to another are straightforward with easy-to-use controls. Modern power units are easier to install and have more power and runtime.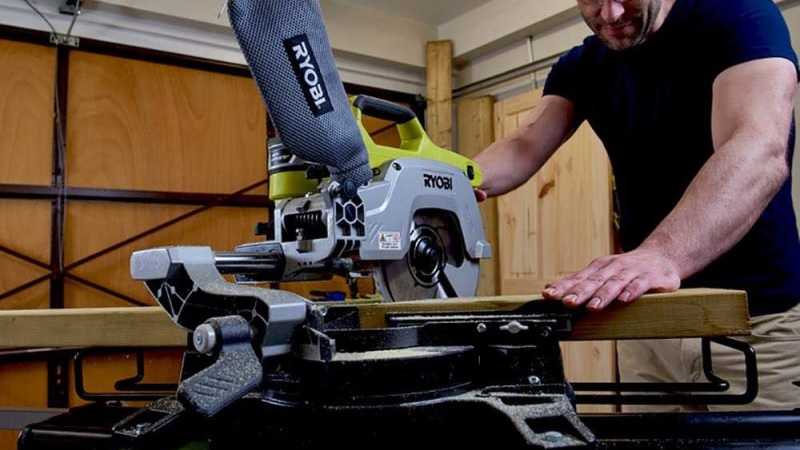 For medium-duty and punch list work, cordless mitre saws are smaller, lighter, and more convenient. Even better, they usually have brushless motors, which have a longer lifespan, need less maintenance, and provide a variety of other advantages.
Consider a mitre saw with a soft start motor for a quieter, smoother starter.
Corded Mitre Saw
This is the same type of saw as the previous one however, this is less portable as it comes with a cord to charge the mitre saw.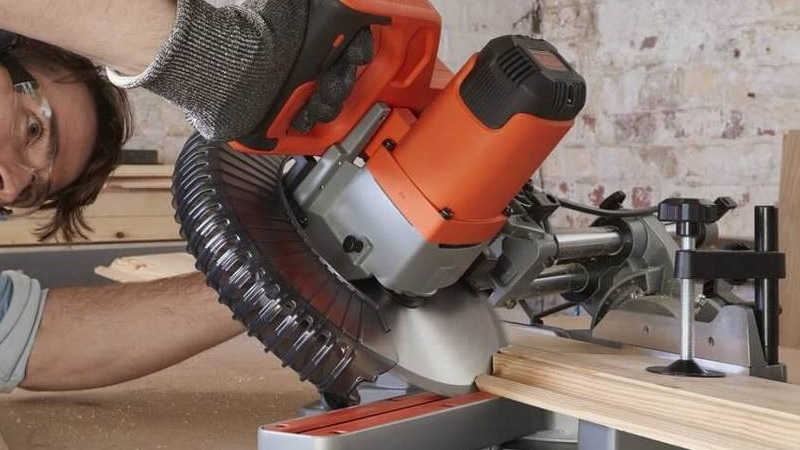 However, most mitre saws come with corded power as cordless mitre saws are more expensive, and some even have the option of working with either battery power or a corded converter.
Best Mitre Saw
If you want to cut angles in wood, metal, or plastic, a mitre saw can be the tool for you. Mitre saws are famed for their precision, and most quality models will let you cut almost any angle to the left or right.
An LED work light, a laser to see exactly where the cut will be made, and dust extraction options, such as the ability to plug in a vacuum cleaner or extraction device, are all optional features to look for in any mitre saw.
So, if you want to purchase a mitre saw here are the top-rated different types of mitre saws.
Best Sliding Mitre Saw
Dewalt DWS774-GB 216-MM Slide Mitre Saw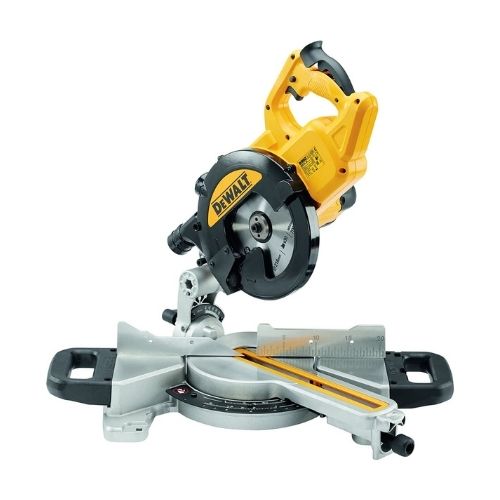 The new Dewalt DWS774 sliding mitre saw is a great and modern tool that provides everything most of us need in a mitre saw at a price that rivals many of the new budget brands on the market.
Dewalt has long been linked with more expensive and higher-end tools. The DWS774 breaks the mould by combining Dewalt quality with value for money.
This saw is extremely portable and has been designed to be easily transferred from job to job. Let's not forget that most sliding mitre saws are large, hefty machines.
The DWS774's tiny footprint and grab handles make it a superb design. The new modern black and yellow design give this model a whole new look and feel, making it feel and seem like a whole new tool.
Things we liked
Portable design
Ideal for moving it from job to job
Things we didn't like
May be too small for some jobs
Bosch Single Bevel Sliding Mitre Saw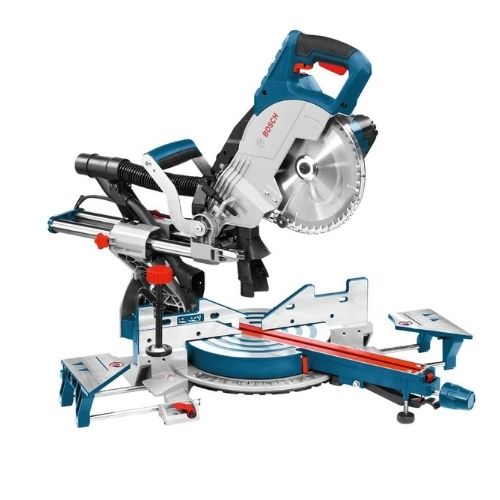 The Bosch mitre saw is an amazing saw at the top end of the budget range. Bosch is well-known for creating high-quality power tools for high-end DIY enthusiasts and professionals. This Bosch chop saw is no exception, boasting extremely high build quality to ensure that your mitre saw produces the best possible cut.
This mitre saw is an excellent choice for a job that requires a high-quality finish and numerous precise cuts. Large-scale DIY projects frequently necessitate the use of professional carpentry tools. For dependability and quality, Bosch is a fantastic brand to consider. It also has improved dust management.
If you use a Bosch mitre saw regularly, this is critical. With all the dust, the rooms get quite cluttered, which is unhealthy to breathe. With this professional equipment, you can keep your work environment as dust-free as possible.
Things we liked
High-quality budget model
Precise cuts
Things we didn't like
It does not come with a dust bag
Metabo KGS216M 1500 Sliding Mitre Saw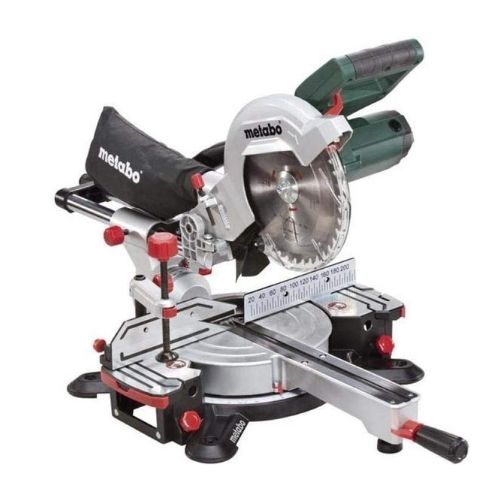 The Metabo KGS216M is a wonderful place to start if you're searching for a good all-around mitre saw. With a price tag in the lower half of the mid-range, you're getting a well-rounded mitre saw with the excellent build quality. This is a wonderful choice if you're searching for long-term dependability in your woodworking tools.
It includes a chip collection bag, which aids in keeping the work area clean and neat. This is especially beneficial for working in small spaces or areas with furniture and rugs.
This chop saw has a sliding mechanism that allows it to work on larger pieces of wood or plastic, making it a very versatile instrument. With a laser guide, guiding the cut is simple.
The laser is visible from a working position, making it simple to line up the cut without having to bend down while cutting. Because a lot of the job that these saws do is cutting visible pieces of wood to finish off the home, accuracy is crucial.
Things we liked
Great build quality
The laser is simple to line up
Things we didn't like
The dust bag does not hold a lot
Best Compound Mitre Saw
VonHaus 1400W Mitre Saw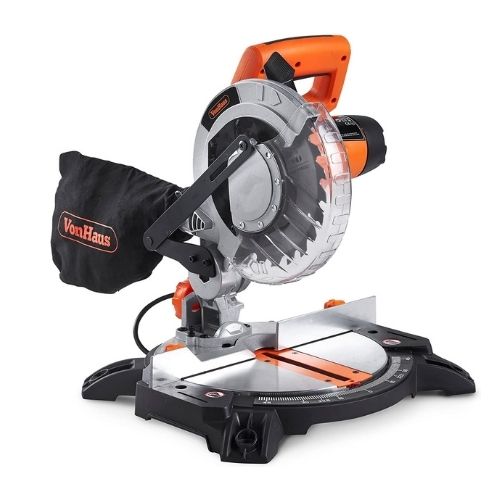 For a little investment, this mitre saw will cover most duties that a DIY user may require. Many of us will only require a mitre saw for a little project and will not require one again for a long time.
This model is ideal for that user; it is neither a household name or the most powerful model available, but it gets the job done straightforwardly and efficiently.
It has a maximum cut depth of 5.5cm, which is plenty for most of us trying to instal new skirting boards or other small pieces of the woodwork around the house. The warranty is the one item that is quite crucial.
The quantity of cover you get should not be affected by the fact that you are purchasing a budget saw. VonHaus backs up their product with a two-year warranty.
Things we liked
Straightforward use
Ideal for DIY users
Things we didn't like
Not as powerful as other models
Einhell Compound Mitre Saw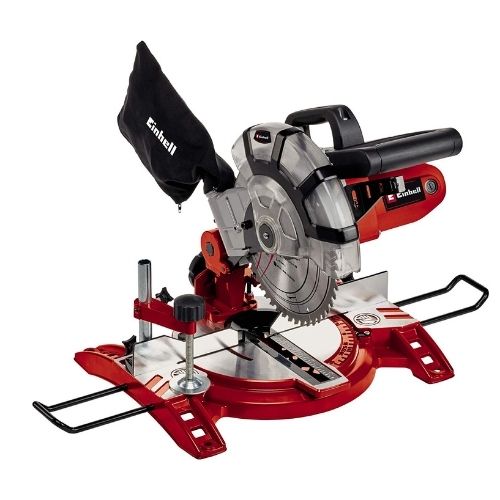 With a 1600w motor, this machine is more than capable of annihilating anything in its path! It has a carbide-tipped blade that cuts through even the toughest materials and makes cutting through wood a snap.
In addition to a robust feature set, Einhell has incorporated a two-year warranty for further peace of mind. If you're concerned about Einhell's brand not being one of the big names, this should put your mind at ease.
The Einhell mitre saw comes with integrated clamps that assist hold the saw to your workbench. You can rest assured that whether you're working at various angles with various sizes and shapes of wood, the mitre saw will remain firmly in place.
Things we liked
Ideal for cutting tough materials
Helpful integrated clips
Things we didn't like
The laser does not last very long
Evolution Power Tools Compound Mitre Saw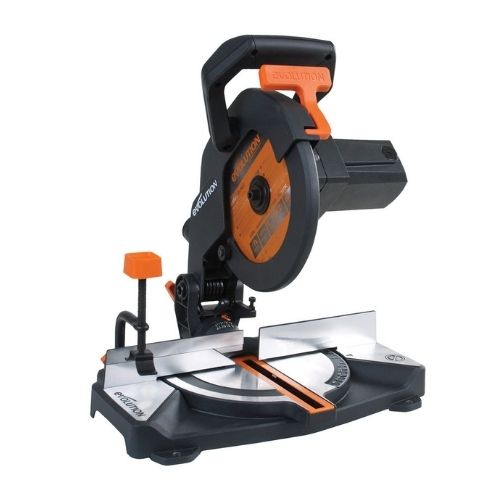 Steel, aluminium, wood with embedded nails, plastic, and other materials can be sliced using a carbide-tipped blade. It has a powerful 1200 W gearbox and blade system that extends the life of the motor and blades while cutting through a range of materials.
Precision cutting capabilities include 0-45 degree bevel and 45-45 degree mitre settings, as well as a maximum crosscut capacity of 125 x 55 inches.
Things we liked
Long-lasting design
Powerful saw
Best Compound Sliding Mitre Saw
Lumberjack SCMS210SB Sliding Compound Mitre Saw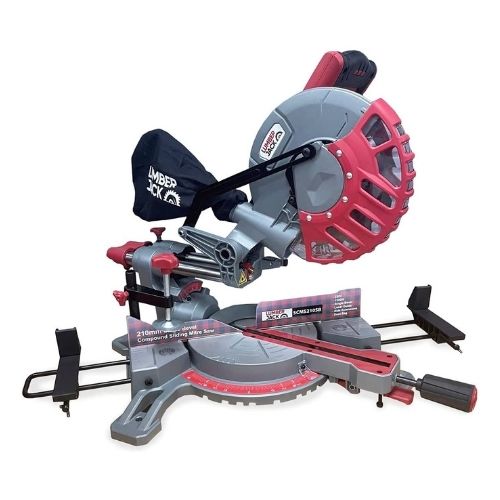 The Lumberjack SCMS210SB is a terrific deal for a mitre saw with a lot of features. If you're on a budget, this is the saw to get for larger cuts and more intricate operations like cutting grooves. The Lumberjack's name says it all: it's a saw designed to deal with wood daily.
This saw features laser guidance for precise cuts and a great finish around the house. The Lumberjack mitre saw has a strong motor that, when combined with the cutting depth, makes it capable of handling some tough work.
The adjustable cutting depth is a great feature that enables groove cutting while also increasing the saw's use.
Things we liked
Great for larger cuts
Laser guidance for precision
Things we didn't like
Guards may fall off while cutting
DEWALT DWS780 Compound Slide Mitre Saw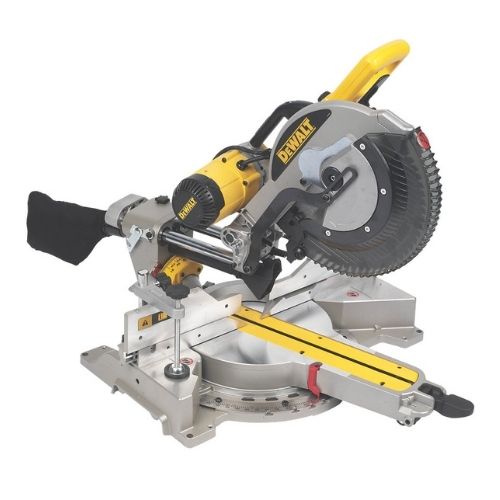 For many pros, the Dewalt DWS 780 is the power tool of choice. This extremely popular model is a top-of-the-line saw that sets the bar for producing high-quality cuts.
This saw isn't for the average DIYer; it'll only appeal to the most seasoned woodworkers looking for the best tools.
With this saw, dust collection is well-managed, resulting in a healthy and clean work environment. The shadow line cutter makes cutting easier by illuminating the cutting area, and the setting tools are quick and precise.
This saw's cutting depth is a massive 11cm, allowing it to cut through large timbers for construction sites as well as fine timbers for finishing projects, which is extremely useful because it can do the job of two saws.
The bevel includes a rapid release stop setting for fast and accurate work; this is a useful feature if you need to make a lot of cuts while maintaining a high-quality finish.
Things we liked
Large cutting depth
Rapid release function
Ryobi R18MS216 Cordless Slide Mitre Saw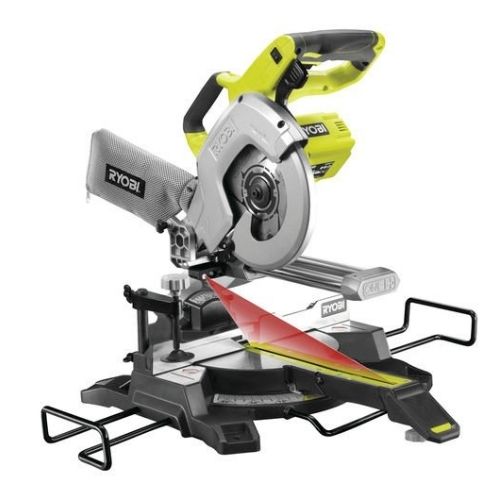 Cutting up to 70x270mm at 900 pre-set metre angles to 450 and bevel from 0 to 450 with a cordless sliding mitre saw.
It has superior performance and cut quality are provided by this premium thin kerf 216mm blade with 48 carbides tipped teeth. The table base is made of premium cast aluminium and provides a completely flat cutting surface.
Things we liked
Premium quality blades
Flat cutting surface
Things we didn't like
Blades are prone to jamming
Best Dual Compound Sliding Mitre Saw
DEWALT 12-Inch Double Bevel Sliding Compound Mitre Saw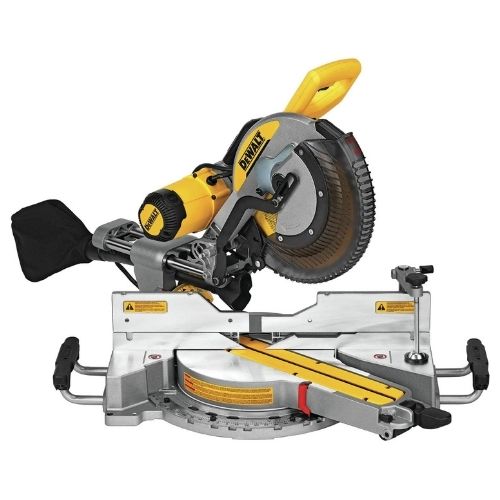 This mitre saw features a 15-amp belt-driven motor that spins at up to 3800 RPM. It's a beautifully constructed stainless steel detent plate with ten positive stops for improved precision.
It has an extended sliding fence that can support up to 7-1/2" of material, which is useful for large tasks like crown moulding. contains a high-quality DeWalt 12-inch blade, so it's ready to use right away.
You can cut up to two by 16-inch lumber at 90 degrees due to the design of the back fence. You can cut two by 12-inch dimensional wood at 45 degrees.
It has a lot less vibration than other similar saws, which is surprising considering the powerful 15-amp motor it has. You'll get a translucent blade guard for safety purposes, which is very normal.
Things we liked
Durable stainless steel design
Extended sliding fence
Things we didn't like
It has no adjustment ability
Makita Dual-Bevel Sliding Compound Mitre Saw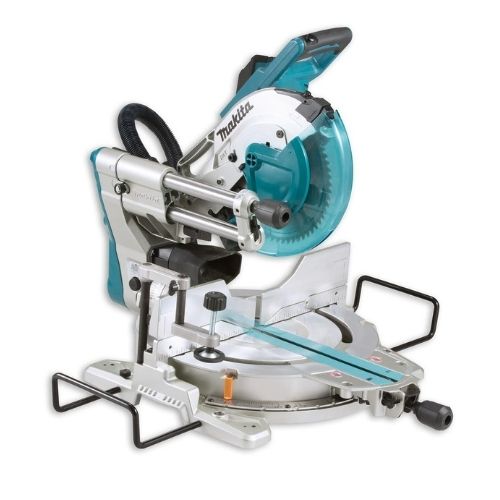 For the sliding movement, there is a rather distinctive rail system. Because the rails are parallel to the saw rather than extended behind it, you can utilise it in tighter spaces.
The inbuilt laser sight is a common feature that is quite useful for producing precise and rapid cuts. There are dust collector apertures as well as a tall, detachable gate system.
Things we liked
Excellent dust collection features
Ideal for tight spaces
Things we didn't like
Not ideal for regular use
BOSCH Power Tools Dual-Bevel Sliding Mitre Saw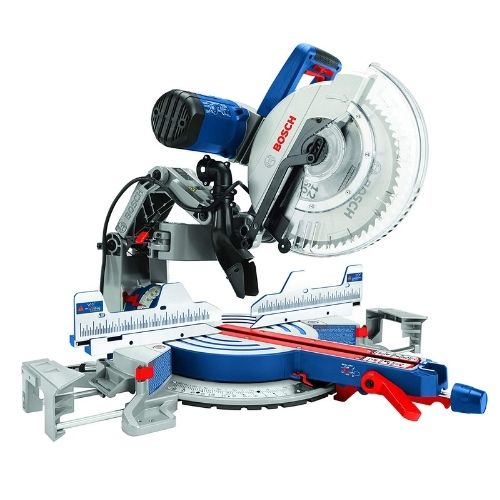 The first thing you'll notice about this saw is that it doesn't have a traditional design. The gliding system is a design that is in a class by itself.
This saw is big, weighing 88 pounds, but with that weight comes a high level of toughness. The foundation is extremely stable, avoiding your materials from being damaged by tipping.
The saw also features a convenient detent override setting on the push-button. The detent override setting allows you to rapidly set any neighbouring angle, allowing you to operate more quickly.
However, because it is cumbersome and hefty, it is not suitable for folding and transportation. You almost always need someone to assist you, which is inconvenient if you're using it professionally.
Things we liked
Tough design
Helpful override setting
Things we didn't like
It is hefty and hard to handle
Best Corded Mitre Saw
Makita LS1040 Mitre Saw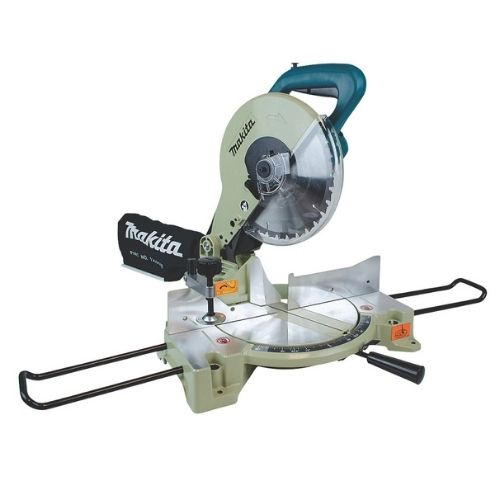 Makita is a major player in the tool industry with a corded mitre saw. Offering a fantastic saw with all the features you could want at a price that anyone can afford.
Makita has decades of experience making mitre saws, and this knowledge and experience are put into all their products.
The saw includes a better dust collection system, so you can keep your workspace dust-free and tidy. When you're wanting to organise your workspace and keep it neat on a long-term basis, this is critical. The brand quality speaks for itself, and this saw comes highly recommended.
Things we liked
Excellent dust collection system
Long-lasting
Things we didn't like
It does have some kickback
Draper Corded Mitre Saw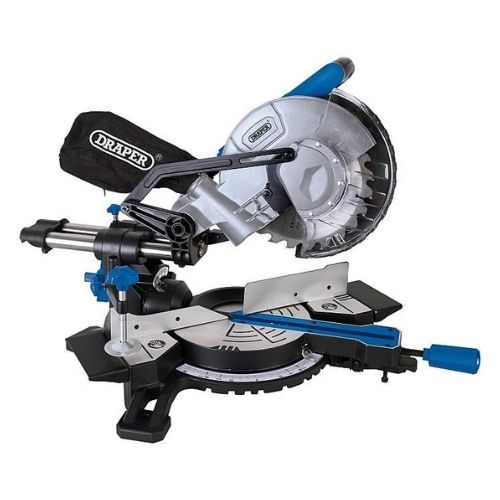 Mitre saws come in a wide range of prices. When shopping for a cheap corded mitre saw, you don't want to spend too much money. Typically, you're looking for something that can do some simple angled cuts precisely and won't get a lot of use.
This is also a good choice if you need a corded mitre saw that is easy to store, doesn't take up a lot of space, and is portable. It comes with a carry handle to make transportation a breeze.
Things we liked
Easy to transport and store
Great dust extraction
Things we didn't like
The laser may break after awhile
Makita LS0815FL Sliding Compound Mitre Saw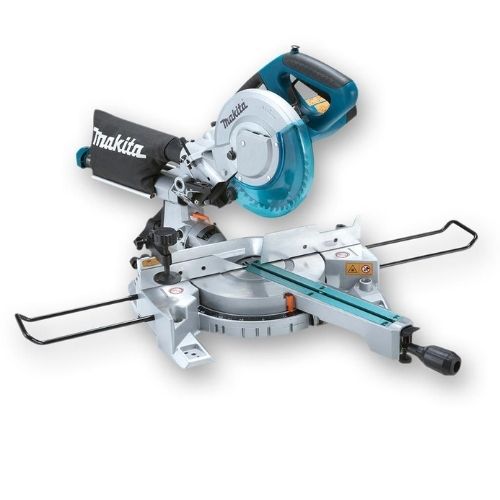 The Makita enables for a crosscut of up to 305mm, and the variety of mitring capabilities beats the Einhell and Draper mitre saws (see below of specs). One of our favourite features of the Makita LS0815FL is the ability to use the integrated holds to hold long workpieces in place.
Cutting is made easier and faster with the accompanying LED work lights and laser guide. Especially when completing a bevelled, mitre cut, this is when it shines.
Things we liked
Helpful integrated holds
Features LED work lights
Best Cordless Mitre Saw
Delta Dual-Bevel Cruzer Mitre Saw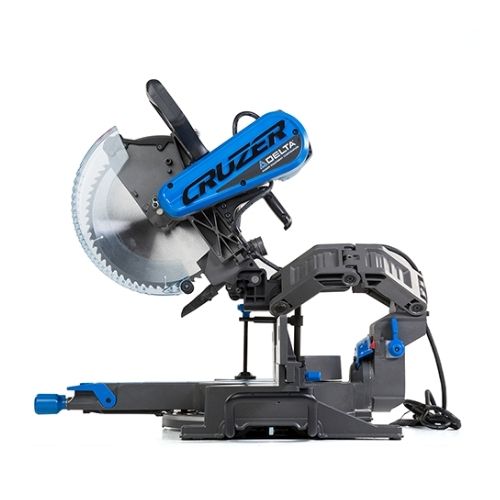 This cordless mire saw is 15 amps and can spin up to 4,000 RPMs. For enhanced durability, a stainless-steel adjustable mitre detent plate is included.
It has 14 positive stops that you can override and then adjust to your preferred setting. This mitre saw can make 90-degree crosscuts up to two by eight inches.
Once you've unboxed this mitre saw, you'll see how impressive it is. You'll be in awe almost instantaneously after you've fired this beast up and grabbed hold of the ergonomically built moulded handle and pressed the very responsive trigger.
Things we liked
Override function
Ergonomic handle
Things we didn't like
Dust collection is not the best
CRAFTSMAN V20 Cordless Sliding Mitre Saw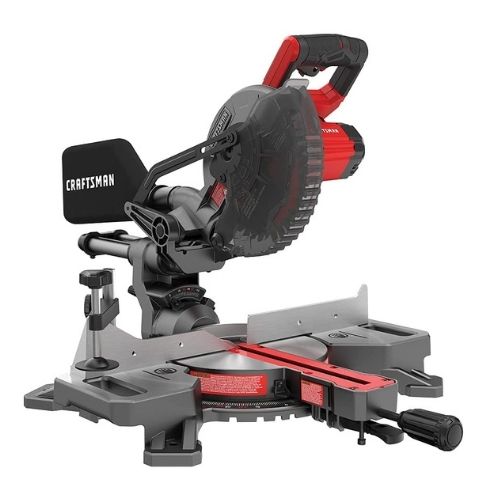 A new exact mitre mechanism is included with this saw. Furthermore, it has a large rubber handle that makes it simple to transfer from one task site to the next.
You can perform adjustments-free cuts thanks to a positioning system. This allows you to do your task swiftly and with a high level of efficiency.
The saw itself is constructed to be long-lasting. Because the castings are stainless steel, you'll have a rock-solid saw that will endure a long time.
It can also withstand just about everything thrown at it on the job site. If you're utilising it for household tasks, you shouldn't have any problems with durability.
This saw, however, does not have adjustable bearings. The mitre saw sliding function, which uses a linear ball bearing slide rail mechanism, is also a touch harsh. If the function's unreliability becomes a concern for you, you may lose productivity over time.
Things we liked
Highly durable
Simple to use
Bosch GCM18V Cordless Mitre Saw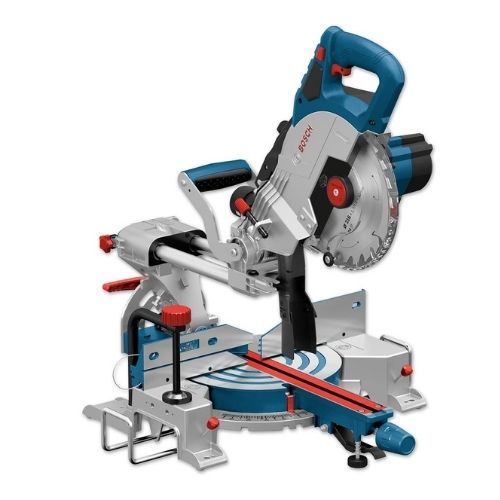 This saw was built on Bosch's competent CM8S platform, and it shows. The Bosch GCM18V-08N 18V cordless 8-1/2 mitre saw is lightweight at 31.5 pounds and has a lot of power for its size.
You can tackle a 3-5/8′′ nested crown with a 210 crosscut at 90 degrees. The saw mitres in both directions to 47 degrees, resulting in 45-degree bevel cuts.
You can obtain corded performance with the Bosch Core18 batteries and brushless motor. A single 8.0Ah battery may also cut over 350 2x4s. A laser guidance system is included with the saw to assist you in aligning your cuts.
Things we liked
Lightweight design
Excellent cutting precision
Things we didn't like
It does not come with a built in battery
Best 12-inch Mitre Saw
DEWALT DWS779 12-inch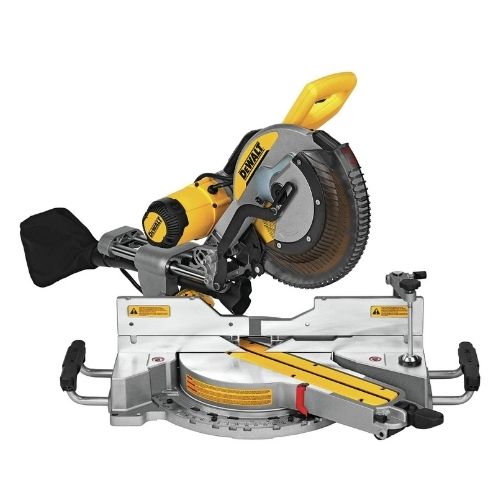 This saw is quite heavy (it weighs 56 pounds) and extremely well-made. A 12-inch blade glides easily along the track, stopping 10 times to allow for rapid and precise cuts. A sliding fence may accommodate boards up to 6.75 inches thick.
The sole disadvantage is that it lacks a laser, however, this is compensated for by the reduced price. If you don't require a laser for your job, the DWS779 is a better option. A 3-year limited warranty is included with the saw.
Things we liked
High-quality saw
Supporting sliding fence
Bosch 12-inch Dual-Bevel Mitre Saw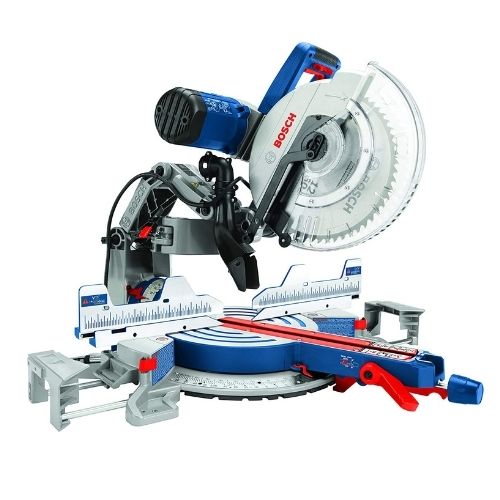 Bosch is a high-quality tool company that employs innovation to better the lives of professionals and do-it-yourselves alike. This innovation is exemplified by their 12-inch mitre saw.
The saw has a proprietary mechanism that replaces the traditional sliding rail with an articulating gliding arm. This reduces the amount of space the saw takes up on the job site while still allowing you to make wide cuts.
Things we liked
Great for wide cuts
High-quality design
Things we didn't like
The cutting surface is not completely flat
DeWalt DWS780 12-inch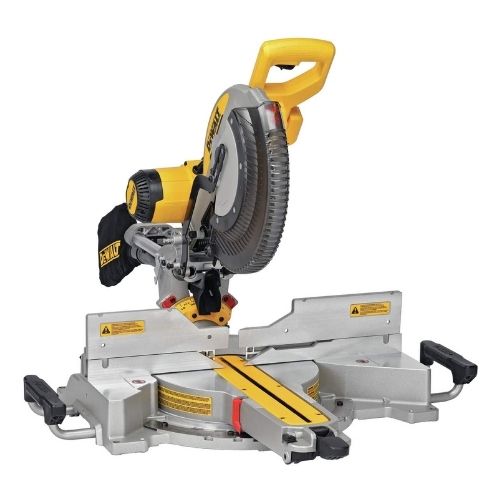 Another excellent DeWalt product, this saw is quite identical to the DWS779 save for one key difference: the unique Cutline blade positioning technology. The technique illuminates the wood with an LED light, allowing for more exact cutting.
The additional price tag reflects the addition of the LED light. If you don't require an LED light, the DWS779 is the way to go. Aside from that, this model is a great choice for precise cutting.
The saw is 58 pounds in weight and has a clever dust collection mechanism that gathers around 75% of the sawdust.
Things we liked
Blade positioning technology
LED light assistance
Things we didn't like
Not as high quality as other models
Best 10-inch Mitre Saw
Delta Cruzer 10-Inch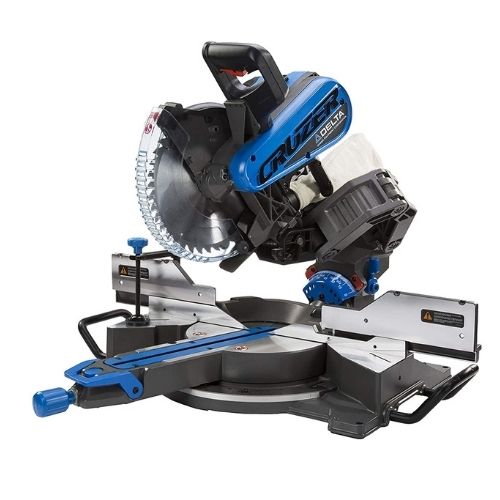 The Delta Cruzer 26-2241 has an ergonomic and user-friendly design. You don't have to reach around to adjust the dual bevel lever because it's on the front of the saw. The saw also has a moulded handle that is easy to hold and a full-size trigger that can be used with either hand.
A 5-year manufacturer's guarantee is included with this dual bevel sliding compound mitre saw. It can produce large cuts and cut bevels at any angle since it tilts back and forth and slides on a track.
The saw's frame is composed of military-grade aluminium and supported by 18 robust bearings, making it extremely durable.
Things we liked
Ergonomic design
5 year guarantee
Delta Power Equipment 10-Inch Mitre Saw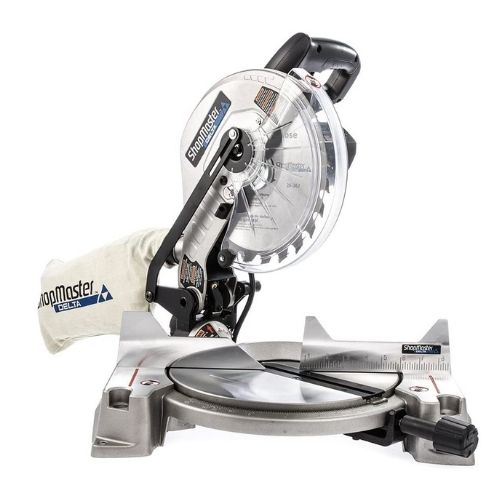 The saw is lightweight, weighing only 30 pounds. It includes table extensions so you can work on long items from any location. For more precise cuts, the saw also contains a laser that you can turn on or off.
This saw is ideal for contractors or experienced DIYers because it comes with a 3-year guarantee, an electric brake for safety, a dust collection bag, and a work clamp.
They're known for their high-quality, dependable tools and equipment. The S26-263L sliding compound mitre saw is compact, lightweight, and features a powerful 15-amp motor.
Things we liked
Lightweight saw
Powerful motor
Things we didn't like
The laser may be off centre
Hitachi C10FCG 10" Mitre Saw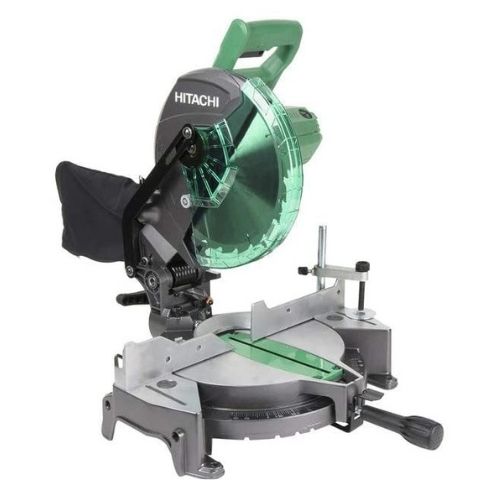 This Hitachi saw will be a wonderful addition to your toolset because it is lightweight. It is the lightest model on this list, weighing only 24.2 pounds, making it easy to take from home to the job site and back.
The C10FCG is driven by a 15-amp motor that spins at up to 5,000 RPM in no-load mode.
For cutting 2-inch dimensional lumber, baseboards, and trim, this model is ideal. The sole disadvantage is that it's just a compound mitre saw without the sliding movement, which limits the board width it can cut in one pass.
Things we liked
Extremely lightweight model
Easy to use
Things we didn't like
It does not have sliding movement
Best Small Mitre Saw
Metabo HPT Mitre Saw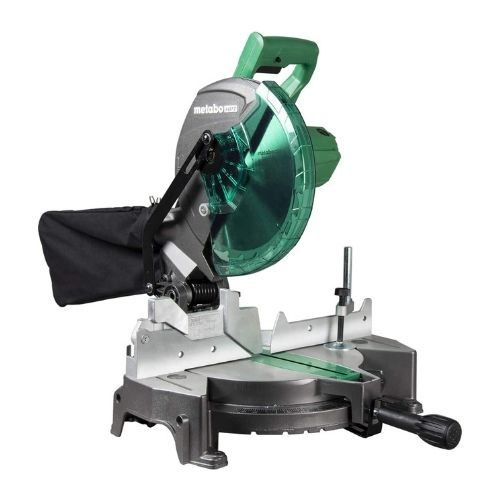 This very expensive mitre saw offers some of the greatest build quality and the most accuracy of any mitre saw on the market. While all of this comes at a premium price, we know a few carpenters and woodworkers who would gladly pay for that level of performance.
If you can afford it, this premium-quality hybrid corded/cordless sliding mitre saw combines power, precision, capacity, and features.
It is great for people who have a high level of skill and a reputation for producing high-quality work. There are plenty of other solutions for individuals who don't require this level of precision.
Things we liked
Excellent build quality
Great precision
Milwaukee Mitre Saw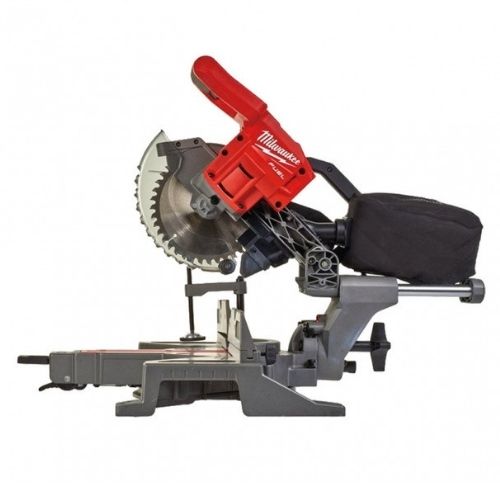 With stops at 45° and 48°, the Milwaukee 2733-20 mitre saw has dual bevel capabilities. It has a cam locking detents on both sides and mitres 48 degrees in both directions. With the base against the fence, the vertical cutting capacity is 3-1/2′′, and the nested crown capacity is 2-5/8′′.
Keep in mind that this saw has a 7-1/4′′ blade! It can also cut a 28 at a 90-degree angle.
Aside from that, the tool itself is exceptionally light, at only 28 pounds! It is, without a doubt, the lightest compact mitre saw we've ever tested. It also includes a daylight-readable LED cut line indication.
Things we liked
Helpful LED light
Lightweight design
Things we didn't like
Not ideal for larger projects
Best Handheld Mitre Saw
Stanley Adjustable Mechanical Mitre Box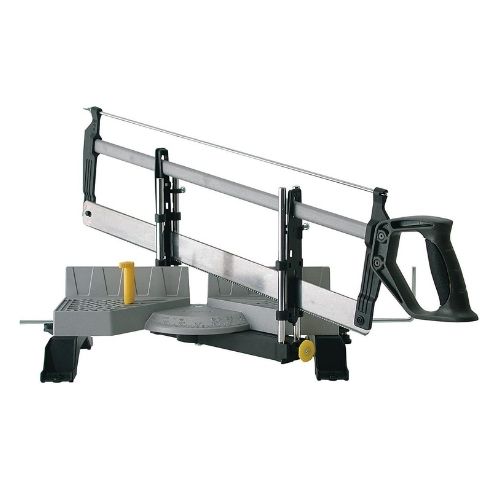 The base of this saw is a precision die-cast. It has a changeable blade that has been specifically toughened and tempered and has exceptionally fine universal teeth - 14 TPI.
A blade tensioning screw is used on this saw to make the blade change simple and to provide a clean, precise cut. Saw support and guidance system with a smooth action. Mitre may be adjusted from 30, 45, 60, and 90 degrees.
Things we liked
Tempered design
Simple to change the blades
Things we didn't like
It does not cut vertically
Tolsen Mitre Box & Fine Tenon Saw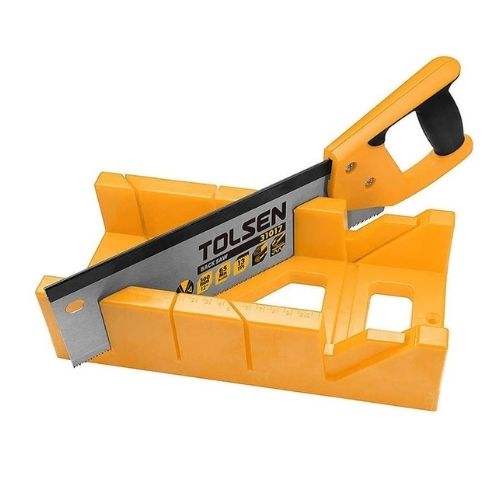 This saw is made to cut skirting boards, although it can also be used for other mitre tasks. It is one of the most cost-effective options available in the UK. A guide for cutting straight lines and a guide for cutting 45-degree angles are included in the mitre box.
The fine saw blade has 13 teeth per inch and is roughly 12" long and o.9mm thick.
Things we liked
Great for cutting skirting boards
Cutting guides are included
Things we didn't like
It does not cut a 90 degree handle
What to Consider Before Buying a Mitre Saw
Mitre Saw
The depth or height of the cut is determined by the blade. Mitre saw blades are typically 8, 10, or 12 inches long. Blades come in a variety of shapes and sizes to cut a variety of materials.
Some of these are versatile and can be used with a variety of materials. Blades are available for wood, aluminium, and mild steel.
Type of Mitre Saw
Understanding the type of mitre saw depends on the job you are doing at home. So before buying a mitre saw you should check what your job needs, and which mitre saw is best for the job.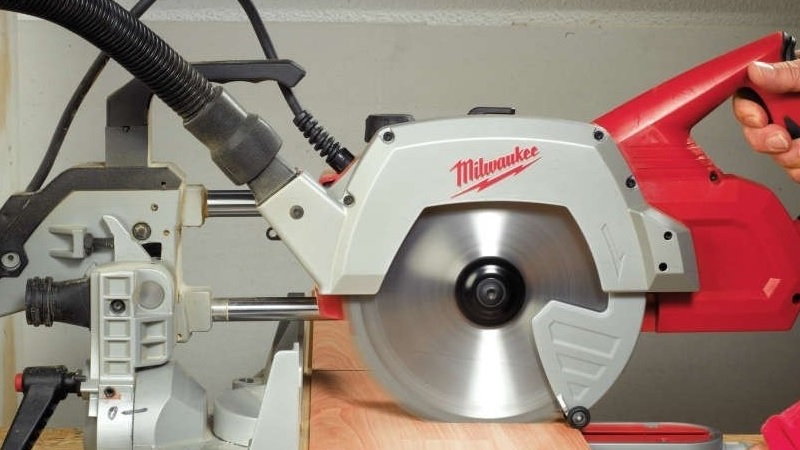 Cost
If you are on a budget, then the price may be a massive setback as the average price of around £150-£250.
FAQs
Can you cut a skirting board with a mitre saw?
This is another type of cut you'll need to make while putting skirting. Internal and external mitres are the most prevalent. When skirting boards meet at an angle, usually on a corner, a mitre cut is employed. Most people use a mitre box, or a mitre saw to cut a mitre.
What is a mitre saw used for?
A power mitre saw, also known as a drop saw, is a machine that makes a precise crosscut in a workpiece at a specific angle. It's widely used for moulding and trim cutting. Most mitre saws are tiny and portable.
What are the advantages of a mitre saw?
In comparison to other types of saws, the mitre saw also produces high-quality cuts. It produces high-quality, smooth cuts. Regardless of the material, it makes high-quality, smooth cuts. Because of its high-quality blades, it cuts any materials with ease.
Is a mitre saw easy to use?
Beginners will find the mitre saw to be one of the easiest tools to master! It's also excellent woodworking equipment for novices, and I learned how to use a mitre saw properly while doing so. With the option of angled cuts between 45 degrees and 90 degrees, it ensures clean, precise cuts every time.
What mitre saw should you buy?
Mitre saws are typically corded equipment with motors rated at 10, 12, or 15 amps. If you'll be making a lot of wide crosscuts or working with hardwoods, a higher power engine is a good idea. If the saw will be used to cut thinner pine or composite trim, a less powerful motor will suffice. Corded mitre saws, on the other hand, are no longer the only alternative.
Sources