diy & tools
Best Wood Preserver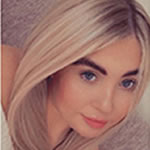 Want to discover the best wood preserver on the market?
Here, we look at all the different types of wood treatment available and have rated them too!
Why is wood preservative important?
Exterior wood has to withstand harsh weather conditions such as rain, frost, moss, and even UV rays. The best wood preserver can substantially reduce the damage they cause while also saving you money.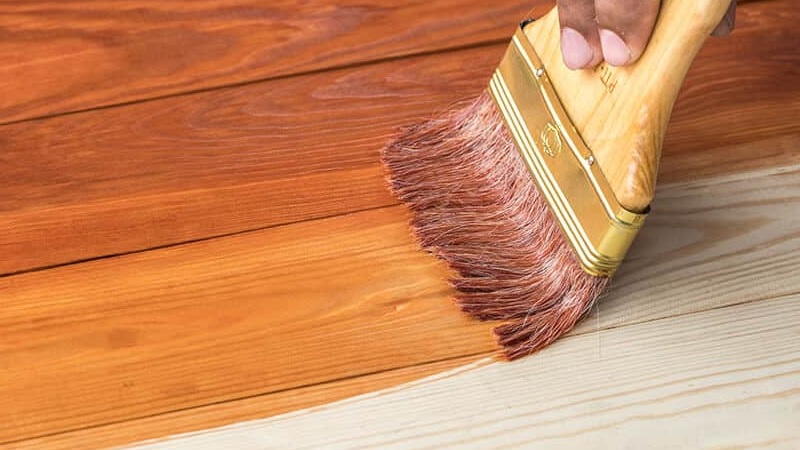 So, how can this article help?
If you're worried about the wood in your home, then purchasing the best wood preserver could be the best option for you.
In this guide, you'll learn about the different types of wood preservers for your home.
The guide will also cover what wood treatment is, how it works, and the different wood preservers you can buy.
What Is Wood Preserver?
Wood preserver is a treatment that uses chemical preservatives to protect and extend the life of wood surfaces. They are used to treat a wide range of timber surfaces, particularly those exposed to nature and the elements.
They can be used outside on decking, fascia and soffits, doors, or inside on doors and a staircase. Wood preserver protects hardwood surfaces from deterioration, mould, insects, sapstain, algae, and fungal rot, among other things.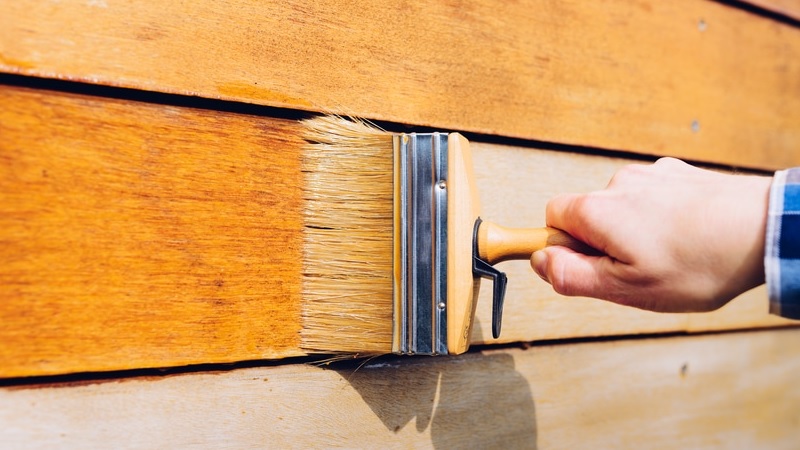 Wood preserver enhances the inherent beauty of the wood while also safeguarding it. It is an undercoat. But its primary function is to penetrate deeply into the surface of sawn or sanded wood, forming a protective layer that extends the life of the wood significantly. Let's not forget about the interiors.
A freshly sanded floor attracts stains, and there may even be woodworm in the floorboards.
Varnish, wax, or paint alone will not protect the wood, so it must first be treated with a preserver.
How Does Wood Preserver Work?
Wood preserver creates a protective shield around the wood by sinking deeply into the sawn or sanded surface of the wood. As a result, a given wood surface's resilience and life expectancy will increase as they can last up to eight years. In the process, it also improves the natural attractiveness of the wood.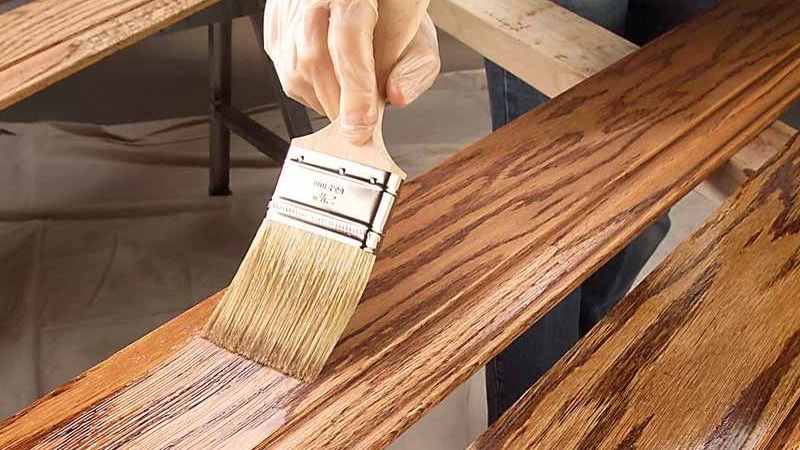 Wood preservers can be used both inside and outside. However, they are more commonly employed on outside wooden artefacts, such as sheds, fences, wooden outdoor furniture, cladding, decking, soffits, guttering, and raised garden beds.
An outdoor wooden object can be preserved from fungi such as brown rot, white rot, and soft rot, wood-eating insects such as powder post beetles and bark beetles, moulds, algae, and sapstain by using a wood preservative.
Types of Wood Preserver
Wood preserver is essentially a primer that stabilises the moisture content of raw, freshly sawn or sanded wood surfaces and prevents them from rot and decay.
However, there are different kinds of wood preservers such as water-borne, oil-borne, acetylation and chromate copper arsenate. This part of the article will discuss these different types, so you know which one you will need in your home.
Water-Borne Wood Preserver
There is a range of metallic salts and other chemicals of this kind. Arsenic, fluoride, chromium, and copper are the most common chemicals found in the water-borne wood preserver.
This sort of preservative is becoming more popular, especially when used on plywood, fence posts, timbers, poles, and lumber. It's also one of the most affordable wood preservers on the market.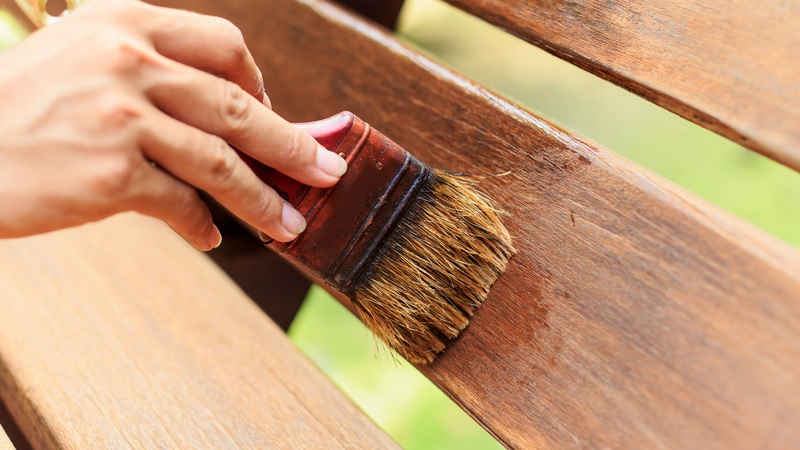 This is a popular wood preserver as it may be used both indoors and outside, is resistant to leaking, and produces no unpleasant or dangerous odours.
However, it will warp and swell if the wood is not re-dried after the preservative is applied. It also won't keep the wooden surface from being too weathered.
Oil-Borne Wood Preserver
Oil-based wood preservers are not widely available as consumer items, though they may be used on some household structural wood pieces. Creosote or pentachlorophenol are commonly used as preservatives.
Because the chemicals employed in oil-based preservers are water-insoluble, they are usually dissolved in other organic solvents like petroleum to allow them to enter the wood.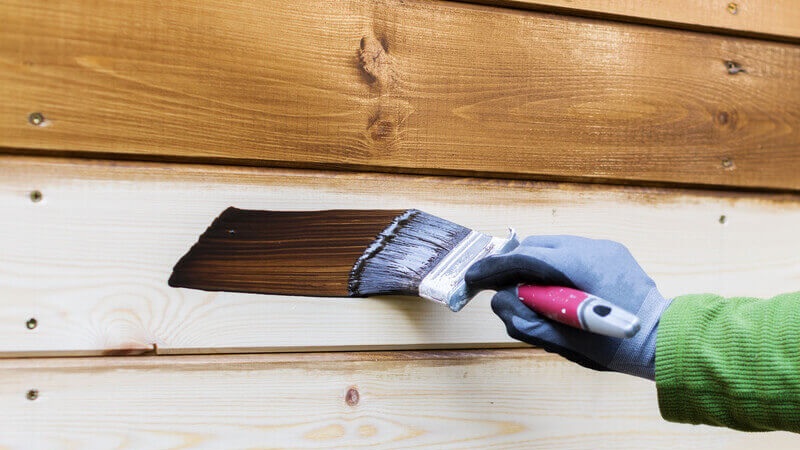 With this wood preserver, you can dissolve such treatments in oils, allowing for a wide range of colours, vapour pressures, and stickiness. It also has a low water solubility and is frequently water-insoluble.
This wood preserver, on the other hand, due to the oiliness levels, the surface may be unable to be painted. This, however, will be dependent on the carrier.
Oil-borne wood preserver emits a pungent odour that is harmful to humans, plants, and animals. The wood may leak or bleed oil-borne preserver.
Acetylation Wood Preserver
Acetylation is a new solution to wood preservation. It's a non-toxic process in which wood is soaked in acetic anhydride to increase its durability by preserving it from insects, rot, and moisture. Traditional wood preservatives are less effective than acetylation.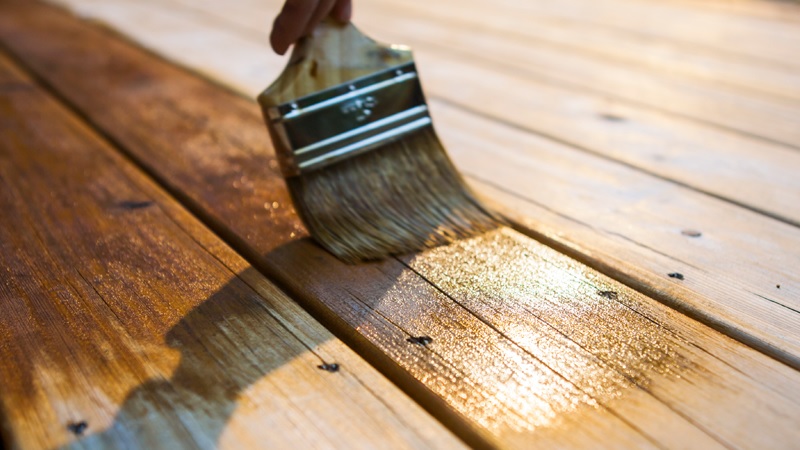 It has no effect on the shrinkage or swelling of wood, and cracking is unlikely to occur. However, this wood preserver may be more expensive than other options.
Chromate Copper Arsenate Wood Preserver
Wood preservers containing chromium, copper, and arsenic are known as chromate copper arsenate. In most residential contexts, pressure-treated wood containing CCA is no longer utilised.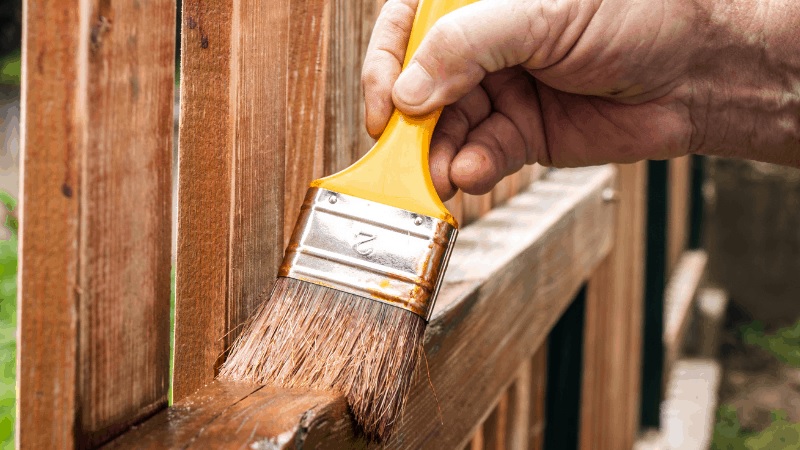 The chemicals in CCA-treated wood have been found to seep into the environment and transfer to people's skin when they contact it.
CCA residues on the skin usually only expose the skin to a small amount of light. However, ingestion of the chemicals can occur through eating, smoking, or children's hand-to-mouth activity. Over time, long-term exposure to arsenic can increase the risk of cancer.
Best Wood Preservers
Knowing which type of wood preserver you need is a good place to start. In this part of the article, you will see the best wood preserves you can buy from the different types!
Best Water-Borne Wood Preserver
Barrettine Premier Wood Preserver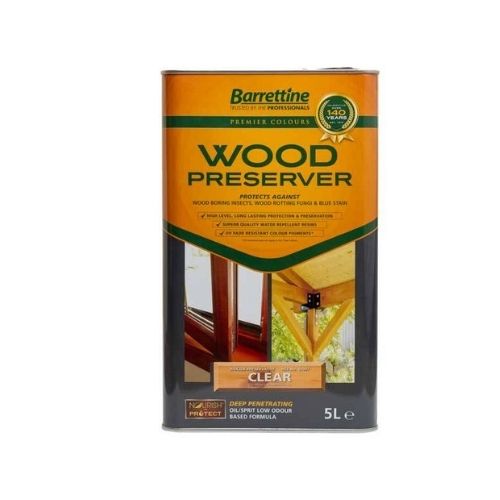 This wood preserver is rightfully revered. Its "microporous" solution penetrates deeply and absorbs quickly, stabilising the wood and sealing it against the environment.
Barrettine's preserver contains wax for water resistance, but it also works well as a paint and varnish foundation. Water, rot, insects, and other wood-worriers are all repelled by it on their own.
Even though the transparent solution is solvent-based, it dries rapidly and does not emit a strong fume. It's simple to apply with a brush, but it's also thin enough to spray if you want.
Things we liked
Quick drying
Water resistant
Things we didn't like
Colour may look different after application
Timbashield Preservative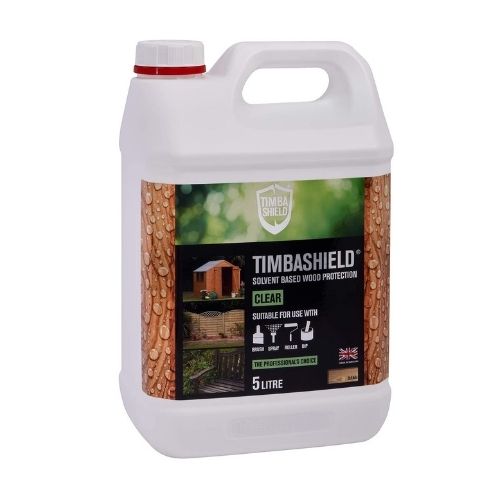 It can be used to cure non-weatherproof wood in outdoor areas. It inhibits the growth of wood-destroying and discolouring fungi (blue stain), as well as wood-boring insects. It quickly penetrates the wood and hence penetrates deep into the core layers.
It regulates moisture and offers an adhesive surface for subsequent topcoat application. It has no odour after drying. Depending on the wood type and surface qualities, Timbashield Preservative may require up to three coatings.
It works against fungi that degrade wood, as well as blue stain and wood-boring insects.
Things we liked
No odour
Prevents wood fungi
Roxil Wood Protection Cream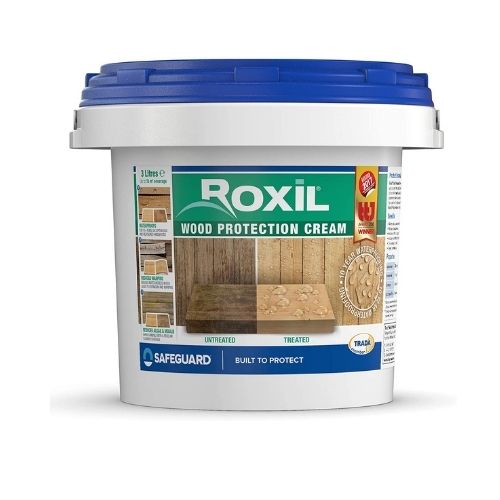 This preserver has a high viscosity. A single coating is sufficient to give optimal protection for the wood due to its thickness. When it comes to preventing algae and mould, it is successful.
Any algae or fungi growing on the wood before treatment will be stopped by this product. As a result, it may be used on both recently sawn and older hardwood surfaces.
Its efficiency ensures that your wood will be protected from the elements for up to 10 years. Roxil Wood Protection is colourless and does not affect the appearance of the wood.
As a result, if you want to keep the colour of your wood, this is the best wood preserver for you. It makes the surface more dust and grime resistant. This product will also make cleaning the surface much easier.
Things we liked
Only requires one coat
Weather resistant
Best Oil-Borne Wood Preserver
EverBuild 5L Lumberjack Triple Action Wood Treatment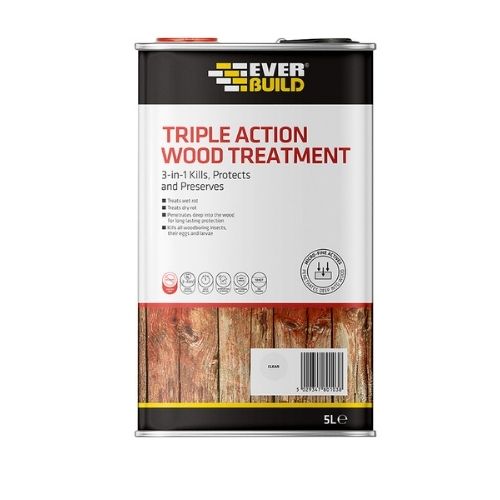 This wood preserver is particularly popular because of its capacity to repair current wood damage while also protecting it from future deterioration.
It can kill all wood-eating insects, including their larvae and eggs. This chemical penetrates the wood deeply and can be used to cure both dry and wet rot.
This treatment works on both indoor and exterior wooden surfaces and may be applied to any type of wood. Micro-fine active technology is used in the formula, which is solvent-free.
Apply one to two coats the first time, and you'll probably only need to reapply a single coat every 3-5 years. However, it can be extremely toxic, and you should read what the wood preserver features, as some of the ingredients can lead to an allergic reaction.
Things we liked
Ideal for indoor and outdoor use
It kills wood eating insects
Things we didn't like
It can be toxic if used incorrectly
Barrettine LCDT005 Log Cabin Treatment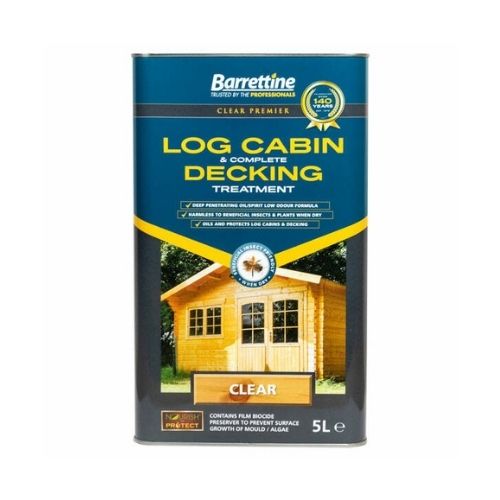 Clear exterior wood oil for log cabins, sheds, summerhouses, decking, and other garden wood. To provide further protection, it can be used on bare wood and new wood.
You can protect your investment with this high-quality wood protection oil, which is specifically created for cabins and wooden structures.
It has a clear shine and is water repellent, which helps to prevent the wood from splitting and breaking. Water repellent clear sheen protection reduces the breaking and cracking of wood.
It is also resistant to water, and UV rays, with good water-shedding qualities and UV inhibitors are also included to help prevent sun damage.
Things we liked
Water resistant
Features UV inhibitors
Things we didn't like
It is drippy so can be difficult to apply
Creoseal Plus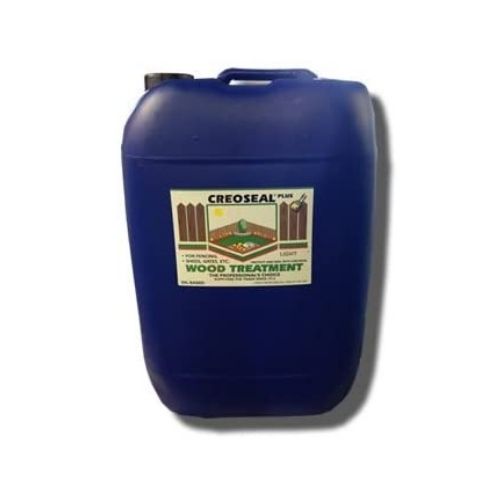 Its oil-based composition penetrates deeply into your wooden fence, giving it great water-repellent capabilities as well as pest protection. It also improves the grain definition of your wood for a more attractive, well-protected appearance.
It's too oily and slippery to use on decking because it's an oil-based preservative, but it's a great creosote substitute for sheds and fences. This product should only be used on dry wood.
Remember that it will take several days to dry out, and it has a strong odour. Brush, roller, or spray application is simple, and you can even dip your fence posts.
Things we liked
Enhances the aesthetic of wood
Simple to apply
Best Acetylation Wood Preserver
ProBor Boron Wood Preservative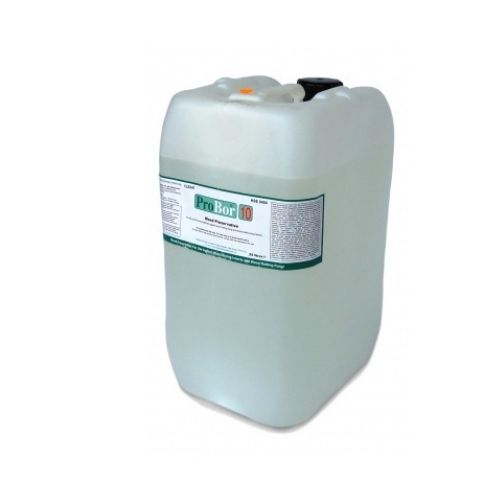 ProBor boron wood preservative is a liquid wood preservative that is based on boron, a naturally occurring mineral with a long history of application. It comes pre-assembled and ready to use.
The active ingredient in ProBor wood preservative can be applied by brush or spray. It can be used to treat woodworm in all dry woods and part of dry rot and wet rot control strategy in smaller dimension woods.
Things we liked
Contains a strong liquid wood preservative
Ideal for treating woodworm
Things we didn't like
Not ideal for larger wood surfaces
Barrettine Premier Universal Preserver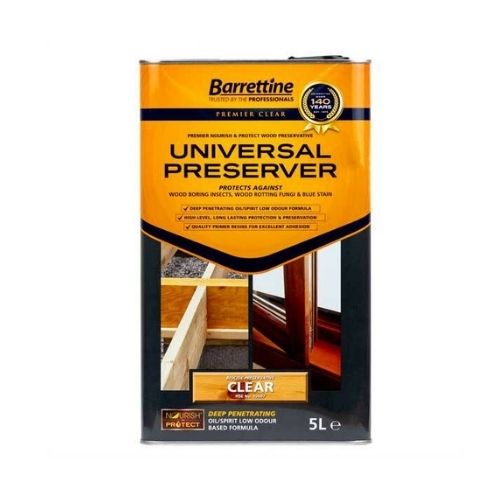 This wood preserver is a solvent-based external wood preserver that is transparent and wax-free. Use on sheds, fences, summerhouses, and other outdoor wood projects.
It also protects against wood-boring insects, fungi that cause wood decay, and blue stains. When dried, it is harmless to plants and animals, and the formulation has a low odour.
Use a synthetic brush suited for solvent-based chemicals to apply Universal Preservative. Spread the preserver thinly and evenly, paying special attention to the end grain, as well as the cut and drilled areas.
Things we didn't like
It can cause irritation when in contact with skin
Sadolin Classic Wood Protection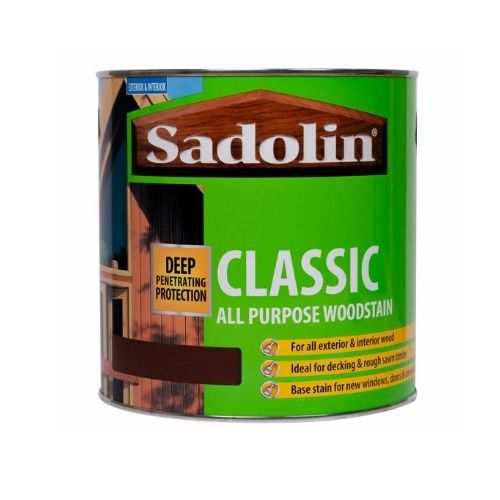 This preserver sinks deeply into the wood, providing great weather protection. This product works especially well on vast sections of wood.
It's also great as a foundation stain for new joinery that will be treated with Sadolin Extra later. However, it is not suitable for use on surfaces that have already been covered with a medium/high build coating.
Things we liked
Long-lasting
Weatherproof
Best Chromate Cooper Arsenate Wood Preserver
Barrettine Timber Cut End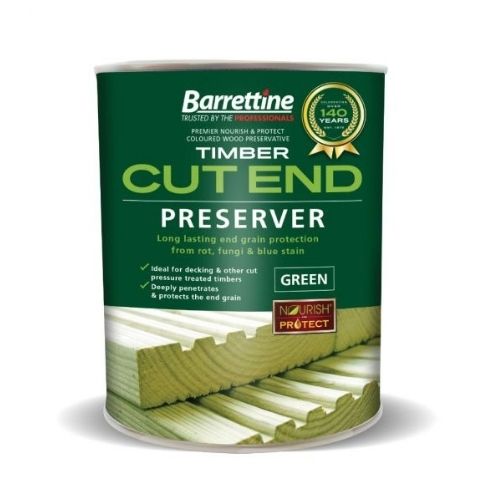 End grain preservative with a solvent basis for decking, cladding, and other applications. It can be used on pressure-treated wood that has been cross-cut, notched, or drilled.
It protects wood from wood boring insects, fungi that cause wood decay, and blue stain.
It also features a deep penetrating composition that provides long-term protection. Wax and water-repellent polymers are included.
Things we liked
Long term protection
Wax and water resistant
Things we didn't like
May be difficult to apply
Ronseal Black Garden Shed and Fence Preserver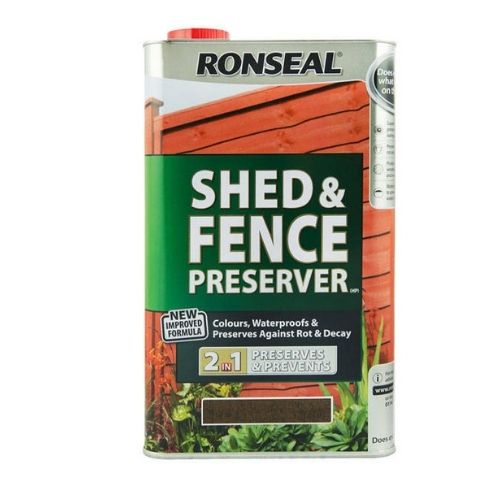 This preserver is simple to apply and will withstand regular creosote and most fence stains for five years. It was created utilising a water-based technique to produce long-lasting paint with a minimal carbon footprint.
This is ideal for most wood surfaces. All rough-sawn and smooth-planed sheds and fences are ideal candidates for this product. It can withstand rain, frost, and snow. 2 applications on rough-sawn wood, three coats on smooth-planed wood for up to 5 years of colour.
It's perfect for the winter months because it protects against rain, frost, and snow, but it also won't fade in the sun.
Things we liked
Long-lasting
Withstands harsh weather conditions
Things we didn't like
The colour may be different than it says on the tin
Barrettine Cut-End Preserver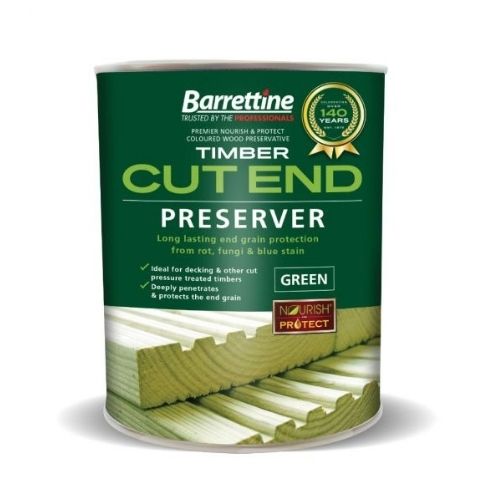 Provides a water-repellent coating to pressure-treated wood that has been chopped or drilled to reveal the untreated inner wood in any way.
Wet rot, wood discolouring fungus, and wood-boring insect attack are all examples of fungal degradation, which can be prevented with this wood preserver. Resins and oils are used to create a long-lasting impact. Time to dry is 12 hours.
Things we liked
Water repellant
Prevents fungal problems
Things we didn't like
It may take awhile to dry
Best Quick Drying Wood Preserver
Sadolin Wood Preserver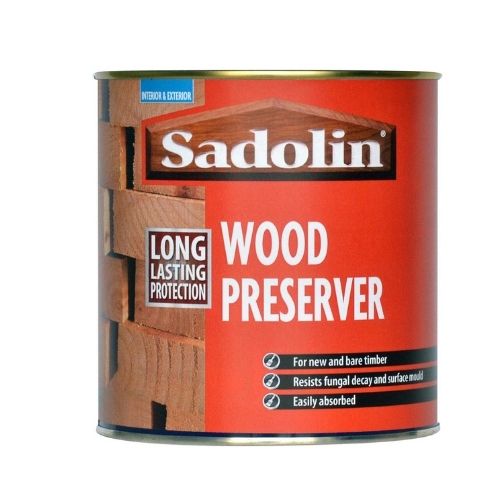 Another popular wood preserver is this 2.5-litre exterior-use product. It works well with all forms of non-durable wood. It covers six square metres per litre in a single coat.
This product should be applied in two coats. Before you need to apply another coat, it should last three to five years. The drying period for this product is 2-4 hours.
Within 24 hours, you can recoat it. Wait 72 hours to topcoat with a water-based product, but only 24 hours with an oil-based product.
It must be painted or stained with an exterior wood stain. It does, however, require a topcoat and is only appropriate for use on outdoor surfaces.
Things we liked
Lasts for 3 to 5 years
Quick drying
Things we didn't like
It must be painted or stained with a topcoat
Sadolin Quick Drying Wood Preserver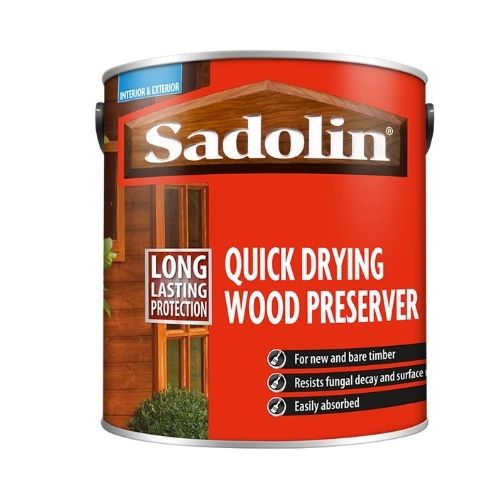 This is a clear water-based wood preserver that can be used on both new and bare wood. Before applying a wood stain, paint, or other wood finish, use this as a pre-treatment.
It protects indoor and external joinery against wood-destroying fungi and blue dye while also drying swiftly!
Things we liked
Protects indoor and outdoor wood
Great pre-treatment
Things we didn't like
It requires an additional coat of wood stain or paint
Timbashield Wood Preservative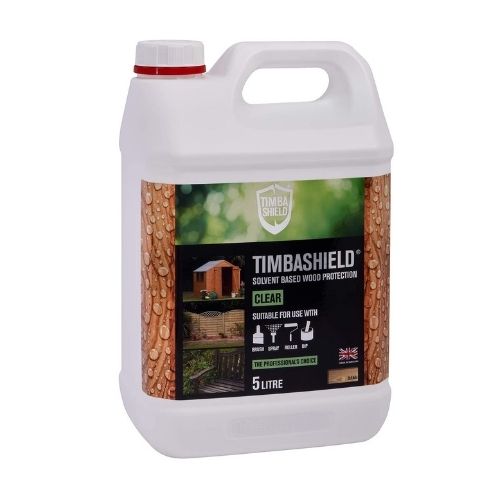 Timbashield is a colourless, water-based protective coating for hardwood surfaces. Its colourless nature aids with the preservation of the colour of the wooden surface it preserves.
It's a powerful preservative that's also effective as a pre-treatment for non-resistant wood. It penetrates the wood and seals it against the elements.
When it comes to preventing the formation of fungi and mould, this preventive is extremely efficient. It's also effective at repelling insects.
This substance can protect the wood for more than five years if the coating process is done correctly.
A quick-drying period of fewer than 12 hours is another advantage of utilising Timbashield wood preservative. To top it off, all of the materials utilised to produce this high-grade preservative are health-friendly and BPR-approved.
Many wood preservers are also found in the fence, and outside wood paints, so you won't have to buy them again.
Things we liked
Great pre-treatment for non-resistant wood
BPR approved
Things we didn't like
Not as long lasting as other products
Best Coloured Wood Preserver
Cuprinol Ducksback 5 Year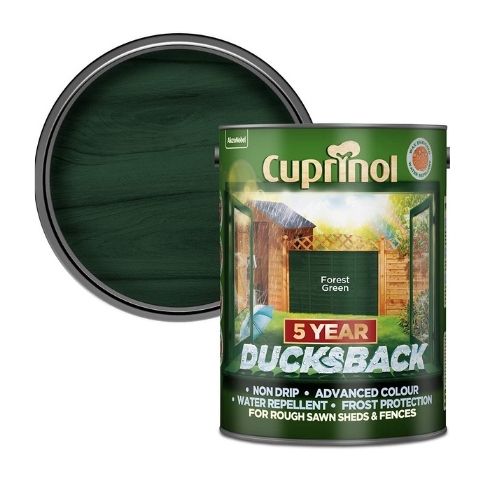 Cuprinol Ducksback is a wood preserver, waterproof, and stain in one. It is enhanced with wax and colour. It's used to treat sheds that require a water-resistant and frost-resistant finish.
Ducksback is non-drip and pleasantly odourless, thanks to its water-based formula and the fact that it dries so quickly that it is the fastest-drying outdoor preserver on our list.
For the greatest colour and water resistance, you'll need a few applications. However, the coverage is superb, and it offers superb value for money.
The primary gripe is that there is no clear version, so you must pick a colour - and the waterproof finish is difficult to cover up if you don't like it. Forest Oak, Autumn Gold, and Silver Copse are among the six colours available.
Things we liked
3-in-1 product
Quick drying
Things we didn't like
It requires multiple applications
Ronseal Total Coloured Wood Preserver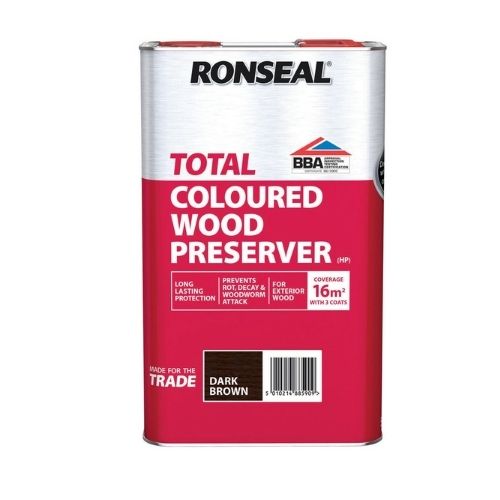 Cuprinol Ducksback's wax-enriched preserver is comparable to Ronseal's, but it's solvent-based and more expensive. It might also be a little drippier and more pungent than Ducksback, and it might take a little longer to dry.
On the other hand, professionals recommend Ronseal's preserver as the finest option for a high-quality weatherproof finish that lasts for years without requiring re-treatment. The preserver is available in four colours: black, green, light brown, and dark brown.
Things we liked
Long lasting
Available in various colours
Barrettine Nourish & Protect Wood Protective Treatment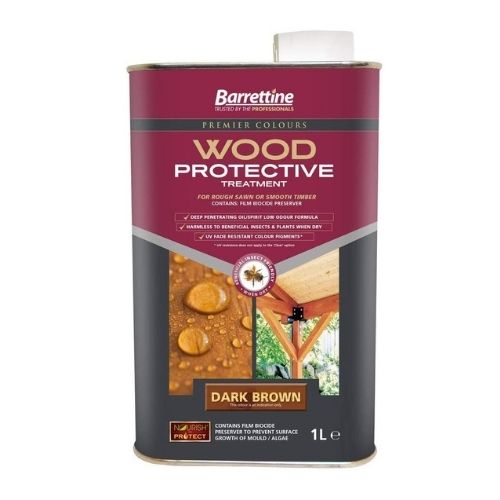 This wood preserver is one of the best you can get for protecting your sheds, decking, and stairs from moisture damage. On numerous levels, the sealer actively protects your wood.
It's made with water-repellent polymers and a biocide coating to keep mould and algae at bay. It also aids in the prevention of wood degradation, swelling, and twisting. It also comes in different colours; however, the dark brown colour is the most popular.
UV fade resistance is good, and the pigments will prevent any possible UV damage. However, the preserver penetrates deeper into the woodwork, leaving a translucent surface that allows the grain texture to be seen.
Things we liked
Water resistant
Withstands mould and algae
Things we didn't like
The grain texture of the wood may be exposed
Best Clear Wood Preserver
Osmo Wood Protector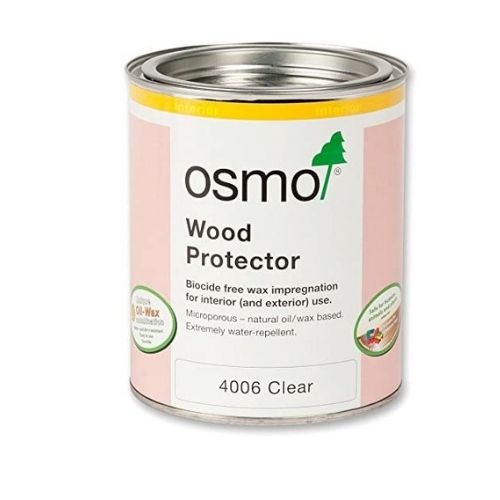 It's a high-quality mixture that's easy to apply, goes a long way, and protects interior wood for years against spills and coffee cup rings, among other things.
An organic, microporous wax oil is included in the eco-friendly solvent solution, which penetrates wood deeply and leaves a lovely sheen that doesn't require buffing to keep it looking good for years.
It's very water-repellent, but it's free of biocides and preservatives, and it dries quickly with no odour, making it ideal for use on kitchen worktops and dining tables.
Things we didn't like
Cannot be used as a primer
Cuprinol 5 Star Complete Wood Treatment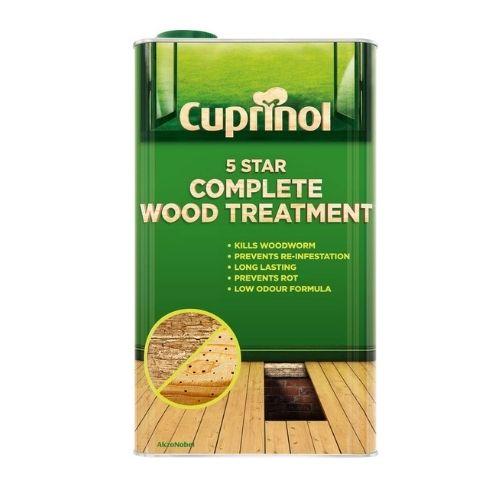 Despite being water-based, Cuprinol's interior wood preserver falls short of Osmo's in terms of environmental credentials. Its woodworm-killing, fungicidal, insect-repelling combination, on the other hand, is ideal for restoring ancient flooring, joists, and beams.
It takes a few days to dry, or even longer in a small space, but its water-based recipe is less odorous than many solvent-based competitors. Because it isn't waterproof, you'll need to use a water-repellent top coat on the floors.
Things we liked
Kills woodworm
Great for wood restoration
Sikagard Wood Preserver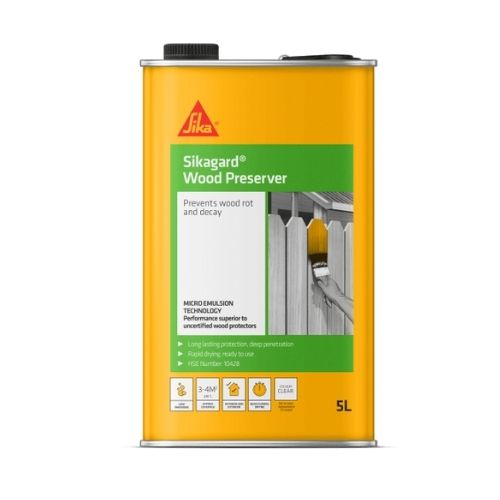 This clear, water-based, microporous wood preserver penetrates the wood and protects it from algae, moss, fungi, wood-boring insects, and other harmful organisms.
You may even use it on damp wood that has seen better days, and it will immediately begin to work. However, it can't produce a water-repellent finish, so you'll need to use a separate topcoat.
Fortunately, because this preserver drains entirely and leaves no sticky residue, you can apply any kind of topcoat you choose over it. It's also extremely thin, which makes it easier to cover a broad area with a sprayer.
Things we liked
Great for damp wood
Easy to apply
Best Wood Preserver for Sheds
Cuprinol Ducksback For Sheds and Fences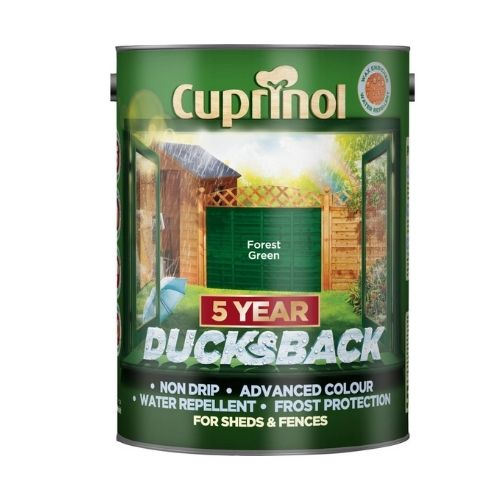 Wax-enriched exterior wood preservatives will limit your topcoat selections, but in the case of sheds, we believe this is a good trade-off.
Bicycles and/or gardening equipment are common items stored in sheds, which can be costly and hard to replace if they are damaged by water entering the shed.
Ducksback by Cuprinol is a non-drip, low-odour paint suitable for use around plants, pets, and children. It is supposed to operate without the need for a second top coat, just like the Barrettine.
Things we liked
Low odour
It does not require a second coat
Things we didn't like
Colours may look different than they do on the tin
Roxil Protection Liquid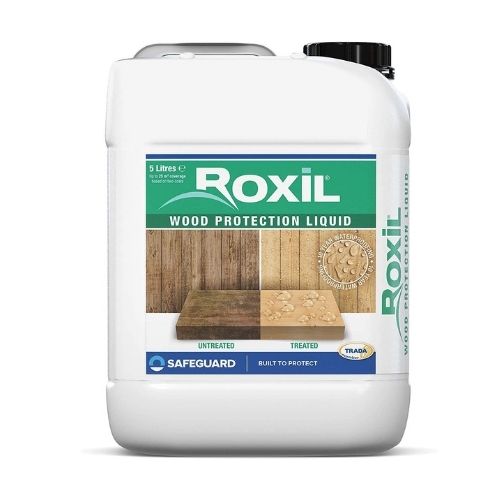 If you want to protect your garden shed from the weather, this Roxil wood protection liquid is the best wood preservative for sheds.
This waterproof silicone-based emulsion was created specifically for the protection of outside vertical wood. It not only prevents algae and mould growth but also prevents warping, ensuring that your shed remains dimensionally stable.
Just keep in mind that full water repellency can take up to a month to achieve. You should also be advised that this product has a shorter-than-average 12-month expiration date and may induce allergic responses.
On the other hand, its effects are incredibly long-lasting, and it is simple to apply with a brush or a spray.
Rustins Advanced Wood Preserver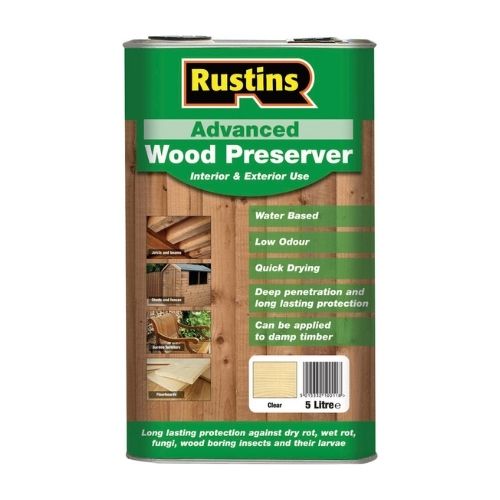 Rustins Advanced Wood Preserver is ideal if you're looking for a wood preserver that can be applied to damp wood. Even when used in moist conditions, its fine particle formula penetrates deeply and dries quickly. It can be used to treat or prevent rot, insects, and fungi in your shed.
This wood preserver is a quick and easy solution to maintain your outdoor hardwood surfaces thanks to its low-odour, easy-to-apply formula.
While this product is simple to use, prior coatings must be removed before they can be applied. You'll also need a topcoat for external use and to prevent UV fade because this wood treatment isn't water-repellent.
Things we liked
Quick drying
Easy to apply
Things we didn't like
A topcoat is required for external use
Best Wood Preserver for Fences
Cuprinol Shed and Fence Protector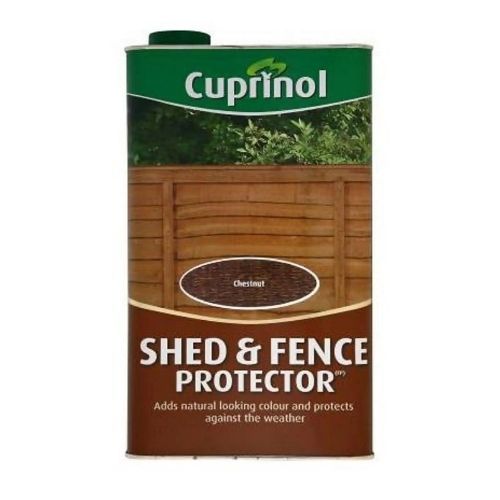 Cuprinol is the global leader in wood preservers, with high-quality products that permeate the wood to prevent rot and decay. Wood is completely weatherproof and maintains its original appearance.
Cuprinol is the best choice for caring for your garden wood, with a variety of clear and coloured treatments.
This Cuprinol treatment and repair series makes interior and outdoor wood repairs easier and more durable.
Cuprinol's portfolio also includes anti-rot and anti-insect treatments, as well as wood fillers that flex with the natural movement of wood. This makes them suitable for use on windows, skirting boards, and other wood surfaces around the house.
Things we liked
Great for indoor and outdoor use
Anti-rot treatment
Things we didn't like
The autumn gold colour is bright orange
Cuprinol CUPGWPREGO4L Ultimate Wood Preserver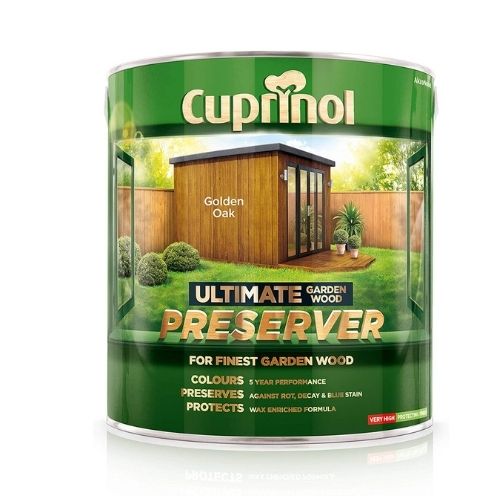 This preserver has a 5-year lifespan since it protects against rot, decay, and blue stain. It accomplishes this by using a wax-enriched solution to protect it.
In two coats, you can get up to 5m2 per litre on smooth planed wood and 3-4m2 per litre on rough sawn wood. The preserver takes 2-6 hours to dry, depending on the nature of the surface and the weather conditions.
It does, however, include benzisothiazolone and sensitising chemicals, both of which might cause irritation
Things we liked
5-year lifespan
Quick drying
Best Wood Preserver for Decking
Sikkens Cetol Filter 7 Plus
One of the greatest wood preserver treatments available is Sikkens Cetol Filter 7 Plus. As a result, it's a fantastic premium option for showcasing the natural beauty of your garden shed or fence.
This wood preserver, on the other hand, is pricey, and the transparency will also highlight any flaws.
If your wood isn't in ideal condition, you'll need to do a lot of prep work. This highly durable wood preserver is ideal for protection because it is UV resistant, leak-proof, and microporous.
It can be applied as a single-coat maintenance treatment over an existing wood stain or a base coat to virgin wood.
Things we liked
Premium wood preserver
Highly durable
Sikkens Cetol HLS Plus Woodstain
Sikkens' Cetol HLS Woodstain is a fantastic product for protecting and preventing cracking and peeling on wooden decking and garden furniture. It can be used as a base coat or as a stand-alone system on items like handrails that are subjected to a lot of wear.
While it is pricey, it is a long-lasting formula, so you won't have to spend any more money on wood preservers for a long time. It's worth noting that the transparent version isn't as long-lasting as the darker colours.
Also, because the final colour differs from one type of wood to the next, it's a good idea to practise on an inconspicuous area first. This wood stain is UV resistant and has a surface mould and algae inhibitor, making it ideal for coating your shed, rails, and fencing panels, as well as your outdoor decking.
Things we liked
Long-lasting formula
Prevents cracking and peeling
Ronseal RSLUDONC5L Ultimate Protection Decking Oil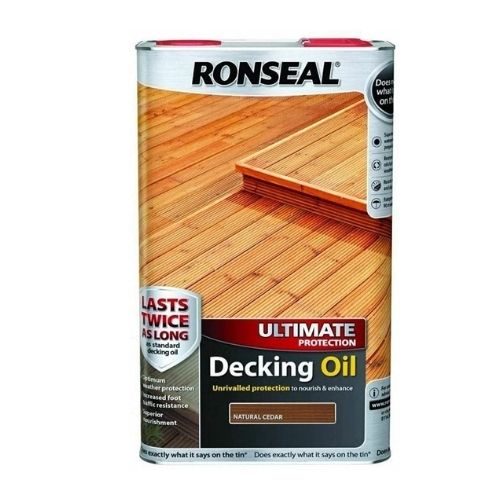 The Ronseal RSLUDONC5L Ultimate Protection Decking Oil is a fantastic wood preserver designed specifically for wooden decks. It provides excellent resistance to foot traffic and deterioration. As a result, the deck's resilience has improved.
It's designed with a special composition that allows it to quickly permeate deep into the wood and improve its waterproofing properties. It dries rapidly and leaves a slightly tinted sheen that adds to the appeal of the deck.
It is also highly sticky, and a top coat can be applied for a more detailed and colourful effect.
Things we liked
Rapid drying
Great for high foot traffic areas
What to Consider Before Buying Wood Preserver
Wood preserver enhances the appearance of the wood while also protecting it. A freshly sanded floor attracts stains, and there may even be woodworm in the floorboards.
Varnish, wax, or paint alone will not protect the wood, as it must be first treated with a preserver. So, what should you think about before purchasing a wood preserver? To learn, read this section of the article.
Cost
Most wood preservers are cheap however, you can buy expensive ones which are very good quality. It also depends on how much you want, as the more litres you need, the more you will pay.
Purpose
All wood preservers have the main purpose, some are indoors and outdoors, or some can do both! However, before you purchase wood preservers, make sure you pay money for one that fits your job perfectly.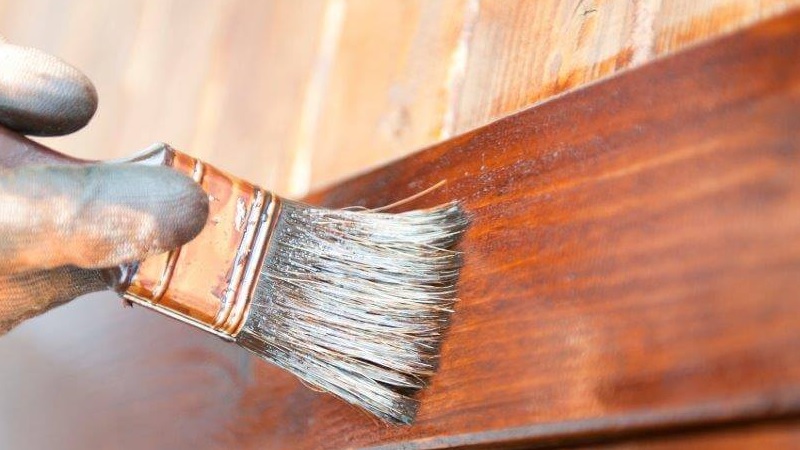 Clear or Coloured wood Preserver
The majority of wood preserver is a clear liquid that darkens the wood's natural colour, but you may also acquire a wood preserver that contains coloured dye and stains as well. It's a matter of your preference whether you choose for clear or coloured.
Level of Protection
It is important that when finding the perfect wood preserver, you should see how long it will last. Most wood preservers last 3-6 years; however, if you have used the wrong one, it might not work the way it is meant to, and you will need to re-do it.
FAQs
How do you apply a wood preserver?
Wood preserver can be applied with a brush, roller, or sprayer. The thickness of the product will determine the optimum option.
Do I need to use a wood preserver?
Anti-rot, anti-decay, and anti-blue staining mould, the wood preserver. So, if you want to keep your wood from decaying and lengthen the time you have it, you need to use a wood preserver.
How long does it last?
The effects of a high-quality wood preserver should last at least 3 to 5 years, but you should get much more out of it than that, possibly a decade or more. Some of the less expensive wood preservers may only last a year or two.
How much time does it take to apply a wood preserver to a deck?
Assuming an average-sized deck, this could take roughly a day to complete.
Can you paint over wood preservers?
If the preserver was 'wax free' and had fully dried, you should be able to paint over the preserver-treated area with the garden colours paint, keeping in mind the colour variation that this may cause.
Sources