gardening & outdoors
Best Decking Oil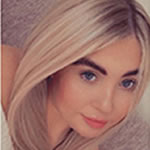 Need decking oil? In this review guide - we uncover the best decking oils available to buy.
Decking oil is something everyone debates on using as there are now so many options available for your decking, such as:
Clear decking oil
Decking protector
Decking treatment
... to name a few!
However, decking oil is easy to use and adds great quality to your home as well as durability.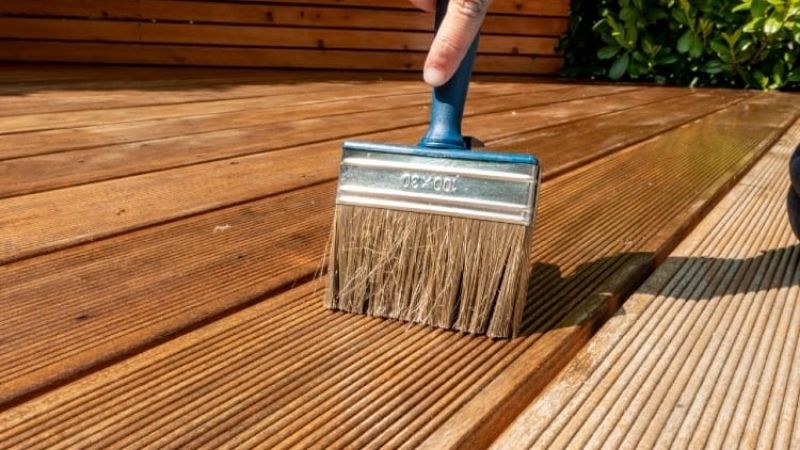 However, in this guide, you'll learn more about decking oil to see if it is the right option for you.
Therefore, if you want to know what decking oil is, how it works, the different types of decking oil and the best brands.
Read on to find out more!
What is Decking Oil?
First, let's explore what decking oil actually is...
Decking oil is a type of deck finish that is used to hydrate and protect wood surfaces.
Not to mention that it replenishes some of the natural wood oils that have been lost due to a variety of factors.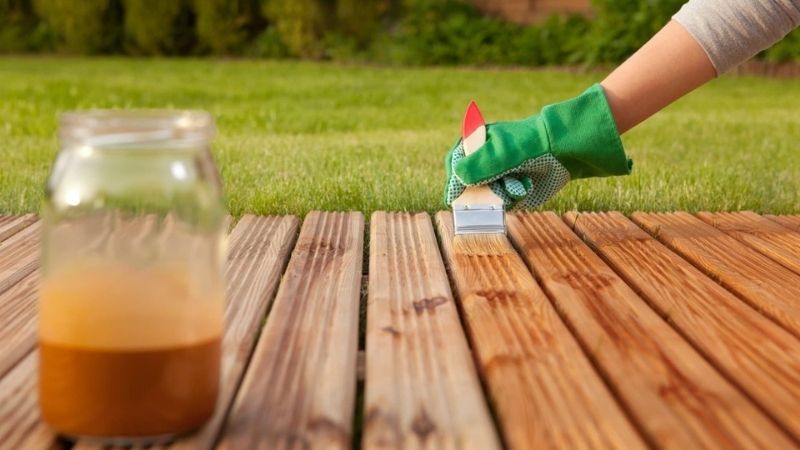 A protective, practical solution primarily intended to maintain the wood while replacing the wood's natural oils, which diminish over time. (While most decking oil isn't designed to modify the colour of the decking boards, some can darken them.)
Furthermore, different decking boards necessitate different decking oils. Hardwood decking planks, for example, may require a special sort of decking oil. Water-based and solvent-based decking oils are available.
How Does Decking Oil Work?
Water-based or oil-based decking oils are available. Both preserve the wood from water damage and prevent cracks, splitting, and warping of the decking boards by reaching deeply into the decking boards and functioning from inside.
Decking oils are waterproof, and many of them contain ultraviolet filters or blockers, which help to reduce the effects of sun and water damage on the wood. Decking oils provide great protection against mould and fungus due to their deep penetration into the wood and efficacy at keeping water out.
Types of Decking Oil
Depending on the sort of decking you have, choosing the proper decking finish can be difficult. The type of wood, its age, condition, and desired finish can all influence the decking treatment that should be used.
Decking oils come in a variety of clear, natural, tinted, and coloured alternatives, in addition to protecting your deck from weathering and foot activity. UV filters protect the wood from sun damage, anti-slip characteristics and mould and algae. However, they can also take up to 48 hours to dry, which can be a major issue if you live in a humid or damp region.
Water-Based Decking Oil
Water-based decking oil is providing some new benefits to deck staining thanks to technology improvements. It costs a little more, but it's better for the environment, lasts longer, and dries faster.
Because of its improved UV resistance and ability to preserve colour, this decking oil will last longer. Mould, mildew, and algae cannot grow on water-based decking oils. Cleaning is also simple with this decking oil, and you won't need any strong solvents.
Avoid taking shortcuts when applying water-based decking oil because it necessitates more care and effort. If you don't give it enough time, water-based decking oil will fail. Brush the stain into the wood thoroughly. They have a harder time penetrating the wood, and if they're applied too thickly, they can peel. Apply only as much stain as the wood can absorb at a time.
Non-Water-Based Decking Oil
It's a "tried and tested" method of dyeing wood from the past that's been around for a long time. It's usually easier to use a non-water based decking oil, and applying maintenance layers is simple. The finish usually fades over time, but it can be reapplied once a year.
Non-water based decking oils are significantly easier to apply and cling to since they permeate wood more quickly. It takes less effort to apply a non-water based decking oil because it penetrates the wood so well. They'll also hold up better against flaking than a poorly put water-based paint. When they fail, you'll notice that they fade away rather than peel.
Anti-Slip Decking Oil
Slip-resistant or anti-slip decking treatments contain minute particles within the oil that bond with the decking surface to create a microscopic textured layer, which is ideal for decking steps. These oils are great for raised decks with steps, as well as commercial establishments such as pubs, restaurants, garden centres, and clubs where customer safety is paramount.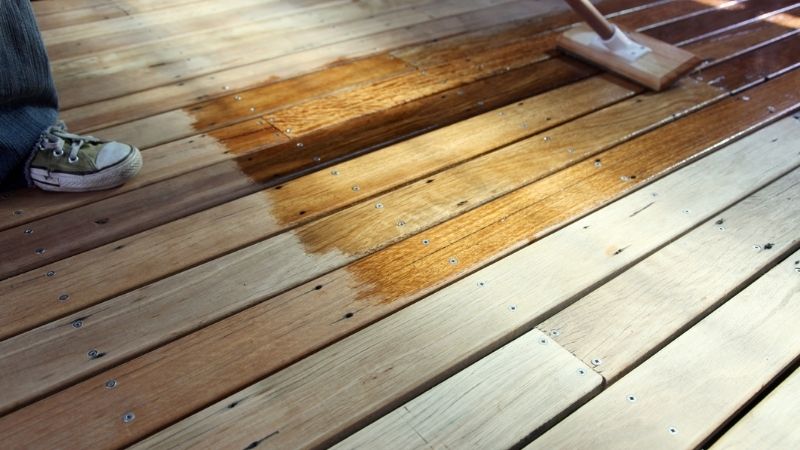 Anti-slip oils work because they include small particles that provide a slightly rough surface when dry. The dried oil provides better friction and grip between feet, shoes, and the deck surface while being too small to see.
Clear Decking Oil
Clear decking solutions nurture and maintain outdoor decking while preserving the wood's inherent characteristics. Clear chemicals tend to darken decks slightly, giving them a wet look while emphasising the inherent grain and character of the wood. Simply wipe an area of untreated decking with a slightly moist sponge to get an idea of how it will look when oiled.
Natural Decking Oil
When looking for a Natural Decking Oil, there are two ways to interpret the term "natural": a natural finish, which refers to a decking oil that, when dry, produces a natural finish, and natural ingredients, which refers to a decking oil that is environmentally friendly and made entirely of naturally occurring oils.
Natural decking oil repels water, protects against fading and sun damage, and inhibits the growth of mould, mildew, and fungi, all while highlighting the grain and restoring the wood's natural beauty. Because it's a natural oil, it feeds and nourishes decking timbers without changing their colour, making it excellent for hardwood decks that wish to show off their natural beauty.
Coloured Decking Oil
Using a coloured oil or oil-based decking stain to change or restore the appearance and character of decking is a terrific way to do it. Oil-based decking stains come in various colours and are an excellent method to revive the appearance of worn, weary, and grey-looking decking.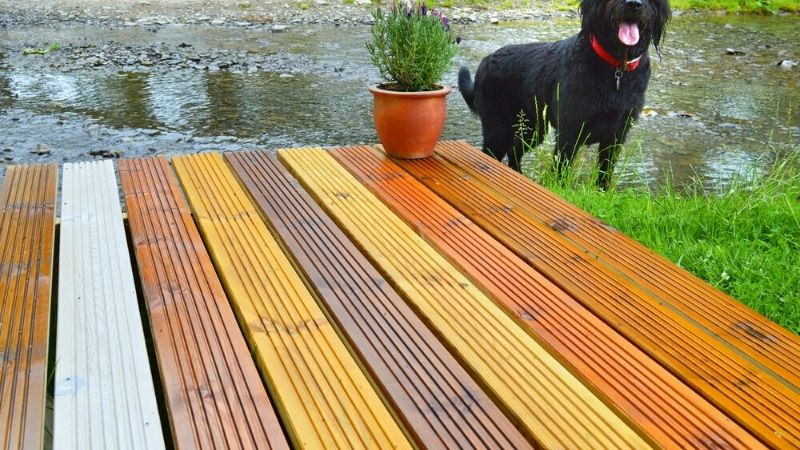 Because of the colour pigments incorporated in the oil, coloured decking treatments give superior UV resistance against sun damage. In general, the darker the colour, the greater the oil's UV resistance. A clear or natural oil, for example, will provide more UV protection than an Oak or Cedar tinted oil.
Hardwood Decking Oil
Hardwood decking oil nourishes the wood and improves its natural appearance. The oil penetrates deep into the pores of the wood after application, protecting it from water damage. It will replenish oils that have been lost due to weathering and will protect deck boards from splitting, warping, rotting, and greying, as well as scuffs and scratches.
When purchasing hardwood decking oil, make sure that you are buying the right one as hardwood needs a better oil to help it stick to the wood as hardwood doesn't absorb the oil as much as other types of woods do.
Best Decking Oil
The best decking oil is what you need to nurture your deck and make it more durable and softer. Oiling old wood is especially beneficial if you're starting to see cracks. New decks can also benefit from being oil-treated, especially if the new wood is extremely light. The oil will impart a richness to the deck that will help it blend in better with your home.
Decking oil protects your hardwood decking from the elements, such as rain and snow, as well as stains and debris. The appropriate one will also restore and enhance the wood's natural beauty. Let's discover which one is ideal for you and your home! Here are the best decking oils you should buy for your home.
Best Water Based Decking Oil
Manns Premier UV Decking Oil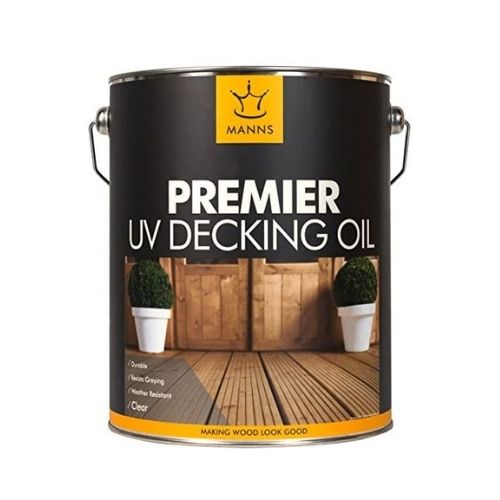 The excellent value of this decking oil impressed reviewers, who discovered that it performed especially admirably for the price, providing great coverage, easy application, and effective waterproofing right away. One user commented that water now runs off their deck like it does a freshly waxed car.
Long-term consumers praised the durability of this decking oil, noting that its UV-protective formula prevented the wood from bleaching or greying in the sun or from deteriorating at all during a harsh winter. So, if you want high quality but reasonably priced water-based decking oil, then this one is for you.
Things we liked
Easy to apply
Durable decking oil
Waterproof
Things we didn't like
Coloured does not look the same as it does on the tin
Barrettine Decking Oil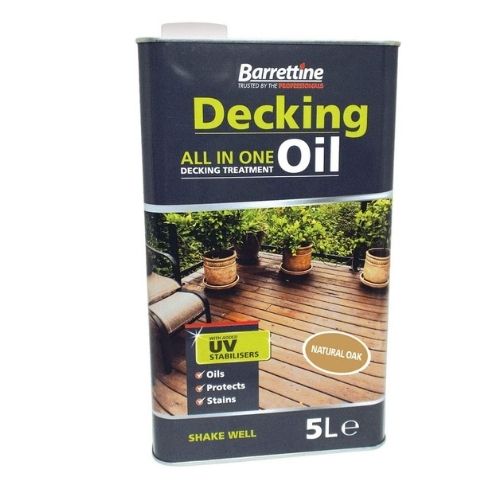 This water-based decking oil gives you a fresh start with Barrettine's decking oil, which is ideal for newly laid and untreated planks. Its all-in-one product nourishes, protects, and stains in just one step, giving you more time to enjoy the sunshine. It protects the wood from all the mould and fungus, so you won't have to worry about constantly checking to see what is going on.
When the weather does turn, the water-resistant composition ensures that rain will bead and run off instead of soaking into the wood, decreasing the chance of splitting. The finish will not crack, peel, or flake away, providing long-lasting protection. So, this decking oil allows you to make your wood last even longer in your home, which will save you a lot of money.
Things we liked
Mould protection
Water-resistant
Long-lasting
Ronseal Ultimate Protection Decking Oil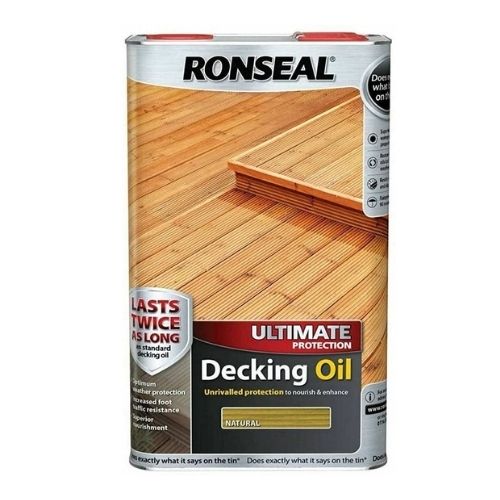 The Ronseal compound penetrates deeper into the wood for long-lasting results. Compared to typical decking oils, it provides a faintly tinted surface that provides twice the weather resistance and foot traffic protection. Therefore, if you don't have a water-based decking oil with a slight tint, then this may not be for you however, it does work great with an amazing price!
A water-based deck oil is recommended for any bare wood decking as it protects decking from the weather and any mould trying to come through. With exceptional water repellence and rainproof in just 90 minutes, it provides up to twice the resistance of ordinary oils. UV filters are included to protect the decking from sun damage and colour fading, making your decking look constantly brand new.
Things we liked
Weather resistant
Prevents colour fading
Great for high foot traffic areas
Things we didn't like
Not as long-lasting as other products
Best Non-Water Based Decking Oil
Liberon Decking Oil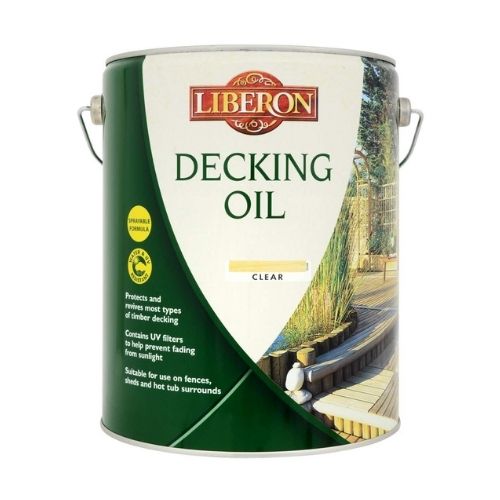 The Liberon is a tough decking oil that provides excellent water repellence, as it is a non-water based decking oil while also protecting your deck against UB radiation. It's simple to apply with a brush, and the first coat dries in 15 minutes; the ultimate result takes roughly 24 hours after the second coat. Apply and enjoy seeing the water bead up on top of your deck without causing damage.
A regular five-litre can be used to oil your fence, furniture, or hot tub, making it an extremely flexible product. It also goes on very easy as all you need to do is paint the oil on with a brush!
The clear variant is recommended since it has a lovely natural finish. The same cannot be true about the teak colour, which is slightly orange. Some reviewers don't like the orange tint to the decking oil; however, it works wonders for decking and is reasonably priced.
Things we liked
Protect against UB radiation
Great for various applications
Easy to apply
Things we didn't like
The teak colour is more of an orange colour
Ronseal RSLUNDODO4LAV Decking Oil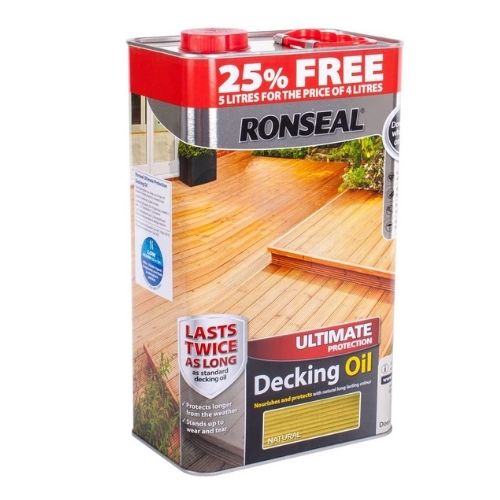 One of the best decking oil options on the market today is Ronseal's ultimate protection oil in natural oak. If you're looking for a fast-drying oil that's also acceptable for a variety of conditions and effective against UV filters, this could be the product for you. Like similar decking oil choices, this Ronseal product is ideal for individuals who want to enhance the natural hardwood decking in their garden.
The product is excellent in repelling water and moisture. Furthermore, Ronseal claims that your decking will be rainproof in as little as 90 minutes. Keep in mind, though, that you'll need to apply at least two coats of this oil before you can use your deck normally.
Things we liked
Quick drying
Repels water and moisture
Resistant against UV filters
Best Anti-Slip Decking Oil
Barrettine Nourish & Protect Anti-Slip Decking Oil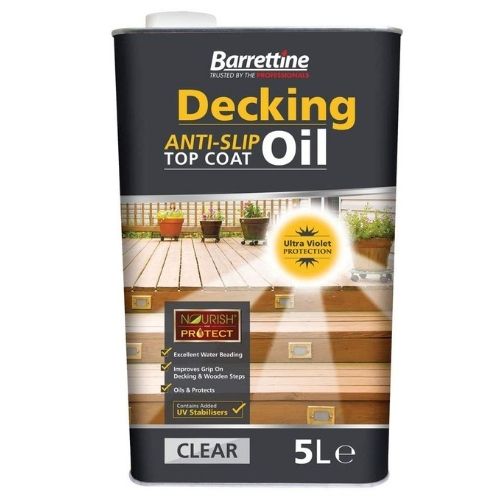 This decking oil from Nourish & Protect provides a better grip to our decking, a transparent top layer that resists UV rays, and anti-slip technology to ensure your decking is safe but looking its best. For decks, steps, handrails, walkways, and balustrades, this is a safer option and works for all of them! It's a great alternative for coloured deck oils to give a more secure finish.
This is an anti-slip deck oil of the highest quality for use on all types of hardwood decking and garden steps. Although it is pricey, the quality and durability are outstanding, making it worth every penny.
Things we liked
Provides a good grip
UV-resistant
Quality finish
Osmo Decking Oil Anti-Slip-Clear 2.5 Litre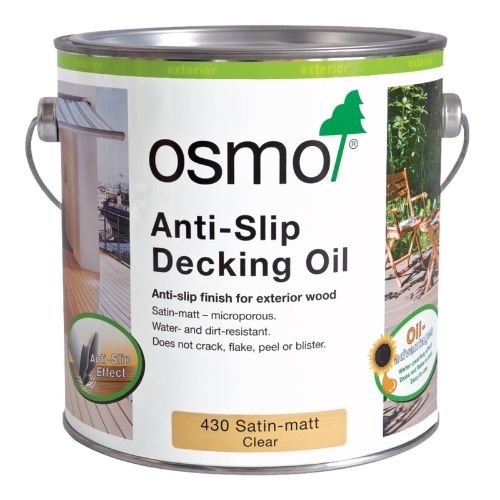 The Oslo Anti Slip Decking Oil has a clear satin finish and is appropriate for wood decking. This Oslo Anti Slip Decking Oil improves the surface's resilience while also protecting it from mould, algae, and fungal attacks. As a stand-alone finish, two coats of oil are necessary.
All outdoor decking gets a high-quality anti-slip coating with this oil decking. It is very pricey, although it works very well and allows your decking to be safe and look brand new in your garden!
This decking oil is best for someone who wants to paint it once and then not again as it has long-lasting durability. Decking steps and decking in business locations such as pubs and restaurants are ideal as it is long-lasting and doesn't need to be done frequently.
Things we liked
Protection against mould, algae and fungus
Durable decking oil
Ideal for high foot traffic areas
Rustins Quick Dry Textured Decking Oil 2.5L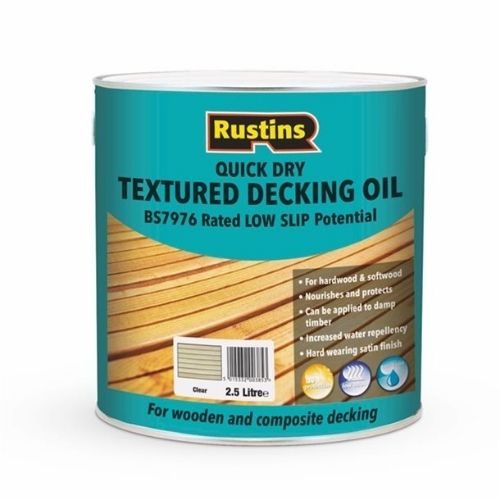 Quick Drying Rustins Textured Decking Oil contains special texturing chemicals that make wooden decking more slip resistant in both wet and dry circumstances. The oil nourishes and protects the wood while also shielding it from damaging UV radiation. All composite, hardwood, and softwood decking boards and steps are compatible. Wooden garden furniture and other outdoor woodwork can also be made using it.
It's an anti-slip decking treatment that's water-based and can be used on composite, softwood, and hardwood decking. UV (ultraviolet) light inhibitors are included to protect the decking from sun damage, so the colour never fades.
Things we liked
Fast drying
Can be used on various types of decking
Sun damage protection
Things we didn't like
Requires protective equipment for application
Best Clear Decking Oil
Barrettine Nourish and Protect Clear Decking Oil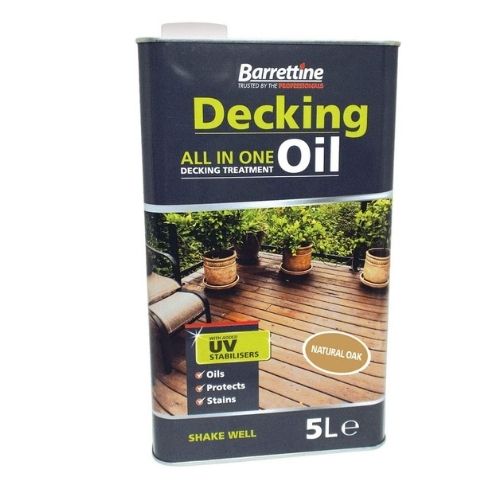 In one easy-to-use product, it removes oils, stains and protects. Semi-translucent pigments that are UV resistant allow the grain to show through. It also includes a biocidal film preservative to keep surface mould and algae at bay.
A solvent-based oil with an innovative formulation that nourishes and preserves decking and other garden wood. A biocide preserver is applied to protect the decking from mould, and UV fade-resistant pigments are added to protect the decking from the sun's damaging UV rays.
Things we liked
UV-resistant
Removes excess oil
Protects decking
Osmo Colourless Teak Oil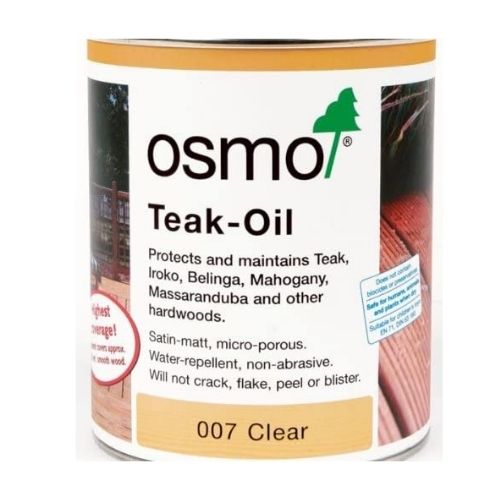 When it comes to decking oiling options, there are many various colours and tints to choose from. On the other hand, many homeowners prefer natural oils that do not alter the original beauty of their chosen wood. If that's the case, Osmo's colourless teak oil might be the ideal decking oil for you.
This clear substance is an excellent decking protector with a natural appearance. According to some reviewers, it's not fully clear, but it's as close as it can get while still providing a good level of protection. The oil contains no artificial ingredients, allowing you to appreciate the natural grain of your wood. Keep in mind that wood that has been treated with a transparent oil usually has a moist appearance.
Things we liked
Natural aesthetic
All-natural ingredients
Offers excellent protection
Best Natural Decking Oil
Everbuild Lumberjack Wood Preserver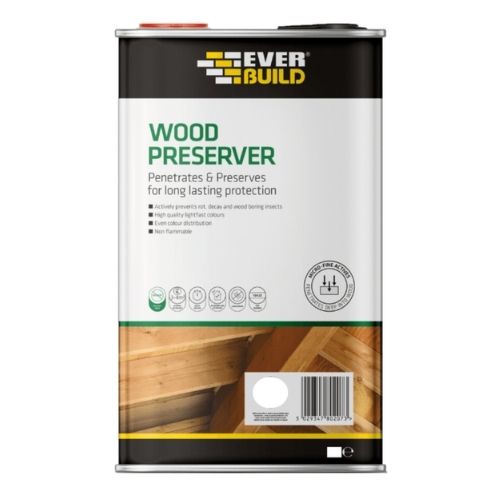 Everbuild Lumberjack wood preserver is possibly the most environmentally friendly decking oil on the list since it is a low-solvent and low-odour solution, which means fewer hazardous fumes discharged into the atmosphere, as well as fewer poisonous chemicals for you to breathe in while applying.
If you have a respiratory condition or are concerned about using harsh chemicals on your deck, this is a good option. It's also quick-drying, can be applied to damp wood without losing its oomph, and has a fungicidal, algicidal, and anti-decay composition that penetrates the wood deeply.
Things we liked
Eco-friendly
Quick drying
Great for anyone with breathing difficulties
Things we didn't like
Not as durable as other options
Ronseal Decking Oil Natural 5 Litre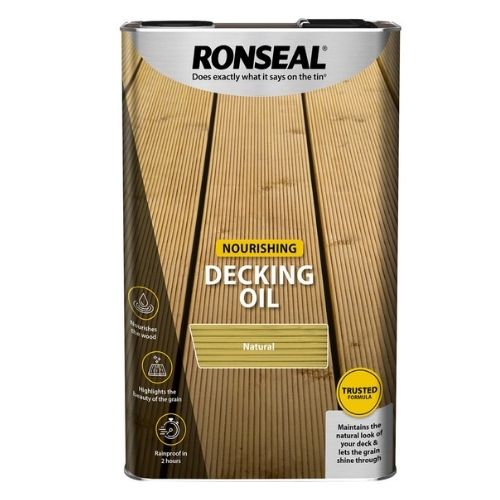 The Ronseal RSLDOCL5L comes in a tin with a re-sealable lid and a convenient pour handle. Its fade-resistant coating protects against UV radiation and resists mould and algae growth. Suitable for both hardwood and softwood decking.
It is an all-in-one, solvent-based oil for softwood and hardwood decking that is raw wood, maintained, or pressure-treated. UV filters aid to protect against sun damage and the formation of mould, mildew, and fungi.
Things we liked
Re-sealable lid
Protects against sun damage
Prevents mould and algae growth
Things we didn't like
Comes out darker than expected
Cuprinol UV Guard Decking Oil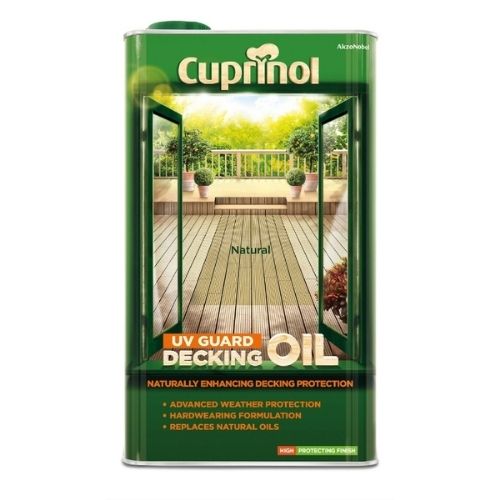 This decking oil feeds the wood while also protecting it from the elements. It's got a subtle hue to it. Use a brush or any Cuprinol sprayer to apply up to 8m2 per litre with two coats on the brush. Depending on the nature of the surface and the weather conditions, it usually takes roughly 6 hours to dry.
This is a softly coloured water-based deck oil that revitalises the colour of old decking boards.
Things we liked
Improves the colour of decking
Weather resistant
It has lower solvent levels
Things we didn't like
Not as hydrating as other products
Best Coloured Decking Oil
Ronseal Ultimate Protection Decking Oil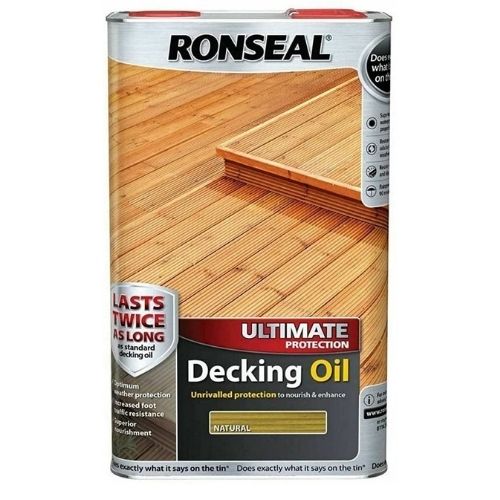 This Ronseal decking oil works well on all types of decking, whether it's softwood or hardwood, smooth or grooved, naked or pre-treated. It has outstanding statistics, such as being rainproof in 90 minutes and being up to twice as resistant as conventional decking oils. It comes in seven different colours - the dark oak being the most popular.
Reviewers praised it, claiming that it seemed to stay forever and that rain beaded off promptly, as well as being easy to apply, fast-absorbing, and cleaning off instruments cleanly. All of this, combined with a colour selection of seven and a low VOC level, makes it an excellent all-around deck oil.
Things we liked
Long-lasting
Low VOC levels
Rainproof in 90 minutes
Things we didn't like
The colour may not be suited to everyone's tastes
Cuprinol UV Guard Decking Oil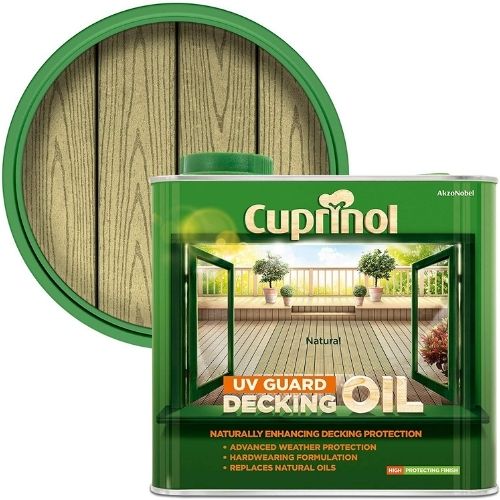 This Cuprinol decking oil's ingredients allows it to be sprayed as well as painted on for a faster finish, yet it still has more ingenuity to give. It's made to get deep into the wood and replace the natural oils lost over time due to weathering and provide long-term protection against splitting and drying.
The coloured oil, on the other hand, brings out the colour in greyed wood for a fresh look. Rainwater quickly beads off, confirming its weatherproofing prowess. Reviewers also appreciated the rich, almost glossy sheen it provides.
Things we liked
Offers a fast finish
Replaces natural oils
Weatherproof
Things we didn't like
May be too glossy for some people
Manns Premier Decking Oil Natural Oak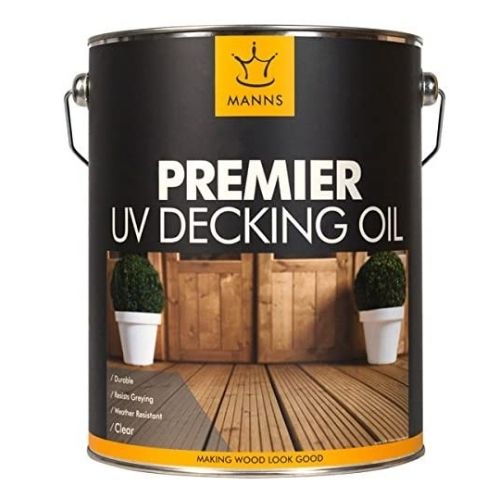 This is an outdoor decking coating that can be used for a variety of purposes. A special UV compound resists the sun's greying effects. A variety of popular colour tinted finishes are available.
It is also suited for all outdoor wood, including sheds and fences, and provides great weather protection. It reduces the likelihood of wood cracking, splitting, or warping, and the unique UV compound resists the sun's greying effects.
Things we liked
Prevents warping and splitting
Resistant against sun damage
Various colours available
Things we didn't like
Some of the colours look different than they do on the tin
Best Hardwood Decking Oil
Liberon Medium Oak Decking Oil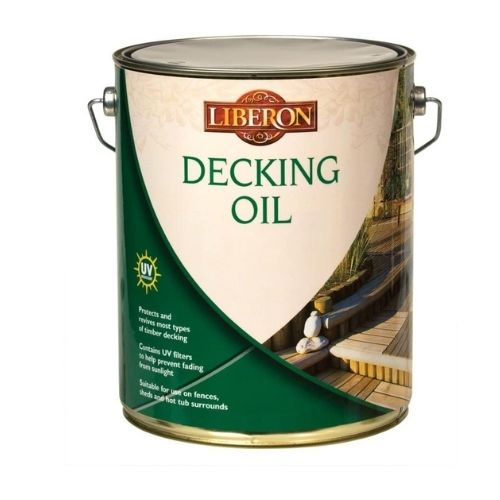 This is a solvent-based oil designed to nourish, rejuvenate, and restore the colour of hardwood. In practice, this oil brings out the character and grain of the wood. It also shields the deck from the elements. The decking oil from Liberon is waterproof. Water will harmlessly pool on the surface because the oil penetrates the wood but does not enable water to permeate the waterproof barrier it creates.
As this is for hardwood, you want the oil to be absorbed, so this oil is designed to be applied with a brush or roller, but it can also be sprayed with a high-quality professional sprayer. To get the best finish for your hardwood, apply it the way the manual tells you to, or it will not work at the best quality.
It is so simple to apply with a brush that even untrained DIYers can accomplish it. Liberon's product has a stronger odour than others, but if you can get beyond that, you'll be rewarded with a beautiful finish with a nice sheen that isn't garish.
Things we liked
Rejuvenates the colour of hardwood
Easy to apply
Nourishes decking
Wo-we Douglas Fir Outdoor Hardwood Cedar Protection Oil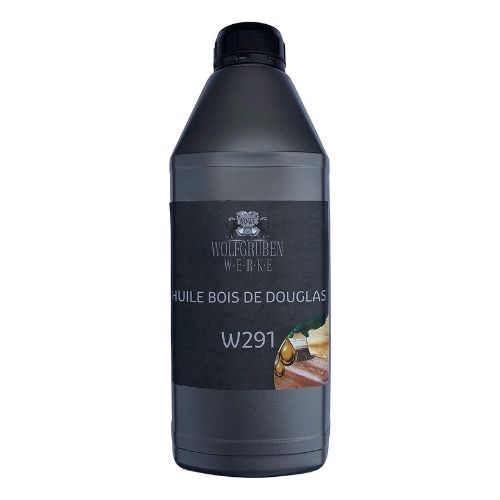 This oil is suitable for most outdoor furniture and timber structures, including hot tubs, pergolas, and fences. This oil is ideal for a variety of woods, including cedar, eucalyptus, and acacia.
Wo-We penetrates deep into the wood and, while it isn't designed to be waterproof, it does guard against water and moisture that just bead up on the surface. It also offers a pleasant scent that is both refreshing and energising.
The greatest quality of Wo-Douglas We's fir oil isn't water resistance or UV protection, though it does aid in those areas. Its best virtue, in our opinion, is that it does not over-stain or darken the wood, instead of bringing out the grain and character. As a result, this oil is probably best used for aesthetic reasons rather than functional ones.
Things we liked
Enhances the natural aesthetic of the wood
It has a pleasant scent
Great for various wood applications
The Triple Action Wood Treatment by Everbuild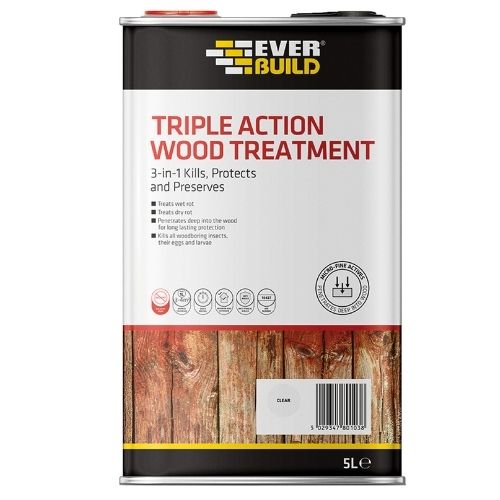 This decking oil is for those who want all the bells and whistles. If that's you, take a step forward. This hardwood decking oil has numerous advantages for your wooden buildings. The clear oil keeps natural colours while also being low in solvent and scent. The oil's easy-to-penetrate composition should also kill fungus and algae. It also fights stains, wood rot, and larvae of wood-boring insects.
The deck treatment is non-flammable and dries quickly. This transparent decking oil is also suitable for use on wet wood. You get long-lasting protection on all the boards you apply it on because it is designed to penetrate deeply into hardwood to make sure it lasts if it can. However, because the decking oil is watery, expect a messier project.
Things we liked
Low solvent levels
Kills fungus and algae
Long-lasting protection
What to Consider Before Buying Decking Oil
Cost
Although most decking oils are not too expensive, you can buy one that is too pricey. So, before you buy the decking oil of your choice, see if there are cheaper decking oils with the same features that do the same job. This might take up a bit more time however, it will save you money.
Clear Decking or Coloured Decking
Clear decking oils aren't completely transparent; they tend to slightly darken the wood's natural colour, giving it a "wet" appearance. Although coloured decking oil isn't as pigmented as stain or paint, it can be enough to brighten up worn decking while still allowing you to "back out" if you change your mind. Due to the pigment in the oil, coloured decking oil has a higher UV protection than clear decking oil.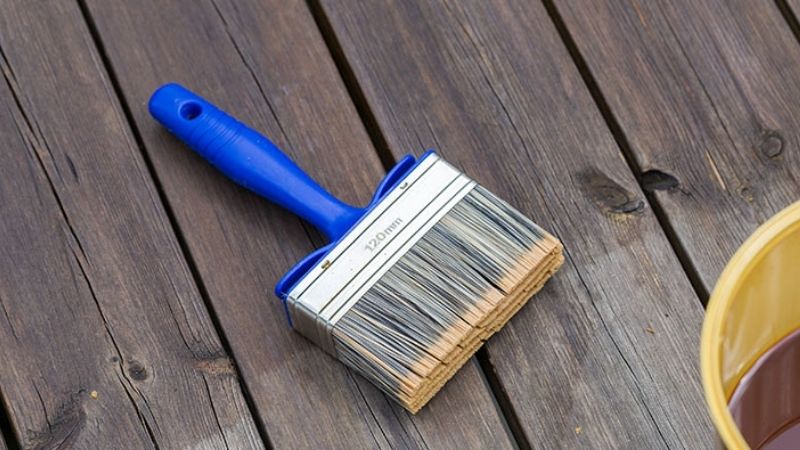 Anti-slip
It contains tiny particles suspended in it for added grip, reducing the chance of slipping. It can feel like walking on sandpaper if you (or your children) walk on it barefoot. Therefore it may not be ideal if your decking is where children play in the summer. On the other hand, it could be useful if you frequently need to walk over the decking when it's raining.
Water-based or Non-water Based?
It all depends on your specific situation. If your decking is subjected to harsh weather conditions, you may wish to choose non-water based decking treatments. It's worth noting that several water-based decking treatments now promise to be as lasting as oil-based treatments and are mould and fungus resistant. So, before making your decision, you might want to look at these as well.
FAQs
What oil should you use on IPE decking?
It is best to use a natural oil decking on IPE decking as ipe is simply too dense and oily to be a viable film-forming finish substrate, and it even has trouble receiving penetrating oils. Even so, most reviews have said the best IPE finish is a good penetrating oil with a high trans-oxide pigment concentration; Penofin's Marine Oil is the best oil recommended for IPE decking.
Is decking oil better than decking stain?
Decking oil is good for nourishing wooden surfaces, while decking stain is good for changing the aesthetic of your deck. Decking stains come in various colours and can be used to give your deck a unique look. It can also mix in nicely with the rest of your home's decor.
While there are some distinctions between these two preservatives, they are both efficient at keeping a wooden deck. They cannot, however, be used on the same surface. You must pick one and use it on your decking board. Make sure you reapply the decking preservative after a specified amount of time has passed.
How long does decking oil take to dry on average?
It can take up to 7 days for decking oils to fully cure. In this case, though, a cure does not imply 'stay tacky.' It's unusual for oils to stay sticky for more than a few days, and it might be caused by a variety of factors. The porosity of the wood can have a big impact on the drying time.
How long does decking oil last on the surface?
You'll usually need to apply it once every six to eighteen months, depending on whether you're using a water-based or non-water-based oil.
What is the best way to apply decking oil?
To offer even protection for your wood floor, apply the decking oil in sections or plank by plank. Apply another thin coat of oil on top of the previous coat after 20 minutes, then wipe away any excess oil with a cotton cloth.
Sources