health & beauty
Best Weighted Blanket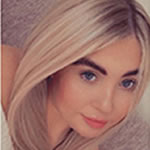 Weighted blankets have become a common aspect of stress alleviation and healthy sleeping habits for many people.
Weighted blankets may help patients with anxiety, autism, and insomnia, among other things, according to research.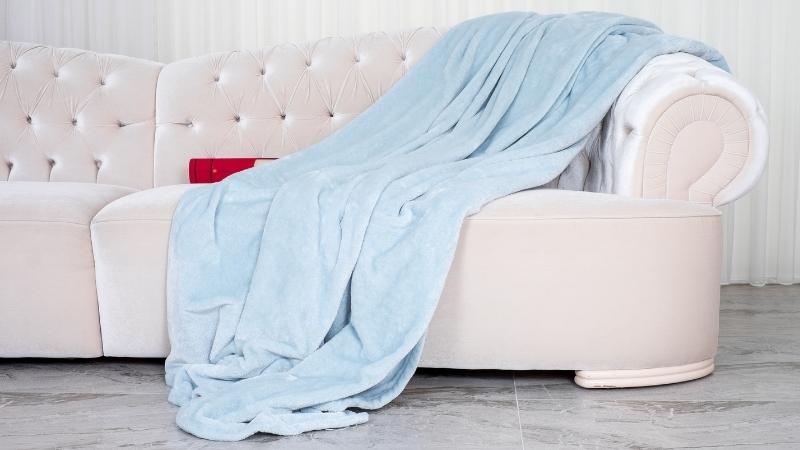 These therapeutic blankets range in weight from 5 to 30 pounds.
The added weight's pressure simulates a therapeutic method known as deep pressure stimulation. Deep pressure stimulation relaxes the nervous system by applying pressure to the skin.
So, if you want to find out more information on what weighted blankets are, how they work, the different types and the best ones available, this article is perfect for you!
What is a Weighted Blanket?
First, let's explore what a weighted blanket actually is...
Weighted blankets are typically filled with some form stuffing that makes them feel heavier. They are typically draped about you when you sit or sleep and are great for both children and adults.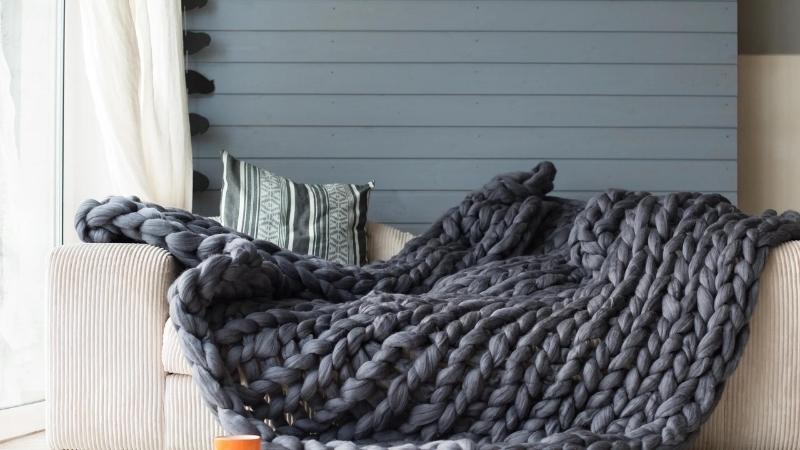 Weighted blankets apply pressure on the human body. The neurological system reacts to the deep touch pressure that is applied to it. The happy hormones serotonin and melatonin are released, which lowers cortisol levels.
The serotonin hormone controls mood as well as the activities of the central nervous system. Melatonin, on the other hand, regulates circadian rhythms, which has a good impact on an individual's sleep cycles.
How Does a Weighted Blanket Work?
Your heart beats too quickly when you're agitated. When this happens, slowing your heart rate can make you feel more relaxed. When you're stressed, pressure activates your parasympathetic nervous system, which slows your heart rate.
Using a weighted blanket creates an overall feeling of relaxation due to a reduced pulse rate.
A weighted blanket uses "pressure therapy," which involves applying a soothing amount of pressure to your entire body, comparable to being hugged, swaddled, caressed, or held.
Types of Heated Blankets
Fabrics used in weighted blankets include chenille, bamboo, cotton, fleece, and a variety of others. Non-toxic and hypoallergenic polypropylene pellets make up high-quality weighted blankets.
To help you understand the different types of weighted blankets, here are some of the most common options:
Cotton Weighted Blanket
Cotton weighted blankets are the best-weighted blankets since they are suitable for everyone. 100% cotton fabric is used to create cotton weighted blankets.
Breathable poly pellets are used to fill cotton weighted blankets. Cotton weighted blankets will not be hot if the room temperature is kept cool. When the person is fast asleep, the cotton blanket will help remove body heat.
Adults and children with sensory problems will benefit from the breathable cotton weighted blankets.
Bamboo Weighted Blanket
Bamboo weighted blankets are intentionally heavier than standard blankets. The extra weight reduces night-time anxiety and lengthens sleep duration.
Weighted blankets can also be used to assist children with autism sleep better. They keep you stay cooler while you sleep and are known for being environmentally friendly. Additionally, bamboo fibre is ultra-soft.
Chenille Weighted Blanket
Chenille is a very fluffy fabric that is used to make the chenille weighted blankets.
Chenille weighted blankets are thought to be the softest weighted blankets on the market. Because the chenille fabric is so soft, chenille weighted blankets are the most comfortable.
They are perfect for anyone suffering from anxiety and tension.
Polypropylene Weighted Blanket
One of the most used fillers for weighted blankets is polypropylene. This material is also often used in the bases of stuffed animals and dolls to assist them in sitting upright (remember beanie babies?).
Poly pellets, also known as plastic pellets, are formed entirely of polypropylene and are classified as a level 5 material.
This substance, sometimes known as weighted stuffing beads, is flexible and easy to mould once sewed into cloth. This is ideal for weighted blankets, which must conform to the body to impact the neurological system properly.
Glass Beads Weighted Blanket
Glass beads are one of the most upscale weighted blanket fillings. These tiny glass fillers have the impression of white sand or salt crystals. The glass beads are smooth, making them an excellent choice for those who are sensitive to the texture of plastic poly pellets. Glass beads are a more environmentally friendly and hypoallergenic alternative to poly pellets.
These fabrics can also be washed in the machine and dried. These small beads can be found at almost any craft store, as well as a variety of different internet merchants. They're a touch more expensive than others, but because they're so thick, the blanket won't need as many.
Dried Grains Weighted Blanket
Dried cereals, including grains, beans, maize barley, and pasta, are sometimes used as fillers in weighted blankets. With these products, it is feasible to lose weight. Another benefit of dried foods is that they are affordable and easy to come by.
As the blanket ages or must be washed, the downsides of utilising food as fillings become evident. Food rots quickly and is not a long-lasting item.
Mould, fungi, and insects can grow on these goods. As if mouldy, infested fillers weren't awful enough, food will eventually degrade and rot. A costly health item, such as a weighted blanket, should not contain rotting, odorous food.
Best Weighted Blanket
Weighted blankets are the most popular method of assisting bad sleepers in getting a good night's sleep. Occupational therapists first offered them as a treatment for behavioural issues, but they've since become more mainstream for anyone looking to unwind.
The concept is that the pressure from the blanket raises serotonin, a chemical in your body that makes you feel joyful and relaxed. Experts refer to it as "deep-pressure treatment." It's not meant to treat any illnesses, but it's become a popular technique for anxiety sufferers, insomniacs, and self-described "poor sleepers" to get some rest.
Here are some of the greatest weighted blankets on the market.
Best Cotton Weighted Blanket
Knitted Weighted Blanket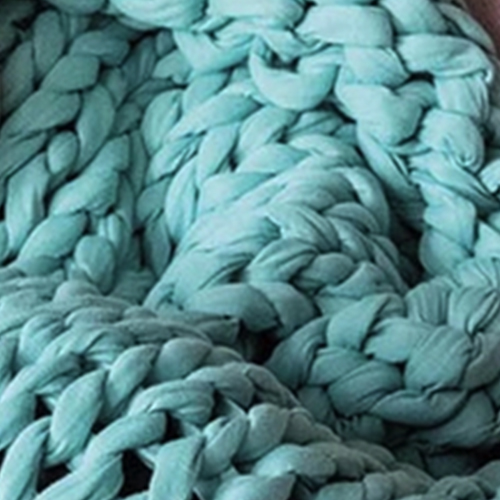 This weighted blanket resembles a big comfortable throw, and it's available in various colours.
This blanket will make you feel quite cosy while watching movies on the sofa in the evenings.
Some people may be put off by the lack of a cover. However, the lack of a bulky inner piece under a flappy cover makes it much easier to tote around and appropriately place over you.
It also does not affect washing because it can still be washed at a low temperature.
It's warm, hefty, and stylish.
Things we didn't like
Expensive
Short lead length
Bearaby Cotton Napper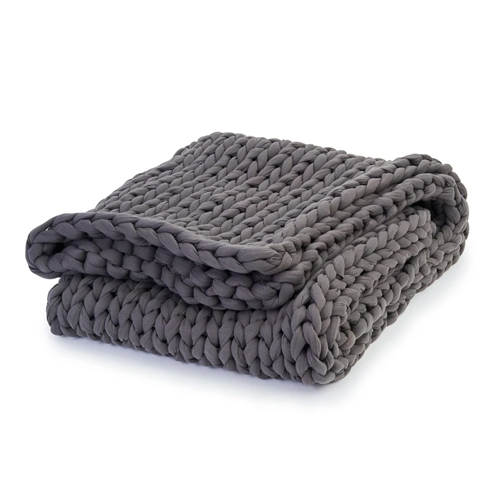 Its cotton, open-knit style is soothing and cosy in its way, which will help you relax and regulate body temperature.
Bearaby provides a velvet napper that is softer than the original cotton design if you want the best of both worlds.
Things we didn't like
Takes a while to dry after washing
Layla Weighted Blanket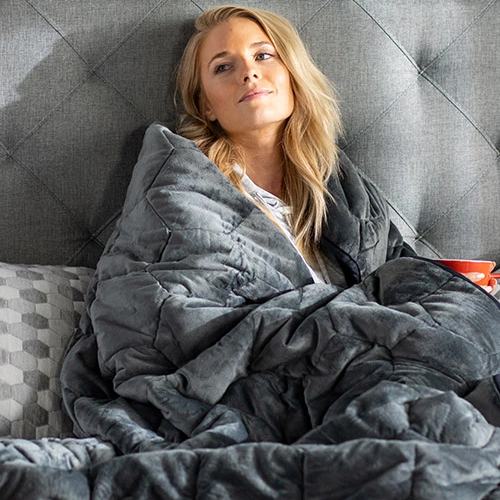 While most weighted blankets appear to be the same, this one stands out because of its novel features, such as the reversible pattern.
On one side, there's a cotton fabric that feels like a standard bed sheet, and on the other, there's a comfortable fleece that feels like a throw blanket.
While most weighted blankets come with a cover since they aren't machine washable, this blanket may be washed completely (just make sure the machine can handle a heavy load).
A 15-pound twin, a 20-pound queen, and a 25-pound king are the three sizes available.
The Layla blanket also has a free 120-night return policy, which means you can get your money back even if you've tried it and don't like it.
Things we liked
Machine washable
Reversible design
Things we didn't like
Weight might spread out on larger sizes
Best Bamboo Weighted Blanket
Remy Weighted Blanket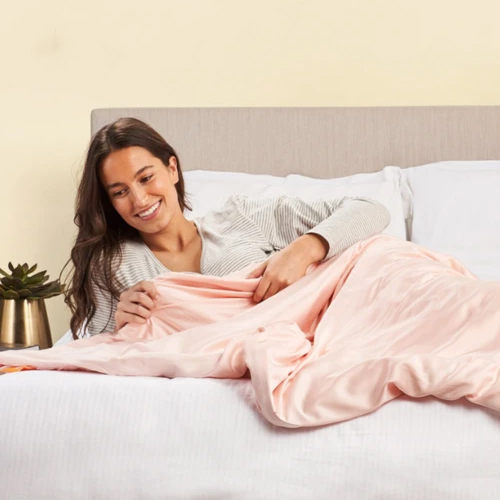 Remy Sleep offers a variety of blankets, including the traditional style with its soft and fluffy cover, a 'natural' version with bamboo instead of the comfy fluff, and a larger version of the classic.
Grey or navy blue are the available colour options.
The 8KG weighted blanket is substantial, and customers rave about it. However, some reviews state that due to its weight and the fact that the cover is detachable from the blanket, it is difficult to manoeuvre into place on my bed.
It also has a tendency of slipping over the side a couple of times during sleep, and if you don't get a strong grasp on the inner when setting it, the cover will move, and the weighted part won't.
Things we didn't like
The cover sometimes moves
Koala Blanket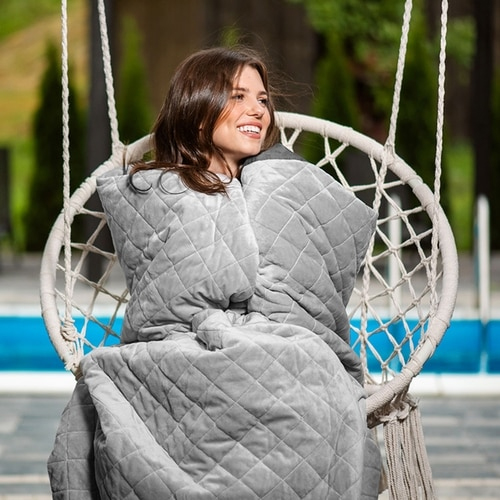 The Koala Blanket is unique in that, unlike many other blankets, it isn't intended to be used as a blanket in the traditional sense. You're supposed to use it as a duvet on its own. As a result, it is significantly thicker.
It is reversible, which is one of the advantages of a duvet over a blanket. For colder nights, the blanket has a velvety soft side, while for warmer nights, it has a silkier, cotton side.
Customers typically prefer the latter option because the 'soft' side is a little slick and sweaty. However, it may be argued that this is a problem for the entire 'duvet'. Simply put, the fabric isn't breathable.
Pure Bamboo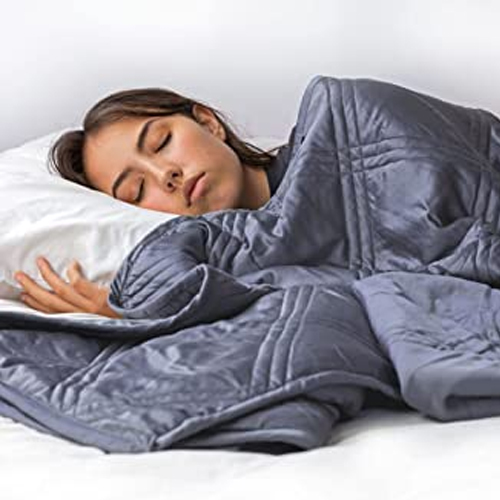 The Pure Bamboo blanket has been voted the best overall weighted blanket.
This weighted blanket is constructed of bamboo, microfiber, and poly-cotton, all of which are smooth and comfortable. Its bamboo layers keep you cool on hot summer nights and toasty on colder days.
Things we didn't like
Reviews complain about the size not being big enough
Best Chenille Weighted Blanket
Chenille Magic Weighted Blanket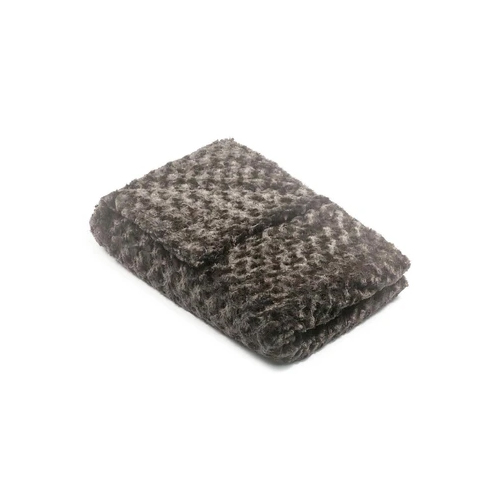 The Magic Blanket is more durable and easier to wash and launder than blankets with removable covers since it is a one-piece blanket with the duvet cover securely sewn onto the inner liner.
There are no tearing zippers, breaking ties, bunching inside liners, and no cover to attach.
Professional Sewing Contractors Magic Weighted Blanket Luxurious Soft Chenille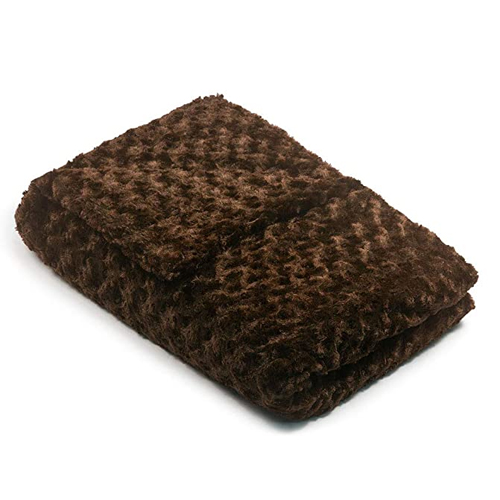 Professional Sewing Contractors created the design and quality of the unique and elegant plush chenille fabric.
Unlike any other weighted blanket, the Magic Blanket is sewn without visible stitching, giving it a smooth appearance.
ZonLi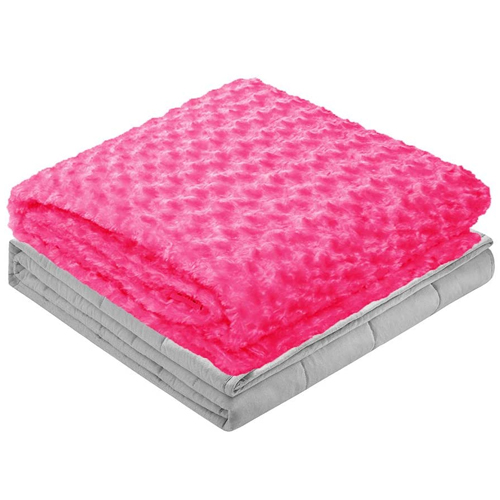 The ZonLi weighted inner blanket is stitched into little squares from 100 per cent superior cotton. Each square is loaded with small, non-toxic pellets that distribute weight equally over your entire body, resulting in improved comfort.
The duvet cover is constructed of 100 per cent premium polyester chenille, which is exceptionally soft and warm on the skin.
Things we didn't like
Can only be washed by hand wash
Best Minky Weighted Blanket
Rocabi Adult Weighted Blanket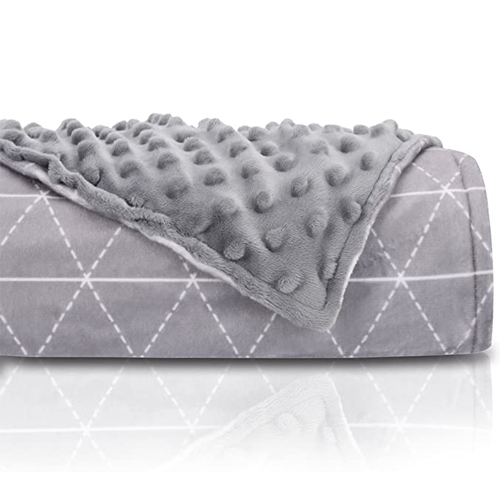 The Rocabi Adult Weighted Blanket is a luxurious weighted blanket that is meant to aid with sleep.
To maintain the weight of the blanket, it comes with a removable, machine washable plush minky cover and a breathable cotton inner-weighted sleeve with 6-inch pockets.
The blanket contains a glass bead filling that is hypoallergenic and non-toxic, as well as corner ribbon ties that keep the inner sleeve from sliding within the minky cover.
The Rocabi Weighted Blanket has a lovely design and is made with premium materials; hence it is more expensive. The blanket comes with a 30-day money-back guarantee.
Things we liked
30-day guarantee
Machine washable
Harkla Weighted Blanket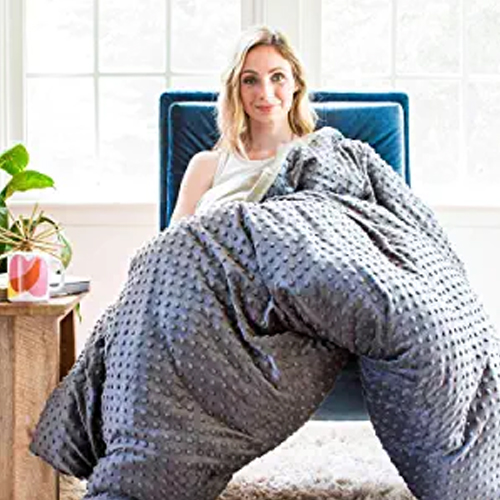 The Harkla Weighted Blanket is made from glass bead stuffing and a luxurious minky fabric cover with extra sensory stimulation dots.
The cover is removable and machine washable, and it comes in three different colours to keep the blanket clean and soft.
For added convenience, the fabric is soft and can be removed and machine washed.
A few reviews claim that the beads in the blanket can slide to the sides, causing an unequal weight distribution. This may affect light sleepers who move around a lot during the night should be aware of this.
Things we liked
Soft and machine washable
Lifetime guarantee
Things we didn't like
Beads can shift to the edges
Roore Weighted Blanket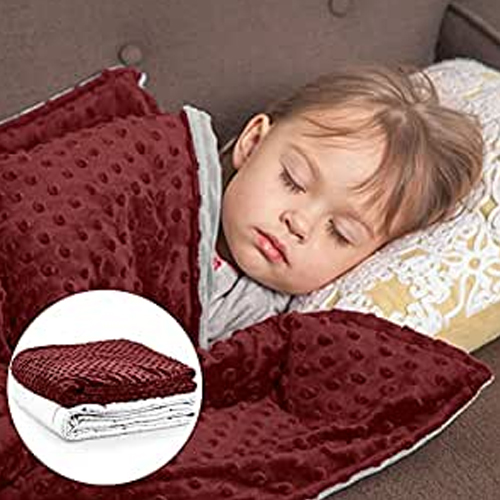 This blanket includes an interior blanket as well as an outer dotted Minky duvet cover with a secret zipper and corner ties to keep it from slipping.
Heavy glass beads are evenly placed and compartmentalised inside the blanket to give an even weight distribution that will not shift. They are hypoallergenic, non-toxic, and odourless.
Things we didn't like
Not good for kids under 5
Best Polypropylene Weighted Blanket
Good Knight Weighted Blanket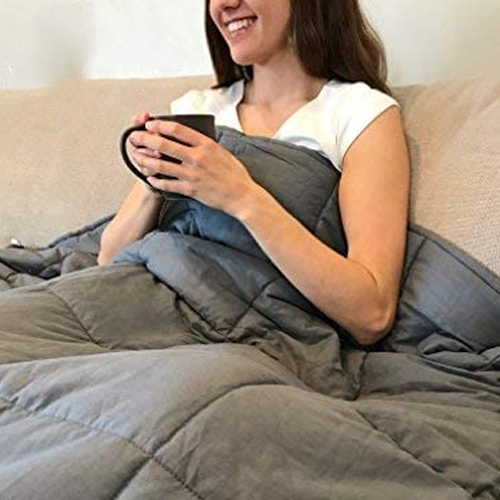 The Good Knight Weighted Blanket is a sleep aid designed to help people with autism, ADD, stress, anxiety, and other sleep issues.
A premium cotton cover and a poly-pellet filling are used to make this blanket.
Poly-pellets adhere to your body well, but because they're composed of plastic, they're less environmentally friendly than the glass beads found in many of the other weighted blankets on our list. If you're seeking a more environmentally friendly choice, keep this in mind.
Things we liked
100% money-back guarantee
Suitable for fall adults
Yaasa Weighted Blanket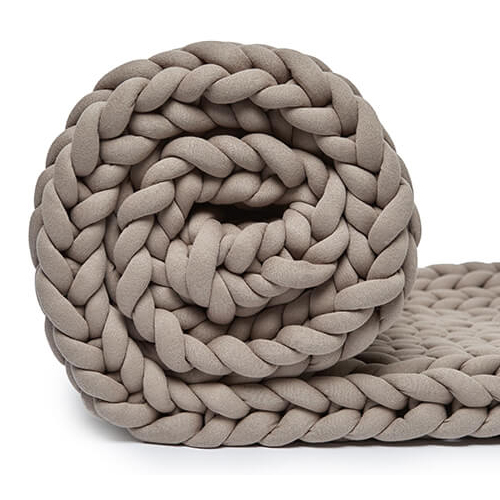 Most weighted blankets are quilted with beads or pellets to obtain the desired weight, but this one is comprised of cotton yarns with recycled polypropylene inside fibres.
The threads are woven together to create a design that allows for good air circulation while maintaining the firmness that sleepers expect from a weighted blanket.
For easy care, the blanket may be washed in the machine. Simply wash on the cold or delicate cycle and dry flat.
The 15-pound blanket is closest in size to a full-size blanket, while the 20-pound blanket is closer to a king-size blanket.
Things we liked
Variety of weights available
Machine washed
Mela Weighted Blanket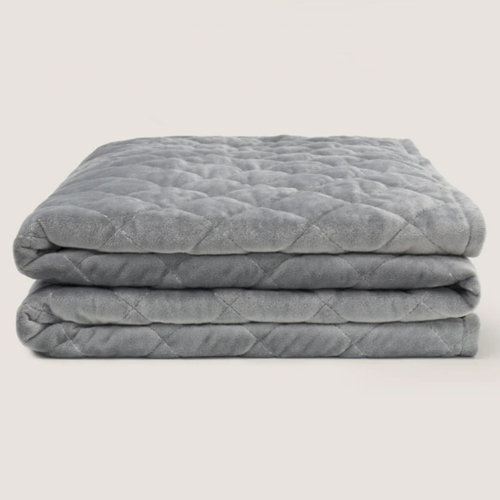 This blanket is made to soothe anxiety and welcome calm for a restful night's sleep. The removable cover is made of 100% 300TC cotton on one side and recycled polyester on the other.
All of the other weighted blankets and coverings are Oeko-Tex certified, ensuring that they are free of dangerous chemicals and pollutants, making them gentle on the skin.
However, this product should not be dry cleaned or dried in a clothes dryer because it can harm the blanket and shorten its lifespan.
Best Glass Beads Weighted Blanket
John Lewis & Partners Synthetic Weighted Blanket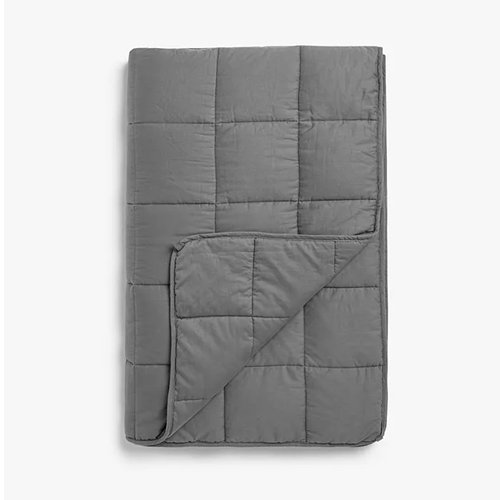 The glass beads are sewed directly into small pockets within John Lewis' weighted blanket, so there is no removable cover.
It's constructed of 200-thread-count cotton and is exclusively available in grey.
This blanket is well-known for its softness, smoothness, and superior quality. There is no hefty inner slipping about under a separate cover because the cover isn't removable.
However, despite being the recommended weight for sizes, some claim that the 4.5kg choice is a little too light.
Things we didn't like
The weight isn't accurate sometimes
Obit Weighted Blanket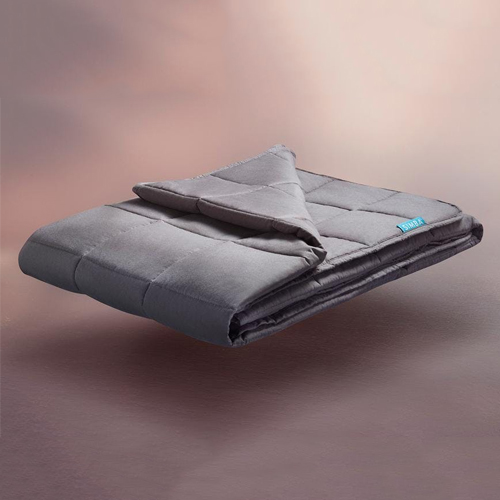 This is the first weighted blanket from the mattress-in-a-box firm. It comes in two different weights and only comes in grey.
The beads are made of glass, and the blanket also comes with a removable, 100 per cent cotton cover, which is not required for use.
It does feature a removable cover with enough knots inside to keep it secure, making it easy to move and clean in the washing machine.
Things we liked
Comes with a removable cover
Easy to clean
Graviety Blanket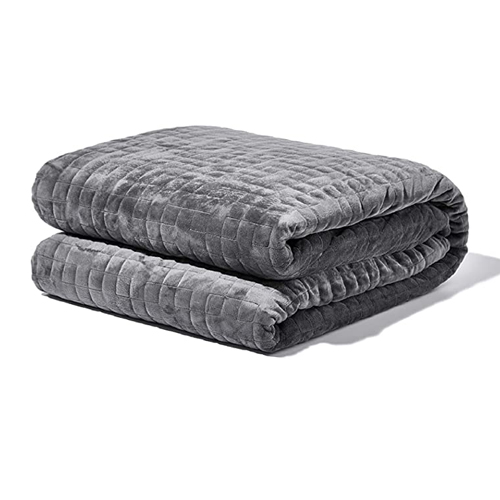 Since the brand's Kickstarter campaign went viral and made the sector more mainstream, "gravity blanket" has become synonymous with a weighted blanket.
It comes with everything you'll need to make a great weighted blanket: grid-like stitching to hold the glass beads in place, a machine-washable microfleece cover, and secure buttons and ties to keep the blanket in place in the cover.
The blanket is available in three colours (grey, blue, and white) and you can choose from three weights (15, 20, and 25 pounds).
Things we liked
Machine-washable cover
Grid like stitching to keep beads in place
Things we didn't like
Reviews say it sleeps hot
Best Dried Grains Weighted Blanket
ZZZZNest Weighted Blanket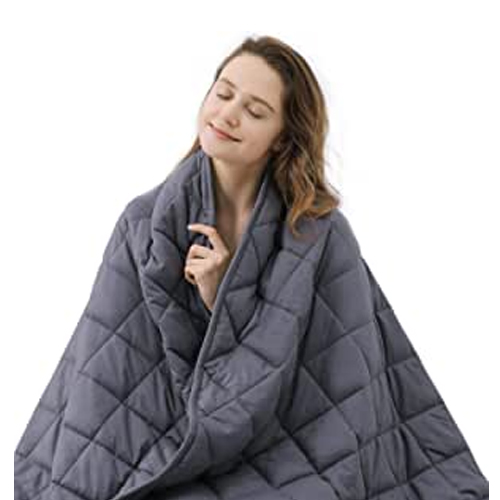 ZZZNEST weighted blankets are made with the latest 7-layer fabric technology and the tiniest 8 x 8 cm diamond pocket tight stitching, which prevents the filler from clumping up to one side or leaking.
It also provides a gentle, evenly distributed weight that gently moulds to your body.
Furthermore, due to the movement of dry grains in the blanket, it will not generate any noise.
Luxome Cooling Weighted Blanket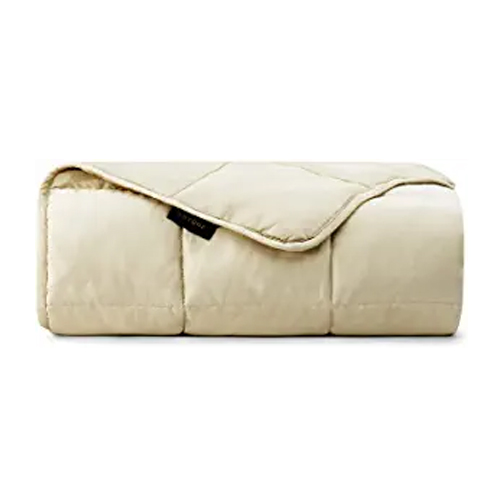 This one-piece blanket is manufactured from bamboo and lyocell and does not require a duvet cover.
Lyocell, like rayon, is manufactured from wood pulp. Unlike rayon, it recycles the water and chemicals used in manufacturing.
Bamboo has environmental benefits and drawbacks, as detailed in the following advice, but it is gaining popularity as a fabric due to its feel and adaptability.
Holden and Hay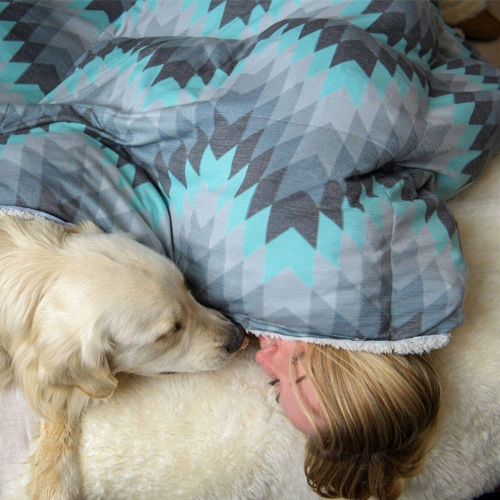 Holden & Hay's use a wool-synthetic blend for their blanket fabric and recycled shredded denim instead of glass or plastic for weighing.
This involves upcycling old material rather than sending it to landfills, making it one of the most eco-friendly options.
Best Premium Weighted Blanket
Quality Premium Weighted Blanket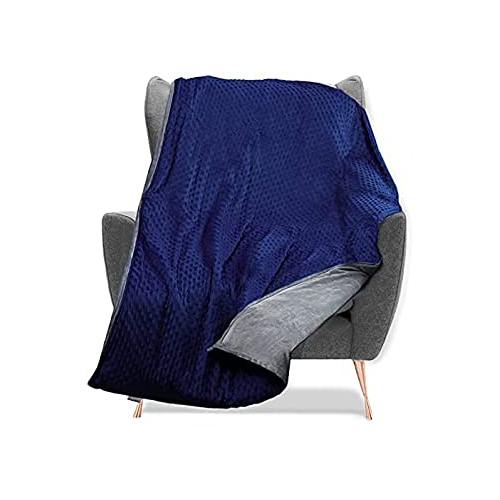 This one is a best-seller with plenty of positive ratings from customers who say it's wonderful to sleep under.
The interior blanket, like the others, is made of cotton and has a removable and machine washable synthetic outer cover.
It stands out for having so many uses, whether you want to use it as a throw blanket for naps or as a bedtime blanket.
There are five different sizes, six colours, and eight weights to choose from, ranging from 5 to 30 pounds.
Things we didn't like
Reviews say the fill sometimes moves
ZonLi Adults Weighted Blanket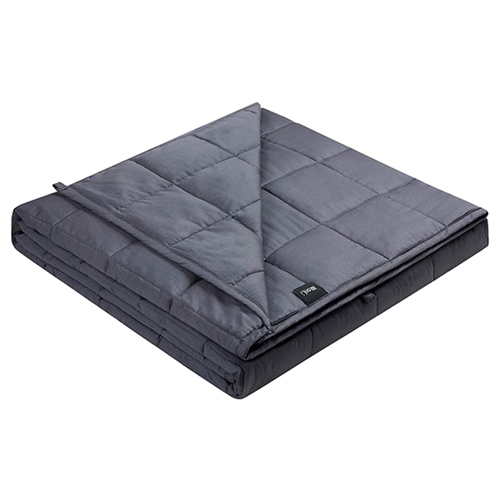 The ZonLi Weighted Blanket is another high-end blanket composed of 100 per cent breathable natural cotton and non-toxic glass beads that are also hypoallergenic and odourless.
This is another fantastic, weighted blanket with a low price, owing in part to the lack of a removable duvet cover. This is a great alternative if you don't mind having to machine wash the entire blanket to keep it clean.
Things we liked
7-layer design
100 per cent natural cotton cover
Things we didn't like
Can cause you to overheat
Cosi Home Heated Blanket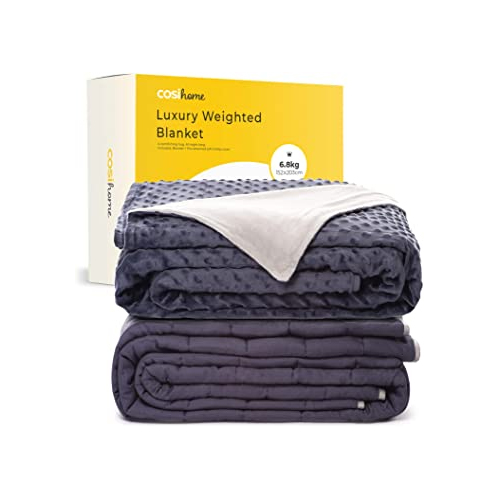 Cosi Home 6.8 kg can help you sleep better and sleep better by relieving worry and tension, relaxing your mood, and improving your sleep.
The weighted blanket stimulates the skin with "Deep Touch Pressure," simulating the calming sensation of a hug or embrace.
This thick blanket has a premium cover that is double-sided, detachable, and machine washable, with blue and grey sides. It'll look great in your bedroom or living area.
Things we liked
Machine washable
Two different coloured sides
Best Weighted Throw Blanket
Eve Sleep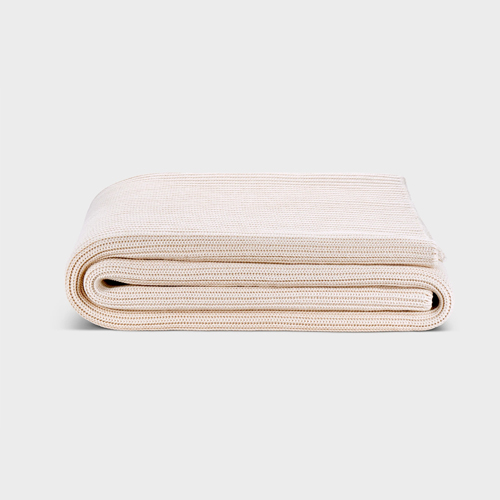 Night Sleep is revolutionising your eight hours by combining the luxurious softness of a regular blanket with the anxiety-relieving benefits of a weighted variety.
It is made of 100% superior woven cotton and weighs seven kilogrammes, equally spread across the fabric.
With the level of comfort this blanket provides, you may lift the weight of the world off your shoulders. There are also bonus style points.
Baloo Soft Weighted Blanket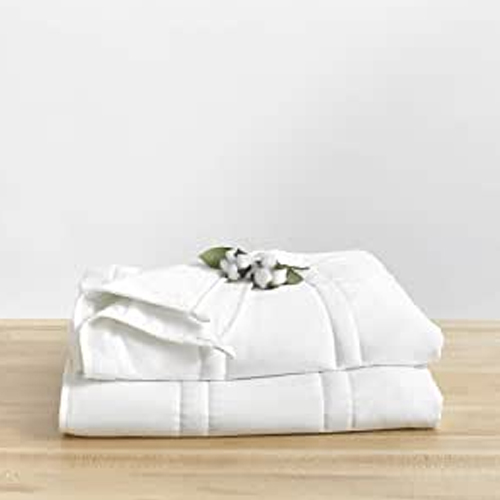 Although a weighted blanket may appear to be cumbersome to transport, this one folds up into a little package.
It's also lighter than most other options, so it shouldn't add too much weight to your suitcase when travelling.
Weighted, lead-free glass beads are used to fill the blanket, which is made of breathable cotton.
Its quilted pattern ensures that the beads stay precisely where they're supposed to be, ensuring that their weight is equally distributed throughout your body each time you wear it.
Things we liked
Easy to travel with
Light
Buzio Shaggy Faux Fur Weighted Blanket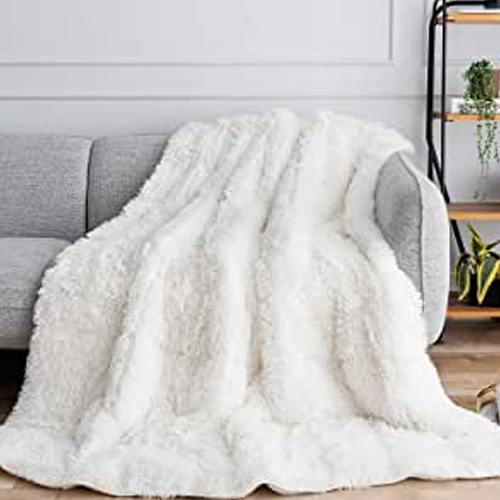 With its 4cm 260GSM plush fake fur fleece top and 220GSM Sherpa reverse, the BUZIO deluxe fluffy weighted blanket blends sumptuous softness with supreme comfort.
The meticulous seams provide a clean appearance, increased longevity, and even weight distribution.
The Buzio soft fake fur weighted blanket provides unexpected comfort and warmth while seamlessly blending into your daily routine.
Things we liked
Clean appearance
Good quality
Cheap
Things we didn't like
Reviews say the fur can feel tacky sometimes
Best Weighted Blanket for Kids
Quility Weighted Blanket for Kids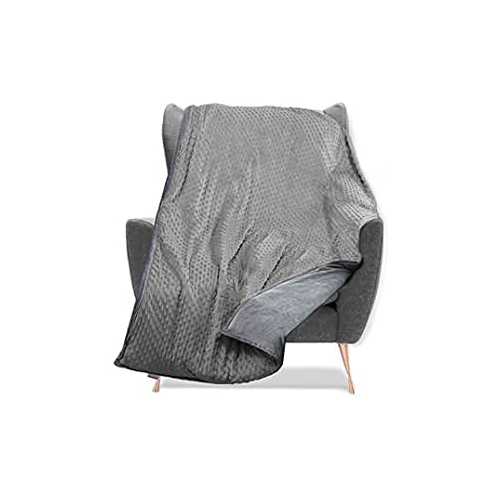 Although the Quility Premium Kids Weighted Blanket was created with children in mind, it is available in such a wide range of sizes and weights that adults may easily choose a version that suits them as well.
The blanket is loaded with non-toxic, hypoallergenic glass beads that provide temperature regulation and breathability, preventing your child from overheating while sleeping.
The beads are held in place by the cushioned polyester lining of the blanket, which promises to provide comfort while also preventing leaking.
The duvet cover on the blanket can be removed to avoid beads falling out while still providing comfort and durability.
Things we liked
Available in different sizes and colours
Prevents overheating
Things we didn't like
Some reviews say the material is itchy
Hypnoser Weighted Blanket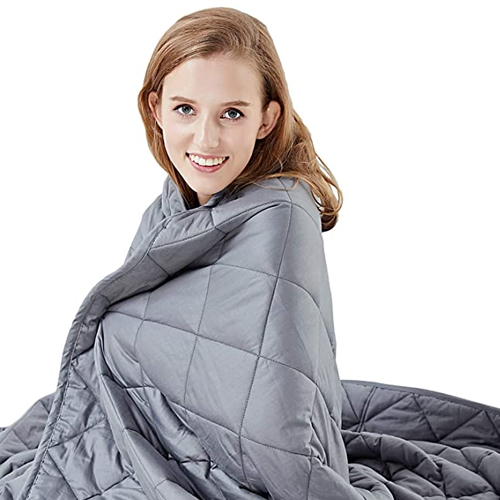 The Hypnoser Weighted Blanket was created to assist persons with sleep issues, as well as autism, Asperger Syndrome, PTSD, narcolepsy, anxiety, sleeplessness, and other conditions.
Hypnoser suggests obtaining a blanket that is 10% of your body weight plus one pound, and they have sizes ranging from 4 to 30 pounds. As a result, kids, teenagers, and adults should all be able to select a blanket that is the right weight and size for them.
Things we liked
Non-toxic glass beads
Machine washable
Things we didn't like
Can sleep hot
The blanket can be too heavy
Snoozzzy's Kids Weighted Blanket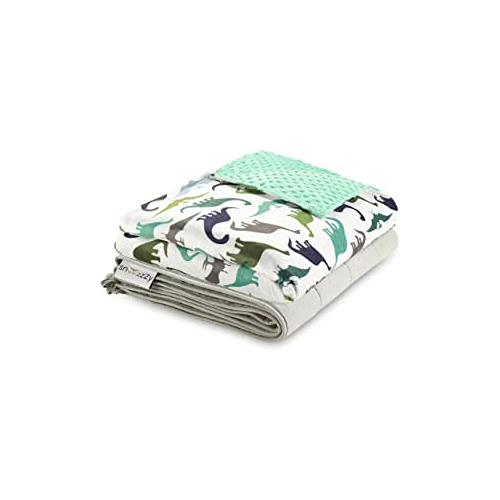 This weighted blanket contains non-toxic pellets that provide deep pressure touch stimulation without causing discomfort.
The weight puts pressure on the body, causing it to produce serotonin and endorphins, which are chemicals that our bodies utilise to feel relaxed or peaceful.
The blanket stays firmly inside the cover thanks to the 8 internal loops and ties, ensuring comfort throughout the night.
Things we liked
Contains non-toxic pellets
Provide a deep sleep
Things we didn't like
Reviews say it can overheat
Best Temperature Control Weighted Blanket
True Temp Weighted Blanket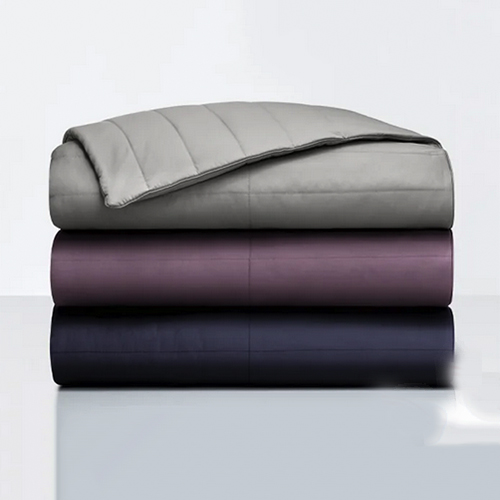 If you want to sleep with a weighted blanket but are concerned about night sweats, this one has 37.5 technology incorporated into the cover, which helps regulate body temperature.
When you touch it, it will not feel chilly, but it will operate all night to keep you from overheating.
There are three colours to choose from and two weights to choose from: 12 or 20 pounds.
The inner blanket includes grooves that assist keep the glass beads uniformly dispersed, and the cover is machine washable.
Chill Cooling Weighted Blanket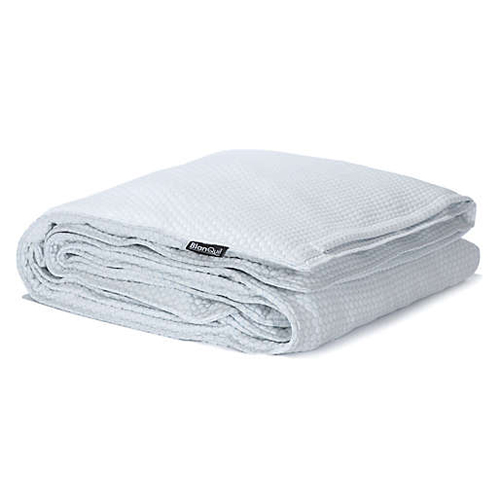 It comes with a cover that feels cool to the touch right away. You'll feel that chilling sensation as soon as you get underneath, even if it doesn't help with temperature regulation throughout the night.
It's created with glass beads, much like the others, and the outer cover may be washed and dried.
The beads do tend to shift, according to some online reviewers, but it's nothing they couldn't quickly redistribute before snuggling up for the night.
The blanket is only available in a white frost hue and weighs 15 or 20 pounds.
Things we liked
The cover is soft and smooth
Cool to the touch feel gives pressure without warmth
Things we didn't like
Weight shifts during use sometimes
YnM Bamboo Weighted Blanket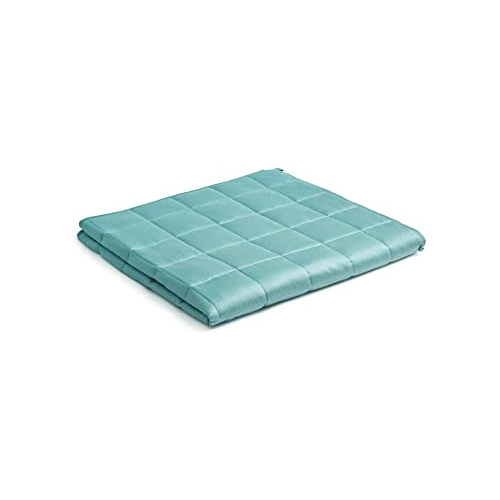 The YnM Bamboo Weighted Blanket has a seven-layer pattern that is unique.
The exterior layers are made of breathable, temperature-regulating fabric, while the interior layer is loaded with glass beads that claim to provide even more temperature regulation.
The blanket is made of a silky bamboo viscose fabric that is both soft and cool to the touch. The cover is quilted to keep the glass beads inside the blanket equally distributed over your body each time you use it.
Things we liked
Seven-layer pattern
Soft to touch
What to Consider Before Buying a Weighted Blanket
Because of the recent spike in the popularity of weighted blankets, there are currently a plethora of weighted blanket companies on the market.
This implies that buyers have a wide range of choices. While this is always beneficial, for a first-time buyer, it might be a bit daunting. As a result, we've created this guide to the factors to consider when purchasing a weighted blanket. This will assist you in determining which blanket is best for you.
Price
Weighted blankets, like many other forms of therapy, are not cheap. A weighted blanket can cost anywhere from £70 to £200, so be prepared to part with a significant sum of money.
There are, of course, brands that offer weighted blankets at a reduced price, but these will almost certainly be of lower quality and comfort.
Spending money on a good-quality blanket and reaping the benefits for a longer length of time makes far more sense than buying a cheap blanket and not getting the full benefits of a weighted blanket.
Weight
When shopping for a weighted blanket, the usual rule is that it should be roughly 10% of your body weight. If you weigh 100 pounds, for example, do not purchase a blanket that weighs more than 10 pounds.
If customers purchase a blanket that is too heavy, it will seem more like a burden than comfort, and if they choose a blanket that is too light, it will be ineffective.
Size
A weighted blanket can be purchased in a variety of sizes. The first thing you should think about is whether you're buying the blanket for yourself or someone else.
Most weighted blankets are made for one person, so you'll have to be careful if you want to share them with your partner.
Next, decide which portions of your body you want the blanket to cover — while most blankets are designed to cover the entire body, some are only designed to cover the legs or the upper torso.
Material
Cotton or minky, which is incredibly soft to the touch, are the most common materials used in weighted blankets. If you get hot easily, a cotton blanket is a better choice than a minky blanket because it is more permeable and cooler.
Also, pay attention to the stuffing material, as it affects the bulkiness of your blanket. Glass beads or microscopic plastic pellets are commonly used to fill weighted blankets.
Plastic-stuffed blankets are more likely to be thicker than glass-stuffed blankets because plastic pellets are larger than glass beads.
Temperature
Because of the weight and bulkiness of these blankets, some people may find them to be too hot. If you are prone to overheating, you may wish to consider alternate fabrics, such as cotton, as well as a suitable blanket weight.
It is better to utilise it exclusively in the winter. However, you can still look for a blanket that will keep you warm while keeping you cool.
FAQs
Can I make my weighted blanket?
Using soft fabric and a weighted filler, you can create the perfect weight. While the sewing is easy straight lines and should only take a few hours, this project is best suited for intermediate sewers due to the weighing of the blanket, which demands extra attention.
How do you wash a weighted blanket?
Choose a bleach-free, gentle detergent and wash your blanket in cold or warm water on a gentle cycle for machine washing. Fabric softeners should be avoided. While the blanket is drying, use a mild or medium dryer setting and fluff it occasionally.
Are weighted blankets good for you?
Weighted blankets are a sort of at-home therapy that can be used to achieve the same results as deep pressure therapy. These blankets have been demonstrated to be effective in treating a variety of ailments, including autism, ADHD, and anxiety.
They can aid in the relaxation of a restless body, the reduction of anxiety, and the improvement of sleep problems.
What are the negatives of weighted blankets?
Weighted blankets are generally safe for healthy adults, older children, and teenagers.
Weighted blankets, on the other hand, should not be used with toddlers under the age of two since they can cause suffocation. Suffocation is a problem for even older children with developmental disorders or delays.
Can a weighted blanket be too heavy?
Yes, if you don't obtain the right size, a weighted blanket can be excessively heavy. Weighted blankets weighing more than 35 pounds should be avoided. If you can't move around under your blanket, find one that is lighter.
Sources