health & beauty
Best Electric Toothbrush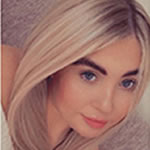 Brushing your teeth is the cornerstone of proper oral hygiene and disease prevention.
Electric toothbrushes are excellent at removing mouth plaque that promotes decay and disease.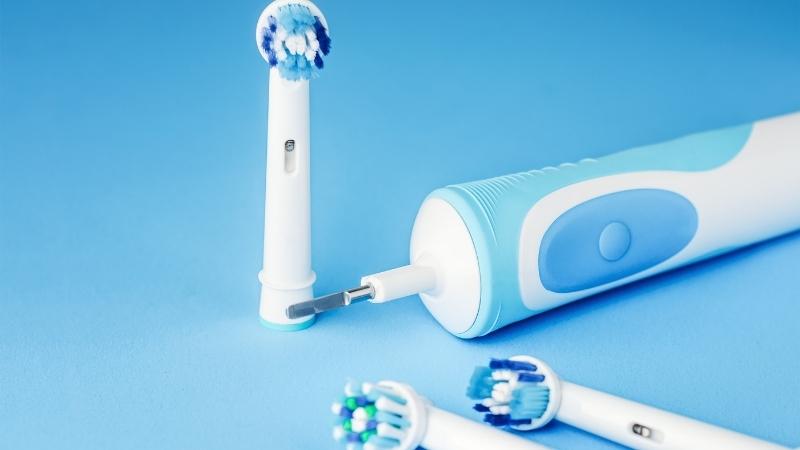 Electric toothbrushes come with their own set of advantages. In this article, we'll explain what an electric toothbrush is, and which ones are the best.
Continue reading to learn more.
What is an Electric Toothbrush?
First, let's explore what an electric toothbrush actually is...
When you glide your toothbrush across your teeth, the vibration enables more micro-movements.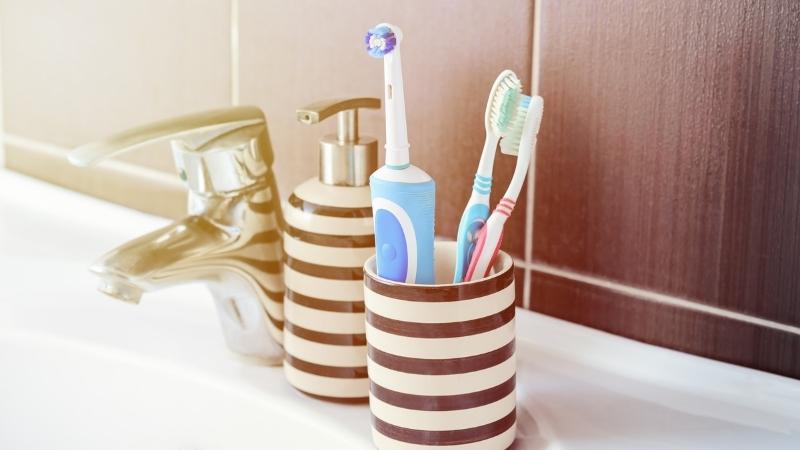 Electric toothbrushes clean teeth and gums better than manual toothbrushes. Compared to those who use a manual toothbrush, scientists have discovered that those who use an electric toothbrush have healthier gums, less tooth decay, and preserve their teeth for longer.
How Does an Electric Toothbrush Work?
These battery-operated teeth scrubbers move up to 7000 times per minute, removing twice as much plaque (rotting, sugary food detritus) than regular toothbrushes. This promotes good dental hygiene, and it means you won't have to visit the dentist as frequently.
The longer your teeth (and the gums that support them) are kept clean, the longer they will remain in good condition.
Types of Electric Toothbrushes
Your regular oral care regimen can be more enjoyable and effective if you use a high-quality electric toothbrush.
Electric toothbrushes are designed to be personalised, which is why they come in a variety of sizes and styles. If you have a large mouth, a full-sized toothbrush head may be preferable. Choose a compact head if you have a small mouth.
Here, we'll assist you in determining the sort of electric toothbrush you require.
Rotating Electric Toothbrush
In most situations, rotating toothbrushes have a spherical brush head that rotates at a high speed and pulsates. The brush head produces more brushing movements as the rotating speed increases. The number of brushing motions you use affects how much dental plaque you eliminate.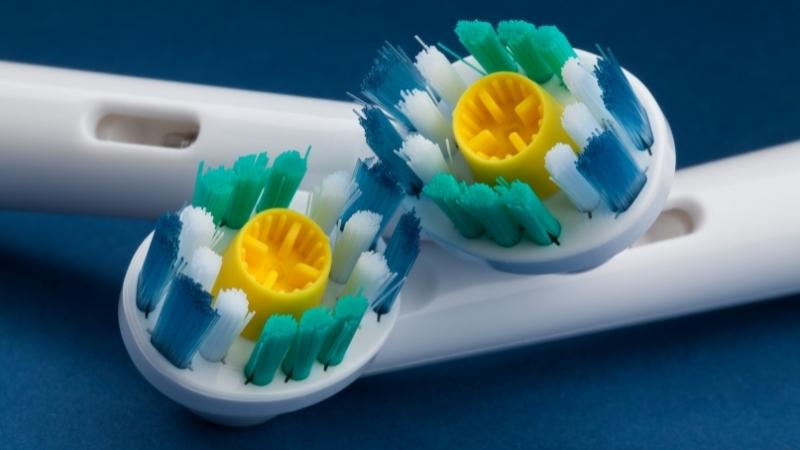 The beauty of circular brush heads is that the design allows them to thoroughly wrap each tooth. As a result, the brush hairs will travel down to the gum line.
Rotating-Oscillating Electric Toothbrush
Rotating-oscillating electric toothbrushes cup each tooth with a back-and-forth rotating motion that can reach up to 8,800 strokes per minute.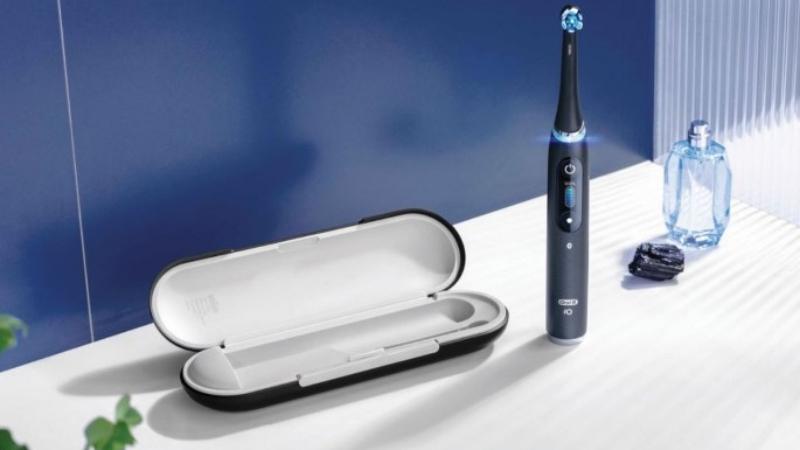 The revolving head allows the brush to clean your teeth precisely and without putting undue pressure on them.
Pulsing Electric Toothbrush
Pulsating electric toothbrushes clean your teeth thoroughly, removing up to 300 per cent more plaque along the gum line than a normal toothbrush.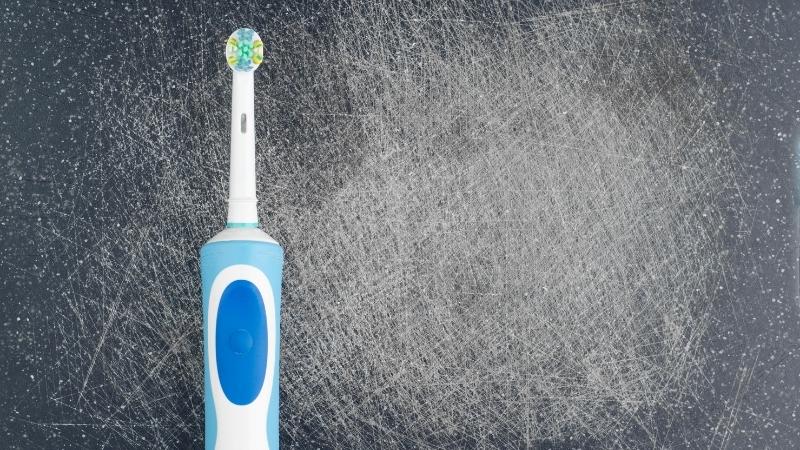 It works by first pulsing to break up the plaque, then oscillating and turning to sweep it away.
Counter-Oscillating Electric Toothbrush
Counter oscillation is a brushing movement in which certain tufts of bristles (typically six to ten in number) rotate independently in one direction and then the other. Each tuft rotates in the opposite direction of its neighbour.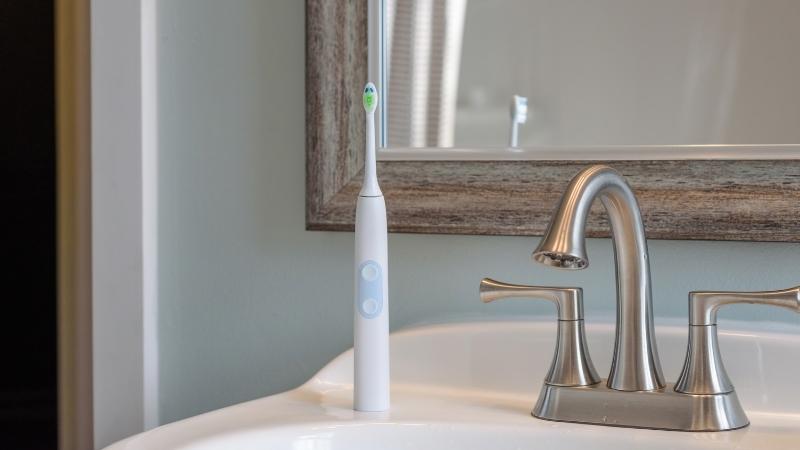 Side to Side Electric Toothbrush
This type of electric toothbrush converts the brush's electric motor's high-speed rotary (spinning) motion into a reciprocating (back-and-forth) brushing motion that cleans your teeth more effectively.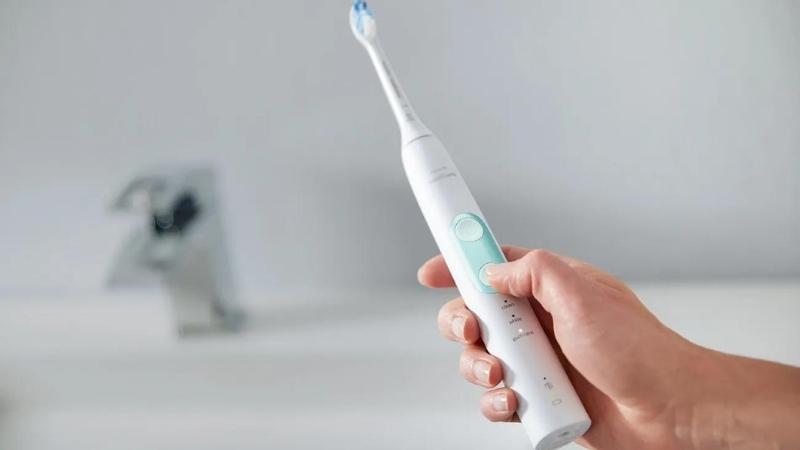 As the one section rotates, the other pulls in one direction, then the other, swiftly shifting the brush head from side to side.
Dual Head Electric Toothbrush
When compared to a regular manual toothbrush, a dual-head electric toothbrush provides double action and improved cleaning. This type of toothbrush reaches twice as far as a traditional manual toothbrush.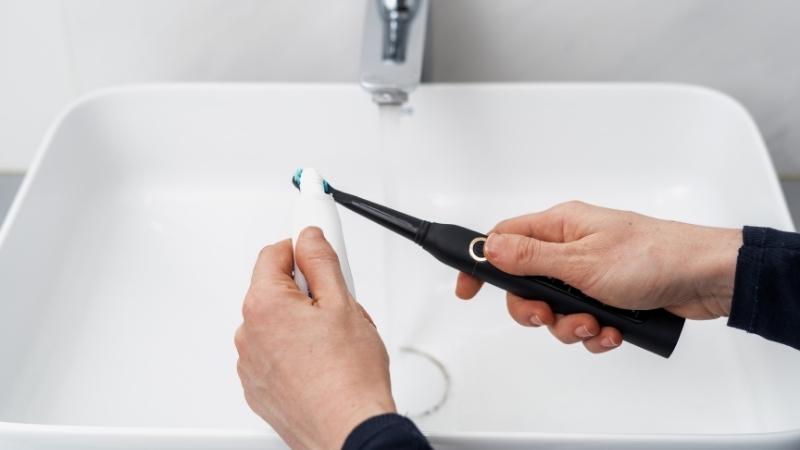 Sonic and Ultrasonic Electric Toothbrush
Sonic and ultrasonic toothbrushes include an oval brush head, making them appear like manual toothbrushes. The brush hairs themselves vibrate at a high rate, which is the major difference. The toothbrush generates more brush motions the higher the vibrations per minute.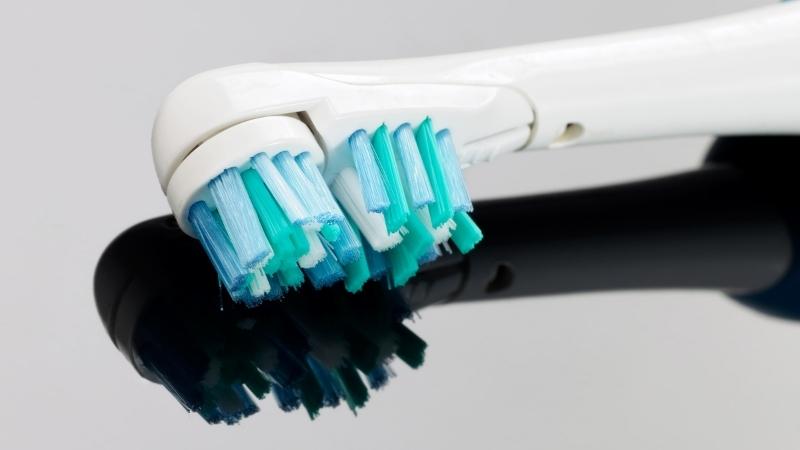 An oval brush head is useful because it covers a great amount of tooth surface area. In general, a single brushing motion will reach more teeth and molars than a spinning toothbrush.
Best Electric Toothbrush
With prices ranging from £30 to £300, deciding which electric toothbrush to buy might be difficult. That's why we've put together this buying guide to help you choose the finest electric toothbrush for your health.
Best Rotating Electric Toothbrush
Oral-B Pro 1000 Power Electric Toothbrush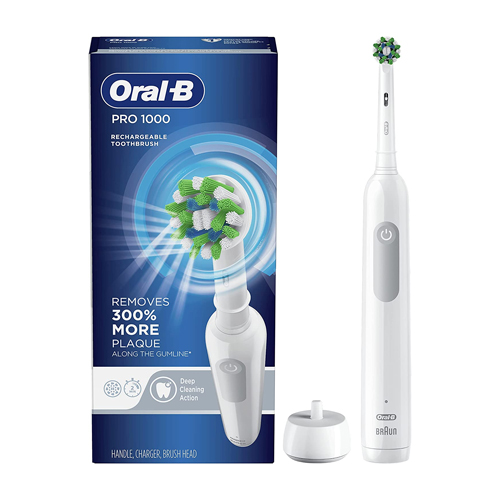 The Oral-B Pro 1000 electric toothbrush includes all the features of an electric toothbrush. This includes a rotating head to remove plaque, a pressure sensor to avoid overbrushing, and a two-minute timer – for a fraction of the price of many others!
While it only has one mode, it may be used with other Oral-B replacement toothbrush heads, such as whitening or soft bristle alternatives for sensitive teeth and gums.
Things we liked
Includes a two-minute timer
Affordable
Oral-B Genius Electric Toothbrush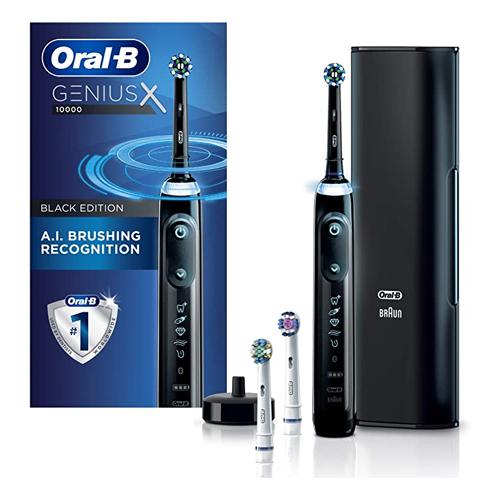 Dentists recommend the Oral-B Genius X brush because it is superior in several ways. It's 32 per cent better than most electric toothbrushes because the rotating bristles move 48,000 brush motions against 600 for a manual brush to disrupt and eliminate plaque.
Things we liked
48,00 brush motions per minute
Oral—B Pro 2 Cross Action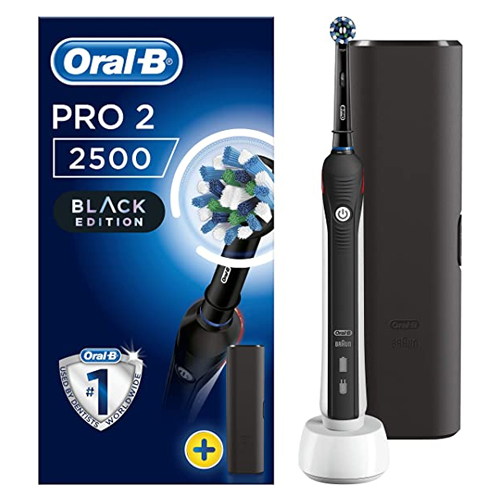 This electric toothbrush features visible gum pressure sensor limits brushing speed and informs you if you brush too hard, protecting your sensitive gums.
From the first application, it gently whitens your teeth by removing surface stains and plaque.
There are also two cleaning brushing modes included. Cleaning and gum care daily.
Things we liked
It whitens your teeth
Cheap
Best Rotating-Oscillating Electric Toothbrush
Oral-B Genius 9000 Electric Toothbrush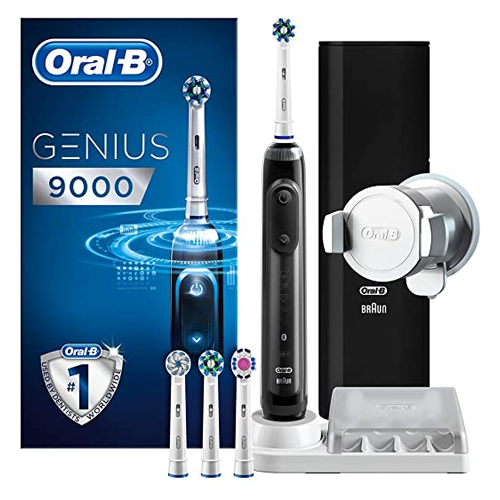 The Oral-B Genius 9000 toothbrush is easy to use and cleans teeth well, resulting in considerably lower plaque levels.
It has six cleaning modes, a pressure sensor that warns you if you brush too hard, and a pacing timer that helps you brush every part of your mouth.
A free Bluetooth phone app provides real-time brushing feedback and instruction. If you don't use the app frequently, it saves your data and syncs it when you do, ensuring that you don't miss out on this useful function.
Its rechargeable travel case is convenient, if somewhat bulky.
Things we liked
Free Bluetooth phone app included
Rechargeable
Oral-B i09 Electric Toothbrush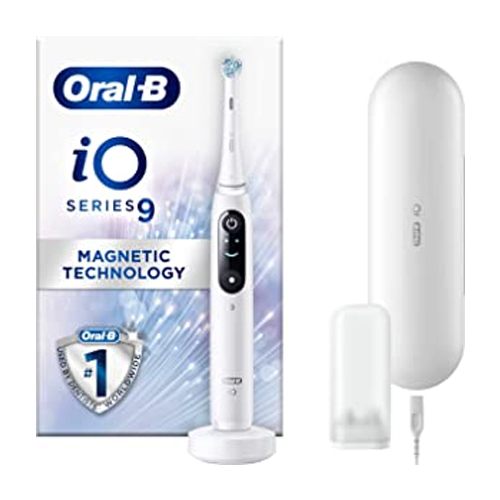 This is one of Oral-most B's most innovative toothbrushes yet, with seven cleaning modes including extra sensitive, tongue cleaning, and whitening.
It contains an interactive display with a two-minute timer and brush head change reminders, as well as a pressure sensor with coloured lights to notify you if you're brushing too hard, too softly, or just right.
It even uses artificial intelligence to track your brushing with 3D teeth tracking. The only drawback is that there is no new head included in the box, which seems unfair given the high price.
Things we liked
Two-minute timer
Coloured lights notify you when you're brushing too hard
Things we didn't like
No new head in the box
Expensive
Waterpik Complete Care 5.5 Water Flosser and Oscillating Toothbrush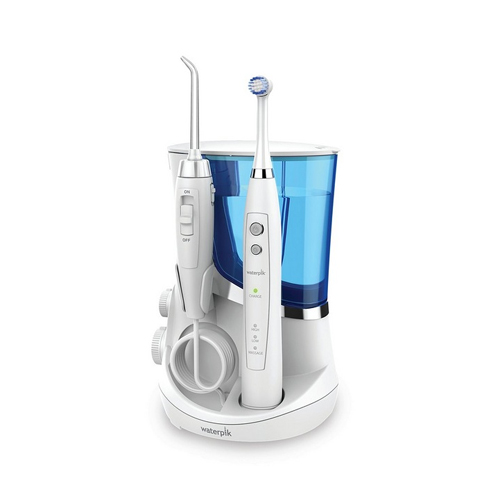 This brush can also be used as a water flosser to help with gum health and make your oral care regimen more comprehensive. It claims to remove up to 99.9% of plaque from between the teeth and below the gum line.
There are three cleaning modes available, as well as a recharge indicator.
The fact that it comes with a flosser for a more powerful and advanced clean is praised by users. Some people compared it to going to the dentist or a hygienist, as it successfully eliminates plaque.
Things we liked
Three cleaning modes
Removes 99.9% of plague
Best Pulsing Electric Toothbrush
Oral-B Pro 2 2500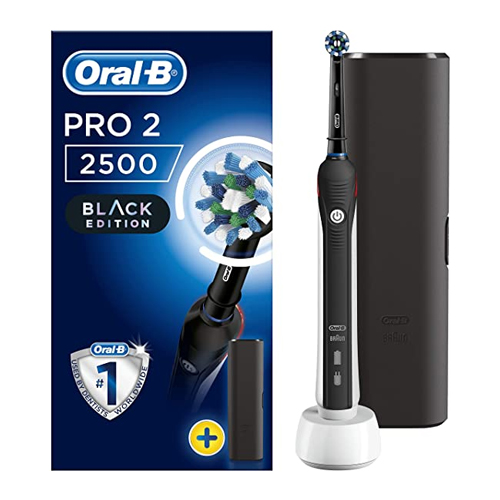 It has a pressure sensor that slows the brush down and alerts you with a red light if you press it too hard. Although there are only two settings – daily clean and gum care – the round brush heads perform an excellent job of cleaning teeth and getting into gaps.
It produces the same 40,000 pulses and 8,000 oscillations per minute as the more expensive Oral-B brushes yet being less expensive.
Oral-B Pro 1000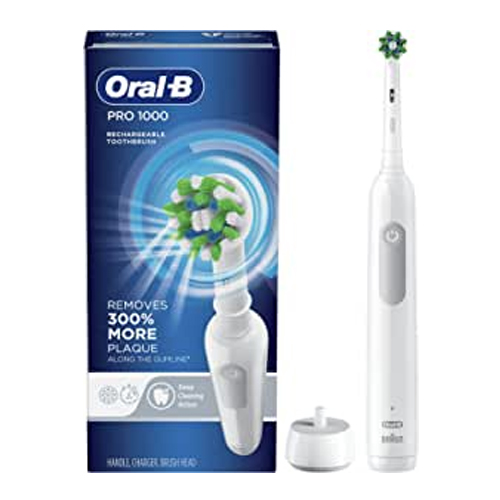 The spherical brush head on the Oral-B Pro 1000 is meant to pulsate. It oscillates back and forth while producing little bursts of vibrating energy. These two movements work together to break up plaque along the gum line and remove it.
It comes with a pressure sensor that prevents the brush from pulsing if you brush too aggressively. It also has a two-minute timer on the handle. Dentists recommend brushing for this amount of time.
Sonisk Pulse Toothbrush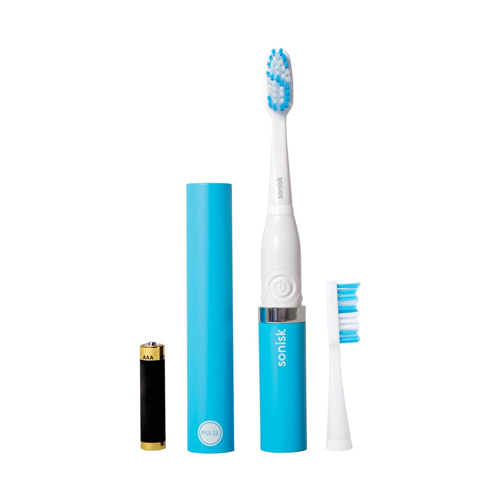 This pulsing toothbrush has a 90-day battery life and 31,000 sonic strokes per minute anti-bacterial/anti-microbial brush.
It runs on AAA batteries, however, the battery is supplied, as well as a spare toothbrush head.
Things we liked
Cheap
31,000 strokes per minute
Best Counter-Oscillating Electric Toothbrush
Philips Sonicare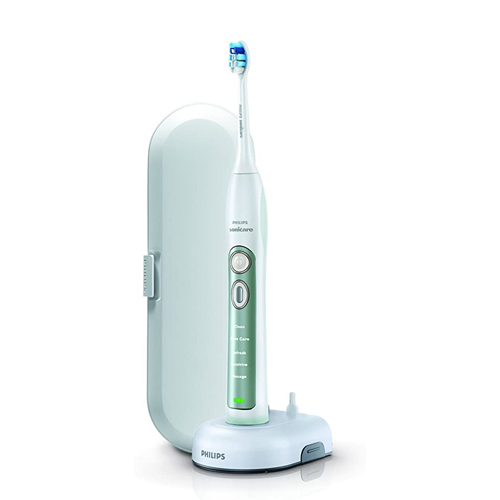 This toothbrush oscillates back and forth at a rate of around 20,000 cycles per second.
While ordinary toothbrushes require mechanical contact with the tooth surface to remove plaque, Sonicare uses a high frequency to create a cavitation force that blasts plaque off the teeth without touching them.
Brush-heads are available for several applications, increasing the device's versatility. It includes a built-in quadrant timer to ensure that users brush for the proper amount of time.
Things we liked
Built-in timer
Removes plaque
Oral-B Genius 6000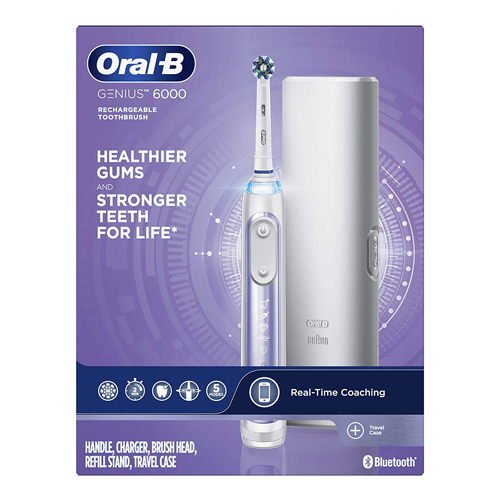 Compared to a manual toothbrush, this electric toothbrush can remove 300 per cent more plaque at the gum line. Brushing time is coached by the Multicolor Smart Ring.
It has a pressure sensor that reduces the brushing speed to protect the gums. With 5 cleaning modes and a rechargeable battery, you can brush according to your needs.
Things we liked
Has a pressure sensor
5 cleaning modes
Oral-B Pro 5000 SmartSeries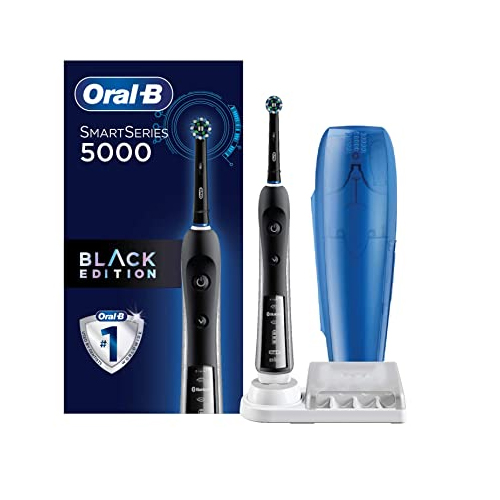 The handle, charger, brush head, refill stand, and travel case are all included with this electric toothbrush.
It communicates through Bluetooth and delivers real-time feedback on brushing practices.
The tooth-by-tooth clean provided by the round brush head is highly regarded.
It also has a visible pressure sensor that illuminates when you brush too vigorously.
This electric toothbrush has 5 cleaning settings that you can use to brush your teeth according to your needs.
When compared to a typical manual toothbrush, it removes 100 per cent more plaque at the gum line.
Things we liked
Tooth by tooth clean
5 cleaning settings
Things we didn't like
Reviews say the battery life is poor
Best Side to Side Electric Toothbrush
Electric Side by Side Toothbrush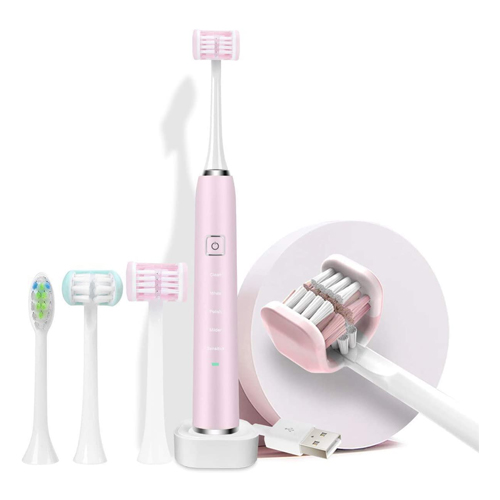 The top on this side by side toothbrush is rounded to avoid bleeding of the gums and is more suitable for sensitive gums.
A fully wrapped 3D toothbrush helps you obtain a deep clean, DuPont bristles are used, and the top is wrapped to help you accomplish a deep clean.
It also comes with standard brush heads, allowing you to switch between them at will. It can remove up to twice as much plaque as a typical electric toothbrush.
It offers three times the clean power with movement of 40,000 times per minute and three sides synchronous vibration.
Philips ProtectiveClean 4100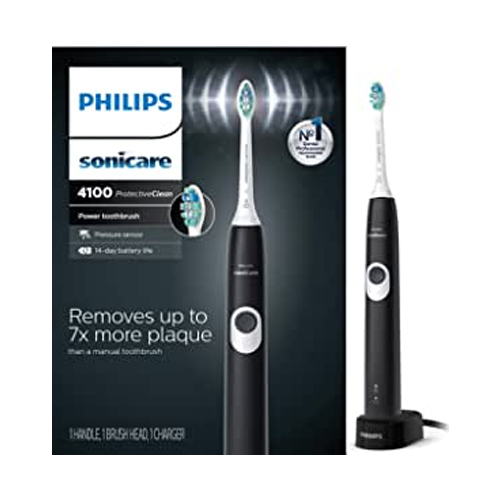 With this Philips Sonicare ProtectiveClean electric toothbrush, you'll have healthier gums and better plaque removal.
BrushSync technology tells you when it's time to replace the brush head, and it boasts densely packed bristles that remove more plaque than standard toothbrushes.
The quad-pacer and smart-timer on this Philips Sonicare Protective Clean electric toothbrush encourages thorough brushing.
Things we liked
Tells you when to replace the brush head
Side to side allows all your teeth to be clean
Philips Sonicare 6100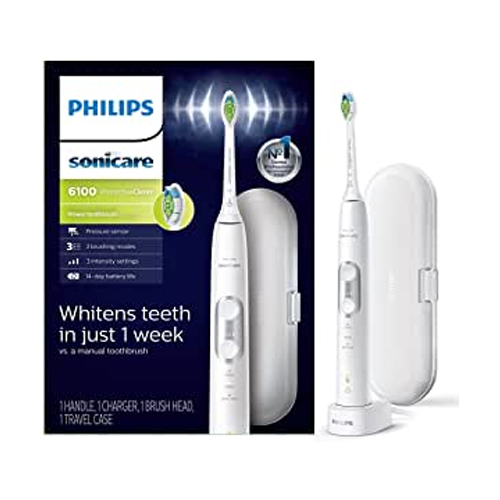 This Philips Sonicare ProtectiveClean electric toothbrush includes two-week battery life and a charging indicator light.
Its easy start feature gradually raises brush pressure over time, and a pressure sensor prevents overbrushing.
Things we liked
Easy to use
Two-week battery life
Things we didn't like
Reviews say charging indicator light doesn't always work
Best Dual Head Electric Toothbrush
Philips DiamondClean Smart Black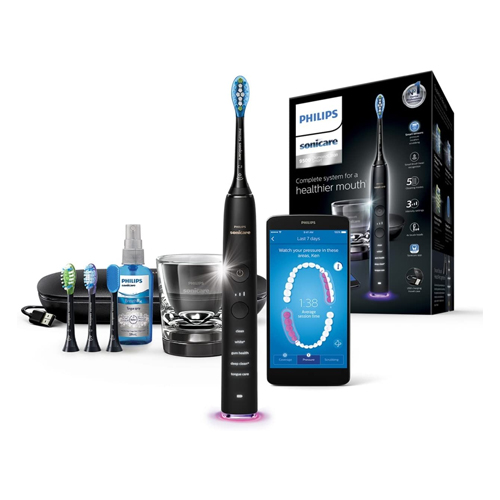 This dual-head toothbrush has three smart sensors built-in: location, pressure, and motion, as well as five modes: clean, white+, deep clean+, gum health, and tongue care+.
It comes with four premium brush heads that provide outstanding plaque removal, whitening, gum health, and breath freshening results.
It sports a stylish charging glass and a luxury travel case with USB charging.
You may use the free Philips Sonicare app to receive real-time feedback and coaching to help you improve your technique.
Things we liked
Four brush heads
Free to use the app
Oral-B 9000 Electrical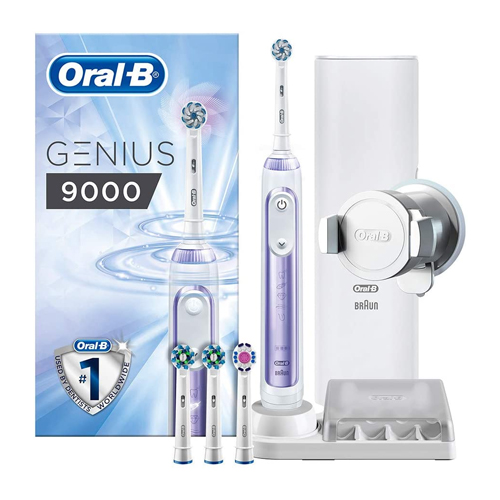 The Oral-B Genius 9000 was the first sonic toothbrush to feature the company's revolutionary "Gum Guard" technology. In comparison to a regular toothbrush, it removes 100% more plaque.
It comes in six colours and six brushing modes (daily clean, pro-clean, sensitive, whitening, gum care, and tongue cleaning).
It also has a 360 SmartRing and pressure control that reduces speed when you brush too hard or too rapidly.
A single charge lasts for about two weeks.
Things we liked
Comes with 4 brush heads
Pressure control to reduce speed
Oral-B Smart 6 6000N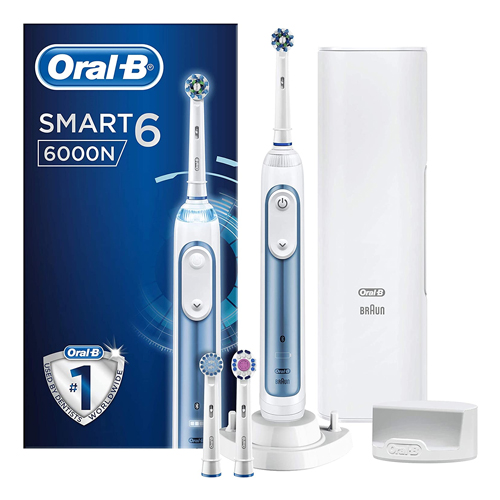 Oral-Smart B's electric toothbrush can remove up to 100% more plaque than a manual toothbrush.
It links to the Oral-B app on your phone, just like the flashier Oral-B models, and will guide you in real-time for better brushing. Not only that, but it will also help you improve your brushing habits, thanks to the Oral-B round brush head.
By removing surface stains, instantly whitens your smile.
Furthermore, thanks to its innovative pressure control technology and SmartRing function, the toothbrush reduces brushing speed and gives a signal if you apply too much pressure. This helps protect your delicate gums.
Things we liked
Affordable
Good for people with sensitive gums
Best Sonic and Ultrasonic Electric Toothbrush
Spotlight Oral Care Sonic Toothbrush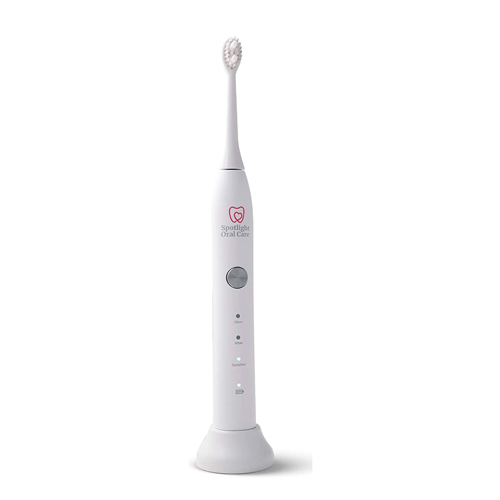 This electric toothbrush is just as gentle as a manual toothbrush, but with the deep cleaning power of a hygienist visit.
Its quick sonic vibrations force toothpaste and air into difficult-to-reach places, effectively eliminating plaque, decreasing discolouration, and refreshing breath.
It comes with three different-sized brush heads and three distinct cleaning modes, including sensitive and whitening, for effective and comfortable use throughout the mouth.
Its cleaning power, general design, and long battery life were all praised by reviewers, and everyone intends to keep using it.
The high-pitched noise and extremely sensitive on/off buttons are the only drawbacks.
Things we liked
Comes with three different sized brush heads
Long battery life
Things we didn't like
Noisy
Sensitive on and off buttons
Philips Sonicare Electric Toothbrush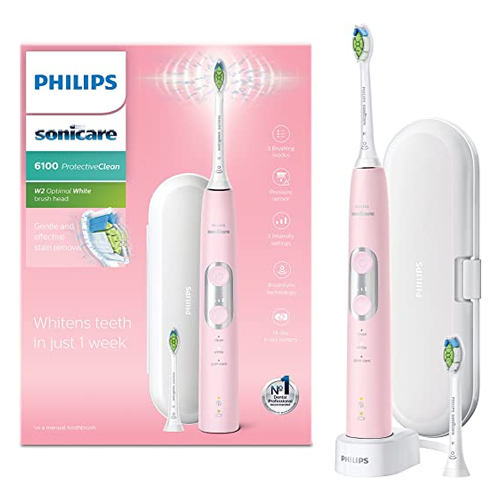 This toothbrush claims to aid in the prevention of cavities as well as the improvement of gum health.
It has three cleaning modes, each with its own specially designed brush head. It recognises which brush head you're using and selects the appropriate setting.
It makes brushing more enjoyable and leaves teeth feeling cleaner. It also helps to decrease plaque.
It includes a good pressure sensor and can be charged once and used for two weeks.
Things we liked
Helps decrease plaque
Ready for 2 weeks once charged
Philips Sonicare Dimond Clean Electric Toothbrush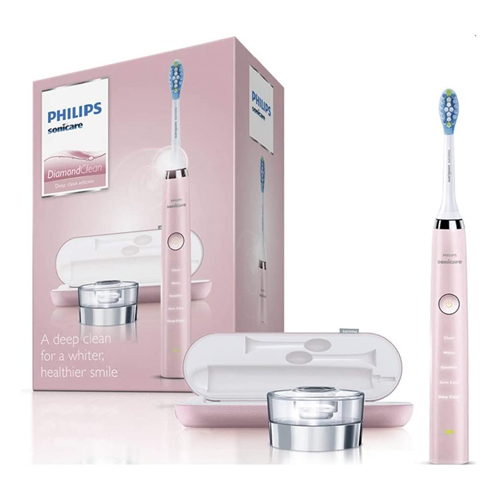 This sonic toothbrush has a powerful 62,000 vibrations per minute, which can remove up to 10 times more plaque in a fortnight than a manual toothbrush.
Its bristles are soft and flexible, which is ideal if you have sensitive teeth, and the two-minute timer is divided into 30-second intervals to ensure that all four corners of your mouth are well cleaned.
It comes in pink, white, black, or rose gold, and has five cleaning modes to accommodate all your brushing needs.
It's only downside is that there isn't a pressure sensor to prevent overbrushing.
Things we liked
Has a variety of colours
Two-minute timer
Best Rechargeable Electric Toothbrush
Curaprox Hydrosonic Pro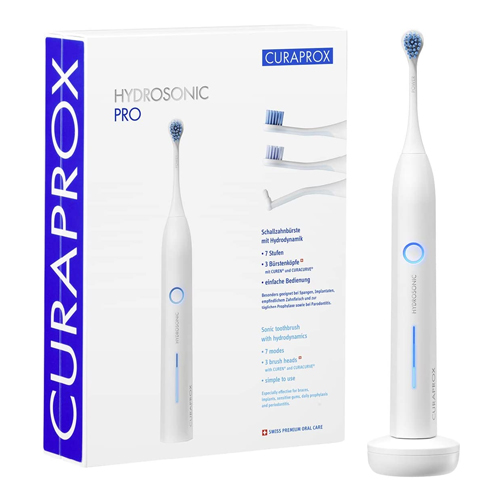 It comes with three different-sized brush heads to assist you in completely cleaning both your teeth and gums, and seven various cleaning modes to accommodate sensitive and abrasive brushing depending on your needs.
It is simple to operate, and many people praise its attractive appearance and small size.
Most reviews praise the battery life of this device. However, it lacks a pressure sensor, which is disappointing at this price. Nevertheless, it is easy to turn off, and with its portable charger, it is also suitable for travel.
Things we liked
Long-lasting
Simple to use
ION-Sei Sonic Electric Toothbrush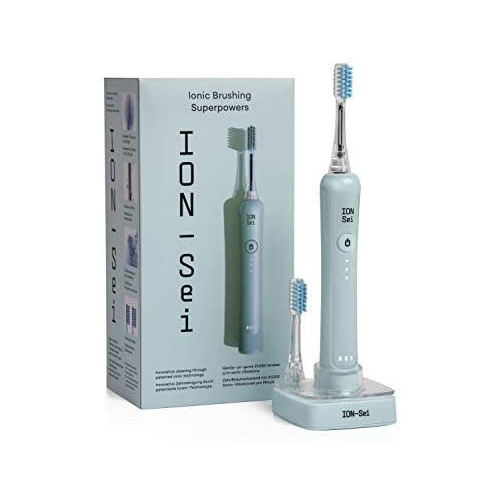 A UV LED light in the handle of this sonic toothbrush reacts with a titanium dioxide bar in the handle to create ions that kill plaque-causing germs.
This works by preventing bacterial development by pulling bacteria away from your teeth and onto your toothbrush.
It has three cleaning modes and is surprisingly gentle on gums, however, users were disappointed by the wide oval brush head, which they considered too large to comfortably reach all their teeth.
Customers appreciate its stylish look and battery life, which was enhanced by the fact that it came with a USB cord and a charging station.
Things we liked
Good battery life
Gentle on the gums
Things we didn't like
The brush head is quite large
Stylsmile Sonic Blue Toothbrush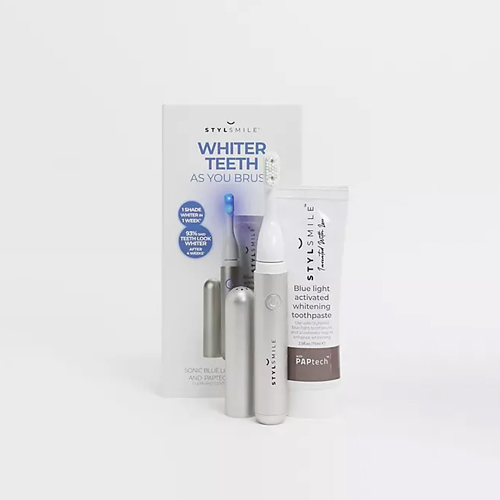 Coffee drinkers who want to brighten up their discoloured teeth might try this whitening kit. The accompanying toothpaste and whitening gels target and neutralise yellowing, while the sonic toothbrush vibrates fast to treat surface stains.
The brush head was a little too broad for some people, and it didn't clean between their teeth as well as they had wanted, but it's a great investment for anyone looking to progressively whiten their teeth without using harsh chemicals.
Things we didn't like
The brush head is a little too harsh
Best Battery-Powered Electric Toothbrush
Philips Sonicare Protective Clean 5100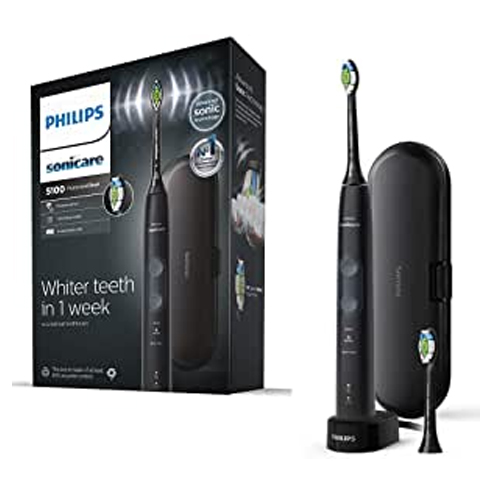 This toothbrush only has three brushing "modes," which is quite basic these days, especially when some of the more costly brushes have seven or more.
The "clean," "white," and "gum care" settings, on the other hand, cover a wide range of gum and tooth sensitivities, so you'll be able to discover the best option for your mouth.
The manufacturer promises that the 5100's li-ion battery lasts two weeks on a single charge, but evaluations show that it lasts far longer, with users able to brush twice daily for two minutes each time.
Things we liked
Different settings
The battery lasts long
Foreo ISSA 2 Toothbrush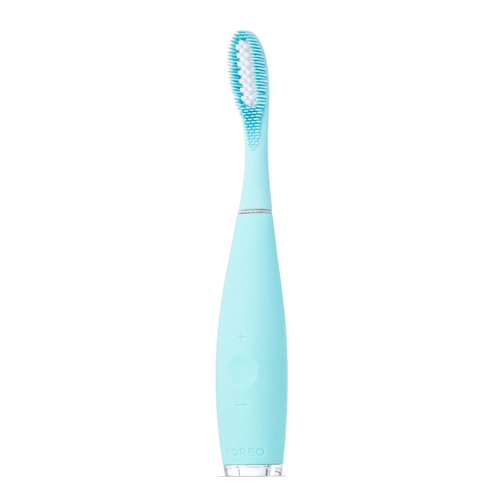 Foreo's ISSA Toothbrush is a game-changer in the world of battery-operated toothbrushes.
The ISSA 2 replaces the traditional rotating bristle brush with a pulsing silicone brush that the makers claim is 35 times more sanitary than normal bristles.
The charge lasts roughly 6 months, and the head only needs to be replaced once a year.
Things we liked
Charge lasts up to 6 months
Arm & Hammer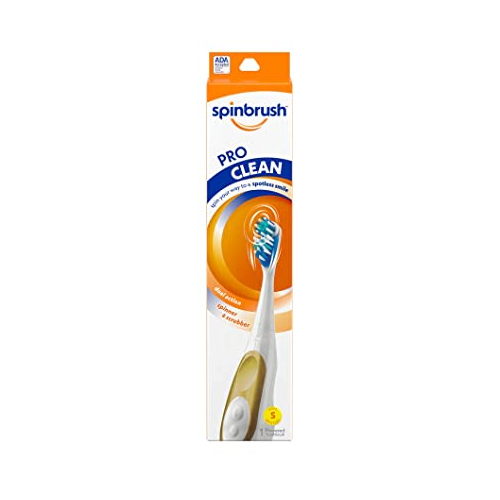 This battery-operated toothbrush is a less expensive alternative to other electric toothbrushes. Despite the cheaper price, it is still highly recommended.
Two kinds of bristles are included in the brush head to clean in and around the teeth. The ones on the top move in a circle, while those on the bottom move up and down.
Plaque removal in hard-to-reach parts of the mouth is a breeze with this toothbrush.
Things we liked
Good for removing plaque
Cheap
Best Budget Electric Toothbrush
Ordo Sonic+ Toothbrush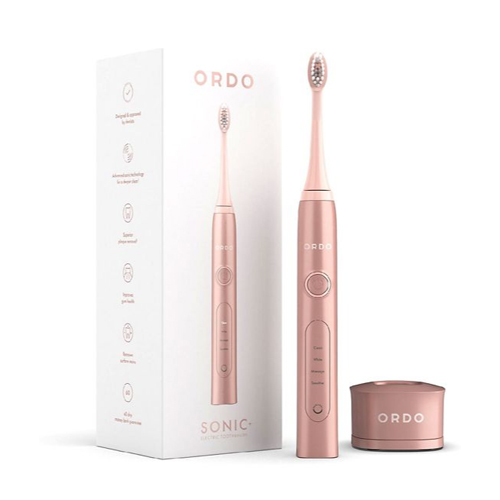 This Ordo toothbrush can be purchased separately or as part of a subscription. Reviews praised its four brushing modes, which provide a customisable clean, as well as its excellent three-week battery life.
It is simple to control and delicate while still being effective.
You can get a refill delivery of oral care items and a replacement head every, two, or three months if you choose the subscription programme.
Colgate ProClinical 250+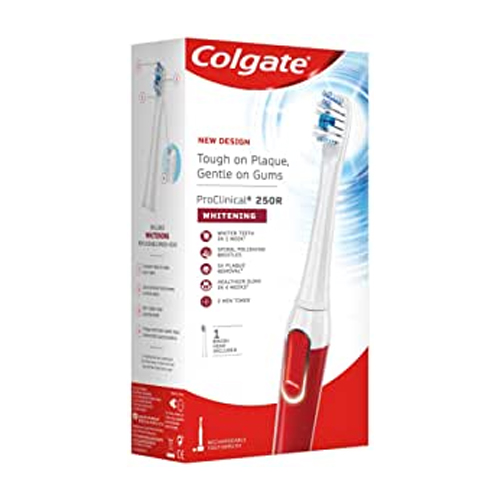 Colgate's brush is much lighter and smaller than other electric toothbrushes, making it ideal for carrying around. It also has a long battery life (40 complete brushes) and charges quickly (in under ten hours).
It tells you when it's been going for 30 seconds so you may move on to a different part of your mouth, as well as when the two minutes are up.
It's quiet, which is wonderful if you don't want to disturb anyone, but it only has one sonic speed level and no spinning.
Philips Sonicare 3100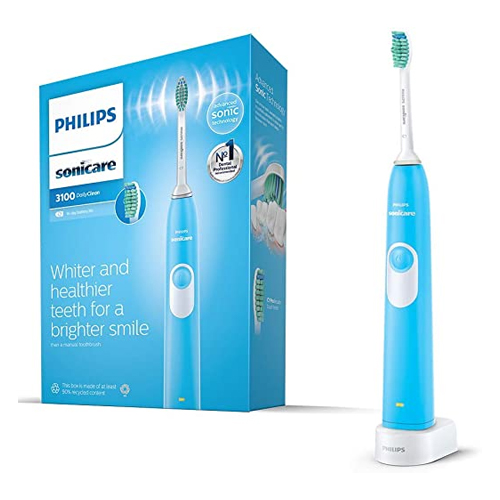 The DailyClean 3100 is now Philips' entry-level Sonicare brush, but you'd never know it in practice. The basic technology is still excellent, and it works with all the same brush heads.
The thick handle offers a comfortable grip while brushing, and there's an easy start option that allows the brush to gradually ramp up to its full 31,000 brush movements per minute over the first week of use.
There's still a gentle vibration to remind you to brush each quarter of your mouth for 30 seconds, with a louder signal when it's time to stop.
Things we liked
Loud signal when the timer is done
31,000 brush movements per minute
Best Kids Electric Toothbrush
For Kids Sonic Electric Toothbrush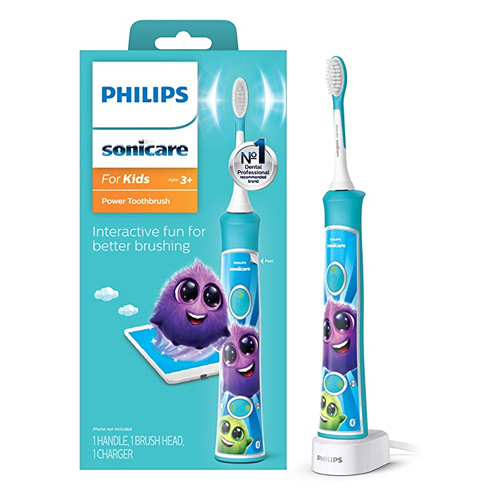 Children do not require all the brushing modes and travel features that adults do. Therefore, the Philips Sonicare for Kids to children aged 7 plus is ideal, especially for those who wear braces.
It works with interactive software that turns brushing into a game. This teaches healthy habits and suitable skills which is ideal for young children.
Things we liked
Turns brushing into a game!
Easy to use
Things we didn't like
Reviews say the brush is a little too harsh
Kids Spinbrush Spiderman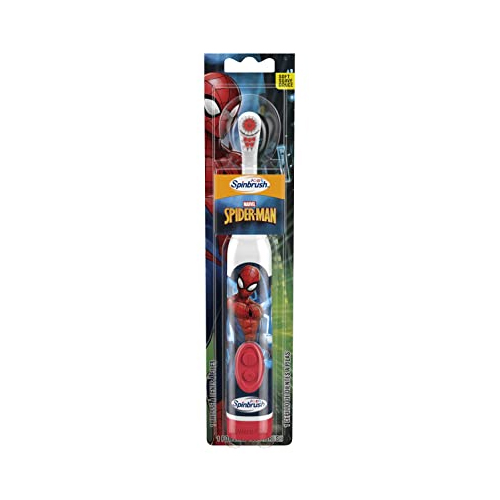 Superheroes, too, must brush their teeth! Brushing habits are more crucial than everything else when children are young. As a result, the Arm & Hammer Spinbrush is ideal.
While it isn't as effective as sonic models (which can be too severe at times), it is nonetheless beneficial to children's brushing routines.
Things we didn't like
Not as effective as other models
Quip Kids Electric Toothbrush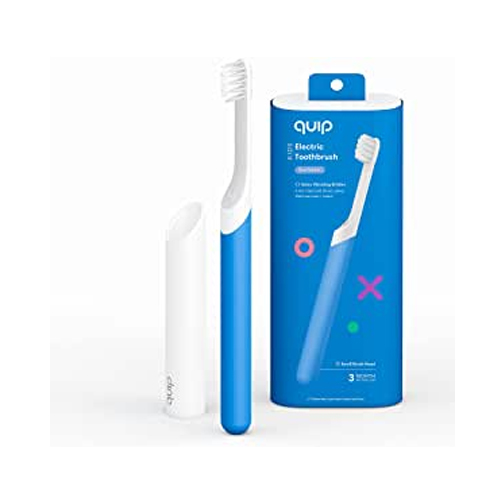 Adult electric toothbrushes are not intended for children. They can be excessively powerful, too large, or contain cords that can tangle or injure you if you use them incorrectly.
The brush head on the Quip Kids Electric Toothbrush is smaller, making it ideal for cleaning smaller teeth.
It comes in four kid-friendly colours, which is a significant benefit for parents who know how important it is to get youngsters to brush their teeth. The rubber handle is also made to be easy to hold for small hands.
Things we liked
Kid-friendly colours
Easy to hold
What To Consider Before Buying an Electric Toothbrush
If you're considering switching from a manual to an electric toothbrush, you've come to the correct place. Shopping for a new brush, though, can be overwhelming due to the vast number of options available.
When choosing an electric toothbrush, you need to consider the following factors:
Size
Choose an electric toothbrush that is the right size for your mouth is so important. For instance, larger toothbrushes make it difficult to thoroughly clean hard-to-reach places like behind your lower front teeth and upper back teeth.
Dentists typically recommend circular head or a head that is less than 0.5 inches by 1 inch in size.
Furthermore, the handle should be long enough for you to grip it comfortably in your hand.
Type of Bristles
Although your teeth may appear to be tough, they can be compromised by sugary foods, acidic beverages, or poor oral hygiene.
Using a toothbrush with medium or firm bristles might aggravate the problem by harming your gums, root surface, and tooth enamel. However, only use these if your dentist recommends it, just like a larger brush head.
Price
If you are not wanting to spend a lot of money on a toothbrush then there are multiple good options for a reasonably priced one. Therefore, research the type of electric toothbrush around your budget.
FAQs
How often should you change an electric toothbrush head?
Toothbrush care is more vital than ever, so it's recommended that you replace your toothbrush (or toothbrush head if you have an electric toothbrush) every three months.
When was the first electric toothbrush invented?
The first electric toothbrush was created in 1939, and the Broxodent was the first electric toothbrush released in the United States in 1960.
Manual and electric toothbrushes are now available in a variety of shapes and sizes, with plastic moulded handles and nylon bristles being the most common materials.
What's the best place to store an electric toothbrush?
The ideal place to store toothbrushes is near a window, upright. After each usage, let the toothbrush air dry.
Furthermore, keep the toothbrush away from other toothbrushes. If one toothbrush is adjacent to another, move them further apart to avoid germs, bacteria, and other contaminants from spreading.
Does an electric toothbrush work better than a manual?
Electric toothbrushes clean teeth and gums better than manual toothbrushes. When compared to those who use a manual toothbrush, scientists discovered that those who use an electric toothbrush had healthier gums, less tooth decay, and preserve their teeth for longer.
How are electric toothbrushes dangerous?
While electric toothbrushes can help you maintain a beautiful and healthy smile, learning how to use them properly is vital. If the brush is not used properly, it can cause harm to the sensitive areas of the gums, causing them to recede.
Sources