health & beauty
Best Hair Straighteners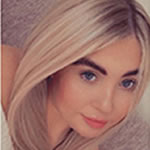 Looking to buy some new hair straighteners?
Getting sleek and straight locks outside of the salon, whether your hair is long, short, thick, or fine, can be difficult — unless you have the correct equipment.
That's why in this review guide, we will help you pick the best hair straighteners for your hair - including the ghd straightener!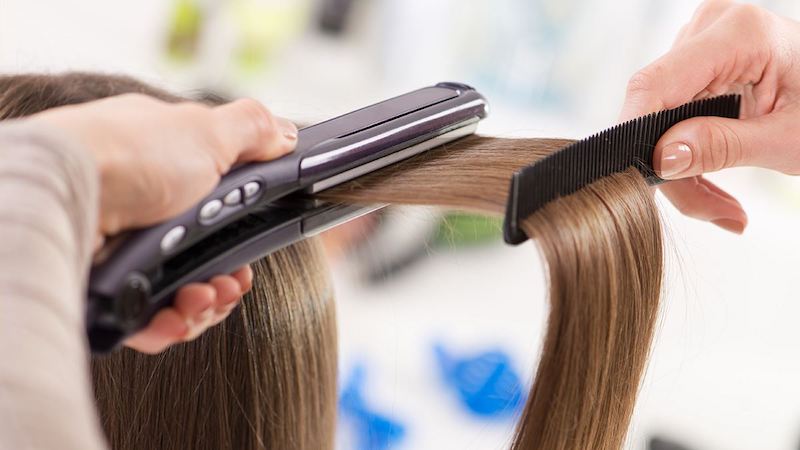 So, if you've had the same pair of hot plates since you were a teenager, now is the time to upgrade.
We've reviewed the best cordless straighteners, mini hair straightener and so much more.
Read on below...
What Are Hair Straighteners?
Hair straighteners are more versatile than their name implies. They can be used to create tight curls, beachy waves, and the classic poker-straight look, so having a pair in your beauty arsenal is essential.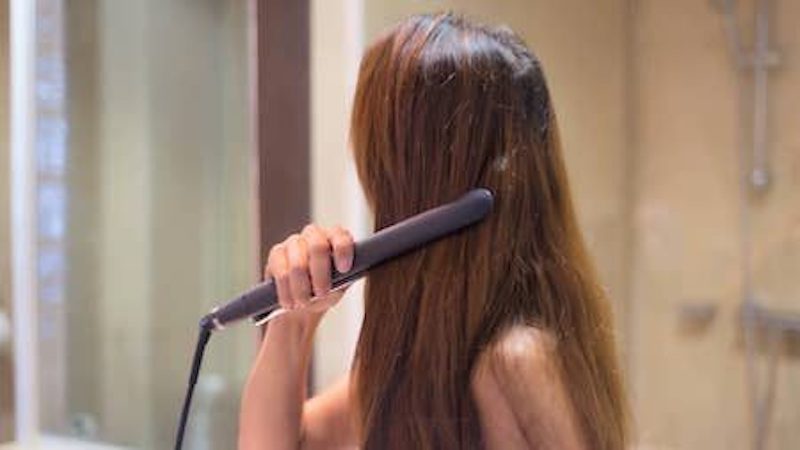 How Do Hair Straighteners Work?
Hair straightening and hair irons function by altering the structure of the hair. It accomplishes this by severing the hair's Hydrogen Bonds. The hydrogen bonds found in the cortex are responsible for the curling of the hair.
If these ties are disrupted, the hair will be unable to maintain its natural structure, remain straight, or be groomed in any way.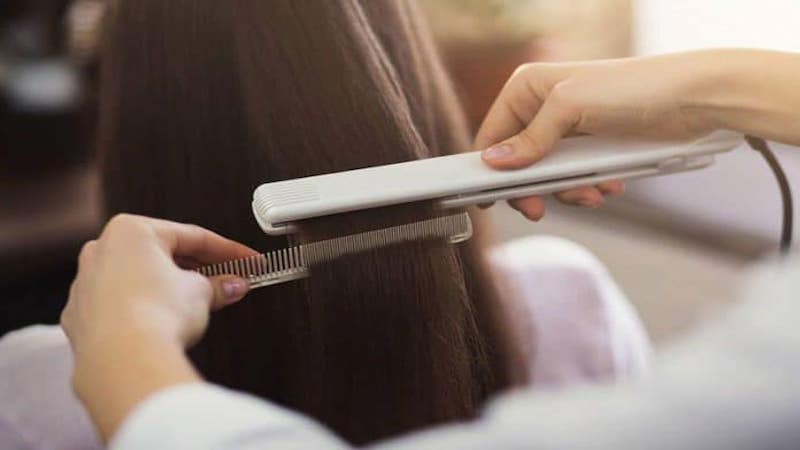 Types of Hair Straighteners
There are many different types of hair straighteners. This section will outline the differences so you can choose which type is right for you:
Ceramic Hair Straighteners
Because of its capacity to evenly diffuse heat, ceramic is used in a variety of hairstyling appliances. This feature allows your hair to heat evenly, giving you more control over your style while also lowering the risk of accidental hot patches damaging your hair.
They're also effective at taming frizz. Straighteners made of ceramic can be solid or have a metal base with a ceramic coating. A ceramic coating will still provide some of the material's benefits, but it may chip with time. Solid ceramic straighteners are of greater quality, but they will set you back a little more money. Solid models, on the other hand, tend to endure longer.
Titanium Hair Straighteners
Titanium may be a fantastic alternative if you need a lot of heat to straighten your hair. This metal can withstand extremely high temperatures. It also heats up rapidly, so you won't have to wait for your flat iron to heat up. You can plug a titanium model in and have it ready to go by the time you get your coffee from the kitchen.
This substance may be useful for people with coarse, thick hair who want a rapid style. On the other hand, this hot-tempered metal may be too much for those with damaged or ultra-fine hair that is particularly sensitive to heat.
Tourmaline Hair Straighteners
Tourmaline is noted for efficiently combating frizzy hair and evenly heating hair. The substance, which is a semi-precious stone, is frequently used with ceramic to enhance common capabilities.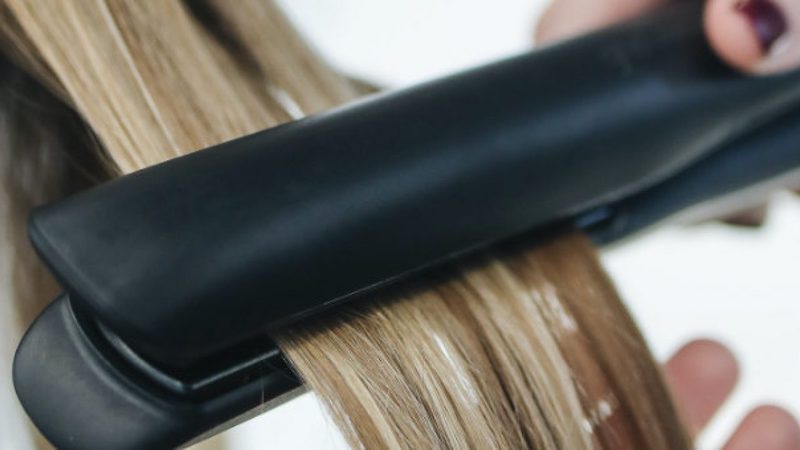 Tourmaline aids in the creation of a smooth, even straightener surface. Snags and catches that can occur while straightening can be reduced with a smoother surface.
Combination Hair Straighteners
This twisted combination hair straightener allows you to curl, straighten, or add waves with just one tool, depending on your style and mood. The advanced ceramic coating is gentler on hair and helps to reduce heat damage while smoothing it. The anti-static infusion keeps frizzy, flyaway hair under control.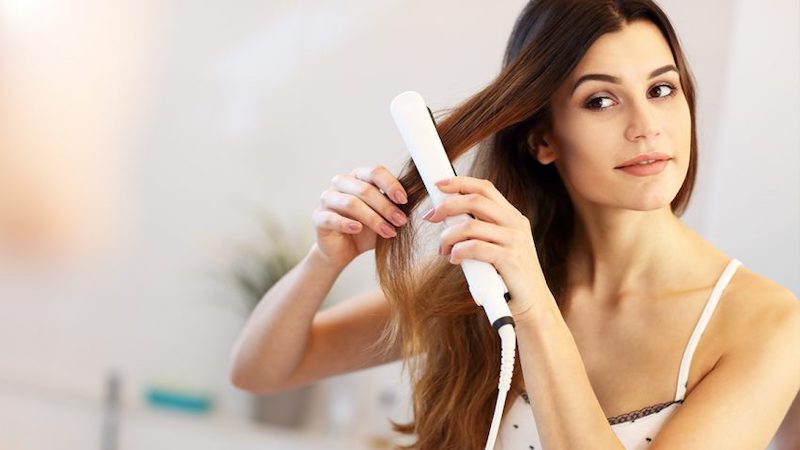 Infrared Hair Straighteners
Hair straighteners with infrared technology are known to be beneficial for your hair. Infrared is a wavelength of light that penetrates deeper into the hair shaft, evenly and securely heating the hair from the inside out.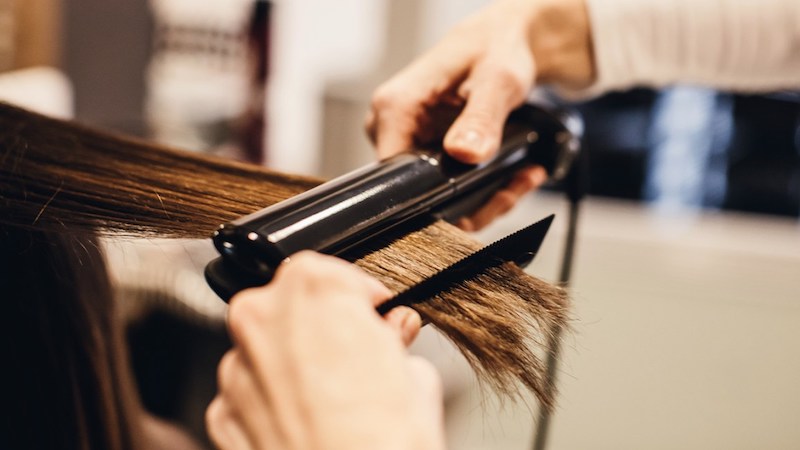 Instead of applying direct heat to the hair, it steams it. This allows you to use less heat and reduce heat exposure and styling stress on the cuticle.
The Best Hair Straighteners
Hair straighteners are becoming more popular by the day, and each one has its unique function. Which one is the most effective? The greatest models will make hair shine and battle frizz. They won't rip or burn your hair, and they won't keep you fiddling with sophisticated settings.
Don't worry if you don't know where to begin. The best hair straighteners in 2021 will be discussed in this section of the article.
Best Ceramic Hair Straighteners
GHD Gold Styler Professional Hair Straighteners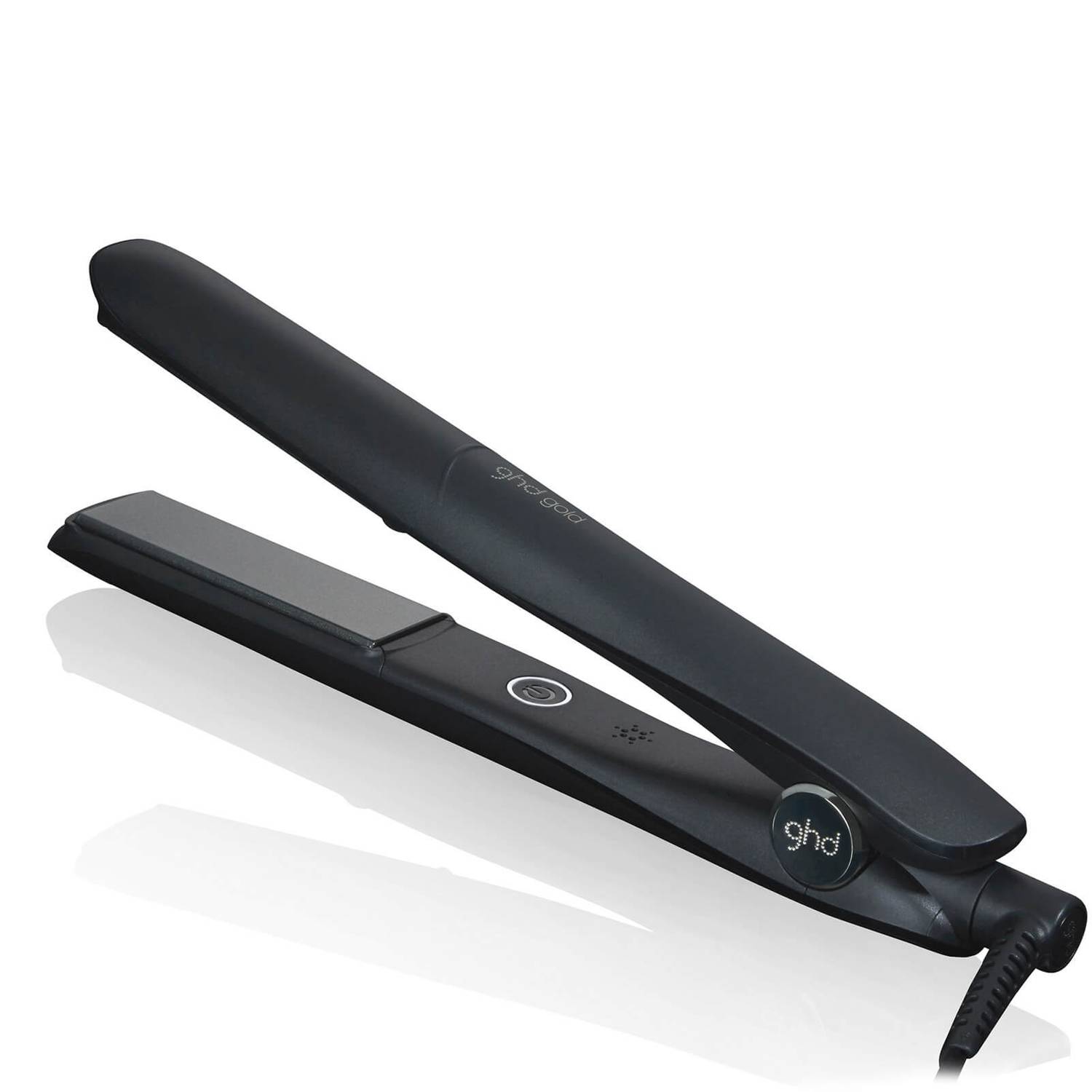 The panel's favourite and highest-scoring product this year was its lightweight straighteners. Our testers had little issue utilising it for a range of styles because of the rounded barrel, which makes producing curls and waves easier.
After using it, testers appreciated how silky their hair felt and thought it looked healthier.
Things we liked
Lightweight design
Easy to use
Fast heat-up function
Things we didn't like
Reports of uneven heating
Can cause static without heat protection/li>
Flower Ceramic Styling Iron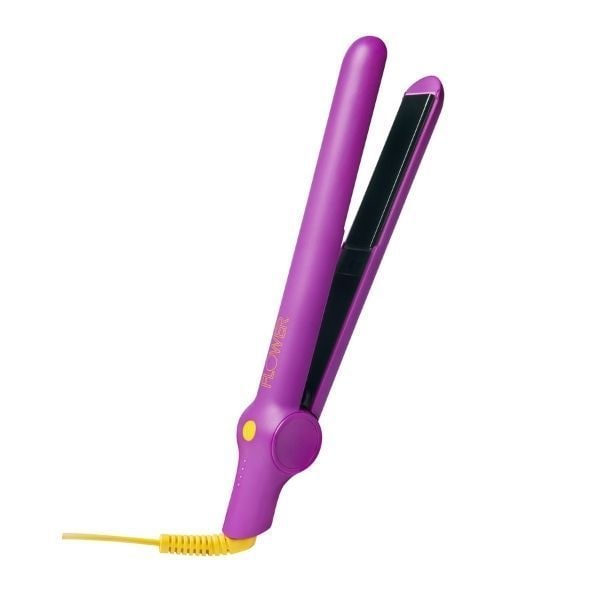 The lifestyle brand of Hollywood actress Drew Barrymore says that this ceramic straightener will eliminate frizz without snagging hair. Our testers found it to be true to its word, with no knots or pulling while style and an impressive 80 per cent of them enjoying extremely smooth results.
This hair straightener warms up quickly and is perfect for touch-ups before a party. Its rounded edges made it easier for individuals with straight hair to create delicate curls, and it was comfortable to use.
Afro-haired people reported it flowed through their coils swiftly, leaving them with a lustrous, healthy-looking finish that lasted all day.
Things we liked
Long-lasting style
Quick warming function
Eliminates frizz
Things we didn't like
Not ideal for thick curly hair
The awkward handle
L'Oréal Professional New Generation Steampod 3.0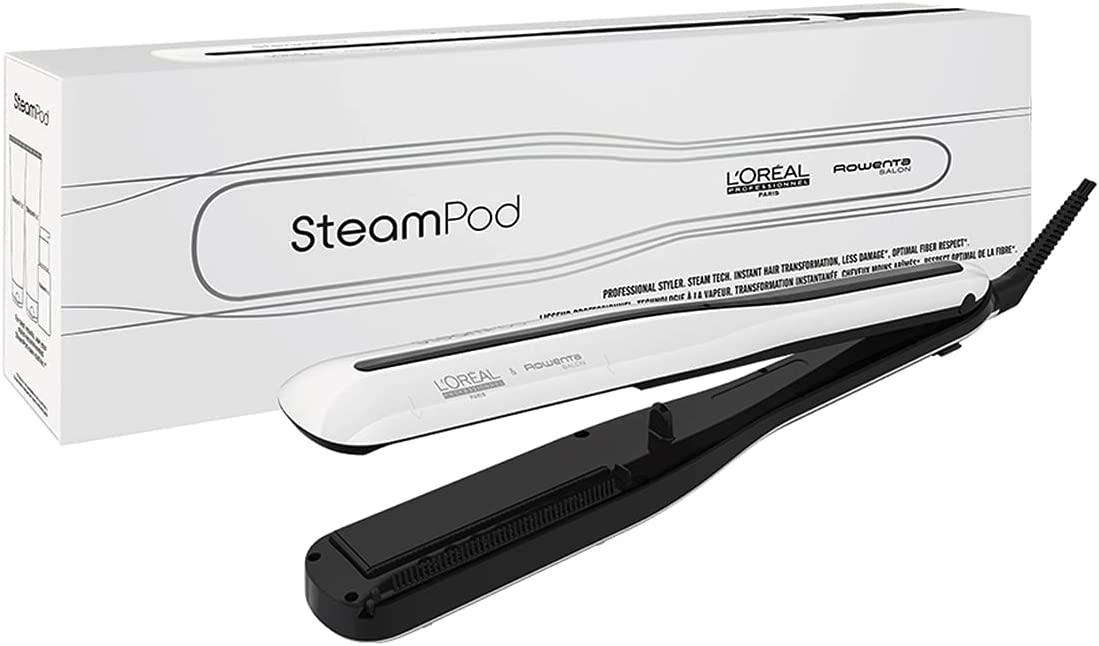 This Steampod uses new heat control and steam technology to straighten hair faster with less damage. It has a built-in brush, and the styles are silky and last all day.
The panel praised the strong design and clever steam iron technology and how little water is used for each user. It rapidly straightens hair and makes it look healthier and shinier after use. Some people even reported that the steam made their hair feel moisturised.
Things we liked
Very easy to use
Less damaging to hair
Quick hair straightening
Things we didn't like
Heavy to handle
Expensive
Best Titanium Hair Straighteners
Alfa Italia Lustro Titanium Styler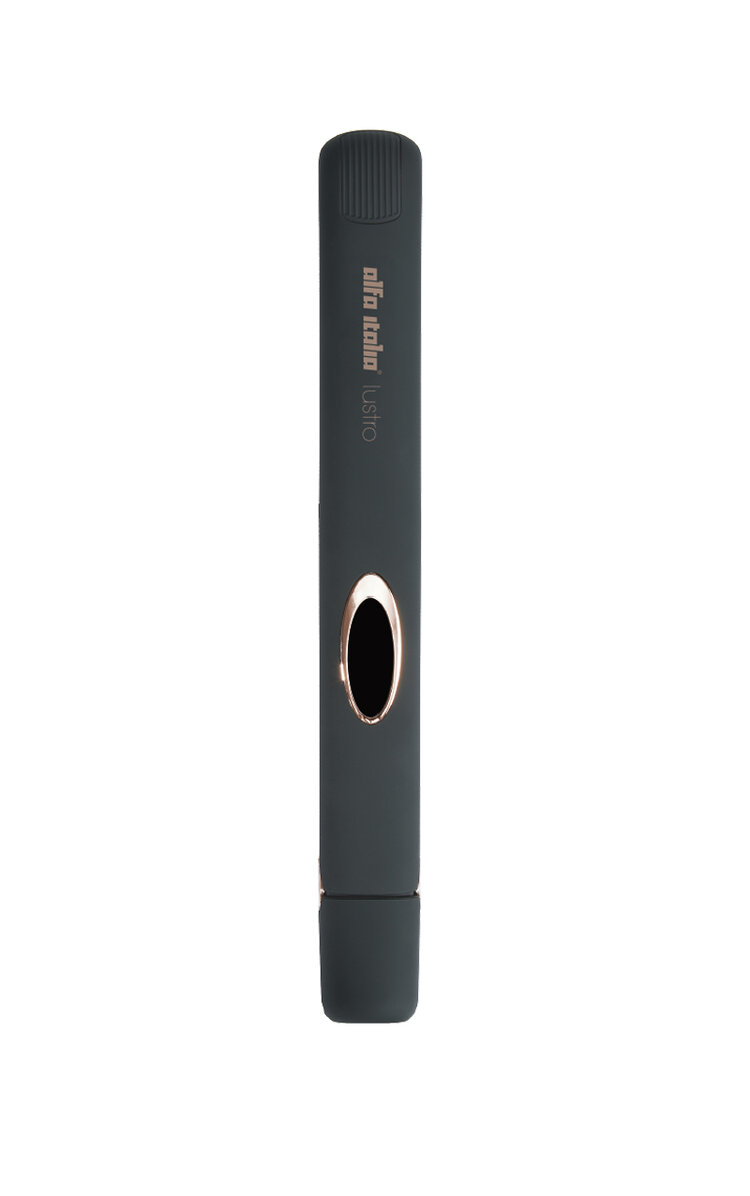 Ionic technology is used in these titanium-plated straighteners to help create frizz-free hair with no flyaways. The rounded edges of the styler made it easy to create defined curls, and critics praised the styler's quick styling timeframes.
It's small and light, with a long cord that reaches the back of the head and the roots.
Things we liked
Various heat settings
Lightweight design
Frizz prevention
Things we didn't like
Not ideal for thick hair
Not widely available
Hair Lab by Mark Hill Styler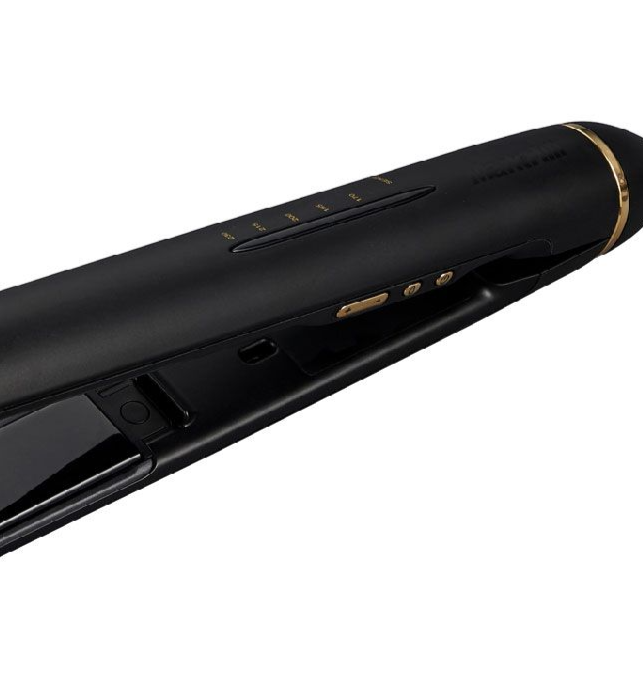 These fuss-free straighteners are ideal for beginners who value ease of use. They include built-in sensors that detect the thickness of your hair and alter the temperature accordingly. They're also noted for being quick to heat up.
People with oily and kinky hair said their hair was smooth and shiny, whereas those with straight, wavy, and curly hair said their hair was frizz-free. Although it isn't recognised for being quick, its sturdy plates proved to be large enough to handle long, thick hair, and 77 per cent of the panel agreed that it didn't snag.
Things we liked
Attractive design
Heats up quickly
Convenient long cord
Corioliss C3 Silver Paisley Hair Straighteners
The Coriolis C3 Hair Straightener Silver Paisley is a highly regarded straightener.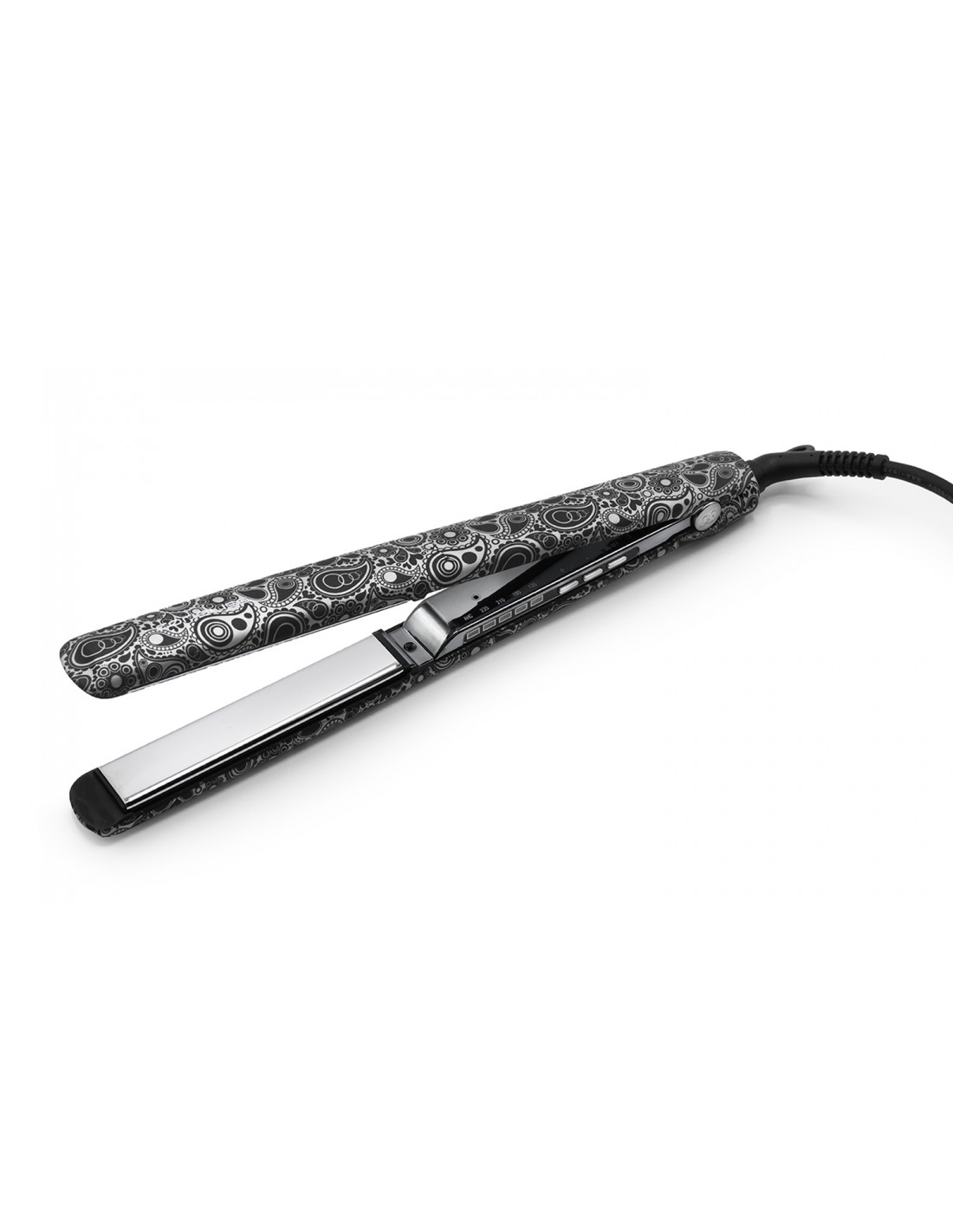 Most titanium straighteners are more expensive than their ceramic counterparts, but you know you're getting the best in hair technology and performance when you pay more. The Corioliss promises a smoother plate than ceramic, and the plates are long enough to handle long hair.
Because of the titanium's unique properties, these plates distribute heat evenly, resulting in less hair breakage, moisture retention, and a silky-smooth sheen.
Things we liked
Even heat distribution
Great hair protection
Ideal for long hair
Things we didn't like
Awkward button placement
Flismy design
Best Tourmaline Hair Straighteners
CHI Expert Classic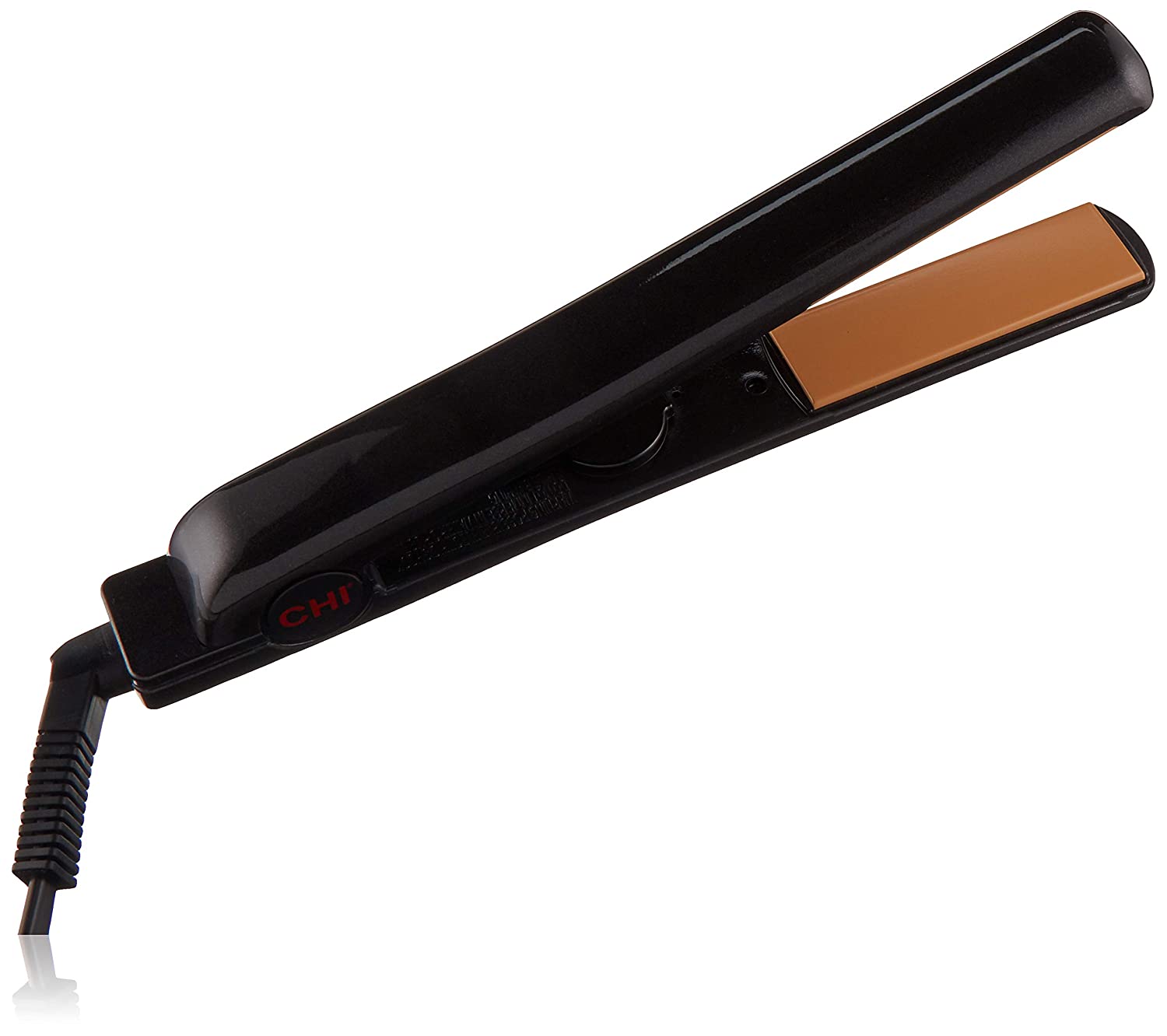 Many professionals have depended on the CHI Air Expert hair straightener over the years. It's a terrific option because it can be used to straighten as well as produce curls, waves, and volume on a variety of hair types. It features a smaller exterior casing than other types but be careful not to overheat! According to some consumers, the Chi Air Expert can grow very hot to the touch after a while.
You won't have to wait long for things to heat up before you can start styling your hair. The CHI Air Expert hair straightener boasts a slim plate and housing design that makes it quick and easy to use. It's also available in a quirky pink or red colour to lift your spirits every time you use it.
Things we liked
Reduce frizz and static
Adds shine to hair
Versatile styling
Things we didn't like
Issues with heat function
Can get too hot to hold
HSI Professional Ceramic Tourmaline Hair Straightener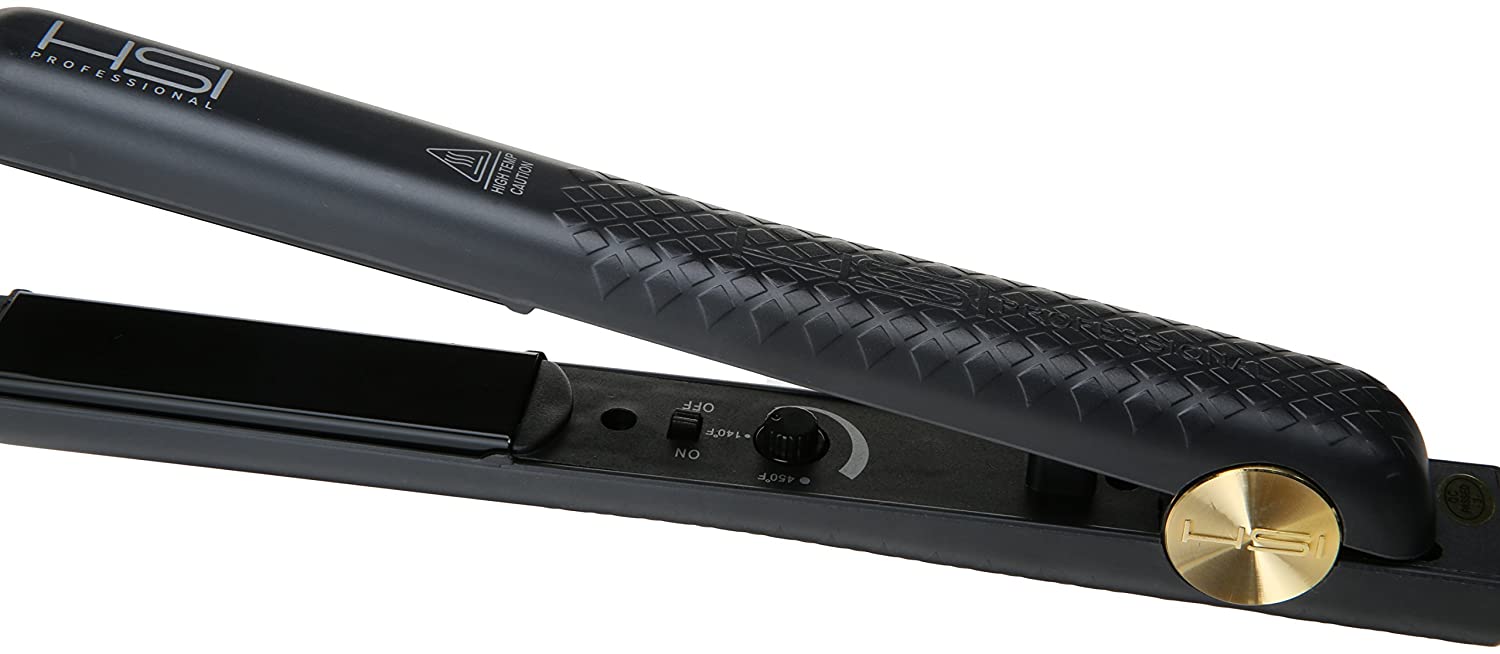 This is a fantastic tool to have on your side. It has a plethora of features and advantages. It's ideal for all hair types, and the ceramic tourmaline plates are especially gentle on your locks. It's also very reasonable for anyone seeking a good flat iron for at-home use, and it comes with a free sample of argan oil leave-in hair treatment, which is known to moisturise hair well.
The tourmaline plates have eight integrated microsensors. They ensure that heat is transmitted evenly throughout your hair and manage the temperature of the straightener, allowing you to make fewer passes over your hair.
Things we liked
Heats up quickly
Locking device feature
Affordable
Things we didn't like
Fault reports
Not compatible with extension leads
Karmin G3 Professional Salon Series Flat Iron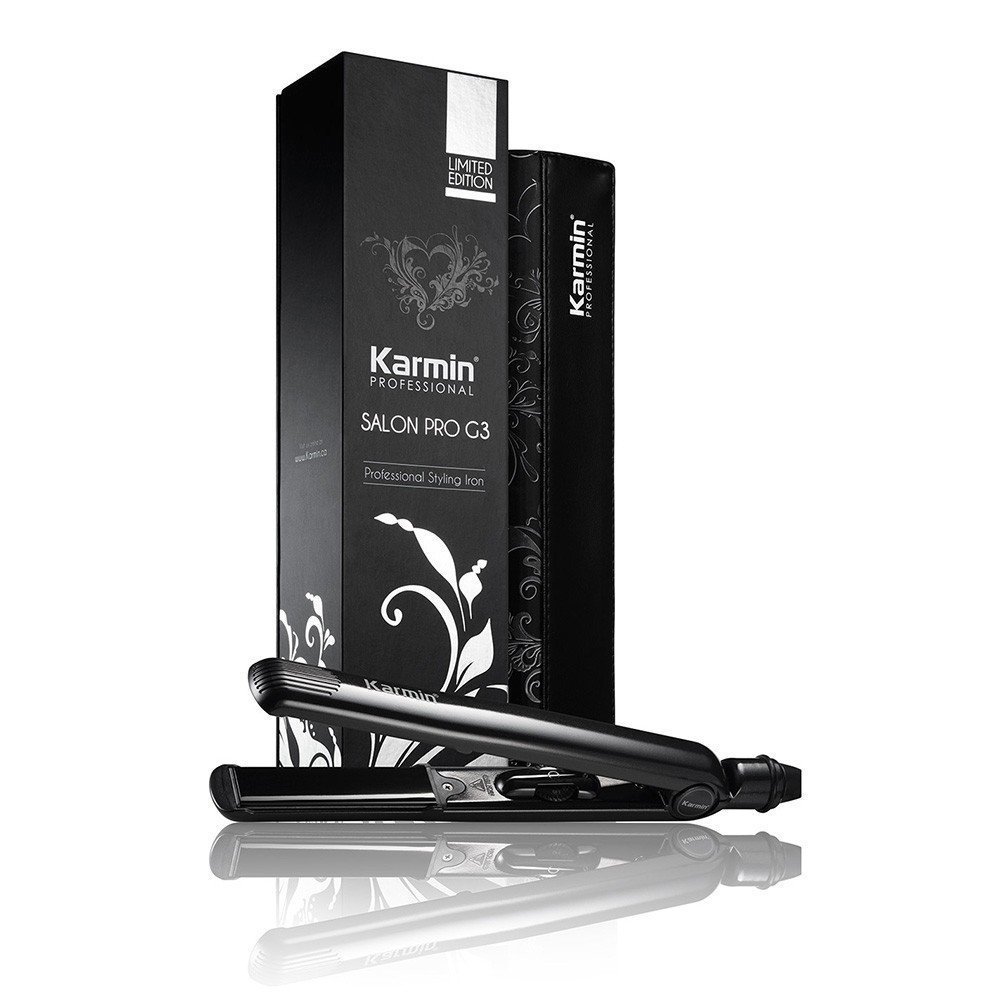 The Karmin G3 Professional Salon Series flat iron is a beautiful and sleek hair straightener available in five different colours. However, its advantages go beyond aesthetic appeal. This hair straightener is ideal for use in both the salon and at home. It quickly heats up, so you may style your hair whenever you want.
Ion field technology in the Karmin G3 Professional flat iron seals in your hair's natural oils, guaranteeing that your tresses retain hydration and shine! This unique hair straightener also includes a heat mat for added comfort and a carrying case for easier travel. It also has drop-safe technology and temperature settings that can be adjusted.
Things we liked
Great for damaged hair
Works on thick hair
Adjustable settings
Things we didn't like
Plates not pressing together properly
Fairly expensive
Best Combination Hair Straighteners
Remington Wet2Straight Pro Hair Straighteners

This is the equipment for you if you're looking for a time-saving device that allows you to straighten wet hair. Its one-of-a-kind "moisture sensor" detects the moisture in your mane and adjusts the temperature, accordingly, resulting in excess water particles draining through the plates' holes.
Many customers praised how smoothly it flowed through their hair, with 92 per cent praising how quickly they were able to attain their desired look. After using it, several people reported that their hair looked healthier, shinier, and smoother, making it ideal for anyone looking for quick, salon-quality results.
Things we liked
Can be used on wet hair
Offers recommended heat settings
Heat up quickly
Things we didn't like
Plates dragging on hair
Not very easy to use
Furinden Professional Hair Straightener and Curling Iron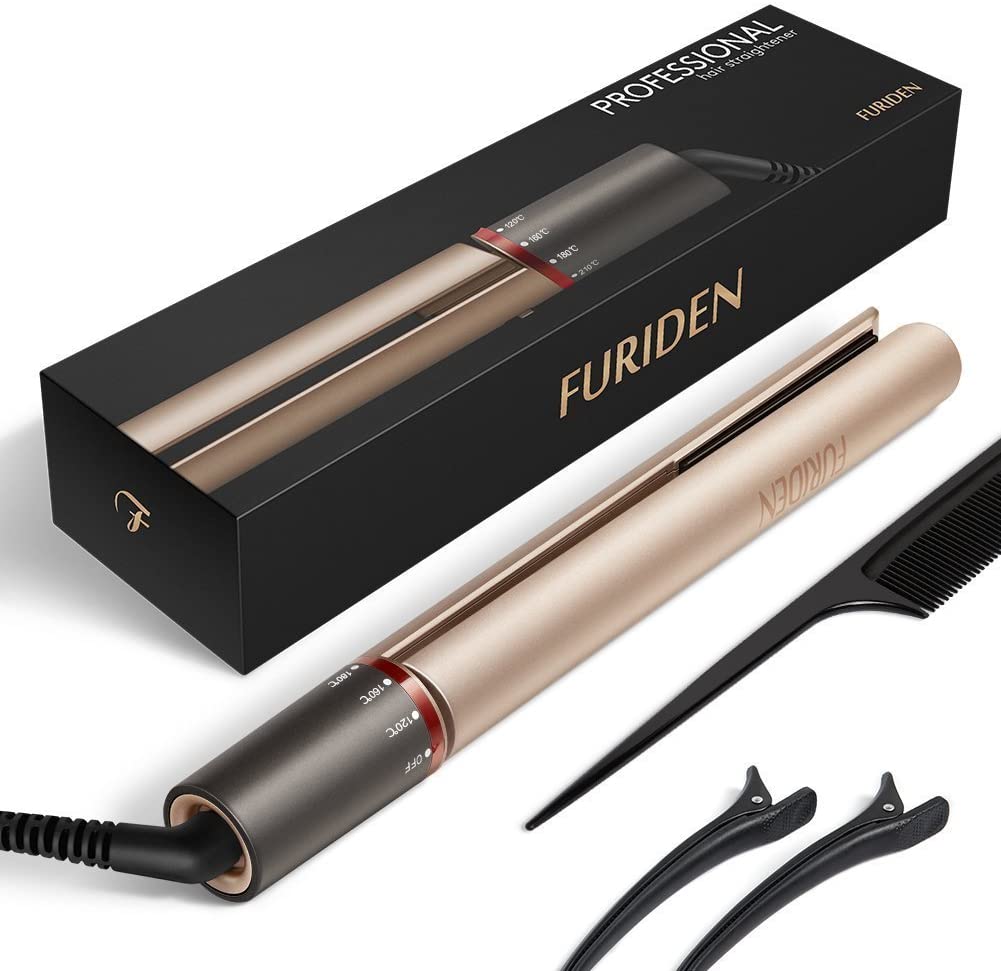 This is the best all-in-one hair straightener and curler. This tool is quite versatile, allowing you to style your crowning splendour in a variety of ways.
Any type of hair, whether fine, thick, thin, long, coarse, or frizzy, can be curled, straightened, or waved with it. It features 20 various heat settings, and changing the temperature is as simple as rotating the heat dial. The floating titanium plates on this machine work wonders on all hair types.
You will not experience any snagging or tugging with this instrument. The titanium plates evenly disperse heat, ensuring that each strand receives the same amount of warmth.
This 2-in-1 flat iron heats up in about 15 seconds, allowing you to use it practically immediately after turning it on. The floating titanium plates help prevent breakage and split ends, ensuring excellent results. It's also made to keep your hair healthy and preserved by locking in moisture.
Things we liked
Smooth gliding function
Great for all hair types
Even heat distribution
Things we didn't like
Does not eliminate frizz
Hard to use locking feature
Tyme Iron Pro 2-in-1 Hair Curler and Straightener

One of the most flexible and useful styling tools on the market is the TYME Pro 2-in-1. This flat iron may be used to straighten, curl, and wave your hair without causing damage.
It's also quite simple to use, and it's suitable for both beginners and experienced users. It includes six distinct heat levels and customisable temperature settings, enabling you to choose what works best for you.
This style works well with all hair kinds and lengths. This 2-in-1 flat iron includes a temperature memory, which is one of its most impressive characteristics.
You won't have to set the temperature every day with this feature because it remembers the last one you used. When you switch it on, it will use the last heat setting.
Things we liked
Comes with helpful accessories
Easy to use
Good for curling
Things we didn't like
Plates are too short
Cheap design
Best Infrared Hair Straighteners
Croc the New Classic Infrared Flat Iron

This infrared hair straightener is ideal for hair that is naturally coarse or dyed. The infrared heat penetrates the cortex of the hair, smoothing and straightening it. The stationary plates have everything you need to get professional results in one stroke. This cutting-edge gadget also detoxifies and deodorises your hair while sealing in and balancing natural moisture and avoiding hair damage.
This infrared flat iron reduces dandruff and flattens and compacts your cuticles. The titanium plates emit negative ions, which improve hair shine and protect the cuticles from harm. The built-in ceramic heaters maintain a constant temperature and allow for quick heat recovery. This gadget has an auto-shutoff feature that safely switches off the device after 30 minutes of inactivity.
Things we liked
Reduces dandruff
Ideal for coarse and dry hair
Consistent temperature
Things we didn't like
Burning smell
Flimsy material
Xtava Pro Satin Straightener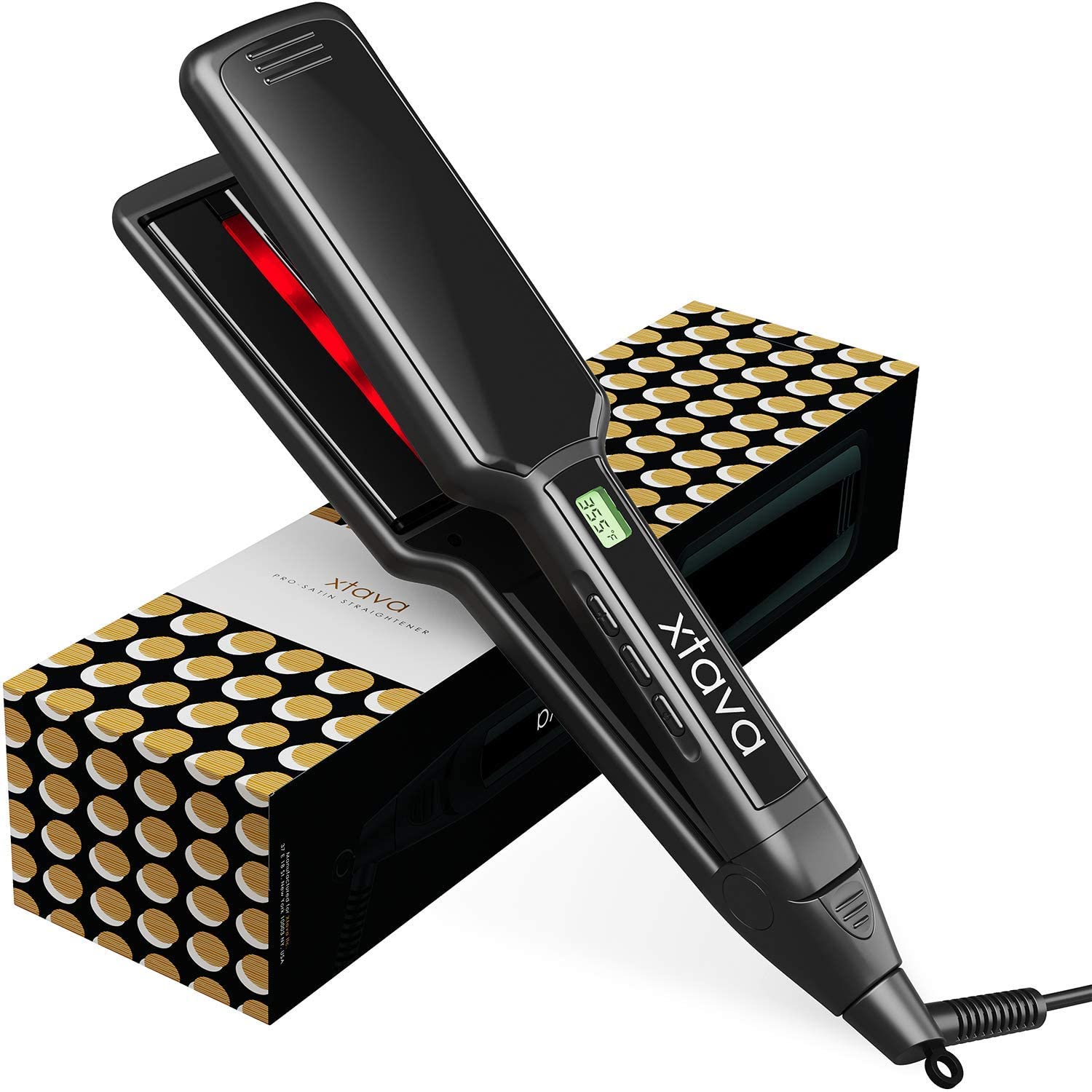 The Xtava Pro-Satin Straightener smoothens, straightens, and shines tough and frizzy hair. The large ceramic-tourmaline floating plates glide effortlessly through any hair type to straighten it. These plates release negative ions to seal in your hair's moisture, preventing frizz even in humid weather and keeping it smooth and moisturised throughout the day.
This straightener employs infrared and tourmaline heating technology to heat the hair from the inside out without causing damage, making it ideal for thick or coarse hair. It quickly heats up and features an auto-shutoff mechanism to avoid overheating and heat damage. It has ten temperature settings as well as a digital LED display. You can change these variables to suit your hair's requirements.
Things we liked
Prevent heat damage
The auto-shut off feature
Various temperature settings
Things we didn't like
Not hot enough
Doesn't offer a great grip
CreateStar Professional InfraRED Flat Iron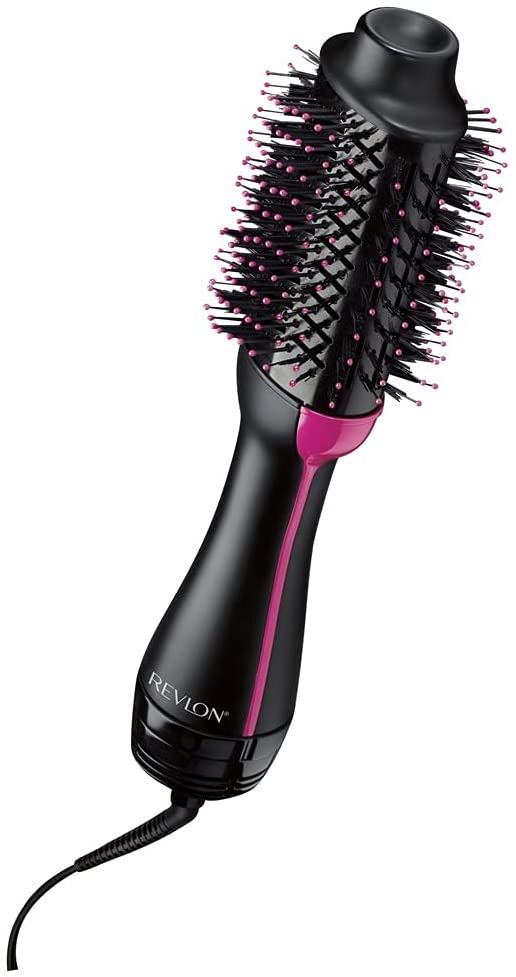 By eliminating hair damage, the CREATESTAR Professional InfraRED Flat Iron straightens your hair. It heats your hair from the inside out, preventing cuticle damage.
This flat iron emits negative ions, which seal in moisture and leave you with straightened hair that is glossy and frizz-free. The extra-wide 3D floating MCH ceramic plates glide smoothly and minimise hair pulling.
This flat iron includes 13 heat settings to accommodate various hair types and an LCD screen that shows the temperature as you use it. It's appropriate for all hair types and features a 360-degree swivel cord for further versatility.
The auto-shutoff feature prevents overheating, and the lockable plates and dual voltage make it convenient to transport and use on the go.
Things we liked
13 different heat settings
Creates a fuller look
Sleek design
Things we didn't like
Not suited to thick hair
Not hot enough
Best Hair Straighteners for Damaged Hair
Remington PROluxe Ceramic Hair Straighteners

According to most evaluations, one swipe was all that was needed to get good results. They also enjoyed how the temperature was indicated clearly on the LCD screen.
There are nine heat settings, but the Pro+ level, which restricts the temperature to 185C for effective styling without overheating hair, received the most positive feedback. Your hair will appear healthier, with more shine and a silky, smooth texture.
Things we liked
Reasonably priced
Quick heat up function
Easy to use
Things we didn't like
The heat plates don't meet
Burns hair on highest heat
H2D IV Gold Line Professional and Ionic Hair Straighteners

These straighteners are the latest technology and are the next must-have straightener in hair salons. Some finer, more damaged hair will benefit from a lower temperature, but if you have a thicker, more problematic hair type, you will need to use a higher temperature to get through your thicker, more difficult hair.
H2D is a high-end hair styling line for individuals who demand the best for their locks. They make salon-quality styles simple to achieve, leaving your hair soft, shining, and silky smooth. You don't have to stand near the wall because the cable is extremely long! However, some consumers have complained that these straighteners did not glide over their hair as smoothly as other straighteners.
Things we liked
Great temperature control
Quick and easy to use
Eliminate frizz
Things we didn't like
Too hot to hold
Not ideal for long hair
Panasonic Smooth and Shiny Hair Straighteners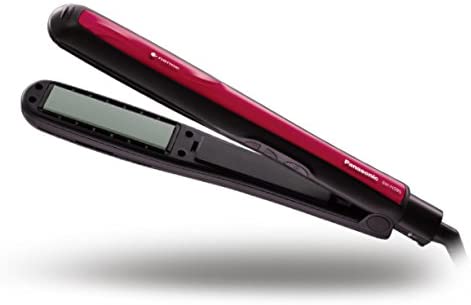 It's understandable that when a hair straightener claims to use new technology, people will sit up and take notice of what's on offer. Nanoe particles, which are supposed to be formed from air particles that form at the tip of ceramic-coated iron plates, are said to protect your hair from harm during styling.
However, they do not come with a heat-resistant pad to place the straighteners on while they heat up or cool down.
Things we liked
Nanoe technology causes less damage
Comes with a heat resistant pad
Leaves soft and shiny looking hair
Things we didn't like
Awkward shape
Not the best grip
Best Hair Straighteners for Frizzy Hair
Revamp Progloss Digital Ceramic Hair Straighteners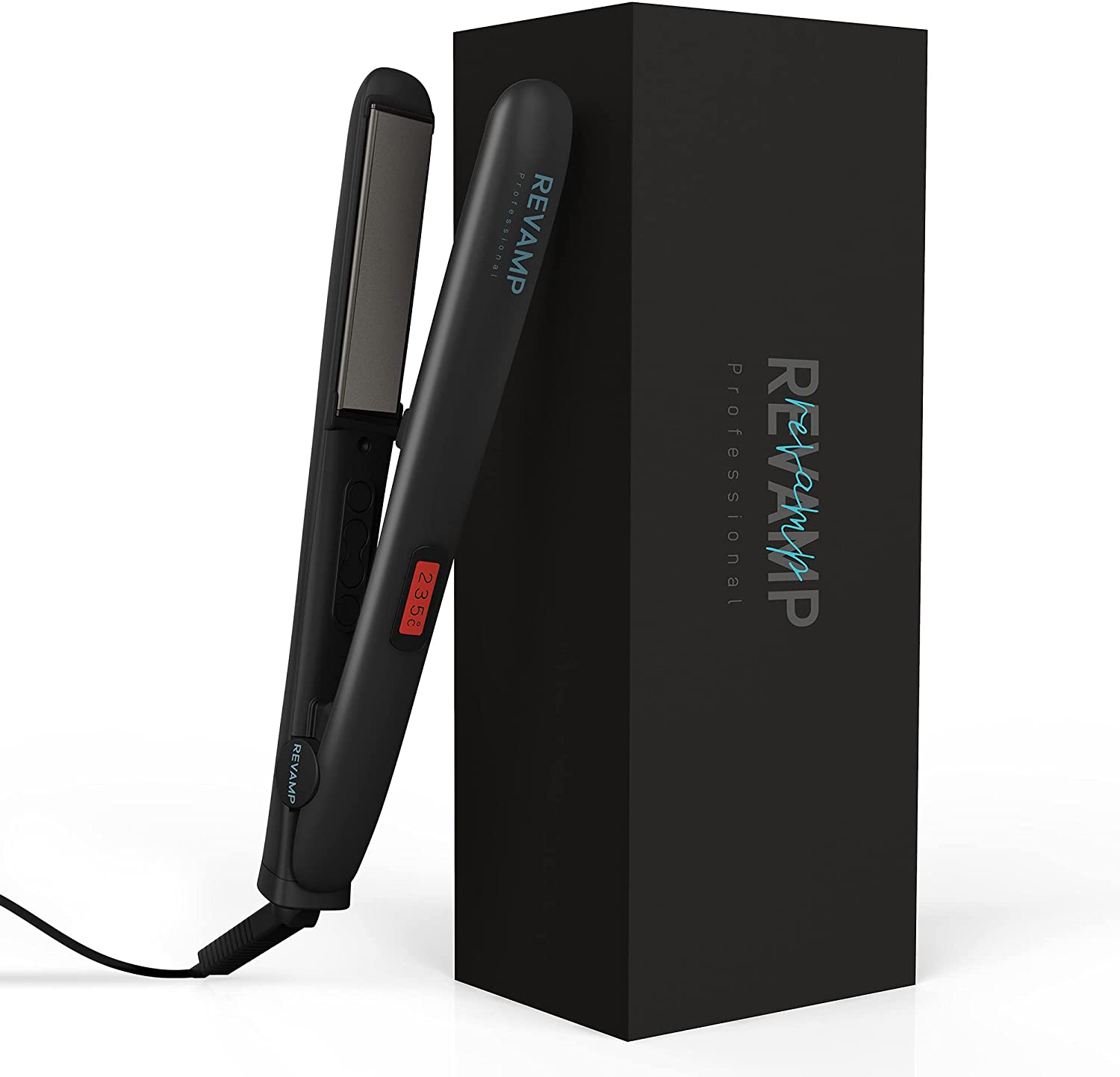 Revamp claims that the oil-infused plates in these straighteners leave hair looking beautiful and healthy. It also offers a wide temperature range (80-235 degrees Celsius), making it suitable for various hair types and textures, including afro curls.
The silkiness and smoothness with which it left their hair have been praised in evaluations. The plates glided over tresses without tangling or snagging and straightened with a single swipe.
Things we liked
Long-lasting model
Leaves hair looking healthy
Various temperature settings
Things we didn't like
Not ideal for short hair
Reports of burnt hair smell
Nicky Clarke Hair Therapy Straightener NSS043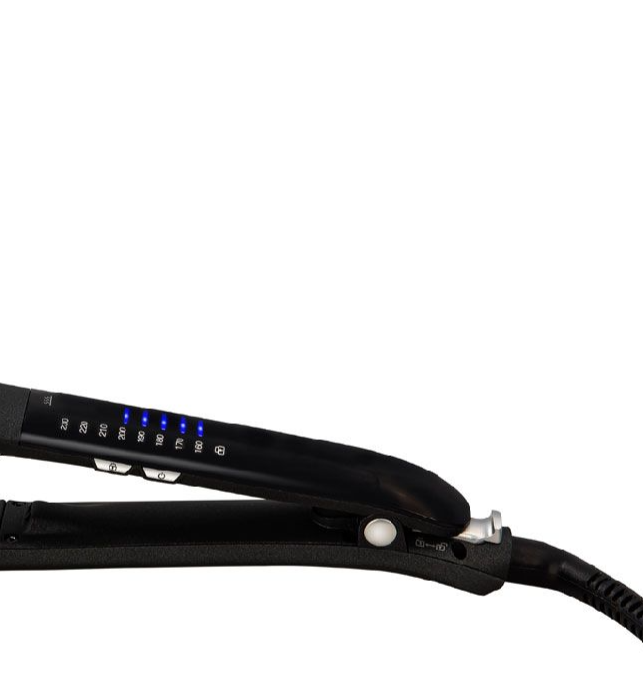 These straighteners are not only easy to use, but they also make the hair of 80% of our testers look healthier. The length of time it took to style was praised in all of the reviews.
70% completed the task in one swipe and unanimously acknowledged that they were able to reach the back of their heads with ease. Snagging or tangling was mentioned in half of the reviews, however, that is the only criticism.
Things we liked
Touch screen control
Quick styling
Extra long cord
Things we didn't like
No heat mat
No storage bag
T3 Lucea ID 25mm Smart Flat Iron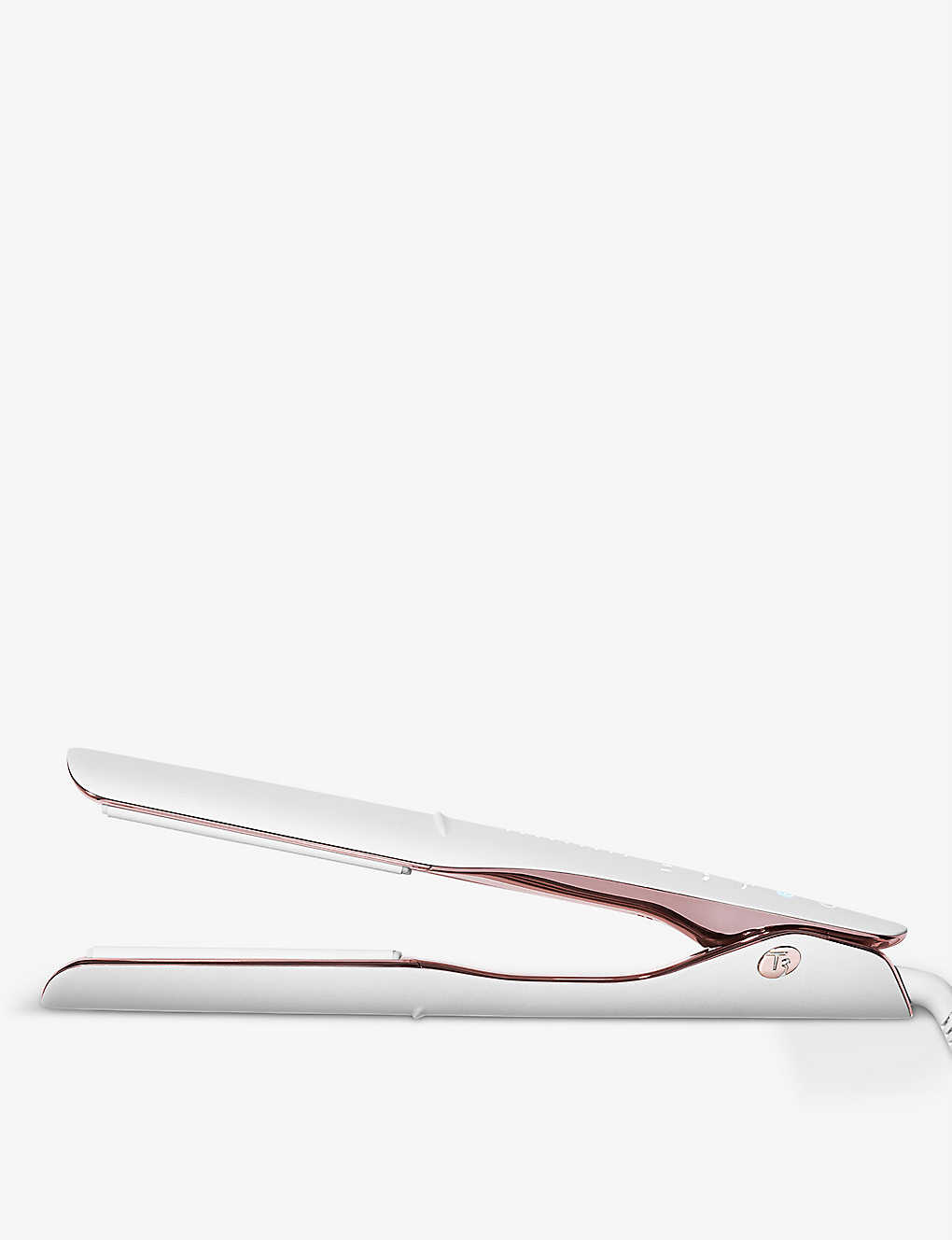 Many people who deal with frizz gave this device high marks, with 80 per cent stating it kept flyaways at bay for a neat finish. Many people claim that their outfits held up to the weather and that their style lasted all day.
The "stylish and luxurious" design is also a hit, with everyone agreeing that it is simple to use, grip, and manage.
Things we liked
Eliminates frizz
Easy to use
Automated temperature control
Things we didn't like
Can cause heat damage
Complex design
Best Hair Straighteners for Thick Hair
GHD Platinum+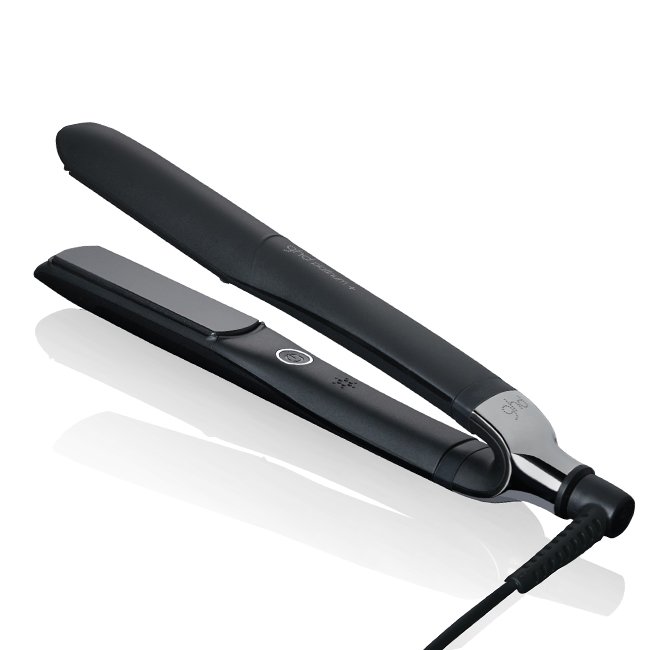 The plates on this styler, according to GHD, detect the thickness of your hair and the speed at which you are styling before automatically changing the power. The majority of reviews are positive, with people expressing their delight with their silky, soft hair.
It heats up quickly, and the huge plates style and grip hair well. The indicator sound that plays as it switches on and off is very reassuring.
Things we liked
Create sleek and straight hair
High-quality design
Long-lasting style
Things we didn't like
Hair snagging
Grip is not great
Remington Shine Therapy

The Remington S8500 Moroccan Oil Shine Therapy Straightener is a fantastic professional hair straightener. It appears to be of higher quality than other models, and the fact that it is a Remington speaks volumes about the kind of service you will receive. The heating process is likewise rapid and dependable, but we're after quick and easy hair straightening in the end.
There's no need to crouch on the floor near to reach the plug outlet because the wire is lovely and long. Because the on/off and temperature fluctuation controls are on the side, you won't mistakenly lower the temperature. However, some consumers have reported that after straightening their hair, these tend to pull a little.
Things we liked
Easy to use
Features an exra long lead
Affordable
Things we didn't like
Takes longer to straighten than other models
Take awhile to heat up
Kipozi Professional Hair Straightener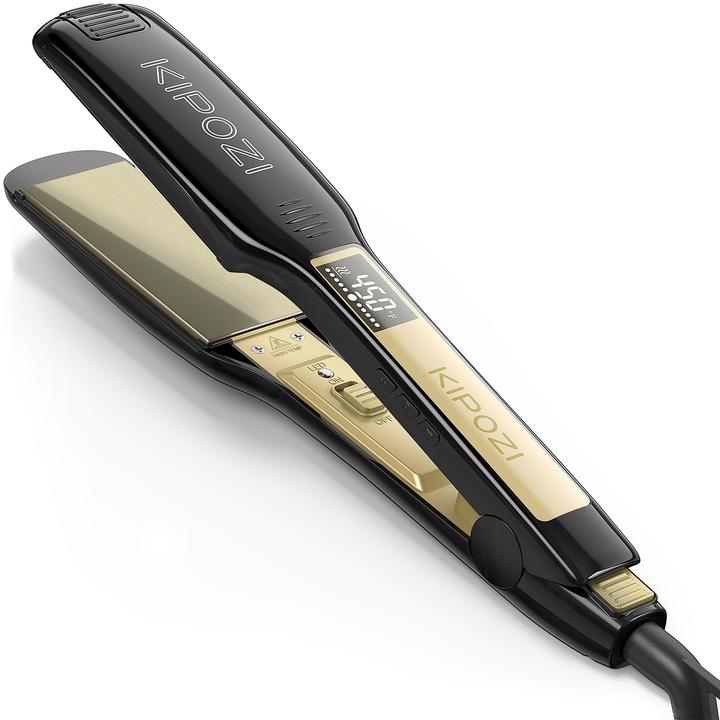 The KIPOZI Professional Titanium Straightener flat iron is designed to be comfortable for the user. Temperature adjustment is simple, and the unit automatically shuts off after 60 minutes.
Titanium plates provide a tighter press and equal heat distribution. You can flat iron your hair to make it less frizzy, smoother, and shinier. Also appropriate for thick, curly, and wavy hair. The LCD is easily readable.
Things we liked
Consistent heating functions
Features automatic shut off
Adjustable temperatures
Things we didn't like
They can accidentally lock
Heavy design
Best Budget Hair Straighteners
Remington Keratin Protect

This styler monitors the moisture levels in your hair and adjusts the heat to the ideal styling temperature. The ceramic hot plates are also impregnated with keratin and almond oil, resulting in healthy-looking hair. It heats up quickly and has a variety of temperature settings.
It effortlessly reached the back of their heads, leaving their hair appearing well-styled, lustrous, and less frizzy, according to reviewers.
Things we liked
Work on thick curly hair
Various temperature settings
Professional finish
Things we didn't like
Take awhile to heat up
They slightly pull on the hair
Grundig Touch Control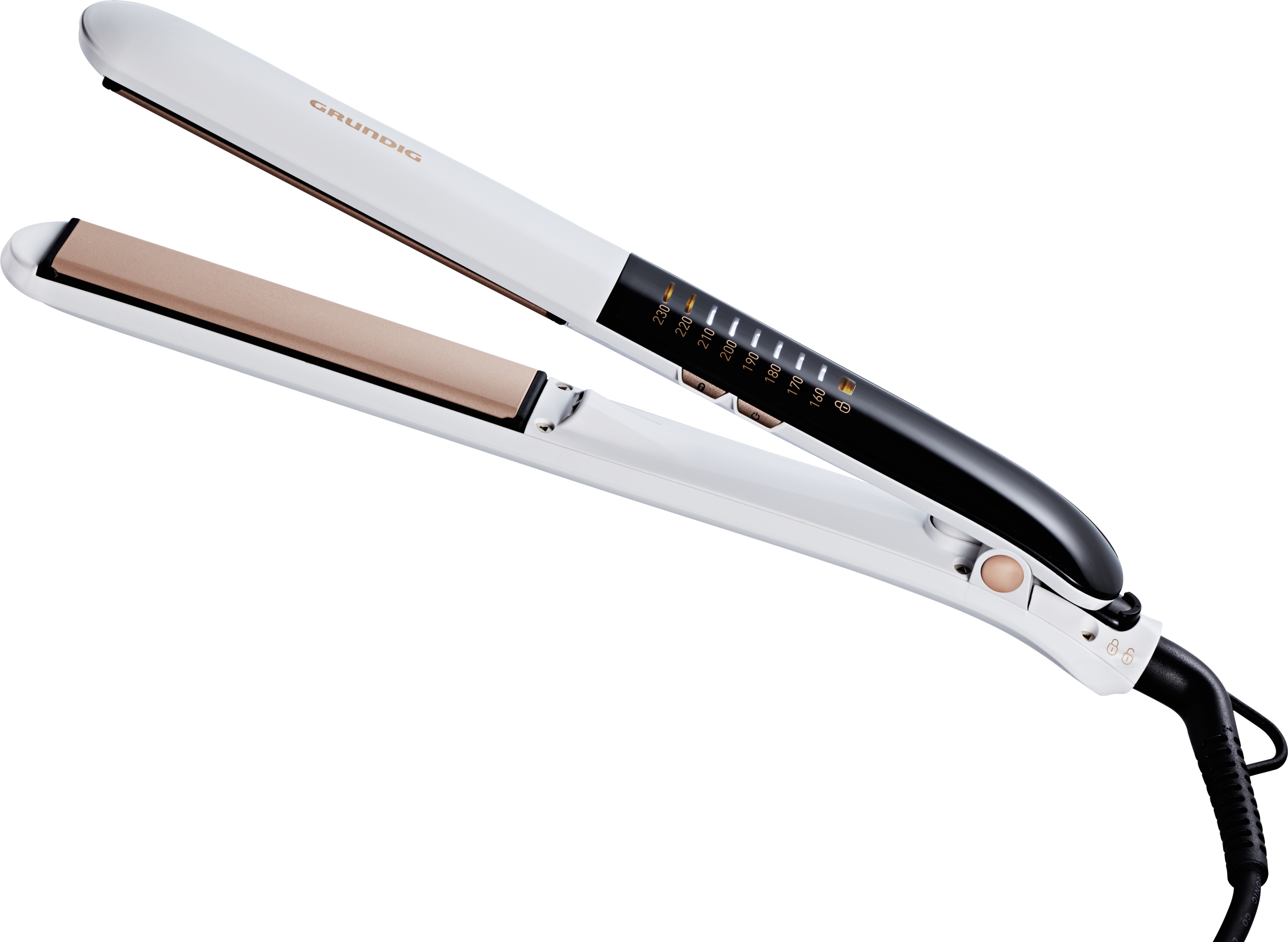 Ionic technology is combined with ceramic-coated plates in these hair straighteners. They give hair a healthy sheen and bounce.
They also styled hair nicely, according to most customers, leaving it silky and frizz-free. The plates have a terrific grip and were able to straighten the hair in one swipe. According to customer reviews, the styling lasted all day, and the price is incredibly cheap.
Things we liked
Quick heat up function
Smooths frizzy hair
Handy locking feature
Things we didn't like
Fiddly set up
Short cable
Phil Smith Hair Straightener
These straighteners aren't your typical straighteners. They're made to keep your hair lustrous and frizz-free at a reasonable price.
They offer a wide temperature range, and most reviews state that after using them, their hair looked healthier, with some fine-haired testers saying that their hair seemed thicker as well. The speed with which this styler heated up was appreciated, as was its straightforward, easy-to-use design.
Things we liked
60 second heat up time
Reduce frizz
Safety shut off feature
Things we didn't like
Can cause dragging
Reports of burning hair
Best Cordless Hair Straighteners
Dyson Corrale Straighteners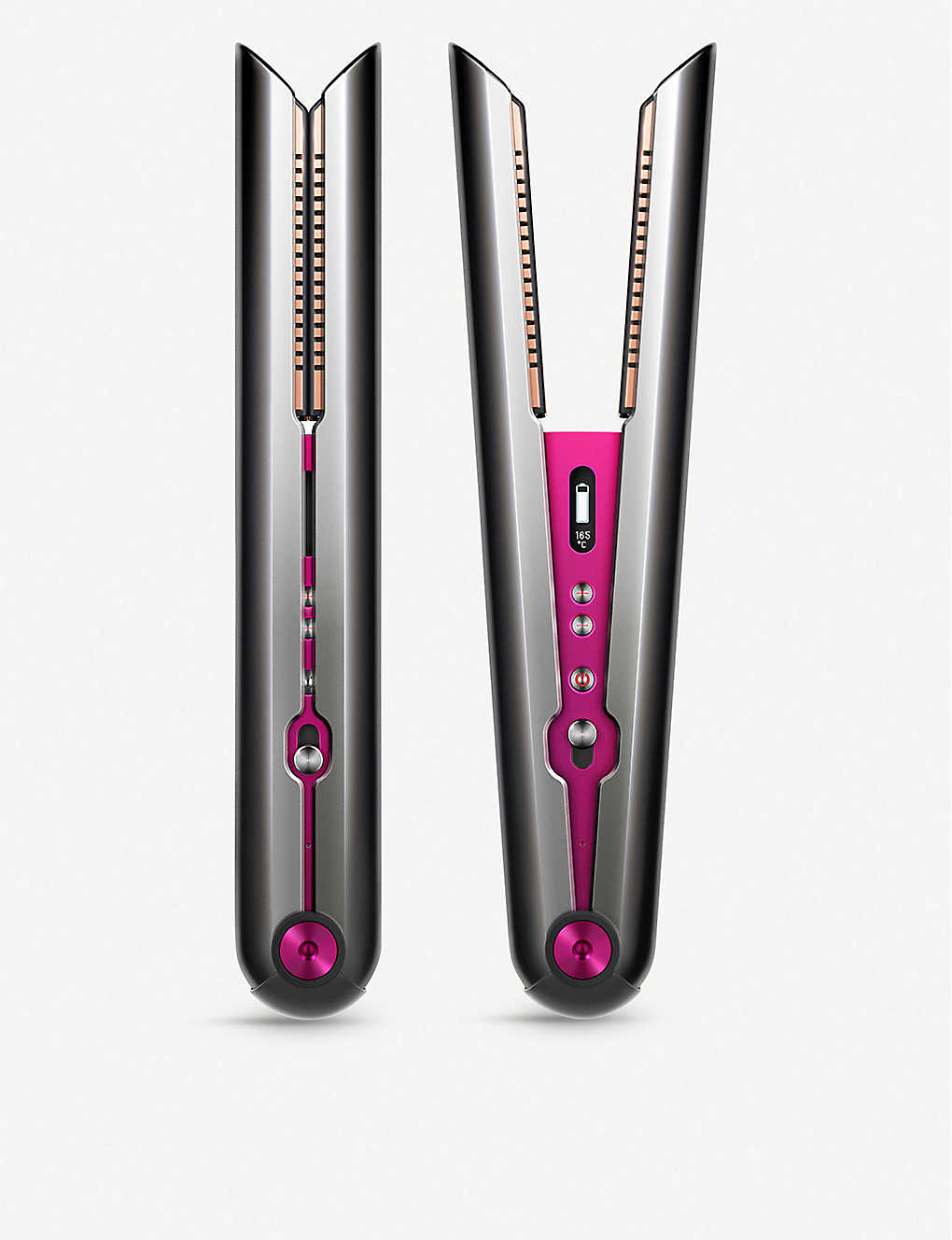 The flexing plates on these high-end hair straighteners assist in softly gather the hair for styling. They simply grasp the hair and straighten it in a single stroke.
They're also cordless, with a charging stand and a heat-resistant travel case to round out the package. One disadvantage is that they are slightly heavier than standard straighteners.
Things we liked
Cordless design
Hassle-free replacement
Creates long-lasting styles
Things we didn't like
Expensive
Needs to be recharged regularly
GHD Unplugged Cordless Hair Straightener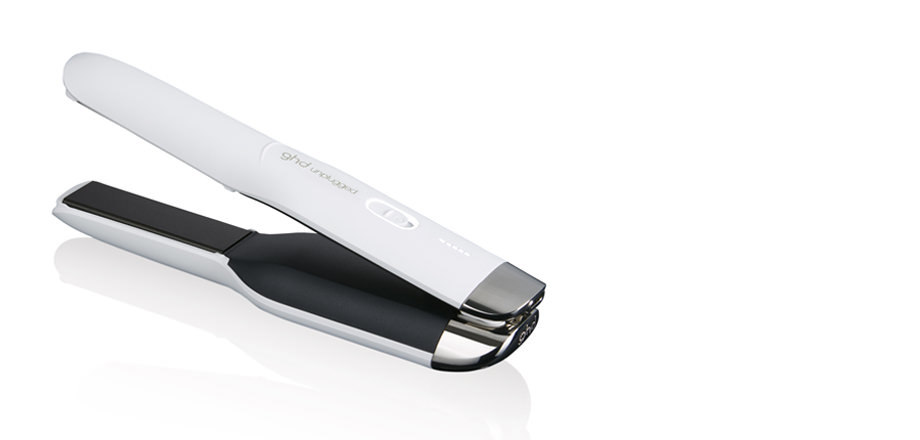 The new GHD's are the first cordless styler from the famed heated hair tool company. It is well recognised for its ideal temperature. Its lightweight and portable design is a popular choice among frequent travellers.
Afro hair reviews reported softer strands after styling, and 83 per cent of all testers said it helped them attain their desired style, whether it was straight tresses, tight curls, or loose waves.
Things we liked
Cordless design
Easy to transport
Lightweight
BaByliss 9000 Cordless Straightener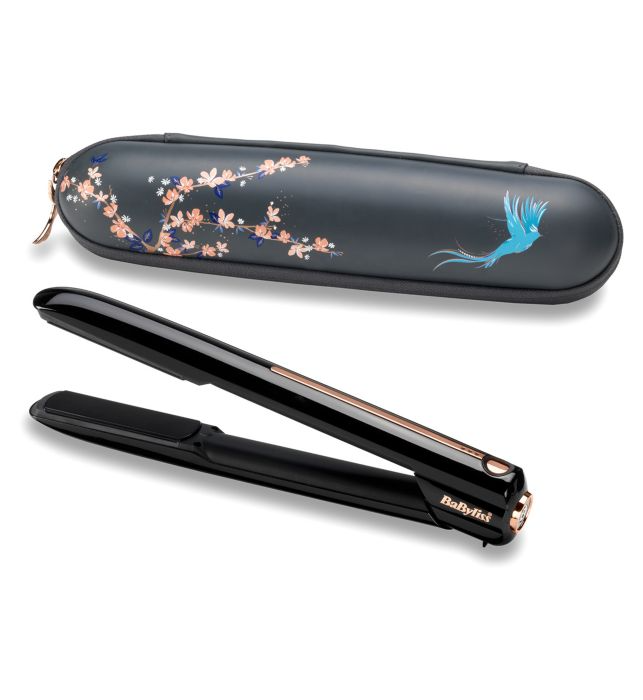 This cordless option is noted for swiftly and precisely heating up. It's simple to use and easy to handle, with 71% of users reporting that it straightened their strands quickly and without snagging.
Reviews laud its "sleek" design, which produces excellent results in all situations, particularly for individuals with long, thick hair. Their tresses aren't exceptionally gleaming as a result.
Things we liked
Great for travelling
Easy to use
Takes 10 seconds to heat up
Things we didn't like
Runs out of battery quickly
Heavy design
Best Travel Hair Straighteners
Cloud Nine the Cordless Iron Pro Hair Straightener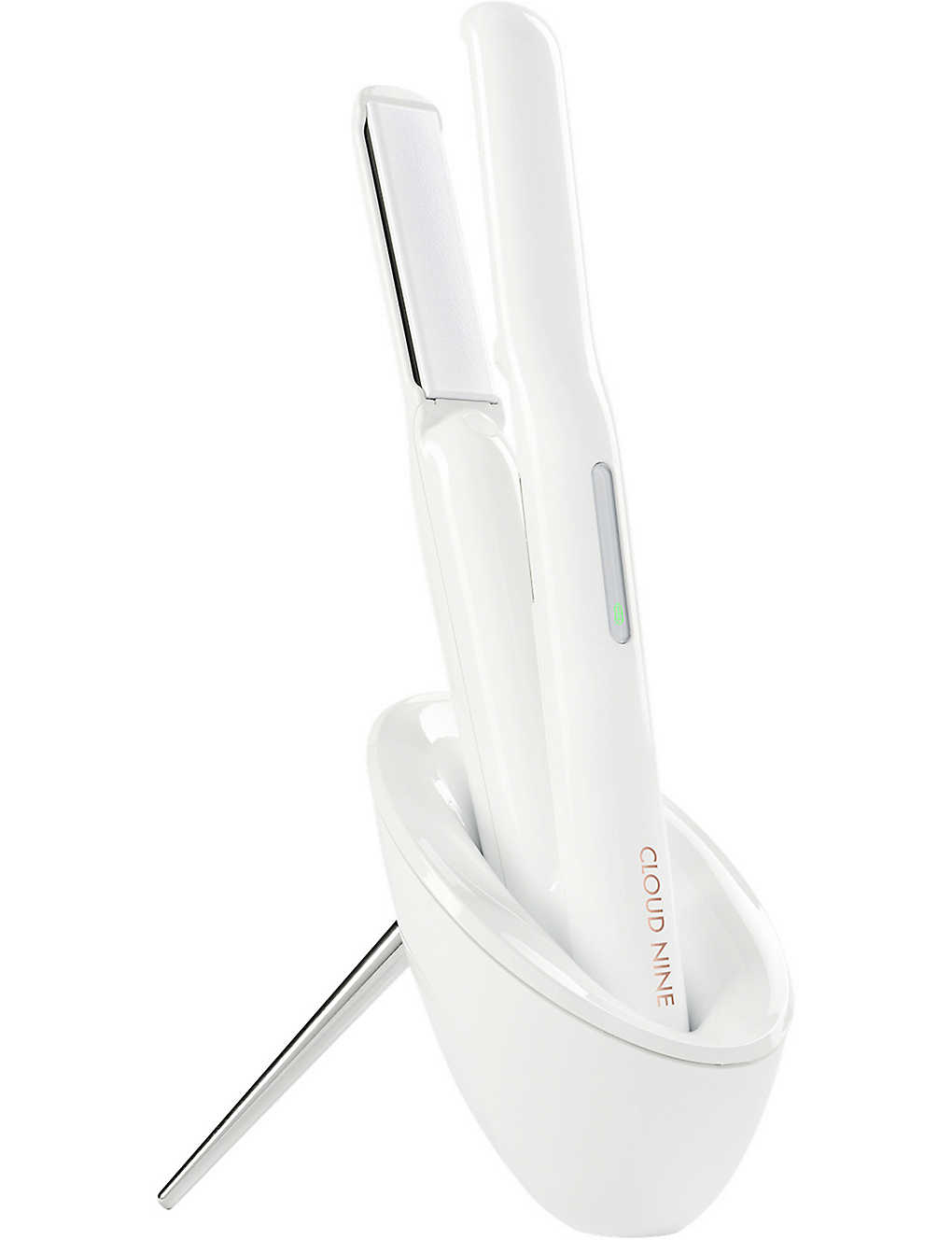 These high-end straighteners may have a celebrity price tag, but they come with a slew of extras, including a heat-resistant guard, that makes them an excellent pick for newbies with a little more cash. Its cordless form is ideal for travelling and styling the entire head without putting strain on your neck.
70 per cent of reviewers stated it gave them frizz-free strands, and they loved the low-temperature setting of 160°C if you want to avoid overheating your hair.
Things we liked
Low-temperature setting
Heat-resistant guard
Frizz-free hair
Turboion Baby Croc Professional Mini Travel Flat Iron

This baby croc flat iron is made by an excellent company that is very reasonably priced. This product is fuchsia pink, which is perfect for the fashionistas out there.
It comes with rounded floating plates, allowing you to achieve numerous styles on the go, such as curls and so on. The dual voltage baby croc flat iron comes with a free heat-proof carry case.
Things we liked
Great for short hair
Offers great shine
Compact design
Things we didn't like
The heat cannot be ajdusted
Can get too hot
Mermaid Portable Ceramic Hair Straightener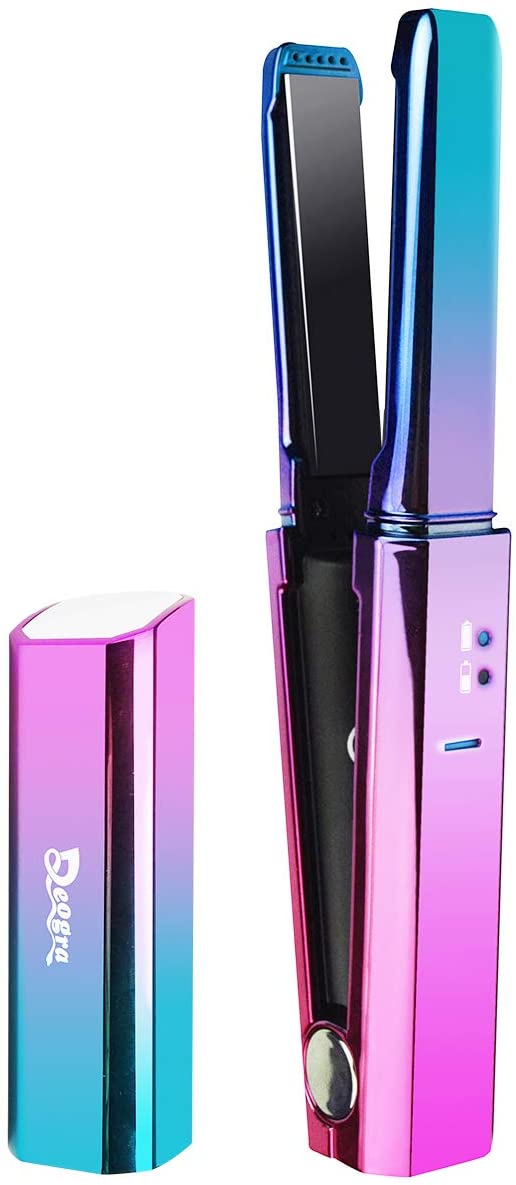 This compact but powerful flat iron is ideal for those who need to style their hair quickly and on the go. This small travel iron heats up in only five seconds and can also be charged using the USB adapter, allowing you to style as you wish at work or in the vehicle.
The plates are constructed of ceramic, which is one of the best materials, and the handle is ergonomically built so you can hold it comfortably while styling your hair.
The plates' negative ions also reduce frizz and static, leaving your hair smooth and soft. The straighteners may be used on thick or coarse hair, making this an excellent all-around flat iron. The irons also come with a carrying case and a USB charging wire.
Things we liked
Heats up quickly
Easy to transport
Colourful design
Things we didn't like
Only lasts for around one minute
Not hot enough
What to Consider Before Buying a Hair Straightener
With so many flat irons on the market, deciding what to look for can be difficult. Here are some things to think about when purchasing a hair straightener. A flat iron is something you'll need regardless of your hair type to make your daily life easier.
Type of Plate Material
Before buying a flat iron, consider getting a ceramic, titanium or a tourmaline plate on your hair straightener. These types of hair straighteners being suited for a specific hair type has been discussed in this article.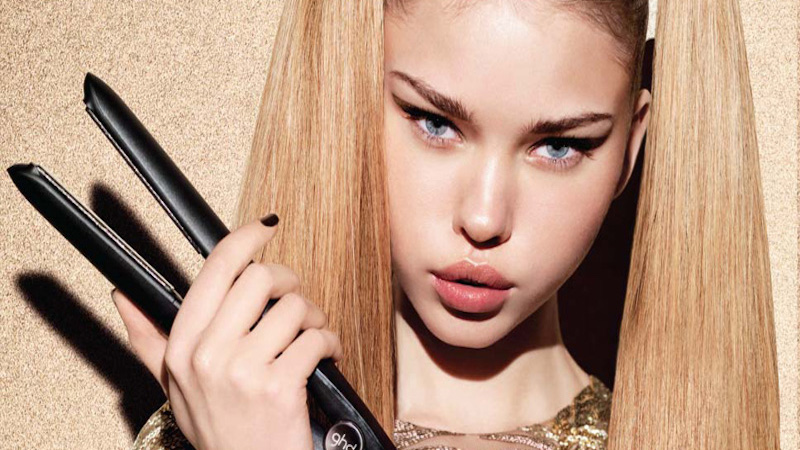 Size of the Plates
Flat irons are available in a variety of sizes and thicknesses. The size of your flat iron will be determined by the length and thickness of your hair. If you have short, sensitive hair, you should invest in a flat iron that allows you to do smaller hair portions.
Flexible Heat Setting
You can utilise the correct heat range for your hair type using flat irons with various heat settings. Thick, long, and curly hair, on the other hand, requires a higher heat setting.
Although high heat can straighten hair quickly, it is not good for all hair types. Buy a flat iron with an adjustable heat setting to avoid harming your hair. This way, you can adapt the heat range to your hair's needs.
Shape
Hair straightener edges come in a variety of shapes, limiting their adaptability. Flat irons don't always have to be dull and flat. Look for a flat iron with a style and design if you want to add a little something to your hair. A rounded-edged flat iron will aid in the creation of waves in your hair.
Price
You may walk into a store and buy the first cheap flat iron you see. Flat irons on a budget or for a low price are not the best. They break more readily and fast, so you'll have to buy them more frequently. Worse, they could overheat and do damage to your hair. They may also have an inconsistent heat distribution, leaving your hair with undone spots.
Choose a high-quality flat iron that will last longer and give you great results. The best quality flat irons are usually a little more expensive, but they are well worth the money. Flat irons, like professional straighteners, fall within this category.
FAQs
How do you curl your hair with straighteners?
Start with clean and dry hair and spray with a heat protecting spray.
Use a thin flat iron.
Section your hair to make the process easier.
Wrap your hair around the hair straightener and pull it down.
Curl your hair away from your face always. The directions will blur together as you get to the rear of your hair! Practice without using the iron! Curling your hair with a flat iron can be challenging and may require a lot of trial and error.
How do you clean hair straighteners?
Cotton balls, rubbing alcohol, and a warm, damp cloth are required. Then dip a couple of cotton balls in rubbing alcohol and gently swab the plates once your flat iron is completely cool (and unplugged). Wipe down the entire flat iron with a cloth after you're finished.
Is it bad to straighten your hair once a week?
Straightening your hair, like most things, is OK in moderation, and doing it once a week is unlikely to cause long-term damage. To keep your hair healthy, silky, and smooth, take some preventative precautions.
Can you permanently straighten your hair?
Rebonding is a chemical hair treatment that straightens, smoothes, and shines your hair. It is a long-term and costly operation. Because of its sensitive and fragile nature, rebonding will necessitate a lot of maintenance and security throughout the next rebounding or straightening handling.
Can you protect your hair when straightening?
Yes, if you use a heat protectant. Protect your hair before using your curling or straightening iron to avoid losing too much moisture due to the heat. Apply a heat protectant product to your entire head of hair; it will coat your tresses and prevent them from losing their natural moisture.
Sources