gardening & outdoors
Best Patio Cleaner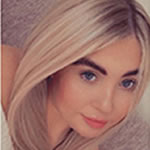 Cleaning the patio or driveway can be tedious, especially if there is a lot of dirt, mould, algae, weeds, or black spot lichens to remove. However, with this article, you can learn about the best patio cleaners for your home.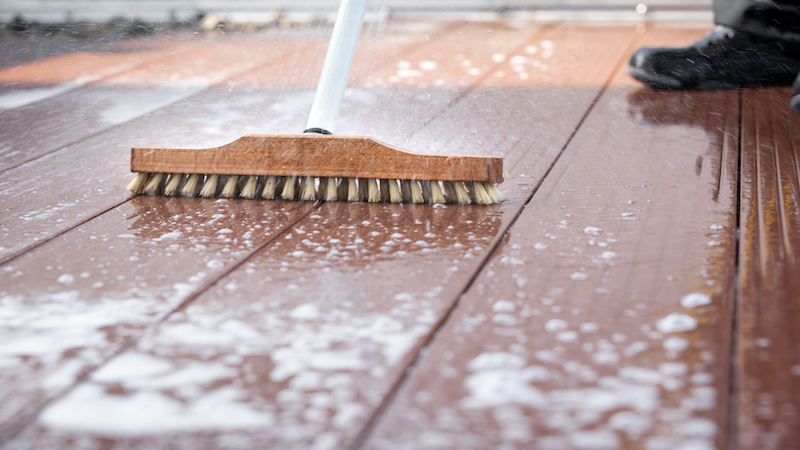 This article will cover all the information you need to know about patio cleaners and the different types you can buy. We will also include the best patio cleaners to get for your home!
So, if you want to know more, carry on reading.
What is a Patio Cleaner?
Patio cleaner is made to get rid of mould and prevent the build-up of acidic soil that can ruin masonry. Patio cleaning equipment is simple to operate and improves the appearance of both residential and commercial structures.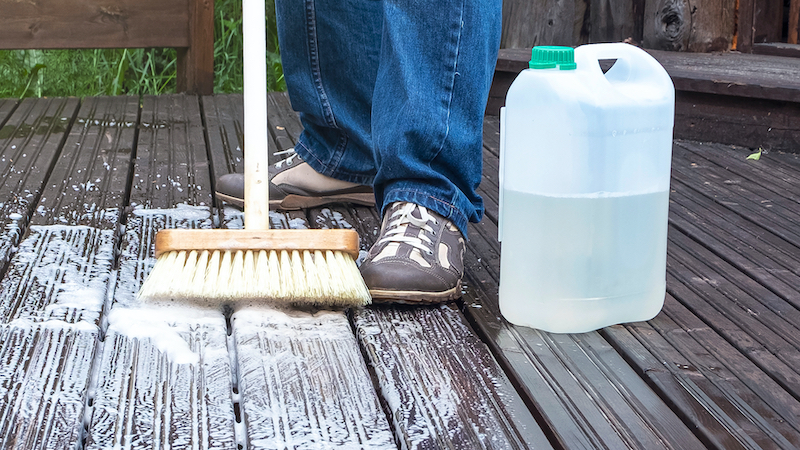 It is effective at removing mould and preventing slips and accidents. This product is suitable for both household and commercial use.
How Does Patio Cleaner Work?
Most patio cleaners contain chemicals that can destroy living creatures. Biocides are a broad term that includes algaecides, fungicides, and herbicides or weed killers. Some contain detergents to aid cleaning.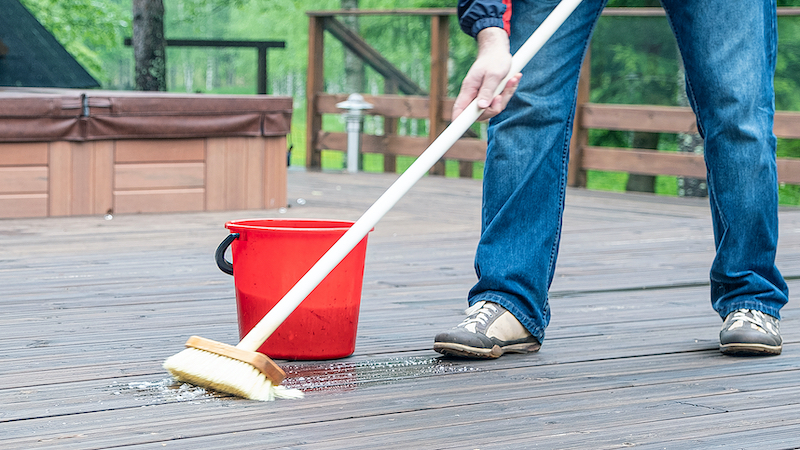 Patio products frequently claim instant cleaning, which appeals to many people. However, because most biocides require the target organism to be active for the ingredients to work, action will be slower in colder temperatures, and the full effect may take several days or even weeks to manifest.
Types of Patio Cleaner
Different types of patio cleaners have different purposes or are used for different things. Some are just used for mould and weeds, and others are used to get rid of dirt and make your patio look brand new.
In this part of the article, we explain the different types of patio cleaners and how they work and are different to one another.
One Coat Patio Sealer
Sealing your patio will protect it not just from rain but also dirt, keeping your exterior looking cleaner for longer. Water and dirt will be kept at a surface level on your patio, allowing filth to be wiped away rather than permeating the stone.
Stone patios are sometimes overlooked when it comes to sealing, although they are possibly the most crucial. It is recommended to make your patio as robust as possible because it will be subjected to heavy traffic, rains, and a lot of outside muck and grime.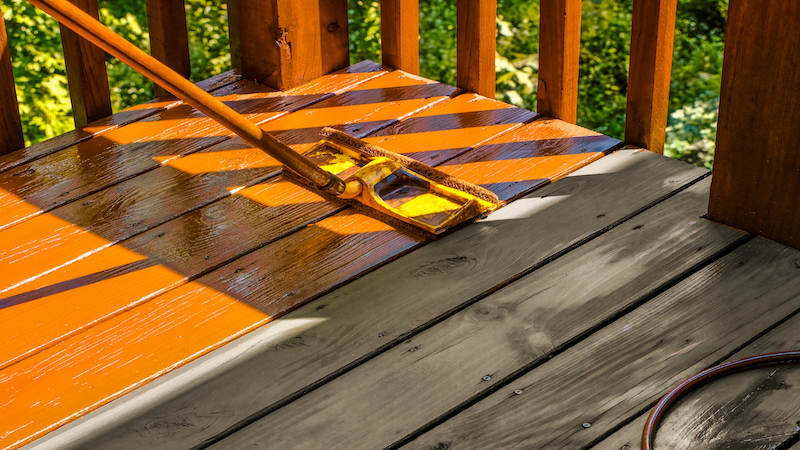 If you want your patio to look as good as it did when it was first installed, sealing it is necessary. A top-grade sealer placed correctly will extend the life of your patio stone paving while also making future cleans as easy as feasible.
Patio and Driveway Cleaner
This is a solution that will clean your patio and driveway into looking brand new. It's a powerful mixture that gets rid of the toughest dirt and grime from patios, driveways, pavement, concrete flags, steps, walks, and more.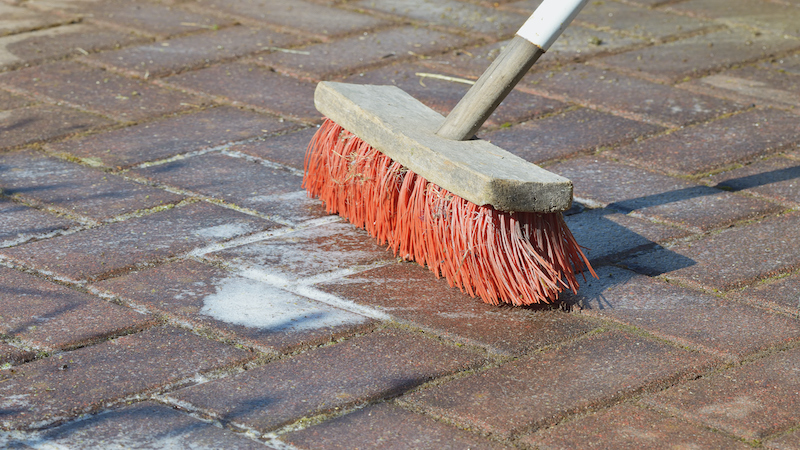 Simply pour the solution directly into a pump sprayer or watering can and apply it to your driveway, patio, or path.
Patio Detergent
Patio detergent is used to prevent the growth of mould and acidic filth, which can destroy masonry.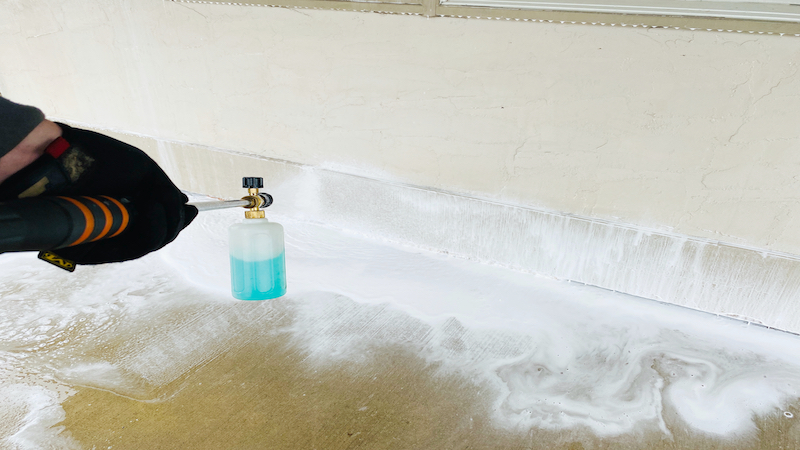 Patio cleaning equipment is simple to operate and improves the appearance of both residential and commercial structures. It is effective at removing mould and preventing slips and accidents.
Patio Pressure Washer Cleaner
A patio pressure washer is a powerful jet cleaner that can clean your patio of grime. Pressure washers blast water with a fierce spray thanks to their powerful pump and small nozzle.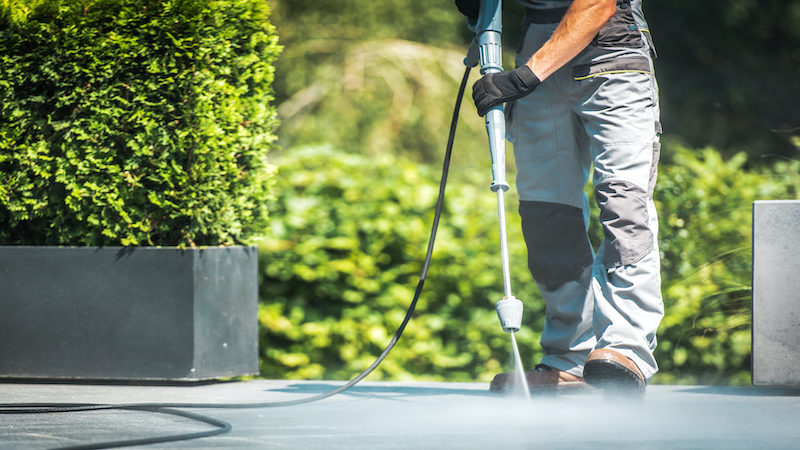 This quickly eliminates dirt and grime off paving slabs while using less water than a standard garden hose.
Bottle Spray Patio Cleaner
This patio cleaner comes in a spray bottle. The cleaner's chemicals burn the mould and dirt off the patio making it look fresh.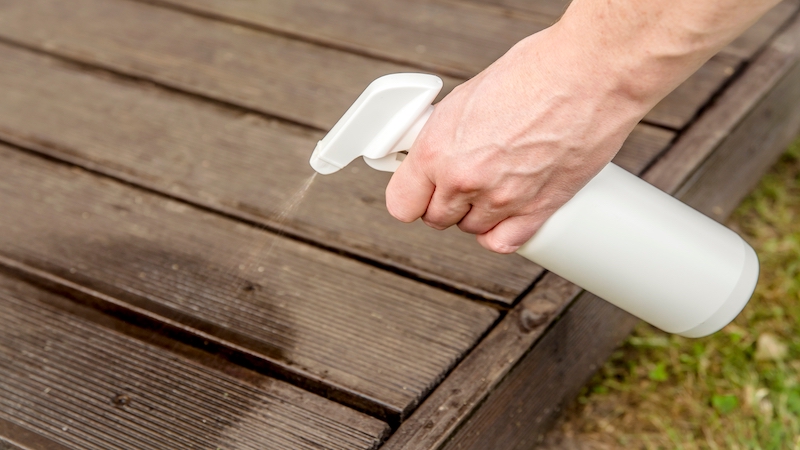 With bottle spray patio cleaner, once it is diluted, the spray and leave-on product work to remove mould, mildew, algae, and grime without requiring you to scrape. However, you will need to rinse it off after a few hours of use.
Best Patio Cleaner
Finding the best patio cleaner will rejuvenate tired concrete and remove moss, algae, and dirt from your courtyard, driveway, and garden paths, completely transforming your outdoor environment.
In this part of the article, we have rounded up the best types of patio cleaner you can buy for your home, including:
Best-One Coat Patio Sealer
Everbuild 405 Path and Patio Sealer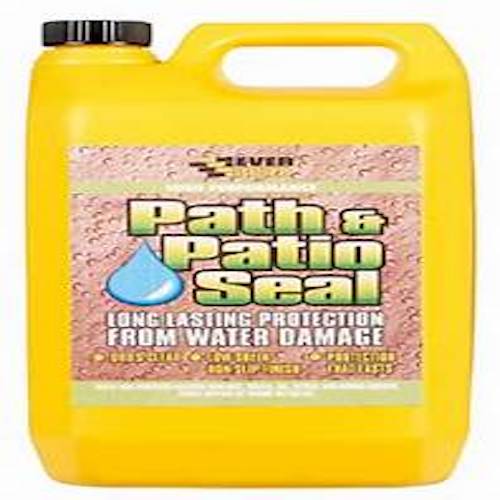 One of the reasons the Everbuild 405 Path and Patio Seal Paving Sealer is so good is that it can handle a wide variety of patio materials.
This will treat both a block paved drive and an Indian stone patio. It dries quickly and comes in a 25-litre container, so a 20-foot-by-10-foot area can be covered with at least three applications.
It's also simple to apply with a sprayer or roller, and it's inexpensive, so it's ideal for tight budgets. We believe it offers good value for money, and clients are pleased with its results. Overall, it's a good option.
Things we liked:
Versatile application
Easy to apply
Excellent value for money
Things we didn't like:
It can be messy
It may leave shiny patches
Ronseal PSPSWL5L Patio & Block Paving Sealer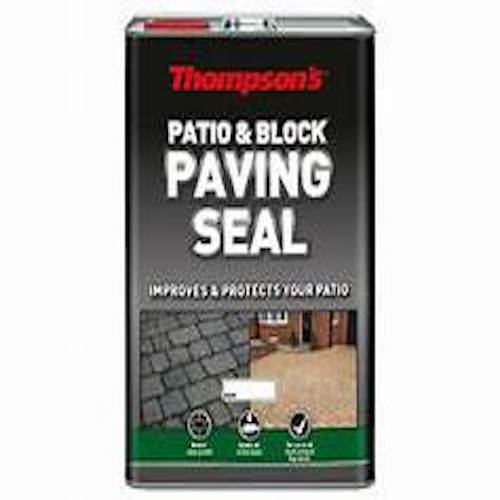 The Ronseal PBPSWL5L Patio & Block Paving Sealer will not disappoint those looking for that perfect wet look. This one-of-a-kind mixture keeps moss and algae at bay while preserving the surface's look. It has a strong odour; therefore individuals who are sensitive to scents may find it unsuitable.
Apart from that, there are no noticeable problems, and the price is reasonable. It does an outstanding job on block paving, concrete, and paving slabs, but some individuals who have used it on Indian stone have not been as happy, so we would not recommend it for Indian stone.
Things we liked:
Offers advanced protection
Ideal for blocking paving and concrete
Deters moss and algae
Things we didn't like:
Strong odour
Not ideal for Indian stone
Everbuild EVBRBINDENH5 Indian Sand-Stone Sealer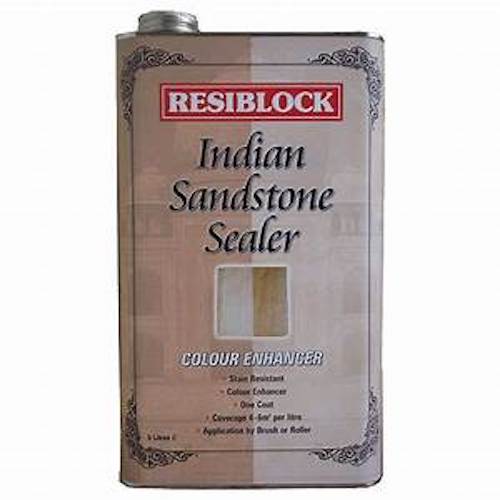 The Everbuild EVBRBINDENH5 Resiblock Indian Sandstone Sealer is a stain-resistant solution that enhances the colour of Indian sandstone pathways, patios, and driveways. Other products simply don't compare, but the trade-off is the price, which is quite high.
You can apply the product with a roller or a brush, depending on which one you want to work with. Depending on the weather and usage, the 5-litre sealant can keep your patios protected for up to 5 years.
Things we liked:
Offers 5-year protection
Stain resistant
Easy to apply
Things we didn't like:
Expensive
Can cause irritation
Best Patio and Driveway Cleaner
Jeyes Fluid Outdoor Cleaner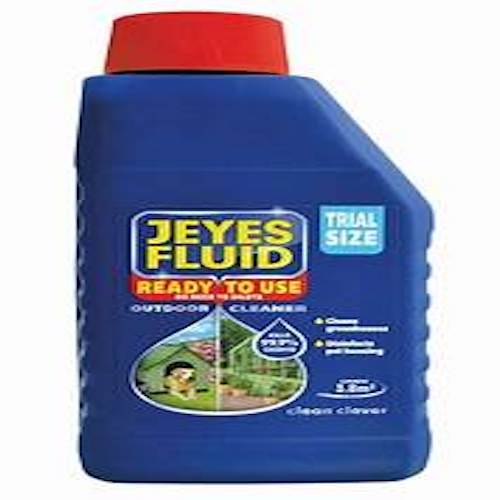 In addition to killing 99.9% of germs, this concentrated product can be used to clean patios, walkways, and driveways. It can deodorise and clean drains, and may also be used to hygienically clean pet housing and outdoor tools, and remove limescale and rust build-up in its latest version.
However, this cleaner does not guarantee the removal of moss and algae. So, if you have a lot of patio grime to get rid of rather than a quick clean-up, this may be a more time-consuming solution.
Things we liked:
Kills 99% of germs
Great for cleaning drains
Limescale removal
Things we didn't like:
Can irritate the skin
Some customers aren't happy with the new solution
Jeyes Patio & Decking Power Outdoor Cleaner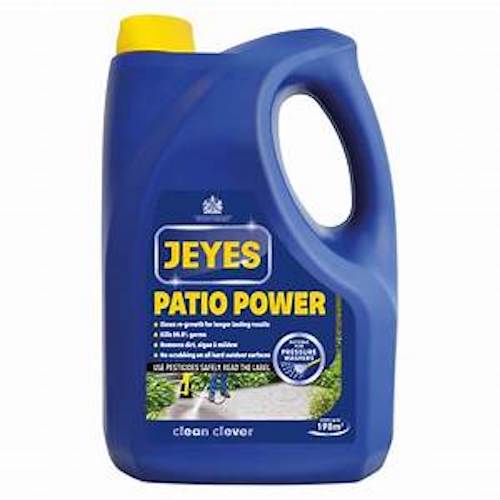 This is a perfect patio and driveway cleaner for your home. It is easy to use and affordable. With this patio and driveway cleaner, the work is already done once you put it on the surface you are cleaning - it saves so much time!
Once diluted, the spray and leave-on product work to remove mould, mildew, algae, and grime without requiring you to scrape, however, you will need to rinse it off after a few hours of use.
This patio cleaner doesn't claim to remove moss, but reviews say that it performs an excellent job cleaning up grimy patio paving when used.
Things we liked:
Excellent leave-on product
Great for driveways
Kills 99% of germs
Things we didn't like:
Cannot remove moss
It does leave some patches
Patio Magic! Battery Power Sprayer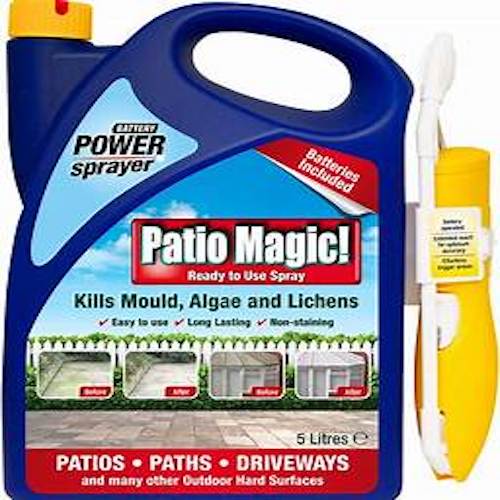 This Patio Magic! ready-to-use mix overcomes that problem by including a battery-operated sprayer as well as four Duracell AA batteries to get you started right away.
This is an easy and convenient solution if you're looking for a one-time patio and driveway blitz and don't want to invest (or have to store) a separate sprayer.
Things we liked:
Comes with a battery-operated sprayer
Easy to use
No scrubbing is required
Things we didn't like:
It is toxic to plant and aquatic life
Can be messy
Best Patio Detergent
Karcher Patio Cleaner Canister Pressure Washer Detergent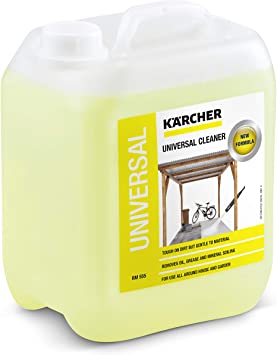 This five-litre detergent from Kärcher is a universal patio cleaner that can be used on all types of surfaces, including concrete, wood, and even patio furniture.
It easily eliminates dirt, filth, grease, and oil from all your outdoor settings. It's also Amazon's suggestion for the best patio cleaner for use in a pressure washer, which is a nice little bonus.
It creates a wonderful finish. It's not overly thick but given that the foam removes the majority of the filth, it probably doesn't need to be. Still, it's a fantastic product.
Things we liked:
Universal application
Has an oil separator
Easy to use
Things we didn't like:
Requires a pressure washer
JBC Heavy Duty Patio and Path Cleaner Concentrate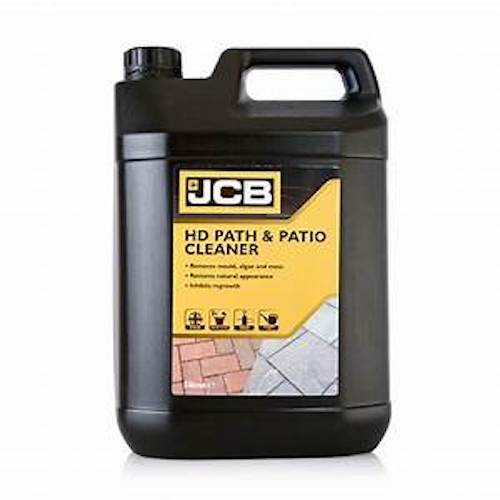 The JCB Heavy Duty Patch and Patio Cleaner is a powerful detergent that will leave no residue on non-sensitive flooring and surfaces, including concrete driveways, pavement slabs, and stone.
The thick moss that grows between paving stones will also be removed and brushed away.
Things we liked:
Powerful solution
Great for moss removal
Leaves no residue
Things we didn't like:
Not ideal for delicate flooring
Requires more than one application
Jarder Spray & Leave Concentrate Cleaner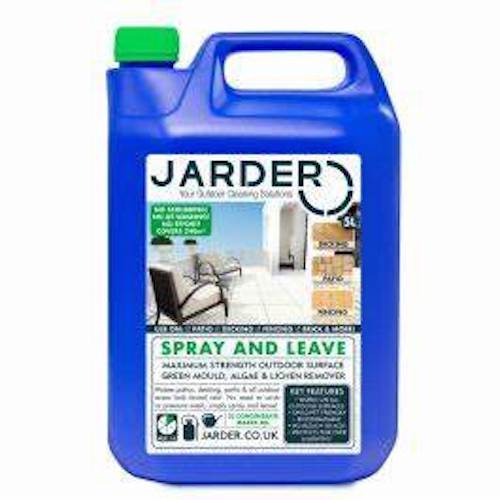 The Jarder Spray & Leave removes moss, mildew, and algae without the need for scrubbing, and it also prevents regrowth while being completely safe to use around children and animals.
It can clean decks, fencing, footpaths, roofs, sheds, greenhouses, boats, and any other exterior surface that is vulnerable to mould, in addition to patios.
This product offers fantastic value for money. People have been using it for years, saving them a lot of time and effort. It also has a lovely soapy consistency instead of a harsh chemical, and the customer service is superb. This is something I would strongly suggest.
Things we liked:
Does not require scrubbing
Prevents moss regrowth
Great for any exterior floor surface
Things we didn't like:
Requires multiple applications
Best Patio Pressure Washer Cleaner
Bosch EsyAquatak 110 High-Pressure Washer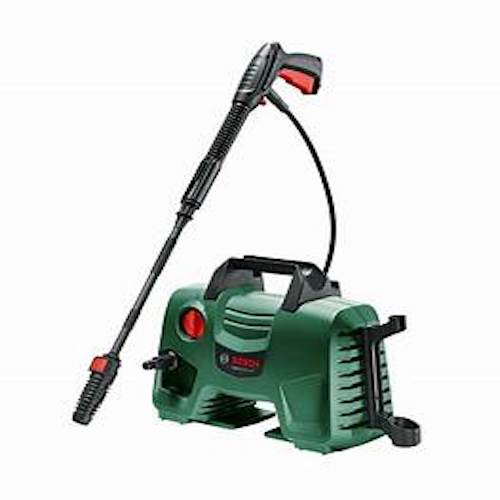 The Bosch EasyAquatak is easy to operate and surprisingly powerful for such a little machine. It's light enough to tote around your outside space while cleaning.
Although it is more expensive than the cleaners getting a pressure washer can change your life as it is so easy to use and makes your patio so clean!
Things we liked:
Compact size
Portable design
High-pressure nozzle
Karcher K2 Premium Home Pressure Washer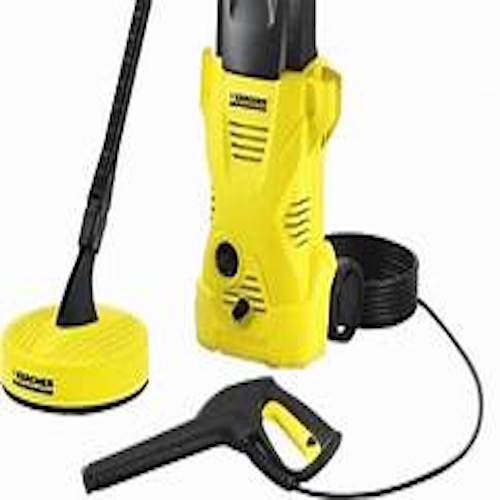 This Kärcher advanced pressure washer provides excellent value for money and is ideal for cleaning barbecues, patios, decking, garden furniture, stone walls, and automobiles.
It has an automatic stop/start motor release for total cleaning control, as well as water inlet filters to prevent dirt particles from damaging the pump.
It's a little lighter than some of the other pressure washers, which makes it feel flimsy at times, but it cleans just as well. The smooth wheels and ergonomically built handle make it easy to transfer the pressure washer, making it ideal for individuals searching for something similar to a portable jet wash.
Things we liked:
Automatic stop/start function
Lightweight
Ergonomic handle
Worx Hydroshot Cordless Pressure Washer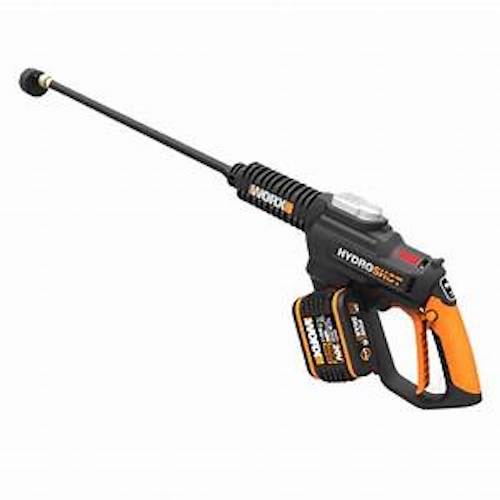 Among the electric pressure washers we evaluated, the battery-powered WORX Hydroshot WG629 stands out since practically every feature maximises portability. This cordless pressure washer, rather than utilising a cumbersome body unit, get fresh water from anywhere, making it ideal for on-the-go applications.
The Hydroshot washes with three to four times more pressure than a garden hose and nozzle and has adjustable pressure settings, despite not being the most powerful on the list. It won't erase an oil stain from a driveway, but it will quickly clean the dirt and filth off your patio.
Things we liked:
Portable design
Adjustable pressure
Cordless pressure washer
Things we didn't like:
Not as powerful as other models
Won't remove oil stains
Best Bottle Spray Patio Cleaner
Ultima-Plus XP Patio Cleaner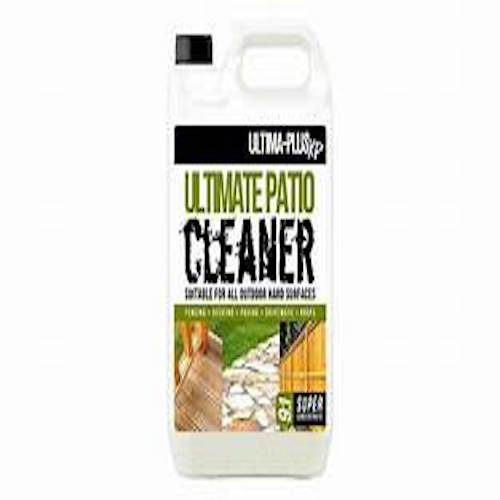 A concentrate usually offers the best value for money if you don't mind diluting your patio cleaner rather than using it straight from the bottle. This patio cleaner concentrates on long-term moss avoidance, coating your pavement in a protective residue that builds a barrier to keep algae from returning for up to six months.
This patio cleanser is cost-effective, as the 5L concentrate yields 25L of cleaning solution. It can cover a huge area of up to 200m2. All you must do is spray and walk away, and the patio cleaner will start working!
Things we liked:
Long-term moss management
Best value for money
Provides algae protection
Pro-Kleen Ready To use Spray & Walk Away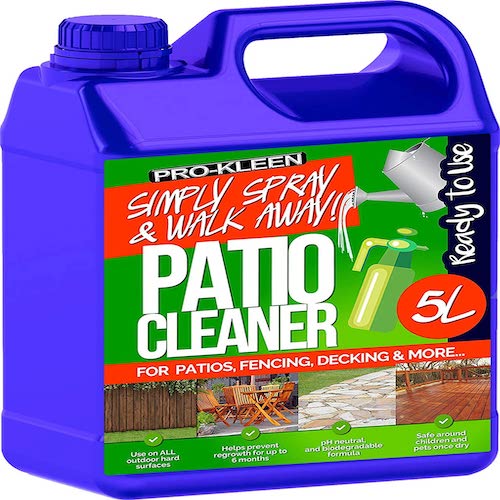 Instead, clean your patio while doing something less dull. This product does exactly what it says on the label; it's ready to use, and all you have to do is spray it on with a garden sprayer and walk away while it removes the green mould and algae.
There's no need to dilute or mix it; it's ready to use right out of the bottle for easy cleaning. This makes it a little more expensive per volume than a concentrated option, but we believe it's well worth it for the time and effort you'll save.
Things we liked:
No need to dilute the product
Easy to use
Great for green mould and algae
Wet & Forget Moss Mould Lichen & Algae Remover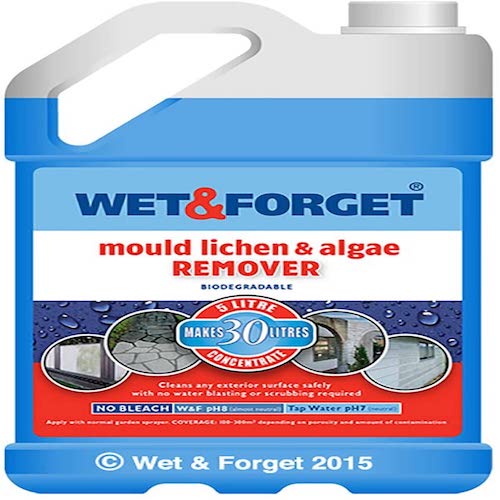 If you have a large patio area or driveway to clean, this powerful patio cleaner provides excellent coverage once diluted. A 5-litre bottle covers up to 300m2 depending on the porosity of the surface.
Simply combine one part Wet & Forget with five parts water in a pump-action garden sprayer, spray it on, and walk away while it works; no scrubbing or water blasting is required. This patio cleaner is long-lasting and bleach-free, and it can be used on a variety of surfaces. It also has a PH of 8 and is biodegradable.
Things we liked:
Great for large patio surfaces
Bleach-free
Long lasting results
Things we didn't like:
Requires multiple applications
Best Easy-Cleaning Patio Cleaner
Wet and Forget Rapid with Nozzle
This clever Wet & Forget option includes a built-in spray nozzle, eliminating the need for a separate garden sprayer for the ultimate in hassle-free patio cleaning.
Simply connect your outdoor hosepipe to the top of the bottle, and the patio cleaner will be mixed with the water automatically, allowing you to spray up to 200m2 in just 10 minutes using the fan nozzle.
It can spray up to 8 metres, making it simpler to reach those hard-to-reach locations, but the convenience comes at a price, as this option is the most expensive on our list. Is it worth it to save time and effort? We believe so for those of us who are short on time.
Things we liked:
Built-in spray nozzle
Easy to apply
Great for hard to reach areas
Things we didn't like:
Not ideal for roof cleaning
Wet and Forget Patio Cleaner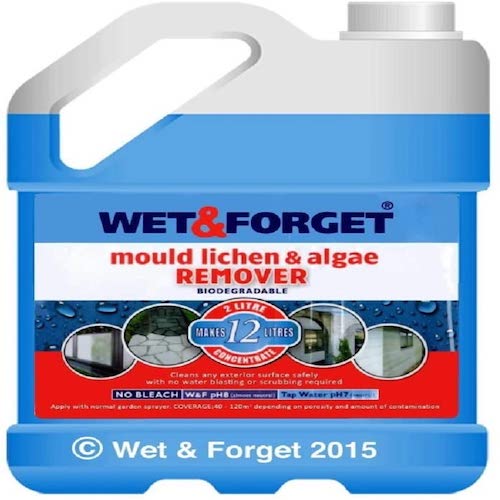 If the name doesn't give it away, this is the most popular mould remover on the market. Wet & Forget patio cleanser requires very little elbow effort to remove mould and algae from your patio, driveway and walks.
Simply dilute it in water and spray it over the area you wish to de-moss, then leave it alone. It's that simple.
Reviewers stated that they have used this product several times and that it is considerably easier, more effective, and gentler on driveways.
Things we liked:
Easy to use
Great for driveways
Non-acidic
Things we didn't like:
Can cause skin and eye irritation
Spray Activ8- 5L Patio Decking Cleaner
This ready-to-use, fast-acting product includes 15% CI active, which starts working right away. No cleaning or rinsing is required. Simply spray the area and wait for it to dry.
Algae, mould, weed, and moss are all killed by the Spray activ8 on outdoor surfaces. It's a one-of-a-kind cleaner that delivers excellent performance at a low cost while remaining gentle on the surface.
This powerful mixture is non-toxic, biodegradable, and safe for use on fabrics, pets, and plants. This solution can be used to keep moss, mildew, lichen, and mould at bay in the home, boat, or factory by restoring the natural colour.
Things we liked:
No rinsing is required
Non-toxic
Prevents moss and mildew growth
Best Weed-Killing Patio Cleaner
Resolva Ready to Use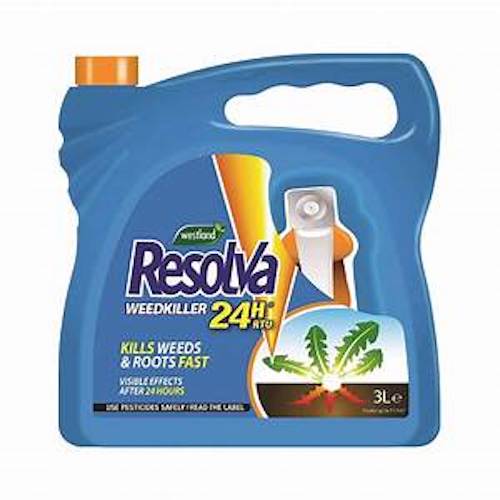 The Ready to Use Weedkiller from Resolva promises to deliver visible results within 24 hours after placement. This weeds killer's biodegradable nature assures that it won't stay in the soil for longer than necessary, and it kills the weed at the root for long-term benefits.
It's inexpensive and effective, and if you get the three-litre version, you'll be able to treat 120 square metres. When targeting weeds on your patio, the five-litre version comes with a convenient pump and an adjustable spray.
Things we liked:
Fast-acting
Biodegradeable
Affordable
Roundup Total Weed Killer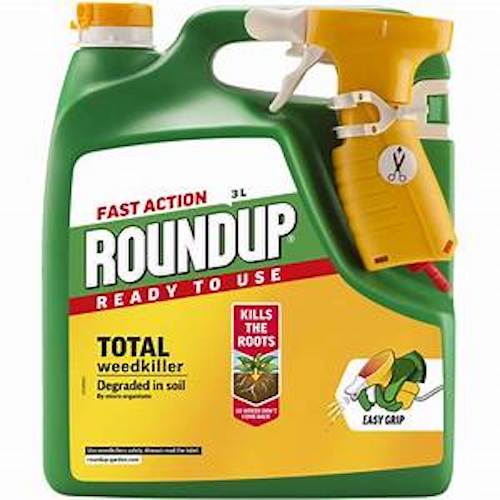 Total Weedkiller by Roundup is a popular all-purpose weed killer. This is the all-encompassing sister product to the Path & Drive choice above, and it will eliminate most garden weeds in one to two days after a single application.
It leaves no toxic residue and is quite simple to use. It should destroy the weeds and their roots in your garden before decaying in the soil and leaving no harmful substances behind.
Things we liked:
All-purpose solution
No toxic residue
Easy to use
Neudorff Weedfree Plus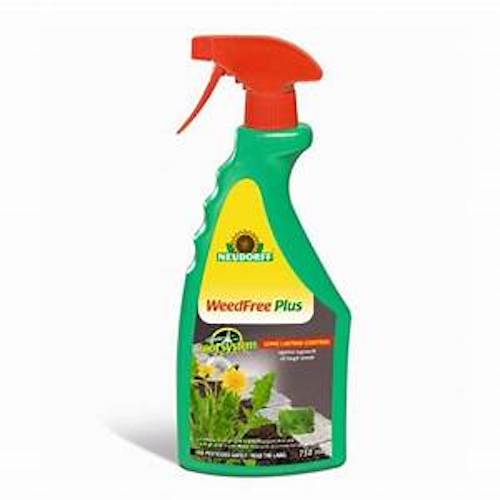 Weed-free Plus is another superb all-arounder that comes in a trigger bottle ready to spray or a 1.2l concentrate. It works on the leaves before busting out the roots, so spray it on most weeds and patios and they'll curl up and appear ill within the first day.
It's made up of pelargonic acid and maleic hydrazide, and while you'll have to reapply it to keep larger weeds at bay, it's a great way to keep weeds at bay.
Its true power, however, is its ability to control weeds that other weed killers struggle to handle, such as horsetail/tail mare's and ground elder.
If you need a strong weed killer but don't want to spray something terrible on your plot, this is a decent option.
Things we liked:
Excellent weed control
Safe solution
Fast-acting
Best Heavy-Duty Patio Cleaner
Smartseal Patio Clean Xtreme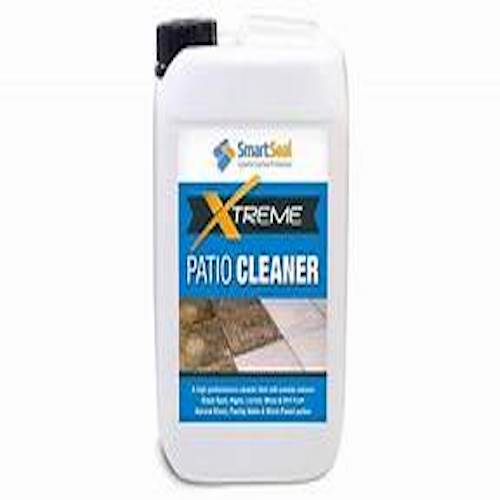 This product contains four extremely powerful active components that work together to help stop fungal grime and growths from spreading further. In addition, this solution successfully cleans the appearance of many hard surfaces and removes moss.
This heavy-duty patio cleanser is highly successful in removing and killing black spot lichens, which thrive in damp environments around the UK. Lichen is a tenacious organism that can emerge as microscopic spots on porous surfaces if left untreated or unwashed.
This Patio Cleaner is Professional Grade and will much assist in clearing this filth. All Algae, as well as green, white, and yellow lichens, have been tried and tested. It is also safe to use on a variety of hard surfaces, such as driveways, patios, and roof tiles.
This chemical has been proven to stop moss growth in its tracks in just one hour, this high-performance and fast-acting chemical can clean your roof! The best option for quick results
Things we liked:
Kills black spot lichens
Prevents moss growth
Fast-acting
Karcher T 7 Plus Patio Cleaner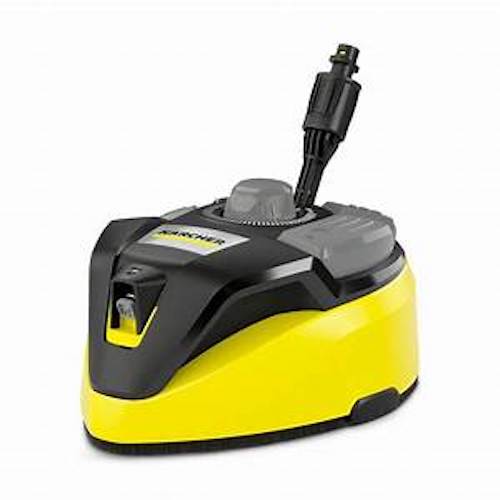 The Karcher T 7 Plus Patio Cleaner is a pressure washer attachment that cleans surfaces. It's made for cleaning patios and other hardscape surfaces outside of your home.
It can be used on vertical surfaces like walls. To protect fragile materials, the hovercraft floating mechanism allows you to position the revolving spray jets above the surface you're cleaning.
On the base unit, all the controls are easily accessible and may be adjusted with your foot. If you don't want to use a patio detergent cleaner or if you have a large patio with a pressure washer, the T 7 cleaner is a good option.
Things we liked:
Great for vertical surfaces
Adjustable controls
Ideal for hard surfaces
Things we didn't like:
Nozzles require replacement after a while
Simple Green Oxy Solve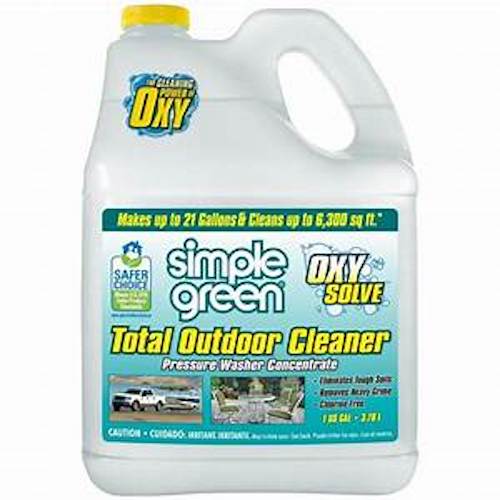 Simple Green's powerful cleanser contains high-performance peroxide as an active component for professional-grade results. Oxy solution doesn't employ any chemicals that are harmful, dangerous, or corrosive. A pressure washer also eliminates grease, oil, filth, and black stains off concrete and other patio surfaces, as well as driveways.
Mould and mildew stains are also removed with Oxy Solve. A biodegradable, non-acidic, and non-toxic solution refreshes the surface, making it safe for landscapes, streams, pets, and plants. Moving on to safety, this patio cleaner has been approved by the Environmental Protection Agency as a safer choice product.
Things we liked:
Non-toxic solution
Powerful cleaner
Great for driveways
Things we didn't like:
Requires a pressure washer for visible results
Best Organic Patio Cleaner
Algon Organic Path and Patio Cleaner Concentrate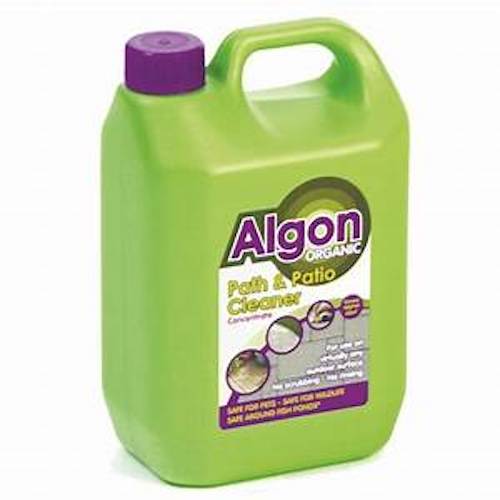 The Algon organic path and patio cleaner concentrate clean your patios while keeping your mind at peace, making it a safer cleaning solution for anyone with children, dogs, ponds, or a wildlife-friendly yard.
Furthermore, you don't need to rinse it off because its anti-mould and anti-algae properties remain for a year.
Multiple reviews have said that given the size and height of the polytunnel, it was considerably easier than they anticipated.
People say they were sceptical at first, but after a few days, the algae had vanished, leaving only a white residue behind.
Things we liked:
Safe cleaning solution
Doesn't need to be rinsed off
Anti-algae properties
C&G Home and Garden Patio Cleaner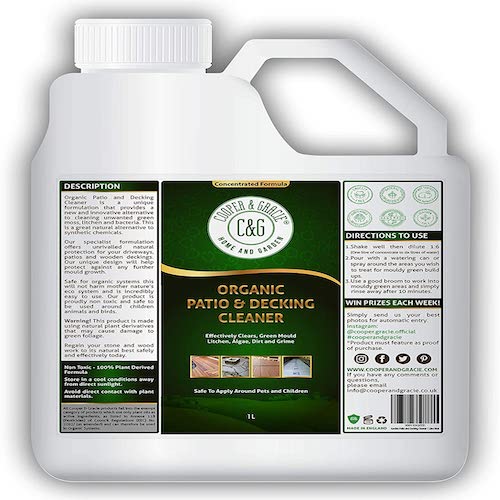 An environmentally friendly, one-of-a-kind patio and decking cleaner, great for driveways, patios, gravestones, and wooden decking. It is safe to use around pets, children, and wild animals and is suitable for organic systems.
This unique composition provides unsurpassed natural protection for your driveway and patio. This one-of-a-kind design will treat and prevent further mould growth. It's safe for organic systems, won't disrupt Mother Nature's ecosystem, and it's simple to use.
Things we liked:
Eco-friendly
Safe solution
Provides natural protection
Things we didn't like:
Expensive
Requires a pressure washer for best results
Karcher T350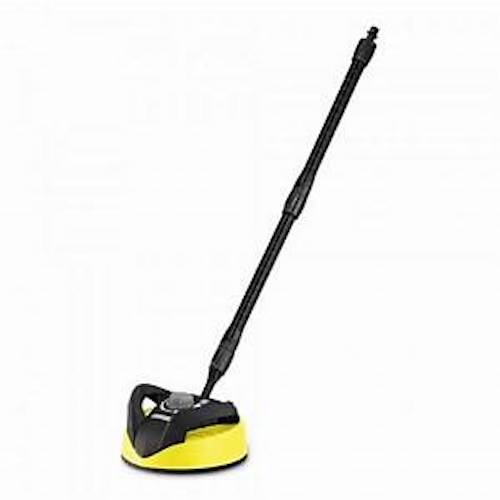 The Kärcher T350 isn't just another patio cleaner. This unique device, which works on horizontal and vertical surfaces, is simple to use to clean your outside pavers, garage door, and even the exterior walls of your home fast and easily.
The efficient design with a twinjet spinning arm cleans surfaces in half the time as a spray lance, while the head's cowl avoids splashing and keeps you and your surroundings dry.
The machine's constant pressure adjustment, which allows it to be used on all outdoor surfaces, including wood decks, stone and concrete pavers, and a galvanised garage door, is perhaps its best feature.
The ergonomic design includes two handles on the unit's head that enable easy vertical manoeuvring and two extension tubes that link to the bayonet connector for no-frills pavement cleaning.
Things we liked:
Great for horizontal and vertical surfaces
Ergonomic design
Can be used on multiple surfaces
Things we didn't like:
Can be difficult to assemble
Best Pet-Friendly Patio Cleaner
Defenders Concentrated Path and Patio Cleaner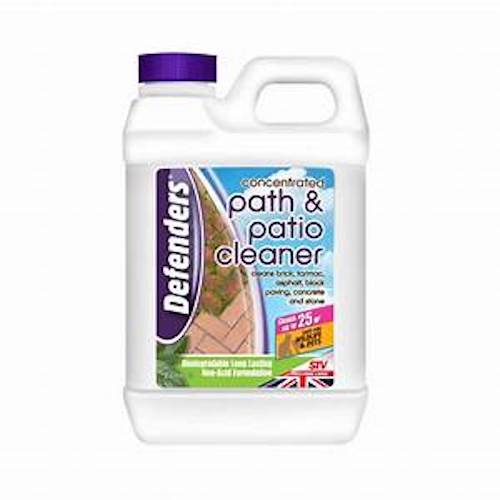 The cost-effective Defenders concentrated path and patio cleaner can remove filth from brick, block pavement, tarmac, concrete, and stone thanks to its biodegradable and non-acid formulation.
It may even be used on walls, and it is perfectly safe to use around dogs, wildlife, and children. This cleanser isn't as long-lasting as some of the other, more powerful cleaners on our list, but it's still worth it.
Things we liked:
Can be used on external walls
Biodegradeable
Safe for wildlife and dogs
Things we didn't like:
Requires multiple applications throughout the year
Midchem Speciality 1 Mould Mildew Algae & Moss Killer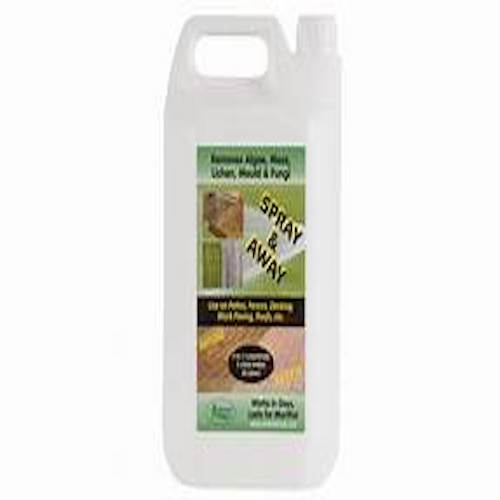 Midchem Speciality's spray and walk away from cleaning solution is a fast-acting formula that shows results in just two days. It takes care of everything, no more algae, moss, or mildew. Furthermore, because the treatment lasts for 6 months, it destroys all growth and suppresses it.
The cleaning recipe is safe to use around plants and pets because it contains no acids, bleaches, or hazardous chemicals and has a neutral pH. It may also be used on a variety of surfaces such as patios, fences, decking, block paving, roofs, and so on.
Things we liked:
Fast-acting product
Lasts 6 months
Safe for plants and pets
Homefront Organic Patio Cleaner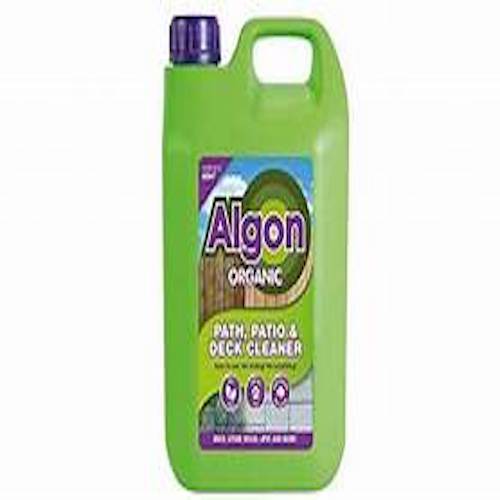 Simply mix one part patio cleaner with three parts water and apply with a pump sprayer or watering bucket. The non-staining solution contains no acid or bleach; instead, it deep cleans your patio to restore it to its original condition.
Even when it's still wet, it's safe to use around pets! This means you can use it without worrying about your dog's being harmed during or after the application. Our one-of-a-kind patio cleaning is 100% natural and free of harsh chemicals. Instead, it employs a recipe based on natural acetic acid.
Things we liked:
Non-staining product
Deep cleaning ability
Safe for pets
Things we didn't like:
Requires multiple applications
What to Consider Before Buying a Patio Cleaner?
A patio cleaner can fix a few problems at once. To eliminate moulds and algae and remove dirt and stains from the patio, simply apply it with a garden hose. To obtain the best results, you'll need to know what you are looking for.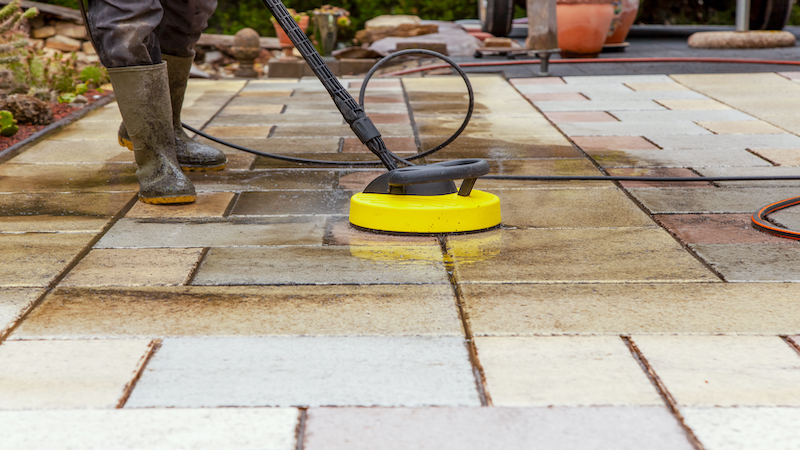 Here you will learn about what to consider when buying a patio cleaner, this will ensure you that you buy the patio cleaner perfect for your home.
How Bad is Your Patio?
Before you choose a product, consider whether it will be efficient in terms of both quality and volume. The more severe the infestation, the more solution you may need to use.
Getting a very concentrated patio cleaner may be the best solution in most circumstances. If the staining on your patio is severe, use a solution formulated specifically for badly soiled patios and garden walkways.
How Powerful is the Cleaner?
Some are far more efficient than others. How well a patio cleaner cleans the surface of your patio is determined by its strength. While most patio cleaners are effective, the better ones concentrate on a specific type of patio filth.
Most black mould algae patio cleansers are one-of-a-kind, making them quite successful in curing the problem.
Does It Work?
Patio cleaners come in a variety of shapes and sizes, and which one you choose is dependent on several things. You should get a 'Spray and Leave' product if you want a solution that requires very little work.
All you have to do with these best patio cleaners is apply them to the afflicted areas and wait a certain amount of time. Others might take days, but you won't have to do anything yourself in the end.
Is Tt Eco/Pet Friendly?
Except for indoor patios, patios are open to the elements. As a result, they are continually exposed to nature as animals, and even pets are. Although the best patio cleaners are made with pet-friendly components, it's always a good idea to double-check.
Most environmentally friendly patio cleaners recommend that you wait a certain amount of time before allowing your pets or children on the patio.
Cost
While many are highly expensive, this in no way indicates their effectiveness. Before you pay for something, make sure you carefully examine the features and decide if each one checks off your list.
Also, if you're on a tight budget, look for a patio cleaner that has most of the features you want at a price you can afford.
FAQs
How effective is patio cleaner?
Most patio cleaners are effective, however, a patio cleaning solution may be more effective in removing stubborn mould or algae, as well as leaving a preventive layer to slow further growth.
What is in patio cleaner?
The chemical compound sodium hypochlorite patio cleaning has the formula NaClO. It is made up of a sodium cation (Na+) and a hypochlorite anion (ClO); it is also known as hypochlorous acid's sodium salt.
How to make your patio cleaner
Add one-half cup of baking soda to one gallon of water for a gentle cleaning solution. For filthy areas, use equal parts baking soda, water, and salt. Spritz baking soda residue with vinegar to remove it. This results in a safe, natural chemical process that produces CO2 gas and water.
Is patio cleaner safe to use?
The vapours can also be dangerous, causing harm to the nose, throat, and lungs. It is best to keep children, pets, plants, and grass away from it because it will harm or destroy just about anything organic. However, as discussed, you can purchase eco/pet-friendly patio cleaners.
Should you pressure wash your patio?
Cleaning your patio and walks with a pressure washer will improve their appearance and prevent them from becoming dangerously slippery to walk on. Using a pressure washer instead of a scrubbing brush and hose is far faster, easier, and more effective, but only if you know how to use it properly.
Sources