gardening & outdoors
Best Leaf Blower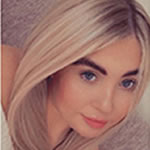 When the leaves start to fall from the trees when summer has passed, they can be extremely annoying and can make your home look messy. That's why this article will teach you everything you need to know if you are looking at buying a leaf blower.
This article will cover the different types of leaf blowers, what they are used for, how they work, and the best leaf blowers you can buy for your home. So, if you are debating purchasing a leaf blower, this article is just for you!
What Is a Leaf Blower?
So, what does a leaf blower do? Leaf blowers are used to clear debris, dead leaves, and other unwanted items from the ground and push them to the outskirts of the region. A leaf blower pushes detritus away with the force of air, which is usually generated by a gas-powered motor, which is why they're so noisy.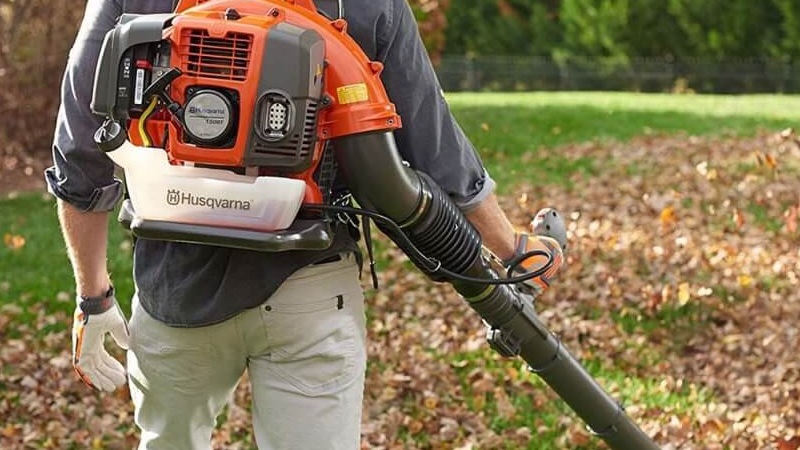 A leaf blower is an excellent option instead of a rake because it can accomplish the same or greater tasks with less effort.
When you consider how much your time and physical condition are worth, it has relatively few drawbacks. It's necessary for large homes and professional use.
How Does a Leaf Blower Work?
A leaf blower is powered by either an electric motor or a gasoline engine. The fan blades, which rotate at a high speed to generate centrifugal force, are driven by the engine. The air surrounding the blower is forced to be pulled into the fan by centrifugal force. The air is subsequently forced out of the nozzle by the fan.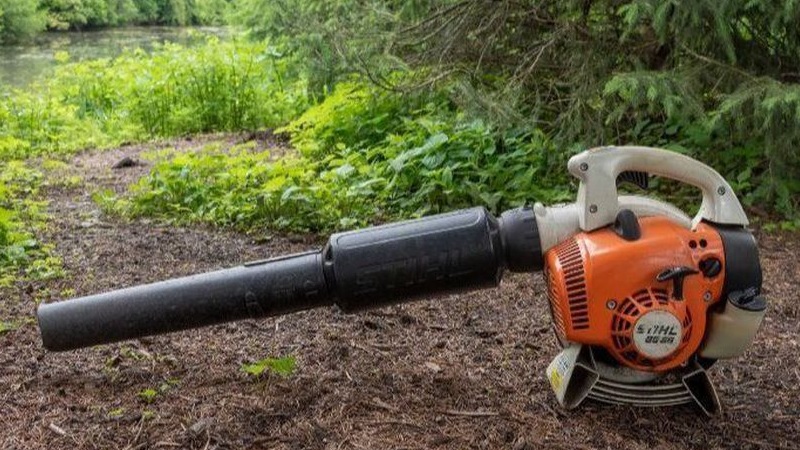 Electric motors are simpler since they only have two parts: a rotor and a stator, which receive a charge from the power source, and a commutator if the engine is battery powered.
However, gasoline-powered blowers differ from electric engines in terms of engine design, as well as between themselves, since they might be 2-stroke or 4-stroke. The fraction of movement in which the engine executes fuel intake, compression, combustion, and exhaust is referred to as strokes.
Types of Leaf Blowers
Different leaf blowers are each intended for a certain space, yet they all perform the same task. All can blow leaves with ease, but you may prefer one over the other if you prefer a quieter machine. You may need something more powerful if you have a larger yard or field to manage.
Furthermore, a green person would choose to utilise leaves as mulch or compost. To meet that need, you can acquire a particular attachment for your blower. This section of the article will help you pick the type of leaf blower for your property.
Petrol Leaf Blower
Although petrol leaf blowers can be scary, if you've used one previously or are willing to learn more about them, this instrument can be the most effective for cleaning your yard. This blower has the most power on average, but it requires a lot of maintenance, not to mention that it is the loudest of the bunch.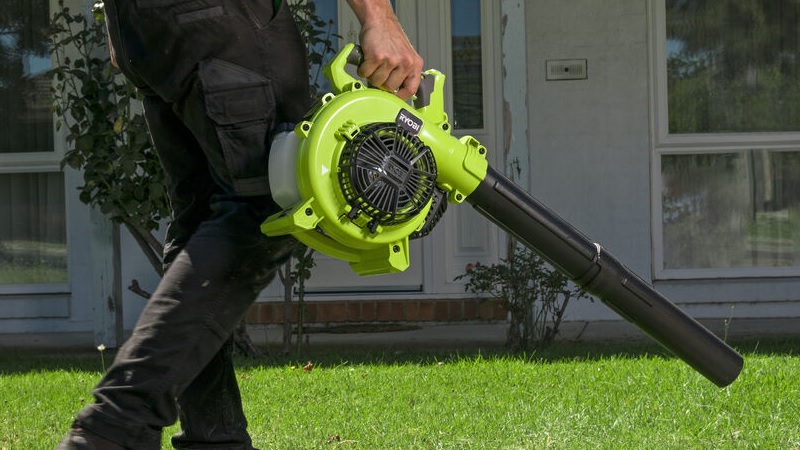 Pure petrol blowers are also available and are as straightforward as they appear. You only need to fill the petrol tank, close it, and you're good to go. They are powerful and have a long run time, but they are known to be loud, require maintenance, and the price of gasoline fluctuates.
Cordless Leaf Blow
The new, unique lithium-ion battery technology is used in modern cordless blowers. They have the same power as many gasoline engines, but they are cleaner, lighter, quieter, and easier to start. Batteries have a run length of up to two hours and can be recharged in as little as 30 minutes.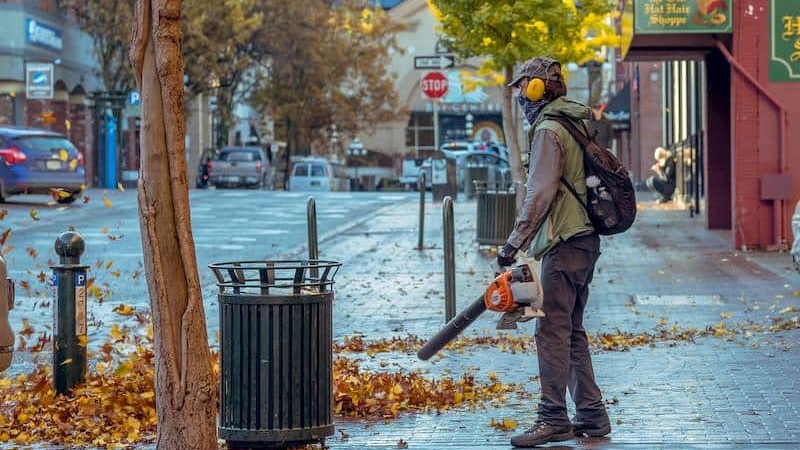 If you buy a cordless leaf blower, you'll have the added benefit of being able to use the battery and charger with other cordless products in the same range.
Rechargeable Leaf Blower
Rechargeable leaf blowers are a viable alternative for both first-time buyers and loyal fans of established brands. Fans of the brand would appreciate having a machine that already works with their existing tool batteries. It can be daunting if you've never had a blower before and haven't seen the gas and oil variants.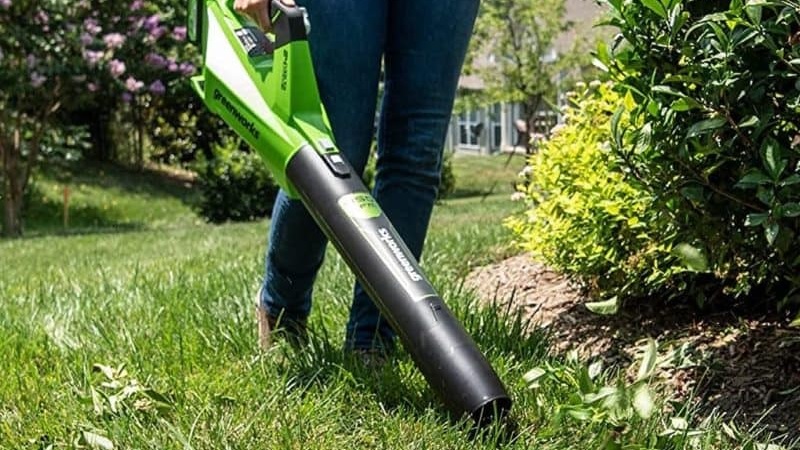 It's as easy as clicking a battery into the tool and pulling the trigger with the rechargeable alternative. Motor maintenance might range from non-existent to a once-in-a-while check-up, depending on the model you buy. For first-time users, this is quite useful.
It's easy to use, great for beginners, and it can run on batteries from other tools. It does, however, have a limited run period.
Electric Leaf Blower
Electric leaf blowers are typically exceeded by their gasoline-powered cousins, but they are far from inferior. Electric leaf blowers have less power than gas leaf blowers, but they have lighter handling, quieter engines, and generally lower pricing. Electric leaf blowers and more efficient ones are being developed by manufacturers.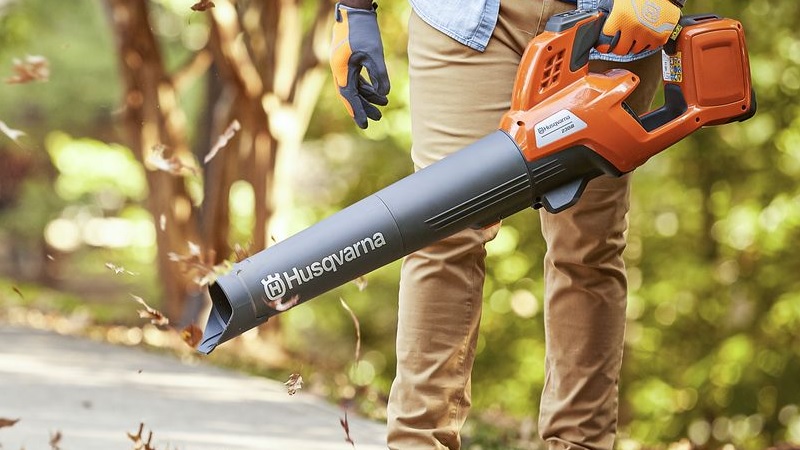 However, you'll need an electrical outlet at a fair distance from the work area if you buy electric leaf blowers. If you don't have one, a petrol or cordless leaf blower is likely a better option.
Corded Electric Leaf Blower
You can use corded leaf blowers if you don't have any battery brands and yet want to go electric. Corded electric leaf blowers are a good compromise between electric and gas-powered leaf blowers since they provide greater power than the batteries while avoiding the hassles of gas and oil.
However, the cord is the negative of this tool, which makes it more powerful.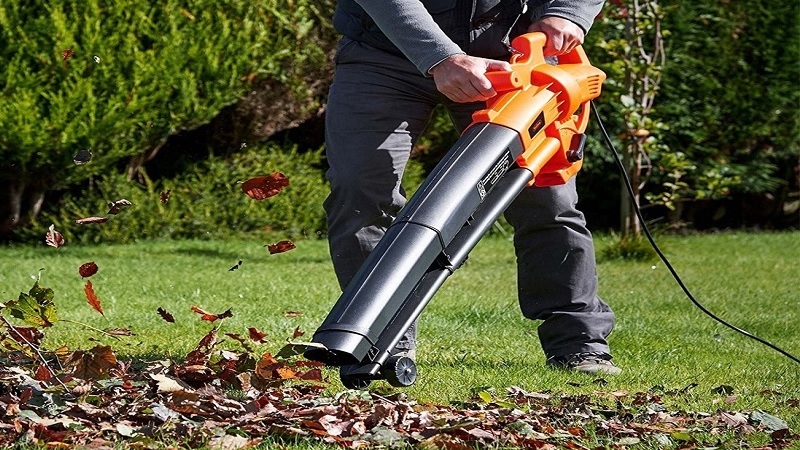 It can get snagged and entangled in the cable because it is light and agile. You can only go so far with the tool because of the cable. This is ideal for typical yards with a fence.
You may need to look for something different if that is not the case. However, the distance is limited, and the wire gets in the way. However, the distance is limited, and the wire gets in the way.
Handheld Leaf Blower
Because of its mobility, adaptability, and small weight, this leaf blower is ideal. Porches, gazebos, and small lawns will all benefit from this. Some will be heavy because you must carry them in your hands to keep them under control.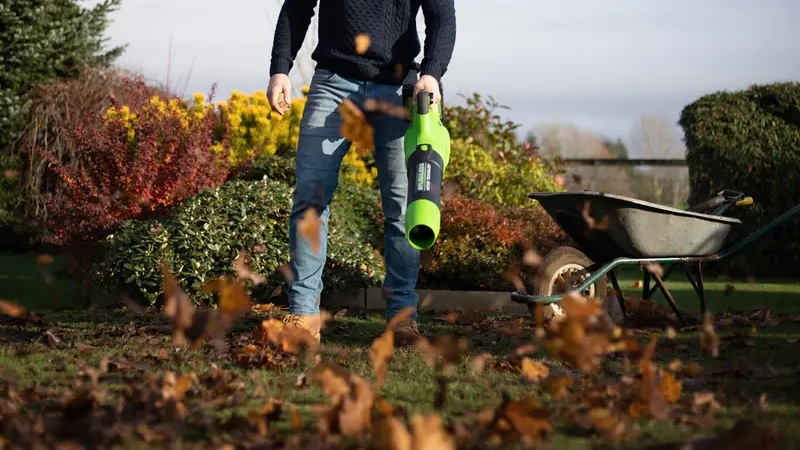 On the other hand, this leaf blower cannot clear heavy material, but it can manage light snow, dust, and sawdust without bogging down. This is because the force of the leaf blower is not as powerful as you don't want to hold something which could cause harm or injury.
Wheeled Leaf Blower
This leaf blower is one that you drag around with you, and it blows leaves and other heavy objects away from your home. It is easy to use, and a popular one is known to be used for more professional uses.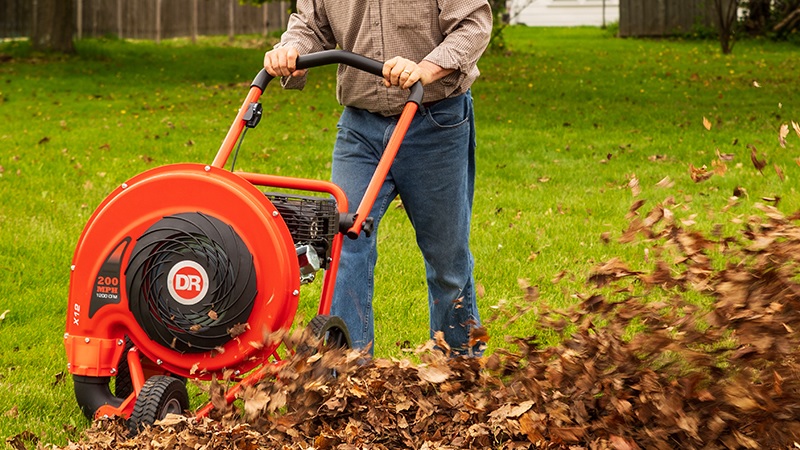 For operations that need to be completed fast and require a lot of force, the wheeled leaf blower is the big gun. A professional crew would use wheeled leaf blowers, which can blow away leaves, heavy paper and cardboard, and other rubbish that has been left on the ground. It has a higher force than other leaf blowers because it is used by experts.
Leaf Blower Backpack
If you need more power and a longer run time, the backpack leaf blower is the one to consider. As it begins its work, you place it on your back and stroll around with it. Ideal for garages, large shops, and fields with a lot of ground to cover.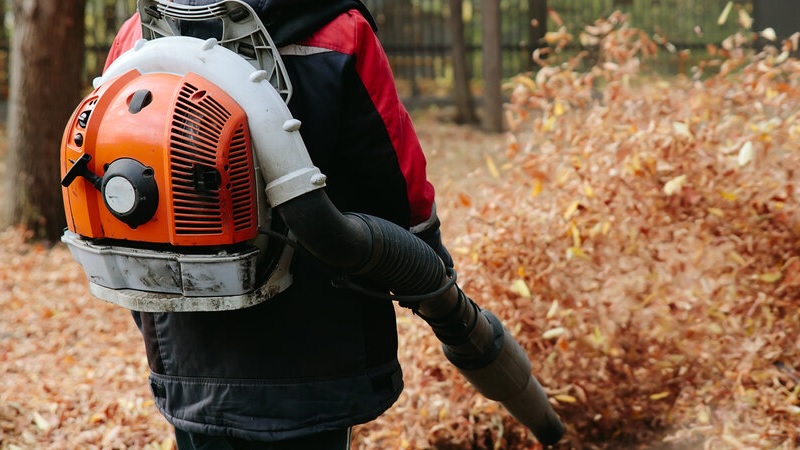 Wet leaves, twigs, pebbles, and metal shavings are easily blown away with this leaf blower. However, because the force isn't very strong, it can't blow anything heavy away, only small light objects around your home.
Best Leaf Blower
Using a rake to clear the autumn leaves is a laborious and time-consuming task. You can blow them all into a neat pile in a fraction of the time using a leaf blower. You don't even need to shovel up the leaves afterwards: simply use a blower vac to suck them up like a vacuum cleaner.
Many leaf blowers, on the other hand, lack power, while others are too noisy or don't last. This article will show you which products are the best in terms of power, noise levels, durability, and other factors. Also, there is a lot of diversity amongst leaf blowers, so doing some research before buying is a good idea.
Best Petrol Leaf Blower
Makita BHX2501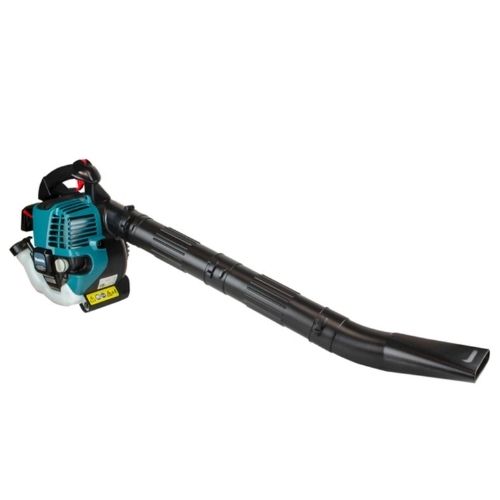 This blower will be ideal if you have a large garden or simply like petrol-powered tools. Even at full throttle, it runs for an astonishing 60 minutes on a tank of unleaded gasoline and is remarkably quiet.
The four-stroke engine saves fuel, uses less oil, and emits few pollutants, while the small body and two-part blower tube make it easier to store than most petrol machines. Furthermore, whereas many petrol leaf blowers are quite heavy, this one isn't.
However, there are a few small issues, such as the set-up is a little tough, and the "cruise control" button isn't the most user-friendly – but none of them are deal-breakers. You may also quickly and simply convert it to a vacuum with an optional adapter.
Pros
Ideal for large gardens
It runs for 60 minutes
Quiet
Cons
Difficult set-up
Buttons can be hard to use
Hyundai Powerful Petrol Backpack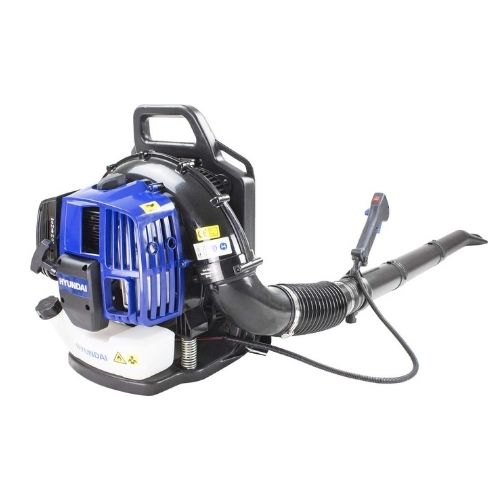 Hyundai offers a three-year warranty on this petrol leaf blower, as well as full UK service and spares to keep your leaf blower running for years. It's also very lightweight, featuring a fingertip trigger control and an anti-vibration ergonomic design.
It has a backpack design for comfortable and convenient operation and a user-friendly locked throttle lever for continuous operation.
Pros
Lightweight design
Easy to operate
Three-year warranty
Cons
Tension on the chain can lead to damage
Parker PBV-2600 26cc 3 in 1 Petrol Blower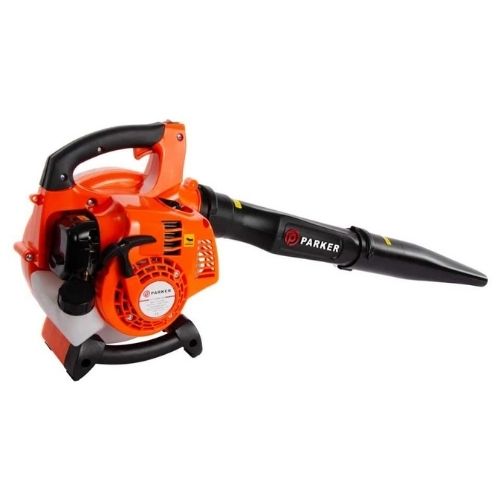 With a 1HP / 0.70kW power output, this petrol leaf blower comes with a warranty and UK seller support. It is lightweight and simple to use, according to reviews.
This popular petrol leaf blower has three functions: suction, mulcher, and shredder. It is renowned for being a powerful and dependable two-stroke engine.
Pros
Easy to use
Three different functions
Powerful model
Best Cordless Leaf Blower
Stihl BGA 56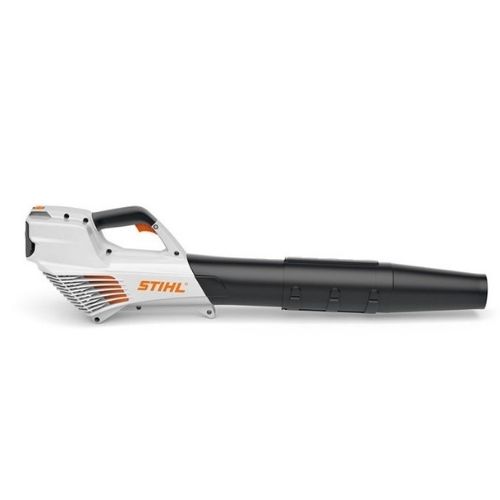 This cordless leaf blower is quiet and light, yet it has a lot of power when it comes to blowing. We discovered that the 20 minutes of battery life was sufficient for clearing leaves and other detritus from a medium-sized landscape, including the lawn, flowerbeds, and patio.
Even damp leaves in tucked-away areas were easily removed. The BGA 56 is also comfortable to use, with soft-grip handles and a length-adjustable tube, so you don't have to lean over and get a sore back when it's time to recharge, which only takes an hour.
The BGA 56 is also comfortable to use, with soft-grip handles and a length-adjustable tube, so you don't have to lean over and get a sore back. It's a bit bulky, but it's still a great deal.
Pros
Quiet operation
Soft grip handles
Lightweight design
Cons
Battery life may not be sufficient
Stihl BGA 57 Cordless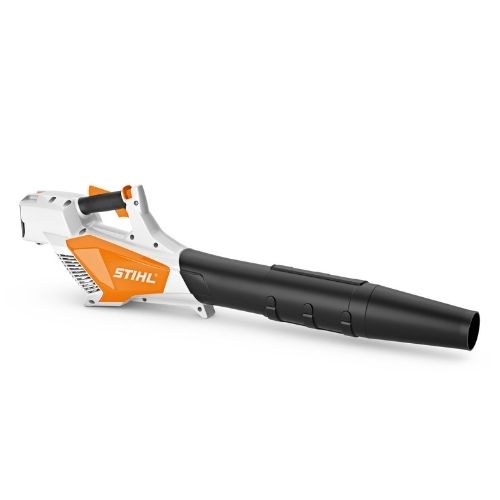 The nozzle is big enough for open lawn leaf blowing but focused enough to clean up a gutter or reach into the nooks and crannies of a stone wall, with great balance and ergonomics.
One of the quietest blowers we tested, yet this didn't detract from the machine's power or performance, which was more than capable of handling a variety of blowing duties.
It also has a soft-grip handle that helps when you have a lot of blowing to do. It also features a useful eyelet in the handle that makes it easy to store the machine on a garage joist or a shed wall once the job is done.
Pros
Ideal for various jobs
Ergonomic design
Quietest operation
Karcher LBL 2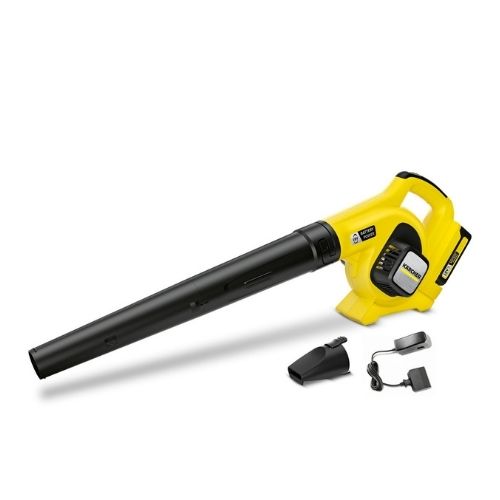 This blower has little trouble moving a variety of waste, from leaves and twigs to fallen fruit. The built-in scraper, which comes with a removable flat nozzle, might be used to relocate anything persistently refusing to move.
This was especially useful for leaves that had been trodden down on a garden path by footfall, according to reports. When you pull the trigger, the airflow is instantaneous, and the blower is light and well-balanced.
Pros
Good battery technology
Built-in scraper
Well-balanced design
Cons
Not the most powerful model
The battery takes a while to charge
Best Rechargeable Leaf Blower
Ego Power + LB570E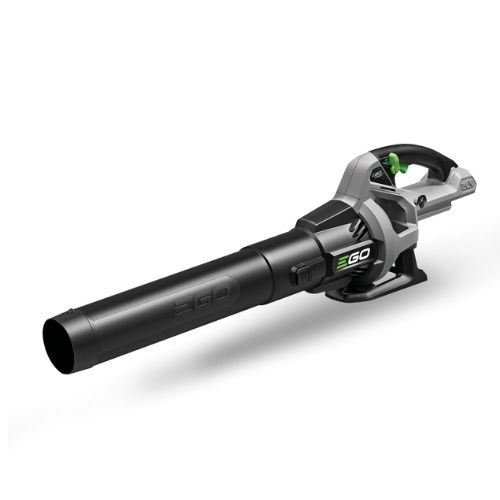 This rechargeable portable blower performs so effectively that you'd swear it was a piece of gasoline-powered equipment. With the "turbo boost" mode active, it will run for 20 minutes and even longer on the usual level, thanks to a variable speed trigger that ensures precision control.
The brushless motor improves efficiency and battery life, while the wide blower tube aids in the removal of more leaves.
However, the battery isn't included and will set you back a couple of hundred pounds, while the charger would set you back roughly fifty pounds. Even so, it's quiet and tiny, with few vibrations, and it's built to last.
Pros
Turbo boost function
Good battery life
Portable design
Cons
It does not include battery
Husqvarna 120iB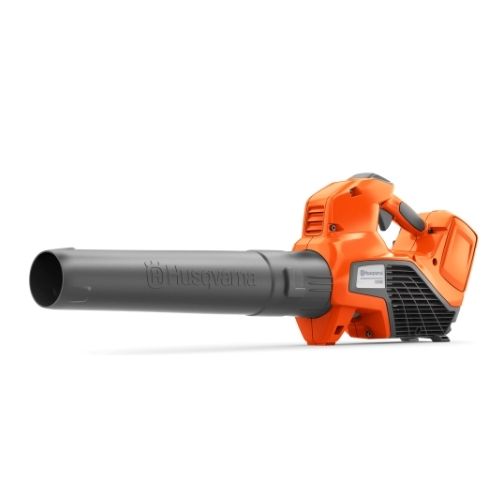 Because of the large opening of the blower tube, the airstream of this strong battery-powered blower can cover a large area, making it excellent for sweeping open lawn leaves.
Overall, there's a decent balance when working, and the control keypad is intuitive and easy to use. It allows you to swiftly switch between three different blowing modes, so you're less likely to emerge sputtering from a massive dust cloud if you're cleaning out a garage.
Pros
Great for large gardens
Three blowing modes
Powerful model
Ego Power + LB5800E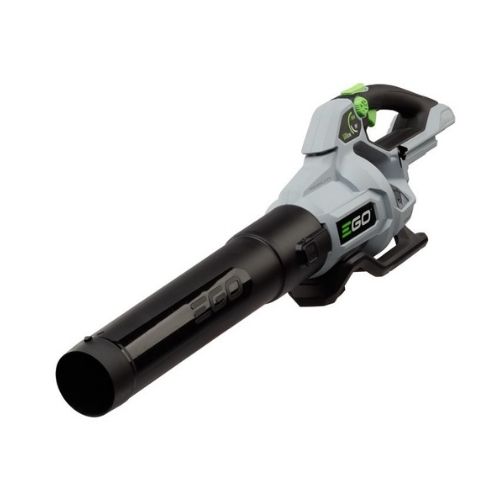 This battery-powered device continues to impress and prove itself to be one of the best portable blowers available. It wasn't long ago that if you wanted genuine power, you had no choice but to go with a big, petrol-powered machine, but this offers serious airspeed that puts many petrol-powered motorcycles to shame.
Wet leaf clumps and twisted twig heaps are also no match for it.
It's incredibly ergonomic, with one-handed controls and a turbo button that adds extra power when needed. It enables users to complete blowing chores without using the turbo boost option, which is a credit to the blower's overall capability.
Pros
Ergonomic design
Powerful leaf blower
Turbo boost option
Cons
Battery and charger not included
Best Electric Leaf Blower
Black & Decker GW3031BP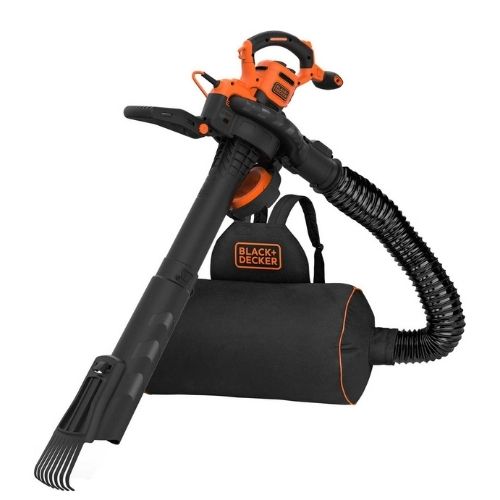 This is very powerful, and it leaves nothing in its path that you don't want to be in. It has enough energy to make your lawn or driveway appear pristine without too much elbow grease and with very little noise, whether it's leaves or cones – or even twigs. There's also a useful rake attachment for anything that just won't budge.
The machine can also be used as a hoover, eliminating the need for a separate leaf vacuum. It can collect up to 50 litres in the sack that you wear on your back. Fitting and emptying the backpack takes some practice, but it's a lot easier once you get the hang of it. It's also remarkably light.
Pros
Minimal noise
Useful rake attachment
Powerful model
Cons
Buttons can be difficult to figure out
Cobra BV2600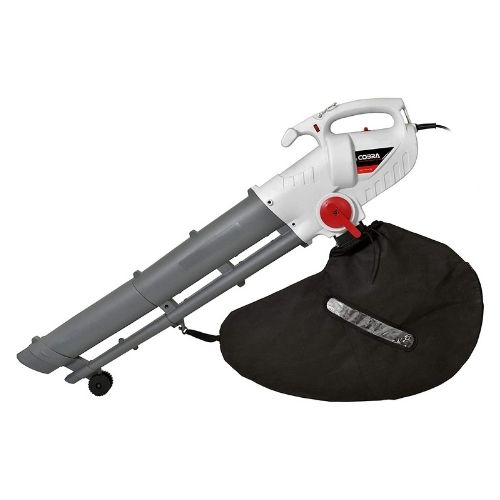 If your leaf litter pile or compost heap is separate from your lawn, a blower vacuum might be a great autumn tool. For hard twigs or matted leaves, use the blower first, then the vacuum to collect the debris and empty it where it belongs. This is a powerful electric blower vacuum with a long 10m cable, so you won't need extension cords.
Most users are pleased by its power, as it was able to reach under matted leaves and lift and move them exactly where we needed them or loosen them enough to make sucking them into the 45l collection bag simple. The usability was enhanced by nice ergonomics, notably when switching between blowing and vacuuming modes.
Pros
Long cable
Great level of power
A good size collection bag
Cons
Not ideal for picking up acorns
Ryobi 3000 Electric Blower Vac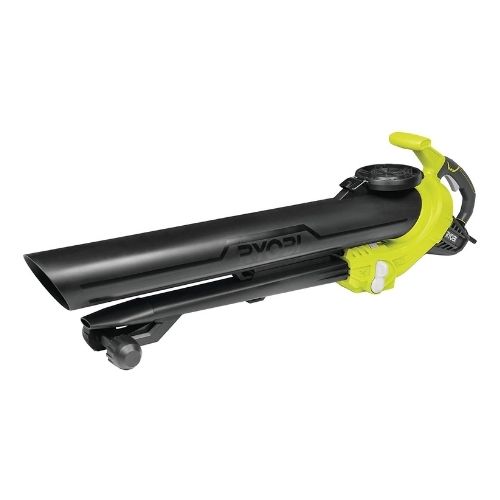 This is a high-powered, mains-powered leaf blower that also functions as a vacuum cleaner. Unlike other models, which require changing the nozzles to switch between blow and vacuum, this one has both built-in for quick switching. You also get mulching, which compresses all those leaves into the bag at a 16:1 ratio.
When it comes to speed, you can push this up to 375km/h, and there's also a silent option to aid with the motor noise. With a 960 m3/h air volume, this blower is one of the most powerful while remaining lightweight. The extra nozzle is barely perceptible, and the comfortable grip makes it easy to use for long periods.
Pros
2-in-1 design
Built-in nozzles
Silent function
Cons
Not ideal for large gardens
Best Corded Leaf Blower
Handy Eco Vac THEV2600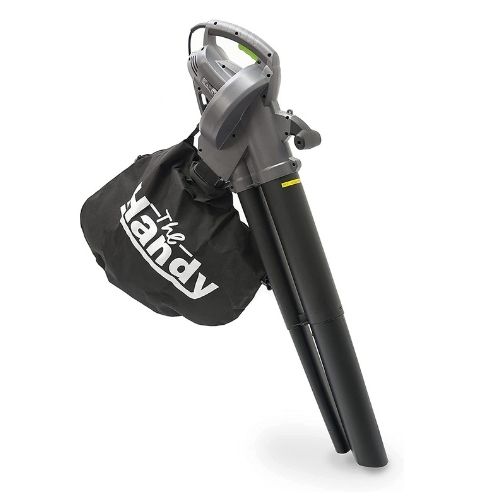 This corded machine is inexpensive, but it can do more than simply blow leaves into a nice pile; it can also suck them up and shred them into tiny bits, so you only have to empty the bag once in a while.
Other pluses include the fact that it isn't too bulky, that the shoulder strap is comfortable to use, and that it stores away neatly.
For all but the tiniest gardens, you'll need a mains extension lead, and the nozzle may need to be unblocked from time to time. Emptying the bag is also a little tricky at first, but it's no problem once you get the hang of it.
Pros
Budget-friendly
Lightweight design
Comfortable shoulder strap
Cons
An extension lead is required
Not ideal for large gardens
Bosch Home and Garden 06008B1070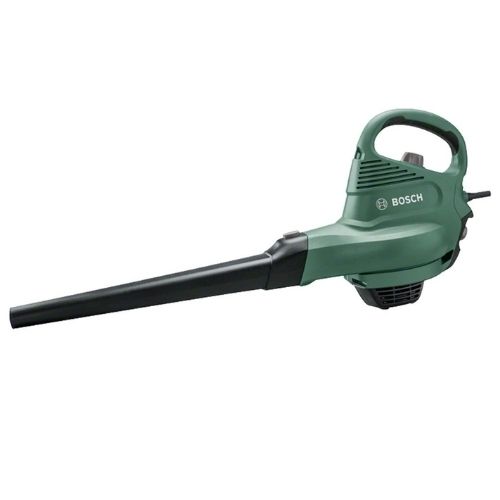 It enables quick unclogging after usage, as well as a 6 per cent reduction in body size while enhancing manoeuvrability. It's also one of the quietest options available. This model features a new dual-layer with easy removal that makes emptying and cleaning easier than ever, as well as a redesigned release screw that makes switching between modes even easier.
You can adjust the handle on this leaf blower while using it to preserve comfort during tasks. In both modes, speed can be readily controlled with a simple switch. Dirt deflector plates are also included to keep users clean.
Pros
Quiet operation
Easy debris removal
Adjustable handle
HYCHIKA Garden Blower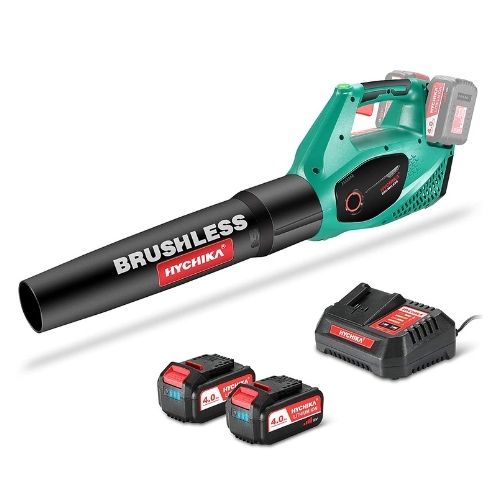 No more raking by hand; with this Leaf Blower cordless, you can effortlessly move leaves and garbage faster and more efficiently. The blowpipe's simple installation and ergonomic rubber grip make leaf blowing more comfortable and controlled.
This powered blower can be used in a variety of ways, including as a snowblower, gutter cleaner, and car drying.
Pros
Ergonomic grip
Various functions
Lightweight use
Cons
No instructions for batteries or charger
Best Handheld Leaf Blower
Gtech Leaf Blower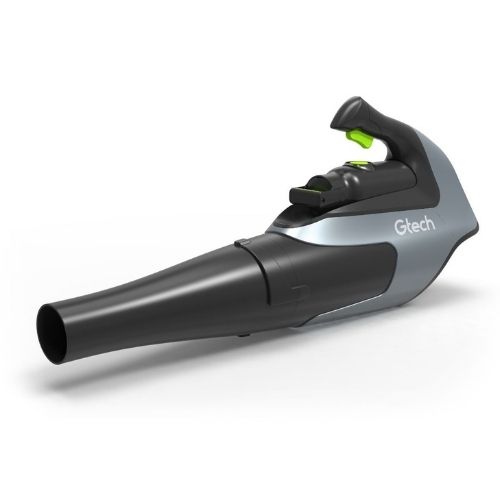 This leaf blower has a fantastic design that is combined with sophisticated ergonomics to create an amazing battery blower that generates a forceful flow of air while keeping the weight low and well distributed to make working with the machine a pleasure.
Many reviews loved how the tool is balanced and naturally leans towards the ground while operating, putting less strain on the wrist.
Pros
Clever ergonomic design
Easy to use
Balanced leaf blower
Bosch ALB 36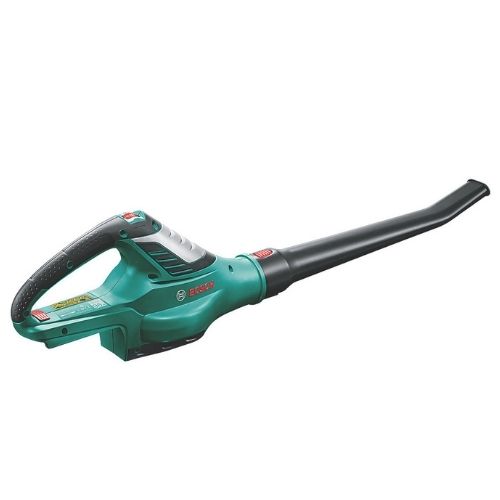 Because the Bosch ALB 36 LI has similar power to the Ryobi unit, it will struggle with damp leaves. The Bosch design is immediately obvious, with quiet operation and minimal vibration input. However, the accompanying battery lasts a good 25 minutes on a charge, allowing it to cover greater areas.
While these add to the comfort, it's the balanced weight that shines, making the entire 25-minute battery life run smoothly. The nozzle is fluted enough to increase the power. It's also long enough to ensure that even taller users won't have to stoop over to use it.
Pros
Well-balanced weight
Ideal for tall users
Quiet operation
Cons
Struggles with damp leaves
TOPQSC 21V Cordless Leaf Blower 2 in 1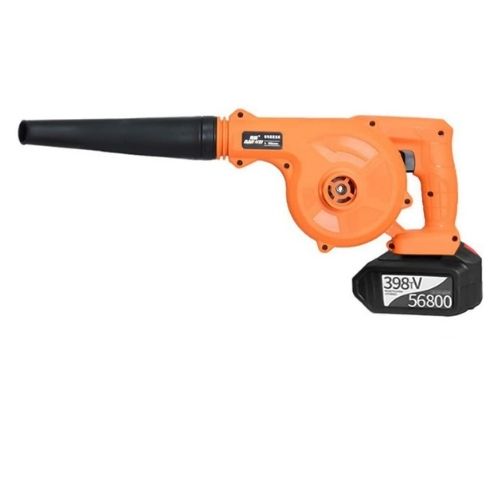 This 2-in-1 design can not only clean fallen leaves and snow-covered gardens but can also clean hard-to-reach corners and crevices. It's ideal for the courtyard, garage, inside of the automobile, and engine compartment. It can be used to clean the courtyard and blow leaves.
The portable leaf blower has a rechargeable 2.0Ah lithium-ion battery that can power the leaf blower for 30 minutes after being fully charged. The blower is also quite quiet, so it won't bother your neighbours.
Pros
Good battery life
Quiet operation
Multifunctional design
Cons
Not ideal for large gardens
Best Wheeled Leaf Blower
Billy Goat F602V Force Blower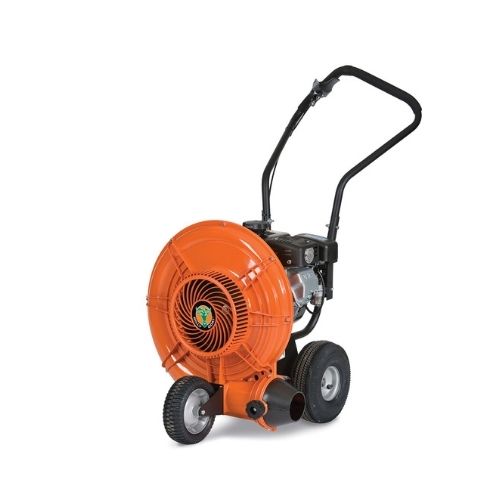 This wheeled leaf blower is of amazing quality, although it is very expensive. It's also appropriate for medium-sized yards and comes with various engine options that you can buy online. It's also available in a self-propelled version for greater efficiency, and it is also long-lasting.
Pros
Ideal for medium-sized yards
Long-lasting model
Quiet operation
Troy Built Wheeled Leaf Blower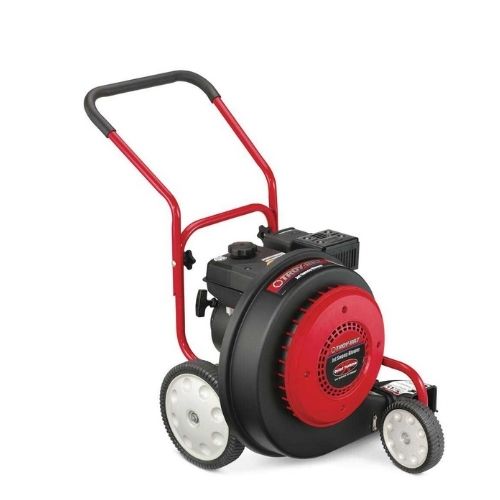 This is a popular model that is driven by a powerful and fuel-efficient 208-cc engine. The 14-inch high-output impeller completes the task in the shortest amount of time possible.
Pros
High output
Fuel-efficient
Lightweight design
Cons
Not ideal for heavy-duty jobs
SuperHandy 3-In-1 Leaf Blower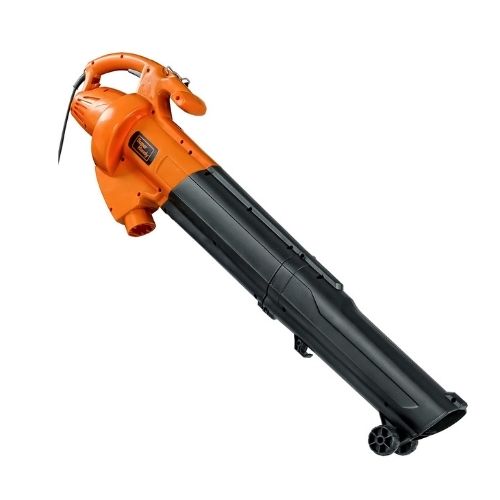 This blower is designed to be effective and long-lasting, making it suited for both domestic and commercial use. It boasts a 212 cc 4-stroke engine with a great power-to-weight ratio.
This model offers three different functions, including leaf blowing, vacuuming and mulching. It is also very eco-friendly, so you can reduce your carbon footprint while also sprucing up your garden.
Pros
3-in-1 function
Long-lasting design
Great power to weight ratio
Cons
Not as powerful as other models
Best Leaf Blower Backpack
McCulloch GB 355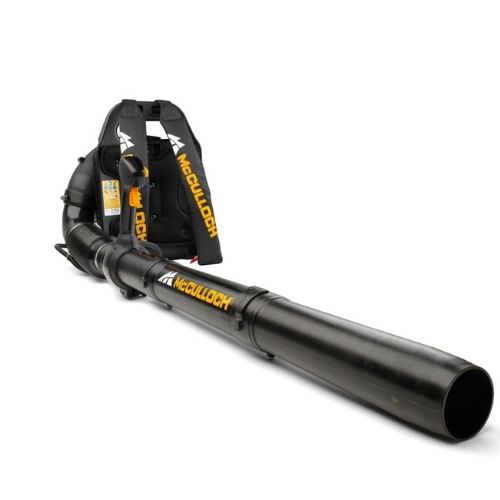 This backpack machine is reasonably priced and switches from an all-out air assault to a more subtle jet in less than a second, ensuring that you don't decapitate your favourite flowers while on leaf duty.
The airflow can be readily harnessed thanks to the light touch trigger, and the well-designed nozzle is ideal for large sweeps of the grass or patio as well as hard-to-reach locations like cobwebbed shed corners. With a comfortable backpack and grip posture, the ergonomics are also outstanding.
Pros
Light touch trigger
Ideal for hard-to-reach areas
Comfortable backpack design
Stihl BR200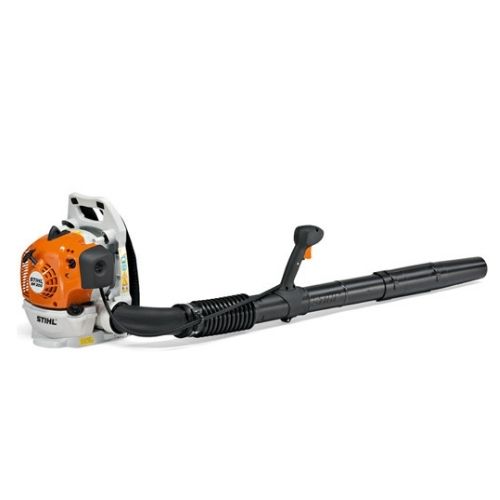 Stihl's backpack blowers come just when you think there's no way to grow more powerful. While these devices can be somewhat costly, we've chosen the most cost-effective option. Even so, this leaf blower has greater power than most other blowers on the market.
The catch is that you must wear the system's heavy motor portion on your back. This appears to be bulky, yet it is rather comfortable.
Because all the fuel and motor components are sitting on your back, the nozzle in your hand is rather light, which means it won't vibrate and can be moved gently without putting any strain on your wrist.
Pros
Powerful model
Ideal for large gardens
Lightweight nozzle
Cons
Very expensive
Bulky design
eSkde BPSL430-S9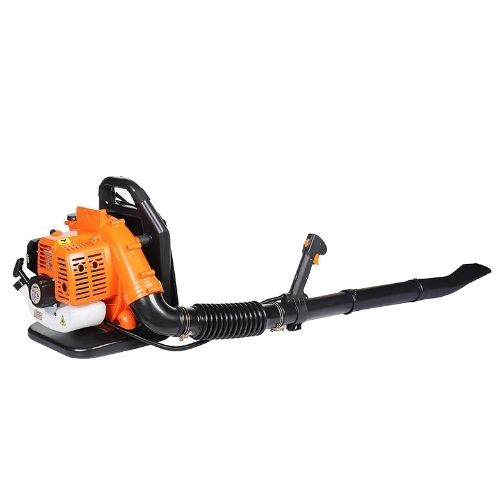 This petrol leaf blower comes with a turbo nozzle and a large 1.2-litre fuel tank, meaning it can last for a long time. It also includes a massive 720m3/hr airflow rate for fewer fill-ups and a long-lasting time. There's also a 43cc 2-Stroke easy start petrol engine and an ergonomic padded backpack harness for ultimate user comfort.
Pros
Long-lasting power
Fewer fill-ups required
Ergonomic design
Cons
Fitting tubes may be tight
Best Powerful Leaf Blower
GTech Leaf Blower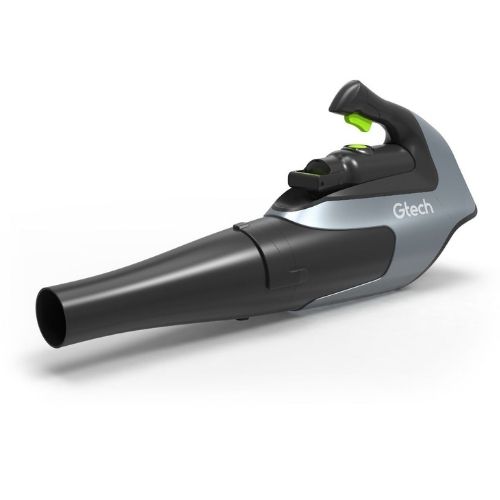 G-Tech says that its cordless leaf blower is the most powerful on the market, and we'd have to agree that nothing comes close to it in terms of pure strength. With a comfortable handle and a light-touch trigger, the ergonomics are excellent.
Users can get 20 minutes of use out of it before the battery needed to be recharged, which is plenty of time to get through a lot of leaves.
The disadvantage is that it takes five hours to recharge; however, you can upgrade to a fast charger for an additional £100. The nozzle has a wide nozzle, which is unusual for a leaf blower. However, due to the vast amount of power at hand, this isn't an issue. It's pricey and bulky, but it's ideal for huge gardens.
Pros
Most powerful model
Comfortable handle
Ergonomic design
Cons
It takes five hours to charge
Bulky design
Ego Power + LB5301E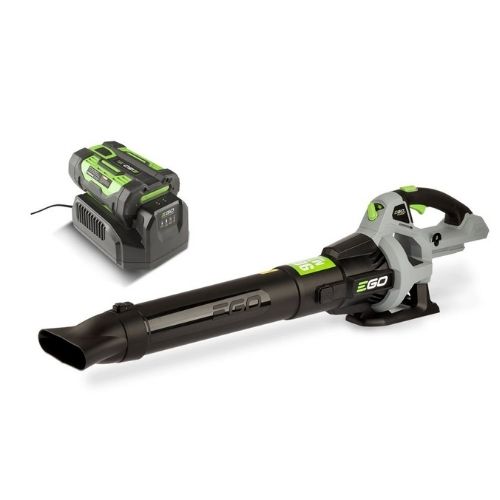 This is one of the most well-balanced machines. You may also use your free hand to change the variable-speed control, which allows you to reduce the airflow when you're trying to clear out your flower beds.
Many people appreciate the long, curved handle, which allows you to alter the blower's angle, reducing wrist strain.
Pros
Well-balanced leaf blower
Angle adjustments
Offers variable speed control
Hitachi RB24EAP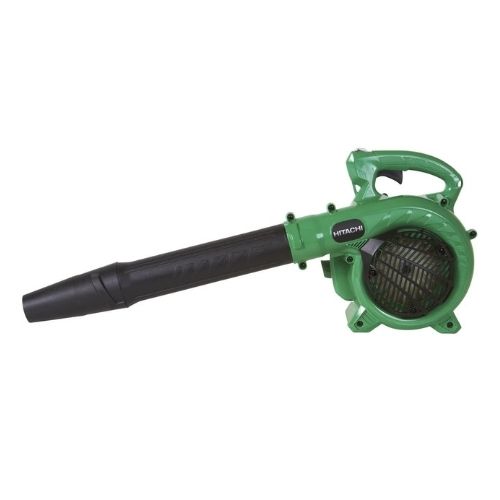 If noise, fuel, and vibrations aren't a big deal to you and you want to make a good investment, this Hitachi leaf blower is an excellent choice. This two-stroke powered blower comes with a seven-year warranty, allowing you to use it with confidence.
Although it is fueled by gasoline, it can blow leaves a long distance. Thanks to a 170mph burst of air shot from the long nozzle, it travels 18 metres. This type is a little heavier than the others, plus it's loud, and the handle isn't cushioned. But when it comes to pure strength, it's unrivalled.
Pros
Seven-year warranty
Long-distance leaf blowing
Good strength
Cons
Noisy operation
Increased vibration
Best Value Leaf Blower
Ryobi OBL1820S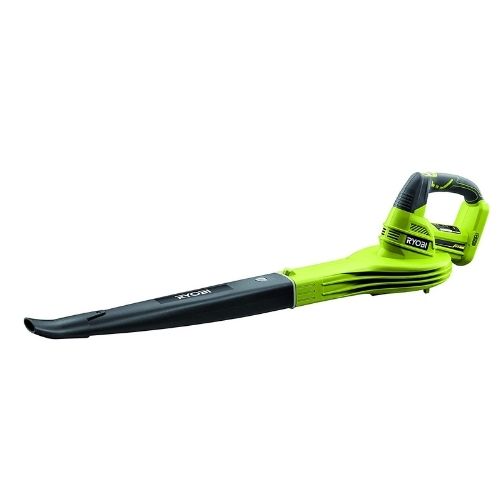 This leaf blower may not have as much air force as some of the more expensive machines, but it has enough to clear leaves from the lawn and borders, particularly wet ones, and it's also very easy to store thanks to the detachable tube and slimline design.
Because the blower is light and has a small nozzle, it's easy to control the leaves, but be aware that the price does not include the battery. The smaller battery provides roughly 20 minutes of run time, making it ideal for short clearing chores, however larger batteries are available for larger jobs.
Pros
Easy to store
Slimline design
Lightweight blower
Cons
Lower air force
It does not come with a battery
Flymo Powervac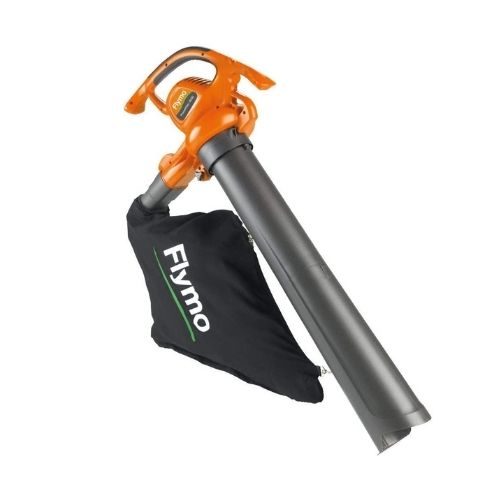 A powerful electric blower with 10m of cord and a wide nozzle that's perfect for cleaning up small-to-medium sized lawns and patios without having to worry about damaging valuable plants and flower beds.
A quick switch to a more powerful vacuum is all it takes, and the well-placed 45-litre collecting bag with shredding capability ensures you won't be emptying it all afternoon.
Pros
Ideal for small and medium-sized gardens
It comes with a large 45-litre collection bag
Easy to assemble
Cons
It can be a hassle to switch functions
Cobra BV6040VZ 40V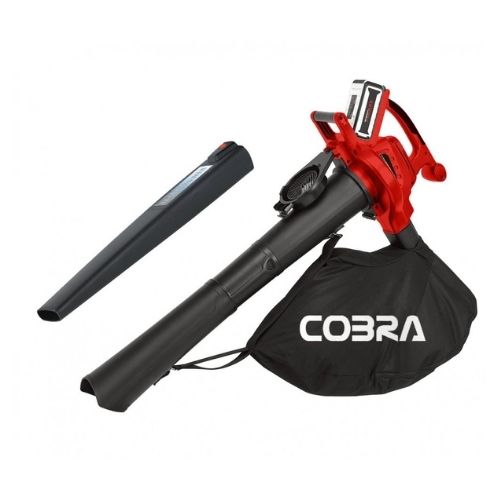 The BV6040VZ, like the other Cobra blower vacuum in our round-up, had good balance and ergonomics, with an additional handle that made controlling the powerful airstream much easier.
Converting to vacuum mode is simple, and the motor's power means you do not have to repeatedly go over the same areas to suck up stubborn debris.
Pros
Extremely lightweight
Good balance
It features an eco mode
Cons
The price does include a battery or charger
What to Consider Before Buying a Leaf Blower
A leaf blower is a machine that removes leaves and other debris from a yard. It's primarily used in the fall and winter. If you don't already have one, you should be aware of the elements to think about before acquiring your ideal machine.
Power
You should pay attention to the tool's power, the energy it consumes (gas, corded, or battery), and the amount of noise it creates. The amount of noise a blower creates can have an impact on what you buy, and bear in mind who might have to hear you if you're working outside.
Quieter Leaf Blower
You'll need to get a device that won't wake up anyone in the house when it's turned on. If you are looking for a quiet model, you should choose electric leaf blowers, as they are generally quieter than gas leaf blowers.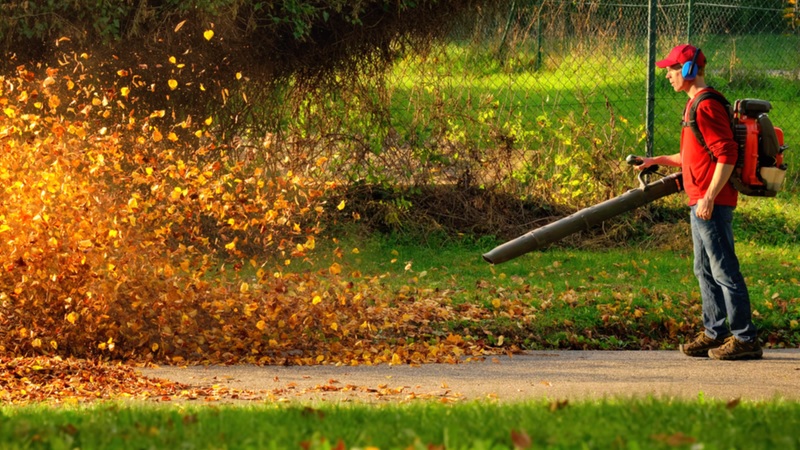 Air Volume
The air volume that your leaf blower can produce is measured in cubic feet per minute (CFM). It is measured in cubic feet per minute, as the name implies, and refers to the air blown out of the machine.
A leaf blower with a higher CFM rating will produce more air. The CFM (cubic feet per minute) indicates how far the blower's fan can push the leaves out of the yard.
Type of Leaf Blower
A handheld leaf blower is always the finest if you have a little yard to clean. This is often a lightweight tool, making it easy to store in the garage without taking up too much space. And, while it might be a little sluggish at times when it comes to power, it is still one of the best on the market.
FAQs
What kind of gas does a leaf blower use?
Most leaf blower's manufacturers recommend that their equipment be used with normal unleaded fuel. Most would recommend 87 octane gas or above, with a 10% ethanol blend or less.
Can you rent a leaf blower?
You can pay to rent a leaf blower for the average price of £41 a day. However, you must pay a deposit for the day in case anything happens to the leaf blower.
Is it worth buying a leaf blower?
Simply said, a leaf blower is an excellent option compared to a rake because it can accomplish the same or greater tasks with less work. When you consider how much your time and physical condition are worth, it has relatively few drawbacks.
How long do leaf blowers last?
With a little care, your gas blower should last about 1,000 hours before it needs to be repaired. That's around ten years for the average homeowner.
What's more important in a leaf blower MPH or CFM?
MPH stands for miles per hour and is a unit of measurement for speed. When it comes to leaf blower airflow, MPH is a measurement of how fast air flows through the nozzle.
In general, the larger and more powerful the motor or engine of a leaf blower, the higher the CFM and MPH ratings of the blower.
Sources