gardening & outdoors
Best Lawn Spreader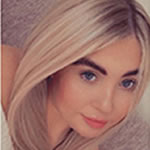 Maintaining a beautiful lawn needs a lot of effort, knowledge, timing, luck, and the correct application of the right seed, soil builder, and chemicals.
A separate spread rate is required for each product you use. Too much will be wasteful and may harm your lawn; too little will not suffice. A good fertiliser spreader can apply the exact amount of fertiliser required.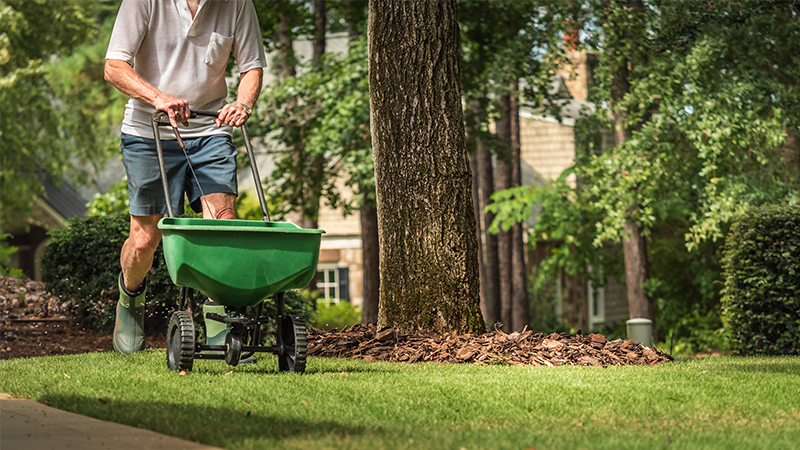 Spreaders are the most efficient way to distribute grass seed, fertiliser, weed killer, and other lawn chemicals on your lawn when used appropriately.
So, if you want to buy a lawn spreader, this article is perfect for you as it includes what a lawn spreader is, how it works, the different types of lawn spreaders and the best ones you can buy online!
So if this is for you, then carry on reading.
What is a Lawn Spreader?
Spreaders are used to ensure that fertiliser and grass seed are uniformly distributed across your lawn.
There are various spreaders, but they always feature a hopper to retain the product and an adjustable opening to control the amount of fertiliser or seed distributed.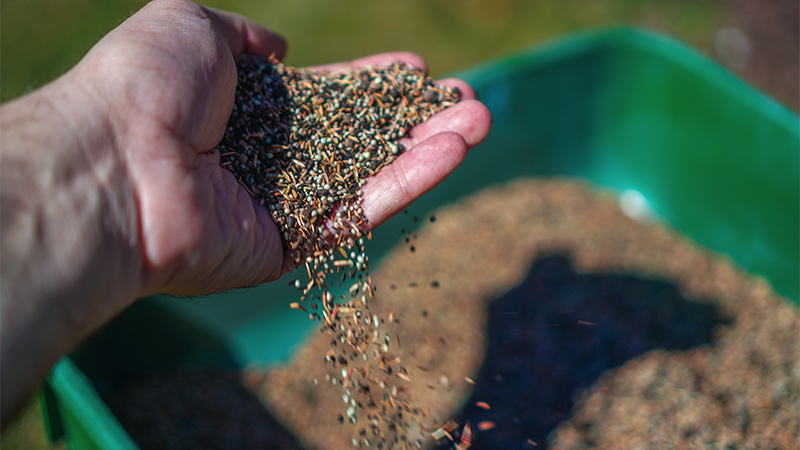 Your grass and preferences will determine which spreader is best for you.
If your grass needs some TLC, a lawn spreader is a must-have piece of gardening equipment. It can make your life easier by providing a quick way to spread fertiliser or plant seeds, and it comes in a variety of styles.
How Does a Lawn Spreader Work?
As a lawn spreader spreads all the goodness evenly along the grass to ensure that all the grass is getting the care it needs, the lawn spreader works in an amazing way to allow this. A lawn spread has small holes at the bottom.
You can precisely set the size of the holes using a gauge fitted on the spreader's handlebar (following the recommended setting indicated on many lawn products bags), allowing the right volume of material to leave the hopper uniformly.
A flow lever next to the gauge controls when the material falls onto the grass by opening and closing a plate under the hopper holes.
Types of Lawn Spreader
Drop and broadcast lawn spreaders, commonly known as rotary lawn spreaders, are the two varieties. Broadcast spreaders are divided into two categories: walk-behind and handheld.
All spreaders feature a hopper that holds the product and an adjustable opening that allows you to manage the amount of fertiliser or seed you spread. Your grass and preferences will determine which spreader is best for you.
Drop Spreader
Drop spreaders are extremely precise, distributing fertiliser in even rows exactly where you want it. It's crucial to overlap wheel marks to cover the entire lawn. The amount of merchandise disseminated is exactly proportional to the rate you move.
The drop spreader is ideal for smaller lawns around 5,000 square feet and simple. They give your lawn precision, controlled coverage and easy to manoeuvre around barriers and tight spaces.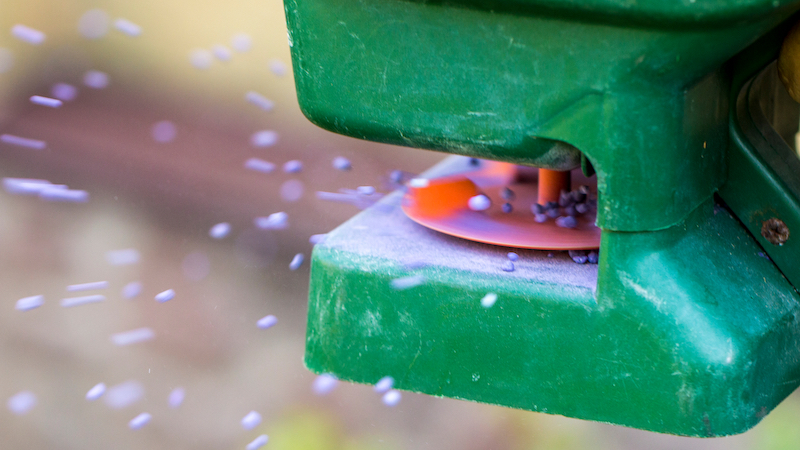 If you use a drop spreader, less product will be on your roads, walks, and paths. On the other hand, drop spreaders cover a lesser lawn area per pass than broadcast spreaders, so fertilising your lawn will take a little longer.
Broadcast Spreader
Broadcast spreaders spread fertiliser in all directions in a fan-like configuration, covering a larger area per pass than drop spreaders.
The amount of product distribution is affected by your walking speed and the hole size of the spreader. By their very nature, broadcast spreaders disseminate less product as they get closer to the edge of their broadcast range.
Broadcast spreaders cover a larger area. For vast lawns, this works effectively because it covers more of the lawn in less time. There are walk-behind and portable models to choose from.
Walk-behind variants have a higher hopper capacity than drop spreaders, which means fewer refills.
The product can be distributed in places you don't want it, such as gardens, driveways, walks, and paths.
This is a concern if you're using a herbicide, which may harm your flower bed if it gets into it. Milorganite can be used on lawns, flowers, shrubs, and vegetables. Therefore this isn't an issue.
Handheld Spreader
Handheld garden spreaders are the most cost-effective and simple to use spreader tools. Consider this option if you're looking for a low-cost, easy-to-use solution, especially for tiny settings.
It is not suggested to sow seeds or fertiliser by hand without using a tool, and you won't be able to evenly space the material, resulting in clumps of seeds and fertiliser, as well as bare spots.
The hand spreader is the most user-friendly of all the spreaders. A portable spreader is lighter, less expensive, and easier to handle than a drop or broadcast spreader that you push across the yard. It's best suited to limited places and costs.
In the winter, you may even use it to spread salt on your driveway or walks. It's not difficult to use a hand spreader.
This device can simply scatter seeds or fertiliser if you can travel the length of your yard. First and foremost, make sure you read the directions for your specific model.
Pull Behind Spreader
A tow-behind spreader is ideal for both seasonal and routine maintenance. Although it may be a somewhat more expensive investment at first, it will save you time and effort in the long run.
All year long, you'll be able to use it to keep your yard and walkways looking neat.
Best Lawn Spreader
We're all looking for that perfectly maintained lawn that everyone in the area enviously admires. To achieve that goal, we'll need the right instruments.
A lawn spreader is ideal for adding that additional seed or fertiliser to take your lawn to the next level. That's why in this section of the article, we will show you the best lawn spreaders you can purchase!
So, if you want to buy the perfect lawn spreader for your home, then this section of the article might be excellent for you.
Best Drop Lawn Spreader
Scotts Classic Drop Spreader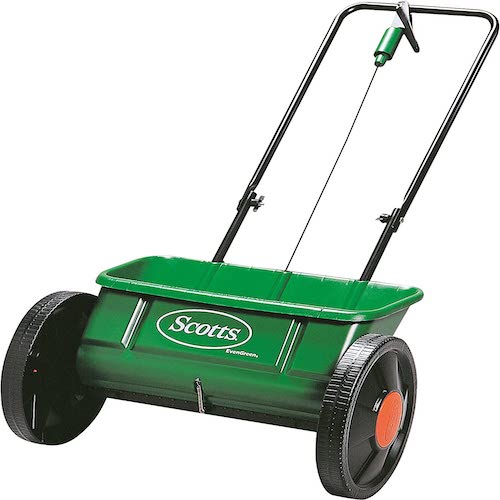 The Scotts Classic drop spreader is simple, straightforward, and low-cost. This is a good spreader if you are a homeowner (with a small yard). It has a 22′′ drop pattern and can carry around 10,000 square feet of merchandise (depending on your spread rate).
This is also a good addition to yards with many edges, where a traditional broadcast spreader may end up spreading too much product beyond the targeted application regions.
This is also a good addition to yards with many edges, where a traditional broadcast spreader may end up spreading too much product beyond the targeted application regions.
However, it is not intended for commercial usage, and the on/off cable can corrode if not properly maintained.
Things we liked:
Affordable
Great spreading ability
Easy to use
Things we didn't like:
Not ideal for commercial use
The cable may corrode
Lesco 092474 Drop Spreader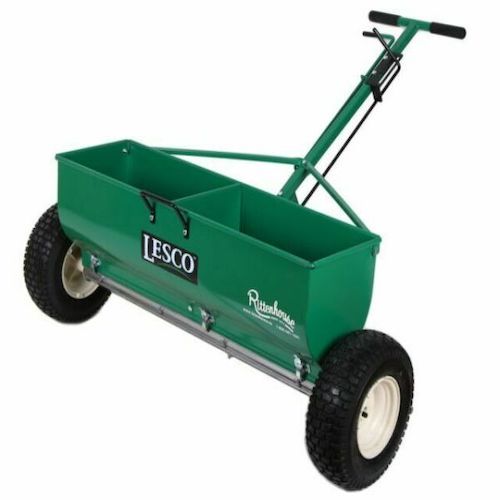 The Lesco 092474 (formula 031587) is the best drop spreader on the market, but it's also the priciest. This is the model for you if you use a drop spreader regularly or if you're a business contractor.
It can handle 120 pounds of product and has a 36-inch spreading width. The pneumatic tyres are well-suited to handling bumps. The hopper's bottom is composed of stainless steel, which means it won't rust.
Things we liked:
Works well on bumpy ground
Rust-resistant
Great for regular use
Earthway 7312 Drop Spreader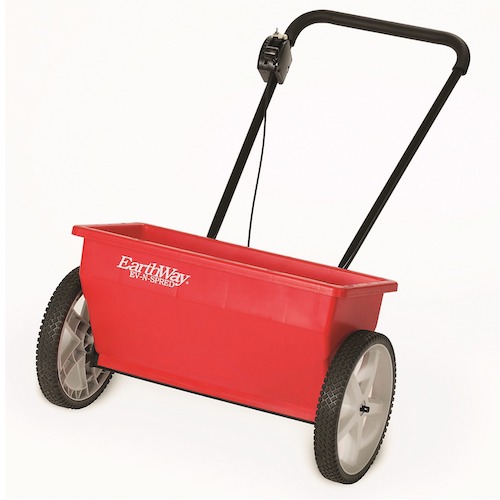 The Earthway 7312 drop spreader is a wonderful option for homeowners that require a larger hopper. It's like the Scotts spreader but with a few additional characteristics. The tyres are semi-pneumatic, which means they are made of soft rubber rather than plastic, and they aren't inflated in any way.
The hopper can hold 75 pounds of product and has a 22-inch spread width. It's ideal for spreading salt and grass care products. Check out the 7312 if you want to upgrade from your Scotts spreader but don't want to spend a bunch.
Things we liked:
Semi-pneumatic tyres
Great for larger gardens
Best Broadcast Lawn Spreader
Agri-Fab AG45-0462 Push Type Broadcast Spreader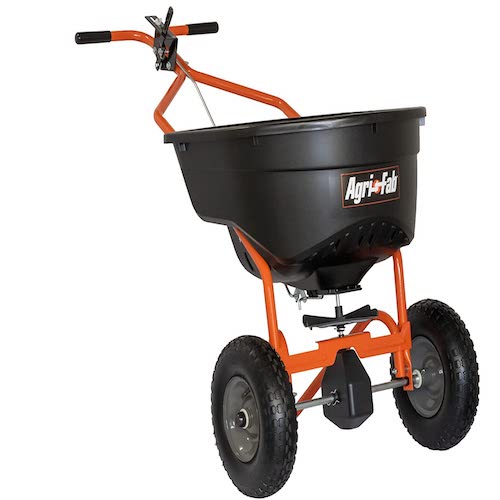 The Agri-Fab 45-0462 Push-Type Smart spreader is ideal for large-scale work because of its huge capacity. It's a multi-purpose spreader for all seasons that can scatter granular products such as seeds, fertiliser, and grit salt in the winter. Its 3m spreading breadth quickly cover huge areas.
Don't worry if you don't use up all of the lawn care product in the hopper right away; the 58kg it stores will cover around 2,300m2. On 25cm air tyres with great traction, this spreader handles the weight of all that lawn care material.
This lawn spreader will make quick work of your lawn care spreading activities, whether you work professionally on lawns or have a household lawn.
Things we liked:
Large capacity
Multi-functional design
Excellent traction
Scotts Turf Builder EdgeGuard DLX Broadcast Spreader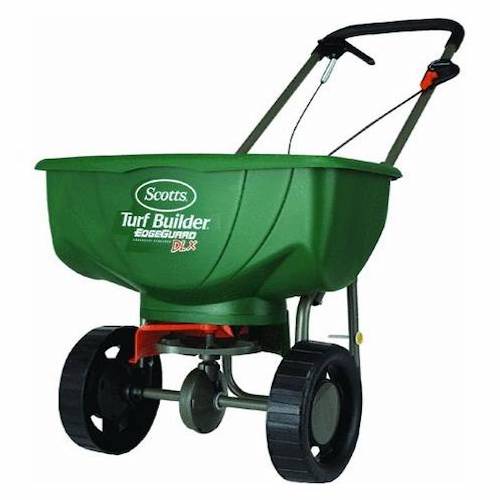 This large-capacity broadcast spreader from Scotts is excellent for spreading grass seed or fertiliser. It has enough Scotts lawn products to cover 15,000 square feet and provides coverage where needed. The control panel is calibrated for precision and consistency, ensuring that the proper amount of product is applied.
It arrives configured and ready to use, with no assembly required. The Edgeguard is popular because of its technology, which seals off the right side of the sprayer to keep the product off your driveway and other non-lawn surfaces.
This walk-behind spreader is simple to operate and allows you to cover a large area quickly. It's one of the greatest if you have a yard of more than 5,000 square feet.
Things we liked:
No assembly required
Simple to use
Large capacity
Things we didn't like:
Not as long-lasting as other models
Earthway 2150 Commercial Walk-Behind Broadcast Spreader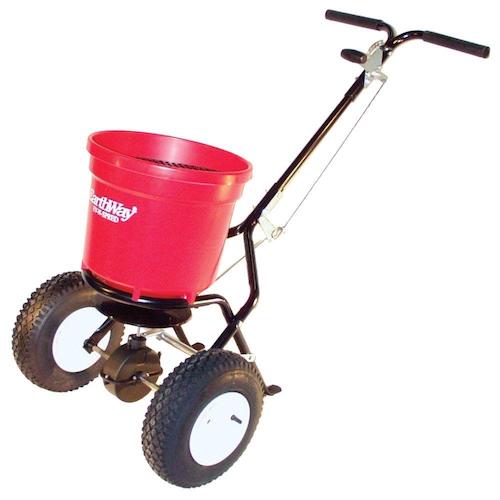 This Earthway machine features a three-hole drop shut-off system that feathers the edges for more precise applications and even distribution. You can adjust it to accommodate tight areas of your lawn without having to worry about fertiliser or seed on your driveway.
A debris barrier prevents clumps from entering the machine, and the gearbox is enclosed, making it nearly hard to block, even when moist or wet outdoors. The frame and T-bar handle are also coated in epoxy for weather protection.
Because of its wide-set chassis and pneumatic tyres, this spreader is easy to drive over uneven terrain. It also includes an adjustable handle, making it ideal for tall persons who don't want to spend their time bending over to reach other spreaders.
Things we liked:
Adjustable handle
Helpful debris barrier
Works on uneven ground
Best Handheld Lawn Spreader
Solo 421 Portable Spreader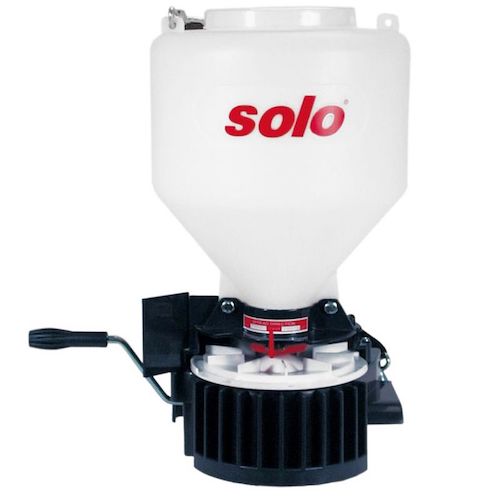 This spreader is ideal for lawns that are small to medium in size. It has a large pattern that scatters seeds in an overlapping way for consistent coverage.
It also comes with a cap to keep the operator safe from chemicals, dust, and the product being laid down. The Solo 421 is a wonderful alternative to wheeled lawn spreaders for spreading seeds or fertiliser where wheels can't reach.
Things we liked:
Consistent coverage
Safe operation
Ideal for hard to reach areas
Things we didn't like:
Not suitable for large gardens
Earthway 2750 Hand-Operated Spreader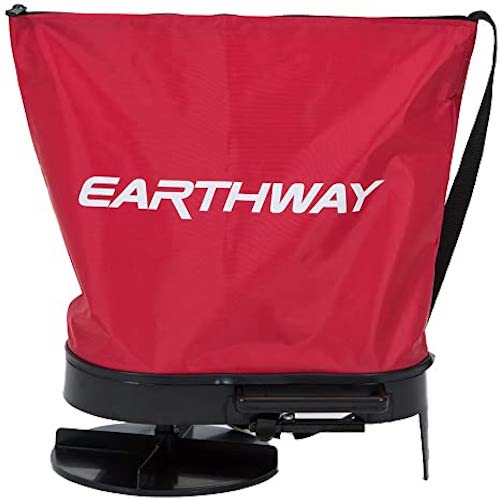 You'll see right away that this spreader is excellent for spreading grass seed, fertiliser, and other materials. Its hopper is composed of collapsible nylon, which reduces the amount of storage space necessary. If you find the supplied adjustable shoulder strap too tight, you can remove it.
The hopper has a capacity of 25 pounds, which is the most of any of the products we've looked at. Due to its simple, straightforward design, the Earthway 2750 is undoubtedly one of the best on the market! However, according to reviews, the gears are prone to locking up, making them difficult to use.
Things we liked:
Removable and adjustable shoulder strap
Large capacity
Excellent for grass seed and fertiliser
Things we didn't like:
Gears tend to lock easily
Scotts Wizz Hand-Held Spreader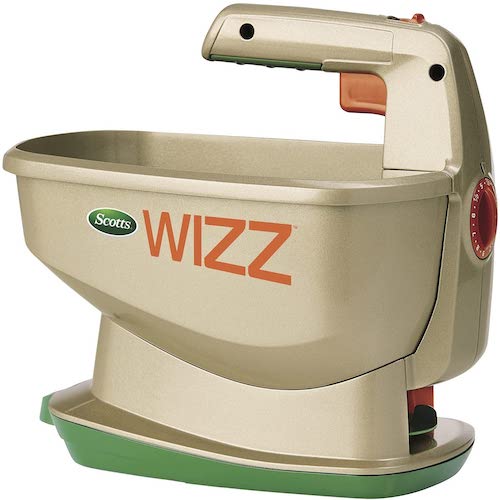 This model has a spreading capacity of 5 feet and features edge-guard and handy-lock technologies. It's a great all-year spreader at a reasonable price, and it's also compact and lightweight. This spreader saves clients time and money by having a hopper that can hold enough material to fertilise 2,500 square feet of yard space.
It may be used all year, which is advantageous for homeowners who need to feed, seed, weed, or melt ice regularly. However, many have questioned its ability to disseminate ice melting compounds.
Things we liked:
Handy-lock technology
Compact design
Can be used all-year round
Things we didn't like:
Does not work as well with ice
Best Pull Behind Lawn Spreader
Agri-Fab Tow Behind Spreader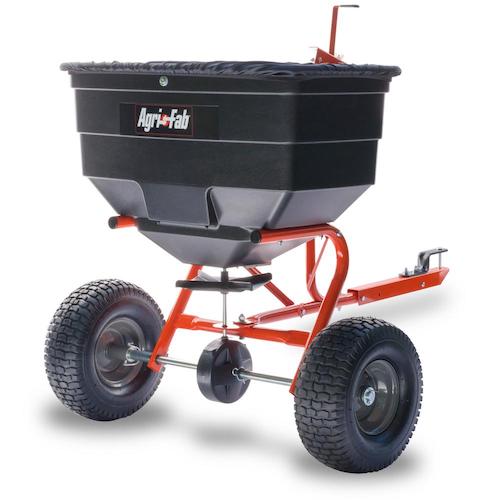 You will save time with this larger tow behind the spreader because you will not have to stop in the middle of your project to refill it.
Instead, you can use the best grass seed available to help your vast lawn grow green and luscious.
An optional hopper cover with a hopper grate and a deflector is available, as well as a sturdy enclosed gearbox to keep pollutants out of your seed.
Large-diameter tyres provide good stability as it travels across flat, uneven, or rocky terrain. The robust rod-linked on-off control has exact settings to guarantee it firmly attaches to your mower, ATV, or vehicle, and it aids in the product's superb manoeuvrability.
Things we liked:
Great for flat and uneven ground
Reduces the risk of pollutants
Excellent stability
Chapin International Tow Behind Spreader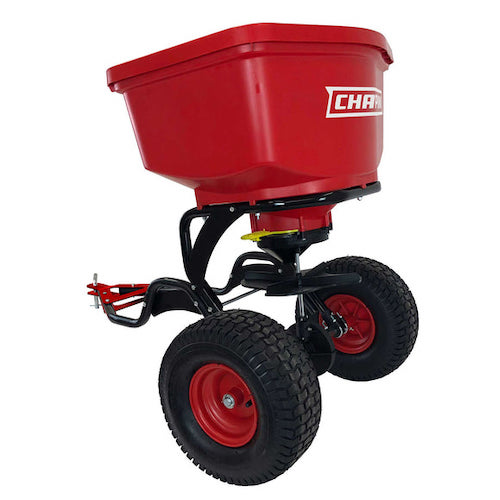 This Chapin International tow behind spreader has a huge capacity and is ideal for large yards or locations where you need to scatter a lot of seed or fertiliser.
The auto-stop dual impeller prevents the spread of whatever you have within the bin when you stop this spreader, so you don't receive a large amount in one location. This is useful if you need to take a break while working.
This tow behind spreader has oil-coated bronze bearings that reduce friction in the gearbox and handle, potentially extending the life of your spreader.
It includes a heavy-duty trailer hitch that is ideal for professional or commercial use, and the pneumatic tyres are 14 inches wide to boost your stability levels.
Things we liked:
Excellent for large yards
Auto-stop function
Reduced friction
Things we didn't like:
The exit hole can get clogged easily
Brinly Tow-Behind Broadcast Spreader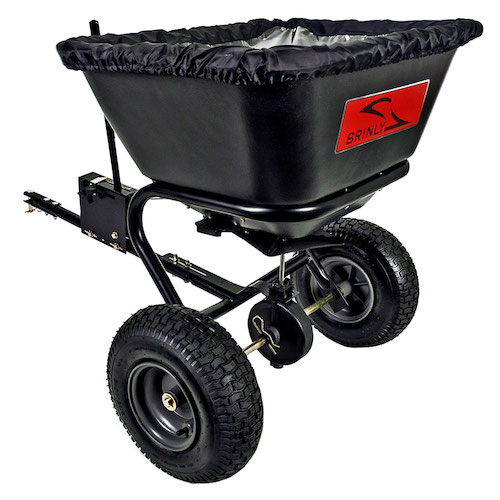 Brinly's product is a good alternative if you require a high-capacity tow behind spreader to apply your lawn fertiliser. It comes with an extra-large, dent- and rust-resistant poly hopper.
You can use it with fertiliser, sand, ice melt, and a variety of other goods to increase the amount of time you spend spreading it rather than stopping to refill it.
It's the perfect size for acre-sized yards. You'll get stainless steel hardware and a heavy-duty polyethene hopper that won't break down when exposed to caustic fertilisers.
The gears on this tow-behind spreader are fully enclosed with a nylon gearbox for increased security. You'll receive auto-flow with spread control patterns for professional-level outcomes.
Things we liked:
Rust-resistant
Great for large yards
Secure broadcast spreader
Best Lawn Spreader for Large Garden
Scotts EasyGreen Rotary Spreader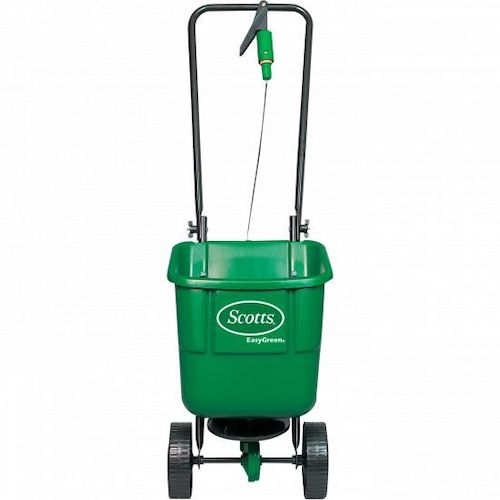 With this simple spreader, you can spread fertiliser, lawn treatment, or grass seed. Scotts EasyGreen Rotary spreader is perfect for casual gardeners and avid gardeners alike, and it reduces the time spent on labour-intensive tasks and increases your output.
You can also use this spreader to treat big lawns or gardens, ensuring that the job is completed quickly.
The adjustable applicator has the greatest spread that spreaders can use, allowing for quick feeding of big lawns.
It's simple to put together and ready to use. Simply fill the steel-framed tank, set the desired rate, and begin going along with it. Its width makes it suitable for larger lawns, allowing you to work swiftly and efficiently.
Things we liked:
Adjustable applicator
Easy to assemble
Great for large gardens
Westland Lawn Drop Spreader
This push-along spreader glides through larger lawns with ease, bringing horticulture back to life at an affordable price. It also includes an adjustable lever for maximum comfort and a cooperation setting for all types of spreading requirements. It's noted for its pinpoint spreading precision and easy-to-use application.
While it is recommended for use with Westland's manufactured fertiliser, it can also be utilised with other fertiliser brands. The dispensing of products is incredibly straightforward. Assembly is relatively simple, requiring only a few common household tools and no technical knowledge - ideal for beginners!
Things we liked:
Adjustable lever
Straightforward to use
Great for beginners
Oypla Heavy Duty Grass Seed Spreader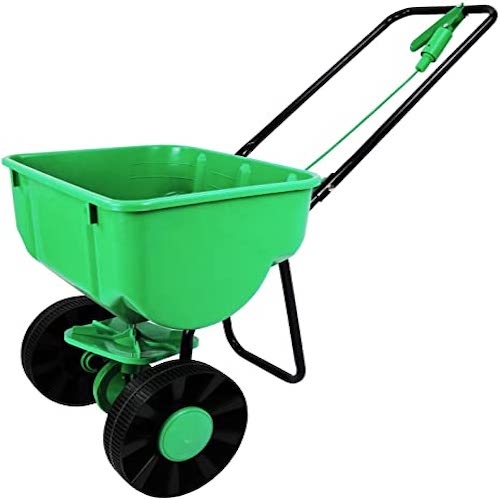 The major advantage of the Oypla Heavy Duty Grass Seed Spreader is its dual purpose, which will entice even the most casual gardeners among you. The spreader is multi-seasonal, able to scatter salt grit on the road in the winter and grass seed, lawn food, and fertiliser on larger lawns in the summer.
The spreader's sturdy plastic and steel construction ensure that it is (and "feels") heavy-duty. The rather large 35kg Capacity Hopper stores a lot of grass food. This lawn spreader is one of our favourites because it has a 360-degree spreading capability, an adjustable lever, and a 6-8 metre spreading distance.
In addition, the spreader is easy to use, build, and store. Although salt spreading presents some difficulties, it performs admirably as a seed disperser. The square bucket design spreaders can be difficult to empty, which is the only drawback to this design.
Things we liked:
Dual-purpose ability
Sturdy design
Adjustable lever
Things we didn't like:
Not suitable for salt spreading
Best Lawn Spreader for Small Gardens
Scotts Company Handy Green Hand Spreader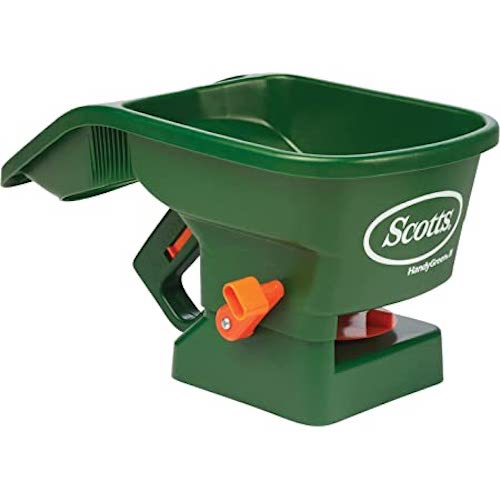 There isn't anything in life as in demand as storage space. The Scotts Company Green Hand Spreader is a perfect compromise between fast fertiliser spreading and spatial economy. It's a compact gadget that can be held comfortably in one hand and weighs just under 500 g when empty.
The rotating dispenser is activated by turning the lever with the opposite hand. If you're worried about holding the weight, there's a built-in 'arm rest' that efficiently distributes the weight over the entire arm, not just the hand.
This machine is suitable for small to medium gardens, and you can have a decent lot of control with it — if you've had your fill of drop spreaders that abruptly dump excess seed in one spot, the hand crank on this spreader prevents that from happening again. The product will not come out if the handle is not turned.
Things we liked:
Compact design
Easy to store
Built-in arm rest
Things we didn't like:
Not ideal for large gardens
Einhell GE-US Power X-Change Spreader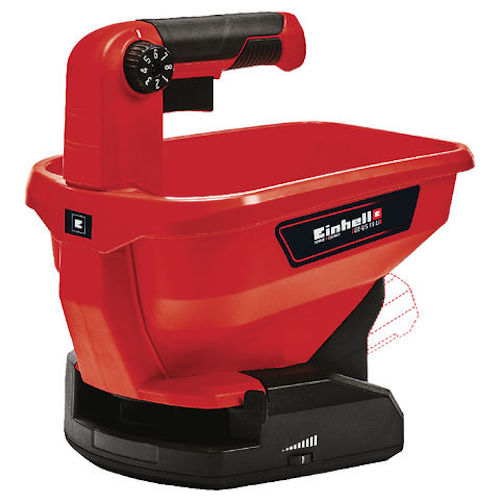 The Einhell GE-US Power X-Change Grass Feed Spreader enables effortless dispersion of lawn feed and seed, as well as great control over everything you spread.
Despite the extra weight of the battery, this spreader is very pleasant to hold. It is ideal for tiny gardens because it is simple to operate.
Things we liked:
Excellent dispersion
Simple to use
Great for tiny gardens
Gardena Spreader XL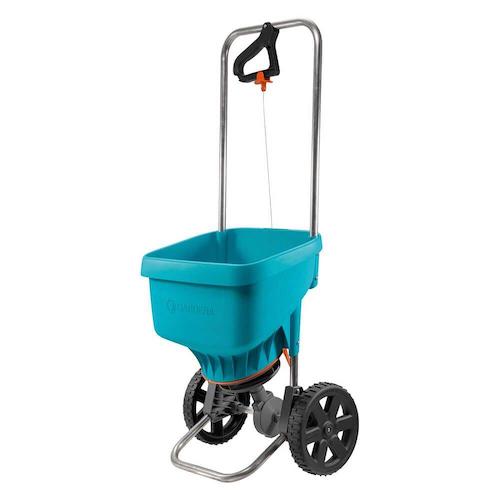 Gardena Spreader XL is a rotational lawn feed spreader that gives you more control over the spread. It provides those with small to medium-sized lawns the ease of utilising a rotary spreader without the risk of contaminating other portions of the garden.
It's made of high-quality materials and can be used with various feeds and other garden chemicals.
Things we liked:
Great control ability
High-quality design
Ideal for small and medium-sized lawns
Things we didn't like:
Not as big as you would think
Best Budget Lawn Spreader
EverGreen Easy Spreader Plus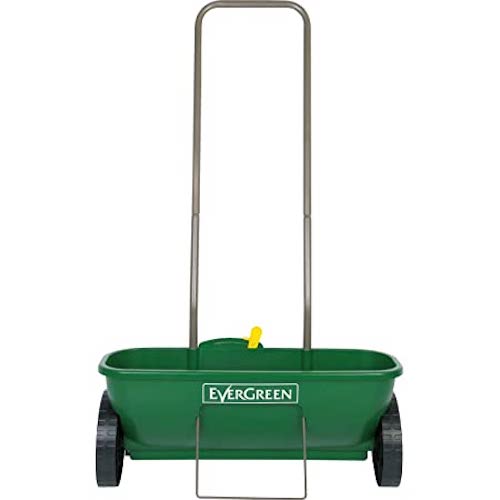 This is one of the better versions you can acquire on a budget if you're looking for a reasonably priced lawn spreader. In the spring and autumn, it can feed the lawn with lawn, weed, and feed.
It takes around 1-2 minutes to put together, and you don't even need the instructions. If you are looking for a lawn and weed spreader that is great for all year, this is a great option.
It's best for lawns that are small to medium in size. What's also amazing about it is the handles can be removed simply, and the little stand can even be removed, so it's also easy to store. Overall, the quality is decent, albeit the little yellow handle for selecting the application rate is a touch flimsy, according to lawn feed spreader reviews.
Things we liked:
Easy to assemble
Multi-season spreader
Affordable
Scotts EvenGreen Drop Spreader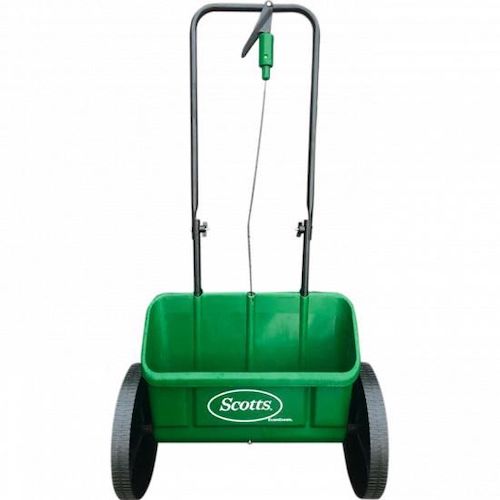 Scotts has done it again with this large drop spreader that is well-made and ideal for a larger garden, but where caution is required. The drop feeding motion guarantees that no feed gets into your garden pond or flower beds by accident, while the tool's 61cm breadth ensures that you get the job done quickly. With the Scotts EvenGreen Drop spreader, you can't go wrong.
When navigating the corners of your lawn, an on/off trigger comes in handy. If used correctly, it will prevent you from mistakenly dumping too much feeder in one location, which could have negative consequences.
Things we liked:
Reduces contamination risk
On/off trigger
Great for large gardens
Things we didn't like:
The spring may break easily if you are too heavy-handed
Scotts 76565 Turf Builder Classic Spreader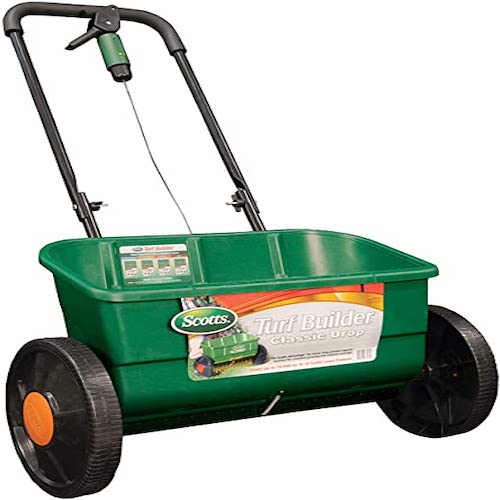 This drop-style spreader, which can deliver targeted accuracy, is ideal for too small or heavily vegetated yards for broadcast spreaders. It also weighs only 12.6 pounds, making it simple to move about or load into the back of a truck.
Its control knob is simple and conveniently situated on the handle, allowing you to adjust without having to bend over. However, its 22-inch spread isn't wide enough for large yards, so if that's the case, you'll probably want to go for a broadcast model. It has a hopper that can hold 10,000 square feet of goods.
Things we liked:
Excellent accuracy
Great for vegetable gardens
Convenient control knob
Things we didn't like:
Not wide enough for large gardens
Best Mini Lawn Spreader
Gardena Hand-Held Spreader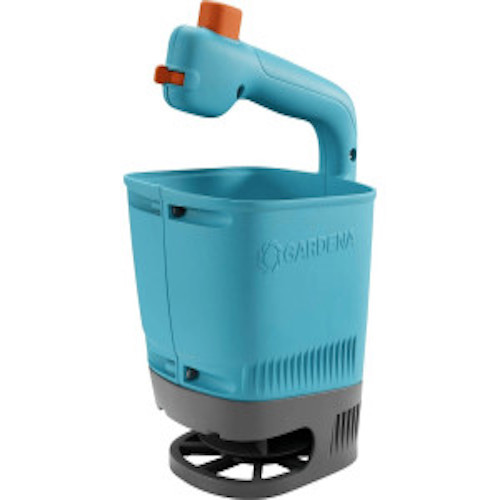 It's not easy to live up to Gardena's stellar reputation. Still, this Gardena Hand-Held Spreader does just that, combining great build quality with a user-friendly design that has made it a popular product for those with smaller gardens.
If you have a large lawn, the small hopper may be a deterrent, but this is the product of choice for many people, and I can see why.
Things we liked:
Suited to small gardens
Easy to use
Compact design
Things we didn't like:
The instructions aren't the best
Scotts Turf Builder Mini Broadcast Spreader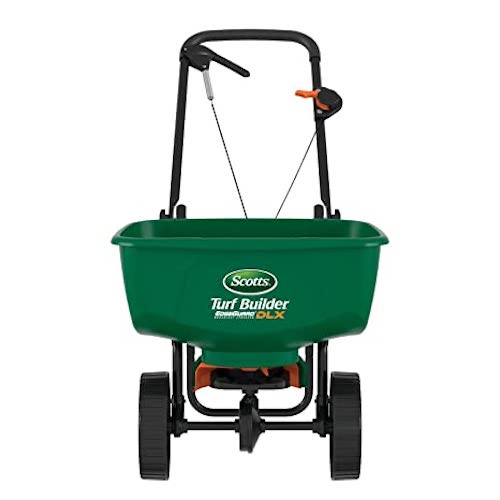 Thanks to its 5000 sq. foot capacity hopper, this walk-behind model from Scotts is inexpensive equipment that can nevertheless deliver a substantial amount of material. This model's EdgeGuard feature is popular, which allows you to run the machine along the edge of your yard without spreading seed or fertiliser onto the street or landscaping.
This function is convenient for clean up, but it also saves money in the long run by lowering the amount of product wasted. The unit's easy-to-read directions on the back eliminate any uncertainty regarding how to use it.
Things we liked:
Prevents product waste
Easy to follow directions
Affordable
Things we didn't like:
Not as long-lasting as other models
Stalwart 82-TY487 Handheld Spreader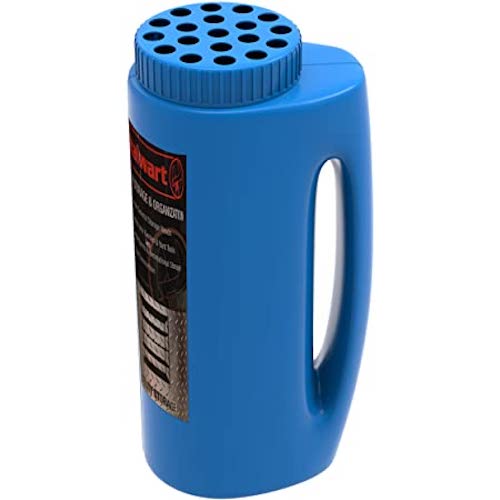 Although it lacks the capacity of larger spreaders, this tiny portable model's simple operation and absence of moving parts make it suitable for anyone seeking a no-frills choice. The 2.3-litre container's compact footprint allows it to be kept almost anywhere, but at 10.5 inches high, it's still big enough to hold a lot of seed or fertiliser.
The long handle makes it easy to hold while working, and the broad mouth makes it simple to fill. Because of its compact size, it's ideal for spreading ice on stairwells in the winter.
Things we liked:
Portable spreader
Easy to store
Great for winter
What to Consider Before Buying a Lawn Spreader
Lawn spreaders come in various sizes and shapes, each with its own set of functions. You may have a wonderful grass yard using the best grass seed and the proper lawn seed spreader.
Some are designed to cover huge regions, while others cover smaller sections. You'll need to decide on the type of spreader that would work best for the project at hand.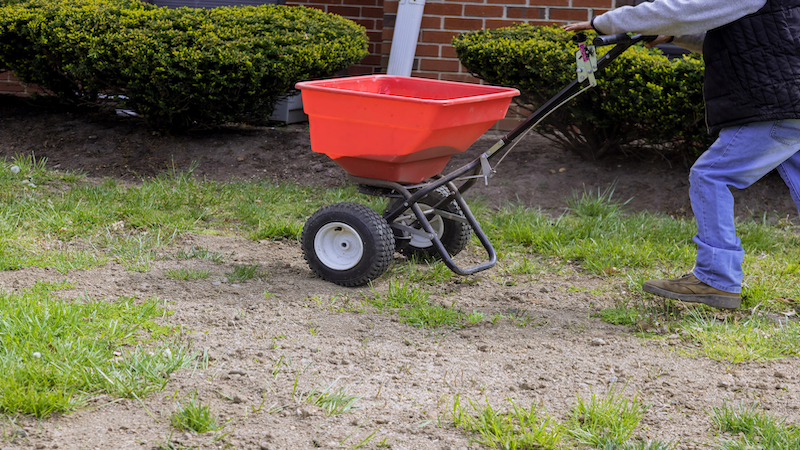 Cost
The pricing of the various spreaders on the market is something you should think about. As a result, it's critical to understand the costs of each type to choose the one that best fits your budget.
When it comes to price, keep in mind that a high-quality spreader will not be cheap. The cost of a spreader is largely determined by its quality, so avoid the most affordable options.
Size
When purchasing spreaders, it's also a good idea to think about the size of your yard. There are spreaders designed for large lawns and spreaders designed for tiny properties.
You should think about purchasing spreaders that will function well on such a lawn. Look for one that will assist you in completing the task in the least amount of time possible without becoming exhausted. You can get handheld spreaders if your grass is small.
Where to Buy From
There are numerous locations where you can purchase the spreader of your choice. Make sure you do your research to locate the most respected one. To be sure you're buying from the appropriate store, ask for recommendations from other customers.
FAQs
How do you apply lawn fertiliser with a spreader?
To guarantee adequate coverage, apply half of the fertiliser in one direction and the other half at a 90-degree angle to the first. Run the spreader around the perimeter of the lawn first so that you can turn around in that area more simply.
A spreader is an ideal tool for applying lawn fertiliser precisely.
Is a lawn spreader worth it?
If you're going to put fertiliser on your lawn, you should use a spreader. Broadcast and drop spreaders are the two types of spreaders, and drop spreaders are used for more precise applications, while broadcast spreaders are used to cover a large area swiftly.
What is better, a broadcast spreader or a drop spreader?
A broadcast spreader will take extra precautions to ensure that all grass areas are evenly covered. As previously said, a drop spreader is more exact because it does not distribute the granular product or seed and does not adjust the amount spread dependent on walking speed.
Can you use a lawn spreader for grass seed?
Seed spreaders are commonly used to disperse grass seeds or fertiliser, but they can also be used for various other things. A seed spreader can be used to disperse wildflower seeds and can also be used to sprinkle salt during snowy seasons.
Can you overfeed grass?
Grass, like anything else, can be overfed. When grass is overfed, it turns a blue-green colour and produces a lot of foliage at the price of strong roots. It can also quickly create a thatch layer.
Sources