gardening & outdoors
Best Lawn Roller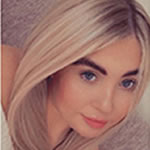 Do you want a lawn roller to make your lawn look clean and completely flat?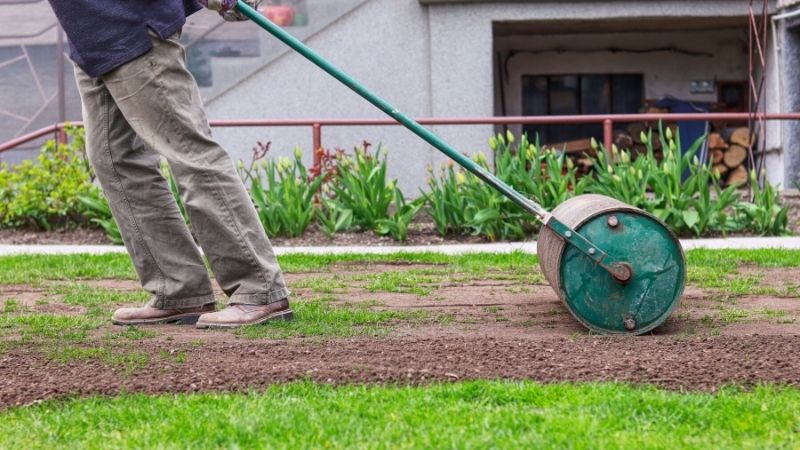 This article will cover the different kinds of lawn rollers you can purchase for your lawn! It will include what a lawn roller is, how it works, the different types of lawn rollers you can buy, as well as the best lawn rollers there is to buy!
Want to find out more? Read on...
What is a Lawn Roller?
First, let's explore what lawn roller actually is...
Lawn rollers are cylindrical small steam rollers that help smooth the ground by adding weight (typically water or sand). A push lawn roller, which requires manual labour to roll over the yard, is an option. A lawn roller attachment, which attaches to the back of your tractor and rolls behind you as you drive, is another option.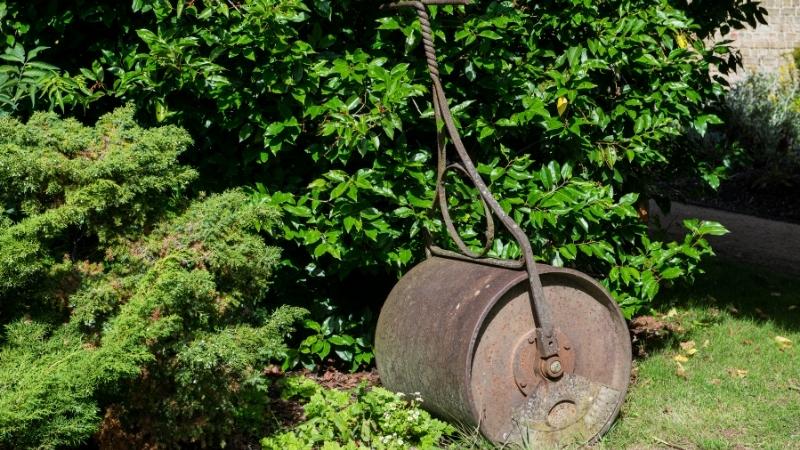 Pull-behind rollers are more expensive than push rollers, but they get the job done faster and easier. Rollers are typically made of steel or polyethene and are available in a various sizes.
How Does a Lawn Roller Work?
When it comes to preparing and sowing grass, a roller comes in handy. Frequent rolling while levelling and preparing the seedbed will provide an even degree of compaction across the entire lawn surface, considerably lowering the risk of sunken patches later.
The weight of the lawn roller flattens down the grass and the soil below it, making sure there are no lumps in the soil. Most sports fields do this so that there is nothing to interrupt the game. While there are various varieties of lawn rollers, the manual rollers that you push or pull across the lawn are the most common.
Larger rollers that attach to a utility vehicle, such as a lawn tractor, that are pulled across the lawn are also available. The roller is usually constructed of plastic or steel, and it needs to be filled with water to increase weight.
Types of Lawn Roller
You might be looking for a new lawn roller to roll over freshly deposited soil or deal with emergent lawn concerns. If you're planting or putting sod for a new lawn, a lawn roller can come in handy.
This section of the post will go over several types of lawn rollers and how to use them.
Plastic Lawn Roller
This is one of the most affordable lawn roller's on the market. Plastic rollers are adequate for minor chores and yards. They are easier to push or pull due to the lightweight nature of the material. They are, however, ineffective for intensive work or huge areas. The plastic substance snaps readily under high task stress.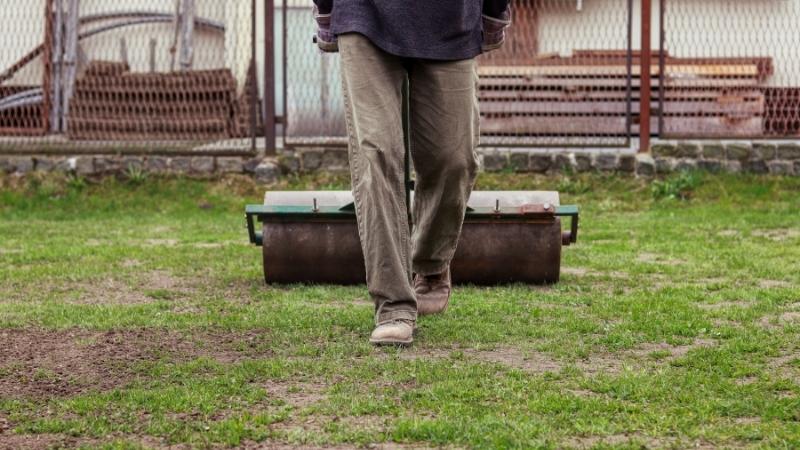 The majority of individuals use this sort of roller to fill the roller drum and supply the appropriate weight. However, using the side filler cap to fill with sand is also an option. These plastic rollers are great for small projects, but they're not up to the task of mowing vast lawns or working on construction sites.
One advantage is that the water can be drained after use, allowing it to be conveniently moved and stored in a shed or garage.
Poly Lawn Roller
These rollers are made of a specific sort of plastic, which makes them more durable than regular plastic rollers.
When you need to roll, you must fill poly rollers with water or sand. When the lawn is rolled, the water contributes to the weight of the roller, allowing it to flatten the lawn.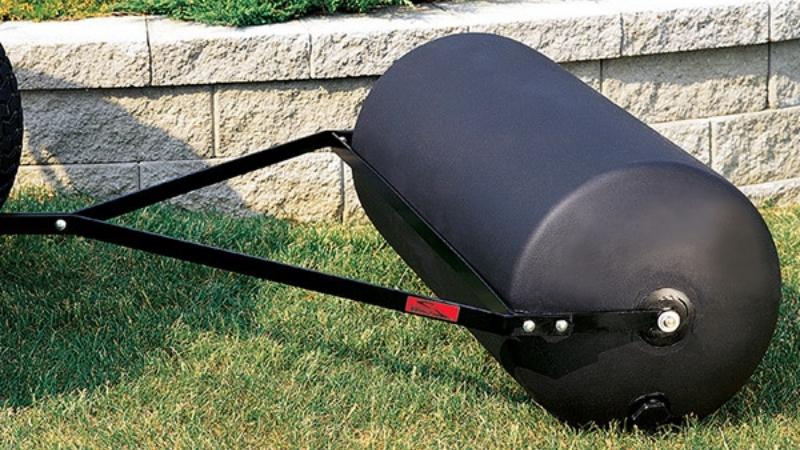 This makes it easier to transport and store the roller. Large areas can be covered with poly rollers. They're also useful for laying down a lawn or a flower bed.
Rust resistance is also strong on the rollers and they can be used in most situations without causing damage to the material.
Steel Lawn Roller
It's made of steel, so it'll last a long time. Steel rollers are also said to be among the most effective.
The heavier material puts a lot of pressure on the lawn, allowing it to flatten out quickly. They do, however, necessitate a significant amount of effort to deal with and move.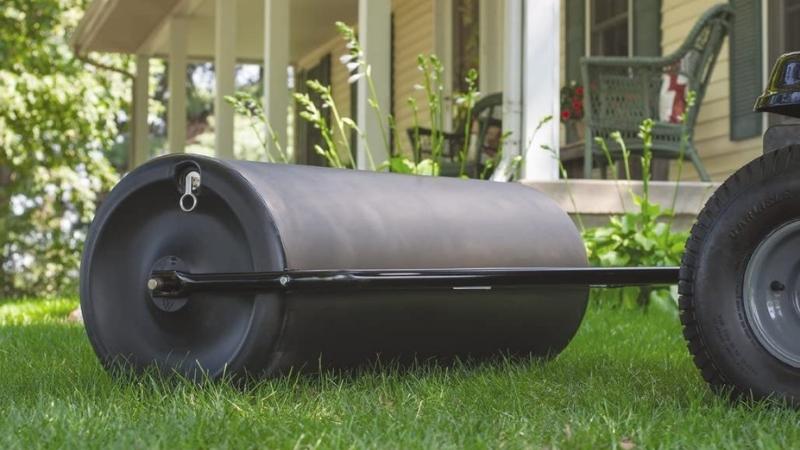 Attaching the steel roller to the back end of a garden tractor is a better method to use it.
It is, therefore, less taxing to use. Steel rollers are also quite durable when compared to other materials. When employed in a damp environment, however, the risk of rust and corrosion rises.
Best Lawn Roller
There are many different types of lawn rollers however what are the best ones? In this section of the article, you will be shown the best lawn rollers on the market. Carry on reading to find out more.
Best Plastic Lawn Roller
Platinum Home and Garden Lawn Roller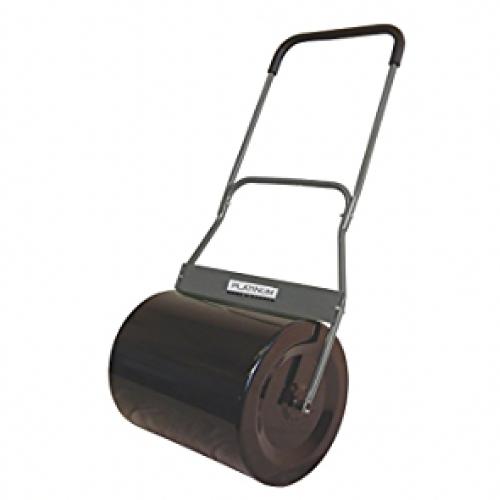 To complete the job successfully, this plastic lawn roller may be filled with either sand or water, which means you can add as much as you need or can physically handle. It also has a padded handle that makes it easy to use.
It also comes with a full-length scraper bar for cleaning and maintaining an equal surface on the steel drum. This lawn roller is simple to put together in just a few minutes with only a few nuts and bolts.
It is light and easy to move when empty, weighing only 13kg. For complete peace of mind, this lawn roller comes with a 12-month warranty.
Things we liked
Easy to use
Simple to clean
Things we didn't like
Not heavy enough for some jobs
Spear & Jackson Waterproof Plastic Lawn Roller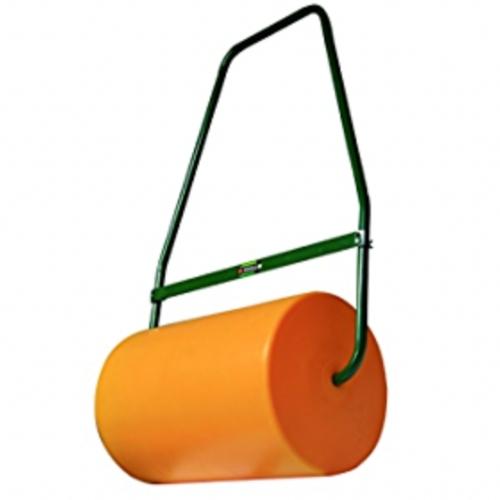 This heavy-duty PVC lawn roller has a width of 50 cm and is resistant to oxidation. It can be used to sow soil before and after seeding, as well as at any time of year, after mowing or to keep and consolidate the grass.
You may fill the lawn roller with water or dry sand thanks to its filling and drainage cap (35L). Its high-strength PVC architecture makes it resistant to field attacks and keeps a steel tank from oxidising.
The repeated passage of this lawn roller across your lawn helps to lift the grass propelled by the mower, resulting in a stunning flat and even lawn.
Things we liked
Oxidation resistant
Helpful filling and drainage cap
Things we didn't like
Not as durable as other models
Woodside 60L Heavy Duty Water Filled Garden Lawn Roller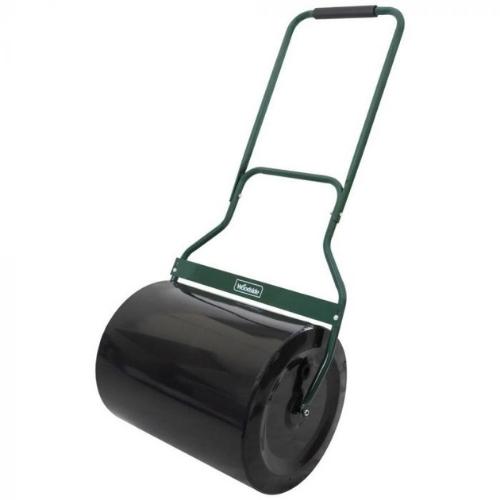 This incredible plastic lawn roller can be set up in minutes and is the perfect partner for any garden lover looking to maintain a tidy lawn. The roller may be filled with either water or sand, and it has a metal plug that prevents leaks better than a plastic plug.
The roller includes a plush hand handle that makes it easy to operate. For a robust structure, it is made of powder-coated steel making it withstand any type of weather.
Things we liked
Easy to assemble
Metal plug prevents leaking
Things we didn't like
The drum is not completely round
Best Poly Lawn Roller
Inch Poly Tow Lawn Roller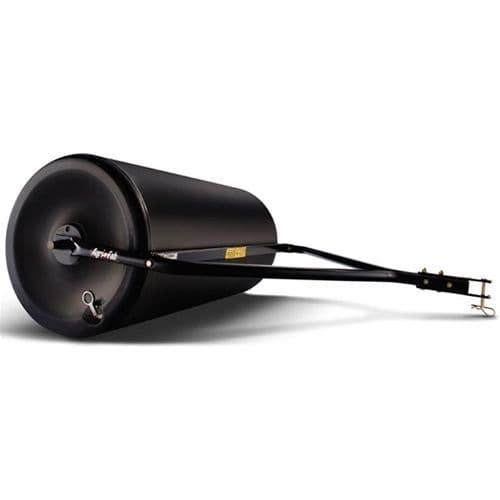 This product can hold up to 400 pounds of sand or water before being linked to a tractor. The roller flattens the surface of your grass as the tractor travels through it. It also comes with a three-year warranty and is crafted of high-quality materials, ensuring that it will endure a long time.
It has a centre buffer, which provides additional stability and makes it easier to use. When you buy this poly lawn roller, you're getting a lot of bang for your buck. It also has a drain plug that may be removed.
However, its directions aren't very clear, and it works better with water than sand, so if that's not what you're looking for, this lawn roller isn't for you.
Things we liked
Large water or sand capacity
Large capacity
Things we didn't like
Does not work as well with sand
Brinly PRT-36BH Tow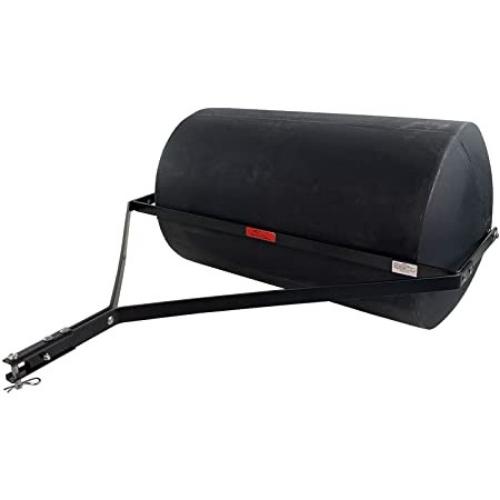 While several instruments may help you flatten your grass and give it a professional appearance, none do it better than lawn rollers, and the Brinly PRT-36BH Tow-Behind Poly Lawn Roller is one of the best.
When fully loaded, it can hold up to 690 pounds. It is great for those who have a lot of lands. It's not difficult to store because of its small size.
The ability to last for a long time is the most enticing aspect of this product, which is due to its construction using high-quality materials.
It's made of high-quality poly and can stores up to 76 gallons of sand or water, allowing it to roll around your grass smoothly. However, when filled with water, certain pieces leak and reviews claim the bar isn't sturdy enough.
Things we liked
Holds up to 690 pounds
Great for large gardens
Things we didn't like
Not ideal for excessively bumpy lawns
Agri-Fab 45-0269 Poly Tow Lawn Roller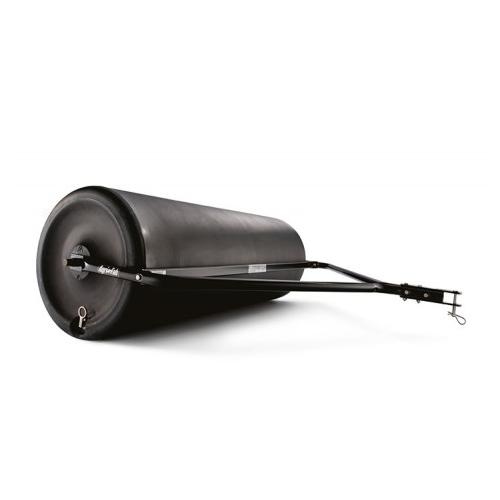 This roller smoothes out the lumps and depressions in your grass, giving it a smooth, joyful appearance. It contains a scraper bar that prevents soil from clumping, as well as a hitch that can be easily mounted to all types of tractors.
Furthermore, the roller's durability is enhanced by an internal support disc. When loaded with water, it can handle up to 550 pounds, providing it with unrivalled rolling efficiency.
However, due to its plastic construction, it becomes brittle with time. It also contains some missing nuts and bolts, according to reviews.
Things we liked
Great for levelling bumpy lawns
Prevents soil clumping
Things we didn't like
Not the most durable model
Best Steel Lawn Roller
MaxxGarden Lawn Roller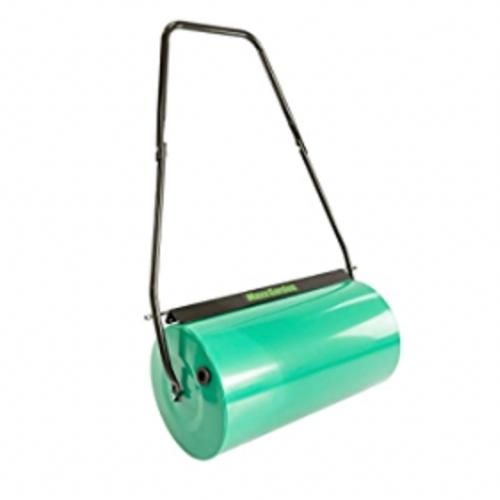 The roller is 60 centimetres broad and 32 centimetres in diameter and is composed of unnamed metal. The hollow cylinder now has a capacity of 48 litres.
To increase the weight and give your lawn a nice finish, fill it with plenty of water or sand. There is a gap in the side. However, it is relatively little for sand.
The steel frame is sturdy enough to support the weight and will keep the roller nicely balanced as it moves. Because the handle is raised, the bar is easy to hold.
According to customer feedback, there are some challenges with correctly positioning the frame. This could indicate that the bar meant to keep the cylinder free of dirt or debris isn't scraping in a straight line.
Things we liked
Sturdy design
Great for small gardens
Things we didn't like
Too little to hold much sand
Coopers of Stortford Lawn Roller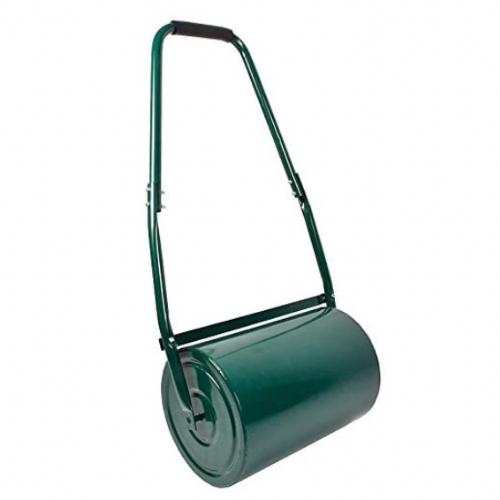 The cylinder's construction is of excellent quality. It's made of steel with an enamel finish. That it's tough and won't harm the turf you're rolling on. As you work, a scraper bar removes debris from the cylinder's surface, keeping it smooth and clean.
It's worth noting, though, that if you're travelling over uneven ground, the bar may catch on the roller. However, if it is a problem, you can remove it.
The cylinder is hollow and 30 centimetres in diameter, ready to be filled with water, sand, or cement. The maximum weight capacity is 54 kilogrammes when fully loaded.
If you're using sand, two 10-kilogram bags from a home improvement store would suffice. Make sure it's completely dry before pouring it into the cylinder.
Things we liked
High-quality design
Creates a smooth and clean lawn
Things we didn't like
Not suitable for very uneven ground
Ohio Steel 48T Pro Steel Lawn Roller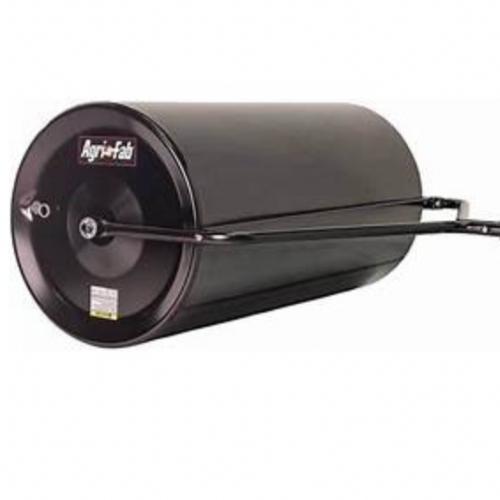 This water-filled roller, made in the United States, features a multi-purpose handle and a pin that quickly attaches to any tractor.
While filling rollers with water is not a bad idea, Ethylene glycol antifreeze must be added to the water.
When the temperature drops during an icy season, this chemical protects the drum. To keep the tank from rusting, it must also be treated with a rust inhibitor.
Although it is inexpensive, reviews have stated that the quality is inadequate.
Things we liked
Multi-purpose handle
High-quality design
Best Spike Lawn Roller
Green key Lawn Roller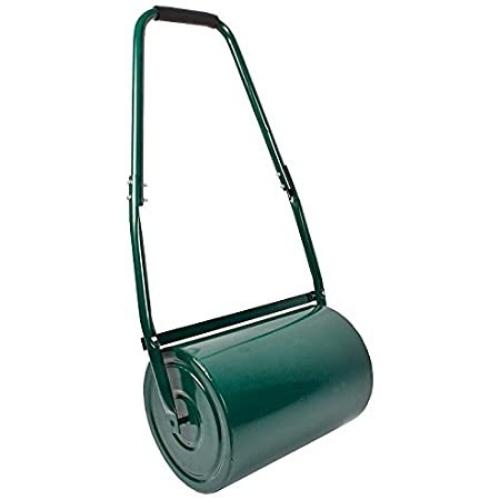 Because of its huge 30cm width, the Greenkey lawn roller is a quick and efficient way to roll and aerate your lawn. Thanks to the inclusion of 30 4.5cm spikes, this product is also designed to offer deep and even aeration to your grass.
This lawn roller allows your lawn to breathe, which promotes deep root growth and a lovely green lawn. The Green key roller is also available in black or green.
It's quick and simple to put together, and the Greenkey website has an instructional video. This is a quick and easy technique to maintain your lawn aerated.
Things we liked
Great for lawn aeration
Easy to assemble
Things we didn't like
Too lightweight for some jobs
Wolf Garten Lawn Roller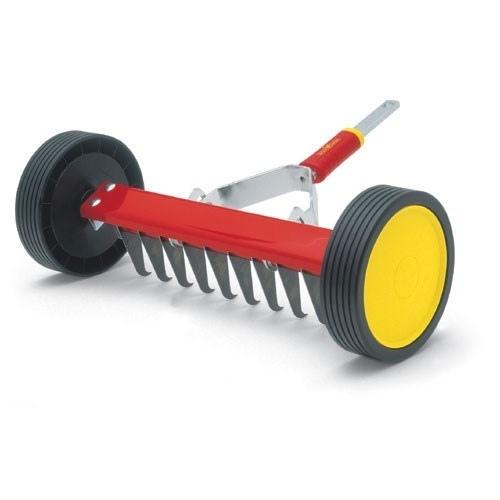 The Wolf Garten lawn roller has a unique design that allows the blades to glide over the lawn when pushed but sink into the turf when pulled.
This method allows you to effectively remove moss from your lawn with little to no effort.
The grass roller's head can easily be swapped out thanks to the multi-change click system. Because of the click system, any handle from the range will fit on this lawn roller, allowing you to adjust the length to your liking.
The Wolf Garten lawn roller is also backed by a 10-year warranty.
Things we liked
10-year warranty
Multi-change click system
Things we didn't like
Not ideal for an overgrown lawn
Casart Grass Spike Roller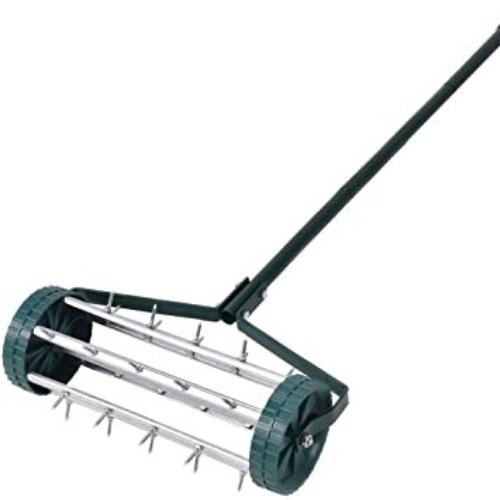 The robust metal nail is long-lasting and can assist you in loosening the soil effectively. The grass roller toll can assist with lawn aeration quickly and efficiently, removing the tyre of loose soil.
It can allow the lawn to breathe and promote growth, resulting in a stunning garden lawn for you.
It also comes with a concise instruction booklet with precise steps to guide you through the installation process so you can set up the lawn roller with ease.
Things we liked
Long-lasting design
Promotes lawn growth
Things we didn't like
Spikes may be too short for some lawns
Best Portable Lawn Roller
Outsunny 40L Lawn Roller (£43.99 Amazon)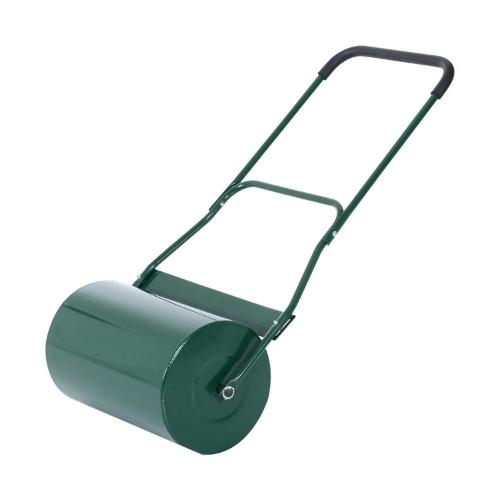 This roller is smaller than some of the others on the market. The operating width is 58 centimetres, and the capacity is 40 litres. The cylinder is 32 cm in diameter.
It weighs roughly 50 kg when filled with water. If you use sand instead of water, the weight will rise to 84 kg. The cylinder will store roughly the same amount of sand as two bags of builders' sand.
A scraper bar is included in the frame to maintain the cylinder clean and smooth while in operation. Almost every part is also coated with a corrosion-resistant spray.
The connections between the cylinder and the axles are an exception. That indicates that the area is susceptible to rust. It will be protected if you use a little silicone spray.
The rubber grip on the handle makes it more comfortable to hold. It can also be folded into two parts to save room in storage. This is another roller that needs to be assembled, but it's not difficult.
Things we liked
Comfortable use
Corrosion resistant
Brinly PRT-48SBH Lawn Roller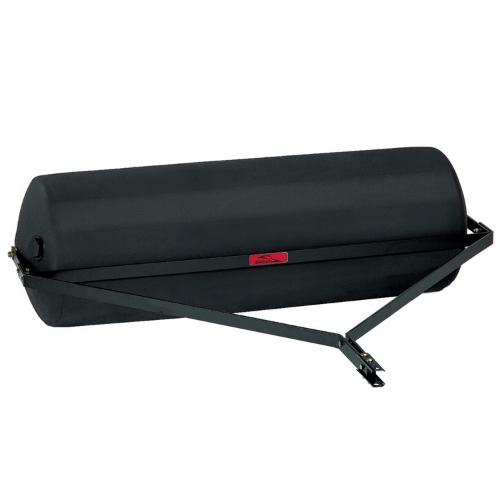 This lawn roller is perfect for large lawns because it is large enough to roll over your grass rapidly, saving you time. Its size is not a deterrent to storage because it is lightweight and can be readily stored once work is over.
It has circular edges that are soft on turf and a scraper bar that may be used to keep dirt out of the machine.
It also features a big filler cap that makes filling and emptying water or sand a breeze.
Things we liked
Lightweight design
Great for large lawns
Things we didn't like
Not ideal for small gardens
Toro Lawn Striping System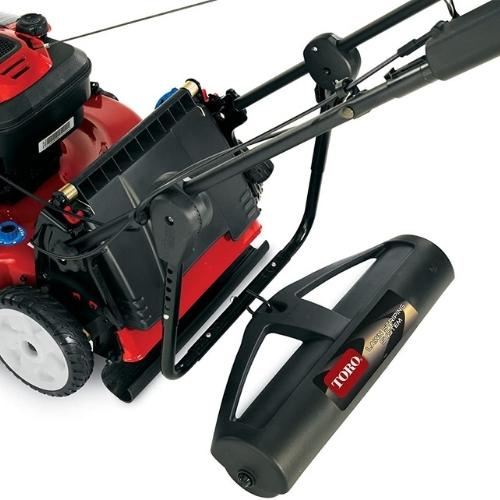 This lawn roller produces some professional-looking stripes. In the same vein, it also beautifies your grass by creating patterns that are pleasing to the sight. It fulfils two functions at the same time.
The size of this roller is extremely little. They measure 13 inches broad, 16.5 inches deep, and 24 inches tall. As a result, you won't need to set aside a lot of space to store the device.
This lightweight grass roller can be used with or without a bagger. It is lightweight and does not create any unwanted drag. It's simple to put together because it uses a Phillips screwdriver to assemble it.
However, it requires sand filling, which is difficult to come by in most circumstances. It's also possible that it won't have a lot of pressing power.
Things we liked
Lightweight roller
Easy to assemble
Things we didn't like
Not the most powerful lawn roller
Best Budget Lawn Roller
Brinly PRC-24BH Poly Lawn Roller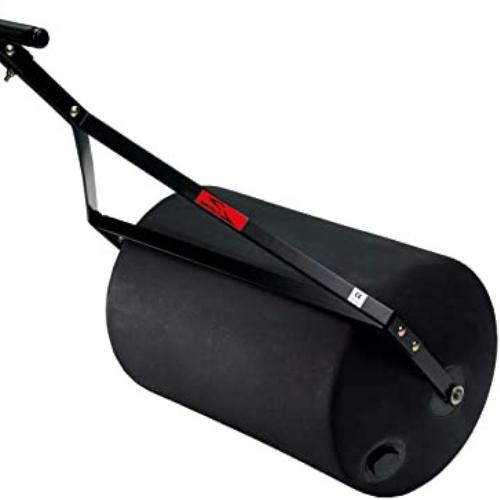 This product is effective because it aids in the creation of a smooth lawn surface and corrects mole damage. Its 28-gallon barrel capacity makes it simple to roll over tough, hard surfaces and flatten them.
Typically, lawn rollers cause more damage to your lawns than they do good, but not with the Brinly PRC-24BH Poly Lawn Roller.
Its rounded drum ends smooth out your lawn without damaging it, and its scrapper bar ensures that dirt doesn't attach to your roller.
However, it will require assistance during assembly because it cannot be completed by one person.
Things we liked
Ideal for tough surfaces
Rounded drum creates smooth surfaces
Rovsun Lawn Roller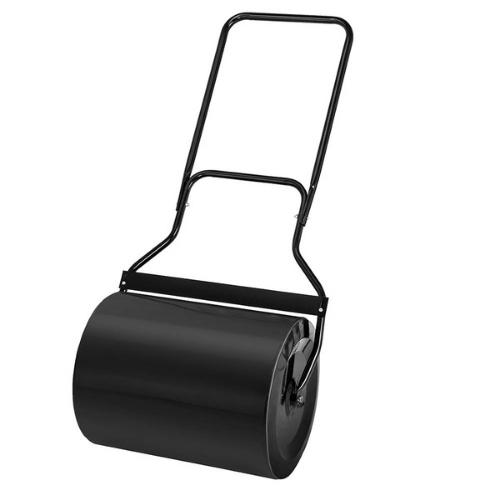 The ROVSUN Grass Roller holds up to 16 gallons of water and can be effortlessly rolled or pulled across your lawn. It completely smoothes out uneven surfaces caused by freezing, moles, or thawing earth.
Furthermore, it is stress-free to operate; it includes a scraper bar that prevents dirt and debris from accumulating on the drum. It also includes a drain cap that can be quickly removed after emptying the water, making it simple to store.
Because it is light, transporting it is not a problem. It does not, however, hold a lot of water.
Things we liked
Easy to operate
Great for transporting
Things we didn't like
Not ideal for very bumpy lawns
Costway Garden Grass Roller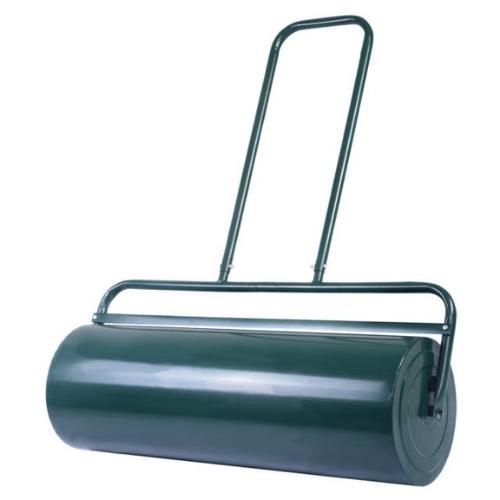 Thanks to its extra-wide 90cm drum with a maximum capacity of 63L, it's a terrific alternative for covering acres of territory in the shortest amount of time.
The roller is simple to set up, and the entire equipment takes up little storage space. With a full 3ft of rolling width, it's ideal for larger lawns.
The drain plug allows you to add water or sand. High capacity is great for levelling uneven ground or packing down newly planted seed or sod, and you may adjust the weight by adding water or sand as needed.
This outdoor lawn roller has a steel drum that accommodates larger lawns and makes quick work of flattening out your grass's flaws, allowing you to work more efficiently in the garden.
Things we liked
The width is great for large gardens
Works with sand or water
Best Lawn Mower Roller
Mountfield S421R HP Rear Roller Petrol Lawn Mower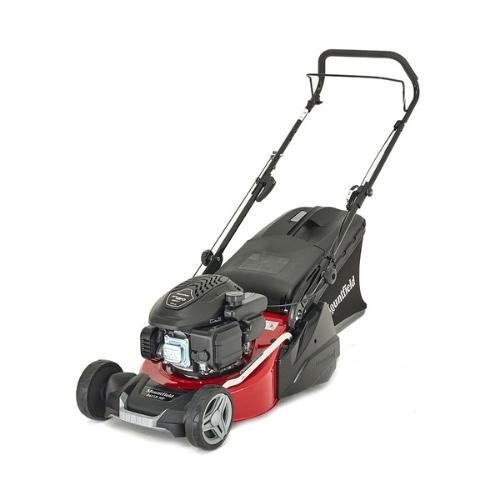 The Mountfield brand has received rave reviews, and we're happy to report that if you buy this item, you'll get a 5-year warranty! It also features five different cutting heights, so you'll be ready for everything.
This Mountfield is suitable for medium-sized lawns, and it's generous 41cm/16" cutting deck will make quick work of your lawn and leave you with a wonderful near-striped finish.
It is powered by a Mountfield RSC100 OHV engine. The cutter deck is made of steel and is designed to last as well as provide stability. This powerful mower starts with a recoil start.
Things we liked
Long-lasting design
Great for medium-sized lawns
Garden Gear Manual Lawnmower Roller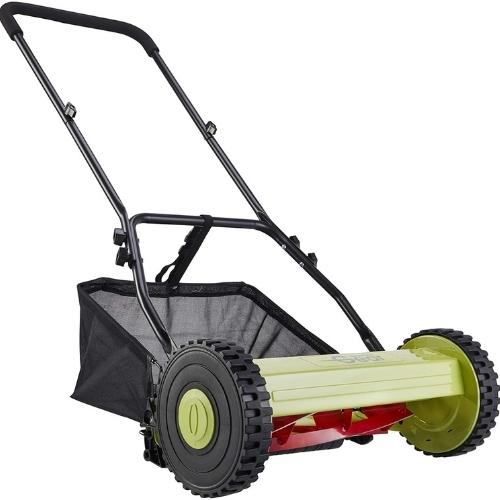 This incredible lawn mower roller has a wide cutting width of 40 centimetres. It also features a large collection bag, with a capacity of 30 litres. The adjustable cutting height, which ranges from 12 to 45 centimetres, is really useful.
There is no need for gasoline, power, or trailing wires with this lawn mower roller, and it comes with a two-year warranty for your peace of mind at home.
Things we liked
Wide cutting width
Adjustable cutting height function
Things we didn't like
Not great for high sun areas
Cobra RM40C Rear Roller Petrol Lawn Mower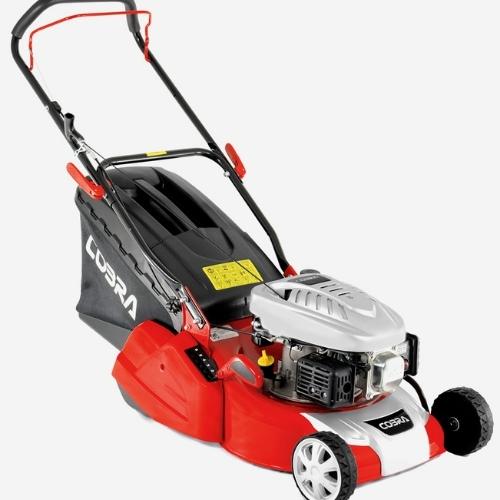 This smart petrol lawnmower from Cobra is hand-pushed, which is a bonus if you have obstacles to mow around in your garden. It has a cutting width of 40cm, making it excellent for small to medium-sized gardens.
This Cobra RM40C has six completely adjustable cutting heights, ranging from 17mm for a great low finish to 75mm for longer grass, providing you optimal results in any situation.
Things we liked
Six adjustable cutting settings
Six adjustable cutting settings
What to Consider Before Buying a Lawn Roller
A garden roller is a fantastic tool to have at your disposal for maintaining your grass in tip-top shape, but there are a few things to consider ensuring you get the proper roller for your needs. This part of the article will help you think before you buy…
Type of Lawn Roller
It's worth taking some time to think about the different types of rollers available. It's not a good idea to buy a big, expensive towed roller if the size of your lawn and the chores you want to complete make a smaller manual roller a better choice.
Weight
The amount of success you can have using a roller on your lawn is directly proportional to the weight of the roller's drum and how well that weight can smooth out the lawn underneath. The heavier the roller, the more chance it has of compacting and levelling the earth beneath it.
A manual roller attached to a ride-on mower or mini tractor and dragged along behind over a lawn is likely to be lighter in weight than a roller attached to a ride-on mower or mini tractor and pulled along behind.
A lighter-weight roller doesn't mean it won't perform an adequate job on most small to medium-sized lawns; it just means it won't be as successful in flattening out particularly uneven soil. This is because it lacks the weight and leverage to do so as effectively as a heavier device.
Water or Sand Filled?
A water or sand-filled poly or metal roller is perfectly capable of handling the occasional lump or bulge in the lawn. Sand-filled lawn rollers tend to be much heavier than water-filled rollers, so it's up to you to choose the one that's right for your lawn.
Budget
Which garden roller you choose will be influenced by your budget. A cheap plastic manual roller will set you back around £30 to £40, while a stronger polyethene roller will set you back around £50.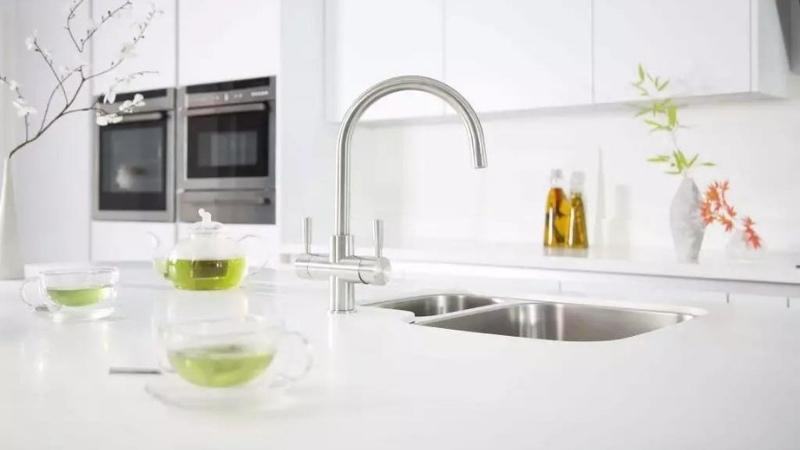 A decent quality metal roller will set you back anywhere between £60 and £120. These are perfect for most small to medium-sized domestic lawns.
FAQs
Can I hire a lawn roller?
Yes, some companies offer lawn roller rental from many of their websites, however, they might not have many options depending on where you live. But the average price is around £20-£30.
What is the purpose of a lawn roller?
When it comes to creating a new lawn, a lawn roller comes in handy. Rolling the earth before distributing grass seed helps to level the ground and minimise low patches and clods of soil. Rolling the seed after sowing ensures that all seeds are in contact with the soil, which aids germination.
How heavy should a lawn roller be?
You might be able to get away with utilising larger yard rollers if you have a powerful garden tractor or a commercial-grade zero-turn mower. If you're using a lawn tractor or a consumer-grade zero turn mower, your roller shouldn't be more than 300 pounds.
Does rolling grass help it grow?
When sowing and preparing grass, a roller is extremely useful. Frequent rolling while levelling and preparing the seedbed will provide an even degree of compaction across the entire lawn surface, considerably lowering the likelihood of sunken spots later.
How often should you roll your lawn?
Compaction is more likely in clay-rich soil than in other types of soil. Rolling these lawns will only cause them to deteriorate. Do not re-roll every year. Only roll your lawn if required.
Sources