gardening & outdoors
Best Hedge Trimmers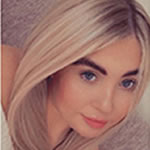 Looking for a high-quality hedge trimmer?
This article will help you understand more about hedge trimmers such as what they are and how they work. We will also cover the different types of hedge trimmers and the best hedge trimmers you can buy!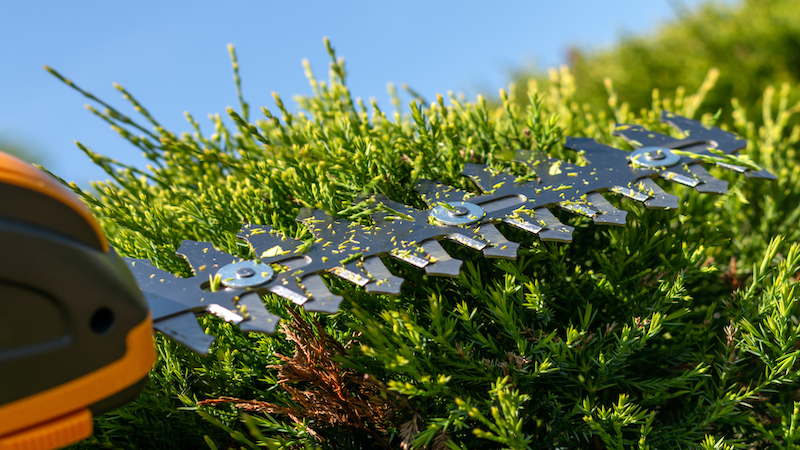 Read on to find out more!
What are Hedge Trimmers?
Hedge trimmers are simple gardening tools for cutting, trimming, and pruning plants in the garden and yard. Hedge trimmers come in a variety of styles and sizes, giving purchasers a lot of options when buying.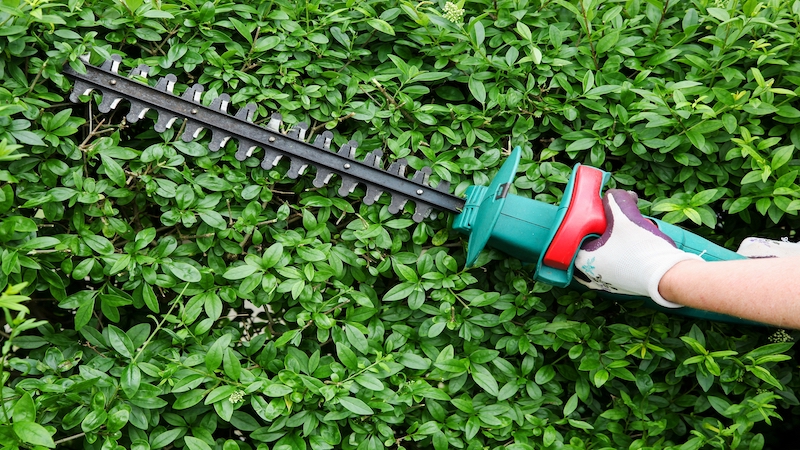 Hedge trimmers are typically powered by gas, although more are being powered by electricity.
Keeping the hedges around the house and in the yard clean and neat is much easier with a gas power hedge trimmer, and the job is accomplished faster. While these trimmers are most used to keep hedges and shrubs looking their best, they can also be utilised for other purposes.
How Do Hedge Trimmers Work?
A hedge trimmer is rather simple tool. It makes no difference whether you use a corded or cordless model. The blade of a hedge trimmer is made up of two metal, flat shafts that protrude from the device's body. On both sides of each blade, there are projecting teeth.
They're connected to a motor that, when activated, enables one or both blades to rapidly oscillate back and forth. The cutting action is created as a result of this.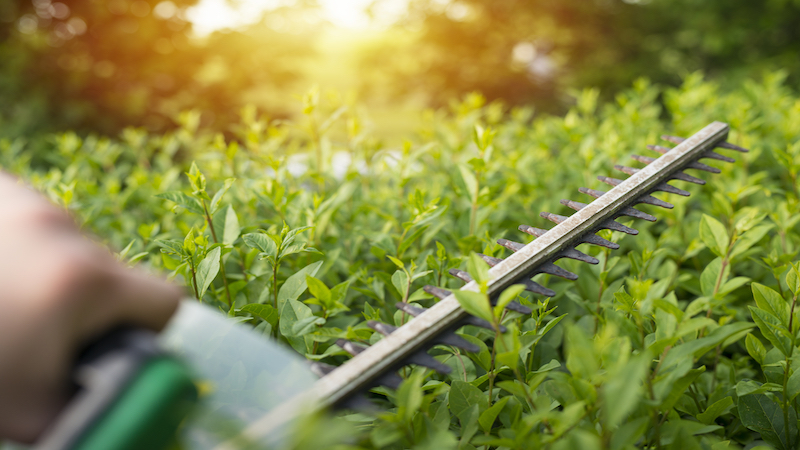 While all hedge cutters have two blades that work together to create a scissor action that cuts your hedge, some models just have one blade that moves. The cutting action is produced in this variant by the moving blade moving sharply back and forth against the stationary, fixed blade.
Types of Hedge Trimmers
It's crucial to consider the many components and their functions. While hedge trimmers come in a variety of styles, shapes, and sizes, they all have some common features. Here are some key components to consider for the various types of hedge trimmers.
Electric Hedge Trimmer
Electric hedge trimmers are more portable, less expensive, and quieter than gas-powered hedge trimmers. Electric hedge trimmers rely on either a battery or being plugged into a power supply to operate, whereas gas-powered hedge trimmers require fuel to run.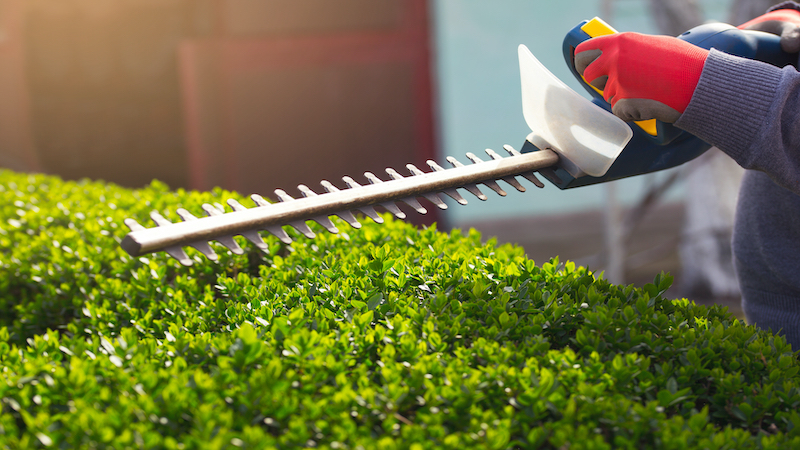 The motor of an electric hedge trimmer is powered by the electrical current, supplied by either the mains connection or the battery. This enables the oscillations required by the blades.
Electric motors are less powerful than gasoline-powered motors, but they are also quieter.
Electric hedge trimmers are less successful against very thick branches due to their lower power. If you need to chop through branches more than 1/2′′ thick frequently, you'd be better off using a gasoline hedge trimmer.
Electric hedge trimmers also have the advantage of producing no pollutants.
Cordless Hedge Trimmer
Electric hedge trimmers that don't require an electrical cord are known as cordless trimmers. They rely on a rechargeable battery to keep the machine running. They are not as powerful as normal electric trimmers and they must be recharged every hour or so or they will stop working.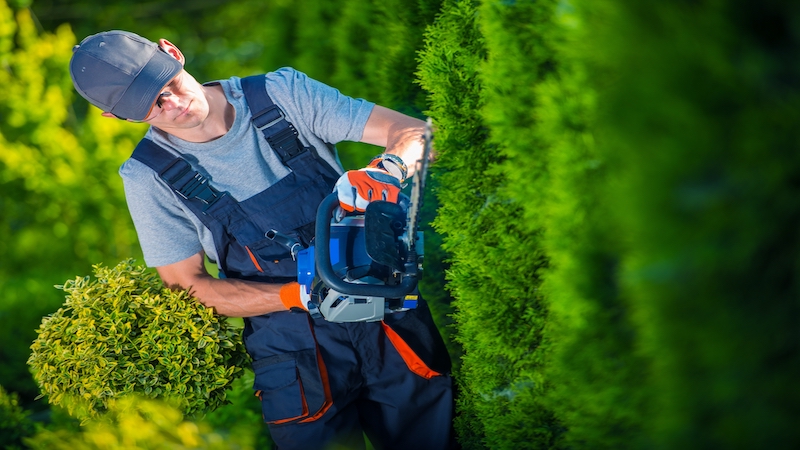 While cordless trimmers are convenient and quiet, they only last for a short time on a single charge. Furthermore, a cordless trimmer is not the ideal solution for cutting thick stems and branches on your shrubs or hedges.
Gas-Powered Hedge Trimmer
A gas-powered hedge trimmer generates the vibrations required to move the blades by combusting gasoline in the same way that a car engine does.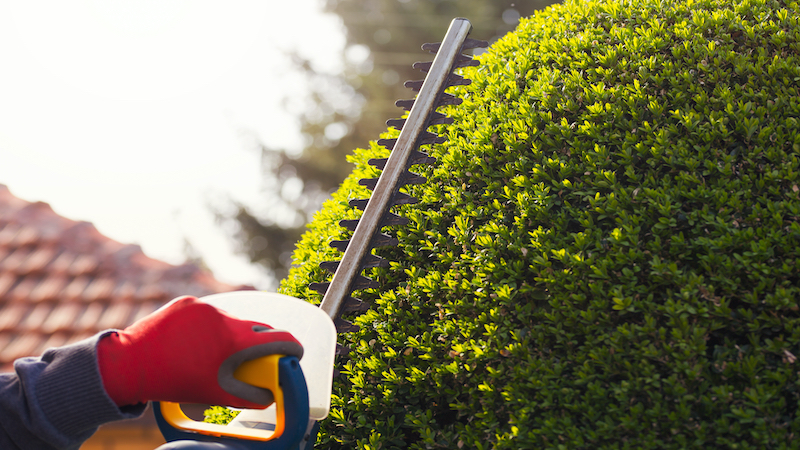 The disadvantage of a gas hedge trimmer is that it is heavier, and more expensive to operate than an electric hedge trimmer. This is due the expense of fuel and the regular maintenance required to keep the gas engine in good working order.
To give a hedge trimmer the power it requires, gas hedge trimmers employ a combination of fuel and oil. Gas engines have a lot more power than electric motors, which is why they can deal with difficult hedge trimming jobs.
Long Reach Hedge Trimmer
Some hedges are so tall that a traditional hedge trimmer can't cut the top. Hedge trimmers with long reach or extendable poles feature fixed or extendable shafts that allow you to cut the side of a hedge overhead height.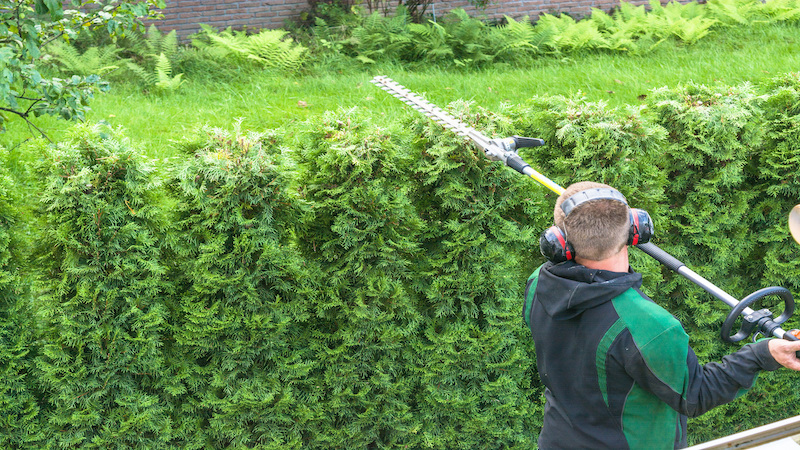 The blade may also be placed at different angles to the shaft, up to 90 degrees, allowing you to cut the top while standing on the ground.
However, hedge trimmers with a long reach aren't always the best choice. Because the blades are so far away from your body, they might be difficult to manage while cutting particularly tall hedges. In certain cases, the blades are too short to cut a large hedge.
Single-Sided Hedge Trimmer
Single-sided blades are lighter than double-sided blades, so, single-sided trimmers may accommodate longer cutters without causing the machine to become unbalanced.
Single-sided hedge trimmers are ideal for maintaining long, straight hedgerows, cutting more with each sweep to save time while working with heavy loads.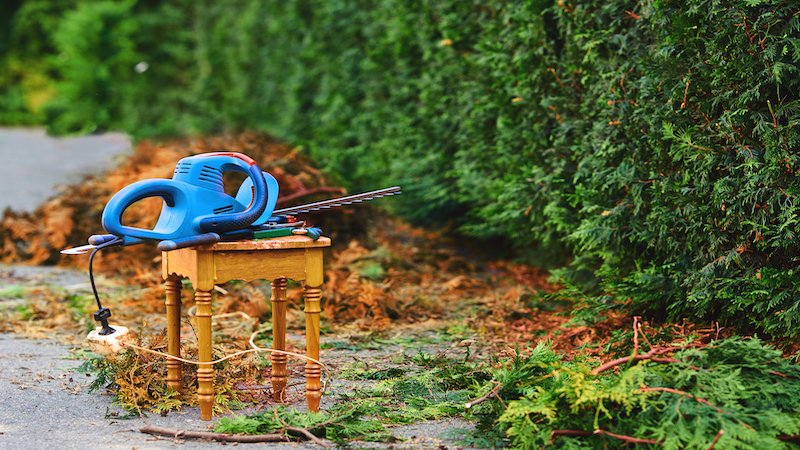 Single-sided hedge trimmers are also safer than other hedge trimmers since they only have teeth on one side of the blade. This is an advantage for professional operators who use a hedge trimmer for lengthy periods.
The majority of single-sided hedge trimmers are petrol-powered and have plenty of clouts, as they were developed for commercial use.
Double-Sided Hedge Trimmer
The most common type of hedge trimmer is a double-sided hedge trimmer, which is the ideal choice for most hedge management jobs. It is capable of dealing with light trimming in home settings to precise shaping for beautiful gardens.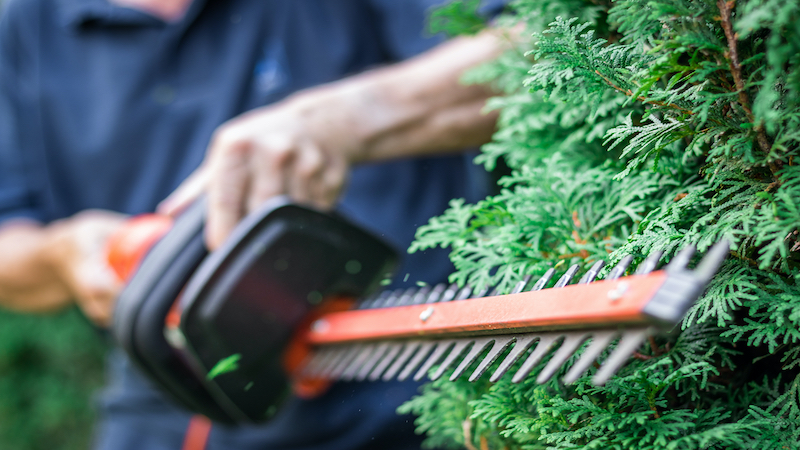 A double-sided hedge trimmer is necessary if you want a good general-purpose hedge trimmer that can handle a variety of activities.
Hedge trimmers with two sides are usually easier to use than single-sided hedge trimmers, especially because you can easily alter the cut direction when working on tight corners or oddly shaped plants.
Double-sided hedge trimmers are also preferable in restricted locations, since they can cut with either side of the blade.
Telescopic Hedge Trimmer
Telescopic hedge trimmers can easily trim hedges up to 2.5 metres tall. Hedge tops can also be cut with these trimmers if they aren't too deep or thick. With the help of a tall hedge trimmer, the head of a 1-metre thick hedge can be readily reached.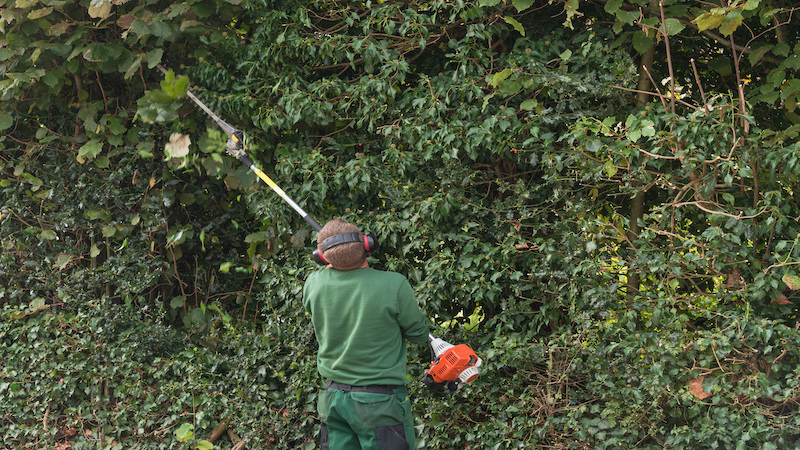 Battery Powered Hedge Trimmer
A battery-powered hedge trimmer is essentially a cordless hedge trimmer that is powered by batteries.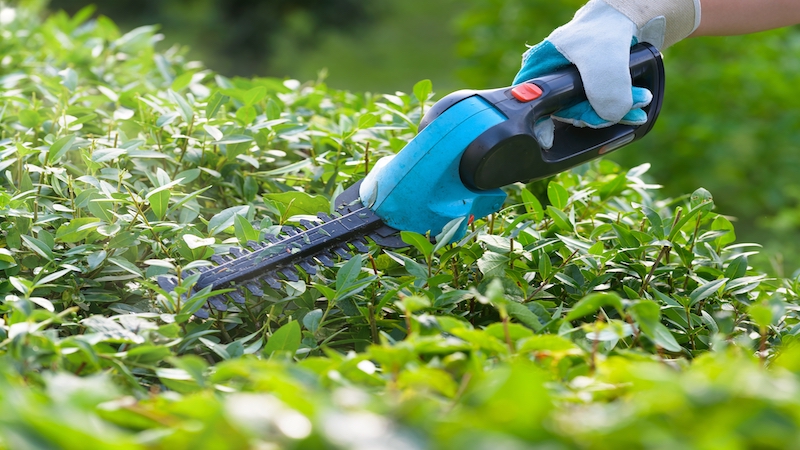 The biggest disadvantage of utilising a battery-powered cordless hedge trimmer is that the batteries must be recharged or replaced as needed.
Best Hedge Trimmers
Hedges that are neatly maintained offer beauty and refinement to the garden's borders. They make excellent backdrops and can enhance the aesthetic appeal of your well-kept lawns and gardens.
So, what is the best hedge trimmer for your garden? This section will tell you all the best hedge trimmers you can buy.
Best Electric Hedge Trimmer
Greenworks G40HT61K2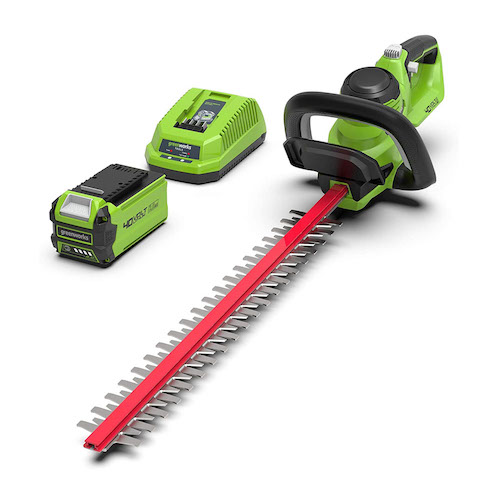 A 40V 2Ah lithium-ion battery powers this cordless hedge trimmer, which can be included in the price along with a charger or purchased separately.
4Ah batteries are also available, and both the batteries and the charger are compatible with the Greenworks 40V family of tools. Long, double-sided 61cm blades with a rather large 20mm tooth spacing are used in the trimmer.
This is a lightweight trimmer, so it cuts quickly and efficiently given its power category and blade length.
The handle rotates to three points, making it easy to use, especially when cutting above head and shoulder height.
It contains a jam function to keep the blades from being clogged, as well as a lock/unlock switch for added security.
THINGS WE LIKED:
Jam function
Lightweight design
Easy to handle
THINGS WE DIDN'T LIKE:
Noisy gearbox
Teeth described as soft by reviewers
Makita DUH551Z Trimmer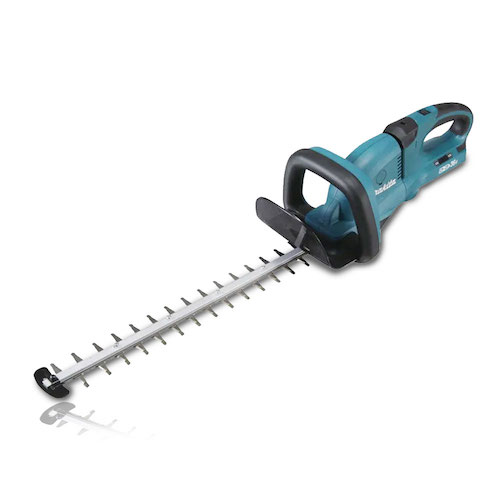 This electric trimmer is a powerful tool with a lock/unlock switch, a tool protection system, and a blade tip protector, among other features.
It's an extremely adaptable trimmer with a speed control dial that activates six distinct cutting speeds and a handle that rotates into five different settings.
Despite being heavier than other models, it provides a strong and efficient cut.
THINGS WE LIKED:
Helpful speed control dial
Five rotational settings
THINGS WE DIDN'T LIKE:
Can be too heavy to handle
Flymo SimpliCut Li Trimmer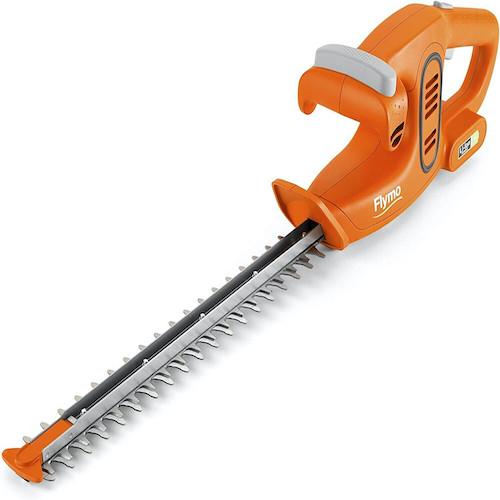 This tiny Flymo cordless trimmer has three major advantages: it's inexpensive for a cordless trimmer, and it's light (at only 2.1kg). It's also quite simple to operate.
Simply put it into a wall outlet and leave it for around three and a half hours, and you're ready to go. Surprisingly, the built-in battery lasts for about an hour of strimming.
This isn't built for wider or taller hedges, with a 40cm blade and a 16mm blade gap. We also discovered that 16mm is pushing it since any twigs or branches larger than roughly 10mm stopped it dead.
You'll also have to bring the entire unit in for a recharge unless you have mains electricity in your shed or garage.
THINGS WE LIKED:
Affordable
Lightweight
Easy to handle
THINGS WE DIDN'T LIKE:
Not ideal for wide or tall hedges
Requires regular recharging
Best Cordless Hedge Trimmer
Ryobi One + OHT1845 Trimmer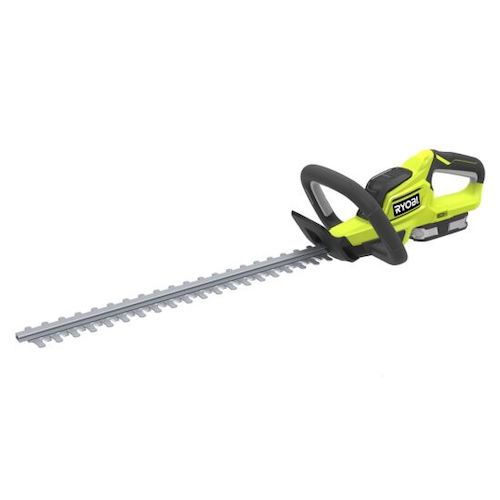 An 18V 2Ah lithium-ion battery powers this cordless hedge trimmer, which has 45cm long blades.
There are six different Ah batteries and a variety of chargers available as part of the Ryobi ONE+ system. They are compatible and interchangeable with any of the gardening and DIY equipment in the system.
This lightweight, multi-purpose hedge trimmer is great for trimming and sculpting hedges and shrubs. It's also great for less-able gardeners who require small, portable equipment.
It's quiet and simple to operate, and it delivers excellent results given its size. The blade has a greater tooth spacing of 18mm and trims a variety of materials nicely.
The battery has a power metre, but it's difficult to see, making it hard to determine how much power you have left before it dies. The blade guard is thick and solid, and it appears to be well-made.
THINGS WE LIKED:
Quiet operation
Multifunctional hedge trimmer
Portable design
THINGS WE DIDN'T LIKE:
Power metre is hard to see
Not ideal for shorter users
Bosch EasyHedgeCut Trimmer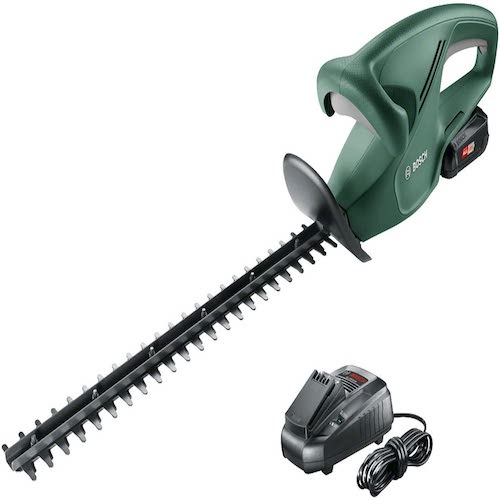 This cordless hedge trimmer is powered by a 12-volt 2.5Ah lithium-ion battery and is part of the Bosch 12 Volt Power for ALL System, which uses one battery.
The trimmer's blades are 35cm long and have a 15mm tooth spacing. The battery doesn't have a charge indicator, which would be great for letting you know when it's close to run out.
This is perfect for shaping young or small hedges, but it's also useful for less experienced gardeners who need to cut extensive hedges and need a lighter tool.
This small trimmer is quiet, light, and easy to use, but the blade is the shortest of all the blades we tested, so length must be balanced against the convenience of use.
It's wonderful for shaping tiny hedges and is simple to use at all levels, although trimming larger hedging will take some time. The anti-blocking technology is effective, allowing for continuous cutting.
THINGS WE LIKED:
Anti-blocking technology
Quiet trimmer
Great for beginners
THINGS WE DIDN'T LIKE:
No charge indicator
The blades are quite short
Stihl HAS 56 Trimmer
The 36V lithium-ion batteries that power this cordless hedge trimmer come in three different Ah sizes. It also has two different fast chargers, all of which are compatible with any of the instruments in the line.
Four LED lights on the batteries indicate how much charge is left, while lights on the chargers indicate when the batteries are charging and when they are fully charged.
The battery is firmly kept but not attached, allowing you to safely move it around the yard without it unexpectedly starting. When the battery is fully inserted, it is ready to use.
Although the handle does not spin, the blade features tip protection to prevent it from being damaged or cutting neighbouring fences and walls. The blade guard is thick and solid, and it appears to be well-made.
THINGS WE LIKED:
Helpful tip protection
LED light indicators
Different battery options
Best Gas-Powered Hedge Trimmer
Husqvarna 122HD60 Trimmer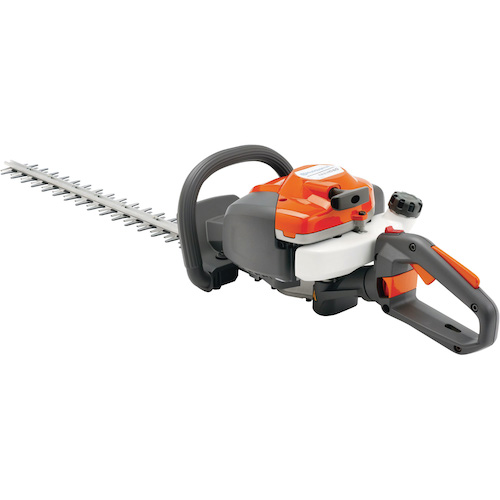 This hedge trimmer is small and light, but it cuts quickly and well. The rotating handle makes it easier to manoeuvre around odd angles, and the anti-vibration technology makes it more comfortable to use.
The tool is silent, so your neighbours won't be disturbed. The product is also covered by a two-year warranty.
This is suited for use on large and tall hedging and bushes, making it ideal for larger gardens with established hedges.
THINGS WE LIKED:
Lightweight design
Quiet operation
Great for large gardens
Webb HC600 Trimmer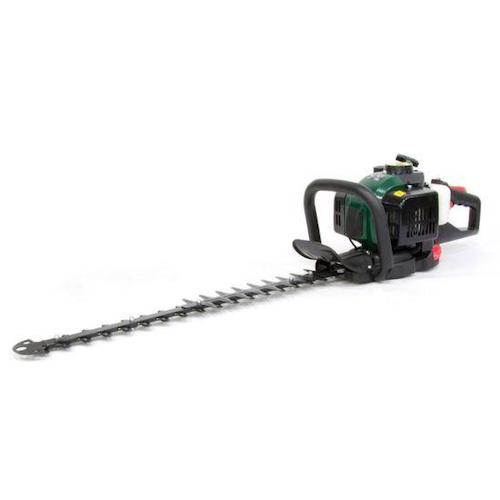 This petrol hedge trimmer is effective and powerful. It's easy to work with and is ideal for all hedges, but especially those that are larger and more established.
It has a two-year warranty, and offers excellent value for money. Best for individuals with large gardens and tall hedges, as well as gardeners who are stronger and more capable.
When trimming and shaping the tops and sides of hedges, it's simple to establish a comfortable working position, and it's a versatile hedge trimmer that can handle most hedges of any height.
It's also powerful, with one of the widest teeth spacings among the hedge trimmers we looked at. This makes it ideal for larger, mature stems and growth.
THINGS WE LIKED:
Great for large hedges
Versatile design
Rotating handles
Mitox 600DX Trimmer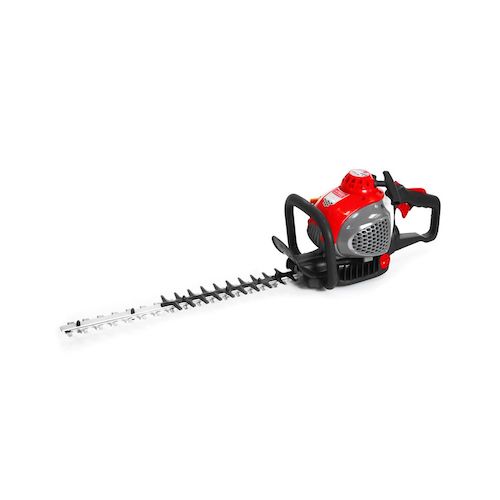 This is a petrol hedge trimmer with 61 double-sided cm blades. It has a spinning handle and an anti-vibration mechanism, among other things.
The rotating handle have four distinct working settings, making it easy to use and excellent for gardens with tall hedges. Working at a height is more pleasant when the handle can be twisted into the proper position.
This is ideal for larger gardens with taller or thicker hedges, thanks to its 4-point rotating handle and a rather long blade.
It is, however, one of the heaviest you can obtain; thus it is best suited to gardeners who are stronger and more capable. The handguard is also thin plastic and feels flimsy.
THINGS WE LIKED:
Great for tall and thick branches
Anti-vibration function
4 rotating handle settings
THINGS WE DIDN'T LIKE:
Flimsy handguard
Heavy hedge trimmer
Best Long Reach Hedge Trimmer
Ryobi Pole Hedge Trimmer
Ryobi's extended reach pole hedge trimmer is cost-effective. It allows you to trim hedges that are overgrown and at an unmanageable height in difficult-to-reach areas.
An adjustable and sturdy cutting head is linked to the extension pole. It also has a lengthy cable that makes it easy to manoeuvre throughout the yard and grass. Because it is a lightweight model, the balance of this Ryobi model is also great.
This Ryobi model is a versatile model with a rotating head, you can operate from a variety of angles. The pivoting head allows you to manoeuvre without straining your arms at the top of the hedge.
The safety switches are conveniently located within arm's reach, making this a pleasurable purchase.
THINGS WE LIKED:
Adjustable cutting head
Sturdy design
Convenient safety switches
Vonhaus Cordless Pole Head Hedge Trimmer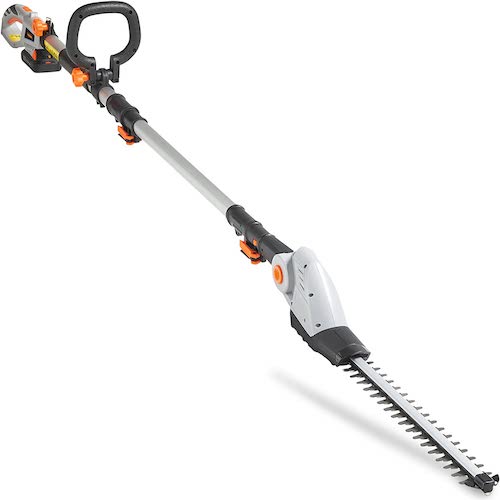 The Vonhaus Long Reach Cordless Hedge Trimmer is a fantastic value. It is battery-operated, lightweight, and simple to use in the garden.
The blade on this extended reach pole hedge trimmer measures 41 cm and weighs roughly 6 kg. The blade's spacing between teeth measures roughly 15 mm and is designed for branches that aren't too thick.
The pole may be extended to a length of 2.6 metres, and the trimmer head can be adjusted to six various heights to meet individual needs. This blade head can spin up to 1300 rpm and has a safety switch in case of an emergency. Vonhaus also offers a 2-year warranty on this product.
THINGS WE LIKED:
Lightweight design
2-year warranty
Six different height settings
THINGS WE DIDN'T LIKE:
Not ideal for thick branches
Flymo Sabrecut XT Long Reach Hedge Trimmer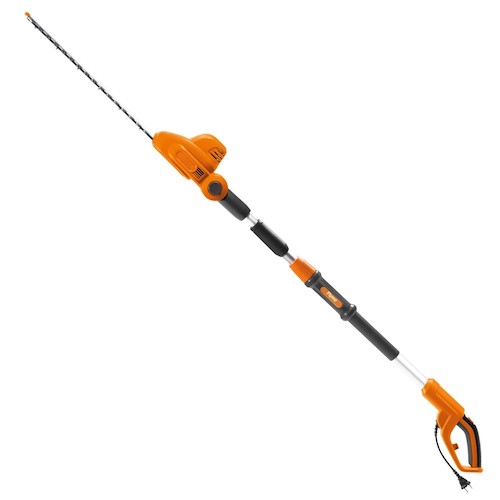 The Flymo Sabrecut is a fantastic long-reach hedge trimmer that is very inexpensive. The blade on this hedge trimmer is 42 cm long and has a 16 mm tooth gap at the top.
It includes a 450 W motor that allows it to handle thicker branches without using a lot of energy. The blade features two sets of teeth and is meant to be twin action. This design change has the benefit of allowing thicker branches to be trimmed.
This hedge trimmer with a longer reach and an 18V battery can work nonstop for 50 minutes. Because these batteries are replaceable, you may buy another pair to replace the ones that have run out if you want to keep trimming your hedge for longer.
The pole is 2.8 metres long. This Flymo model is a fantastic buy when combined with the small weight of this long-range hedge trimmer.
THINGS WE LIKED:
Great for thick branches
Runs for 50 minutes
Twin action design
THINGS WE DIDN'T LIKE:
The blade requires oiling
Best Single-Sided Hedge Trimmer
Makita DUH523Z
This cordless hedge trimmer is powered by a slide-type battery and has a cutting speed of up to 1350 strokes per minute. You'll be able to complete all your hedge trimming in no time because of its rubberized, comfortable grip and anti-vibration build.
In addition, the Makita has a basic cordless design. This model can assist you in getting your landscape in shape quickly.
It has a two-handed operation switch, an electric brake, and a warning system that warns you when the battery is low. However, because it is provided as a bare tool, you will need to purchase a battery and charger separately. Also, with heavier branches, this cordless hedge trimmer may struggle.
THINGS WE LIKED:
Helpful cordless design
Comfortable grip
Anti-vibration function
THINGS WE DIDN'T LIKE:
Not ideal for heavy branches
Batteries and charger are not included
McCulloch HT 5622 Trimmer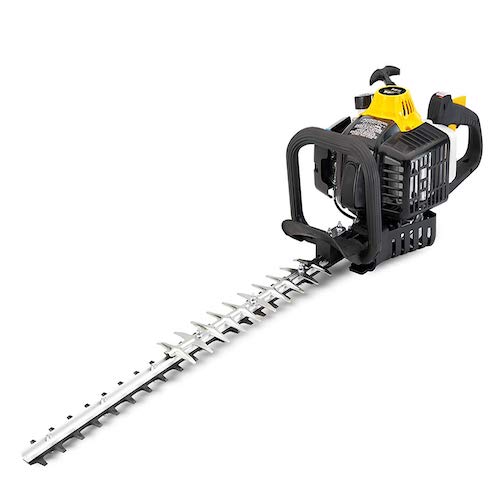 Thanks to a high-quality, single-sided trimmer, green stems and dry branches up to 22 mm in thickness are cleanly chopped with this hedge trimmer. Throughout use, the cutting precision stays exact and effective.
Unlike some other petrol engines, which can be difficult to start, this one has a 'soft starter' option, which reduces the cord resistance by 40% for a smoother, easier start.
Aside from the obvious cordless benefit, this model has ergonomic front and rear grips that provide a secure, comfortable grip while working. When operating vertically, the rear handle is movable, allowing the user to find the most comfortable position.
THINGS WE LIKED:
Soft starter function
Ergonomic design
Moveable rear handle
THINGS WE DIDN'T LIKE:
Cutting vertically is difficult
The blades may stick
Einhell 4245 Trimmer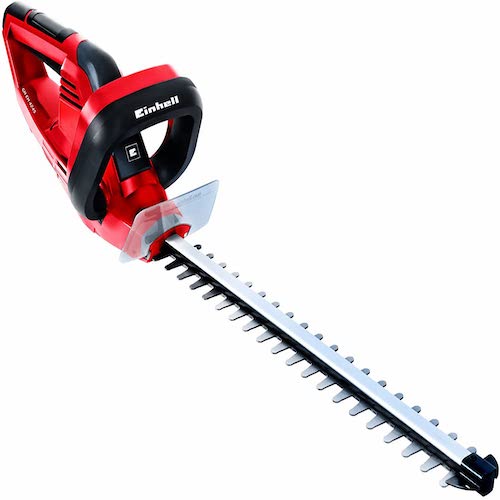 If you're searching for a long-lasting corded hedge trimmer, this Einhell model not only does the job but also looks excellent. It outlasts most other versions thanks to its incredibly durable metal gears, and the cable strain relief clip keeps the power cord from fraying with regular usage.
Despite its sturdy design, this low-cost hedge trimmer is one of the lightest models we've tested, at only 2.5kg.
For high-precision cutting, its counter-rotating blades are laser-cut and diamond-ground. They are not, however, detachable or replaceable.
This budget hedge trimmer has a lot of power, so it's a terrific choice for heavy-duty hedge care.
THINGS WE LIKED:
Durable design
Lightweight
Great for heavy-duty jobs
THINGS WE DIDN'T LIKE:
Blades are not detachable
Blades can't be replaced
Best Double-Sided Hedge Trimmer
Bosch AHS 55-20 Li Trimmer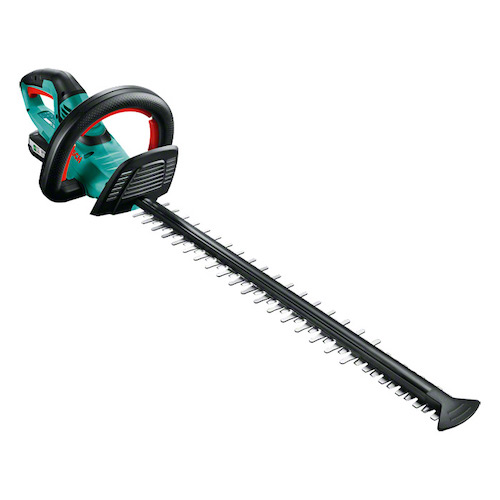 The Bosch AHS 55-20Li has significantly more cutting power in a blade that's large enough to handle thicker, taller hedges.
Furthermore, it handles large, unruly hedges with ease, allowing you to complete that summer or late autumn cut much more quickly.
It takes just over an hour to charge and about the same amount of time to run. This double-sided hedge trimmer is equipped to tackle some tough tasks while making it appear simple.
THINGS WE LIKED:
Great for large, overgrown hedges
One hour run time
Excellent cutting power
Karcher HE 18 Trimmer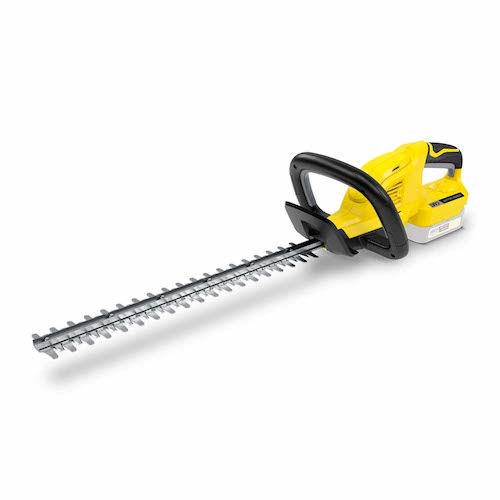 The Karcher HGE 18-50 trimmer is the best cordless double-sided hedge trimmer we've found for dealing with larger, tougher, and more unruly shrubs and hedges.
It's a big, hefty cordless double-sided trimmer with a 50cm blade length and a maximum cutting width of 22cm that can handle anything from beach to hornbeam to overgrown conifers, and we had to work hard to stop it.
This design features a clever mechanism that allows you to rotate the blade by twisting around the top handle by pulling on a lever. As you trim each side of the hedge or work along the top, you can modify the position to what seems most comfortable to you.
It's an easy trimmer to use even with a large battery attached, and that battery lasted over an hour.
THINGS WE LIKED:
The battery lasts for one hour
Rotating blades
Great for unruly hedges
THINGS WE DIDN'T LIKE:
May be too heavy for some users
Worx W801E Trimmer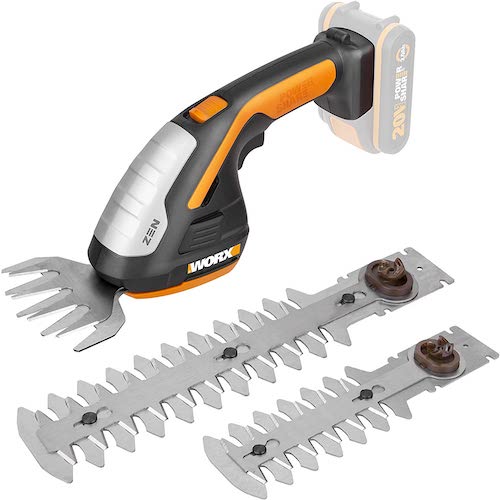 This pint-sized trimmer is notably smaller and lighter than the competition, and it comes with a choice of three blades to handle a variety of topiary demands, as well as cutting grasses down to size. While you wouldn't want to use it to tackle any larger hedges, it comes in handy when you need to reach up high and clip the top.
This double-sided trimmer is fantastic for shaping or sculpting a modest shrub or hedge. It runs on the same 20V batteries as Worx's other garden and power equipment, and even though the 2Ah battery takes a couple of hours to charge, it can clip for an hour or more without issue.
THINGS WE LIKED:
Small and lightweight design
Great for tall hedges
Ideal choice for hedge shaping
THINGS WE DIDN'T LIKE:
Not ideal for large hedges
Takes a while to charge
Best Telescopic Hedge Trimmer
Garden Gear Electric Telescopic Extendable Hedge Trimmer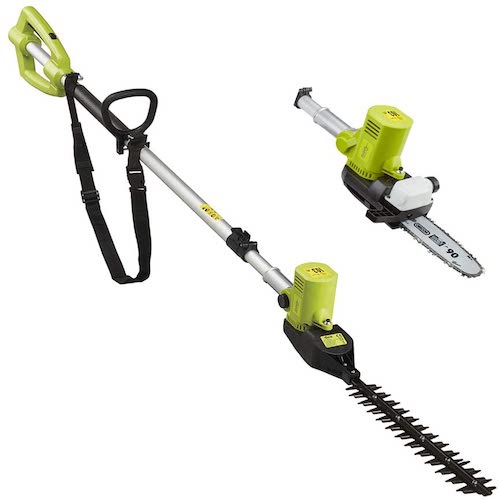 With a 2.5-meter extendable reach, the Garden Gear Long Reach Hedge Trimmer can effortlessly trim tall hedges. Garden Gear's model comes with a spinning head.
It comes with a shoulder strap for less strenuous labour. Garden Gear's version comes with a slew of safety measures and is designed for maximum comfort.
A front handle locking knob mechanism controls the trimmer, a blade cover protects the edge, a dead switch or safety button, a position lock lever, and a harness strap are among the safety features. Garden Gear also offers a 24-month warranty on the product.
THINGS WE LIKED:
Helpful shoulder strap
Excellent safety features
Great for trimming tall hedges
Wolfcreek Tools Electric Pole Trimmer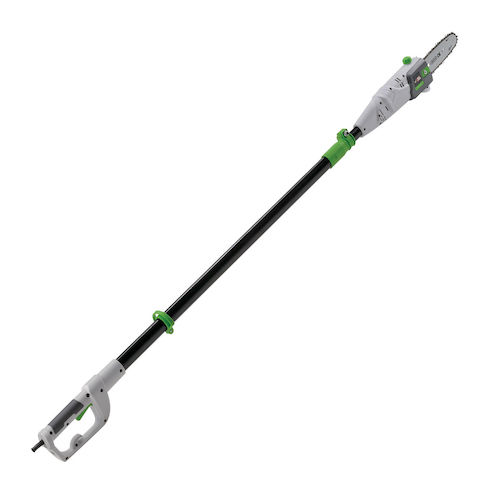 The telescoping length of this hedge trimmer is 1.85 m, however, the cutting length is 466 mm. With a blade length of 500 mm, you can reach quite a height. This electric version from Wolfcreek Tools is exceptionally light, weighing only 3.7 kg.
The articulating head rotates 150 degrees and may simply be swivelled to either side. This electric pole trimmer's blades are razor-sharp, allowing for extremely precise cutting.
Because the cable is lightweight and easy to handle, you can easily reach all regions of the garden with it. For better trimming, the telescopic pole may be swiftly locked.
THINGS WE LIKED:
Lightweight trimmer
Lockable pole
Precise cutting ability
THINGS WE DIDN'T LIKE:
Not the best for horizontal trimming
eSkde Telescope Hedge Trimmer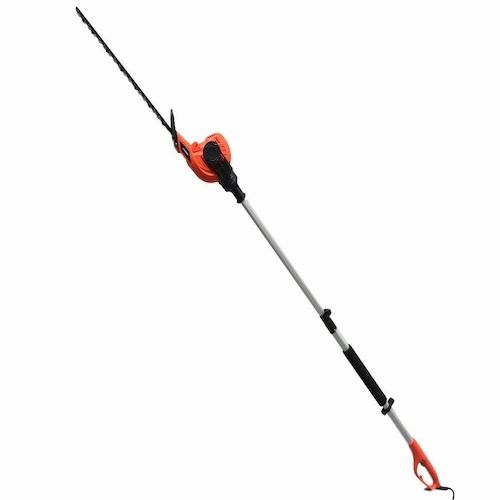 The eSkde Telescopic Hedge Trimmer is a great two-in-one tool for your gardening needs. This type, which combines a trimmer and a chainsaw pruner, is ideal for anyone who wants to reach higher and thicker branches on trees around their home.
The 450-watt hedge trimmer has a 2.8-meter working length.
The eSkde Telescopic Hedge Trimmer contains a 450-watt head motor and a 600-watt chainsaw blade motor. It also includes a 100 ml oil tank for completely automatic lubrication. It also comes with a 1-year warranty with a pivoting head for easy top access.
THINGS WE LIKED:
Automated lubrication
Great for tall, thick branches
Adjustable head
Best Portable Hedge Trimmer
Bosch EasyHedgeCut 18 Trimmer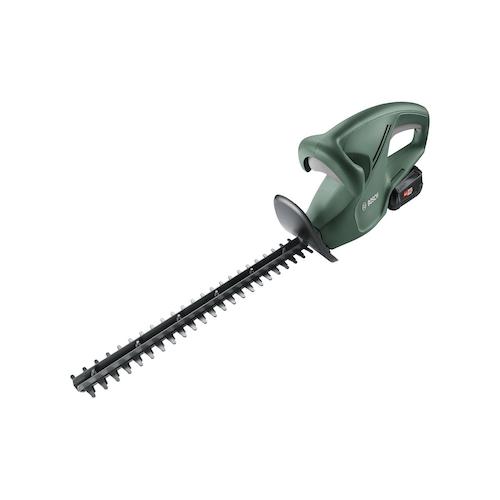 Look no further than this cordless model if you only have a few hedge-cutting needs. It won't have much issue trimming down the usual lonicera, privet, or box hedge, and thanks to Bosch's anti-block technology, it doesn't struggle with tougher pine or laurel hedges.
It's powered by one of Bosch's 18V "Power for All" system batteries, which takes roughly an hour to charge and lasts about 30 minutes.
Those with longer or more difficult hedges will want something with a little more reach, but this is a terrific tool for a quick trim or getting your untamed hedges in shape twice or three times a year.
THINGS WE LIKED:
Anti-block technology
Great for small hedge trimming jobs
Light trimmer
THINGS WE DIDN'T LIKE:
Takes an hour to charge
Only lasts 30 minutes
Bosch 45-16 Trimmer
For smaller gardens, the Bosch 45-16 Electric Hedge Trimmer is a fantastic lightweight corded solution. With a powerful 420W motor, this trimmer can quickly cut through lighter hedges.
Its diamond ground teeth slice through branches as thick as one centimetre, which is more than enough for most normal gardens, and it has a 45 cm blade with 16 mm spacing.
However, because it is meant for little hedges, anything greater than that is likely to destroy it, making it portable.
THINGS WE LIKED:
Great for small hedges
Diamond ground teeth
Includes additional power cable
THINGS WE DIDN'T LIKE:
Not suited to larger, thick hedges
Terratek 20V Electric Cordless Hedge Trimmer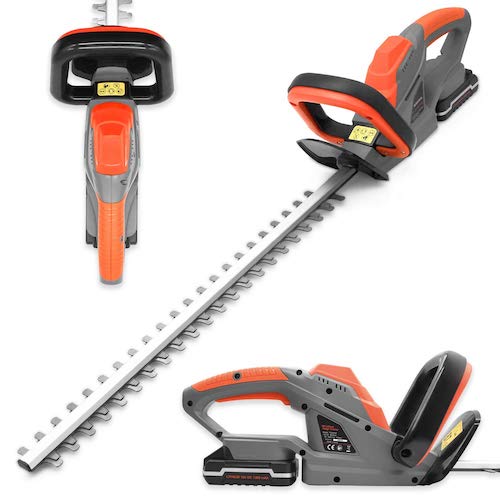 Terratek's economy cordless trimmer package includes a 51cm hedge trimmer, battery, and charger, and the batteries and chargers are still useful and interchangeable with those for other Terratek equipment.
For a small to medium-sized garden with a 5ft to 6ft hedge, the trimmer's length is ideal.
It takes less than an hour to charge and lasts about 40 minutes. Pricier versions have more cutting power and a longer reach, but this is a wonderful low-cost solution for casual gardeners who have a few hedges to trim.
THINGS WE LIKED:
Great for small to medium-sized gardens
Affordable
Comes with batteries and charger
THINGS WE DIDN'T LIKE:
Not ideal for hedges above 6ft
Best Small Hedge Trimmer
EinHell GE-CH 1846 Trimmer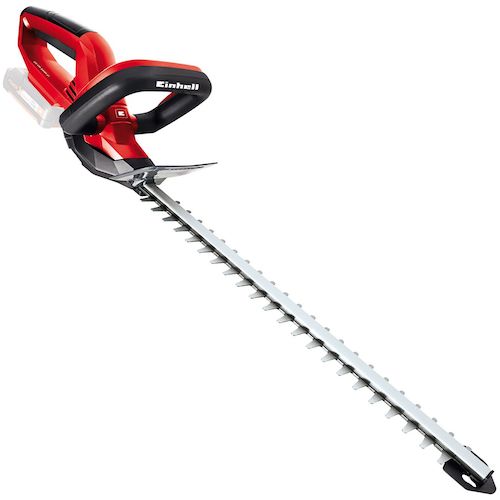 This is a small, lightweight hedge trimmer that is quiet and easy to use. It has a long blade, which, given its size and weight, allows it to cut quickly.
It doesn't have the spinning head as other hedge trimmers do, but it does have a tip guard on the end of the blade to protect it and prevent it from injuring any fences or walls it might come into touch with near the hedge.
This cordless hedge trimmer is compact, lightweight, and simple to operate. Its large blade has trouble cutting unruly hedges, but it's perfect for smaller, younger hedges. It comes with a two-year warranty and is an amazing buy.
This cordless hedge trimmer, which is part of the Einhell Power X-Change system, is powered by a lithium-ion battery and comes as a set with an 18V 2.0Ah battery pack and a high-speed charger.
The battery charges in 40 minutes and has a charge level indicator with three LEDs so you can monitor it while working.
THINGS WE LIKED:
Charge level indicator
Two-year warranty
Comes with a high-speed charge and battery pack
THINGS WE DIDN'T LIKE:
No spinning head
Not ideal for unruly hedges
FixKit 2-in-1 Cordless Trimmer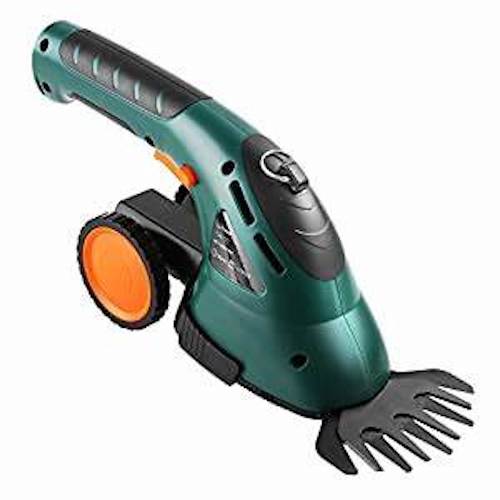 If you have a small garden that needs to be trimmed regularly, the Fixkit 2-in-1 Cordless Grass and Hedge Trimmer could be the model for you. You can also trim your borders and prune your plants with interchangeable blades.
The integrated telescopic rod makes reaching low or high projecting leaves easier, and the 85-minute duration is more than enough for most light trimming jobs. The battery pack, on the other hand, can be difficult to remove.
Furthermore, the blades are only 17cm long, making them unsuitable for any serious cutting tasks.
THINGS WE LIKED:
Interchangeable blades
Integrated telescopic rod
Great for tall hedges
THINGS WE DIDN'T LIKE:
Not ideal for difficult jobs
What to Consider Before Buying Hedge Trimmers
Hedges and shrubs may quickly grow out of control, so having a hedge trimmer that can get the job done fast and effectively is essential.There are various factors to consider while selecting a hedge trimmer that is appropriate for your landscaping needs.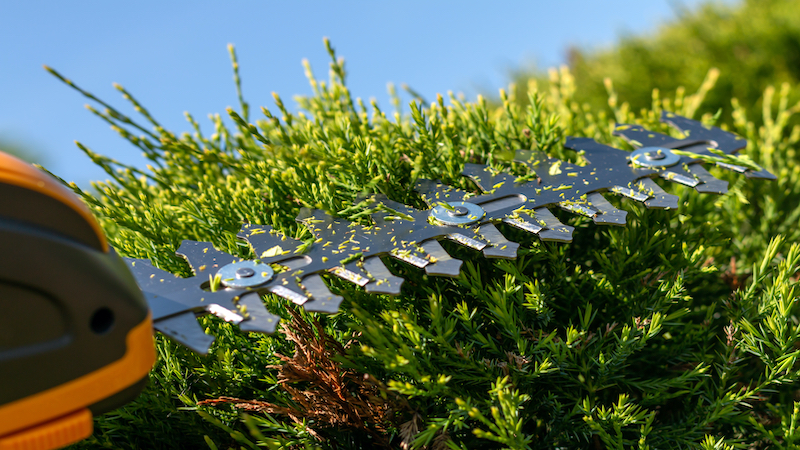 Size of Job
The size and density of your hedge will influence which hedge trimmer is best for you. If the hedge has dense foliage and heavy branches, a machine with a greater blade gap is better than one designed for small hedges.
Power
While your temptation may be to buy the most powerful hedge trimmer on the market, this may be unnecessary.
However, if you are dealing with unruly hedges, you may want to opt for he most powerful cordless trimmers which are run on gasoline.
They have enough power to get through the thick foliage and branches with considerable ease. They also don't have a cable, so you can move around the garden without being restricted.
Electric hedge trimmers are ideal for tiny gardens, but they come with a cable that can snag on branches and cause a nuisance. Because of the huge amount of power that runs through the cable, it's something else to keep in mind when you're working.
FAQs
How many volts does a hedge trimmer need?
The size of the battery determines the power of cordless hedge trimmers. Cordless units usually have an output voltage of 18 to 24 volts.
How much is it to hire a hedge trimmer?
Hedge trimmers cost between £100 and £300 on average. More basic hedge trimmers can be purchased for as little as £10.
Electric and battery-powered hedge trimmers cost between £50 and £450, while gas hedge trimmers cost between £150 and £700.
Are gas hedge trimmers worth it?
A gas hedge trimmer may be worth the investment if you have a large yard with large hedges. They are more expensive, heavier, and more difficult to operate, but they can handle tougher jobs faster.
Will hedge trimmers cut grass?
Another option is to use power hedge trimmers, which can cut through grass fast and efficiently. Power hedge trimmers have long, thin blades that allow you to cut large swaths of grass without needing to make rapid, swinging motions.
How long will a hedge trimmer last?
Depending on how hard you work, your normal cordless hedge trimmer will last for about 40 minutes to an hour. This article compares the battery life of various models to see which ones last the longest.
Sources