gardening & outdoors
Best Garden Shredder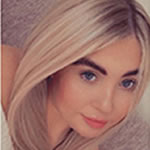 Gardeners understand how critical it is to maintain their gardens clean and free of trash such as branches and leaves. Shredding the garden, regardless of its size, can take hours and appear to go on forever. That's why in this article, we will explain what a garden shredder is, how it works and the different types of garden shredders you can buy!
So, if you are thinking about buying a garden shredder or want to know what the best garden shredder is for your use, this article is for you.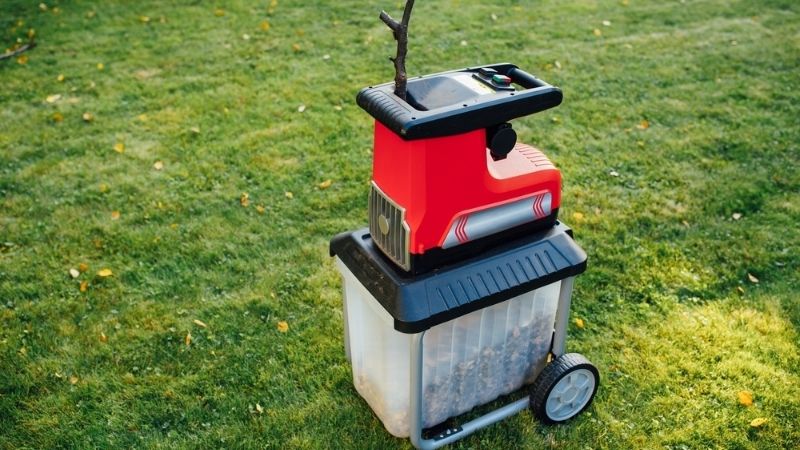 What is a Garden Shredder?
A garden shredder is a gardening gadget that reduces the amount of time spent on garden upkeep.
The shredder works to break down surplus debris in the garden, particularly larger, more troublesome things such as twigs and branches. Both types of shredders were designed to make garden cutting and pruning a breeze.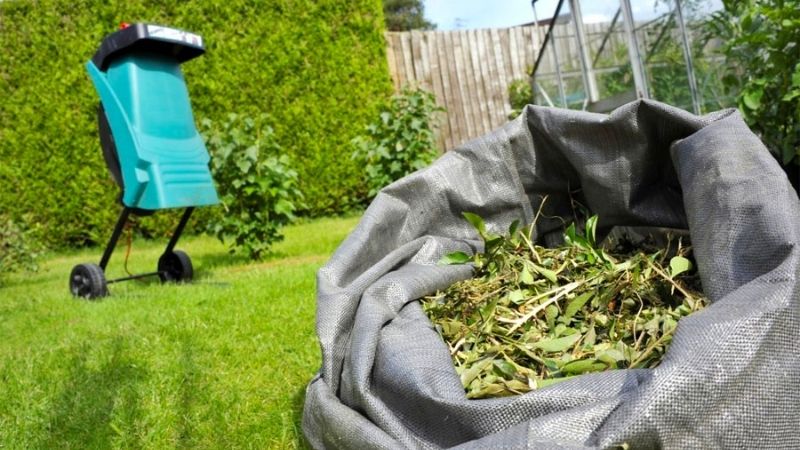 Garden shredders not only make garden pruning and cleaning easier, but they also quickly convert leftover plant materials into organic mulch and compost, which provide a healthy dosage of natural nutrients to the garden.
How Does a Garden Shredder Work?
A garden shredder is a gardening gadget that reduces the amount of time spent on garden upkeep. The shredder breaks down surplus debris in the garden, particularly larger, more bothersome objects like twigs and branches.
These larger materials are difficult to trim and clear from the garden, and they also take up a lot of space in the rubbish bin.
Wood mulch or chips are "spit" straight onto the ground by shredders, but some have a built-in waste bin underneath. Most residential shredders feed the branches in from the top.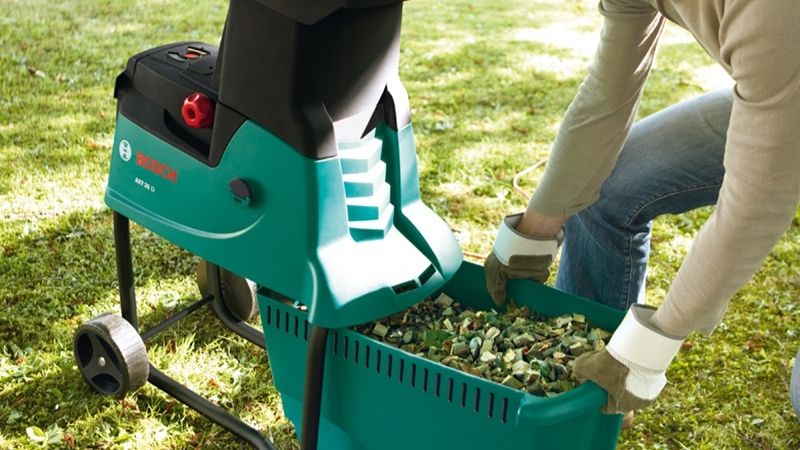 The higher-quality shredders will readily consume the wood and leaves, but the lower-cost ones will occasionally jam on the leaves.
After you've inserted the branch into the shredder, it will feed itself. The branch is progressively pulled into the blades by the motor, and the blades' spinning movement pulls more branches in, chopping and shredding as it goes. If you get an item of clothing snagged on a branch, there is generally a massive STOP switch nearby.
Types of Garden Shredders
An excellent garden shredder can help you save money on skip rentals and trips to the council landfill. They're also useful for turning piles of regular prunings into garden-friendly woodchips. Garden shredders come in a variety of sizes.
Impact shredders and quiet shredders are the two most prevalent types, and we'll go through each one in detail. This will assist you in making the best decision when it comes to incorporating a shredder into your gardening regimen.
Rapid Garden Shredder
Rapid shredders, often known as impact shredders, are the cheapest and noisiest type of garden shredder. They have a blade mechanism that slices up garden material into very thin pieces, and they don't get stuck as easily.
Impact shredders are better for slicing up leaves and lighter garden greenery than large chunks of wood, and they're usually lighter than roller shredders.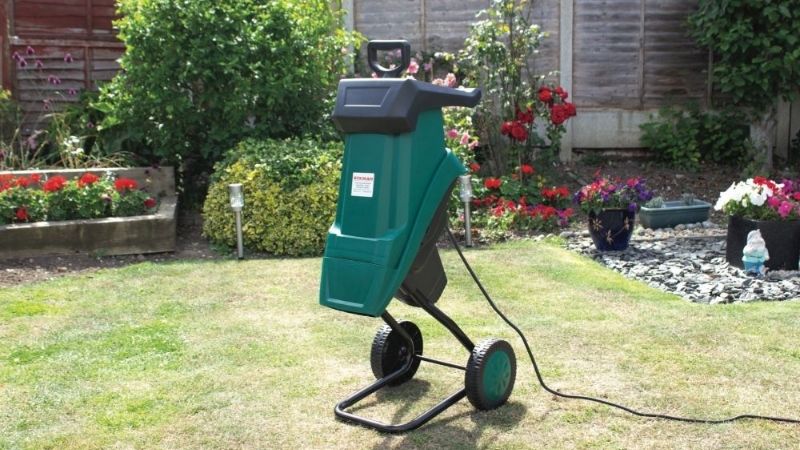 If you choose a rapid shredder, go for one with several blades, as they will blunt less rapidly. You should also look for a machine with a regular-shaped hopper, as this will make it easier to feed material into the shredder and complete the task faster.
Roller Garden Shredder
Roller shredders, often known as quiet shredders, crush and cut garden detritus with a ridged roller. The roller movement pulls material through the machine, making it simple to shred large amounts of garbage. Unfortunately, greener, more fibrous material tends to clog these shredders, which are usually more expensive.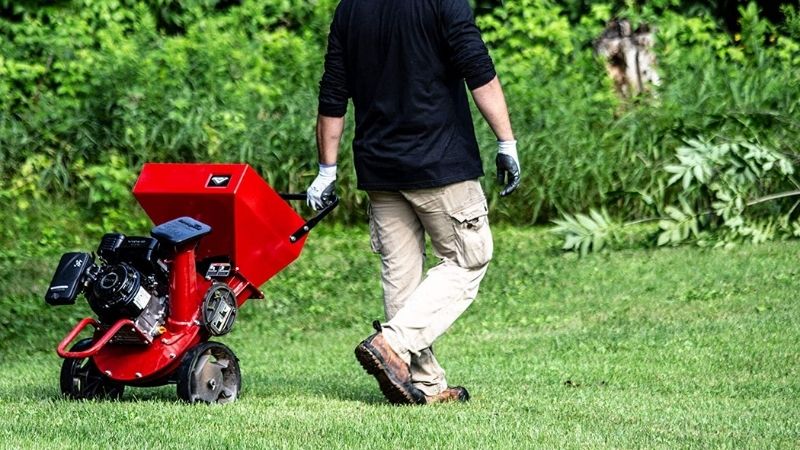 Make sure you can easily move a roller shredder before purchasing one. They can be quite a large machinery. You should also make sure that the space between the roller and the plate may be adjusted. If you are unable to do so, your shredding will be unsuccessful.
Petrol Garden Shredder
If you don't have access to an outdoor power source, you may want to consider a petrol model. These versions are usually more powerful, but they are also more expensive and require more frequent maintenance.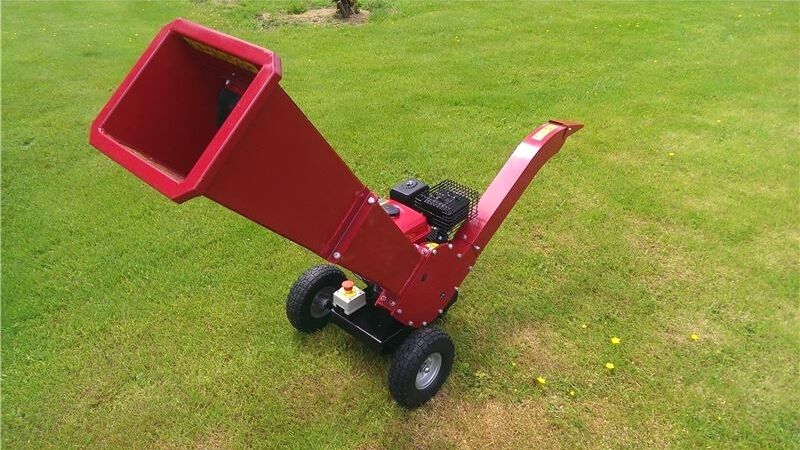 The heavy-duty solution for disposing of big volumes of brush, branches, and cuttings is a petrol lawn shredder. Top-of-the-line petrol garden shredders and chippers can weigh over 100kg and have engines that produce up to 10hp. These machines are robust, swift, and adaptable. Many are towable and have semi-pneumatic tyres for easy manoeuvrability.
Electric Garden Shredder
Most gardeners will use an electric yard shredder. However, it's a good idea to double-check that the cable's length is adequate for your garden. Some brands cut corners on cable length, necessitating the need for an exterior extension cable.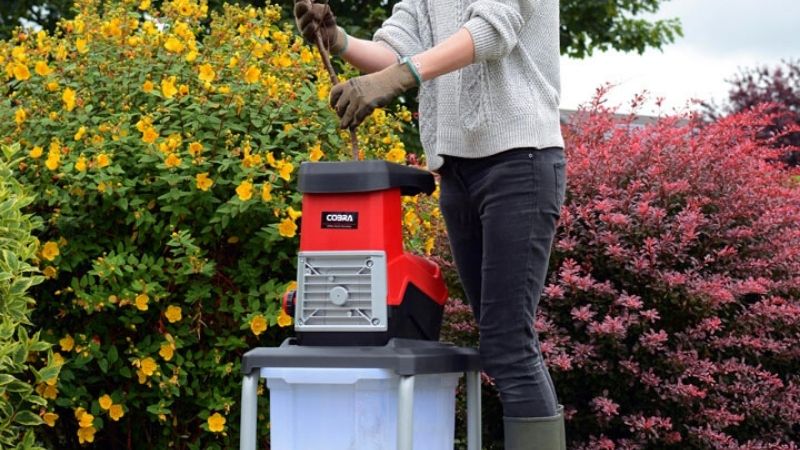 Electric shredders that create lower sounds and are self-feeding are also available; these are ideal for branches and twiggy, woody waste. Electric shredders that are quiet employ either a spiral cutting mechanism or a cutting drum. A revolving metal gear in the former draws in branches and crushes them against a plate.
Best Garden Shredders
Shredders and chippers for the garden come in a variety of shapes, sizes, and costs. In general, the higher the price, the more powerful the engine and the greater the chopping, shredding or chipping action. In this part of the article, you will find out the best garden shredders you can purchase for your home!
Best Rapid Garden Shredder
Draper 35900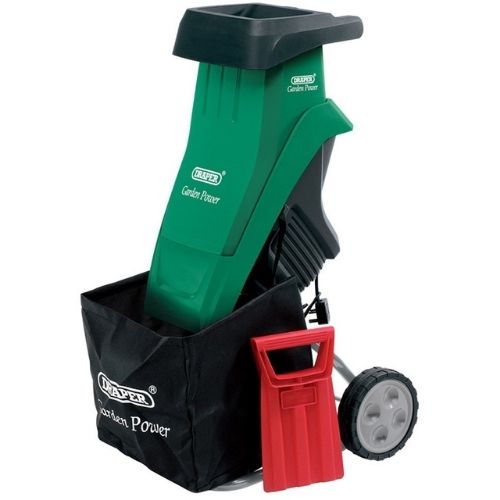 To make shredding your materials easier, this quick garden shredder comes with a Twin blade cutting system. It comes with wheels and a transfer handle with a reversible blade in a sturdy portable design.
It also includes an emergency stop brake and resuming protection to safeguard you from harming yourself further.
It has a maximum twig thickness of 40 mm diameter and is suited for shredding foliage. This speedy garden shredder has a Quick release housing interlock that allows blockages to be removed quickly, so it does not clog.
There's also a no-volt switch, and a full-width push stick included. The collection bag comes with wheels, a 3-metre wire, and an approved plug.
Things we liked
Portable design
Safety features
Wheeled collection bag
Things we didn't like
It cannot hold a lot of leaves
The Handy Impact Shredder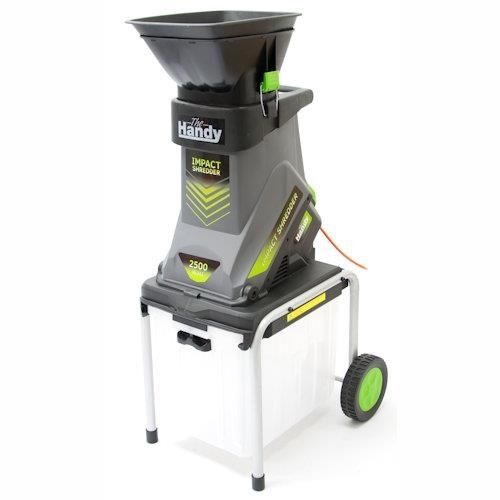 To chop up wooden garden waste using this quick shredder, all you need to do is simply push the start button, then feed branches, cuttings, and withered leaves into the hopper. They will then be pulled in by the blades, chopped, and shredded to 1/10 their original size.
It quickly creates a tiny pile of clippings for feeding your plants with its steel blades that rotate at 4500rpm to slice through withered leaves and small twigs and branches up to 45mm in diameter to generate a fine mulch for your compost.
It's also simple to use and move, with a large on/off switch for easy operation, a retractable hopper for quicker feeding, and huge wheels so you can quickly drive the shredding machine to a good working location.
To restrict access to the blades, the shredder features a locking mechanism on the collection box, and it will also cut out if the machine is overloaded.
Things we liked
Easy to operate
Safe locking mechanism
Lightweight design
Sun Joe UK-CJ601E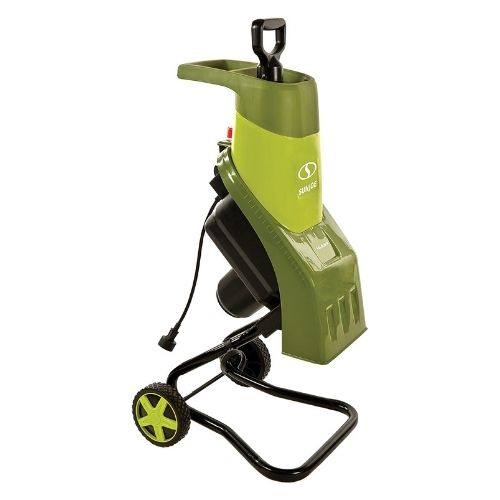 A robust 14-amp engine successfully chips and shreds branch up to 1.25 inches in diameter with this premium lawn shredder. The thickness is 5 inches, and 4300 rpm is the no-load speed.
It turns branches and twigs into nutrient-rich garden mulch, decreasing yard waste to a fraction of its original size.
It is also portable, featuring 6-inch wheels for easy mobility and a locking knob that prevents the motor from working when the door is opened.
Things we liked
Portable design
Easy to use
Ideal for mulch production
Best Roller Garden Shredder
T-Mech 15 HP Wood Chipper and Shredder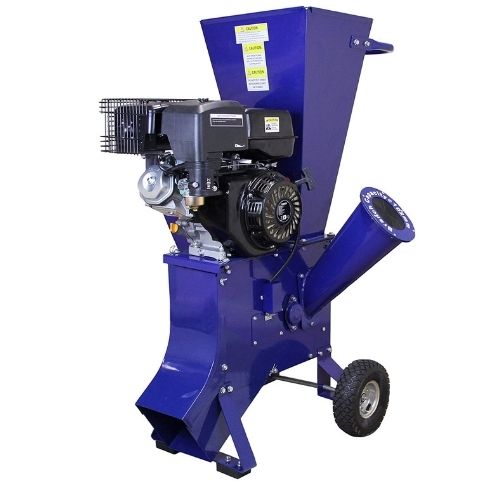 This machine has wheels, making it easy to move around, and it comes with complimentary personal protective equipment that should be worn at all times. It runs on unleaded petrol and is capable of taking care of almost anything in your garden.
This shredder is one of the most powerful on the market, with a 420-cc engine and a maximum branch diameter of 102 mm, so it can handle anything.
The obvious disadvantage is the cost, and this machine does not come with a collection bag or container. Plus, personal protective equipment is required because this is a loud machine.
Things we liked
Easy to manoeuvre
Great safety features
Powerful model
Things we didn't like
Expensive
It does not include a collection bag
Bosch AXT 25D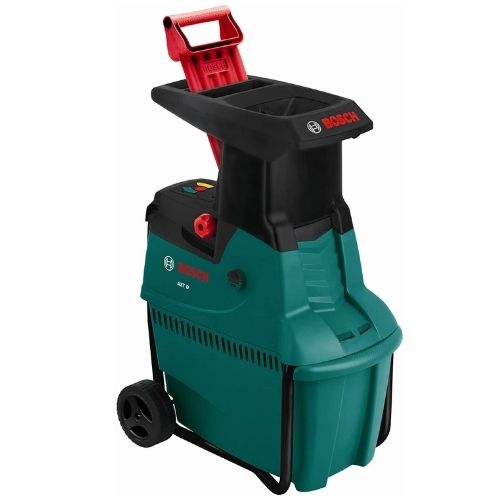 The output of this roller garden shredder is a solid 190 kg per hour, and the maximum branch diameter is 40 mm. The shredder has been optimised for storage and would slide nicely beneath a workbench, and it comes with a decent 53-litre collection bucket.
There's an automatic feed system that helps prevent obstructions, as well as some sturdy rubber wheels to assist you.
The downside is that the power cord is only 4 metres long, which means you'll almost probably require an extension cord. This isn't a light machine, though, weighing in at over 30 kg. to assist you as well.
Things we liked
Ideal for storage
It features an automatic feed system
Easy to use
Things we didn't like
It requires an extension cord
Heavy machine
Black and Decker GS2400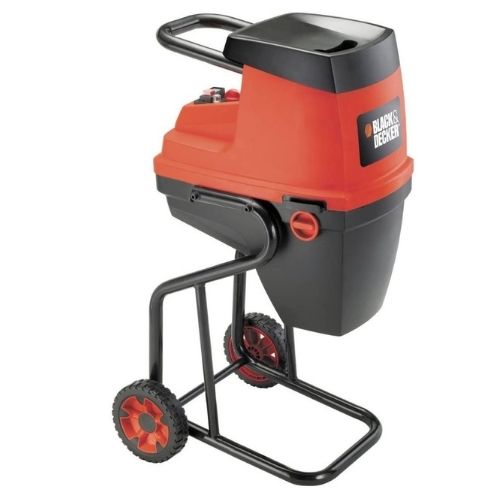 This Black and Decker model is more expensive, but it might be worth it if noise is an issue. It's already a reasonably quiet rolling shredder, but the 2400-watt motor is insulated for even more noise reduction.
Although the throughput and diameters aren't specified, this device is promoted as being capable of processing any type of yard trash.
You receive wheels for simple transportation, and with a weight of roughly 30 kg, you'll most likely need them. The shear plate is changeable, with forward and reverse settings, so you may modify the consistency of the output.
To prevent power outages, this machine includes an automated cut-out feature. However, there is a 35-litre collection bag instead of a container, which may be a deal-breaker for some.
Things we liked
Quiet operation
Ideal for any garden waste
Easy to transport
Things we didn't like
It does not feature a container
Best Petrol Garden Shredder
Forest Master FM6DD Petrol Woodchipper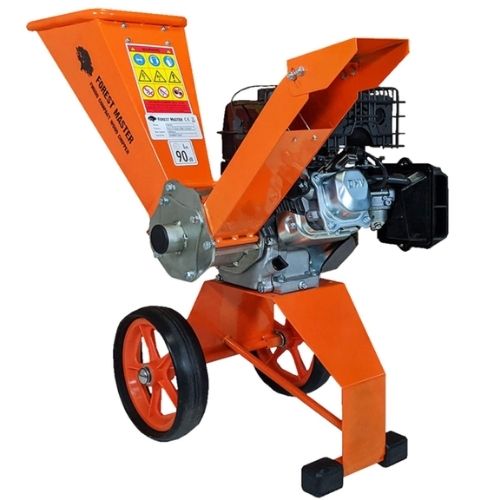 This petrol garden shredder can chop branches up to 5cm in diameter and hurl the chips out of the discharge chute depending on their size. You can spit them straight into a wheelbarrow or slant them to make a pile on the ground.
You may even pack some very large branches into the feed hopper, albeit a plate within it might present an impediment while feeding them through.
This shredder is larger, heavier, and noisier than the electric shredders. It's also a little more difficult to fuel and maintain a four-stroke petrol engine.
You won't find anything else at a similar price that will handle everything from dry branches to foliage from an overgrown shrub with ease, and it'll function in places where an extension cable won't reach.
Things we liked
Great value
Ideal for large branches
Multi-functional use
Things we didn't like
Noisy operation
Difficult to maintain
Titan Pro 15HP Petrol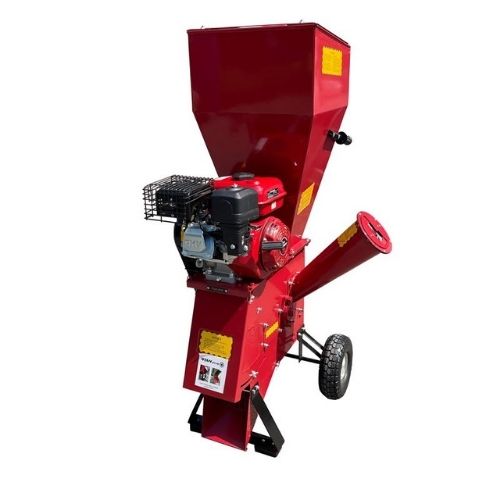 This expensive, petrol-powered beast annihilates anything up to 75mm in diameter. We're talking about large tree branches here, the kind that other shredders shy away from.
This could be the shredder for you if you own a forest or, at the very least, a huge yard with lots of trees and plants. Despite having wheels, the machine weighs 103kgs and the feed hopper is roughly head height, so make sure you have a large-sized outhouse or shed to put it in.
This petrol shredder spits everything on the ground; therefore, your best bet is to gather the chippings with a tarpaulin. There are two primary gateways on the Titan. Leaves and twigs up to 10mm are accepted in the top chute.
The Titan's drawbacks are its size, weight, appearance, and noise, as well as its usage of an electric-start 15hp four-stroke engine that will occasionally require maintenance.
If you can take the noise – and your closest neighbours are either far away or profoundly deaf – then this shredding community beaver is just up your alley.
Things we liked
Ideal for large branches
Easy to assemble
Easy to use
Things we didn't like
Expensive
Noisy operation
Zipper ZI-HAEK4100 Petrol Shredder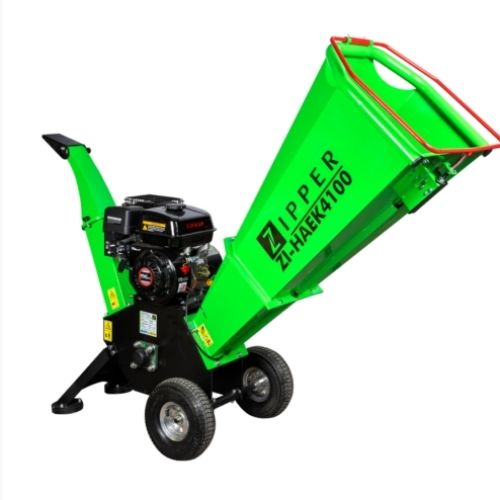 This powerful petrol chipper reliably crushes all types of raw materials found in the garden, including shrubs, various branches, and other plants.
It also includes a 152 x 127 mm feed chute and an adjustable ejection chute. It is equipped with both a cable and an electric starter.
Things we liked
Ideal for all raw materials
It features an adjustable ejection chute
Powerful model
Things we didn't like
The screws are not the best
Best Electric Garden Shredder
Bosch AXT 25 TC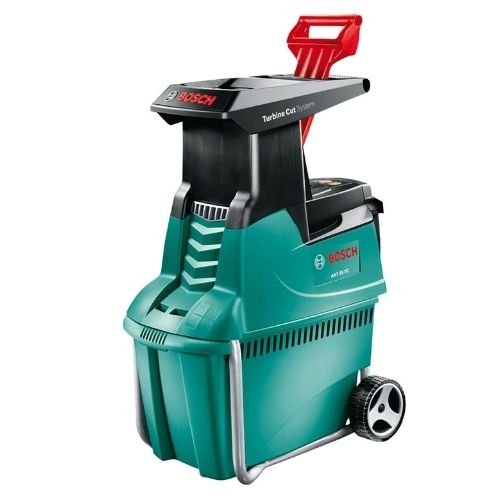 Thanks to Bosch's Turbine Cut technology and a 2,500W motor that can deliver a substantial 650nm of torque, it can handle larger workloads than the less powerful, compact variants.
It can also feed in branches up to 45mm in diameter, and it will still spit them out. Because of the power difference between this shredder and the smaller machines, it jams up less frequently when dealing with larger branches.
The 53-litre container has enough room to hold all of the resulting chips and trimmings. Even thick conifer branches rarely trip it up, however, you may need to use the plunger provided to force the last bits through.
This is the greatest electric shredder for gardens with a lot of trees and bushes. It's enormous and pricey, but it's the best electric shredder for gardens with a lot of trees and shrubs.
Things we liked
Prevents jamming
Ideal for trees and shrubs
Accommodates large quantities
Stihl GHE 355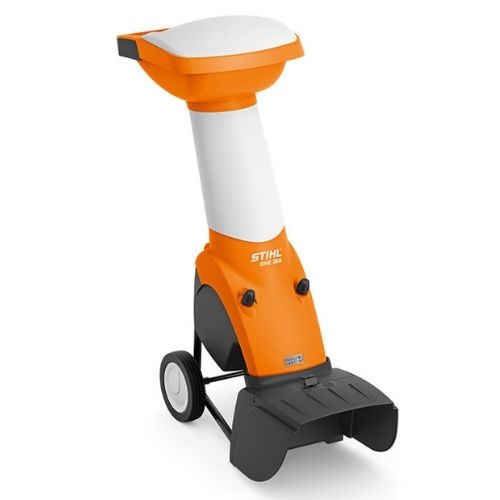 This model does not include a collecting box, but it does include a protective hood. To avoid a yard full of chippings and mulched leaves, a garden tarp should be placed underneath the departure chute.
This model has an easy to use switch on the front. The blades revolve at a rapid rate, shredding everything in their path.
You can feed in anything up to 35mm in diameter, and out comes a pile of tiny wood chippings perfect for the compost heap, the borders, or the green wheelie bin when it comes to harder material.
Things we liked
Ideal for composting
Wide enough for large branches
Efficient shredding function
Things we didn't like
It does not include a collection box
Can be messy
Makita UD2500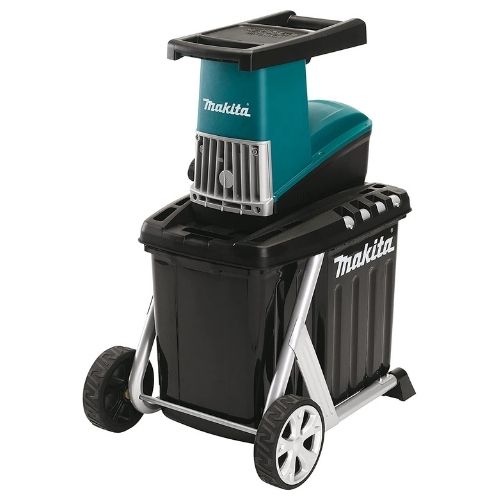 This smart-looking electric variant is roughly the same size and weight as the Bosch, and it's just as well built, but it does require some assembly, including the installation of the wheels.
It can't handle as many materials as the Bosch and has trouble with anything with a lot of wetness, such as huge leaves and soft, springy limbs. It works well in tougher woodlands with bigger branches.
It is ideal for cutting 30mm hardwood branches and also accommodates diameters of up to 45mm.
Things we liked
Great for thick branches
Ideal for pruning
Robust design
Things we didn't like
Difficult to assemble
Not ideal for wet materials
Best Budget Garden Shredder
Einhell GC-KS 2540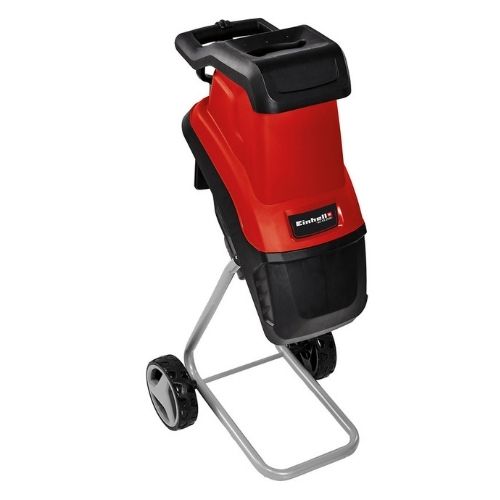 This blade-based Einhell shredder would be ideal for tearing through hedge trimmings and slicing up the occasional light limb. It's light, compact, and easy to store, and it's not too difficult to drag down to the bottom of the garden when a garbage pile has accumulated.
However, it's best suited to smaller operations because the hopper isn't the most accommodating, and the 40mm maximum branch capacity should be taken with a grain of salt. Anything too large can clog the machine or come out in strips.
A bigger, better shredder will cost you a little more money, but this one will suffice as long as you don't get too aggressive and start feeding it chunky branches.
Things we liked
Great for hedge trimming
Compact design
Lightweight model
Things we didn't like
Not suitable for large materials
Prone to clogging
Dirty Pro Tools Garden Shredder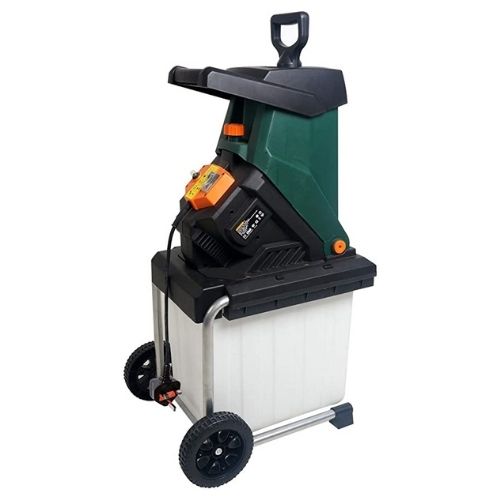 This garden shredder features a powerful 2,500-watt engine that should shred most items short of a crowbar. This cheap model cuts branches up to 40cm in diameter and releases little wood chips into a big 50-litre box.
Stick to the heavy things since the lighter stuff, like leaves, can cause it to choke, sputter, and come to a standstill. By unscrewing a knob and gaining access to the blades, you may simply clear any clogging.
You're not going to get the greatest quality components at this price, and one common criticism about this shredder is that its blades dull quickly. However, finding anything that shreds as well as this for a little over £100 is a rare find.
Things we liked
Ideal for producing wood chips
Suitable for heavier items
Budget-friendly
Best Lightweight Garden Shredder
Forest Master 6HP Compact Petrol Wood Shredder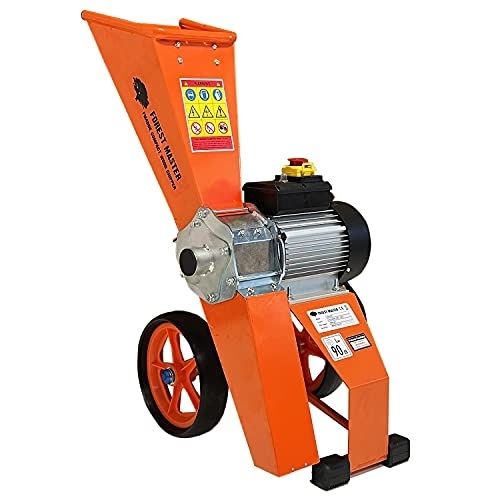 This petrol wood chip is strong, lightweight, and small, three characteristics that aren't commonly found together. It can shred both hard and softwood branches up to 50mm in diameter, which is the greatest size branch of any shredder in our evaluation.
The blades are reversible, allowing you to use twice as much cutting area before having to re-sharpen them.
Because the feed hopper is hinged, you won't have to bother about chopping down any oddly shaped pieces of wood before feeding them through. If you have a tall container to collect the chips in, the discharge chute is also hinged.
If you have a lot of shredding to do or want a model that isn't driven by electricity, the Forest Master Wood Chipper is an excellent option.
Things we liked
Suitable for wide branches
Reversible blades
Ideal for large jobs
Einhell Light-weight Electric Shredder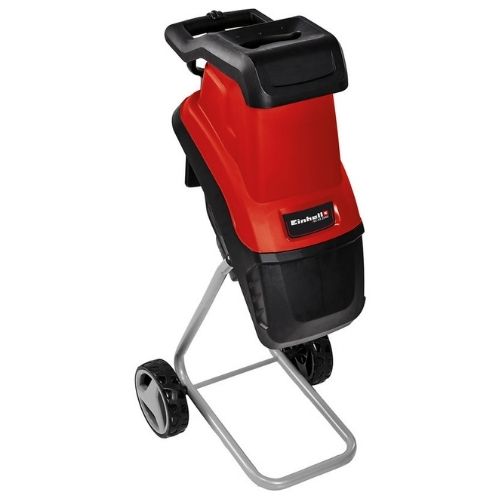 Is it important for you to choose a shredder based on its weight? For convenient mobility, check out this 9.8kg wheeled design.
It comes with a clipping clearer because the funnel is large enough to allow trash to pass through easily, and you can feed fresh pruning's up to 40mm in diameter through it.
Although this model does not include a collection box, it includes a debris bag attached to a hook. In this design, two steel blades slice down yard trash. A motor circuit breaker is also present to prevent overloading.
Things we liked
Convenient to use
It features a clipping clearer
Prevents overloading
Things we didn't like
It does not come with a collection box
Bosch Rapid 2200 Lightweight Shredder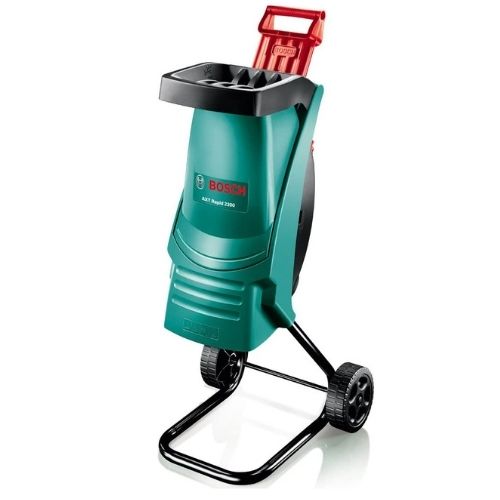 This shredder works best with branches up to 35 mm in diameter. Although Bosch claims that 40 mm can be attained, it is more dependable when dealing with slightly smaller things.
This is reasonably light equipment, weighing only 12 kg, with two wheels and a handle for easy transporting about the garden. It's an excellent size for getting into tight locations and lugging over rough terrain.
You can place your receptacle under the exit shoot of this lawn shredder, eliminating the need to move the chippings into a separate container when it fills up.
You can use numerous bags, making it easier to transport the waste to the landfill or leave it outside on garbage collection day, which is a better option than leaving a more valuable machine-specific collecting box outside.
Things we liked
Easy to transport waste
Lightweight equipment
Ideal for small materials
Best Quiet Garden Shredder
Ryobi RSH3045U Silent impact Shredder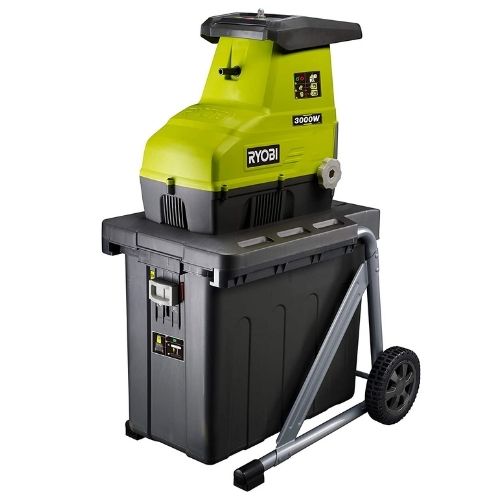 This garden shredder has a huge collection container and a lot of shredding power. With 3000W of cutting power, this shredder has the muscle to get through anything but the heaviest garden debris. The cost is also significantly less than some other premium models.
The mulch is collected in a big collection container, and a safety plunger forces any debris fed into the machine into the machine's blades, keeping the user's fingers clear.
The disadvantages of this shredder include its appearance, which isn't especially high-end and the fact that it isn't silent. You won't need earplugs, but the name's inclusion of the word silent is clever.
Things we liked
Silent function
It comes with a large collection container
Easy to move around
Things we didn't like
Not ideal for heavy garden debris
Mac Allister MSHP2800D Silent Shredder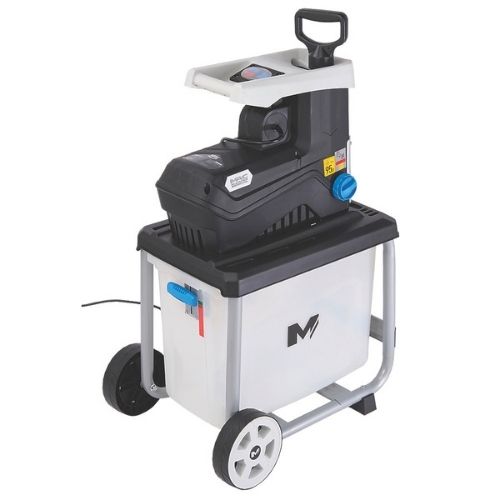 This low-cost lawn shredder is a workhorse that can handle a wide range of garden debris and won't require you to empty it all the time. This shredder's reviews rave about how it prevents accidental starts and only operates with the collecting box installed.
The shredder is quite light on wheels, weighing only 20kg, making it easy to transport and store.
This garden shredder is remote-controlled and comes with a 4m cord that allows you to move the shredder from the rubbish to the shredder. It'll shred 100kg every hour once it's in place.
Things we liked
Remote-controlled
Accidental start prevention
Lightweight
Things we didn't like
Not ideal for thick branches
Best Small Garden Shredder
Bosch AXT Rapid 2200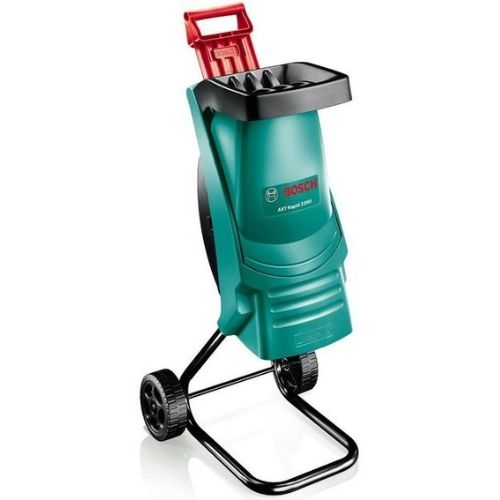 The Bosch AXT Rapid 2200 is a significant upgrade above the typical compact shredder. Not only is it more firmly constructed, but its plastic hopper can accommodate larger branches and leaves, and the motor pulls them through and spits them out in strips and chips.
You can feed its branches up to 30mm in diameter and be reasonably confident that they'll make it through, though the stated 40mm may be a stretch. Meanwhile, the 12kg weight and wheels make it very easy to manoeuvre around the garden.
You'll need something bigger and more powerful for heavy-duty labour, but this is a terrific method to convert most garden trash into something you can put in a green bin or compost.
Things we liked
Great for large branches
Easy to move around
Ideal for composting
Things we didn't like
Not ideal for heavy-duty jobs
Ryobi Small Garden Shredder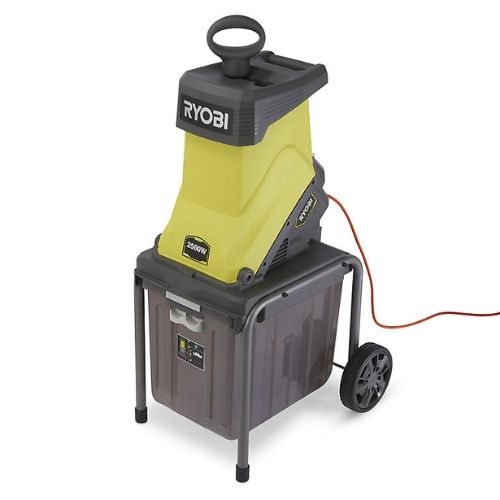 The plunger on the Ryobi impact shredder protects your fingers from the blades, so you don't have to worry. With the handle and huge wheels, it's also easy to move around.
It features two interchangeable steel blades for longer life and less sharpening. It's also quiet, so others may work or sleep while you shred.
Things we liked
Affordable
Quiet operation
Long-lasting
Things we didn't like
Not the best for large jobs
Best Garden Shredder for Composting
Tooltronix 2500W Electric Garden Shredder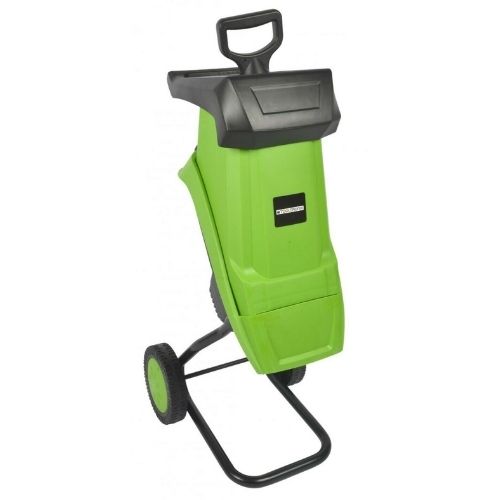 With the help of Tooltronix's electric garden shredder, you can get rid of your bulky yard debris.
Electric garden shredders require a high level of safety. To minimise any risk, this model also includes a safety switch and a safety guard. The safety of a good shredder will never be compromised.
Things we liked
Useful safety switch
Ideal for large garden items
Easy to use
Challenge Garden Impact Shredder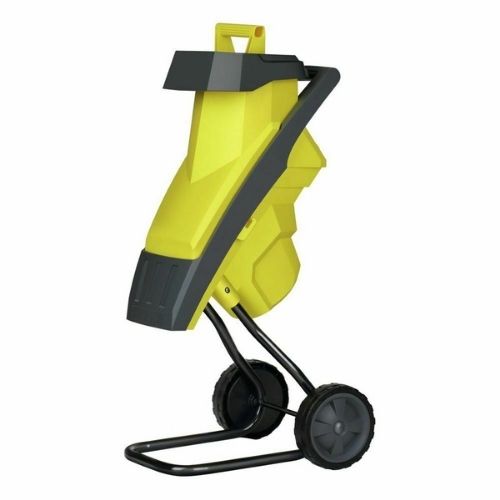 The Challenge 2400W Impact Garden Shredder is a fantastic tool for shredding garden debris. This is an excellent pick for shredding branches, as well as any green and softwoods in your garden.
This shredder is useful for making mulch and compost, both of which provide nutrients to your garden. It will provide you with professional cutting results and give you good value for your money.
This machine can shred branches up to 40mm in diameter with its powerful 2400-watt engine. It comes with a 2-sided carbon steel cutting blade that performs well with garden trash. It is long-lasting and has a revolving blade that extends its life. This device makes it simple to utilise by using an automatic feed.
Things we liked
Great for branch shredding
Professional cutting
Long-lasting design
What to Consider Before Buying a Garden Shredder
Investing in a garden shredder is a wise decision. Shredders can reduce the volume of your garden waste, which means fewer trips to the landfill. They can also prepare materials for your compost heap, providing you with rich homemade compost for your garden. So, here are a few things to consider when buying a garden shredder.
Type
Garden shredders are often divided into three categories: quick shredders, roller shredders, and petrol or electric shredders. Or, more likely, you haven't found it because they're often marketed under various brands. So, before you go out and get a garden shredder, consider what you'll use it for and which model is best for your property.
Container
Some shredders come with a collecting canister, allowing you to easily tip all your processed clippings out when it's full; however, some shredders don't come with a collection container and will just spray the shredding's back into the environment unless you set up your collection system.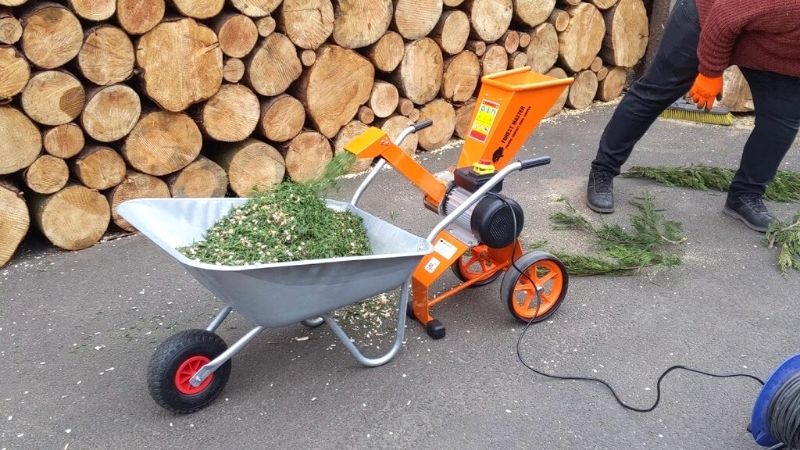 Cost
Depending on what type of garden shredder you need, you never know how much your garden shredder will cost. If you need a petrol garden shredder, this will be more expensive, but it will be cheaper if you want a rapid garden shredder.
Length of the Cable
The majority of shredders are electric, so seek for one with a long enough wire to reach your yard. Alternatively, an extension lead can be used to assist.
Maintenance
Before attempting to unblock a shredder, check sure your power supply is entirely turned off and unplugged. For any electrical garden equipment, use a power breaker plug. To make the procedure easier, look for a model with a reversible option or other anti-blocking features. You may have to trim some materials first before shredding them.
FAQs
How much does it cost to hire a garden shredder?
The cost of garden shredder hire ranges from around £100 per day for the smaller machines to over £130 per day for the larger equipment.
What do you do with garden shredder waste?
When you push yard trash through a shredder, it composts much faster than if you merely pile it on the ground. Shredded yard waste can also be used as a mulch on your borders, where it will help keep moisture in and weeds out. It will decompose over time, returning nutrients to the soil.
Are garden shredders worth it?
A garden shredder is absolutely "worth it" if you have a garden with hedges, a few bushes, and a few attractive trees. You'll recognise the worth of There will be fewer trips to the landfill. Prickly, wood protruding out of the bags causes less harm to your car's paintwork.
What can you put in a garden shredder?
Hedge trimmings, plant foliage, leaves, and twigs are all examples of garbage that can be fed into garden shredders and chippers. You may also use a yard shredder to shred kitchen waste like vegetable and fruit peelings.
When should you sharpen chipper blades?
After twenty-five hours of use, some manufacturers recommend honing or replacing your chipper blades. Others advise that chipper blades be sharpened at least once a year.
Sources