gardening & outdoors
Best Garden Rotavator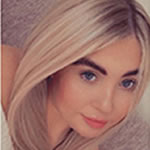 Do you want to refresh your garden?
Then you might need to look into buying a garden rotavator, and this is where this guide can help you!
Do you want to learn more about garden rotavators such as what they are and how they work?
We discuss the different types of garden rotavators, such as:
Petrol rotavators.
Electric rotavators.
Cordless rotavators.
Corded rotavators.
We also review the best garden rotavators so you have all the information you need before making a decision.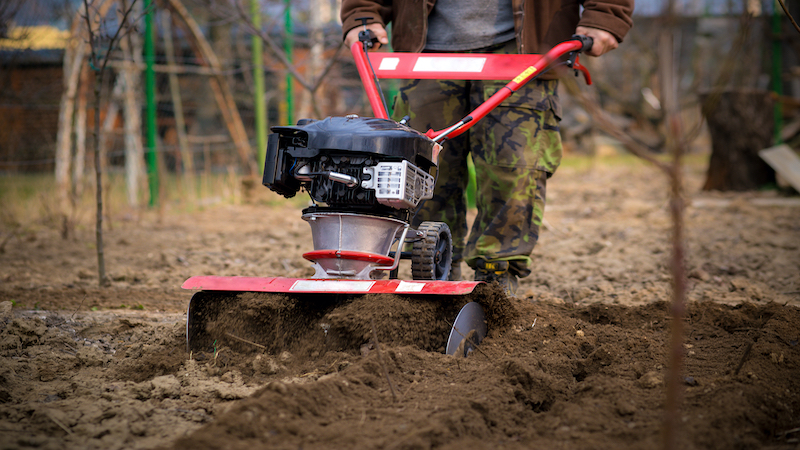 So, if you want to learn more about garden rotavators then carry on reading…
What Is a Garden Rotavator?
A garden rotavator is a large piece of machinery with rotors or blades. Rotavators are powerful gardening machines that break up, churn, and aerate the soil before sowing seeds and bulbs or putting turf in allotments and fields.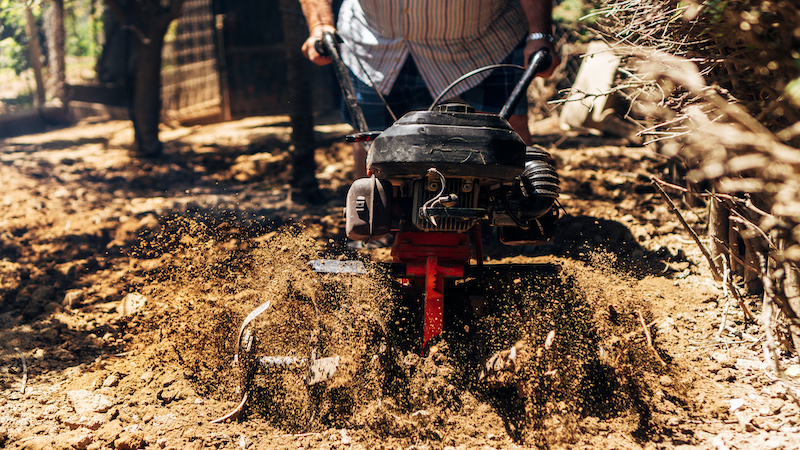 Garden rotavators are similar to lawn aerators in that they go much deeper and churn up the topsoil to bring fresh, damp soil to the surface, whereas rotavators go much deeper and churn up the topsoil to bring fresh, damp soil to the surface.
The goal is to improve soil aeration, drainage, and levelling, as well as to improve the soil for growing crops and vegetables.
They are ideal for growing vegetables and different crops, as it brings up all the good and healthy soil to the top, allowing plants to grow quicker.
How Does a Garden Rotavator Work?
Rotavators work by twisting and breaking through the soil using a set of blades or rotors. This improves effluent, levels the ground, and prepares it for the planting of vegetables and crops.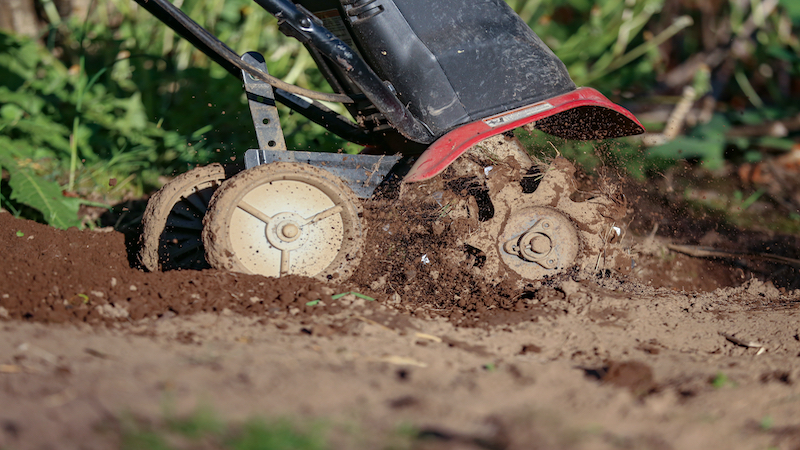 You must first ensure that the soil is in good condition before utilising a rotavator. Soils with high clay content, for example, will behave differently when wet versus dry. When clay soil dries out, it becomes extremely hard.
Types of Garden Rotavator
Garden rotavators come in a variety of models, each with its own set of functions. We'll go through what each type is and what its benefits and drawbacks are in the subsections below.
Electric Rotavator
Electric rotavators are available in both corded and cordless types, so no matter how big your garden is, there will be one to suit it. However, cordless rotavators are more expensive, so keep that in mind when planning your budget.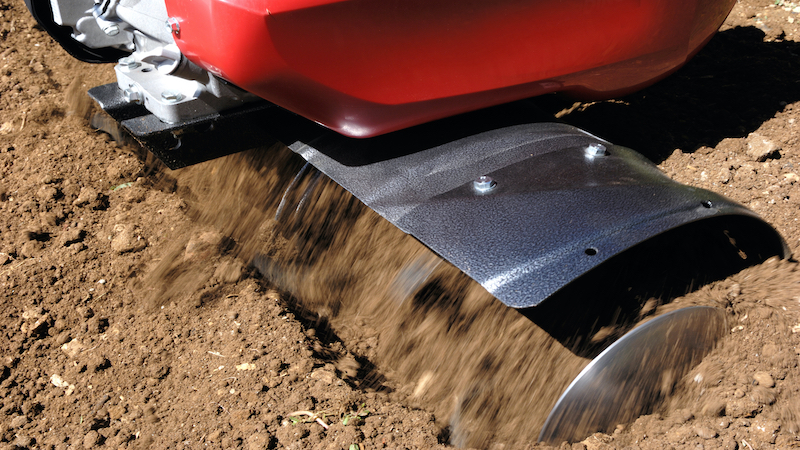 Electric rotavators use electricity to assist in turning the blades, as well as slightly assisting in moving your tool forward, making it easier to use and less work for you.
Electric cultivators are often less expensive than petrol rotavators, despite being less powerful. The electric power in these rotavators allows the blades to revolve, allowing the rotavator to move forward. They are usually relatively little and require little upkeep.
Petrol Rotavator
Rotavators powered by petrol are designed to be powerful. Yes, they take more fuel and upkeep (and are therefore more expensive), but if you have a lot of dirt to work with, you will get your money's worth with this type of rotavator.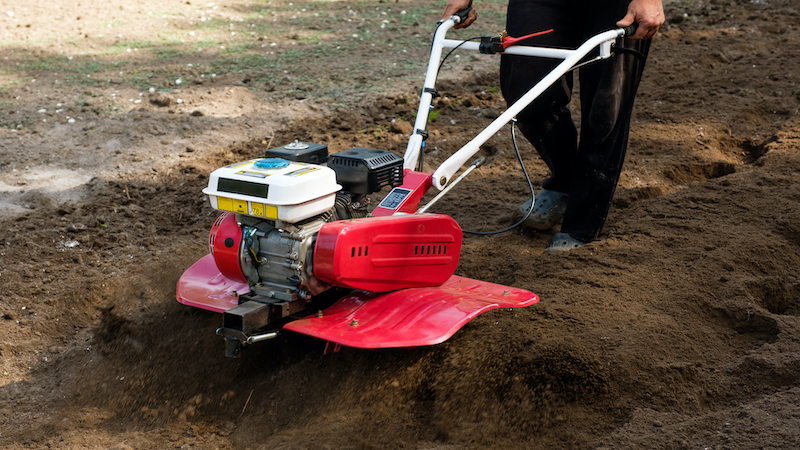 In general, however, you will discover that petrol rotavators are heavier, so while they will minimise the amount of effort required to do the job, be prepared to put in extra effort moving them from one location to another! These rotavators can help to lessen the amount of labour required for cultivation tasks.
Furthermore, if you have a lot of soil to deal with, they are arguably the superior alternative. Petrol rotavators, on the other hand, are heavier and thus more difficult to transport from one location to another.
Cordless Rotavator
Weeding and soil preparation is a breeze with a cordless cultivator. You may wander around the garden without worrying about tripping over cords or having them shredded by the tines because there are no cords to deal with.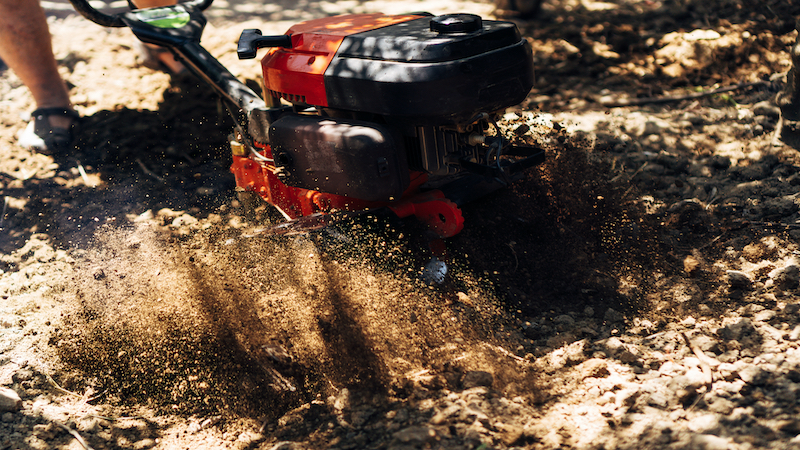 Corded Rotavator
This type of rotavator is powerful but comes with a cord that could get under your feet. It is good for big gardens as you can travel where you want and all you must do is plug it in and the job begins!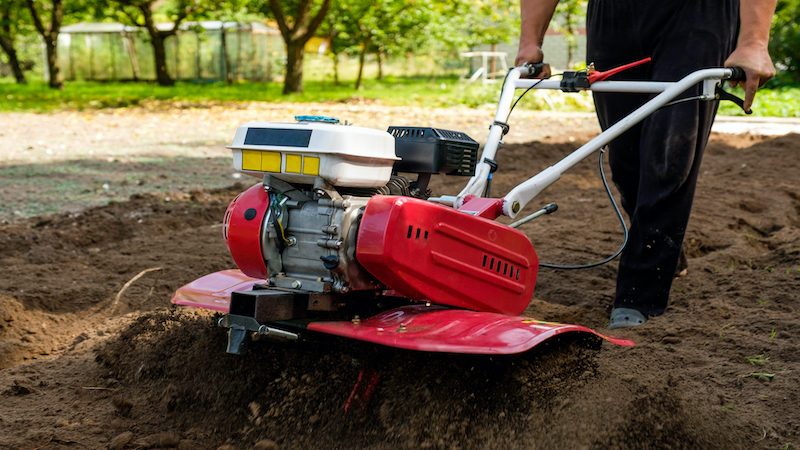 Best Garden Rotavator
To help you choose the appropriate rotavator for your garden, we have compiled a list of some of the best garden rotavators available, including:
Best Electric Rotavator
VonHaus Electric 1050W Tiller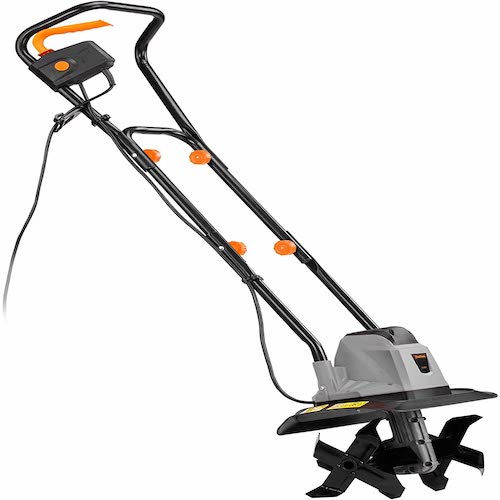 The cutting breadth of this popular, comfortable, and strong electric 1050-watt garden rotavator is 320mm, and the maximum cultivating depth is 220mm. It is composed of long-lasting plastic and comes with four robust steel blades.
It also has a metal frame with a black and orange design. An extra long 10-meter cord is included with this VonHaus rotavator, which is great for any size garden.
THINGS WE LIKED:
Long-lasting design
Ideal for any size garden
Ergonomic design
THINGS WE DIDN'T LIKE:
Too light for some jobs
Extra long cord
Garden Gear Electric Garden Tiller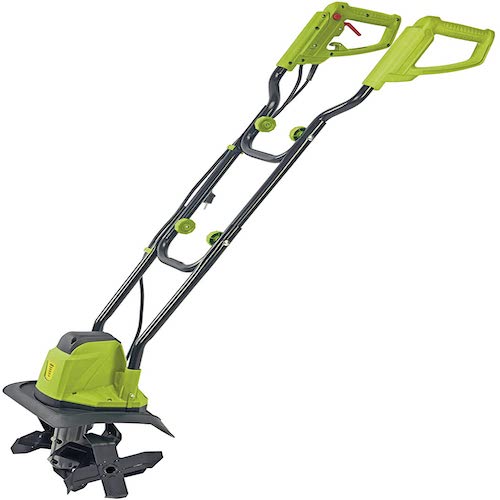 It's a versatile rotavator with two distinct easy-grip handles, so it's simple to manoeuvre. You'll notice that as you make more passes, the soil becomes lighter and finer.
It also features a two-point safety switch, a voltage range of 230 to 240 volts, and a 380 RPM idle speed. Like many garden rotavators, it has a 93db audio output. Self-assembly is a requirement.
It also features a two-point safety switch, a voltage range of 230 to 240 volts, and a 380 RPM idle speed. It, like many garden rotavators, features a 93db audio output. Self-assembly is a requirement.
THINGS WE LIKED:
Eco-friendly
Two-point safety switch
Easy to handle
THINGS WE DIDN'T LIKE:
Requires self assembly
Not ideal for removing turf
Earthwise TC70020 Tiller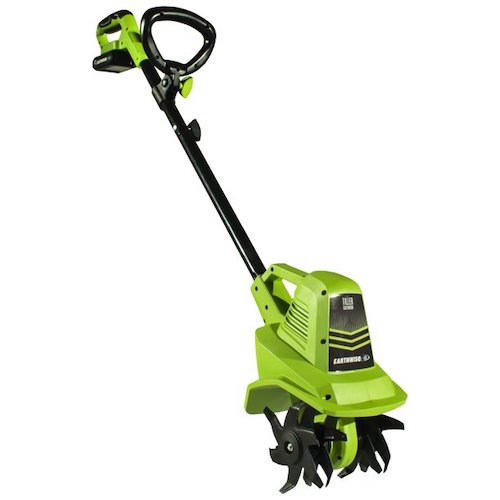 In the home gardening market, Earthwise is a well-known brand. The TC70020 cordless cultivator features an ergonomic design, a simple on/off safety switch, and an adjustable support handle. It also offers excellent adaptability and reliability you'd expect from the brand.
Consider the Earthwise TC70020 if you require a slightly wider tilling width. In comparison to SunJoe's 4.5-inch path, this model clears a 7.5-inch route.
THINGS WE LIKED:
Wider tilling ability
Versatile
Ergonomic design
THINGS WE DIDN'T LIKE:
Not suited for new planting
Short battery life
Best Petrol Rotavator
Mantis 4-Stroke Petrol Deluxe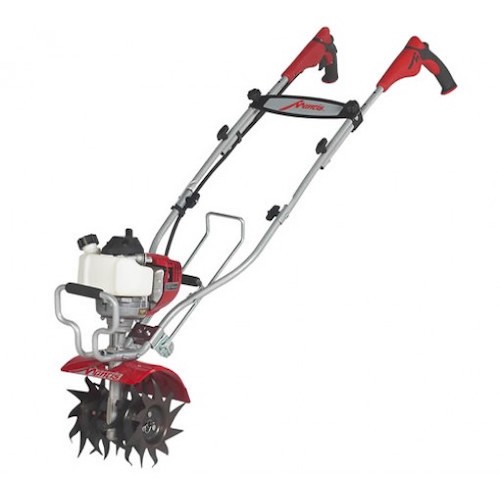 This highly rated petrol tiller, which has sold over 2 million units, is a popular rotavator option. It has a 4-stroke Honda engine and its innovative serpentine tines have an RPM of 200, which makes them twice as quick as most other rotavators.
It is arguably the greatest or at least one of the best rotavators for clay soil.
There are also extra attachments for dethatching your grass and ploughing soil that you can utilise. It also comes with a solid worm gear gearbox system. Essentially, this means it's designed for maximum torque and precise power.
THINGS WE LIKED:
Quick
Ideal for clay soil
Helpful attachments
Hyundai Stroke Petrol RotoTiller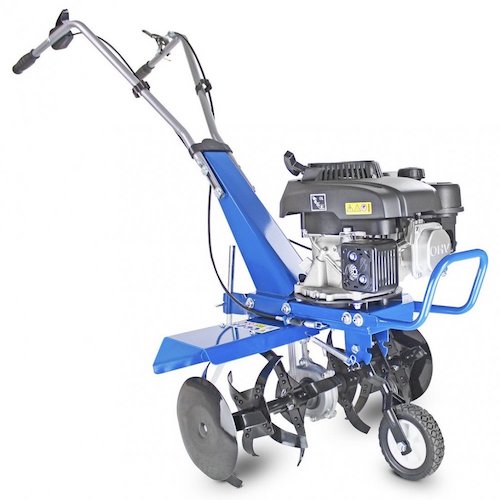 Hyundai's petrol rotavator is driven by a four-stroke, four-horsepower engine. It has a 370mm cutting width and a 130mm cutting depth. The HYT140 has a depth control rod that can be adjusted from the back.
It works well in most gardens and allotments. This rotavator can break up hard, compacted soil, making it ideal for seed and plant bed preparation as well as weed burial.
This machine is 31 kg in weight. To use this machine, make sure that all of the components are in the proper place. Make sure the oil and gasoline levels are correct. Fresh unleaded gasoline is required for the machine.
To start the engine, move the choke lever forward five times before pressing the priming bulb. If you want to start the engine warm, follow the illustrations in the manual.
Soil that is rock hard should not be planted with this rotavator. You should instead irrigate it a few days before using this rotavator. Avoid working on wet ground, such as that which has been soaked by heavy rain. If there has been a lot of rain, wait one to two days before using the HYT140 to let the soil dry out.
THINGS WE LIKED:
Excellent for seed and plant preparation
Great for weed control
Easy to use
THINGS WE DIDN'T LIKE:
Not ideal for rock hard soil
Not suited to wet ground
T-Mech 52cc Garden Tiller
Well, the main advantage is that it runs on gasoline. That implies you won't be tethered by a cable as long as there's fuel. You also won't have to be concerned about severing the wire. With a 1.2-litre capacity, the tank is best suited to small to medium-sized plots.
There have also been a few reports of the starter cord breaking. The good news is that the manufacturer promptly and without charge replaced it.
This is also worth considering if you're seeking a cord-free option and your circumstances aren't too demanding. Just be prepared to spend some time putting it together, as the directions aren't quite clear.
THINGS WE LIKED:
Cord-free capability
Comes with a free tool kit
Ideal for allotments
THINGS WE DIDN'T LIKE:
Not ideal for large gardens
Starter cord requires extra care
Best Cordless Rotavator
Mantis 58V Cultivator Rotavator
One of the best cordless rotavators on the market is the Mantis 58 volts rotavator. Lithium-ion batteries and a charger are included with this motorised tiller.
It has four metallic curved tines that rotate at 310 RPM. It features a cutting depth of up to 230mm and a cutting breadth of 300mm.
This Mantis rotavator has a steel mudguard and an ergonomic foldable handle. It's also an example of a rotavator with wheels. It is easy to manoeuvre because it weighs less than 12kg.
Insert a fully charged battery before pressing the lock-off button and holding it in position to switch on this cordless tiller/cultivator. When you're done, press the lock-off button once more. Then press and hold the on/off switch for a few seconds.
THINGS WE LIKED:
Batteries and charger are included
Wheeled rotatator
Lightweight design
Black & Decker LGC120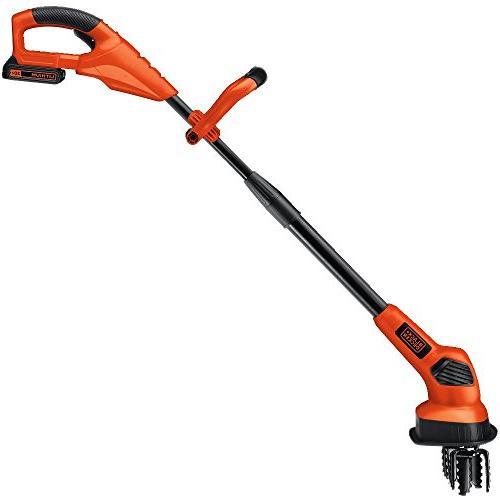 The dirt will be broken up quickly with this small cultivator. A 20-volt MAX lithium-ion battery is incorporated to power its strong gearbox. They can hold a charge for extended periods and have a longer lifespan.
Despite being a small garden tiller, the LGC120 can cultivate up to 325 square feet on a single charge.
The counter-oscillating tines help keep weeds from tangling, making the job easier and faster to complete. If tiredness is a concern, this model boasts a comfortable grip, an adjustable handle, and weighs only 8 pounds.
THINGS WE LIKED:
Strong gearbox
Adjustable handle
Good battery life
THINGS WE DIDN'T LIKE:
Does not come with additional batteries
SunJoe 24V Cordless Garden Tiller
The dual tilling blades on this model cultivate the soil to a depth of 6 inches. You can weed in between plants or in tighter locations because of the slender design, which is only 4.25 inches broad.
The telescoping shaft adjusts from 28 to 37 inches, making it simple to find the right reach for your height.
A 24V battery powers the SunJoe cordless tiller, which lasts for about 30 minutes. In a modest bed, this should be more than enough force for weeding and soil aeration.
The SunJoe Cordless Garden Tiller + Cultivator is a terrific lightweight alternative for small garden weeding and soil preparation before planting, with an adjustable, ergonomic grip and a tilling depth of up to six inches.
THINGS WE LIKED:
Slender design
Adjustable reach
Dual tilling blades
THINGS WE DIDN'T LIKE:
Not ideal for compacted soil
Best Corded Rotavator
VonHaus Corded Garden Rotavator
VonHaus' electric tiller is the most affordable choice on our list. However, it performs as well as a much more expensive system.
The engine produces 1,050 watts of power. It has a plastic body and a metal frame, making it lightweight and manoeuvrable.
It's also surprisingly powerful, considering its lightweight design. It will work on even the most difficult clay soils if used correctly. It will also take stones in stride. Because of its manoeuvrability, you'll be able to till the ground you desire while leaving the rest alone.
There are no safeguards on it. This means that cultivated soil and stones will be displaced.
THINGS WE LIKED:
Affordable
Lightweight design
Great for clay soil
THINGS WE DIDN'T LIKE:
No safeguards
Soil and stone displacement
Tacklife TGTL02A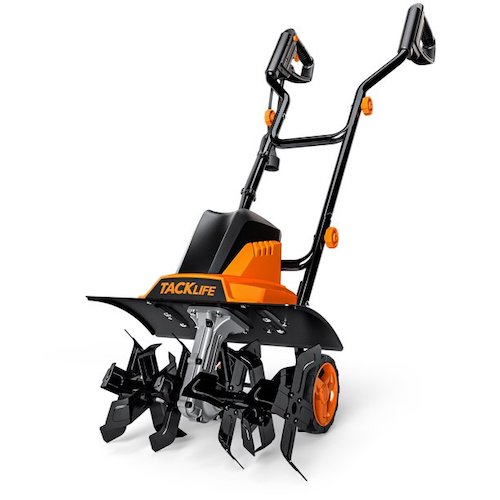 It spins the tines at 400 revolutions per minute, generating lots of speed and power. It's quite powerful, and it can handle even the toughest soils and stones without breaking a sweat.
When using it, make sure you're wearing the appropriate safety gear. as any larger debris could result in an injury.
Because of its lighter weight, it tends to bounce around when it hits the stony ground. If you're working with really compacted soil, you'll probably need to repeat the process.
It comes with a 10-meter power line and a plug that is ready to use in UK outlets. Before you use it for the first time, you'll need to put it together, but it's all simple.
THINGS WE LIKED:
Lightweight
Powerful machine
Ideal for tough soil
VonHaus Electric 1400W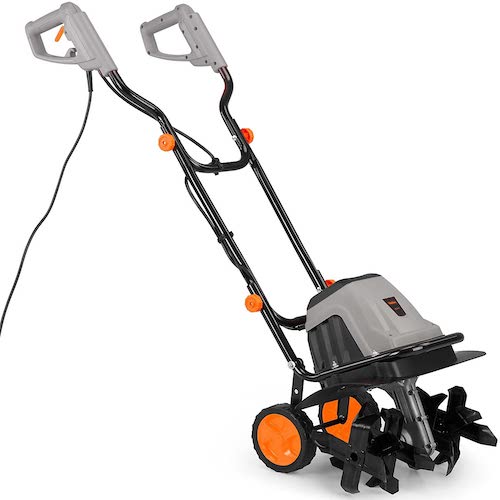 It has a similar appearance to Tacklife. To preserve control, there's a long, ergonomically contoured handle. There are also two wheels on the back to assist you in moving it.
Although slightly heavier than the Tacklife, at 11 kg, it is still an extremely light rotavator. However, the handle on this one does not fold down, so you'll need a little more storage space.
When it encounters an obstruction, it tends to bounce around because it is a lighter machine. Simply hold on tight and let it run its course!
THINGS WE LIKED:
Ergonomic handle
Easy to manoeuvre
Durable steel blades
THINGS WE DIDN'T LIKE:
Requires sufficient storage space
Not ideal for rough ground
Best Small Rotavator
ESkde LITI1 Cordless Garden Rotavator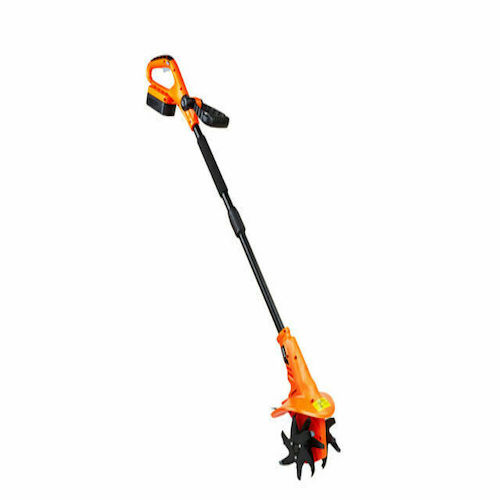 The eSkde LITI1 may be the right choice for you if you're seeking a compact rotavator. Manoeuvrability and ease of use are more important than power in this case. Four thinner blades, each with two tines, are turned by an 18-volt motor.
Because it's cordless, you won't have to worry about cutting through a cable while working. The battery will last approximately 30 minutes before needing to be recharged.
It has a lot of power for such a small machine and can handle thick soil. The primary concession, however, is the amount of ground you'll cover with each pass. Here, the cutting width is only 200 centimetres. You won't be able to dig any further than 80 millimetres.
One thing to keep in mind with this one is that the battery life will be restricted. It will take hours to fully charge after around half an hour of running time. This is probably not the rotavator for you if you have larger land.
THINGS WE LIKED:
Works on thick soil
Cordless design
Powerful
THINGS WE DIDN'T LIKE:
Restricted battery life
Not ideal for large gardens
Garden Gear 6 Blade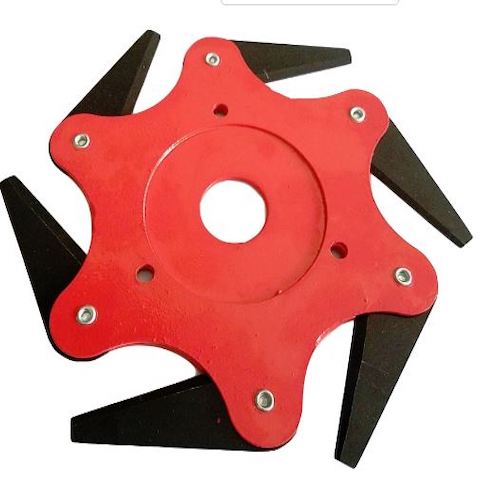 It only weighs 12.1kg, which is ideal for a handheld machine. The linked wheels may be retracted for difficult operations where you need to dig deeper into the earth, and there are two easy-grip handles.
The cultivating depth is also more than you might imagine, implying that this machine should be able to manage most small to medium-sized outdoor settings.
Given that rotavators are known to break down frequently, the equipment comes with a 24-month warranty, which may be reassuring to many customers. If you don't like doing mechanical repairs, this device can be perfect for you.
THINGS WE LIKED:
Retracted wheels
Overheat protection
24-month warranty
THINGS WE DIDN'T LIKE:
Not ideal for large allotments
Stream 1500W Electric Rotavator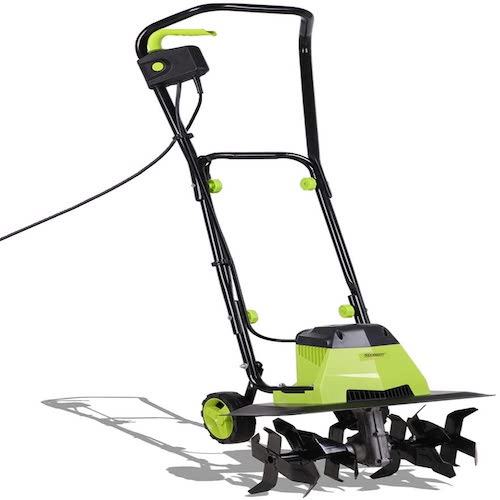 The electric rotavator's powerful 1500W copper motor digs through nearly any soil and allows for speedy digging of vegetable and flower patches, as well as lawn surfaces.
This rotator has a cutting width of 400mm, a maximum tilling depth of 220mm, and six sturdy steel blades, each having four soil tilling blades, allowing it to work rapidly and efficiently across huge areas.
This garden electric rotavator's extra thicker sturdy steel blade quickly turns over hard-packed dirt and soil, making the job simple.
This tiller has a 2-point safety switch that turns off the powerful cultivator blades as soon as you let go of the switch, so you don't have to worry if you forget to turn it off when you're done.
There are three height adjustments for the gears, making them easier to handle when in use. This strong rotavator also has transport wheels, making it easy to move about. It is also lightweight and tiny, making it easy to carry.
THINGS WE LIKED:
Extra thick steel blade
Two-point safety switch
Height adjustment
THINGS WE DIDN'T LIKE:
Not suitable for clay soil
Best Portable Rotavator
Cordless Tiller Eskde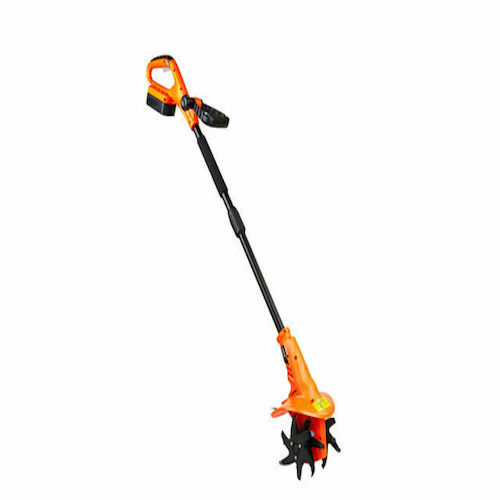 Users will find it quite easy to travel through vast expanses of grounds with this cordless lawn rotavator. It also comes with high-quality blades.
This light cultivator has strong tines and a powerful 18v lithium battery that allows for a lengthy runtime.
Users, particularly those with small gardens, are looking for portability. This little rotavator is not only what users demand, but it has also established itself as the most ultra-portable small rotavator on the market.
This portable feature makes it much easier for both beginners and pros to use and store the device. These tools also have a low maintenance cost.
THINGS WE LIKED:
Strong tines
Long runtime
Ideal for easy storage
THINGS WE DIDN'T LIKE:
Extra batteries are expensive
The Handy Petrol Mini Tiler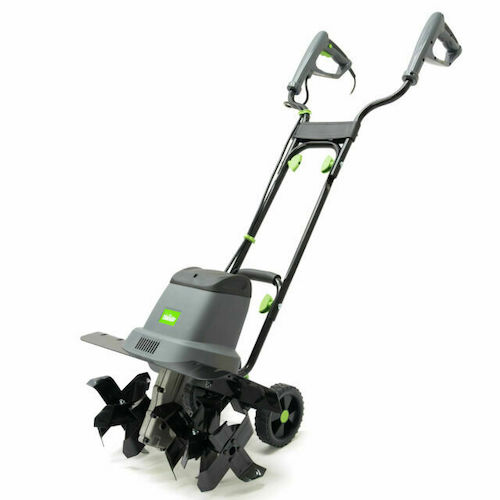 This strong petrol fuel rotavator comes at a great price and has all of the functionality you'll need to get the job done. Customers who have had to purchase this brand's petrol soil rotavators have largely praised the ease of use and user-friendliness.
The small rear wheels are fantastic and provide dependable transportation and adequate depth and width of digging/tilling.
This machine is gloss finished and built of steel. It is only 15 kilogrammes in weight, making it easy to manage in both forward and reverse gear.
This tiller is easy to use, portable, back-friendly and have a simple design with outstanding blades. It has tilted and overturned capability in addition to the compact wheels, ensuring optimal performance.
THINGS WE LIKED:
Easy to use
Excellent depth capability
Reverse function
Yonntech Petrol Rotavator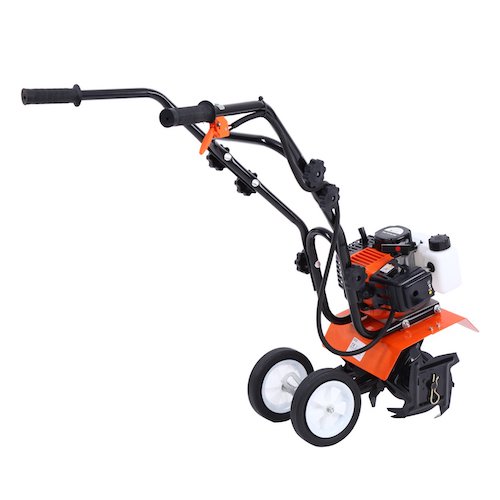 This mini rotator is a petrol-powered compact rotavator that's perfect for turning over small to medium-sized vegetable gardens and allotments.
It is suitable for any task during the gardening season, thanks to its powerful 4pc blade. It has an air-cooled engine, which means it can run for longer periods without overheating.
This rotator comes with a folding handle for convenient loading into the trunk of a car. It also makes it easy to move around because it is equipped with two strong wheels.
It has a bike-style handle that makes it simple to operate, and it is lightweight with two durable wheels for easy mobility. Durable clutch assembly and gear case make it simple to operate.
THINGS WE LIKED:
Air-cooled engine
Folding handle
Simple to use
THINGS WE DIDN'T LIKE:
Blades are slightly flimsy
Best Rotavator for Clay Soil
The Handy Electric Garden Tiller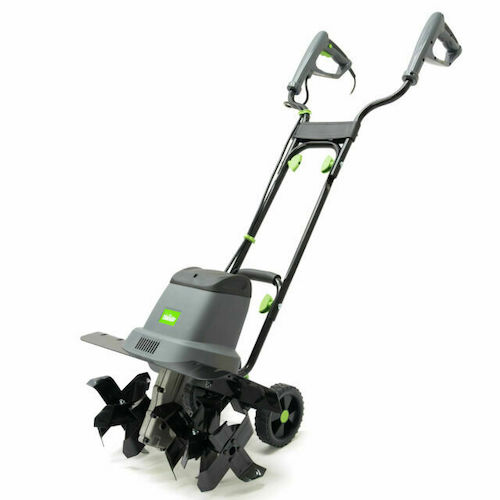 The 800-watt motor is a great eco-friendly option which is great for digging into clay soil and tight spaces.
However, if your ground has a lot of roots, you may need to pause now and again to untangle the tines. A cutting width of 300 millimetres and a depth of up to 200 millimetres are provided.
It's not too hefty to manhandle across the ground, weighing slightly over 9.5 kilogrammes. Pulling it backwards, as with many rotavators, will make the job easier, especially on the first pass. This will limit how far you can go, but after the earth has been split up, you can swap and move onward.
It takes two hands to turn it on, so there's no risk of it being accidentally turned on. It does, however, imply that you must grab the handle as soon as the procedure is completed. So, keep your wits about you, or it might take off without you!
THINGS WE LIKED:
Eco-friendly
Lightweight
Great for tight spaces
THINGS WE DIDN'T LIKE:
Not ideal for roots
The cord may get tangled
Electric Lawn Rotavator By Charles Bentley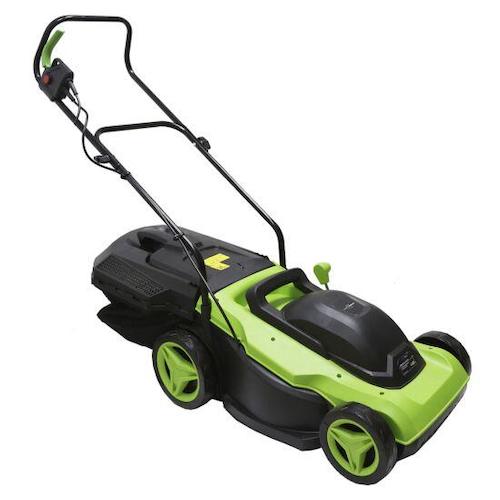 This electric rotavator is not only exceptional in terms of performance but also in terms of aesthetics.
This fantastic gadget also has a strong handle that enables you a firm grasp when using it. For natural movement on surfaces in all plots of land, large, medium, or tiny gardens, a sturdy operating wheel has been given. Even the toughest soils are no match for it.
THINGS WE LIKED:
Sturdy handle
Great for any sized garden
Ideal for tough soils
Electric Soil Turn 750W Rotavator by YesUKDirect
The best thing about this electric engine unit is that its parts are engineered in such a manner that if one fails, you won't have to replace the whole thing. This machine's parts are easily replaceable and available throughout the United Kingdom.
This electric type is also noted for being able to maintain seedbeds and floral borders at the same time, which sets it apart from other goods. This helps to keep your larger allotment's soil dry and guarantees that your medium-sized vegetable patch always stays fresh.
THINGS WE LIKED:
Cheap
Replaceable parts
Great for large allotments
THINGS WE DIDN'T LIKE:
Too heavy for some people
Best Heavy Duty Rotavator
SwitZer Heavy Duty 6.5 HP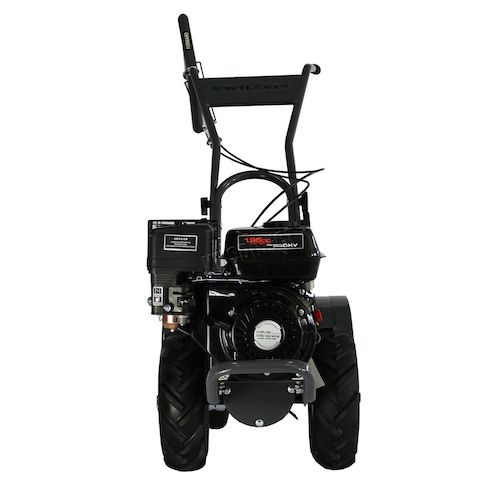 Another popular option is this heavy-duty rotavator that runs on gasoline.
The cultivating width of this tiller is 320mm, and the depth capability is between 175mm and 350mm. It's ideal for small to medium-sized gardens and potagers. It's also arguably the best allotment rotavator.
THINGS WE LIKED:
Great for allotments
Consistent power transmission
Clutch handle
THINGS WE DIDN'T LIKE:
Hard to follow instructions
Fox Hunter Heavy Duty Cultivator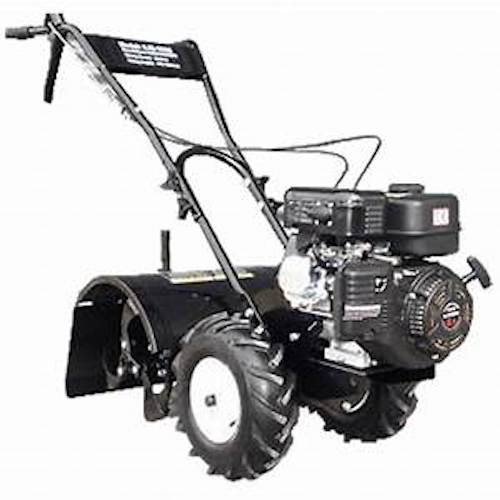 This is perfect for individuals who need to cultivate huge areas, but it will probably be a little too much for the typical garden enthusiast. The vehicle is gasoline-powered and has three gears: forward, reverse, and neutral.
It boasts a heavy-duty gearbox, as well as a clutch grip and fingertip throttle control that need some practice.
It takes some time to put together, and because it's such a large device, you'll want to make sure you have enough storage space.
The manufacturer also advises against using the machine for continuous commercial usage, so if you intend to utilise your rotavator as a professional gardener, you might want to seek elsewhere.
THINGS WE LIKED:
Adjustable depth
Great for large allotments
Heavy-duty gearbox
THINGS WE DIDN'T LIKE:
Hard to assemble
Requires large storage space
BMC 1400 Electric Rotavator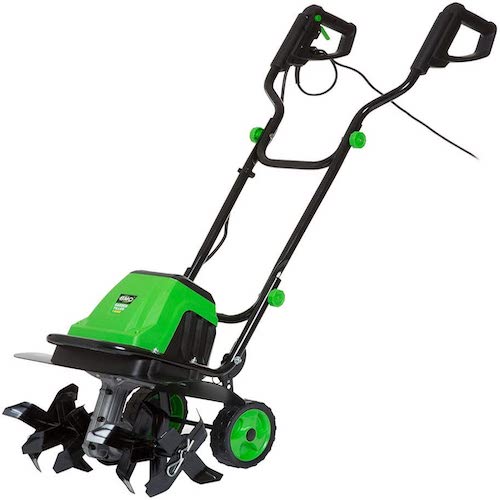 One of the most powerful electric rotavators in is this BMC model. This heavy-duty 1400W rotavator cultivates a wide range of soil types, including hard, mild, and even clay, with its six steel tines.
It even digs small holes for plants and seedlings to be transplanted. You can choose from a working width of 16cm to 40cm, and the tilling depth is a normal 22cm.
This is a rotavator that can be used in a variety of situations. With the secure on/off switch, overheat protection that kicks in if the device gets stuck, and the electric brake, safety is prioritised.
THINGS WE LIKED:
Great for all soil types
Adjustable width
Overheat protection
What to Consider Before Buying a Rotavator
Before buying a garden rotavator, you should consider the following factors:
Soil Type
The type of soil in your garden is important to consider when choosing a garden rotatavor. If your soil is more clumped and stonier, making it tough to deal with, you should invest in a higher quality rotavator that can handle these conditions.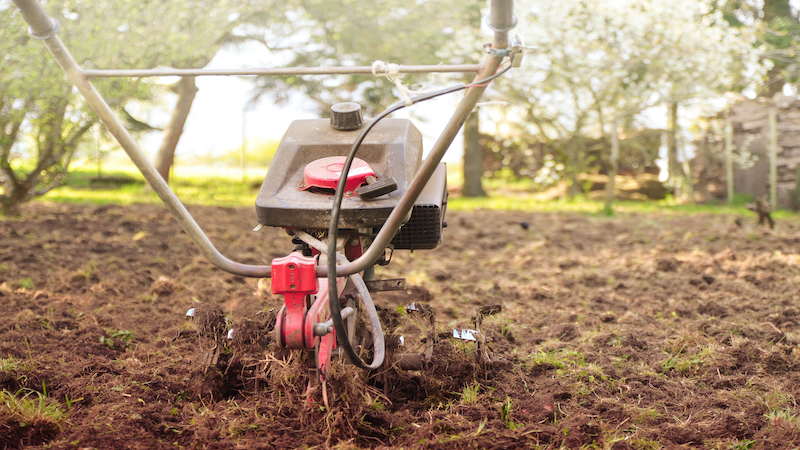 You may be able to get away with using somewhat fewer high-grade blades if your soil is of good quality.
Width
The width of the machine is critical because the bigger the width, the larger the area you can cover in one pass.
It's vital to keep in mind that these models typically feature blades that are spread widely apart, limiting the amount of soil removed. In smaller spaces, larger models are more likely to make life more difficult.
Assembly
Some rotavators, depending on the brand and model, will require you to assemble them after purchasing. With certain models, this is easier said than done.
Before you buy something, read the product description since it will generally tell you how many people it will take to assemble it and what tools you'll need.
Self-Propelled
Look for self-propelled models, as this will make your job much easier while you're on the job! You will still need to guide and force self-propelled models, but not nearly as much as you need to with conventional models.
Budget
Rotavators are priced differently depending on what you need. Electric variants typically cost over £100, while petrol models start at about £200.
There will always be more expensive models, but they are more commonly utilised for commercial/agricultural purposes and aren't required for a typical garden.
FAQs
How do you level a garden with a rotavator?
Method one:
Remove any high points or hard lumps
Add and level topsoil
Seed the area
Method two:
Remove rocks, weeds or debris
Use a rotavator to churn up the soil
Then add or remove soil depending on if you have too much or need more
Then level the lawn or garden
Lay the turf
How much does it cost to hire a garden rotavator?
You can hire a rotavator online and the process is easy. The average price to hire one is around £40-£60 however, you might have to pay a deposit and you will only have it for a few hours.
How long does it take to rotavator a garden?
If you've never used a rotavator in your soil before, you'll need to water your garden three or four days before you try to rotavate it. To properly soften the soil, repeat this process over several hours.
Is a rotavator easy to use?
If the clay soil in your garden or allotment is too hard, cultivating the land with a rotavator can be difficult, and the rotavator may only be able to scrape away at the first few inches of soil. However, there are a lot of lightweight models which are very to use use.
How deep does a rotavator dig?
A light-duty rotator typically has an average digging depth of 200mm, which will just turn over the topsoil, whereas a medium-duty petrol rotavator will go much deeper, with a digging depth of 230mm.
Sources