cleaning & laundry
Best Ironing Board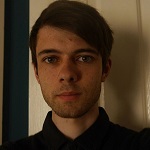 Want to know what the top ironing board is?
In this article, we'll review some of the best ironing boards on the UK market, breaking them down into various categories, such as built-in ironing board, extra wide ironing board, and lightweight ironing board.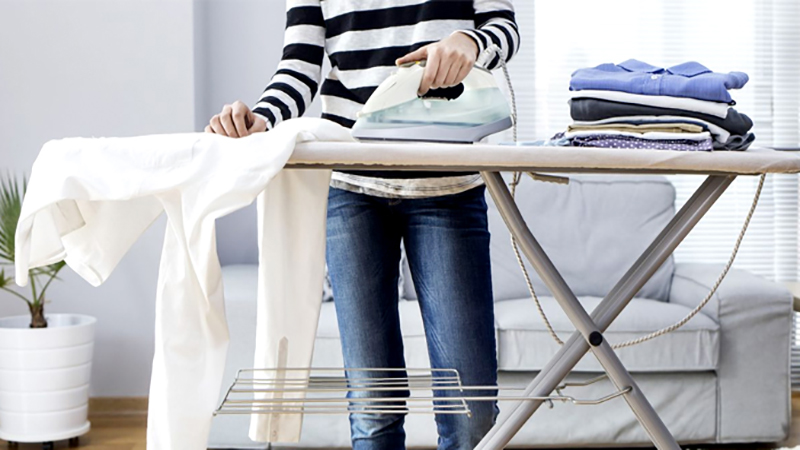 So, if you're looking for an ironing board that offers good value for money, this guide is for you!
What is an Ironing Board?
Put simply, it's a long, narrow board that tends to come with folding legs and a soft material for laying linen upon (e.g., clothes, sheets, and so forth) before ironing can take place.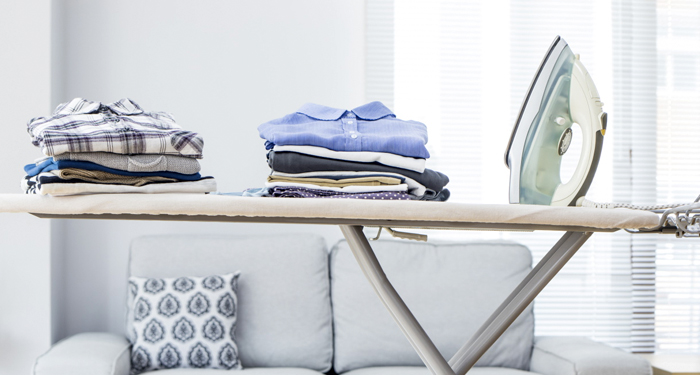 Essentially it acts as a suitable surface to lay textiles on so that they can be ironed effectively.
How Does an Ironing Board Work?
Put simply, an ironing board is (usually) set up by folding out its legs and clicking the top section of the legs into the underside of the board.
With the cover over the board, the iron can then be placed on its holder while it heats up before the linen can be ironed. This is achieved by ironing down onto the linen while it sits atop the board and its cover.
Types of Ironing Board
Before we look at the best ironing boards out there, let's look a little closer at the various types of ironing board and what their pros and cons are.
Freestanding Ironing Board
This type of ironing board is basically just another way of terming a regular ironing board with metal legs (generally steel), a metal surface, and a suitable cloth/cover for the board itself. In general, freestanding ironing boards can be adjusted to suit your height. If the board has mesh, this will allow iron steam to penetrate through.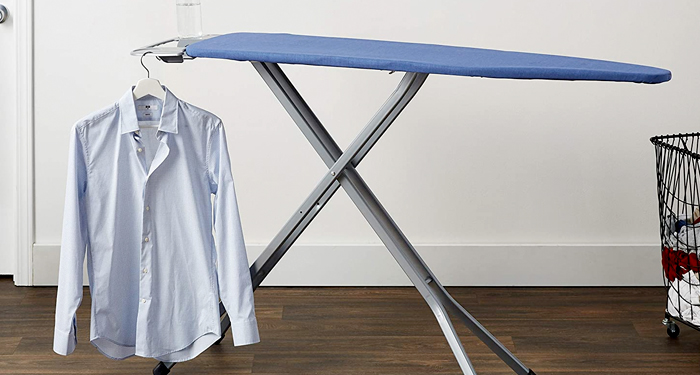 Compact Ironing Board
Some ironing boards are significantly smaller than others, including table top ironing boards. If your home is short on space, these lightweight and compact ironing boards are a great choice. It's also very useful for those who enjoy sewing.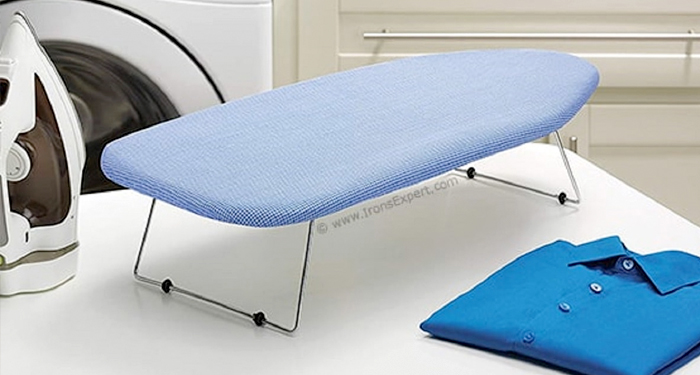 Built-in Ironing Board
Also known as a wall-mounted ironing board, a built-in board is great if you have limited floor space. While these can be more difficult to find than freestanding ironing boards, their advantages make them worth considering.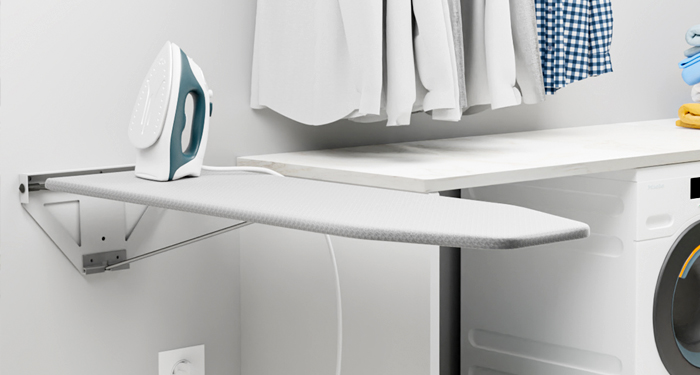 Best Ironing Board
We'll now get right to the top cordless hoover reviews. In each review, we'll look at the qualities and pros & cons of the product in question.
Best Freestanding Ironing Board
Beldray LA024435HOM Ironing Board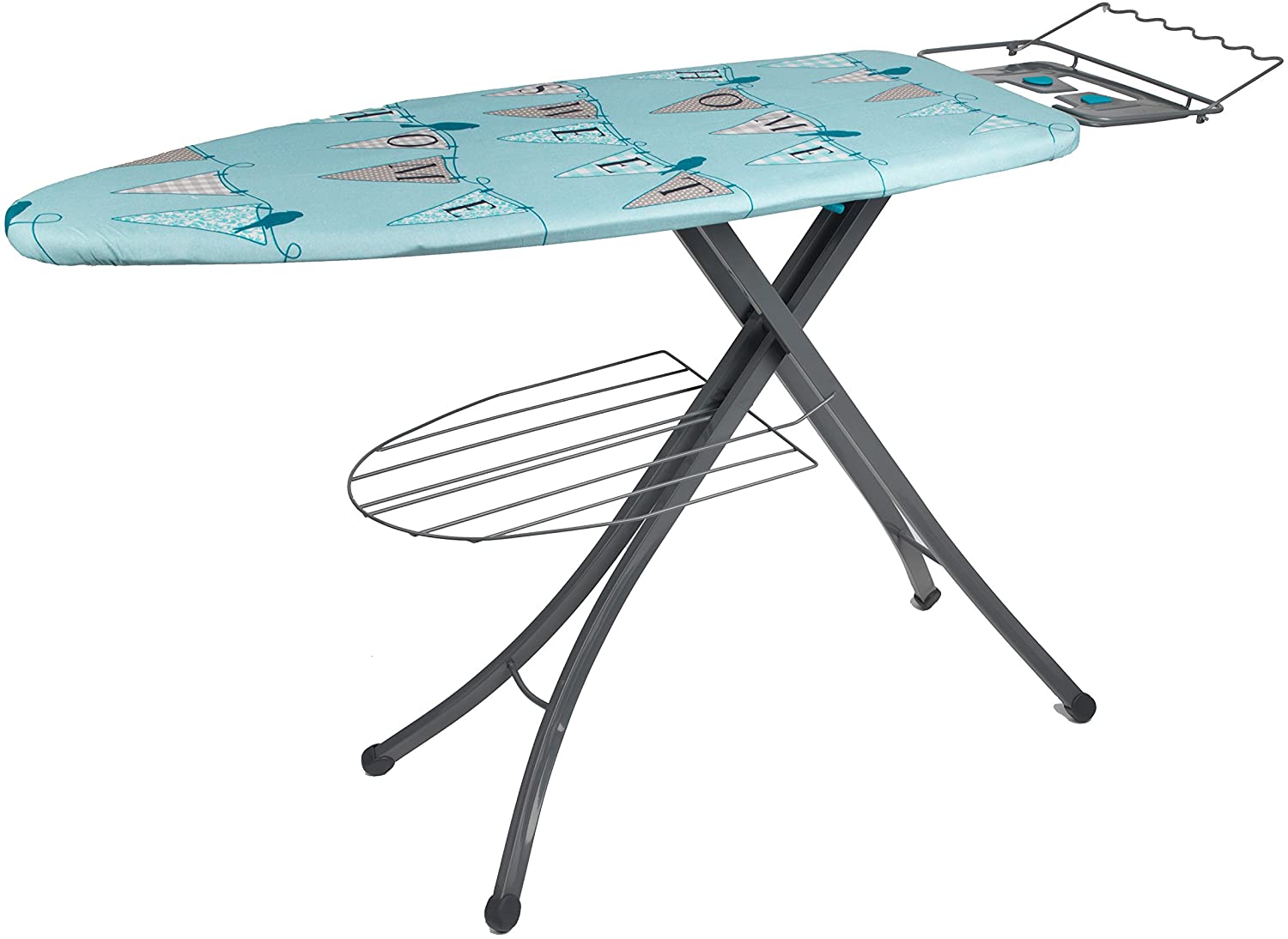 This Beldray ironing board weighs just 7kg, comes with a clothes rack beneath and features a removable cover.
Further, the LA024435HOM has a 90cm height. It also comes with a variable safety lock. However, with that said, it's been reported that its cover isn't very plush.
Things we liked
Clothes rack beneath
Removable ironing board cover
Things we didn't like
Not a particularly plush cover
Brabantia Ironing Board with Solid Steam Iron Rest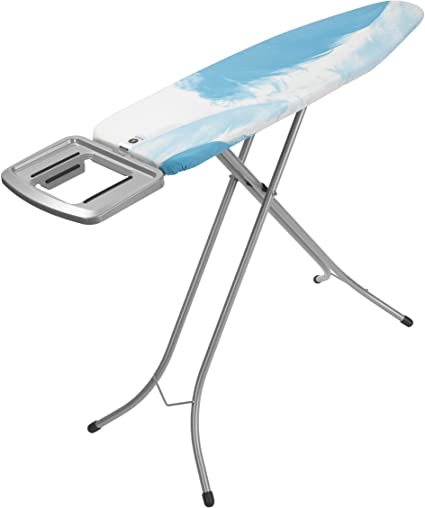 Looking now at another board from Brabantia, this product has a nice surface, a useful cover, it's foldable, and can be moved around with ease.
Its uneven legs, however, are a notable issue.
Things we liked
Nice surface
Useful cover
Foldable
It can be moved easily
Leifheit Air Board Express Ironing Board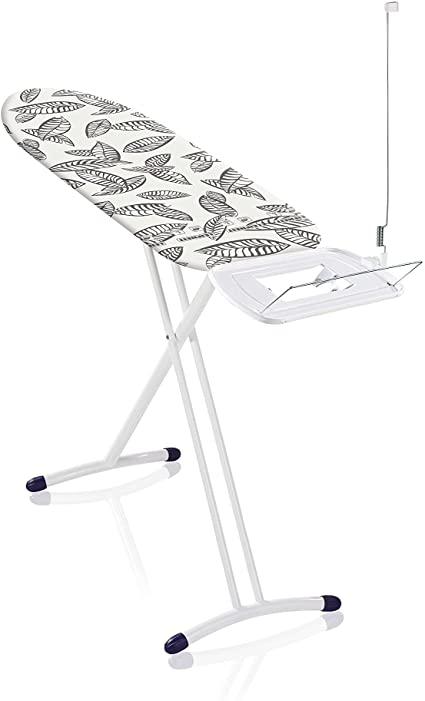 For a long, wide ironing board, you should consider this Leifheit product. It's well-suited to steam generators and is surprisingly lightweight at only 5.2kg.
In addition, it comes with a self-adjust frame, provides great levels of stability and comes with a heat-resistant cover, which is great for absorbing moisture and minimising dampness in fabrics, regardless of how much steam your iron is producing.
Things we liked
Long and wide
Lightweight
Self-adjusting frame
Great quality cover
Brabantia Ice Water Ironing Board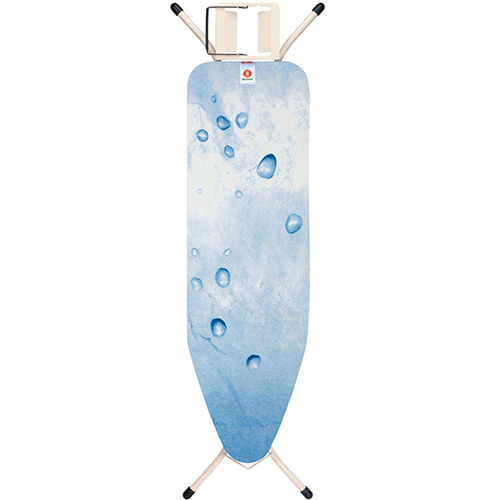 This large size C ironing board is a popular and highly-rated product. It comes with non-slip feet, a ten-year guarantee, and an adjustable working height ranging from 75cm to 98cm.
On the other hand, it's a little more expensive than most ironing boards.
Things we liked
Size C
Non-slip feet
Ten-years guarantee
Adjustable working height
Best Compact Ironing Board
Addis Shirtmaster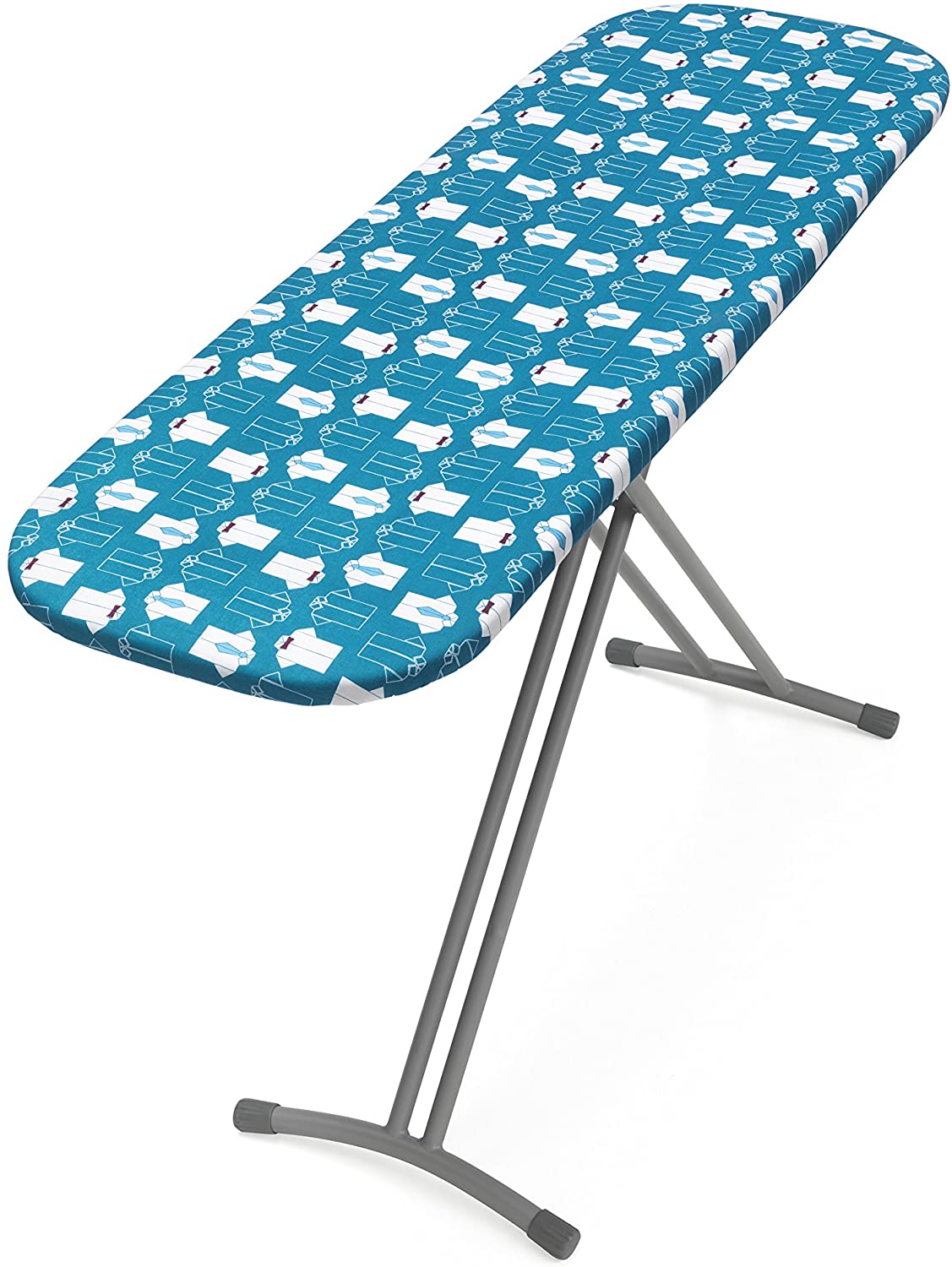 For a particularly small ironing board, the Addis Shirtmaster is a strong choice. It comes with a 10-years warranty, is fantastic for ironing sheets and duvets, and this board also features two blunt ends as well as being a specialist product.
However, this ironing board doesn't have a steam/iron generator.
Things we liked
Great for ironing sheets and duvets
10-years guarantee
Two blunt ends
Lakeland Bright Blooms Ironing Board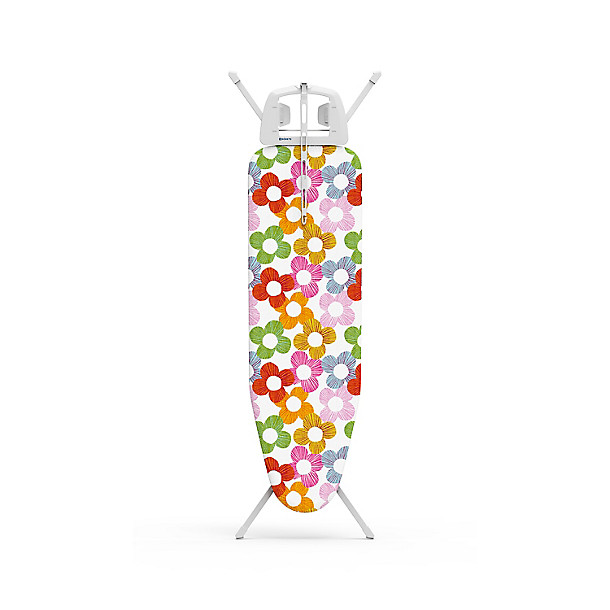 This colourful and flowery-designed ironing board can be adjusted to a variety of heights of anywhere between 46cm to 97cm. It also has a pull-up cord holder and a well-fitting ironing surface.
It should be noted that if you've got a steam generator, the cord may be too bulky into its attachment. It's also a bit heavy.
Things we liked
Various heights to choose from
Pull-up cord holder
Well-fitting ironing surface
Dunelm Laundry Rules Ironing Board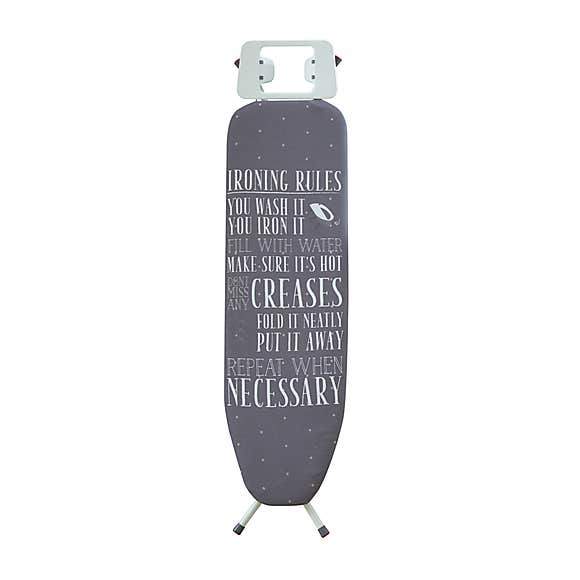 For a fairly small price, you can get this relatively small ironing board from Dunelm.
It's lightweight, comes with non-slip feet, and is great for getting through linen rapidly. It also has a bit of extra width.
Things we liked
Low price
Great for quick ironing
Best Built-In Ironing Board
Nisorpa Wall Mounted Ironing Board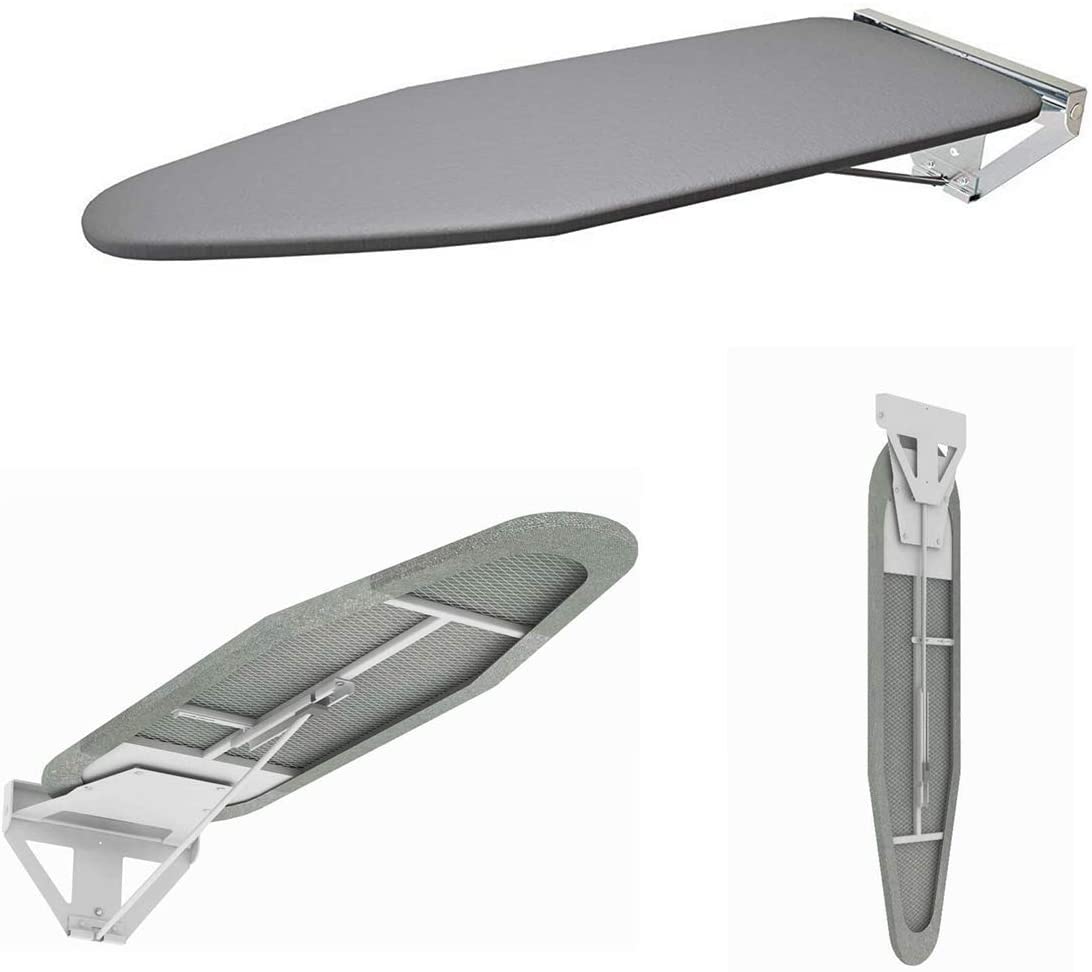 This built-in ironing board can be rotated 180° horizontally, easily installed, safe and secure, and has a small retractable design. The board is covered by a cotton anti-scalding cloth cover that is easy to remove and clean.
Further, the cover is also heat-resistant. With that said, it's a bit expensive considering that it's a wall-mounted ironing board.
Things we liked
Rotatable
Easy to install
Safe and secure
Small retractable design
Britten & James Professional Wall Mounted Ironing Board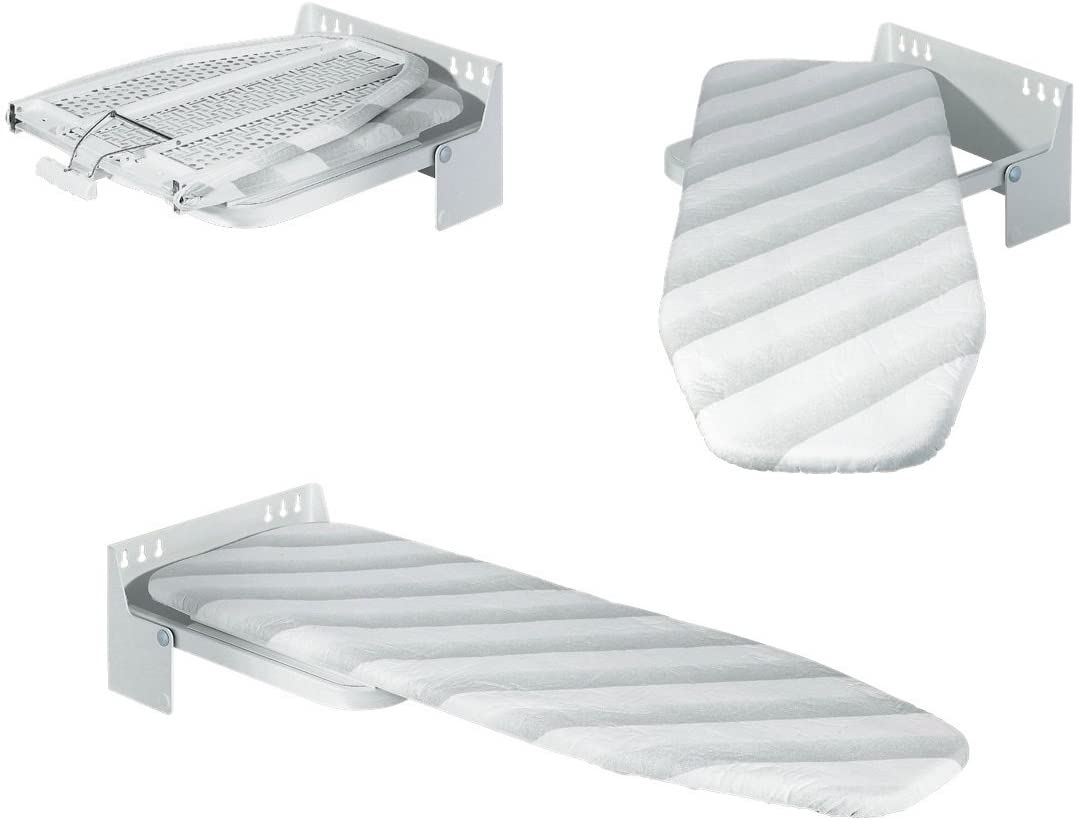 This foldaway wall-mounted board is a bit more expensive than the Nisorpa product. It can also rotate by as much as 180°, is durable, long-lasting, offers high-quality, and can save space.
In addition, its mechanism is especially safe and secure, and it can lock into position firmly. Thankfully replacement covers are also available.
Things we liked
Rotates up to 180°
Durable/long-lasting
High-quality
Saves space
Replacement covers can be purchased
Emuca 8934612 Pull Sliding Drawer Ironing Board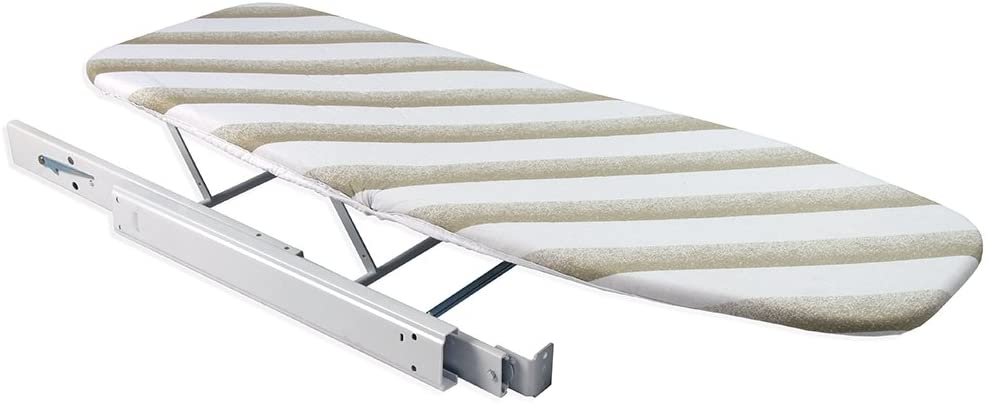 Of course, not all built-in ironing boards are wall-mounted. The Emuca 8934612 can be fitted inside a drawer and held firmly in place by connecting to the drawer itself.
Its ball-bearing runners make it extractible, however. Beyond that, its minimum cabinet depth is 550mm, and it has an internal cabinet width of 360mm to 520mm. However, it's still a bit costly.
Things we liked
Extractible
Perfect if you're low on space all-round
Best Adjustable Ironing Board
Vileda Total Reflect Ironing Board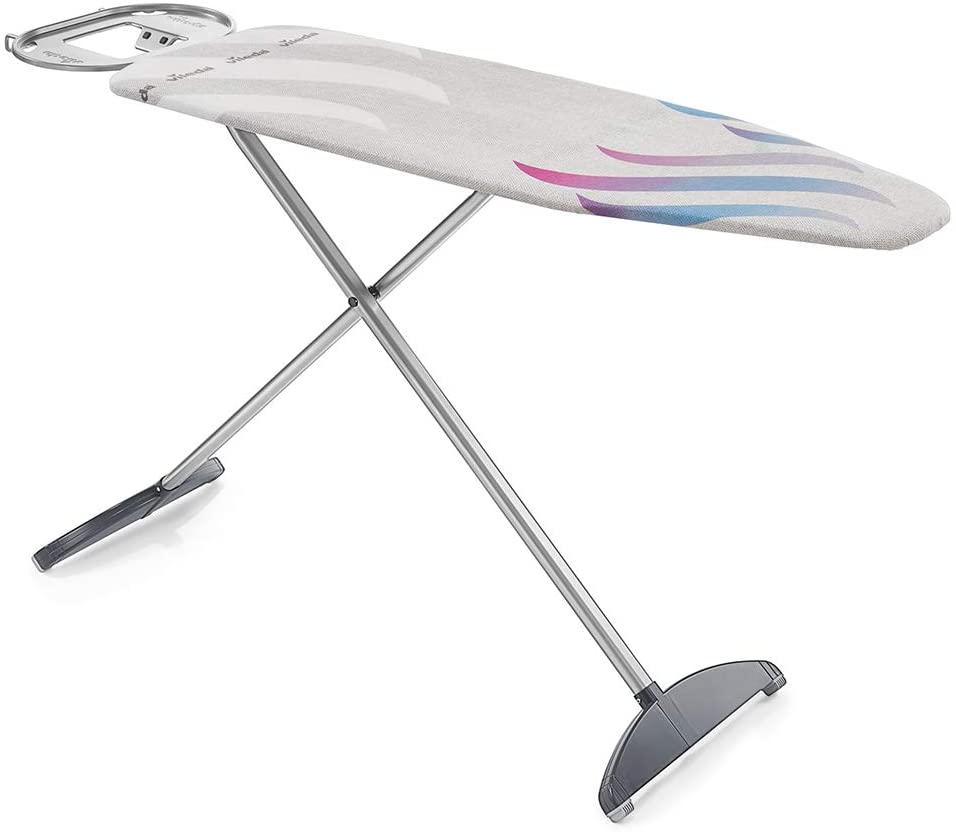 With a variable height adjustment, this Vileda ironing board can stand at anywhere from 74cm to 97cm in height. It weighs 6.5kg. Beyond that, the Vileda Total Reflect ironing board has an especially large iron rest and is perfect for large laundry.
On the other hand, it's not the best choice if you need to iron in a hurry.
Things we liked
Very large iron rest
Great for large laundry
Things we didn't like
It takes a bit of time to use
Brabantia Steam Standard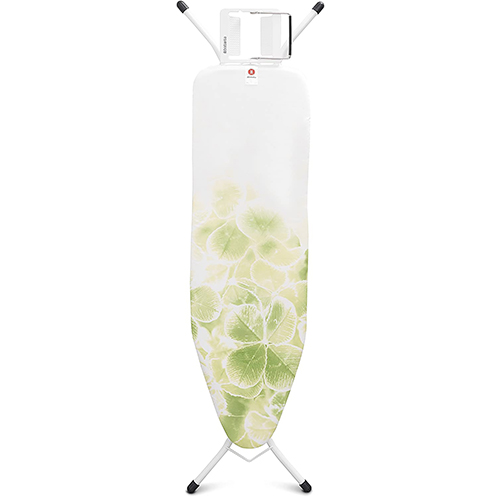 Perhaps one of the very top, if not the best adjustable ironing board available in the UK is this high-quality product from Brabantia. Its underside consists of a metal mesh, making it especially robust. This also makes it easier to press creases out of clothing by adding a bit of pressure.
Beyond that, the Brabantia Steam Standard is classed as a Size B, meaning it's quite compact. It also has a useful steam iron holder.
Despite this, it might not be as well-suited to steam generator irons as heavy-duty alternatives would be. However, all in all, it's a durable and stand out ironing board.
Things we liked
Durable and robust
Compact
It comes with a steam iron holder
Things we didn't like
Probably not that suitable for steam generator irons
Russell Hobbs LA038630BLK Adjustable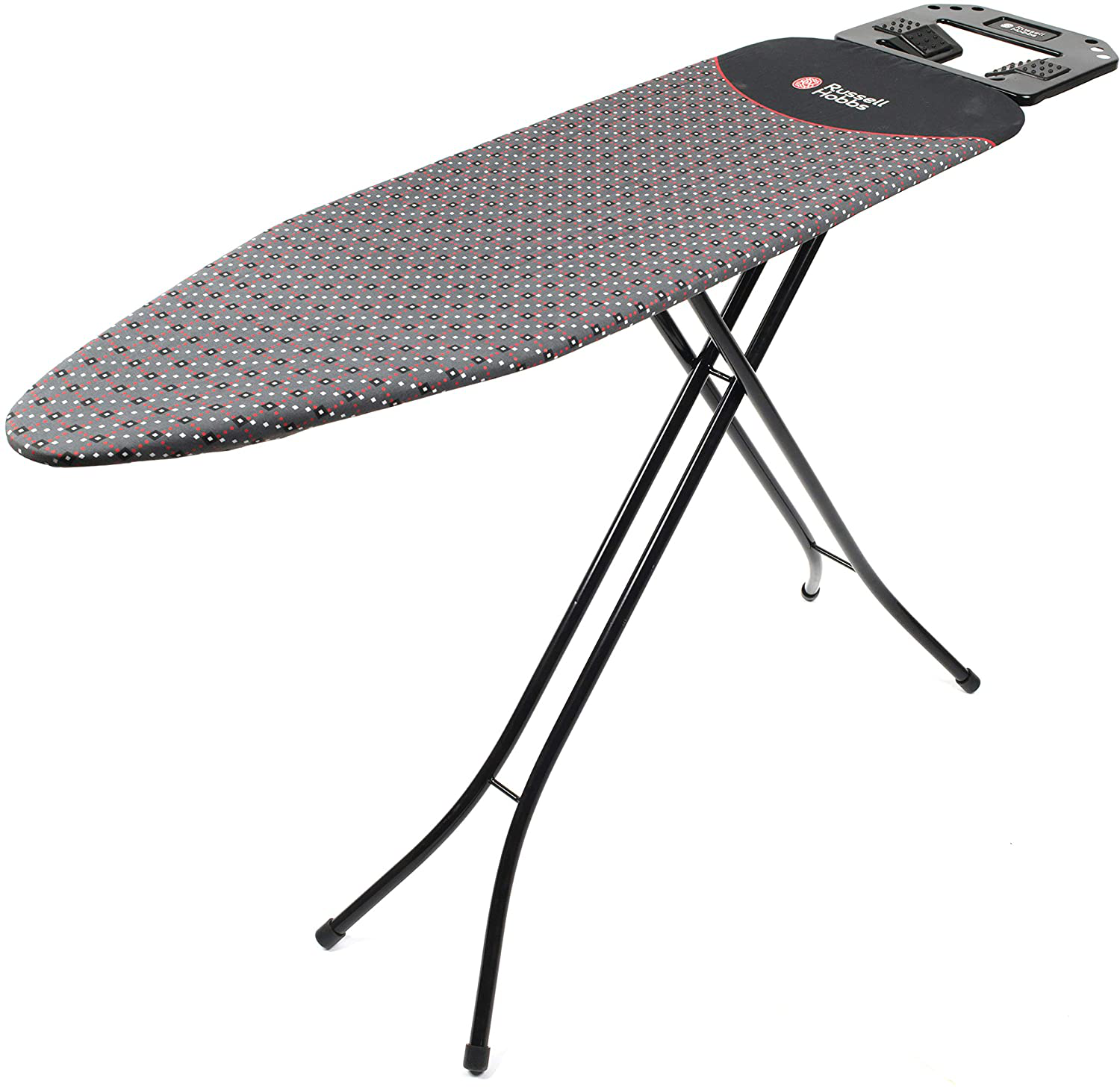 The LA038630BLK is compact and offers great value for money. Its cover comes with a well-suited pattern to modern homes with an eye-catching design, has an extra-large iron rest, and is handy for storing away.
On the other hand, there's still a risk that especially heavy irons resting on its large iron rest could cause the board to tip. Further, since it's quite small, it won't be a good match for all consumers.
Things we liked
Solid value for money
Compact
Well-suited to modern homes
Things we didn't like
Heavy irons may cause it to tip
Fairly small
Best Extra Wide and Large Surface Ironing Board
ADDIS Really Wide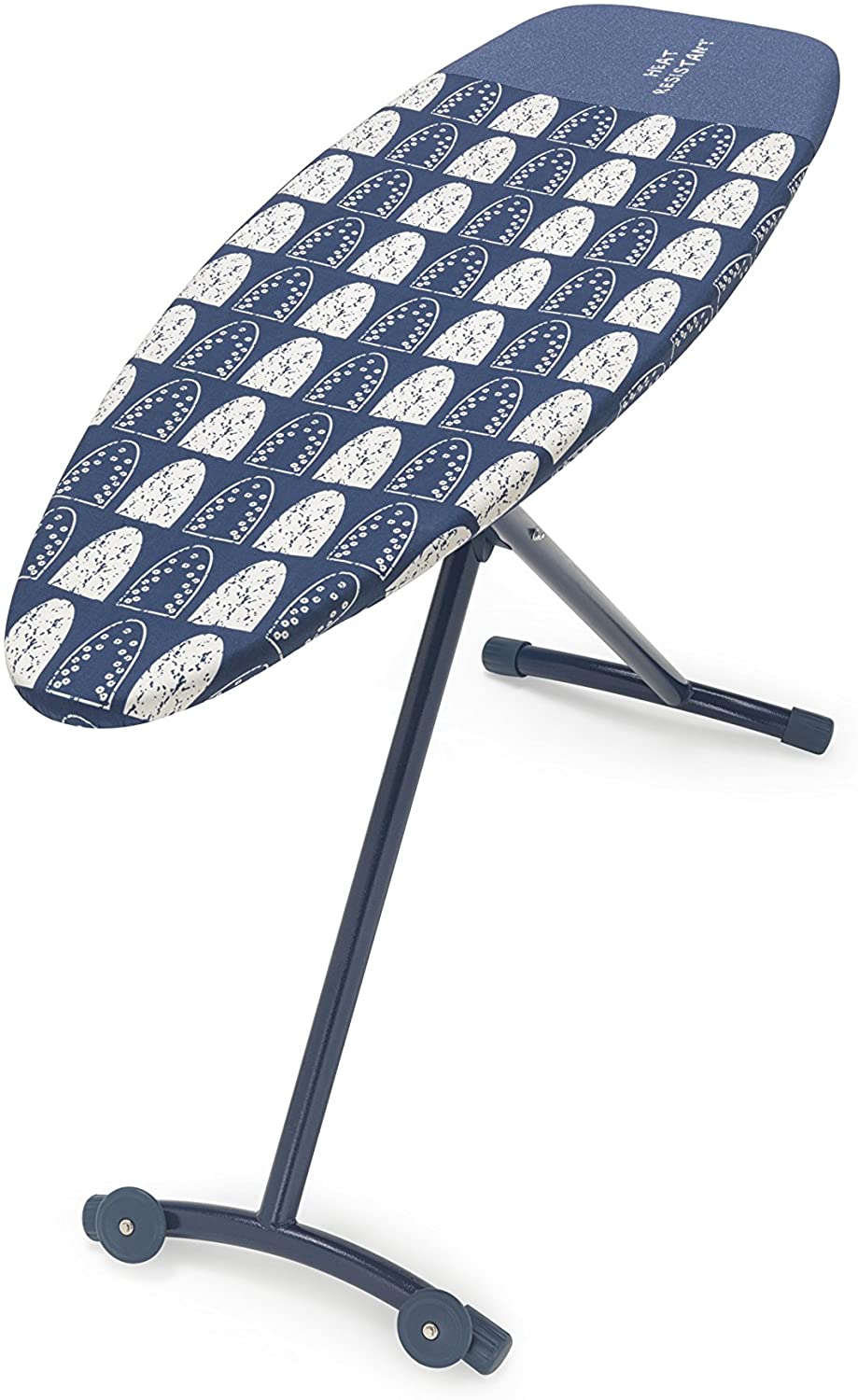 You might want to consider a wide ironing board such as the ADDIS Really Wide to deal with large items such as linen and blankets. It also has helpful adjustable height.
With that said, it's quite heavy and doesn't come with a metal mesh or foam beneath to let steam pass through. The risk here is that heat can get trapped in the cover unless you take the right level of precaution.
Things we liked
Adjustable height
Nice patterned cover
Things we didn't like
A bit heavy
No metal mesh or foam on the underside
Argos Extra Wide Ironing Board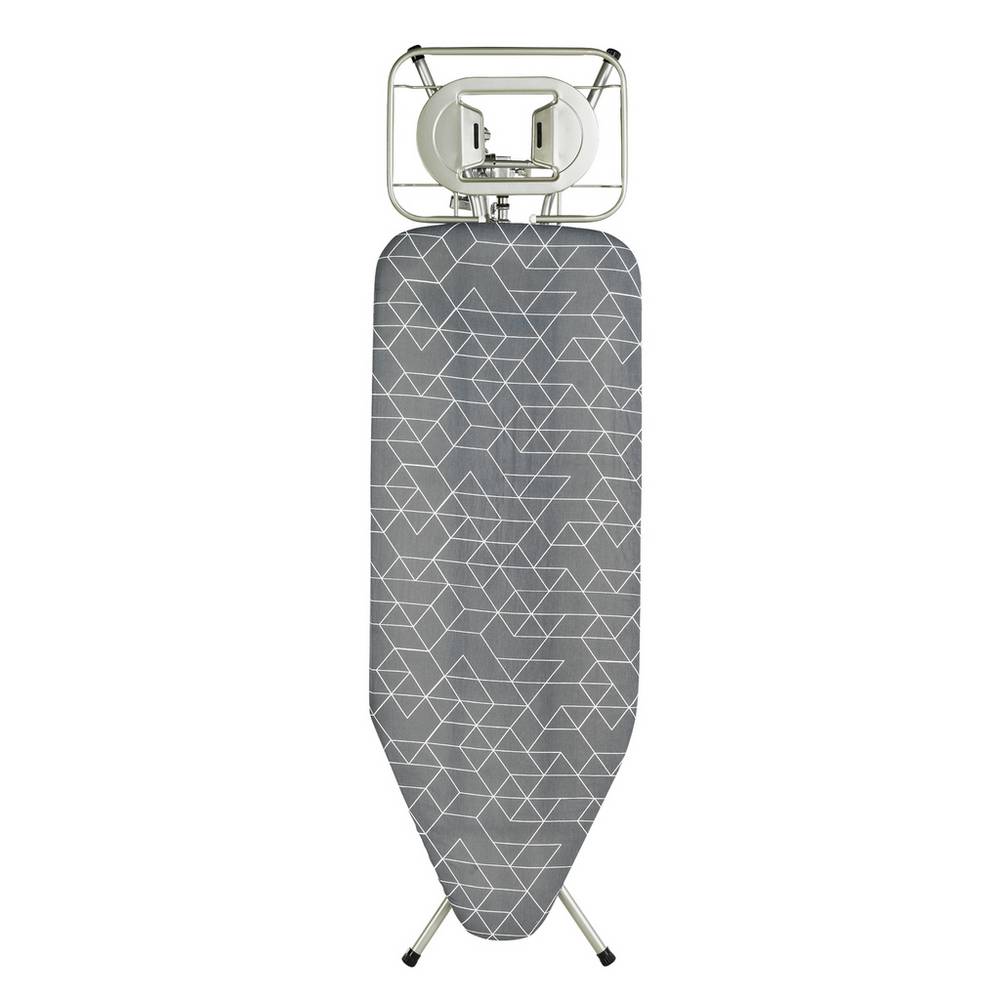 This Argos ironing board is especially wide and comes with a washable cover that is tight-fitting and thicker than many other covers. It's also pretty cheap too. That being said, this product only has four height settings, which is fairly limiting.
Things we liked
Low-costing
Particularly wide board
Washable and tight-fitting cover
Tower Rose Gold Large Ironing Board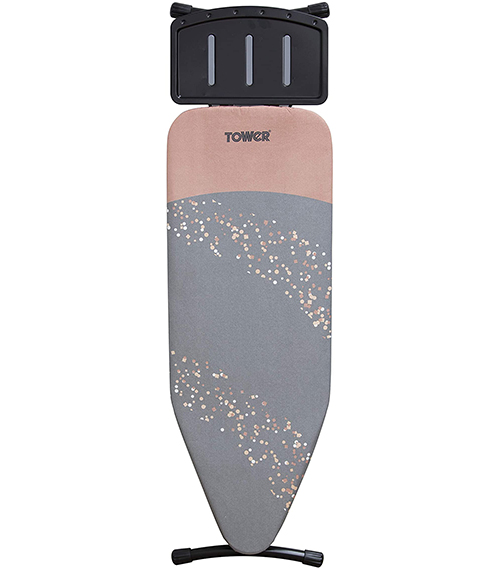 This board is both long and wide, measuring 159cm x 43cm. It's great for people of various heights, it's possible to iron sitting down with it, and this ironing board also comes with wheels!
In addition, this board has non-slip rubber feet and is suited to use with steam generator irons. However, it is more so on the expensive side.
Things we liked
Great for people of many heights
Possible to iron while sat down
Comes with wheels
Has non-slip rubber feet
Suited for steam generator irons
Minky Expert Ironing Board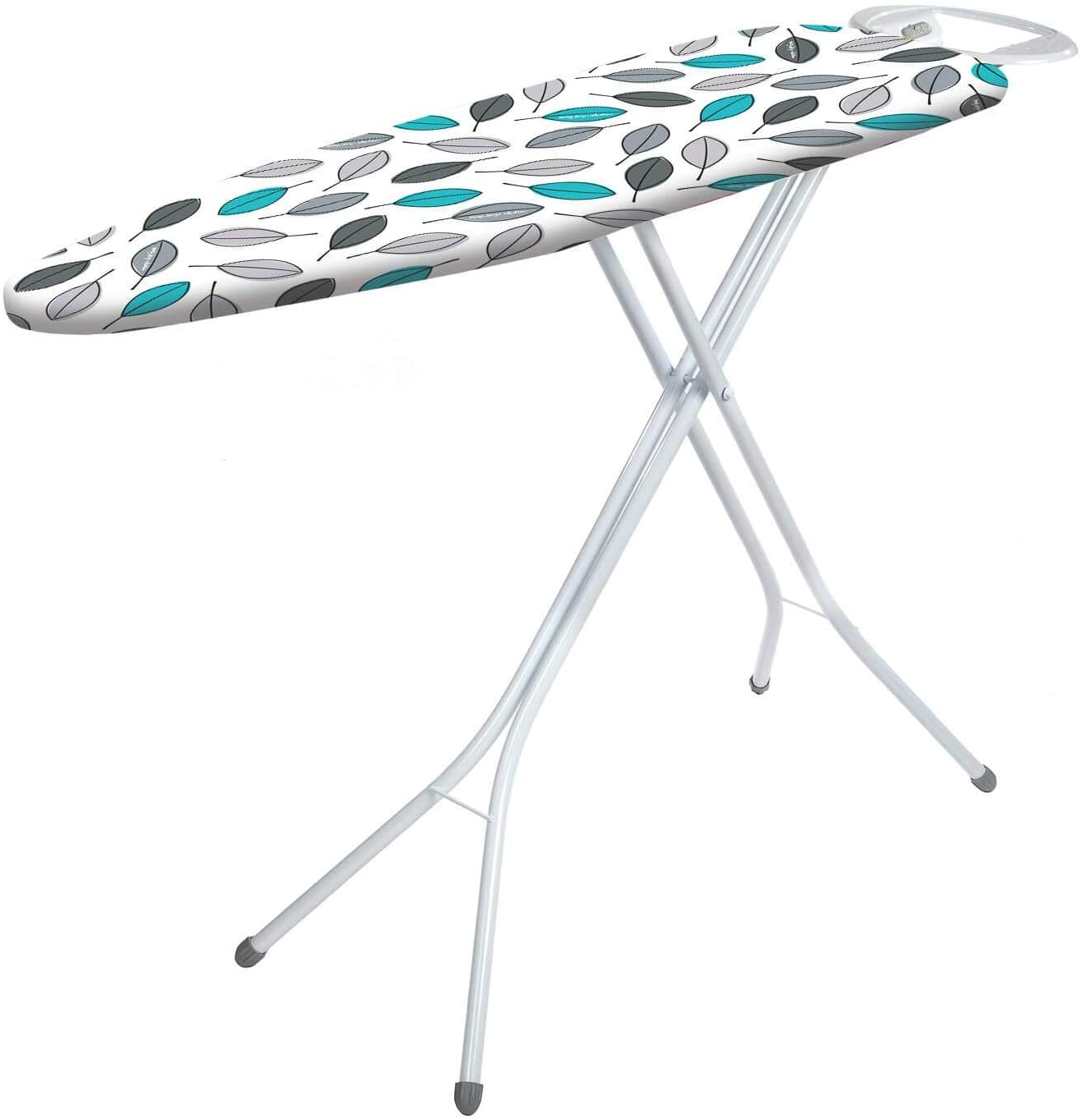 You get a surface area of 122cm x 38cm with the Minky Expert ironing board. It comes with an angled arrangement, a foam backed cover and steamflow mesh, and it is overall a lightweight and yet sturdy ironing board.
On the other hand, some users have reported that the board's a bit unstable/wobbly. The mesh cover can also be a bit awkward as it can get in your way while ironing.
Things we liked
Angled arrangement
Foam-backed cover
Steamflow mesh
Lightweight
Sturdy
Things we didn't like
Mesh cover can be a bit irritating
Board may be a bit wobbly
Best Lightweight Ironing Board
Lightweight Steel Folding Ironing Board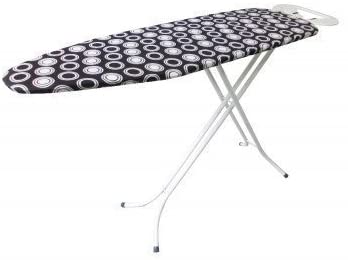 This product is more so an array of ironing boards, with three different sizes to choose from. This ironing board from FunkyBuys is foldable, its surface is even and wide, and it has an automatic locking mechanism.
This board's feet also come with a non-slip feature. However, it can get a bit wobbly, and some consumers have reported the board not being as solid as they'd hoped.
Things we liked
Easy to transport
Foldable
Even and wide surface
Non-slip feet
Minky Ergo Ironing Board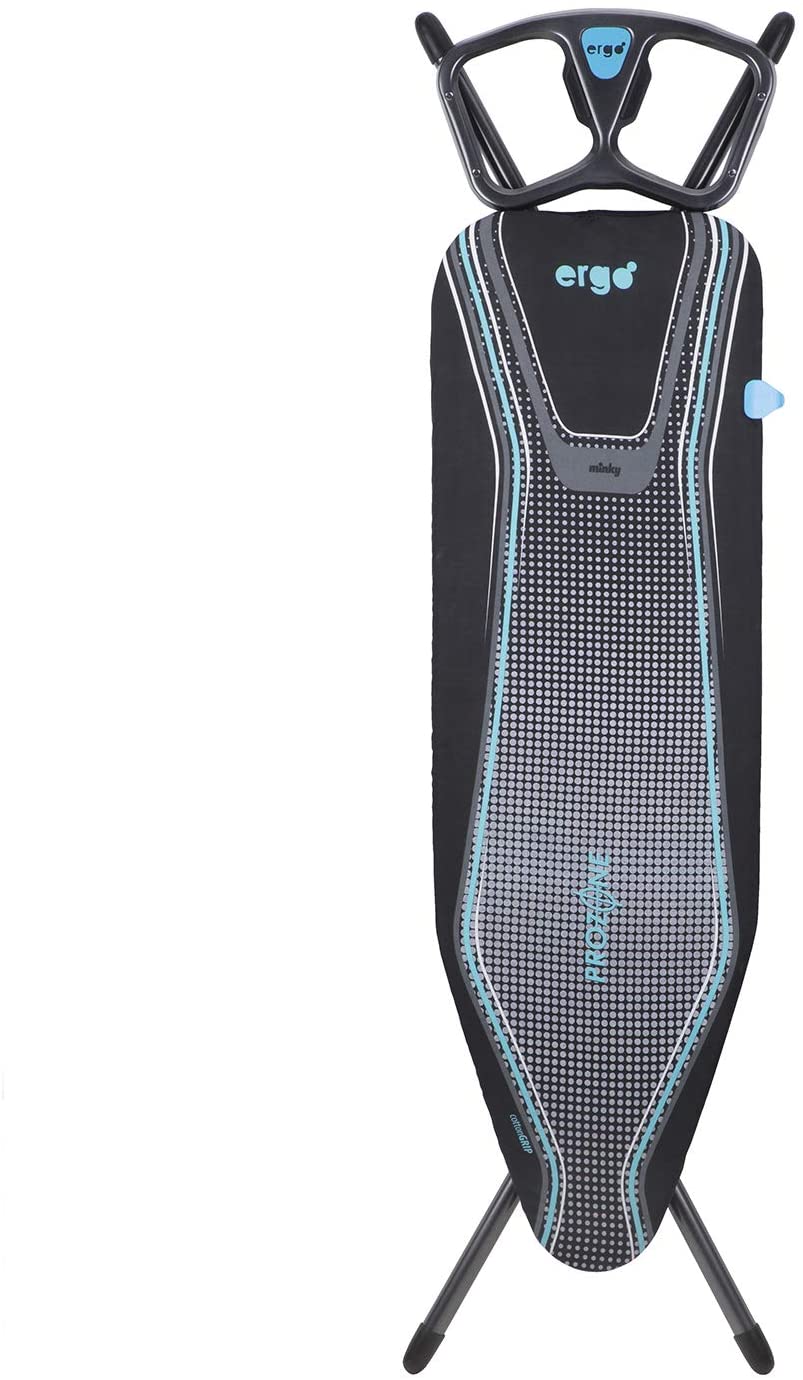 This neat, stylish, and ergonomic ironing from Minky is great for both left- and right-handed individuals. It also has a Flex guide, which is a feature designed to stop the cord from tangling and snagging.
It has a solid and firm construction, the cover is helpful in achieving smooth, rapid ironing, and it is height-adjustable of up to 92cm.
There has, however, been consumer reports that it isn't the most comfortable product on the market, and the legs can get a bit uneven, resulting in some wobble.
Things we liked
Flex guide feature
Great construction
Adjustable height
Addis Cirrus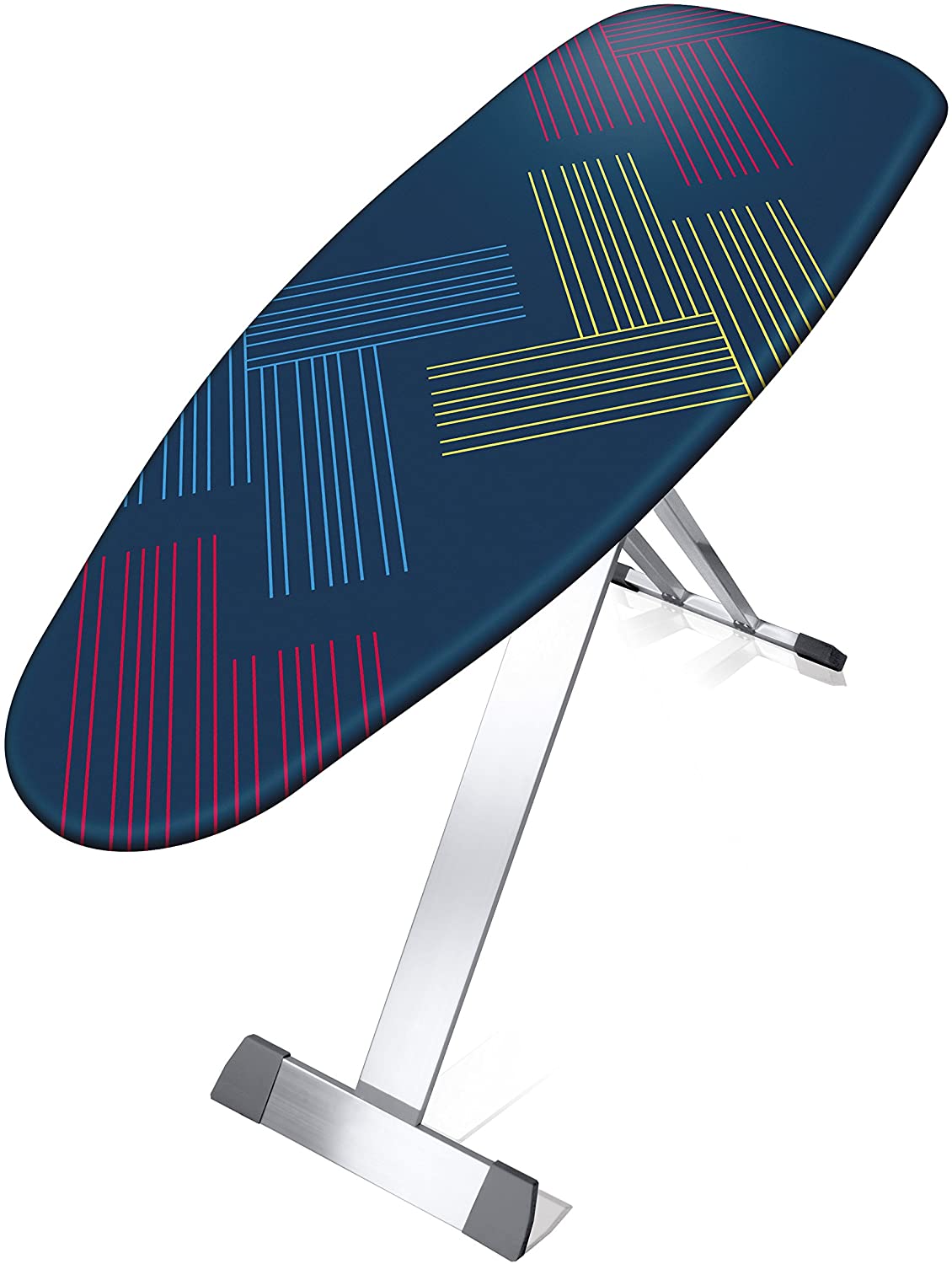 This ironing board is particularly lightweight thanks to its use of aluminium instead of steel. It weighs just 4.6kg.
Beyond that, the Addis Cirrus is highly rated, comes with a total of seven height positions (ranging from 70cm to 95cm), and it has a 100% cotton cover designed to sit atop two layers made of felt and foam.
This provides you with a cushioned and even surface to iron on. With that said, it comes with no iron holder.
Things we liked
Highly-rated
Very lightweight
Seven height positions to choose
Cushioned and even surface
Best Small Ironing Board
Xabitat Deluxe Ironing Board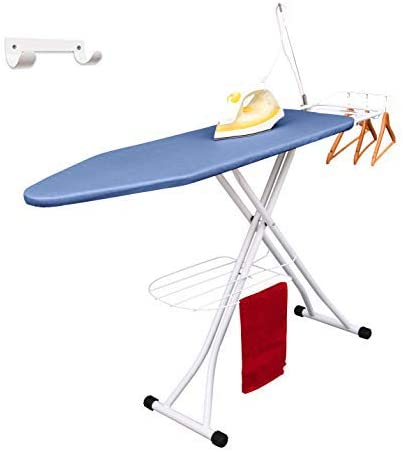 With the Xabitat Deluxe Ironing Board, you get an adjustable height feature, iron harness, non-slip feet, cord holder, and a useful clothes rack.
It also comes with a three-layer heat-proof cover and a free wall mount. But, on the other hand, for a small ironing board, it doesn't have wheels, and it's not large enough to iron bedding.
Things we liked
Adjustable height feature
Non-slip feet
Three-layer heat-proof cover
Things we didn't like
Lack of wheels
Not suitable for bedding
Beldray LA023735IKATEU7 Table Top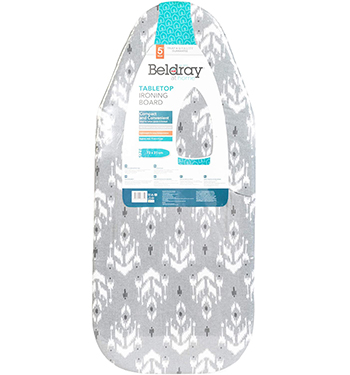 This Beldray product is an example of a small table top ironing board.
It's great if you'd rather sit down while ironing, as well as being light, portable, brightly coloured, and using a 100% cotton cover that is both soft and dynamically round in shape.
Things we liked
Lightweight
Portable
Good cover
Things we didn't like
It might not be as easy to find at all times
Easy-Store Mini Ironing Board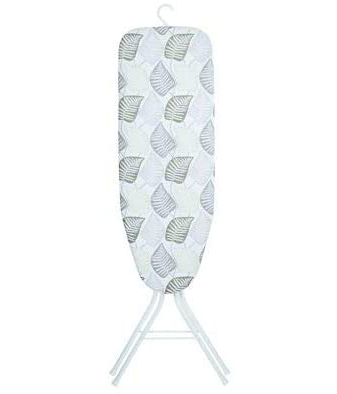 This small but effective board from Easy-Store comes with a hanger hook so that you can store it away in a wardrobe.
It's lightweight (as you'd expect), great for fast ironing jobs, and comes with a five-year warranty. However, it's not that cheap, given that it's a mini ironing board.
Things we liked
It can be stored away in a wardrobe
Lightweight
Fantastic for rapid ironing jobs
It has a five-year warranty
Vileda Carino Table Top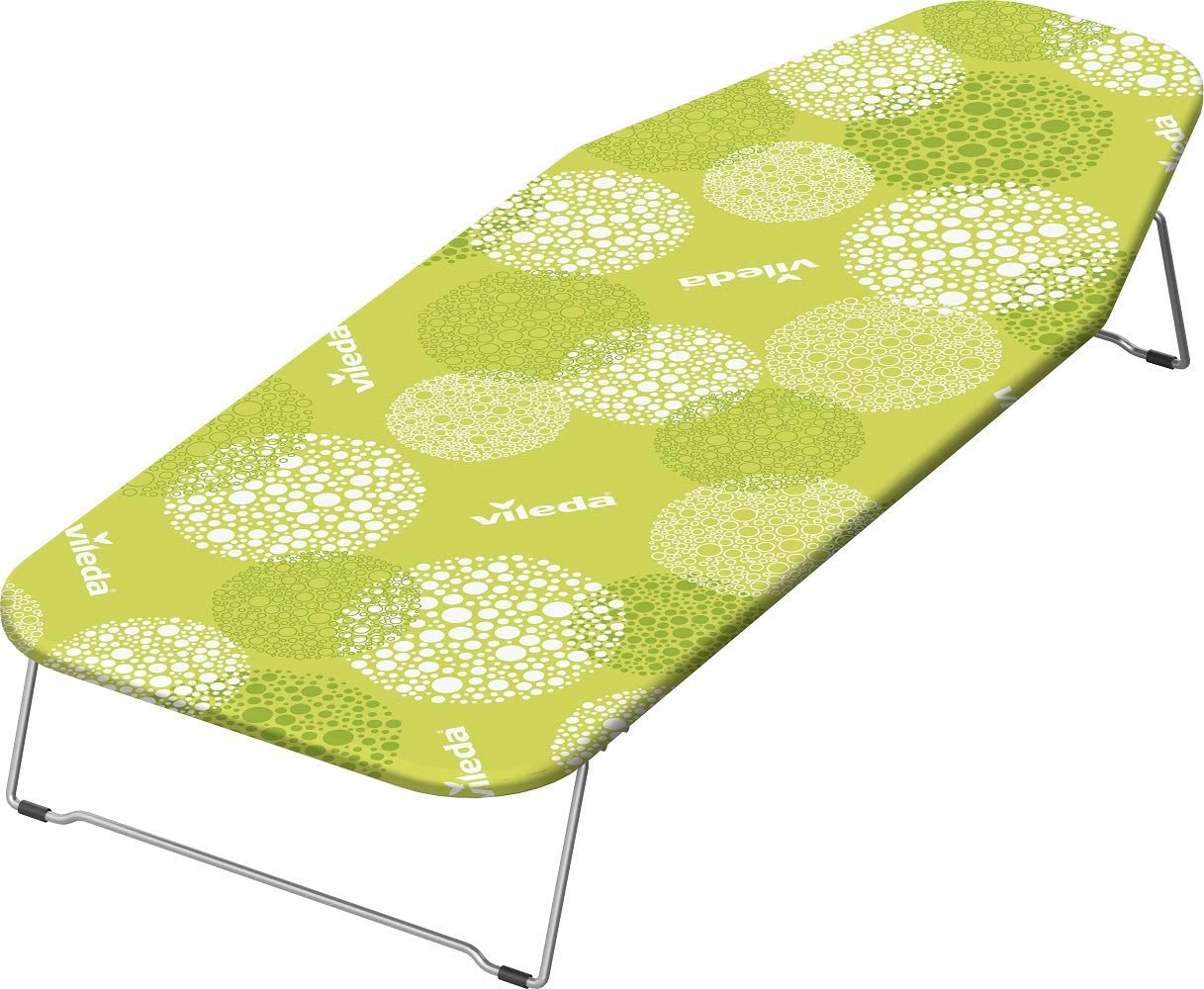 For an exceptionally lightweight and versatile option, consider the Vileda Carino Table Top ironing board. It weighs a mere 1.6kg, is very easy to store, and has a well-padded cover. However, it's obviously not a great option for large families.
Things we liked
Extremely lightweight
Super easy to put away
Things we didn't like
Not suited to large households
What to Consider Before Buying an Ironing Board
There's a few points you should take on board (no pun intended) before deciding on what product to buy. But, first, let's have a look at some common examples.
Height
It's obviously very important that you buy an ironing board that will suit your height. There's always a risk that if someone is taller than average, they could end up buying a board that forces them to bend over a bit. Thankfully, there are many tall ironing boards on the market and plenty with an adjustable height, which is pretty much ideal.
Size
Some ironing boards have a larger surface area than others, and while some boards can cover pretty much all linen, other products will not be as well-suited to larger items such as bedding. So it's vital that you think about this when making a choice. Of course, the size of the ironing board is also relevant to how easy it will be to store.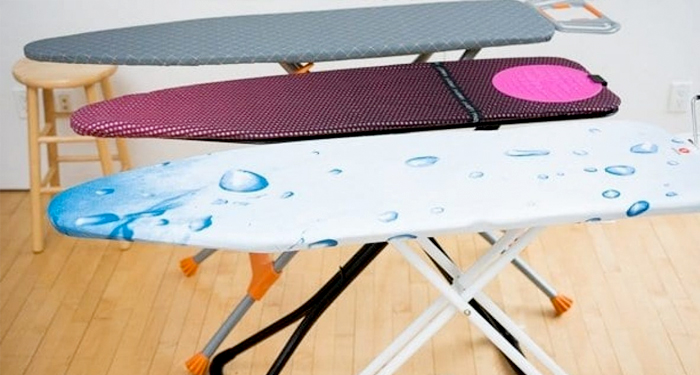 Weight
The issue of whether an ironing board is lightweight or not is more so an issue of convenience. You want to avoid carrying around a board that is too heavy and therefore awkward and a bit of a strain to move to and from its ironing board storage.
Price
Depending on what you're willing to spend, the price will generally correlate with the ironing board's quality, size, and versatility. Overall, ironing boards are generally not too pricey and rarely cost more than £150 (plenty are available for under £100).
FAQs
How do you measure an ironing board?
Rather than wrapping the tape around the board, it's best to measure the board's width from its widest point. You could try taking a few different measurements and extrapolating averages of width and height before getting an estimation.
Who invented the ironing board?
Sarah Boone invented the ironing board in the late 19th century. Boone was a former slave who went on to develop the modern ironing board in 1892.
How long does an ironing board last?
Most ironing boards should last for several decades.
What's a reasonable price to pay for a decent ironing board?
On average, somewhere between £30 and £100 would be an okay price range. Of course, you could end up spending in the range of £100 to £300 if you wanted a very high-quality product.
Is it possible to get a wireless iron?
Yes, wire-free irons do exist, and many can be found in stores or online.
Sources