cleaning & laundry
Best Steam Iron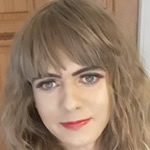 Want to know what the best steam iron on the market is?
In this guide, we'll look at the top products out there as well as explain the various types of steam iron that exist, among other relevant topics.
We've reviewed the top-rated steam irons out there to help you make the right choice when it comes to buying. Whether you're looking for a steam iron with crease protection or you're on a budget we've got you covered!
Anyone considering buying a steam iron either now or in the future will find this guide incredibly useful.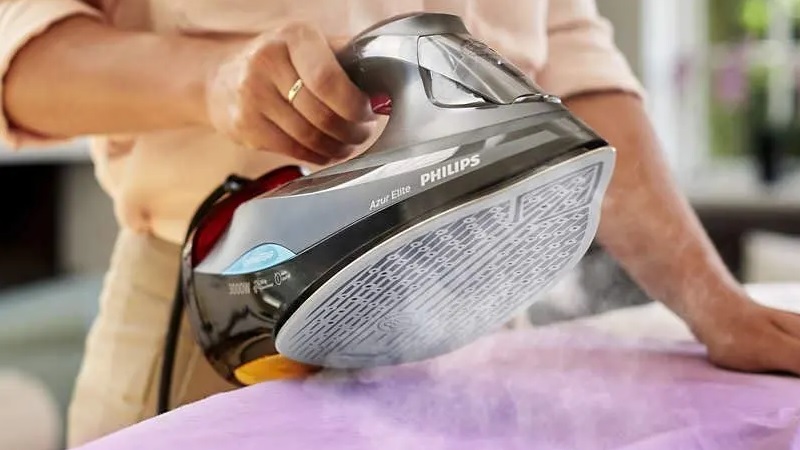 What Is a Steam Iron?
A steam iron is a fairly small appliance that turns water into steam, which can remove creases from linen when pressed down onto it. People use steam irons to quickly and effectively remove creases from their clothes and other linen.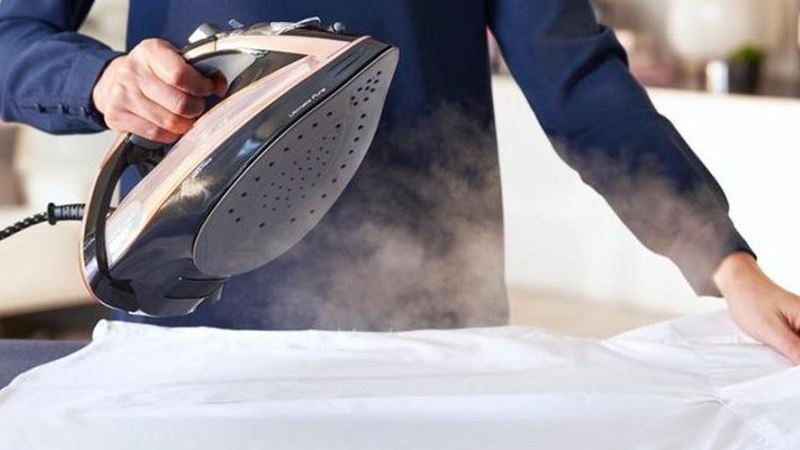 They've been a common feature of households since the 1940s and '50s.
Their operation temperature tends to range from 120° and 180°.
How Does a Steam Iron Work?
Ironing functions by loosening bonds that exist between the polymer molecules (that come in the form of long chains) in a material's fibres.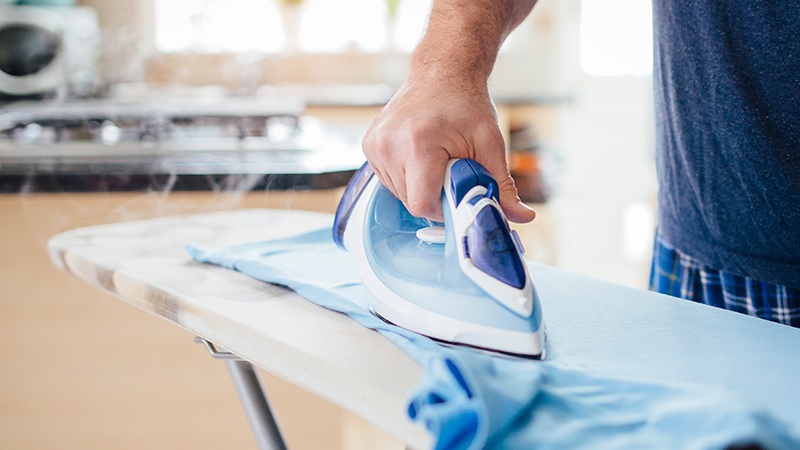 When the molecules become hot, the weight of the iron straightens them out. The new creaseless shape remains once the linen cools.
Types of Steam Iron
We'll now at the different types of steam irons.
Cordless Steam Iron
Put simply; this is a battery-powered steam iron. Rather than relying on a plug that needs to kept in to work continually, a cordless steam iron is easier to move and more straightforward to iron with. Not only that, but they tend to be lighter than one with a cord.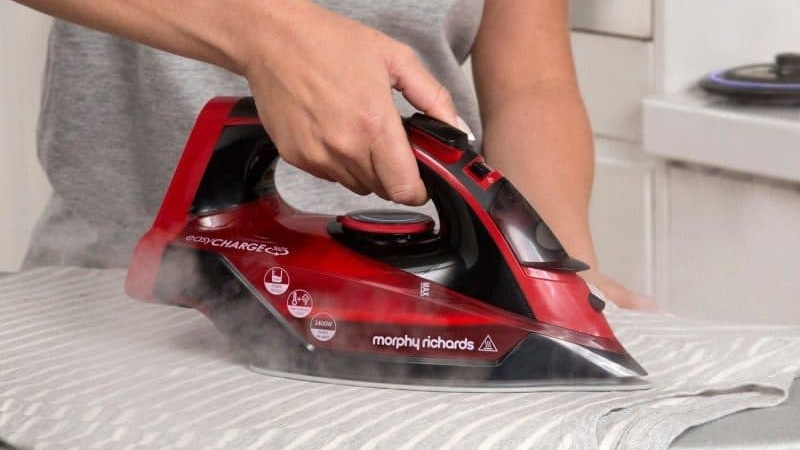 However, cordless irons tend to produce less heat than their corded counterparts. They do, of course, have a limited battery time, as well as poor heat retention.
Steam Generator
Steam generator irons are powerful and effective irons. They come with large quantities of high-pressure steam, it may cut regular ironing time in three, and there is no requirement for constant water refills.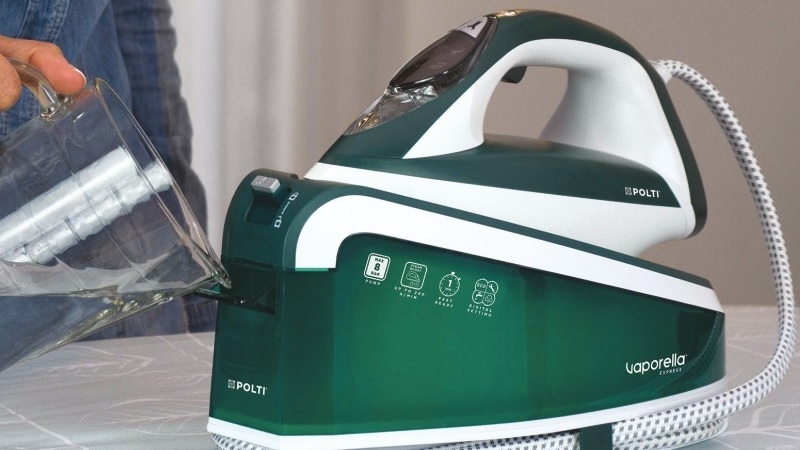 However, steam generator irons take more time to heat up, are more costly, and their base unit will be relatively large. Further, when water is being heated up and circulated, it'll be a bit louder than you'd expect from a conventional iron.
Heavy-duty Steam Iron
This type of iron can be used to get through mountains of clothes and fast. Heavy-duty steam irons are great for all-day ironing and have a continuous supply of steam.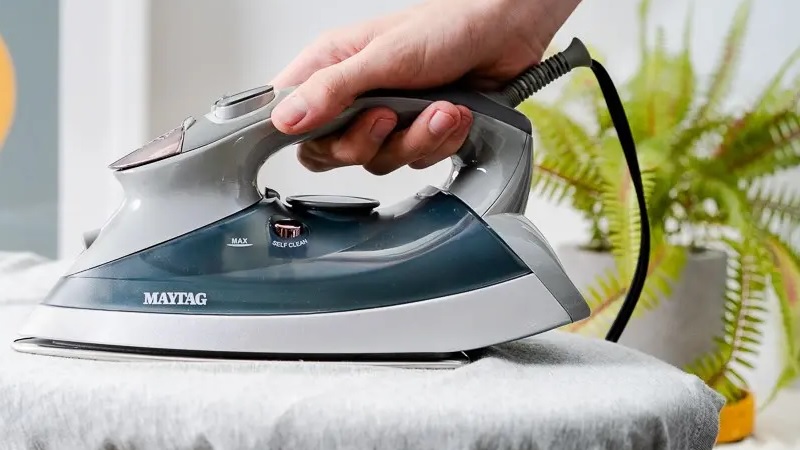 Although, it should be noted that they tend not to come with an auto-shut-off.
Pressurised Steam Iron
This is basically a steam iron that uses higher pressure levels than others. It helps irons penetrate more deeply into the fabric. With a large water-filling inlet refills are made easy and time-efficient.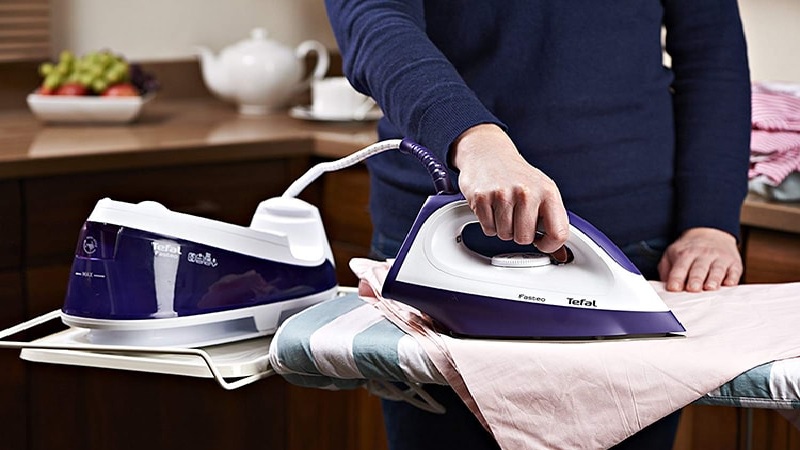 They also tend to be more powerful than non-pressurised irons.
Non-pressurised Steam Iron
Alternatively, non-pressurised irons are those with lower pressure levels. While they are less effective and powerful than their pressurised counterparts, they do tend to be cheaper.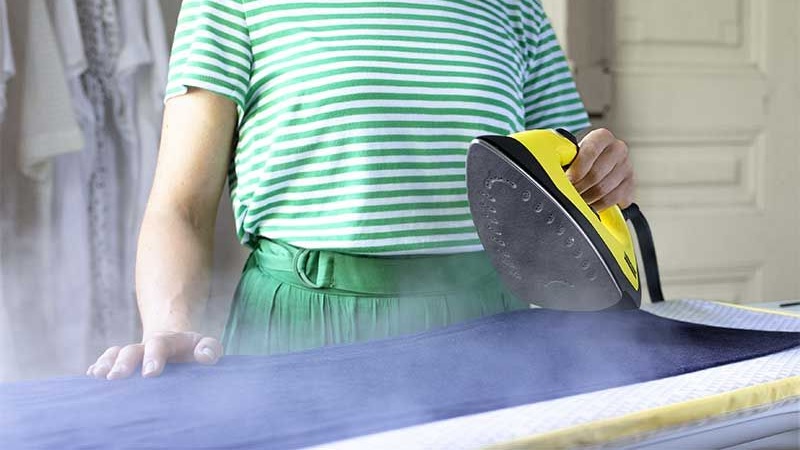 The steam output is higher since the steam is not, as you'd imagine, that pressurised.
Best Steam Iron
We'll now discuss the best steam irons that can be found on the market with the following steam iron reviews. In each, we'll look at why the product is a great choice and layout its pros and cons (even the best aren't perfect).
Best Cordless Steam Iron
Non Stick T22008 Cordless Iron by Tower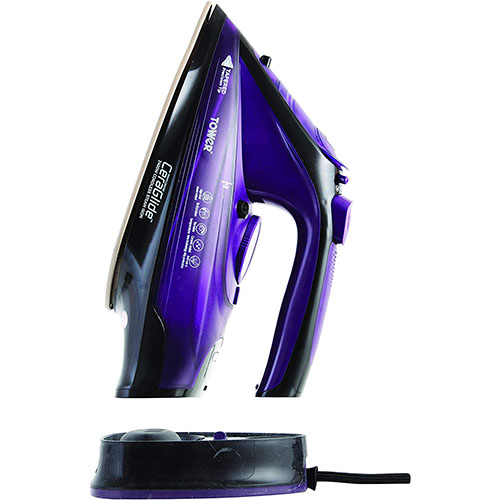 This versatile cordless steam iron has a 360ml water tank capacity. Its powerful crease removal with 2400 watts of power backing is achieved within half a minute of heating up.
Its ceramic soleplate is also multilayered and offers an easy and smooth glide that removes creases. It has a one year guarantee but an extended two-year warranty after registering.
Things we liked
Durable and long-lasting
Design is quick charging
Low-maintenance
Precise and effective steaming
User-friendly
Things we didn't like
Somewhat wobbly/unstable charging base
Wireless Portable Steam Iron by Yuanyuan520
This portable green iron features an anti-drip system to keep the risk of unwanted leakage to a minimum (regardless of the temperature), anti-calcium qualities, and a sizable U-shaped ceramic soleplate. Further, this iron has an anti-skidding handle that is easy to use and comfortable when holding. This portable steam iron also comes with self-maintenance systems.
Things we liked
Fast-charging
Good levels of energy efficiency
Ease-of-use
Five-speed settings available
Self-maintenance systems
Morphy Richards 303250 Cordless Steam Iron
This Russell Hobbs iron charges in only five seconds. The 23300 creates steam in less than 30 seconds and can provide 40 grams a minute. With its boost steam shot, it can offer 135g of steam.
There is also a light indicator on the base that lets you monitor the status while using the iron. It also has a 300ml water tank.
Things we liked
Fast-charging
Monitoring the water level is straightforward
Heavy-duty product
Steam boost mode
Vertical steam
Things we didn't like
Water can drip on occasion
Swan 2-in-1 Cord or Cordless Steam Iron Press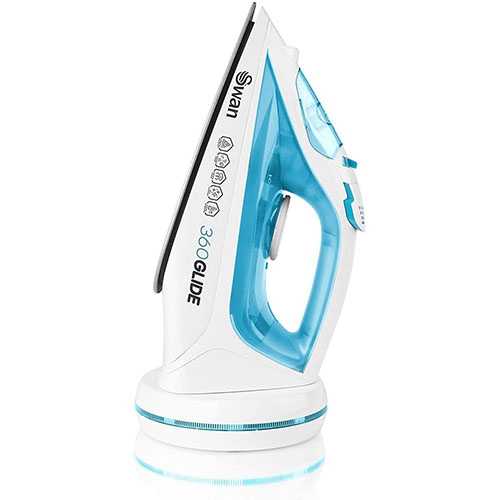 The Swan 2-in-1 is a strong choice if you're looking to purchase a steam iron press. It's backed by 2800 watts of power, making it a fast and effective iron.
It comes with variable steam functions, a long life expectancy, and a non-stick ceramic soleplate. It is, however, a little heavy when used with a cord.
Things we liked
Powerful and effective
2-in-1 product
Variable steam functions
Non-stick ceramic soleplate
Best Steam Generator
Morphy Richards 332017
This Morphy Richards iron is straightforward but both efficient and effective at the task. It offers three steam settings, including a maximum option to take on especially stubborn creasing.
It has 6.5 bars of steam pressure, 2400 watts of power behind it, 190g of continuous steam output, and a 2200ml water tank capacity. Among its add-ons is its indicator light for low water.
Things we liked
Easy to use
Energy efficient
6.5 bars of steam pressure
Low-water indicator light
Things we didn't like
The handle is a bit chunky
Bosch Serie 8 VarioComfort TDS8030GB
The TDS8030GB has an 1800ml water tank, 120g a minute steam output, and a steam boost of 480g a minute. Bosch's iTemp feature offers one temperature setting for any fabric.
There is also a rear temperature selection panel. However, if you'd prefer to go with a specific fabric setting, whether it be wool, synthetics, silk, linen, AntiShine, or otherwise. It can reach operating time within two minutes also.
Things we liked
Not too costly
1800ml water tank
Steam boost of 480g a minute
120g a minute steam output
Things we didn't like
Not as high-quality as some of the Philips products
Best Heavy-Duty Steam Iron
Philips Azur Steam Iron
This fairly cheap iron is backed by a strong 2600 watts of power, features a 300ml tank, and is both easy to fill and empty. Further, the Philips Azur Steam Iron is well-designed, and it comes with features like a limescale catcher and a drip-stop. This iron is perfect for getting through large heaps of linen.
Things we liked
2600 watt iron
Good design
Easy to fill and empty
Helpful features
The Funky Appliance Company Grey Funky Iron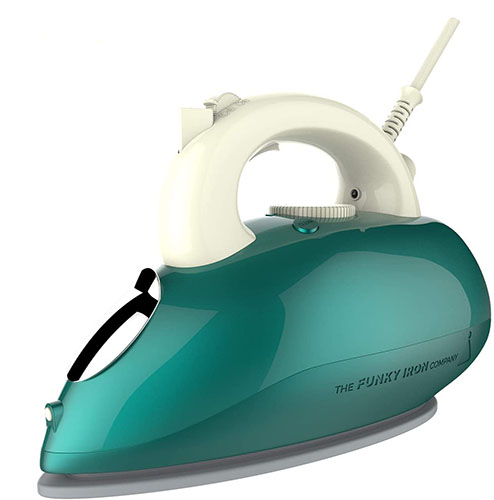 This stylish iron is well-designed for large households and can deal with plenty of linen in a relatively short span of time. It's powered by 2400 watts, has a steam rate of 45g a minute, and a 450ml water tank.
While it takes longer to heat up than many other products, it's effective and decent value for money. It also comes with a heat-resistant silicone pad and water jug to rest the iron. You also get a two-year warranty and a safety auto-shutoff with this iron.
Things we liked
2400 watts of power
Great for a large household
Two-years warranty
Safety auto-shutoff
Things we didn't like
It doesn't heat up as quickly as plenty of other products
Bosch TDA3020GB Power III Steam Iron
Another powerful option is the TDA3020GB from Bosch. It offers high steam production, a reliable and durable soleplate, self-cleaning qualities, and it's also quite easy to glide.
With that said, this Bosch steam iron can suffer from intermittent water leakage, and its heating capacity is not the greatest.
Things we liked
High steam production
The reliable and durable soleplate
Self-cleaning
Glides with ease
Things we didn't like
Water leakage can occur
Heating capacity is not the best
Best Pressurised Steam Iron
Morphy Richards Saturn Steam Pressurised Iron 305000
This 2400 watt iron is considered a hybrid iron and is a great alternative to steam generator irons while being relatively small in size. Despite this, it is a little heavy.
It comes with a pressurised pump, allowing a constant flow of steam. It is decent at removing creases. The 305000 comes with a good performance, design, and very helpful and easy to understand instructions. It's also relatively quiet.
Things we liked
Easy to use digital control panel
Continuous water spray
Things we didn't like
Very difficult to see the water level via the tank
It doesn't glide so smoothly
The water spray button could be bigger
NAHANCO DG5030 Rowenta's Steam Generator Iron
For a compact and high-pressure steam generator iron, you should consider the DG5030 from NAHANCO. It offers very smooth gliding as well as a precision tip. This is great for getting to difficult to reach areas. It has a 1200ml water tank, is great for thick fabrics, and offers an hour and a half of ironing time.
However, its auto shut-down mode is arguably a bit too fast. The DG5030 provides four bars of steam pressure.
Things we liked
Especially smooth gliding
Great for reaching difficult to reach areas
An hour and a half of ironing time
Things we didn't like
Auto shut-down mode is fairly quick
Philips PerfectCare Elite GC9650/80
This efficient and user-friendly steam generator iron from Philips has a 1800ml water tank, steam boost of 500g a minute, a steam output of 150g a minute, and OPTIMALTEMP technology as a way to prevent burning clothes. It provides a strong 7.5 bars of pressure.
Things we liked
Ease-of-use
Energy efficient
Anti-burn technology
Things we didn't like
Not the largest water tank
Best Non-pressurised Steam Iron
Dupray Steam Iron Steam Generator Iron
This standout product provides the ability to iron, sew, and quilt. This 3-in-1 iron offers as much as 120g of steam every minute, temperature control, an anti-drip soleplate, and a comfy cork handle too.
This Dupray steam generator iron offers 3.5 bars of steam pressure, an hour of ironing time, and a 1000ml tank capacity. However, it does lack a water gauge, and you have to wait until it cools down before refilling water.
Things we liked
Great steam output level
Comfy cork handle
Temperature control
Anti-drip soleplate
Things we didn't like
Water must cool before being refilled
No water gauge
Breville PressXpress 2400W VIN410
The VIN410 has a 1700ml water tank, five bars of steam pressure, a continuous steam output of 100g, a steam shot of 230g, and 2400 watts of power. This is a great budget option as for an iron of its quality, it's available for a relatively low price tag.
Its water tank is easy to empty and refill, and its controls are straightforward to use also. With that being said, this Breville steam iron reportedly has slightly inconsistent temperatures at times, and its steam flex is a bit short. All in all though, this is a top-notch product.
Things we liked
Budget-friendly
1700ml water tank
Easy to empty and refill the tank
Things we didn't like
Temperatures can be inconsistent
Steam flex a little short
Tefal Ultimate Pure FV9845
The FV9845 has an attractive, slick, and modern design. It's easy to use and comes with helpful instructors. Beyond that, this Tefal steam iron has a 350ml water tank capacity, 60g steam rate, 260g steam shot, and a whopping 3100 watts of power. However, it's quite heavy, a challenge to empty and refill, and a bit bulky for storing away.
Things we liked
Nice and modern design
3100 watts of power
Glides across fabrics very easily
Water maximum can be seen
Things we didn't like
Fairly heavy and bulky to put away
Difficult to empty and refill
Best Self-cleaning Steam Iron
Quest 2200W Steam Iron
This professional steam iron offers great value for money with variable temperature control, a non-stick soleplate, and a 230ml water tank. As for its self-cleaning abilities, it can remove scale and impurities by itself.
This Quest steam iron also features a two-metre power cord to ensure you won't always have to set it up right next to a socket.
Things we liked
Industrial-quality steam iron
Great bang for your buck
Variable temperature control
Things we didn't like
Some better products out there
Dcenta Steam Iron
Another iron with good self-cleaning capabilities is this option from Dcenta. This product provides 2400 watts of power, a 320ml water tank, a safety 3-way motion smart auto-off, and it's straightforward to adjust both steam and temperature. It's a fairly hi-tech iron too with a HD LCD screen.
Beyond that, the Dcenta Steam Iron comes with a stainless steel and ceramic soleplate, is suited to a variety of fabrics, and it can heat up quickly.
Things we liked
3-way motion smart auto-off feature
Easy and comfortable to iron with
HD LCD screen
Heats up fast
Things we didn't like
Lacks some power and quality over the highest quality options
iTanila Steam Iron
With this iron, you get an advanced ceramic soleplate, 2500 watts of power, a self-cleaning function, an auto shut-off feature, and an anti-scale function too. Further, it comes with anti-drip qualities, a large 260ml water tank, and five temperature control modes.
The iTanila Steam Iron can also produce continuous steam in under 15 seconds and offers a steam output of 180g per minute. Among the advantages of its self-cleaning function is that it prevents the soleplate from calcifying, which will expand the iron's life expectancy.
Things we liked
Auto shut-off feature
260ml water tank
Five temperature control modes
Things we didn't like
Not the highest quality iron
Best Travel Steam Iron
Rowenta DA1560 Travel Steam Iron
This compact, 1000 watt steam iron is provided by Rowenta, one of the best steam iron brands worldwide. The DA1560 is a 1000-watt product that comes with a stainless-steel micro steam soleplate as well as an adjustable temperature.
It comes with a vertical-steam option, dual-voltage switch, and a two-ounce transparent water tank. It's also compact and features a one-year limited guarantee. With that being said, it does take quite a bit of time to cool down.
Things we liked
Top-notch brand
Stainless steel micro steam soleplate
Light and compact
Things we didn't like
It doesn't cool down that quick
Steamfast SF-717 Mini Steam Iron
Another small but useful iron for travel purposes is the SF-717 from Steamfast. This steam iron has a fast heat-up time (about 15 seconds), has 420 watts of power, dual-voltage convenience, and sanitisation qualities.
This mini steam iron also comes with a non-stick soleplate, anti-slip handle, three different temperature settings, and rapid heating. In addition, the SF-717 comes with a travel bag and plastic measuring cup to make life easier. You also get a two-year guarantee with this steam iron.
Things we liked
420 watts of power
Heats up in 15 seconds
Anti-slip handle
Two-years guarantee
Things we didn't like
Steam is released when the SF-717 is held horizontally
It takes longer to remove creases
Utopia Home Steam Iron
Another budget option is the Utopia Home Steam Iron. It's a lightweight and travel-friendly mini iron that can be employed for vertical use to steam clothes while they're on a hanger. You could also use it at home to remove creases from drapes and curtains.
The Utopia Home Steam Iron has a 200ml water tank, a 360° swivel cord, and useful features like an overheat safety protection, variable steam control, a non-stick soleplate, and an adjustable thermostat control.
Things we liked
Compact and lightweight
Vertical use
360° swivel cord
Things we didn't like
Not easy to fix it breaks
The swivel cord is quite short
What to Consider Before Buying a Steam Iron
There's a few points you should take on board before purchasing a steam iron. Let's look at some common examples.
Cost
First and foremost, you should consider your budget for buying a steam iron. Do you want something relatively cheap and under £30? How about something a little cheaper but still under £80? For the highest-end supreme quality irons, you may need to spend over £100.
Self-cleaning Functions
You may prefer an iron with self-cleaning capabilities. This can be more convenient and save you time, although you may pay a little extra if you're after an iron with these functions. Also, of those that can self-clean, some will be better than others.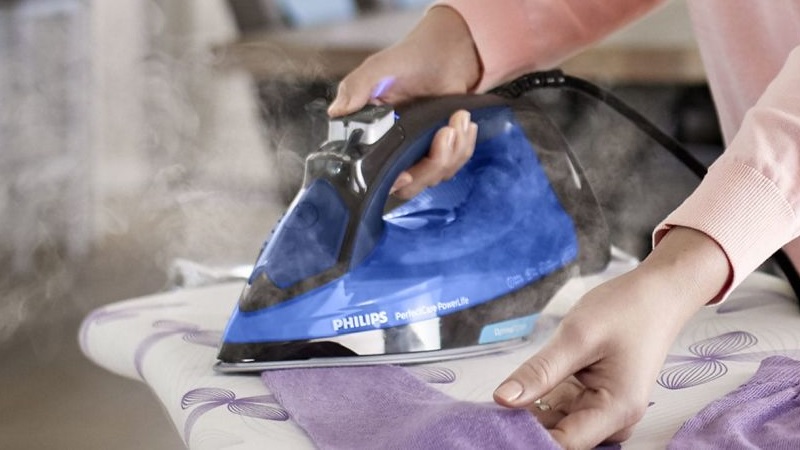 Easy to Use
Some irons are very straightforward and can even be used on any suitable fabric without choosing a specific setting. It's best to find an iron with the right level of complexity for you and your preferences.
Limescale Filter
Having an iron with a limescale filter is a great way to have a highly durable option. Limescale filters are effective and can extend the lifespan of a steam iron. However, those with such filters tend to be more costly.
FAQs
How do you clean a steam iron?
While you should always follow the manufacturer's guidance, there are some common methods generally employed to clean steam irons.
Here is one such approach for cleaning the inside of an iron:
Mix three-quarters of a cup of distilled water with a quarter cup of white vinegar
Plug the iron in and turn on its steam feature
Give it about 3-5 minutes to heat up
Press the steam button
Hold this button until steam is released
Do this about 4-6 times, and then turn off your iron
With a clean cotton swab, safely and cautiously clean the steam vents on your iron
Unplug the iron and give it time to cool down
Empty out your mixture
Use the solution to mix the soleplate of your iron
Where can you buy a steam iron?
Electrical stores are a great place to purchase a steam iron from. It's also worth checking out different retailers, hardware stores, and websites like Amazon.
How long do irons last?
In many cases, they may work for a decade or so, but some die out many years sooner. It will depend on how well-maintained the iron is and a bit of luck. Also, it should be noted that steam generator irons have a longer life expectancy than regular irons.
Is it expensive to buy a wireless steam iron for clothes?
Not really, actually. There are plenty of fairly inexpensive cordless steam irons on the market nowadays.
What is the best ironing board?
One of the strongest options is the Brabantia Ironing Board with Solid Steam Iron Rest.
Sources