bathroom
Best Bathroom Limescale Remover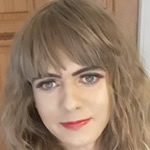 Are you on the hunt for the very best bathroom limescale remover on the market?
This guide will review the top products available in the UK and look at some other applicable topics, like:
How do bathroom limescale removers work?
What are the different types of limescale?
This review guide will prove especially useful for anyone thinking of purchasing a bathroom limescale remover.
We'll also go through what is limescale remover and how to use it effectively.
So, let's continue below...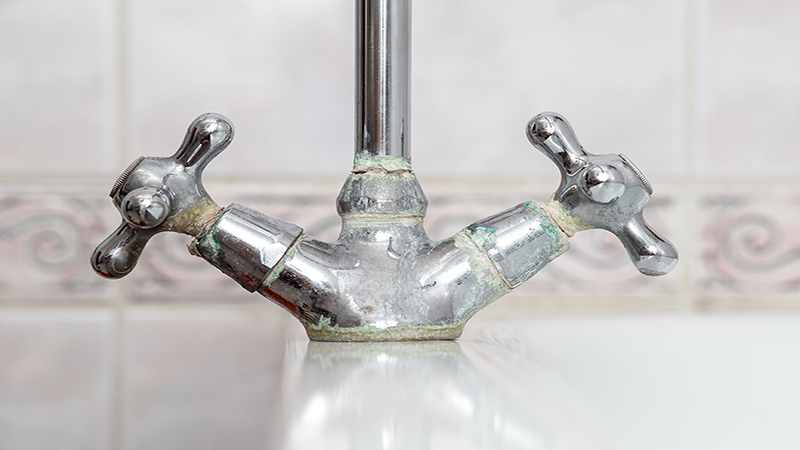 What Is a Bathroom Limescale Remover?
These products, which usually come in a spray bottle, contain chemicals designed to get rid of limescale.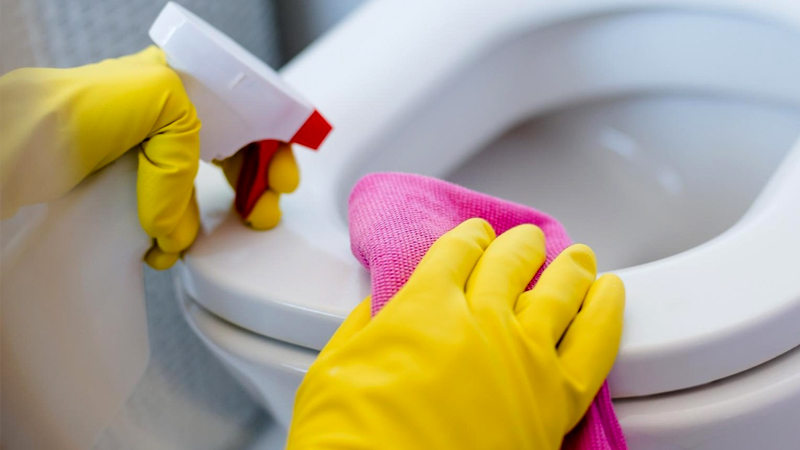 Alternatively, these appliances may come in a liquid form, or more rarely, you may find a mechanical bathroom limescale remover (e.g. a descaling gadget).
How Do Bathroom Limescale Removers Work?
If we're talking about substance-based limescale removers (as is almost always the case), they generally use acids that can react with limescale to create soluble metal salts. These, in turn, can be washed away with ease. The use of this process should remove limescale effectively. How effectively would obviously depend on the product.
Types of Bathroom Limescale Remover
Limescale Remover Spray
These products come in the form of spray bottles. A given bottle tends to have around 500-750ml of limescale-removing chemicals. These products may or may not be the most eco-friendly. It's also possible to find spray gel products.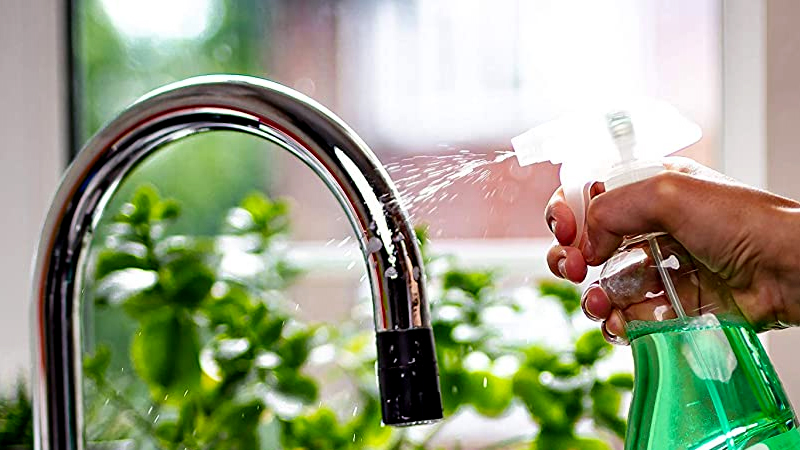 Shower and Washbasin Limescale Remover
These are essentially the same as above but are more specific to washbasins and showers (or at least better suited for such use). You will find that some products are made for several types of surfaces or even just one (e.g. showerhead).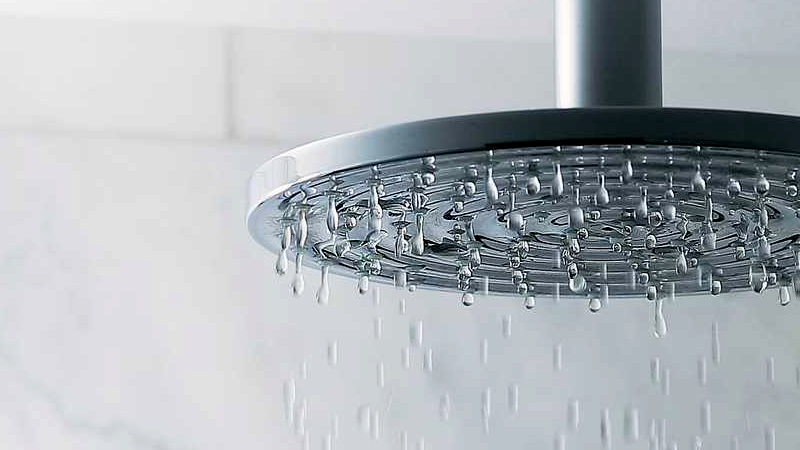 Multipurpose Limescale Descaler
You may prefer a limescale remover that is multipurpose in nature. For one, this would be beneficial as you could use it for more than one reason at a given time, but if you don't use the product up, it would also mean being able to reuse it later.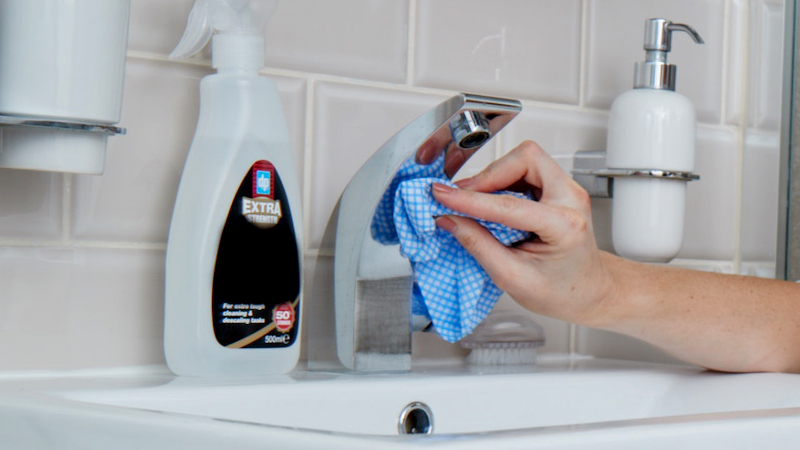 Limescale Remover Gel
A gel-based product may interest you because these products are far more concentrated than spray options. Not only that but limescale remover gel tends to stick to surfaces better (including vertical ones).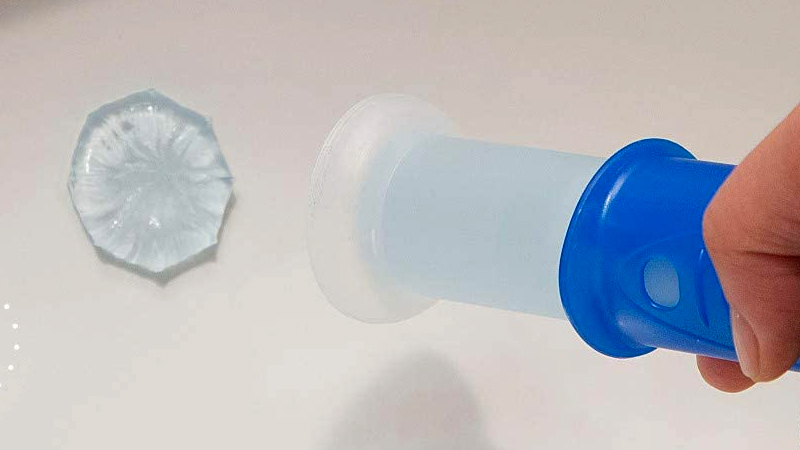 Limescale Remover Tablets
Another solution is to use tablets, such as by adding them to the toilet cistern. They are not a suitable approach to most surfaces, but for toilets, they can be a cheap and straightforward solution to a certain level of limescale build-up. In general, though, they are not an ideal approach to stubborn limescale accumulation.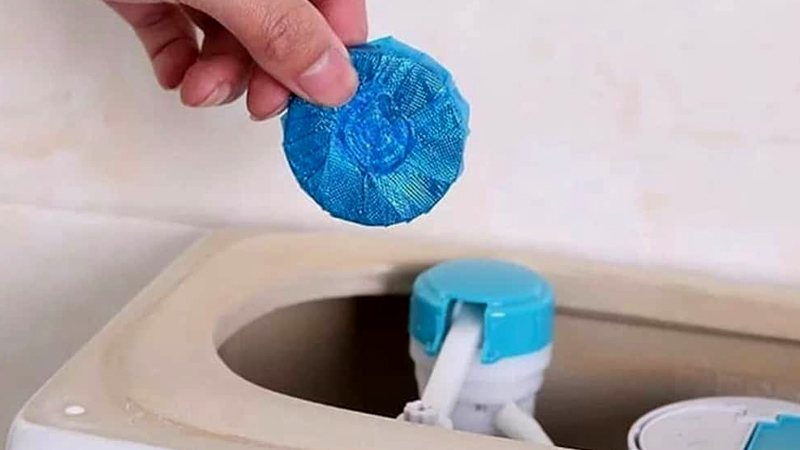 Best Bathroom Limescale Remover
Best Limescale Remover Spray
HG Scale Away Foam Spray 3X Stronger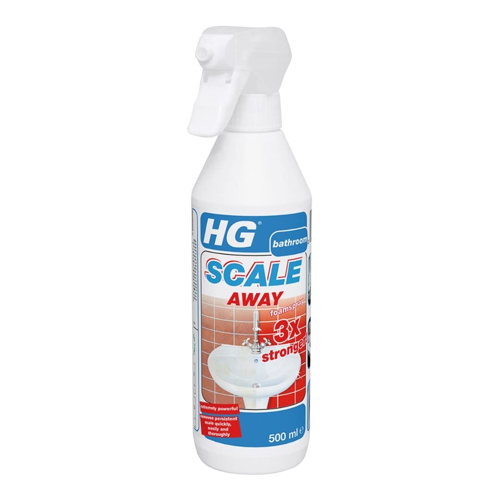 If you're looking for an exceptionally strong product, look no further than this spray from HG.
This versatile descaler comes with a very strong formula. It can be used throughout the home, its foam can cling to vertical surfaces, and it's also easy to use. However, it may result in damage to surfaces if it's left there for too long.
Things we liked
Very strong foam-based spray
Foam can cling to vertical surfaces
Ease of use
Things we didn't like
Could damage surfaces if left for too long
HG Professional Limescale Remover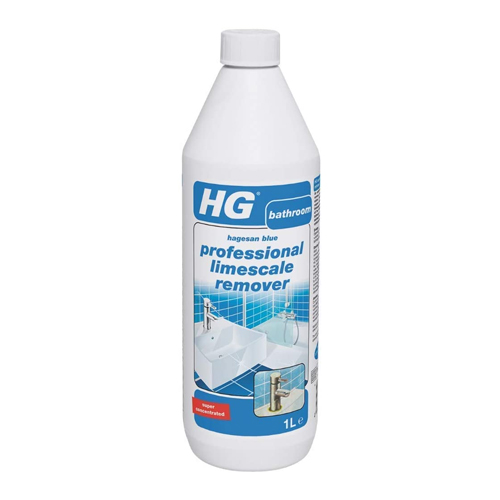 Another popular product from HG is this strong industrial limescale remover that consists of a liquid gel formula. This highly concentrated formula can stick to vertical surfaces quite easily, dissolves limescale fast, and may be used diluted or undiluted (for less severe cases).
With that being said, it may damage some metals and other surfaces, and since it's not a trigger spray product, it's not as easy to apply as most alternatives.
Things we liked
Industrial limescale remover
Can stick to vertical surfaces pretty easily
Rapidly dissolves limescale
It may be used undiluted
Things we didn't like
Not as easy to apply as a trigger spray option
Could damage certain surfaces
Ecover Limescale Remover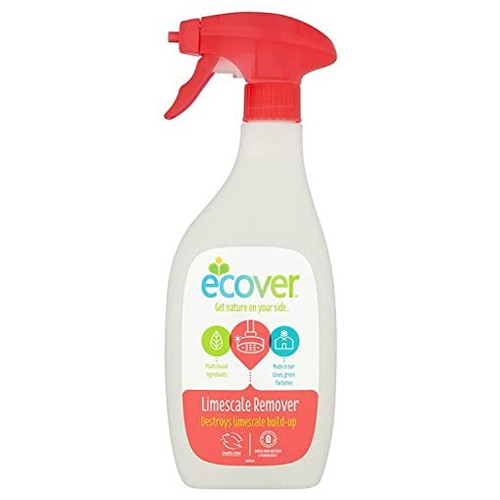 Unlike most descaler products out there, the Ecover Limescale Remover comes with an entirely natural formula. It is eco-friendly, not tested on animals, and despite lacking artificial chemicals, it still provides a strong performance.
However, it's not heavily concentrated, and it may be necessary to apply it two or more times on especially scaly areas in order to achieve the desired results.
Things we liked
Natural and eco-friendly
Cruelty-free
Strong performance
Best Shower and Washbasin Limescale Remover
WMPC ERADICATE Limescale Powerful Hard Water Stain Remover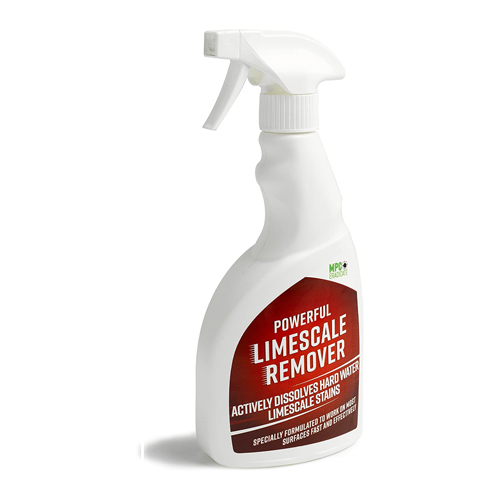 This strong descaler from MPC ERADICATE has good online ratings, is well-suited for use on showerheads, can dissolve hard water stains, and it can dissolve limescale on fixtures like taps, leaving them sparkling clean.
Things we liked
Solid online ratings
Perfect for showerheads
Strong and effective
Things we didn't like
A little below the quality of the very best products
HG 147050106 Shower & Washbasin Spray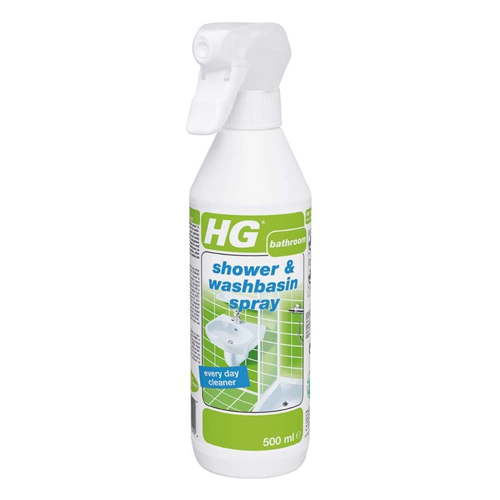 This 500ml spray bottle is not only well-suited to plastic shower cubicles and washbasins but it's also designed for use on tiled walls as well as marble and other types of calciferous natural stone. It's a mild and safe spray product. It can remove light limescale, skin grease, and soap residue.
Things we liked
Perfect for washbasins and showers
Mild and safe option
Can remove skin grease and soap scum also
Things we didn't like
Not ideal for tough limescale
Astonish Bathroom Cleaner Spray 750ml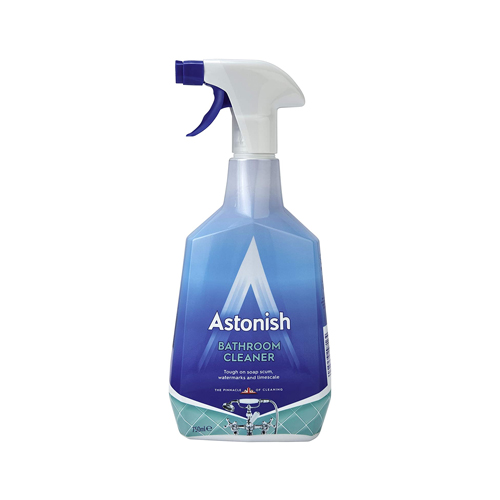 Another option that is perfectly suited for use on showerheads is this spray bottle from Astonish. However, it has a unique formula designed to target a whole range of challenging areas in a bathroom.
It is suited to plastic, ceramic, porcelain, and acrylic surfaces. It can remove soap scum, harsh stains, and limescale alike. It's a tiny bit on the pricey side, though.
Things we liked
Popular and effective
Can remove soap, stains, and limescale
Best Multipurpose Limescale Descaler
Cillit Bang Limescale Remover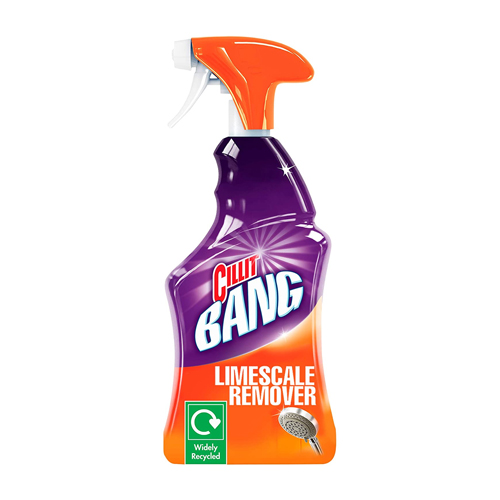 It wouldn't be a limescale remover guide without the appearance of a Cillit Bang product. The renowned cleaning product brand offers this fantastic multi-use limescale descaler. The Cillit Bang Limescale Remover provides a really nice smell, is easy to use, and prevents dirt or rust from sticking. It can also remove scum and soap with ease.
However, it may drip down on vertical surfaces, and it is not that concentrated compared with some other similar products. All in all, though, this is a great product, and it offers good value for money.
Things we liked
Lovely smell
Ease of use
Stops rust and dirt from sticking
Things we didn't like
May drip down on vertical surfaces
It could possibly be more concentrated
Kilrock Big K Multi-Purpose Descaler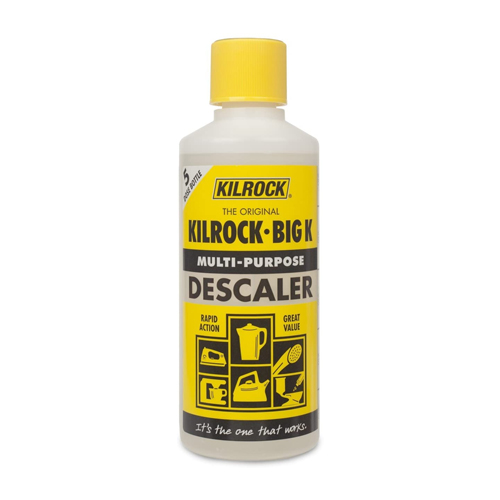 This fast-acting limescale remover is powerful, suited for use throughout a home, offers good value for money, and it's a good option if you want to address drip stains. There are multiple doses in a given 400ml bottle.
However, this is not a spray bottle (thus not quite as straightforward to apply), and it may damage metals such as chrome if left on a surface for too long.
Things we liked
Removes limescale fast
Good value for money
Multiple doses with a product
Things we didn't like
May damage metals like chrome
Pro-Kleen Multi-Purpose Descaler 1L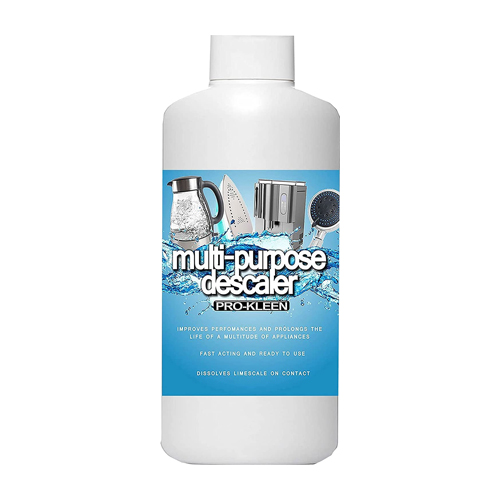 This limescale remover is designed for use on hot water appliances, including, of course, showerheads. With a one-litre bottle for a reasonable price, this Pro-Kleen descaler offers great bang for your buck. It is reportedly very effective and fast-acting. Not only that, but it can prolong the life expectancy of your hot water appliances.
Things we liked
Powerful 1L bottle
Great value for money
Effective and fast-acting
Best Limescale Remover Gel
Kilrock K Gel Limescale Remover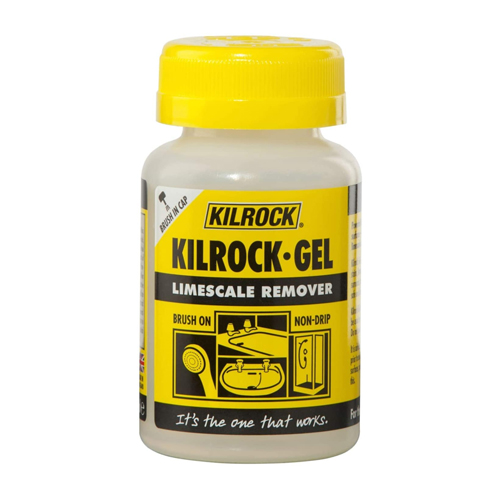 For a highly-concentrated product, you should check out the Gel Limescale Remove from Kilrock K. You get a brush with this product, meaning that it's easy to apply. The nature of this gel formula means that it will cling to hard surfaces with ease.
The Kilrock K Gel Limescale Remover is perfect for showerheads, shower trays, and tiles. However, it's important to pay close attention to the instructions. For instance, it cannot be used on chrome plating or marble due to its strength. It's also a bit on the expensive side, given that it's only a 160ml product.
Things we liked
A brush is supplied with the product
Can cling to hard surfaces no problem
Perfect for showerheads, shower trays, and tiles
Things we didn't like
Unsuited to chrome plating or marble
Little bit expensive
Kilrock Spray Gel Descaler Bumper Pack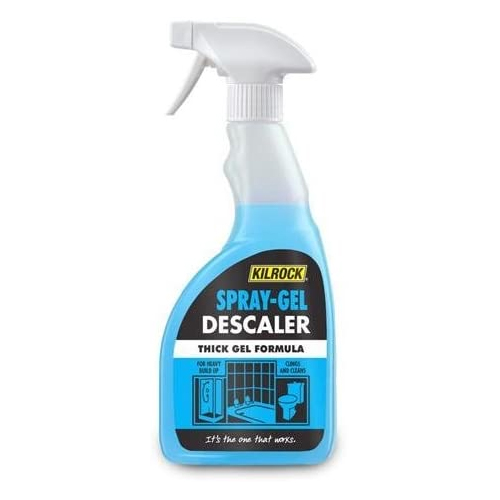 Another gel product worth considering from Kilrock is their spray gel descaler that uses a substance that is a combination of both textures. You can buy a pack of six for a reasonably low price (with each bottle containing 500ml). The end result is a lasting and effective shine. It also clings to vertical surfaces with ease and does not drip. This is perfect if you're after a smudge-free finish.
Things we liked
Unique solution
Can cling to vertical surfaces
Non-drip
Things we didn't like
You may not need a bumper pack
Best Limescale Remover Tablets
Astonish Toilet Bowl Cleaner Tablets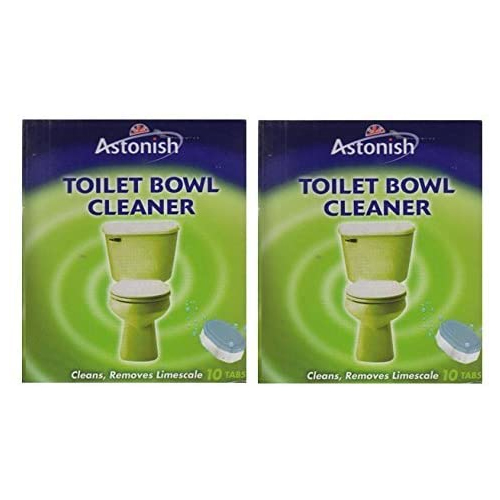 With this product from Astonish, you get ten 25g tablets. They're relatively inexpensive and have a good rating on Amazon. There are, however, plenty of warnings associated with these tablets, including that they can cause skin irritation, severe eye irritation and are particularly harmful to aquatic life.
Things we liked
Good value for money
Highly-rated
Things we didn't like
Various warnings associated
St@llion Blue Toilet Cleaner Tablets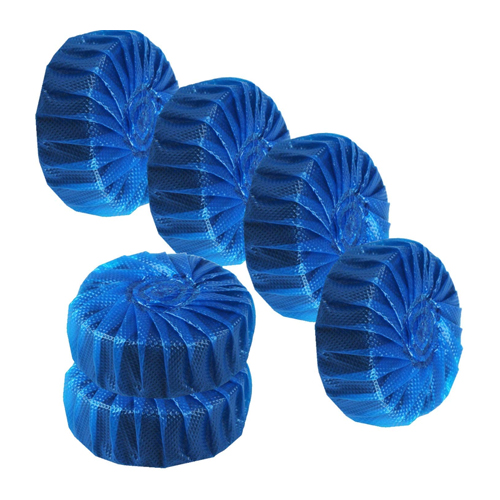 While certainly not the best limescale remover product on the market, these cistern blockage tablets from St@llion are worth considering, particularly if you'd like an especially inexpensive solution to some light limescale.
Things we liked
Decent product
Inexpensive
Best Toilet Limescale Remover
Harpic Power Plus Toilet Cleaner 8 Active Tablets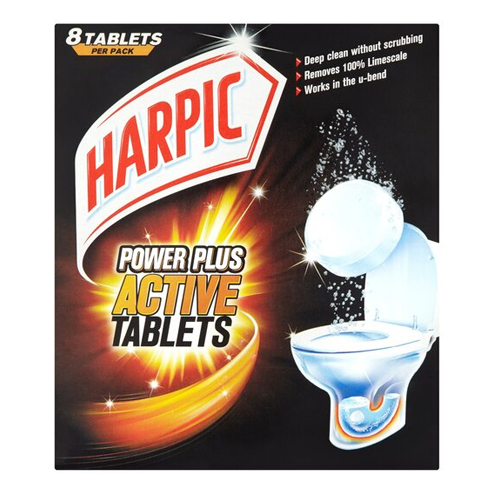 These tablets are designed to work immediately by cleaning thoroughly beneath the waterline. This is achieved as a deep clean without you needing to scrub anything. They should remove 100% of the limescale, and they also work in the u-bend. They're also pretty cheap. However, they are not quite as popular as most of the other products reviewed in this guide.
Things we liked
Inexpensive and effective
Cleans beneath the waterline thoroughly
Deep cleaning without any scrubbing
Works in the u-bend
Harpic 100% Limescale Remover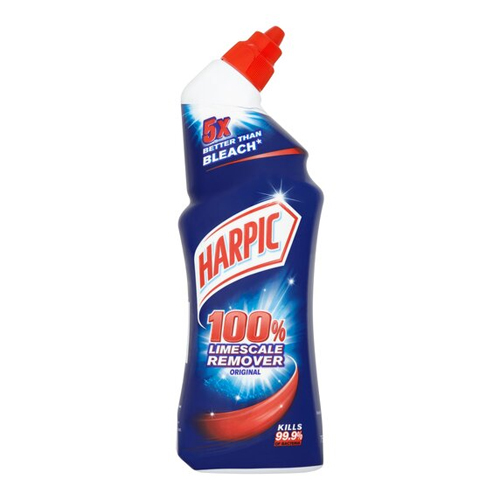 Another product from Harpic, albeit once that is liquid/bottle-based this time, is this highly effective and powerful 750ml descaler. It is good for regular use as well as for removing particularly tough limescale.
Some consumers have used this product along with a pumice stone for the best results in the case of a large build-up of limescale. However, it is quite limited in its use as it is made only for use on toilets.
Things we didn't like
It can only be used on toilets
Domestos Zero Limescale Toilet Limescale Remover 750ml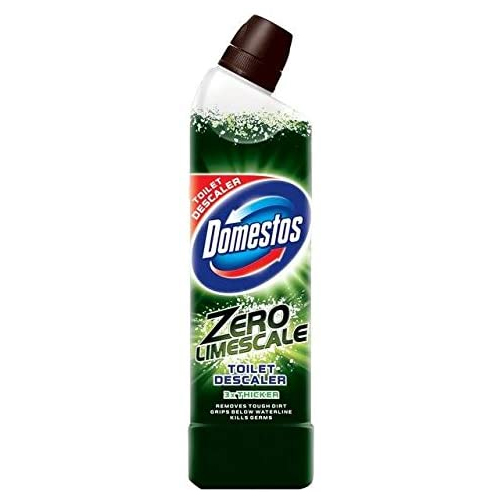 One particularly popular product for use on toilets is this 750ml descaler from Domestos. It is so highly rated, in fact, it has 4.5 stars on Amazon (one of the very best ratings of any products to feature in our guide). Its special feature is its antibacterial qualities. This limescale remover is effective and relatively cheap.
Things we liked
Fairly inexpensive
Very popular
Antibacterial qualities
Things we didn't like
Only really suited to use on toilets
HG Toilet Renovation Kit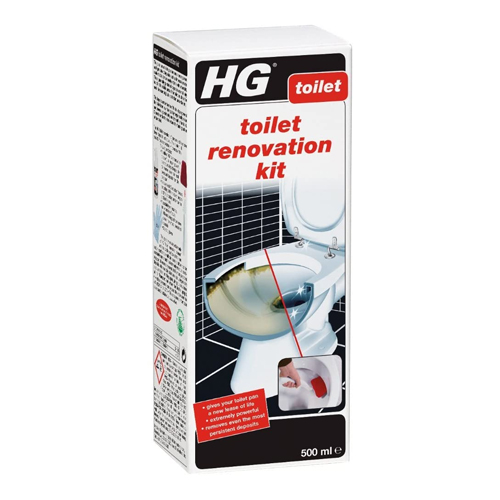 This more mechanical approach is certainly worth considering if you'd like an effective solution to rejuvenate your toilet. It comes with a toilet renovation cleaner, a non-scratch scrubbing pad, a scrubber, and a set of gloves. It's very strong at removing limescale, even with regards to, particularly stubborn build-ups.
Things we liked
Very effective
Multiple tools included
Things we didn't like
It may not be your preferred approach
Best Bath Limescale Remover
Viakal Limescale Remover Spray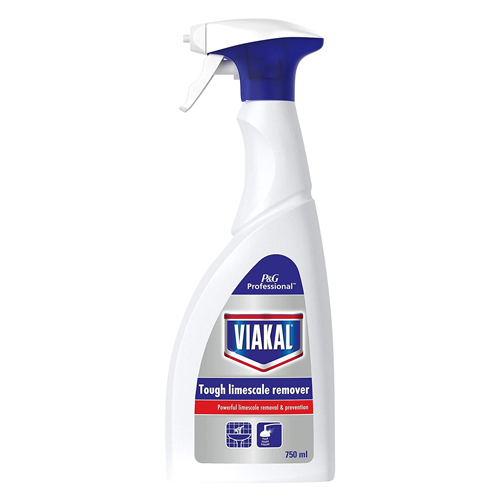 This 500ml bottle is ideal for use in bathtubs. It provides a fantastic shine after use and can remove limescale effectively. It can also remove watermarks, and either way, it does so while not being harsh. It can prevent limescale from returning too.
Further, it's possible to buy various packages online (one bottle, four bottles, eight bottles, etc.). It is very popular with a five-star rating (from 458 reviews) on Amazon.
Things we liked
Extremely popular
Fantastic shine
Removes limescale with ease
Various buying options
Things we didn't like
Only really suitable for baths
Cif Perfect Finish Limescale Remover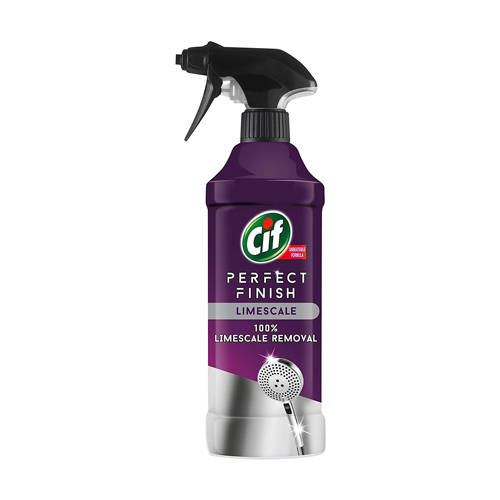 Another effective option for descaling a bathtub (but also for a shower or even a kitchen) is Cif Perfect Finish Limescale, which is a 435ml spray bottle that reportedly provides 100% limescale removal. Its powerful formula can be used on even the most stubborn limescale build-up.
However, this product cannot be used on painted wood, natural stones, or marble. You must rinse well after using it on aluminium, plastics, or enamel.
Things we liked
Decent value for money
Powerful product
Things we didn't like
Not suited to certain surfaces
Must be rinsed well after use on surfaces like aluminium
Ritec Limescale Remover (500ml Trigger)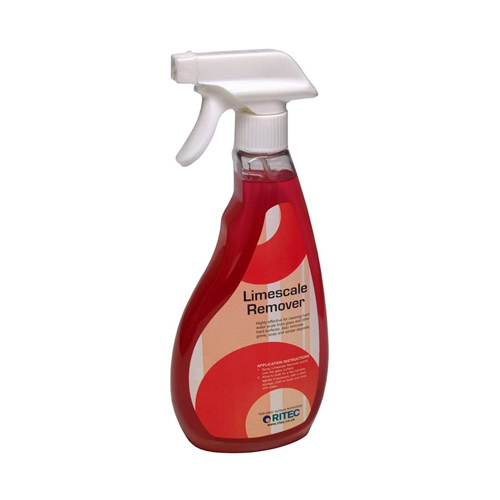 This easy-to-use trigger spray bottle cleans and disinfects purely on its own, and there is no requirement for harsh abrasives to be used. It is effective on ceramics, chrome, stainless steel, plastic, glass, enamel, and really most other hard surfaces.
It is also formulated specifically so that it can be applied to ClearShield Glass as well as ceramics. It's got a 4.5-star rating on Amazon.
Things we liked
Popular option
Useful and effective descaler
Works on many different surfaces
Best Shower Limescale Remover
W5 Limescale and Grime Remover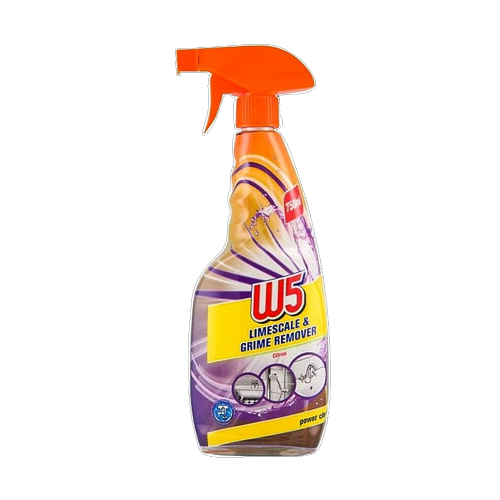 While this product from the W5 range from Lidl is inexpensive, it works particularly well, making it great value for money. The W5 Limescale and Grime Remover can be used on a whole host of surfaces, and it is great at removing soap scum and regular dirt as well as limescale. It also reportedly smells really nice. However, you can't buy this product directly from Lidl online.
Things we liked
Great value
Very nice smell
Can remove regular dirt and soap scum too
Things we didn't like
Lidl do not sell it online
Viakal SP1772661 Limescale Remover Spray 750ml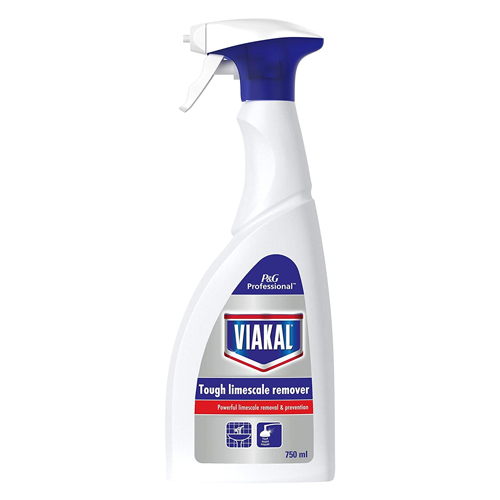 This product is not just very effective, but with 750ml, there's plenty of product at that, and it reportedly leaves a lasting shine as well as a nice, fresh aroma after use. It has a 4.5-star rating on Amazon.
Things we liked
Highly-rated
750ml bottle
It leaves a nice scent after use
Best Bathroom Sink Limescale Remover
Limescale Remover Microfibre Cloth for Bathroom and Kitchen Cleaning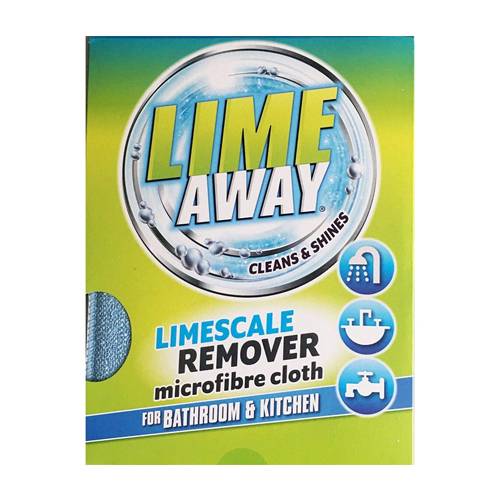 You may be interested in trying an alternative to a substance-based product. In this case, you should check out this two-sided microfibre cloth from Duzzit. The scrubbing side should be used to get rid of limescale from sinks, taps, and baths. The reverse side is to be used for polishing the surface to a shine.
But wait, that's not all…
This microfibre cloth is also machine washable.
Things we liked
Effective microfibre cloth
Two-side cloth with duo use
Things we didn't like
It may not be your cup of tea
EcoGurus Limescale Remover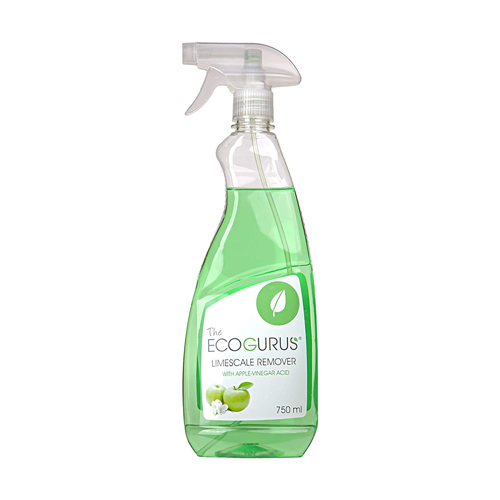 This natural limescale remover is a high strength descaler that is also eco-friendly (as the name infers). This spray bottle uses an apple vinegar acid formula to clean bathroom surfaces. It has good ratings online too, although it is somewhat expensive.
What to Consider Before Buying Bathroom Limescale Remover
There's several points you should take on board before making a purchase. Let's take a look at these considerations.
Cost
Thankfully, this should not be a major issue since the price of bathroom descalers tends not to vary too greatly, but if you're looking to keep to a tight budget, you should consider what type of limescale remover you'd like to go with and what brand.
Formula
The ingredients used in a product is important since the limescale remover's strength and qualities will be determined by what's in it. Of course, the formula may also matter to you if you wish to purchase an eco-friendly or cruelty-free option. Another concern of yours may be allergies for you, your family members, or pets.
Strength and Purpose
Some descalers are much stronger than others. If there is a significant limescale build-up in your bathroom, then you'd really need to look at buying an especially strong product. Also, you should consider what the purpose of using a descaler is in your case and what exactly you'd like to achieve.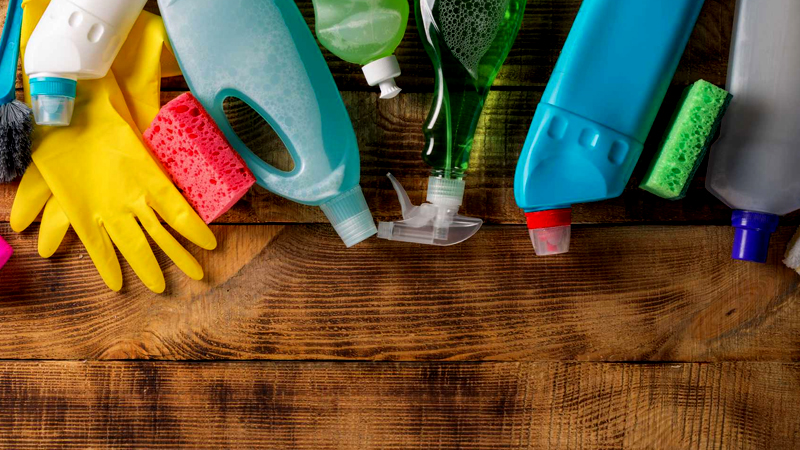 FAQs
Q: What is limescale remover made of?
A: It will depend on the product/brand, but they generally comprise acidic compounds like hydrochloric acid, which is effective at removing limescale.
Q: Where can I buy limescale remover?
A: Most stores will provide these products. You could also buy a descaler product online from the manufacturer or from sites like Amazon or eBay.
Q: What is a good limescale remover for shower doors?
A: HG 476030106 Shower Shield is a great product worth considering for shower doors specifically.
Q: How long does limescale remover take to work?
A: Usually, they take 30 minutes to work their magic, but you should always check the manufacturer's instructions.
Q: How long should an ozone generator run for?
A: On average, running a generator for 3-10 hours should purify a room. But, ensure that you take all the necessary safety precautions if using one.
Sources