cleaning & laundry
Best Handheld Vacuum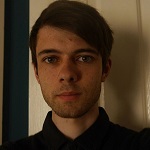 Want to find the top handheld vacuums on the market?
This article will look at the best products available in the UK and explore other relevant subjects such as the different types of handheld vacuums and how they work exactly.
Anyone considering purchasing a handheld vacuum will find the following guide useful.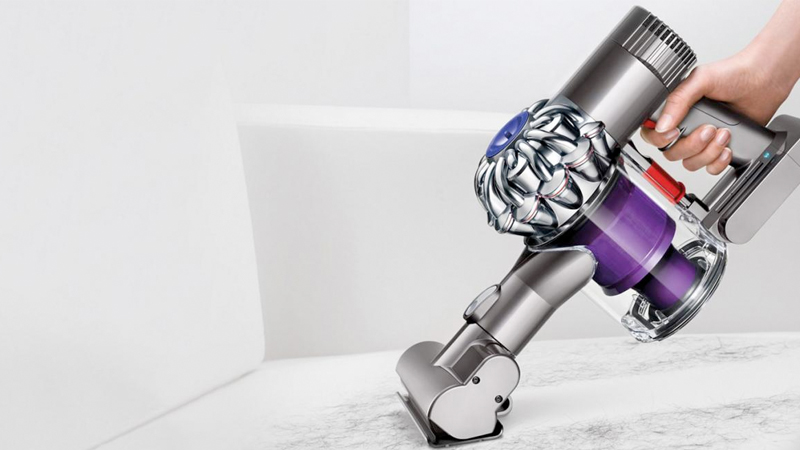 What is a Handheld Vacuum?
These vacuums are generally smaller versions of conventional hoovers. Handheld vacuums tend to be portable, more affordable, and better for reaching into difficult to reach areas.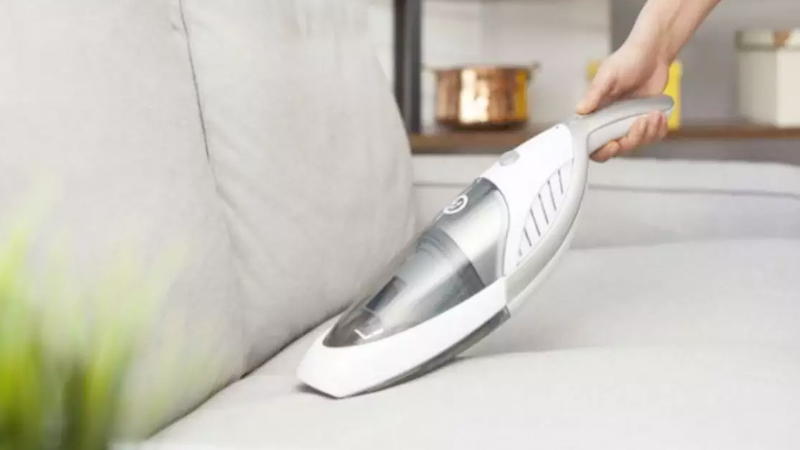 But that's not all...
Handheld vacuums are great for use in cars and places in a property that is not too close to a power socket. They're also easy to carry, versatile, and tend to be fairly powerful.
How Does a Handheld Vacuum Work?
Here's how handheld vacuum cleaners can be used:
Charge up its batteries (if cordless, otherwise plug it in)
Put the batteries in the device
Commence vacuuming
Power off when finished
Empty the dust bin when necessary
Put away safely
Types of Handheld Vacuum
We'll now explore the various categories of handheld vacuum and look at how they differ as well as their pros & cons.
Cordless Handheld Vacuum
Put simply, these are battery-powered handheld vacuums, and thus no cord is needed to plug in for power. These vacuums tend to be a bit lighter than their corded counterparts. In addition, cordless handheld vacuums are generally smaller, easier to put away, better suited to work in awkward and hard to reach areas (e.g. in a car), and it isn't limited by cord length.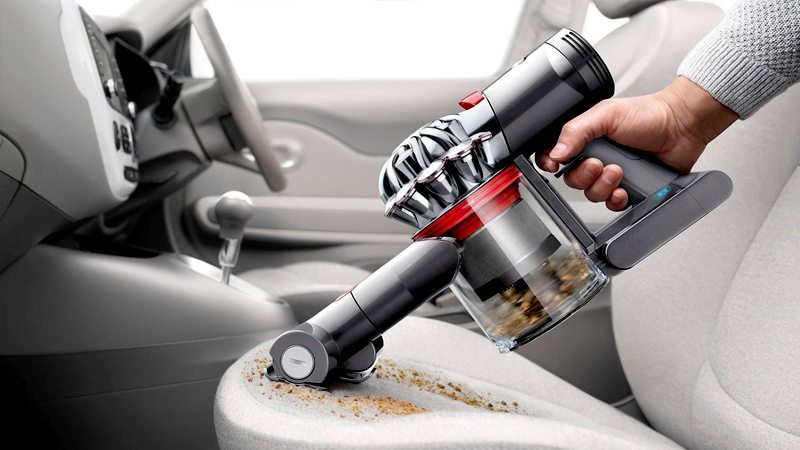 However, cordless handheld vacuums come with limited battery life, lower dust capacity, storage can be trickier, and maintenance is generally needed more often than with a corded alternative.
Corded Handheld Vacuum
You may prefer to stick with a corded handheld hoover instead. Obviously, this has some notable disadvantages over a cordless vacuum, but corded products let you continue to vacuum continually (assuming the device doesn't auto switch off from overheating, for example).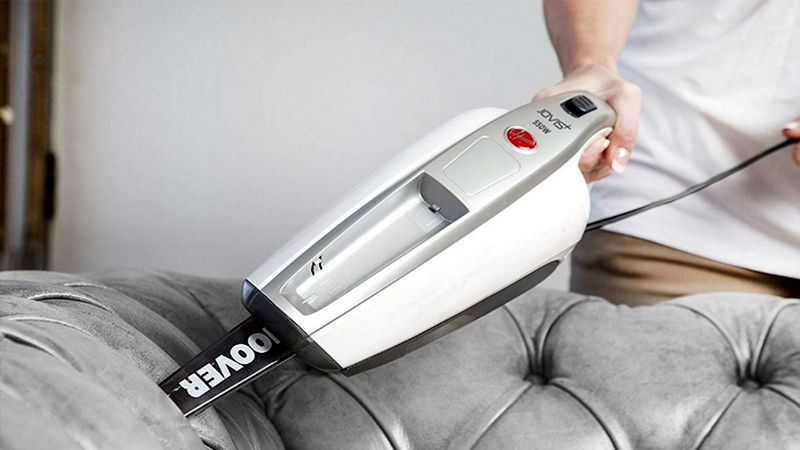 Also corded handheld vacuums usually have a larger dust capacity since space is not being used by batteries. They also usually require less maintenance.
Portable Handheld Vacuum
You may prefer a more portable handheld hoover; one that you could bring on holidays, for instance. These handheld vacuums are generally smaller than most handheld units and will often come with travel-friendly accessories.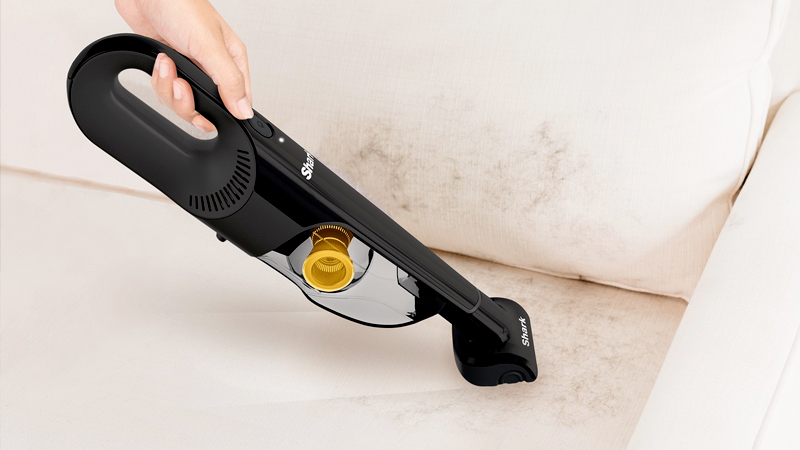 Stick Handheld Vacuum
You could instead consider using a 2-in-1 or even 3-in-1 vacuum that converts into a handheld unit. A 2-in-1 stick and handheld vacuum is just that and will give you the freedom to choose between both methods of vacuuming.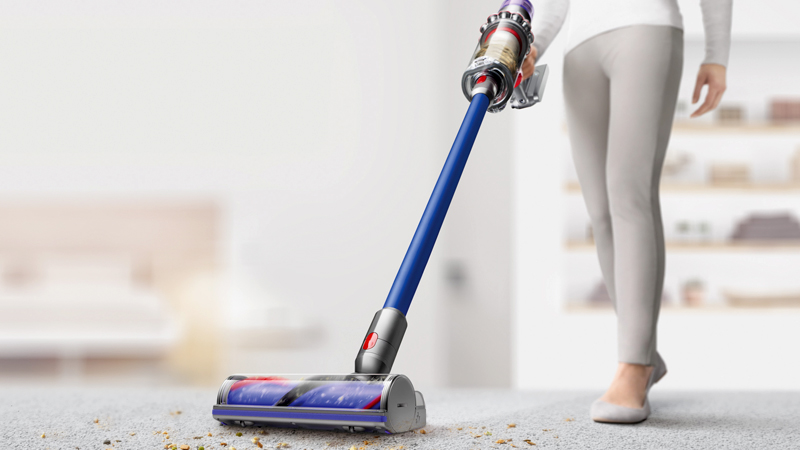 Best Handheld Vacuum Cleaner
Best Cordless Handheld Vacuum
Miele Triflex HX1 Cat and Dog Cordless Vacuum Cleaner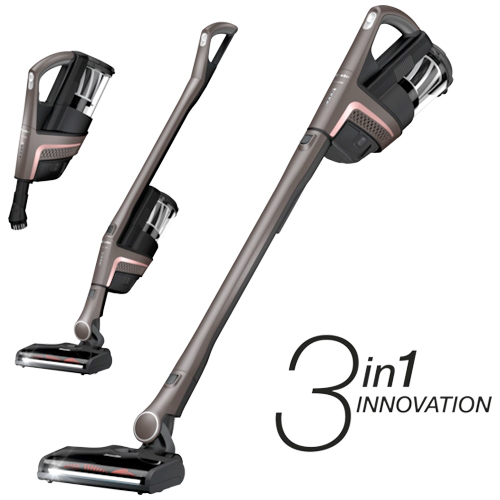 While not exclusively a handheld hoover, the HX1 has a maximum power runtime of 17 minutes (up to an hour on lower settings). It comes with a 500ml capacity, variable power and takes about four hours to charge.
Its tools include a motorised rotary brush with headlights, a dusting brush, and a crevice nozzle. It is, however, on the more expensive side.
Things we liked
Great battery life
Variable power
Plenty of useful tools
Vax H85-GA-B10 Gator Cordless Handheld Vacuum Cleaner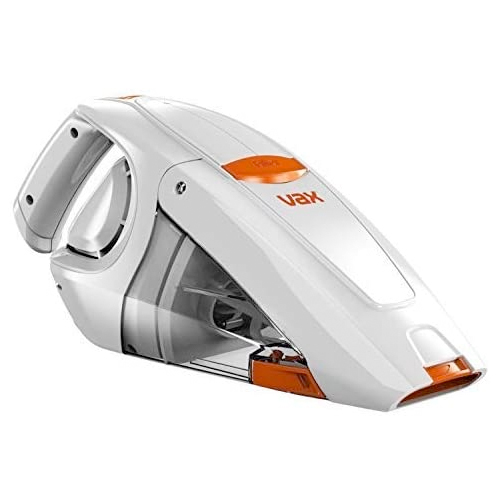 Another solid option is this vacuum from Vax. The gator's mouth, unlike its swampy inspirator in the animal kingdom, is hygienic and easy to clean out! Not only is it lightweight, but the H85-GA-B10 it's great at getting to difficult to reach spots. This handheld vacuum cleaner provides up to 15 minutes of continuous use, although it takes about twelve hours to charge.
Things we liked
Light
Perfect for reaching awkward areas
Easy to remove waste from
Things we didn't like
It only lasts for 15 minutes max
Bosch Unlimited BCS122GB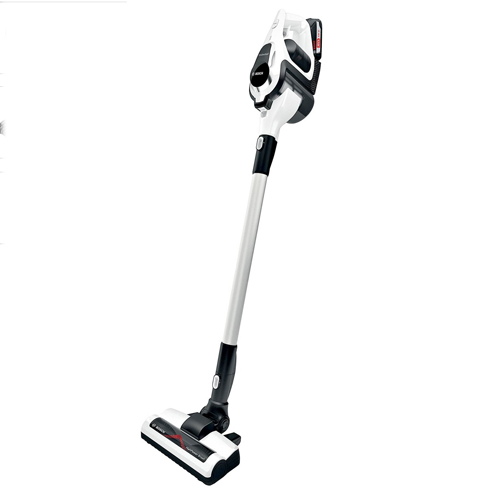 The BCS122GB is a bit on the costly side, but it has a nice appearance, and it does the job well. Further, this cordless hoover offers a battery life of up to sixty minutes, a two-year guarantee, and a solid 0.4l dust bin capacity.
Things we liked
Visually appealing
Does the job
Two-years guarantee
Dirt Devil HandiMate 6V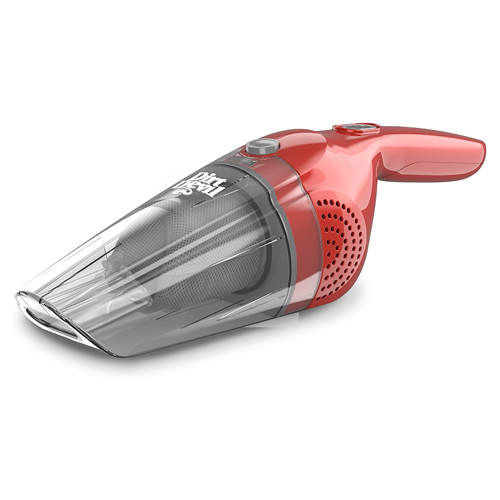 For an especially inexpensive vacuum, try the HandiMate 6V from Dirt Devil. The base product is powered by 6 volts, but you can buy a 7.2 volt wet and dry or a 9.6-volt edition if you'd prefer. In particular, as for the 6v product, this has a run time of up to ten minutes. The HandiMate 6V comes with a 400ml dust bin capacity.
Things we liked
Not costly at all
Various products to choose from
Things we didn't like
The 6-volt product lasts for no more than ten minutes
Best Corded Handheld Vacuum
Shark DuoClean Pet Flexology HV390UKT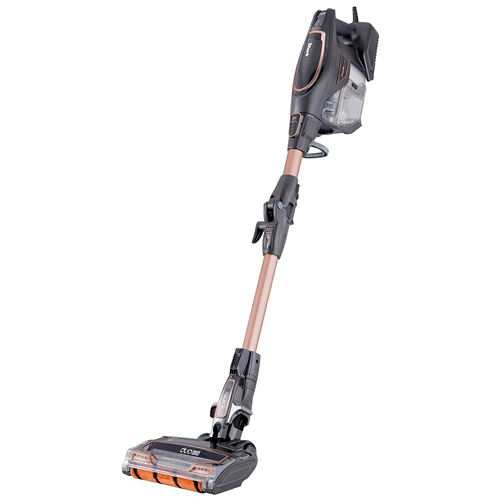 Another non-exclusive handheld hoover worth looking at is the HV390UKT. Its handheld unit is great for reaching tight areas and features a mini turbo brush for upholstery, an electro brush head for cleaning floors, along with a dusting brush and crevice tool.
This Shark handheld vacuum works best on floorboards but can also be put to work on carpets and laminate. The HV390UKT has also received praise for its flexibility. With that being said, the handheld unit is a bit heavy, and the unit as a whole is a bit dear.
Things we liked
Great for reaching awkward areas
Various useful features
Fantastic for hoovering floorboards
Things we didn't like
The Handheld unit is a little heavy
Little costly
Pet Hair Eraser Hand Vacuum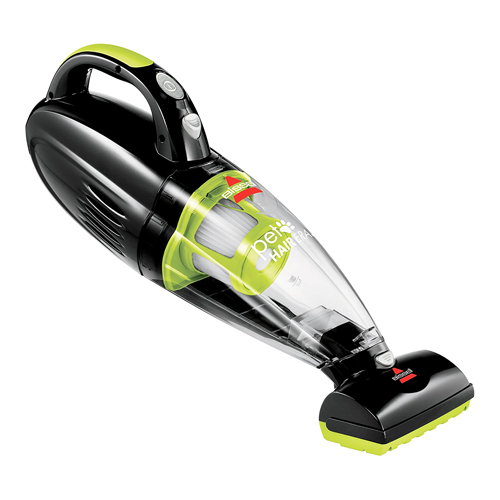 This hoover from Bissell is great for hoovering up dog or cat hair, weighs just 4lb, is relatively cheap, and the power cord it uses is 16-feet long, providing a good amount of reach. It can be charged using any micro USB port.
On the other hand, it has a short run time, and it's not suited to narrow, difficult to reach spots.
Things we liked
Lightweight
Great for hoovering up pet hair
Fairly cheap
Things we didn't like
Not great for difficult to reach spots
Run time is pretty short
Oneday Corded Handheld Stick Vacuum Cleaner 6 in 1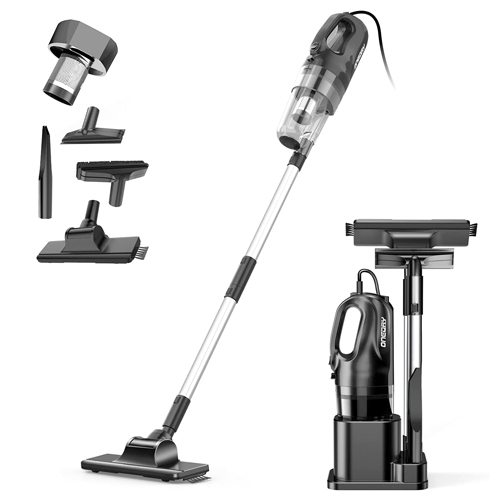 This six-in-1 lightweight hoover features HEPA filtration and has an energy class rating of A+. This Oneday vacuum cleaner offers powerful suction, a ten-metre cord, ease of use, and it is multi-purpose. Its Pro Cyclone Separation Technology can basically separate the dirt in the air. This helps to provide for the various needs of your home.
Things we liked
Powerful suction
Lightweight
Energy efficient
Multi-purpose
VYTRONIX CSU600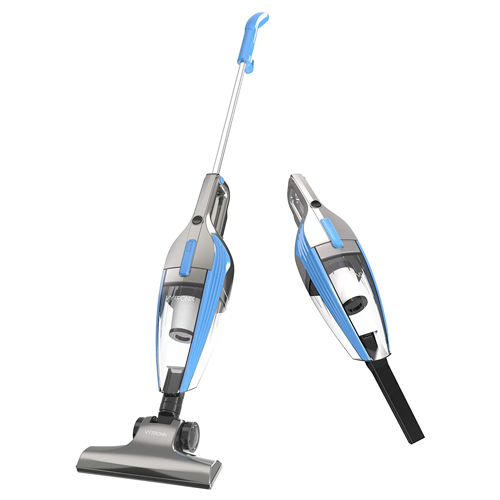 Another 2-in-1 option as an upright stick or handheld vacuum cleaner is the CSU600 from VYTRONIX. This hoover weighs just 2kg, features a powerful 600-watt motor, and comes with a five-metre power cord.
In addition, the CSU600 has a crevice tool and removable floor head. In total, it has a one-litre capacity. On the other hand, some customers reported that the filter can become clogged with pet hair/fur.
Things we liked
It weighs only 2kg
600-watt motor
5m power cord
Things we didn't like
Some customers reportedly had issues with the filter
Best Portable Handheld Vacuum
HIMOX Handheld Vacuum Cordless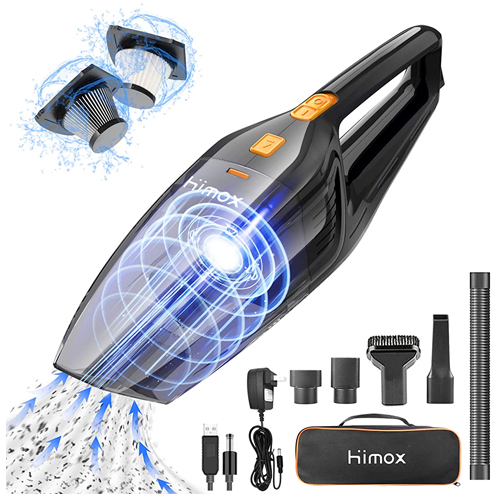 This 120-watt rechargeable portable vacuum can be used for up to half an hour and takes just three hours to charge, thanks to its 2200mah lithium-ion battery. It has a noise output of 70dB while providing powerful suction. Beyond that, this HIMOX hoover is lightweight, easy to clean, and has a durable filter.
Things we liked
Works for up to half an hour
Lightweight
Low noise output
Powerful suction
Durable filter
Things we didn't like
It could be a little cheaper
VacLife Handheld Vacuum VL189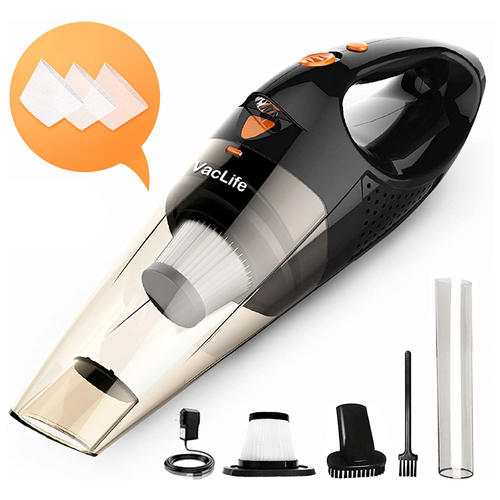 This small, portable vacuum is most suited to use on carpets. It is quick charging, powered by 12 volts of electricity, and may be used in a corded or cordless format. While not the cheapest handheld vacuum, it is useful, well-designed, and comes with an array of helpful tools.
Things we liked
Quick charging
12 power of volts
HoLife Handheld Vacuum Cleaner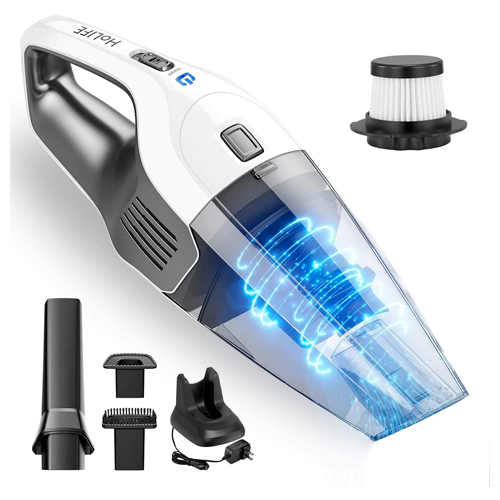 This lightweight portable vacuum cleaner comes with a wall-mount charger, charges in just three hours, and can be used for up to half an hour with one go. Among its versatility attachments are a crevice tool to reach debris in awkward spots and a brush tool.
It also has an outer filter and HEPA filter. The HoLife Handheld Vacuum Cleaner features an integrated ergonomic handle also.
Things we liked
12 volts of power behind it
Versatility attachments
Charges in only three hours
Things we didn't like
Not the best suction power
It has a fairly limited ability when it comes to liquid suction
Best Stick Handheld Vacuum
Triflex HX1 Pro Stick Vacuum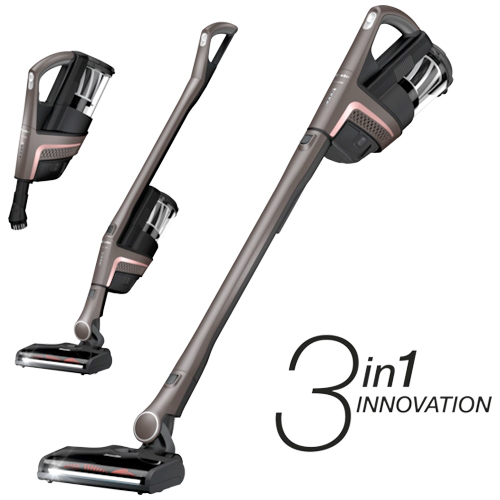 This multi-purpose vacuum can be used in three forms, including as a stick or a handheld vacuum. It has a good battery life as it can run for up to an hour, the batteries can be removed for convenient charging, and it comes with powerful suction.
However, the HX1 is a bit awkward to empty and pretty heavy too. It has various attachments, including an upholstery tool, dusting brush, and rotating brush nozzle.
Things we liked
Good battery life
3-in 1 vacuum cleaner
Flexible design
Things we didn't like
Little tricky to empty
Quite heavy
CordZero A9 Ultimate Kompressor Cordless Stick Vacuum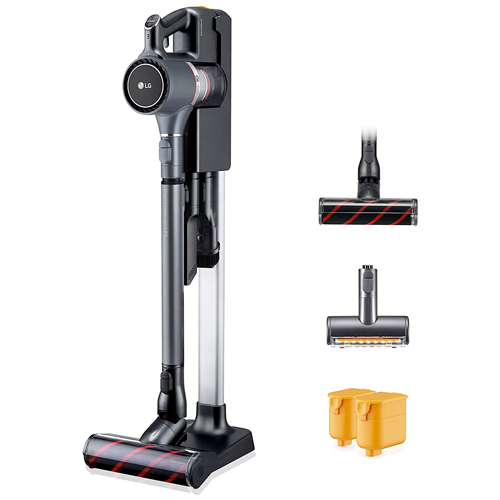 This well-designed and effective stick vacuum can also be converted into a handheld unit if you'd like. Among its useful features are its additional battery (providing a longer runtime), washable HEPA-system filters, indicator lights, and telescoping wand.
The A9 Ultimate Kompressor has three speeds, allowing you to clean a wide range of floors and messes. It offers about an hour runtime altogether, and it's quite easy to store away. It's also good for hoovering on practically any surface. On the other hand, this CordZero hoover has a fairly small dirt bin, and it needs plenty of regular maintenance.
Things we liked
Collects pet hair from any surface type
It can be turned into a handheld vacuum
Collects small and large debris without issue
Things we didn't like
The dirt compartment is quite small
It needs a lot of maintenance regularly
Hoover H-Free 800 3-in-1 Cordless Stick Vacuum Cleaner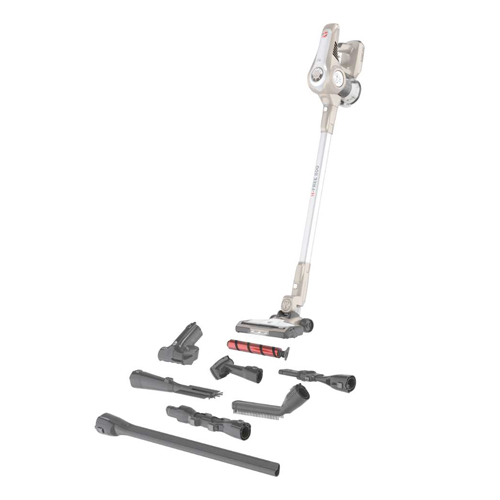 This 3-in-1 hoover is relatively inexpensive given its high-quality nature. The H-Free 800 is highly rated, comes with smart tech (including a Wi-Fi app), an array of useful accessories, and hygienic emptying due to its HSpin-Core+ technology.
It offers fantastic cleaning and helpful and straightforward smart features in general. However, it takes about five hours to charge, its battery meter is reportedly not the best, and it can also be a bit awkward to empty.
Things we liked
Popular and high-quality
Wi-Fi-enabled
Plenty of accessories
Hygienic emptying
Things we didn't like
Long time to charge
Battery meter not the best
A bit tricky to empty
Dyson Cyclone V10 Absolute Cordless Vacuum Cleaner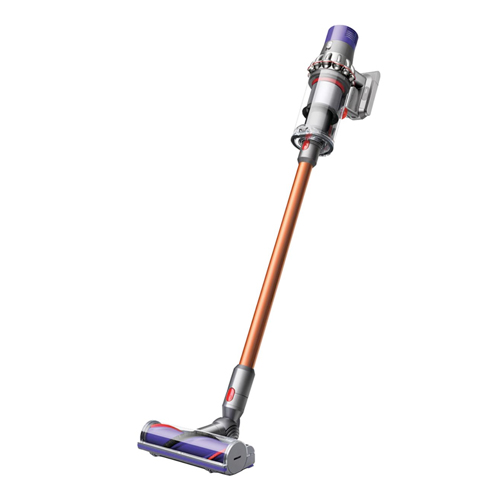 The V10 is a powerful and popular stick hoover from renowned vacuum brand Dyson. It, of course, can also be turned into a handheld vacuum. It can run as long as one hour and features a large 760ml dust bin capacity.
In addition, the V10 takes just 3.5 hours to charge and features variable power. The V10 is also verified as allergy and asthma-friendly.
Things we liked
Powerful vacuum
Charging takes just 3.5 hours
Variable power
Things we didn't like
No swappable battery
Quite costly
Power trigger can be irritating/tiring to hold down continually
Best Anti-Allergenic Handheld Vacuum
Mengbo Investment Handheld Vacuum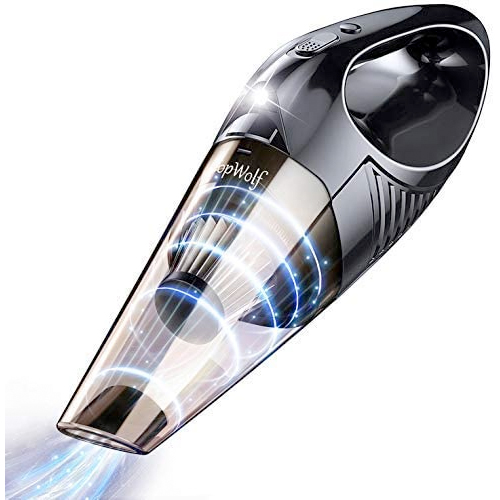 A popular handheld vacuum for those with allergies is the Mengbo Investment. While fairly cheap, you'd certainly get a return on your investment with this handheld vacuum thanks to its dust-removal qualities, 99.9% cleaning efficiency, and a one-year warranty.
Things we liked
Relatively inexpensive
Great at removing dusty
99.9 cleaning efficiency
Things we didn't like
Not that much information available online
It may be difficult to source
Black + Decker Dustbuster Pivot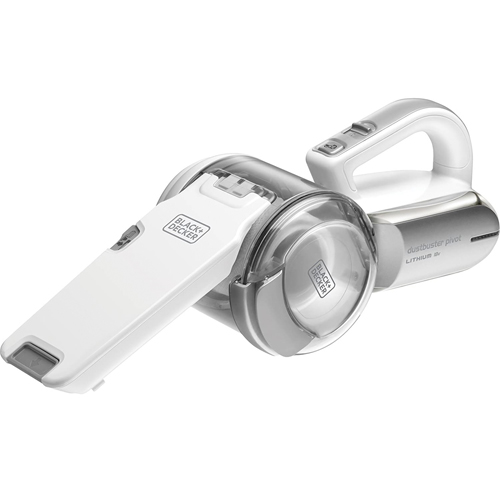 The Dustbuster Pivot has a 14-minute battery life, 440ml dust bin capacity, and a four hour charge time. This Black + Decker handheld vacuum is great for hoovering up dust and is, therefore, a decent quality option for those with allergies.
It has an 18-volt motor that gives it a strong performance and lots of suction. The dustbin is easy to empty too. However, this handheld hoover is on the more expensive side.
Things we liked
Straightforward to empty the dustbin too
Four hour charge time
440ml dust bin capacity
14-minute battery life
SSBOY Handheld Vacuum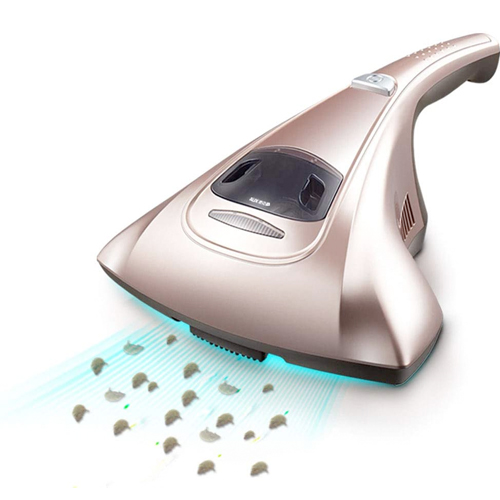 This handheld vacuum can kill 99.9% of dust mites and bacteria alike, making it a great anti-allergenic option. It's also effective at removing bed bugs. Further, the SSBOY Handheld Vacuum comes with 220 volts of power backing it, an advanced HEPA filter, and safety/environmental protection. It is, nonetheless, a bit costly for its size.
Things we liked
It kills 99.99% of dust mites/bacteria
220 volts of power
Advanced HEPA filter
Best Lightweight Handheld Vacuum
Shark WV251UK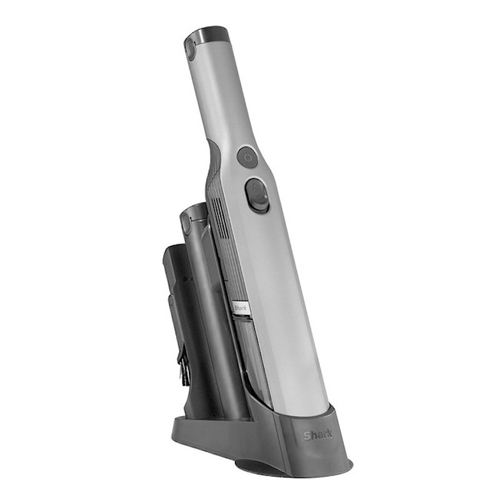 This light handheld hoover has an eight-minute battery life, 100ml dust bin capacity, and notably, it only weighs 0.6kg. The Shark WV251UK takes approximately two and a half hours to charge. This hoover has a modern wand design and is easy to use in difficult to reach spots. It's also straightforward to empty.
With two batteries, you could double its run time by having both charged before vacuuming. With that said, it's somewhat expensive.
Things we liked
100ml dust bin capacity
It weighs just 0.6kg
It takes 2.5 hours to charge
Two batteries
Bosch Youseries Vacuum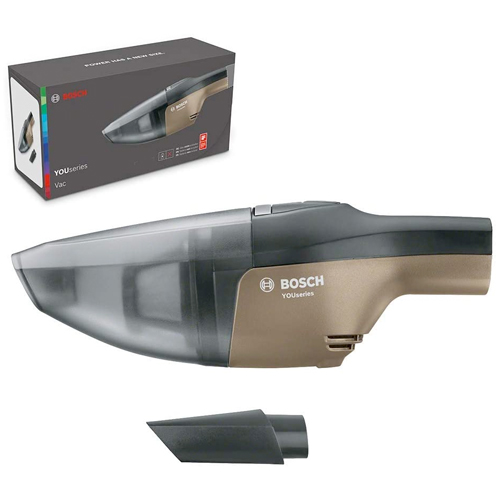 Not only is the Bosch Youseries a great lightweight vacuum, but it's also ergonomic. This simple hoover is easy to use, and the dust box is simply to remove. In addition, this handheld hoover has a USB chargeable battery with a nine-minute runtime, 250ml dust bin capacity, and takes around three hours to charge. It also weighs 0.6kg.
Things we liked
Easy to use
Lightweight
Ergonomic vacuum
250ml dust bin capacity
It takes three hours to charge
Things we didn't like
Not the best for hoovering up pet hairs
Dyson V7 Trigger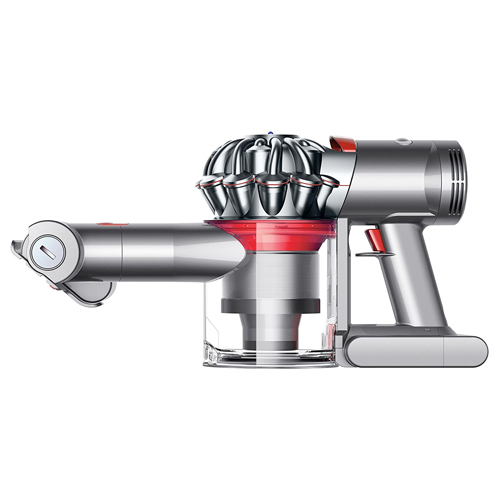 While quite dear for a handheld vacuum, with a Dyson you can guarantee you'll get quality. The V7 Trigger is a cordless vacuum with a 400ml dust bin capacity. It weighs only 1.38kg, has a thirty-minute battery life, and is easy to empty by pulling a tab over an open bin. In addition, the V7 Trigger is surprisingly quiet.
Things we liked
Great quality
400ml dust bin capacity
30-minute runtime
Easy and hygienic emptying
Karcher WV5 Handheld Window Vacuum Cleaner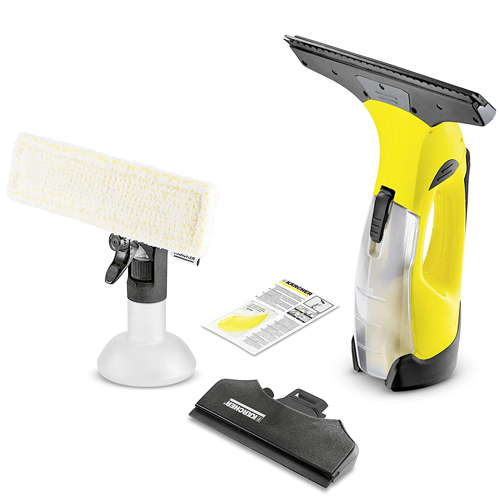 While more so a specialist vacuum, the WV5 can still be helpful for most individuals who want to clean their home. Among its attachments are a squeegee making it a great multi-purpose hoover. It weighs roughly 0.6kg and comes with a 35-minute battery life.
Things we liked
High-quality
Multi-purpose functioning
35 minutes battery life
Best Handheld Vacuum for Carpet
Shark CH950UKT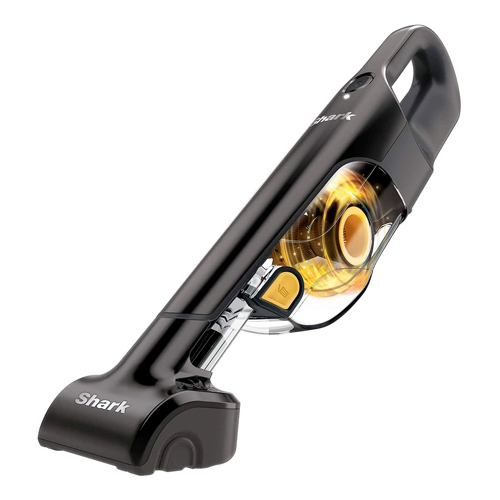 The CH950UKT is a slim, 450ml capacity handheld vacuum that is ideal for use on carpets as well as hard surfaces. It weighs only 1.2kg and has a ten-minute battery life. However, it takes about four hours to charge.
It pretty much looks like a miniature version of a regular cordless stick vacuum, but it's technically and effectively a handheld vacuum. Its attachments include a crevice tool, motorised pet tool, and dusting brush.
Things we liked
Lightweight
450ml dust bin capacity
Various attachments
VonHaus UV Anti-Allergic Vacuum Cleaner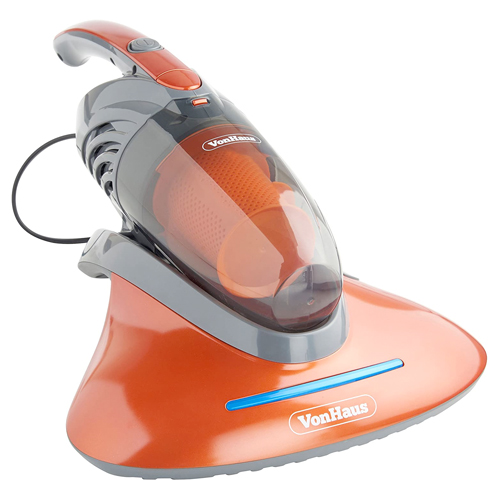 Not only is this a good anti-allergenic handheld hoover, but this vacuum cleaner has a 1200ml dust bin capacity, a HEPA filtration system, and with 270 volts of power, it has a fifteen runtime. It's well-suited to multi-surface cleaning, so not just carpets but also surfaces like sofas, rugs, curtains, and so forth. Its 2-in-1 upholstery crevice tool adds to its cleaning ability.
Things we liked
1200ml dust bin capacity
HEPA filtration system
2-in-1 upholstery crevice tool
PRTUKYT Cordless Handheld Vacuum Cleaner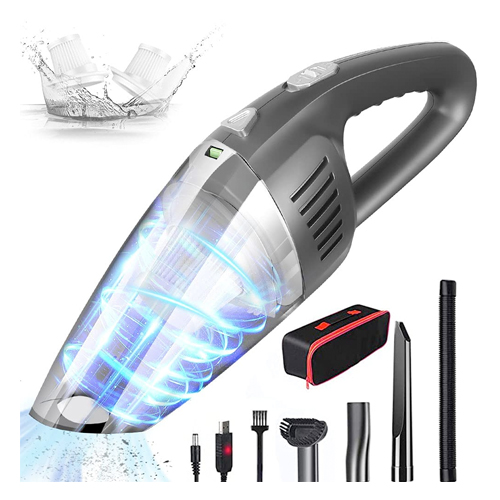 This handheld hoover is lightweight and powerful, with 120 watts backing it. This cordless vacuum has two detachable and washable filters, takes about three hours to charge, is suited to anywhere in the house, and comes with a maximum of 8000PA suction.
It's also reasonably priced given its qualities and also the range of accessories that come with this portable hoover.
Things we liked
Lightweight
Powerful
Helpful accessories
Things we didn't like
Some better options out there
Best Handheld Vacuum for Wood Flooring
Dyson V11 Absolute
Probably the very best choice for cleaning hardwood floors is the V11 Absolute from Dyson. While certainly expensive, the V11 Absolute is well-suited to hard floors, laminate flooring, upholstery, deep pile carpet and rugs, hard floors, and laminate flooring, among other surfaces.
Its run time ranges from 12 to 60 minutes (depending on which power setting you choose), and it takes 4.5 hours to charge altogether. This Dyson handheld vacuum has a dust bin capacity of 760ml, 29.4 volts of power and comes with a two-year guarantee.
Things we liked
760ml capacity
Suitable for many floor types
Up to an hour operation time
29.4 volts of power
Laresar Cordless Vacuum Cleaner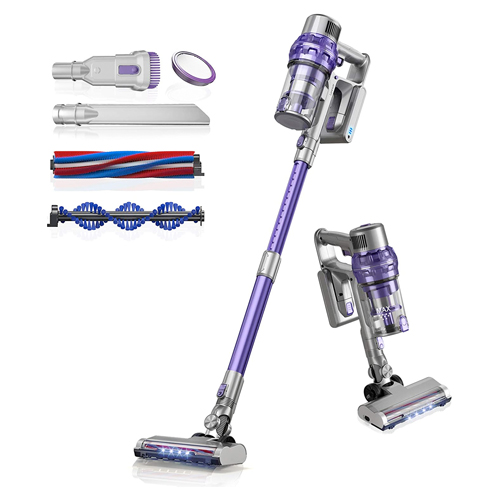 As a 20 volt hoover, the Laresar Cordless Vacuum Cleaner is a powerful (with a 26Kpa suction) and high-quality choice. This cordless hoover can be used as a stick or handheld vacuum. Its battery has a runtime of up to half an hour or 20 minutes on max mode.
It also comes with replaceable rolling brushes, a HEPA filtration system (could you have guessed?) and it has a 2-in-1 upholstery brush and long crevice nozzle. It is best suited to hardwood flooring.
Things we liked
Powerful suction
20-volt vacuum
Half hour runtime
HEPA filtration system
Things we didn't like
Not that cheap given its not solely a handheld vacuum
MANLI Cordless Handheld Vacuum Cleaner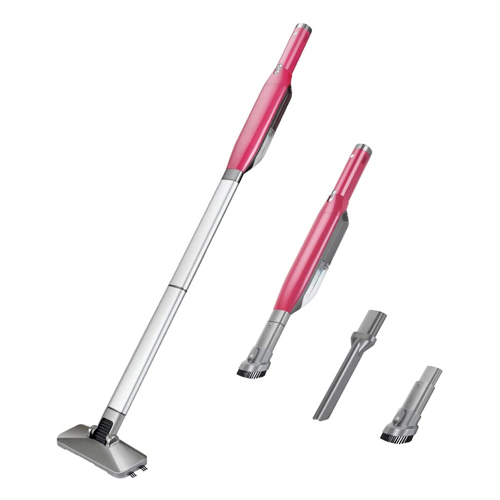 Another good option for hardwood flooring is this MANLI handheld hoover. It has a 700ml dust bin capacity, 20 volts of power behind it, and can operate continuously for up to 45 minutes! It comes with a bright LED light, reusable filter and has three use modes; handheld, wand, and car vacuum.
Things we liked
700ml dust bin capacity
20 volts of power
45 minute run time
Reusable filter
Bright LED light
Things we didn't like
Not as highly rated as the Laresar
Best Handheld Vacuum for Laminate Flooring
Shark HV382 Rocket DuoClean Ultra-Light Corded Vacuum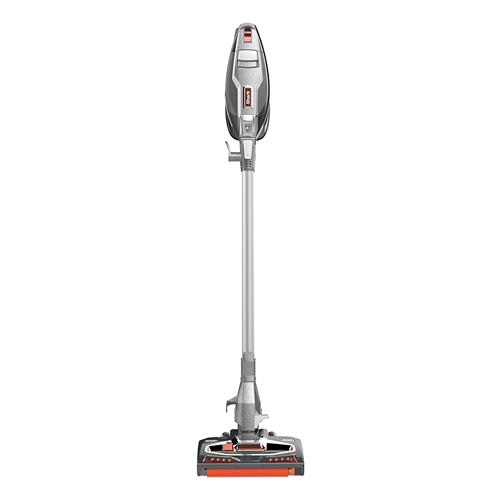 The HV382 comes with a dual brush roll system that directly engages with a floor to provide a polished look. It's incredibly lightweight (3.4kg to be precise), and it is well-suited for vacuuming up pet hairs. Its LED lights can help you notice hidden debris while you hoover. It is powered by 120 volts of electricity.
Things we liked
Good value for money
Lightweight
LED headlights
Things we didn't like
Top-heavy vacuum
Roller may jam
Not necessarily as durable as other options
Dyson V8 Absolute Cordless Vacuum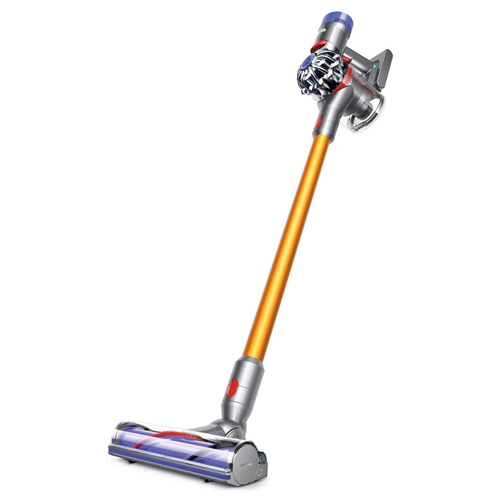 Another fantastic product from Dyson is the V8. It's a modern and stylish multi-purpose vacuum that weighs just 2.6kg, is compact, and simple to store. It also features a soft nylon roller and washable HEPA filter. Despite its positives, it is pretty costly and takes about four hours to recharge.
Things we liked
Premium quality
Modern and stylish
Ultra-lightweight
Compact and easy to store
Things we didn't like
Expensive
Many hours to recharge
Roborock S6 2-in-1 Robot Hoover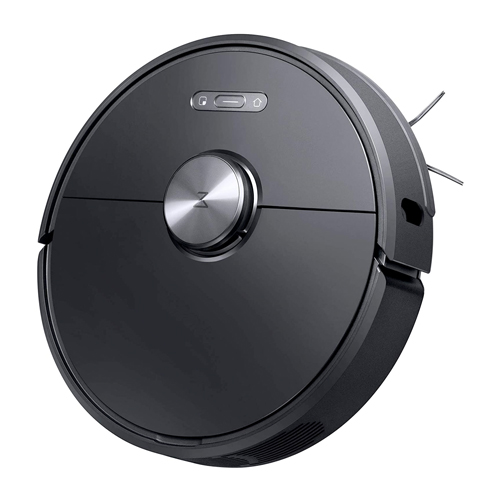 If you want to splash out on something more hi-tech, then you should consider purchasing this robotic vacuum from Roborock. It has 360° rotation, 98% accuracy, and a large lithium-ion battery for a whopping three hours of continual vacuuming.
It has fourteen different types of sensors on-board allowing it to easily and effectively navigate your home. It comes with Map Management 3.0 software that allows you to map out spaces in your home so the Roborock can get to work on the same rooms each time easily.
Things we liked
Hi-tech and modern
360° rotation
98% accuracy
Three hours of hoovering
What to Consider Before Buying a Handheld Vacuum
There's plenty of points you should contemplate before purchasing a handheld vacuum. Let's explore some standout examples.
Cost
Firstly, you should decide on what your budget is before setting out to make a purchase. Many shopping websites let you set the price range when searching for products. Once you know how much you're willing to spend, check out the best products in your preferred price range.
Dust Capacity
Each handheld vacuum has its own dust bin capacity. The larger your home and the more often it needs to be vacuumed, the bigger a vacuum's dust bin should be.
Run Time
In this article, we've reviewed products that run for eight minutes, while some run for an hour and hi-tech options like the Roborock S6 was shown to run for several hours. Think about how long you'd need a vacuum to run before making a choice, as this could save you plenty of time and make life easier in the future.
Weight
Make sure not to overlook how lightweight a handheld vacuum is. Sometimes having an ultra-lightweight product can make things that bit easier.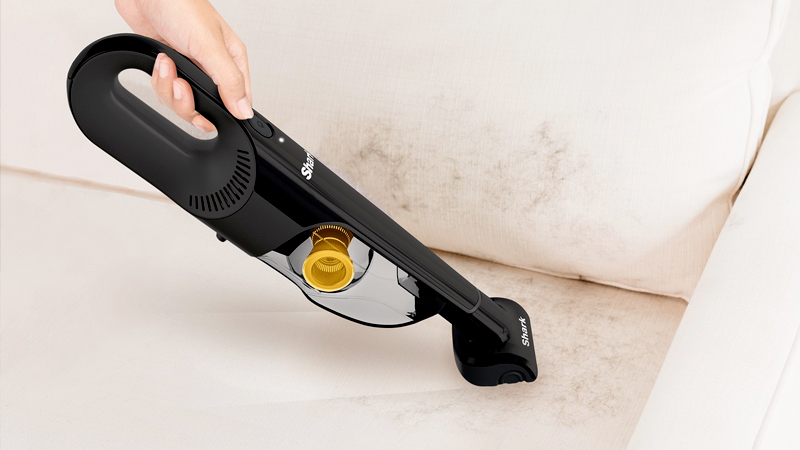 FAQs
What is the best handheld vacuum cleaner for pet hair?
There are many standout examples, but arguably the Pet Hair Eraser Hand Vacuum is the best choice for removing pet hair.
How does a handheld vacuum cleaner work?
These vacuums usually function as a portable, battery-powered unit. Whether it's cordless or not, however, handheld vacs work as compact, lightweight alternatives to regular vacuums but still follow the same fundamental premise of using a motor to spin a fan, which creates suction.
How long do handheld vacuums last for?
On average, you can expect one to stick around for two to three years, but if well-maintained, they could last much longer.
Where can I buy a good handheld vacuum?
You'll find that many electrical stores will sell a decent range of handheld vacuums. Other retailers, such as catalogue retailers, sell handheld vacuums too. An alternative option is to check out websites like eBay.
What is a great quiet handheld vacuum?
For this, try the RUIMA Portable Handheld Vacuum Cleaner. If you can't source one, you should consider the HIMOX Handheld Vacuum Cordless.
Sources