cleaning & laundry
Best Clothes Steamer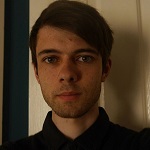 Want to know what the top clothes steamers are? This guide will discuss the best clothes steamers on the market based on various categories, ranging from handheld to compact to vertical clothes steamers, among others.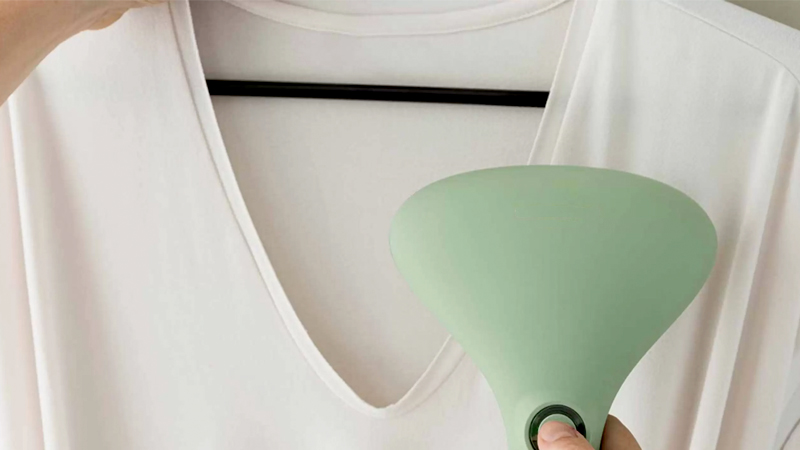 This article will prove especially helpful for those wishing to purchase a clothes steamer soon or even at some point in the future.
What Is a Clothes Steamer?
Now, let's take a look at what this appliance is exactly. A garment steamer or clothes steamer is an appliance that removes wrinkles from fabrics/garments by employing steam at high temperatures.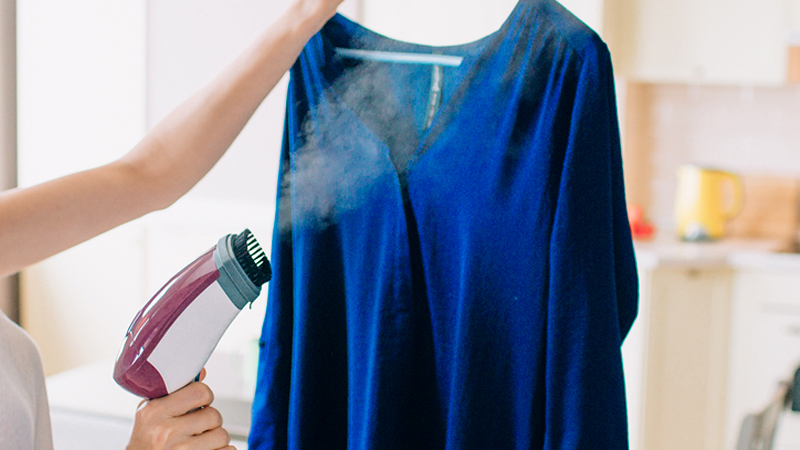 Anyone looking for a quick and effective way to iron their clothes should consider buying a clothes steamer.
How Does a Clothes Steamer Work?
Clothes steamers function by heating water up to boiling point, which then turns into steam and can subsequently be channeled through the steamer to relax the clothes' fibres, thus removing wrinkles.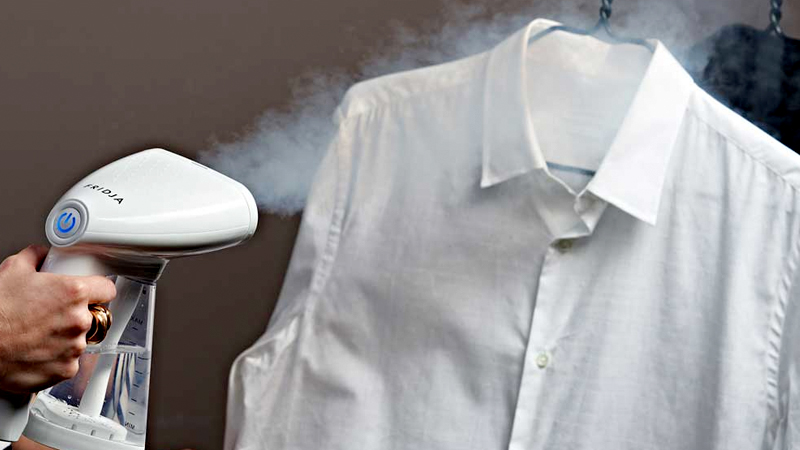 You don't need to press down hard on the material to achieve this because of the nature of clothes steamers! A clothes steamer should ultimately be used per the manufacturer's instructions, either way.
Types of Clothes Steamer
There are many forms of clothes steamer that exist in terms of a broad type category. This is distinct from the usage types that we'll discuss in the next section.
Handheld Clothes Steamer
These clothes steamers are compact, light and easy to use. Naturally, they're also quite small and look a bit like the forehead temperature scanners we came so used to seeing in real life or on TV over the past two years. However, their design and size make them very easy to manoeuvre and transport.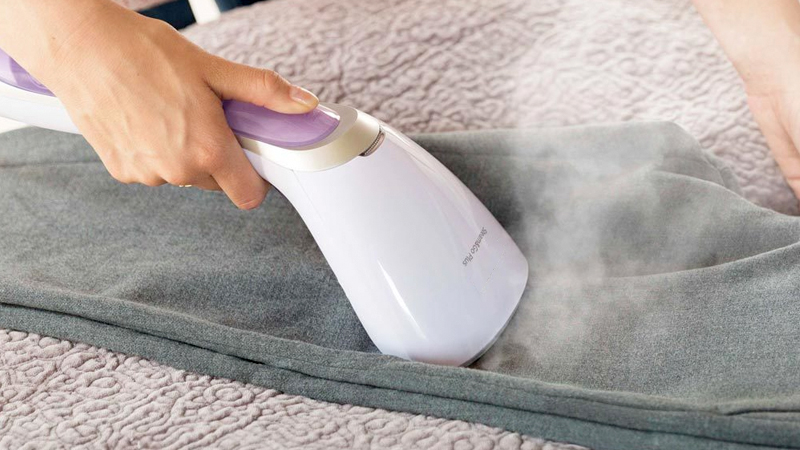 Travel Clothes Steamer
These clothes steamers are essentially another type of handheld steamer (usually), but they are specifically designed to be as easy to bring with you on-the-go as possible. Travel clothes steamers are great if you plan to get away but will need to get creases/wrinkles out of clothes.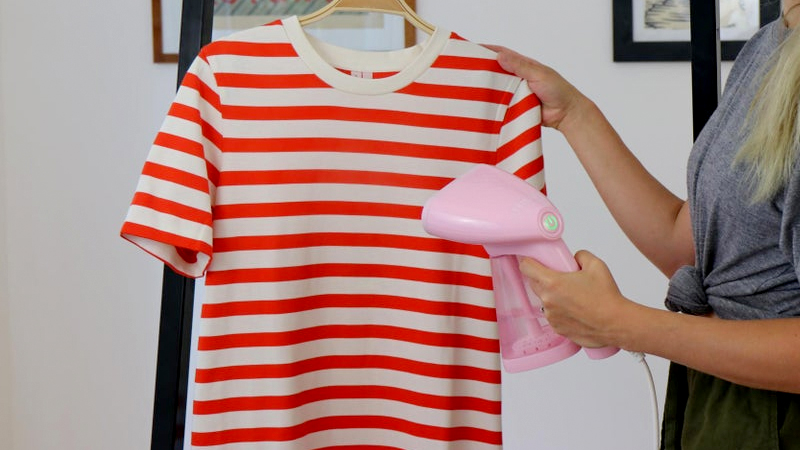 Compact Clothes Steamer
Of course, if you think of a compact clothes steamer, a handheld one probably comes to mind. However, you can consider this category as applicable to the more compact of vertical clothes steamers too.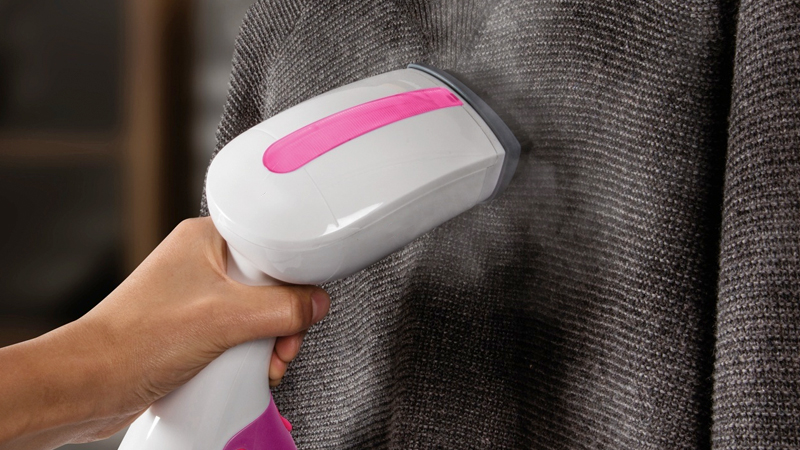 Vertical Clothes Steamer
These steamers are horse style and feature a hanger attached to a telescopic pole. Thankfully, this pole can generally be packed down to a much smaller size, making it more closely resemble a cylinder vacuum cleaner.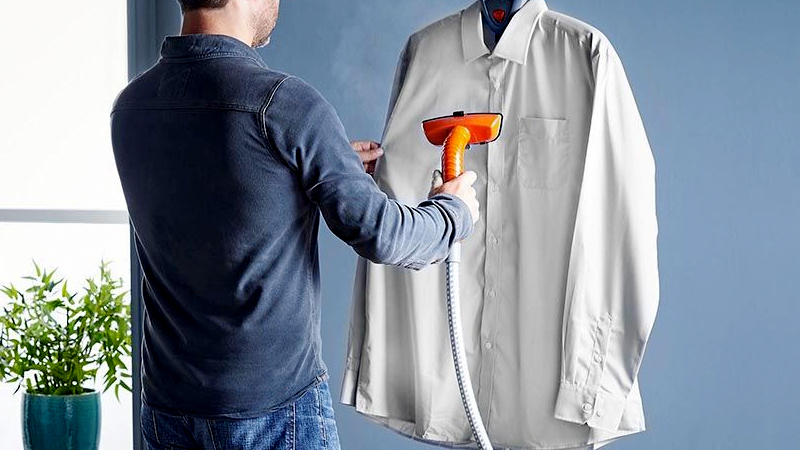 Best Clothes Steamer
For this section, we'll delve into what the best clothes steamers on the market are.
Best Handheld Clothes Steamer
Philips Steam & Go Plus Handheld Garment Steamer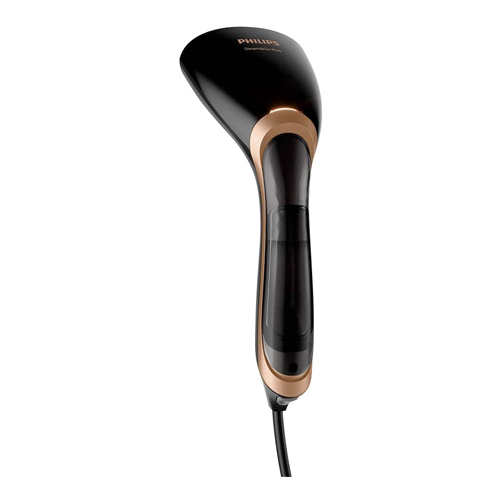 This high-quality portable steamer is not overly expensive, comes with a 24g a minute pressure rate, a 2.5-metre cable and a 70ml capacity. In addition, you can use its brush attachment for steaming thicker, tougher items.
Among additional advantages of this garment steamer are its SmartFlow heated plate, helping you rejuvenate your worn garments. It can also be used either horizontally or vertically, depending on your preferences.
Things we liked
Lightweight
Ergonomic
The power cord is long
Easy to fill water tank
Things we didn't like
Minimum water level not marked
The water tank is fairly small
Tefal Access Steam Care DT9100 Garment Steamer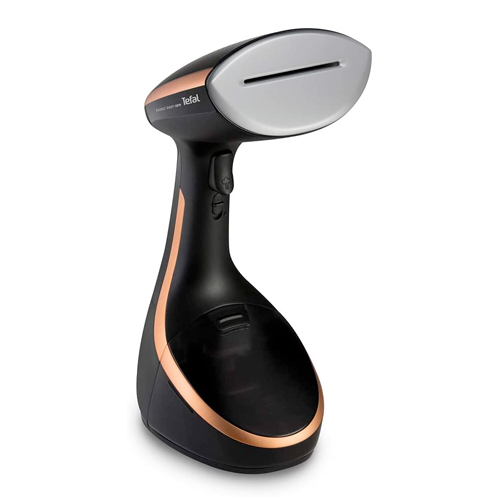 You can use the DT9100 to remove wrinkles from your garments and fabrics without the need for an ironing board. This Tefal garment steamer heats in only 40 seconds and has a total output of 30g a minute.
Things we liked
It heats up in just 40 seconds
No ironing board needed
Things we didn't like
It doesn't have the highest rates
Tefal Access Steam+ DT8150 Hand Steamer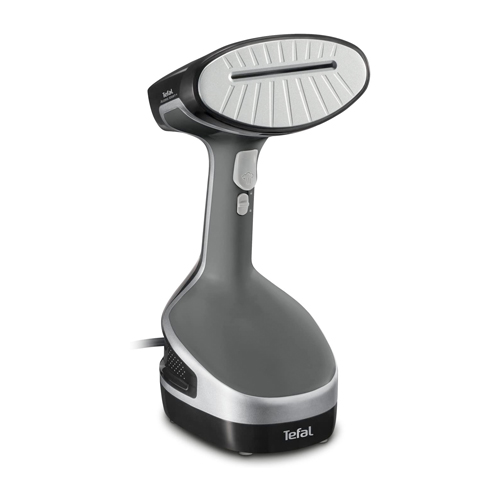 The DT8150 can heat up in about 40 seconds and offers three settings; normal, delicate, and turbo. These options would suit a wide range of fabrics. However, it may not be the best choice to smoothen awkward areas of fabrics (e.g., armpit area of a shirt), meaning it may not be the most effective product.
It has a 200ml capacity, transparent water tank, and various accessories like a crease attachment, travel bag, and fabric brush.
Things we liked
It heats in just 40 seconds
Three settings to choose from
200ml capacity
Things we didn't like
Not the best for dealing with awkward fabric areas
Best Travel Clothes Steamer
Fridja F10 Handheld Travel Clothes Steamer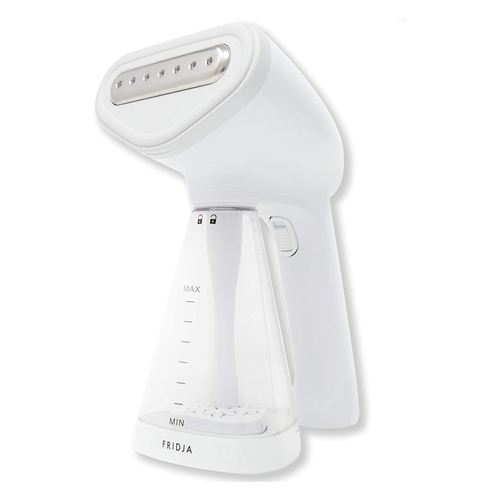 This compact and cute handheld steamer for clothes from Fridja is available in white, black, or pink. While the F10 is a little expensive, it takes just 45 seconds to heat up and can work for 14 minutes straight. It has a slim handle, and it is a lightweight product that's easy to manoeuvre. Among its add-ons are the collar press and delicate fabric guard.
Things we liked
Different colours
Heats up in 45 seconds
Works for 14 minutes
Steamery Cirrus No. 2 Travel Steamer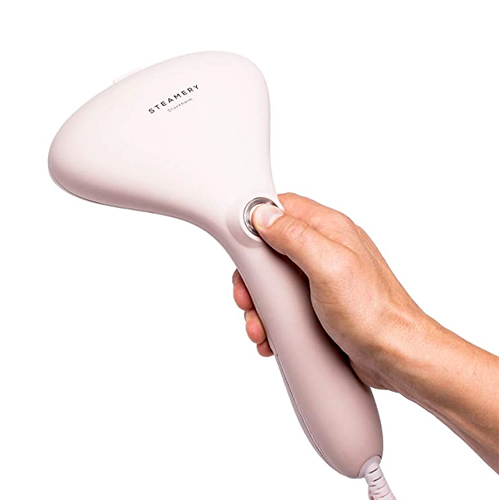 This somewhat costly travel steamer has the incredible ability to heat up in only 25 seconds. It then can function for six minutes in a row, thanks to its 75ml water tank capacity. In addition, this product is durable and eco-friendly.
Things we liked
It takes only 25 seconds
Works for six minutes
Long-Lasting
Eco-friendly
BOKEH 1200 Multi-Purpose Clothes Steam and Travel Kettle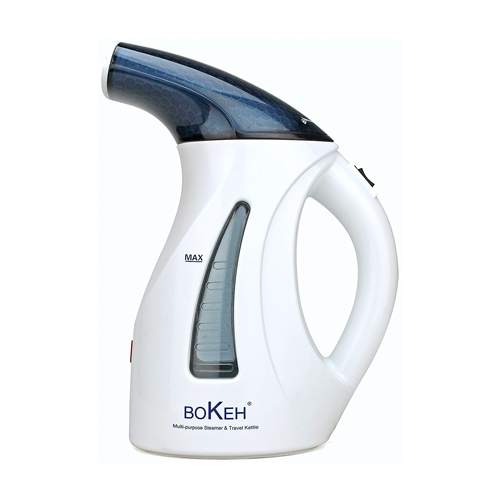 If you want something handy, this product doubles up as a kettle and clothes steamer! This wild idea from BOKEH provides customers with a 450ml water tank, heats up in 35 seconds and it is both compact and agile. It's also surprisingly cheap.
Things we liked
2-in-1 use
It heats in just 35 seconds
Things we didn't like
It may not be everyone's cup of tea
Best Compact Clothes Steamer
Beldray BEL0932RG Handi Steam Max Pro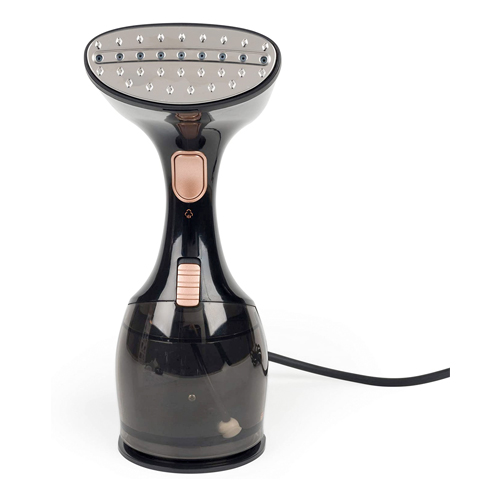 This Beldray handheld steamer is good value for money and is also a relatively small product. It has a 2700ml capacity, 1.22kg weight, and is powered by 1500 watts. It comes in black and features eloquent rose gold accents. It also takes just thirty seconds to heat up. With that being said, the BEL0932RG has a fairly short power cord.
Things we liked
2700ml capacity
1500 watts of power
Good bang for your buck
Things we didn't like
Relatively short power cord
SteamOne Minilys Plus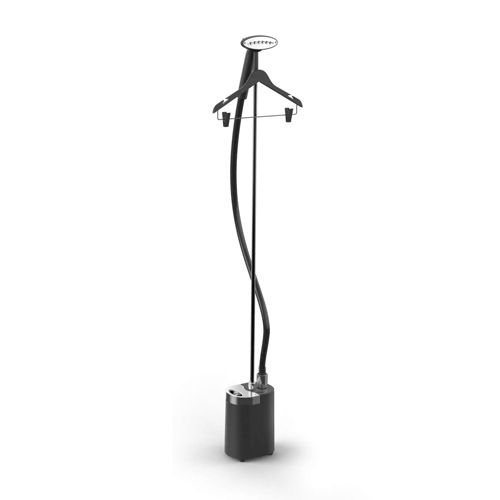 While this is a vertical clothes steamer (making it naturally much larger than a handheld product), for a vertical appliance, it's fairly compact. The SteamOne Minilys Plus has a 1-litre capacity, is powered by 1900 watts, and weighs just 7kg. It comes with a long steam hose, but it lacks the versatility of other vertical clothes steamers.
Things we liked
1900 watts of power
It comes with various necessaries such as a lightweight mitt
Swan SI12020N Handheld Garment Steamer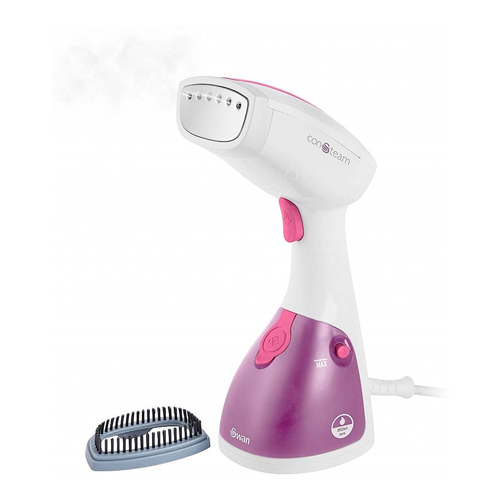 This handheld clothes steamer comes with an 1100-watt power rating, generates steam quite fast, and removes creases with ease. It can be used for flat ironing or vertical steaming, depending on your preferences. It has a 250ml capacity and a long 1.9m cord. So not only is it lightweight but it's compact also.
Things we liked
1100 watt power
Steam generates quickly
Long cord for a handheld steamer
Things we didn't like
Fairly noisy
Not all creases are removed that easily
7-in-1 Portable Clothes Steamer By Dodocool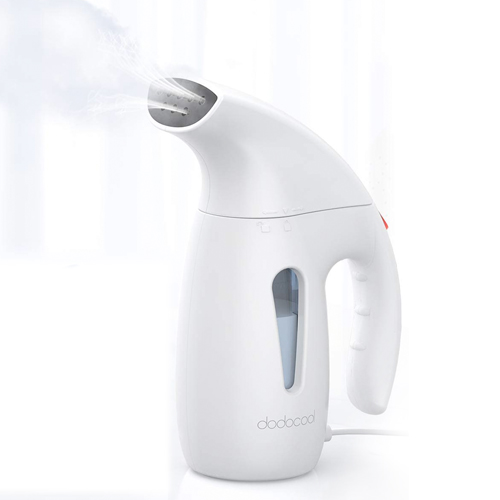 This ergonomic and compact multi-purpose steamer has an A+++ rating for energy efficiency, comes with a deflector layout to stop water unintentionally spitting out from its iron plate, and offers 10 to 12 minutes of water for each go. With that being said, water will spill out if it's tilted beyond 45°. Its nozzle may also fall off mid-steam, so it's important to watch out for that.
Things we liked
Various uses
Highly energy efficient
Things we didn't like
Tilted beyond 45°
The nozzle can fall off mid-steam
Best Vertical Clothes Steamer
Fridja 1000 Professional Vertical Garment Steamer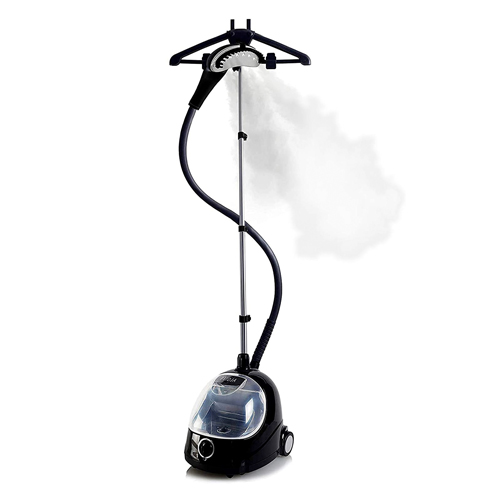 This high-quality steamer is good for any job and can rapidly deal with large quantities of garments/fabrics. It comes with a transparent 2200ml water tank, hanging equipment, and a wide range of add-ons, such as a trouser clasp, folding hanger, and hand ironing mat.
Things we liked
2200ml water tank
Rapid and effective product
Various add-ons
Blusmart Garment Steamer Vertical Clothes Steamer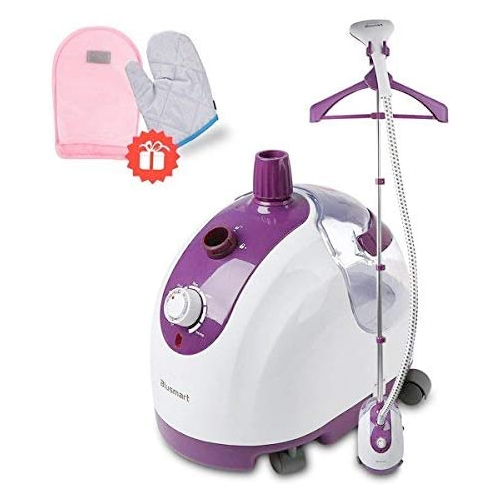 This clothes steamer also comes with a 2200ml water tank and is backed by 1450 watts of power. With a large tank and head, it can leave you with crisp, dry clothes as a result. As for its accessories, these include a hand ironing mat, folding hanger, and trouser clasp.
Things we liked
2200ml water tank
1450 watts of power
Things we didn't like
No ready-to-use indicator light
Steamone H190B Vertical Steam Smoother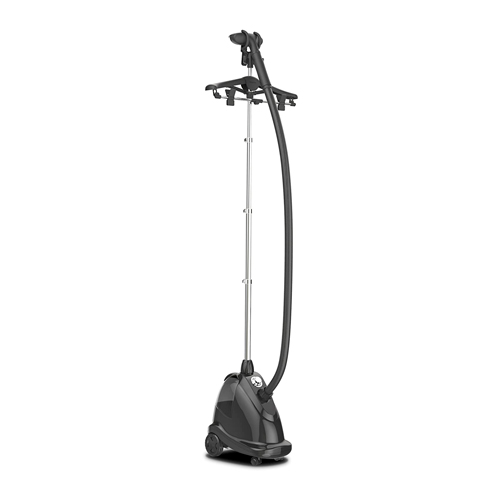 This versatile clothes steamer may be used on a wide range of fabrics. The H190B is ready to use in a minute and a half. It has a 2500ml tank capacity, 1900 watts of power, and an integrated anti-limescale system. It also notably features a Triple Hitzegeschützter hose. As for its add-ons, among them are a mini clothes hanger board, multi-function brush, and protective glove.
Things we liked
Integrated anti-limescale system
1900 watts of power
2500ml water tank capacity
90 seconds
Things we didn't like
It may be difficult to find
Best Small Clothes Steamer
Esteam Handheld Steamer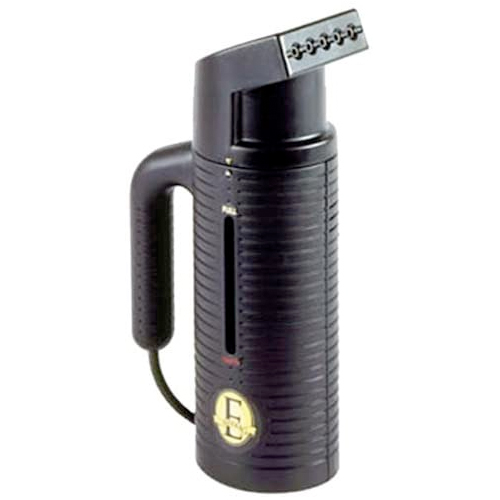 This slim handheld steamer can produce plenty of continuous steam thanks to its large water tank. However, it's fairly lightweight. It also comes with a 9-foot power cord. This clothes steam comes in pink or black. The Esteam Handheld Steamer does, however, lack accessories. While it's a small appliance, it's fairly simple and limited in its design.
Things we liked
Compact
Produces lots of continuous steam
Lightweight
It has a 9-foot power cord
Things we didn't like
It doesn't come with accessories
Tefal dt7050 Travel Garment/Clothes Steamer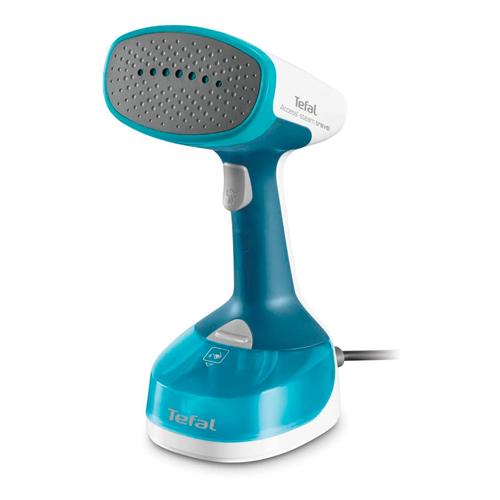 The dt7050, as with the Esteam handheld steamer, produces lots of steam on a continual basis during use. Further, it's ready to use within 45 seconds, can remove creases with ease, has plastic plates that fit beyond the nozzles, and has accessories such as a brush, clipper, and small foldable hanging bag. On the other hand, its water tank is prone to leaking.
Things we liked
Produces plenty of steam
Removes creases with ease
Removes creases with ease
Things we didn't like
The water tank is susceptible to leaking
Rowenta Access Steam DR8095D1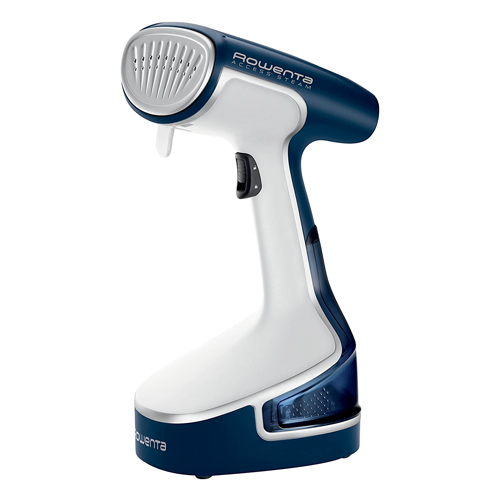 This budget-friendly and compact device from Rowenta has a 1500 WC power rating, offers continual steaming of 22g a minute, and comes with a 220ml removable water tank. Further, it offers variable vapours, has a 3m cable, and an LED indicator. However, with that being said, the DR8095D1 may be a bit too small and lacking in versatility for some customers.
Things we liked
Cheap
3m cable
Continual steaming
Variable vapours
Things we didn't like
Little bit small
Not that versatile
What to Consider Before Buying a Clothes Steamer
There's plenty of points to take on board before purchasing a clothes steamer. Let's delve into some common examples.
Size
First and foremost, it's essential that you consider whether you'd like a large vertical clothes steamer or a compact, handheld appliance. Beyond that, some appliances are smaller and easier to manoeuvre than others, whether they're a vertical steamer or a handheld steamer. Ultimately, the right product for you will depend on your preferences.
Steam Per Minute
Each clothes steamer has a rating when it comes to the amount of water it uses per minute. Ensure that you choose the rating that matches your requirements.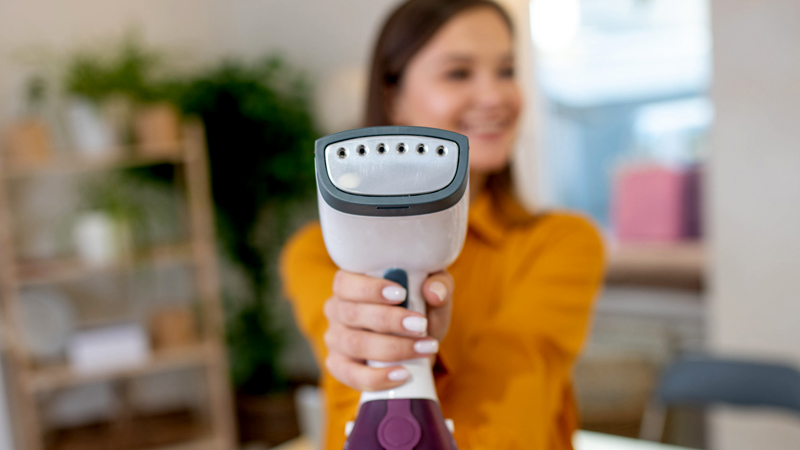 Cost
Of course, budget is a very important point to take into account. There are thankfully products to suit various cost ranges, although, as you'd expect, handheld steam cleaners usually cost less than vertical ones.
FAQs
Where can I buy a clothes steamer?
Plenty of stores sell clothes steamers, and it's easy enough to find them online (either via the website of well-known stores or through a website such as eBay or Amazon).
Can I pack a clothes steamer in a suitcase?
Usually, these steamers can be brought in a suitcase once they do not have any liquid inside them. If you're unsure, it's best to check with the relevant authority, such as by checking their website (e.g., London Heathrow Airport) to ensure that you are okay to bring your clothes steamer with you.
How long do handheld clothes steamers last?
In general, it's reasonable to expect one to last for 5-10 years and possibly more once it's well looked after.
What fabrics can I not steam?
Usually, you should not steam fabrics/materials like suede, waxed jackets or plastic. If in doubt as to what you can and cannot steam, it's best to check with the manufacturer.
What is a professional clothes steamer?
This is essentially just a high-end and high-performing clothes steamer. Of course, a professional is likely to use such products, but a regular consumer could certainly buy one too. Unsurprisingly they do tend to be more expensive.
Sources