office & business
Best Office Chair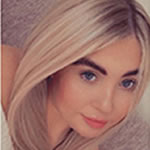 When browsing for an office chair, you'll see that there are many different types to choose from. This makes it much more difficult to decide if you don't know what you're looking for.
So, what should you look for when buying an an office chair?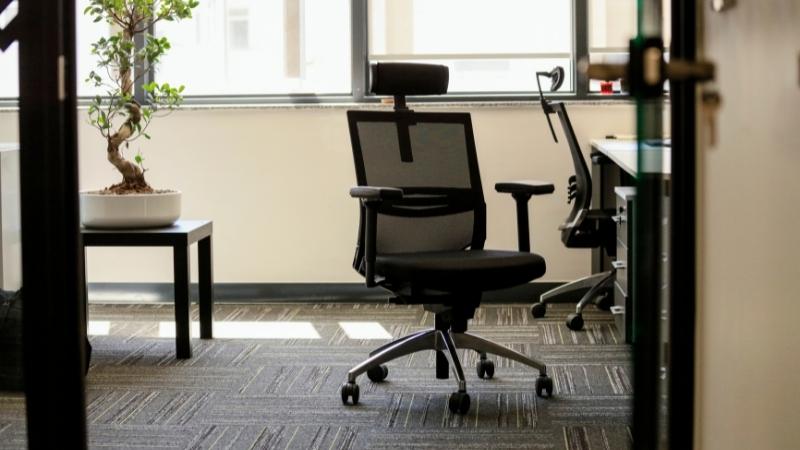 In this article, we'll go over all the different types of office chairs, and also provide you with a list of some of the best office chairs available.
What is an Office Chair?
First, let's explore what an office chair actually is...
When we talk about office chairs, we're talking about seats that are used in a work environment or office. However, an office chair can refer to a variety of items, including ergonomic chairs, executive chairs, and visitor chairs in waiting rooms and reception areas.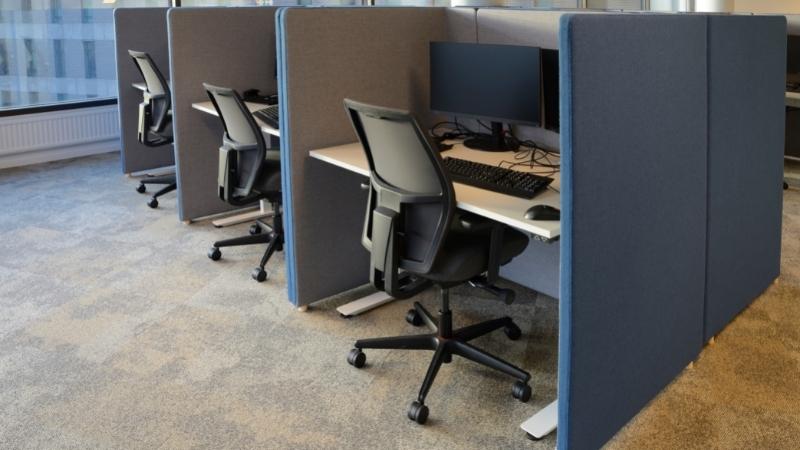 How Does an Office Chair Work?
Working in an office where you sit down for long periods can result in major spinal difficulties, carpal tunnel syndrome, back and neck discomfort, frequent headaches, and a variety of other health concerns.
The main goal of an office chair is to protect your back, support your lumbar region, and keep your muscles from becoming overworked.
The backrest should be adjustable via a mechanism on the side of the chair. This will ensure that your spine's S shape is always supported, preventing strain.
Because no two people are alike, it should adapt to your body. It prevents you from remaining in the same position for long periods. You should be able to alter your posture regularly.
Types of Office Chair
There are a variety of office chairs available to suit the needs of diverse jobs and workplaces. Here, we'll look at the most prevalent types and how they stack up in terms of ergonomics.
Conference Office Chairs
The conference room is where you meet with your team to develop ideas, make key decisions, and entertain visitors. Conference chairs are normally constructed with a low or mid backrest to create a more open atmosphere and avoid blocking people's line of sight.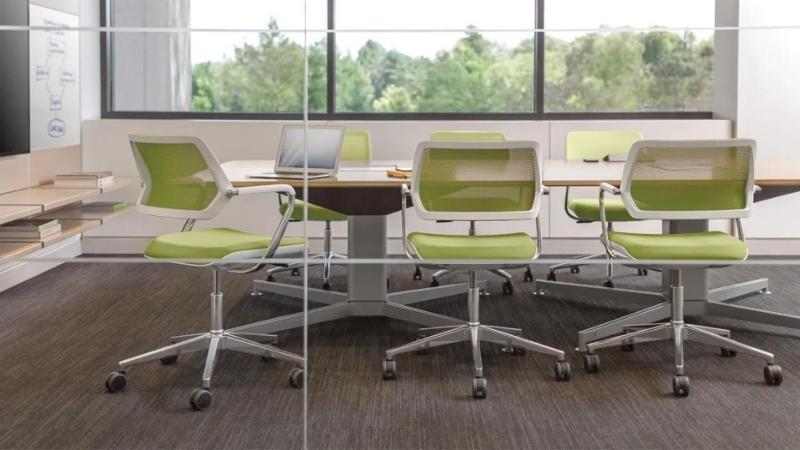 Many conference chairs, unlike other types of office chairs, encourage a forward-leaning posture by tilting the seat forward somewhat. This is to encourage attendees to contribute and engage in a meeting.
Ergonomic Office Chairs
Ergonomic chairs are meant to promote a neutral posture and give adequate support while working long hours at the office. Though they are more expensive than other types of office chairs, they save you money in the long term.
This is because they are designed to prevent problems such as cervical spondylosis, back discomfort, bad posture, and poor blood circulation.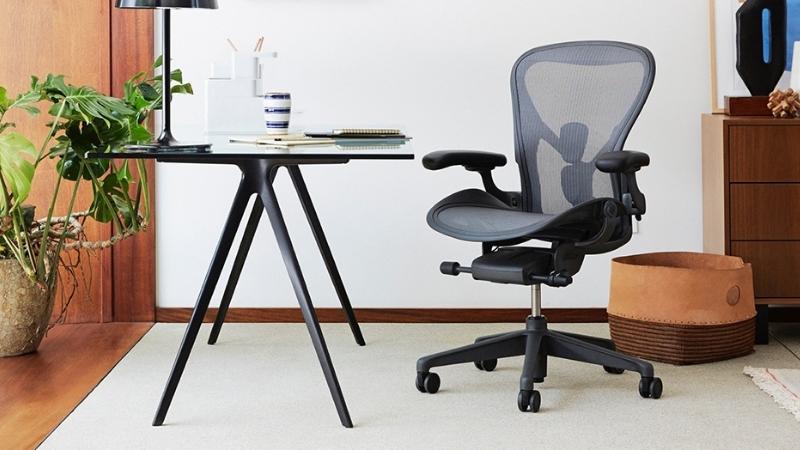 This type of office chair was created to offer both comfort and support to the user. Height adjustability and spine support are among the features offered.
Big and Tall Office Chairs
Big and tall office chairs, as the name implies, are made for those who are tall. Their large weight capacity, which runs from 300 to 1,000 pounds, distinguishes them.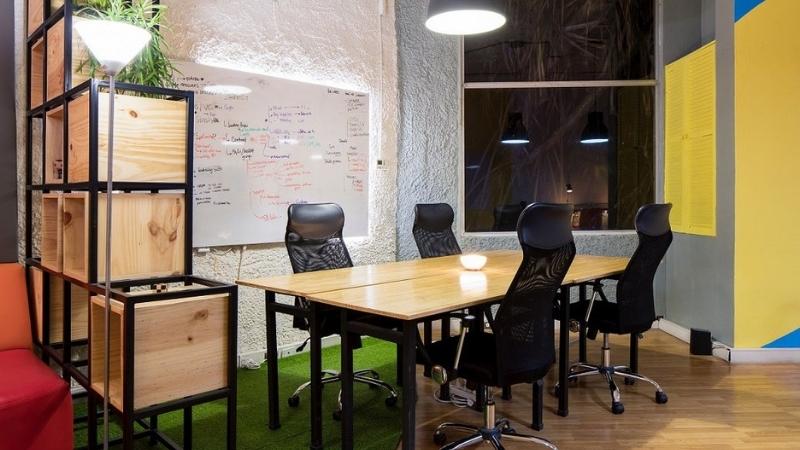 Higher and wider backrests, higher seat height adjustments, thicker cushioning, wider seats, and stronger frames, bases, and armrests are all features of this type od chair.
Executive Office Chairs
The executive chair is usually the most luxurious of all the different types of workplace seats. Executive office chairs, as the name implies, are frequently used by executives.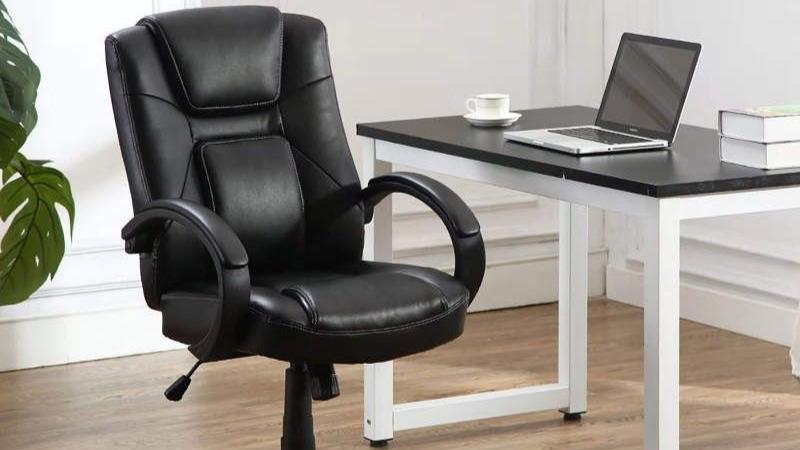 They often have a high back, plenty of cushioning in the back, seat, and headrest, and are typically built with excellent materials such as wood and real leather.
The distinction between ergonomic and other types of workplace chairs is frequently blurred these days. Executive chairs, on the other hand, can be expected to have overstuffed seats, generously cushioned armrests, and PU or real leather upholstery. Some even have amenities like a massage head or a recline function.
Petite Office Chairs
If there are seats for the large and tall, it's only natural that there are also chairs for the petite. Petite chairs include a smaller seat, a smaller base, and a lower gas lift, allowing smaller individuals to rest their feet on the ground.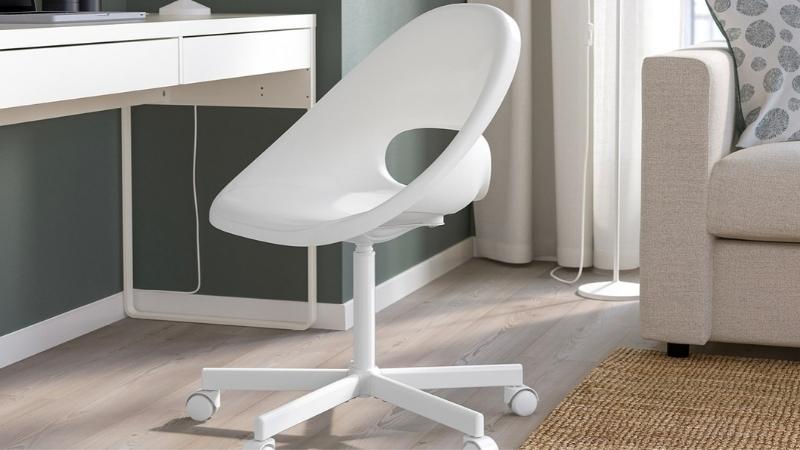 Even the ergonomic characteristics have been modified to accommodate people of tiny stature. Petite office employees may find it more challenging to maintain good arm alignment in regular office chairs due to the taller armrests.
A small chair eliminates this problem because the armrest is substantially lower in height. The headrest, lumbar support, and seat depth are all similar.
Stacking Office Chairs
When it comes to portability and convenience, stacking chairs are similar to folding chairs. This chair features a design that allows it to be stacked to conserve room in the storage area. Because they come in a variety of colours and designs, this type of lightweight chair is great for social situations.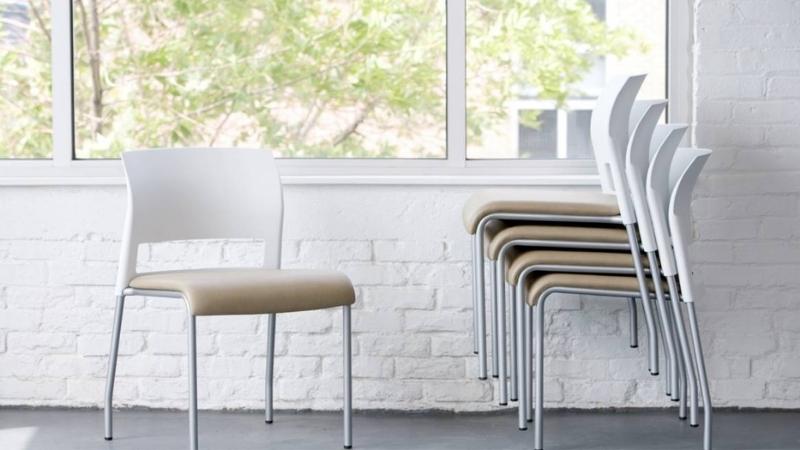 Stacking chairs, unlike folding chairs, are more concerned with aesthetics. Ergonomic characteristics include a flexible or curved backrest and a softly sloping seat edge on some models. They may also be equipped with thin armrests.
Task Office Chairs
Task office chairs are the essence of breathability, making them an excellent choice for anyone who sweats profusely at work. For added comfort, the backrest is lined with this net-like fabric, and the seats are padded.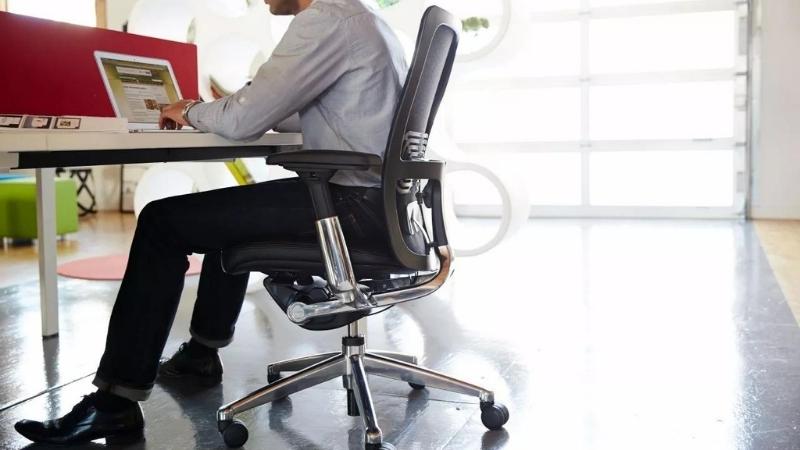 They're ergonomically built, with a waterfall edge for improved blood circulation and lumbar support to reduce lower back strain.
Best Office Chair
Office chairs provide the comfortable seating and back support that you require when working from home regularly.
High-quality office chairs also have varying degrees of height and tilt adjustability. This allows you to customise it to meet your specific needs and eliminate neck and lower back aches and pains that occur with sitting in a less-than-comfortable chair.
Here are the best office chairs you can buy to make your workspace more comfortable.
Best Conference Office Chair
Renda Mid-Black Ribbed Conference Chair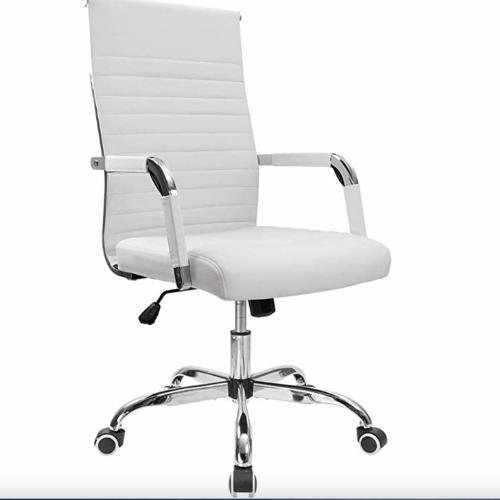 This comfortable office chair may be worth considering if you want a well-designed conference chair that is comfortable and affordable.
The Renda Mid-Back Ribbed Conference Chair has a stainless-steel base and a padded seat with a variety of colour options. You'll also find a tilt mechanism and seat height adjustment, among other features.
Things we liked
Various design options
Affordable
Mercury Row Pinero Conference Chair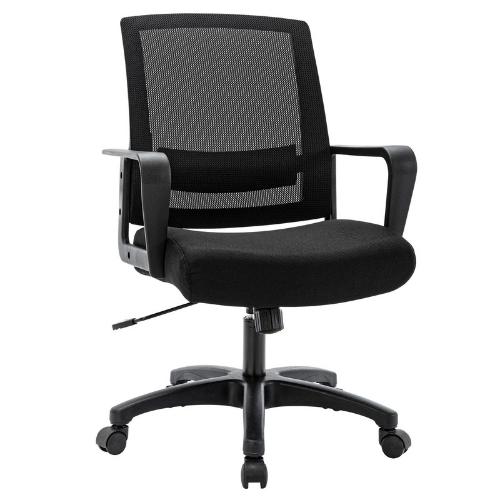 This conference chair is an excellent choice for people looking for a low-cost executive chair. This attractive chair, which comes in eight colours, is designed to withstand hard use and can easily withstand an 8-hour workday.
Its padded seat, back, and armrests keep it comfy throughout the day. It also has adjustable seat height, seat angle, tilt mechanism, and lumbar support, so you may fiddle with it until it's exactly right for you.
Things we liked
Budget-friendly
8 designs to choose from
Things we didn't like
The bottom cushion is quite thin
Metropolis Conference Room Chair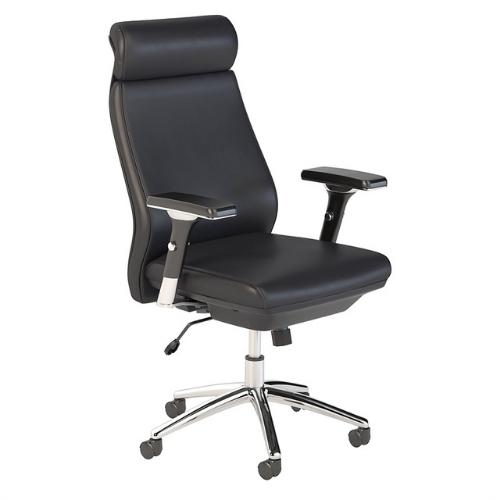 The lumbar back support and padded leather upholstery distinguish this conference office chair.
This is the perfect chair to buy if you're seeking the best ergonomic conference room chair for long sessions.
What appears to be a simple design at first glance is an office chair that can provide long-term comfort.
Owners of this chair are raving about how useful it is and how it has helped them become more comfortable at work.
The high back and leather finish, according to one 6'2" owner, has made a world of difference in long-term comfort.
Things we liked
Padded leather cushioning
Great for tall people
Things we didn't like
Not ideal for anyone under 5'3
Best Ergonomic Office Chair
Herman Miller Aeron Ergonomic Office Chair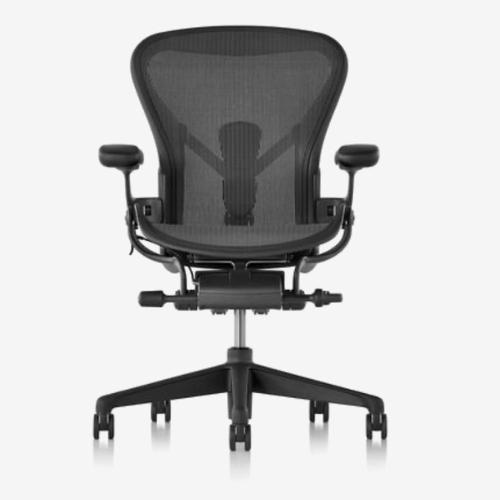 The Herman Miller Aeron is a tad costly, but it's for a good reason. With features like a mesh back, a strong base, and three various sizes to pick from, the chair has an ergonomic design that assures you'll stay comfortable throughout the day.
The chair also has a lot of adjustments. There's a tilt adjustment, as well as a seat angle adjustment, and you can fully adjust the arms and lumbar.
The chair is made of high-quality materials and should last for many years.
Things we liked
Various sizes to choose from
Angle and tilt adjustments
Herman Miller Sayl Ergonomic Office Chair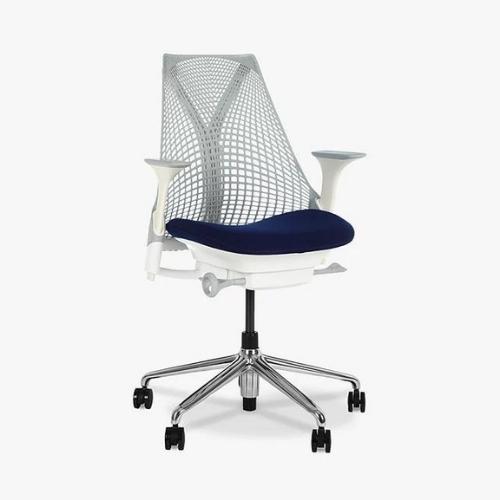 The Sayl has a stylish, one-of-a-kind design, but it's also quite comfortable and customisable.
A large mesh back is included, which Herman Miller claims can expand and move to conform to the user. That implies the chair will help you maintain good posture by keeping your spine in its natural position.
Other design choices are also available to ensure a pleasant experience. You'll receive an adjustable height between 15.5 and 20 inches, as well as carpet-friendly casters.
The chair isn't cheap, but it's also not outrageously priced.
Things we liked
Adjustable height
Stylish design
Things we didn't like
The lumbar supports is not included from some stores
Humanscale Freedom Headrest Chair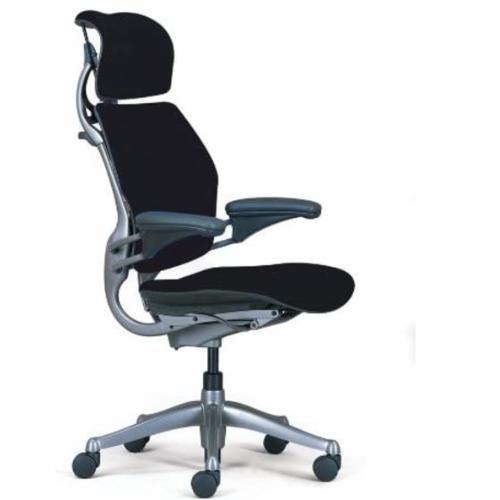 The Humanscale Freedom Headrest Chair, which is created with an exceptionally ergonomic design, is worth considering whether you're battling with back pain or attempting to be proactive about keeping your body pain-free.
It includes a reclining mechanism that helps you to keep your eye level steady while you recline. The cushions are moulded to fit your body exactly, and the chair's sensitive backrest adjusts to your back as you recline.
Things we liked
Moulded cushions
Automated backrest adjustment
Best Big and Tall Office Chair
Steelcase Gesture Office Desk Chair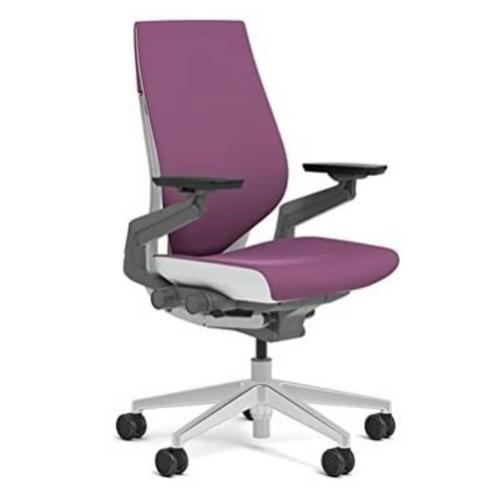 Being tall can be taxing on your back and neck, especially if you're forced to sit in a chair designed for people with shorter statures. The Steelcase Gesture Office Desk Chair can help with that.
The chair has a variety of modifications, as well as an adjustable headrest that should be high enough for taller users, and it has a design that is ideal for tall persons.
The armrests, too, are cutting-edge, with the capacity to move and provide support in a variety of postures.
Things we liked
Cutting edge arm rests
Adjustable headrest
Oak Hollow Furniture Aloria Series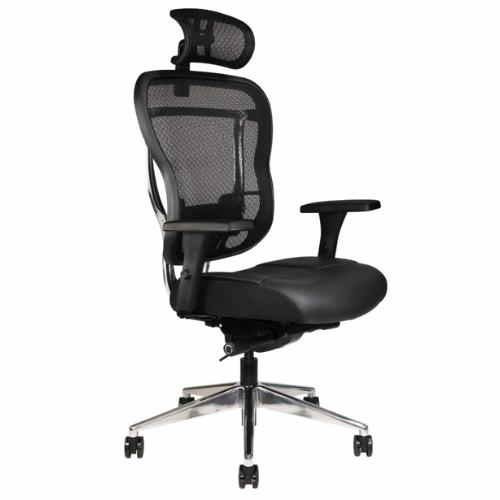 The Aloria's lumbar support slides up and down to target the area of your lower back that need the greatest support, in addition to the adjustable seat depth.
The armrests may be adjusted in and out, which is particularly useful for tall persons with larger shoulders.
Finally, to reduce back tension, the backrest may tilt and recline.
Things we liked
Tilt and recline functions
Adjustable lumbar support
Sunnow Ergonomic Office Chair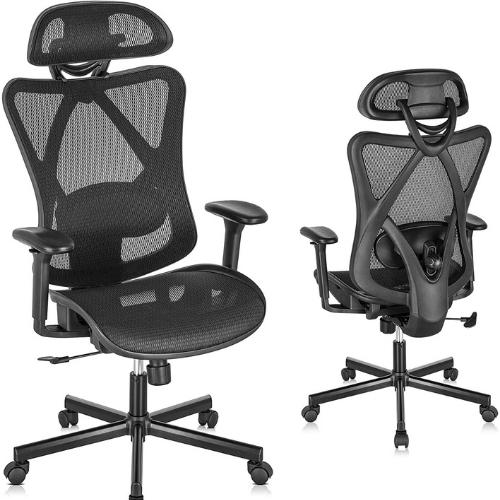 This is an ergonomic chair that is made from mesh with a maximum seat height of 23". This is ideal for tall persons seeking a chair with a high backrest at a reasonable price. The headrest is extremely large, spanning almost the full width of the backrest.
Several tall Sunnow owners have expressed their delight with the chair's comfort. This chair is not only tall but also has a lofty backrest. This ensures that the neck rest will rise high enough to fit beneath your cervical spine.
Things we liked
Large headrest
Made from breathable mesh
Things we didn't like
It doesn't tilt as much as other models
Best Petite Office Chair
Sidiz T50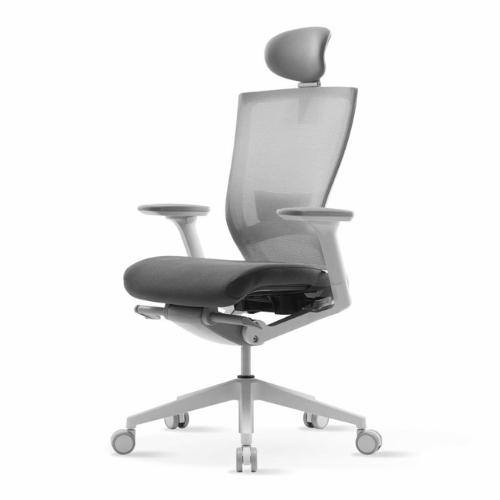 Petite persons will like the wide choice of seat heights, with a minimum height of 15". For persons with shorter legs, the Sidiz T5's adjustable seat depth is a pleasant addition.
It can be adjusted to a depth of 18.3 inches, which should be plenty for most persons in the 5ft range to avoid the seat's edge cutting off circulation.
Overall, the Sidiz T50 is a great mid-range ergonomic chair for short people. The seat cushion is a tad hard, and the fabric material isn't everyone's cup of tea. It is, nonetheless, a fantastic choice for moderate sitting.
Things we liked
Great for anyone with short legs
Adjustable height
Hbada Task Chair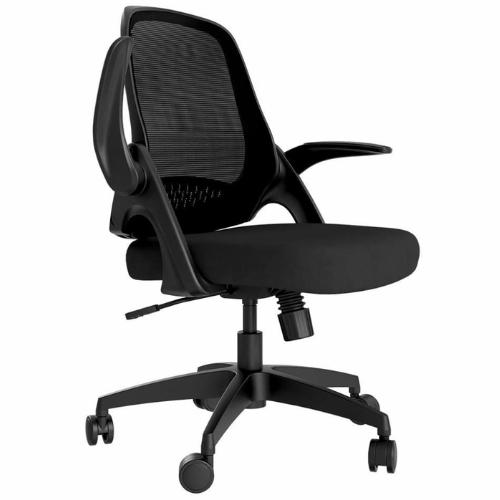 The Hbada Task Chair is a safe pick for small individuals on a budget. It isn't as adaptable as higher-end chairs, but the proportions and important features will provide for moderate sitting for small individuals.
The Hbada's lumbar support is fixed, but the mesh backrest is wide and supportive. The armrests may also be flipped up, allowing you to quickly stow the chair beneath the desk when not in use.
Things we liked
Affordable
Easy to store away
Things we didn't like
Not as adjustable as other models
Rimiking Home Task Chair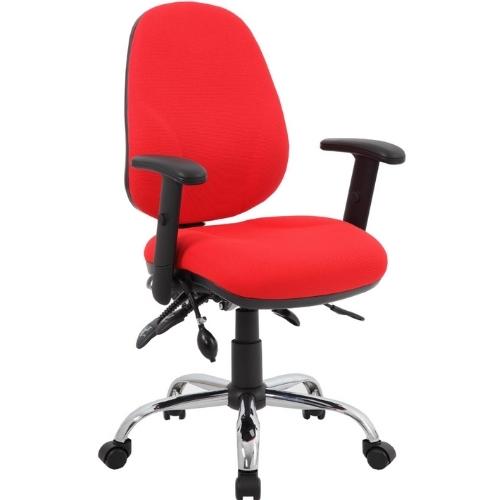 Rimiking has produced a modern, stylish task chair with a compact, modern shape and luxurious fabric upholstery that may not win any ergonomic awards but is especially suited for petite persons.
While the seat depth isn't adjustable, the fact that it's only 17.3" helps tiny people maintain appropriate posture. The chair is extremely comfy, according to one owner, and it drops low enough for her small desk.
Things we liked
Great for small desks
Modern design
Things we didn't like
The seat depth can't be adjusted
Best Stacking Office Chair
Cosco Commercial Resin Stackable Chair Set of 4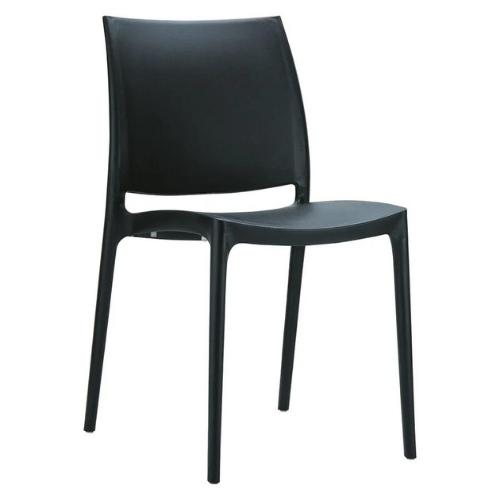 For longevity, this set of four stacking chairs is built of 16-gauge tubular steel and durable resin. They can support up to 300 pounds and have a pleasant, curved backrest, making them ideal for use in the office.
Even during busy conferences and workshops, the floor glider rounded points won't mark or dent flooring. When coupled with grey or black desks, the jet-black tone looks fantastic in a modern office.
Things we liked
Long-lasting design
Not damaging to flooring
Things we didn't like
Only available in one colour
MacArthur Stacking Chair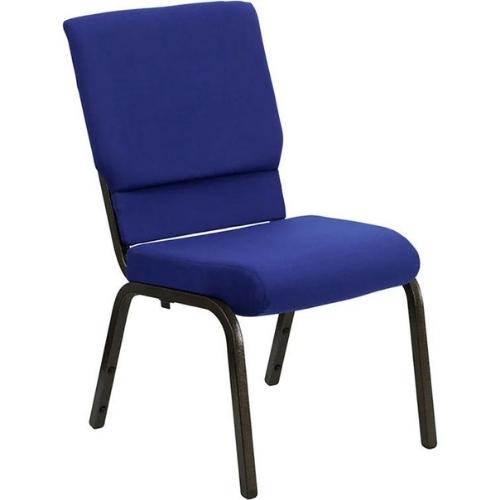 This chair comes in nine different flame-retardant fabric colours, allowing you to match the shade to your company's brand or workplace décor.
Its plush cushions make it suitable for extended meetings.
The structure can hold up to 800 pounds, making it durable enough for years of office use. Whether you use them at home or in your small business, the 5-year warranty protects your investment.
Lilian Metal Stackable Chairs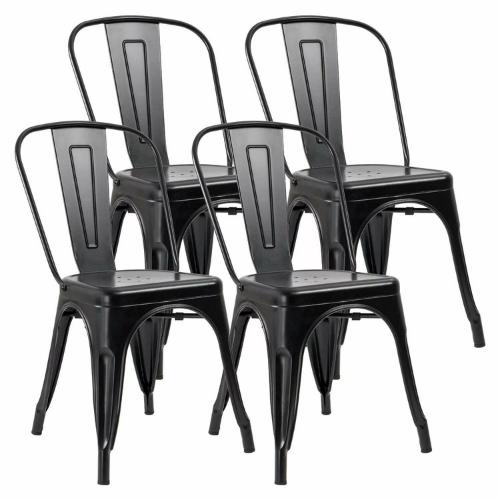 These little industrial-chic chairs can give your home office a new look.
They're made completely of strong metal and come in ten different hues, including bright yellow, bold red, gritty gunmetal grey, and more. Each set of four is simple to put together and can support up to 300 pounds.
Things we liked
Available in 10 different colours
Easy to assemble
Best Task Office Chair
Alori Conference Chair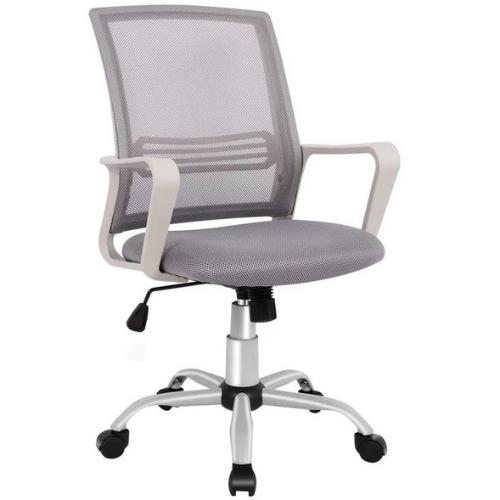 It can compete with options twice the price because of its breathable padded seat, ergonomic backrest, and other standard features (swivel, tilt).
The chair is made of high-quality materials, including PU casters that operate well on both hard and soft surfaces.
You'll enjoy a relaxing sitting experience with lumbar support and a padded seat designed to keep your hips and legs dry.
The chair also incorporates a tilting function, making it easier to find the ideal seating posture.
Things we liked
Breathable seat
Ergonomic backrest
Things we didn't like
Seat is harder than expected
Hon Exposure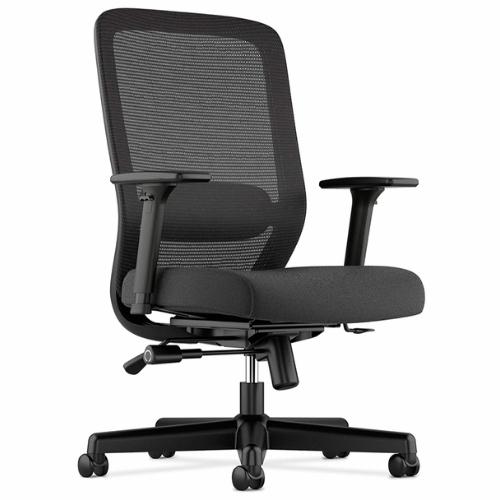 The Hon Exposure is dependable, inexpensive, and functional, but it's not very flashy.
The Hon Exposure features adjustable arms and height, as well as lumbar support that can be slid in and out to provide lower back support.
Things we liked
Adjustable armrest
Excellent lower back support
Things we didn't like
Not the most attractive design
Hon Volt Task Stool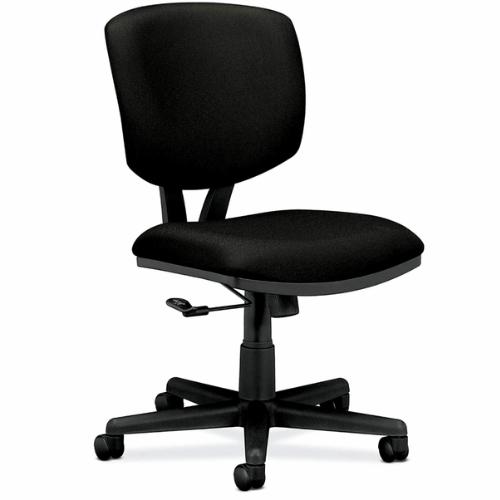 Look no further than the Hon Volt Task Stool if you're looking for a more compact task chair. It's a well-made, high-quality product that doesn't go overboard in terms of pricing.
This chair, which comes in fabric or leather, doesn't have armrests, but the general notion is that you don't need them and that it's a fantastic companion to a standing desk.
The disadvantages of this Hon product are that it isn't rated to hold as much weight as some of the other chairs on this list. Some people may miss the armrests – though they may be ordered as an optional extra if desired.
Things we liked
Compact design
High-quality material
Best Budget Office Chair
Alera Elusion Series Mesh Multifunction Chair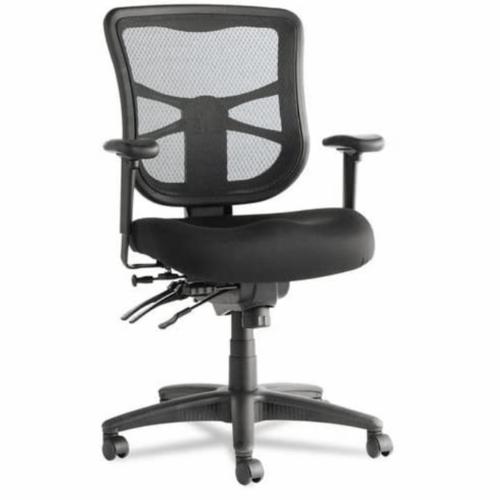 A high-quality and budget-friendly choice is the Alera Elusion Series Mesh Mid-Back Chair, which delivers many of the features of the Herman Miller for a more affordable price.
This chair allows you to modify the back angle, tilt, and arm height, this office chair provides a lot of flexibility. The chair also includes a comfortable curved seat cushion.
Things we liked
back angle adjustment
Flexible design
OFM ESS Collection Gaming Chair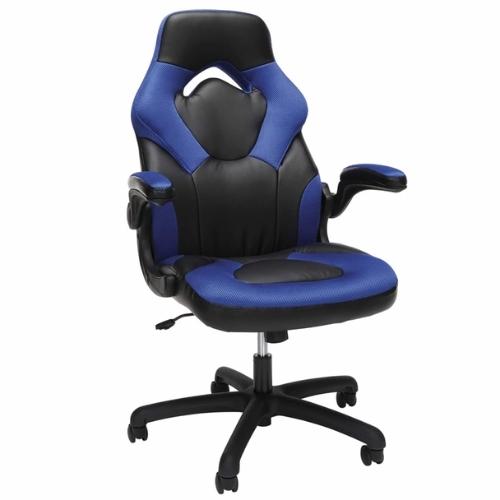 Although the chair is affordable, it is not poorly constructed or of poor quality. High-end materials are included, as well as adjustability for height, tilt, arms, and swivel.
If the arms get in the way, you can flip them out of the way, making for a more adaptable experience overall. The chair is also made to last, so it should last for many years.
Things we liked
Long-lasting
Various adjustable features
Amazon Basics Office Chair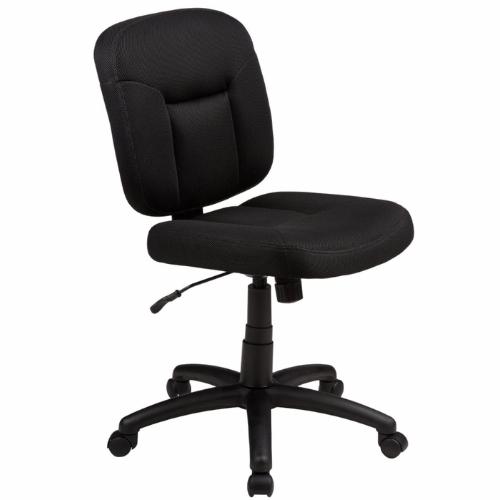 The Amazon Basics Office Chair lacks the glitzy amenities, luxurious material finish, and superior support options of the other chairs on this list, but it is a rock-solid office chair that is incredibly affordable and looks clean and professional.
The chair comes with a one-year warranty and swivels 360 degrees, making it great for multitasking. Amazon suggests that this chair be used in places other than the office, such as the yard and the kitchen.
Things we liked
Affordable
Professional aesthetic
Best Home Office Chair
Flash Furniture Mesh Ergonomic Drafting Chair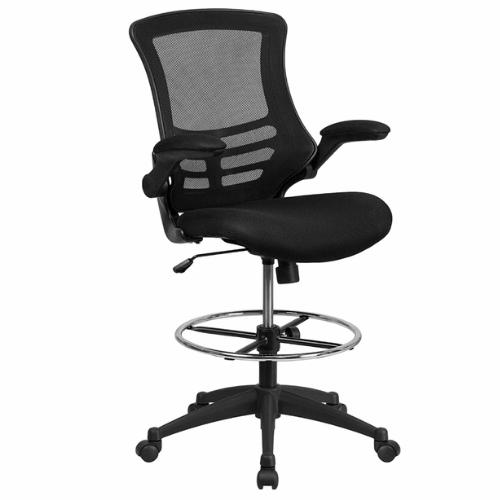 If you work from home, you may need to be able to sit a little higher than typical office chairs allow, in which case a drafting chair is worth considering.
This desk chair offers many of the same features as the others on this list, such as a cooling mesh back, a comfortable padded seat, and more. Furthermore, you can lift it considerably higher than other desk chairs.
Things we liked
Higher seating
Cooling mesh back
CJS Kiro Ergonomic Foldable Office Chair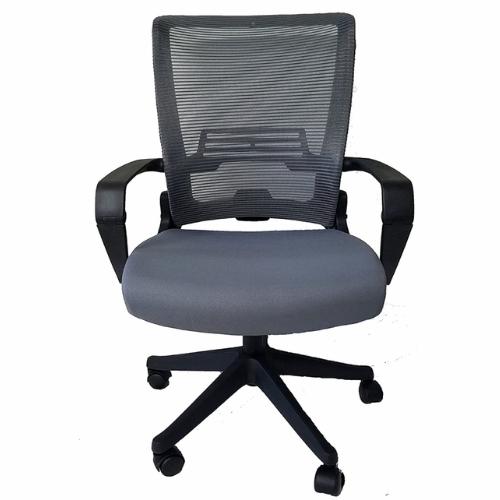 This chair is worth considering if you need a good office chair for a little space at home. Not only does the chair have a mesh back and a comfy fit, but the back can also fold in, making it easy to store.
You might be able to store the chair under the desk while you're not using it, saving space and keeping your workspace cleaner.
Things we liked
Easy to store
It folds over
Things we didn't like
Not as comfortable as other models
Space Seating Professional AirGrid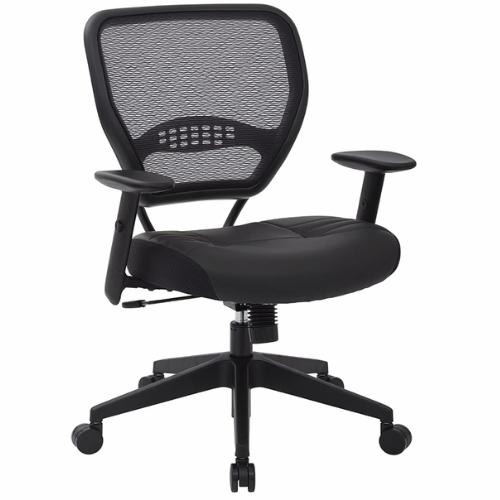 The mechanics that allow for adjustable lumbar support and tension zones aren't cheap to produce, thus most office chairs aren't highly adjustable.
The Space Seating Professional AirGrid strikes a wonderful balance, since many of the characteristics of this stylish chair for your home may be adjusted.
You can modify the height and location of the AirGrid's arms, as well as the tilt of the seat, which is crucial for achieving a comfortable sitting position when leaning back or forward.
The armrests can be moved left and right, however, the angle and slope cannot be changed. The back of the AirGrid is made of mesh fabric, which allows for increased ventilation on hot days.
Things we liked
Armrest adjustment
Stylish design
Things we didn't like
The slope or angle of the armrest cannot be modified
Best Leather Office Chair
IKEA Renberget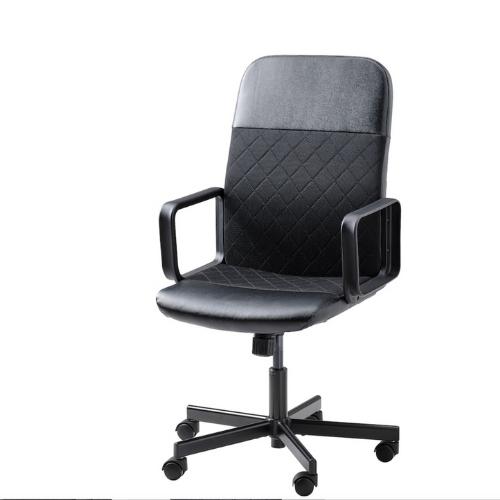 Consider another IKEA option if you're looking for a low-cost leather office chair. The Renberget isn't going to win any design awards, but it's a good enough option with a reasonable level of quality.
It also features excellent height adjustment and tilt tension.
Things we liked
Height modification
Tilt tension
Cherry Tree Executive Office Chair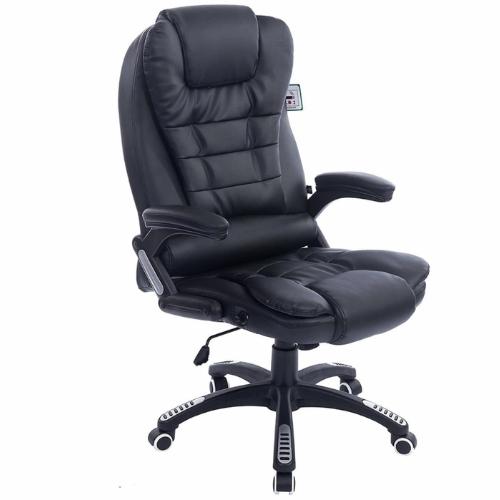 It's comfortable, simple to assemble, reasonably priced, and built to last.
You don't get some of the more expensive seats' fine materials or fancy features, but that doesn't matter when the chair is this comfortable and healthy for your posture.
The chair, which is made of polyurethane leather, is fantastic to settle into at the start of a working session and will keep you properly supported while you get on with whatever you're doing, whether it's work or play.
Artificial leather is also used on the armrests, giving you a luxury feel.
Things we liked
Easy to assemble
Comfortable material
Habitat Orion Faux Leather Office Chair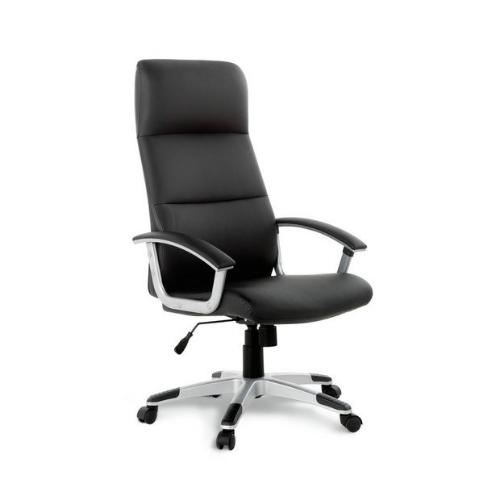 This is a fairly expensive office chairs, however it does have a long-lasting design.
It performs all the essential functions of an office chair while also being extremely comfortable to sit in. The armrests are helpful, but they aren't removable, so if you don't like armrests, this chair isn't for you.
Things we liked
Very comfortable
Long-lasting
Things we didn't like
Armrests can't be adjusted
Best Comfortable Office Chair
La-Z-Boy Aberdeen Leather Executive Chair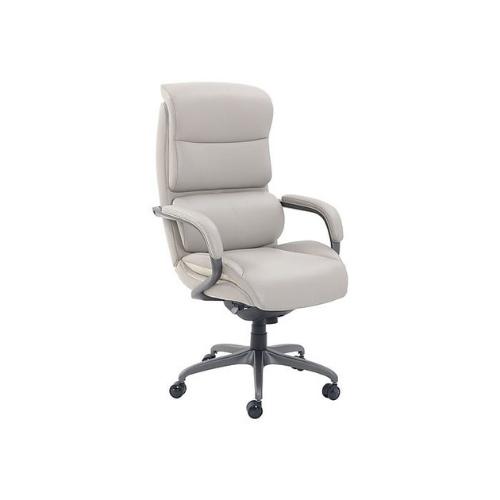 The name La-Z-Boy is synonymous with comfort, so look no further if you're looking for an office chair that brings that soft leather recliner atmosphere into your WFH area.
A foam layering system and Comfort Core zoned technology combine to deliver lumbar support and pressure relief where you need it most.
You won't have to spend your days slumped over your computer screen thanks to the padded elevated headrest, which cradles your head and supports healthy posture. It's also fashionable and timeless, thanks to its bonded leather finish and light beige colour.
Things we liked
Foam layering system
Luxurious design
Things we didn't like
Not ideal for smaller people
Laura Davidson Direct SOHO Soft Pad Chair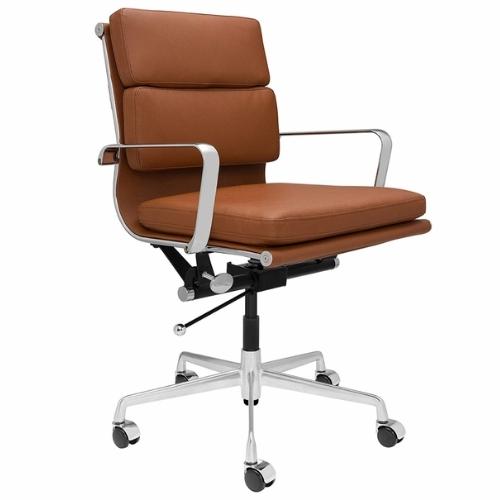 This chair has a stunning design, as well as a steel frame and a very durable leatherette seating surface. The chair is not only attractive, but it is also comfortable.
Height, seat tilt, and swivel can all be adjusted, and the chair features back cushions that should be comfortable for most people.
Things we liked
Various adjustable functions
Comfortable back cushions
Things we didn't like
Not suited to tall people
IKEA Markus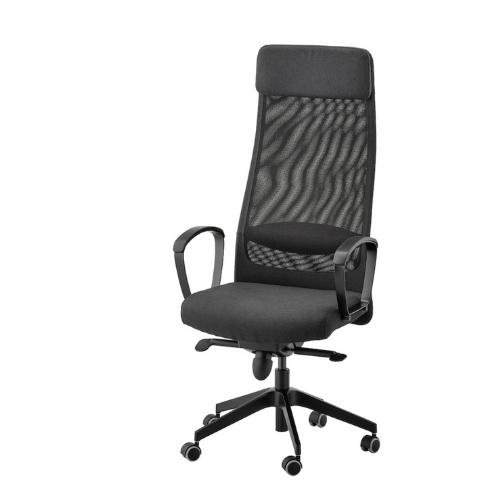 The IKEA Markus chair has been around for a long time and is a popular choice among many people looking for one of the best office chairs on the market without breaking the bank.
The Markus doesn't have a lot of modifications, especially when compared to some of the more expensive ergonomic chairs, but it's a solid seat with a long back and a comfortable upright sitting position.
The Markus may be adjusted for height, tilt, and the back can be locked in place or reclined. So, there's a good deal of adjustment, and altogether, this is a well-looking chair that's well-made for the price.
Things we liked
Budget-friendly
Great for upright sitting
Things we didn't like
Not a lot of modifications
What to Consider Before Buying an Office Chair
Investing in an office chair is a critical decision for you, your company, and your employees.
Choosing an office chair should never be limited to what looks beautiful or what is on sale. Yes, beauty and pricing are important considerations, but ignoring the other important variables will leave you regretting your decision.
Here are some of the factors you need to consider when purchasing an office chair:
Usage
You must consider how the chair will be used. Why, when, and for how long are you doing this? You can eliminate a lot of alternatives from your search right away by asking these questions.
Will it be used by employees who work for more than 6 hours at a time? Maybe just a couple of hours a week at a board meeting? These responses will help you determine how comfy and long-lasting your chair should be.
Adjustability
When it comes to sitting for long periods, posture is crucial. Terrible posture, as a result of a bad chair, will always result in health issues. Leg difficulties, back strain, carpal tunnel syndrome, and even spinal concerns can soon pile up.
This is not only inconvenient for the employee, but it can also result in many employee absences, putting pressure on business resources over time.
Material
The material used to make an office chair determines both its appearance and how it feels to sit in it.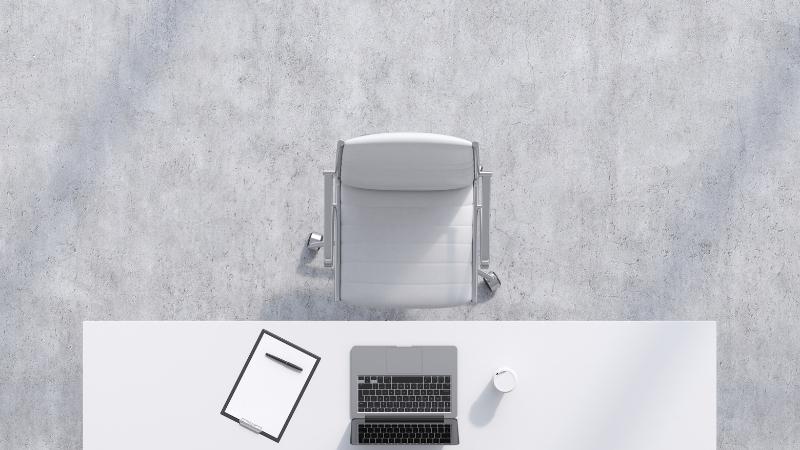 Take, for example, a leather executive office chair that seems like it belongs in a posh boardroom. Yes, it may appear appealing from afar, but if it causes you back pain after half an hour, it is probably not worth your time or money.
Cost
A chair can promise to remove back pain, be unbreakable, and even do your work for you, but if the price tag is too high, it will be useless.
Deciding a budget with some wiggle room for any additions or unexpected charges from shipping or installation is the key to this.
FAQs
How do you clean an office chair?
A mixture of dish soap and water is the finest approach to clean a plastic office chair. If the chair is filthy, add a few drops of soap to the cleaning solution. Wipe out stains gently with a moist cloth and rinses until clean.
Can you recover an office chair?
Yes, it is possible to recover an old office chair and make it look new. You can pay for someone to do it however it can be expensive depending on the fabric or you can try and DIY!
How long does an office chair last?
Office chairs, on average, last seven to eight years. However, they can last longer depending on how well they are looked after.
Do you need a new office chair?
Do minor aches and pains get worse as the day goes on? When your chair becomes uncomfortable after a few hours of use, it's a clear sign that it's time to replace it. And if it's always been this way, chances are you didn't start with a high-quality chair.
What is the most common material used on office chairs?
Office chairs frequently use mesh fabric. The nature of mesh guarantees that it is equally as comfortable as padding, as its springy nature adapts to the body shape. It is very breathable, allowing air to circulate freely and keeping the user cool and fresh.
Sources