kitchen & cooking
Best Kitchen Odour Eliminator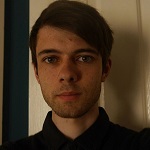 Want to know what the top kitchen odour eliminator products are?
This article will review the very best products available in the UK and explore other relevant subjects, such as how kitchen odour eliminators work and what different types/categories of these products exist (and how they differ).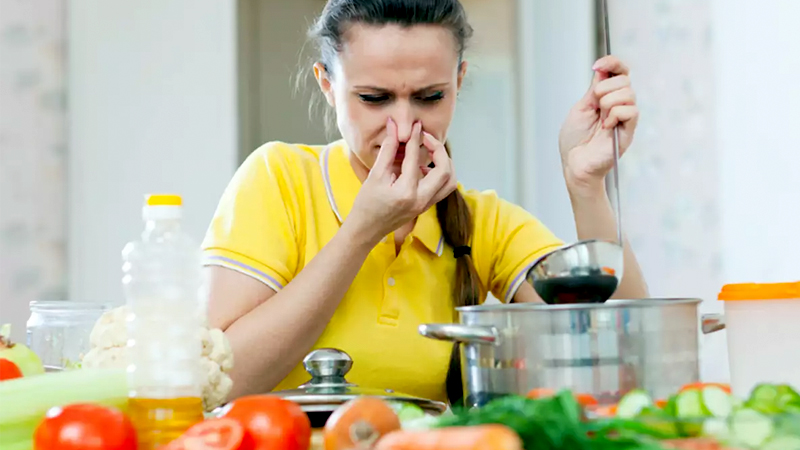 Anyone looking for the best kitchen odour eliminators on the market will find the following guide especially useful. Our comprehensive breakdown will help you find the right product to match your needs and budget.
What Is a Kitchen Odour Eliminator?
A kitchen odour eliminator is a product used to improve the scent of a room by eliminating bad odours. Whether you opt for air purifying bags, an ozone generator, or otherwise, these generally work by purifying the air. However, some substances could act as a kitchen odour absorber.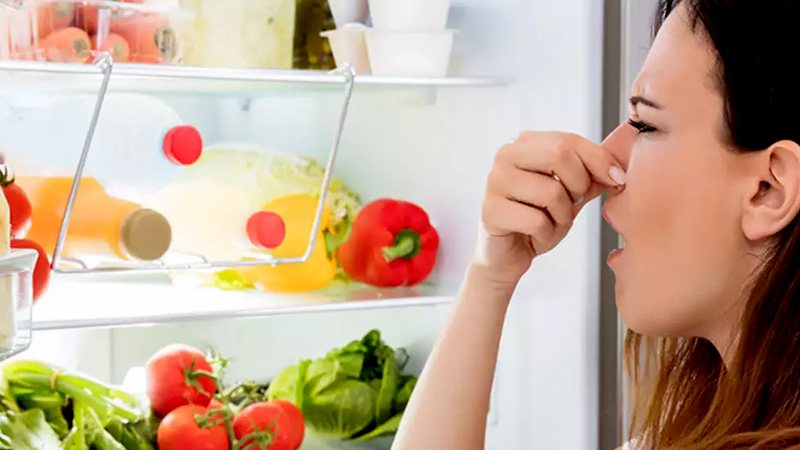 How Does a Kitchen Odour Eliminator Work
In most cases, they function by releasing a fragrance every so often over a given interval (e.g. once every hour). The automated nature of most air fresheners makes them very useful. However, spray bottles are also available and may prove preferable, especially if you want to target different areas of your kitchen.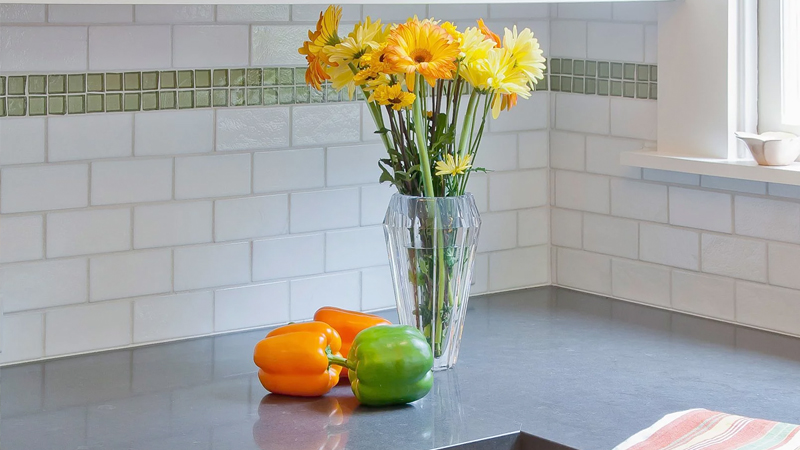 Types of Kitchen Odour Eliminator
So, let's take a look at the different forms of kitchen odour eliminator, how they work, and what their pros and cons are.
Air Purifying Bags
These bags can be placed in a kitchen and will naturally purify the air on a continual basis. Their purifying and air filtering capabilities allow this to happen. Cleaner air will be in turn passed through the environment, creating a fresher, healthier kitchen.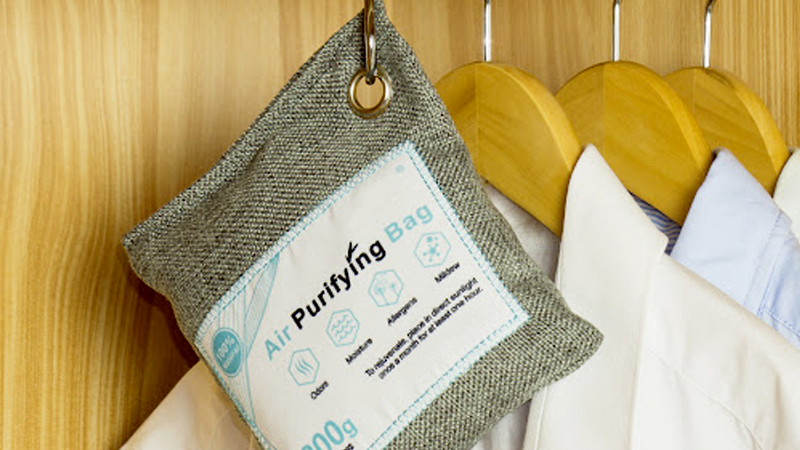 These bags generally comprise charcoal. Unlike many other kitchen odour eliminators, they do not only work at a given time or when the user applies the product. While they don't last forever, they should hopefully work continuously for two years.
Air Purifying Fan
These modern odour eliminating products blow air through a collection of filters (or a single filter) and release a suitable fragrance in the process. They are not always suited for use as a conventional fan, however. They also lack oscillation, have low air velocity, and air flows out of them in unusual directions.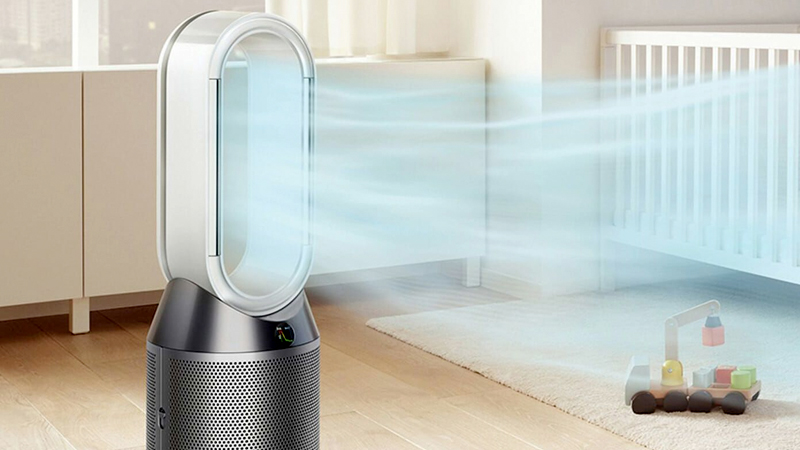 Ozone Generator
These generators produce the gas ozone, and in high levels in the air, it can begin to remove pollutants. While these are very effective, just air purifying fans are effective, they do come with some health risks, including respiratory health dangers.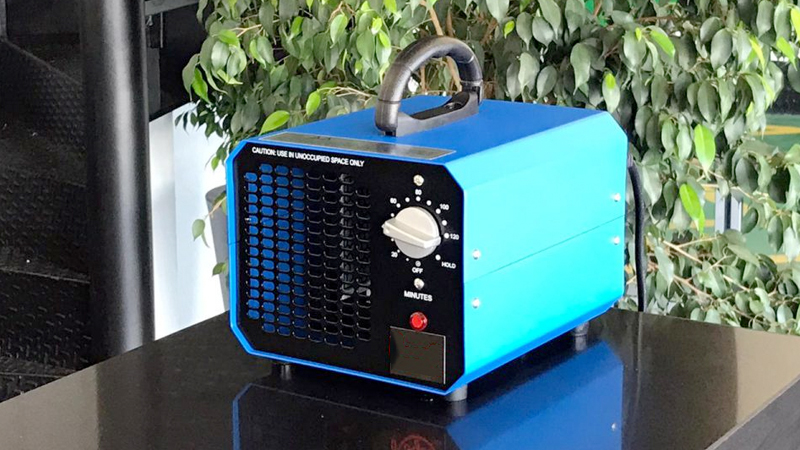 Odour Exterminator Candle
Candles with pleasing scents that outshine any odours in the room are a cheap, fancy, and relaxing way to approach this problem. Also, with candles, you can get a wider range of scents to choose from than you might with other types of kitchen odour eliminators.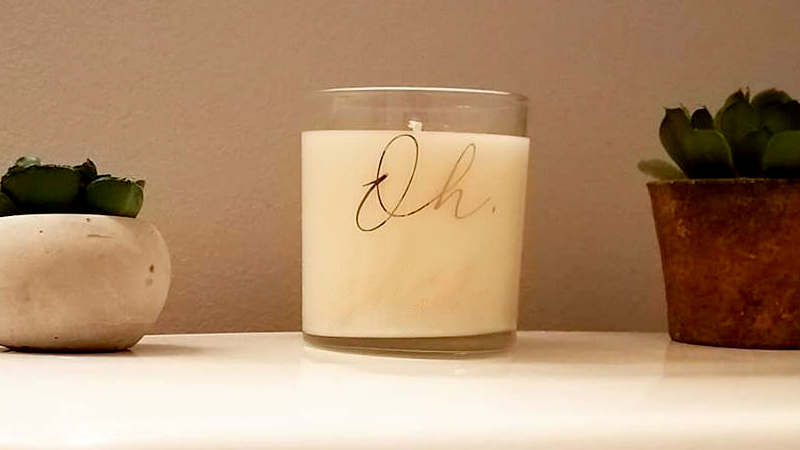 Odour Removing Gel
These gels can spread an aroma into the air that is designed to purify the air and, in turn, make the room smell better and fresher than it would otherwise. Odour removing gels tend to be one of the cheaper solutions.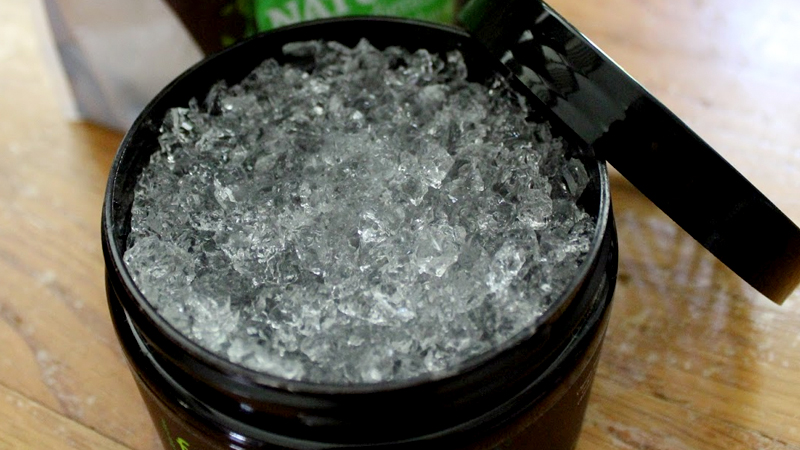 Best Kitchen Odour Eliminator
We'll now review our favourite top-of-the-range kitchen odour eliminators, breaking them down into the various categories that we discussed in the prior section.
Best Air Purifying Bags
YUKOOL Charcoal Air Purifying Bags - 9pcs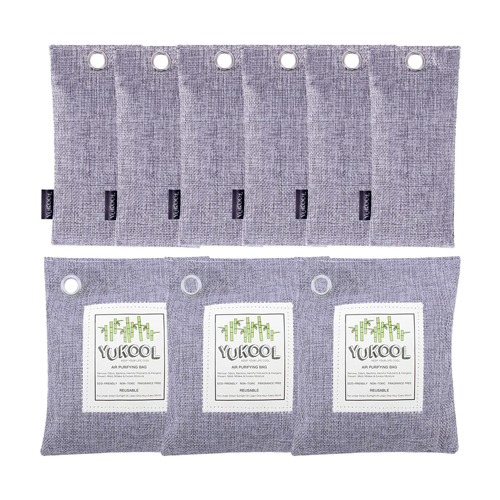 This highly rated 100% bamboo activated charcoal air purification bag comes with nine bags (three 200g bags and six 75gs bags), and it is safe and harmless.
It offers efficient air purification, it can be reused, and it's environmentally friendly. These bags should last for around two to five years in total.
Things we liked
Nine bags
100% bamboo activated charcoal
YUKOOL Charcoal Air Purifying Bags - 5pcs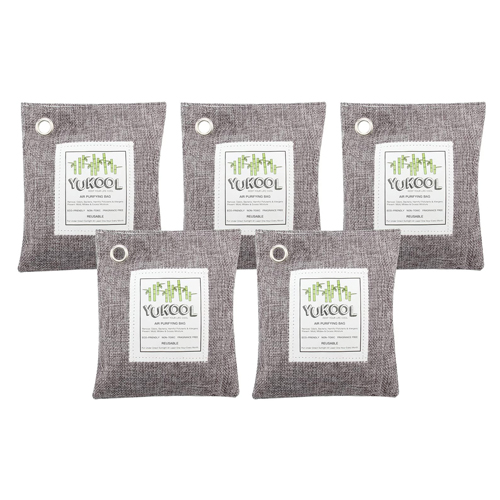 Another option from Yukool is their five-piece collection. This product comes with five 200g bags. These multi-usage bags are arguably the perfect size, making this option probably the best choice when it comes to air purifying bags. However, you would pay a little more for this product than you would for the nine-piece option.
Things we liked
Multi-use
5 x 200g bags (arguably just the right size)
Great value for money
Things we didn't like
A little more expensive than the 9pc product
CETECK Bamboo Charcoal Air Purifying Bags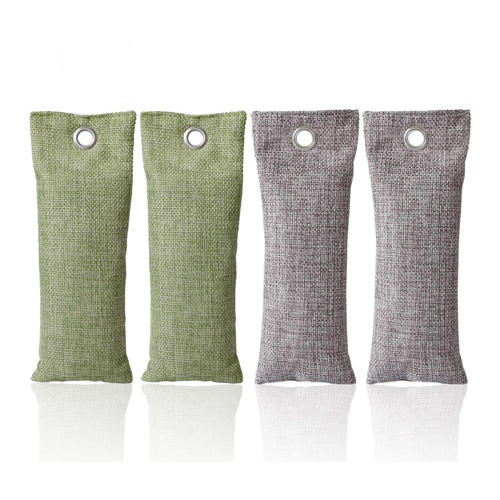 This product from CETECK consists of four 75g bags. While not as popular or highly rated as the previous two products, it still offers good bang for your buck as well as being about half the price of the YUKOOL products reviewed above. The neat bean bag-like design may be more of your cup of tea in terms of aesthetic too.
They are natural, safe, environmentally friendly and offer multiple uses. They should last for approximately two years.
Things we liked
Good value for money
4 x 75g bags
Bean bag-like design
Eco-friendly
Things we didn't like
Not as popular as the top YUKOOL products
CLEVAST Bamboo Charcoal Air Purifying Bags - 4pcs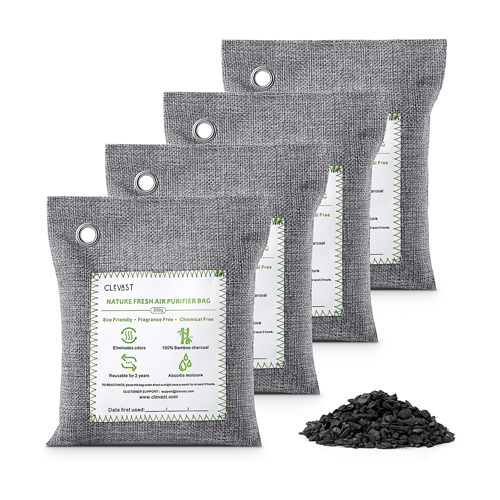 Another multipurpose set of bags is this 4 x 200g product that is great for purifying air as well as removing pet-related allergens from the air. These bags can absorb about ten times as much the odour as normal charcoal bags would. They can remove musty odours easily.
Things we liked
Good sized bags
It can absorb odours about ten times as much as normal charcoal bags
Best Air Purifying Fan
Dyson Pure Cool Me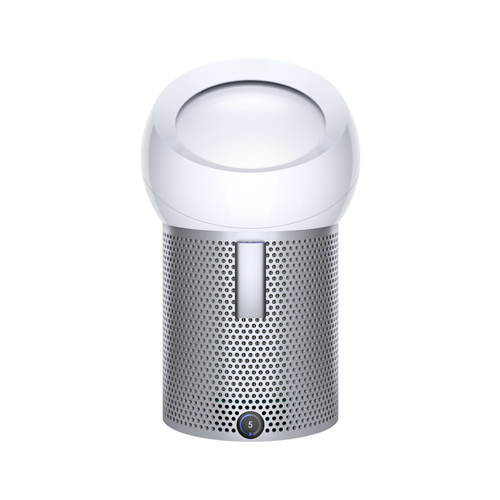 This cutely designed air purifying fan comes with an activated carbon and glass HEPA filter. It comes with various settings that can be changed remotely, namely oscillation, fan level, and sleep timer. The filter used within this product is expected to last about a year.
It is a little noisy, however, producing around 44dB to 61dB of sound. It is also a bit expensive, but of course, it is a Dyson, so while you'd pay more for this product, you know you're getting quality.
Things we liked
High-quality
Activated carbon and glass HEPA filter
Various settings
IKEA Fornuftig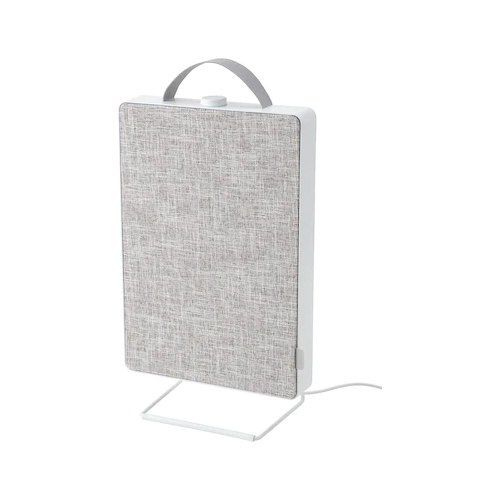 This neatly designed air purifying fan from IKEA is relatively inexpensive. The Fornuftig comes with a particle filter that can filter about 99.5% of airborne particles sized 2.5 micrometres or less (a.k.a. PM2.5).
It comes with three distinct fan speeds, and it is fairly lightweight. Not only that, but this air purifier can be wall-mounted if you'd like. It should be noted, though, that its gas filter must be purchased separately.
Things we liked
Not that costly
Can reportedly filter 99.5% of PM2.5 airborne particles
Things we didn't like
Need to purchase gas filter separately
Dyson Purifier Hot + Cool Formaldehyde Purifying Fan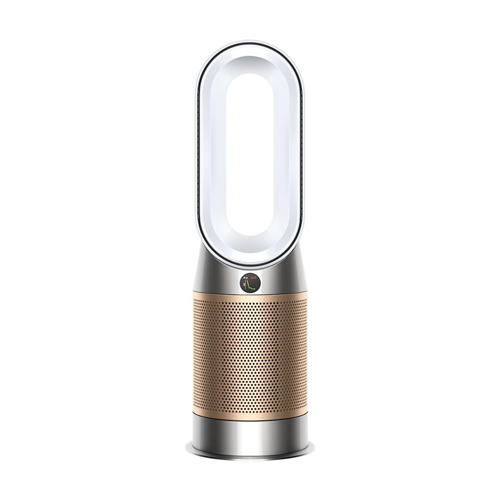 This product, like the IKEA Fornuftig, can reportedly remove about 99.95% of small airborne particles. These particles would include mould spores, pollen, and bacteria. It is expected to work well in a room of up to 27m².
One standout advantage of this Dyson odour eliminator is that it can be controlled remotely using an app such as Alexa, Google Home, or Siri.
Things we liked
High-end product
Can remove about 99.95% of small airborne particles
Works with apps like Alexa
Best Ozone Generator
MELEDEN Portable Ozone Generator Purifier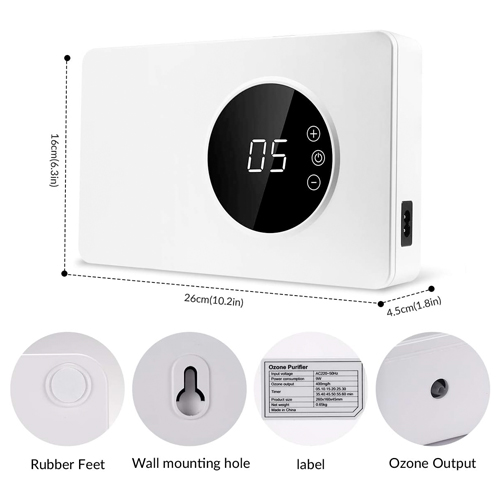 This compact product comes with dimensions of 26cm x 16cm x 4.5cm and weighs just 650 grams, and it is also easy to fit and operate once installed. It offers an ozone production of 400 mg per hour. The work time of the machine can be set per the owner's preferences.
Things we liked
Lightweight
Compact
Easy to use
400mg/h of ozone production
Things we didn't like
Not quite as great as alternative products
BlumWay Portable Ozone Generator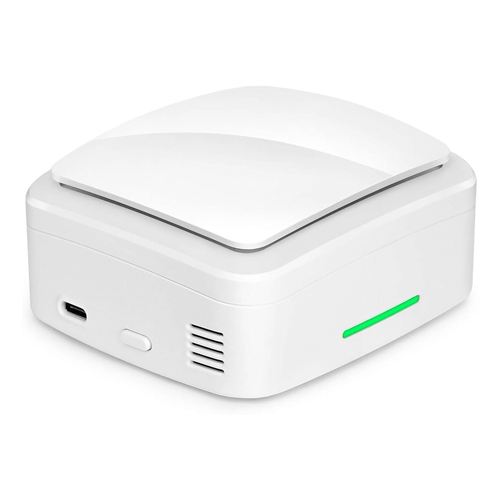 As an intelligent disinfection ozone generator, the fact you'd need to pay a small bit extra for this product over its top rivals isn't much of a downside.
But with good cycle cleaning and strong online ratings behind it, the BlumWay Portable Ozone Generator is certainly worthy of consideration. It's more suited to relatively small kitchens, however. It is also USB chargeable.
Things we liked
Well-suited to small kitchens
Popular option
Strong cycle cleaning
USB chargeable
TUINYO Mini Ozone Generator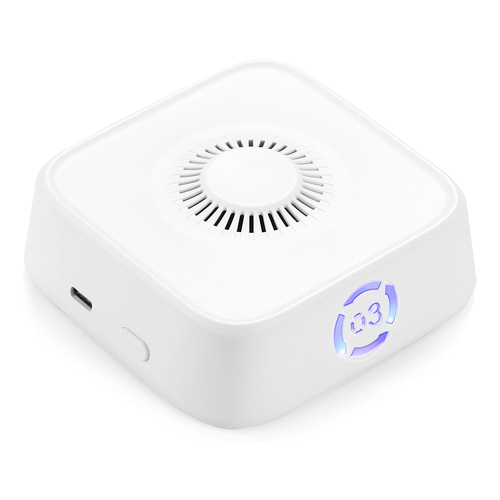 The TUINYO Mini Ozone Generator is powerful, compact, and eco-friendly. With this 100mg/h air purifier and for a low price, you can remove odour and bacteria easily in a short time. You also get a 24-month warranty with this product.
Things we liked
Inexpensive
Effective
Compact
Eco-friendly
Best Odour Exterminator Candle
Lavender & Chamomile Aromatherapy Deodorizing Soy Candles for Pets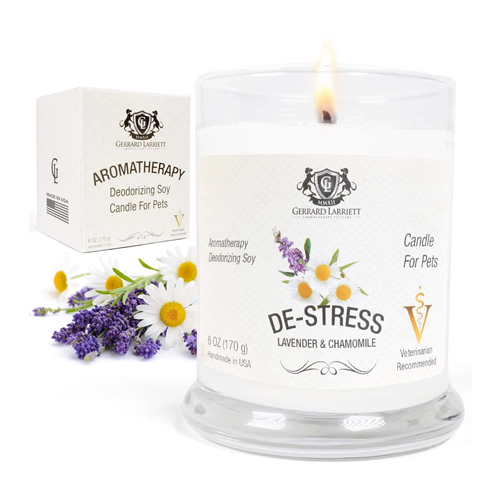 This candle consists of 100% cotton wicks, soy wax, and essential oils. Notably, they are pet-friendly. Because it has a subtle fragrance, it will make life easier for them. It also reportedly has an anti-anxiety effect on our furry friends.
There are a total of 17 fragrances to choose from, but Lavender & Chamomile is one of the most popular choices. However, the subtlety of the scent and coverage of the fragrance could be seen as a drawback for the humans of the household.
Things we liked
Perfect for pets (especially if they suffer from allergies)
Completely natural ingredients
17 fragrances available altogether
Things we didn't like
The fragrance is quite subtle
DCC Odour Eliminating Highly Fragranced Candle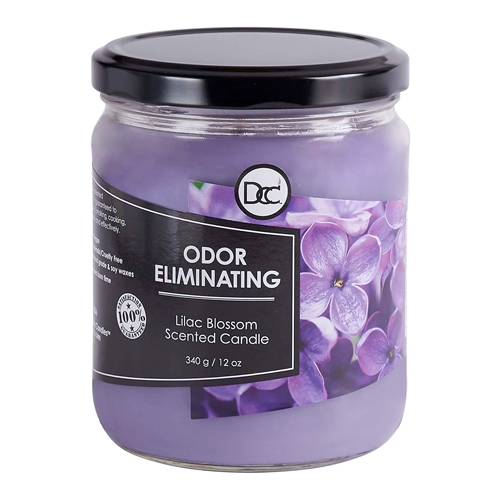 This purple candle is long-lasting (up to 80 hours) and comes at a reasonable price. It comes with a lead-free wick, offering a cleaner burn, and it is suited for use to remove odours such as household, smoke, and pet scents. What's more, the DCC Odor Eliminating Highly Fragranced Candle is vegan, cruelty-free, and paraffin-free.
Things we liked
Long-lasting
Decent price tag
Vegan/cruelty-free
Removes a wide range of odours
Things we didn't like
It may be tricky to source this kitchen odour candle
Fresh Wave Odor Removing Candle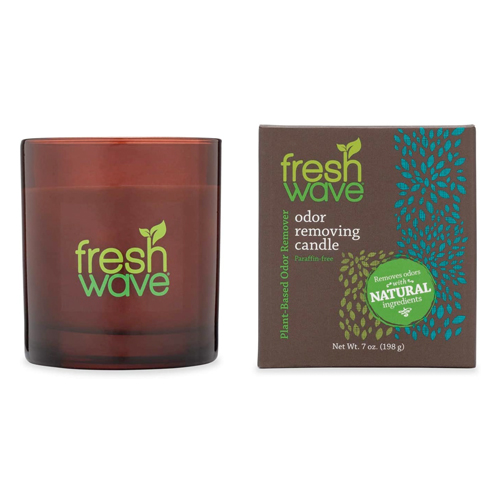 This candle is a fantastic odour eliminator. It can neutralise odours from food, mildew, bathrooms, trash, and pet doors. It is also made from natural/non-toxic ingredients. It has a natural scent.
This candle weighs seven ounces and is soy-based. However, it's not the most effective of the best odour eliminating candles and its burn time is pretty short.
Things we liked
Great for removing various odours
Neutralises odours effectively
Natural/non-toxic ingredients
Things we didn't like
Short burn time of this kitchen odour neutraliser
Not as effective as some alternatives
One Fur All - 100% Natural Soy Wax Candle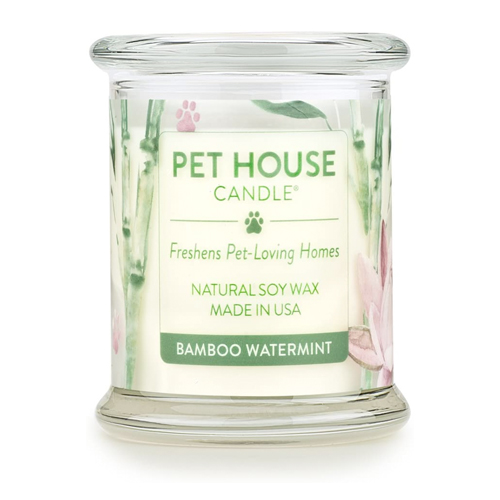 Another great option if you have pets at home is this premium fragranced candle that weighs 8.5 ounces and comes with a sixty-hour burn time. It comes in many different scents, is hand-poured in production, and it is, of course, pet-safe. With that said, it's been reported that its burn time may not quite reach sixty hours.
Things we liked
Perfect for pets
Premium fragranced candle
Hand-poured
Things we didn't like
Burn time could be less than expected
Best Odour Removing Gel
Ozium Smoke & Odors Eliminator Gel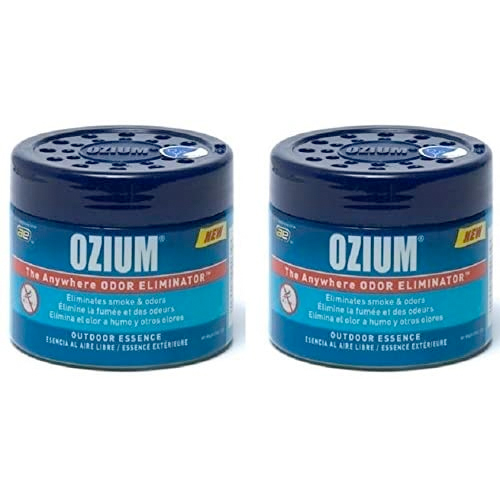 This product from Ozium works in two different ways to get rid of various odours from the air. It offers a fresh, lasting scent and doesn't melt in high temperatures. It's also highly-rated and not too expensive either.
Things we liked
Works in two ways
Removes various odours
It doesn't melt in the heat
Glade Solid Gel Air Freshener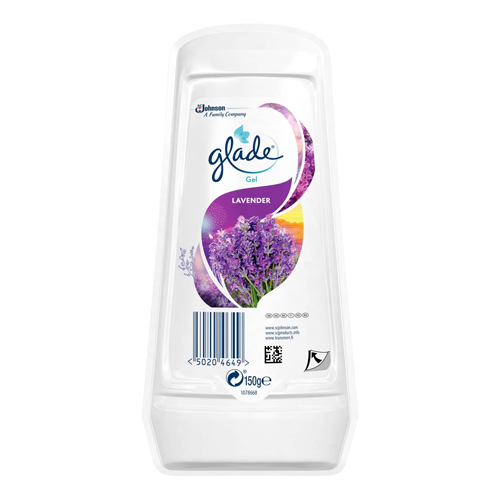 This popular product is available in various sizes and several distinct scents, including Lavender and Clean Linen. It's a bit more expensive than the Ozium option, but it's long-lasting and rated well by customers. Glade is also a fairly well-known and standout brand.
Things we liked
Popular choice
Long-lasting
Many sizes and scents to choose from
Neutradol Super Fresh Gel Odour Destroyer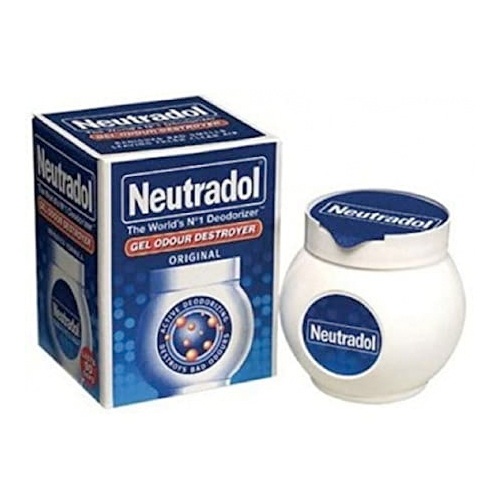 If you want an especially cheap product, you should consider this Neutradol gel. This product is highly rated, even if not quite as popular as the previous two options.
It's important to note, though, that this gel is harmful to aquatic life. It may also result in allergic reactions and should be kept away from children.
Things we didn't like
Some associated risks
Not that well-known
What to Consider Before Buying a Kitchen Odour Eliminator
Prior to making a purchase, there are a few things you may want to consider first. Let's take a closer look at such pointers.
Cost
Some of these products are available for as little as just a few pounds, while others (e.g. a Dyson air purifying fan) may cost several hundred pounds. It's important to think about your budget before searching for the right kitchen odour eliminator for you.
Smell
You may have specific preferences as to the type and strength of the scent you want a product to give off. So make sure you check into this before buying any one product.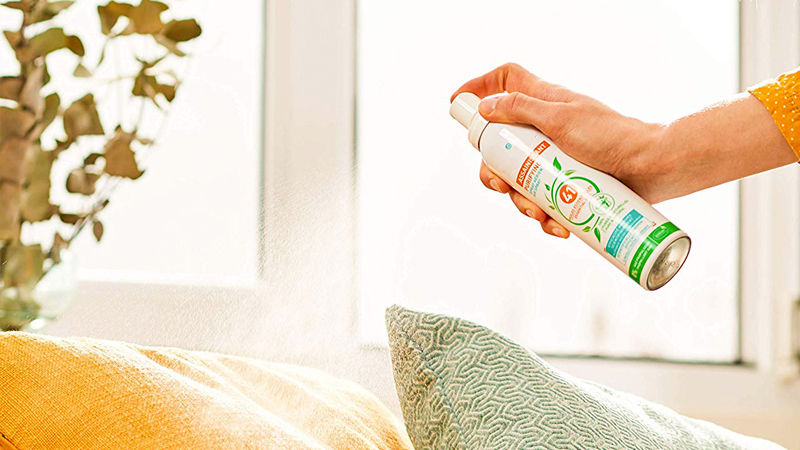 Type
Based on the categories and various reviewed examples discussed in this article, you likely have a clear idea of what type(s) of kitchen odour eliminators are your favourites. Each has its own pros and cons, and some (or one in particular) may be better suited to your needs than others.
How Long It Works For
Just as with price, this can vary greatly depending on the product. While candles may work for sixty hours in total, air-purifying bags should last for about two years, but air purifying fans could last many more years than that (if well-maintained).
FAQs
How do you get rid of a bad odour in the kitchen sink?
There are several potential solutions to this issue.
One popular approach is as follows:
Add about a handful of baking soda into your kitchen drain
Allow it to sit without running any water for approx 15 minutes
Pour a quarter to a half cup of white vinegar into the sink
Wait about 15 minutes
Pour boiling water down the sink
This should solve the issue.
How long do air purifying bags last?
On average, about two years, but in many cases, they could last for several years longer than that.
Where should I put my air purifying bags inside my kitchen?
These should be placed in an area that is quite open (i.e. don't tuck it away or put it beneath other objects). You want to allow it room to 'breathe'.
What else might help?
You should consider purchasing an odour free kitchen bin.
What health problems can ozone generators cause?
It is possible that these generators can lead to coughing, shortness of breath, throat irritation, and chest pain. Further ozone generators may result in existing chronic respiratory diseases (e.g. asthma) worsening for individuals. It could also limit the body's capacity to defend itself against respiratory infections.
Sources