kitchen & cooking
Best Kitchen Drain Unblocker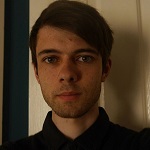 Want to know what are the best kitchen drain unblockers on the market?
In this article, we'll break down the best products by category and explore other relevant topics like how a kitchen unblocker works. Our kitchen drain unblocker reviews will prove very useful if you're searching for the ideal kitchen drain unblocker for you.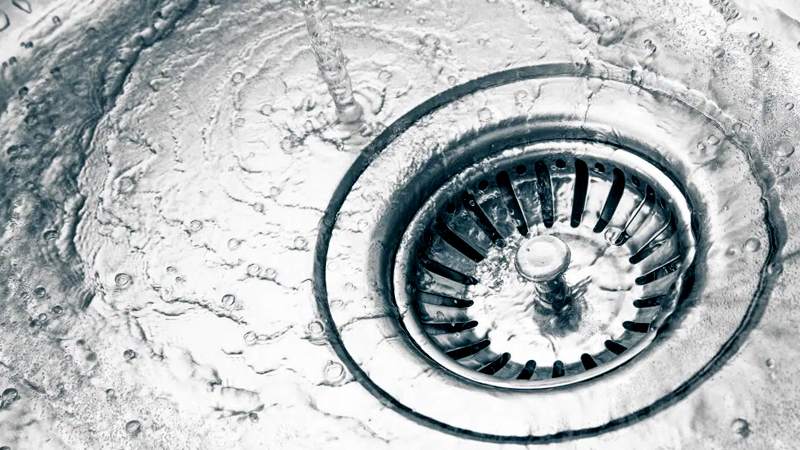 What Is a Kitchen Drain Unblocker?
Kitchen drain unblockers are products that comprise a solution that is designed to use bacteria, enzymes, or chemicals to break down organic matter inside the drain.
Kitchen drain unblockers can have added benefits such as enhancing the bacteria culture in a septic tank and can prevent future blockages due to its qualities.
Anyone looking to optimise their kitchen sink for use should consider buying a kitchen drain unblocker, especially if there is a significant blockage.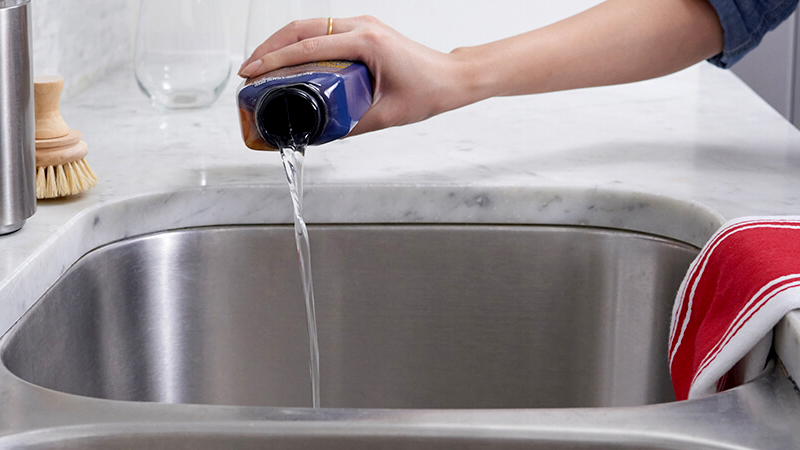 How Does a Kitchen Drain Unblocker Work?
Upon being poured down the sink, the solution will get to work and corrode the organic matter inside. This will, in turn, allow such matter to be removed, which will therefore clean and unblock the drain.
It's essential that you take precautions when using drain unblockers. This is because they tend to contain very harmful chemicals.
Here's how you use a drain unblocker:
Open the product cautiously
Pour down the drain per the manufacturer's instructions
Wait X amount of time per the manufacturer's instructions
Pour water down the sink
Types of Kitchen Drain Unblocker
There are many forms of kitchen drain unblocker available. In this section, we'll look at the various categories.
Liquid Kitchen Drain Unblocker
This is simply a regular kitchen drain unblocker that comes in a liquid form. Liquid drain unblockers are relatively inexpensive, straightforward to use, and fairly convenient. They will comprise a range of chemicals designed to get the job done.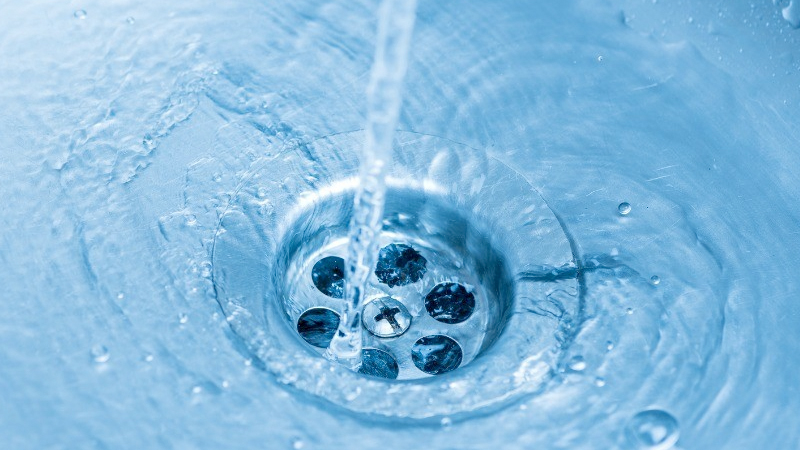 However, it won't work with toilets, tends to include pollutants, may damage plumbing pipes, and could result in further clogs if it's used too frequently.
Gel Kitchen Drain Unblocker
A gel drain unblocker might cost a bit more but has its own benefits. The gel can interact with organic matter in a way that liquid cannot, and the more slow-moving nature of gel may be helpful in making it more effective at certain jobs.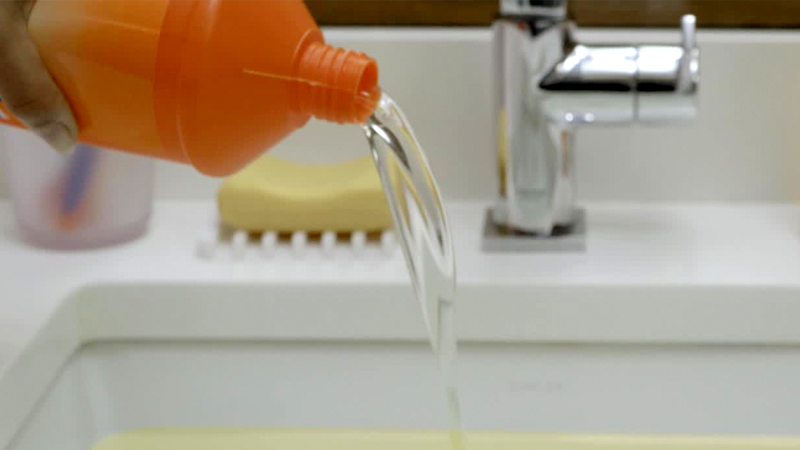 Mechanical Sink Unblocker
Whether it be a plunger or an electric drain cleaning machine, these types of sink unblockers can be a great, safer, and effective way of dealing with sink and drain blockages. Unsurprisingly though, mechanical sink unblockers (especially electric machines) are going to be more expensive.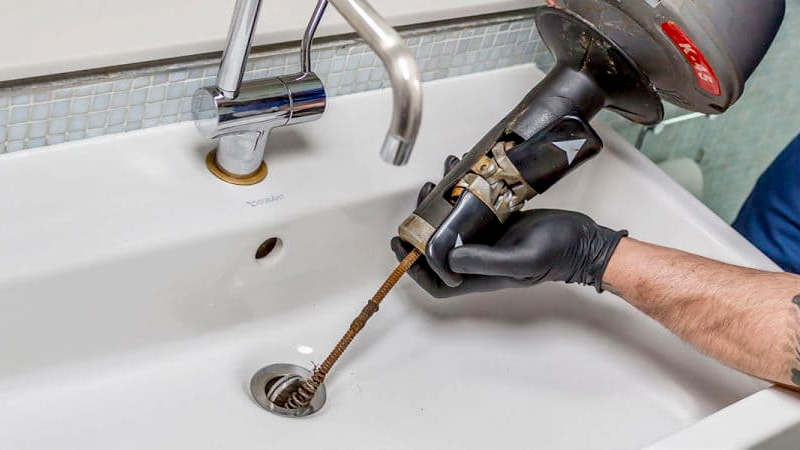 Best Kitchen Drain Unblocker
Let's look at the best products available in the UK. With each review, we'll explain what they're good food and look at their pros & cons.
Best Liquid Drain Unblocker
Buster Bathroom Plughole Unblocker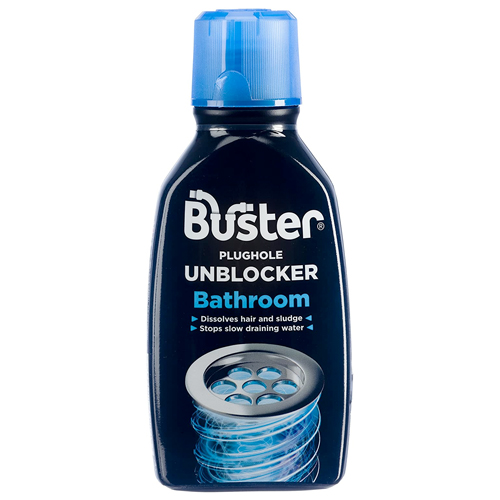 This fairly small 300ml capacity drain unblocker is popular and highly rated online. The Buster Bathroom Plughole Unblocker is great for removing sludge in plugholes and slow-draining showers, as well as getting rid of human hair. Known as a 'one shot' bottle, it should more than suffice to clean out pipes.
Reportedly it doesn't have the sort of bleachy smell that can be found from some Mr Muscle products. With that being said, this Buster product should be left for quite some time to achieve the best results (ideally overnight).
Things we liked
One-shot bottle
Popular and highly-rated
Removes sludge effectively
Things we didn't like
Requires a bit of time, prefer
JCB Garden Heavy Duty Sink and Drain Unblocker Instant Power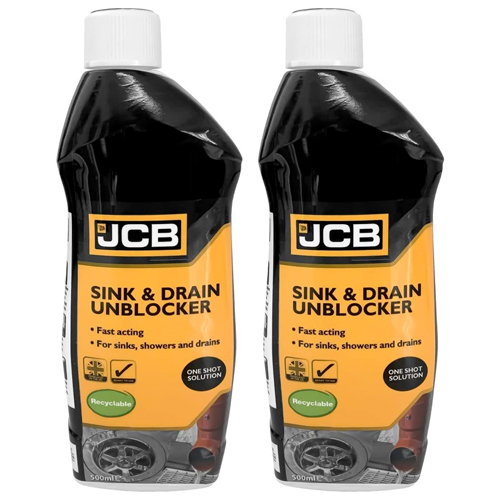 You can purchase this product with two bottles of 500ml each. It's a multipurpose sink unblocker that protects shiny sinks and drains with regular use. It's fast-acting, with each bottle being a one-shot solution suited for sinks, showers, and drains alike.
Things we liked
One-shot bottles
Decent value for money
Multipurpose
Fast-acting
Things we didn't like
Some customer reviews were unflattering
Scotch Corporation Slow Drain Liquid Build Up Remover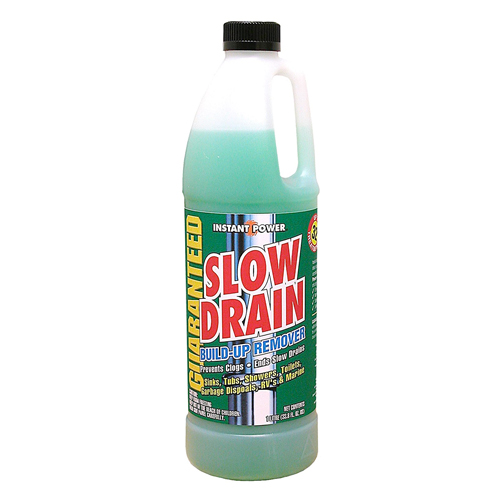 For an enzyme-based and more eco-friendly approach, take a look at this drain unblocker from the Scotch Corporation. This one-litre liquid is fairly effective and can remove most organic blockages. With that said, it isn't suited to solid blockages.
Things we liked
Relatively eco-friendly
Does the job in most cases
Things we didn't like
Not suited to removing solid blockages
Best Gel Drain Unblocker
Drano Drain Cleaner Professional Strength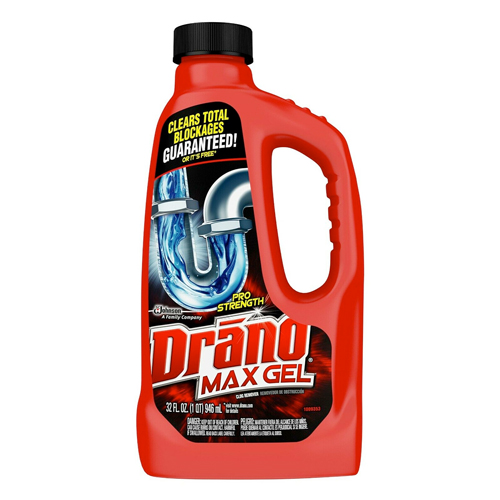 This drain unblocker comes with a thick formula for increased effectiveness and features 35% more essential ingredients when compared with regular drain cleaning products. It can also get the job done in just a quarter of an hour (although overnight use is ideal for the most effective job).
Drano Drain Cleaner Professional Strength may be poured straight into the drain to protect your drainage system and pipes from corrosion and remove blockages, of course. On the other hand, this gel drain unblocker isn't well-suited to unblock a toilet, and it may take a bit longer than 15 minutes to take full effect on plenty of occasions.
Things we liked
Thick and effective formula
It can be poured straight into the drain
May work in just 15 minutes
35% more essential ingredients than the competition
Things we didn't like
Not great for unblocking toilets
Cillit Bang Power Cleaner Odour Stop Unblocker Gel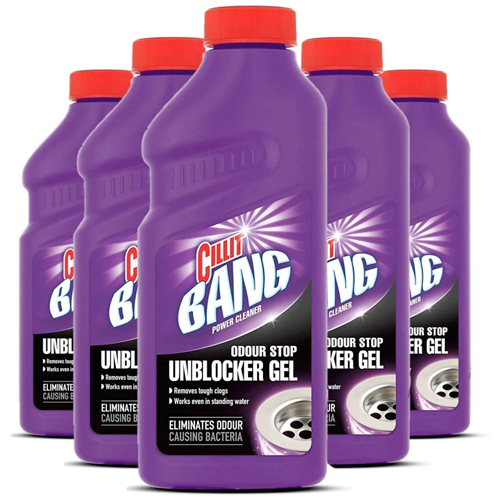 You can get this product in a pack of five if you'd like. This Cillit Bang drain unblocker gel works well on tough clogs, can remove odour cause bacteria, works with standing water, and is safe for any pipes. Not only that but this gel can be used in kitchens and bathrooms alike.
It's important that you avoid using this with other products as this can result in dangerous gases being released.
Things we liked
Effective on tough clogs
Works with standing water
Safe for all pipework
Things we didn't like
Not as popular as some other products
Best Kitchen Sink and Pipe Unblocker
Ecozone Kitchen Drain Unblocker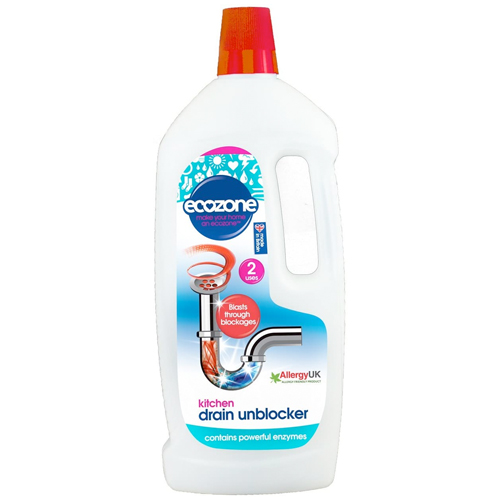 This well-rated enzyme-based drain unblocker from Ecozone is effective, cruelty-free, vegan, and safe to use on septic tanks. If you're all about the environment, this is the product for you. It is a one-litre product. Please follow the manufacturer's guidance as to how it should be used.
Things we liked
Effective
Eco-friendly
Safe for septic tank use
Things we didn't like
Not as widely available as some other products
Luigi's Sink And Drain Plunger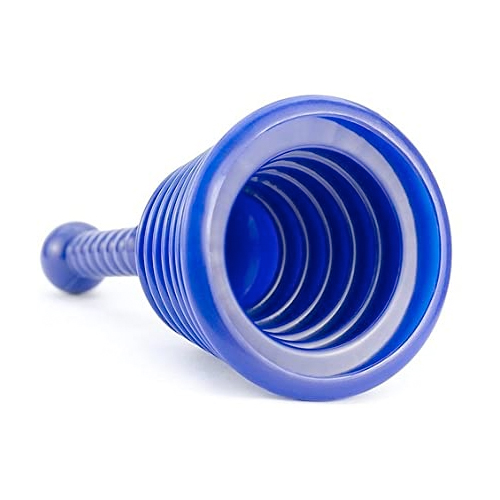 For an alternative approach to liquid and gel drain unblockers, you might want to consider buying a plunger. By putting this product to work, you can expect to clear plenty from a sink and drain in about ten seconds. It's also not too expensive given its quality and high ratings.
Things we liked
Fast and effective
Not that expensive
Things we didn't like
It may not be as effective as other products
Green Gobbler Dissolve Unblocker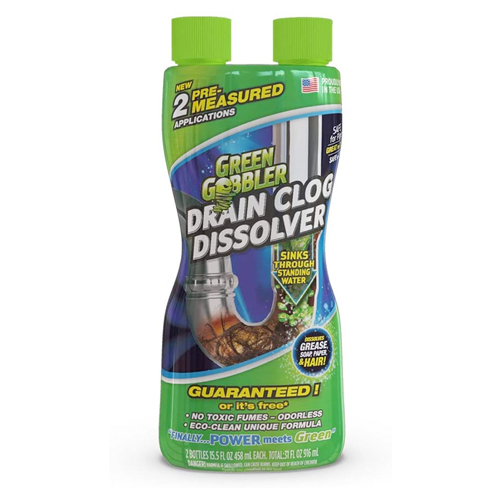 This product is great for sinks and pipes, but it works wonders at removing hair and grease. It's got four stars on Amazon out of 55,000+ reviews, reportedly works in just minutes, and comes with an effective and biodegradable formula. It is also odourless and considered eco-friendly.
Things we liked
Fantastic for sinks and pipes
Highly-rated
Odourless
Eco-friendly
Things we didn't like
Not the very best for the toughest of clogs
Best Hair and Grease Remover for Kitchen Drains
Scotch Corporation Heavy Duty Liquid Drain Opener 1 Litre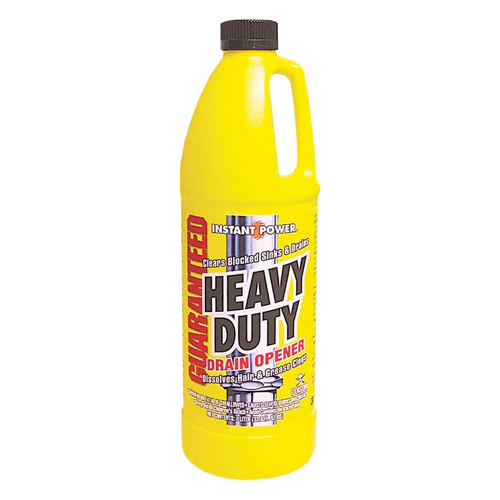 This one-litre product is a strong and cost-effective drain unblocker that is great for dissolving great and hair clogs. It has a strong caustic formulation and works with all pipework. It has great customer reviews behind it and is classed as a heavy-duty product.
Things we liked
Strong product
Cost-effective
Suitable for any pipework
Things we didn't like
Slightly dearer than some of the competition
HG Hair Unblocker 200ml + 250ml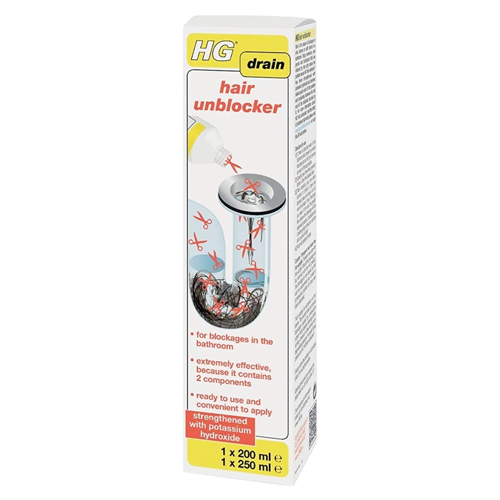 This standout product is strengthened thanks to the use of potassium hydroxide, meaning that it can dissolve hair with ease. It's highly effective, ready to use, and easy to apply. This HG kitchen drain unblocker also has fantastic ratings online.
Things we liked
Easy to apply
Strengthened due to potassium hydroxide
The formula is quick-acting
Things we didn't like
Not well-suited to toilets
Topline Drain Snake Unblocker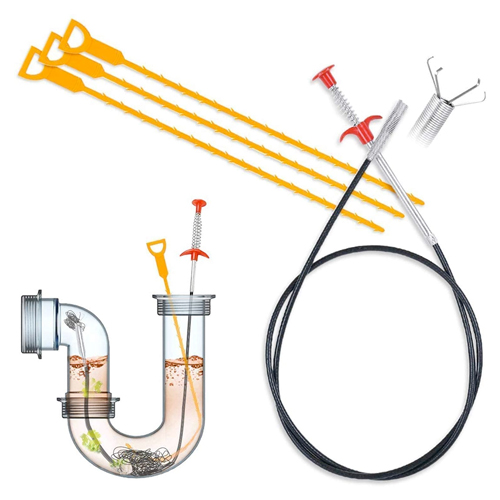 A decent alternative product is this drain snake from Topline, which can remove hairs with ease. It's easy to operate, can save money by not having to hire a professional, and there are four drain snakes with a pack, meaning you have a variety of options to choose from.
Things we liked
Inexpensive
Effective
Easy to use
Things we didn't like
It may not be your cup of tea
Best Powerful Kitchen Drain Unblocker
HG Liquid Drain Unblocker 1L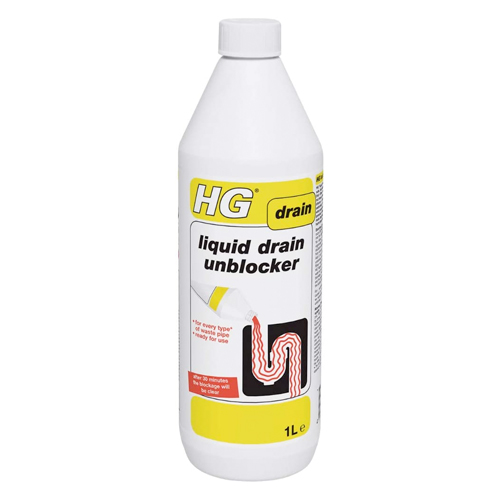 This very powerful drain unblocker can deliver fantastic results, is ready-to-use directly from the box and works in only half an hour. This HG or Hagesan kitchen sink and drain unblocker is straightforward and effective, even for particularly stubborn blockages. While it's a one-litre product, only 300ml is needed for a given drain. It may, however, result in burning skin if you were to get any on you, so as with any drain unblocker, please use it cautiously.
Things we liked
Very powerful product
Ease-of-use
Works in just half an hour
Pro-Kleen Sink & Drain Unblocker 5 x 1 Litre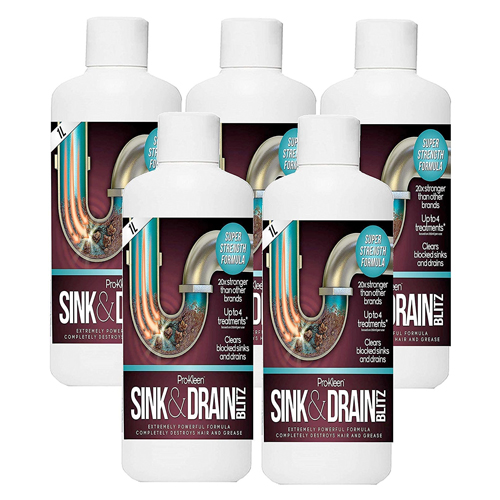 You can buy this product in five one-litre bottles and get decent bang for your buck in the process. It's great for restoring full efficiency to drains and sinks in your home and is safe to use for any pipework. This product is gel-based and fantastic for removing grease and hair. It is also reportedly up to 20 times as strong as the average drain unblocker!
Things we liked
Popular and unique kitchen sink drain unblocker
Very effective
Good value for money
Works on any pipework
Things we didn't like
Mixed results in terms of efficiency
Mr Muscle Max Gel Unblocker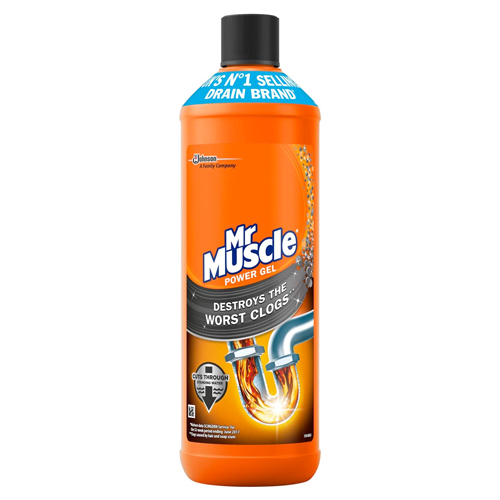 This high-end and popular product from Mr Muscle is powerful, effective, and can return drains to their best condition. This Mr Muscle kitchen drain unblocker is generally sold as a one-litre product comprising two bottles. It is considered to be three times as effective as bleach. It can cut through stand water in order to remove plughole blockages.
Things we liked
Effective at its job
It can remove gunge and hair
It can be used in septic tanks and any type of pipe
Things we didn't like
The whole bottle should be used for sufficient results
Best Mechanical Drain Unblocker
MUSMU 5 in 1 Drain Snake Hair Drain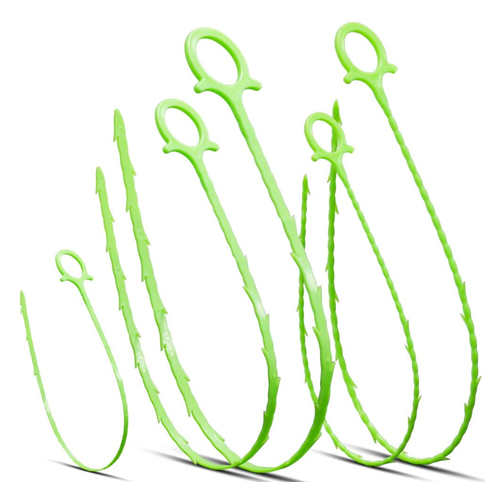 This MUSMU drain snake is a cost-effective means of removing drain blockages. Notably, each drain snake is multi-toothed to catch food, hair, along with other organic blockages efficiently. If you simply want an odourless drain unblocker, this product or one of the other examples reviewed in this subsection are worth considering.
On the other hand, some customers have reported the teeth of the drain snake can get caught in the sink.
Things we liked
Unique and effective solution
Fairly cheap
Things we didn't like
Drain snake teeth could get stuck
Silverline 395010 Drain Unblocker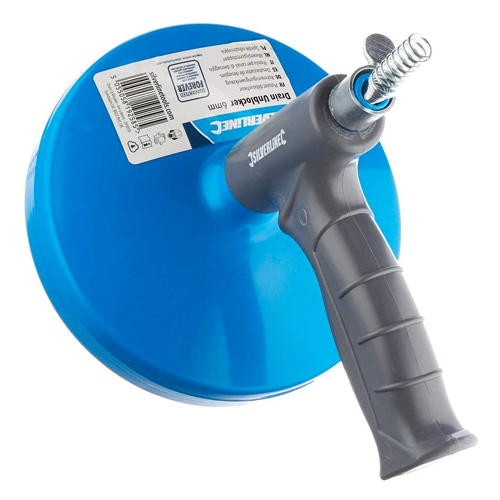 The Silverline 395010 is a 6m x 6mm diameter product with a rotating handle and ergonomic pistol grip. It's a great option to remove stubborn blockages and for clearing out drains. This product is also very popular among customers.
Things we liked
Effective
Ergonomic
Good value for money
Things we didn't like
Nothing really bad to say about it!
RIGID 55808 PowerClear Drain Cleaner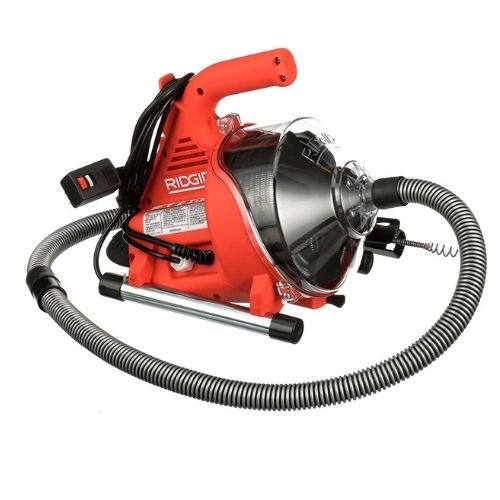 If you'd like a really high-quality product for continued use over time, consider buying an electric drain cleaning machine (that's right!). The Rigid 55808 is a fantastic example, and while it is obviously the most expensive product listed in our guide, this tested, and certified machine provides incredible quality that non-electric mechanical drain unblockers simply can't.
It can extend 25 feet into a drain, and it gives you a solution to unblock a drain mechanically that isn't going to be too messy for you and can keep your hands clean. It also has foot bulb controls which let you turn this machine on and off with ease.
Things we liked
Highly effective
Premium quality
Can extend 25 feet into a drain
Easy to turn on and off
What to Consider Before Buying Kitchen Drain Unblocker
Formula
To begin with, you'll need to consider what type of kitchen drain unblocker you want. You could go with a fast-flowing liquid solution or a concise gel solution. Of course, the exact ingredients used can vary too with options available, including chemical-based and enzyme-based.
Choosing the right option will depend on your priorities, whether it be cost, environmental-friendliness, or product quality.
Cost
If you'd like a cheap product, it's best to purchase a small- to moderate-sized liquid or gel drain unblocker. If you're willing to spend a bit more, consider buying a mechanical drain unblocker. Alternatively, if you really want to splash out on a solid investment, look around for a good electric drain cleaning machine.
Corrosion Protection
Some drain unblocking products are quite corrosive, while others are better at protecting against such effects. It's best to check the details of the product beforehand to ensure you're getting what you want.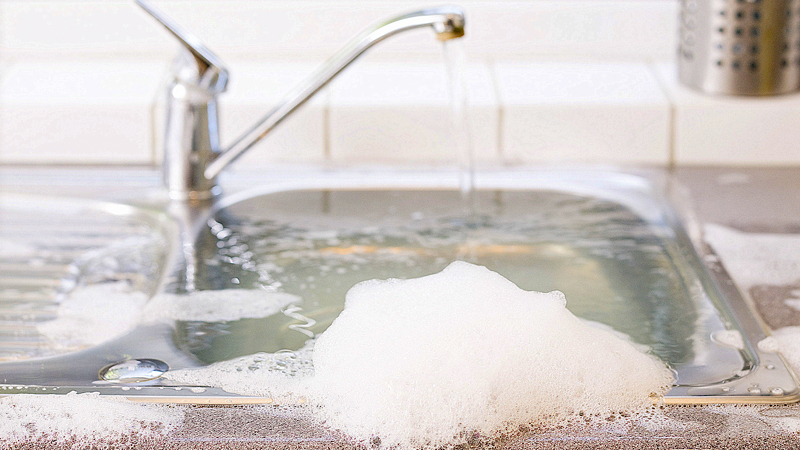 FAQs
How long should you leave the kitchen drain unblocker?
Some products need just a few minutes, while others may require half an hour or more to get the job done before using the sink again. However, you should always follow the manufacturer's guidance.
What is the strongest drain unblocker?
The strongest option is likely Pro-Kleen Sink & Drain Unblocker.
What issues can drain unblockers cause?
Chemical-based drain unblockers (specifically those that are caustic) will wear downpipes over time. For that reason, they should only be used when necessary.
What if I want to unblock drains externally?
For this, you should look at buying an outside kitchen drain unblocker such as Spear and Jackson Heavy Duty Outdoor Drain Unblocker.
Where can I find a drain unblocker?
Most stores/retailers will provide drain unblockers. You can also find them from reputable websites online.
Sources