blog
Top 10 Storage Hacks for Your Bathroom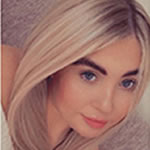 After a long day at work, your bathroom is the spot where you may unwind and wash away the stress. As a result, your bathroom must be well-organized and neat to provide a relaxing environment. Consider how you would feel when you enter a cluttered restroom.
Then. there's the issue of your bathroom being too small to accommodate all your bathroom essentials, such as blow dryers, brushes, towels, and lotions.
You can solve the problem on your own. That is not a difficult task. You don't need to wrack your wits to increase the size of your bathroom; all you need are some clever storage solutions.
Bathrooms are one of those areas of the house where there never seems to be enough storage. Your bathroom performs numerous tasks in a little space, from your morning makeup ritual to your midnight shower.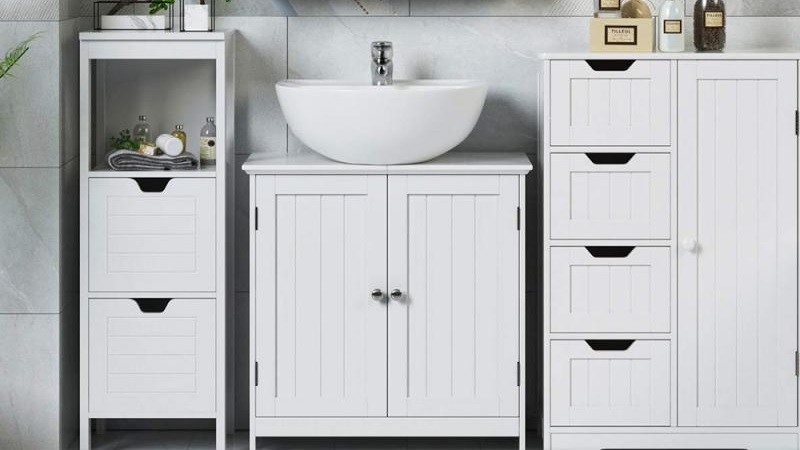 There are so many necessary bits and pieces in a bathroom that you can't store elsewhere, no matter how low maintenance you think you are: razors, hairbrushes, cotton wool pads, loo roll, spare soaps, toothpaste... All these must-haves require a home, and more than one piece of bathroom storage may be required.
If you're tired of battling your cramped bathroom but don't have the time or money for a full renovation. Then this blog will help you come up with ideas for storage hacks in your bathroom.
Therefore, if you're struggling to provide space for all your beauty products then we are here to help!
While these DIY and store-bought solutions cater to a variety of styles and spaces, they all have one thing in common: they make use of vertical areas (think: above the door, in the shower, and under the sink) to bring cabinets, shelves, and other organisers into the small (but mighty) room. So, here you will find a hack perfect for you.
Bathroom Storage Hacks
Not sure where to start when creating storage space? It's hard to come up with bathroom storage ideas which is why we have created this article to help you find the right amount of space for all your items that are just cluttered around your bathroom.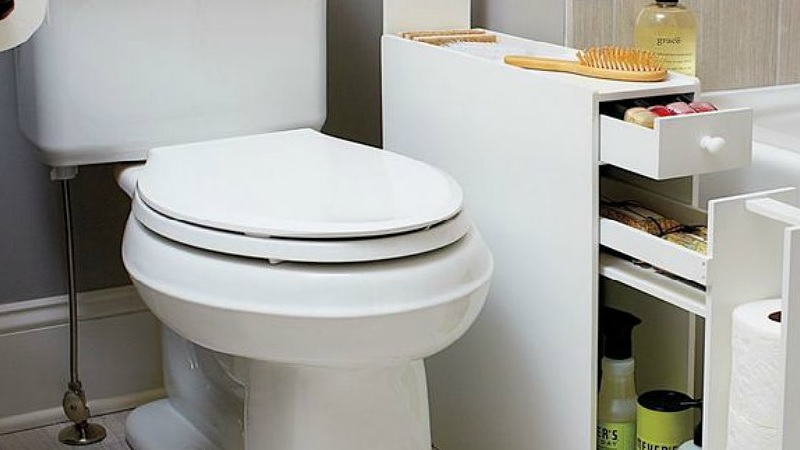 Here we will break down the top 10 storage hacks that you could do to create more space in your bathroom.
Mount a Towel Rack
To assist clear away space in your bathroom cabinets or linen closet, use vertical space. Extra hand towels, washcloths, and other small bathroom items can be stored in a wall-mounted rack or storage unit with individual open cubbies.
Larger towels can be rolled to fit inside the narrow slots. You will no longer have towels laying around your bathroom since a towel rack will allow you to remove the cutter and store your towels!
Separate Bathroom Storage Items
Sort products into individual containers for more simplified, easy-to-access bathroom storage rather than rummaging through drawers for your moisturiser. To keep beauty products, makeup, and other bathroom essentials organised, you can make a few of these DIY fabric storage boxes.
These open bins are attractive enough to display on open shelves or your vanity countertop, freeing up drawer space for goods that aren't utilised as regularly.
Choose a Dual-Purpose Mirror
For compact rooms, this two-in-one mirror is a wonderful storage solution. It's an on-trend circular mirror when closed, excellent for last-minute beauty checks.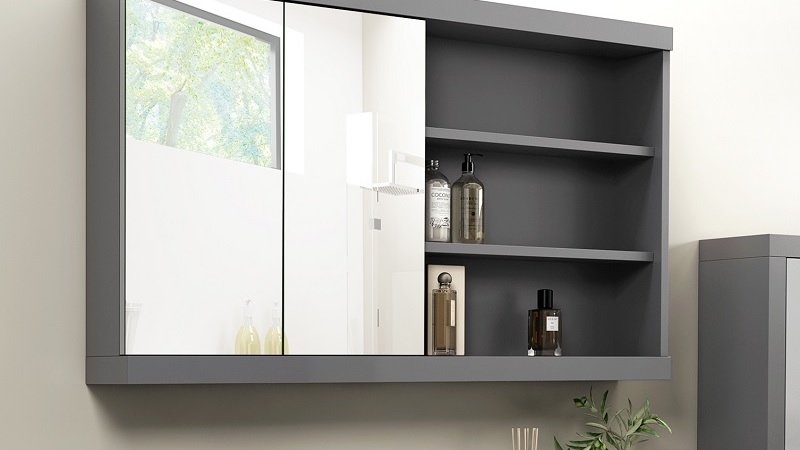 Swing the door open to reveal shelves for all your health and beauty products.
Mount a Bathroom Rail
The space above the bathtub is often overlooked, so why not make use of it with a wall-mounted bathroom rail? This is ideal for hanging a towel or two, is part of a collection that also includes stainless-steel soap dishes and modular storage boxes to keep goods within easy reach.
Drainage holes prevent them from filling up with water, and they're non-rusting. You can also mount them horizontally or vertically to fit into tight or small places.
Carve Space in Stud Walls
Build recessed shelving into stud walls to reveal secret storage space. A stud (or partition) wall is an interior wall with no hardcore in between the outer panels, which makes it ideal for cut-out shelving for storage or exhibition.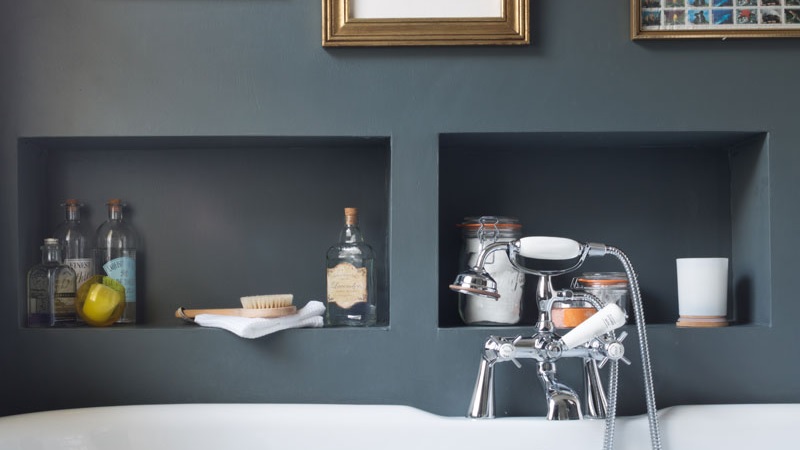 Seasoned DIYers can find numerous guides for this project online, or a skilled contractor can complete it in a reasonably short amount of time, with the result looking practical, streamlined, and professional.
Use The Shower Cubicle
Hang an adjustable caddy over the showerhead or enclosure to make the most of your shower cubicle.
It will not only keep the floor clean, but it will also avoid accidents, because there will be no need to bend down to pick up the shampoo. Invest in a stainless-steel variant to avoid rusting.
Over The Door Rack
Use the area on the back of the door to keep extra supplies if your bathroom's surface space is restricted. A hanging rack will fit neatly over the top of a door and will be secured in place by rubber stoppers.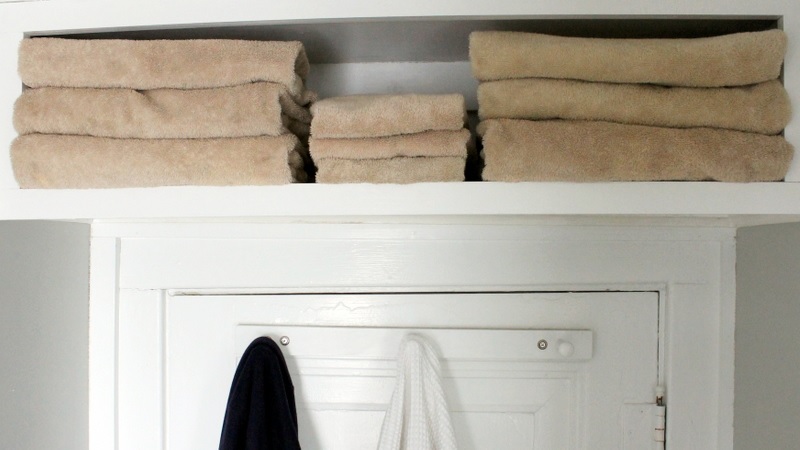 Put everything from shower caps and face wipes to perfumes and hairbrushes on the shelf. As a little shower room idea, this is ideal.
Use a Basket
Baskets are useful for storing items around the house and make a lovely touch to the bathroom.
A basket is an ideal vehicle for heaping towels, and it also adds a softly rustic tone to marble or a pastel palette.
Organise Make-up and Toiletries
Your bathroom will feel calmer and cleaner with clutter-free countertops.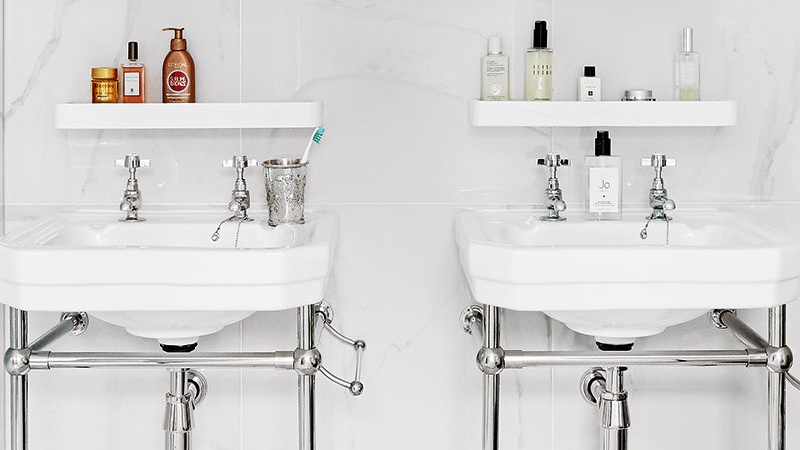 Make-up and smaller items should be kept hidden in transparent, closed boxes inside a drawer. When everything is in its place, you'll spend less time getting ready since you'll spend less time hunting for what you need.
Use Shelves Below and Above the Sink
In a bathroom, add shelving wherever you can. A lower glass shelf for towel storage is included in the twin washstands shown here while floating wall shelves between the basin and the mantel mirror provide convenient perches for toiletries. Symmetry adds to the beauty of this wonderful scheme.